Looking for the perfect DIY Christmas gift? Make this stovetop potpourri gift in a jar to give to friends and family this holiday season! Download our free printable gift tag to go along with your Christmas potpourri in a jar for an easy gift idea.
Ever since I started making fall simmer pots this year, I've been hooked. It is such an easy way to get that yummy whole house smell with the scents of the season.
I shared more all about simmer pots in this detailed article and included 18 different easy recipes to use for your simmer pot.
I wanted to figure out a way to gift this for the holidays, but my Fall simmer pot recipe called for fresh ingredients and that wouldn't work for gifts.
Related – Want more gift ideas? Check out all of our gift ideas here!
Then I remember that I have a wonderful dehydrator that I barely use. So we dried everything out for these homemade potpourri jars.
One of the things that I love about simmer pots is that they are made with natural ingredients. Instead of burning candles, buying fragrance oils, or using air fresheners with chemicals, the simmering potpourris use ingredients found in your pantry and fridge.
You can quickly whip these small gift ideas up in an afternoon. Grab our free printable labels to attach to the jars with instructions on how to use stovetop potpourri gift to make your home smell like Christmas.
If you're also planning on making the mulling spices gifts that I shared earlier this week, these pair well together because they use a lot of the same ingredients. It is a much better deal to buy the ingredients in bulk!
Follow along with these simple instructions to make your own gorgeous gift!
This stovetop potpourri gift tutorial contains affiliate links, but nothing that I wouldn't recommend wholeheartedly. Read my full disclosure here.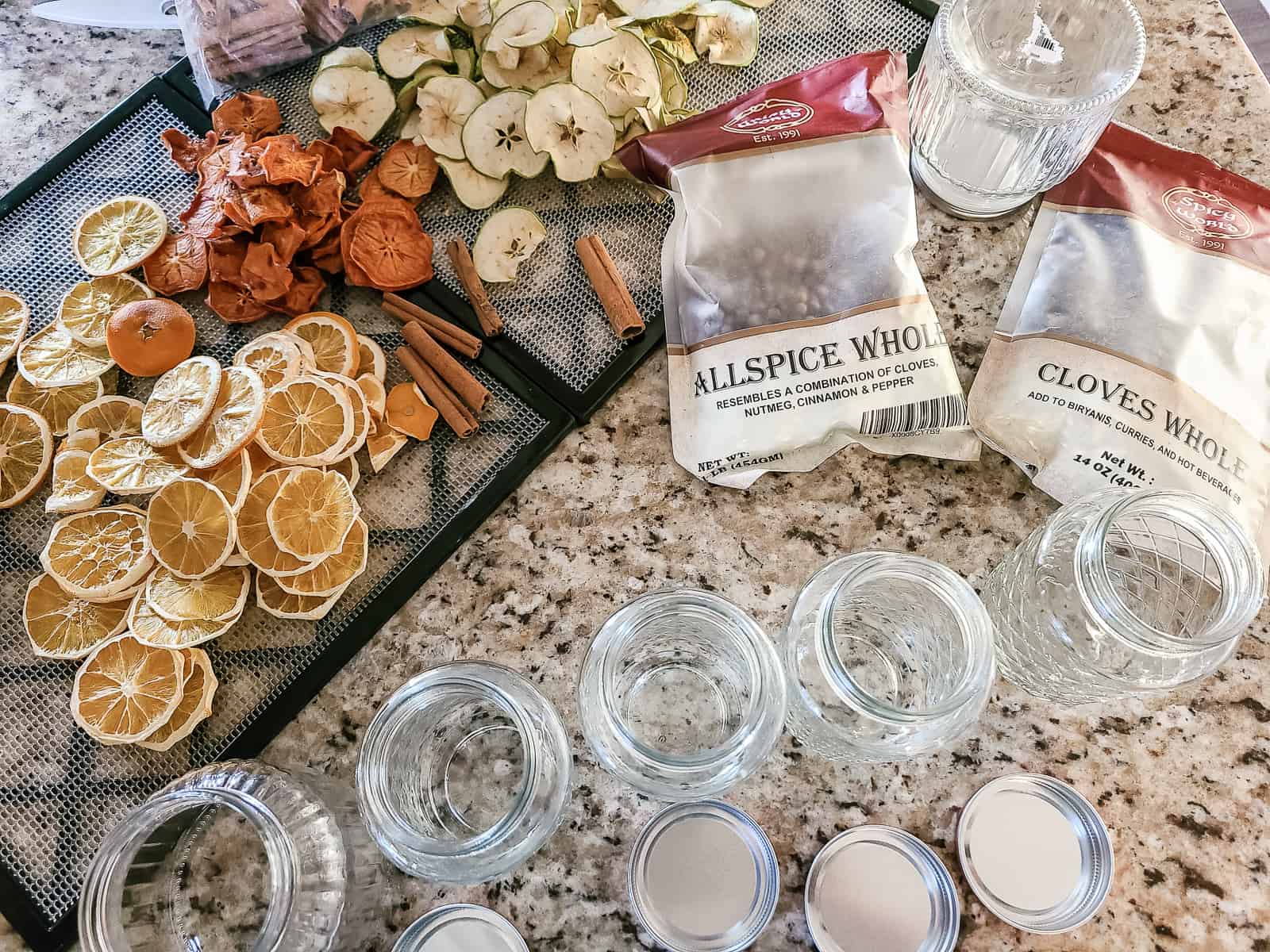 What you'll need to make stovetop potpourri gift jars:
Small mason jar or Dollar Tree decorative jars (like this lattice pattern glass jar)
Printable gift tags (linked below)
Yarn
Scissors
Dried orange slices
Dried apple slices
Dried persimmons
Dehydrator (or oven that goes low enough)
Other optional ingredients you could add: pine sprigs, star anise, dried herbs, nutmeg
Since we're giving this stovetop potpourri in a jar as Christmas gifts, we wanted to make sure we were using dried ingredients that were self-stable (meaning that they can be kept at room temperature) so we didn't need to worry about things going bad before they were used.
If you were going to make a Christmas simmer pot using fresh ingredients from the grocery store, you can add additional ingredients like:
Vanilla extract
Fresh fruits, like fresh cranberries, fresh oranges, apples, lemons, grapefruit, and more
Citrus peels, like lemon and orange peels
Essential oils (bergamot, cedarwood, lemongrass, sandalwood, and fir would all be great)
Fresh herbs, like rosemary or thyme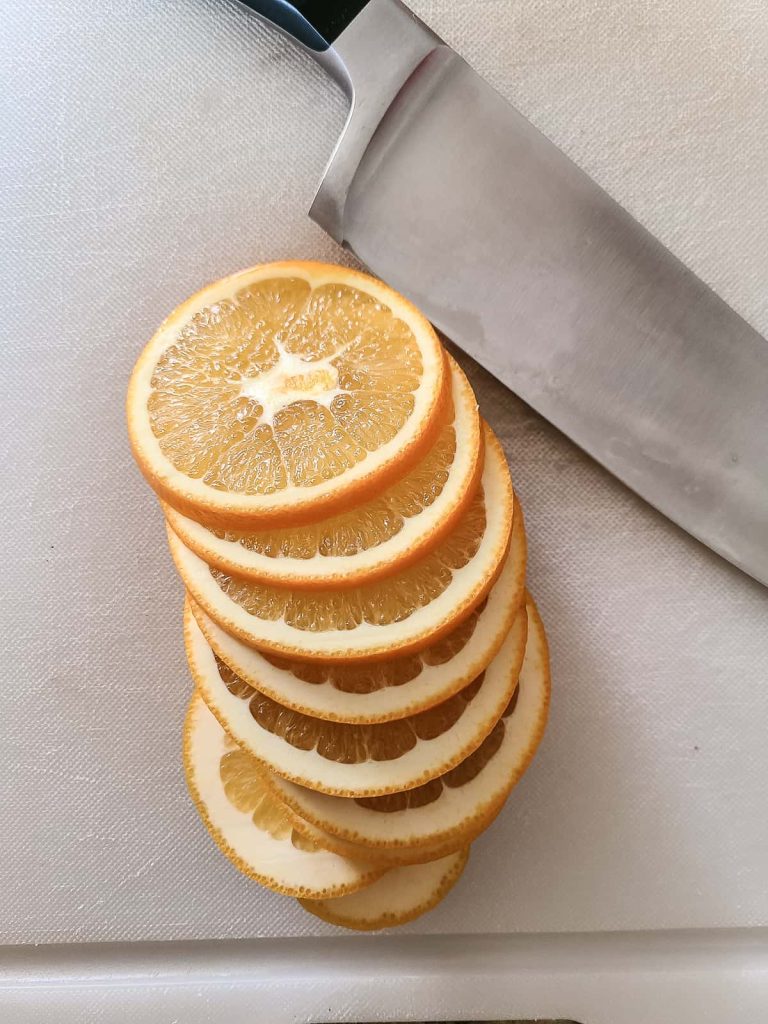 Step 1. Slice and dehydrate fruit.
I opted for persimmons, apples, and oranges, which are great holiday scents.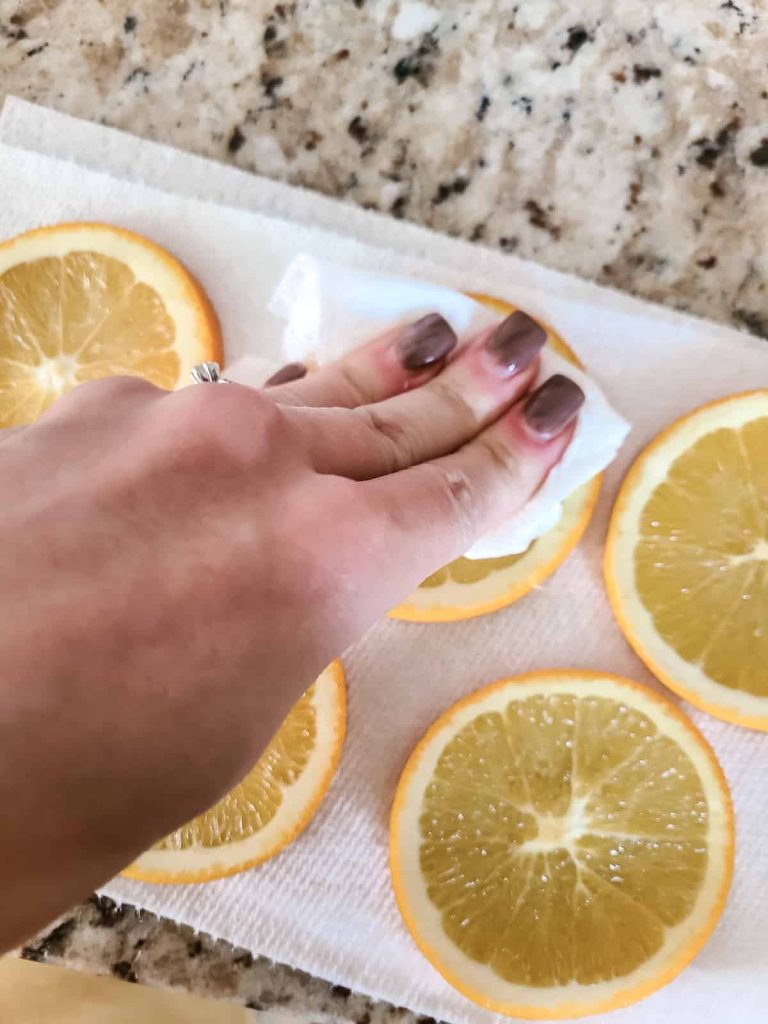 Slice the fruit about 1/8″ to 1/4″ thick and lay them flat on dehydrator racks. Blot excess moisture from the fruit with a paper towel to make the dehydrating process go faster.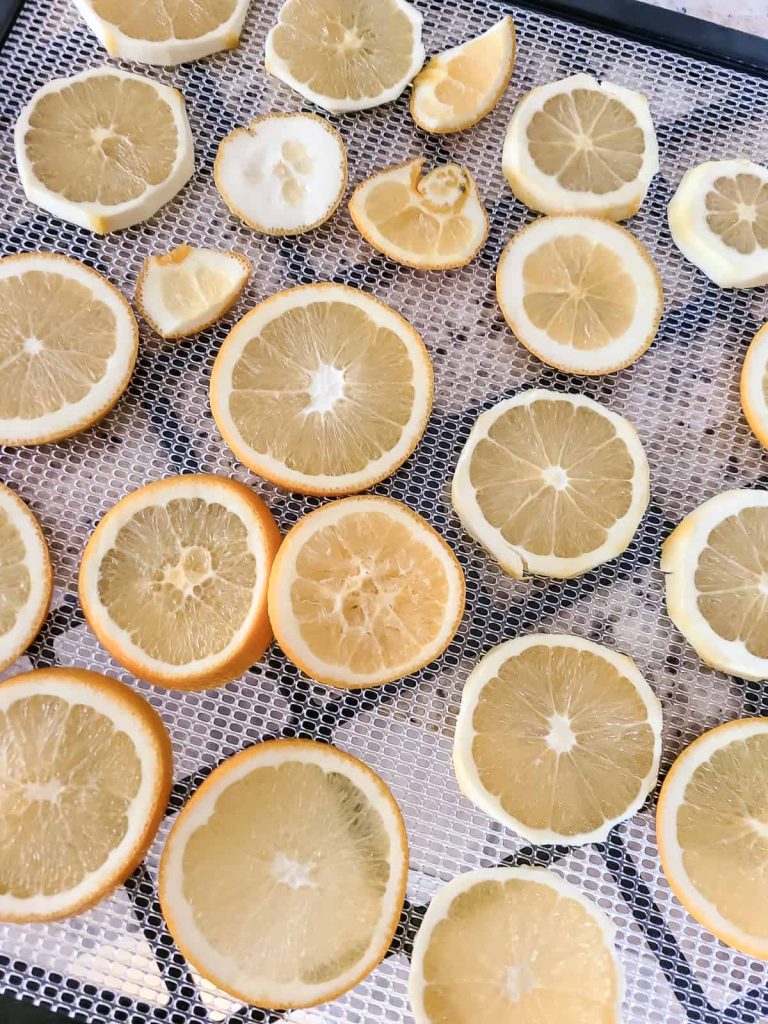 Dry the fruit at 135 degrees (F) for several hours or until completely dry. Ours took probably 12 hours or so.
We love our 9-tray dehydrator with 15 square feet of drying space!
Don't have a dehydrator? No worries! You can either purchase the dried fruit or put them in the oven to dry out (as long as your oven temperature goes that low).
Step 2. Combine dry ingredients in jars.
Now it is time to put everything together in the jars. Yes, seriously… it is that simple guys! The best part of this Christmas stovetop potpourri gift is just how easy it is.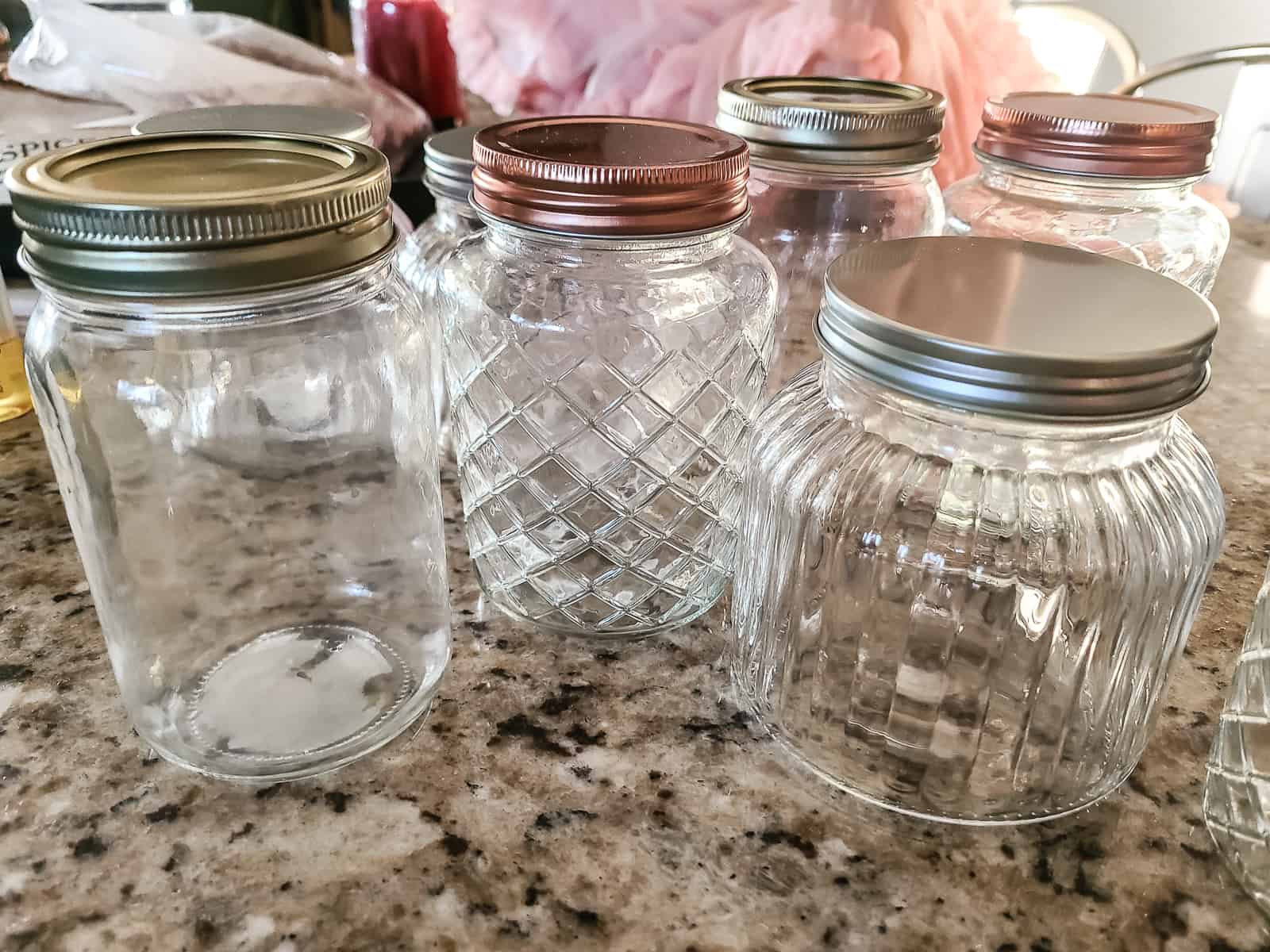 I found tons of different styles of pretty jars at the Dollar Store that I couldn't pass up. They were perfect for the simmering potpourri gifts.
You could alternatively put the ingredients into a cellophane bag if you didn't want to worry about it breaking. This is a great option if you're planning on shipping the gifts.
Spread out the ingredients into the different jars so each one has an equal amount of each item.
Start by putting in the larger items, like cinnamon sticks and dried fruit. Fill the jar with those and then add the smaller ingredients (like cloves and allspice), which will go into the smaller empty spaces in the jar.
For us, here's a little summary of the contents of each jar:
7-10 cinnamon sticks
5-7 orange slices
5-7 persimmon slices
5-7 apple slices
2 tbsp whole cloves
2 tbsp whole allspice berries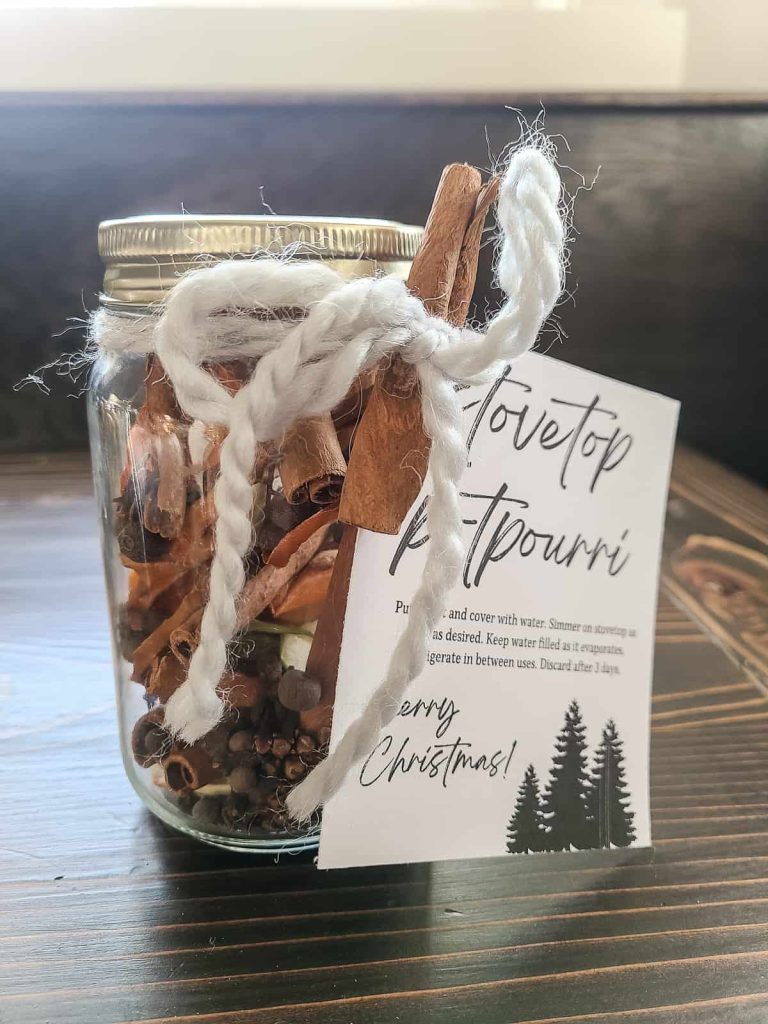 Step 3. Finish each jar with a free printable tag.
Print and cut the tags out and punch a hole in the top left corner. Wrap yarn around the top of the closed jar several times, add the tag, and then tie a knot.
Add a cinnamon stick and then tie a bow. You could also use a small orange slice tied to the yarn to finish it off, but I didn't have any left after making ours.
Download the free stovetop potpourri printable tags:
The tags not only finish off these stovetop potpourri gifts nicely, but they also explain what the contents of the jar are and how to use them.
On each tag you'll find the following text:
"Stovetop Potpourri: Put in pot and cover with water. Simmer on the stovetop as long as desired. Keep water filled as it evaporates. Refrigerate in between uses. Discard after 3 days. Merry Christmas!"
There's also a place to sign your name underneath the Merry Christmas!
How To Use Dried Stovetop Potpourri
One of my favorite parts about making handmade gifts in bulk like this is always making a little extra for ourselves to enjoy too!
So after you're done making your gifts, you can use the dried simmer pot ingredients yourself. Simply place some in a pot and cover it with water. Start by heating it on high until it starts simmering and then reduce the heat.
We've found that it works best to put it in the refrigerator in between uses to keep it lasting longer. You can dump it out after a few days.
What to keep in mind while your stovetop potpourri is simmering
Make sure not to let the water boil, but rather keep the heat at a low simmer so the water in the stovetop simmer pot produces steam.
As the water will evaporate, so make sure to check the water level every 30 minutes or so. Add more water as needed, making sure that the ingredients of the Christmas simmer pot are covered with water at all times.
You can let it simmer and steam for several hours as long as you keep an eye on the water level and don't leave the house, of course.
A simmer pot can be used on a stovetop or in a Crock-Pot. You can even put them on top of your radiator if you have one. Alternatively, you can place the pot on the top of your wood stove as well!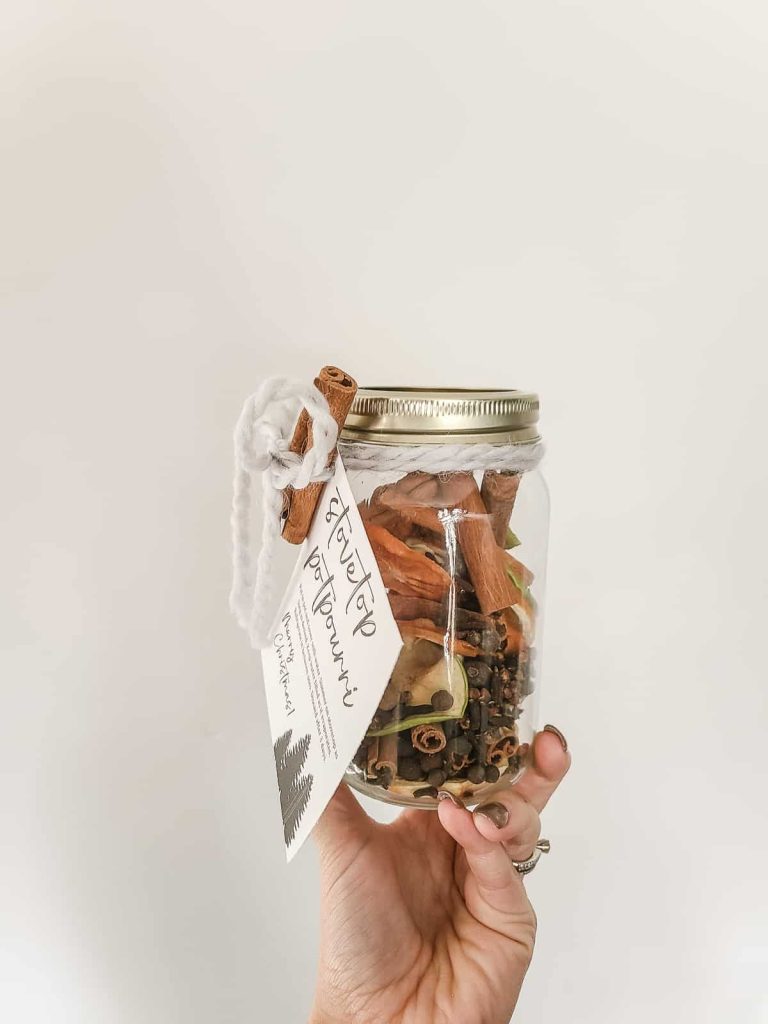 Simple as that! Christmas potpourri in a jar! It is the Christmas perfect gift idea for neighbors, friends, and family! You can even make these for teacher gifts, gifts for coaches, and more.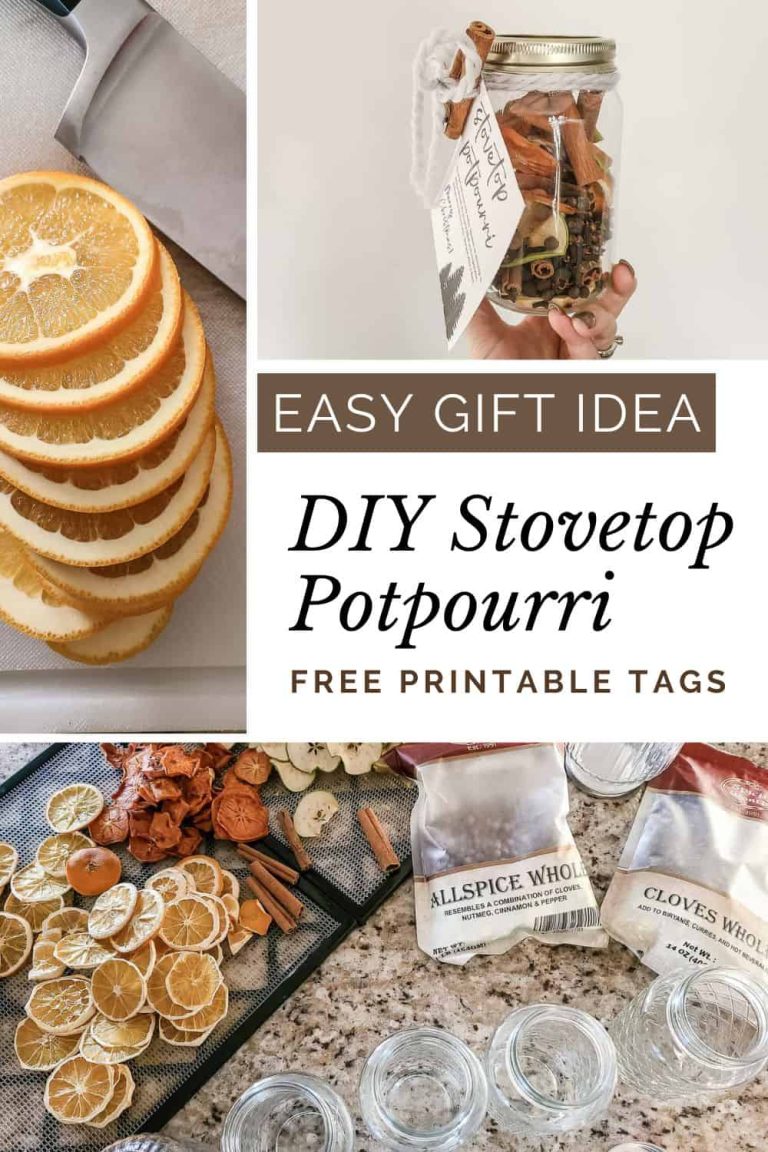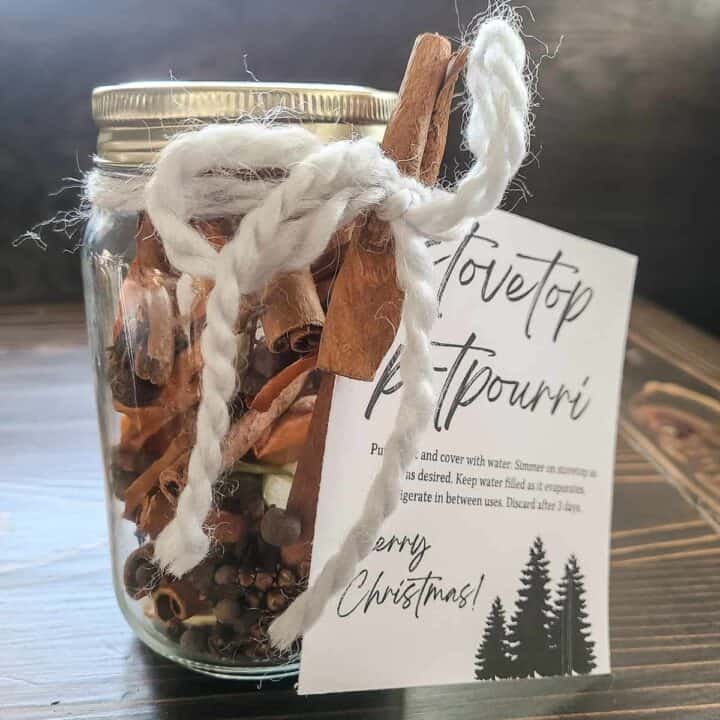 How To Make DIY Stovetop Potpourri Gifts
Make this homemade stovetop potpourri gift in a jar to give to friends and family this holiday season!
Materials
Printable gift tags
Yarn
Scissors
Dried orange slices
Dried apple slices
Dried persimmons
Other optional ingredients you could add: pine sprigs, star anise, dried herbs, nutmeg
Instructions
Slice and dehydrate fruit. I opted for persimmons, apples, and oranges, which are great holiday scents.
Combine dry ingredients in jars. In each jar, we put 7-10 cinnamon sticks, 5-7 orange slices, 5-7 persimmon slices, 5-7 apple slices, 2 tbsp whole cloves, and 2 tbsp whole allspice berries.
Finish each jar with a free printable tag.