Looking for a fun and easy DIY to add to your Christmas decorations this year? Try these Boho yarn Christmas trees! They are so easy to make!
Thank you to Arrow Fastener for sponsoring this DIY yarn Christmas trees project! All opinions are entirely my own. This post also contains affiliate links, but nothing that I wouldn't recommend wholeheartedly. Read my full disclosure here.
It wouldn't be Christmas time if I wasn't busting out the hot glue gun and craft supplies and making something to add to our ever-growing Christmas decorations.
Making DIY Christmas gifts and decorations is one of my favorite things about this season, besides the baking and the cheesy Hallmark holiday movies, that is.
For this fun Christmas DIY project, we're busting out our Arrow MT300 hot glue gun. It's a mini hot glue gun, so it's compact and easy to store. But even though it is small, it does the job!
Keep in mind that if you are using a mini hot glue gun, like this, you'll also need mini hot glue gun sticks. I've made that mistake at the store before! The regular hot glue gun sticks won't fit!
How to Make DIY Yarn Christmas Trees – Step-by-Step Tutorial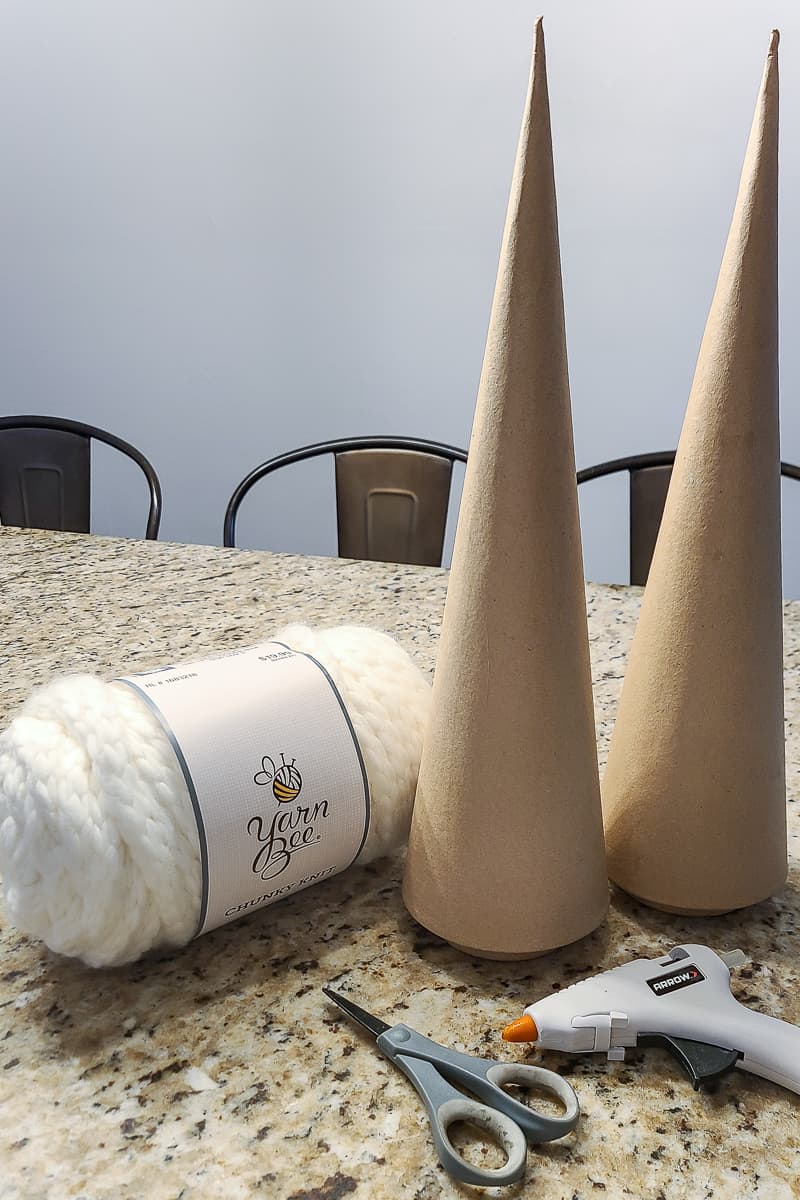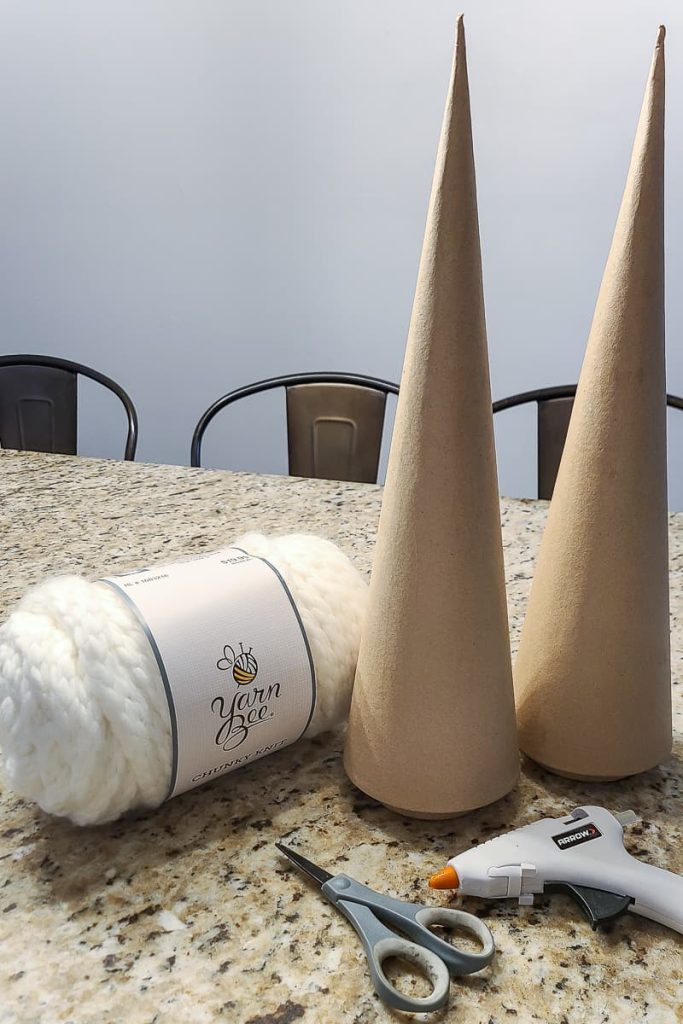 Supplies needed for yarn Christmas trees: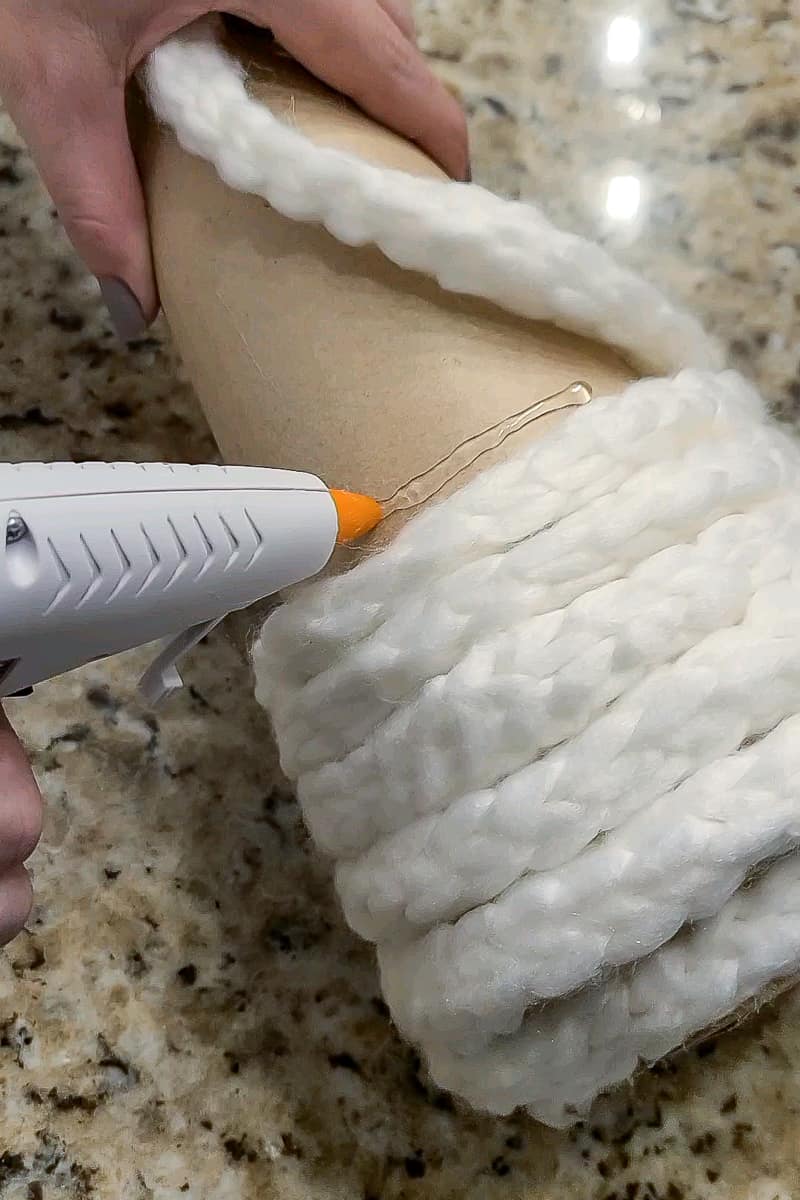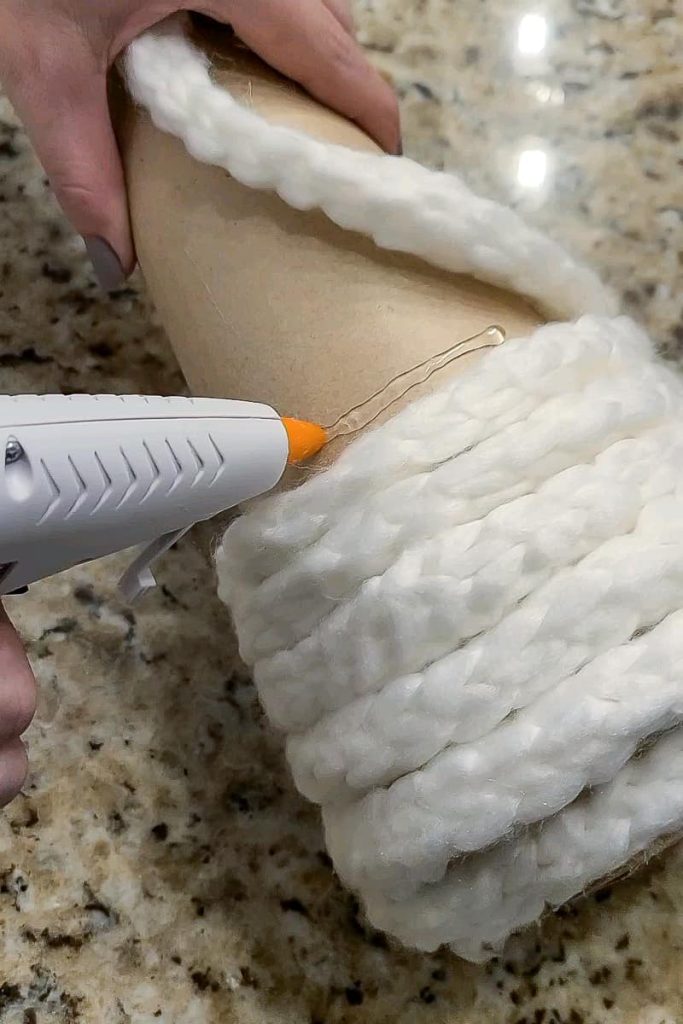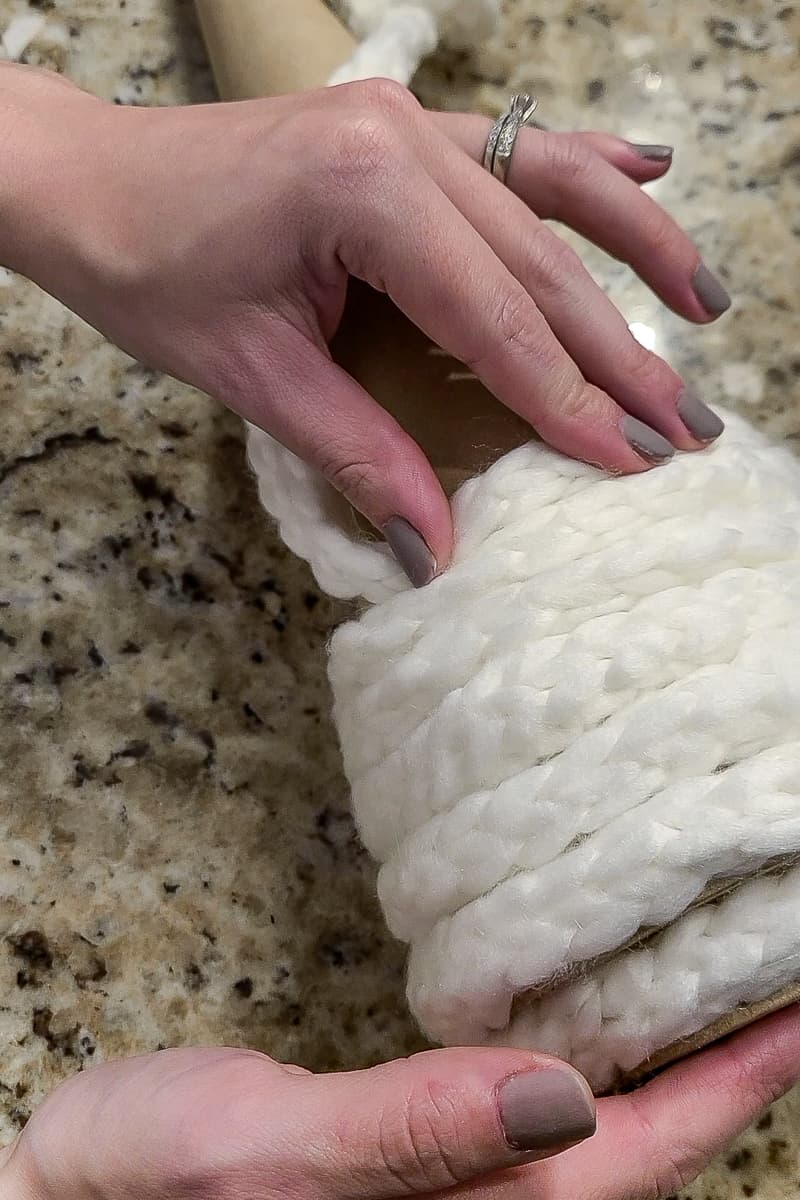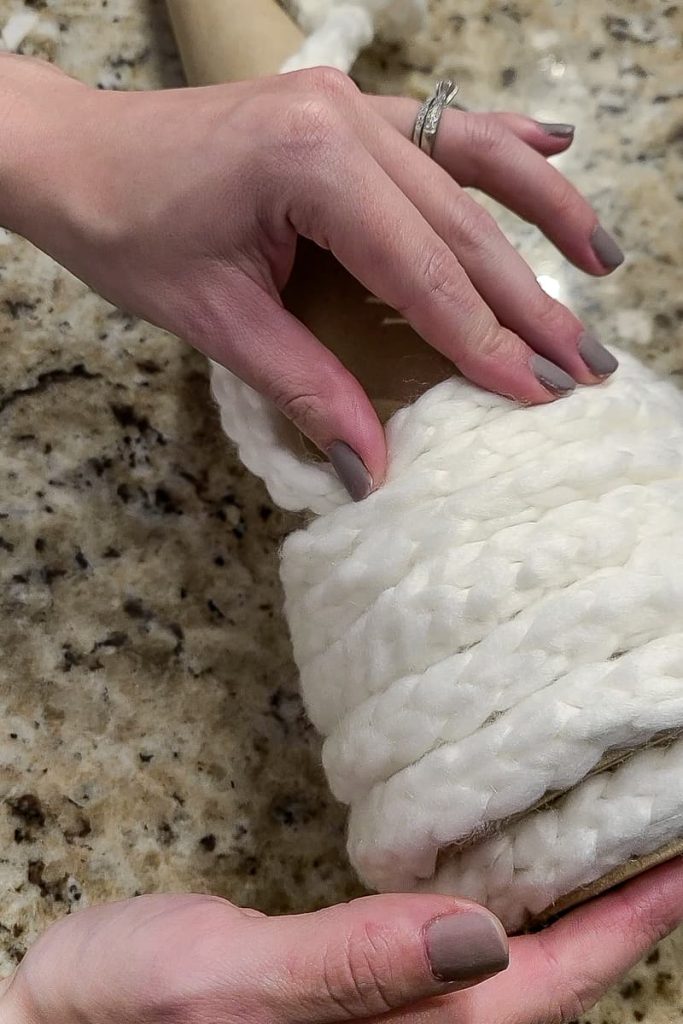 Using the Arrow MT300 hot glue gun, work in 3-4 inch sections, secure the thick and chunky yarn to the cardboard tree. I worked from the bottom of the tree and made my way up to the top of the tree, wrapping the yarn around on my way up.
If you wanted, you could totally work from the top towards the bottom too!
Try to keep the yarn pushed together closely to avoid seeing gaps in between the yarn.
On one of the large yarn Christmas trees, I brought the yarn back down the tree and a diagonal for some extra texture.
Once you get to the end of the tree, cut the yarn with scissors and glue the end to secure.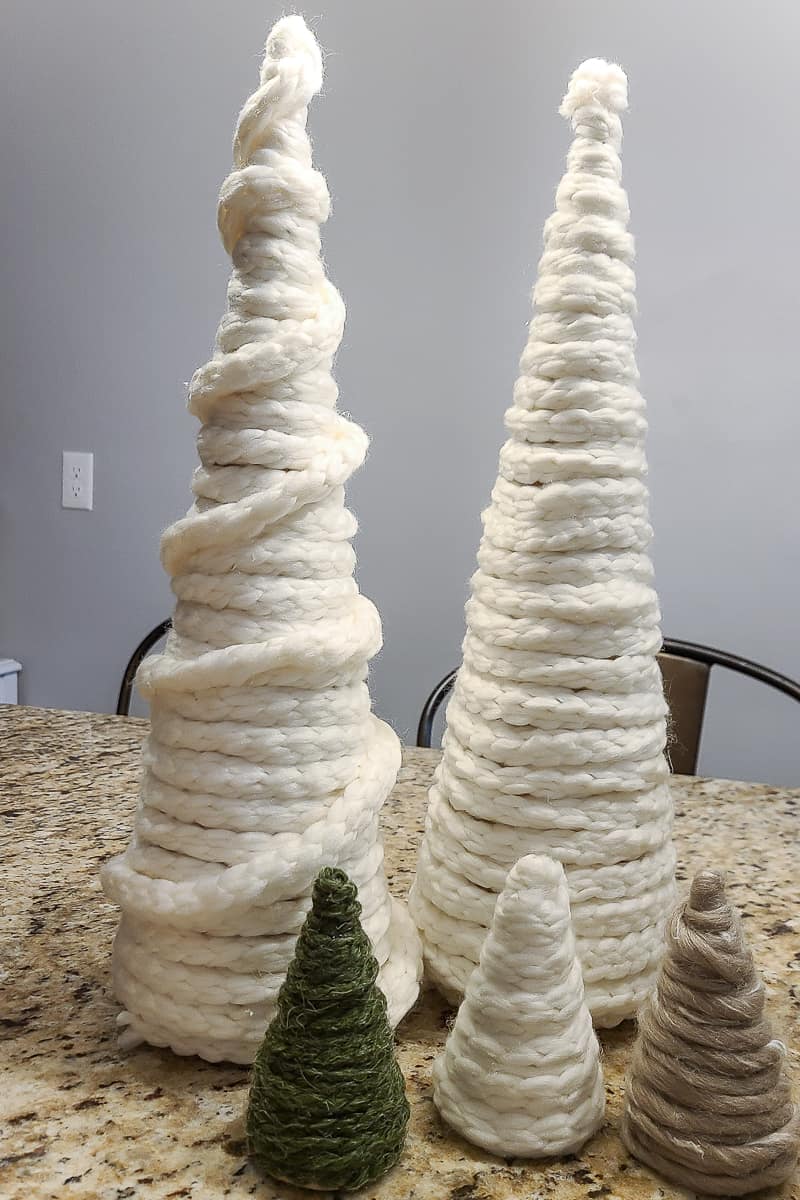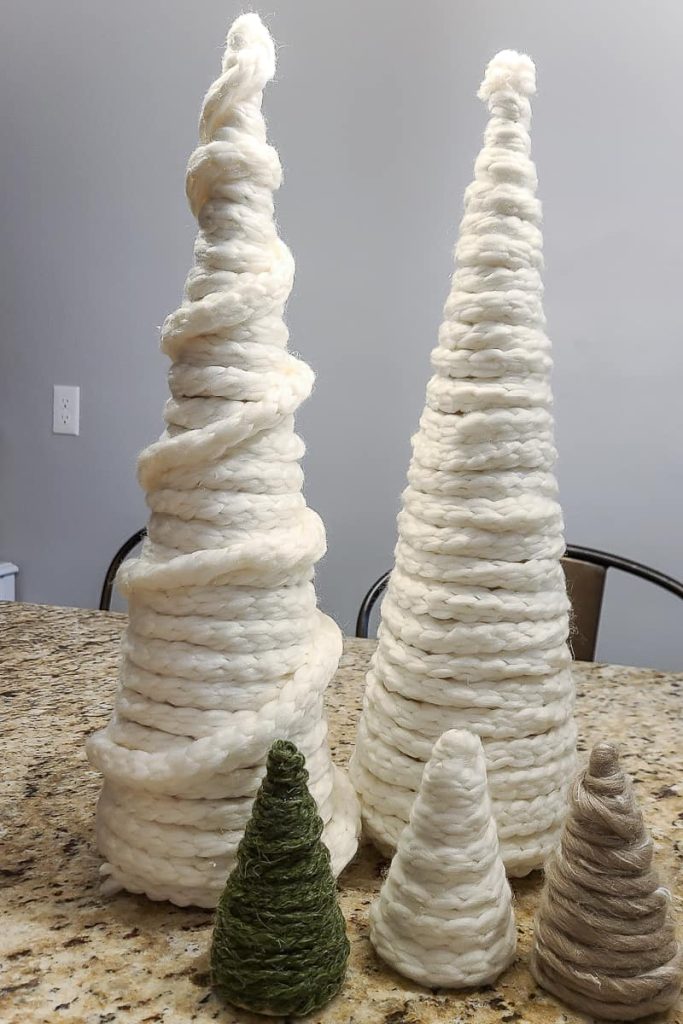 They look so cute paired with "Home for the Holidays" sign on the top of our entertainment center.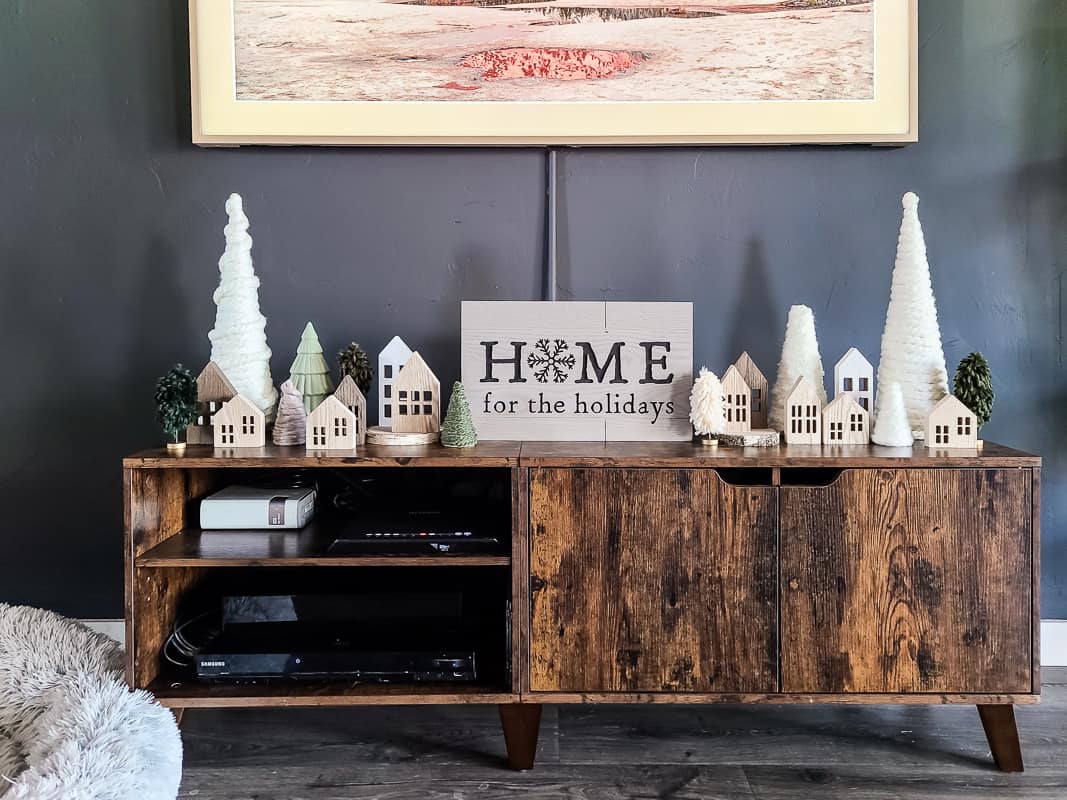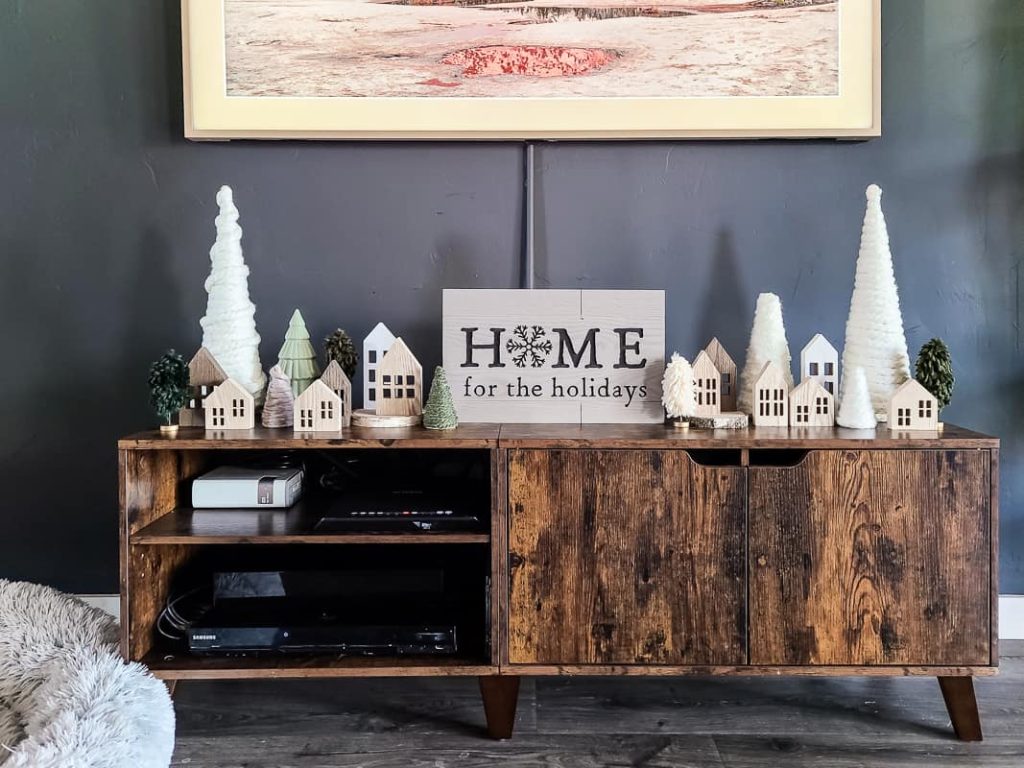 On the smaller trees, I used some different colors of thick yarn that I had on hand. I love the contrast and different textures!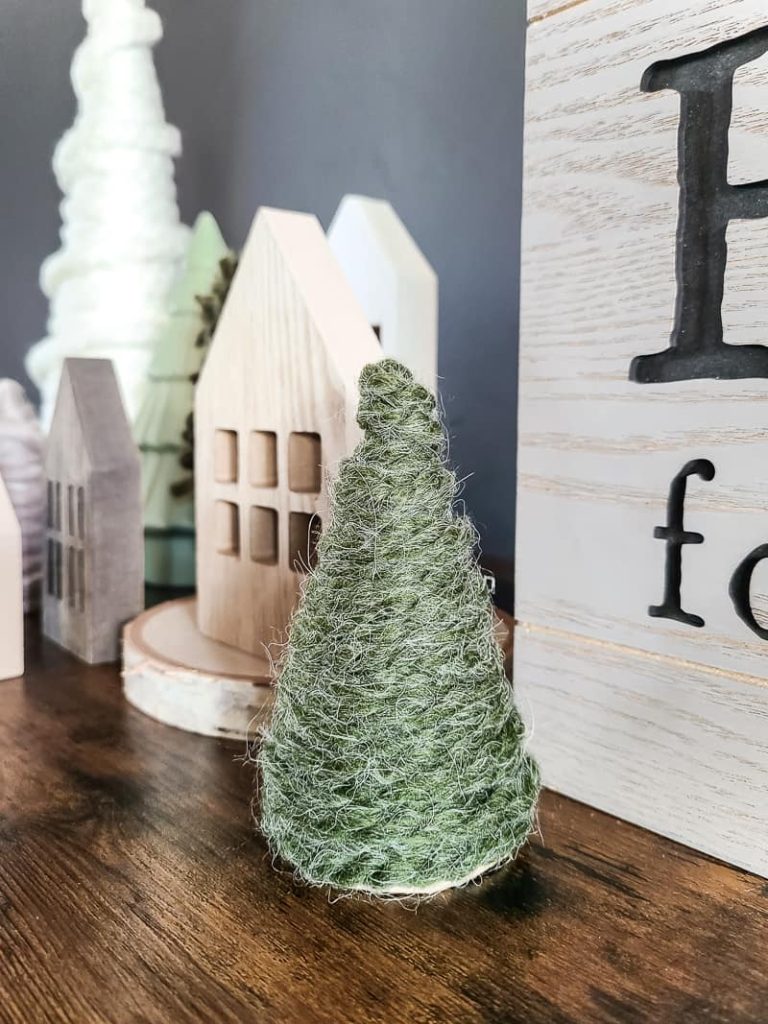 I arranged them along with some of the cutest little mini houses that I snagged last year at Target in the Dollar Spot during the holidays! They are so fun.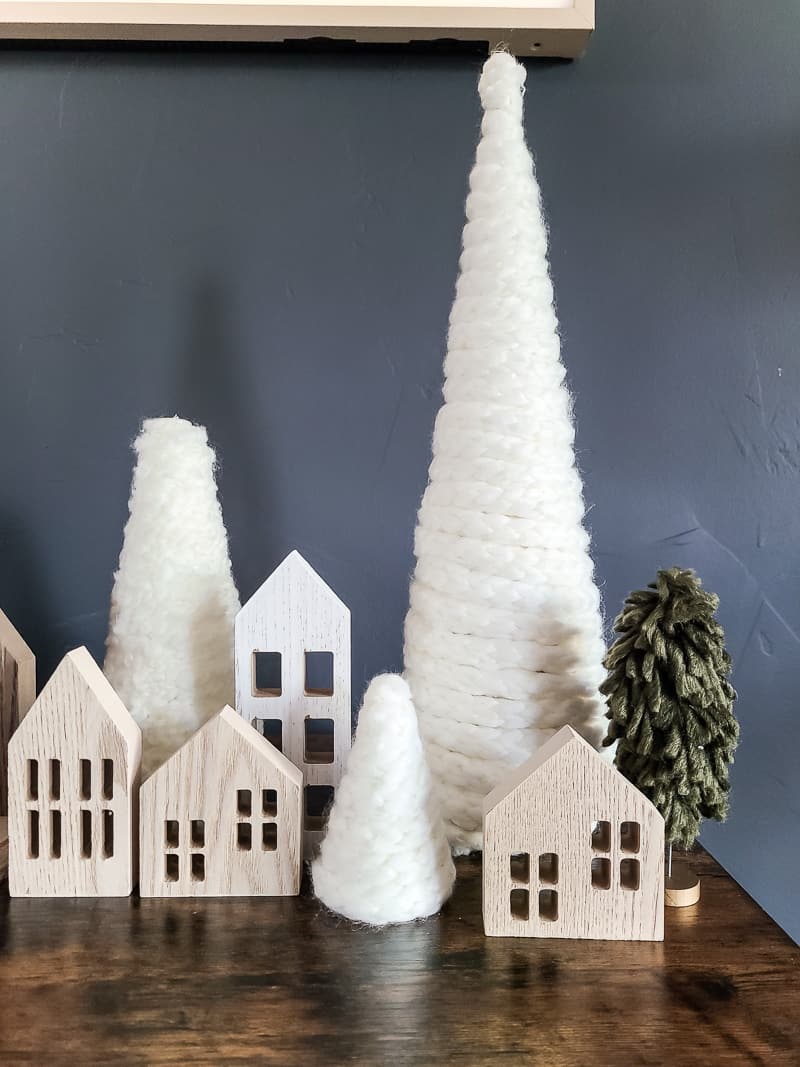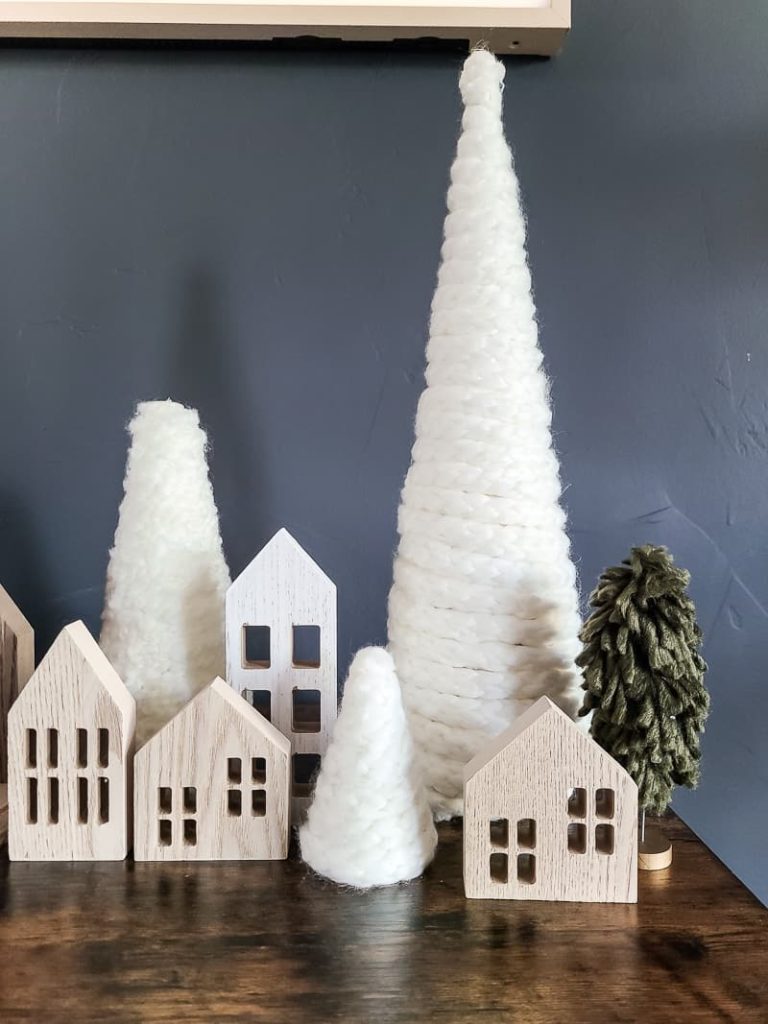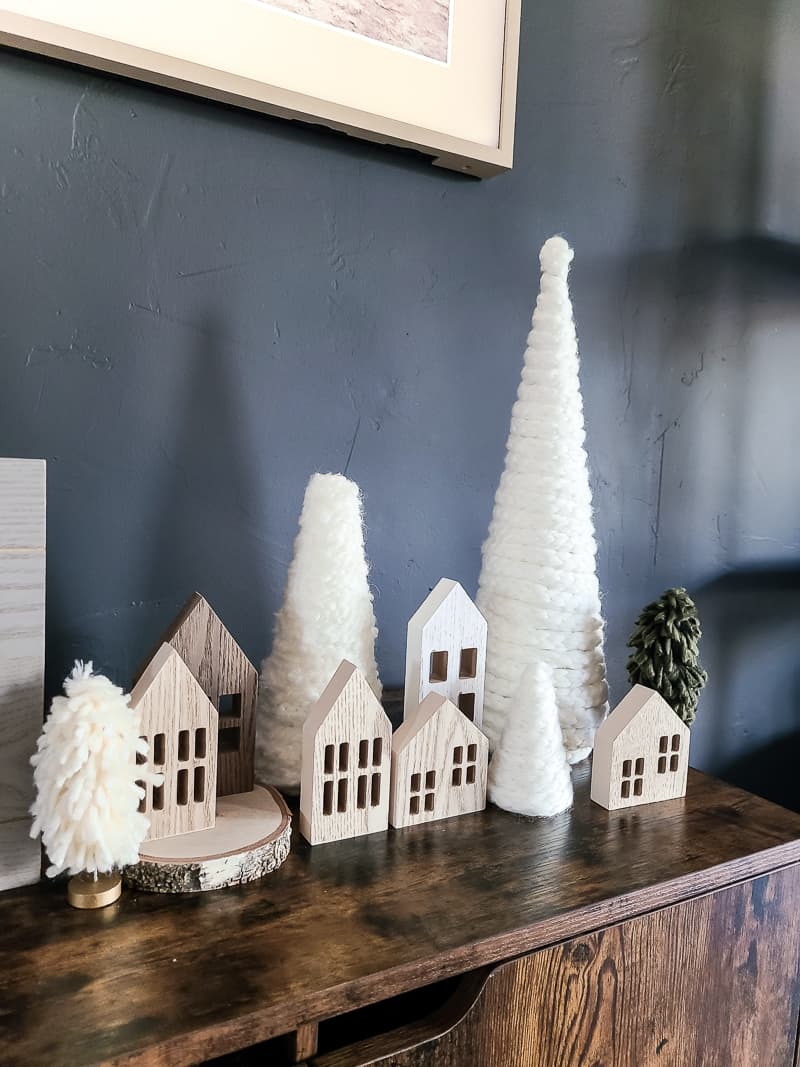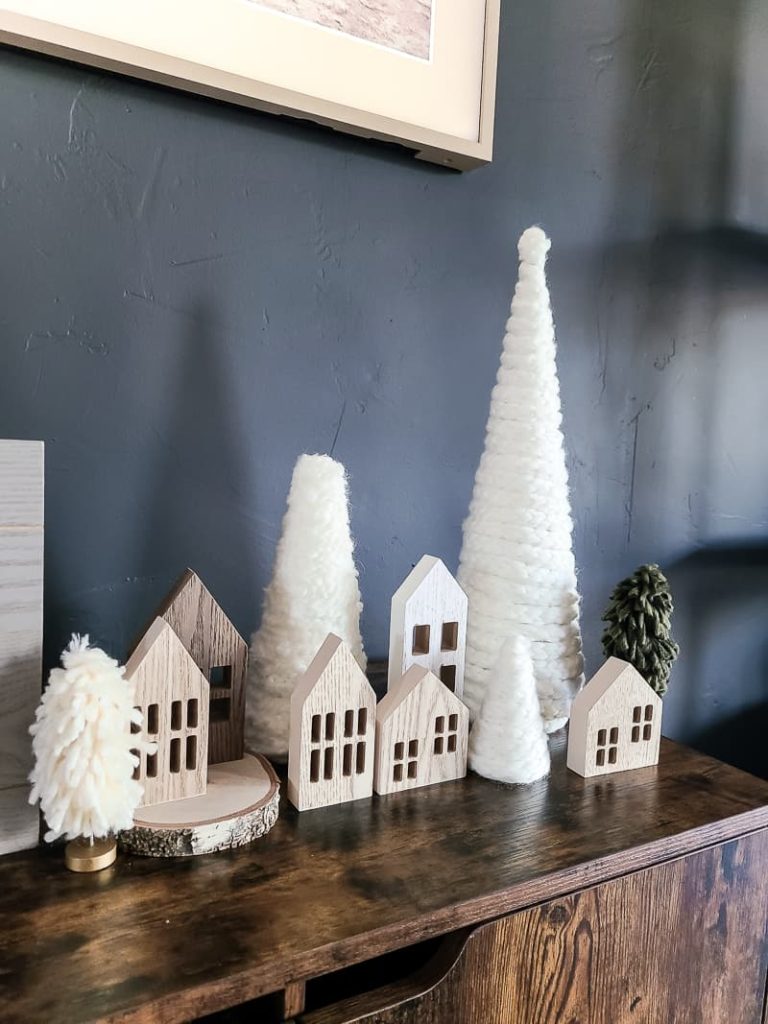 The other yarn tree you see alongside the mini houses are also from the 2020 Target Dollar Spot!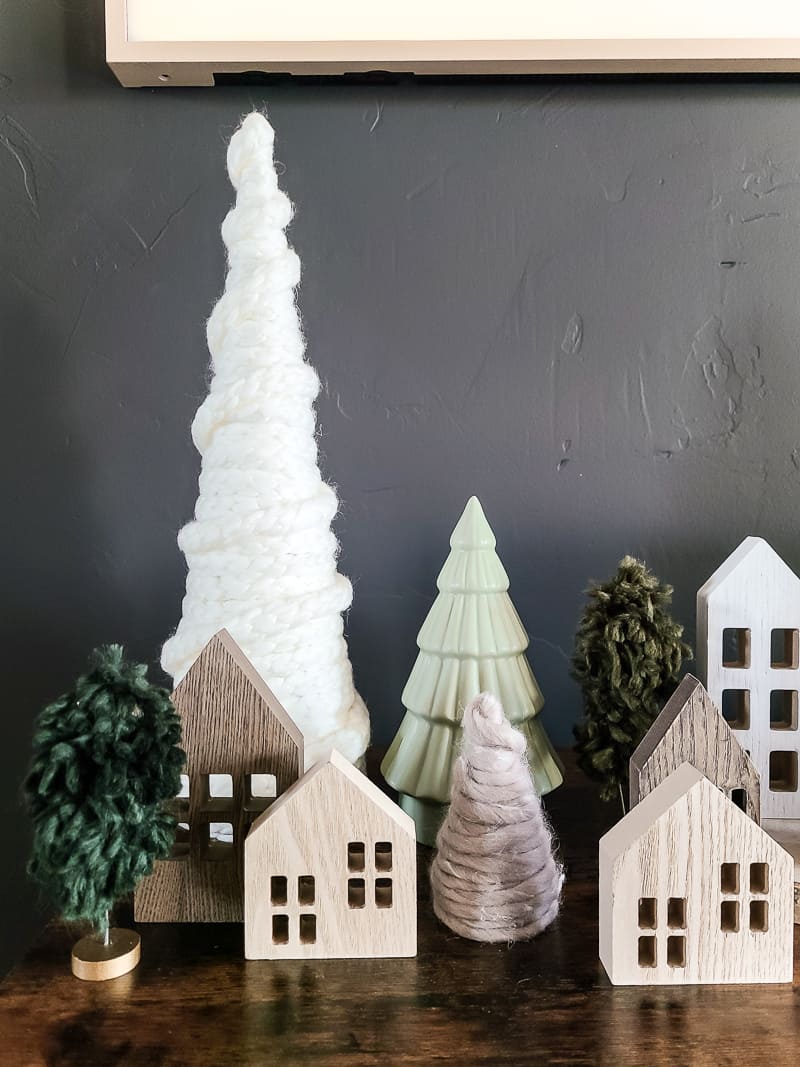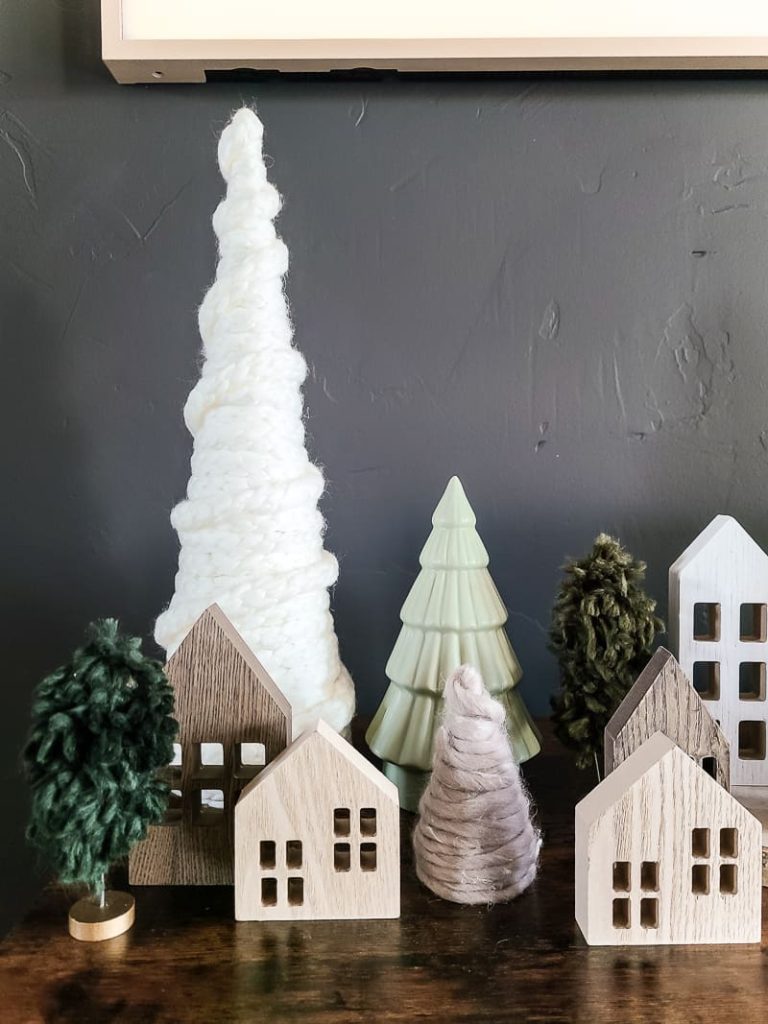 With how simple these yarn Christmas trees are to create, there's no excuse not to make some for your Christmas decorations this year. Customize them by using the yarn color, thickness, and texture of your choice. It could also be fun to incorporate tassel ribbon or even some wood beads for another look!
Where would you put yarn Christmas trees in your home during the holidays?
Let us know in the comments below!