Learn how to make a fake gingerbread house using a Dollar Tree dollhouse. Craft your festive masterpiece with easy steps and affordable supplies. Transform your space into a winter wonderland without breaking the bank!
Ready to kick off the holiday season with a twist? Today, we're diving into a super easy Christmas craft that's a real game-changer – a fake gingerbread house!
This DIY fake gingerbread house tutorial contains affiliate links, but nothing that I wouldn't wholeheartedly recommend anyway! Read my full disclosure here.
When I saw these fake gingerbread village houses for sale at Pottery Barn, I knew that I could make something like that on a budget!
The best part? It is another dollar store craft idea – which you guys always LOVE! We're using plastic toy dollhouses from Dollar Tree, some brown acrylic paint, and white fabric puffy paint to create the magic.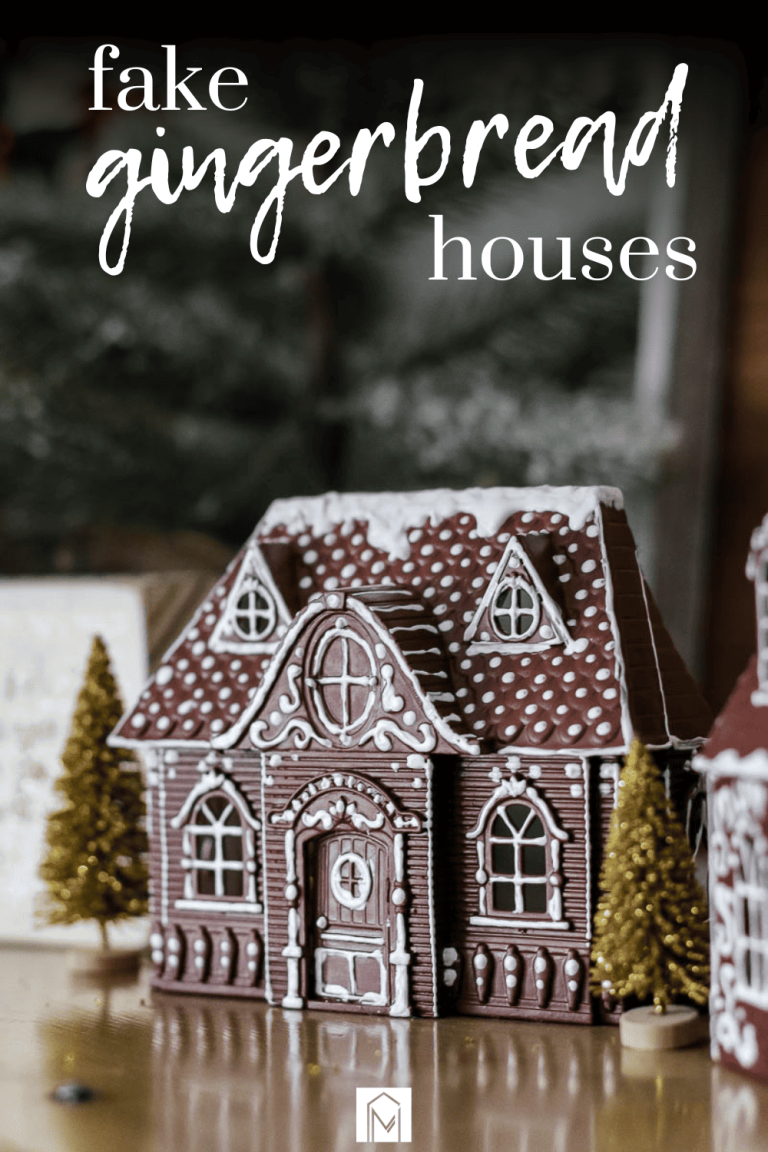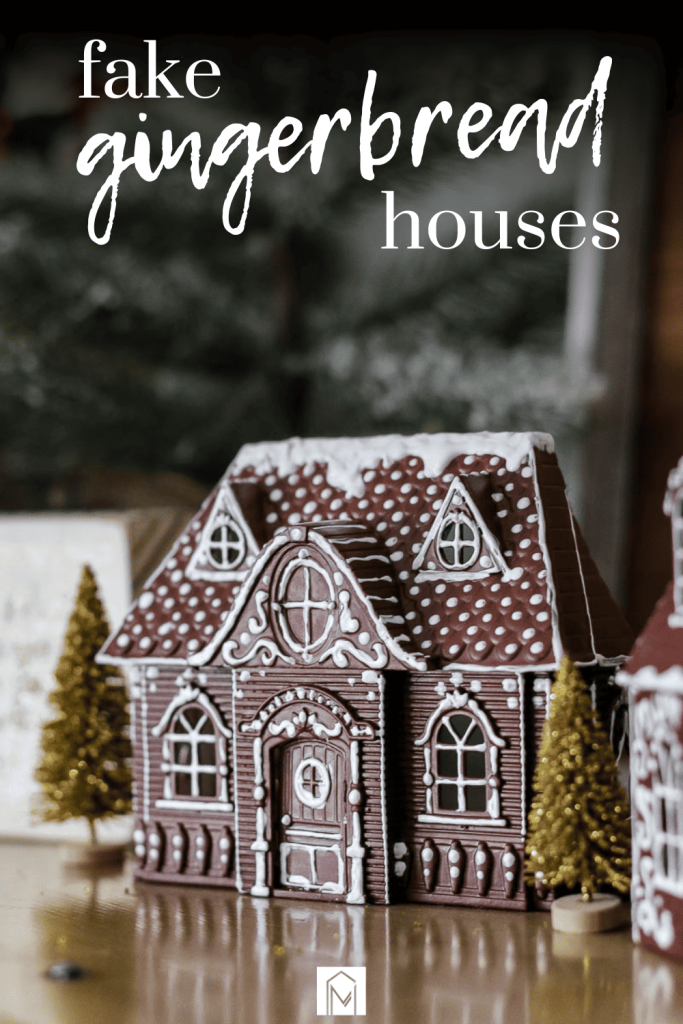 All of the supplies I'm using today are from Dollar Tree (except the primer), so say goodbye to expensive supplies, you can make this one for less than $5! We're taking the affordable route by using only things you can get at the dollar store, proving that holiday magic doesn't have to cost a fortune.
Ready to bring some holiday cheer to your home? Grab your supplies, follow our step-by-step guide, and let the Christmas magic unfold. This fake gingerbread house isn't just a craft; it's a celebration of the season, wrapped in creativity and tied with a bow!
Faux gingerbread house video tutorial
If you love DIY videos, be sure to subscribe to our YouTube channel!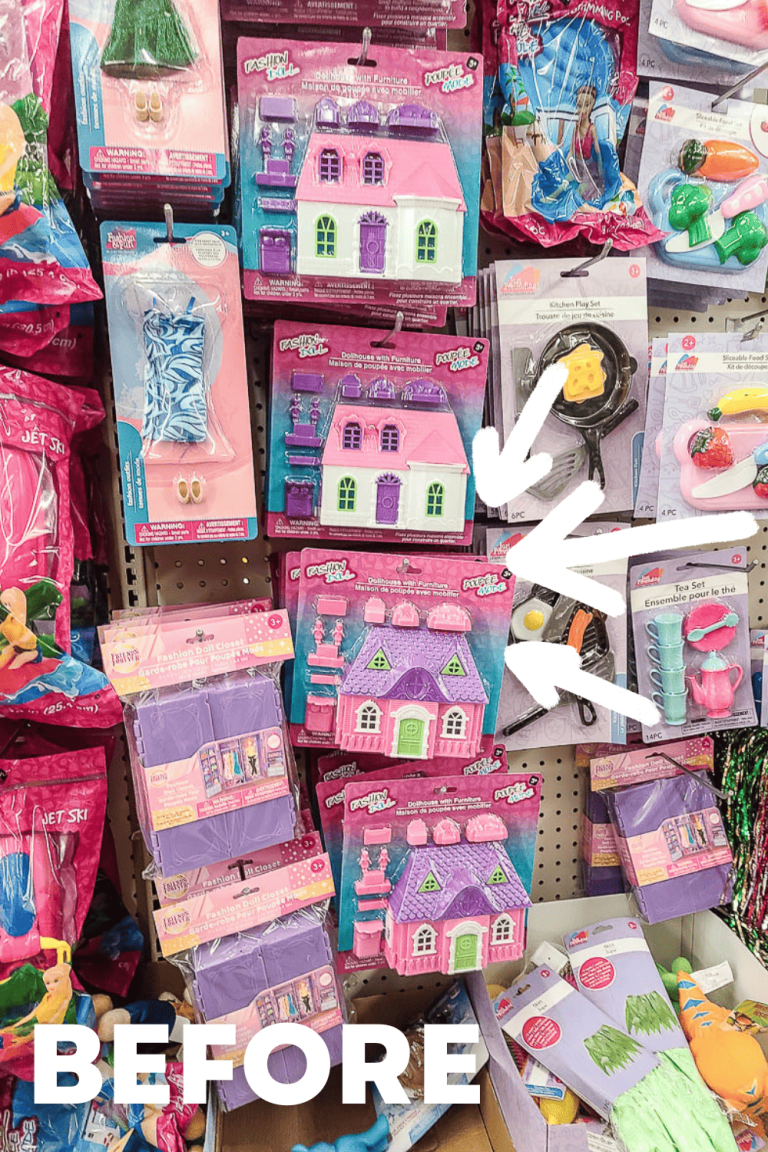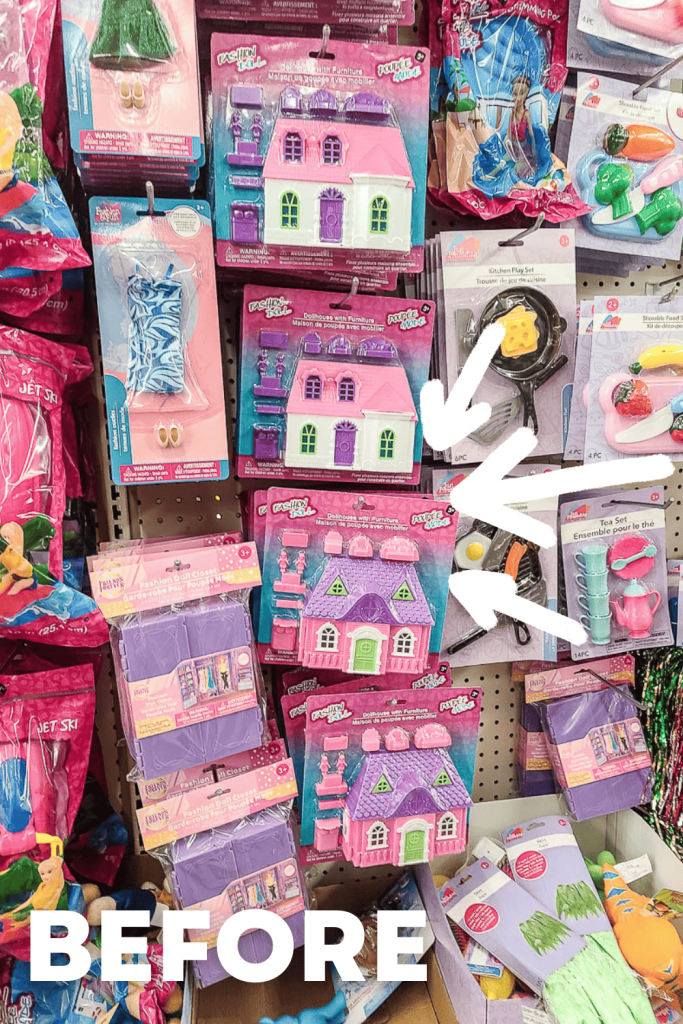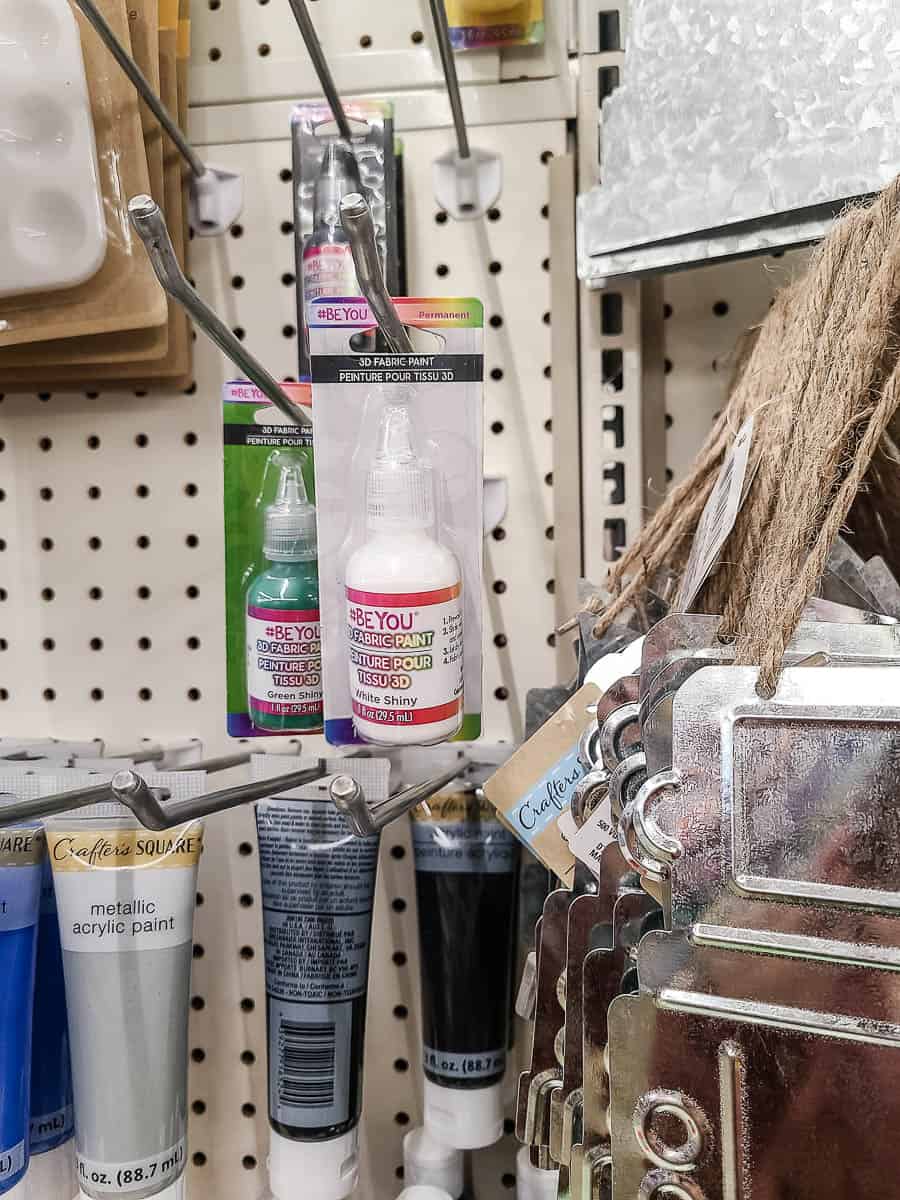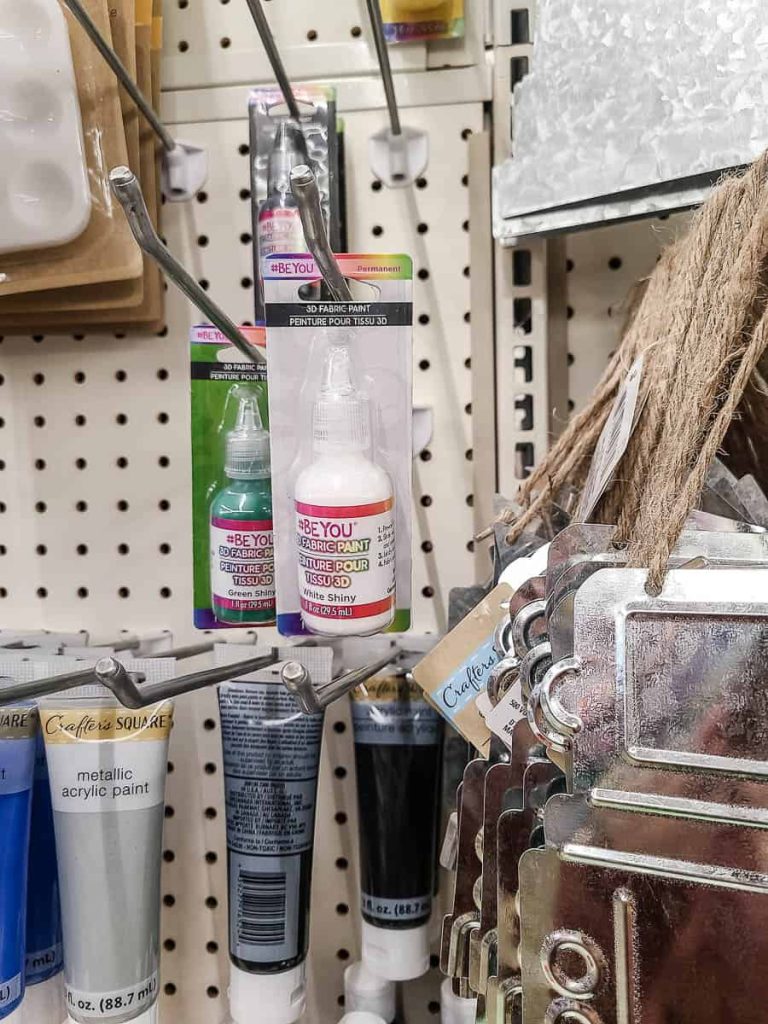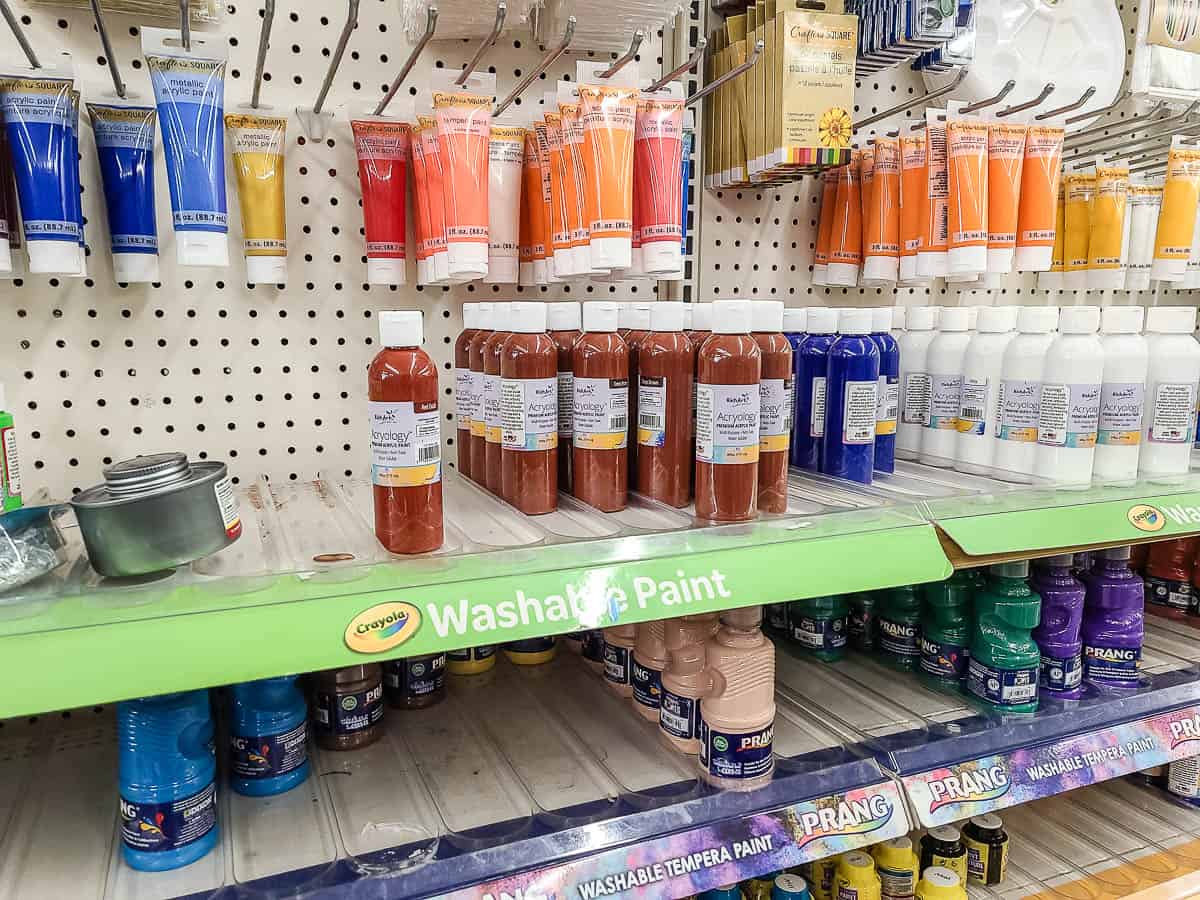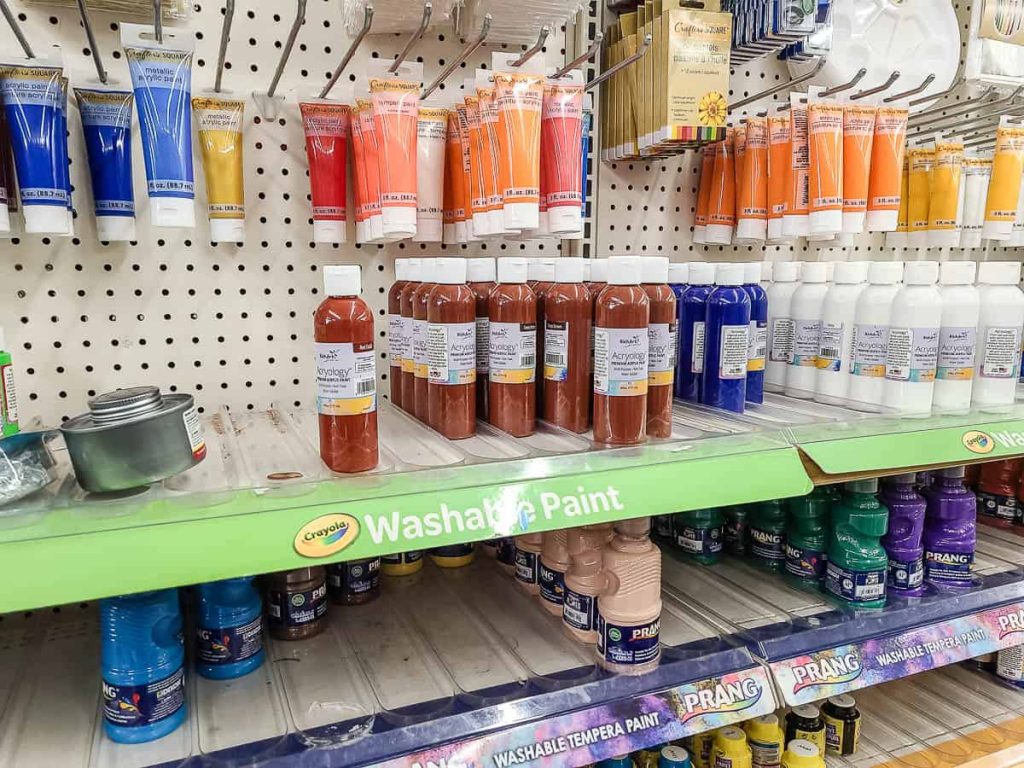 Supplies for fake gingerbread house:
Step 1. Prime plastic house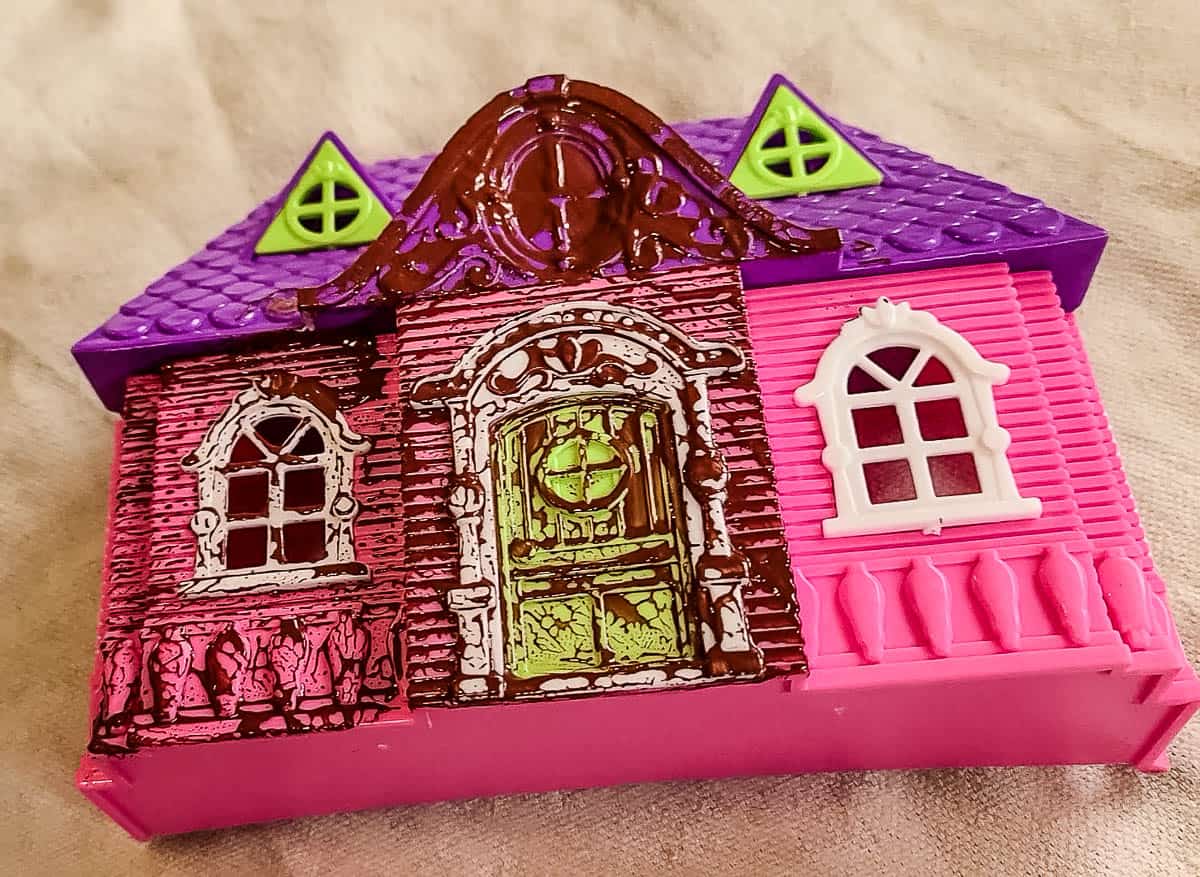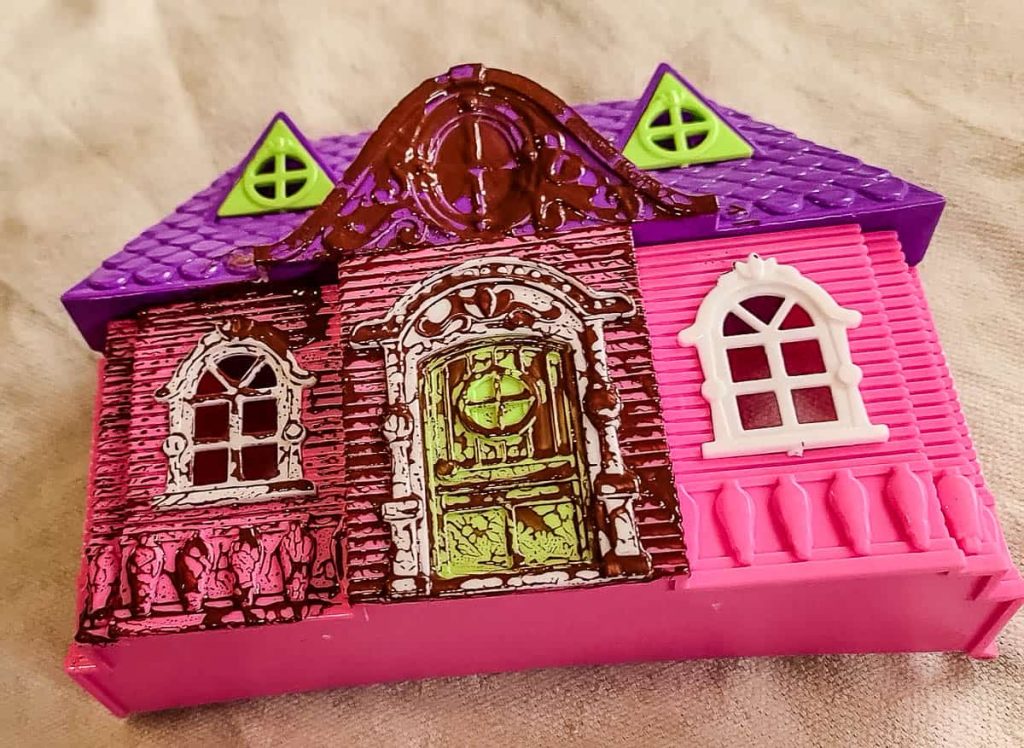 After I unpacked the plastic toy dollhouse, I tried to paint it with acrylic paint, thinking that I could save a step by jumping right in. But, as expected, the paint did not want to stick to the plastic toy dollhouse. But, hey, it was worth a shot, right?
​As you can see in the photo, the paint just beads on the plastic surface. No worries though, nothing a little primer can't fix!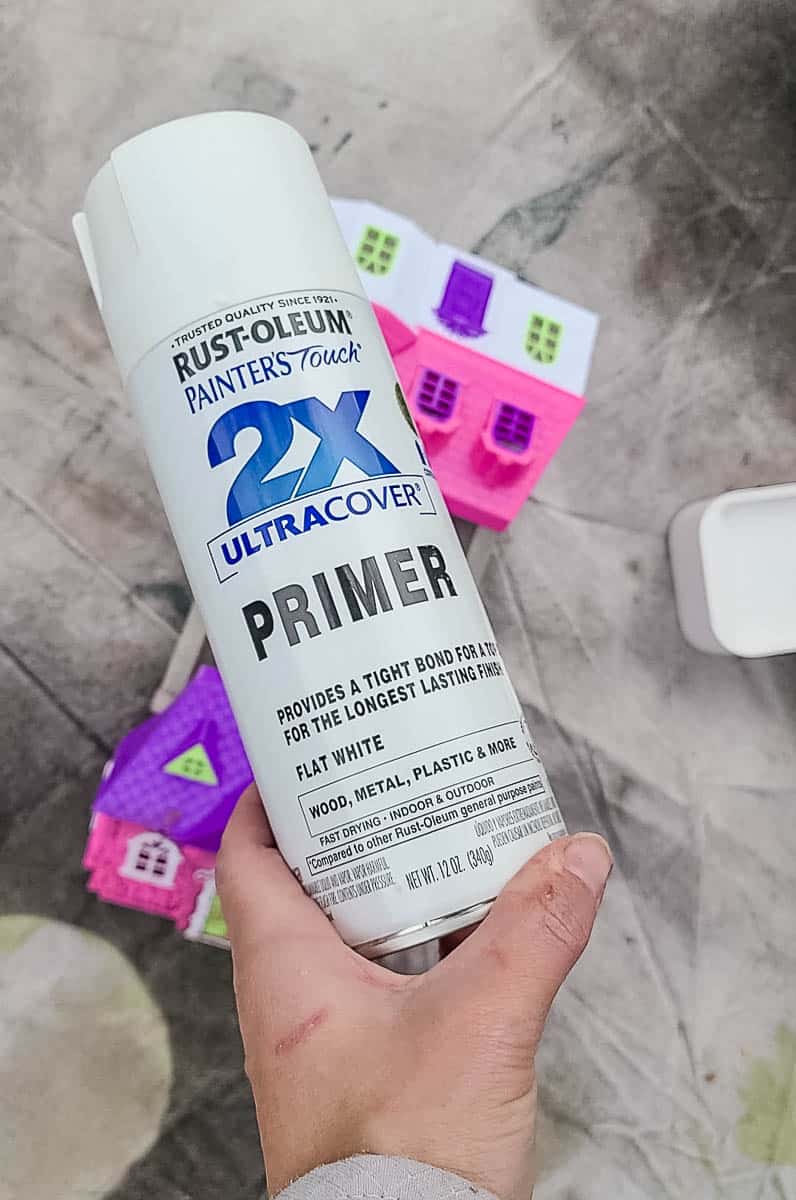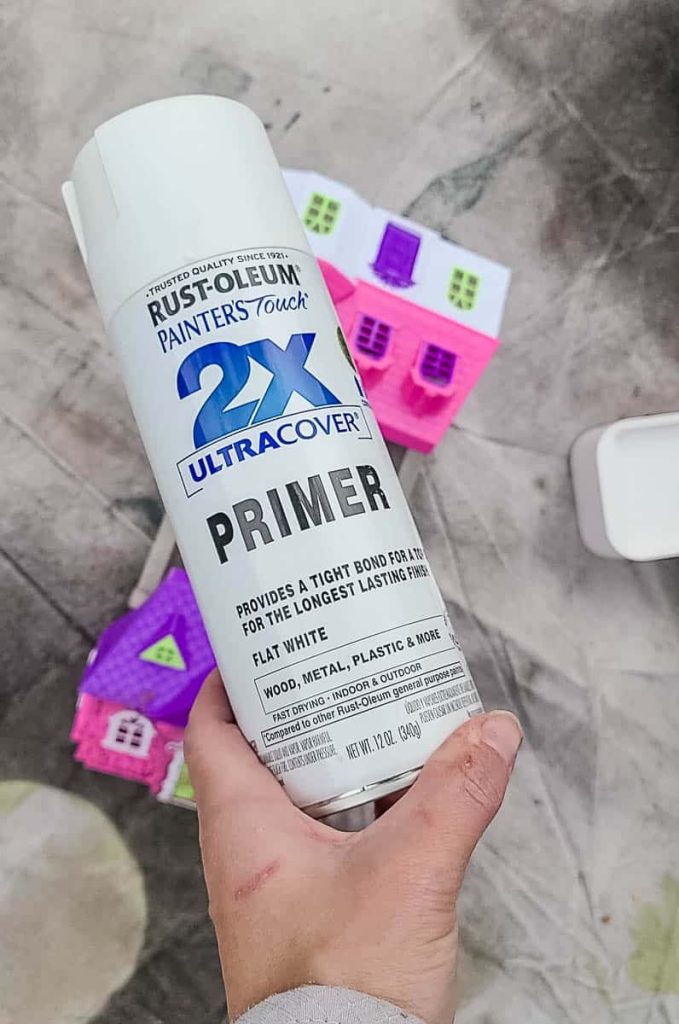 Take the dollhouses outside and give them a few coats of spray primer. I also did a coat on the inside of the plastic houses to cover the bright colors, which would definitely clash with the brown-and-white look that I was going for!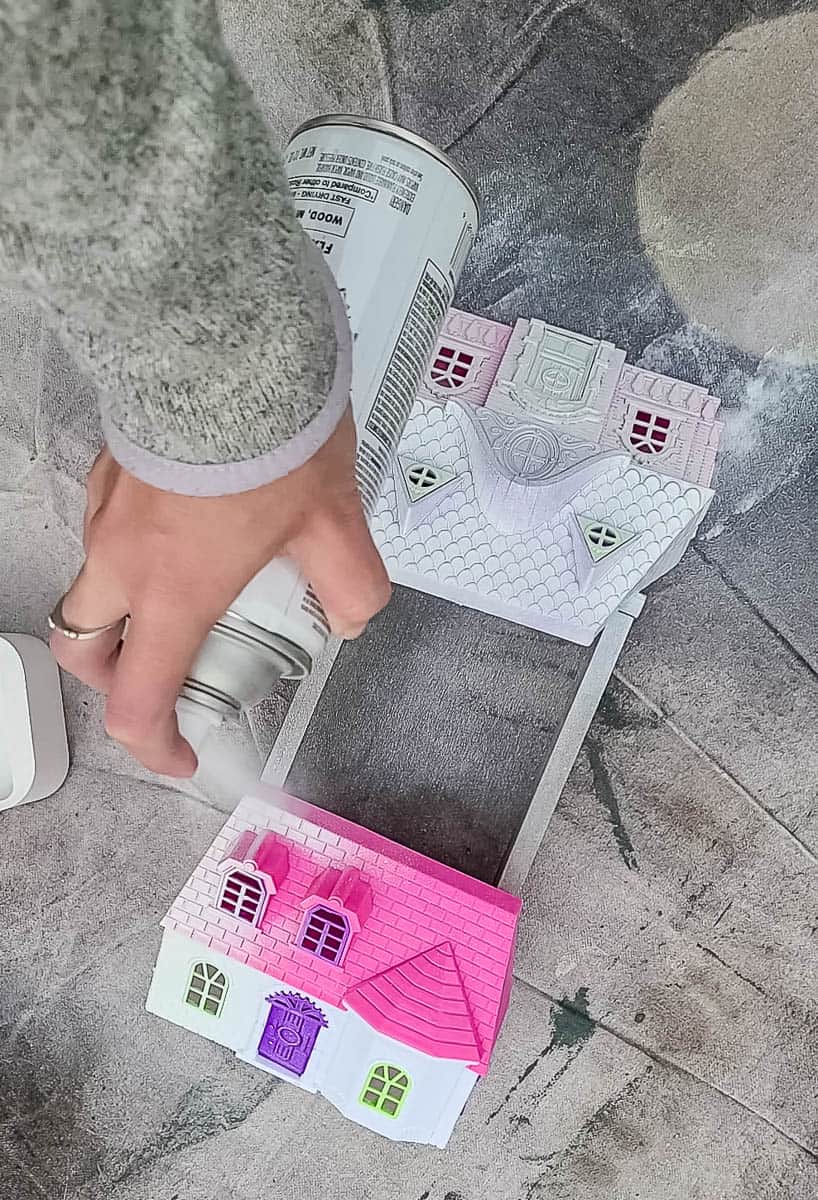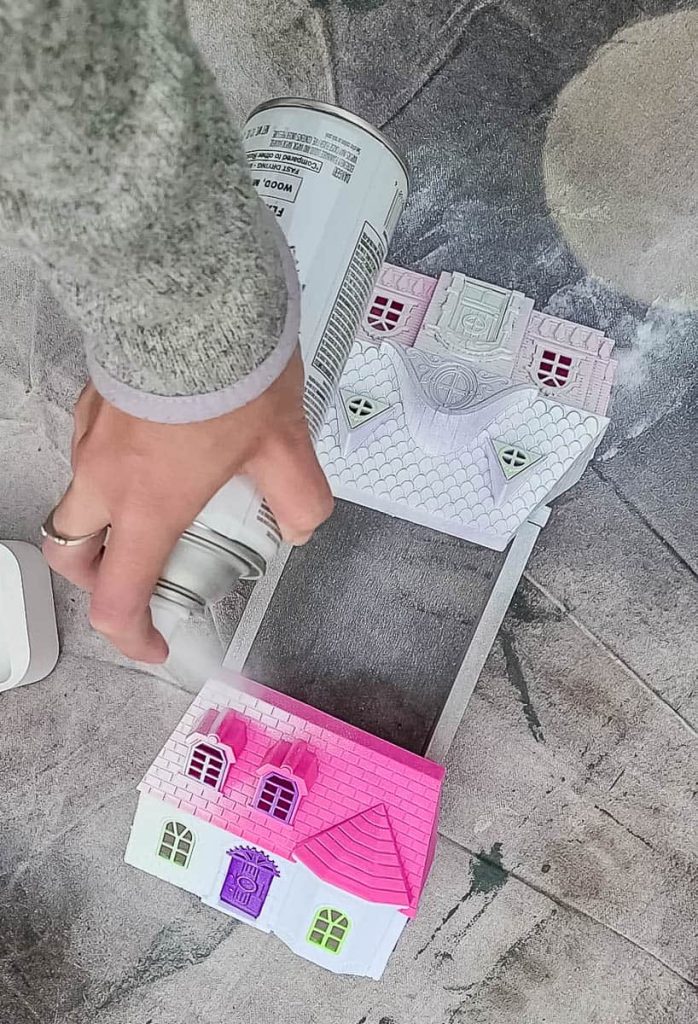 I already had the white primer on hand, but if I was purchasing it just for this project, I would go with this color which is already pretty close to the gingerbread color!
Step 2. Paint dollhouse brown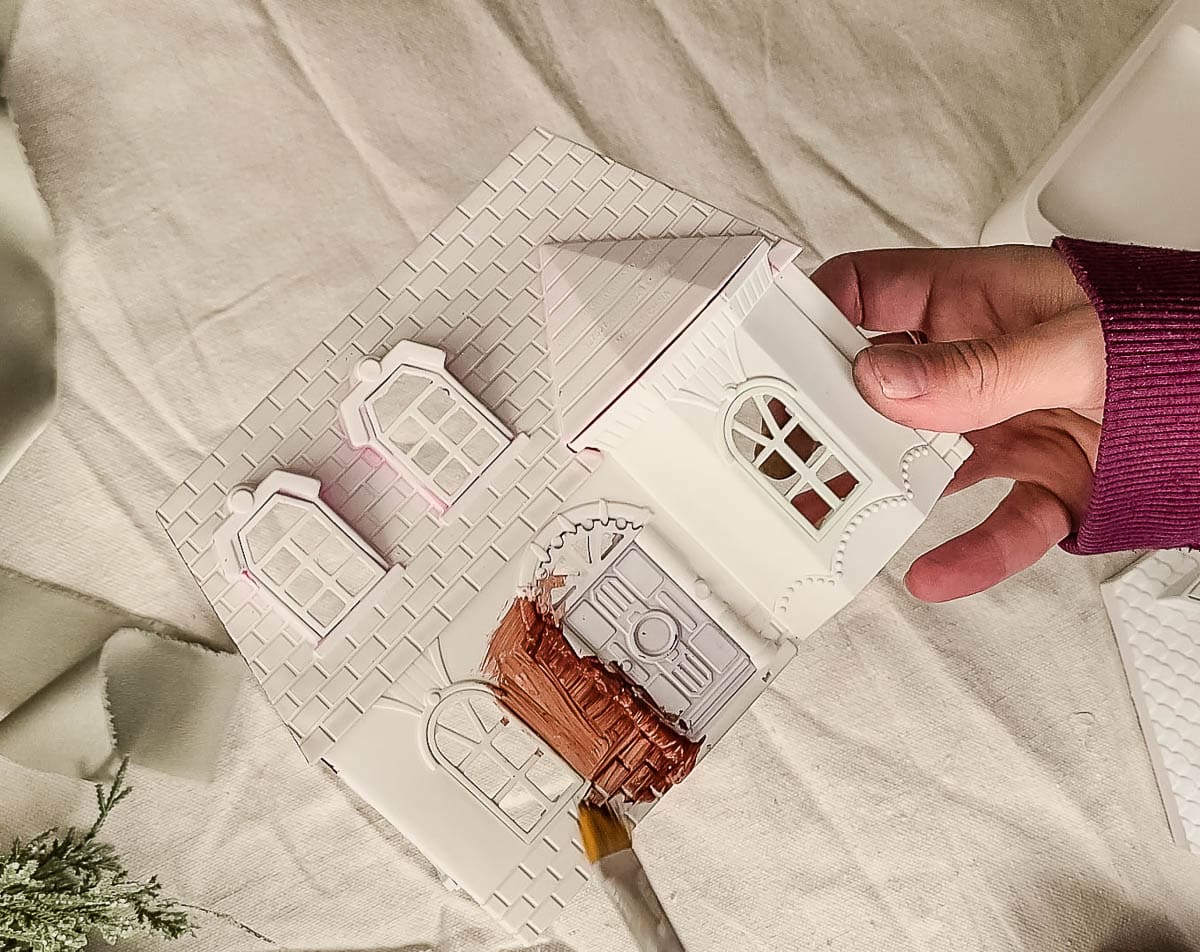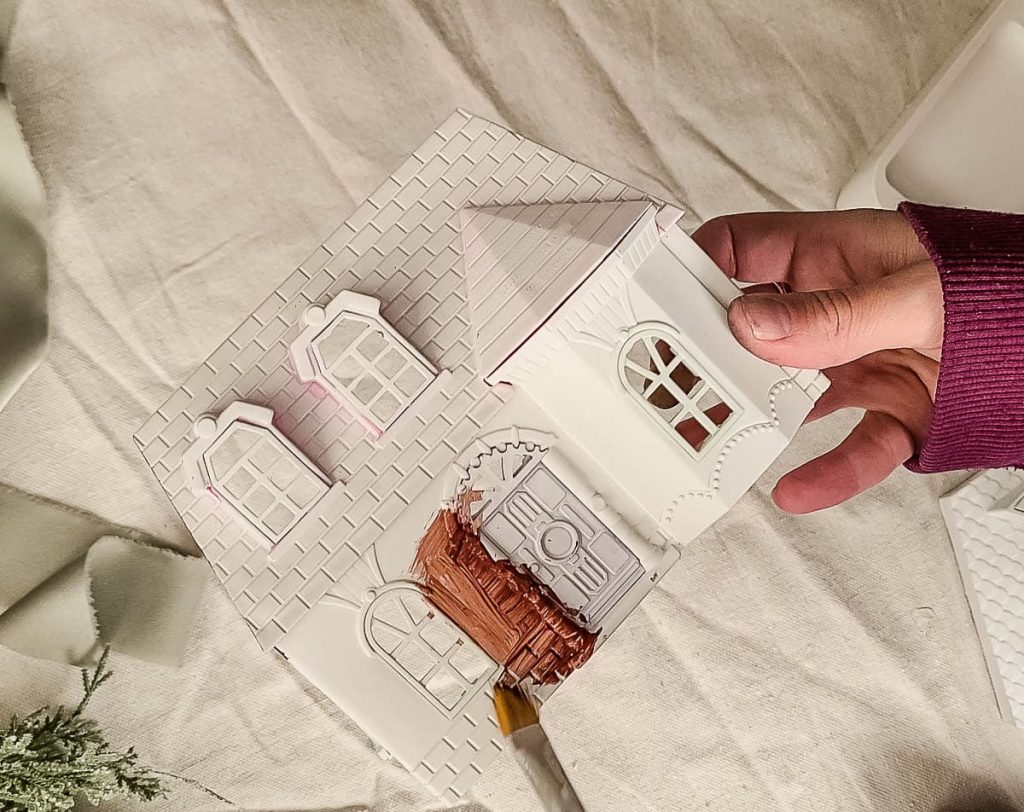 Now grab your brown acrylic paint; it's time to give that dollhouse a warm and inviting gingerbread hue. I found the brown acrylic paint at the Dollar Tree and I thought it was the perfect color that looks like the real thing for our fake gingerbread house.
​Use a small craft paintbrush to apply the acrylic paint to the dollhouse over the primer. I'm not sure if it was just because I was using cheap Dollar Tree paint, but this required a lot of layers of paint!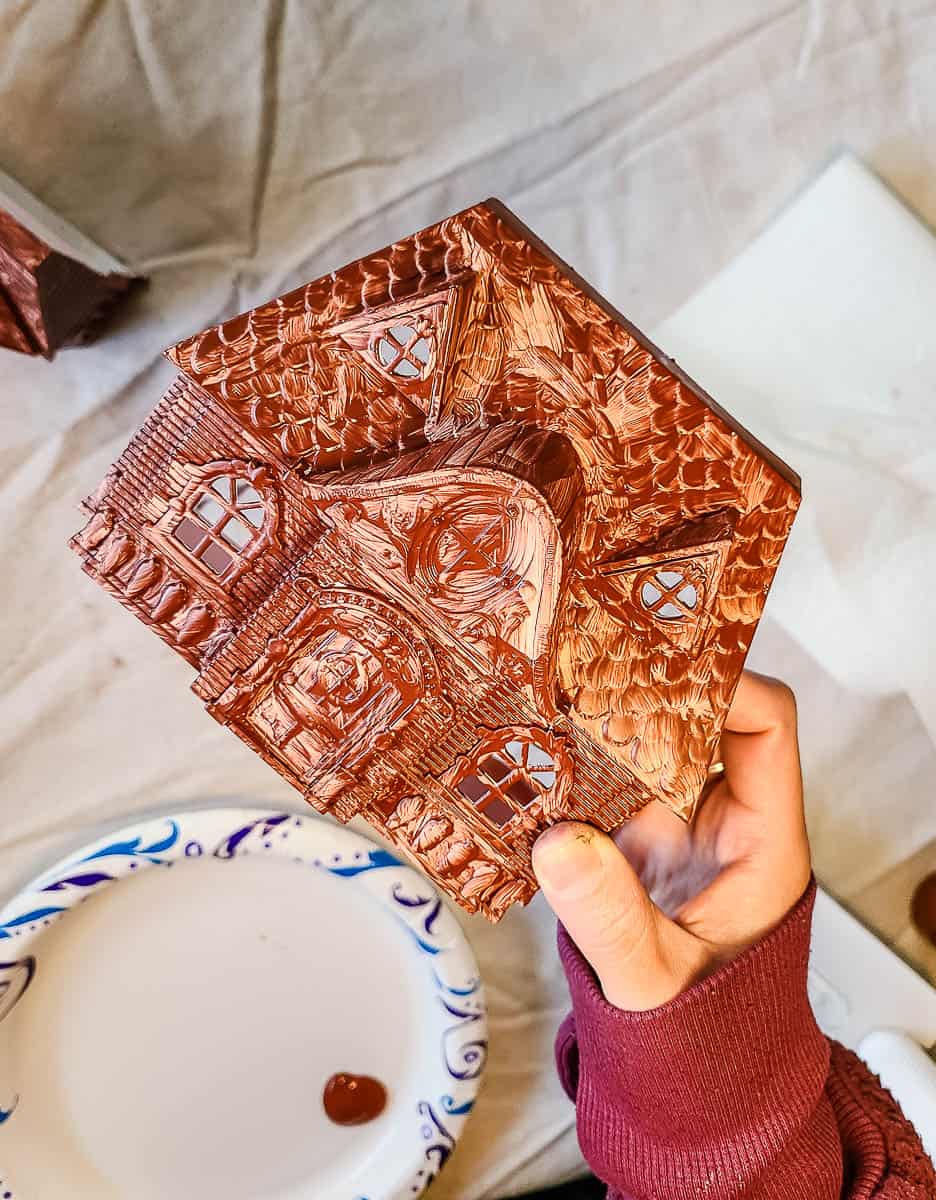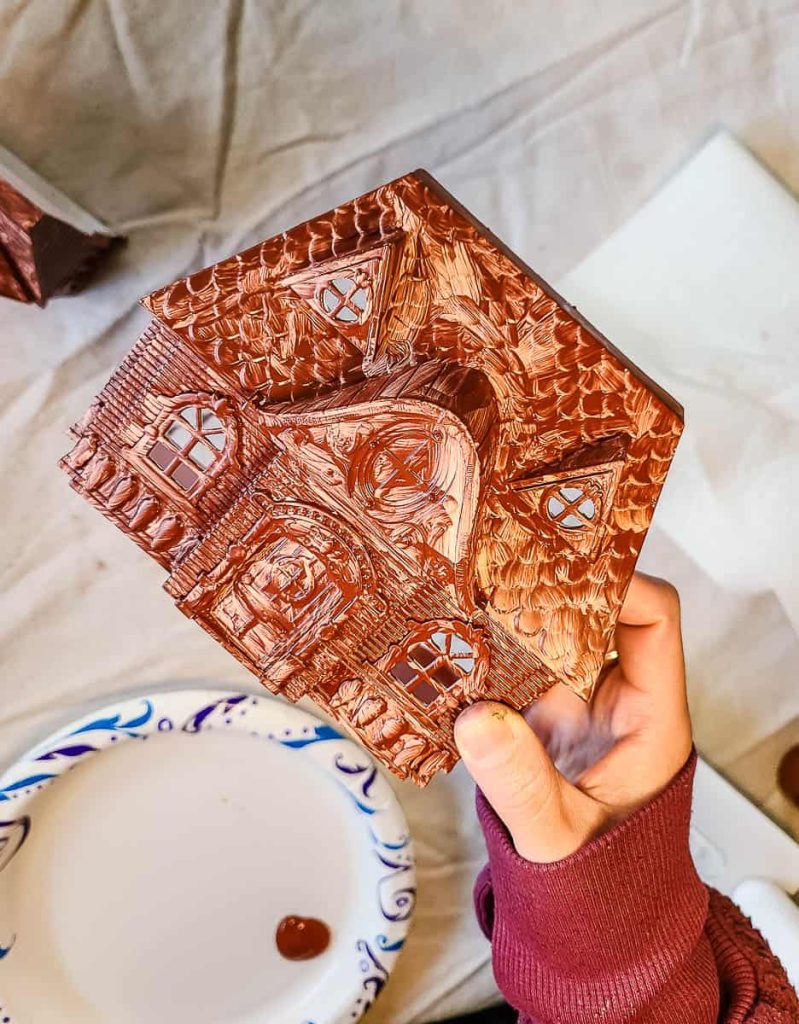 ​Here's what it looked like after one coat of paint. You can definitely see the primer underneath.
Continue painting until you can get better coverage, letting the paint dry between coats.
Try to resist the urge to move the paintbrush back and forth a lot, which will just grab the paint layer underneath. Instead, just put the next layer of paint on quickly and don't brush back and forth much. You can also try to "dab" the paint on instead of brushing it! That may work better.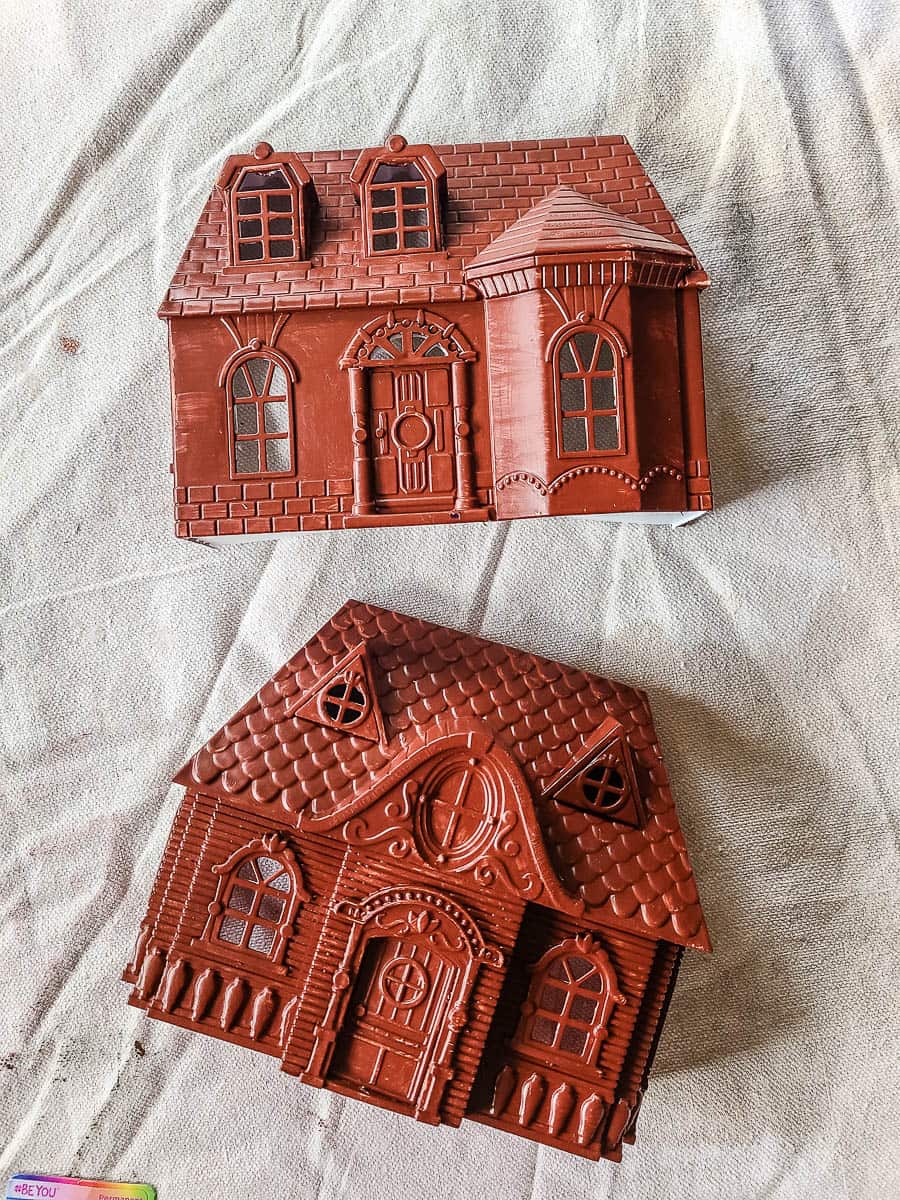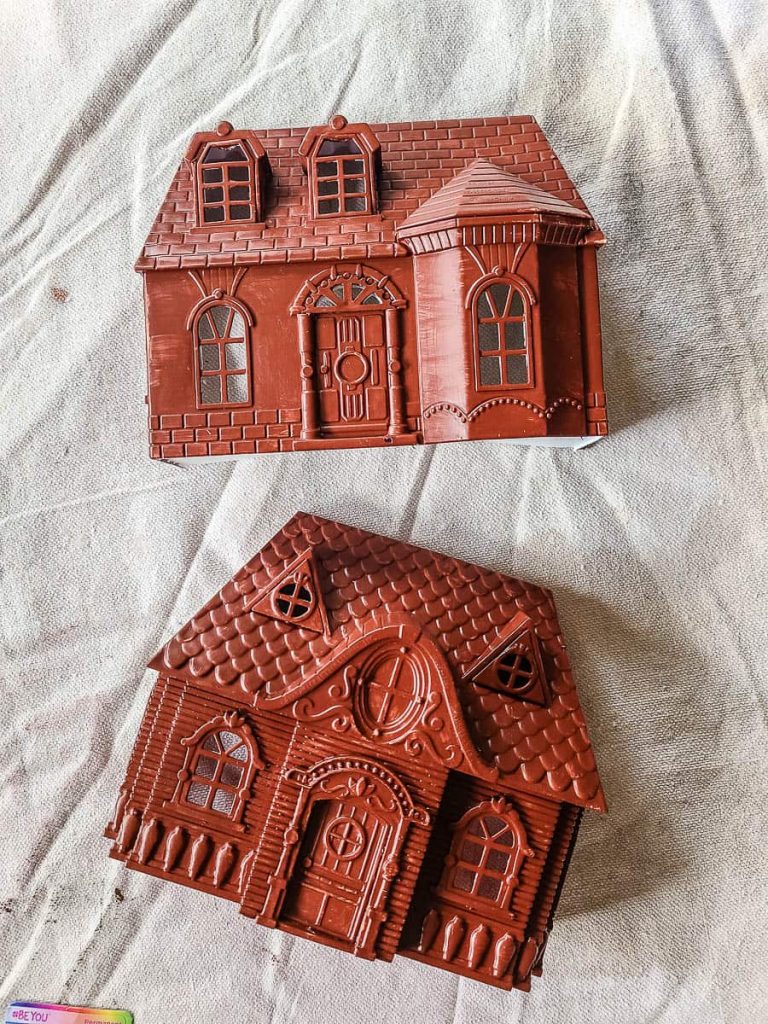 Here's what the fake gingerbread house looked like after about 4 or 5 coats of brown paint. I lost count eventually! You can see there were still a few little spots here and there that weren't perfect but I was so tired of adding layers of brown paint that I decided to move on, which was fine because the white puff paint covered up any imperfections!
Lessons Learned – If I were to make this faux gingerbread house again, I would go with brown spray paint instead of acrylic paint. That would save a ton of time! If you used a spray paint, like this, that is made to go on plastic, you could probably skip the prime step altogether!
Step 3. Decorate with white puff paint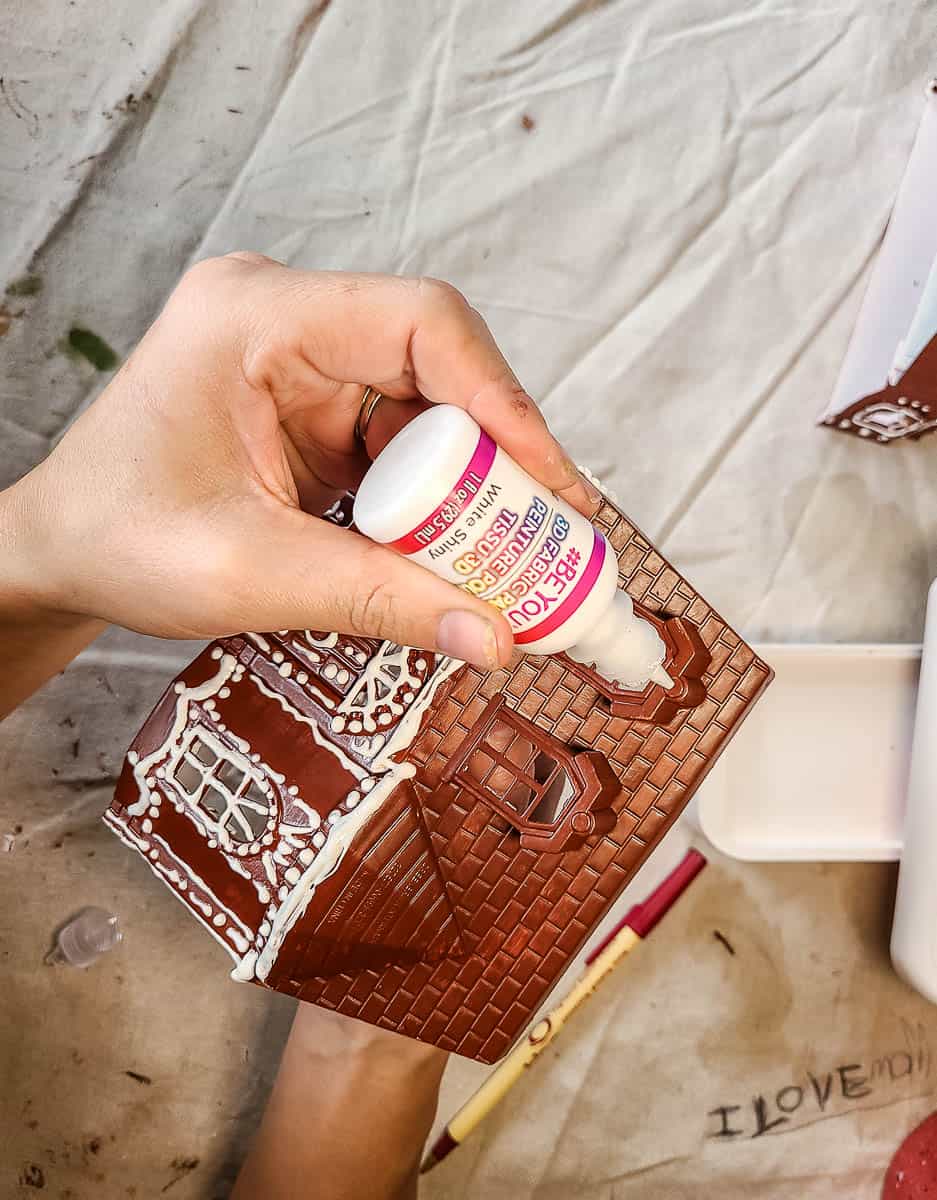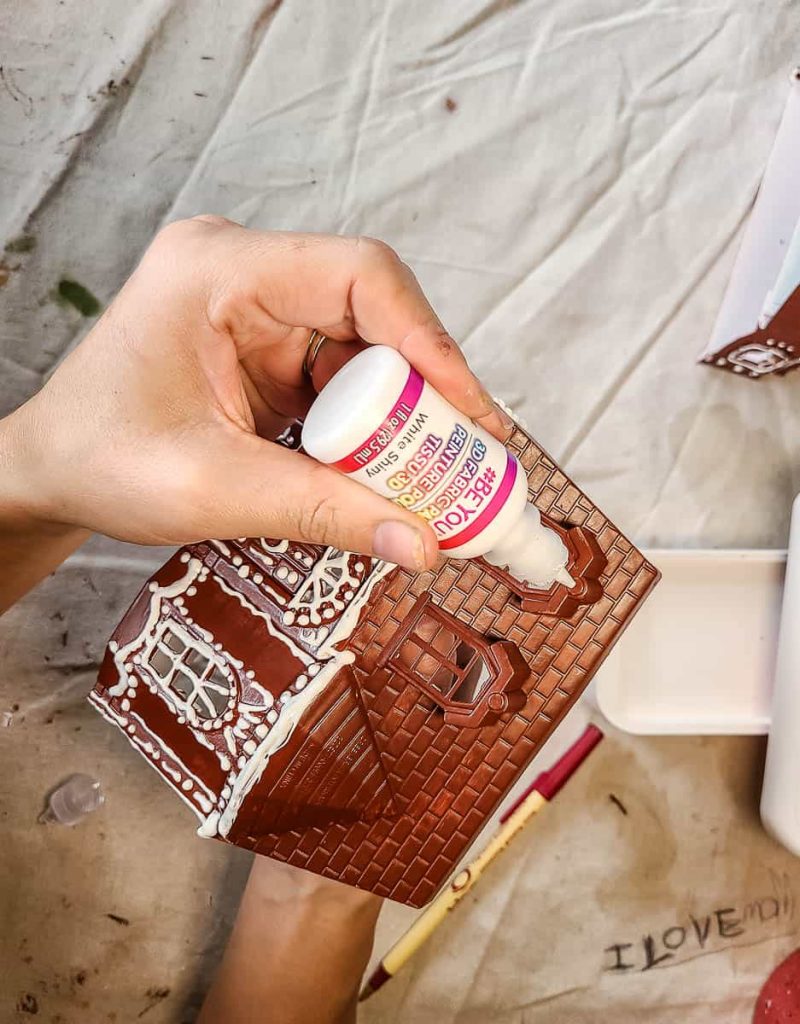 Now for the secret ingredient to our gingerbread magic! White fabric puffy paint adds the sweet and snowy details that make your creation pop.
Slowly squeeze the white fabric puffy paint onto the painted toy plastic dollhouses, tracing the window and door frames and ridges along the roof to make it look like royal icing!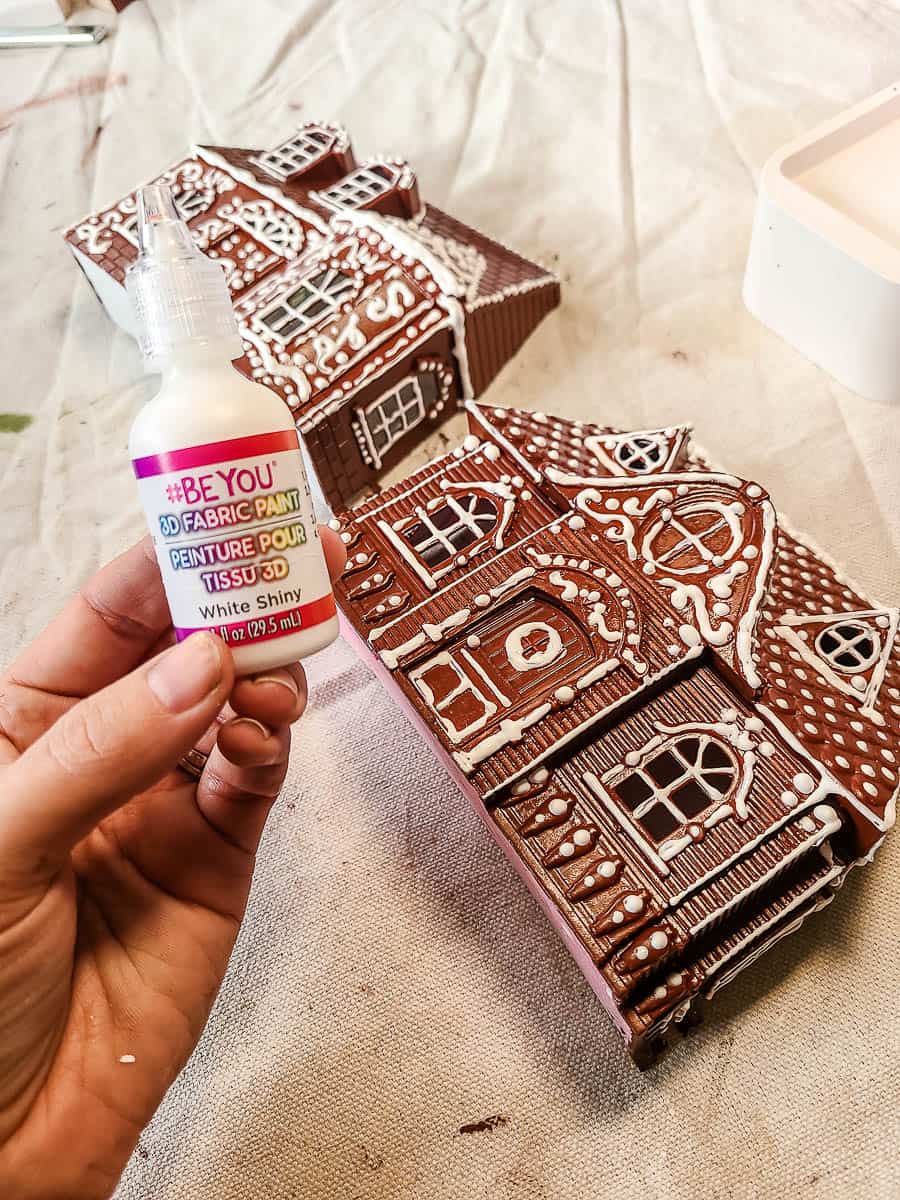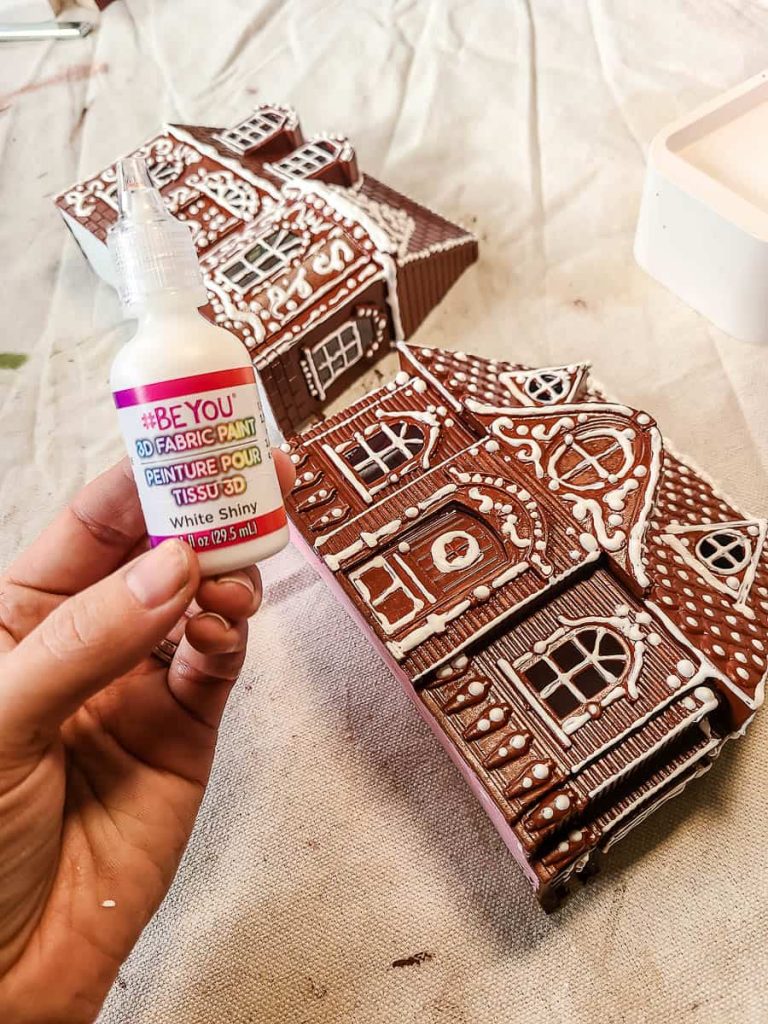 Feel free to get creative and add extra embellishments and designs all over the dollhouse. I found that it was easiest to do dots with the puff paint, so I did a lot of little dots! Google pictures of gingerbread houses in real life for inspiration!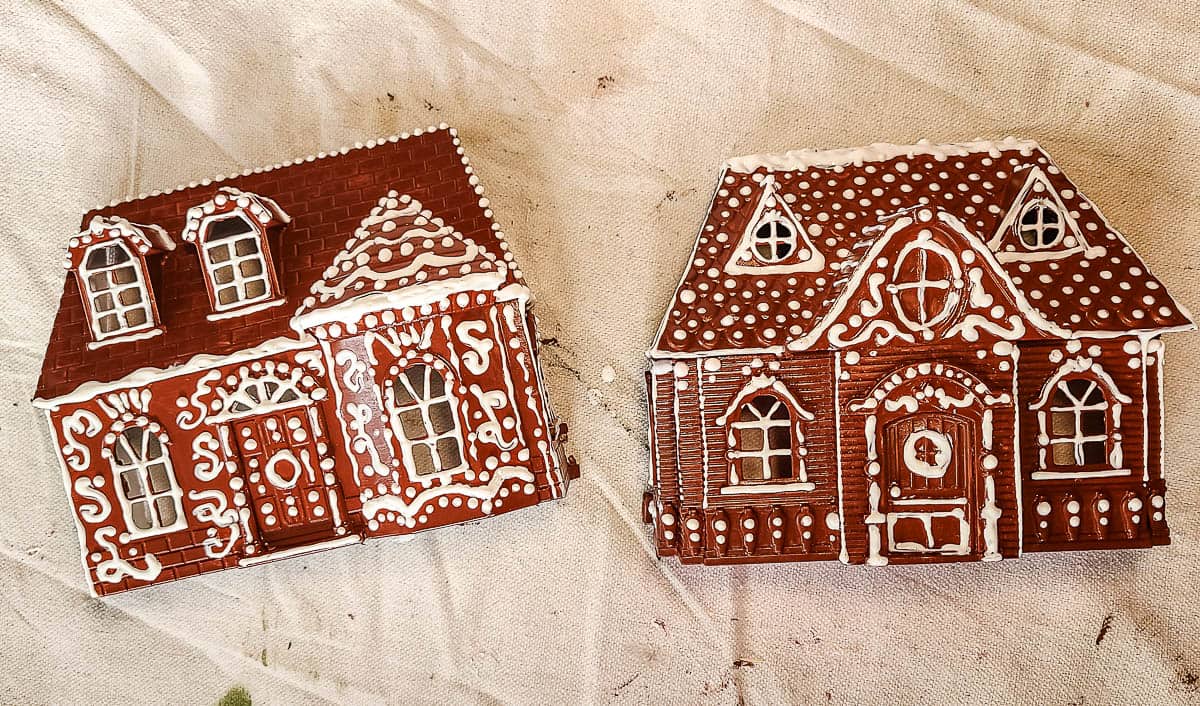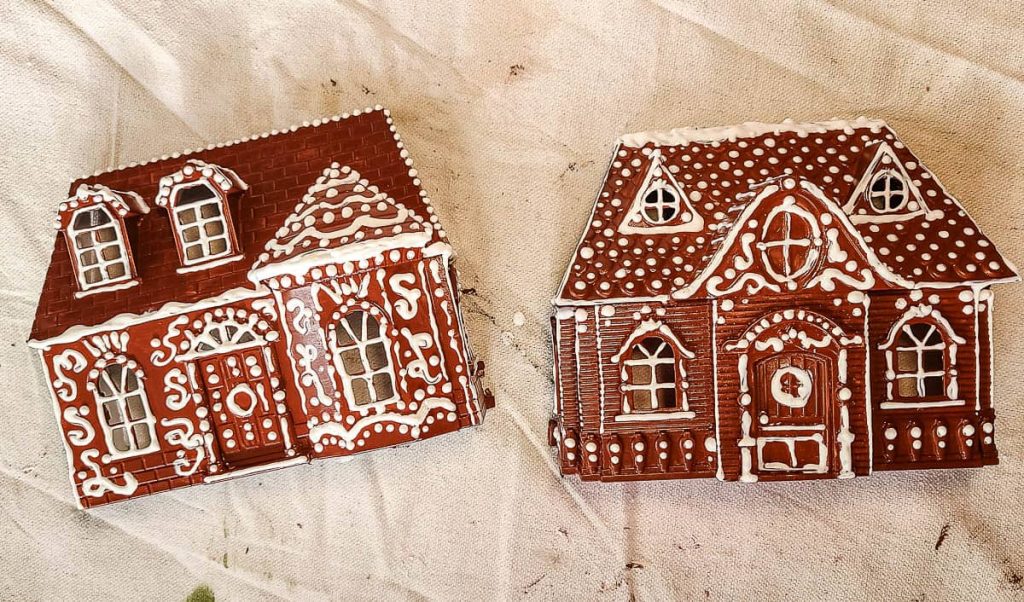 Instead of puff paint, you could also white glue sticks in a hot glue gun to add the white designs to your gingerbread house.
Want to add a little extra to your fake gingerbread house?
Pour a little bit of fine glitter over the puff paint to add some sparkle.
Use hot glue guns to add candy pieces to your gingerbread house. You could use either fake candy or the real stuff. Mini candy canes would be the perfect size for these dollhouses.
Add some small gingerbread people or little trees to the front of the houses.
Make a mini wreath for the front door.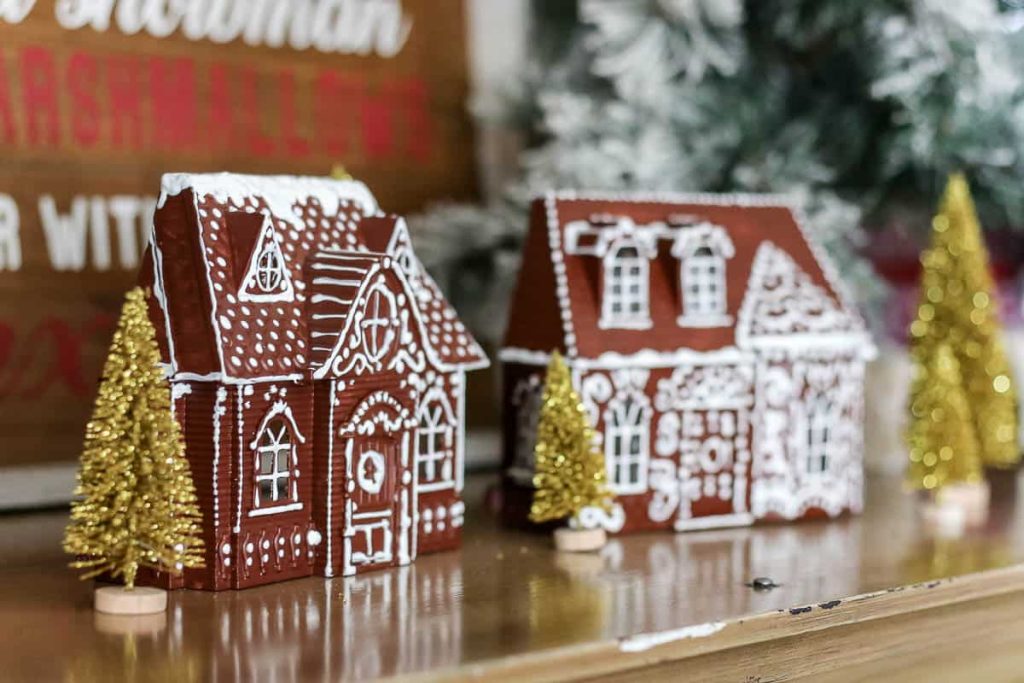 Crafting should be a joy, not a chore. We've designed this fun craft project to be a blast for DIY enthusiasts of all levels.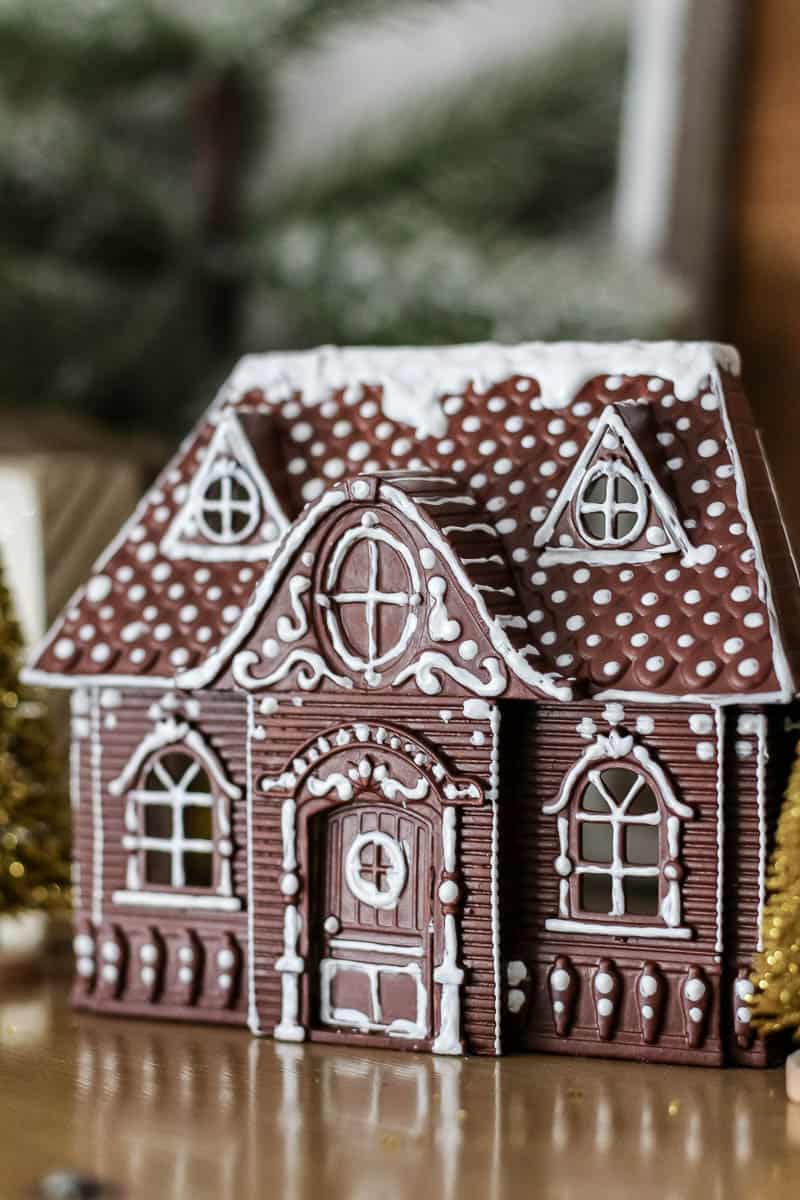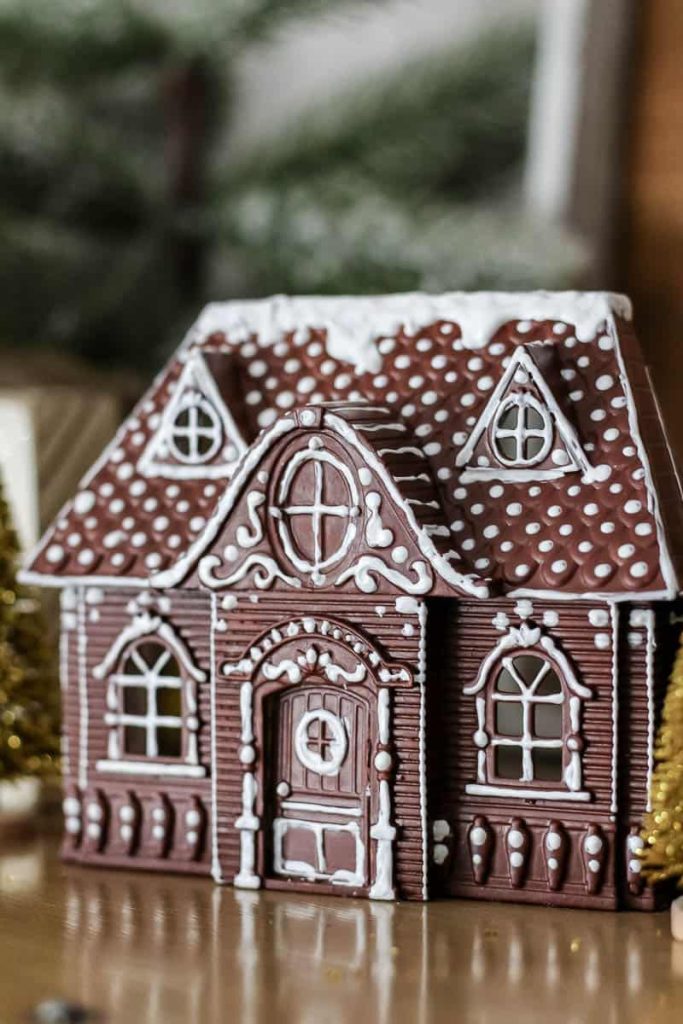 My kiddos (ages 5 and 7) loved helping me with this DIY Christmas decoration. The only part that they had a hard time with was the white puffy paint, which required some major hand/eye coordination and self-control to only squeeze a small amount at a time.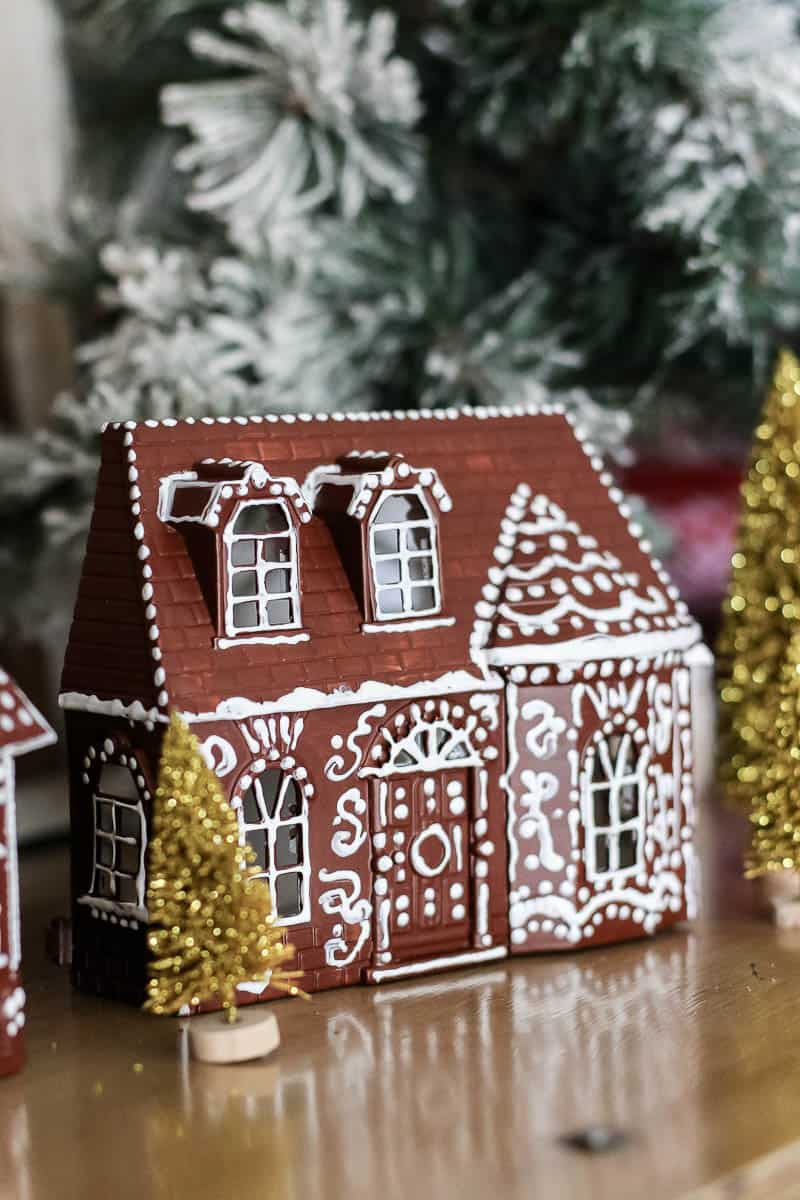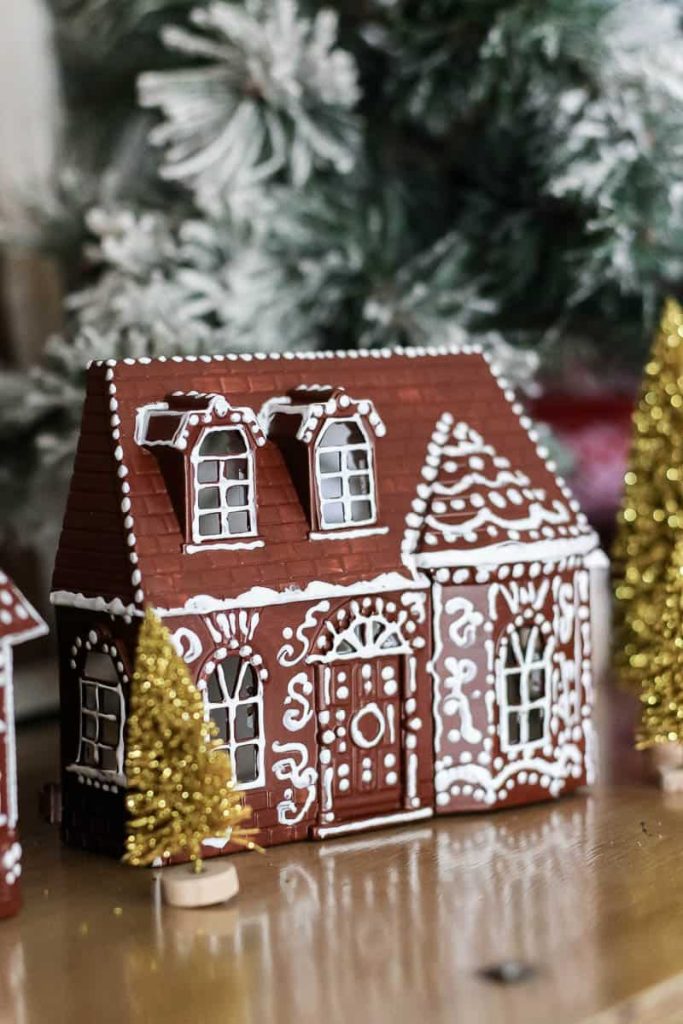 Gather the family, put on some holiday tunes, and let the crafting festivities begin!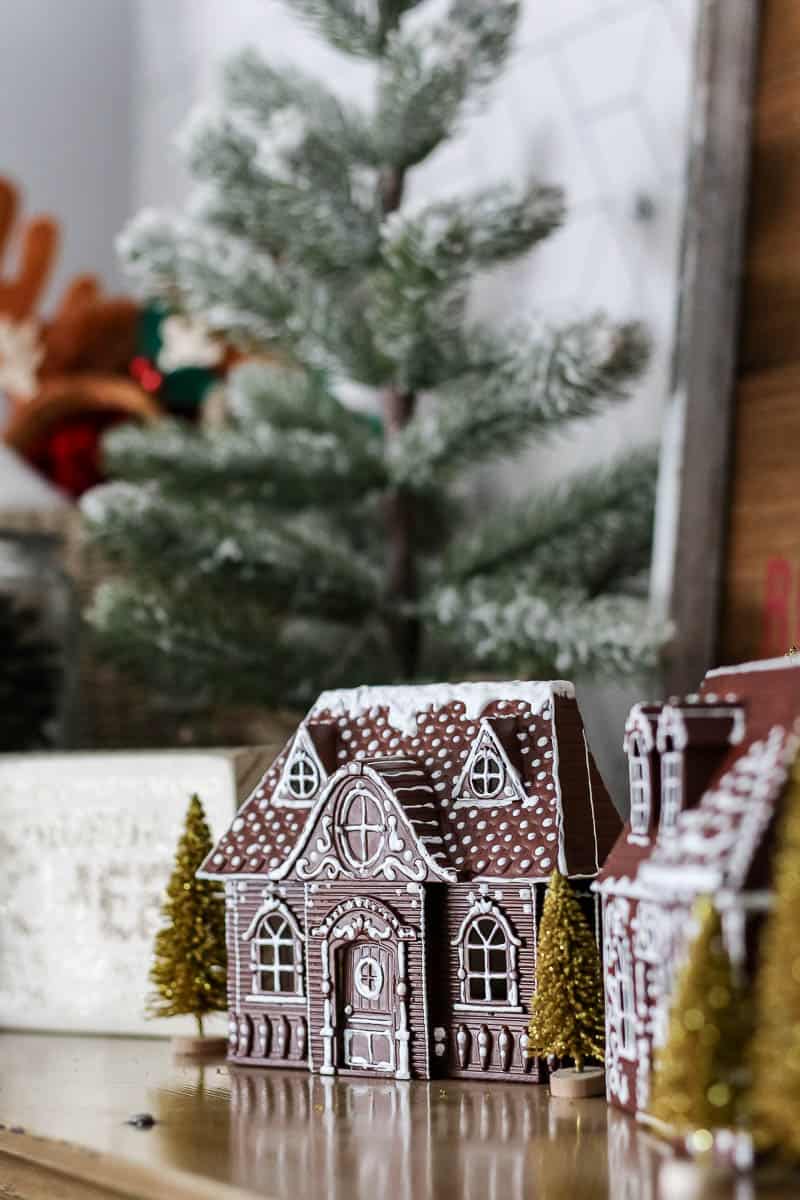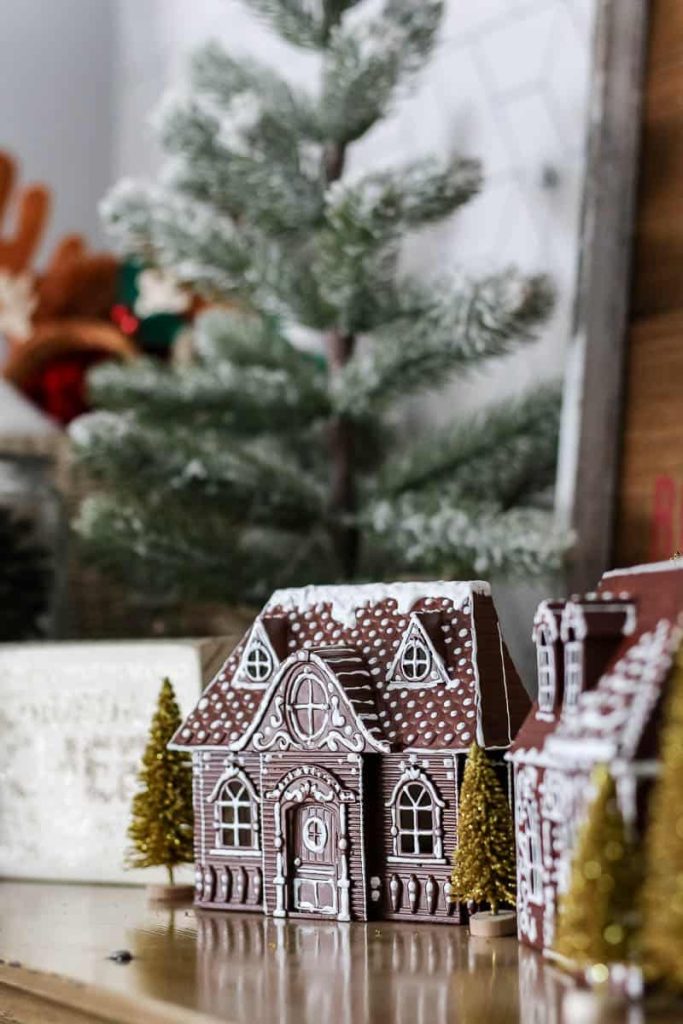 And there you have it, friends! Your very own fake gingerbread house made for less than $5, ready to steal the show this holiday season. You can transform a simple Dollar Tree dollhouse into a festive masterpiece with a touch of brown acrylic paint and a sprinkle of white fabric puffy paint.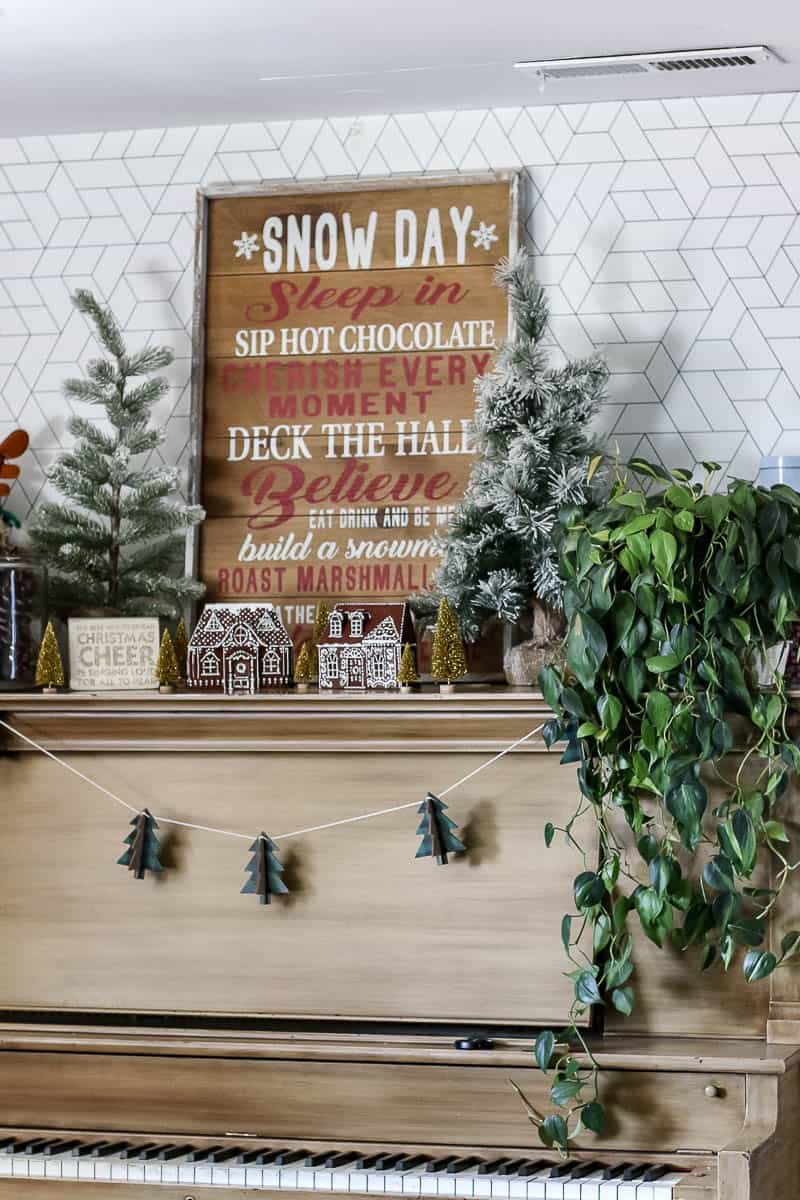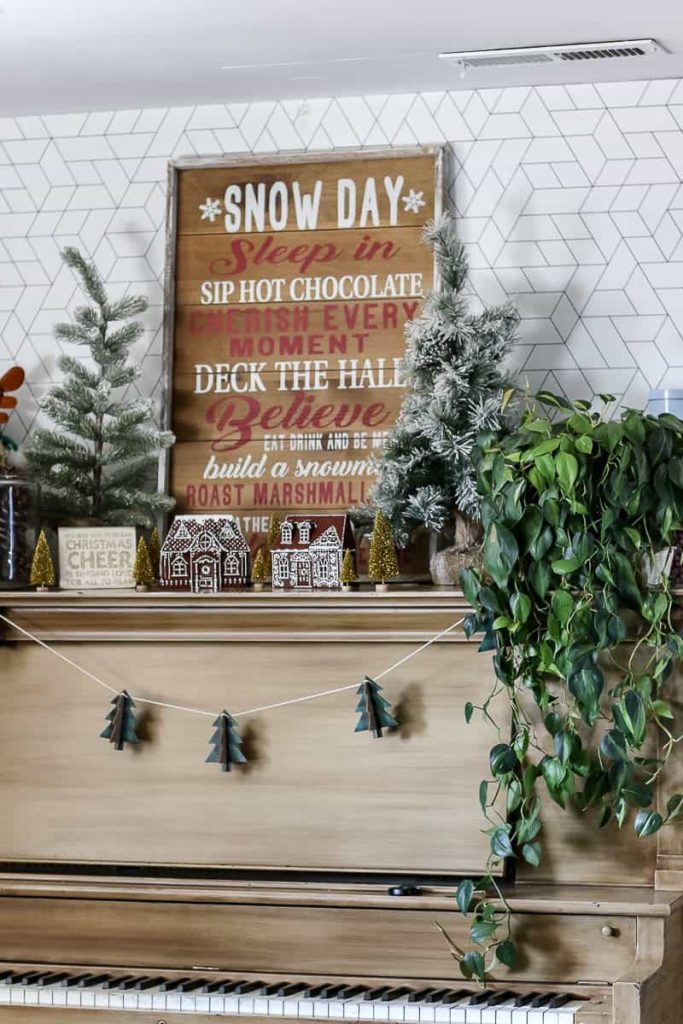 As you place your creation proudly in your home, remember that it's not just a decoration; it's a testament to the joy of crafting and the magic of the holidays. Whether you're a seasoned DIY pro or just dipping your toes into the crafting world, this project is all about making memories and having much fun.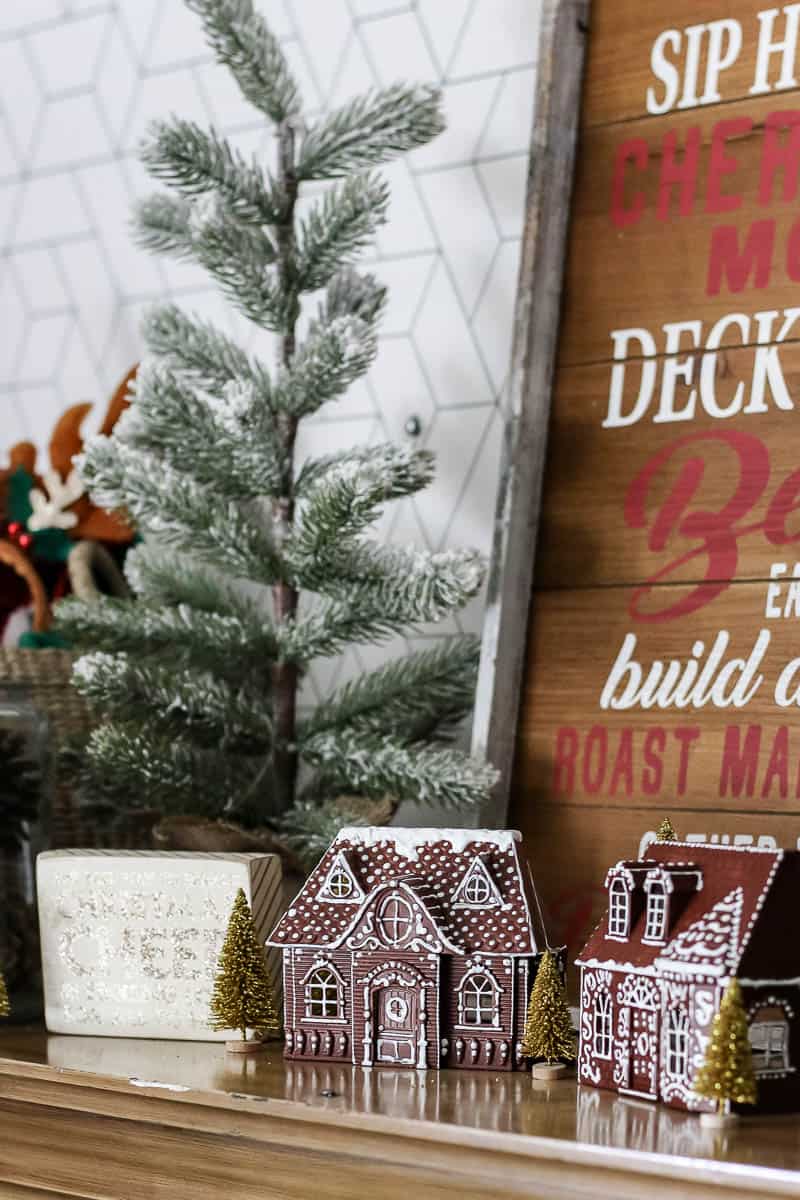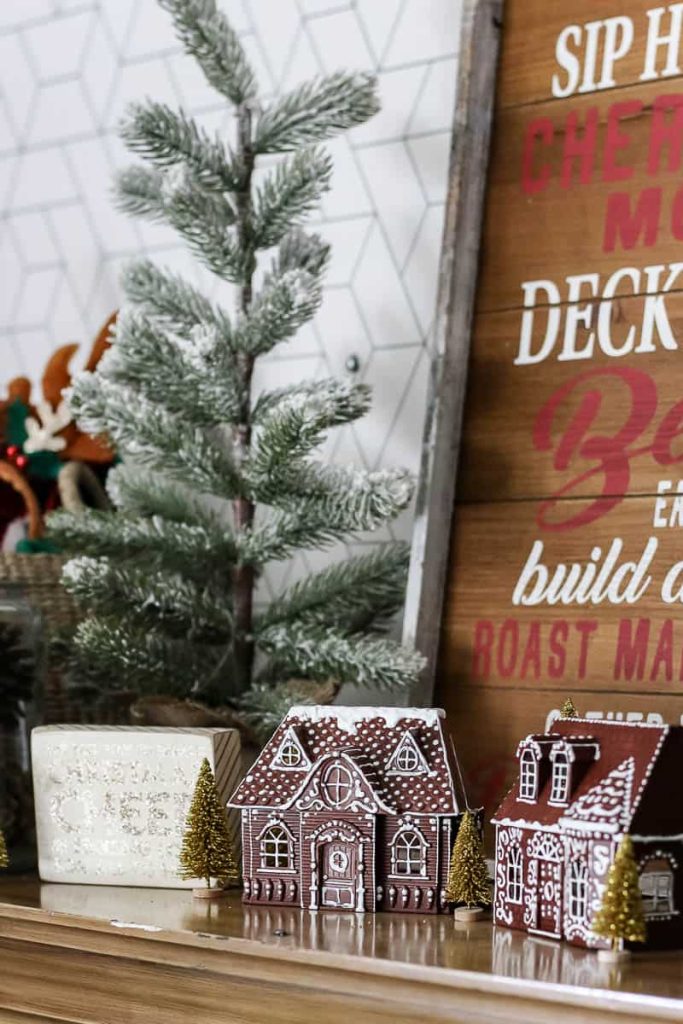 Wishing you all a holly, jolly, and DIY-tastic holiday season! Happy Holidays!