These small fabric Christmas trees are perfect rustic Christmas decorations for the mantel, shelf or tablescapes. They are the perfect simple DIY Christmas craft…so easy, even the kids can make them.
I love making Christmas decorations…like I really love Christmas DIYs. When I think about Christmas decorations, I can't help to think of all the fun I will have making Christmas crafts.
Every year I'm usually bursting with more Christmas craft ideas than I have time to make.
I actually made this Christmas DIY last year, but ran out of time to share this fun project with you guys.
I knew since I loved these little fabric Christmas trees with homespun fabric so much, I had to make them again this year so I can show you how to make them. Gotta share the love, right? Since they are so simple, this is a great Christmas craft that you can make with your kids too!
This fabric Christmas trees tutorial contains affiliate links, but nothing that I wouldn't wholeheartedly recommend anyway! Read my full disclosure here.
Related: Want to see more Christmas decor??

Supplies for fabric Christmas trees: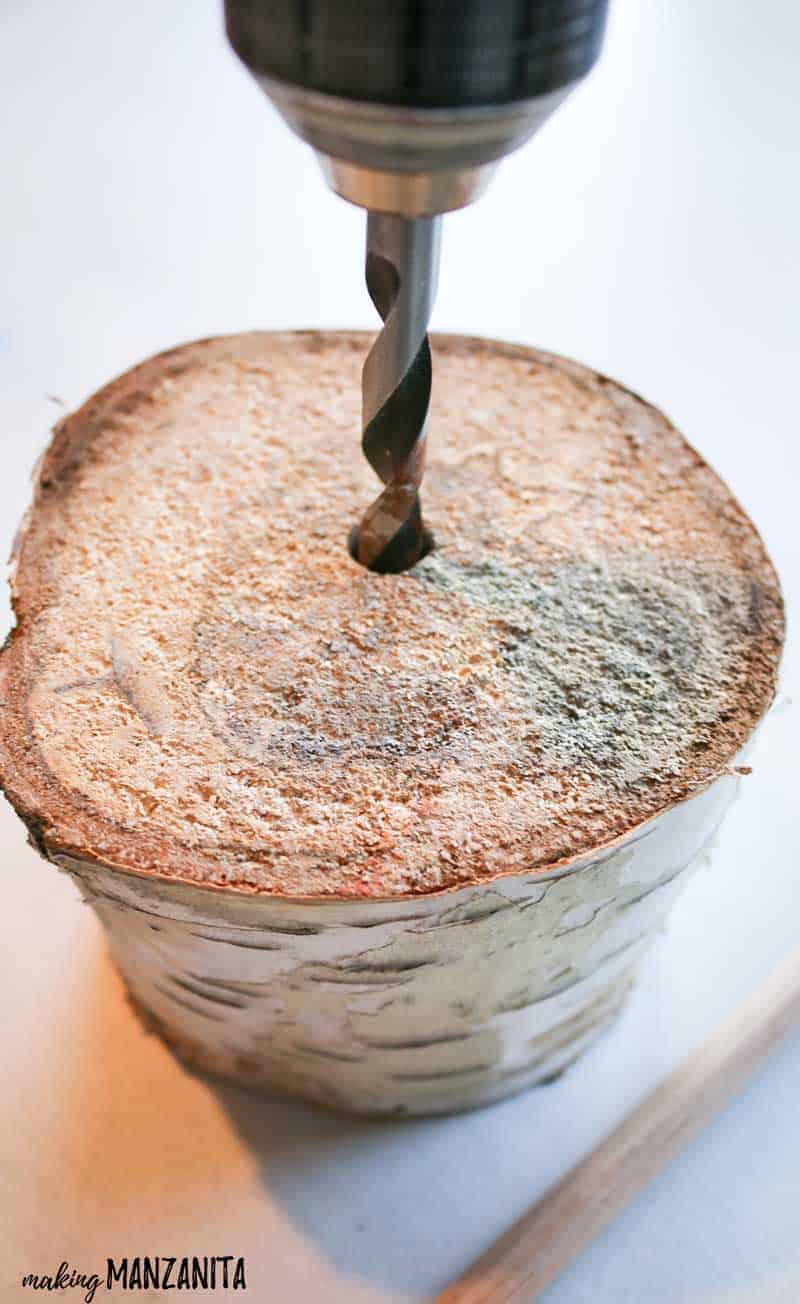 Step 1. Drill hole in wood pillar base.
First of all, I got this birch wood log base from some spare birch logs we have laying around in our backyard…convenient, I know. I doubt you have a similar situation…so don't worry…you can buy them! Also if you have another type of wood log that you could use, feel free! Ideal width of the log base is anywhere between 3-5 inches.
Start by marking the middle of your wood pillar base. Then, using a drill bit just a hair larger than your wooden dowel, drill a hole in the middle of the wooden pillar base about 1-2 inches deep.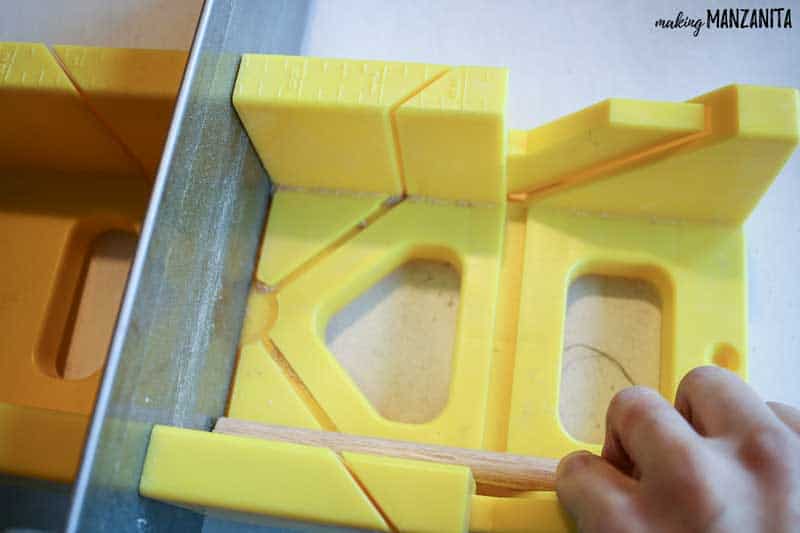 Step 2. Cut wooden dowel.
I used a mitre box and saw to easily cut the dowel down to 12 inches tall.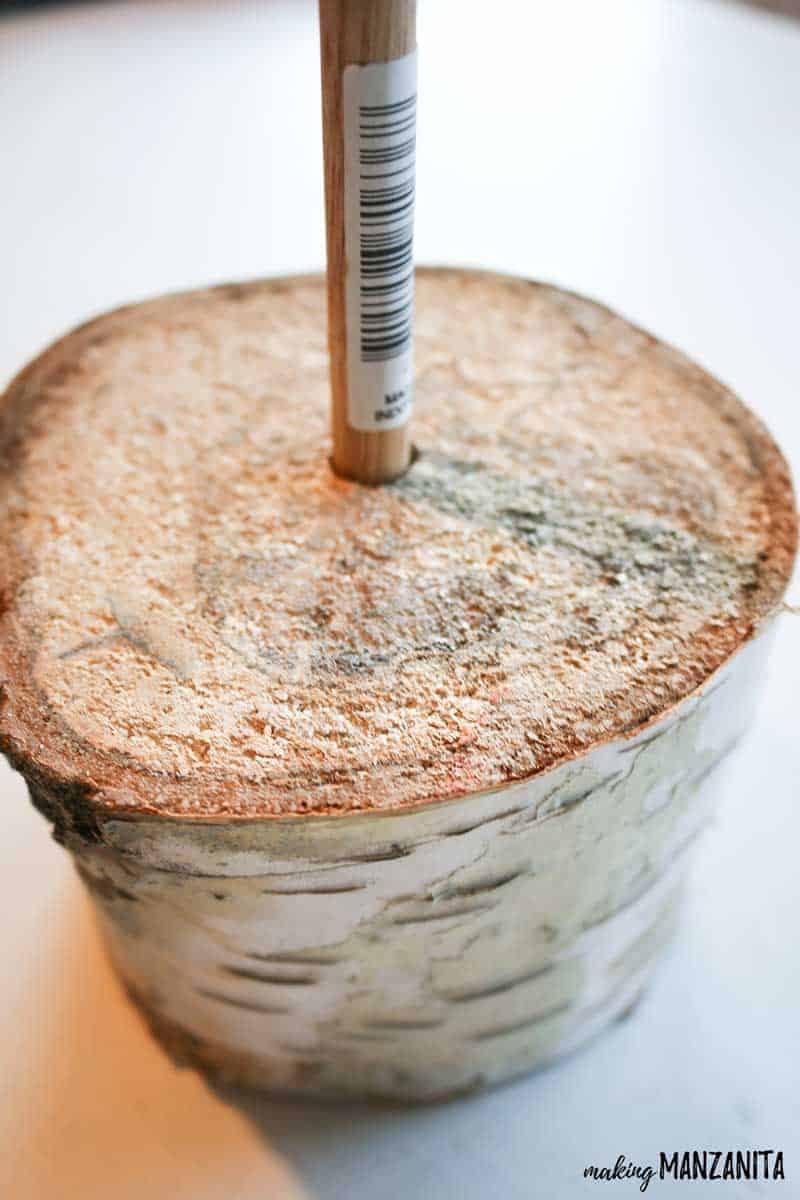 Step 3. Attach wooden dowel.
Add a little bit of wood glue to the bottom of the wooden dowel and place upright in the drilled hole on the wood pillar. Make sure it's straight and then let it be until it's fully dried. I waited overnight.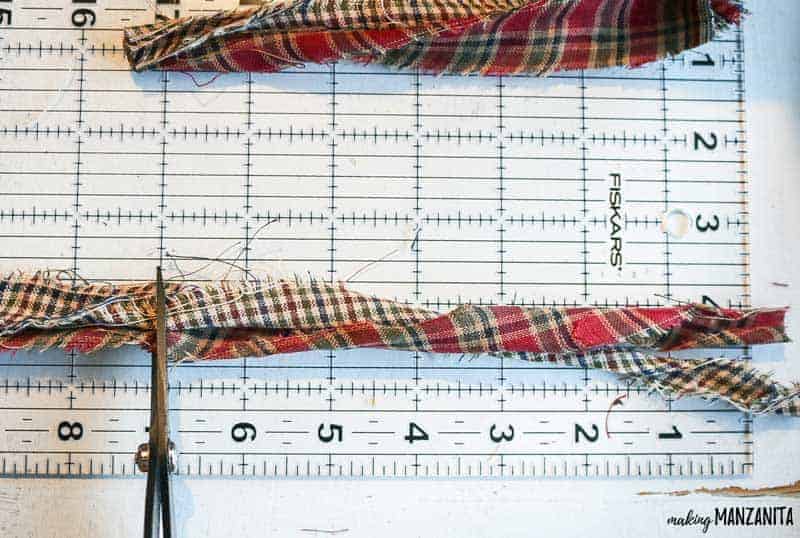 Step 4. Cut fabric strips.
For the fabric strips, they are all about 1"- 1.5" inches wide and I ripped them rather than cutting. I love the rustic, stringy ends the ripping creates and it saves a tons of time. As you can imagine, the fabric pieces get shorter as you make your way up the fabric Christmas trees. I started at the bottom using 11 inch pieces and at the top I was using 5 inch pieces. I went down in increments up 1 inch….so I made a handful of 11 inch, 10 inch, 9 inch, 8 inch…and so on…all the way to 5 inch.
It wasn't an exact science, but I would estimate there is about 10 pieces of fabric tied on at every increment. Use your judgement to add more or less fabric to your liking! Yours may vary slightly, but here are the estimates of what you'll need:
10 pieces cut at 11 inches
10 pieces cut at 10 inches
10 pieces cut at 9 inches
10 pieces cut at 8 inches
10 pieces cut at 7 inches
10 pieces cut at 6 inches
10 pieces cut at 5 inches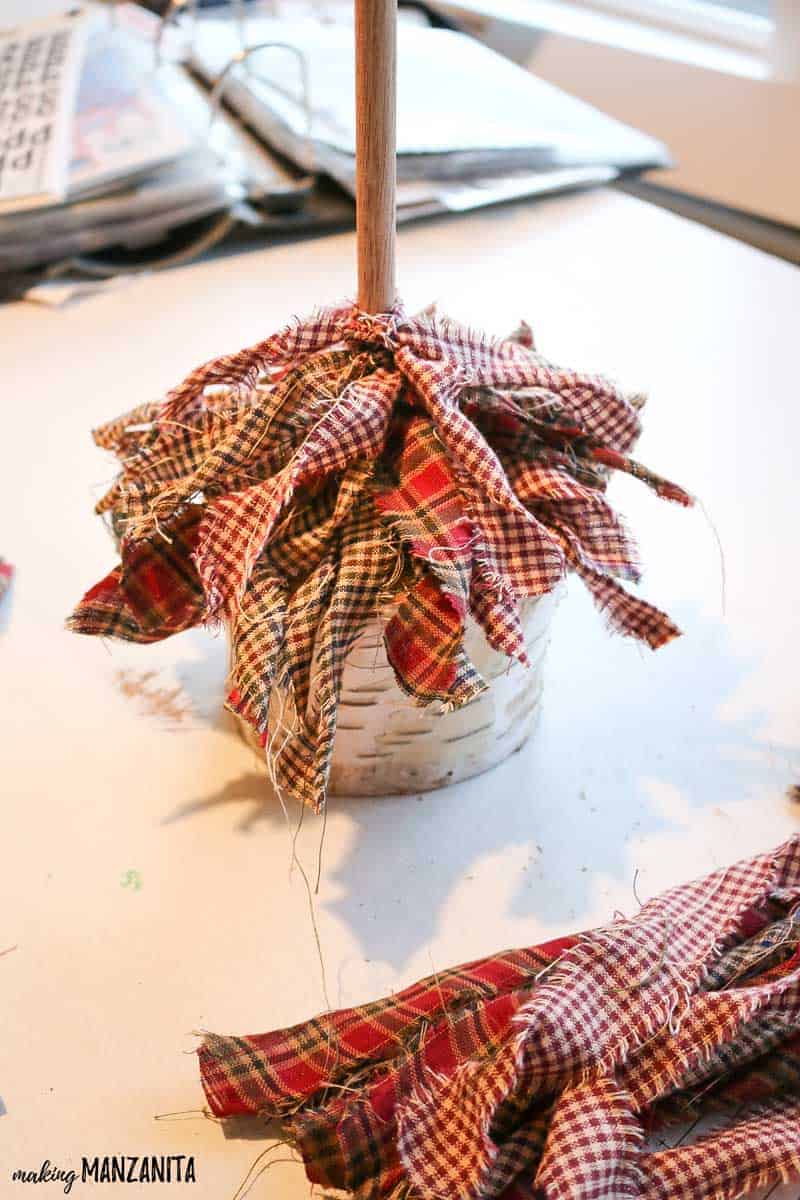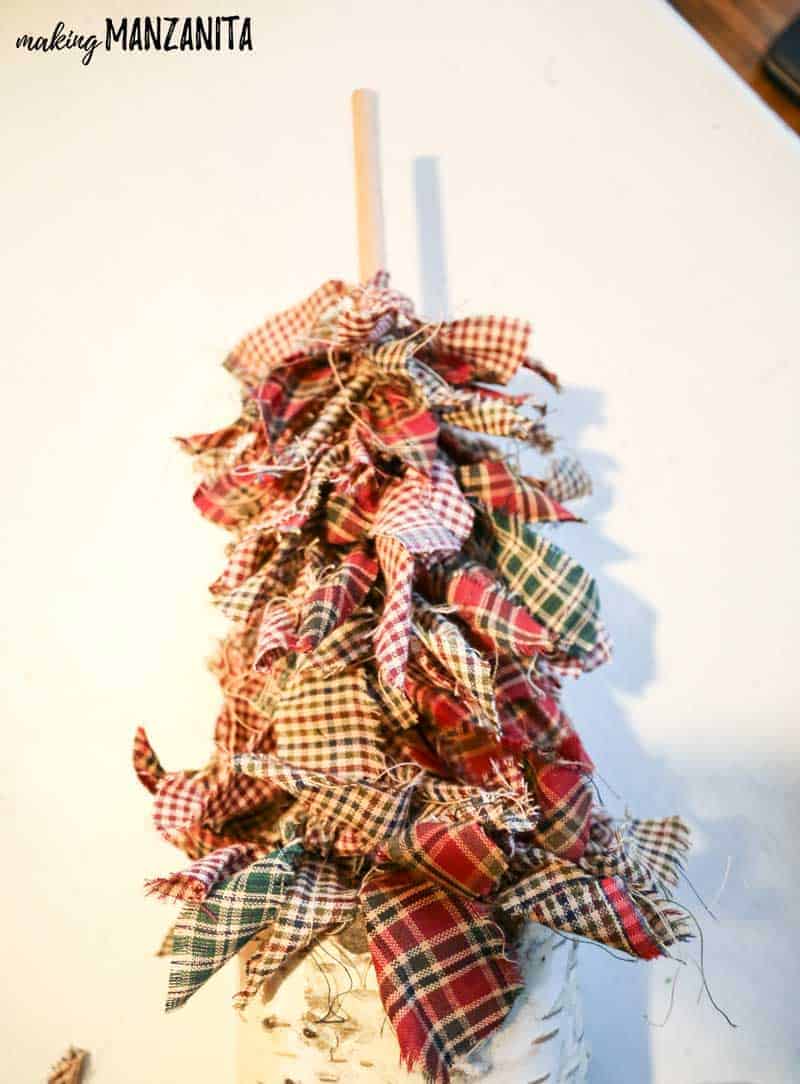 Step 5. Tie fabric on dowel.
This part is the easy…but kind of time consuming part! Turn on a fun Christmas movie (this is one of my faves) and start tying the fabric onto the wooden dowel to create the fabric Christmas trees. Just a simple knot will do. Start with the longest pieces (11 inches) at the bottom and work your way up.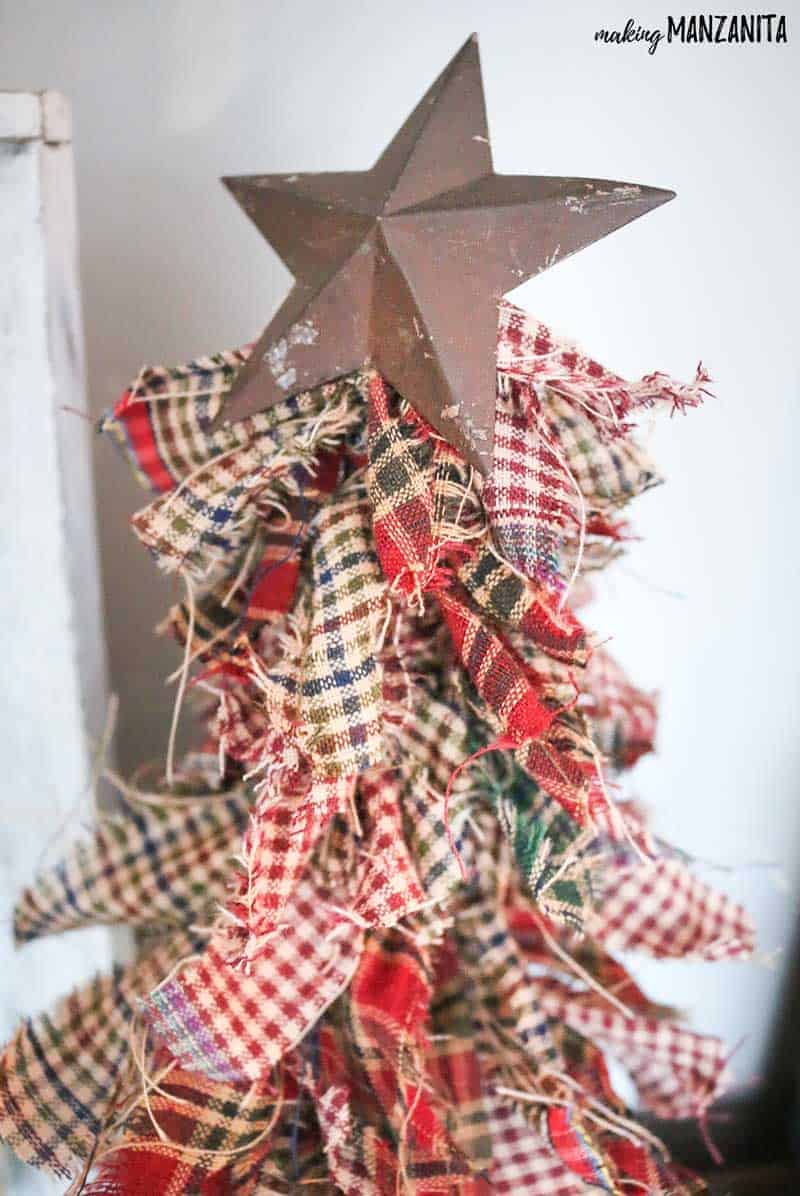 Step 6. Attach metal star.
Once you have filled the entire wooden dowel with tied fabric pieces, now is time to add the star, of course!! I used this adorable metal star and I think it works perfect for these fabric Christmas trees. To attach, I added a dot of my favorite 3-in-1 glue to the back of the star and press onto the top of the dowel.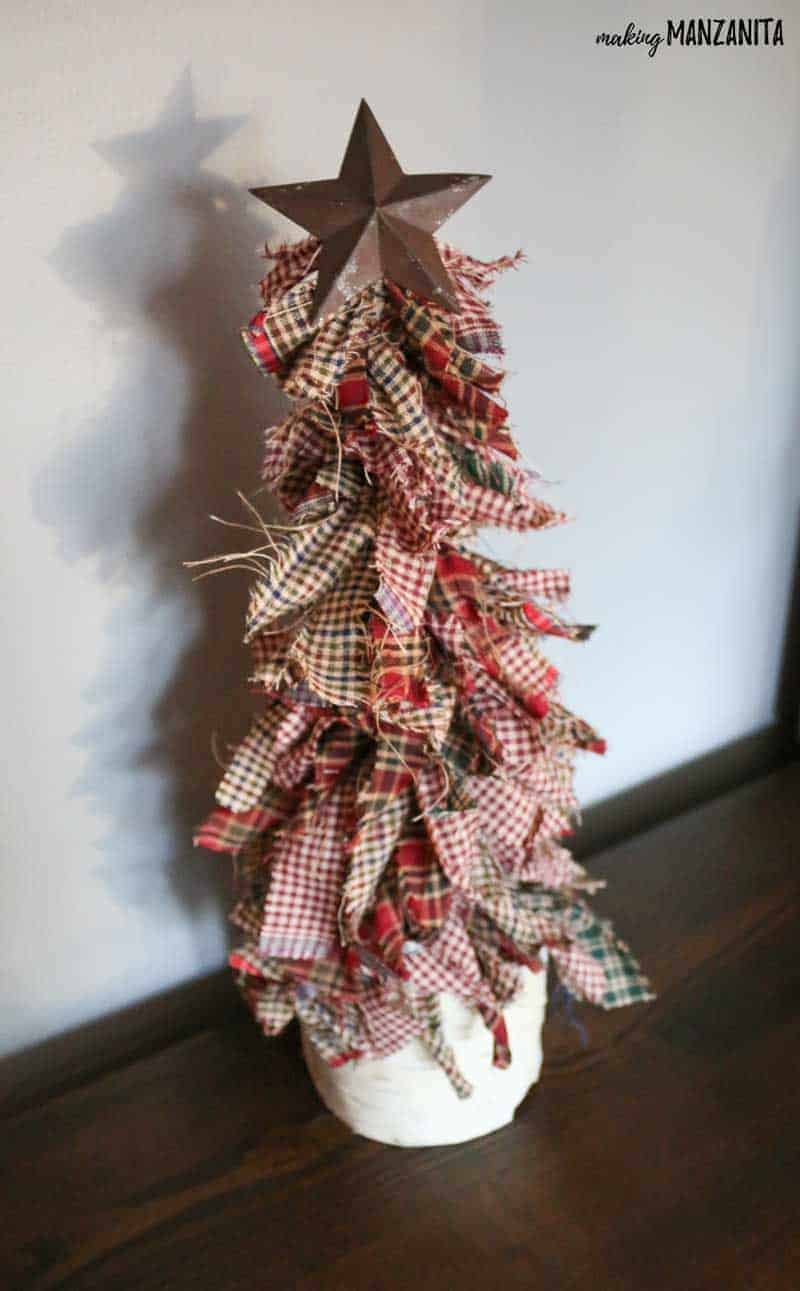 Super simple, right?! I wasn't lying! These fabric Christmas trees are so much fun to make! They look adorable up on a shelf or your mantel. And can you just imagine a few of these worked into a rustic Christmas tablescape?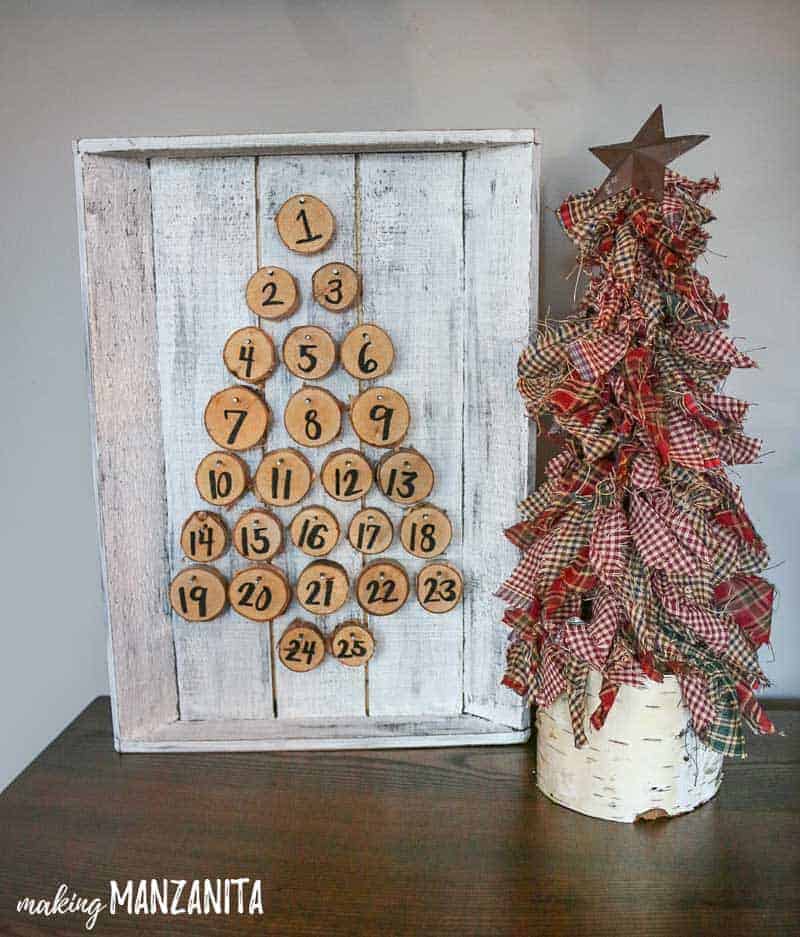 It's a perfect complement to my Christmas advent calendar, don't you think? It's almost like they belong together! I'll have to be sure they end up near each other when I finish getting all of my Christmas decorations up.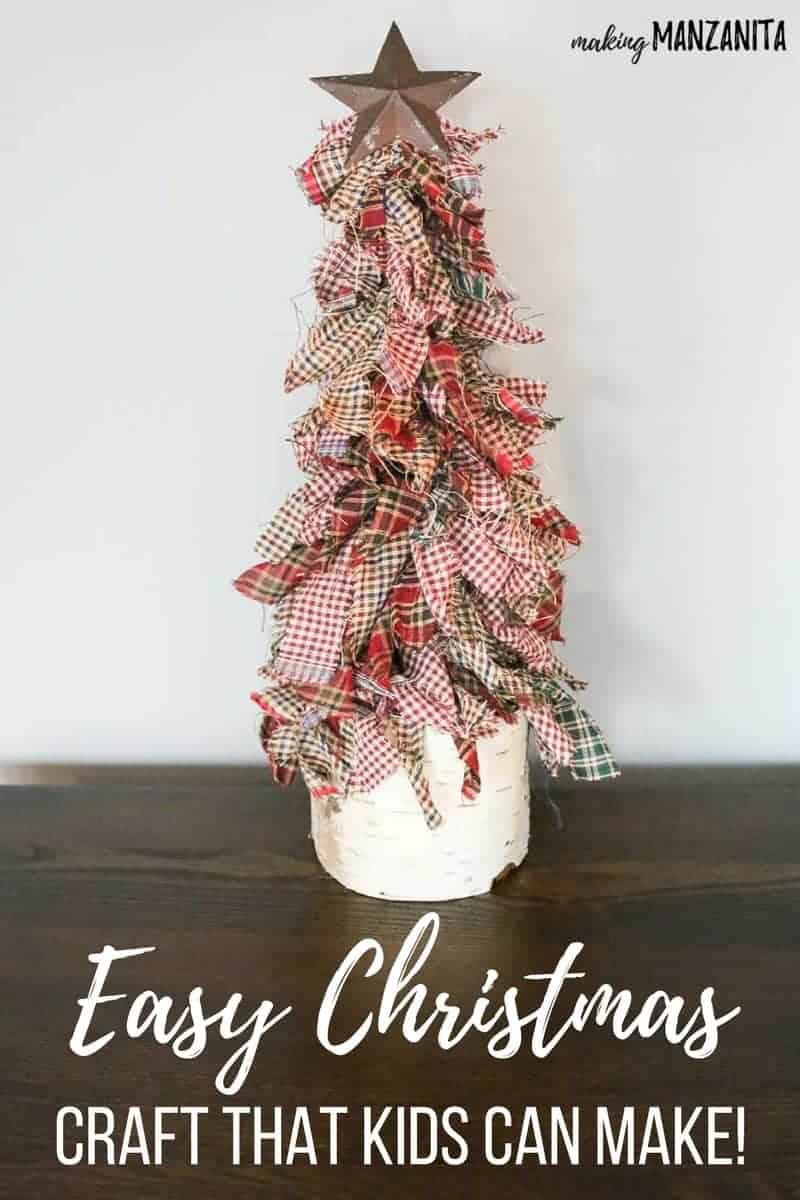 Where would you put one of these fabric Christmas trees in your home??
Let me know in the comments below!
---
Here's a replay of my live video demonstrating how to make these fabric Christmas trees on Facebook. If you love videos, be sure to check out my video page before you leave!