Transform your bedroom into a festive retreat with our ultimate guide for how to decorate your bedroom for Christmas! From twinkling fairy lights to cozy throw blankets, discover easy and stylish ways to infuse holiday magic into your bedroom.
If you're like us, you believe that the magic of Christmas shouldn't be confined to the living room or the tree in the corner. No, no! Christmas is far too magical to keep it sectioned off in just one room of your house.
I'm all about spreading the holiday decorations throughout the house during the Christmas season! Add a Christmas-themed centerpiece to your dining room table. Hang mini wreaths on the kitchen cabinets for some festive cheer in the kitchen or add some festive touches to the bathroom countertops.
Remember, it's the little touches that make it feel like Christmas all around your home!
And your bedrooms deserve a sprinkle of that festive fairy dust too! Whether you're decorating your kid's bedroom, your guest bedroom, or your master bedroom – these ideas can be used to bring a little Christmas cheer to any bedroom!
In this quick guide, we're dishing out practical and downright merry tips to infuse the spirit of the season into every nook and cranny of your bedroom. From twinkling lights to snuggle-worthy throws, we've got your festive fix covered.
We're also taking you on a tour of how we decorated our master bedroom for Christmas this year – complete with a bedroom Christmas tree to make the space feel magical!
This guide on how to decorate your bedroom for Christmas contains affiliate links, but nothing that I wouldn't wholeheartedly recommend anyway! Read my full disclosure here.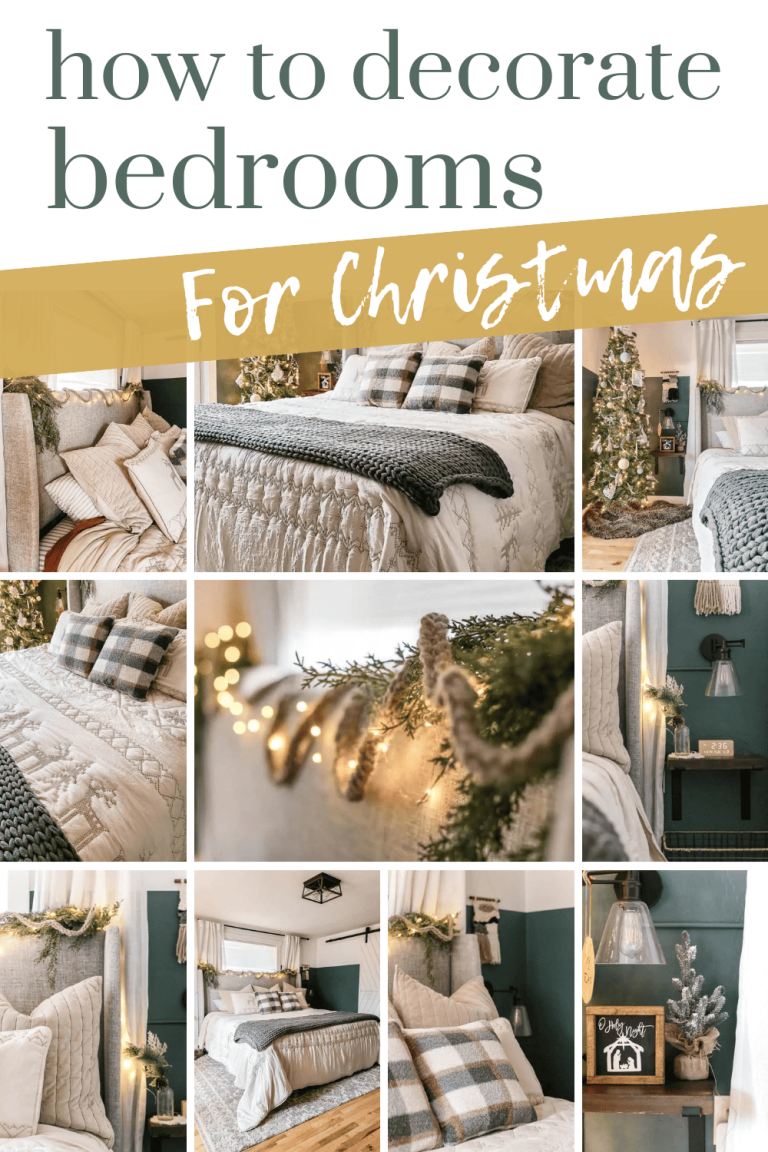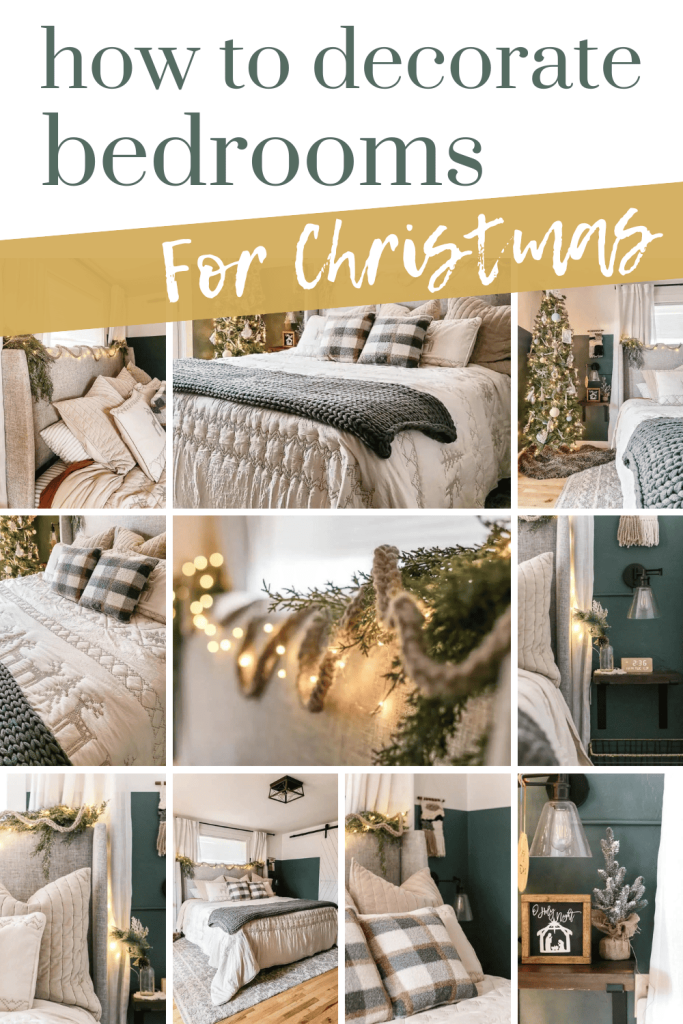 Add a Christmas tree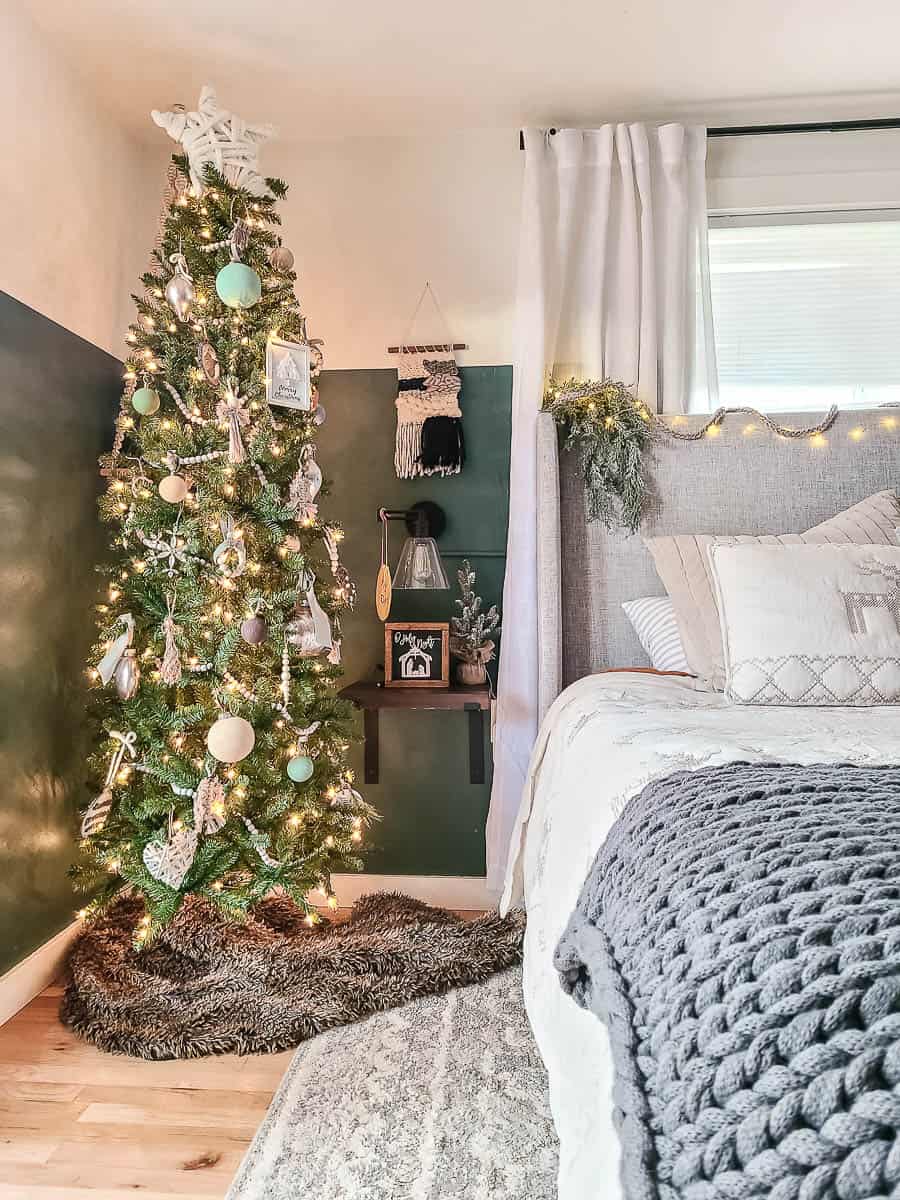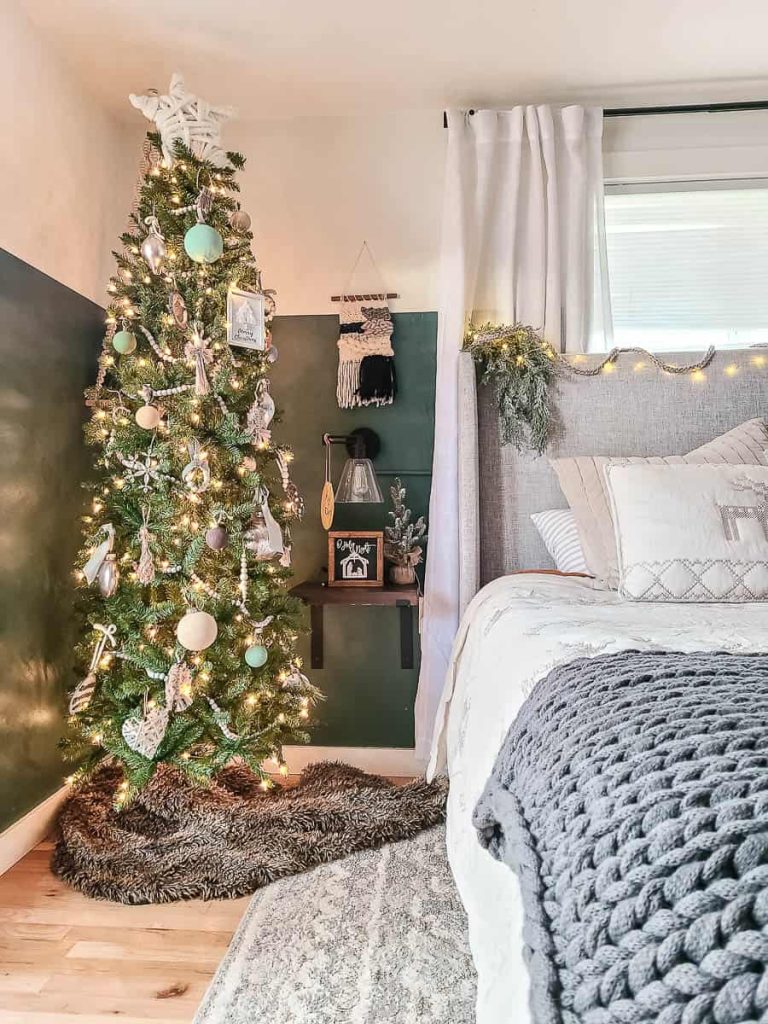 One of my favorite Christmas bedroom ideas is to add a Christmas tree. Now, I know…this may seem excessive. And that is why I put it off for years. I didn't want to spend the extra money and it felt so "extra" to have more than one Christmas tree in our home.
But after really pining for a bedroom Christmas tree for the last couple of years, I finally pulled the trigger and purchased a faux tree for our bedroom. And you guys, I'm telling you, I will never go back!
Even though this year is the first year we've had the tree and it has only been up about a week, I can tell you I'm a huge fan.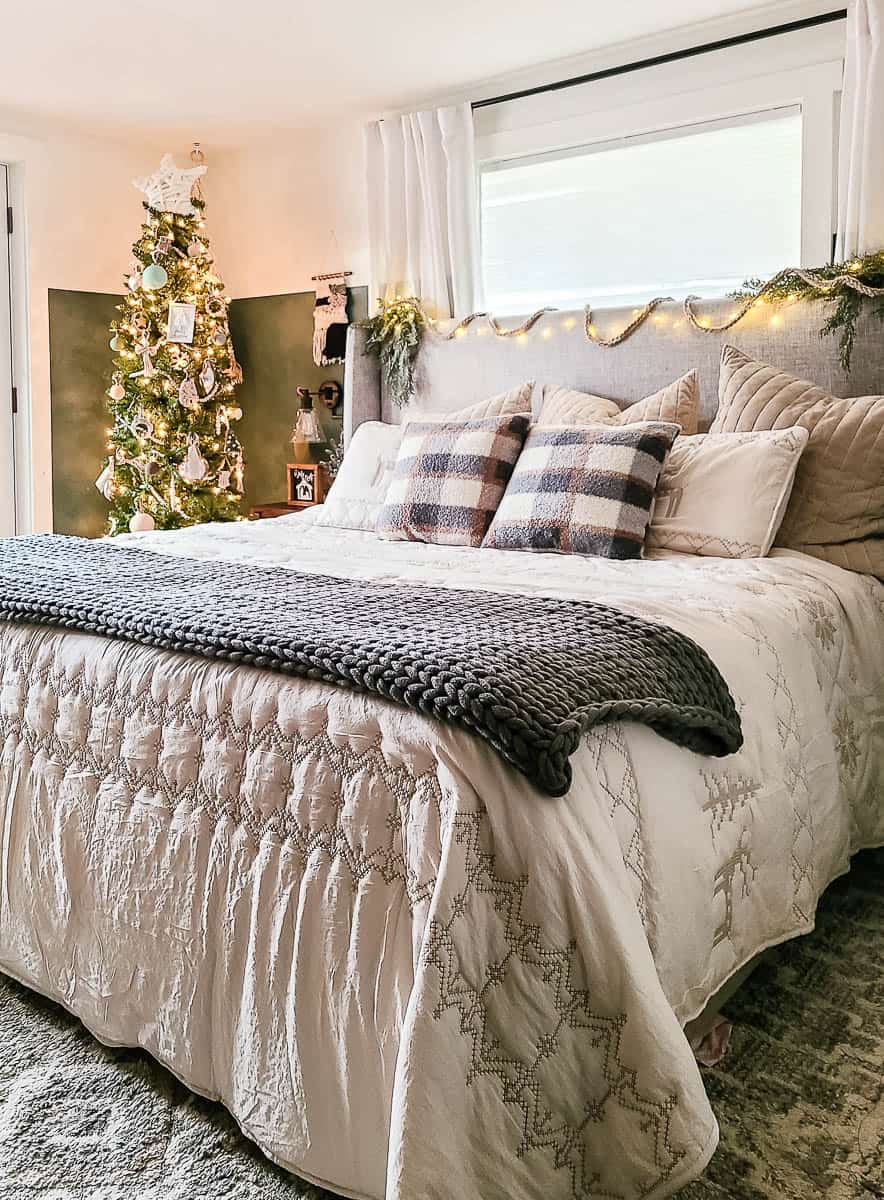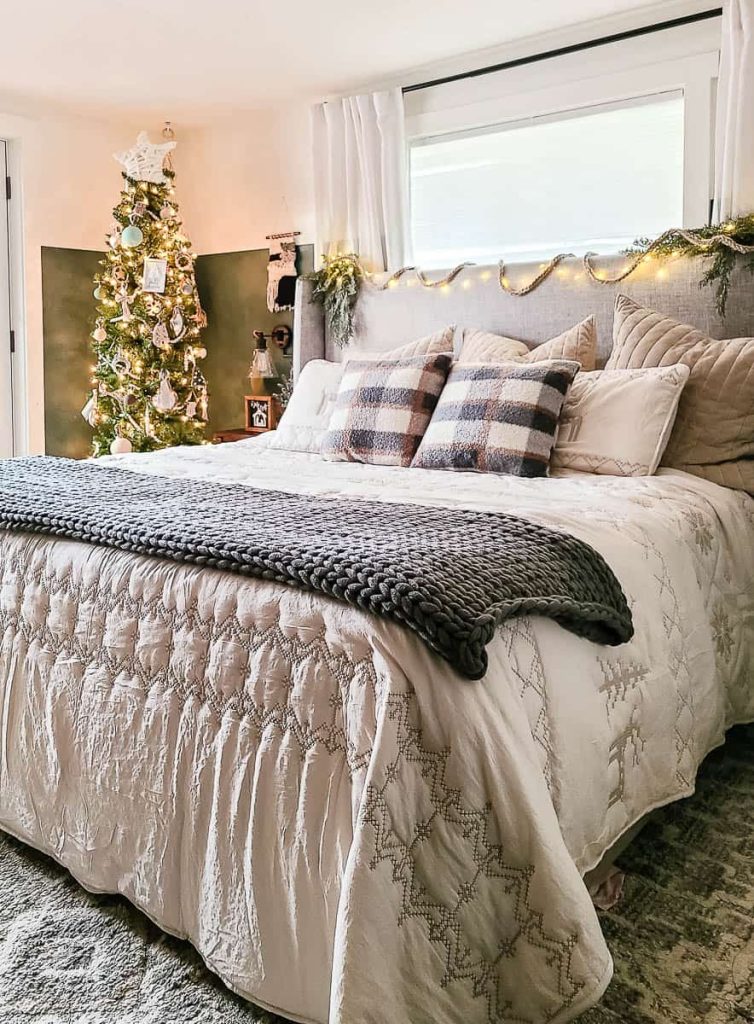 The soft glow of Christmas tree lights adds a warm and cozy ambiance, turning your bedroom into a snug retreat during the winter season.
I looked long and hard for a tree that wasn't too big for the space, which is why I went with a slim tree that is only 24″ in diameter at the base. I also stayed focused on only budget-friendly Christmas trees (not wanting to spend much more than $100 on the bedroom tree).
I'm fairly impressed with this slim tree. It's not as authentic or full-looking as our living room tree, but it doesn't need to be. Once I added the wood bead garland and the Christmas ornaments, it looked much better.
Waking up to the sight of a Christmas tree can put a smile on your face, making mornings a little brighter during the holiday season. Highly recommend a tree in the bedroom – even if it has to be a small tree!
Christmas Idea for Kid's Bedrooms
Our kids also each have a mini Christmas tree in their bedrooms, which is about 3 feet tall. They keep it on their nightstands and get to use ornaments that they hand-select from our Christmas decorations (usually any that they have made or have been given to them).
It is one of their favorite Christmas traditions! Small trees on nightstands are a great idea for kids' bedrooms!
​Decorate bedside tables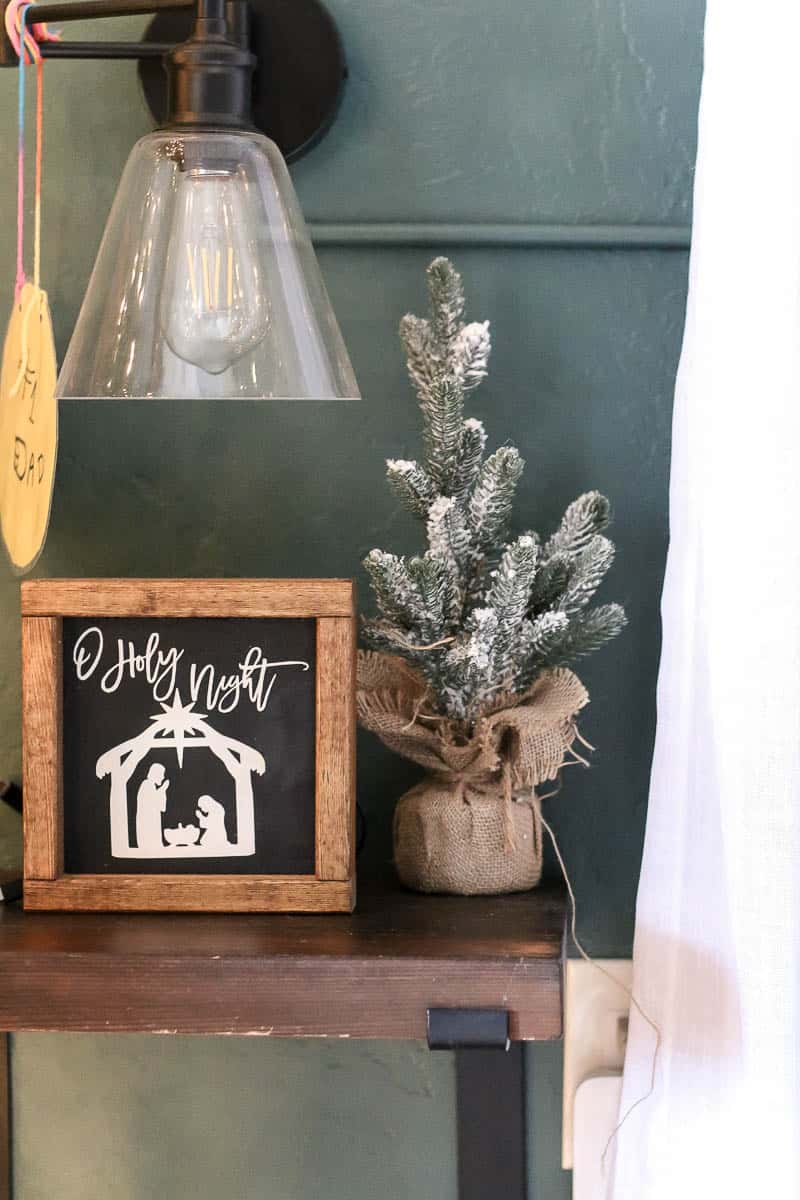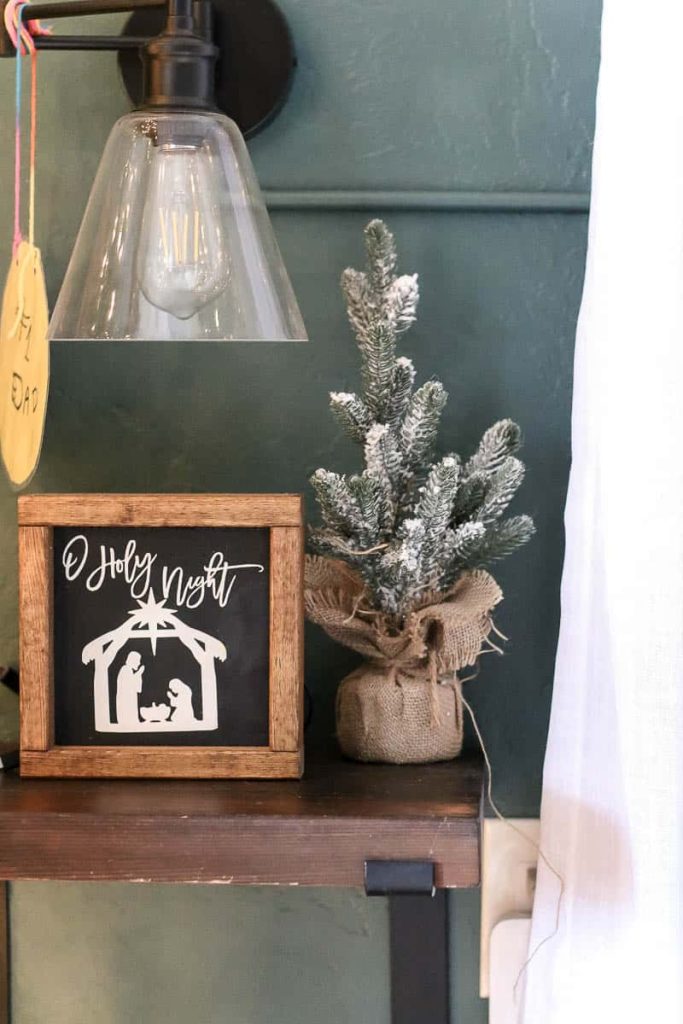 Don't forget to decorate your bedside tables for Christmas! Add a miniature Christmas tree and other Christmas decorations.
Opt for small Christmas figurines or ornaments that fit on the table without overwhelming the space.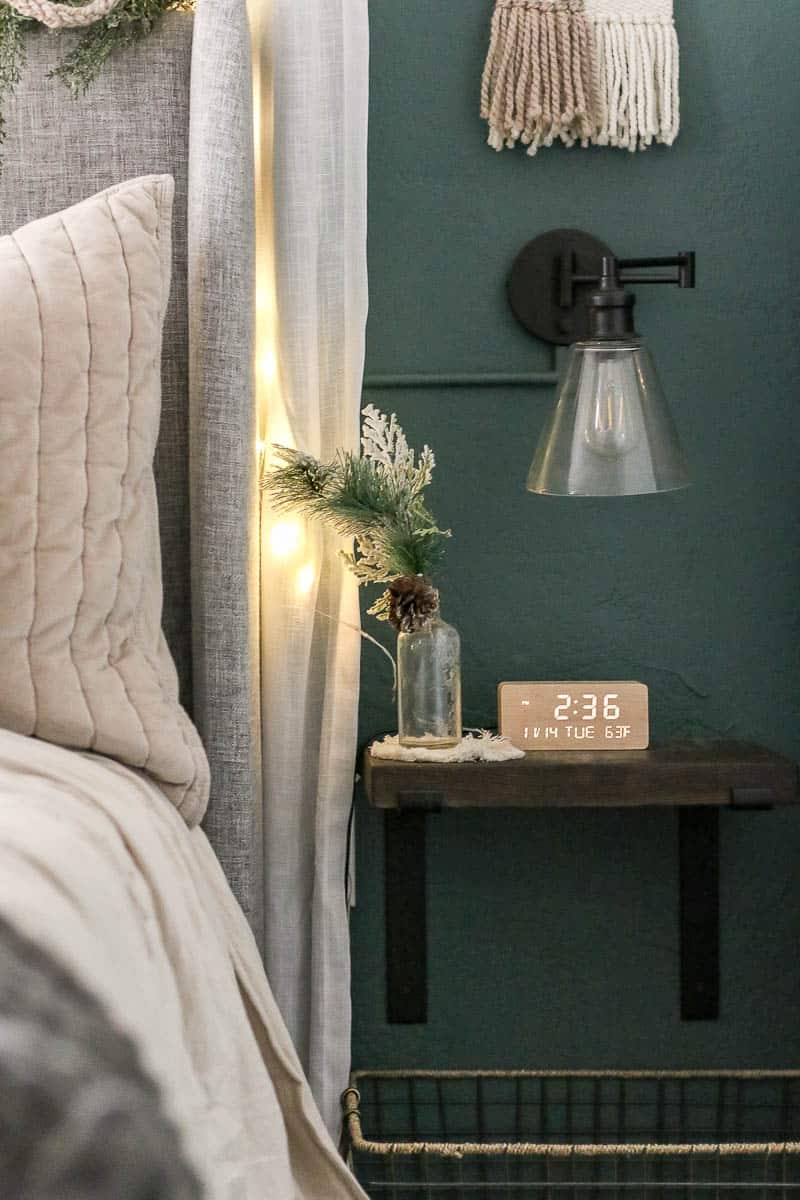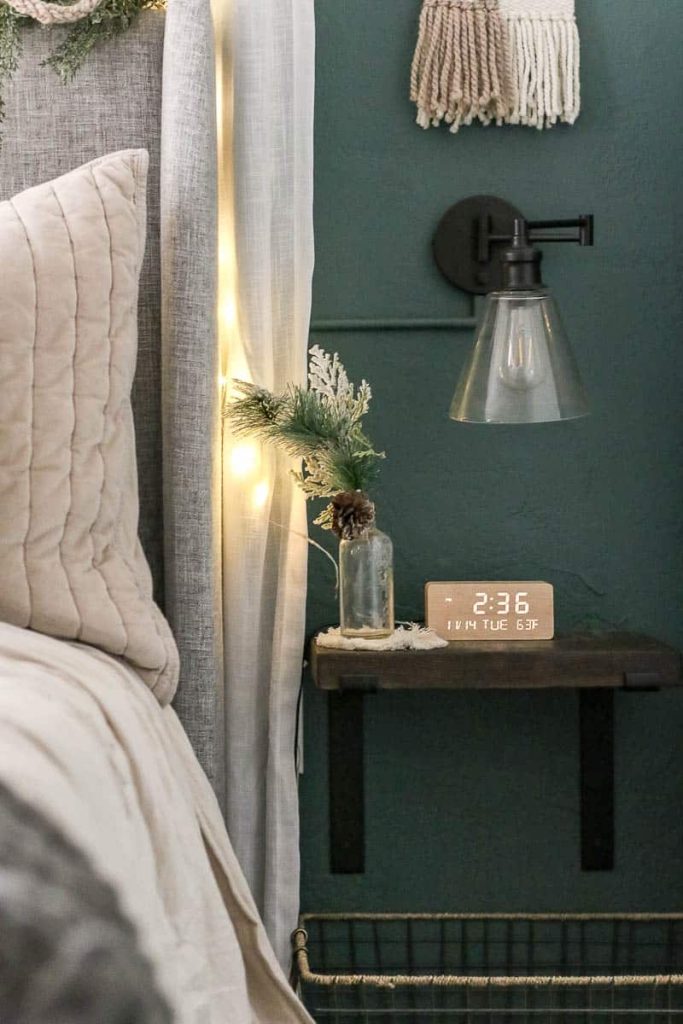 Not sure what to do to decorate your bedside table for Christmas? Here are some more easy ideas:
If you have the space, place a small nutcracker on your dresser or bedside table for a classic touch.
Place a small potted Christmas plant, like poinsettia flowers!
Put a sprig of pine trees in a festive vase for a touch of fresh greenery. You can either cut them from a real tree or just ask for some Christmas tree clippings at the tree lot. They usually have a lot to spare!
Stack a few festive-themed books or magazines for a touch of seasonal reading material.
Place a couple of Christmasy candles on your bedside table for a warm, cozy atmosphere with a Christmas aroma.
Put some fairy lights inside mason jars or decorative containers.
Swap out your bedding for something Christmas-themed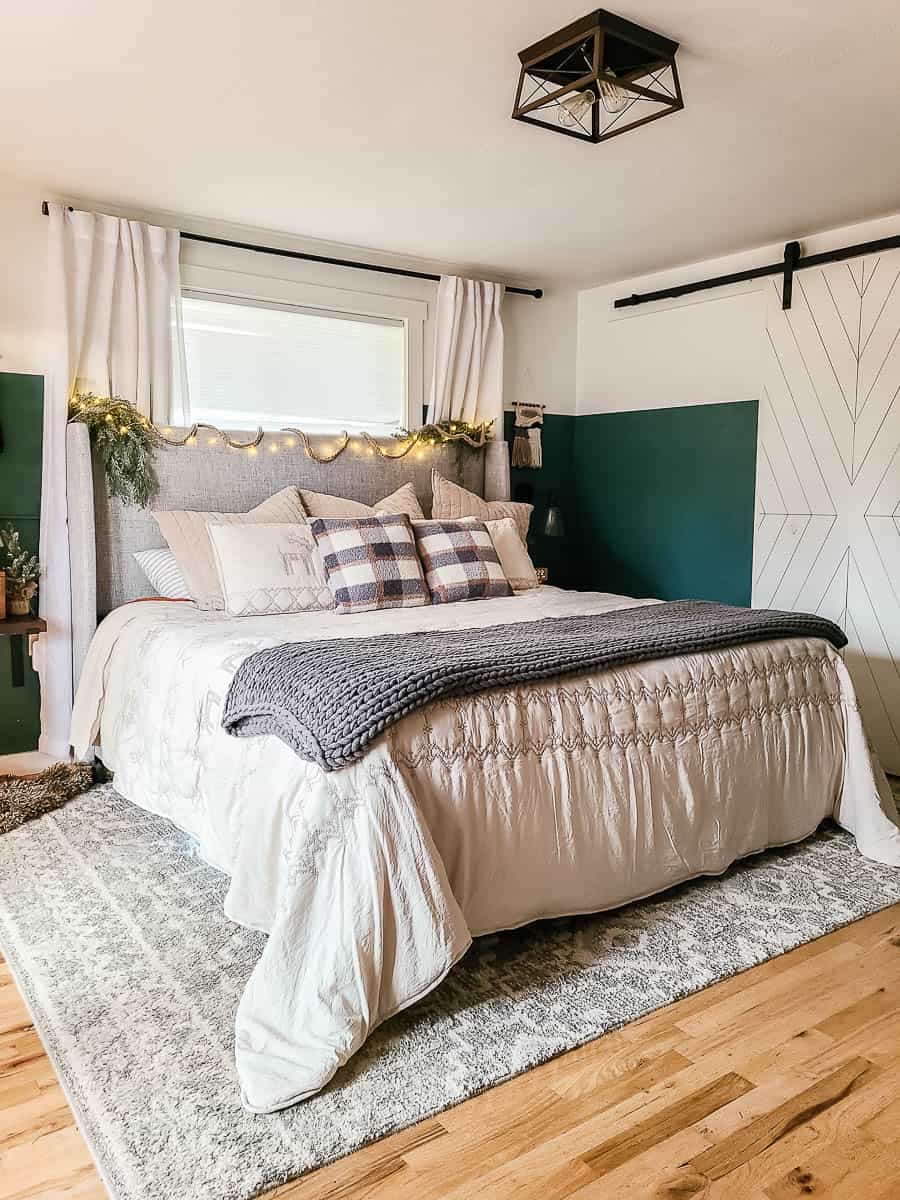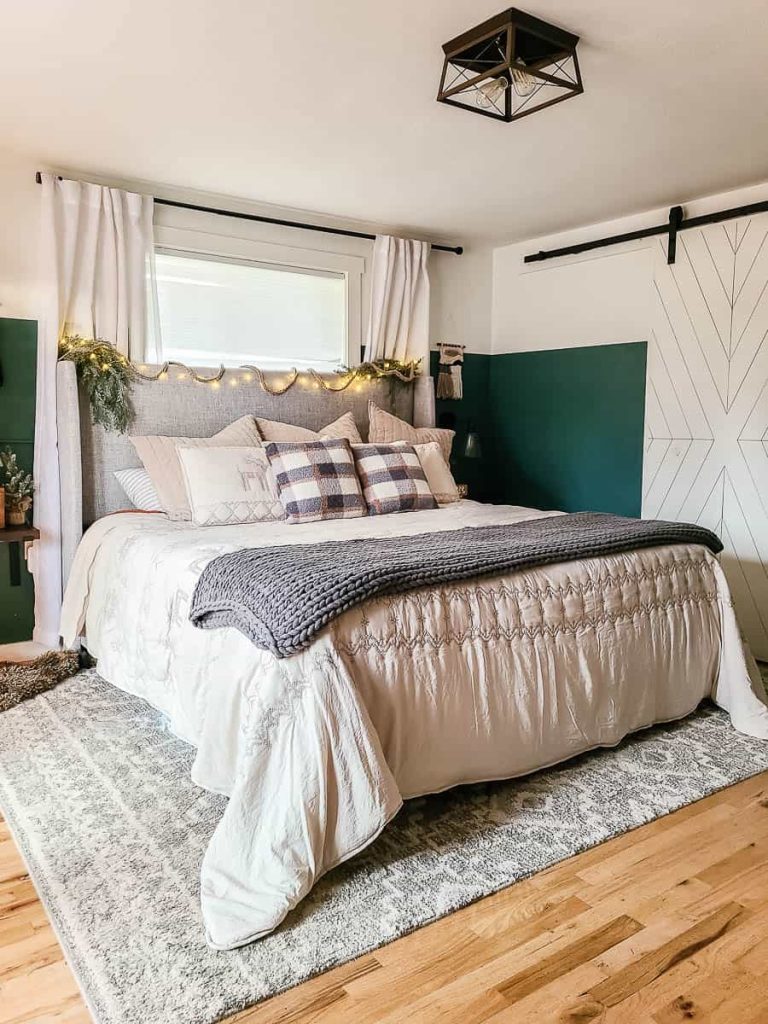 For a quick and easy way to bring holiday warmth and style to your bedroom this holiday season, update your bedding. Whether it's Christmas comforters, quilts, coverlets, or duvet covers, these quick swaps can instantly set a festive mood.
And if you're not keen on dealing with storage space for extra bedding throughout the year, opt for a duvet cover. It easily slips over your existing bedding, giving you that festive flair without the hassle of storing bulky linens!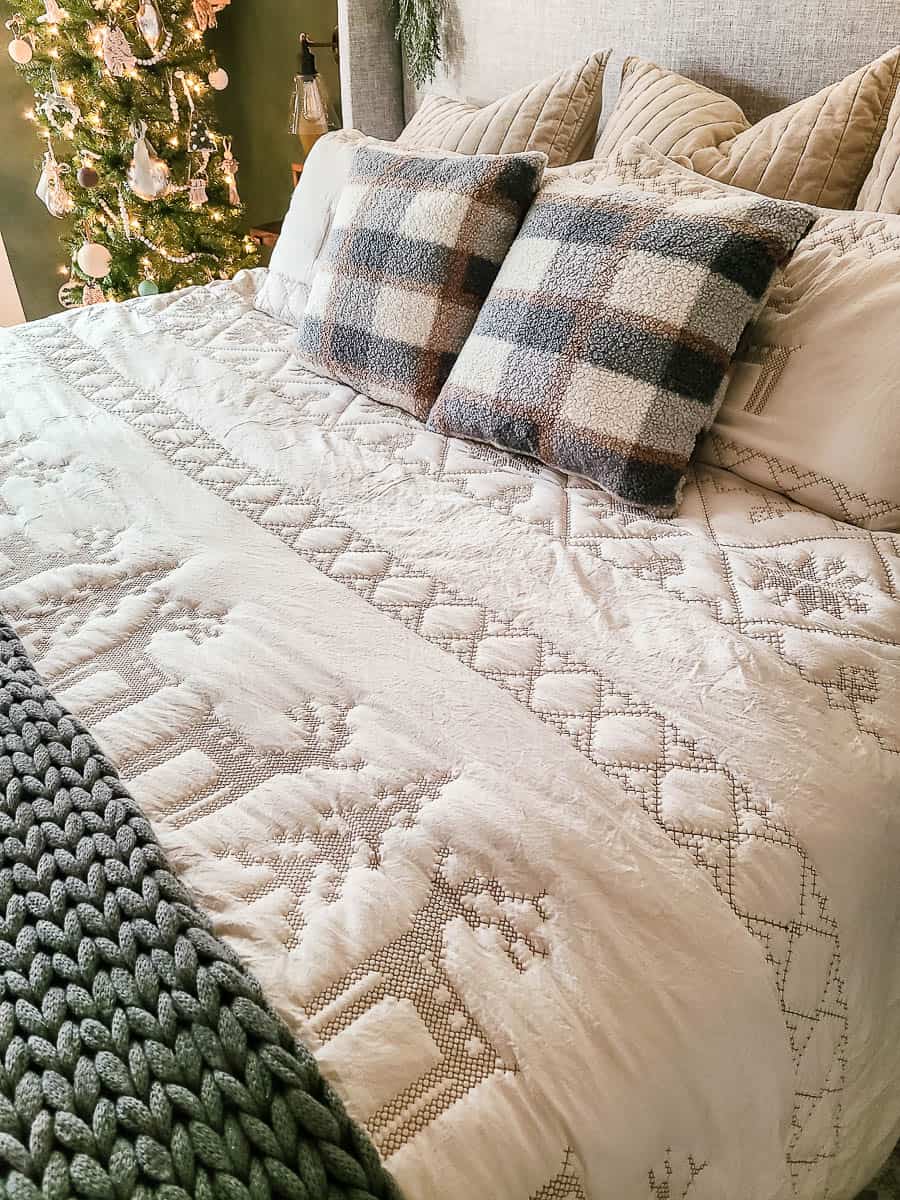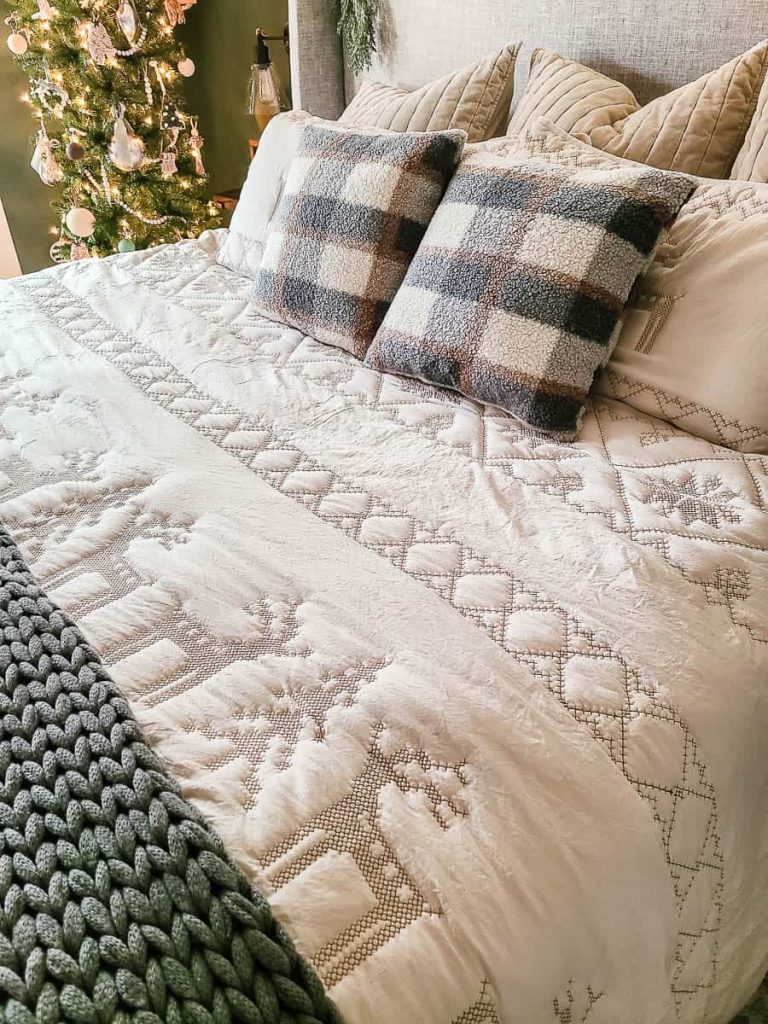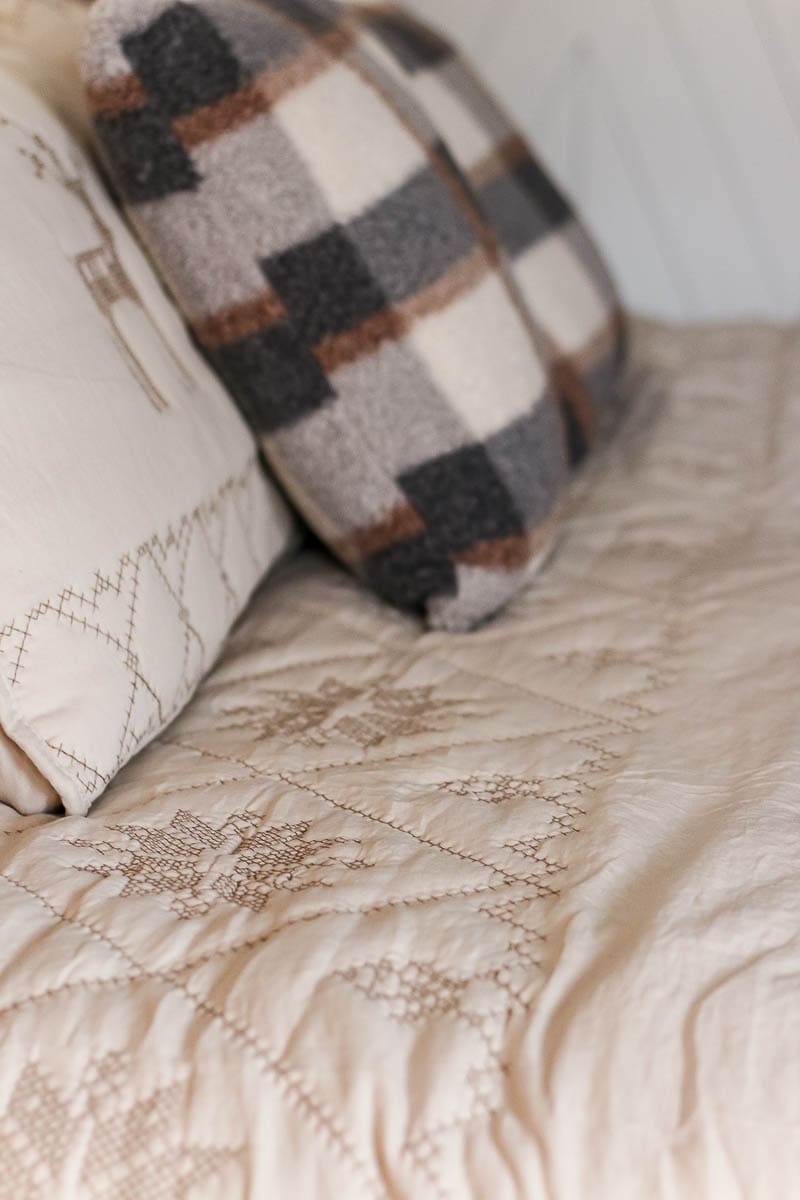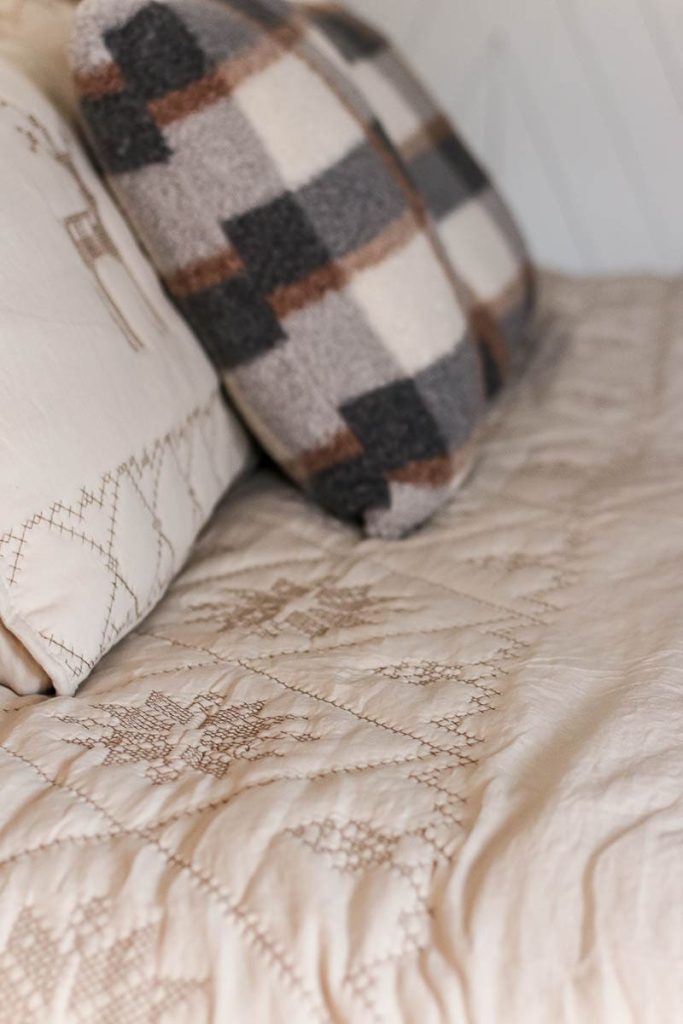 I went with this neutral lightweight coverlet for our bed that has adorable holiday-themed stitching. It is a subtle way to bring some holiday cheer to your bedroom. It is very lightweight (but super duper soft), so I was able to simply place it on top of our existing boho bedding (duvet cover) as an additional layer.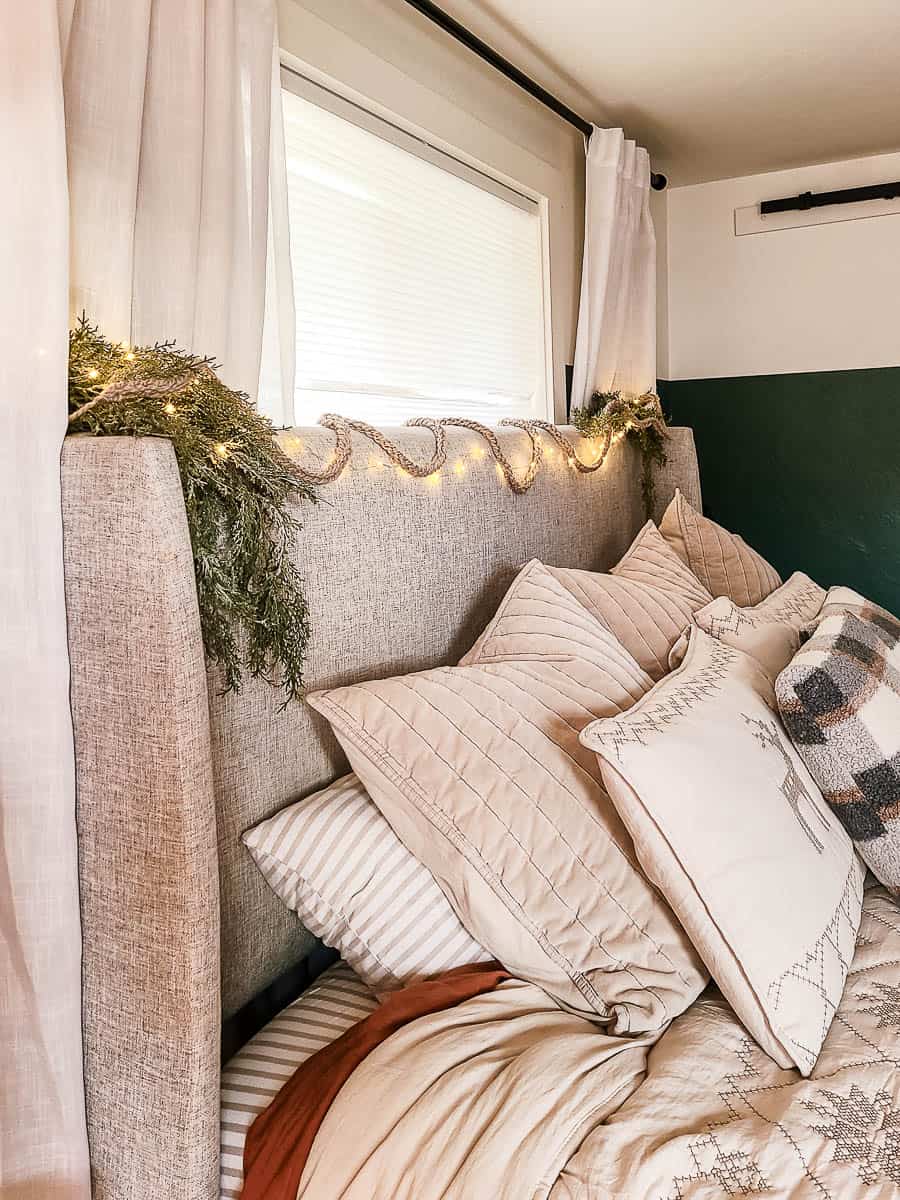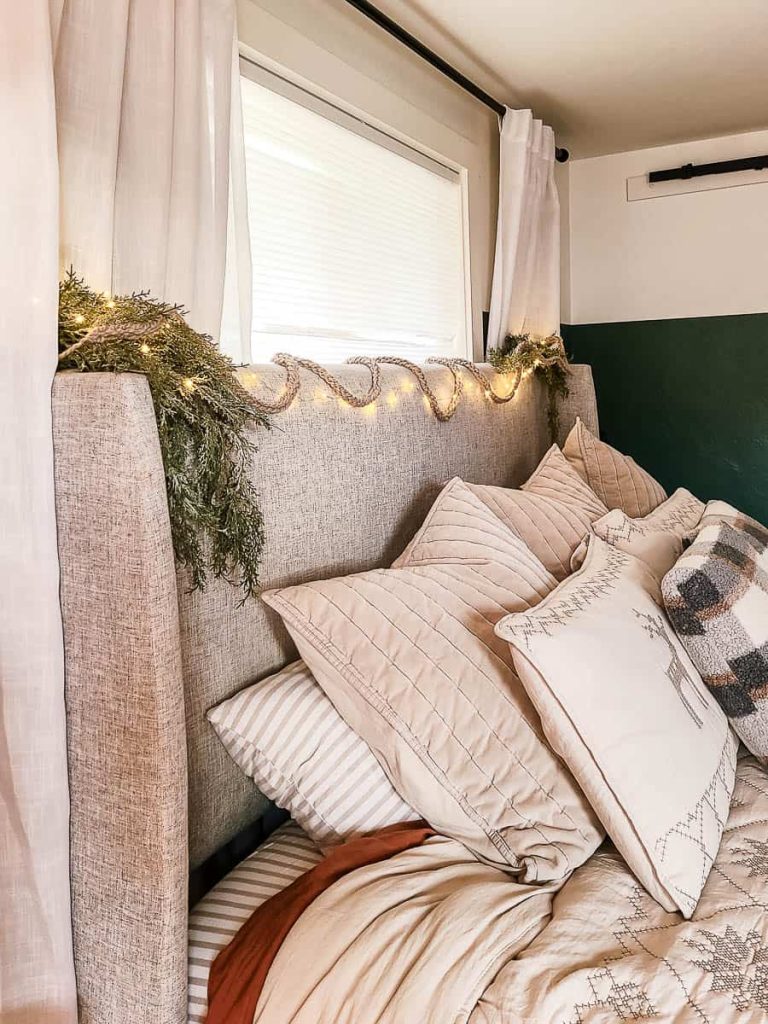 I can't get over how quick, easy, and budget-friendly it was to just add the Christmas-themed coverlet over our bedding. It was an instant Christmas spirit for the room! It is definitely my favorite thing about our Christmas bedroom.
If you're looking to switch up the bedding for the holiday season in your bedroom, check out this guide we wrote about Christmas bedding ideas!
Shop my favorite Christmas-themed bedspreads
Simply add cozy throw blankets or festive pillows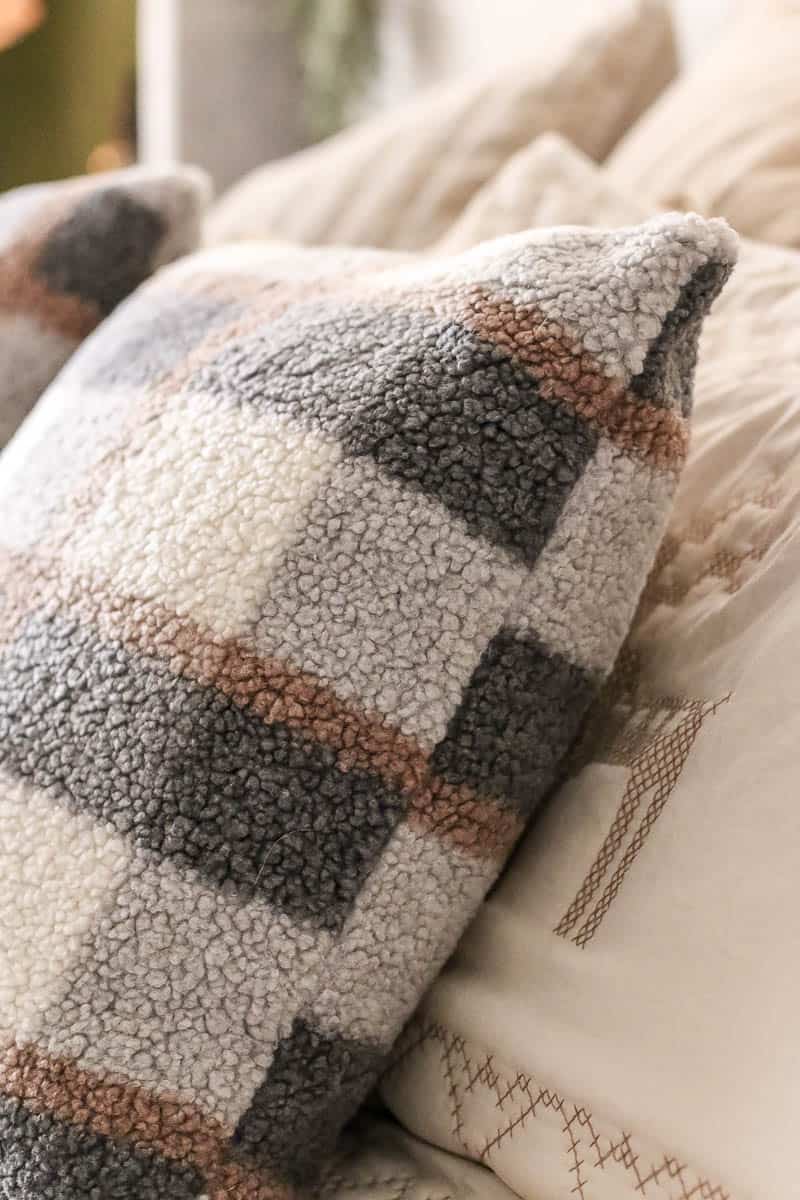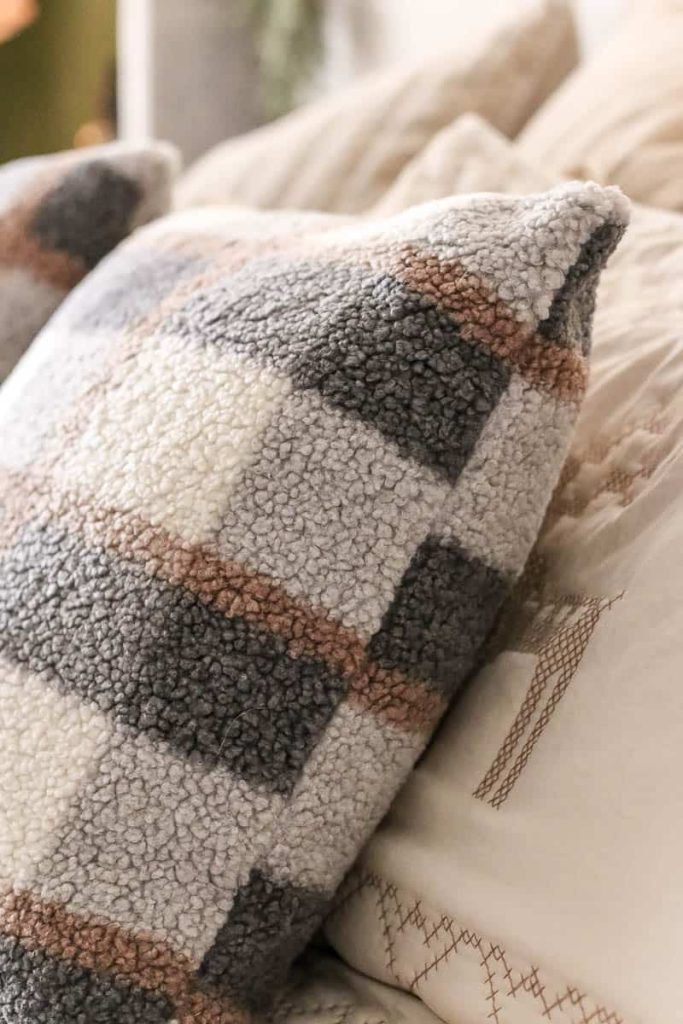 If you're not into adding an entire coverlet or bedspread to your bedroom, you can still get your bed into the holiday spirit! Just toss in some holiday-themed throw pillows and add a cozy blanket to the foot of your bed.
Blankets and pillows are a low-cost investment and a delightful way to infuse a dash of Christmas cheer into your sleeping space.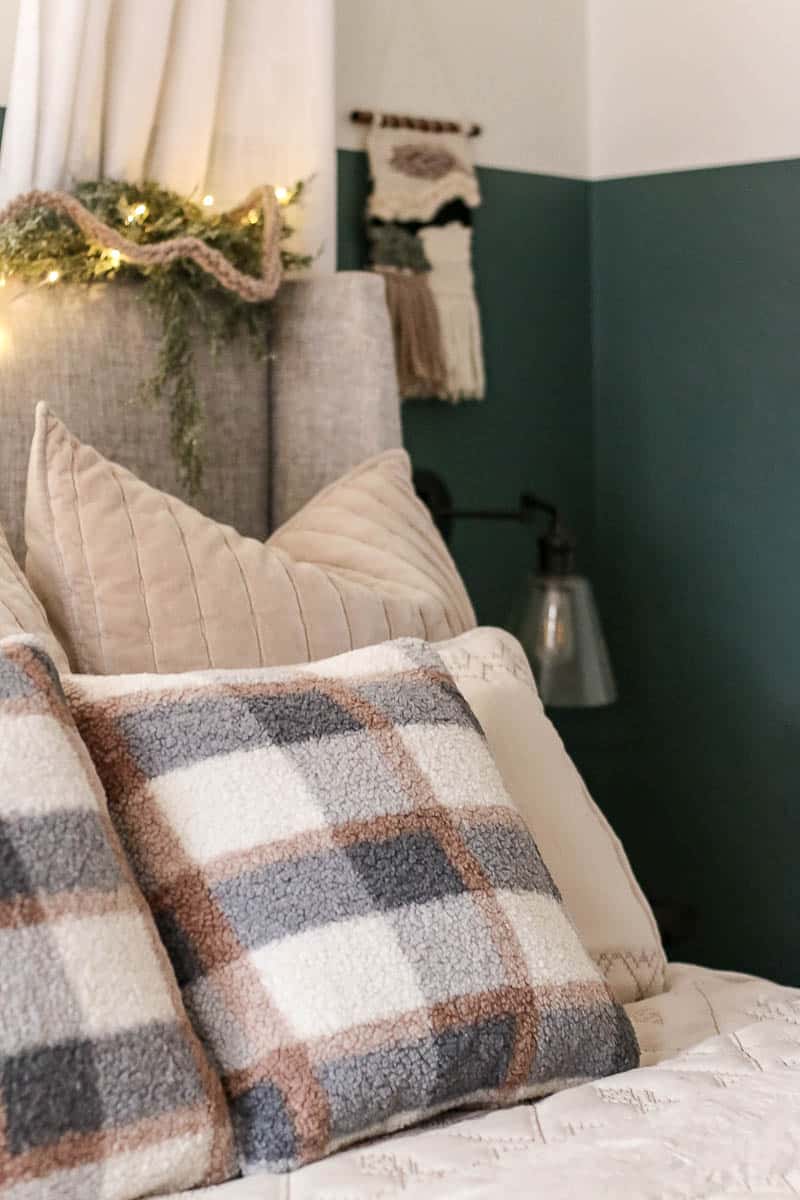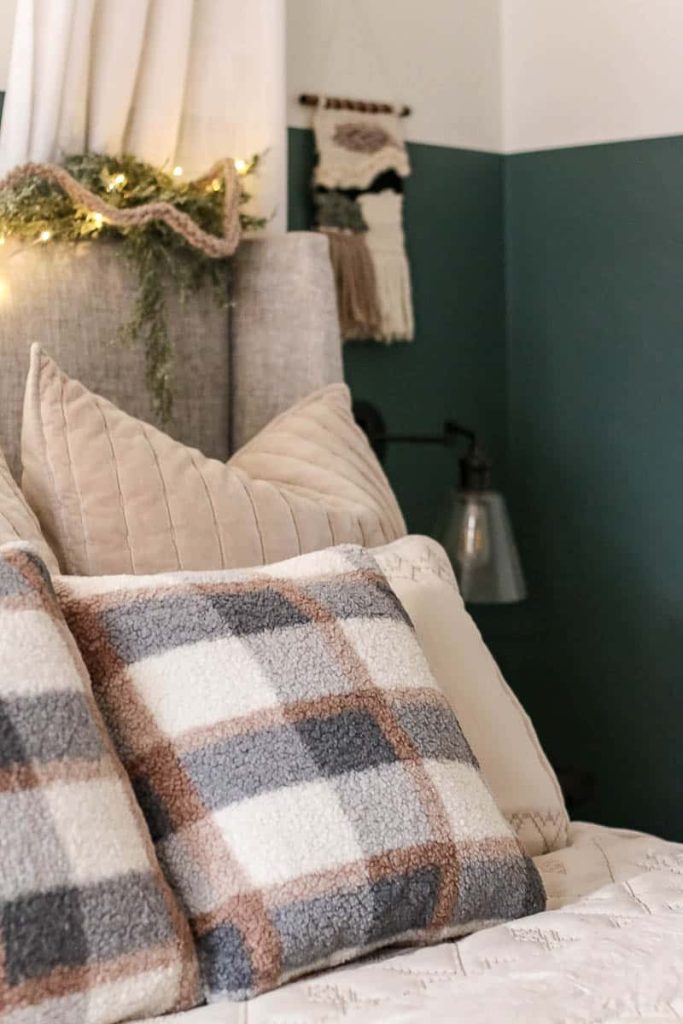 I love the cozy texture of the sherpa plaid throw pillows that I got for our bed. I also liked that with the plaid print, they aren't "too" Christmasy so they can still be used after the holidays are over.
And here's a pro tip for the hassle-free holiday decorator: opt for pillow covers. All you have to do is slip them over your existing throw pillows! Then when the season winds down, take them off, fold them up, and stash them neatly with the rest of your holiday decorations. Easy-peasy Christmas bedroom decorations!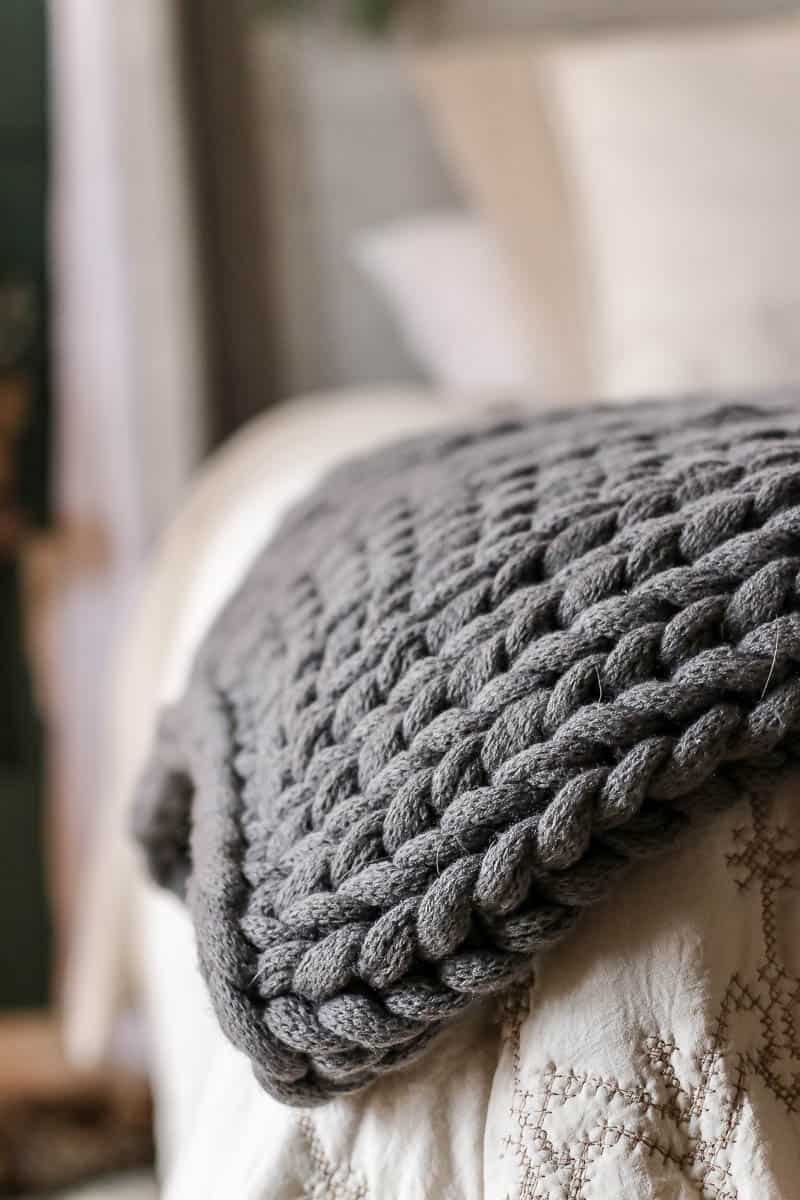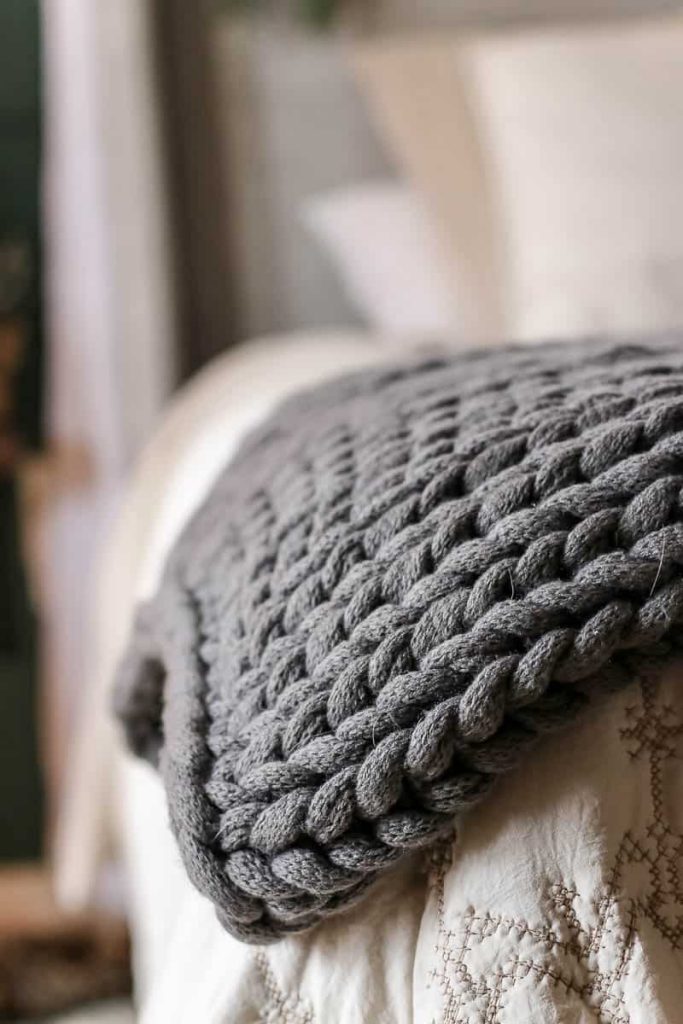 Festive throw blankets are perfect for draping or folding at the end of the bed. This time of year you may need some extra warmth at night, so you can just grab the blanket and put it over you for an extra layer!
This chunky knit blanket is perfect for some extra texture and warmth and the gray color fits in great with our color scheme here!
Shop my favorite Christmas pillow covers
Shop my favorite holiday throw blankets
Just switch the regular sheets for holiday-themed ones
If you're feeling stressed about a full bedding overhaul—don't be. Just opt for Christmas sheet sets instead! From charming snowflakes to festive reindeer or even Santa motifs, holiday-themed sheets effortlessly infuse the holiday spirit into your bedroom, ensuring cozy nights and merry mornings.
Shop my favorite sheets for Christmas
Add fairy lights or string lights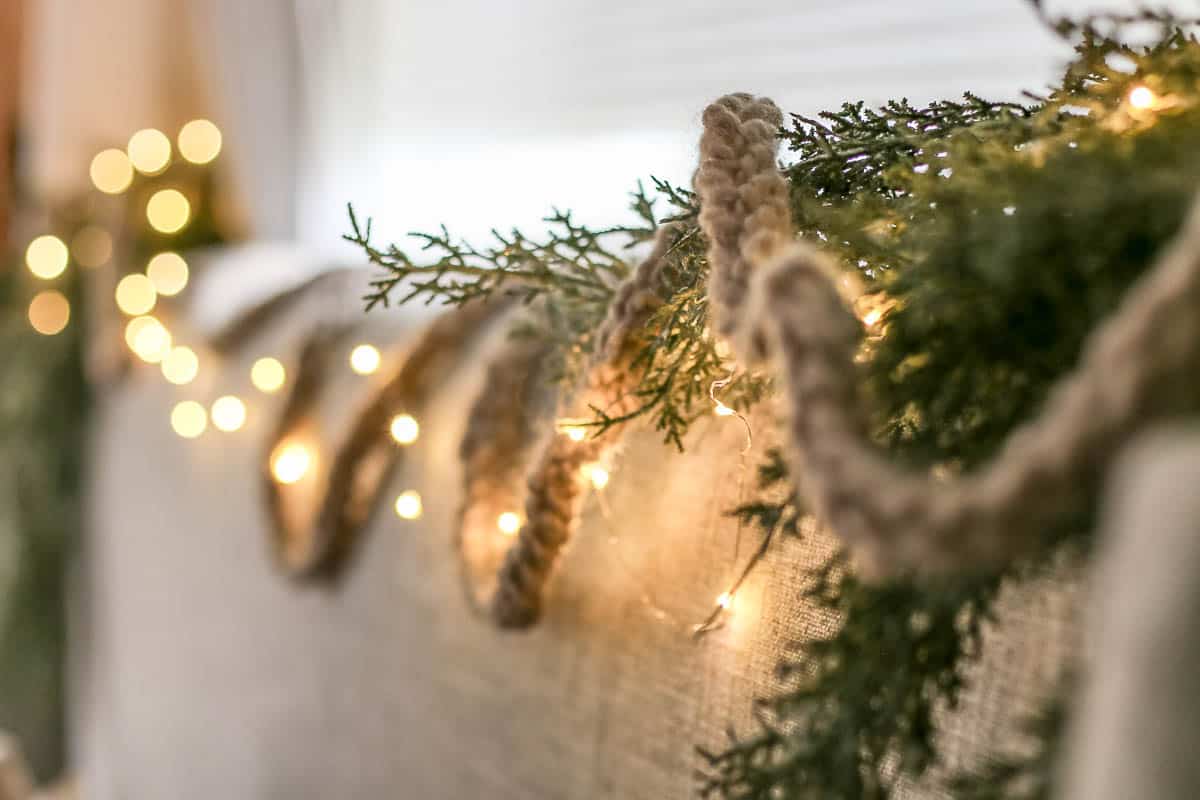 One of the best ways to give your bedroom a cozy feel is with lights. String up fairy lights around the room. It made the room feel instantly cozy.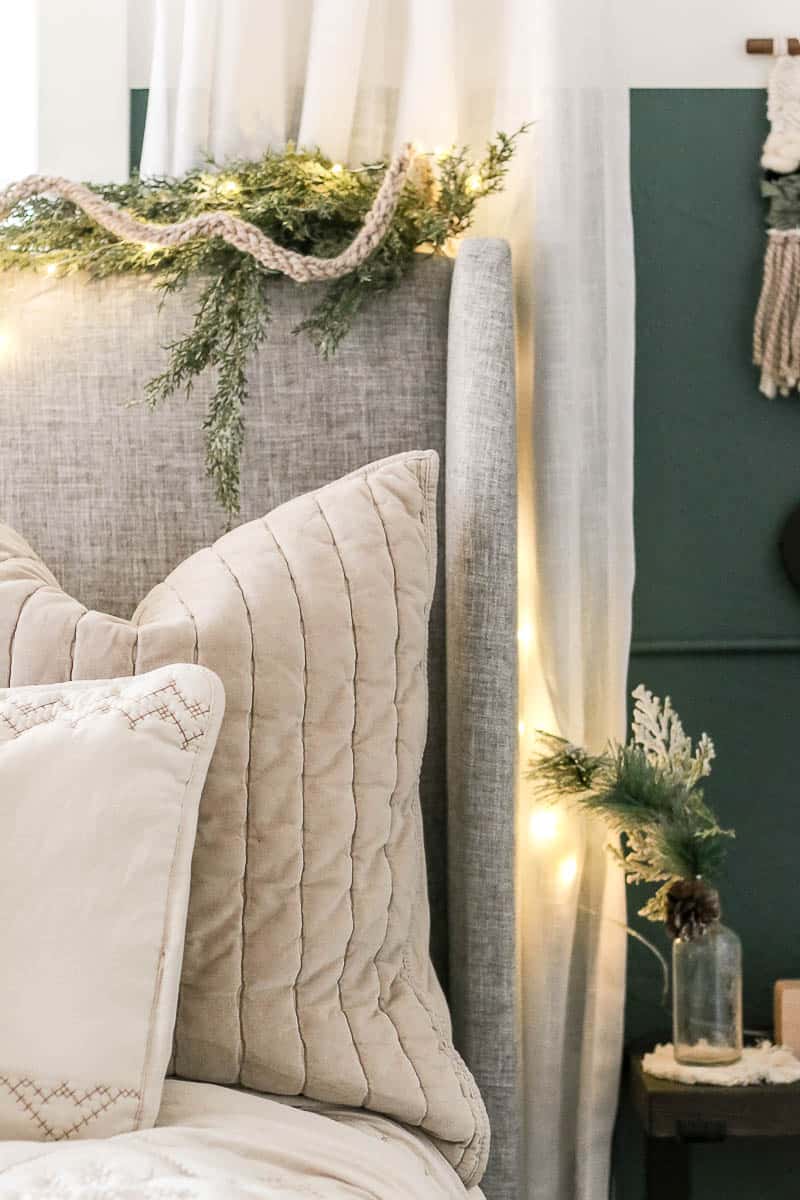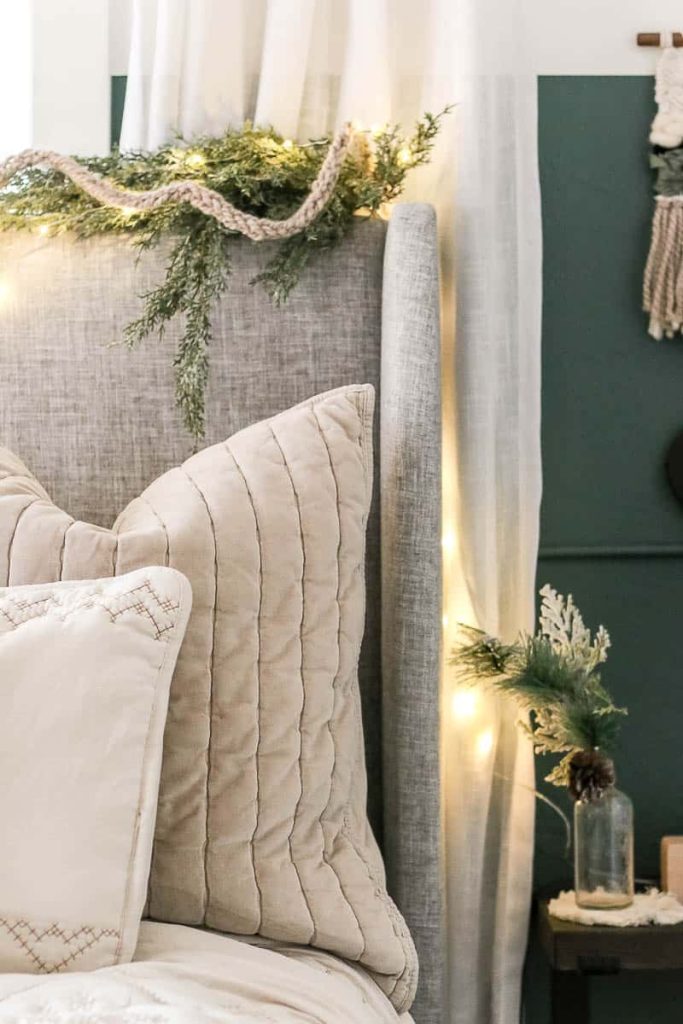 I put a small strand of fairy lights around our headboard and it adds SO much to the bedroom Christmas decor! Perfect for a cozy bedtime glow.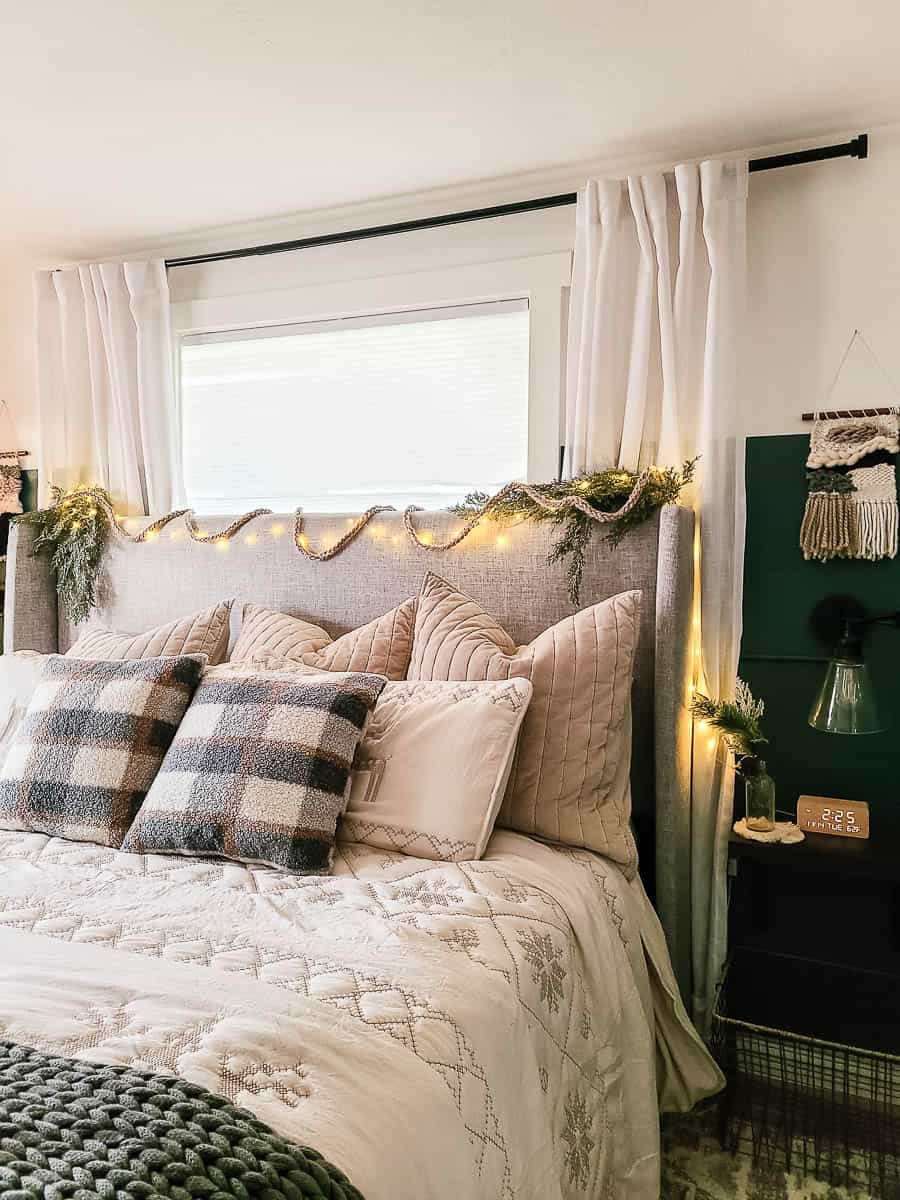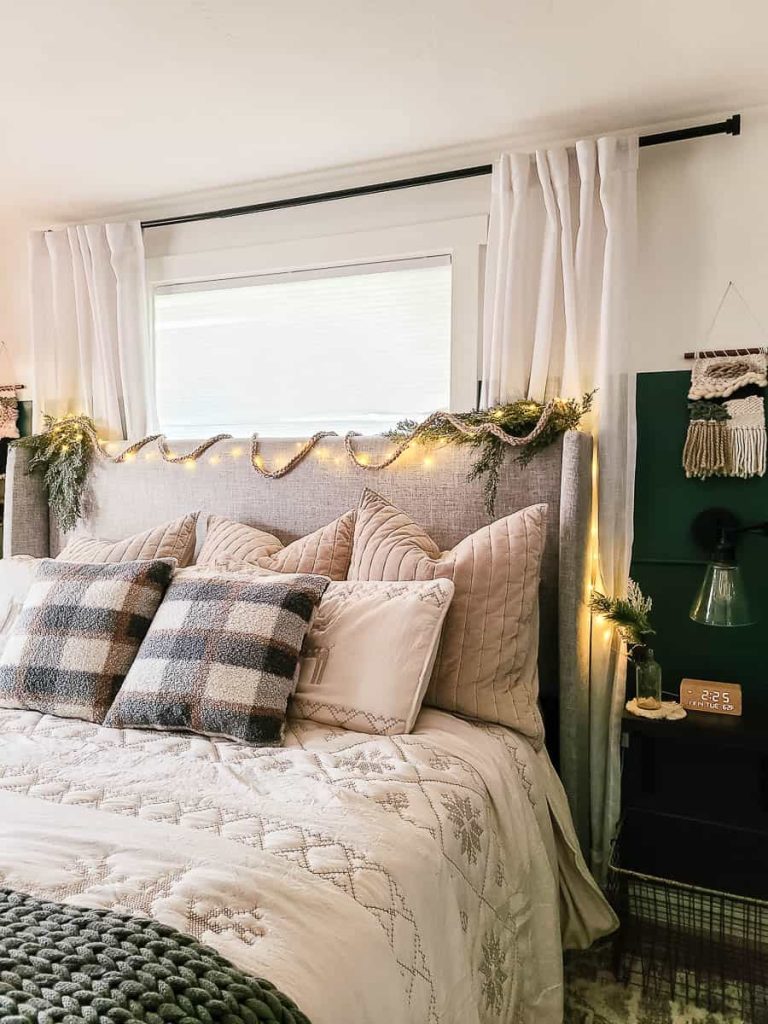 You can wind fairy lights around your bed frame to create a dreamy, twinkling effect or line your bedroom shelves or dresser top with fairy lights to give them a soft, radiant glow. Another place you could add fairy lights to your bedroom is around the bedroom mirror, which would create a reflective sparkle that would be magical!
More ideas for how to decorate your bedroom for Christmas:
Hang a small wreath on your bedroom door. It's like a welcome hug every time you enter.
Add a Christmas wreath the to wall above the bed.
Hang a sprig of mistletoe somewhere unexpected. You never know when a smooch opportunity might arise.
Drape a string of garland along your headboard or around your bedroom mirror. Instant holiday flair.
Use scented candles or diffusers with warm, spicy scents. Cinnamon, anyone? Or go with the scent of fresh pine, which smells like a winter walk without leaving your bedroom.
Hang jingle bells on your bedroom door or doorknob. Every entrance becomes a merry announcement.
Swap out photos in your frames with holiday-themed pictures or quotes. It's like giving your memories a seasonal makeover.
Hang stockings by the bedside or at the foot of your bed. You never know when Santa might drop by.
If you have the space, a miniature sleigh or Christmas sled can make a whimsical addition to your bedroom Christmas decor.
Swap out regular wall art for something festive, like one of these DIY Christmas signs.
As you consider how to decorate your own bedroom for Christmas, remember that holiday decorating is all about infusing joy and warmth into your space.
We hope you are inspired by some of these Christmas bedroom decor ideas! Feel free to mix and match these ideas to create your own holiday haven! Remember, it's your space—make it feel like your own winter wonderland!
Whether it's the twinkle of fairy lights, the coziness of seasonal throws, or the charm of bedside table decorations, these small touches turn your bedroom into a retreat of festive magic.
Merry Christmas!
Bedroom Christmas Sources:
How will you decorate your bedroom for Christmas this year? Let us know in the comments below!