Are you looking for bohemian bedding ideas? Check out our boho-style bedroom refresh and see how we like the Parachute linen duvet cover, Casaluna sheets, and other products in this full review and sources article.
A few months ago, I just spur of the moment started looking at new bedding. And I spent almost the entire weekend just looking online at the options. I primarily was playing with different color and texture combinations and coming up with a fun mood board & bedding mockup.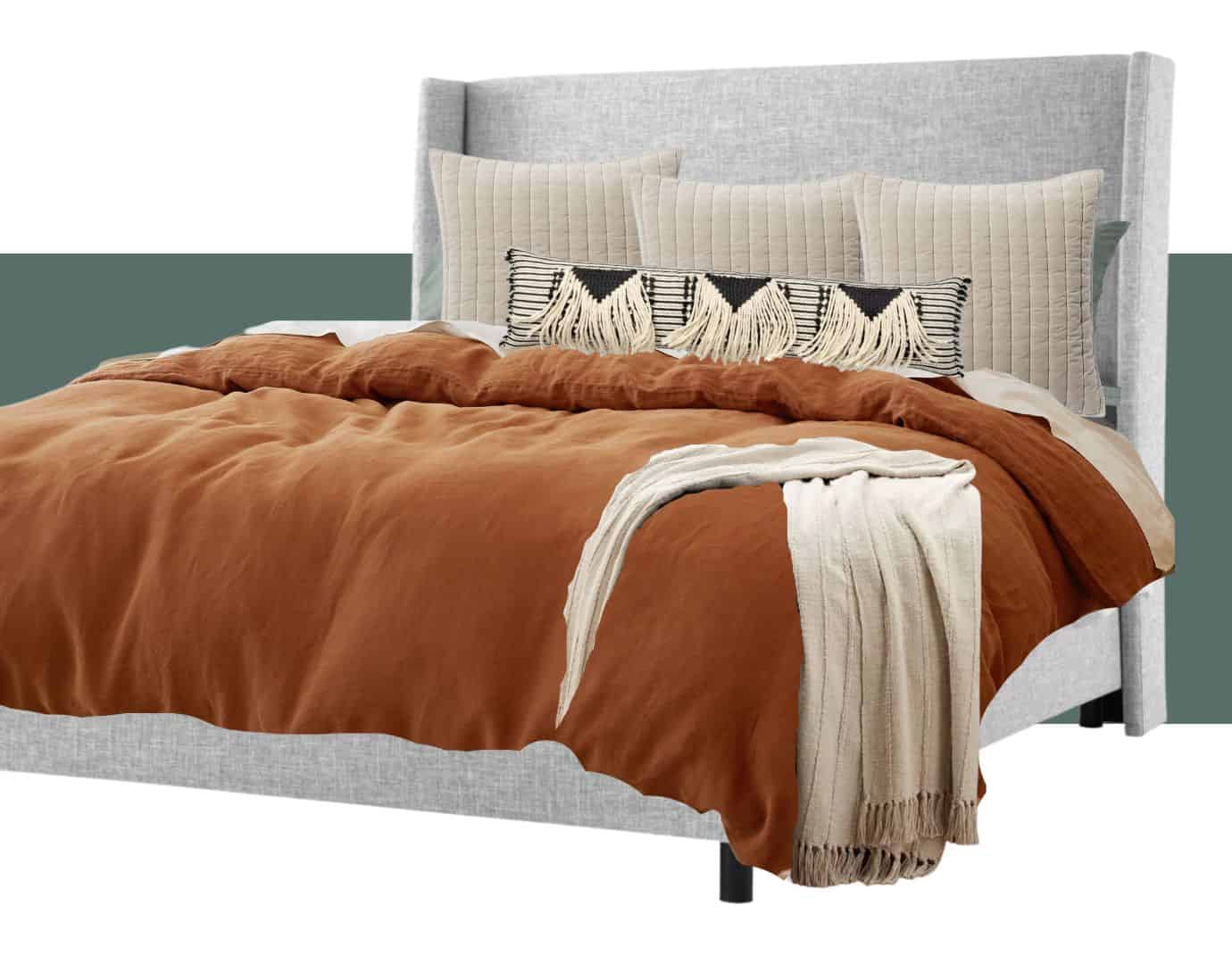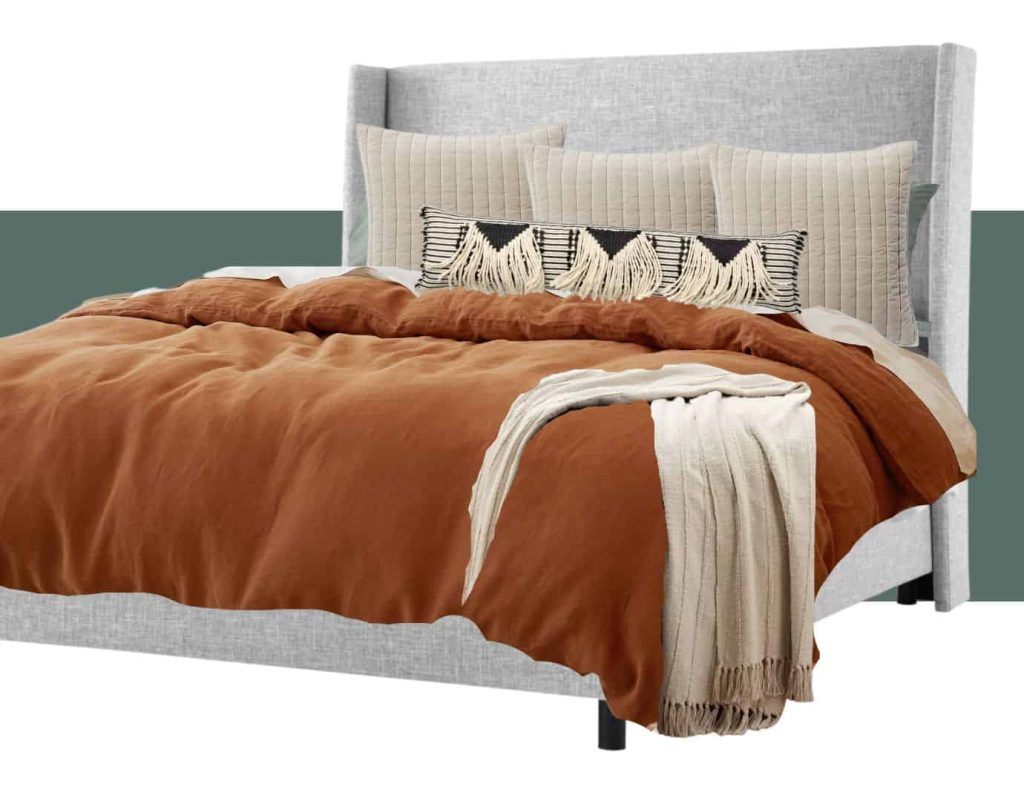 I knew I wanted a linen duvet cover. I love the idea of duvet covers instead of comforters because they can easily be removed and washed. We also already had the King size duvet cover insert, so I wanted to be able to use that.
I love the perfectly unperfect look of the wrinkles in the linen duvet covers and wanted one that featured a fun bohemian color.
I ended up getting a combination of products from two different stores, which allowed me to splurge on one name brand "investment piece" and mix in other more budget-friendly items from Target.
If you're looking to do a Bohemian bedding refresh in your bedroom anytime soon, you're going to love today's article. I'm breaking down all of the products that we used for our recent bedding makeover!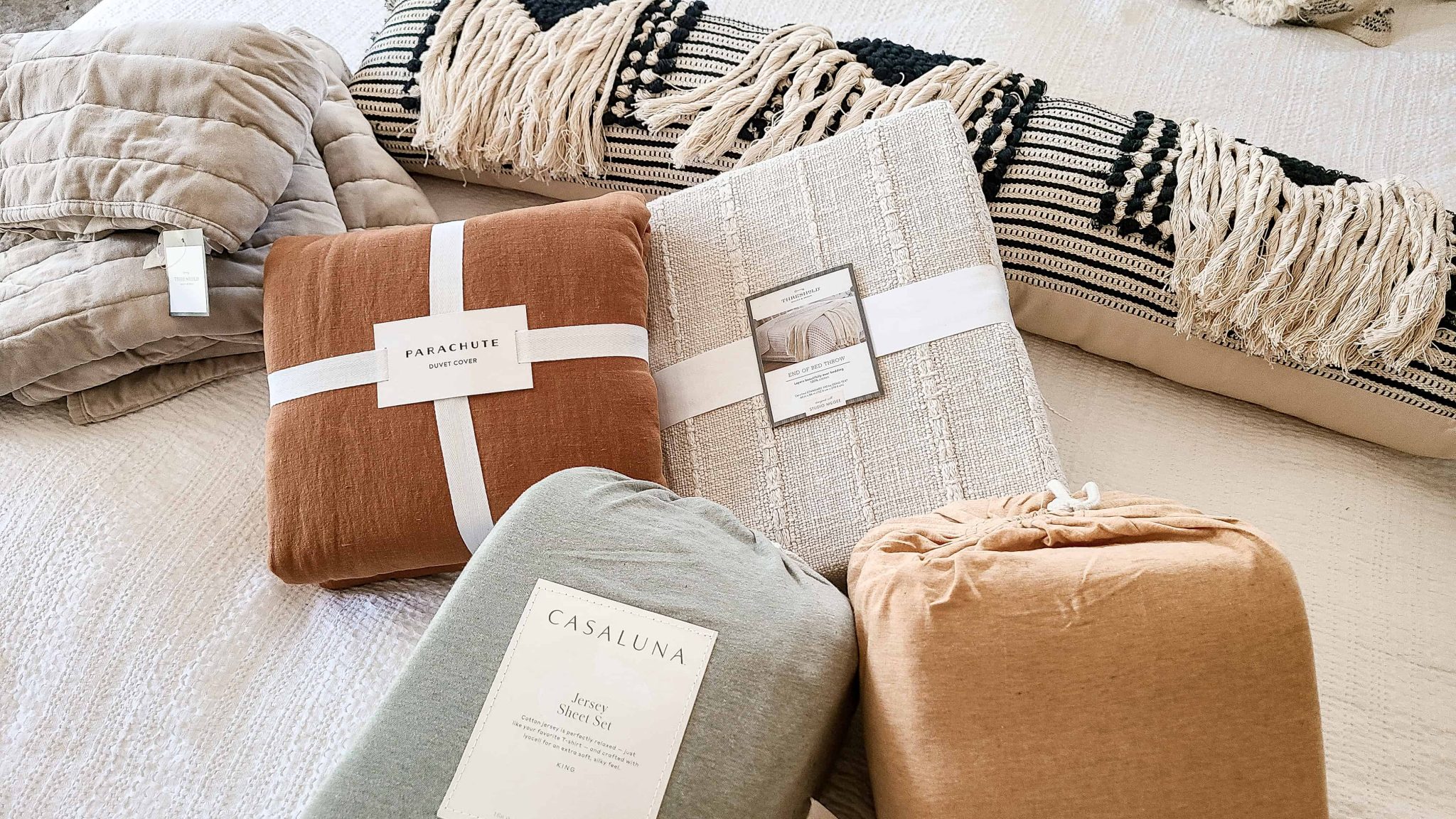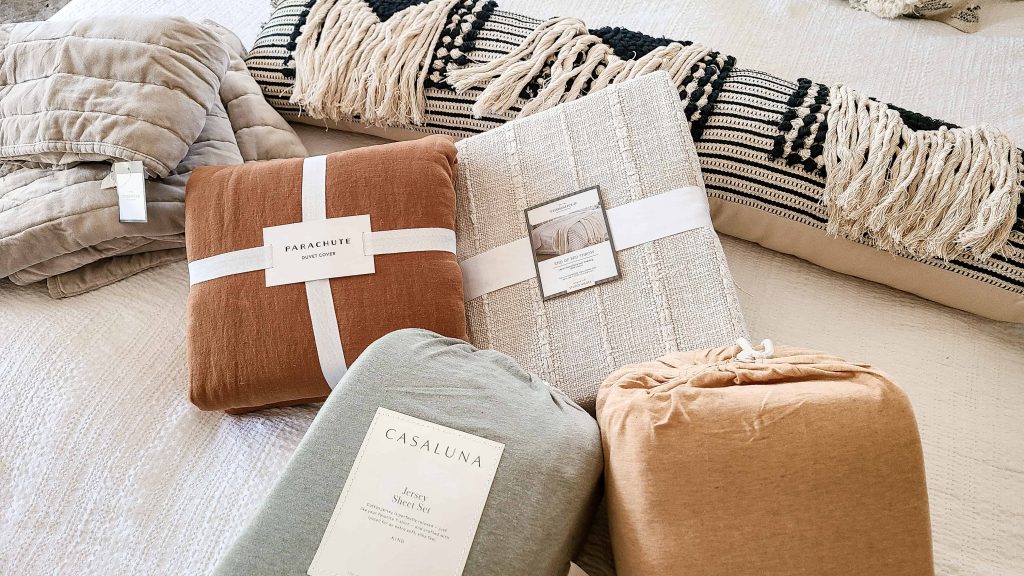 This bohemian bedding guide contains affiliate links, but nothing that I wouldn't recommend wholeheartedly. Read my full disclosure here.
Boho style bedding – video
If you love DIY videos, don't forget to subscribe to our YouTube channel!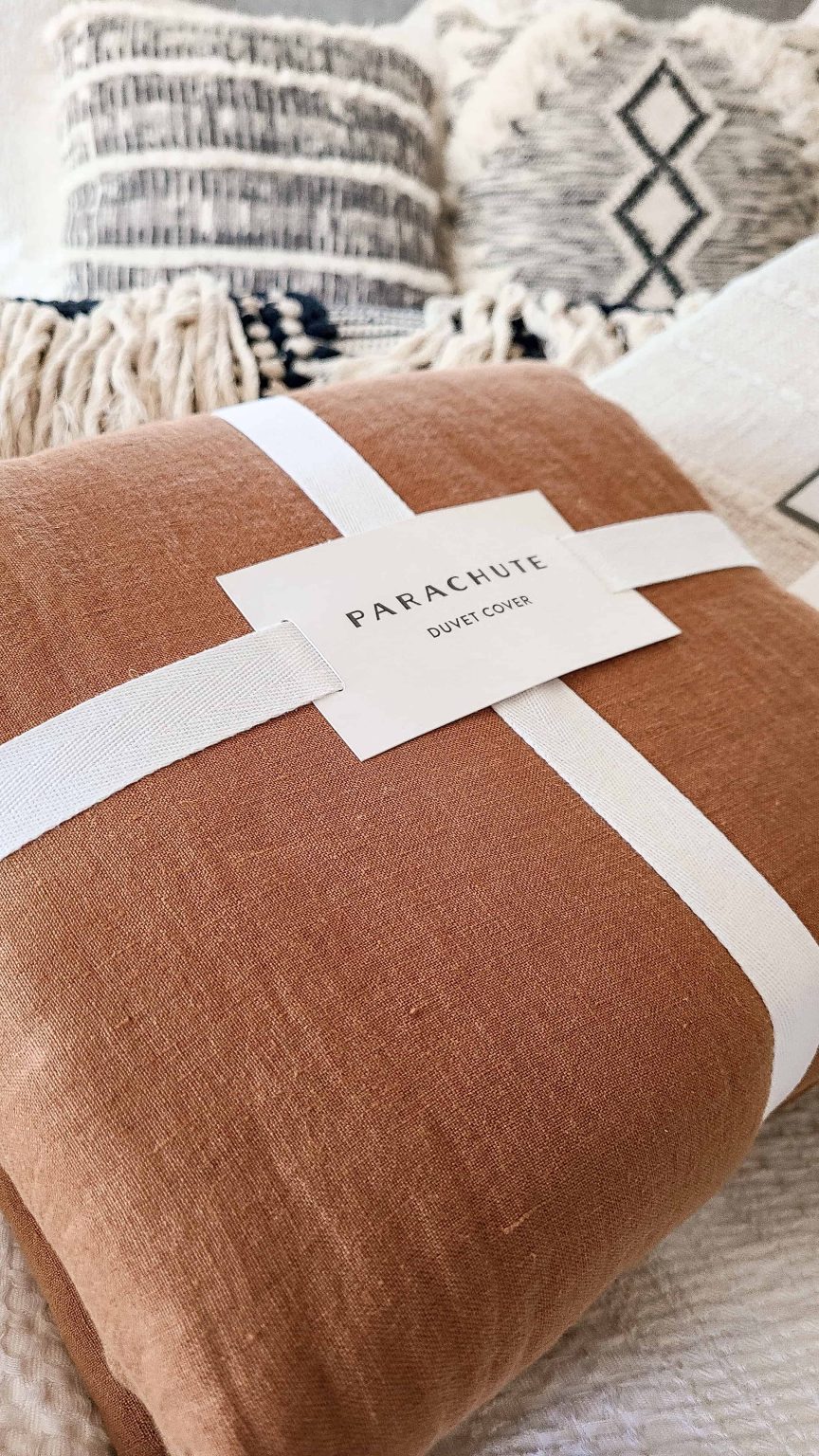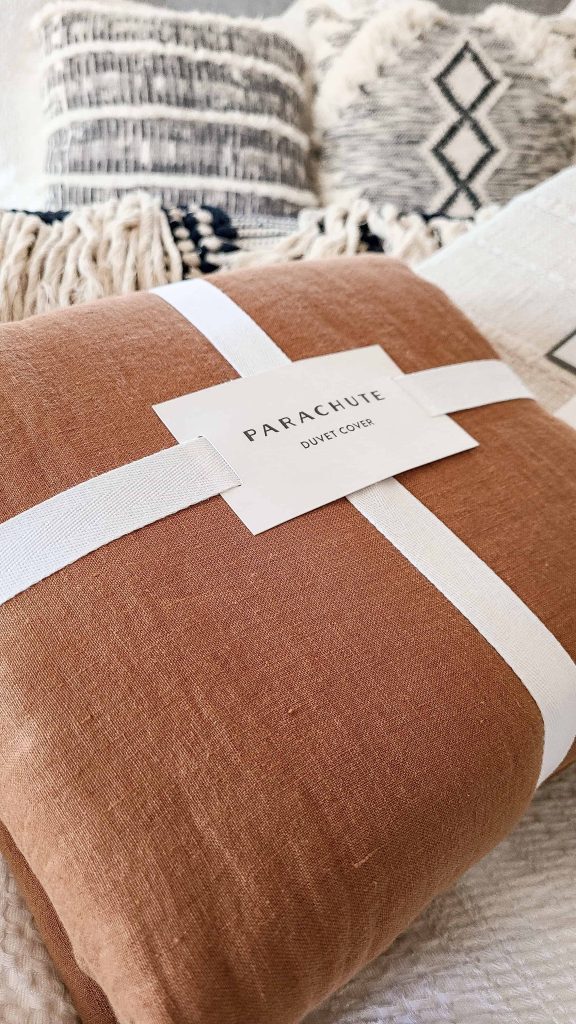 Parachute linen duvet cover
Let me start by saying the Parachute linen duvet cover was not cheap. I did a lot of research before deciding on this brand and cover. I really viewed this purchase as more of a splurge piece and an investment that should last me a long while.
Why linen bedding?
The Parachute linen duvet cover is made with 100% European flax (linen), which means that it is super durable and long-lasting (more so than cotton). Linen bedding is breathable and light – yet warm.
From my research, the one thing that I learned about Linen that sold me was that its natural softness gets better over time. So the more you wash it, the softer it becomes.
Another characteristic of linen bedding is that lived-in, wrinkled look. Linen wrinkles very easily. If a little wrinkles bother you, linen is NOT the right choice for you!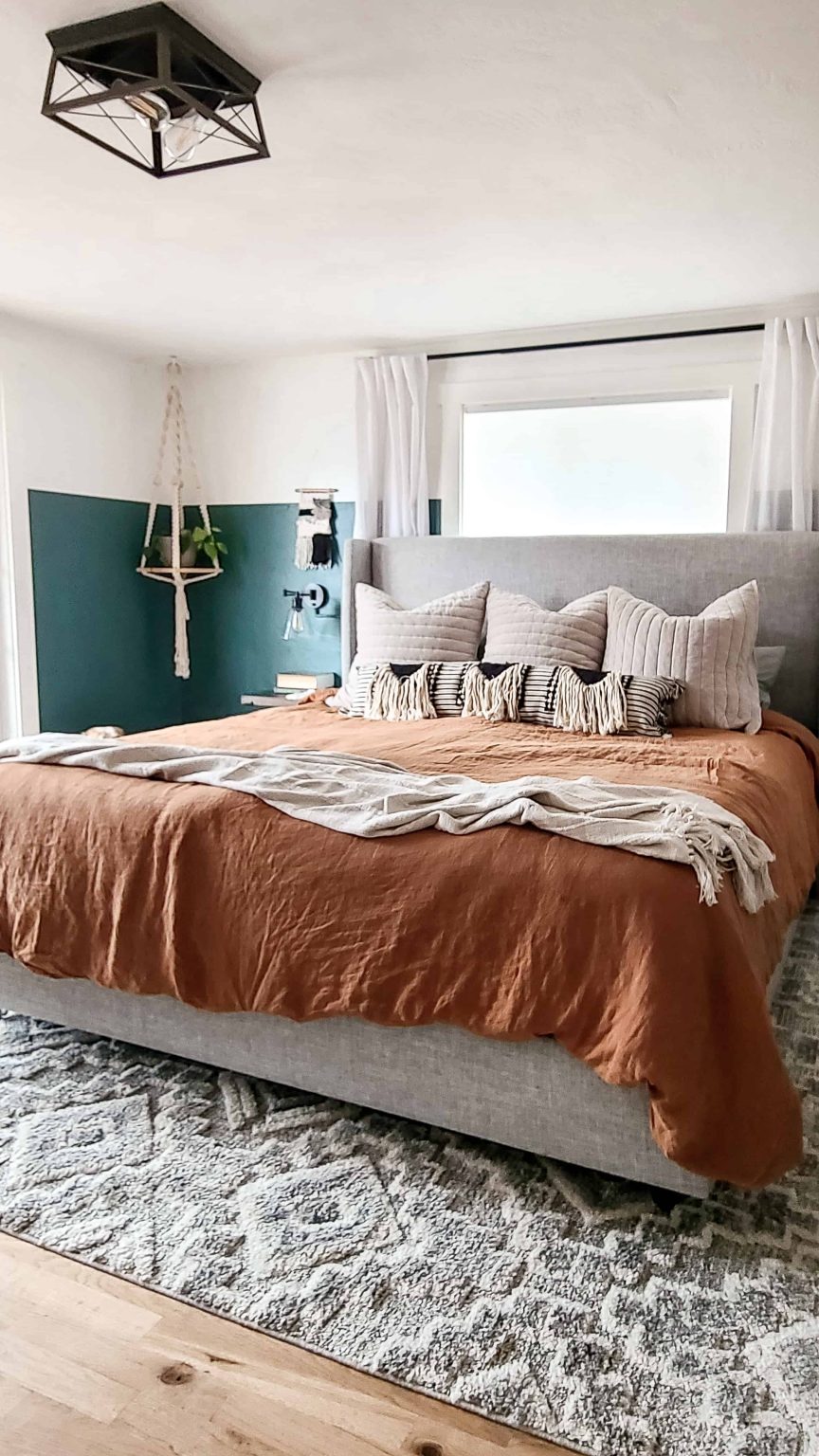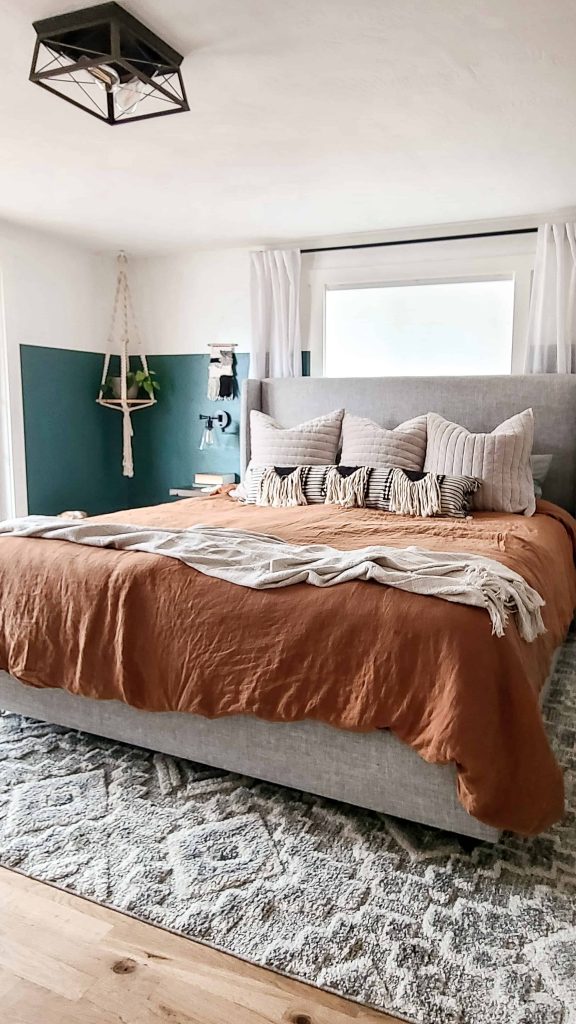 Parachute linen duvet cover review
We chose the color Terra, which is a beautiful shade that is a mix between rust and terracotta. One of the things that appealed to me about Parachute options was the beautiful colors that fit right in with the bohemian bedding look that I was going for.
I was genuinely surprised by just how soft the duvet cover was the first time I unpacked it. I know that it will get even softer over time.
They wash and dry well with no piling or shrinkage, so that's a major plus.
There are ties in each corner to keep your duvet insert securely. There are also stylish buttons at the bottom to close it up.
Even though the Parachute linen duvet cover was a splurge, I'm very happy with my purchase. I can't quite explain it, but it just "feels" expensive. I think it was well worth it.
If you look at other more budget-friendly options for "linen" duvet covers, you'll probably find that they are NOT made with 100% linen, like the Parachute brand is. They are usually made with a small percentage of linen and mixed with "filler materials", like Rayon or Cotton, which are cheaper to make!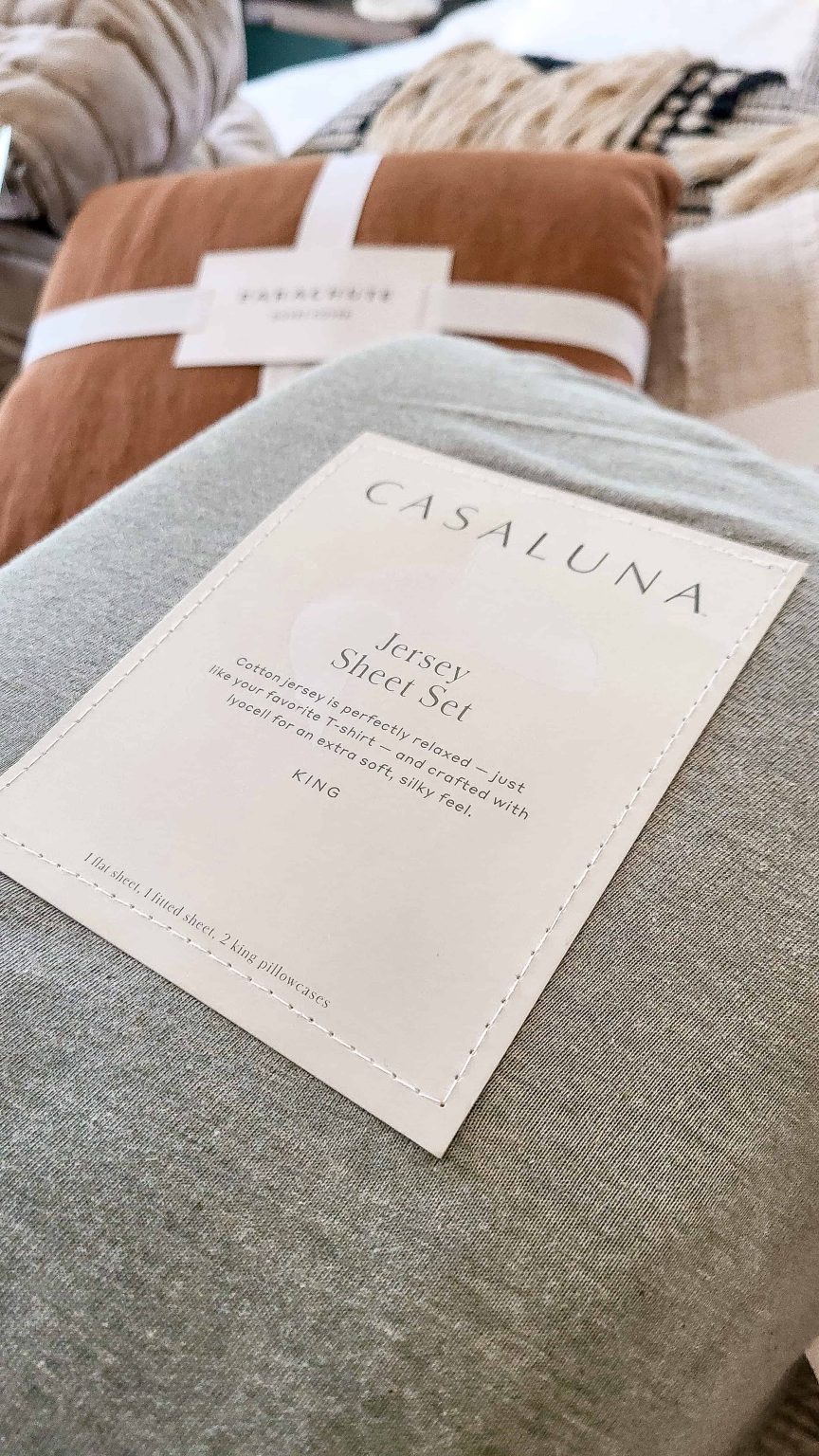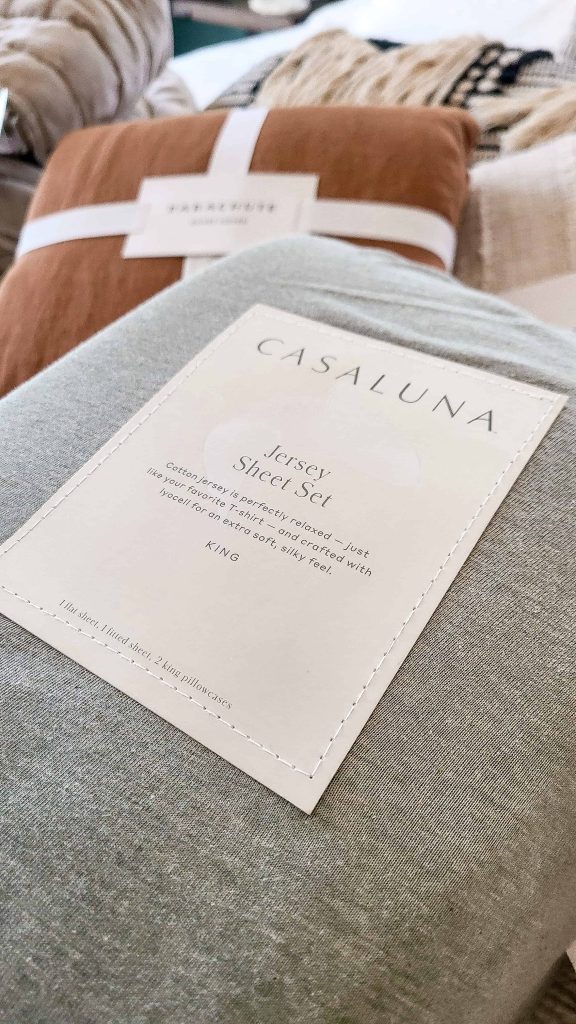 Jersey solid sheet set – Casaluna brand from Target
I'm a Jersey knit sheet sleeper, through and through. I've always loved Jersey knit sheets so don't try to change my mind. The only exception I usually make is during the colder months when we typically switch to soft flannel.
I've been tempted to try linen sheets (especially after my love affair, I mean the purchase of the Parachute duvet cover) and maybe someday I will splurge and make the investment, but for now, we will stick with what we know.
I've heard great things about the Casaluna brand that launched at Target a couple of years ago. The bedding is gorgeous and budget-friendly.
We decided to grab a couple of sets of the Jersey solid sheet sets when we refreshed the bedding in our bedroom.
One of the reasons I was drawn to the Casaluna brand is the incredibly gorgeous color options that pair great with the Terra color of the Parachute duvet cover! They are all so BOHO!
We got one set in Sage and another in Honey, which is the mustard yellow color. However, it looks like they are no longer selling the Honey color – bummer!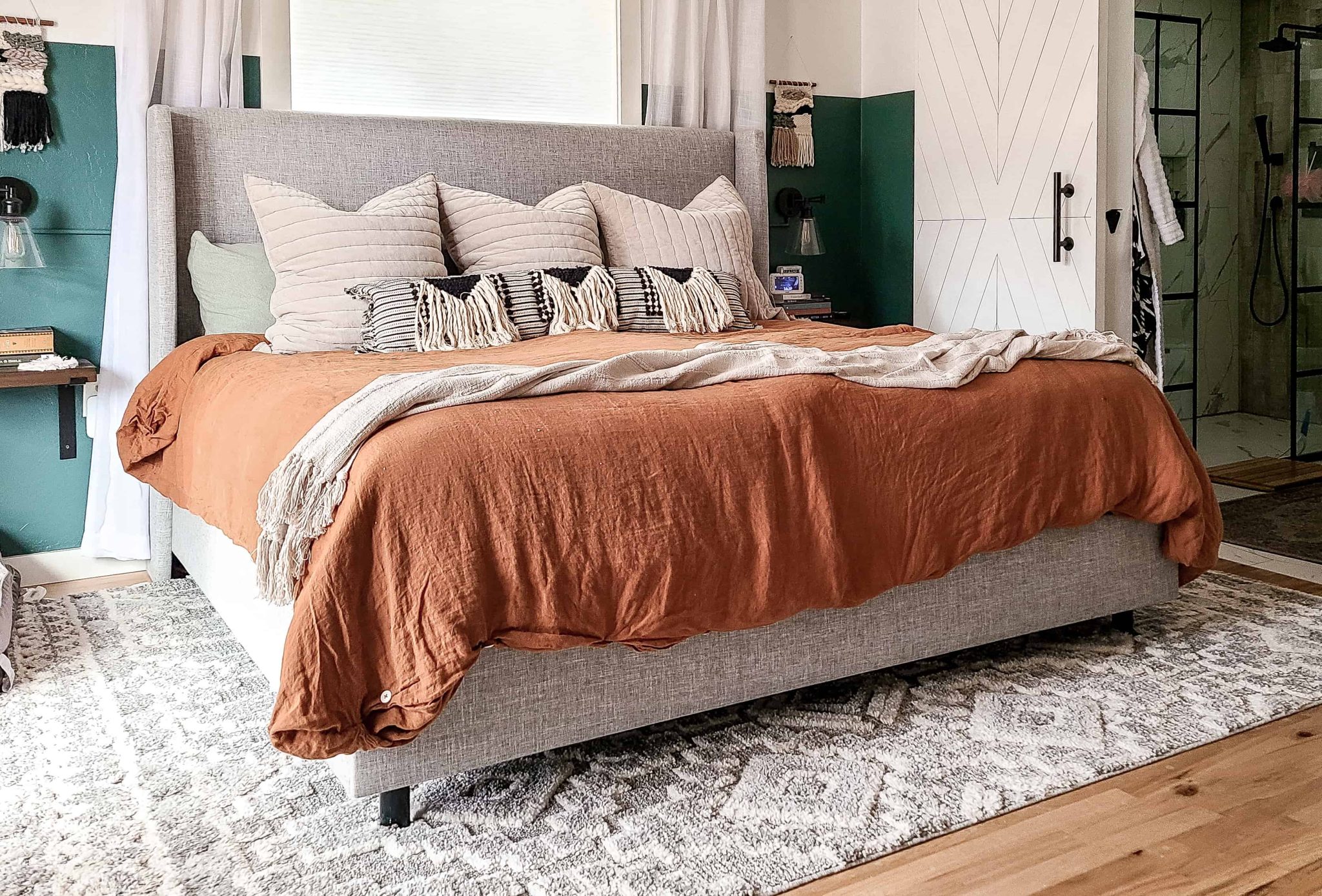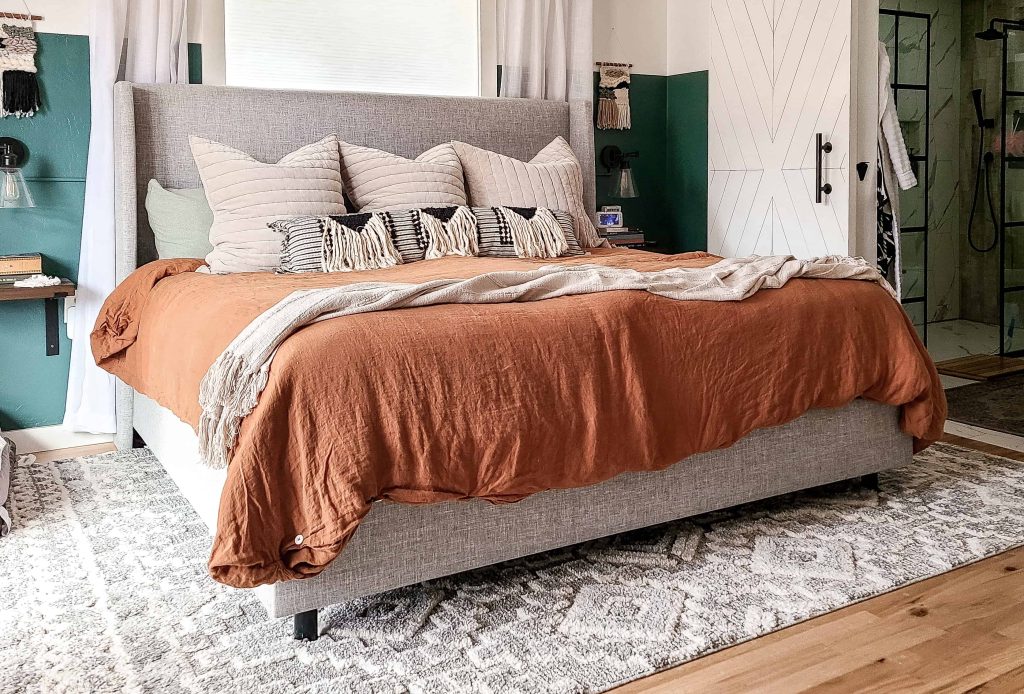 Casaluna jersey solid sheet set review
One thing that I love about the Casaluna jersey solid sheet set is that bed-making placement label. On the inside of the fitted sheet, there is a small tag that tells you which side is the bottom and top! Genius, right?
The sheets are made with a blend of cotton and lyocell, which feel just like you think it would… a soft and stretch T-shirt.
We've had them for several months now and haven't noticed any holes or piling, which some of the reviews online mention.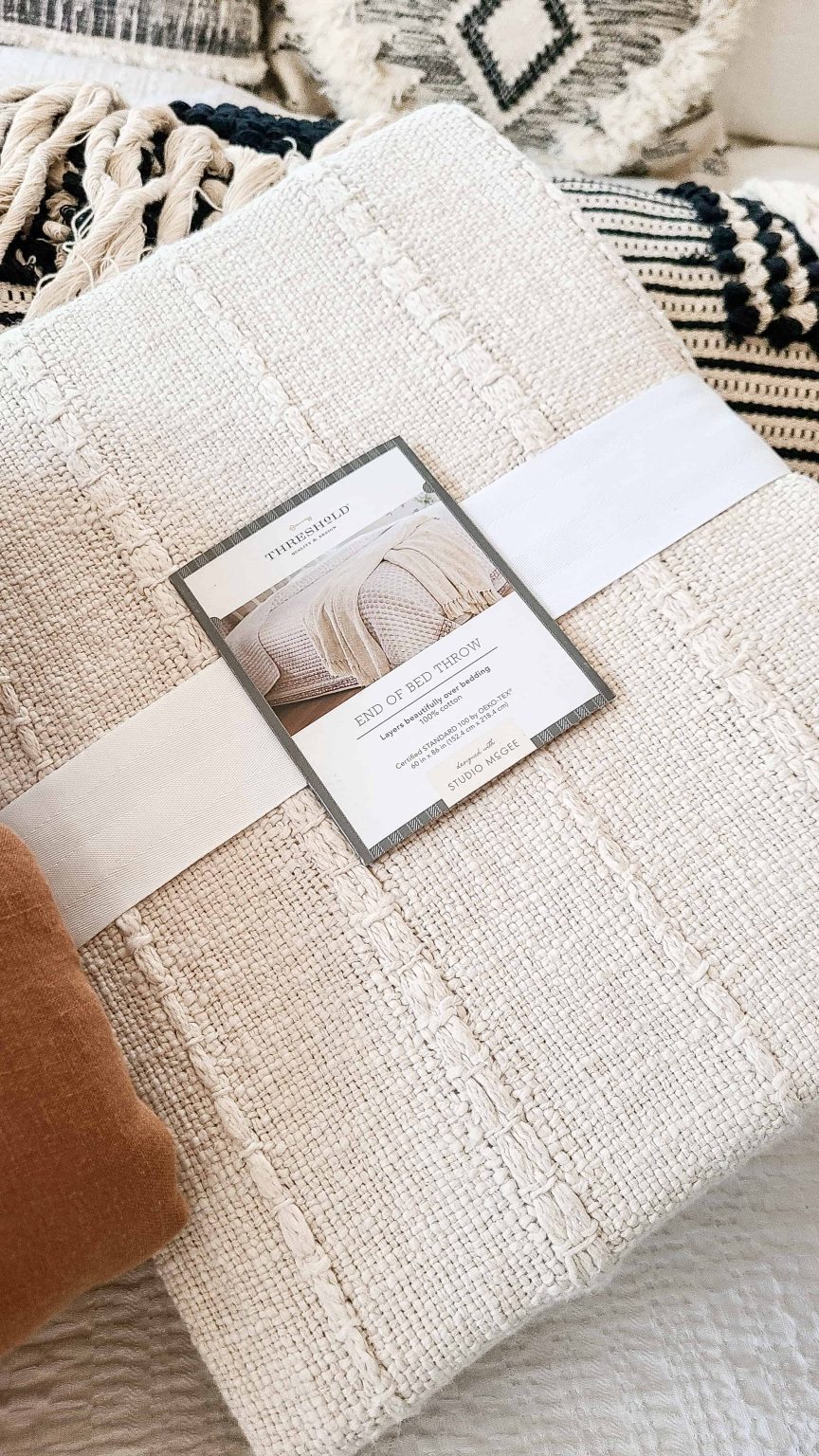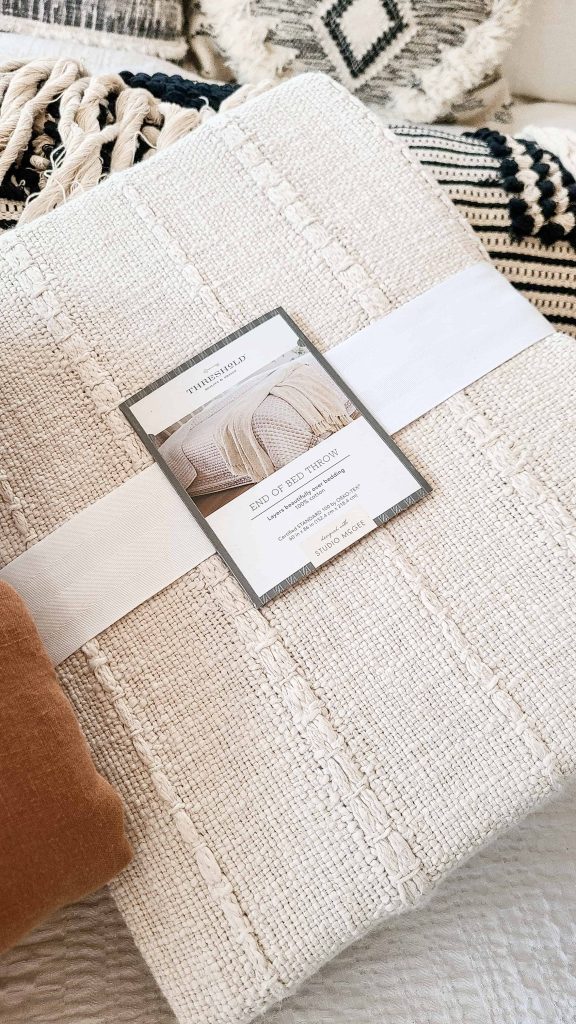 End of the bed throw blanket – Threshold designed w/ McGee & Co from Target
I love the extra texture that it adds to the bed with the woven look and the tassels. We got the Beige color, but it also comes in a few other options!
The end of the bed throw is great, I really like it. However, I do think it is a little short for our King sized bed. I wish it went off of the edge of the bed on both sides.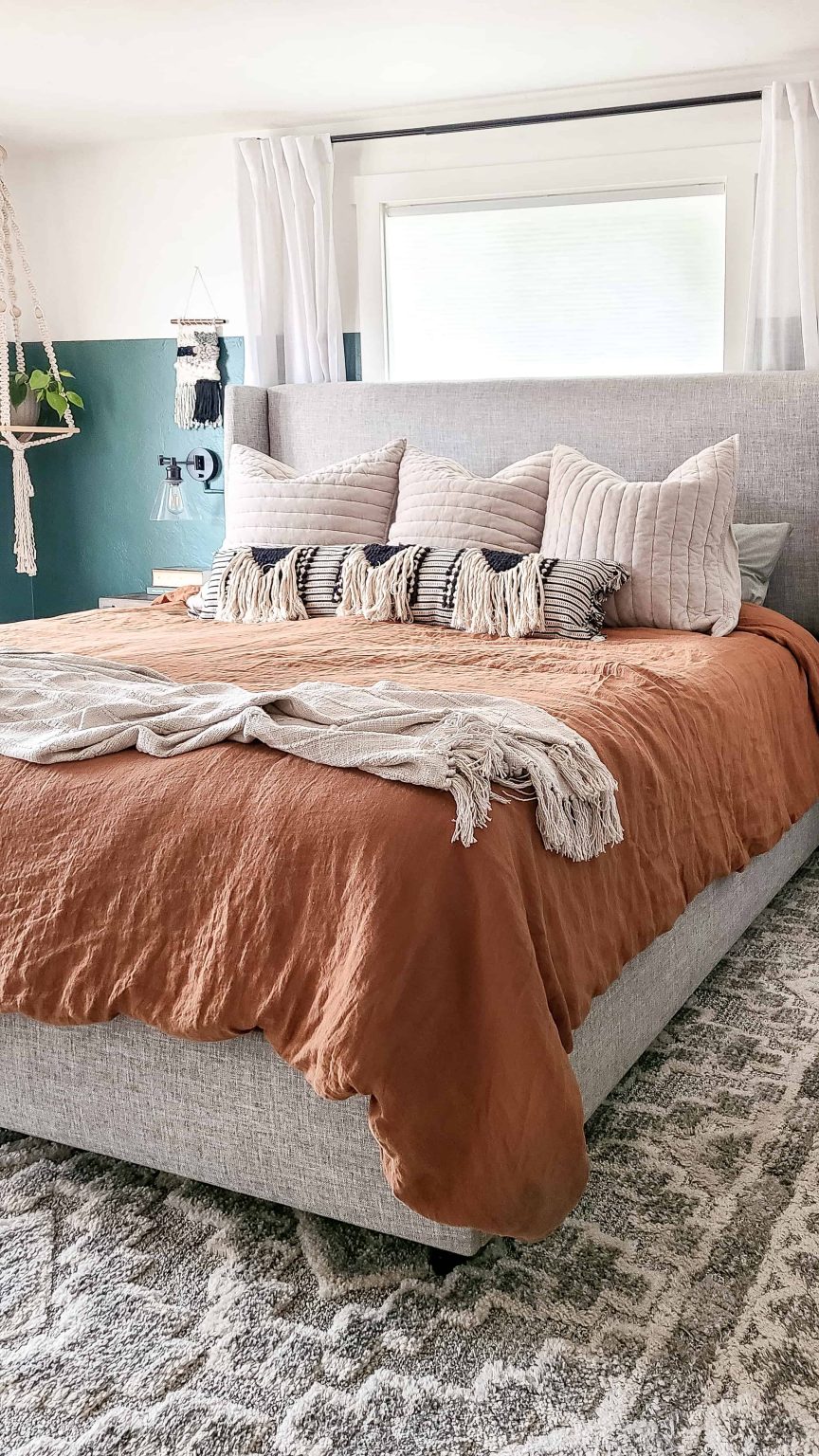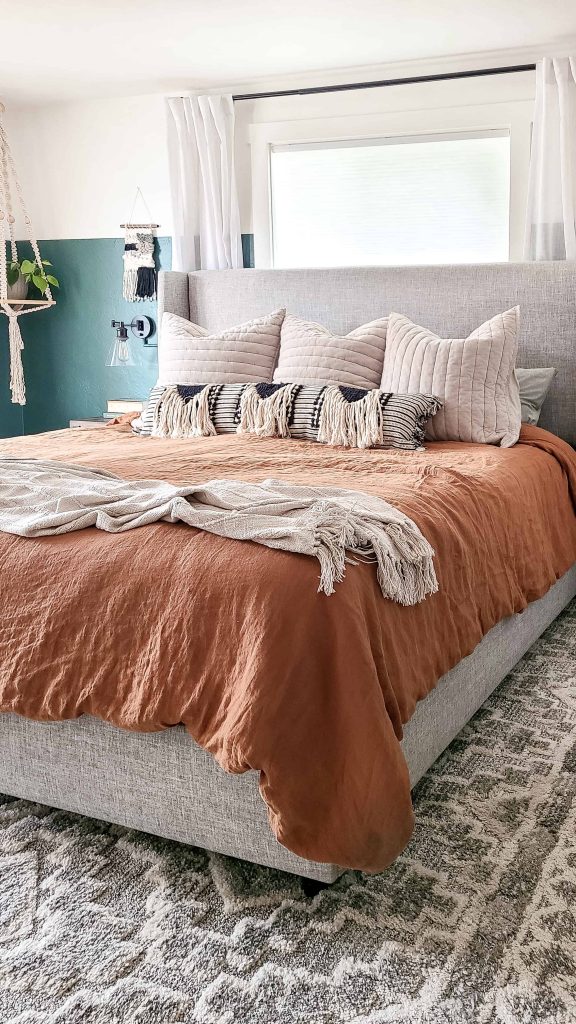 For reference, the size of the end of the bed throw blanket is 86 inches x 60 inches wide.
So it would probably look better on a Queen sized bed, but it works. I'm not going to change it!
It is made with 100% cotton, so it is a soft midweight fabric that is great for throw blankets. A few of the reviews online mention that it is rough and scratchy, but I didn't notice that at all.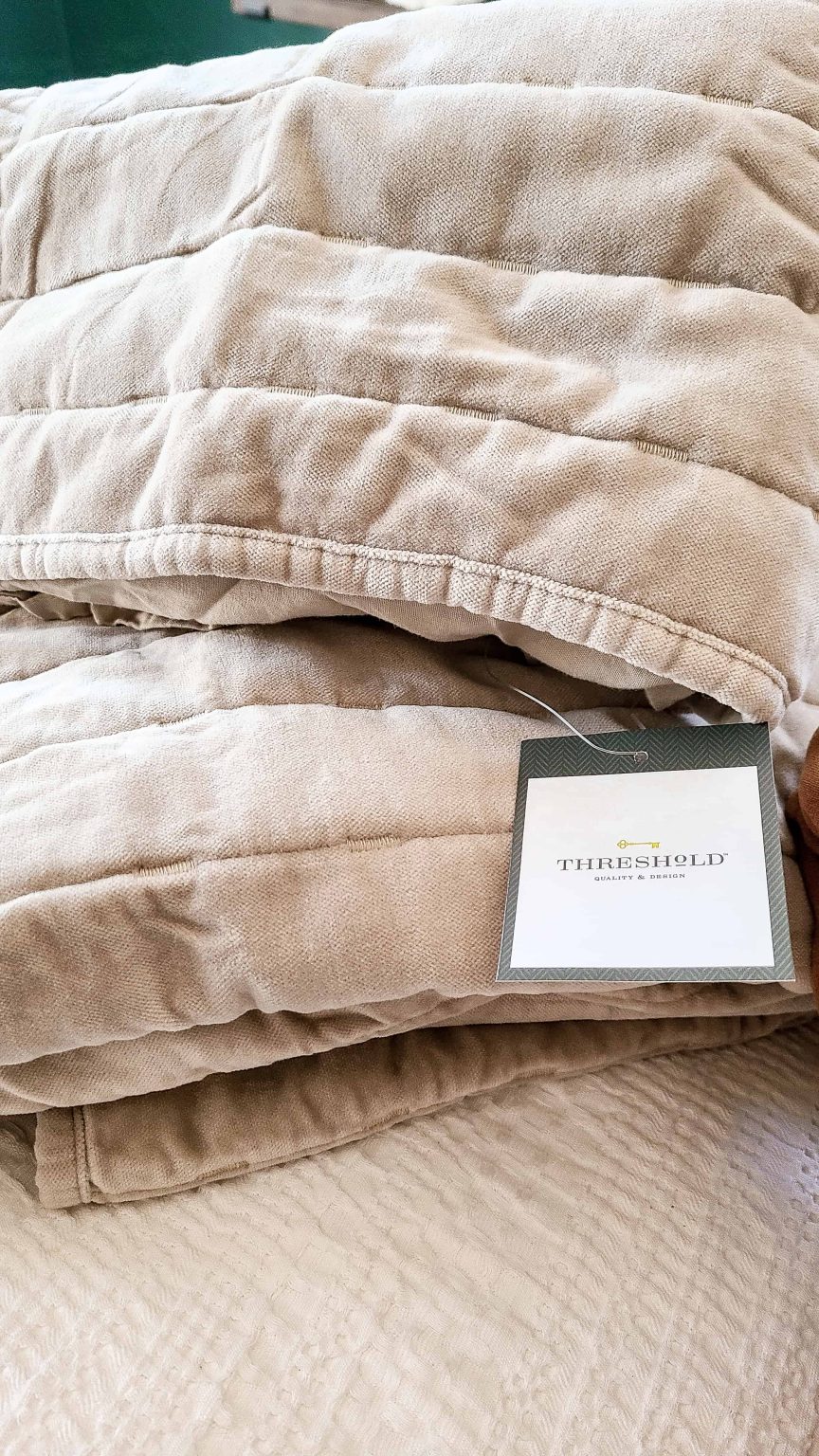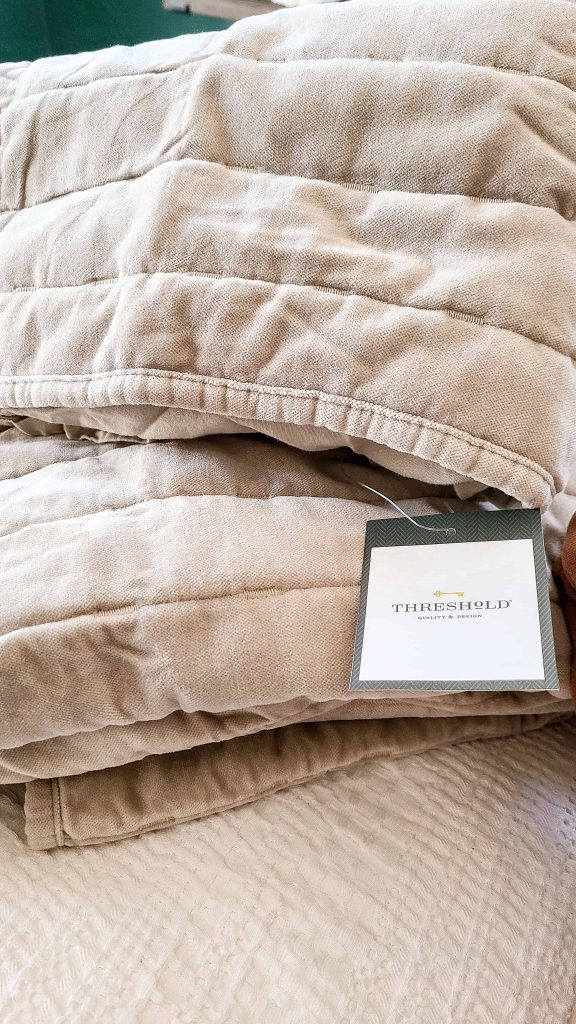 Large 26×26 velvet Euro shams – Threshold from Target
The Euro shams are velvet, so they had a different (and very soft) texture. I love the threaded quilted stripe design for a little something extra.
They are made with 100% cotton and have an envelope closure on the back of the pillow so you can easily slide the pillow insert in.
We got the "Natural" color, but there are a lot of different options available so you can find something that will match your bedding.
We have high-quality feather Euro pillow inserts, so it makes these pillows super comfy!
Oversized lumbar pillow – Opalhouse line from Target
One of my favorite purchases of the entire bedding refresh was the long and skinny oversized lumbar pillow with the boho trim. It's from the Opalhouse line at Target, which is full of totally bohemian-style home goods.
Unfortunately (for some reason) this beautiful pillow is no longer being sold, but here are some other options of long lumbar pillows that would also be perfect on a bed.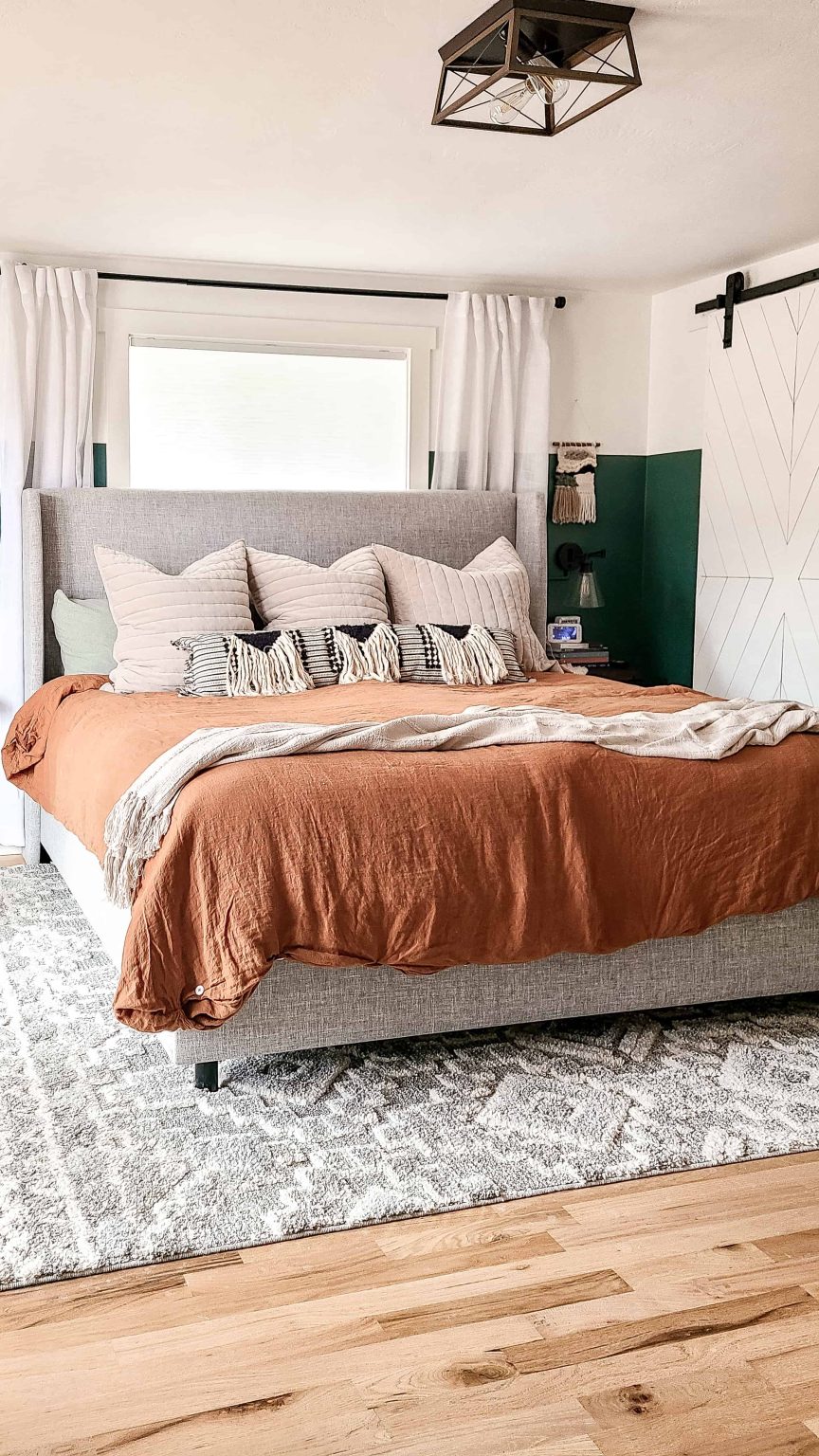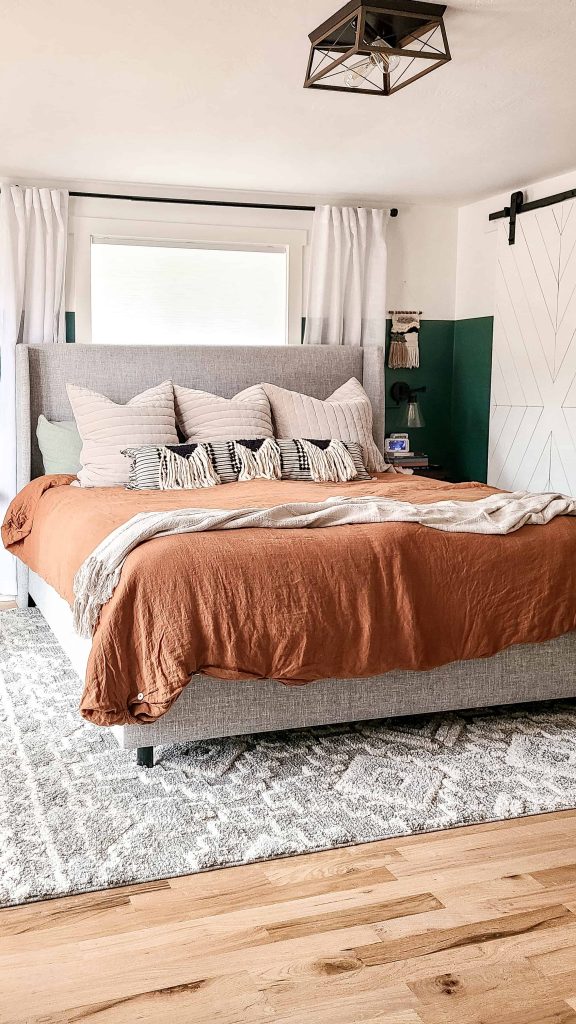 Antwerp Woven Upholstered Wingback Bed
Every single time I share a picture or video of our bedroom online, I ALWAYS get asked about our bed, so I thought I would mention it here (even though it wasn't necessarily a new purchase with our bedding).
We got the bed frame when we renovated our master bedroom a couple of years ago and I'm still madly in love with this bed.
We have the "Pumice Gray Linen" color option, but there are tons of beautiful other colors if you are looking for something that is not gray. (But if you ARE looking for gray fabric beds, check out this roundup!)
It was fairly easy to assemble and it's a sturdy metal and pine wood bed.
My ONLY complaint (and it's very minor) is that the opening under the bed is very small (3″ or so) so there is no way you can get any baskets or under-the-bed storage options under there.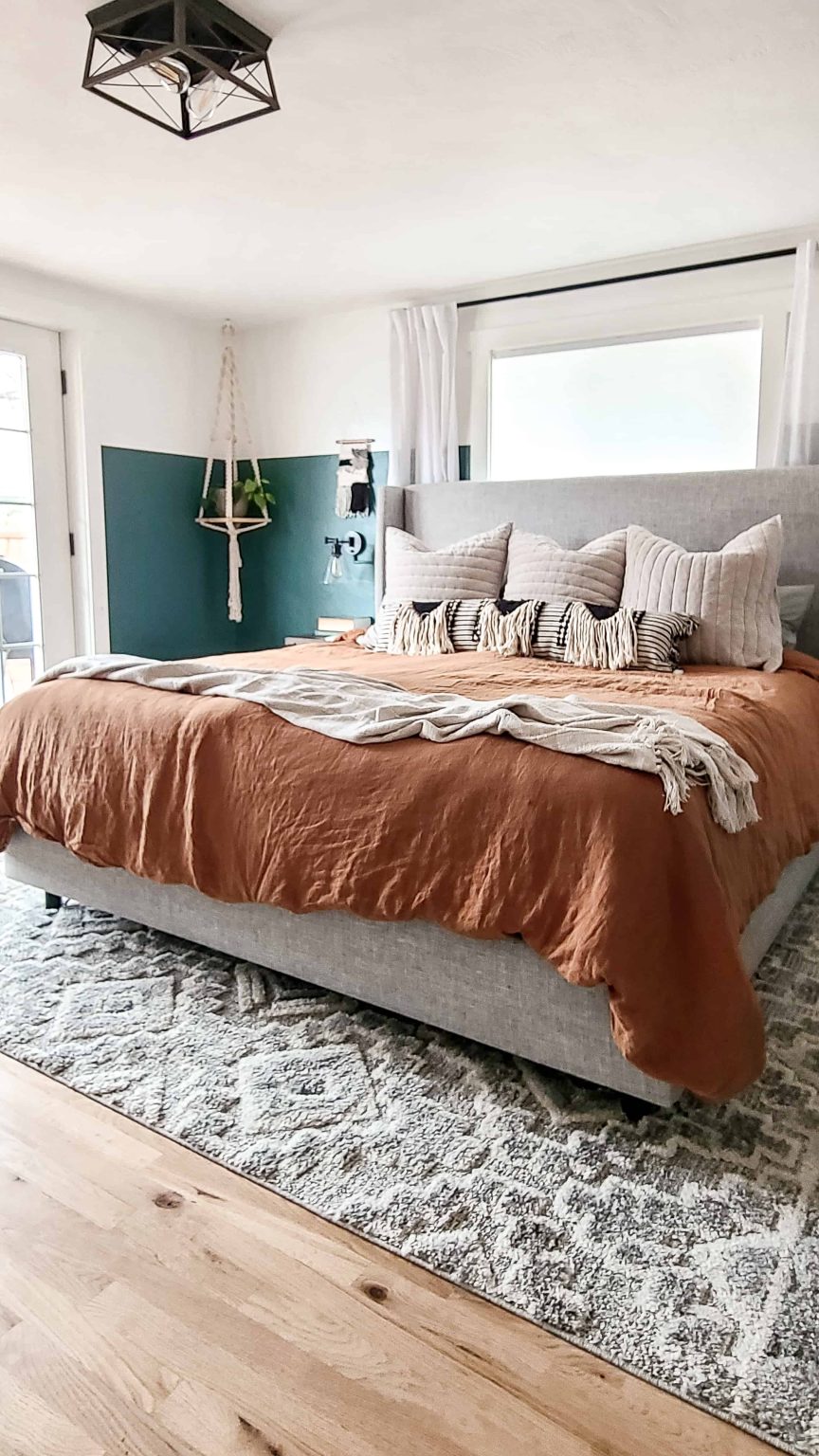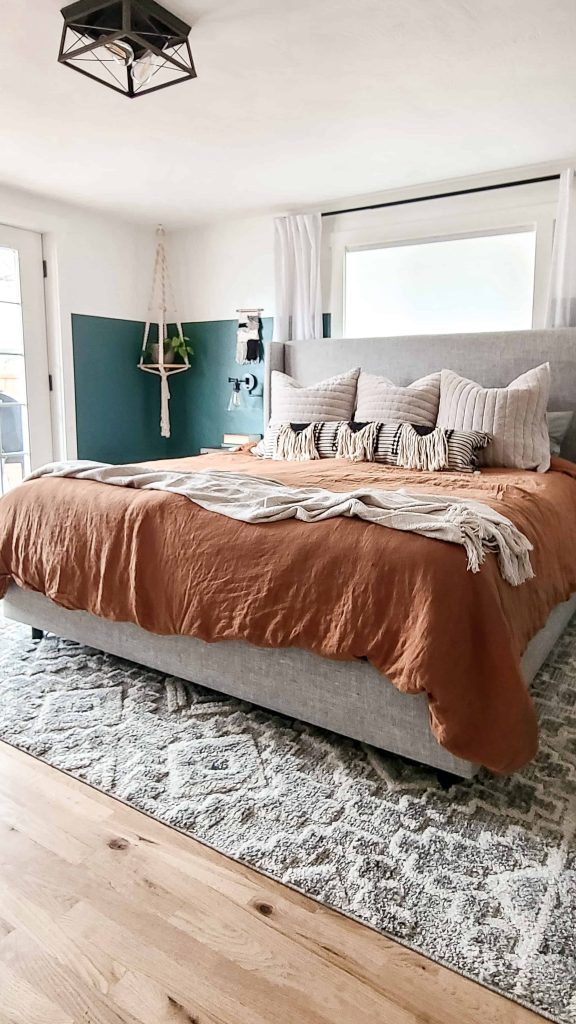 New bohemian bedding FAQs
Why is the bed lumpy?
The bed itself may look a little bit lumpy in the pictures, haha! That is because we each of our own weighted blankets that we sleep with and LOVE. They kind of overlap in the middle so that explains that little lump. We keep the weighted blankets hidden between the duvet cover and the top sheet.
What was wrong with the bedding you used to have?
There's nothing wrong with the bedding that we had. We've had it a couple of years now and it is starting to show some wear and stains. I guess that is what happens when you have white bedding.
The old bedding was from The Company Store line sold at The Home Depot. It is no longer sold so I can't link it for you.
I just wanted a little more color and warmth in our bedroom. I was craving that so I just went for it.
I love the new bedding. The texture is so soft and so comfy.
What sized pillows should I use on a King sized bed?
For the pillow arrangement, we have two King-sized bed pillows paired with three 26×26 Euro shams and then a long lumbar pillow in the front. The three Euro shams are perfect for hiding the bed pillows and I love that they fit perfectly across the King sized bed.
What do you do with throw pillows while you're in bed?
We keep one wire basket next to the bed for the throw pillows and that slides in right under our floating nightstand.
For the larger Euro shams, we have this large woven basket that we keep in the corner of the bedroom over by the dresser.
Two of the large shams fit perfectly in this basket and we can lay the third sham on top if needed. But we usually leave one of the shams in bed with us in the middle (just in case one of the kids ends up in bed with us in the middle of the night, which happens sometimes).
They are pretty comfortable to put sleep on too, they aren't just for decoration!
Overall, we're happy with the new bedding we purchased a few months ago and highly recommend each of the pieces! If you're looking to bring a little more boho style to your bedroom, you'll love these options!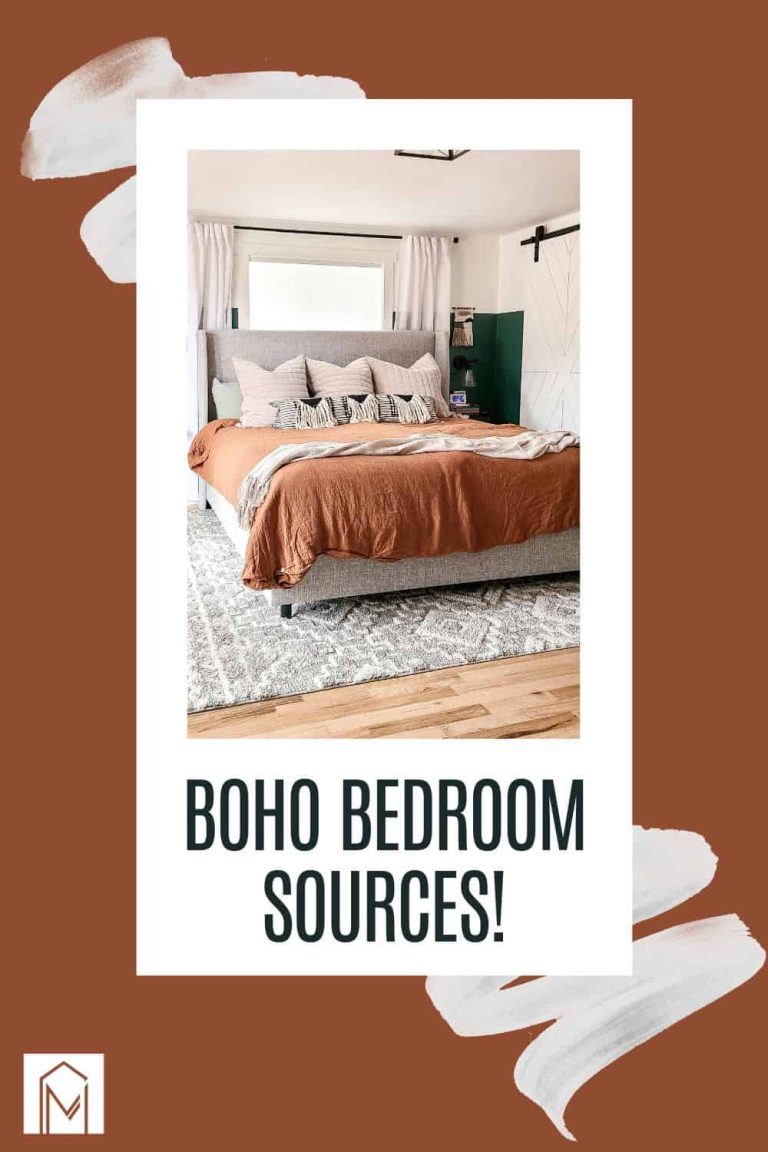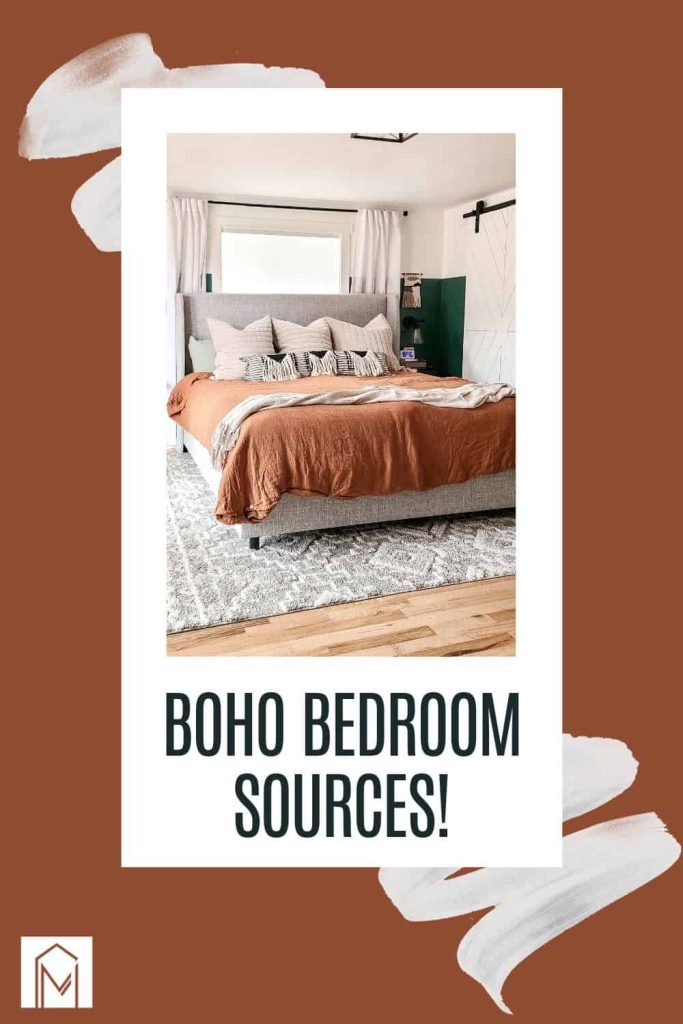 Bohemian bedding sources
Green sheet set (yellow sheets no longer sold)
Lumbar pillow (no longer sold)
Area rug (use code MANZANITA60 to get 60% off!)

Which bohemian bedding product are you dying to get?
Let us know in the comments below!