Planning a bedroom makeover and love the modern boho style? Check out these 10 simple ideas for your modern bohemian bedroom decor!
The boho look is definitely back and seems to be here to stay! If you've been around a while, you know that I am a huge fan of the modern bohemian look and try to incorporate a bit of it in every room that I design.
When it comes to bedrooms, there's no better room to incorporate this style into. The boho look is carefree and natural, while the modern look brings in higher contrast and sleek lines.
When paired together, the rooms feel comfortable and cozy. I don't know about you but comfortable and cozy is definitely the feeling I'm going for in a bedroom.
In today's post, I'm going to share 10 different simple concepts that you can use to design your modern bohemian bedroom. From bedroom colors to throw pillows, we're covering it all and giving you tons of shopping ideas and inspiration!
This modern bohemian bedroom decor post contains affiliate links, but nothing that I wouldn't recommend wholeheartedly. Read my full disclosure here.
If you're unsure what the modern boho decor style is, here's a quick refresher of the 10 elements that you're likely to see!
Light and airy
Furniture with clean and modern lines
High contrast neutral color schemes (black and white)
Light wood tones
Bring in the natural vibes with real and faux plants
Woven texture with rattan and cane furniture and wicker baskets (including basket walls like this)
Interesting patterns (geometric, southwestern/Aztec, or vintage style are popular in this modern boho decor style)
Occasional bold paint colors and accent walls
Incorporation of abstract shapes (like these painted arches)
Lots of cozy textures with the use of throw pillows, blankets, layered rugs, and woven wall hangings
How to get the modern bohemian look for your bedroom
Use light and neutral bedding with contrasting colorful pillows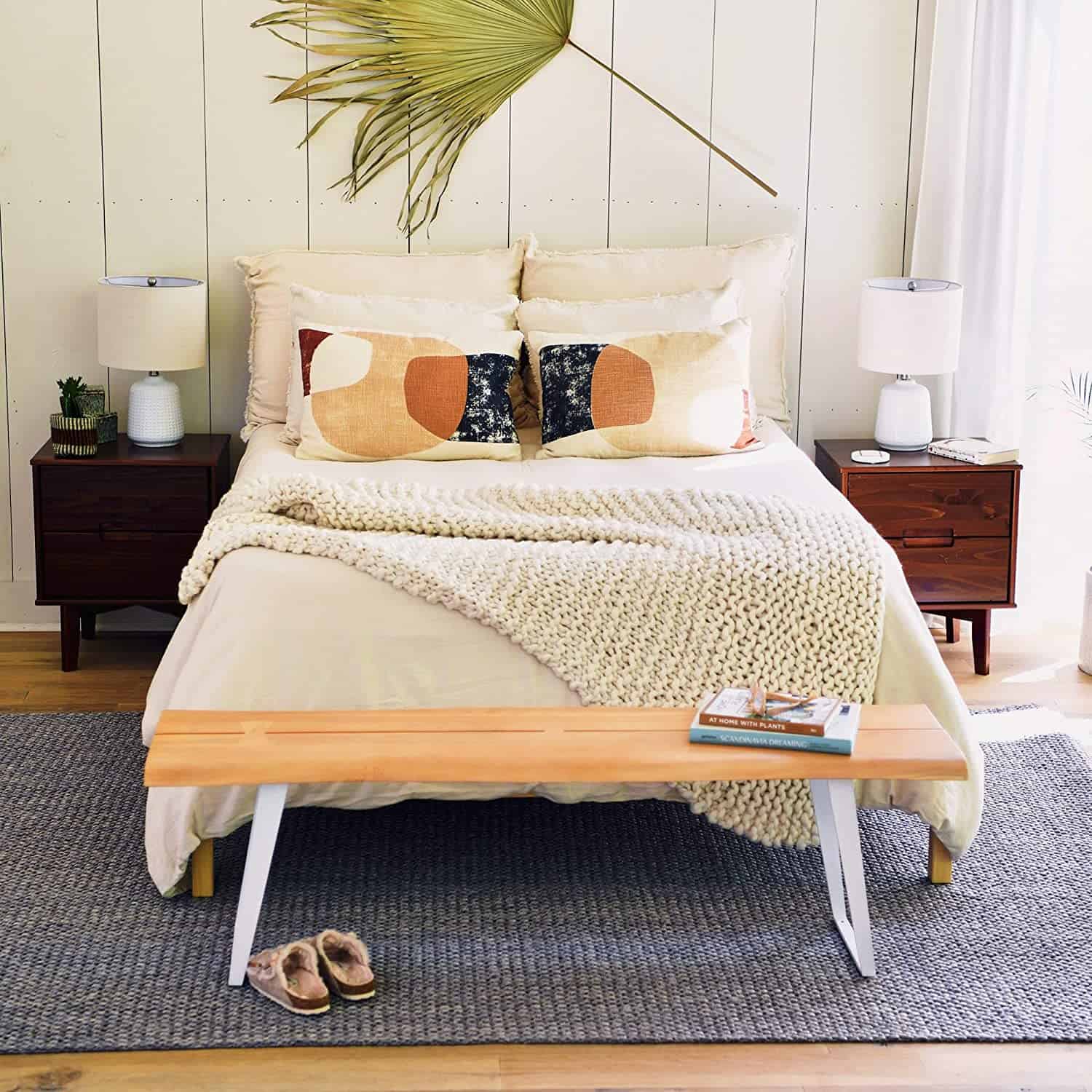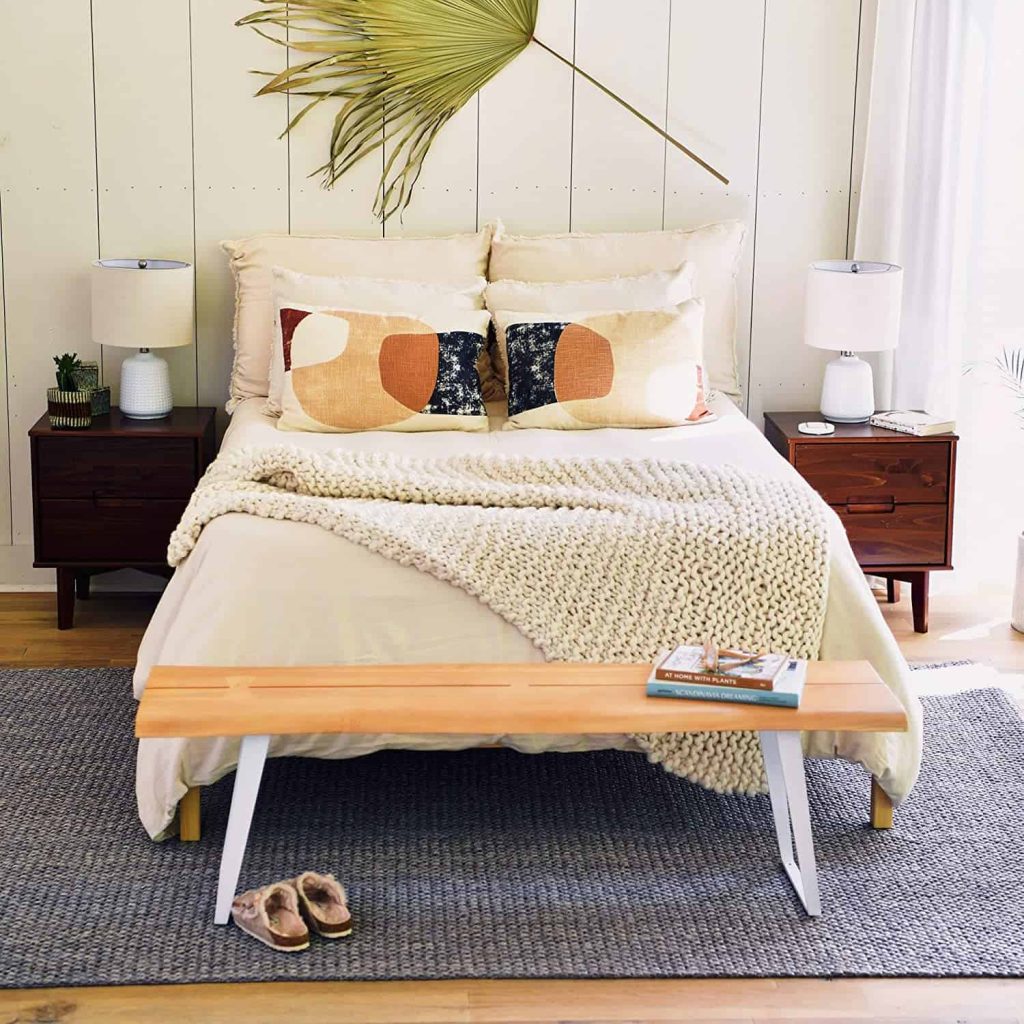 Try incorporating light and neutral bedding to bring the light and airy element of the modern boho style. Think tan or white fluffy bedding with cozy throws for extra texture.
Next, you can layer on some fun throw pillows for some contrasting colors and fun patterns.
---
Bring in a wooden bed frame with clean and modern lines
To incorporate the "modern" into the modern boho look, it is recommended to bring in clean and sleek lines that are representative of the modern style.
You can do this easily by getting a wooden bed that has these sleek lines, like the one pictured above and the options referenced below.
The wood tones of the wooden bed frame also help bring warmth to the color palette, so things don't feel too stark.
Shop the look: wooden beds
---
Incorporate a high contrast color scheme with neutrals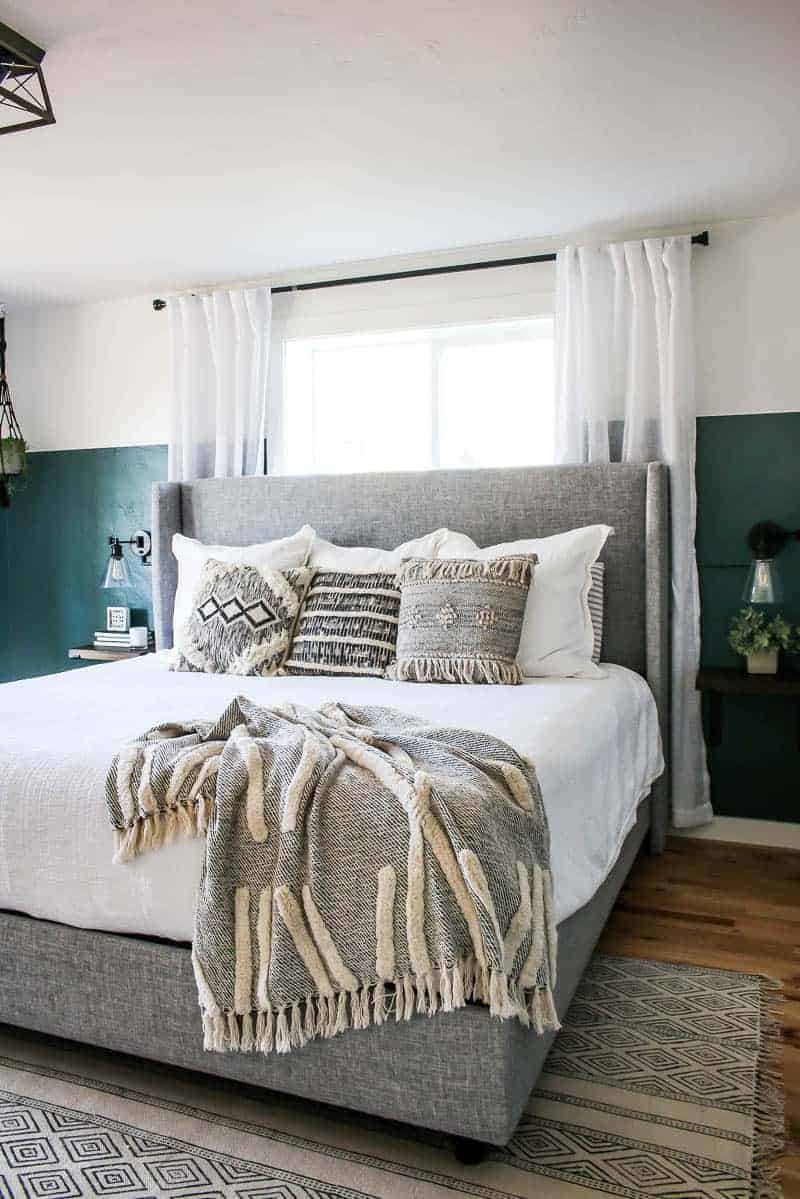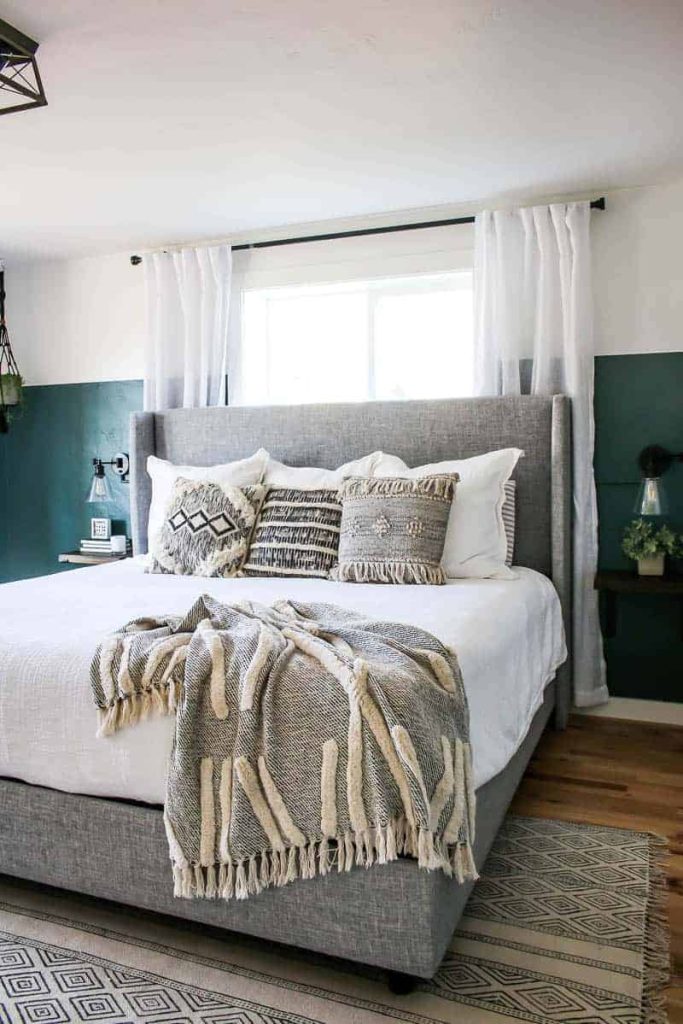 One of the key elements of the modern boho interior design style is a high contrast neutral color scheme, like black and white. But it doesn't have to be just black and white!
We incorporated a high contrast color scheme into our modern boho bedroom with dark green and white two-tone painted walls, combined with other neutral decor and textiles.
---
Use light wood tones throughout the bedroom
There are several ways you can incorporate light wood tones throughout your modern boho bedroom – from hardwood flooring to a light wood bed frame.
But you don't want everything to be the same light wood shade. Mix and match a bit!
You can definitely mix and match different light and darker wood tones in your modern bohemian bedroom to bring in that high contrast look again.
For example, I love the dark walnut stain color on these wooden coasters paired with our light wood coffee table in our modern boho living room. See how refreshing it is to see different wood tones together?
---
Bring in natural vibes with real and/or faux plants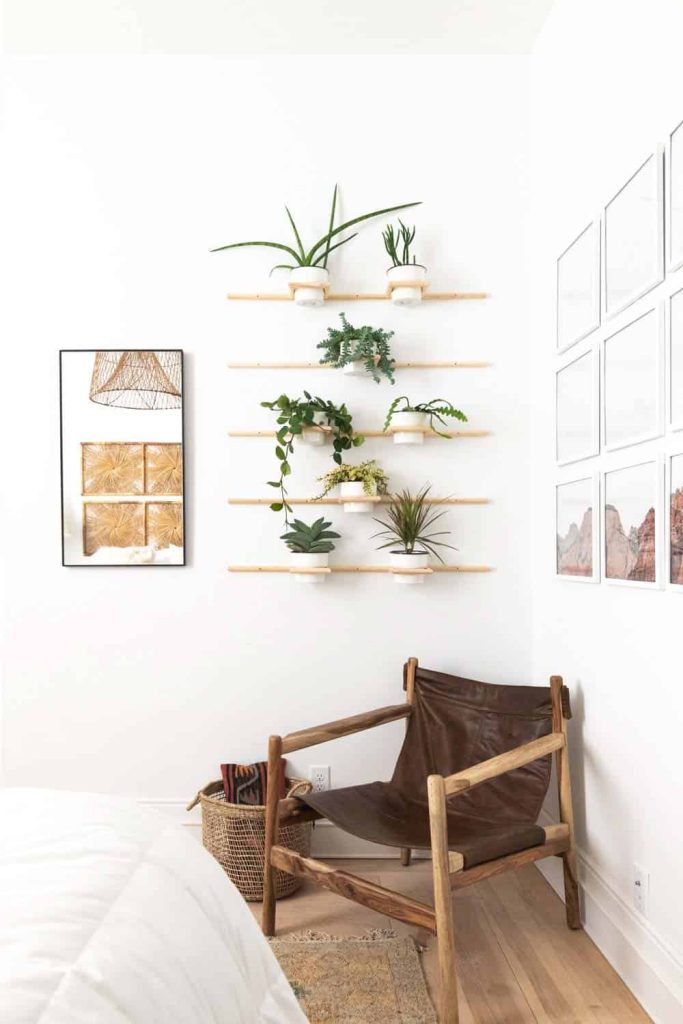 You can't have a bohemian bedroom without some sort of plants! There's just something about that natural vibes that get brought in with plants.
There are so many fun ways to incorporate plants into the bedroom too! Check out these ideas for inspiration:
If you have a total black thumb, start with a beginner-friendly houseplant like this. You'd be surprised how easy it is to keep them alive!
But if you're set on a no-maintenance look, you can definitely add faux plants into your bedroom instead. Here are some great options!
Shop the look: no-maintenance faux plants for your bedroom
---
Use lots of different textures, including woven textures like rattan, cane, and wicker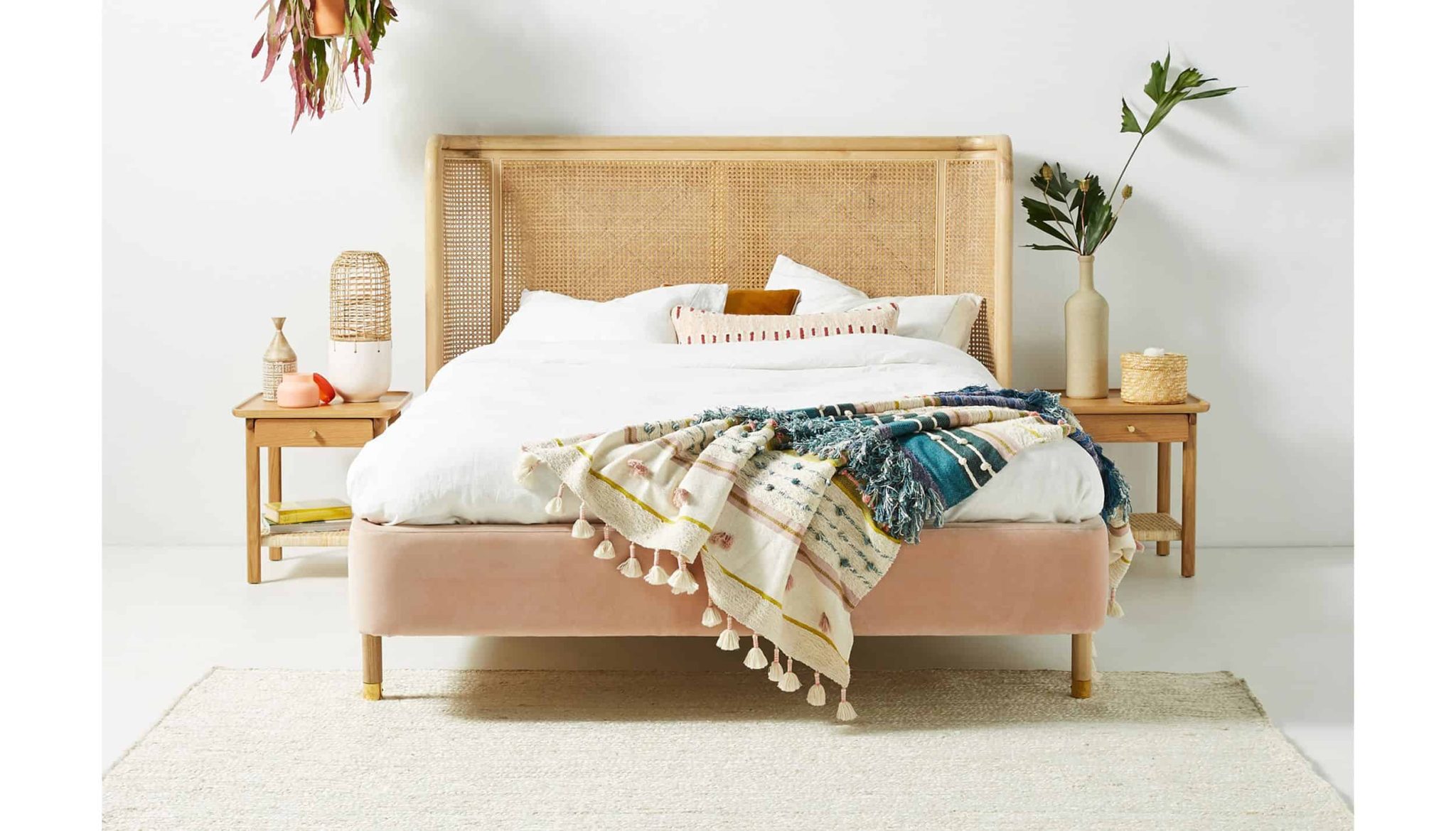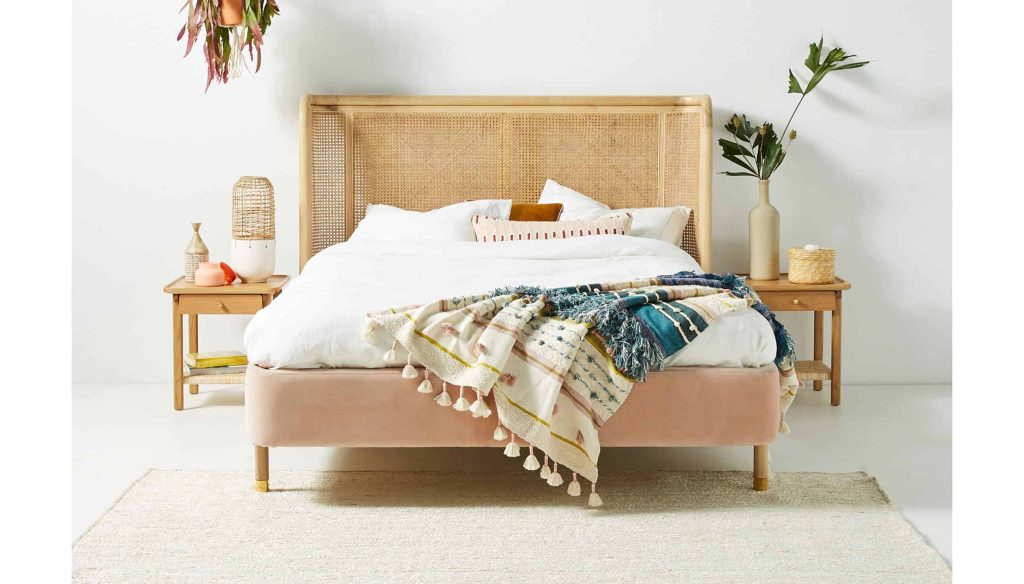 The boho style is all about texture! One of the most quintessential textures that you see repeated over and over in bedrooms with boho style is rattan.
Whether it is through wicker baskets for storing throw pillows and blankets or cane furniture (like a cane headboard and cane nightstand), there are plenty of opportunities to incorporate this texture into your bedroom.
Don't be afraid to layer up on other textures too! Like extra throw pillows, throw blankets, or even layered rugs on the floor!
Related: Check out my favorite rattan furniture and decor in this guide!
Shop the look: cane bedroom furniture and decor
---
Embrace interesting patterns
To add more character to your modern boho bedroom decor, get creative with the patterns! You can incorporate patterns into your bedroom with the bedding, throw pillows, curtains, blankets, or area rugs.
It can be a little overwhelming because there are SO many different types of patterns. If you're unsure what kind of patterns to look for, start with geometric, Southwestern/Aztec, or vintage, which are popular in this modern boho decor style.
Shop the look: boho pattern area rugs
---
Don't be afraid of bold paint colors and accent walls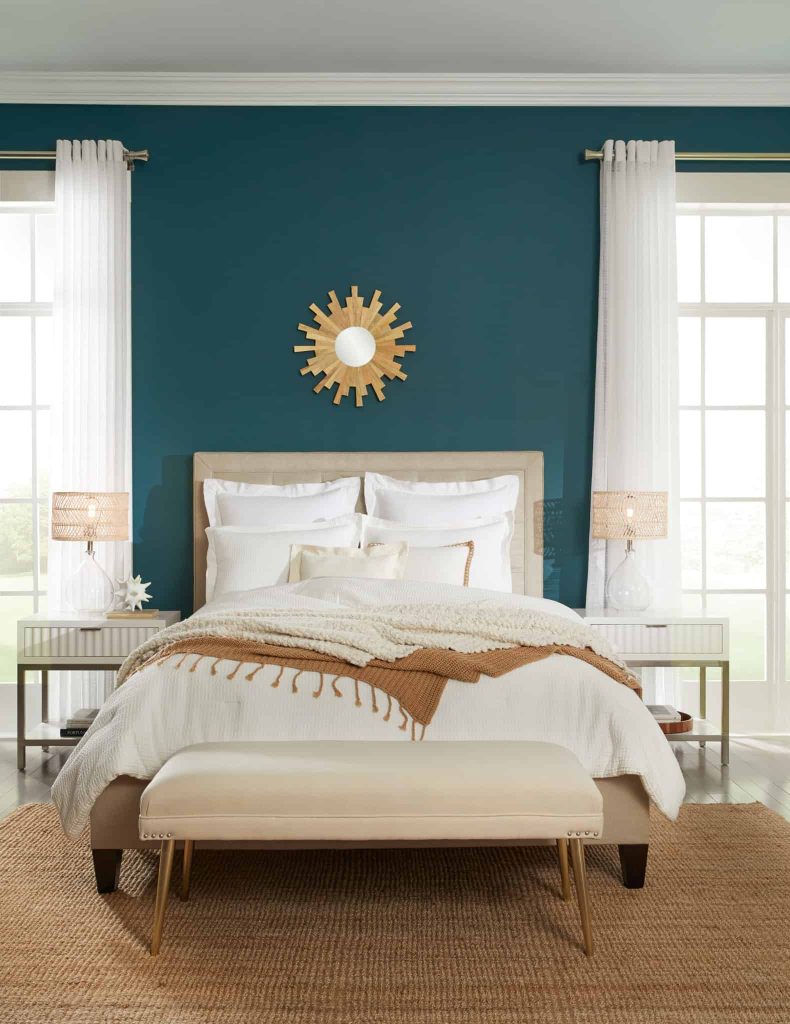 Bold paint colors and accent walls are elements that bring drama and vibrancy to your design. It may seem like taking a risk, but it typically pays off big time!
If you're not sold on painting all of the walls in your bedroom dark and bold, why not start with just an accent wall? Like this dramatic wall behind this bed painted with Blossom Silhouette by Clark & Kensington.
Or you could even paint just the bottom part of the walls for a two-tone wall look?
If you're not quite ready to use bold paint colors on the walls of your bedroom, you can still get creative with colors by painting furniture, like your dresser or headboard a fun and daring color.
Related – Stumped on what color to use on the walls in your bedroom? Check out these 20+ master bedroom colors for inspiration!
---
Include abstract shapes and boho wall art
A big part of the modern bohemian style is abstract shapes. You can add abstract shapes to your bedroom in several different ways. Whether it is a patterned throw pillow on the bed, a painted arch on the wall, or abstract boho wall decor.
Shop the look: abstract boho wall decor
---
Layer up with cozy textures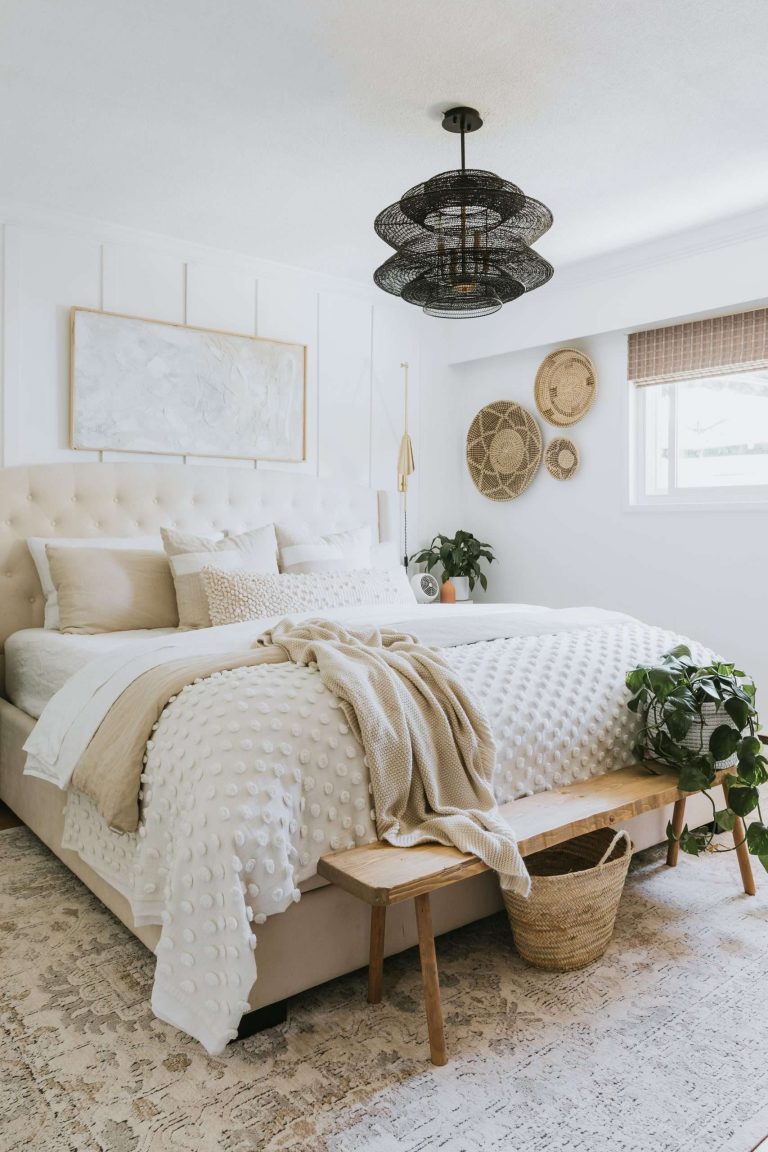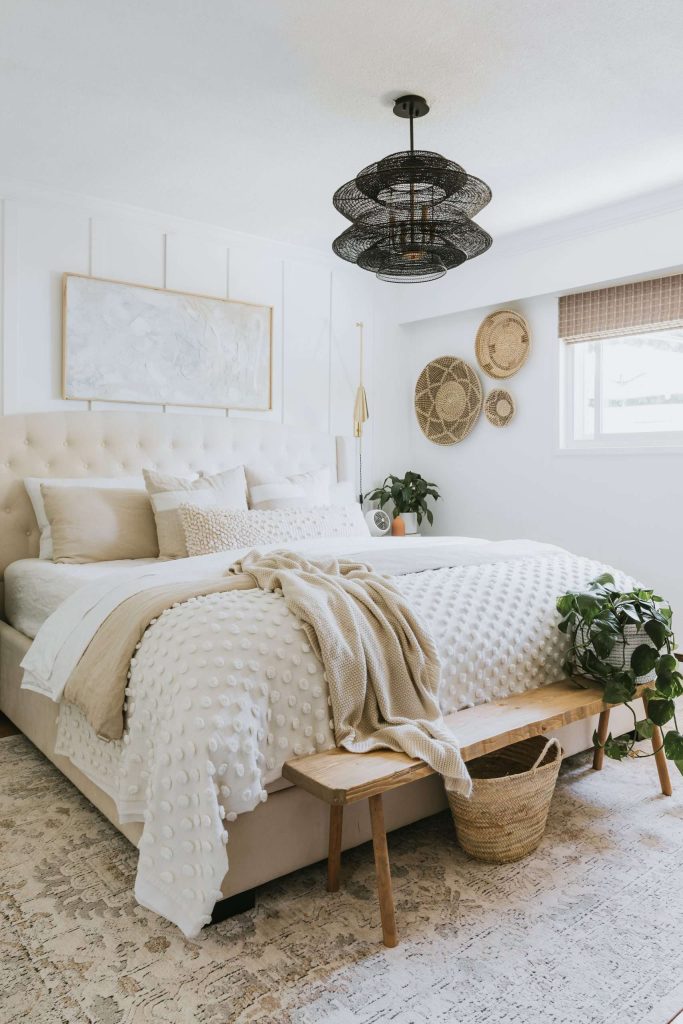 Last, but certainly not least – you definitely need to have cozy textures for your modern boho style bedroom. You can accomplish this with the use of throw pillows, blankets, layered boho rugs, and woven wall hangings.
Don't be afraid to add not one, but two or three rugs to your bedroom! Yes, that is right! Layered area rugs are a big design trend. Get inspired with these layered rugs and then learn how to create the perfect layered rug look here.
If you're looking for ways to update your bedroom to get more of a modern bohemian style, check out these 10 ways to get it!
It can be as simple as faux or real plants, hanging some new art or layered textures in your bedroom. Or you can go all out and do a full makeover with all new boho-style bedroom furniture and paint!
Which of these modern bohemian bedroom decor ideas is your favorite?
Let us know in the comments below!