Looking for blanket storage ideas? Here are more than 45 clever ideas for how to store blankets in your living room, linen closet, and bedroom to inspire you.
If you're anything like us, you have a ton of blankets. You may be wondering how to store blankets in an organized or creative way and what types of blankets you even need to keep and store.
It is not just about storing extra blankets in your living room, think through all of the many types and places that you need to store blankets in your home.
Types of blankets you may need to store:
Cozy blankets in your living room
Extra blankets for guest room bedding
Sentimental quilts or a blanket collection
Extra bedding that isn't used during the summer months
Baby blankets
Let's take a look at the more than 45 ways I have found for storing your blankets. I know you will be inspired by these great ideas and will want to incorporate them into your home.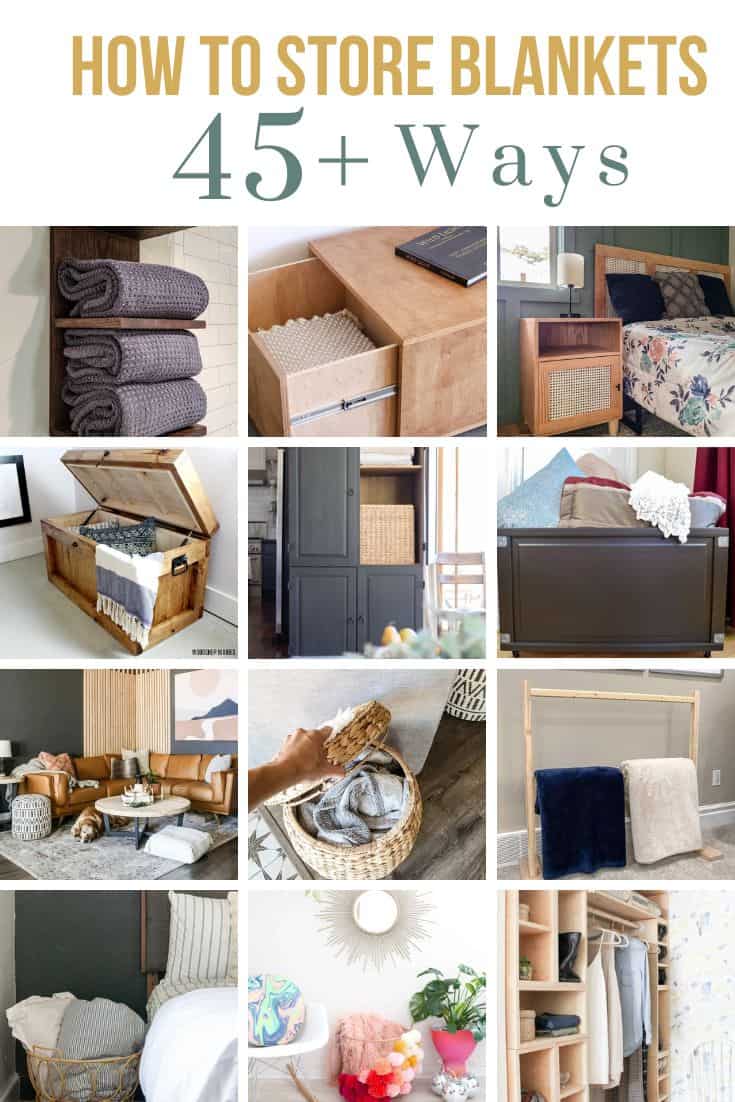 This blanket storage guide contains affiliate links, but nothing that I wouldn't recommend wholeheartedly. Read my full disclosure here.
Best ways to store throw blankets & comforters
Blanket storage ideas for the living room
#1: Go vertical with a blanket ladder
Make one
Blanket ladders are a great way to store and display your favorite blankets. They are easy to make and you can make them in lots of different styles.
This unique blanket storage ladder DIY from The Inspired Workshop hangs on the wall so it doesn't take up any floor space. It's easy to make using 2×2 boards and you know I love the leather accents!
Buy one
Although a decorative ladder for blankets is easy to make, you may not be into DIY. Here's a great option you can purchase.
#2: Get creative with your coffee table for storage
Make one
A coffee table with storage is a great place to store blankets. Gotta love those pieces that serve double duty and add storage to a space.
This DIY coffee table from Addicted 2 DIY is made from plywood, has a top and bottom shelf for decor, and has a storage drawer that's perfect for blankets. I love the clean modern design and you can make it for just $100!
Buy one
If furniture building isn't your thing, this coffee table with storage is a great alternative! The top has two lids that open on hinges for storing your blankets. There's a lot of space to store even the really thick blankets. The industrial farmhouse style will look great in your space.
#3: Incorporate a storage ottoman cube with extra seating
Make one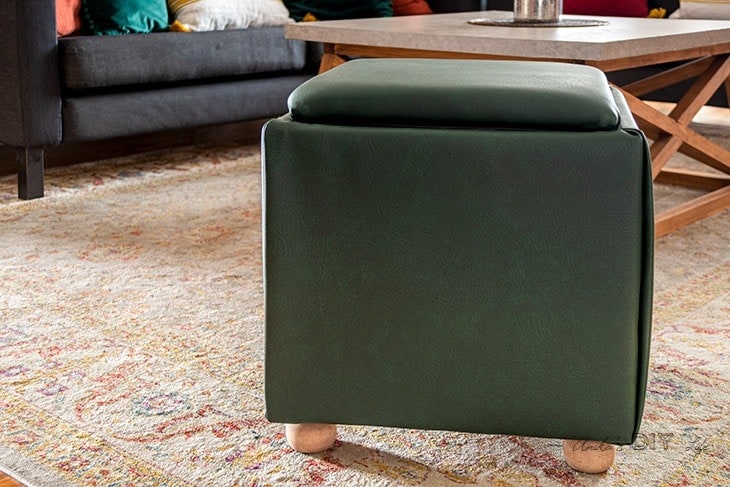 Incorporate blanket storage into your living room with this DIY storage ottoman cube from Anika's DIY Life. It is four pieces in one and you can upholster it in the fabric of your choice.
Made from plywood you can use it to store blankets or put your feet up and relax using it as a footrest. Use it as extra seating when you have guests and the top even flips over to be used as a tray.
Buy one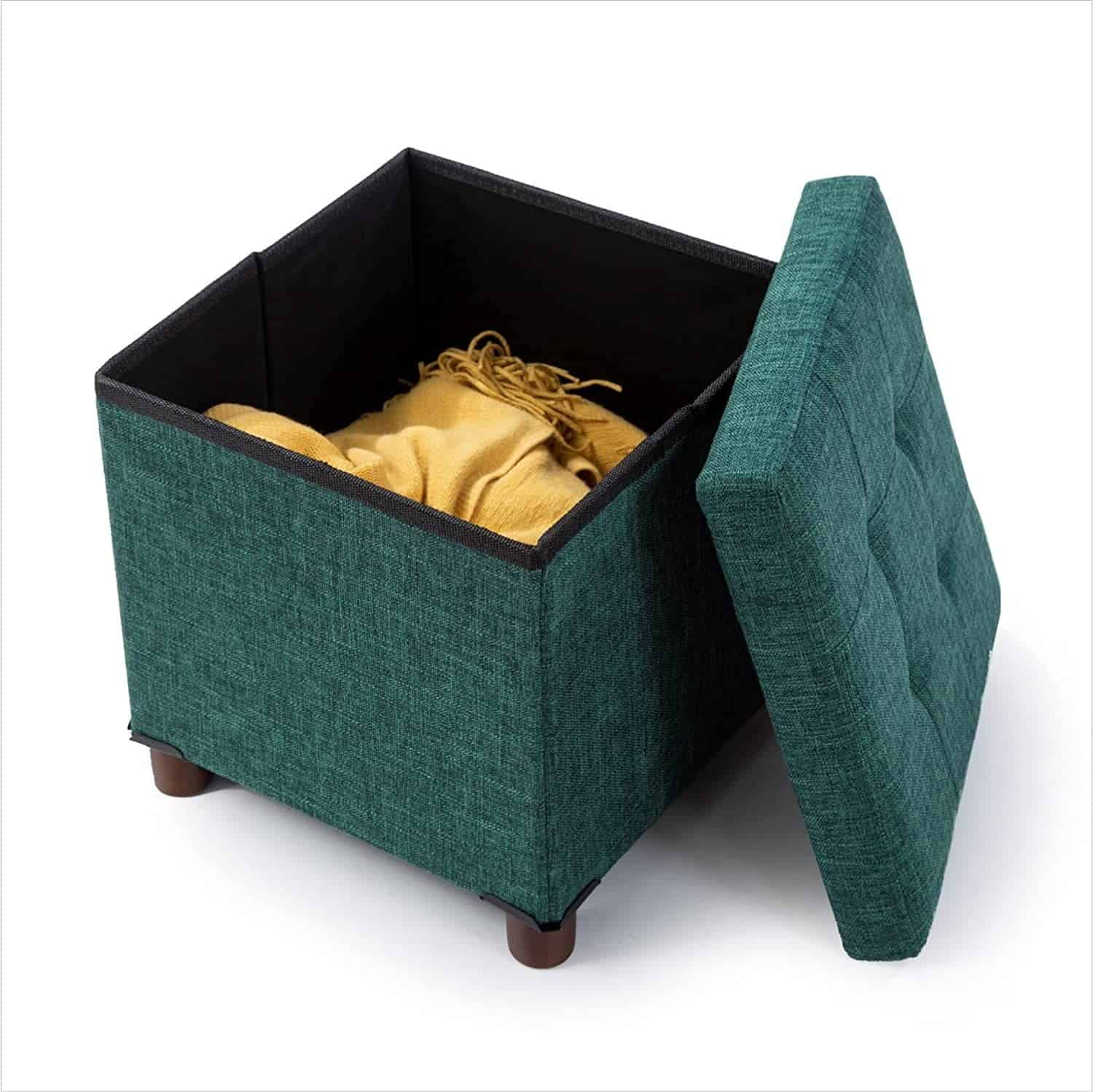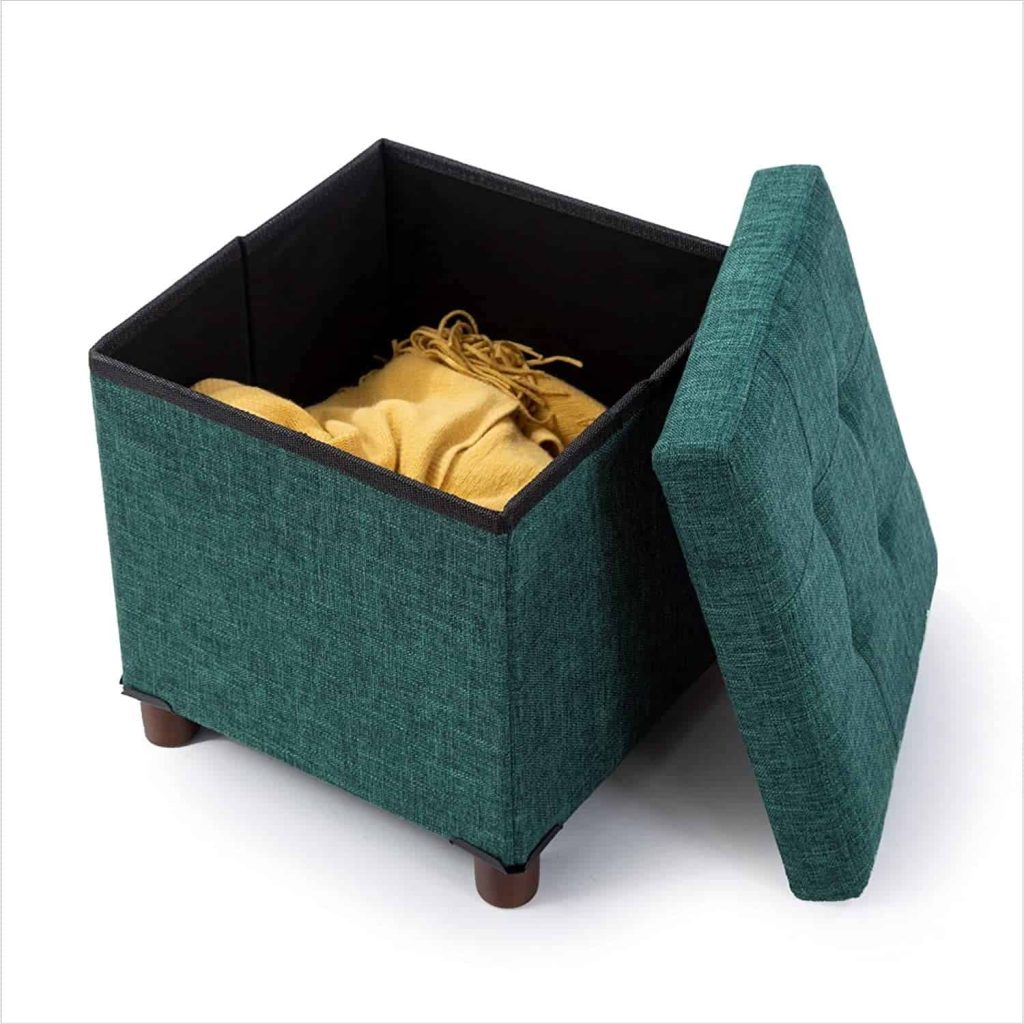 Not too sure about your upholstering ability? Here's one you can buy instead. It comes in six color choices and is made from fiberboard. Just put on the feet and it's ready to use.
#4: Utilize decorative fabric baskets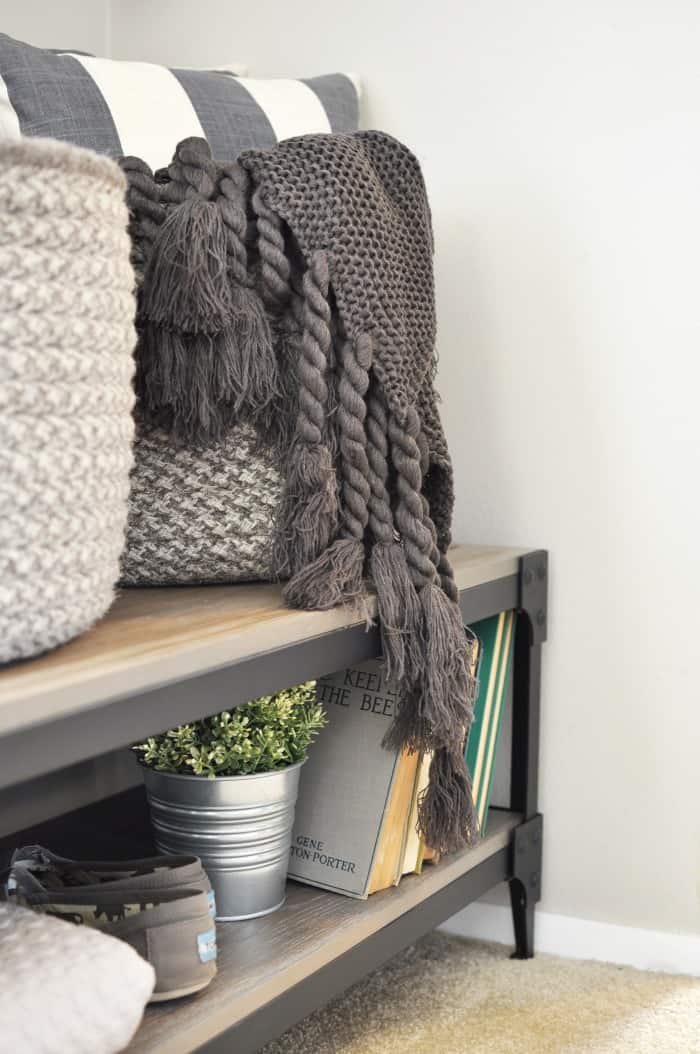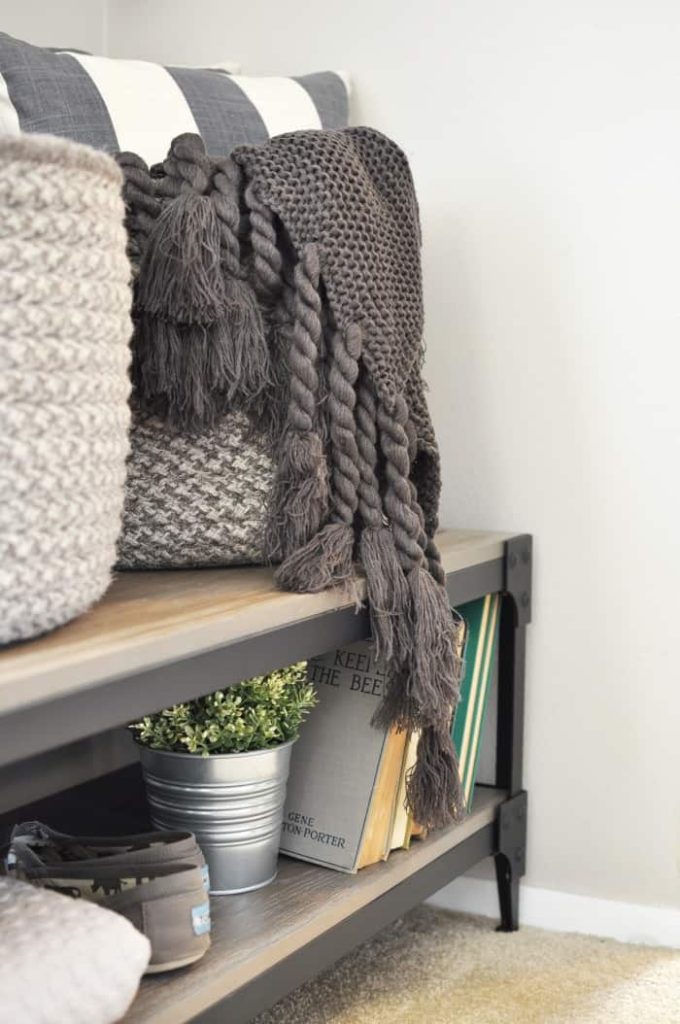 Decorative fabric baskets are ideal for blanket storage. You can sit them anywhere to have easy access when you need them.
Cherished Bliss uses them on top of this industrial-style table in the entryway to keep blankets handy and accessible.
#5: Go vintage with an antique blanket storage truck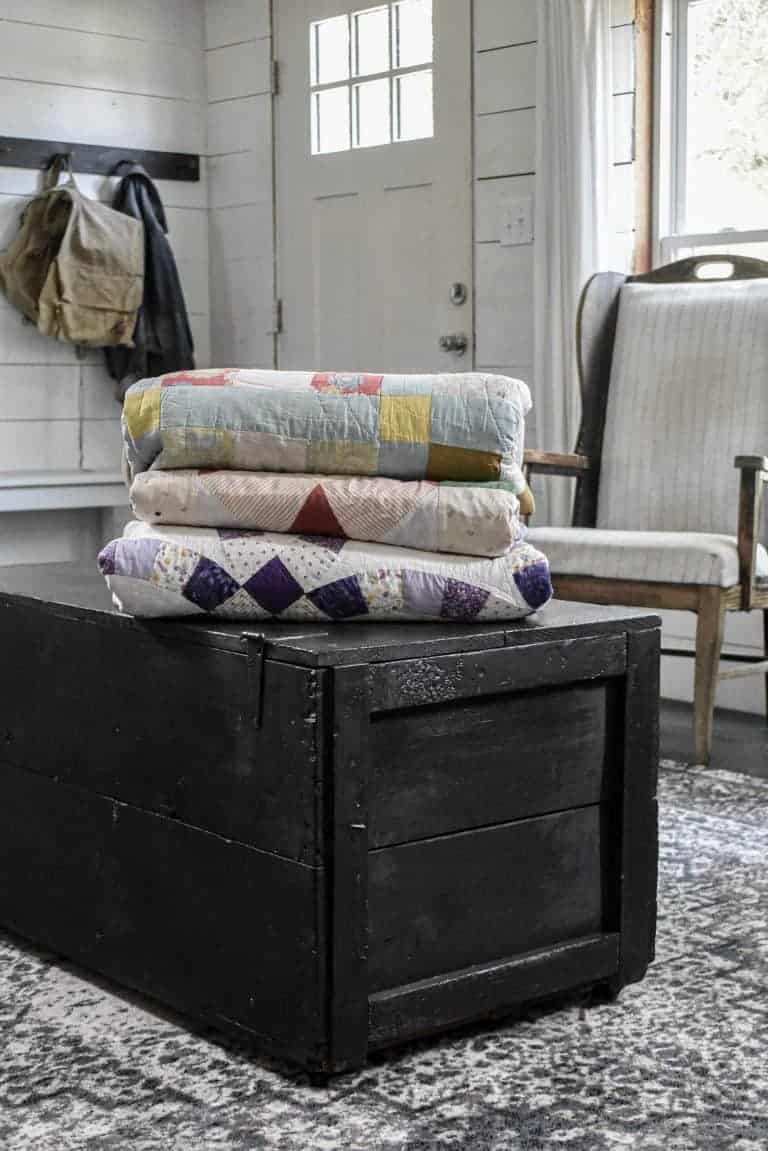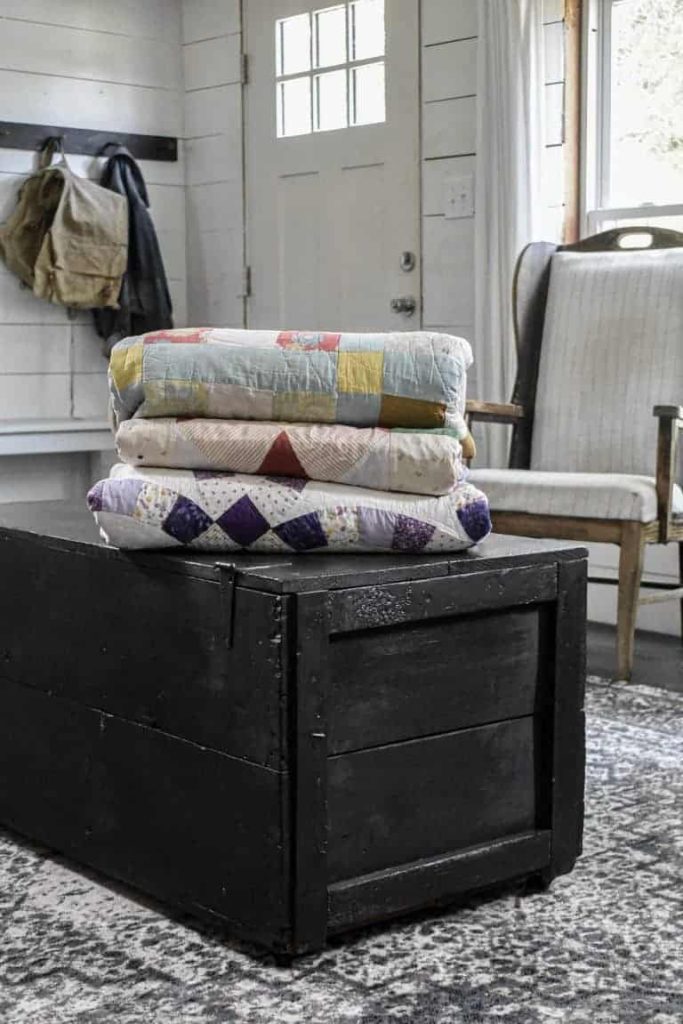 An antique trunk is a great solution for storing extra blankets or quilts – plenty of room for even the bulky blankets. Rocky Hedge Farm took this vintage trunk and gave it a makeover. Now it doubles as blanket storage and a coffee table.
#6: Toss them over the edge of the sofa, back corner, or the armrest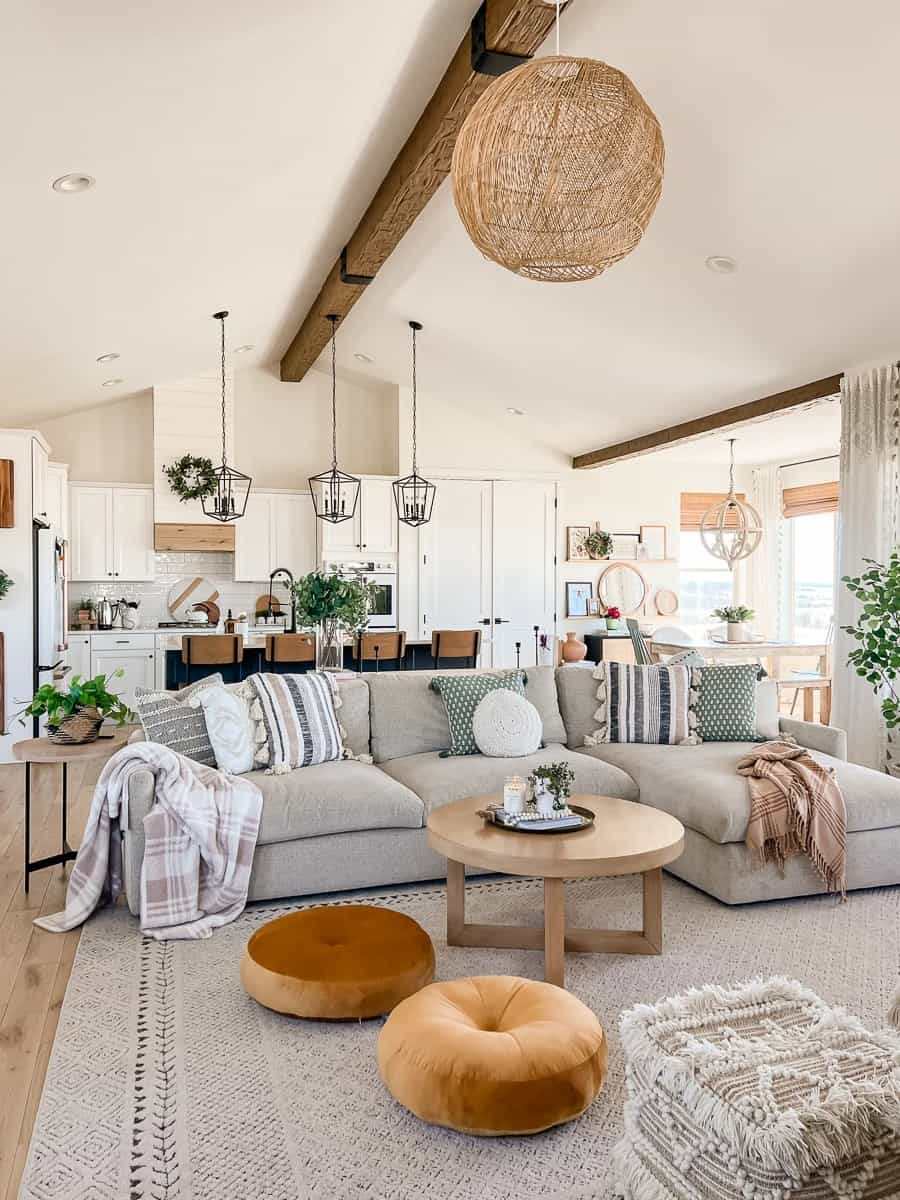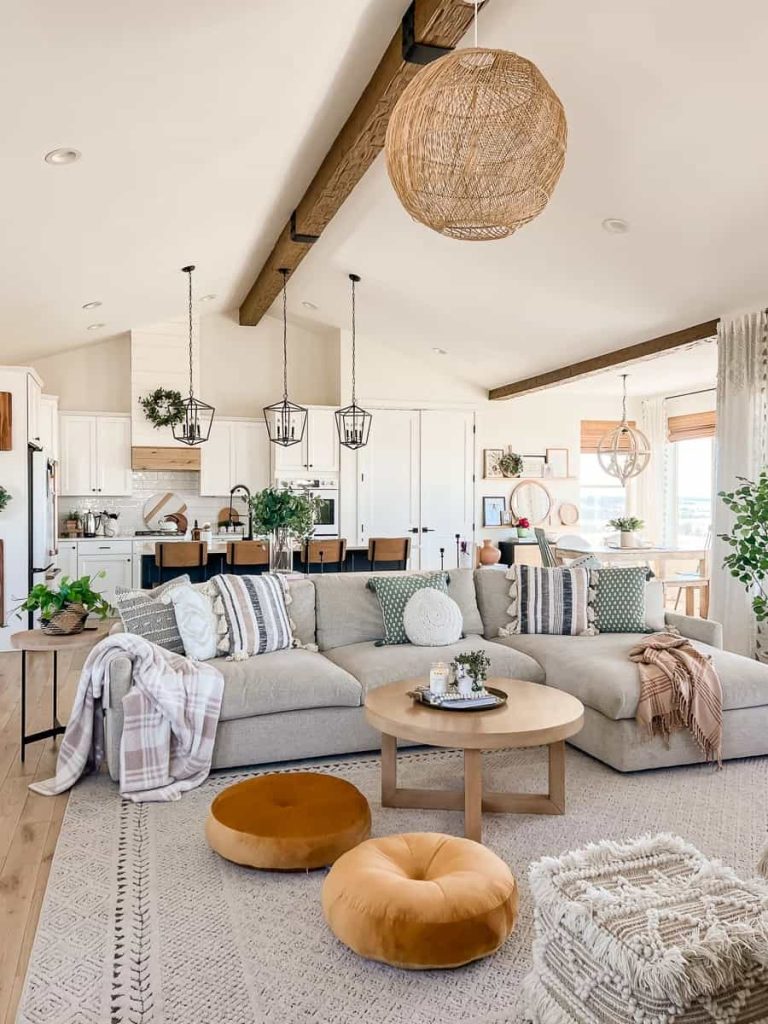 Want to learn how to drape a blanket on a couch as the professionals do it? Here are 12 different ways you can drape a blanket on a sofa from Joyful Derivatives.
#7: Layer them over the back of your sofa and chairs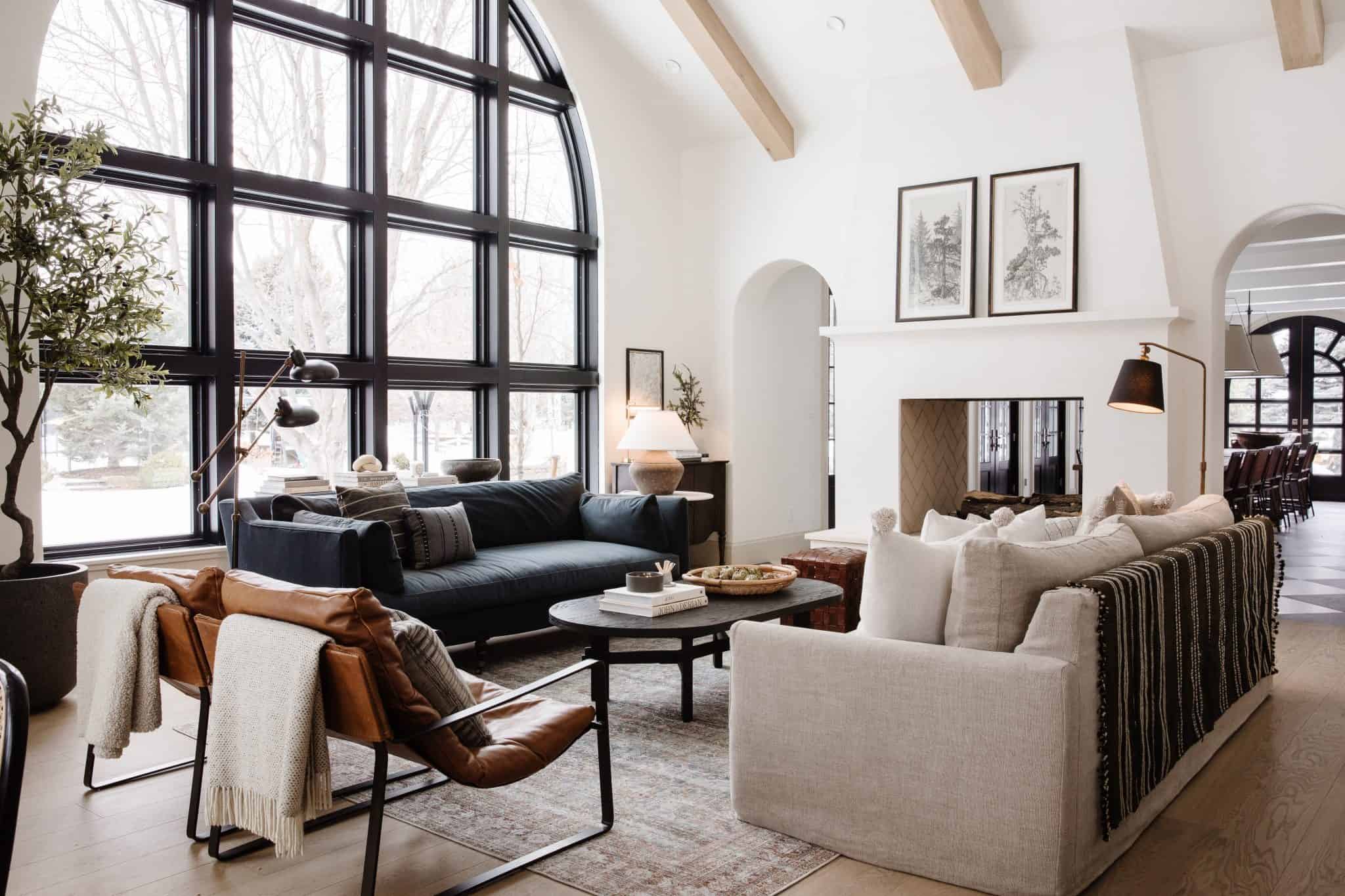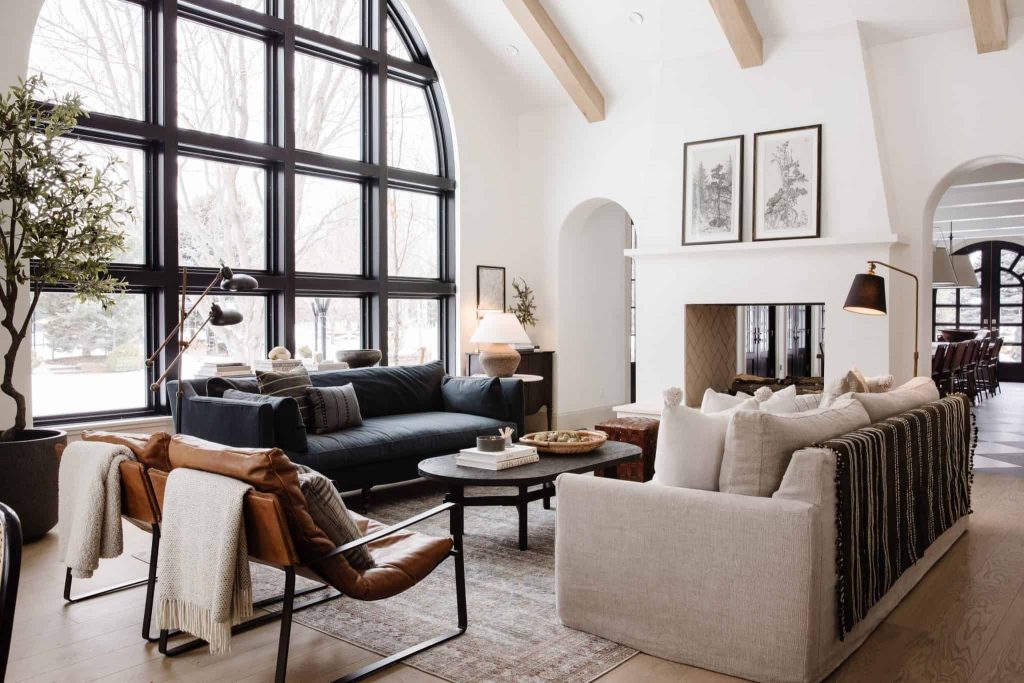 Here's another way to use the blankets on chairs and sofas – but with a bit more of a polished and modern look. Fold them neatly and layer them up on the backside of the furniture. This is a great way to display beautiful blankets!
#8: Repurpose a magazine rack to hold blankets
I love this idea from @celebrated_nest of using an old magazine rack and repurposing it into blanket storage. She has it leaning against her fireplace, but you could use this anywhere and even mount it on the wall.
#9: Display your quilts behind the couch with a quilt rack
Make one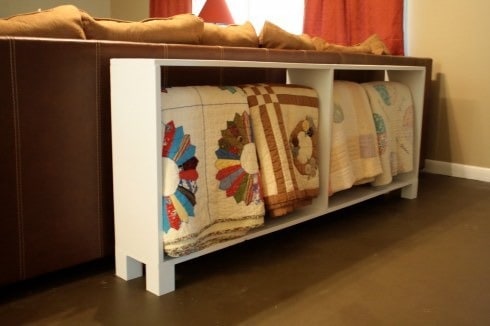 This simple DIY quilt rack from Ana White uses a 1″ dowel for hanging quilts for easy storage. It's great for large blankets too and doubles as a sofa table! This simple design is an easy beginner woodworking project.
Buy one
This traditional-style quilt rack is inexpensive and has six rungs to store or display your blankets and quilts. It could also go behind a sofa, it just doesn't have a tabletop.
#10: Add a reading nook with bench storage
We added this cute little reading nook bench in our living room to fill an awkward space that used to be a fireplace. The built-in bench has a hinged lid for extra storage and it can hold a lot of blankets!
#11: Use a fillable storage pouf as a footrest
Make one
Sew your own pouf using canvas. It becomes a footrest or comfy seat when you use it as blanket storage. You can even decorate using canvas paints for a fun detail. It's the perfect place to put a ton of blankets or even extra throw pillows.
Buy one
Not good with a sewing machine? Join the club, me neither! You can buy an ottoman pouf cover instead.
It comes in a couple of different shapes and several different color choices. Fill it with blankets for a soft and comfy place to sit and you have a blanket storage solution too!
#12: Get living room storage furniture with couches or chairs that lift up to reveal storage
This furniture is GENIUS! Not only do the chairs come together to make a sectional, but the coffee table also has storage.
#13: Use a metal bin in the corner or next to the sofa
Make one
A wire basket is great for storing throw blankets next to a sofa or chair. This one by Lovely Etc. is made from a repurposed lampshade. Genius idea if you ask me!
Buy one
Not in the mood to DIY? There are some great options for wire baskets out there. I love this one painted in black. It even has handles to carry it easily.
#14: Put a blanket rack along the wall
Make one
Store your blankets on this DIY blanket storage rack from 100 Things 2 Do. It has a simple design that is beginner friendly and it sits perfectly up against the wall. Two rungs will let you store at least four blankets if not more.
Buy one
Made from stainless steel and powder-coated black, this blanket storage rack is ideal for any room. It fits against the wall and has three tiers so none of your blankets get hidden from view.
Get this blanket storage rack!
#15: Use a storage basket side table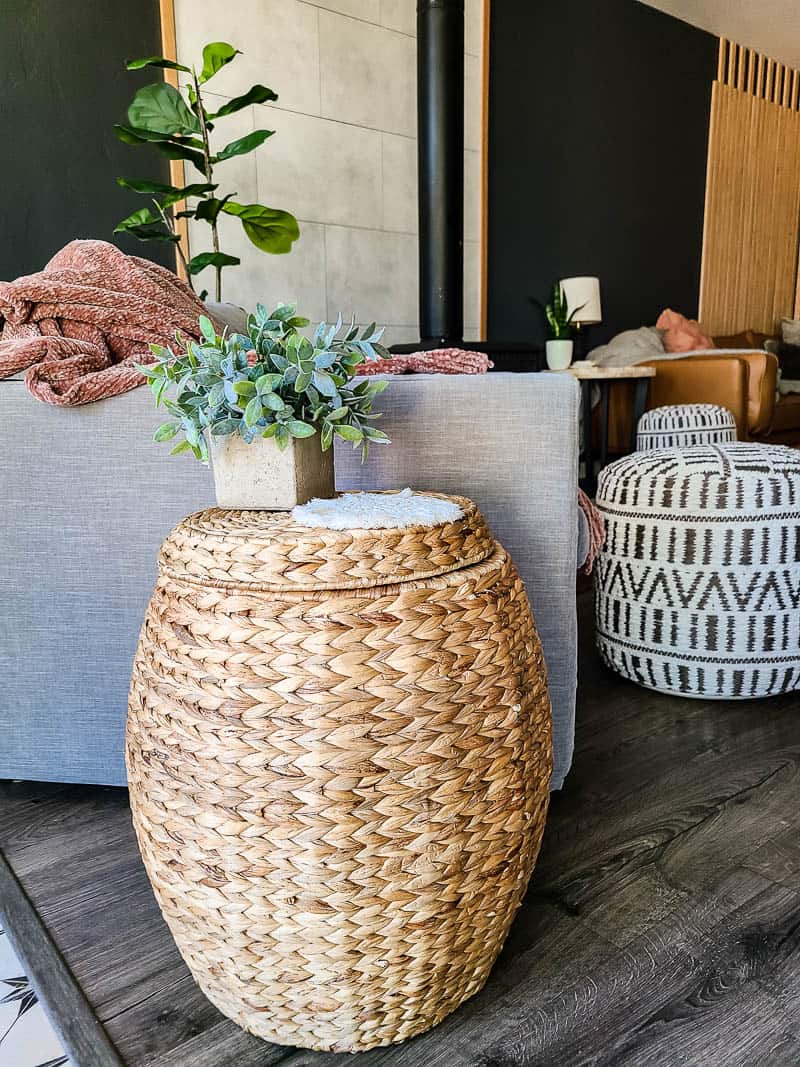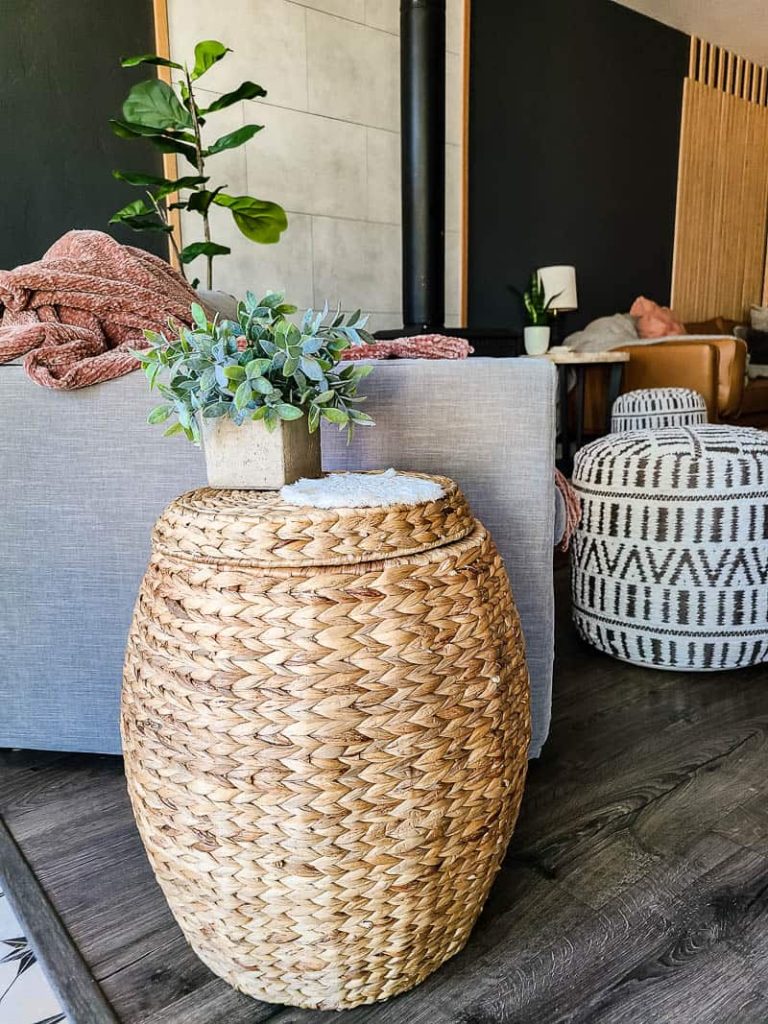 I love this storage basket side table! It's perfect next to our big comfy chair and it's ideal for storing blankets. One of my favorite purchases for our modern boho living room.
#16: Use a clothes hamper as a blanket basket
Decorative hampers also make great blanket storage!
#17: Use a fun and decorative colorful bin
Make one
Buy one
Don't feel like DIYing your own colorful basket for blanket storage? This one is an affordable price and don't you just love the colors?!
#18: Put folded blankets on the top shelf of an armoire cabinet
Twelve on Main uses her armoire for storing blankets. They fit perfectly on the top shelf.
#19: Put folded blankets in a vintage china cabinet
A glass front china cabinet is a great place for storing blankets. Just make sure they are in good repair because you will be able to see them!
#20: Use underutilized wall space with a wall-mounted blanket hanger
Make one
We made this for towels in the bathroom, but it would be ideal for throw blankets in the living room too!
Buy one
If you'd rather buy than DIY this wall-mounted blanket rack is affordable and can hold up to 5 throw blankets easily.
#21: Add a blanket basket to the bottom shelf shelving unit
If you're struggling when decorating shelves, adding larger things to the bottom of the shelving unit is a great way to ground them. A large wicker basket with blankets is perfect here!
#22: Or simply add the folded blankets to the shelves
A basket for the blankets isn't entirely necessary. You can simply fold them up and put them right on the shelves as Liz Marie did here.
#23: Put a coat rack on the wall
This is one of my favorite ways to display and store blankets in your family room. Sarah Joy uses a coat rack attached to the wall to hang the blankets, but you could also use wall hooks.
Blanket storage tips for your linen closet
The linen closet is another space in which you'll probably need to think creatively about how to store your blankets and extra bedding. Here are some great ideas to incorporate into your hallway closet or linen closet.
#24: Use vacuum bags to take up less space
#25: Roll up blankets and stack them on shelves
Lady and the Blog rolls her towels for easy storage in her linen closet and you could easily do it with blankets too. This makes it super easy to grab the one you want without digging in a stack of folded blankets.
#26: Use plastic bins
Charleston Crafted keeps her blankets stored in clear plastic bins in her linen closet. Nice and neat and dust free. Using clear tubs is necessary so you can quickly see what is in each one!
#27: Utilize zipper storage boxes with clear windows
#28: Store blankets for guest bedding on the top shelves of a linen closet
Love Create Celebrate stores extra blankets on the top shelf of her linen closet. They are still easy to get to, but when they aren't used often they can be tucked up high.
How to store blankets in your bedroom
Your bedroom is another place in your that probably has some extra blankets that need to be stored. It is so convenient to have them nearby in case you get cold in the middle of the night.
#29: Use a wooden storage chest
Make one
A wood storage chest is ideal for storing large blankets and it also makes a great furniture piece in your bedroom. Woodshop Diaries made this one using soft close mechanisms on the lid so fingers don't get smashed.
Buy one
#30: Or just a wooden box without a lid for easy reach in
Make one with wheels
This blanket storage box made from bifold doors by The Handyman's Daughter is on wheels so you can move it around easily. Corner braces give it an industrial feel while adding extra stability to the sides.
#31: Toss it on the foot of your bed
The foot of your bed is an obvious place to put an extra blanket. It not only adds some extra coziness to your bedroom, but it is easy to grab when you want to use it.
#32: Get a nightstand with storage
Make one
We made this cane nightstand to go with the cane headboard in our little girl's bedroom. The storage cabinet has plenty of room for blanket storage.
Buy one
This nightstand is similar to ours, so if you aren't into DIY, you can get the set for a great price. It's made of rattan and solid wood and will look great in any bedroom space.
#33: Use the underutilized storage space under your bed with bins
Make one
The space under the bed is perfect to use for storage. Make these rolling bins from Jamie Costiglio and you have storage for extra blankets and bedding for a small bedroom. Roll them out and tuck them away easily.
Buy one
Under bed storage doesn't have to be expensive. These foldable storage boxes are cheap and slide right under your bed.
#34: Use a bed with storage drawers
Beds with storage drawers have been around for a long time. You can make this one from Rogue Engineer and have plenty of storage space for extra blankets. The design is the perfect solution for small bedrooms.
Buy one
This bed is the ultimate storage solution for the bedroom. With drawers on both sides and at the foot, you have an amazing amount of storage for large blankets, comforters, and so much more.
#35: Put a basket in the corner next to the bed for extra blankets in case you get cold
This decorative blanket is so cute and adds some extra character to this bedroom designed by Twelve on Main.
#36: Put blankets on shelves in the closet
Are you really using those very top shelves in your closet? Fold your extra blankets and put them up top, like Making it in the Mountains did here.
I hope these blanket storage ideas have given inspiration for storing your own blankets.
Which are your favorites? Tell us in the comments below.