Do you have a small bedroom? Setting up smart storage and organization systems is a must. But it doesn't need to cost a fortune. Check out these storage ideas for small bedrooms on a budget!
A bedroom should be a place of relaxation – an oasis away from the chaos and a place to unwind at the beginning and end of each day. The hard part about bedrooms, especially small bedrooms, is that there are typically no built-in storage options. It is just a blank room with four walls, so it definitely requires creative bedroom storage ideas!
No matter the size of your bedroom and how much stuff you own, your bedroom can still be a place of calmness with a little effort. But you don't need to go out and buy a ton of expensive storage solutions. You can totally get your bedroom more organized on a budget with inexpensive storage items and DIY ideas.
Small spaces need clever organization and storage solutions to not only house personal belongings but more importantly to keep the space clutter- and stress-free.
Let's jump in and go through the best storage ideas for small bedrooms on a budget!
This storage ideas for small bedrooms on a budget guide contains affiliate links, but nothing that I wouldn't recommend wholeheartedly. Read my full disclosure here.
Take advantage of the space under the bed
The best place that you can gain a ton of extra space to store belongings is under your bed. You should definitely utilize under-bed storage. From wood to plastic to wicker, there are so many under-bed box options.
Use hard plastic bins if your bedroom is carpeted. The ones with the wheels on the bottom work great!
Wicker baskets or fabric storage bins with zippered lids, like this, will slide better on wood floors and are decorative if you do not use a dust ruffle around your bed.
If you find that you don't have much room under your bed to add storage bins, you can use bed risers. These go under the feet of your bed to rise your bed up slightly, giving you better access to the unused square footage on the floor under your bed.
Most bed risers are, well, ugly…but these wooden bed risers are so cool! I love how they stack to make different designs.
Multifunctional furniture
In a small room, every piece of furniture needs to serve double duty. This is a must when you're searching for storage ideas for small bedrooms on a budget. Good news – the options for budget-friendly bedroom storage furniture are great!
Furniture with hidden storage will help to keep open spaces clear, but keep in mind that too much furniture will also crowd the space. So it is best to think twice before bringing a new piece of furniture into the room.
When arranging furniture don't forget to leave yourself room for walking around opening doors and drawers. You should leave a minimum of 2 feet – but more is better if you have it.
Get a bed with storage options
If you are purchasing a new bed for your small bedroom, choose a storage bed. Storage beds maximize the area under a mattress by eliminating the need for a box spring.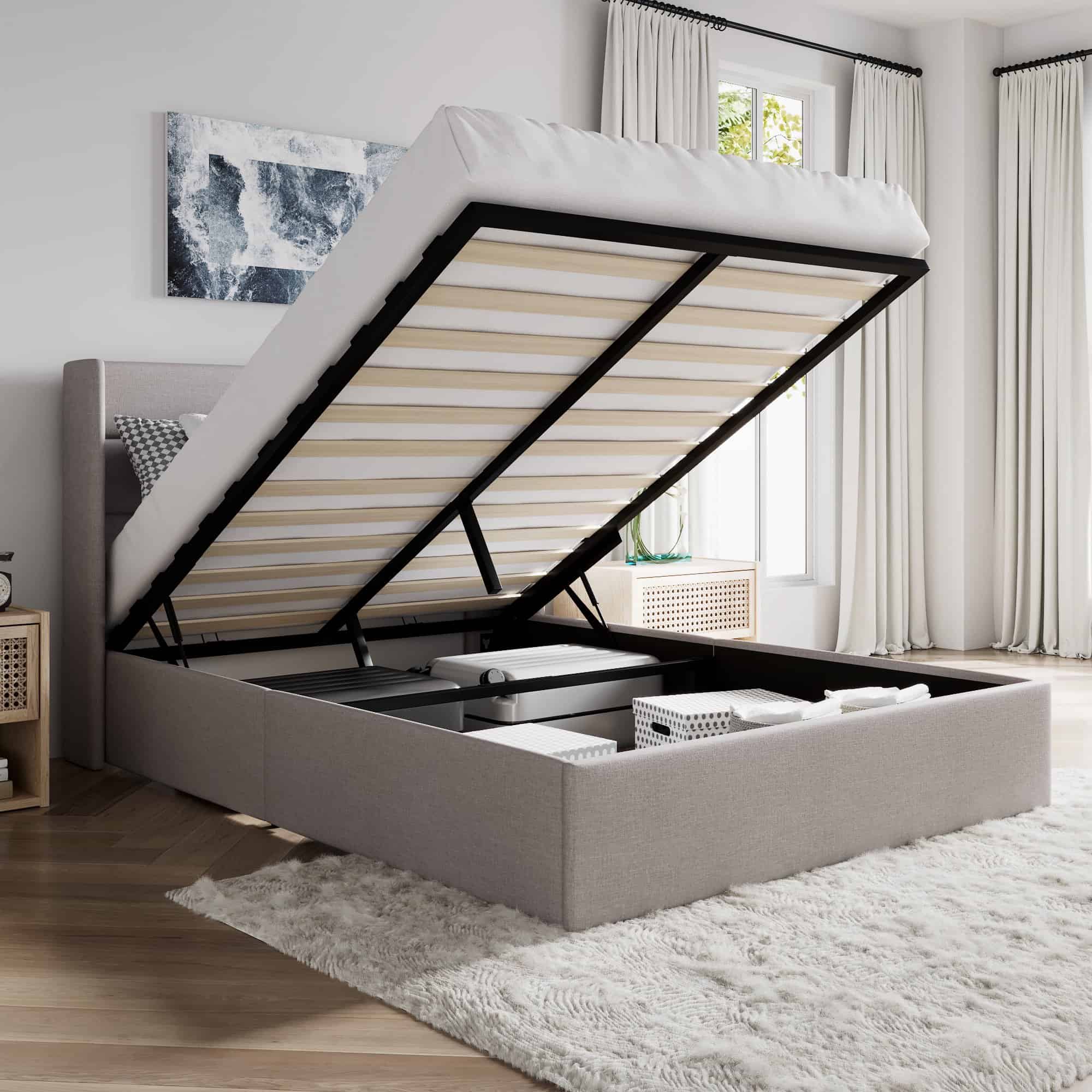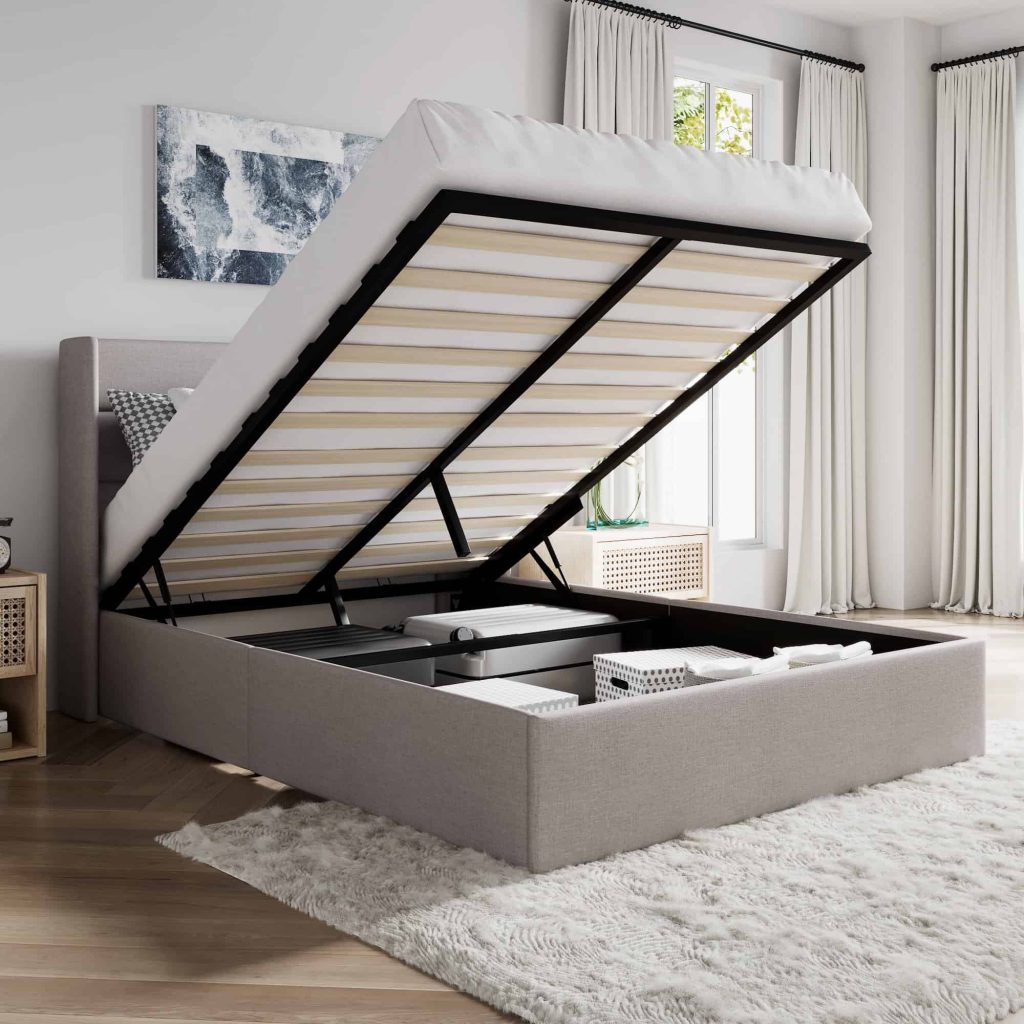 You can get a storage bed, like this, that lifts up and creates a large box-like section to store bins and it is completely hidden.
Storage beds could also have drawers, like this, on the bottom or open shelves to accommodate baskets.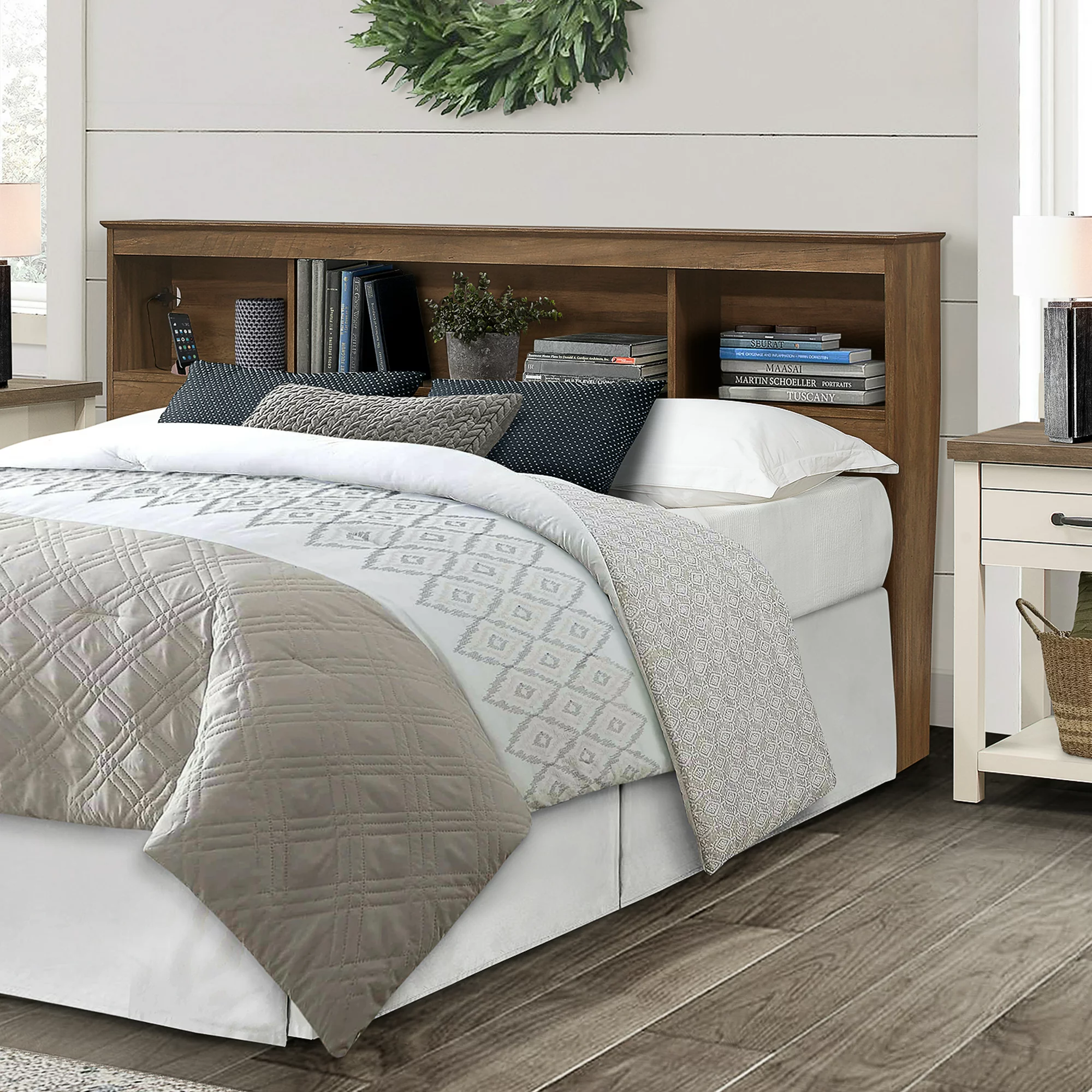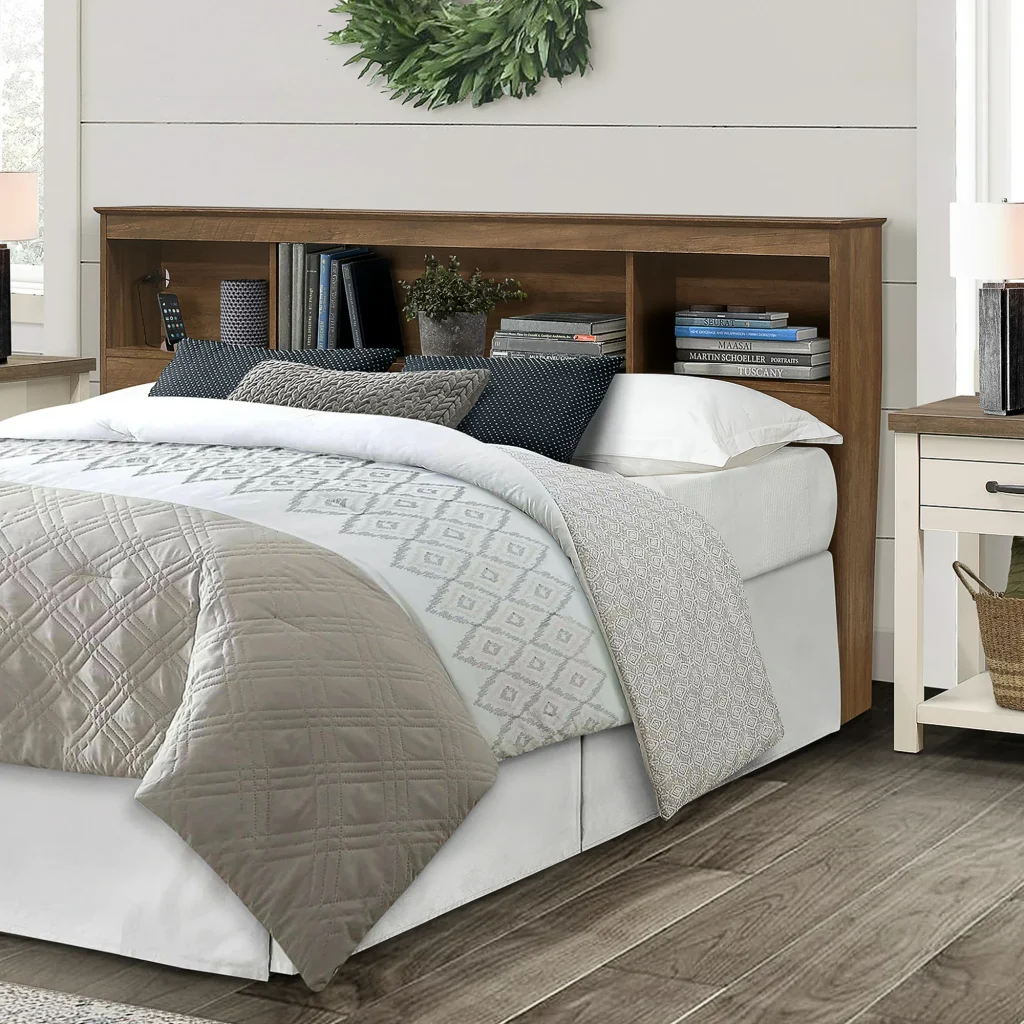 Use a headboard that is also a bookshelf because this can serve as a nightstand and give you extra storage space.
Using a murphy bed is also a great idea if you have a super small bedroom. Murphy beds allow you to fold up the entire mattress when you're not using it to give you back extra floor space.
When your bed takes up the majority of space in your room, it is easy for your bedroom to feel cramped, cluttered, and anything but relaxing – so a murphy bed solves that.
Some fold-up beds even come with additional storage space around the mattress with shelves, drawers, or cabinets.
In a kid's or teen's bedroom, you can also use a loft bed situation with drawers and desk space, like this, on the bottom.
Other storage bedroom furniture ideas
Use a bedside table or nightstand with drawers or a closed door for additional storage. You could even use a smaller chest of drawers as a nightstand as long as it is the right height.
Use nesting tables to get the most out of your floor space. These tables are convenient for using as nightstands because you can tuck them away when not needed.
This vanity seat has hidden storage inside. You just lift up on the stool cushion to find a space to put extra makeup, toys, magazines, or other items.
If your bedroom doubles as a home office, you'll need a desk or workspace. I love this shelving unit with an L-shaped desk, so it can be pushed into the corner very easily.
If you have room at the foot of your bed for a bench, be sure that you get a bench with storage.
Maximize closet space
If you have a small bedroom, you'll definitely need to take full advantage of your closet by making sure the entire closet is efficient. Even if you have a small closet, you can make sure it is an organized space.
Double your closet space by adding a second hanging rod (or even tension rods if you don't have the budget to completely redesign your closet system). This is such an easy way to instantly add more storage to your closet.
Move the top rod up a few inches, and install the bottom rod at waist height. Just keep in mind that you want to be able to easily reach the top rod without needing a step stool and you don't want anything hanging on the bottom rod to drag the ground.
Increase space for sweaters or handbags by installing a shelf above each hanging rod. This is obviously a great idea because otherwise, the space above the hanging rod would be completely unused.
Use shoe shelves on the floor of the closet.
Change out your hangers to skinny velvet or plastic ones. You'll be shocked at how much space you save by simply switching out the hangers. I was shocked when we make the switch to these hangers!
You can also use tie and belt hangers. They are an excellent way to clear out some of the space in drawers! They take up way less space when hanging.
Hang clothing from light to dark, with like items together. I separate my dresses, tanks, t-shirts, and long sleeves. This will make it so much easier to find items quickly.
Store seasonal clothes in an alternate location and rotate between warm and colder clothes.
Use the top shelves to store the types of items that you don't use often, like extra bedding, sentimental items, backpacks, luggage, etc.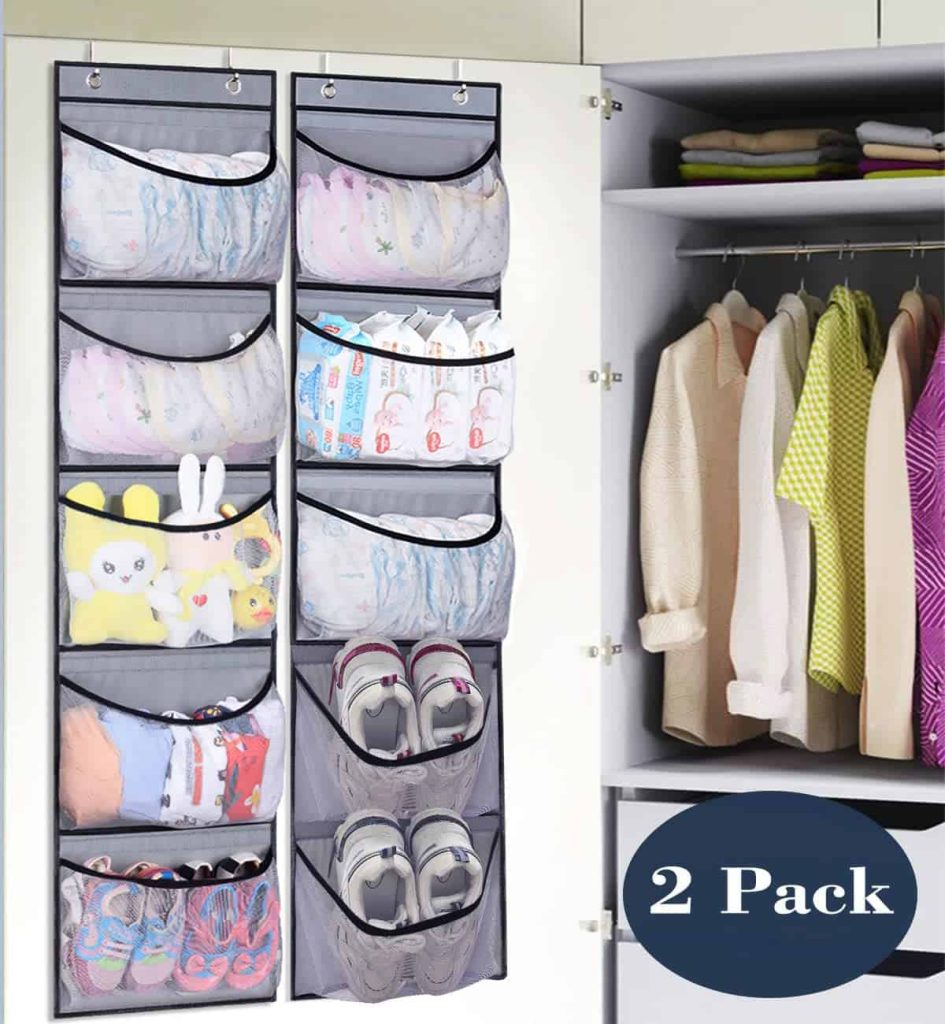 Don't forget about the back of your closet door. This is great extra space that you can easily utilize with over-the-door organizers. A shoe organizer is one of the best ways to use the back of your closet door!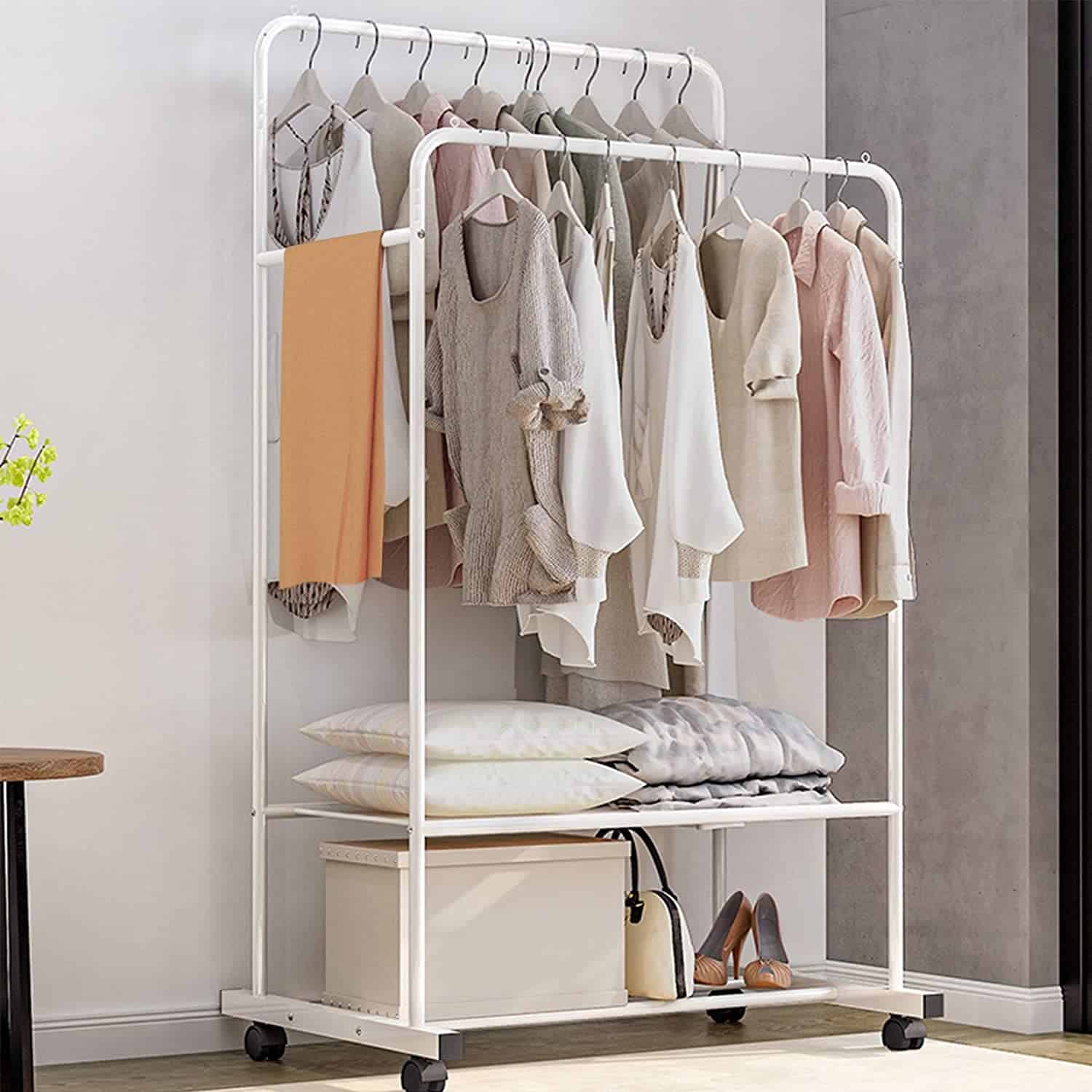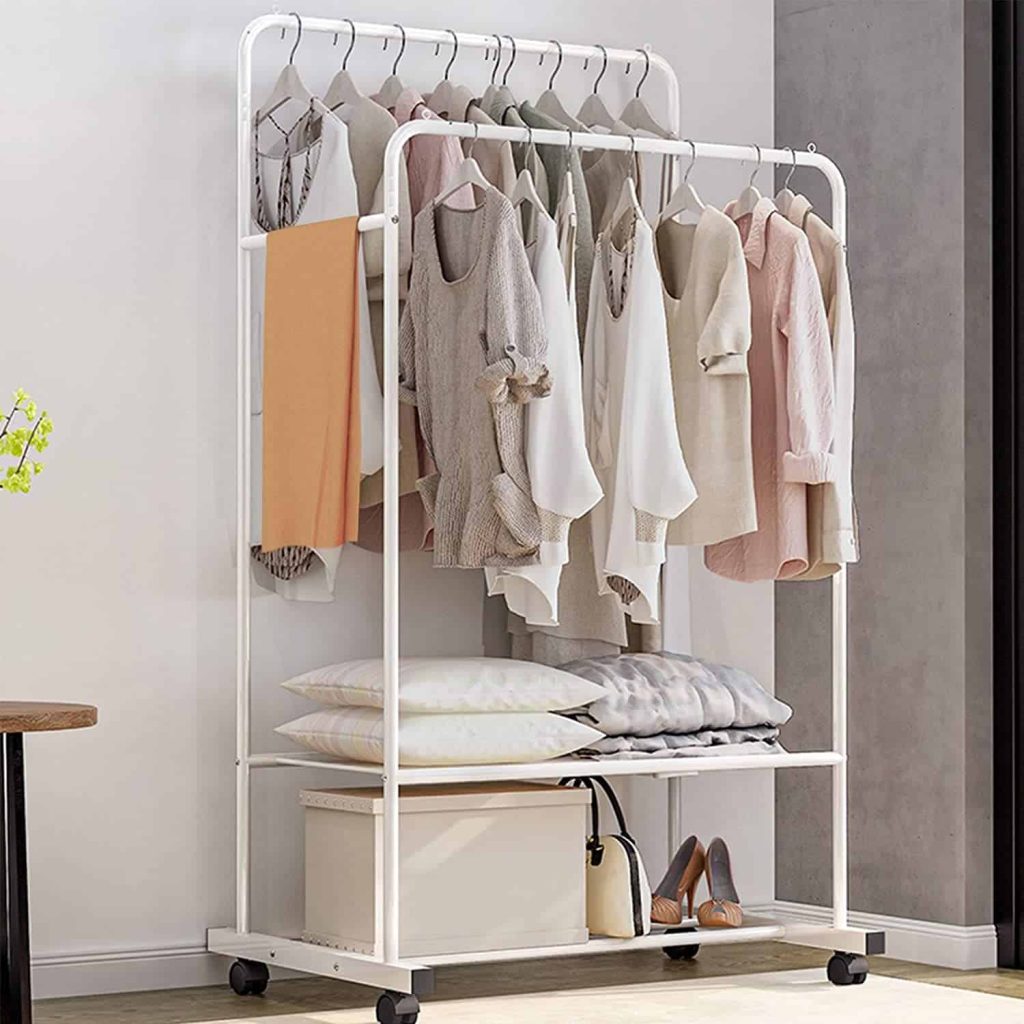 If you completely run out of space in your closet or you don't have a closet at all, you can add a clothing rack to your bedroom.
Organizing drawers in your bedroom
Expand closet space with a tall wardrobe cabinet or dresser with drawers. Wardrobes will have hanging space, whereas a dresser just has drawers. Don't forget to leave yourself room for opening doors and drawers when you are arranging furnishings in your bedroom.
Inside your drawers, use drawer dividers and organizers to make items easy to find and keep things tidy.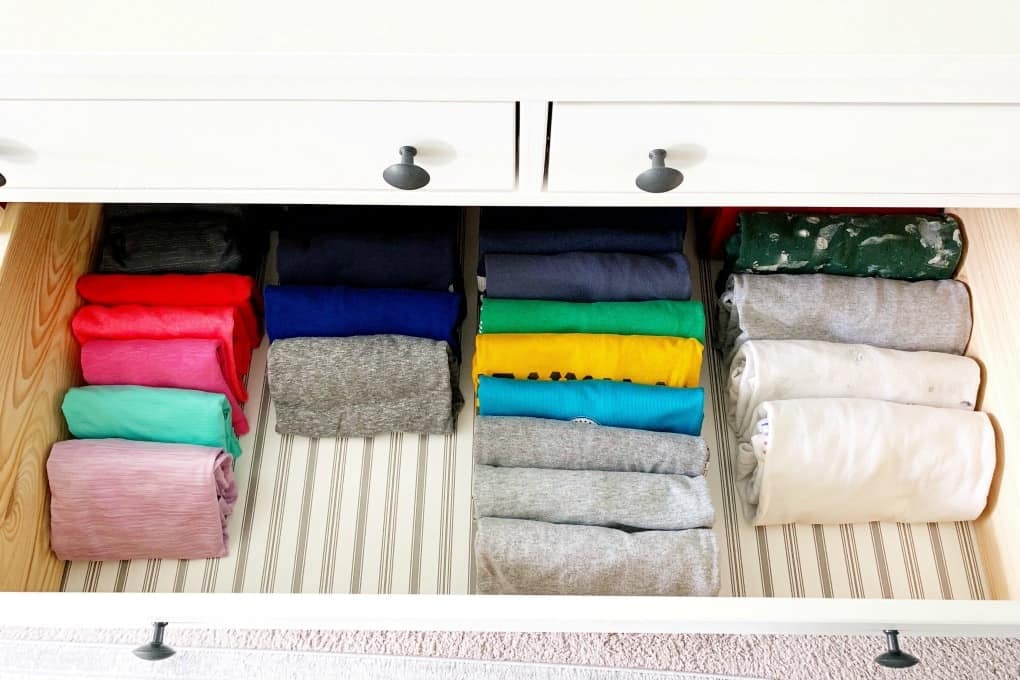 Folding your clothes using the Konmari method saves a lot of space in your drawers and makes it easy to find just what you're looking for when you open the drawers.
Maximize vertical space by using the walls
The walls of your bedroom are a good place to take advantage of by adding storage options.
You can install floating shelves for storing fragrances, jewelry, and books. You can either buy an inexpensive floating shelf or make your own!
You can also add corner shelves to take advantage of that unused space.
Instead of table lamps, install wall sconces to free up surface space on your bedside tabletops.
Hang a bulletin board to display pictures, notes, jewelry, and more.
Pegboards are brilliant storage ideas that are super versatile. You can put shelves for books and decor, hooks for handbags and jackets, or even add a small mirror to the pegboard if you don't have enough space for a full-length mirror.
You can also add hooks directly to the walls for instant storage.
Don't forget to be on the lookout for multi-functional items for the wall too, like this wall mirror that has a shelf and hooks built right in. Genius idea, right?!
Keep it clean
The key to an organized small space is to keep it clean and clutter-free. And this requires some commitment on your part!
Put it on your calendar to purge your bedroom often, and donate items that you don't wear or use. I like to go through our clothing at the end of every season. If I notice that I didn't wear that piece of clothing much during the season, then I get rid of it.
Then in between decluttering sessions if something doesn't fit right, gets stained, or has a hole, get rid of it immediately.
If you're still struggling after regularly decluttering your bedroom, you could try implementing this rule… For every new item you bring in, always let another item go out.
Designing and decorating a small bedroom
A small bedroom can be a decorating challenge. The trick to decorating a small bedroom is keeping the room balanced with functional things that you need easy access to and decor you love that adds personality to your room.
Once you figure out how to maximize space with multi-functional furniture and efficient ways to store your belongings, you can create a space that is comfortable and functional.
Something to keep in mind when you are buying furniture or decor for your bedroom is to keep all objects to scale in the bedroom. This means avoiding large pieces of furniture with ornate inlays and large, overstuffed pillows.
Choose furniture with clean lines that don't take up more room than they need to (think Scandinavian). Even an ironwork bed is a good choice for a small bedroom because the bed frame takes up very little space.
Select an appropriate-sized bed. Choose the smallest size bed that will comfortably sleep those using it. If you don't have enough room for a King sized bed, don't get a King sized bed.
Place the bed close to a wall to prevent the room from feeling smaller than it is. Leave enough room for walking around the bed – this is usually about 24″-30″.
Decorate only with items you need. Don't bring additional knick-knacks into the room that will only cause clutter. You will need to feel comfortable in your bedroom and part of this feeling is knowing you have enough room to move and not having a ton of visual clutter.
Making your small bedroom feel larger
Avoid visual clutter. Use decorative or stackable baskets and boxes to conceal clutter.
Hang mirrors to give the room a sense of openness. This helps the natural light bounce around the room.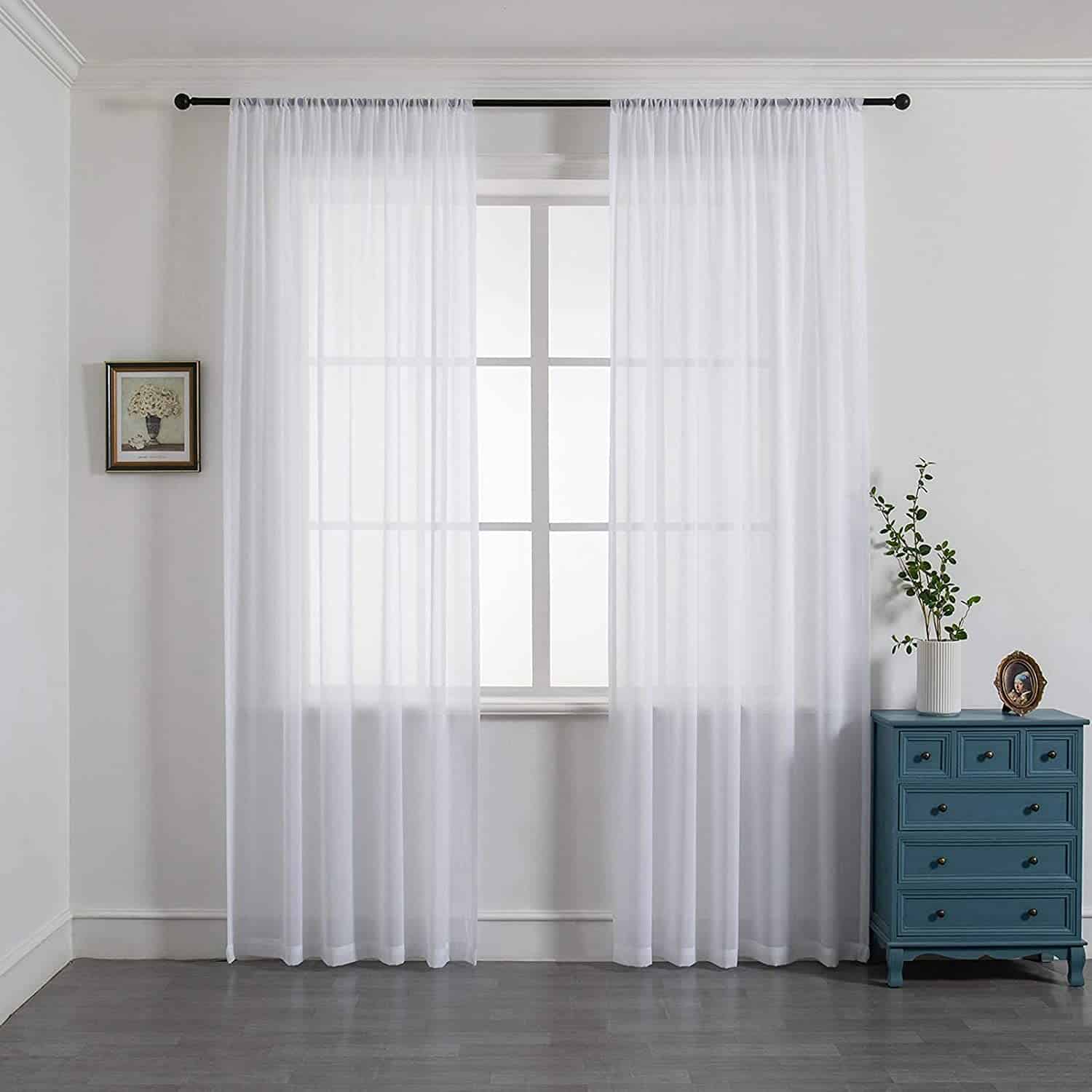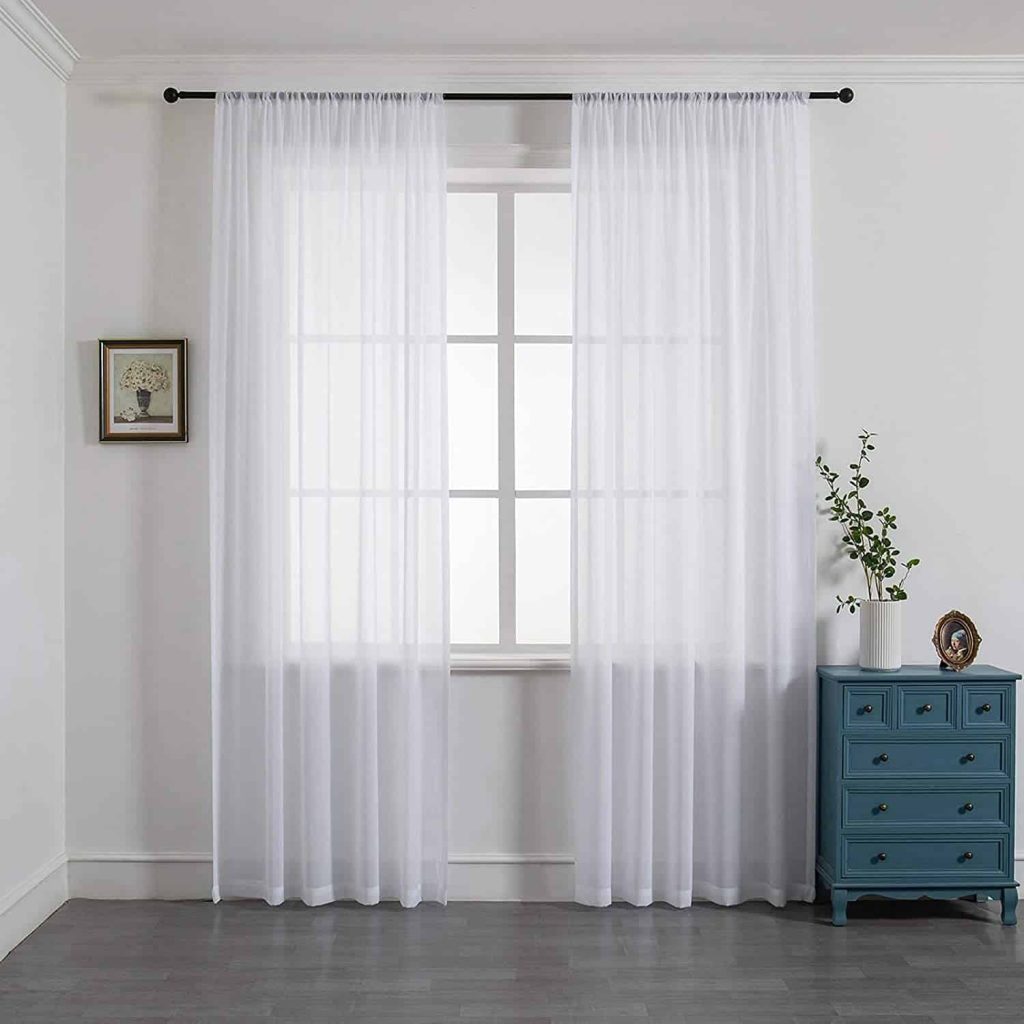 Increase natural light in your room if possible. Ditch the heavy window shades and go for something that filters lights (like sheer white curtains) instead, but still provides privacy.
Keep your bedroom orderly. Clutter is the first thing that makes a room feel small and unorganized.
Use lighter paint colors in your bedroom to make the room feel larger.
If you are faced with trying to make your small bedroom feel more like home, you may feel frustrated as you have very little space to work with.
When you are dealing with organizing in a small bedroom the key is to maximize all the spaces in your bedroom.
Look high and low for opportunities to utilize space.
Use the area under your bed for storing seasonal clothing, extra blankets, bedding, sheets, or shoes.
Install bookshelves and shelving on your walls to give you a storage area without taking up precious floor space.
Make sure your furniture is doing double duty by providing storage options.
One of the important things, when you are living in small spaces, is to maintain the organizational systems you set up, so be sure to plan time to regularly declutter, clean, and put things away in your bedroom and closet.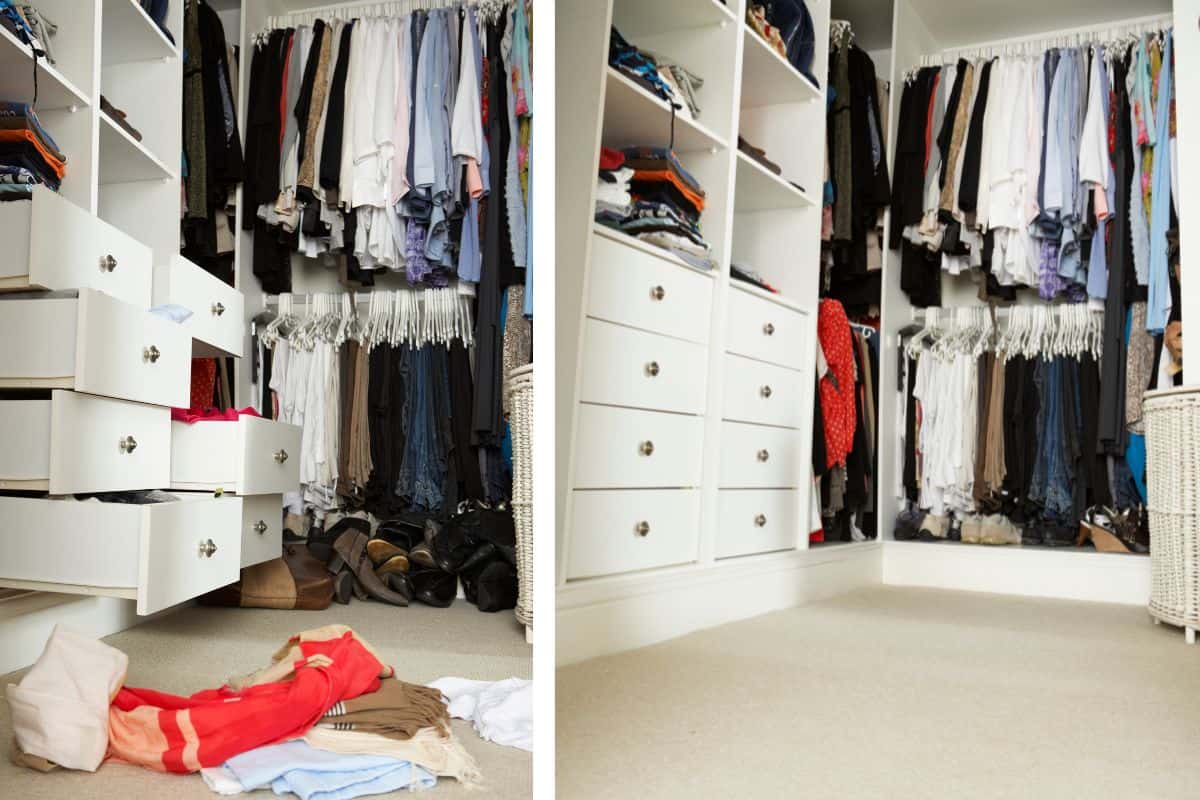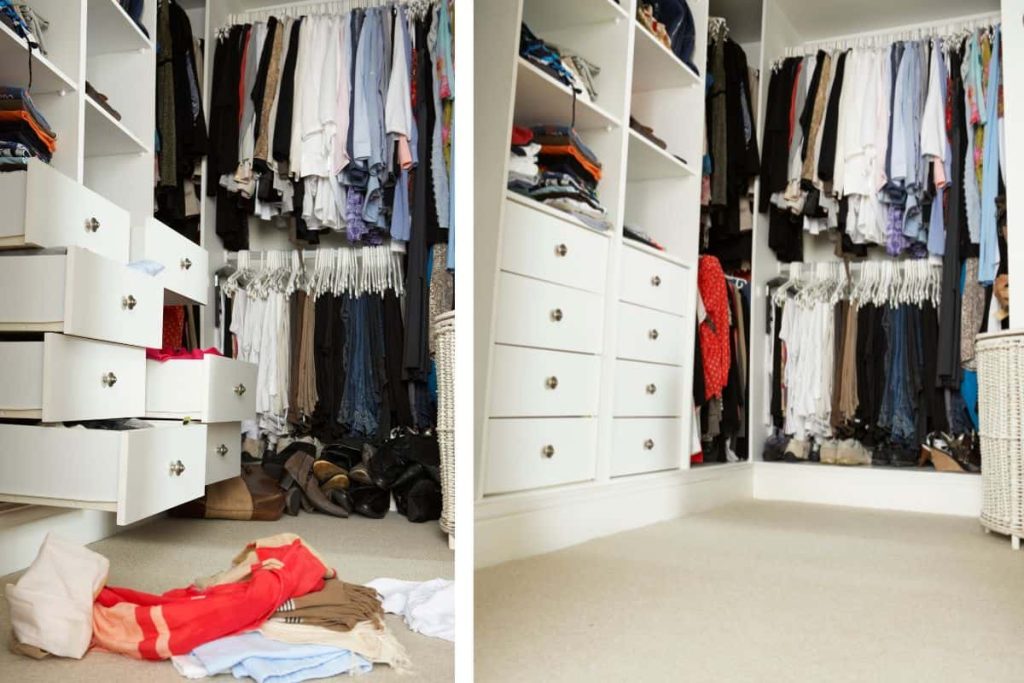 Even if you have great systems set up for your bedroom and closet, you have to be diligent about putting things away. Just look at the major difference in this closet as it goes from messy to cleaned up.
Hope you enjoyed these storage ideas for small bedrooms on a budget! Hopefully, these tips will help you eliminate clutter in your small room!
What other organization ideas and tips do you have for a bedroom with a lack of storage? Which of these storage ideas for small bedrooms on a budget was your favorite??
Let us know in the comments!