Having a small living space can pose challenges when it comes to designing and decorating. It can be difficult to make the most out of every square inch while maintaining a comfortable space that actually looks good. However, with a little creativity and some practical design techniques, it is possible to create the illusion of a more spacious room. Here are some tips on how to make a small room look bigger.
When we moved into our last house, we downsized quite a bit because it was much smaller than the rentals we had been accustomed to. With the loss of extra square footage, I needed to get creative!
When we moved into the smaller house I had to employ all the tricks in the book of ways to make a room feel larger. From hidden storage to color schemes, there are a lot of things you can to do make your small home feel larger.
Living in a smaller home (or just having a small bedroom or other room) can pose challenges for many of us, but fear not! There are proven methods and insider tips that can help you create the illusion of a larger space. Today, I'll be revealing all the secrets for how to make a room look bigger!
This guide for how to make a small room look bigger contains affiliate links, but nothing that I wouldn't recommend wholeheartedly. Read my full disclosure here.
How to Make a Small Room Look Bigger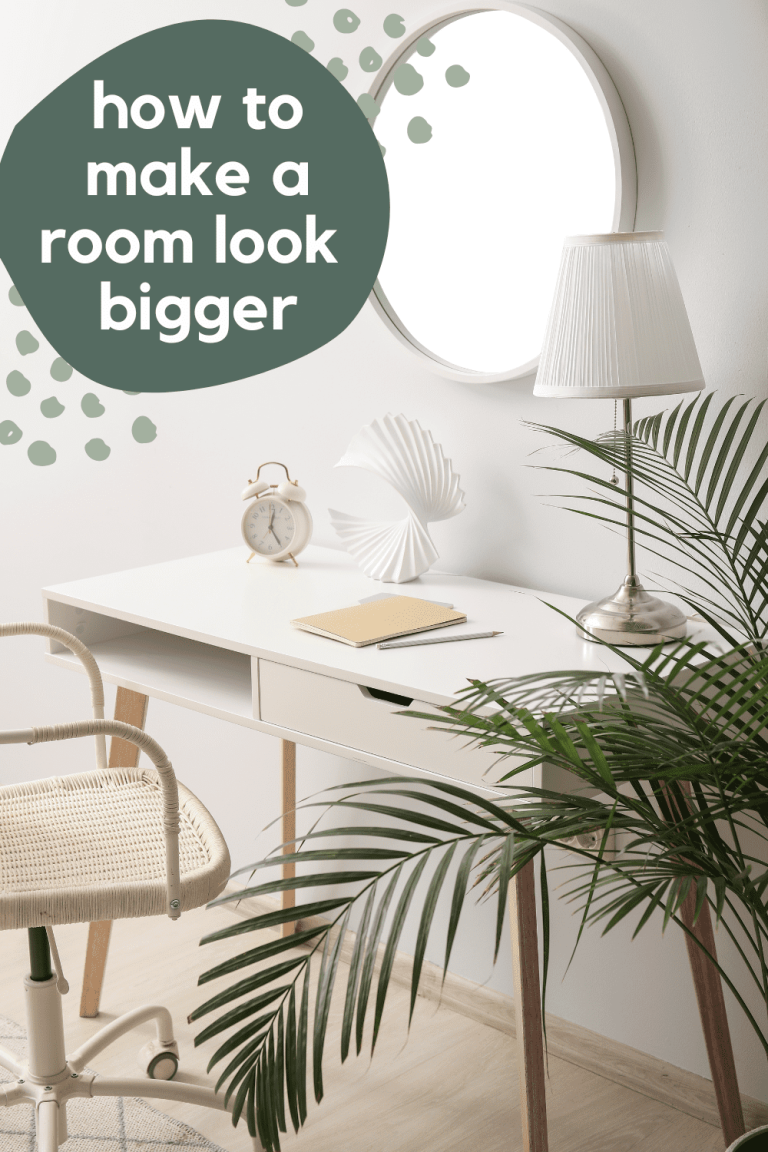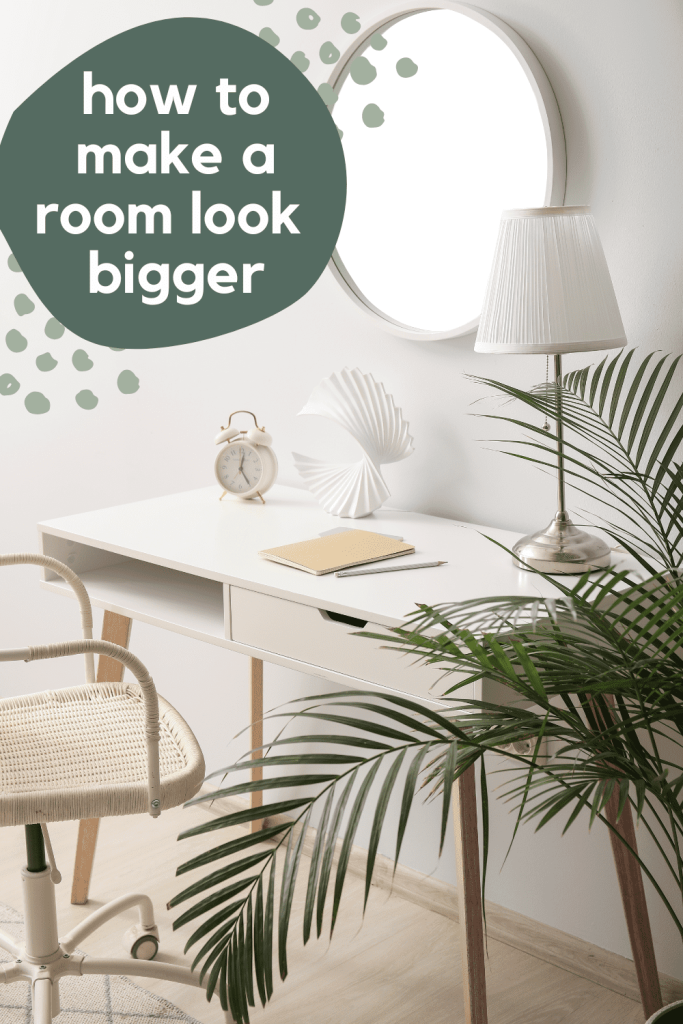 1. Declutter your space
Cluttered spaces tend to look smaller than they actually are. Keep your space organized by getting rid of anything that you don't need or use regularly.
Clutter in a small room creates visual overwhelm, as a room filled with too many items can appear chaotic and cramped. Clutter can also restrict movement and impede the flow of the room, making it difficult to navigate and reducing usable space.
Additionally, clutter can hinder functionality by taking up valuable space that could be used more efficiently. Lastly, clutter can block sightlines and make a room feel closed off.
Below you'll see what a huge difference was made in this basement from Inspiration from Moms. After decluttering the space, Laura gave the room a makeover to transform it into a beautiful home office. It looks so much bigger, doesn't it?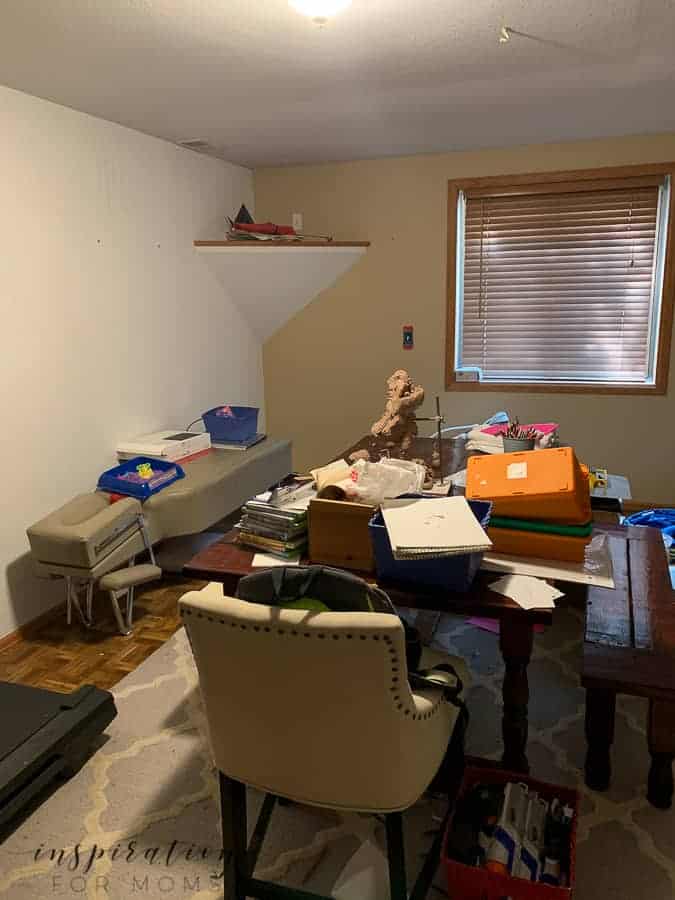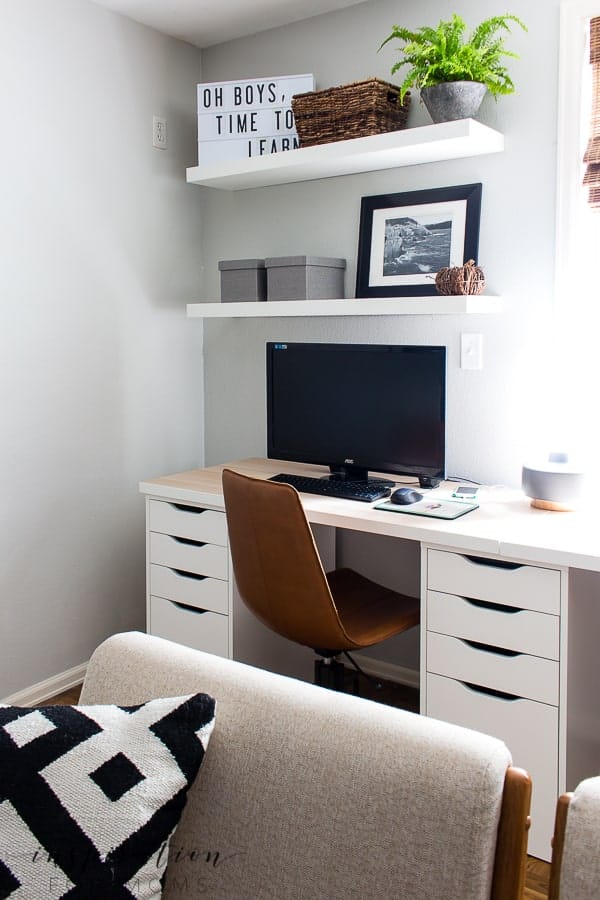 Built-in bookshelves are especially guilting of creating a cluttered look and feel. Consider styling shelves a little differently and switching out items with the decor you have in other rooms to shake up the decor. Clearing these spaces allows for a more open, breathable feeling.
Donate items taking up valuable space and that no longer align with your personal style. Also, try to keep any decorative items minimalistic and simple.
Related Reading – Small bathroom? Check out these bathroom decluttering tips and small bathroom organization ideas!
2. Furniture with storage
One of the easiest ways to declutter a small space quickly is to use furniture with storage. In a small room, every piece of furniture must serve multiple purposes. Fortunately, there are plenty of budget-friendly options for storage furniture available.
There are options for storage in your coffee table or side table for the living room, sofa beds for a home office/guest bedroom, and even beds with storage under the mattress, like this one!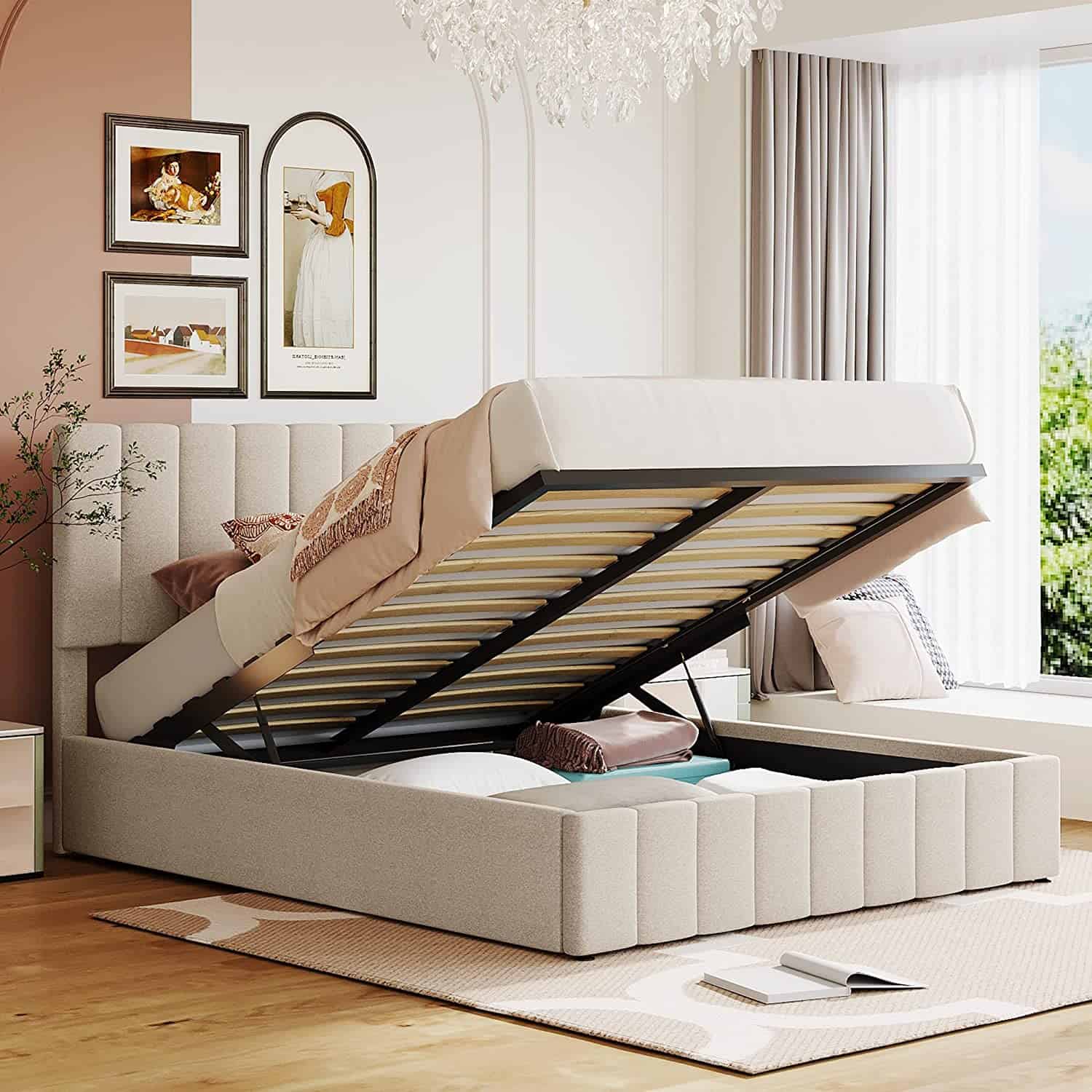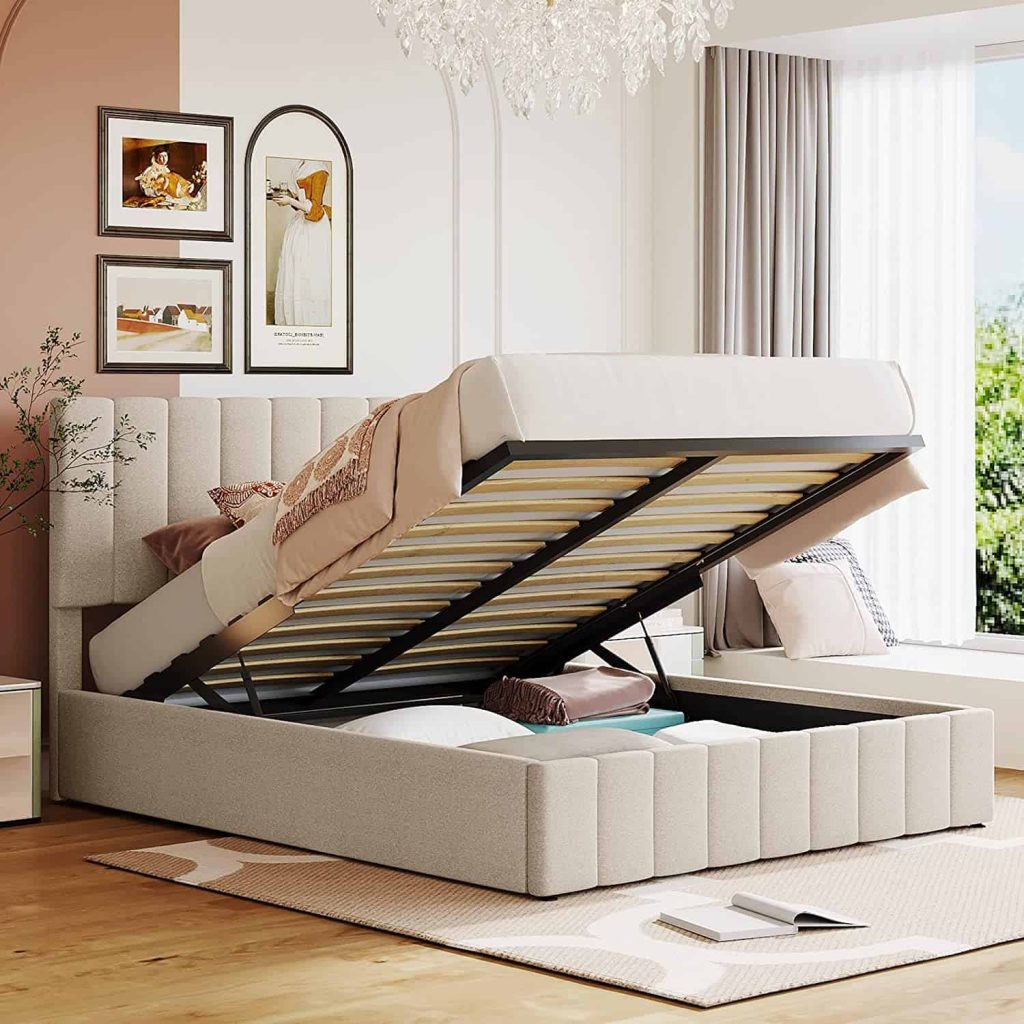 Investing in furniture with hidden storage compartments can help keep your small room tidy and organized, but be cautious not to overcrowd the space with too much furniture. It's wise to carefully consider whether a new piece of furniture is necessary before adding it to the room.
When arranging furniture, remember to leave ample space for walking around, opening doors, and accessing drawers. A minimum of 2 feet of clearance is recommended, but more is even better if the room allows for it.
3. Lighten up the color palette
You will seriously be amazed at the dramatic transformation you can make by simply lighting up the color scheme of a room.
Lighter colors reflect more natural light, which can help brighten up a room and make it feel more open and airy. Brighter rooms tend to create a perception of increased space and can counteract the feeling of crampedness.
When it comes to color choice for small spaces, lighter is usually better. You don't have to necessarily have white walls everywhere. Lighter, neutral colors such as cream, gray, greige, or beige reflect light which will give the illusion of more space.
Dark shades end to absorb light and make the space feel smaller (but that doesn't necessarily have to be a bad thing…there's something special about a dark and moody cozy room). You can also incorporate pastel shades which help create a relaxed ambiance.
Look at what a big difference it made in The DIY Nuts' bathroom remodel after they lightened the wall color. The room feels much larger now with a lighter color. They went from SW Livable Green to SW Pure White, if you're wondering!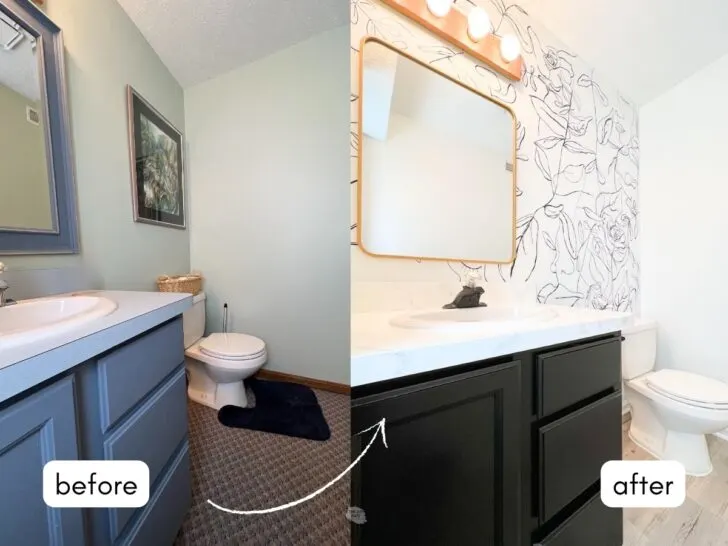 Even using lighter flooring will help give the illusion of a bigger room, which you'll notice was also changed in the bathroom example above.
Choose flooring materials that have light-reflecting properties, such as light wood floors, tile, or laminate. This can help amplify the natural light in the room and contribute to a brighter and more spacious feel.
Not sure where to start? BEHR Paint has a designer collection of 30 tried-and-true paint colors that are recommended over and over by interior designers. It can be a great starting point for choosing a light and neutral paint color. Also, you can check out my easy 4-step process for choosing paint colors!
4. Add an accent wall
An accent wall can sometimes make a room look bigger, depending on how it is designed and placed within the room. By strategically drawing the eye to a focal point, you can effortlessly divert attention away from the limited size of the room and lack of space.
Take the master bathroom in our last home for example – it's definitely on the smaller side. However, we've made a few clever adjustments to make it seem more spacious.
One of the many things we did during our farmhouse bathroom renovation was to add a simple faux shiplap wall behind the toilet. We've also lightened up the color scheme in the tiny bathroom and replaced the toilet with a taller option, which creates the illusion of added height. All of these changes together made the small space feel much bigger.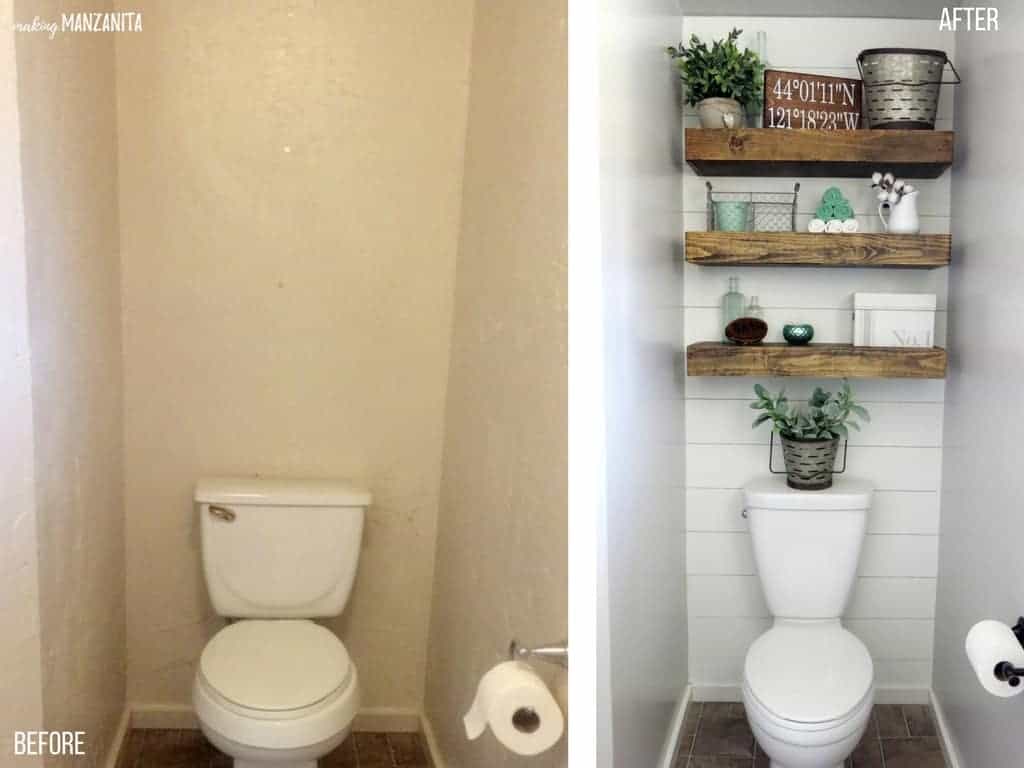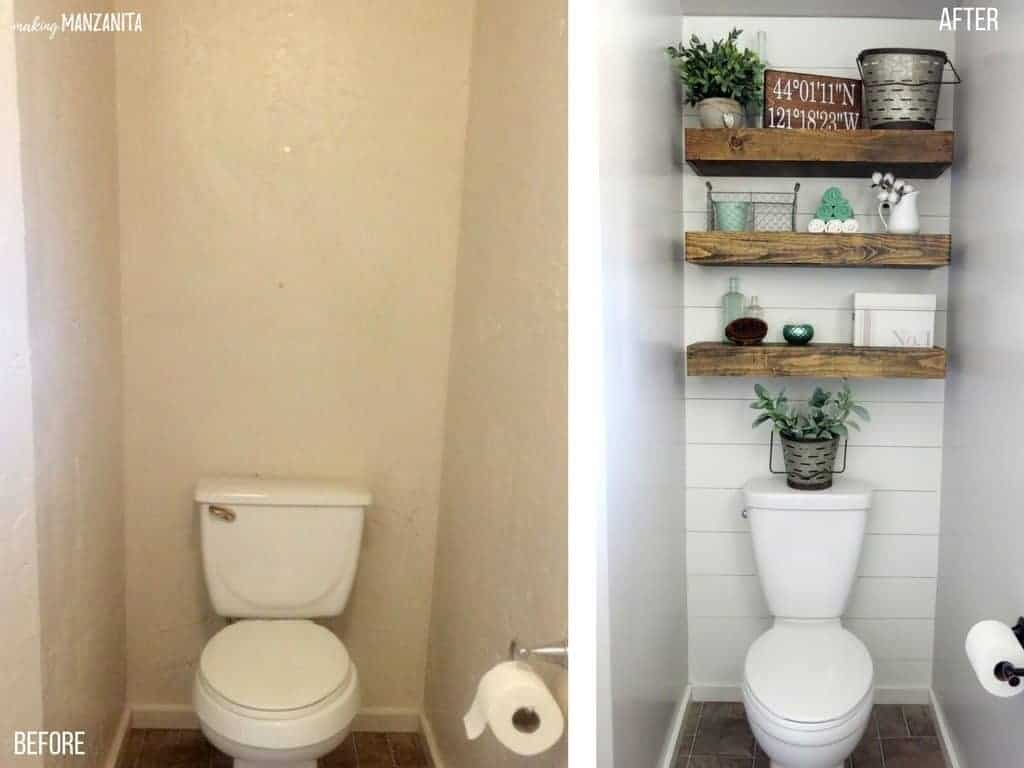 Installing wainscotting or a chair rail can make a room feel larger. Additionally, adding a darker shade of paint to the wall can add more depth to a smaller room, while making the space feel larger and more sophisticated.
Want to get more accent wall inspiration? Check out these articles!
5. Highlight and/or add more natural light
Lighting plays an important role in creating the illusion of space. Natural light is essential because it opens up a room and makes it feel larger.
Make sure to let as much natural light into your entire room as possible by using lighter, sheer window treatments instead of heavy drapes.
If there isn't much natural light in your room, consider adding more light sources (like floor lamps or vertical lighting options). The additional light fixtures will also add some coziness to the room.
You can see here that Shannon from Homemade Lovely removed the blinds and let the natural light pour into her living room. She also lightened up the color scheme, which made a big difference.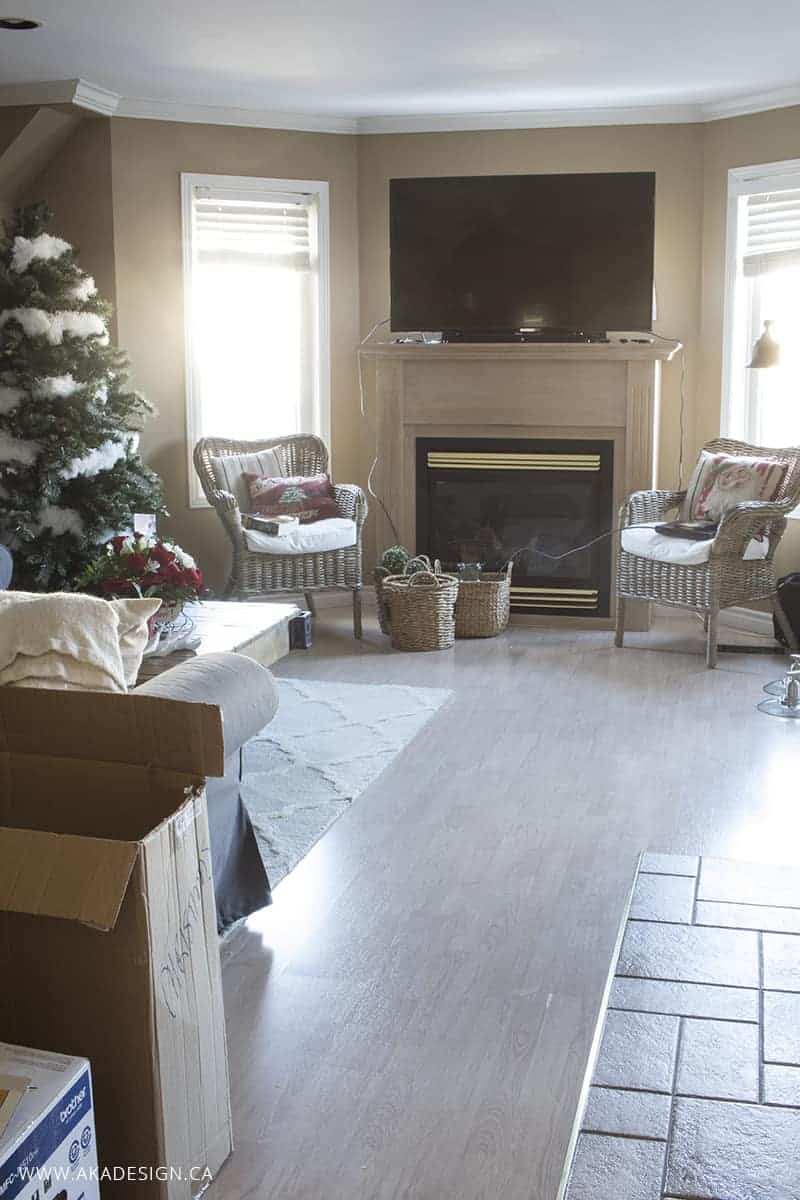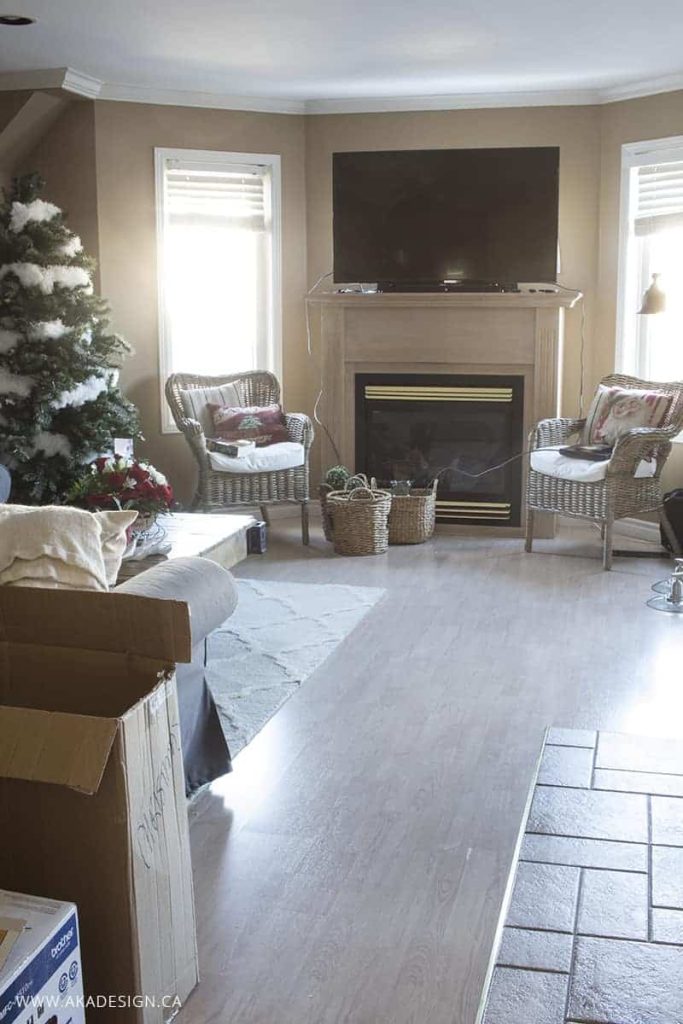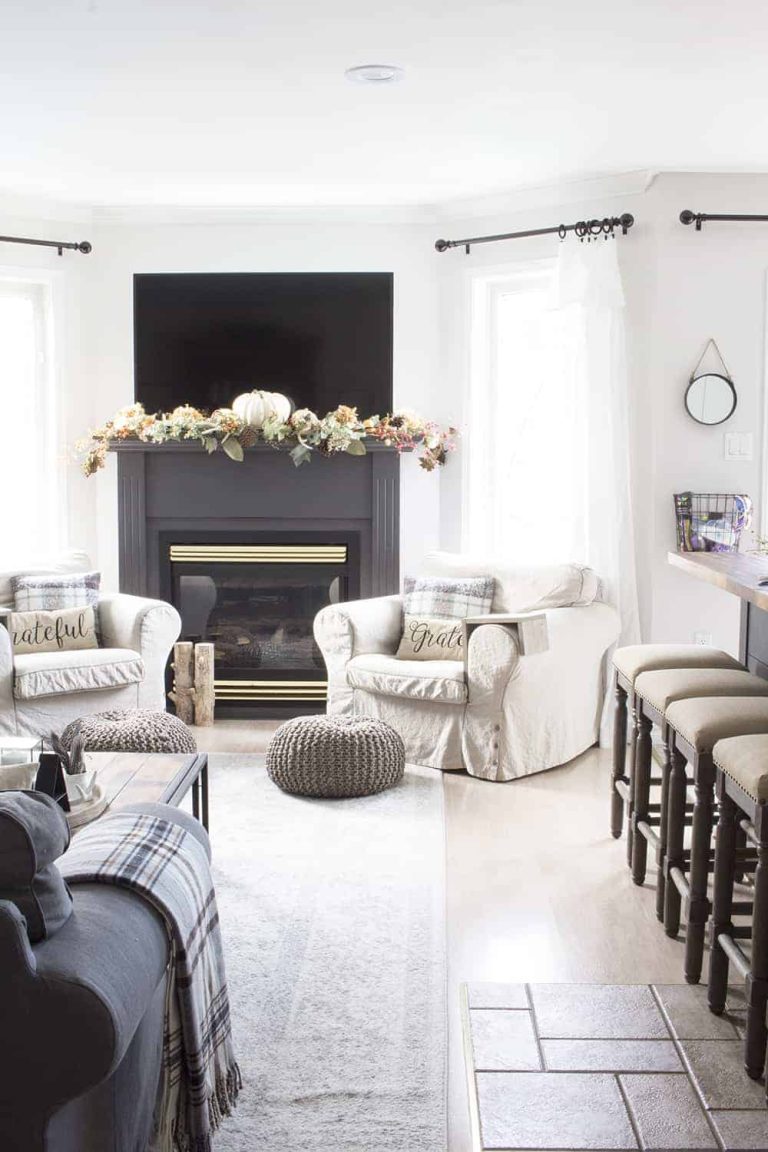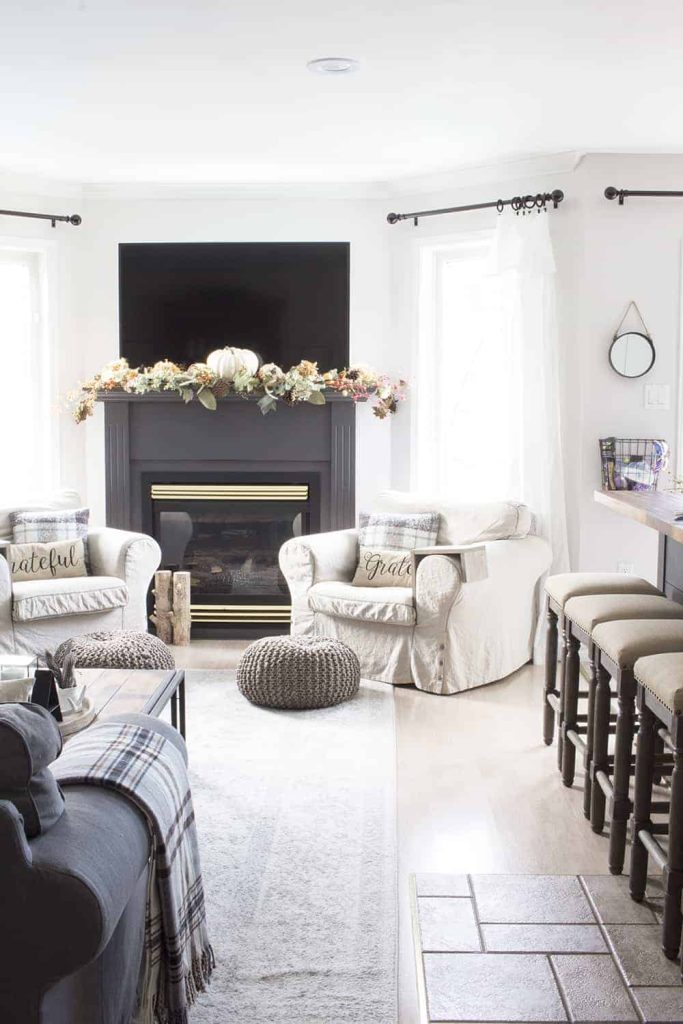 Blinds, shutters, and valances can make a room feel smaller, closed in, and darker. A great way to increase the natural light in a room is to make sure the windows are clean and free of any obstructions, such as heavy curtains or furniture, that may block natural light from entering the room. Emphasizing and increasing the amount of natural light is one of the best ways to make a small room feel bigger.
6. Hang curtains to the ceiling
This easy trick will do wonders for a small room! Instead of hanging curtains to the top of the window frame, take your curtains all the way up to the ceiling to make your room appear larger and more spacious.
This simple design trick elongates the window and creates an illusion of height, which gives the room a much grander look. By drawing the eye upward toward the ceiling, the room appears more spacious than it is, adding more visual interest and depth.
This gives height to a room, making it feel much larger than it is. Additionally, you can even take the curtains past the width of the window frame to give the illusion of larger windows and wider space.
Be sure to buy the correct length of the curtains so they reach all the way to the floor and allow the fabric to pool a little bit onto the floor if you want, but not too much. If the curtains are too long, you can hem them without sewing using this little hack.
Having your curtains pool just a bit on the floor will create an elegant and refined look while also making your room look larger, airier, and more spacious.
For a beautiful example of curtains hung wide and high, I love these rich velvet curtains in this bedroom from Love & Renovations. She has a whole super detailed tutorial all about how to hang curtains so be sure to check that out for more tips on this topic!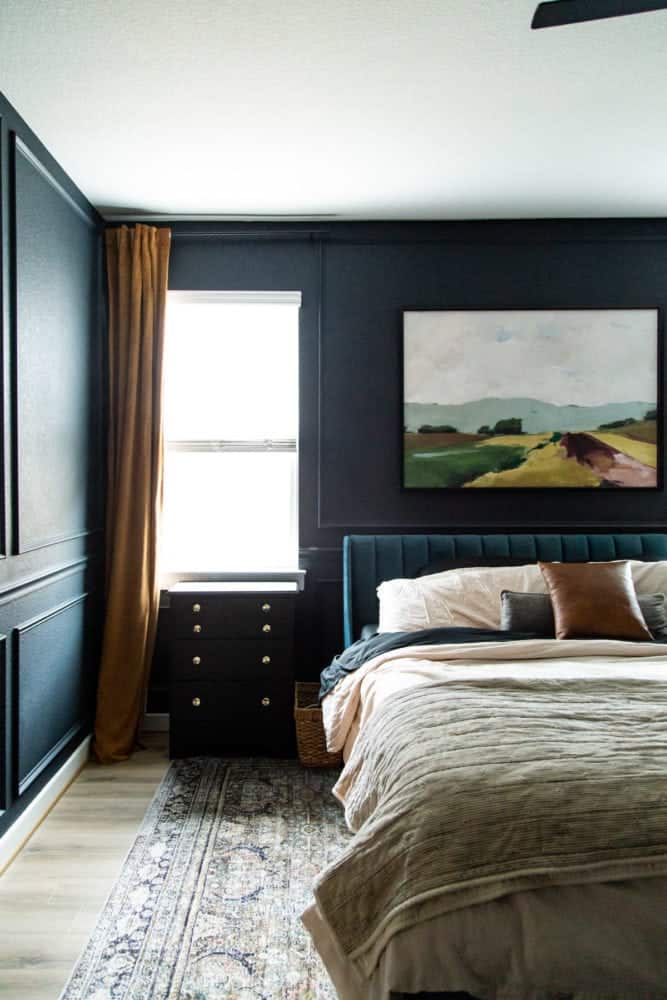 7. Go large on art
Adding artwork to a small space creates visual interest and makes the room feel more complete. However, don't overwhelm your walls with lots of small pieces. This can make your room feel crowded. Instead, choose one large statement piece or cluster smaller pieces together for a smaller, focal point.
Larger paintings, even abstract metal sculptures, or showstopping mirrors are all great examples of statement art. These large art pieces give the eye somewhere to focus and detract from the small size of the room.
We went LARGE with the art that we added above our couch in our modern boho living room. It was so easy to make ourselves using a tapestry that we ordered online.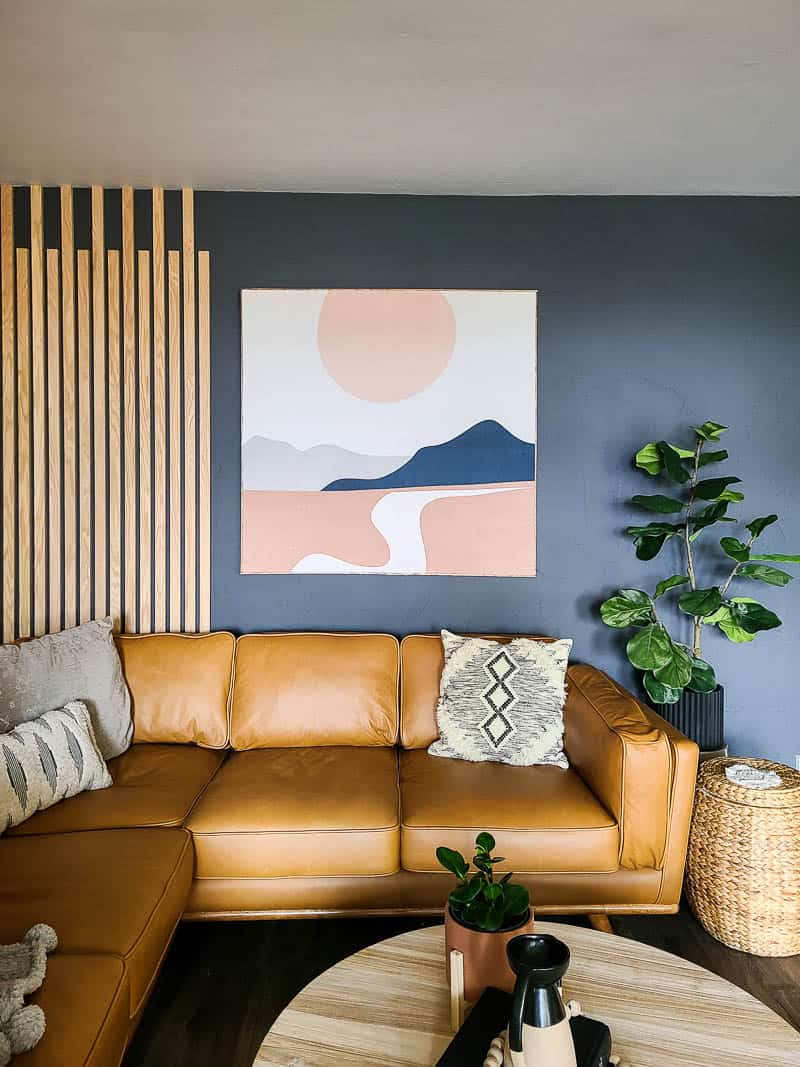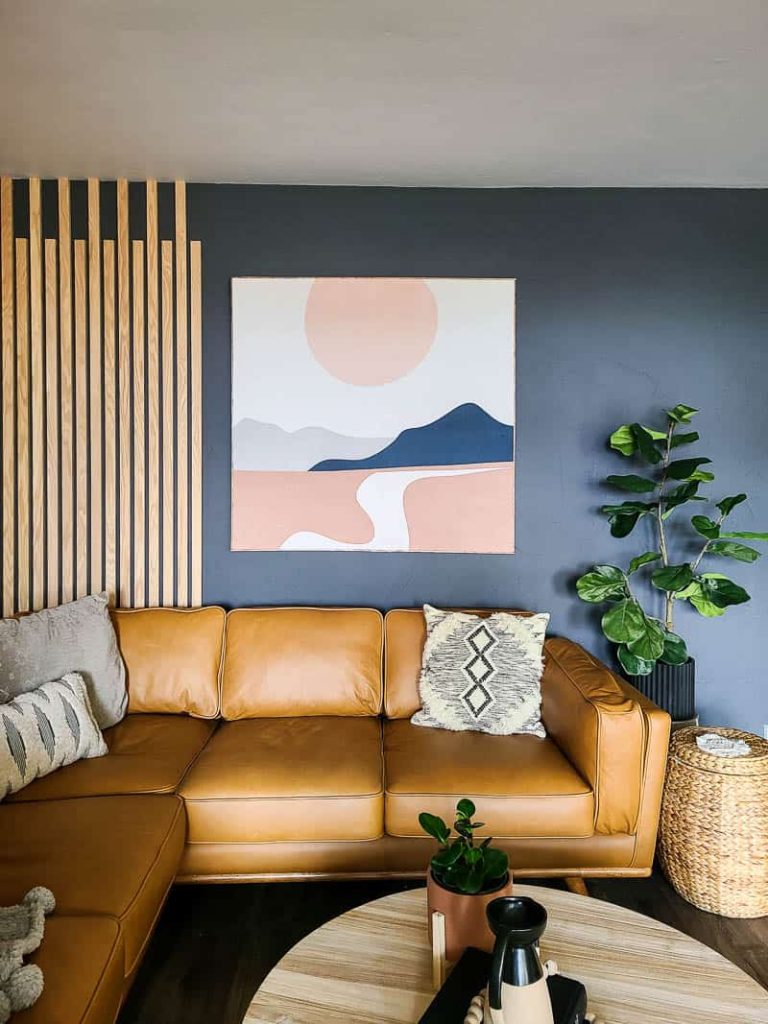 A large piece of art can draw the eye, shift focus from the room's size, and create a perception of depth or height. Placing the artwork strategically can contribute to a more open and spacious feel.
8. Add a mirror
Mirrors are an excellent way to make your room look more spacious as they reflect light and create depth perception, creating the illusion of a larger area. A large mirror placed opposite a window will reflect natural light back into the room, making it brighter and appear larger than it actually is.
Here's a great example of a large round mirror used above a dresser from Room for Tuesday. It definitely bounces the light around the room and makes it feel larger.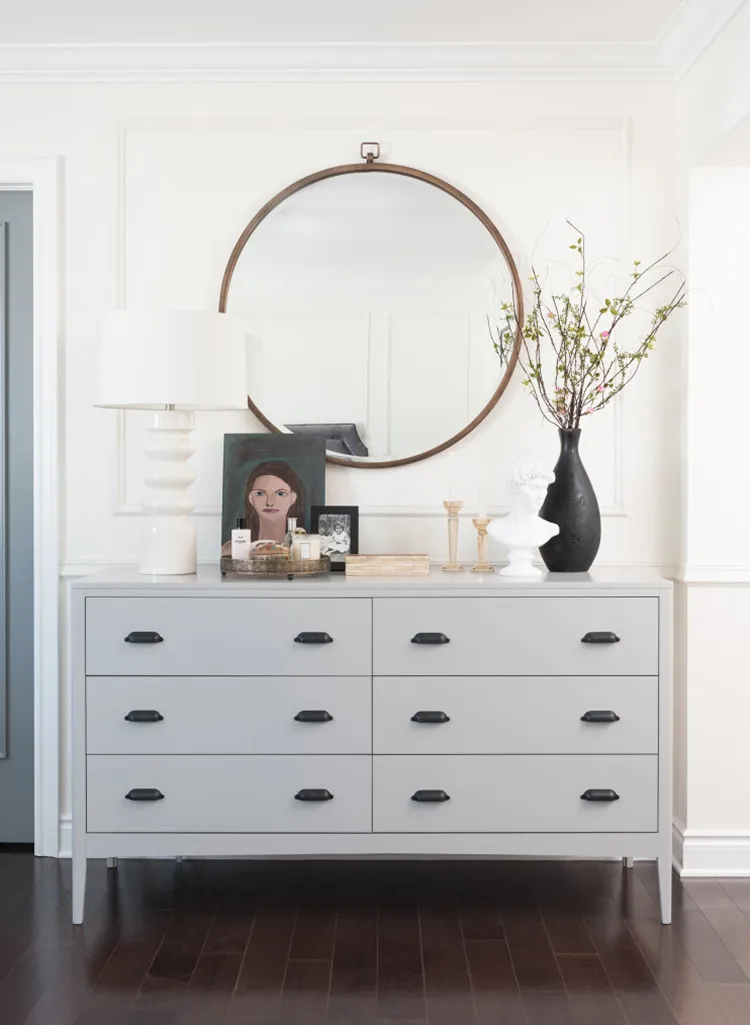 There's something about the reflection in the mirror and seeing "more" room that really makes an impact.
9. Make your storage work for you
It's no secret that decluttering a room can instantly make it feel more spacious. One effective way to achieve this is through strategic storage solutions.
Take Joyful Derivatives, for instance, who has masterfully utilized a window seat for extra seating in her dining room to add smart storage. This not only helps to keep the room tidy and organized but also creates the illusion of a larger space by minimizing clutter and maximizing functionality.
Placing a trunk at the end of the bed is also another great solution. Hanging baskets, storage ottomans, and wall hooks are also great options for maximizing space without eliminating your favorite creature comforts.
Also, utilizing vertical space in empty nooks and corners frees up valuable floor space and makes your room feel larger.
Making a small room look bigger is all about maximizing natural light, choosing light colors, decluttering, using mirrors for reflections, and utilizing smarter storage solutions.
With these tips and tricks in mind, you can transform your small living space into a functional and beautiful environment that offers plenty of room to breathe.