The day is finally here! Our small farmhouse master bathroom is everything I wanted it to be: budget-friendly, more open, full of shiplap, farmhouse shelves and chippy paint signs.
Our budget-friendly farmhouse master bathroom has been a major evolution over the past couple of years since we moved into our fixer upper.
When we first moved in, I wasn't even planning on doing a farmhouse master bathroom. I didn't know what my design plans were. I just knew that something needed to happen, but there were bigger fish to fry as we renovated the rest of the house.
So our master bathroom sat..boring and bare hidden in the back of our house. That's usually true with most renovations I think.
You typically do the master bedroom and bathroom last because it's least likely to be seen by guests. It's true over here at least.
2.5 years of renovating and I still haven't finished decorating the master bedroom. Shhh…it's getting there.
But during the cold and LONG winter, Logan and I got a bit of a DIY bug after a binge session of Fixer Upper.
It was shiplap time, so we added a budget-friendly faux shiplap wall and floating shelves. These DIY projects alone completely transformed the master bathroom and brought in tons of the farmhouse charm I was looking for.
This is definitely a budget-friendly farmhouse master bathroom. The shiplap wall cost us less than $15 and you'll see based on the source list at the end of this post that a lot of the decor was DIYed or collected from thrift stores or flea markets.
If you're looking for inexpensive bathroom remodel ideas, check out this article!
The master bathroom is small. So much so that I rounded up Small Bathroom Organization Tips because I was looking at them so much.
The master bathroom is awkward. Our master bathroom was really hideous.
This post contains affiliate links, but nothing that I wouldn't wholeheartedly recommend anyway! Read my full disclosure here.
Our Farmhouse Master Bathroom Makeover: Before Pictures
Here's where we started when we moved into our fixer upper. You may recognize these pics from our pre reno home tour.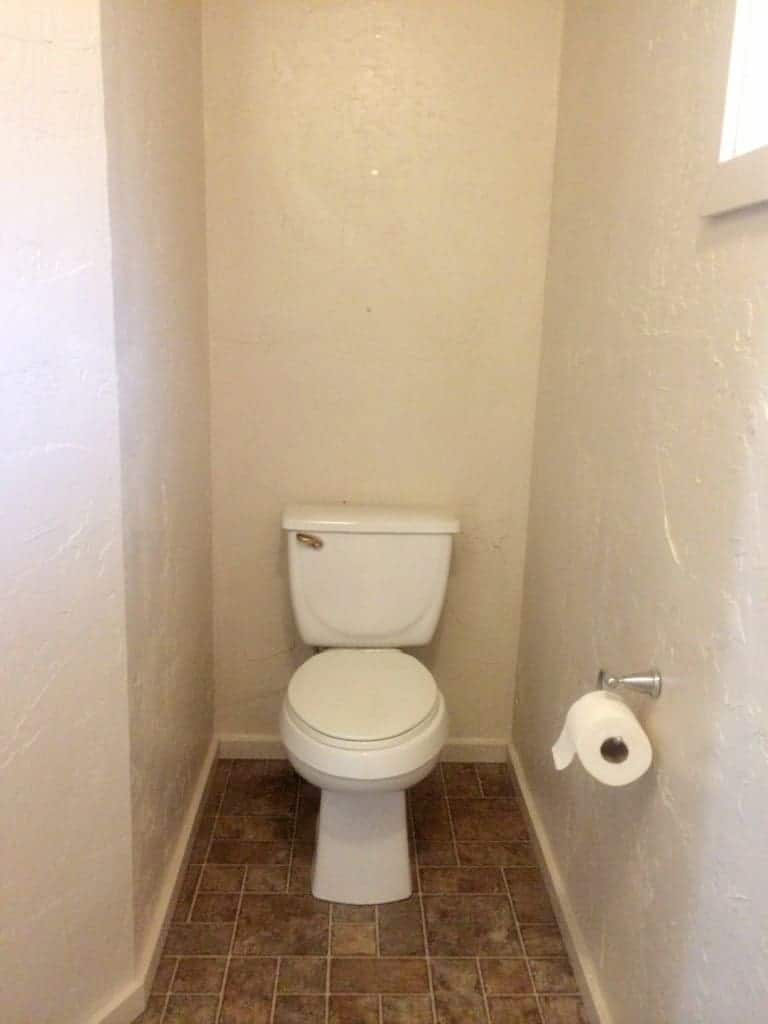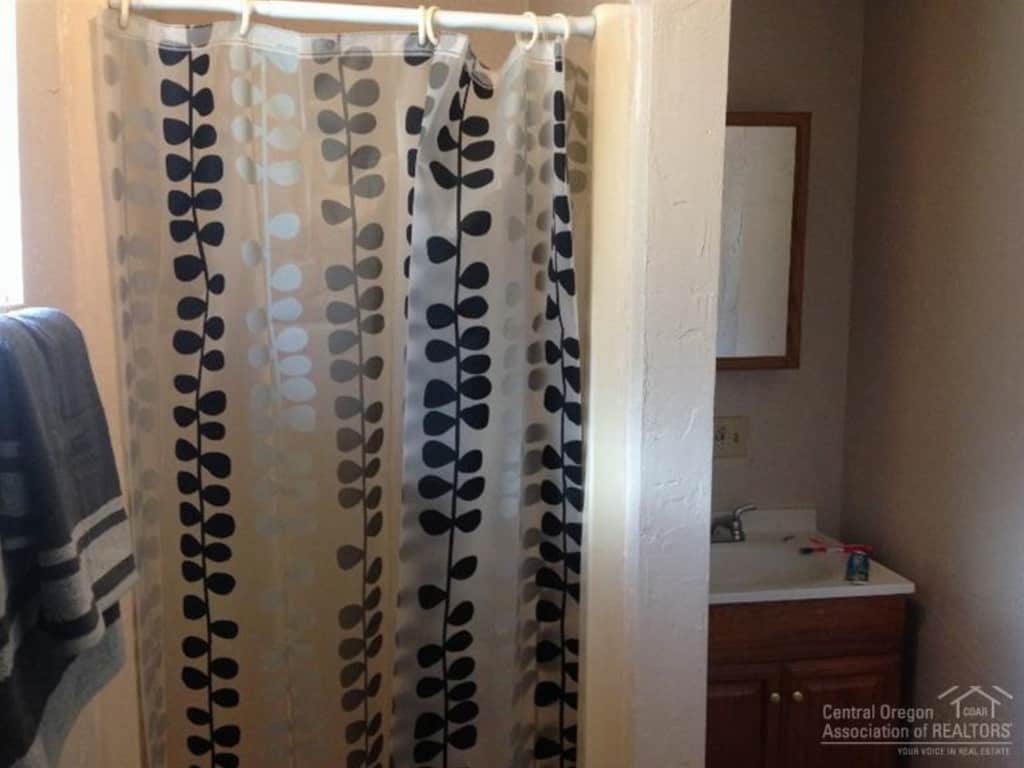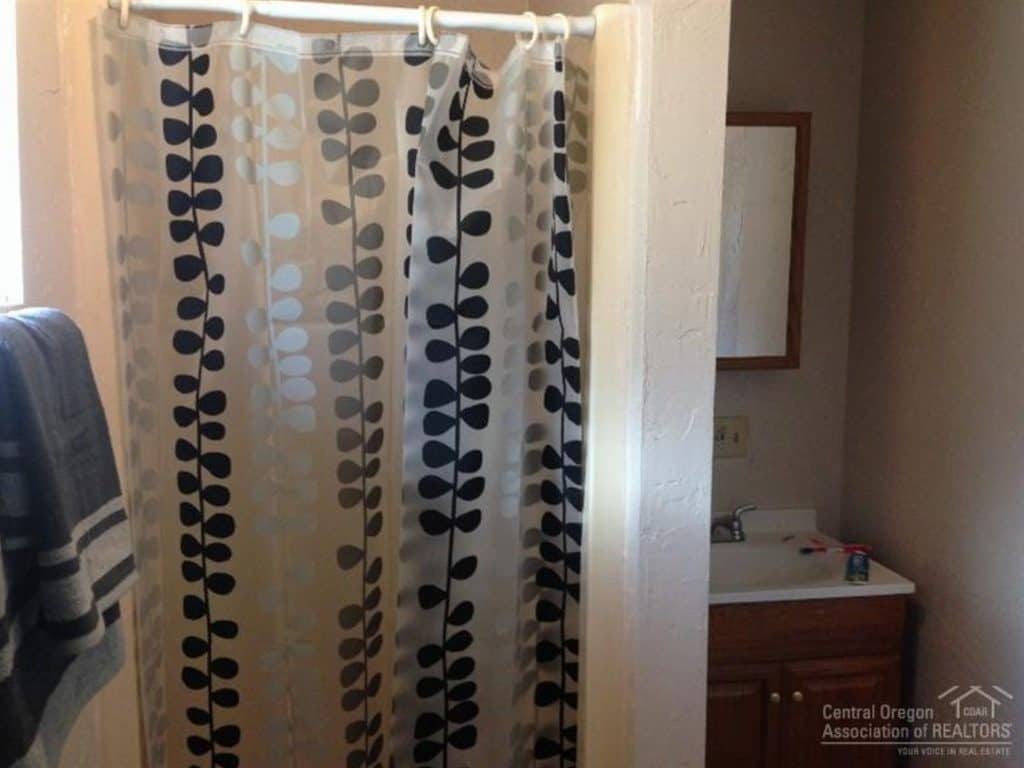 Ready to see our new farmhouse master bathroom!?
Come on in!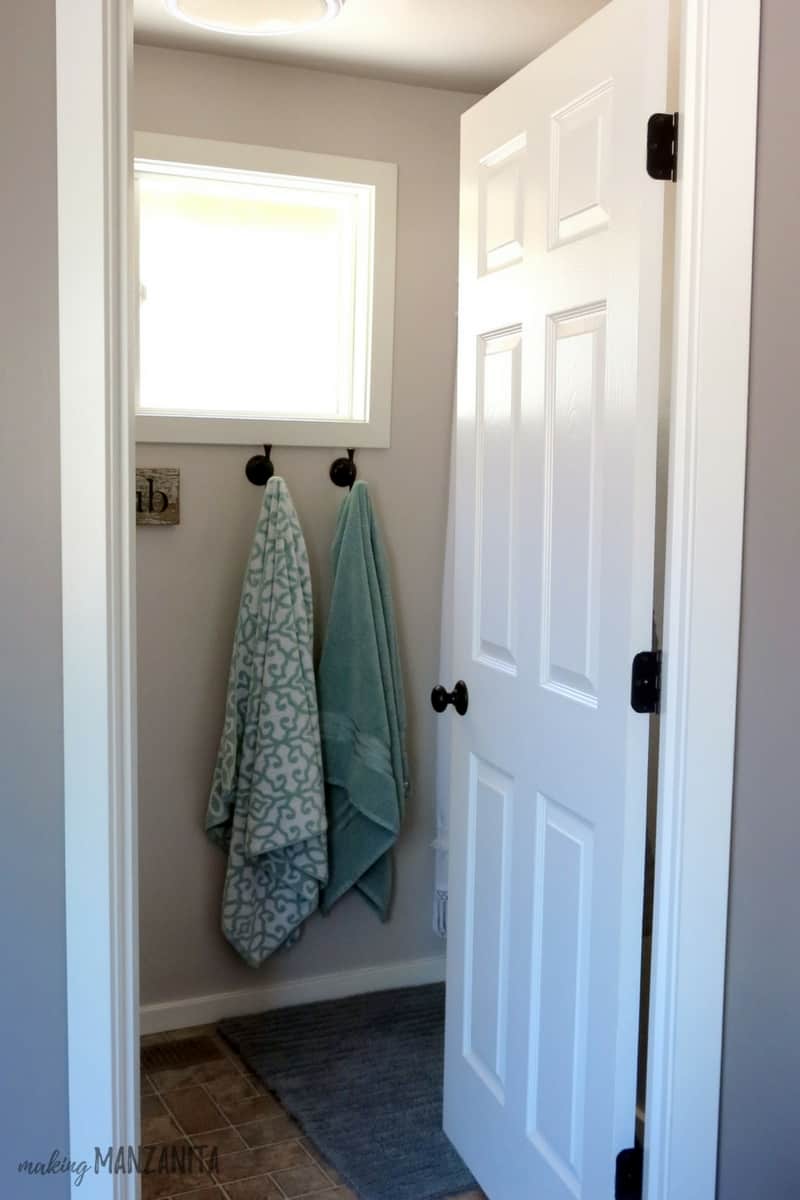 Our farmhouse master bathroom certainly come a long way, hasn't it?!!

Ok, ok…. I took one million photos of this tiny little bathroom and I tried to narrow it down, but this post will be really photo-heavy. That's what you want to see anyway, right!?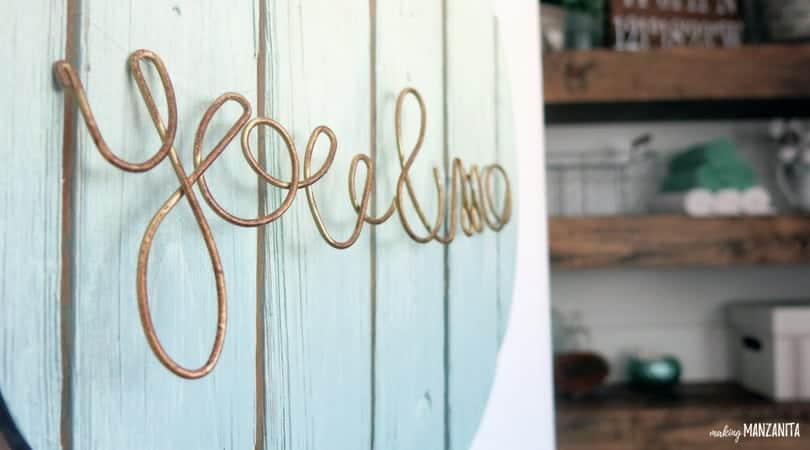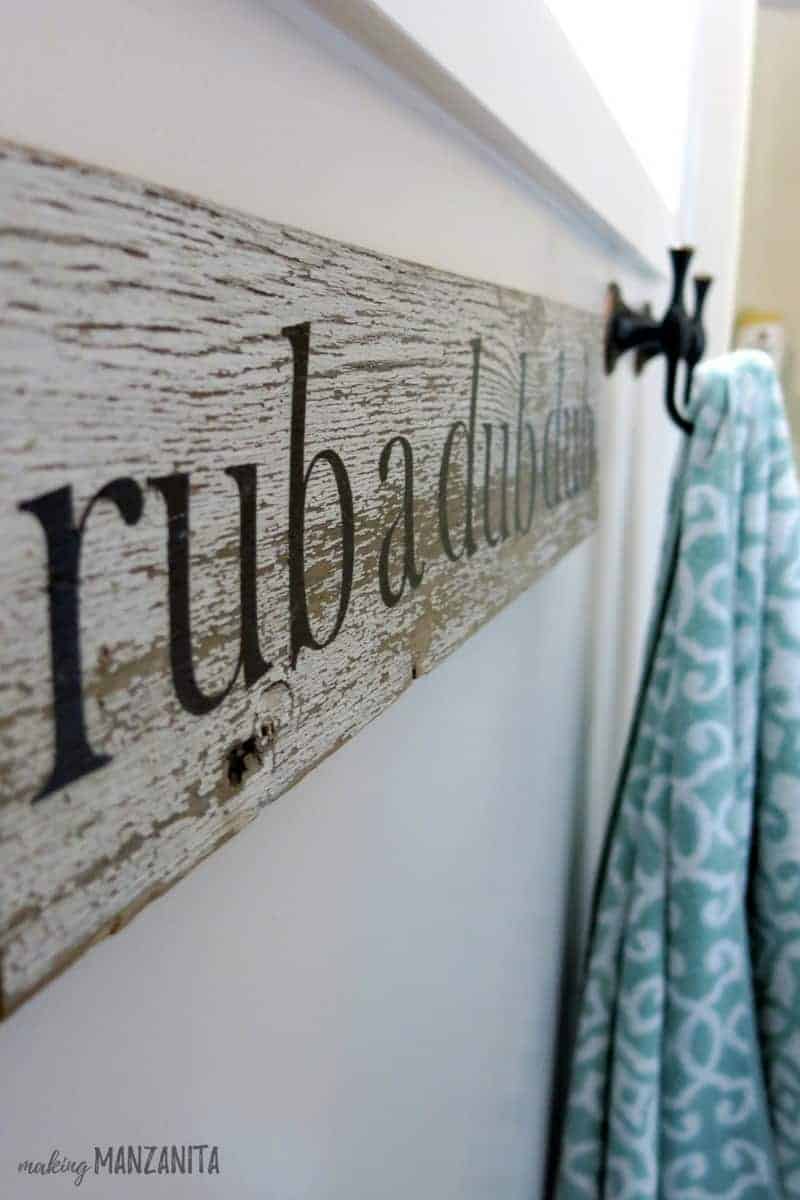 I had a blast making this fun Rub A Dub Dub sign. You can check out the full tutorial here.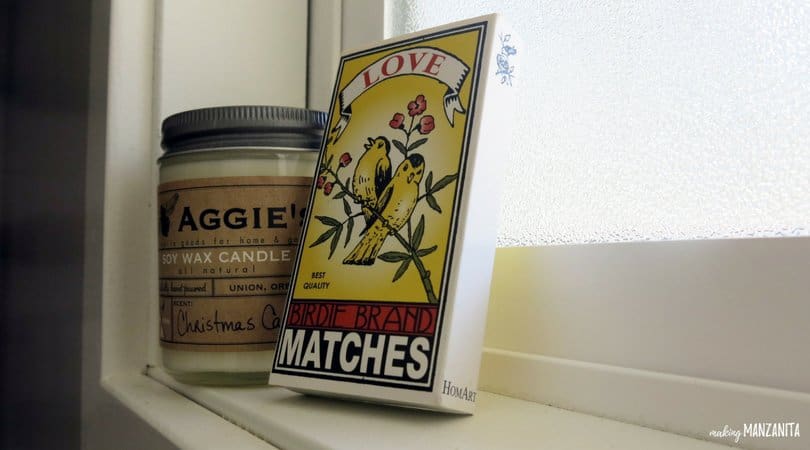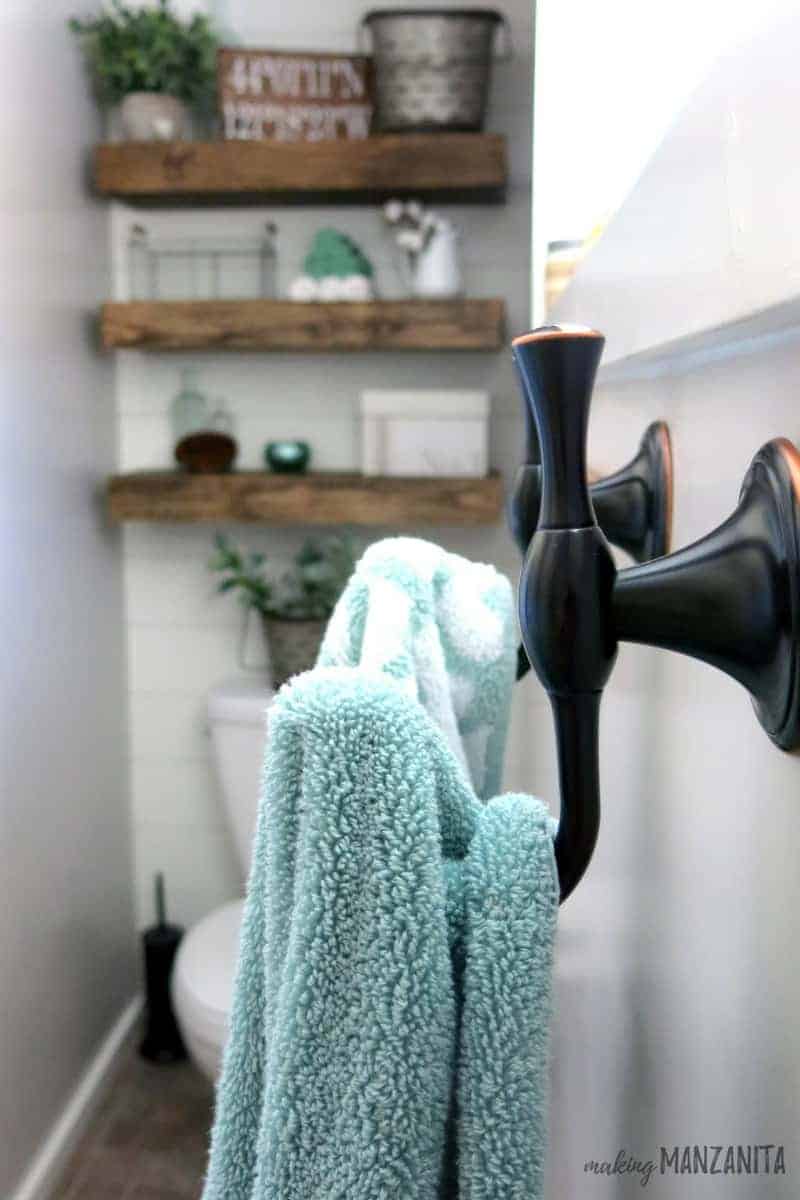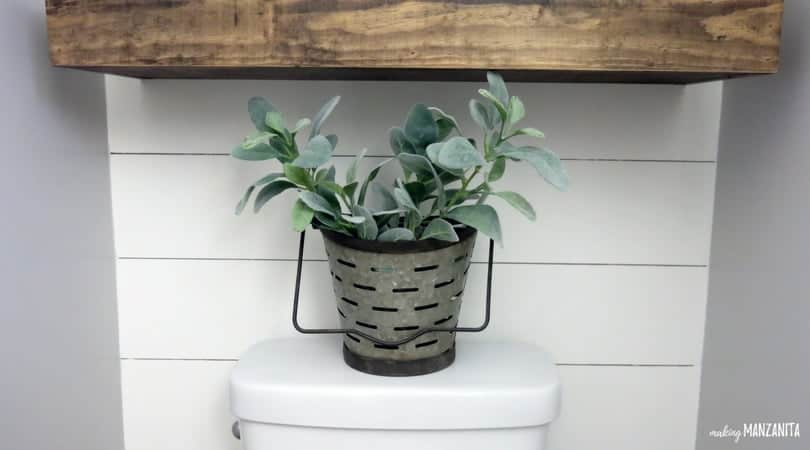 Let's take another look at those farmhouse shelves. I had so much fun decorating these!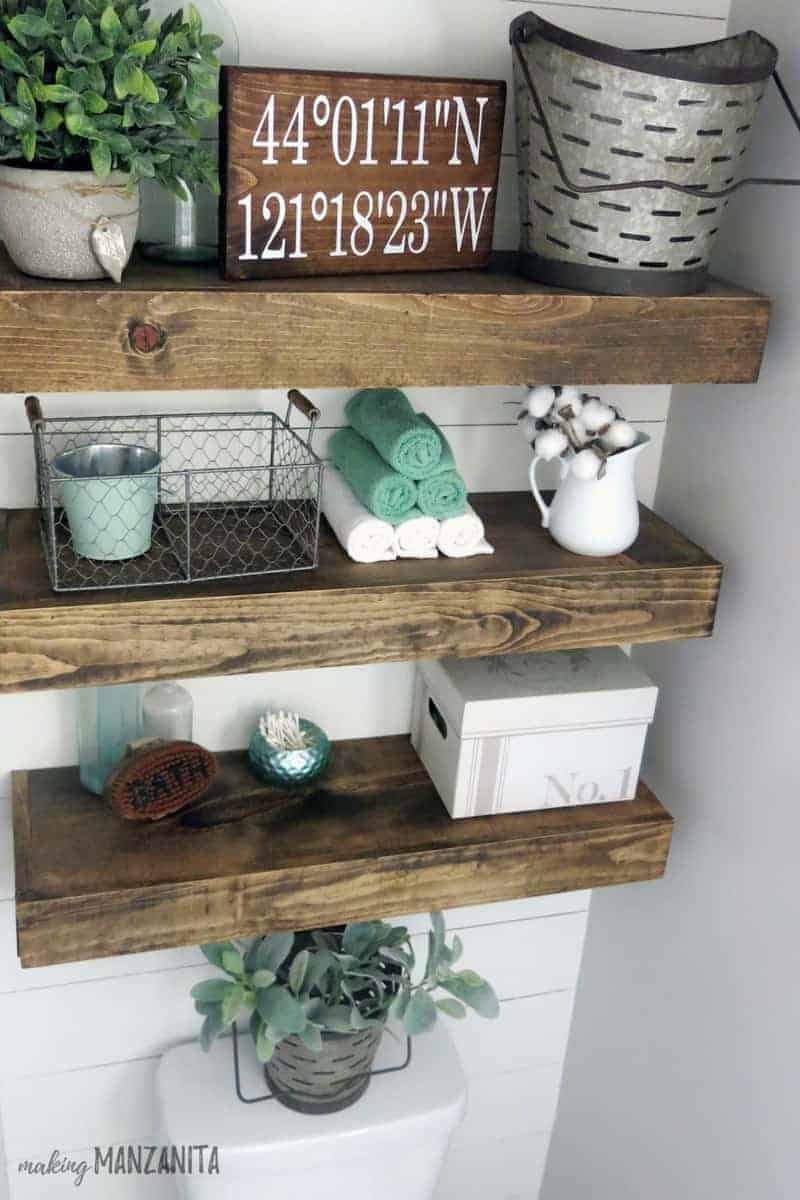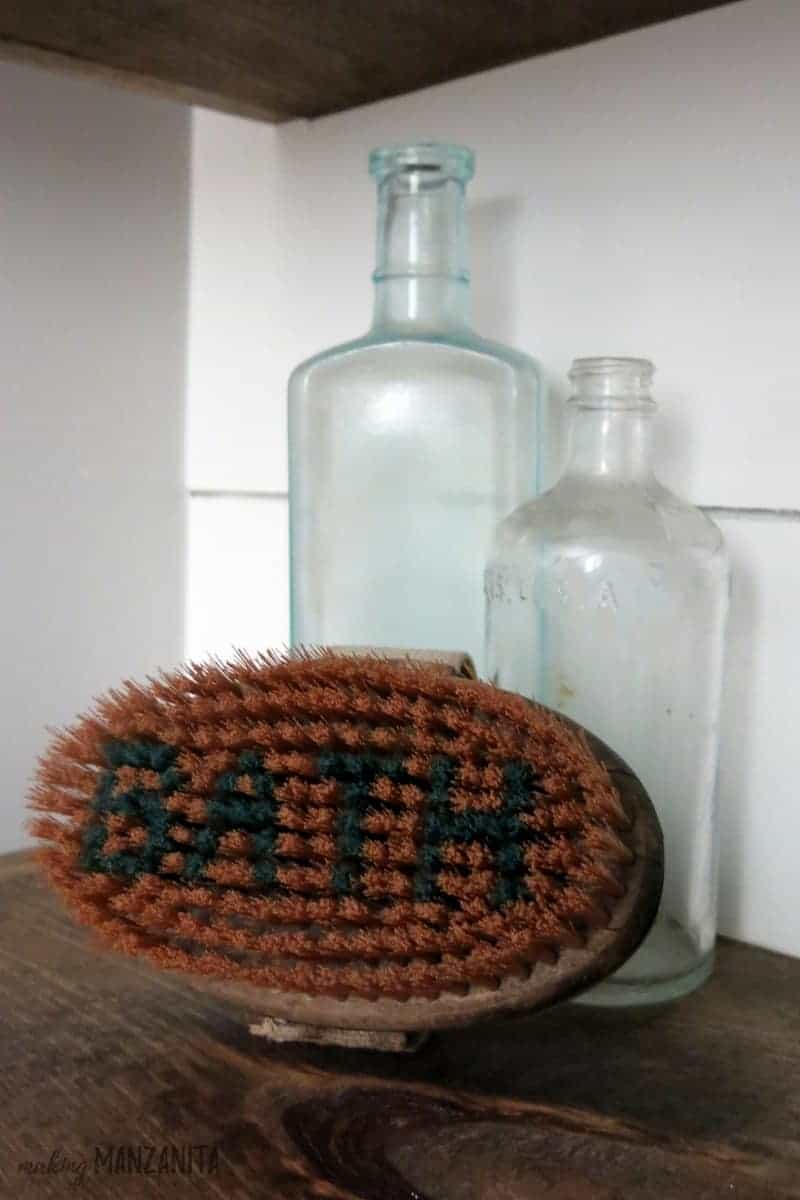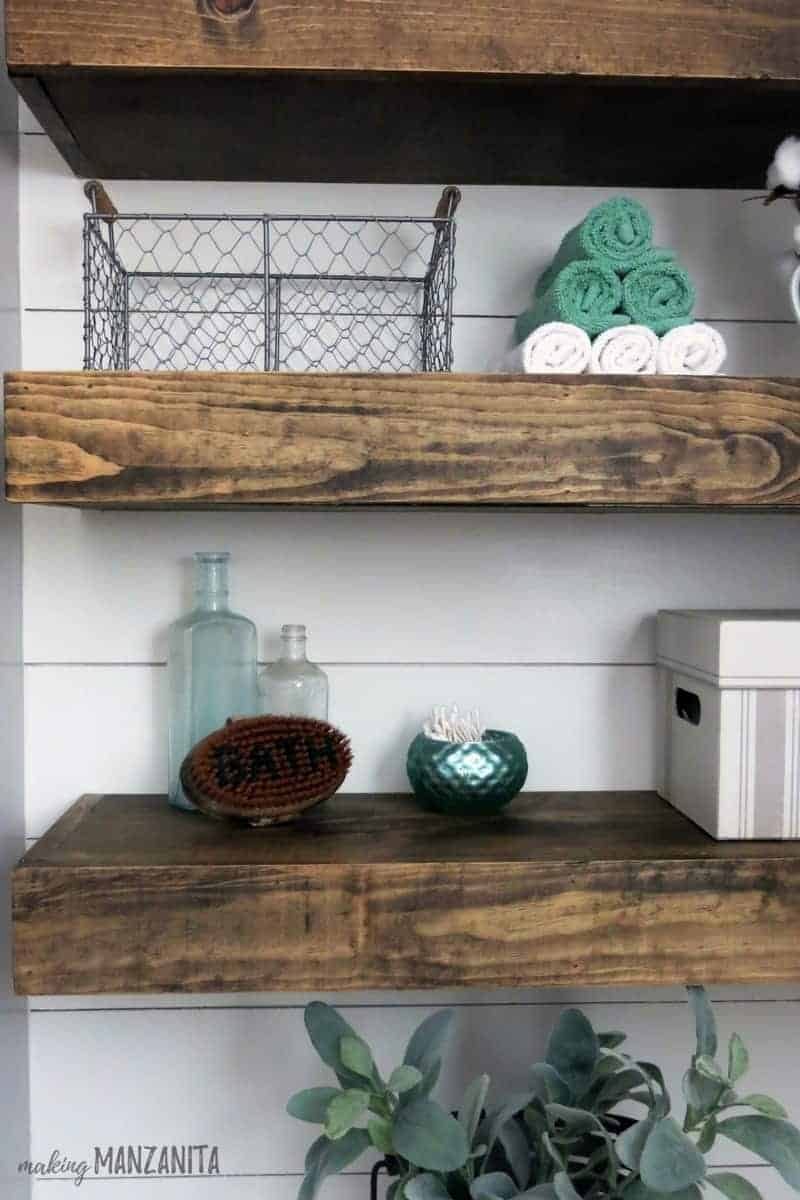 When you turn around from the shelves…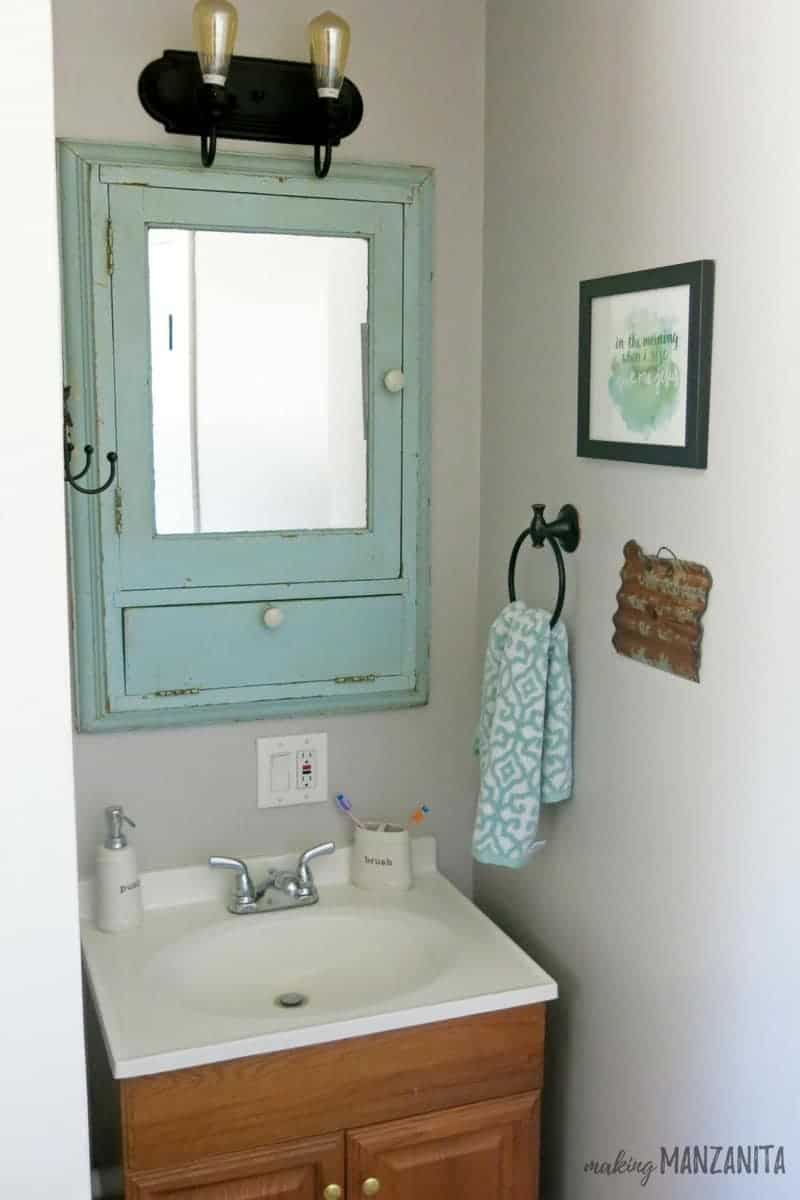 Someday we plan on doing a full renovation in this bathroom with a glass shower to open the small bathroom up, a new pedestal sink, flooring…the whole shebang.
But until then, we decided to do a budget-friendly farmhouse master bathroom making the best of what we have.
Which means using this vanity cabinet that I don't love. Luckily you can decorate around the things you don't love. 🙂
(UPDATE: We didn't end up getting to this full renovation of this bathroom as planned before we move out, but we did paint the vanity white after we moved out. You can see how that turned out here!)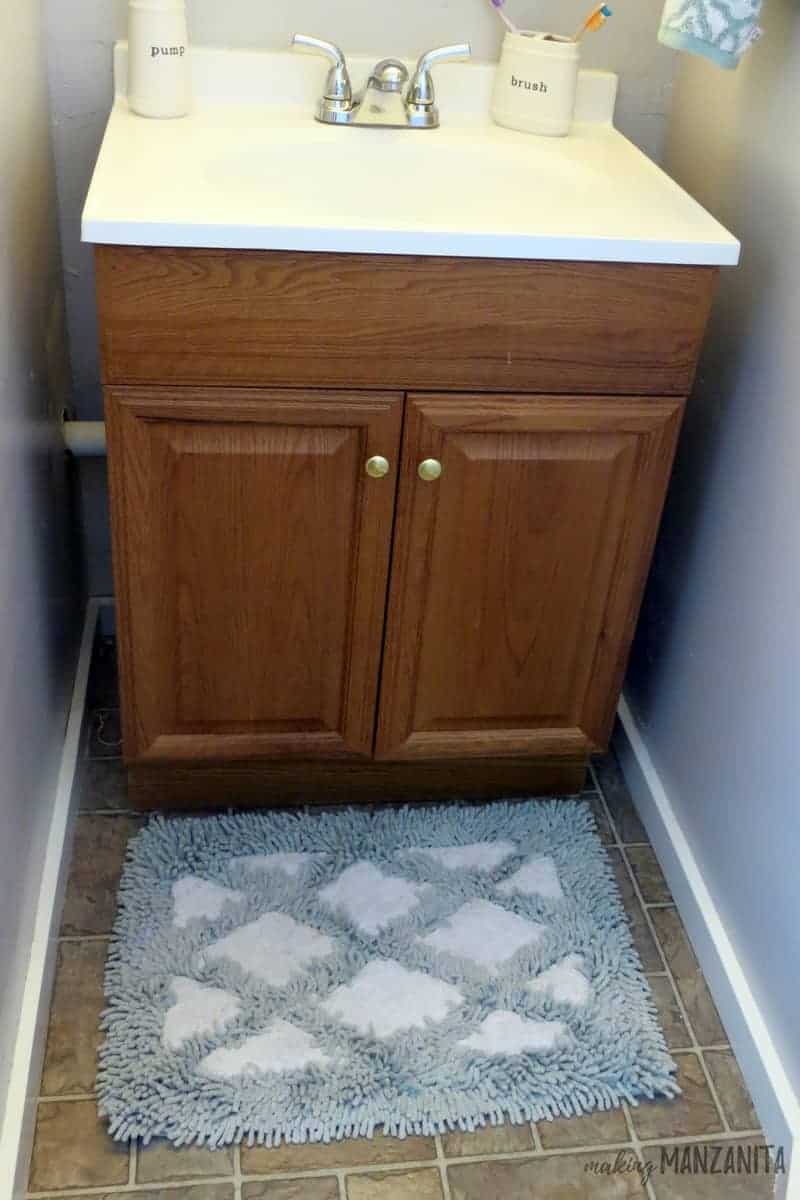 I chat all about the story behind this amazing vintage vanity cabinet on this post. This cabinet really started the inspiration behind our farmhouse master bathroom design plans. Here she is in all her chippy paint glory.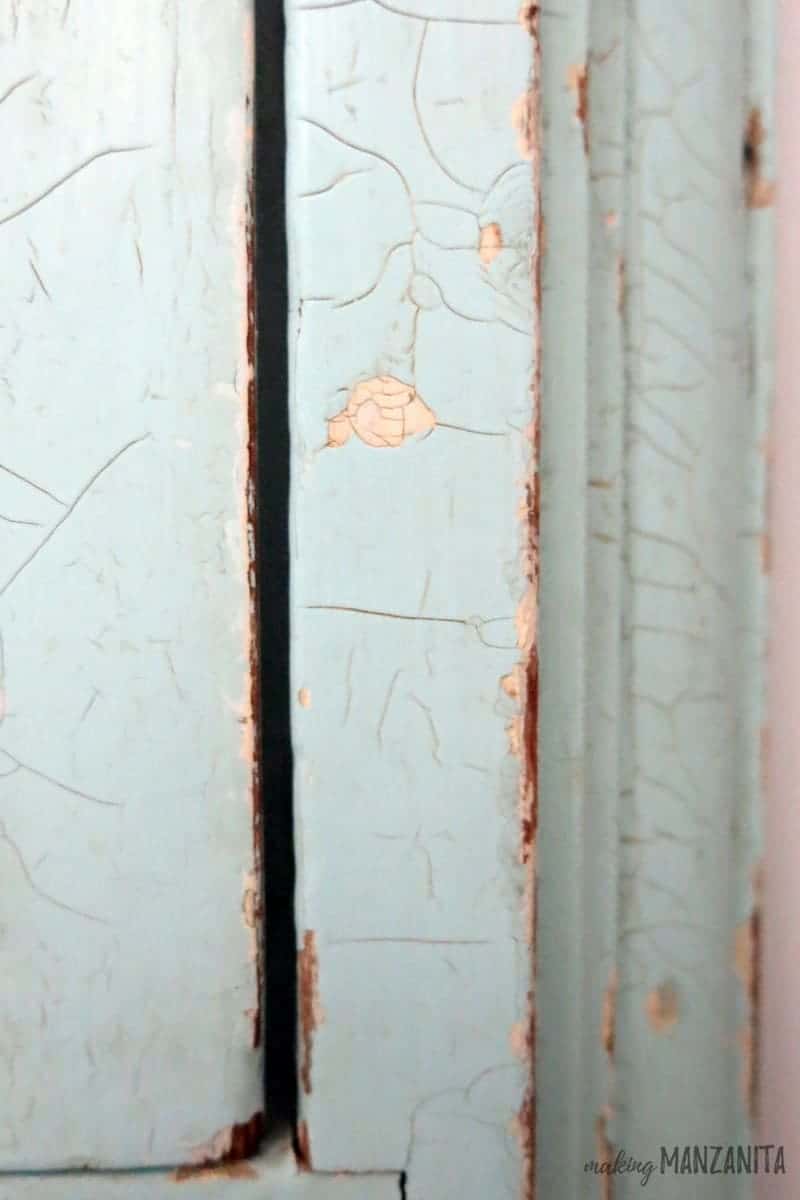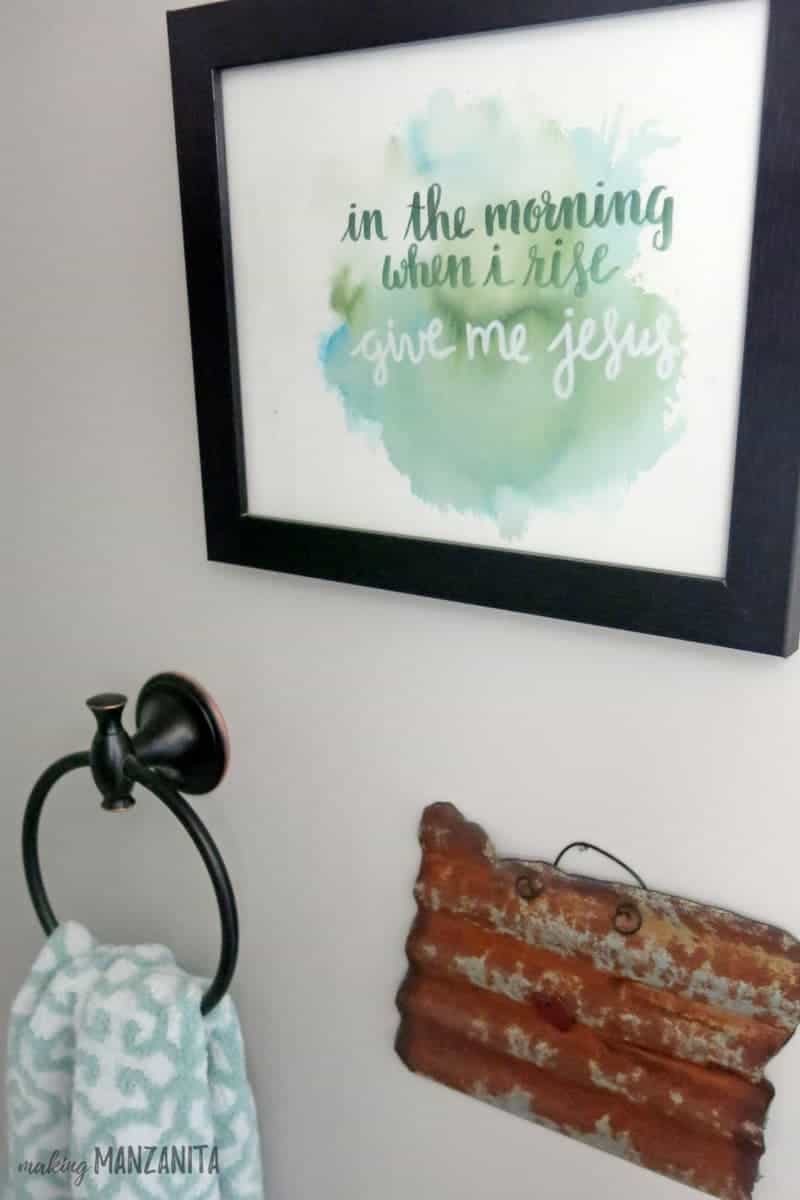 Love this watercolor art I had made custom just for this space from my very good friend. 'I thought it was a fitting quote because the first thing I do in the morning is to go brush my teeth at this sink. 🙂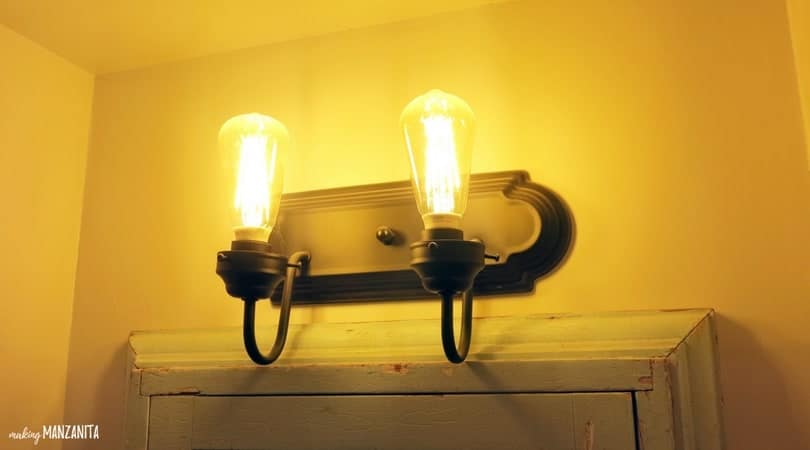 Love the vintage style of the "new" light above our cabinet. We transformed our old boring light and it was so easy! Read all about this easy DIY farmhouse light transformation!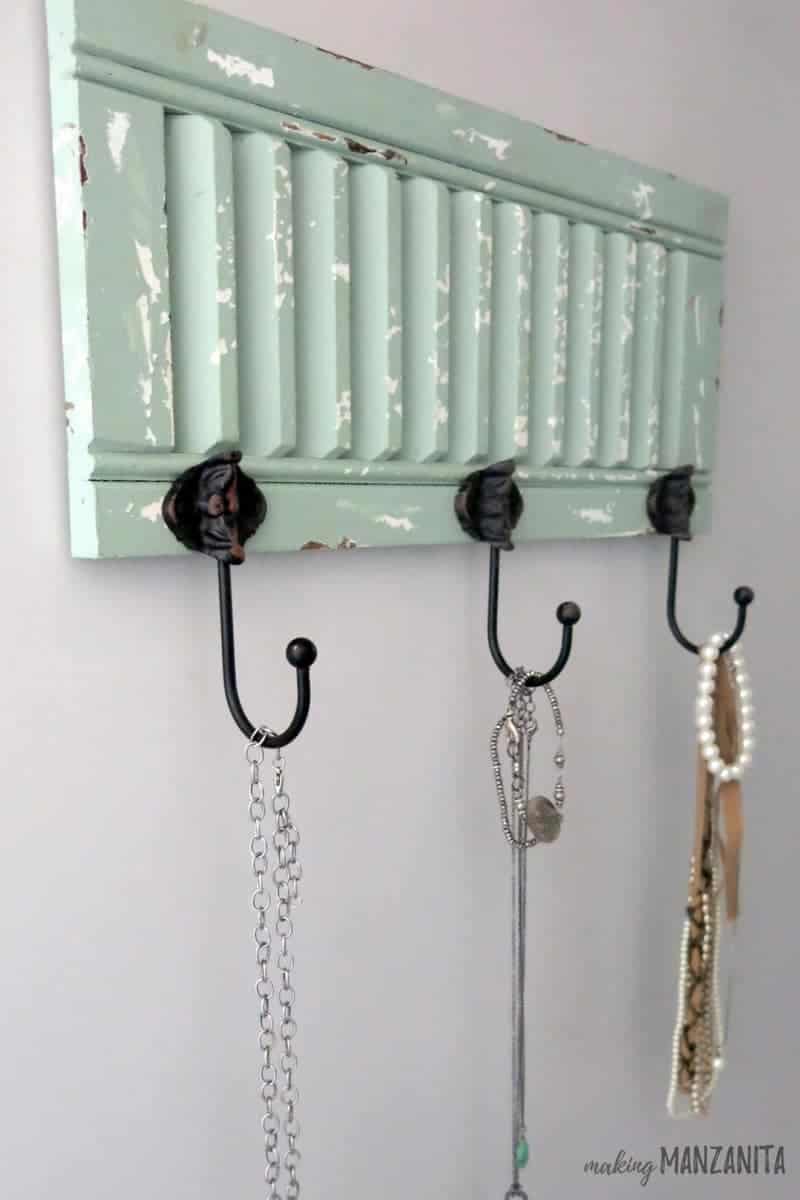 Every great bathroom needs some pretty jewelry storage, right?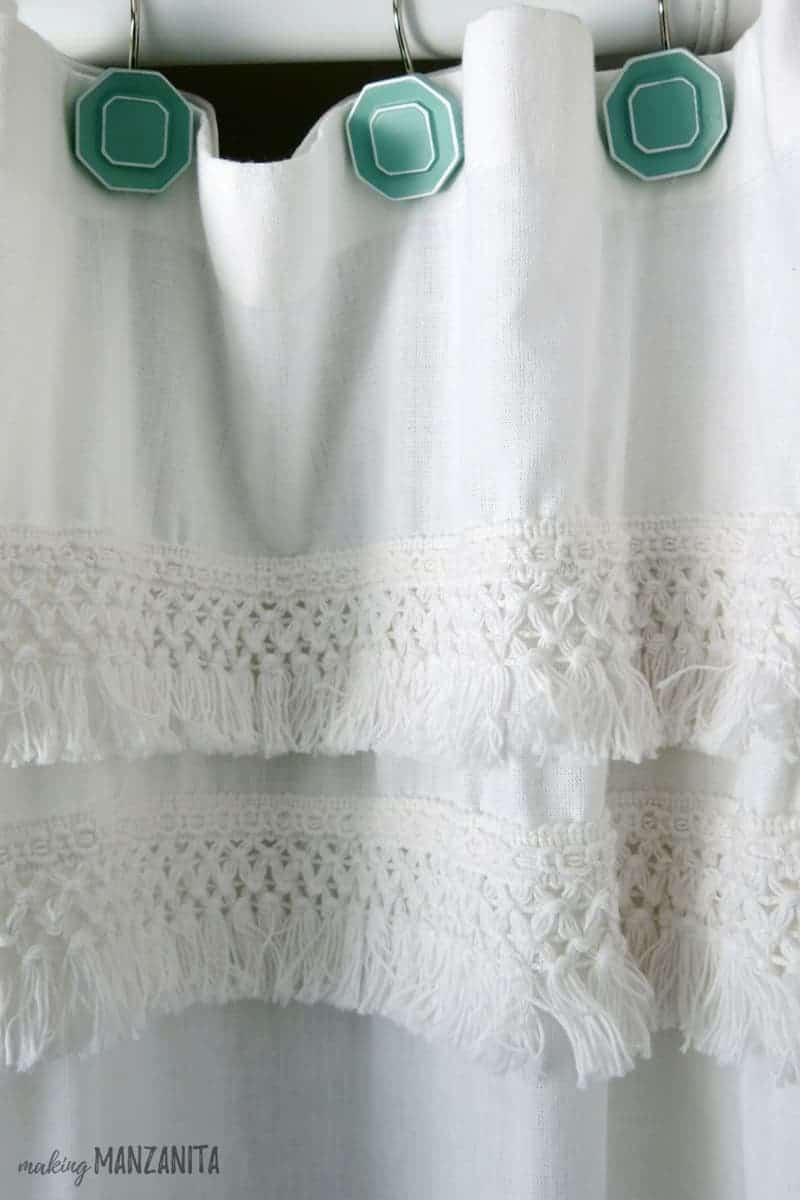 I fell in love with the texture of this shower curtain, but when I went to install it, it was too short!
Silly me, I thought all shower curtain lengths were the same. Read how I fixed this shower curtain that was too short!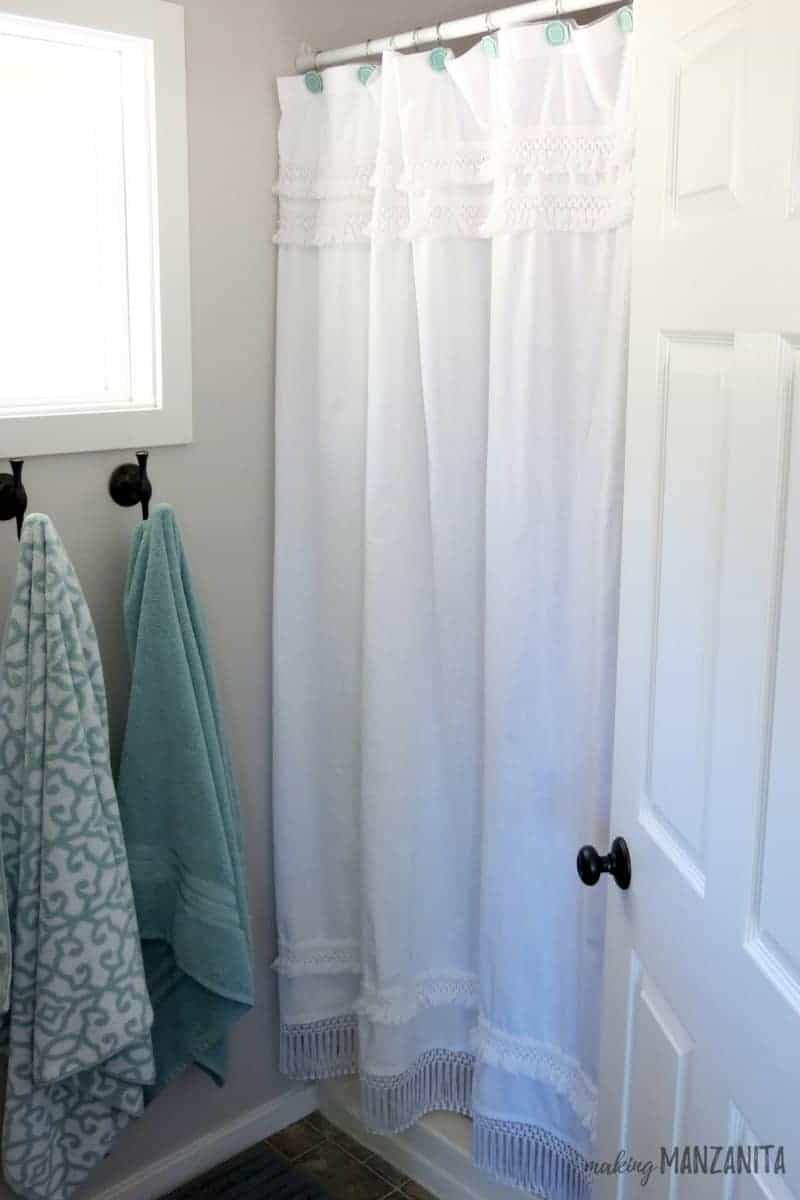 One of my favorite things about those farmhouse shelves is the coordinates sign. This was made by The Mtn Bluebird Co on Etsy.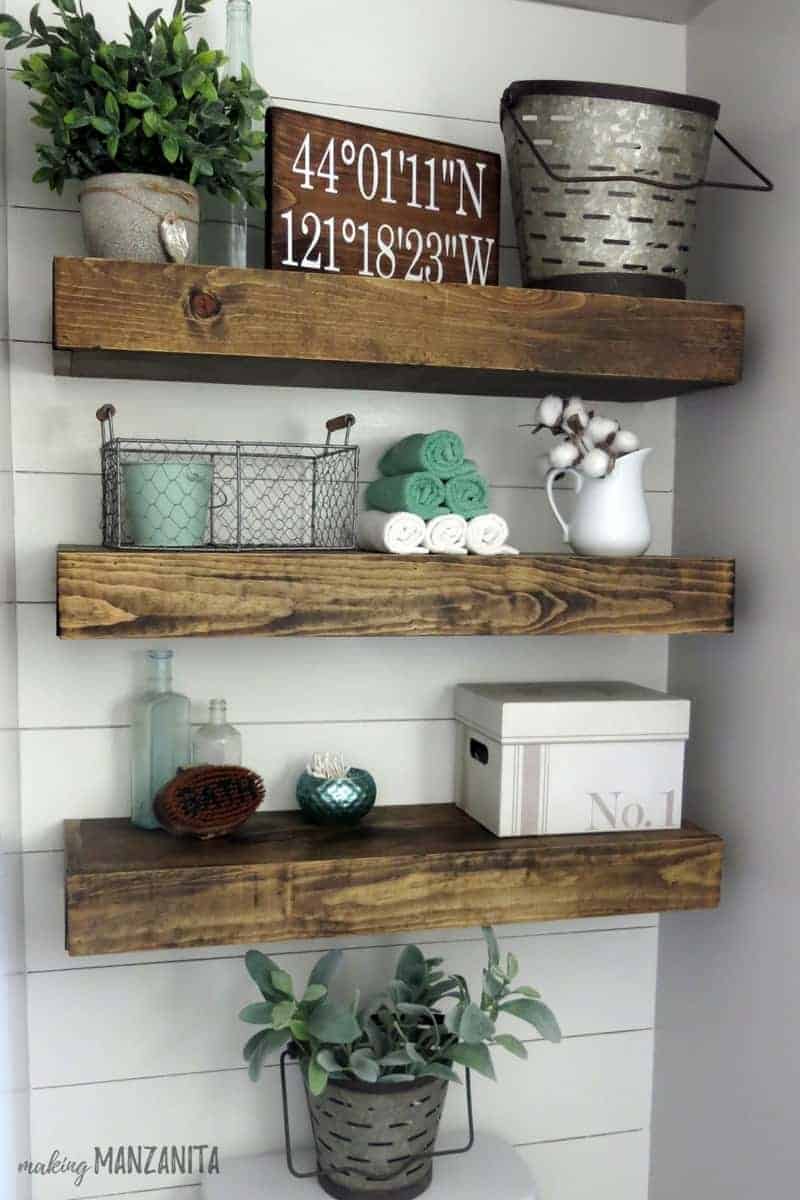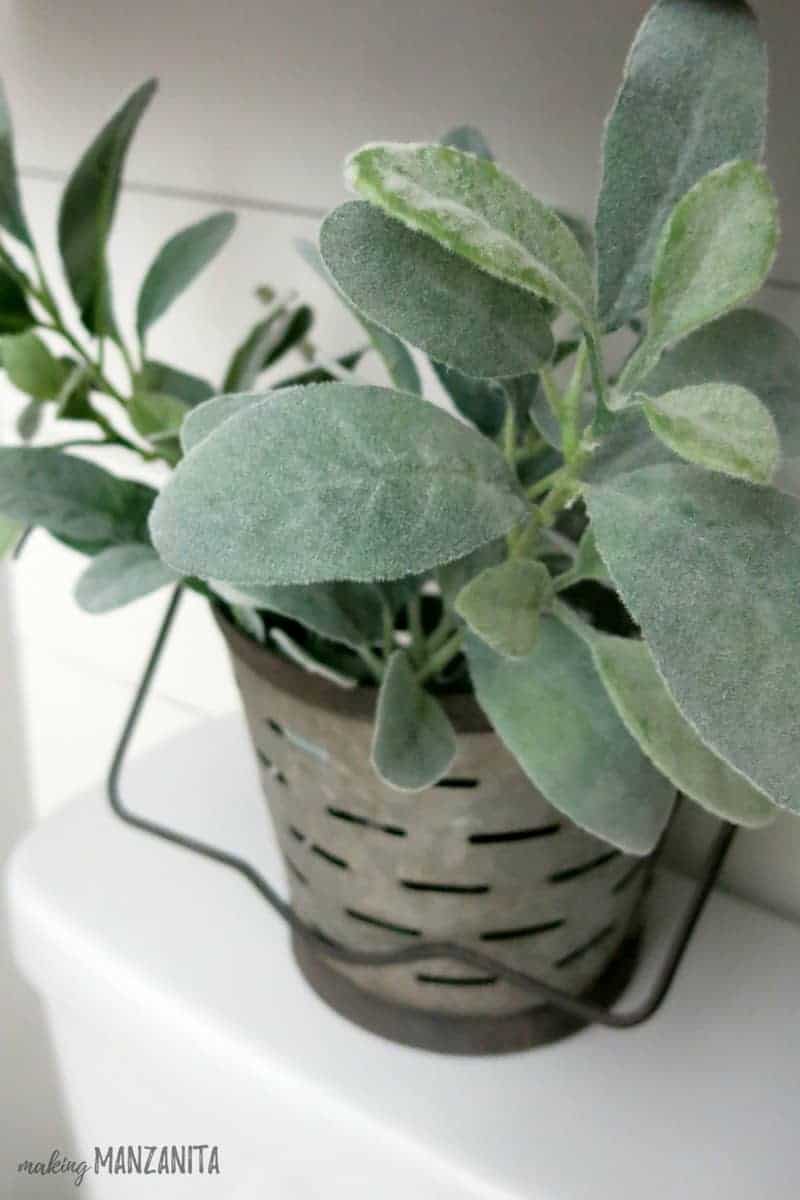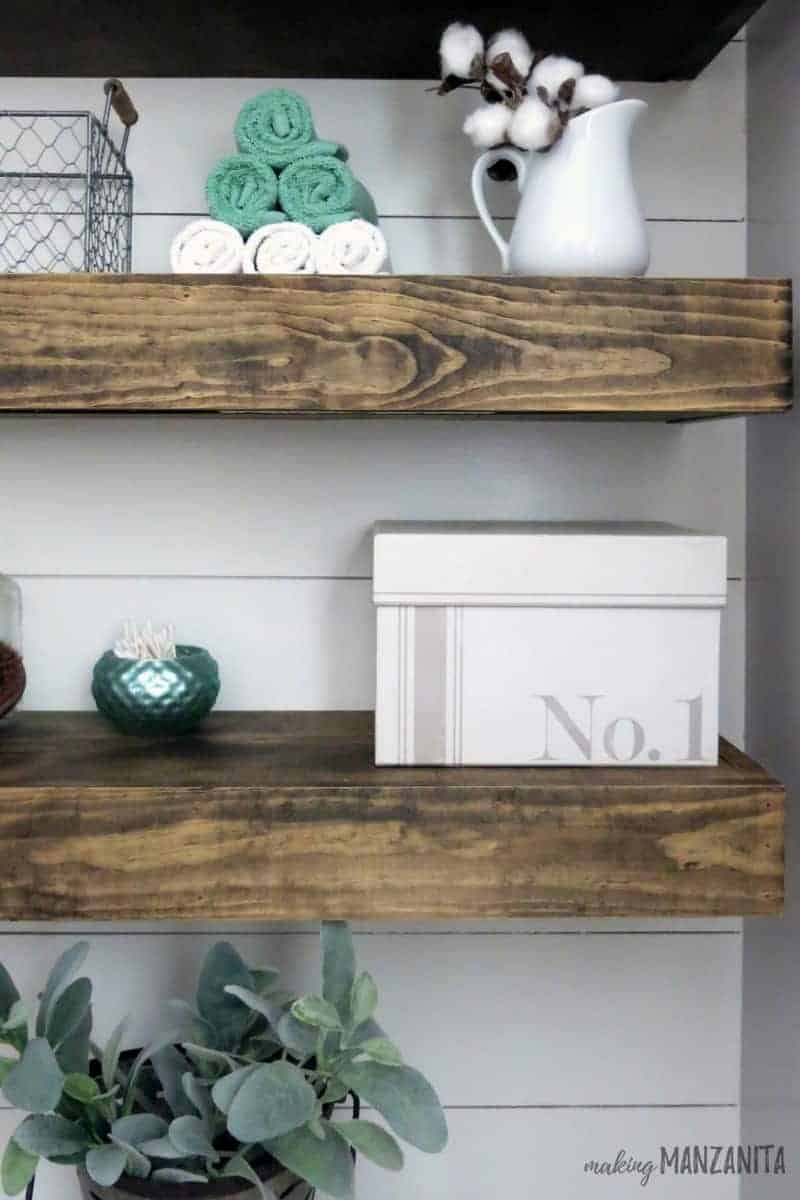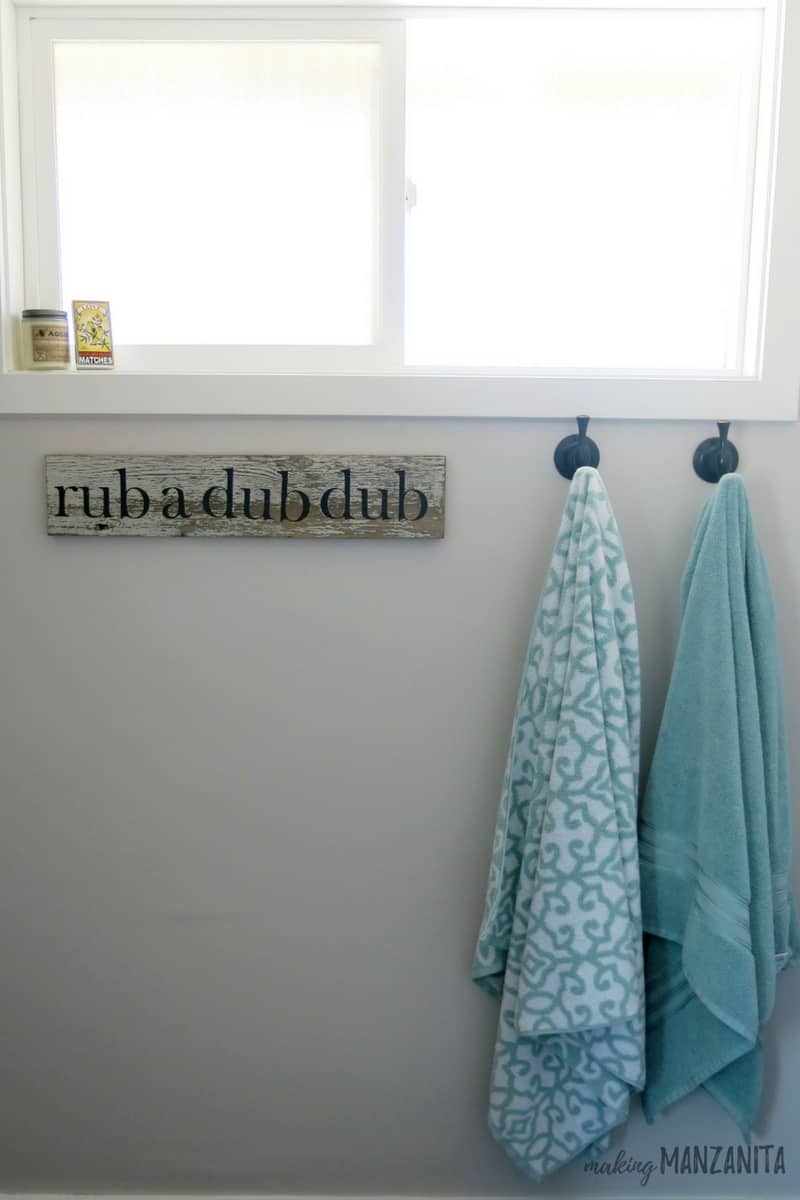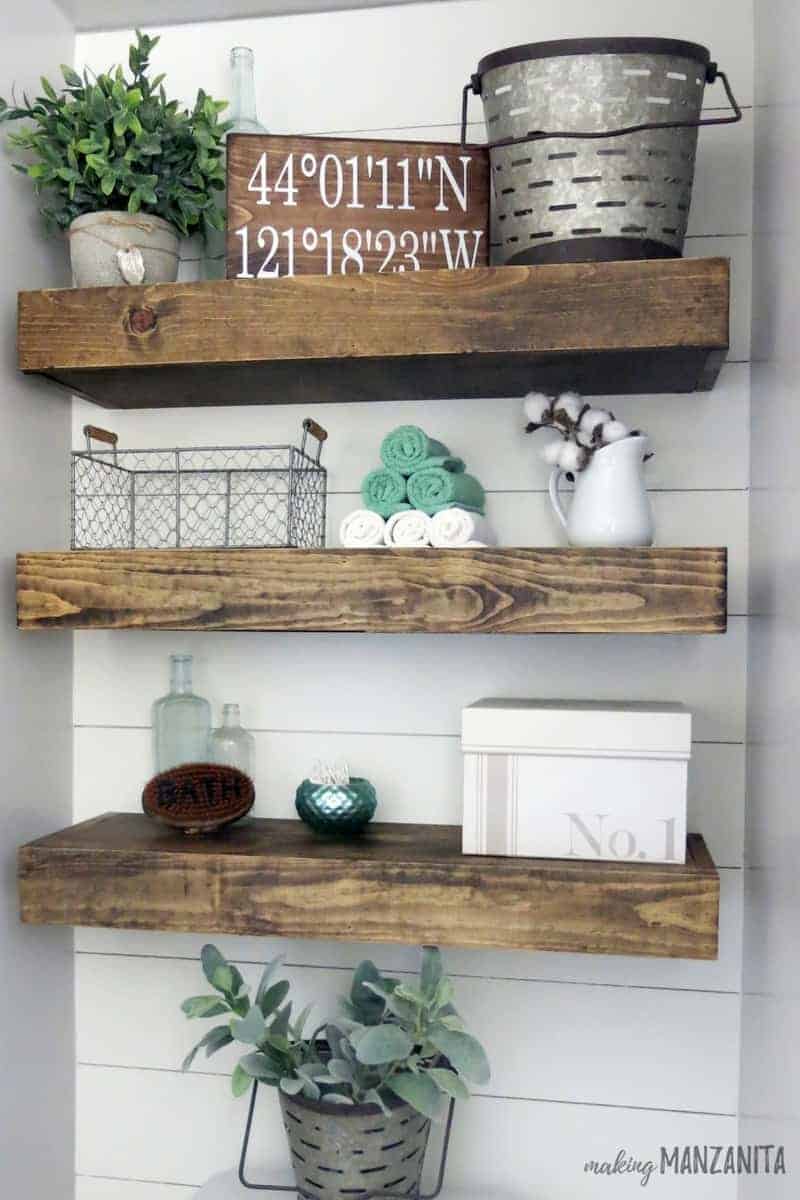 I had a blast making this fun ombre-painted sign! Check out the full tutorial here.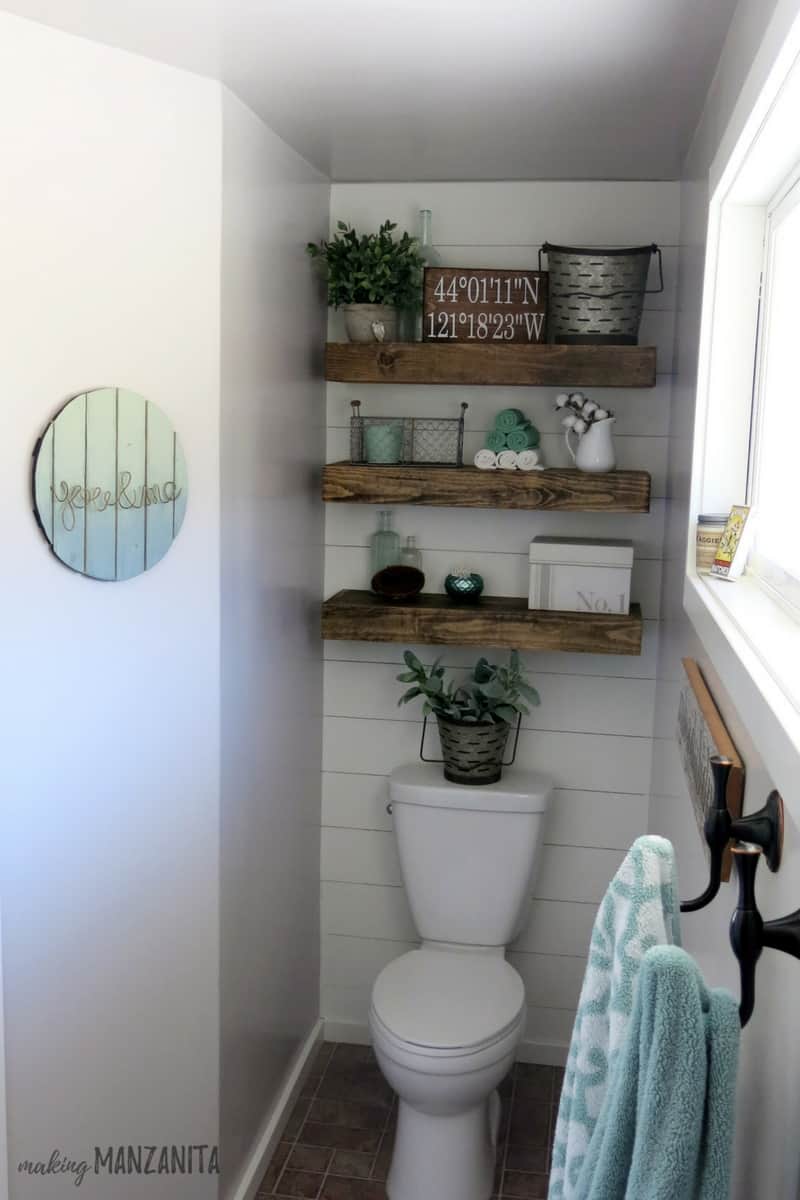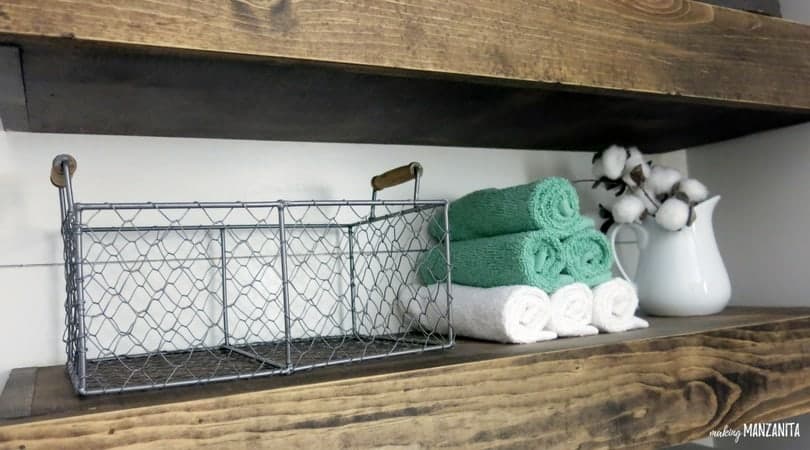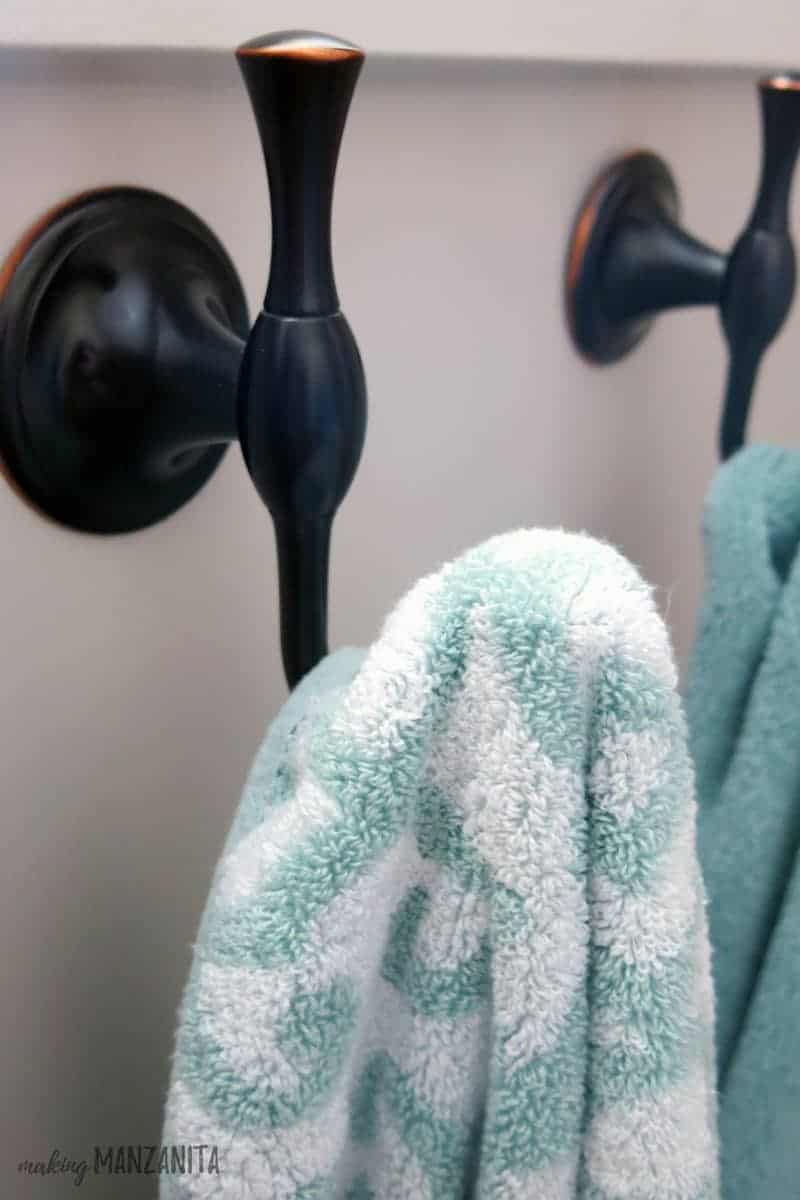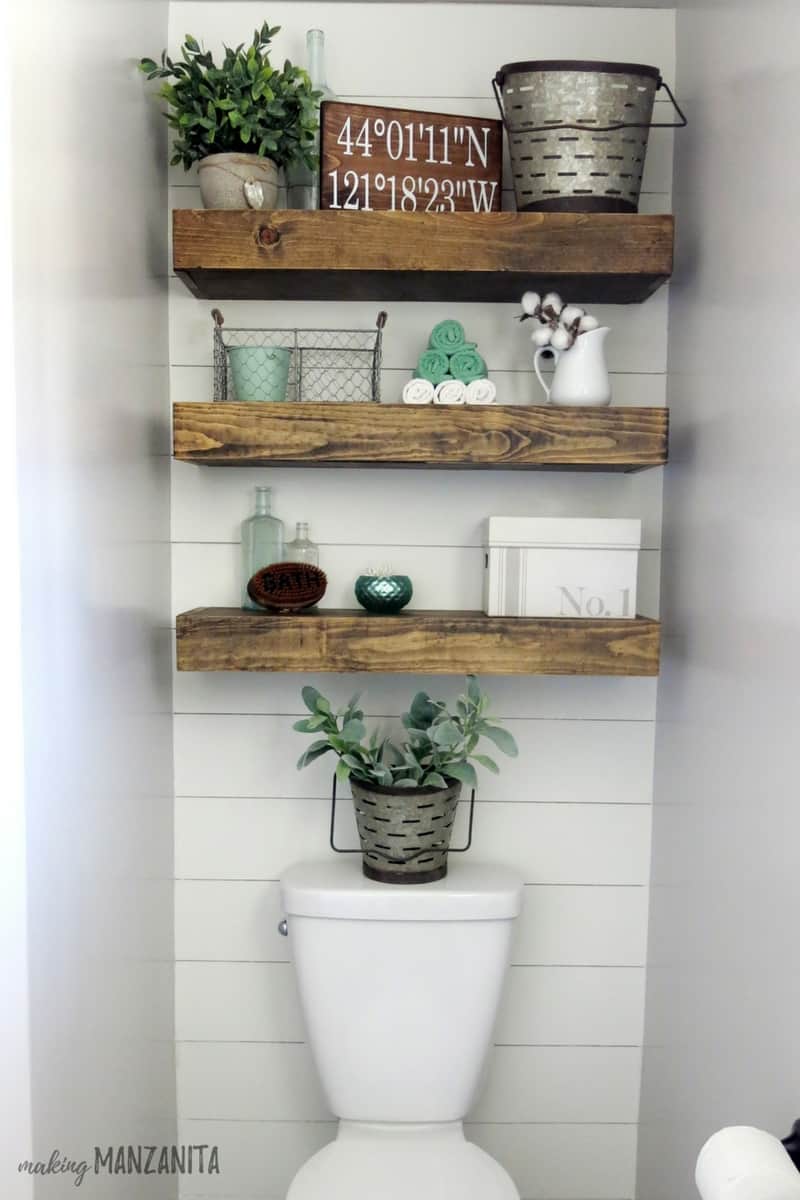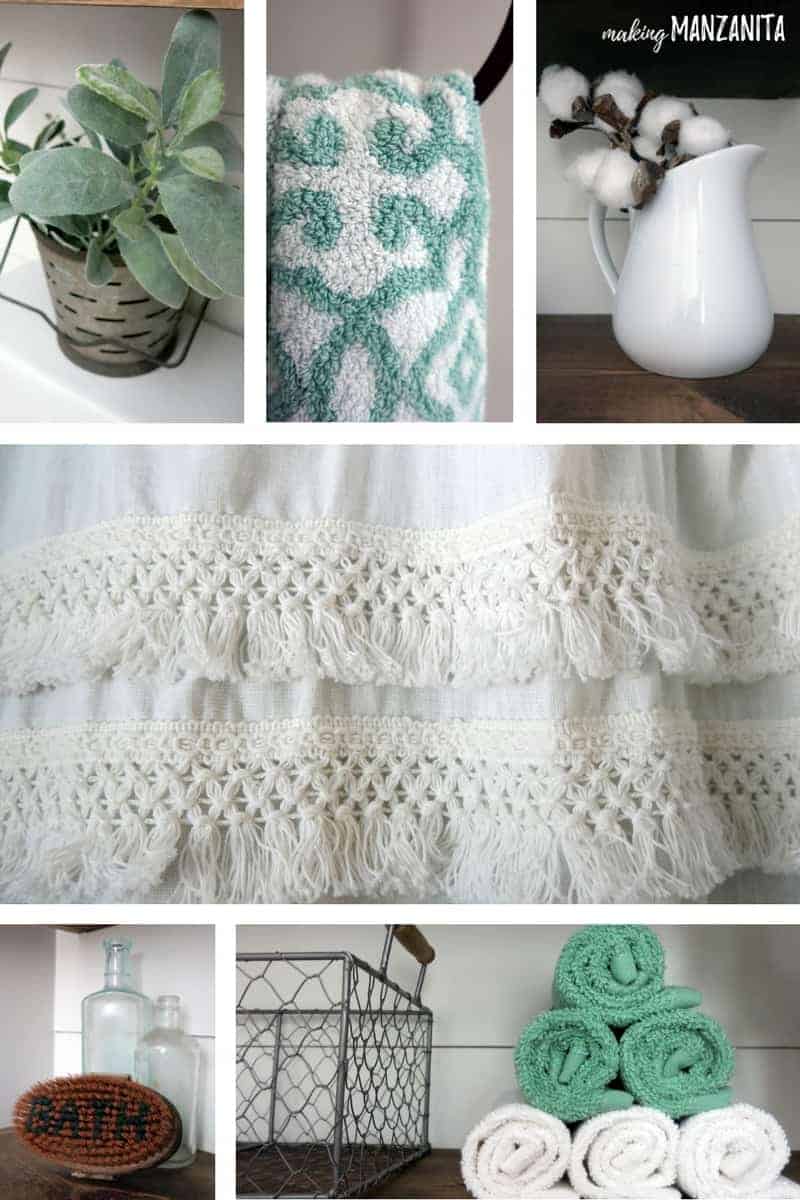 Ah! I love all the little details of our farmhouse master bathroom.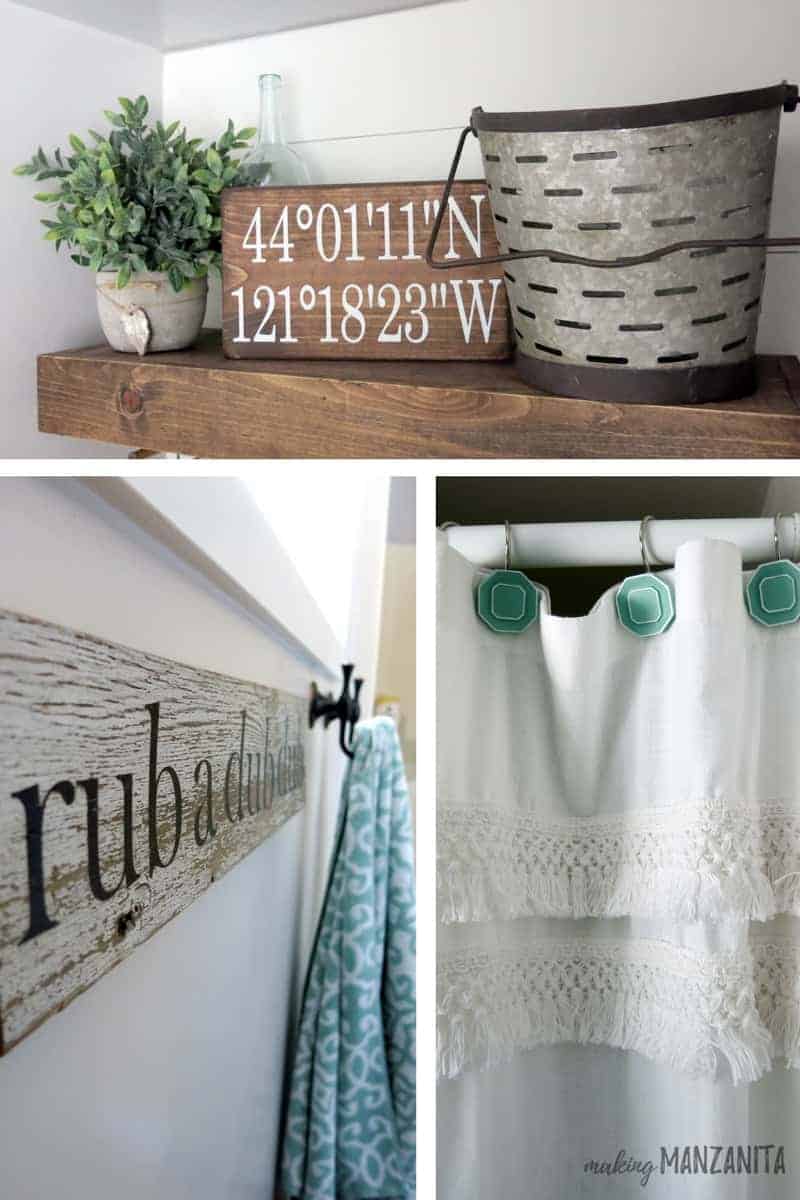 Before and After: Farmhouse Bathroom Makeover Pictures
Ok before we go, let's take one more look at the before and after shots from when we moved in because they are so fun!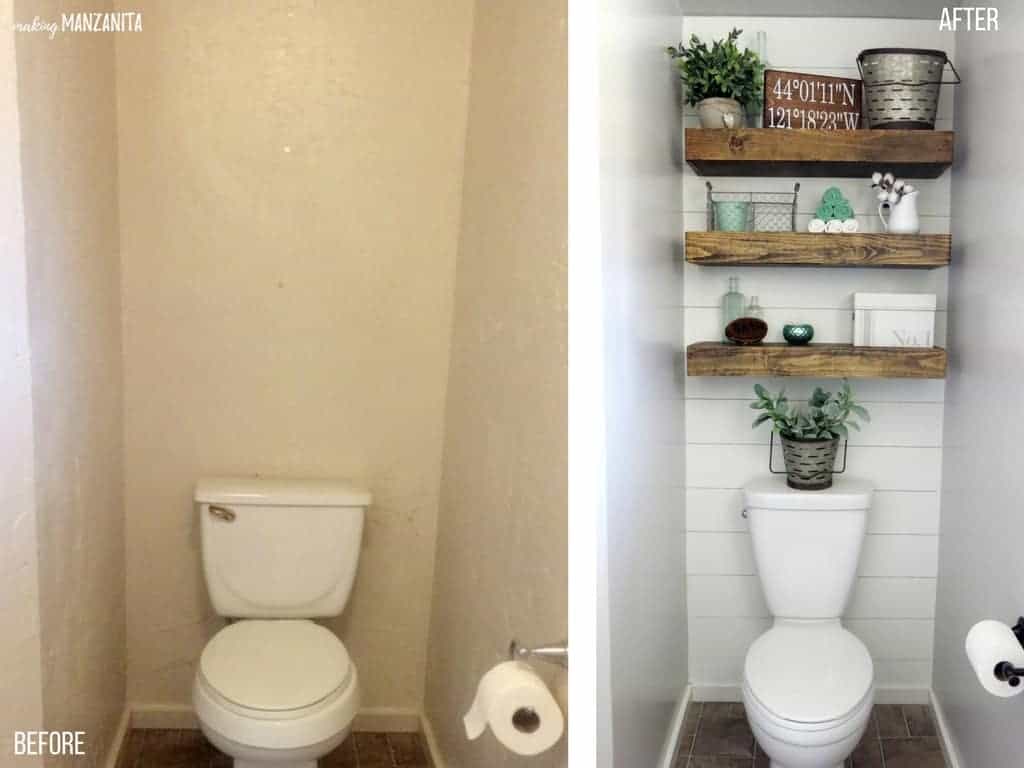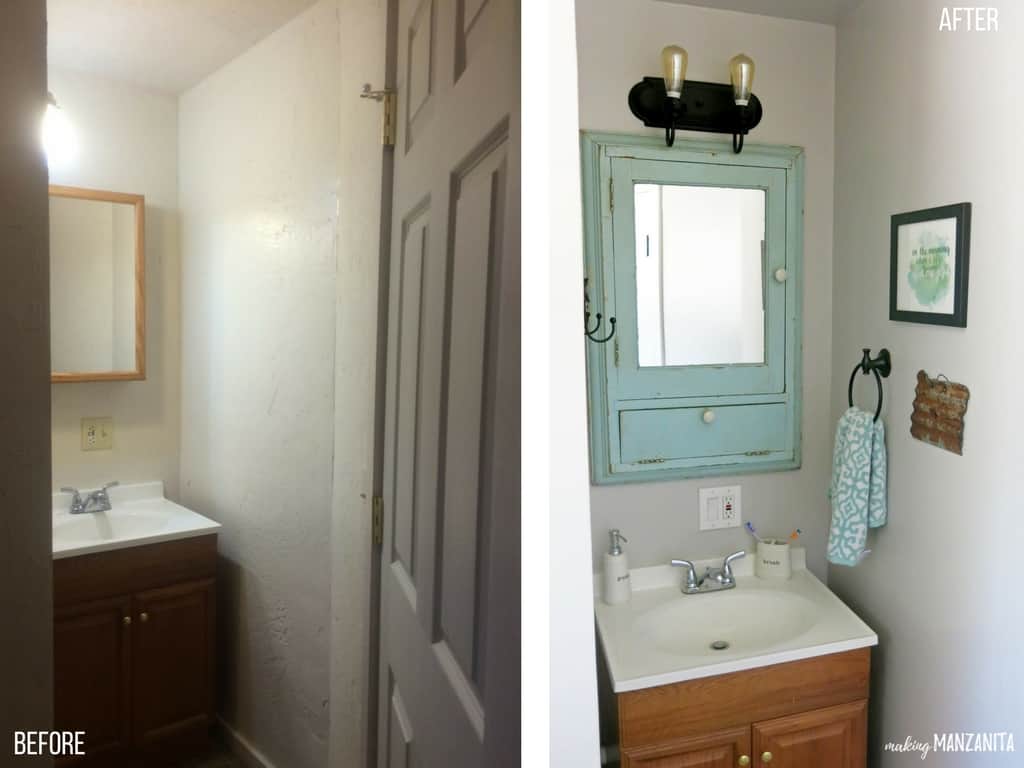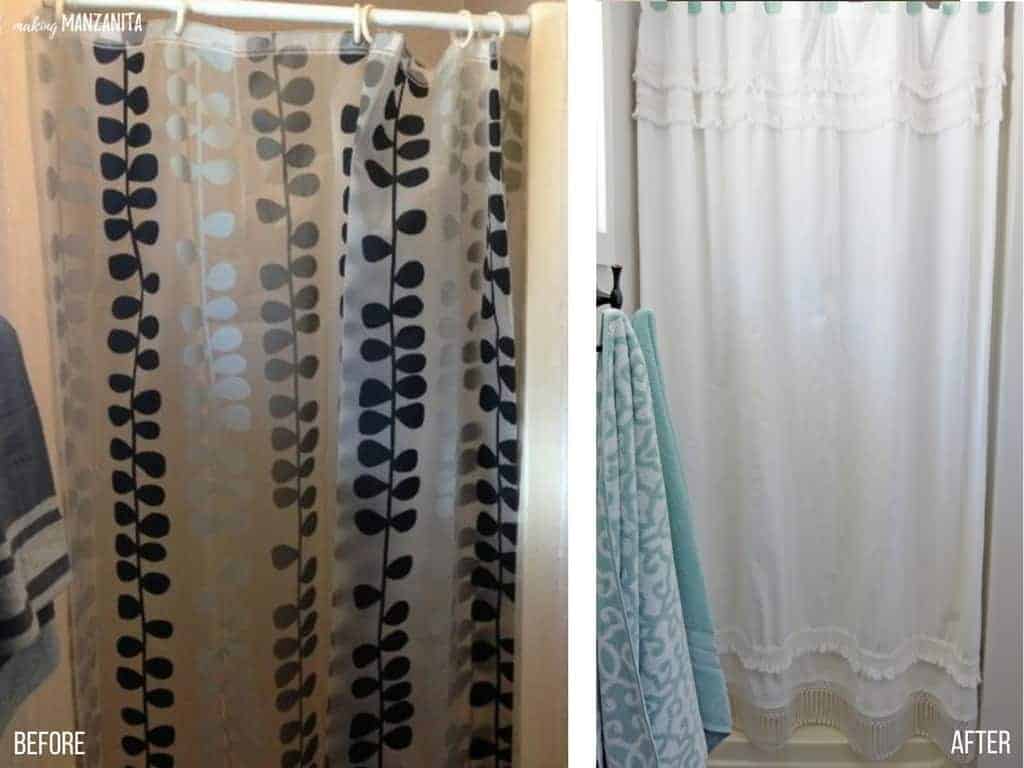 There's lot more where this came from. The next few weeks are going to be full of tutorials and more info about our farmhouse master bathroom.
Source List For Our Farmhouse Master Bathroom:
---
The video of our shiplap wall and floating shelves in our farmhouse master bathroom literally went VIRAL. It was even shared by BHG, Jordin Sparks and Scott Dudick. It was so cool to see something that we did get noticed by SO many people. If you are not one of the 20,000,000 people that saw this on Hometalk's Facebook page, here's a little time lapse version of our farmhouse bathroom transformation!
---
Looking for more of our farmhouse master bathroom renovation?
Farmhouse Master Bathroom Room Reveal (you are here!)
---
Looking for more farmhouse bathroom inspiration? Here are some of my faves: