Looking for inexpensive bathroom remodel ideas to do your renovation on a budget? You'll love this article full of 29+ cheap bathroom remodel ideas incorporating 9 ways that we saved money on our recent master bathroom remodel and other ideas I have for the cheapest way to remodel bathroom!
Bathroom remodels ain't cheap. But just because you're remodeling your bathroom doesn't mean it has to break the bank. You can totally stay on a budget by incorporating inexpensive bathroom remodel ideas.
Last week I shared the total budget breakdown of our recent master bathroom renovation. If you check out that post, you'll see that I shared our real renovation costs – down to the penny!
Even though I wouldn't consider our bathroom remodel "budget" because we still found ways to cut costs here and there during the remodel.
We also did this budget-friendly bathroom remodel, which was more of a surface level makeover. You'll notice that in that remodel we incorporate a number of these inexpensive bathroom remodel ideas.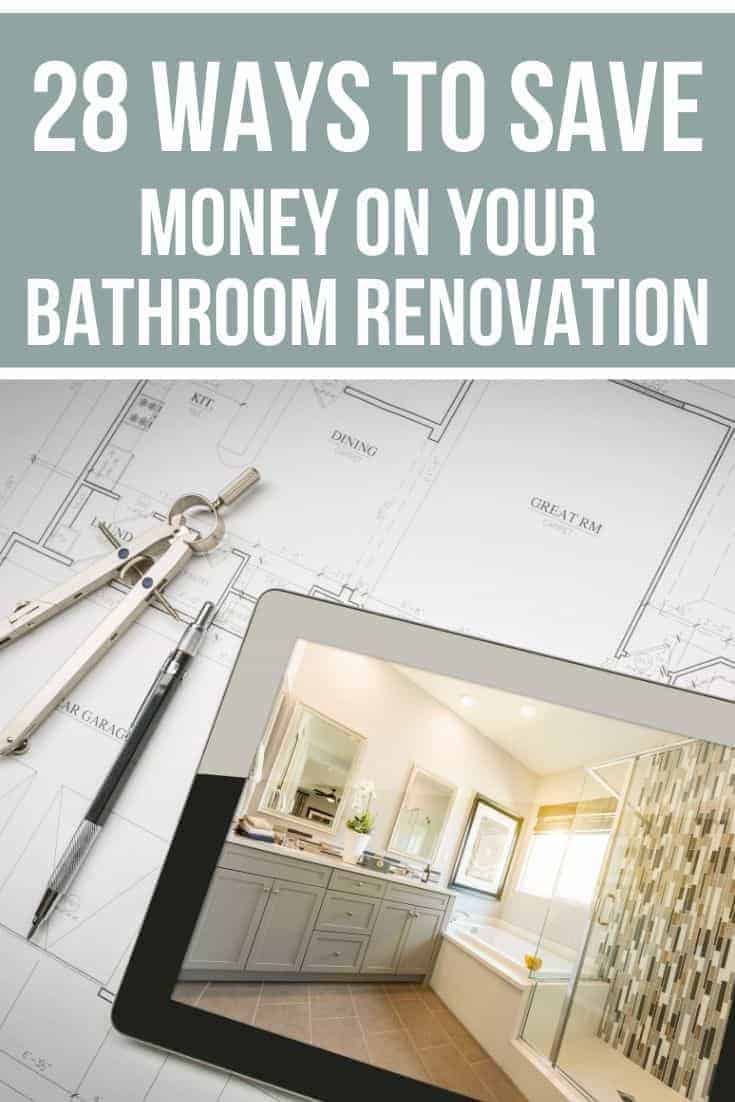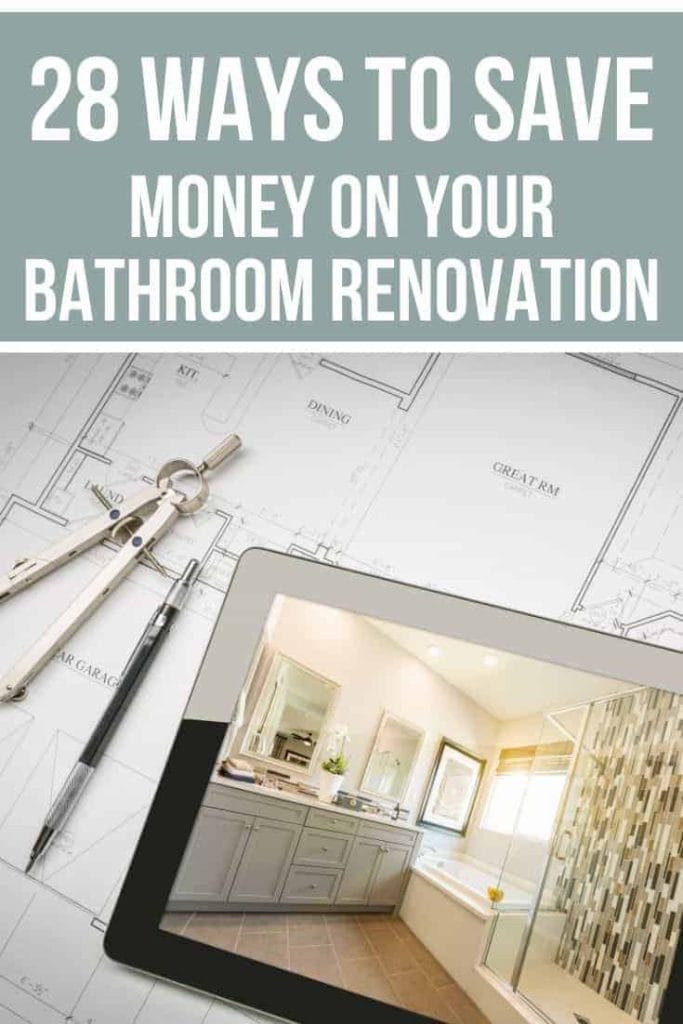 Regardless of the scale of your renovation, there are SO many different inexpensive bathroom remodel ideas that you can mix into your plans to save money!
Being on a budget doesn't have to hold you back. In this post, I'm going to give you 29+ different ways that you can still have a gorgeous bathroom even on a budget!
All you have to do is incorporate several of these cheap bathroom remodel ideas! Now, who's ready to get inspired??
This inexpensive bathroom remodel ideas article contains affiliate links, but nothing that I wouldn't wholeheartedly recommend anyway! Read my full disclosure here.

Inexspensive Bathroom Remodel Ideas: 9 Ways We Saved Money On Our Master Bathroom Remodel
1. DIY everything
Besides getting the countertop installation hired out, we literally did EVERYTHING else in the bathroom ourselves. This is, of course, the biggest way we saved money on our bathroom remodel.
Even if you're not skilled enough to tackle an entire bathroom remodel yourself, there are several parts that you could DIY even if you are a beginner.
Here are a few ideas for what you can DIY in your bathroom remodel (even if you are a beginner)
Install your own bathroom accessories
2. Reuse vanity
Another way we saved a ton of money in our bathroom remodel was to reuse our existing vanity. Premade vanities run anywhere from $100 to $2,800 so it can be pretty costly to buy a new one. It was in great shape so all we had to do was move it.
We also chose to add hardware, which was an inexpensive way to add a lot more character to the vanity.
Another simple and inexpensive way to change up your existing vanity is to paint it! It gives it a whole new life! I love this tutorial for how to paint a vanity without sanding.
3. Reuse sinks
Along with reusing your vanity – you could try to reuse your bathroom sinks as well. A middle-of-the-road sink will probably cost you about $100 (which is what ours cost – you can check out our full bathroom remodel cost breakdown here!)
If you are getting rid of your countertop, but trying to save your sinks – be careful. We were trying to carefully remove the sink from the countertop during demo and ended up accidentally breaking it, which was a bummer!
4. Short backsplash rather than a full wall
Let me be honest here, there's nothing better than a full tile wall backsplash behind your vanity like we did in this bathroom renovation. It's classic and dramatic and I love it. But it's a little unnecessary.
The purpose of the backsplash behind the vanity is to protect the wall from any water splashes from the sink. You're definitely not going to be getting water splashed up 4 feet above the sink.
If you're looking for the cheapest way to remodel a bathroom, you can keep the backsplash short. We did two rows of subway tile, so it is about 6 inches tall, which is plenty.
5. Have a plan before you start renovation
I know it doesn't seem like much, but having a detailed plan before you start demoing your bathroom for a renovation is going to save money in the long run.
6. Choose statement tile
If you choose a pretty "statement" tile, rather than something that looks boring or builder grade, you will really be letting the tile speak for itself. It will, in a sense, act as decor for you – which saves money.
7. Incorporate accent tile in small spaces
A well-thought-out accent tile in a small space can really go a LONG way! When I say "accent tile" I mean something that has a lot of pattern or color to the design. It is usually more expensive than other tiles, but you really don't need much.
We added accent tile to the back of our shower niches and it adds so much character to the overall design! We also added a similar pattern of accent tile to the shower niche in this bathroom. I just love the contrast.
8. Semi-DIY Shelves
One of my favorite easy and inexpensive ideas for cheap bathroom remodels is to semi DIY shelves. It's so easy to find fun brackets and then cutting and staining the wood couldn't be any easier!
We purchased these custom-made industrial brackets and then cut the wood down to size, sanded, stained, and sealed it – voila! You've got semi-DIY floating shelves that look custom for your bathroom remodel!
If you really wanted to go all out you could make your own bathroom floating shelves or make these easy pipe shelves!
9. Choose middle of the road fixtures
Note that I'm not saying that you should the cheapest sink faucet and shower head…. Middle-of-the-road fixtures are usually your best bet for long-lasting and well-made products.
The top-of-the-line products usually have lots of bells and whistles that may not be needed and the cheapest products will likely break quickly or may cause damage from leaks! Click here to see the full source list for our bathroom renovation to check out our fixtures.
As I mentioned in this post full of sink installation tips, it's what is on the inside that counts when it comes to faucets and fixtures.
16 MORE Cheap Bathroom Remodel Ideas, Tips & Tricks!
Now there are so many things that we didn't do in our bathroom remodel that would have saved us money. If you read this post with our full bathroom renovation costs revealed, you know that our bathroom was technically above the national average for bathroom remodel costs because it was definitely more a high-end luxury bath with lots of bells and whistles.
So, I'm not saying that we won the cheapest way to remodel a bathroom contest by any means, but as you can see from the above list of 9 ways we saved money during our bathroom remodel that we did try to cut costs here and there!
But I don't want to leave you hanging because there are SO MANY great inexpensive bathroom remodel ideas (in fact I came up with 16 MORE) to get you inspired and motivated to tackle a bathroom remodel on a budget.
10. Keep plumbing where it is
This is one area that we definitely failed at! Haha. We COMPLETELY changed the layout of our bathroom and moved all the plumbing around – which can be the biggest impact on a bathroom remodeling cost – some estimates say that it costs about $5,000 each time you move plumbing fixtures. Can you believe that??
If you're looking for the cheapest way to remodel a bathroom, you should try your hardest to keep the plumbing where it is.
11. Replace your vanity light
Grab a used vanity light from ReStore or get a budget-friendly one and replace it yourself! This is a pretty simple electrical project that you should be able to do yourself to save money!
This is a great budget-friendly bathroom vanity light option with a timeless look!
12. Give your light a makeover
If you have a boring builder-grade light over your vanity, you can give it a simple but super impactful makeover by spray painting it and swapping out the light bulbs. SO easy!
I did this in both of our bathrooms at our old house. Check out the full tutorial for how to give your builder-grade vanity light a farmhouse-style makeover here.
13. Keep the shower simple
If you can incorporate a prefabricated shower enclosure into your bathroom remodel, you will definitely save a lot of money and time. A fiberglass shower insert can be installed in a day or two, whereas a tiled one will take at least a week.
I'll share a WHOLE post about DIY shower tips here. It digs in a lot more to this concept of simple shower designs.
14. Refinish tub
If your tub is grimy and looks dated, you'll be amazed at the difference you can make with refinishing it!
This tutorial shows you how to use a refinishing kit which you can buy for about $25 (note: you'll probably need 2-3 for your whole tub but $75 ain't bad instead of replacing the tub).
15. Incorporate remnant countertop
A remnant countertop is something that is left over after cutting out a slab for a large countertop. When you are remodeling a bathroom, chances are that the piece of countertop that you actually need for your vanity is quite small (when compared to a kitchen), so you may be able to find a remnant – which is usually discounted.
You may need to call around a bit to find stone shops in your area that have remnant pieces available.
16. Paint existing countertop
Rather than putting a whole new countertop, you may be able to salvage yours with paint, which is one of my favorite cheap bathroom remodel ideas.
Just look at the crazy difference painting the countertop made in this bathroom!
17. Paint bathroom floor
While we are talking about painting unusual things – did you know that you can paint your bathroom floor instead of replacing it during a bathroom remodel!?
This tutorial shows you how to paint vinyl flooring and this one covers how to paint over tile on your bathroom floor.
18. Stencil tile floor
And you can get really creative with the painted floors too and stencil a design! It can be tedious, but it's so worth it! I walk you through the whole tile stencil process in this article.
19. Frame mirror
Rather than replacing your mirror, you can add a ton of style by attaching a frame on a builder-grade mirror like this. I love how simple this idea is with no tools required! Score.
You can also give your bathroom mirror frame a spray paint makeover to completely transform it.
20. Find leftover tile & other remodel supplies
Before you start your bathroom remodel, it's ALWAYS good to take a trip to your local Habitat for Humanity ReStore to see if there are any leftover inexpensive supplies that are on sale that you could incorporate into your cheap bathroom remodel.
We've scored SO many great items here over the years, which has saved us thousands of dollars. Our most recent find was all of the subway tiles we needed to add a backsplash to our kitchen. We got three boxes of subway tile for only $15 (yes, ONLY $15)!
21. Recolor grout
If your grout is old, chances are that it is stained or grimy. You can refresh it by recoloring it!
Even if it's not necessarily old and you're just looking for a fun way to add more contrast to your tile – recoloring your grout is a great budget-friendly option. Just look at this crazy transformation!
22. Recaulk bathtub
If your caulk lines on your bathtub are cracked, peeling, or discolored – it's time for you to recaulk! I've got a whole tutorial on how to recaulk a bathtub.
23. Add Shiplap
A faux shiplap wall will add so much character to your bathroom. We added a faux shiplap wall behind our toilet in our last house and we were able to do it for just about $15 in supplies! Crazy huh? Definitely one of the best inexpensive bathroom remodel ideas!
You can also mix it up and install the shiplap vertically like this.
24. Incorporate a vintage medicine cabinet
If you're needing to add some instant charm when remodeling your bathroom, consider adding a vintage medicine cabinet! You can find them at antique stores.
Check out our vintage medicine cabinet that I added to the bathroom at our old house! I miss it so much!
25. Repurpose a vintage dresser as vanity
Speaking of adding vintage elements – why not go all the way and repurpose a vintage dresser as your bathroom vanity?
I love this one that they incorporated into their gorgeous bathroom with the painted green color and white marble top!
26. Make your own wall art
Making your own wall art for any room is always a good way to save money! Here are some wall art tutorials to inspire you:
27. Make your shower curtain longer
If you need to make your shower curtain longer, here's a good hack for how to fix a shower curtain that is too short so you don't have to buy a new one!
28. DIY a tiered tray for storage
I just love the extra storage this three-tier stand makes on our countertop! It turned out so cute and was pretty cheap to make ourselves.
If you don't want something that tall, you can go with something a little more simple like this DIY footed tray.
29. Build your own barn door
You can even build your own barn door, which is the perfect touch to your cheap bathroom remodel. We built this one for about $250 (click to read the step-by-step tutorial), but there are even cheaper ways to build a barn door mentioned in this post with 17+ different barn door ideas.
30. Add privacy film to window
Last up on this list full of inexpensive bathroom remodel ideas is to incorporate a very budget-friendly way to add privacy to your bathroom window. I
f you have a bathroom window, privacy is probably your #1 concern. Rather than installing an etched glass window – which is very costly – you can add this privacy film. See how to put the frosted window film on here.
Well, that's it! Sooooooo many inexpensive bathroom remodel ideas right??
I hope after reading this article you are inspired and motivated to take on your bathroom renovation – regardless of your budget size! You should be challenged to come up with the cheapest way to remodel a bathroom with all this inspiration!
I'd love to see what bathrooms you create using these cheap bathroom remodel ideas! Be sure to tag me at @MakingManzanita on Instagram !
---
Looking for budget friendly ideas? Check out some of our popular projects below!