Are you wondering how much does it cost to remodel a bathroom? In this article, we're sharing ALL the details of our recent master bathroom renovation cost and comparing it to the average bathroom renovation cost.
It's been a couple of months since we shared our master bathroom renovation reveal that we completed in just 6 weeks. Even if you haven't asked yet (and I have gotten the question from a few of you), you're probably wondering how much did your bathroom remodel cost?
Want to catch up and see more about our master bathroom renovation?
What is the Average Cost of a Bathroom Renovation?
According to Home Advisor, the typical range of a bathroom remodel is $5,966 to $14,895. The national average is $10,428. The average bathroom renovation cost can vary greatly due to size, geographic location, finishes, and labor.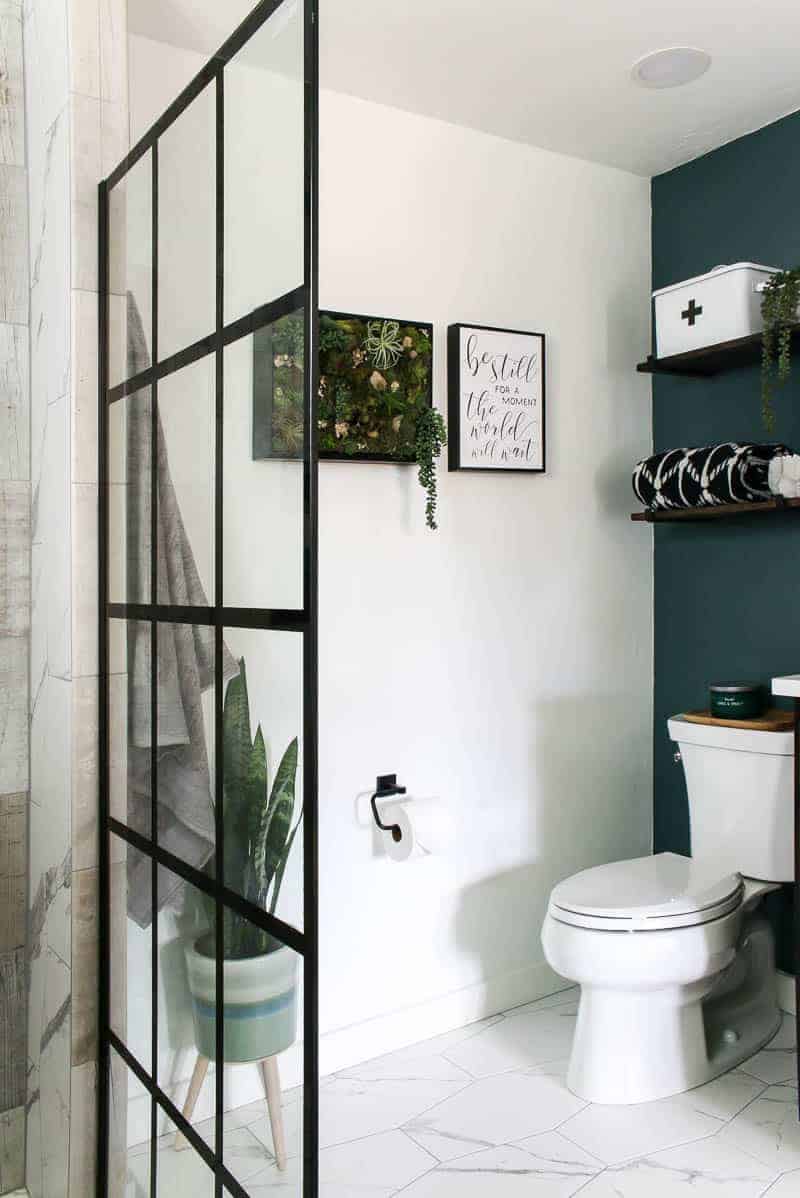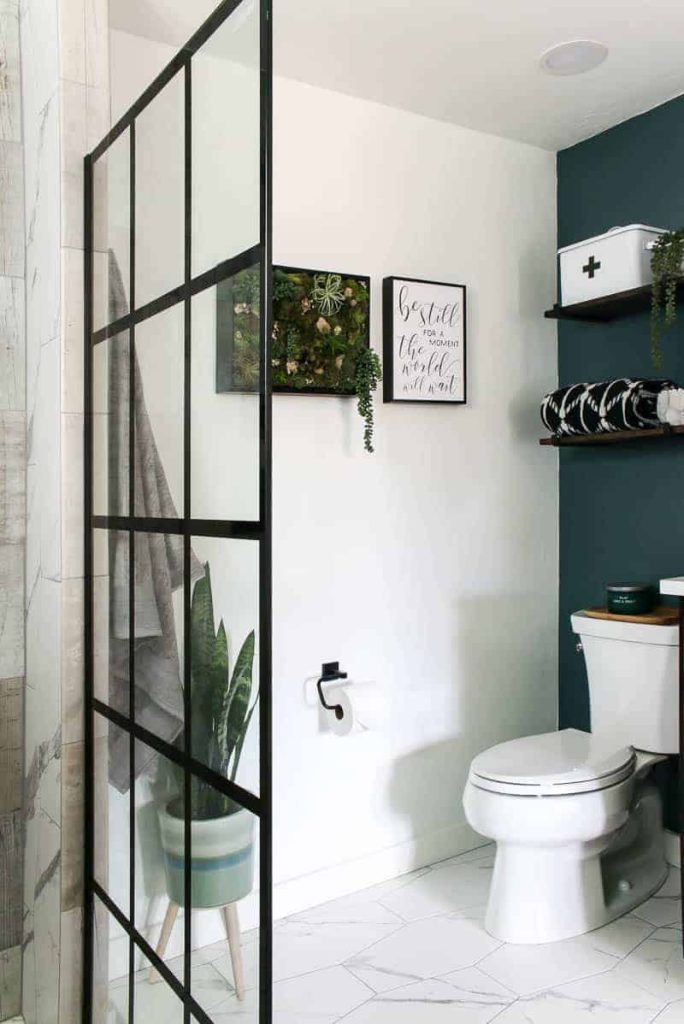 This bathroom renovation cost article also contains affiliate links, but nothing that I wouldn't recommend wholeheartedly. Read my full disclosure here.
Our Master Bathroom Renovation Cost Breakdown
Because I knew that I wanted to get detailed and share our real numbers with you, I was sure to keep myself very organized when tracking our bathroom renovation expenses. I set up a Google Spreadsheet and tracked/categorized every single expense (down to the penny).
Now, let me take a quick minute and explain something here. Blogging about our renovations is our job, quite literally. We have the pleasure of teaming up with awesome brands for partnerships and sometimes part of that partnership involves the brand providing products for free. I've noted the gifted products we received below as a separate category, just to be upfront and honest.
Hopefully, this helps give you an accurate breakdown of the expenses that go into a bathroom renovation of this nature.
Bathroom Remodel Cost Breakdown: What Does it Cost to Remodel a Bathroom?
| | |
| --- | --- |
| Framing | $185 |
| Paint (learn how to paint a room for beginners) | $105 |
| Paint Supplies (see what kind of painting tools you need) | $55 |
| Barn Door (see DIY tutorial for breakdown) | $255 |
| Subfloor | $85 |
| Shower Pan (learn more about creating a DIY shower here) | $70 |
| Tile (not gifted) (see how to tile a bathroom floor & shower installation here) | $328 |
| Tile Supplies | $1,264 |
| Hardware | $63 |
| Miscellaneous | $102 |
| Electrical | $120 |
| Lighting (learn how to install a vanity light here) | $429 |
| Drywall (see how to do skip trowel texture) | $75 |
| Plumbing & drains | $1,600 |
| Decor | $621 |
| Insulation | $115 |
| Tools Required | $769 |
| Sink (replacement because we broke one during demo!) | $98 |
| Shower Door Fixed Panels | $1,295 |
| Quartz Countertop (plus install) | $1,295 |
| Hamper (see DIY tutorial for a breakdown of supplies) | $183 |
| TOTAL OUT OF POCKET EXPENSES | $8,695 |
| | |
| Tile (provided by Jeffrey Court) | $1,438 |
| Toilet (provided by Hausera) | $261 |
| Shower Faucets, Valves & Diverters (provided by Hausera) | $1,809 |
| Shower Niches (provided by Hausera) | $114 |
| Accessories – hooks, towel rings, etc. (provided by Hausera) | $406 |
| Sink Faucets & Drains (provided by Hausera) | $388 |
| Mirrors (provided by Hausera) | $600 |
| Cabinet Hardware (provided by Liberty Hardware) | $57 |
| TOTAL GIFTED PRODUCTS | $5,074 |
| | |
| TOTAL BATHROOM RENOVATION COST | $13,769 |
Direct links to ALL of the sources in our bathroom can be found here.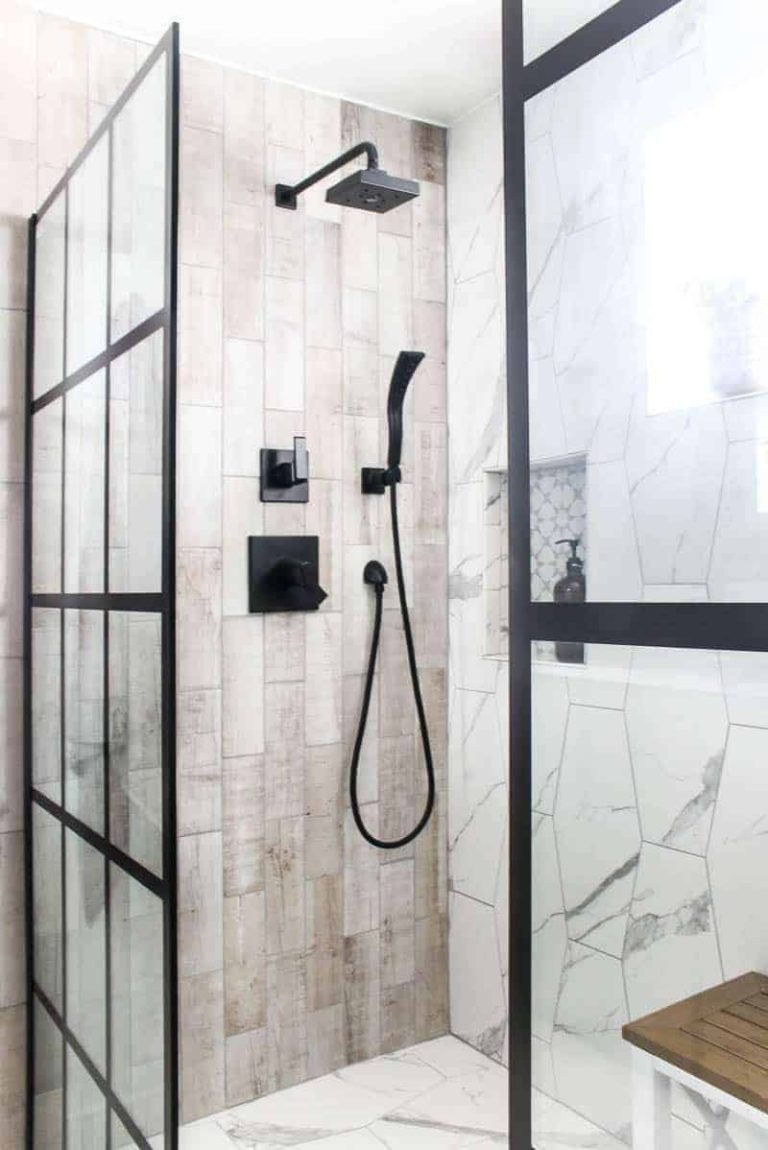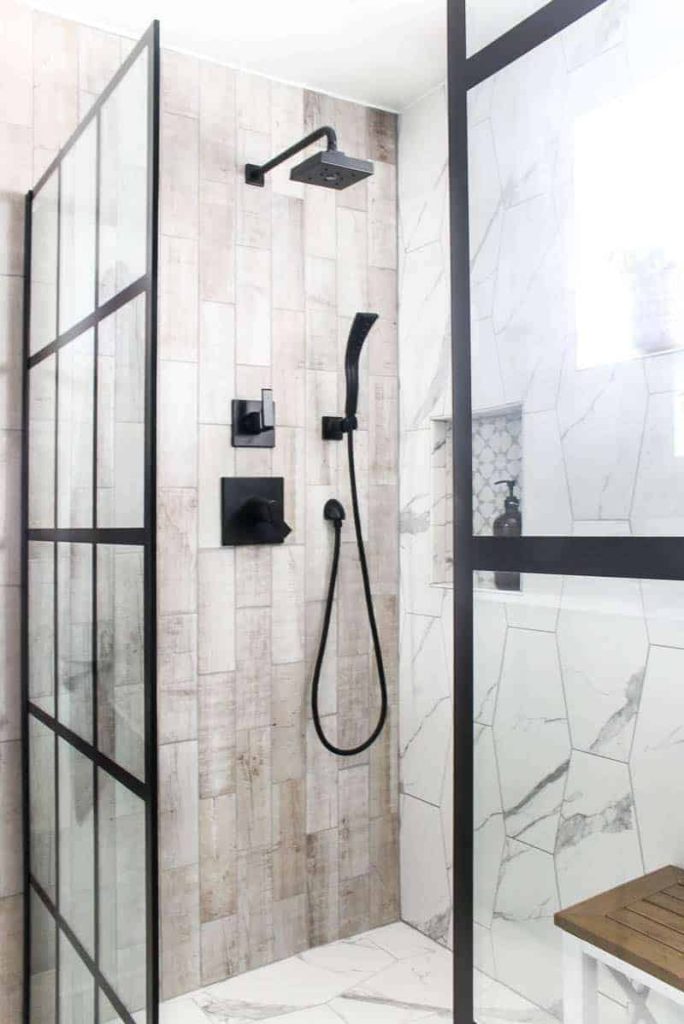 How our bathroom budget compares to the average
At an average bathroom renovation cost ranging from roughly $6,000 to $15,000 (national average $10.5K), you can see that we came in above average for our ensuite bathroom.
But I would also argue that our bathroom result is also above-average! 🙂 Am I right or am I right?
This master bathroom remodel would definitely be considered as high-end and luxurious with the custom tile work, dual-head his & her showers with shower niches, rain showerheads, and hand showers, as well as linear euro-style drains so we could have a curbless shower design.
If you take one look at the bathroom, you can tell that we splurged on several items, like these fixed door panels that I'm obsessed with.
Not to mention, we COMPLETELY changed the layout of this bathroom and moved all the plumbing around – which can be the biggest impact on a bathroom remodeling cost – some estimates say that it costs about $5,000 each time you move plumbing fixtures.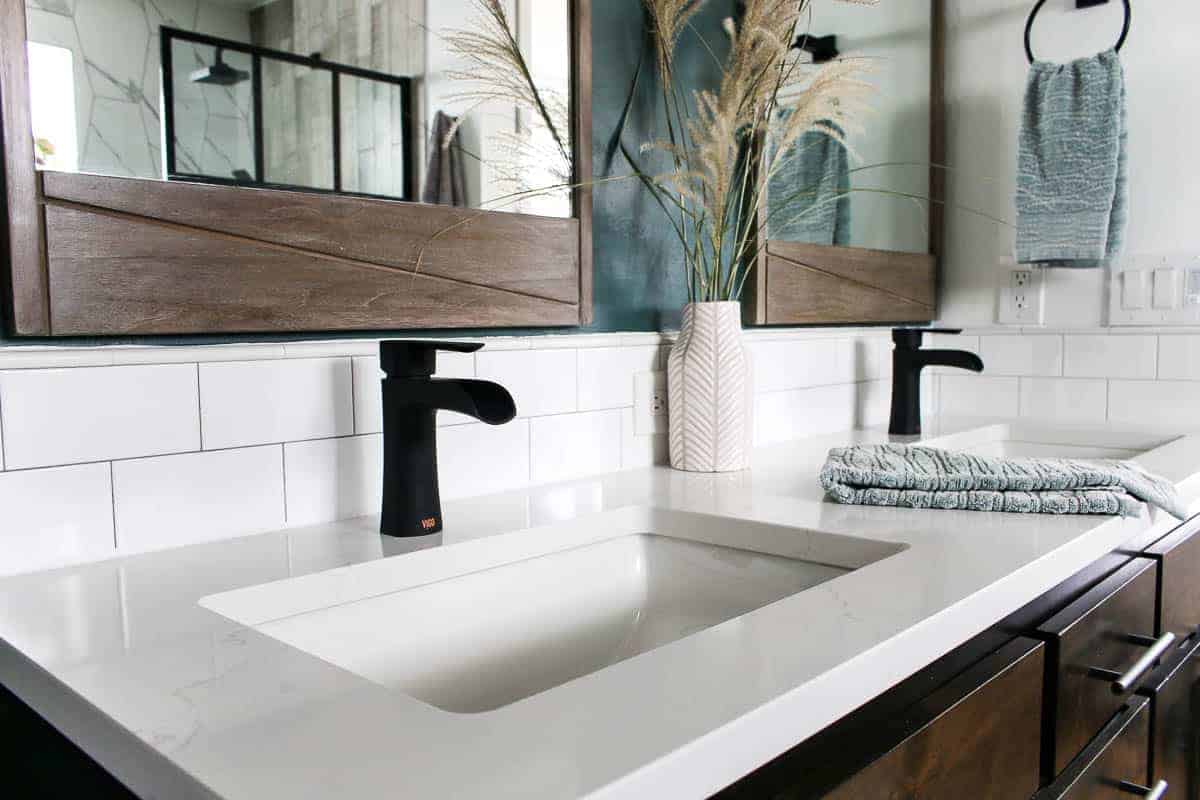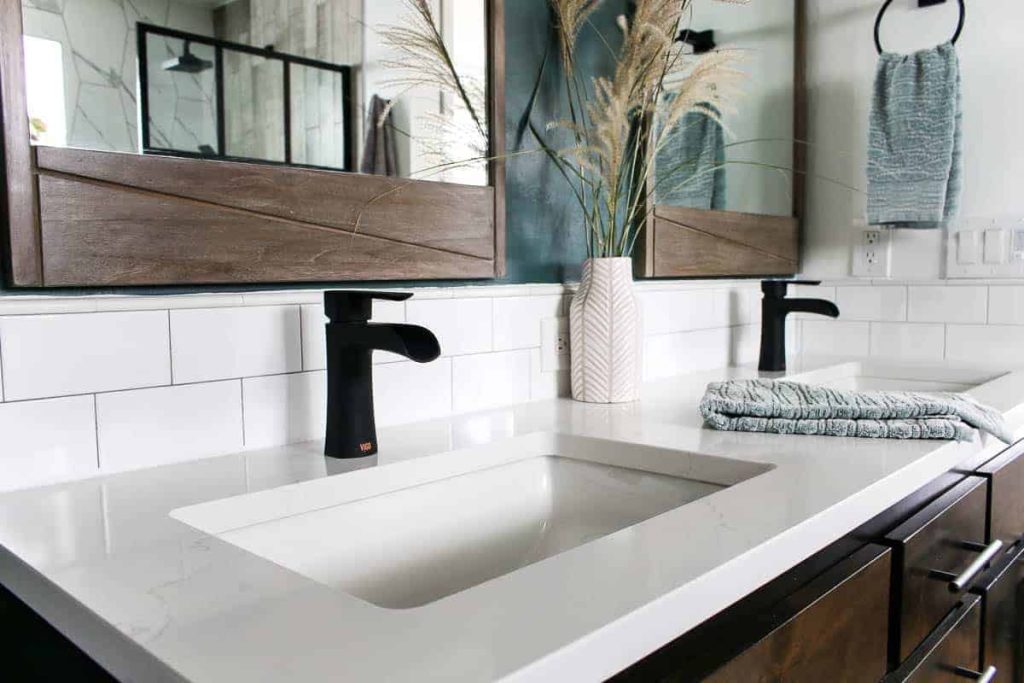 Do you have any regrets? Did your master bathroom remodel add value to your home?
No, we don't have any regrets about spending the money to renovate our master bathroom! Yes, it was a lot of money. Yes, it was the largest project that we've ever taken on.
Now ask me if I ever want to try to do an entire bathroom renovation in just 6 weeks. You'll get a different answer. No, no, no. 😉
Yes, we definitely added value to our home by doing this bathroom renovation. We wrote all about the super nerdy details of how much value we think we added and why in this article titled Can An Ensuite Bathroom Add Value To Your Home?
What if I want to save more money on our bathroom renovation?
Shelling out thousands of dollars on a high-end bathroom renovation isn't for everyone and it doesn't have to cost an arm and a leg.
In this article, I'm sharing several ways where we did save money on this bathroom renovation (yes, it could have been much more expensive) and give you tons of inexpensive bathroom remodel ideas.