Is your home missing an ensuite bathroom? Do you even know what an ensuite bathroom is? Ever been curious if adding an ensuite bathroom can add value to your home? Today we're answering all that and more!! We did the research and have REAL numbers for you of just how much value we are adding to our home by converting a hallway bathroom to an ensuite bathroom!
If you're hopping over here from the Jeffrey Court website (or if you're new here) – welcome! Making Manzanita is all about making your house a home you love. My hubby and I (with our two small kiddos in tow) are renovating our 2nd fixer upper. We love teaching our readers everything we learn along the way. Our style is modern farmhouse with some major boho vibes, which you'll see reflected in this bathroom renovation. Enjoy!
This post and the Renovation Challenge is sponsored by Jeffrey Court and Homes.com. All opinions are entirely my own and do not reflect that of Jeffrey Court and/or Homes.com. This post also contains affiliate links, but nothing that I wouldn't recommend wholeheartedly. Read my full disclosure here.
Welcome to Week 4 of the Jeffrey Court Renovation Challenge. I can't hardly believe that we have only two weeks left to wrap up this ensuite bathroom renovation.
Right about now is the time that we are totally starting to second guess this decision to add an ensuite to our bedroom and have some serious doubts about actually pulling this off.
So here's to the upcoming late nights, pizza dinners and constant paint in my hair.
Want to catch up and see more about our master bathroom renovation?
So today, we're partnering up with our friends at Homes.com to answer a pretty important question – can an ensuite bathroom add value to your home?
And boy, are we going to answer it for ya…!
But before we dive in, let's get things clarified here.
What is an ensuite bathroom?
An ensuite bathroom is a bathroom that is connected to a bedroom, usually the master bedroom.
Ensuite is pronounced ON suite.
On Suite or Ensuite?? Ensuite bathrooms are also referred to as "en suite" or "attached bath" and sometimes even misspelled as an "onsuite" or "on suite" because of the pronunciation.
What are the benefits of an ensuite bathroom?
As parents, you don't have to share the bathroom with the rest of your family (or guests). This is a great way to create more convenience for a busy family.

YAY! Does that mean we don't have shower next to a bag full of rubber duckies and bath toys anymore? … Or trip over the potty training seat? Count me in.

It is convenient in the middle of the night, so you don't have to disturb the rest of the house.

…And if you've got light sleepers for kids, this is a huge bonus.

There's more privacy with an ensuite bathroom (which is away from the rest of the house and any guests).
What does this have to do with our bathroom renovation?
Good question! One of the primary reasons we decided to renovate this bathroom was to convert it from a hallway bathroom to an ensuite bathroom.
To accommodate this en suite bathroom installation, we shifted the entire layout and configuration of the space, closed up the hallway door, and opened it up to the master bedroom. (Curious about our modern bathroom design plans and the layout? Check out this post!)
Why is an ensuite bathroom so important?
This may not be true in every market or region, but in our neck of the woods – buyers that are searching for a 3 or 4 bedroom house expect…no, demand… an ensuite bathroom.
This house sat on the market for several months before we purchased it from a team of flippers. When Logan and I first walked the house, the missing ensuite bathroom stood out to us immediately. (Check out how the house looked when we bought it).
After talking with the Listing Realtor, she fessed up and told us that the primary reason people were passing on this house was that it lacked an ensuite bathroom.
If Logan and I were ever going to think about reselling this house, we would definitely need to address this to compete with other homes in our area.
Now, we purchased this house to renovate, so we had big plans for the whole ensuite issue. Before we could tackle it, we needed to add another bathroom to the house that was in convenient proximity to the rest of the bedrooms that our kiddos could use.
Last fall we added this farmhouse bathroom for the kids, so now we're finally tackling the en suite bathroom installation!
Are we adding value to our home with this ensuite bathroom?
Wow, that is a loaded question with so many variables – but it is super important. After all, we don't want to be breaking our back with these renovation projects and spending a lot of our hard-earned money on them if we're not adding value to our home.
Not to brag or anything, but we're actually pretty qualified to answer this complicated question, too! Not too sure if you know this, but Logan is a licensed residential real estate agent here in Central Oregon, and at my day job I work in commercial real estate and have my California Broker's license.
The quick answer is – yes – we are definitely adding value to our home with this ensuite bathroom renovation.
How much? Well, that's a little more complicated. To start, here's what we're "in" for.
Purchase price – $250,000
Investment of other renovations completed in the house so far – $15,000
Ensuite bathroom renovation cost (estimated…because we're still spending more moo-lah every day at this point) – $7,000 (UPDATE: See how much our bathroom renovation cost when we were all said and done)
Total Basis (Purchase price + renovation costs) – $272,000
How much value are we adding to our home?
Current home value (after this ensuite bathroom renovation is done) – $330,000 – $360,000
For example purposes, we'll be conservative here and use $330K.
If you truly want to narrow it down and look at the value that you are adding through renovations, you need take out appreciation.
What's appreciation (real estate term)?
Appreciation is when the real estate market improves and housing values rise over time.
Since 2017, median home prices under $500k in our area have risen 11% in value, that's the appreciation.
Side note: the reason Logan caps home prices at $500k here is the million-dollar mansions and the luxury home market doesn't really relate to us Average Joe's.
Since we bought our home for $250,000, we can contribute about 11% of our value now to appreciation (which is $27,500). This is the value that has been added to our house without doing a thing! Pretty great, right? In a good real estate market, you can make great money by simply owning a property.
But for the purposes of trying to track down that number of the value that WE are actually adding to our house through the renovations, we're going to exclude this because there's nothing we could have done to control it. Homes go up and down all the time, so really this is a bonus.
So, here's the math…
Current value $330,000
– minus –
Purchase price $250,000
– minus –
Cost or renovations so far $22,000
– minus –
Appreciation $27,500
=
$30,500 Value Added Through Renovations Completed So Far (including our ensuite bathroom)
That's a pretty big number. But I want to narrow it down even further…
We think you can contribute AT LEAST 1/3 of that value to this ensuite bathroom renovation alone. Maybe even half of it.
Here's why:
The lack of attached bathroom was the main pain point in this house the last time it was on the market.
This ensuite bathroom renovation is one of three major projects that we've completed in this house (first was adding our daughter's nursery, the second was adding the farmhouse bathroom) and definitely the most important and largest scale.
All in all, our most educated and nerdy real estate answer with all of the data to back it up is that we are adding approximately $10,000 – $15,000 to the value of our home with this en suite bathroom installation. And remember, these are our conservative numbers and it is after you take out the $7,000 that we're investing into the renovation.
So I guess we need to answer your burning question…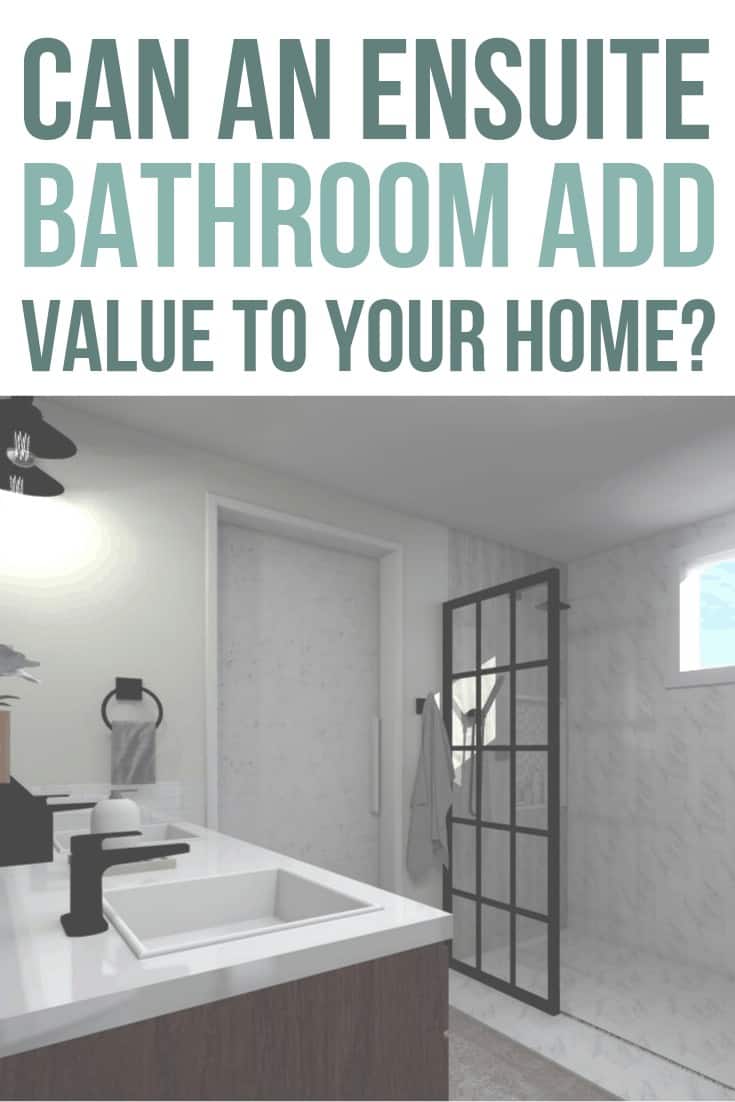 Can An Ensuite Bathroom Add Value To Your Home?
Yes.
Definitely.
For sure.
100 percent.
All values and estimates are going to vary GREATLY when you apply this to your house & neighborhood.
So if you are thinking about adding an ensuite bathroom to your bedroom or you are just curious about your home's value, you can use this Home Value Estimate on Homes.com.
Then if you want to dig in even further, you can get connected with a great real estate professional in your area (on that same page, just scroll down to Local Experts) that can help you answer this question.
If you are thinking about selling your home soon this question is even more important for you, right? Homes.com has some GREAT resources here about all the steps for selling your home!
---
Ready to see our Week 4 progress?
Each week, we've been rounding up our behind the scenes videos for you…so here's what happened in Week 4:
If you love DIY videos, be sure to subscribe to our YouTube channel here!
Wowzers…we are….surviving. Just barely.
It honestly terrifies me that we are already in Week 4 of the 6 Week Jeffrey Court Renovation Challenge. You can check in on how all the other participants are doing here.
Now, if you saw our behind the scenes video this week (above), you know that Logan was out of town this week. So it was just me holding down the fort, watching the kids, dealing with the stomach flu going through our house….and continuing to work at my full time day job. So safe to safe, not a whole lot got done this week!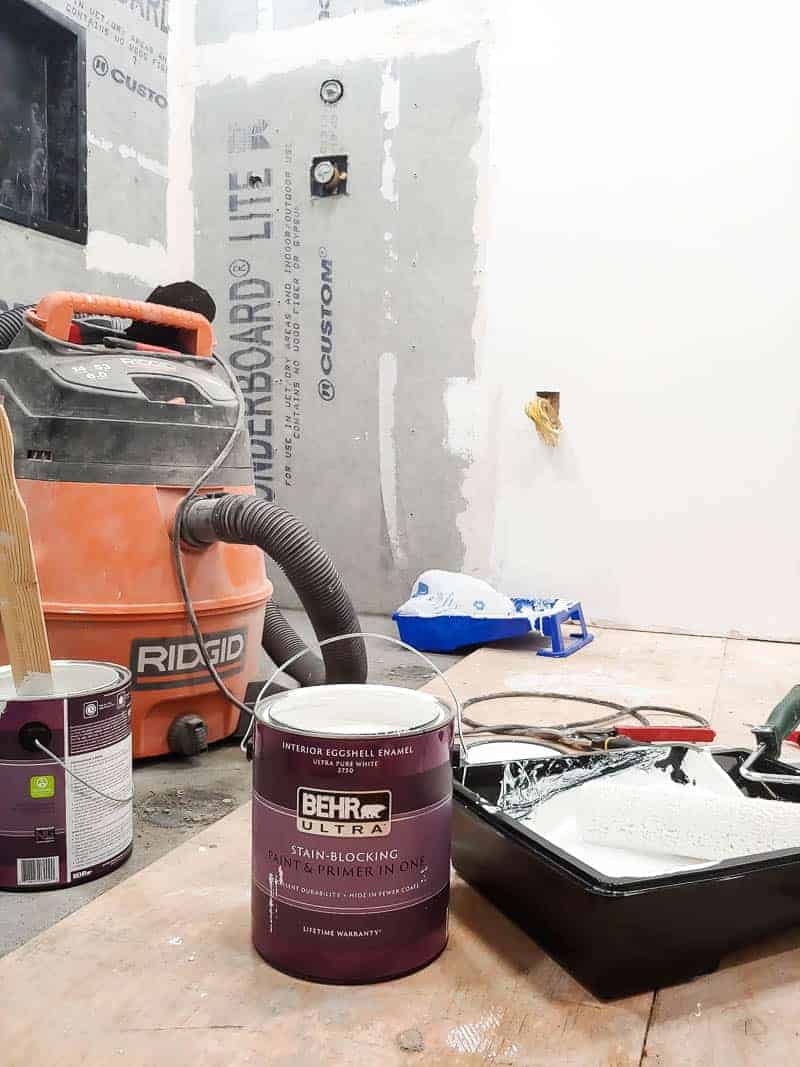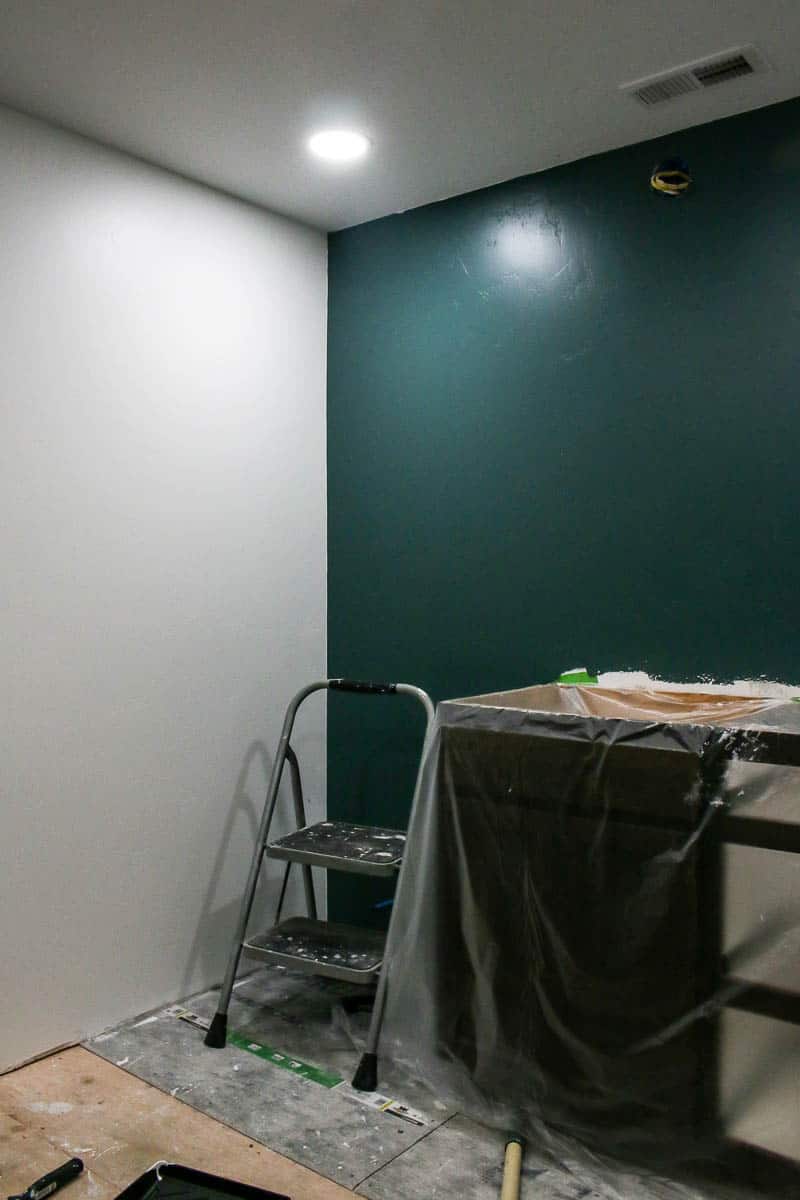 Really my BIG goal for the week was to get the walls painted and ceiling painted. And I did that! So I guess I can pat myself on the back.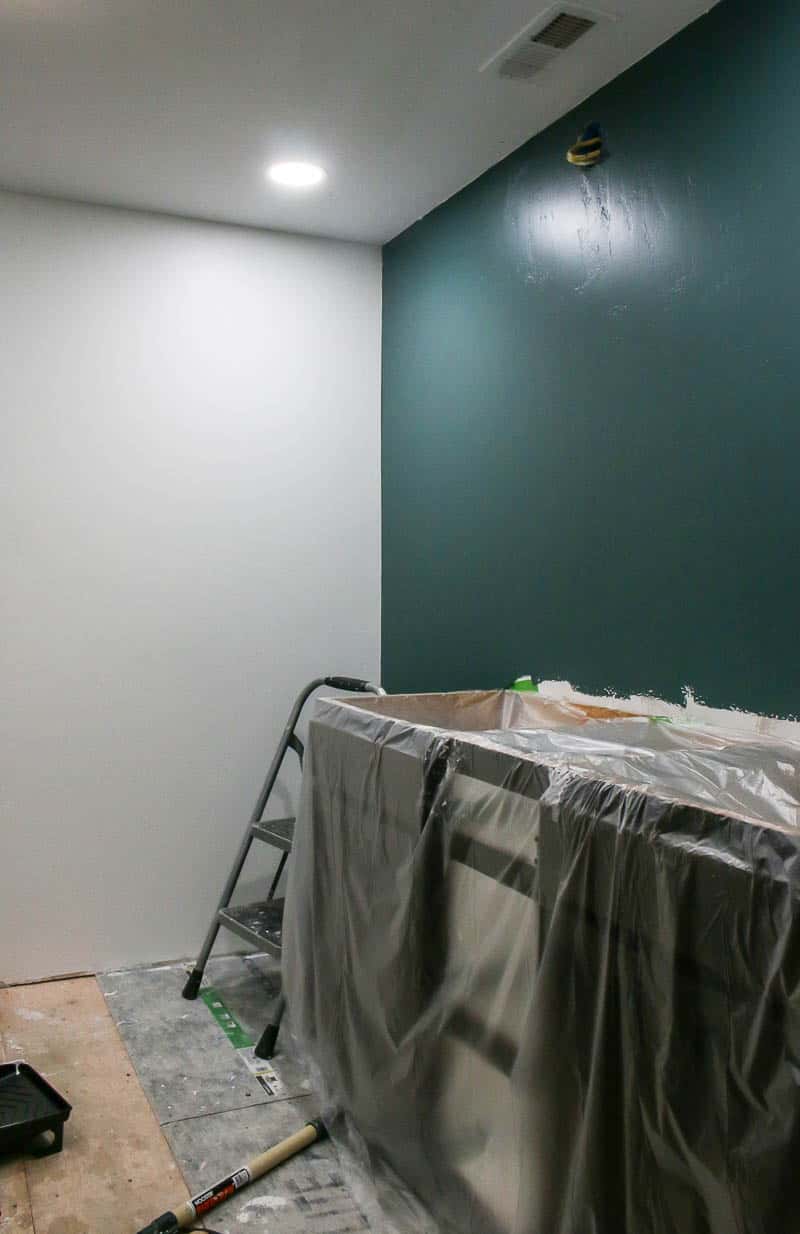 And the dark green wall looks SO good, don't you think?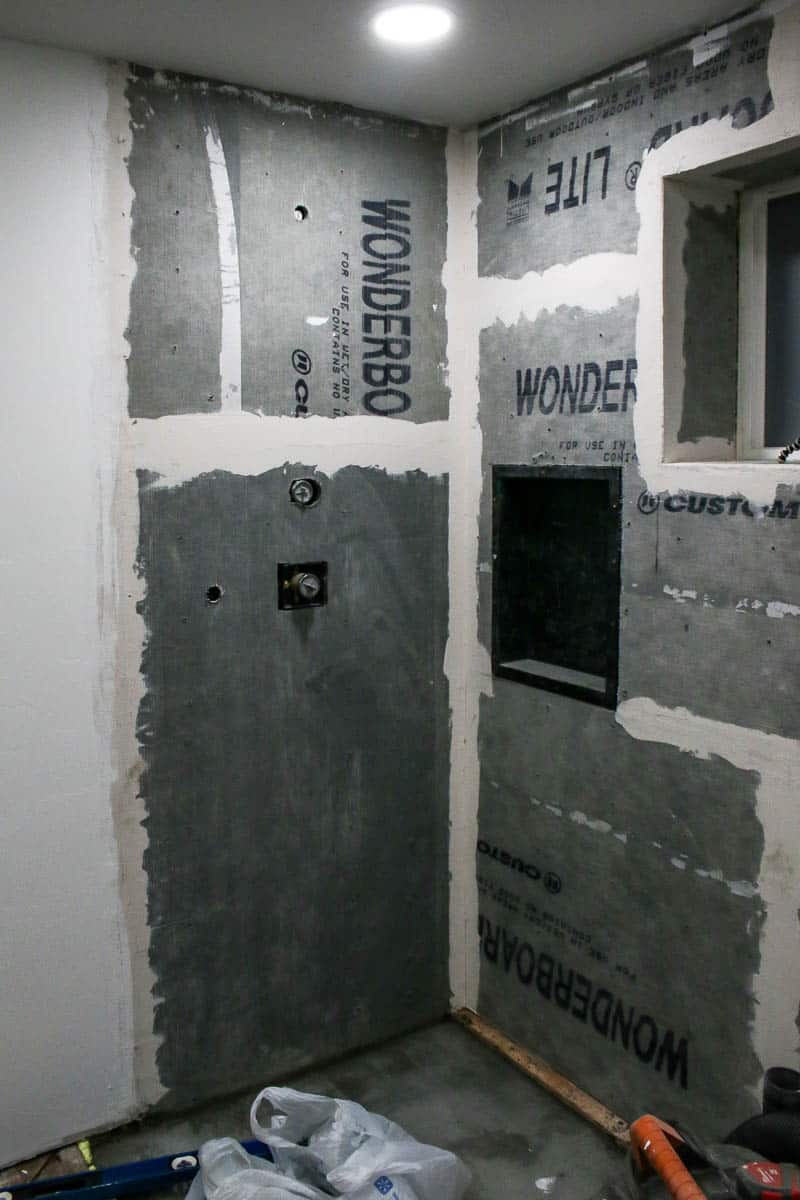 But looking ahead at what we still have yet to tackle is insane. When Logan gets back later this week, it is going to be GAME ON. Tile tile tile….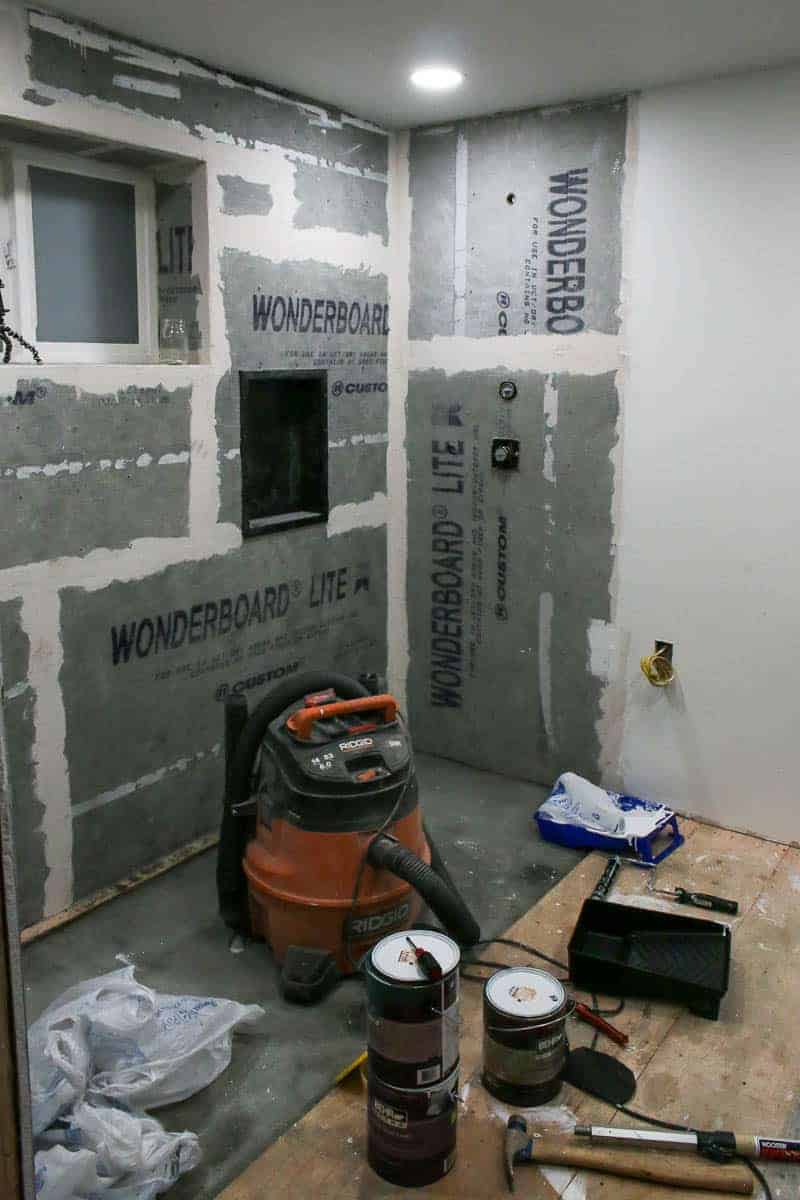 Can't freakin' wait to see it all come together!
Project list for our bathroom renovation:
Demo entire bathroom
Cover up doorway to hallway
Open new doorway to master bedroom
Rough in new plumbing (toilet, showers, sinks)
Add new subflooring
Create shower pan – in process
Add recessed lighting
Add new vanity light electrical
Add bathroom exhaust fan
Install shower niche liners
Install insulation
Add sheetrock
Tape and texture drywall
Paint walls
Tile shower walls

Install shower niches with accent tiles
Tile around window and in windowsill

Tile floor
Install new toilet
Relocate vanity
Install new countertop
Tile backsplash on vanity
Install fixed shower door panels
Install shower heads
Build DIY laundry hamper
Install floating shelves
Build DIY barn door
Install vanity lights
Install trim and baseboards
Install bathroom accessories
Hang shelf for mirrors
Hang mirrors
Decorate!