Are you going to be installing a new shower door during your bathroom renovation? Check out this guide for how to install a shower door!
Thank you to DAP for sponsoring this guide on how to install a shower door! All opinions are entirely my own. This post also contains affiliate links, but nothing that I wouldn't recommend wholeheartedly. Read my full disclosure here.
We've been working on the back bathroom renovation for what seems like forever. We've been fitting in tasks in between other projects here and there. But I am totally ready for the space to be finished!
I can't tell you how many months we've had to tell guests they can wash their hands in the farmhouse sink in our laundry room after using the bathroom because the sink hasn't been installed.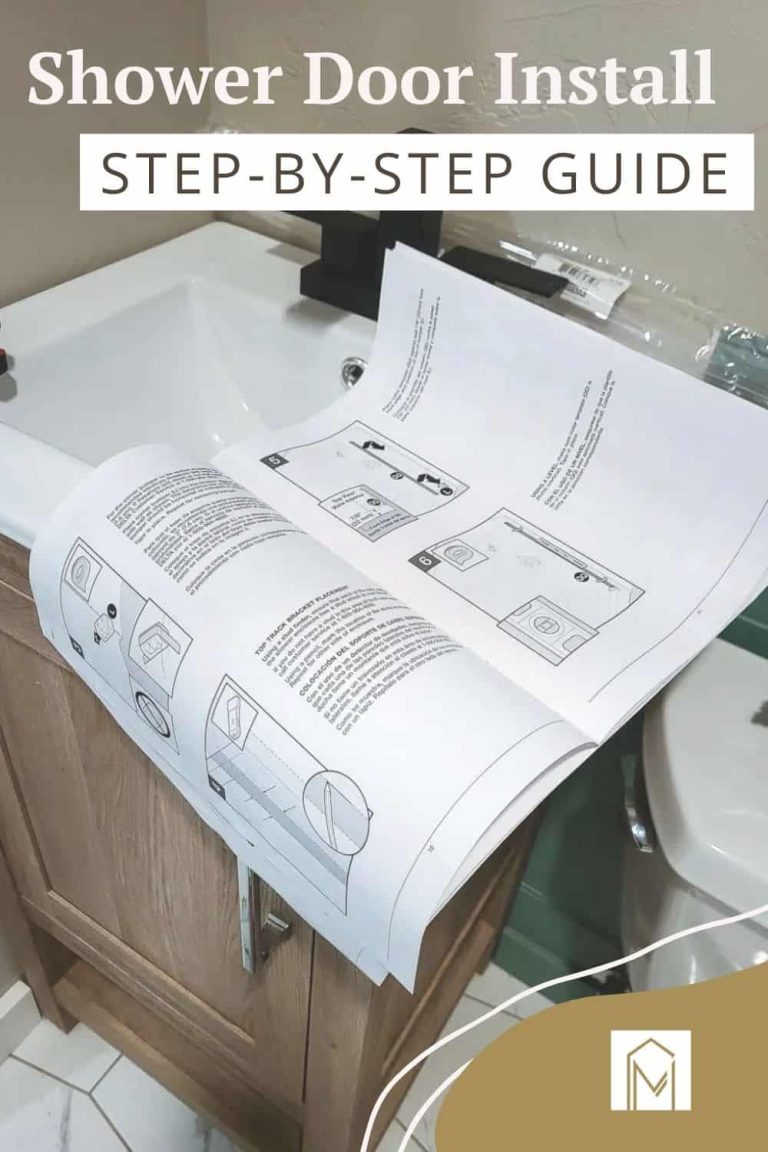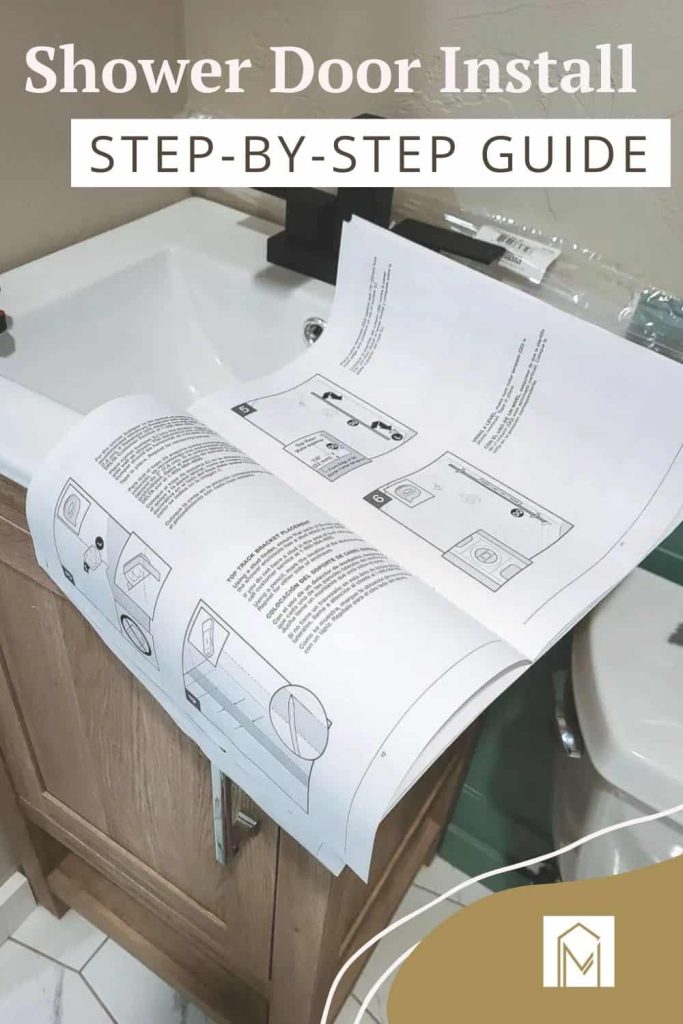 Want to see more of our back guest bathroom renovation?
One thing that has been sitting in our garage for way too long is the new shower door. We finally took the afternoon to install the new glass door in the bathtub. Boy, it made such a big difference in the space! The bathroom instantly feels like it took a giant step forward and we're ALMOST done!
Today we're going to walk you through the process of installing a sliding glass door for your shower, including the tools you'll need, some safety tips, things to consider before buying your shower door, and last, but not least, we'll share the process of sealing the shower door. It is possibly the most important step!
Required tools for installing a shower door
Drill
Drill Bits: 5/16″, 1/8″, 1/4″
Tile (Diamond) Drill Bit: 5/16″
Masking Tape
Phillips Head Screwdriver
3″ Deep Miter Box
Hack Saw with 32 TPI (teeth per inch) blade
Metal File
Gloves
Tin Snips
Measuring Tape
Caulking Gun
3′ level or longer
Safety tip when handling tempered glass doors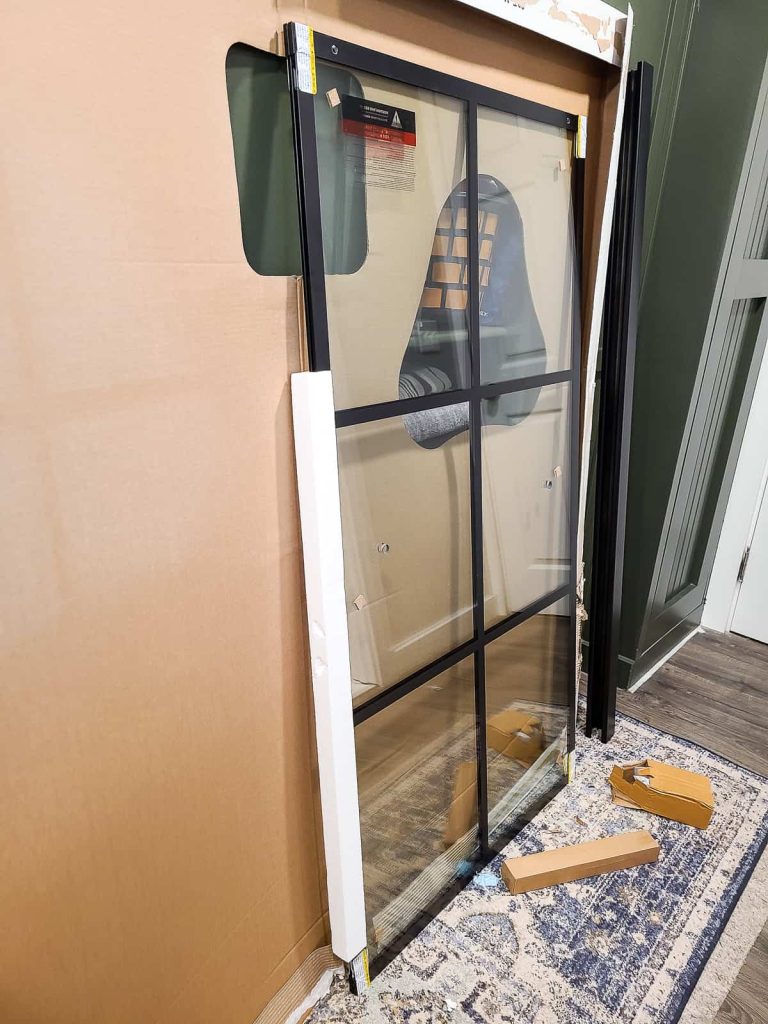 Tempered glass is stronger than normal glass, but that doesn't mean that it is unbreakable! During the shower door installation, the tempered glass should not come in direct contact with any metal parts or hard surfaces (such as tile/concrete floor) or it may shatter. That would suck, right?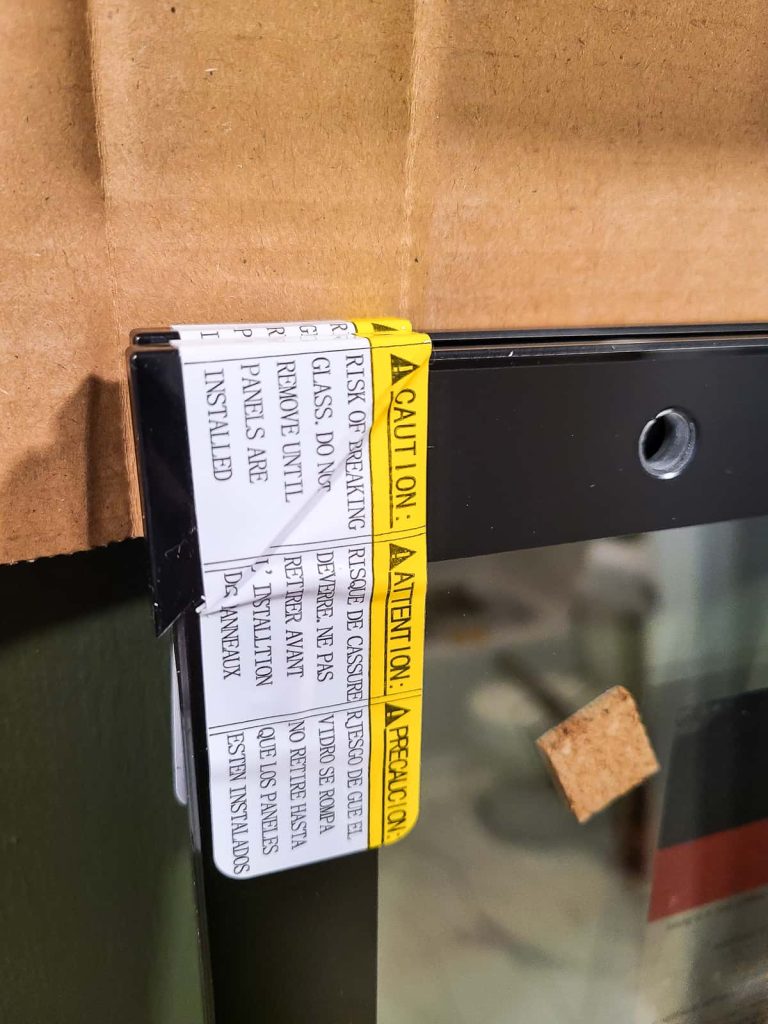 Gaskets and bushings must always be used between glass and metal. Do NOT touch the edges of the tempered glass with tools. Keep the corner protectors on during unpacking and installation, especially on the bottom of the door. You can remove them once the glass panels are installed.
Things to consider before buying your new shower door
Before you purchase it's a good idea to review the instructions for your new glass shower door online! Most retailers have the entire set of instructions and specs available as a PDF download so you can do your research beforehand.
Below is a quick list of major potential problems that you'll want to figure out before buying a sliding glass shower door kit.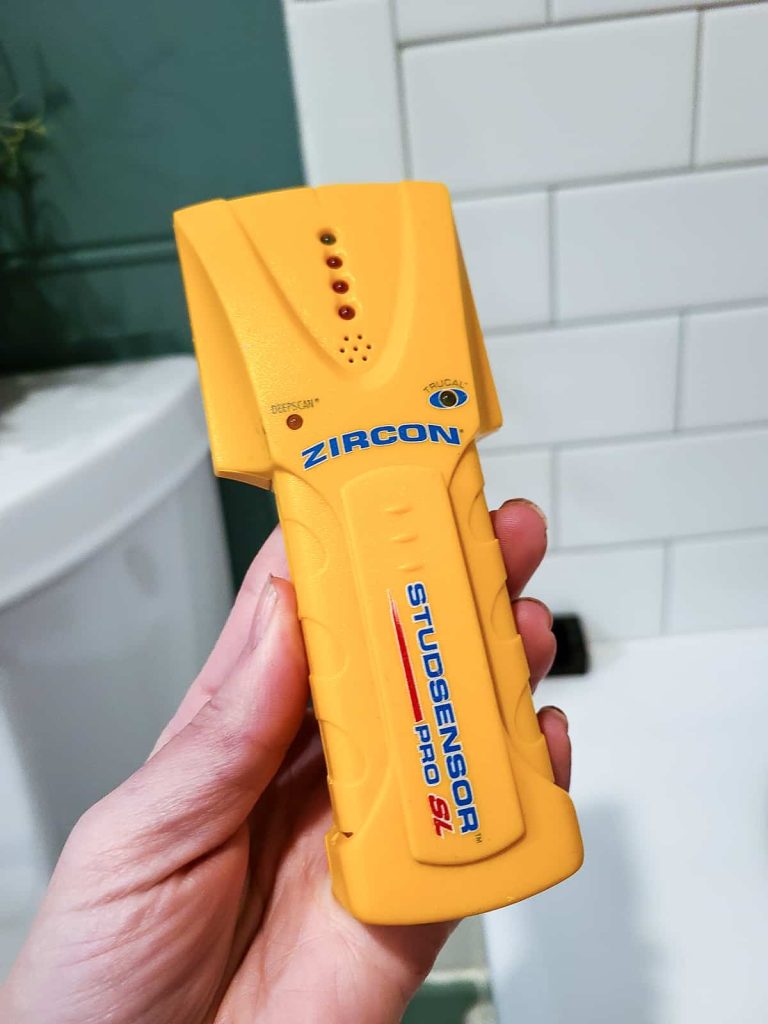 Check that you have a stud in the proper position with a stud finder to anchor the shower door rail to
Be sure your tub sill, where the doors will be set, is wide enough to accommodate your bottom track
Measure your ceiling height and make sure there is enough room for the hardware and doors
Measure the width between your shower walls and make sure the shower door kit is wide enough for your space
Check your instructions for any other deal-breakers for your shower
Install the shower door using the installation guide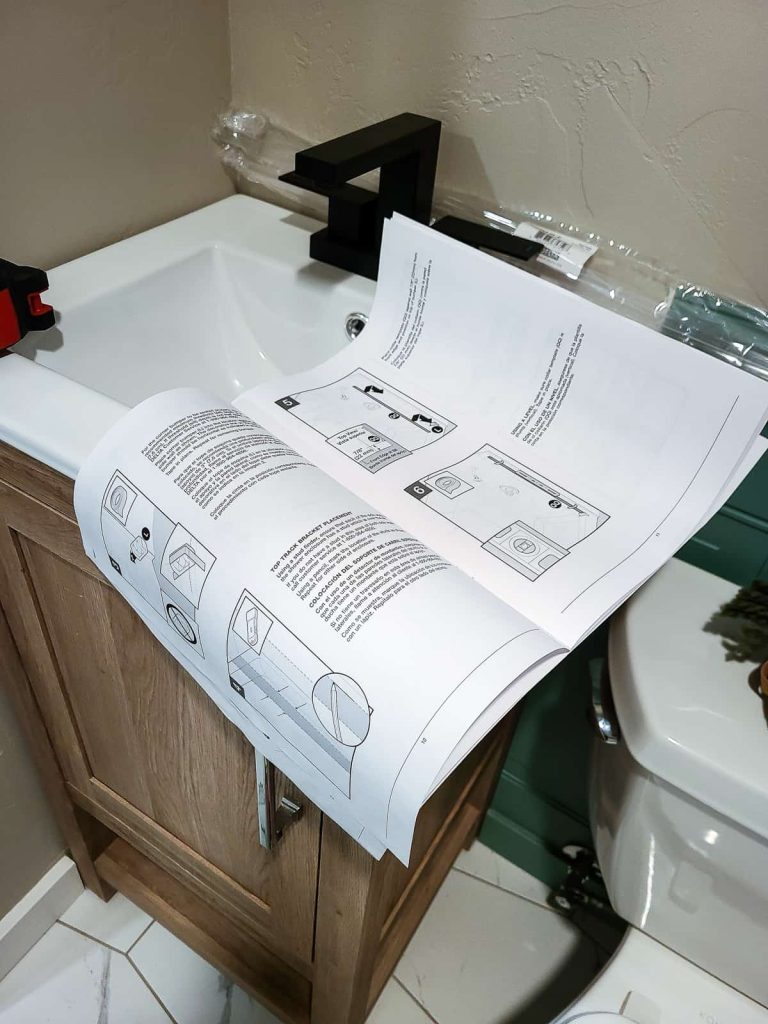 We'll go over the general idea for installing your new shower door but there are a lot of steps that vary by each manufacturer and door type. For more detailed instructions, check out the guide that comes in the box with your shower door.
For reference, we are showing the installation process of the Delta Everly 60 in. x 59-1/4 in. Mod Semi-Frameless Sliding Bathtub Door with 1/4 in. Ingot Glass.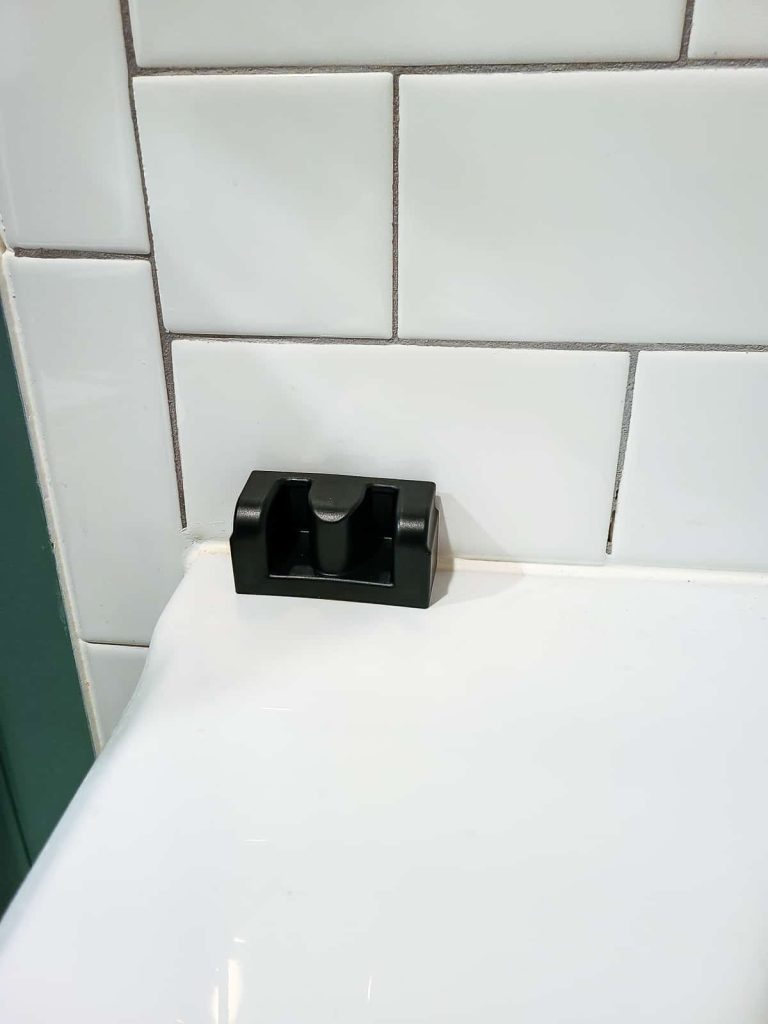 Here are some of the basics of how to install a shower door:
Before you begin, cover the tub or shower drain with a rag or some painter's tape. The last thing you want is one of the small parts going down the drain!
The first step is unpacking and checking to ensure you have all the parts listed in your instructions. If you find something is missing or broken, there is usually a customer service number listed on the box or in the instructions that you can reach out to about getting replacement parts.
Next, you'll be focused on finding the stud to drill holes for your plastic wall anchors. Use the stud finder to locate the stud and use a pencil mark to show where the stud is on your ceramic tile or tub surround. Drill the holes with a tile drill bit and put the anchors into place.
Cut down the top track or rail for your space with a hack saw and miter box. If needed, file down cut edge with metal file. Hang the rail collars for your sliding glass shower door.
You'll prep the sliding shower door by attaching rollers to pre-drilled holes.
Measure the distance between your bumpers and cut down the base track to fit the space.
Drill a pilot hole for the center divider to attach to the rail, attach the bottom of the track with silicone sealant and slide the center divider and attach.
I like to let the silicone dry here to make sure the bottom rail, and rubber bumpers are all secure before moving on.
Next, add any seals to the frameless glass doors and silicone the trim to prevent water leaks.
Then add any door hardware or towel bars to each door panel and finish off your new shower doors.
Again, make sure to check your manufacturer's instructions throughout this process as they vary.
DAP AMP (Advanced Modified Polymer) Waterproof Kitchen, Bath, and Plumbing Sealant
For our shower door installation, we're using DAP's AMP Advanced Modified Polymer Waterproof Kitchen, Bath, and Plumbing Sealant. It provides a 100% watertight seal with the ability to be applied on wet and damp surfaces.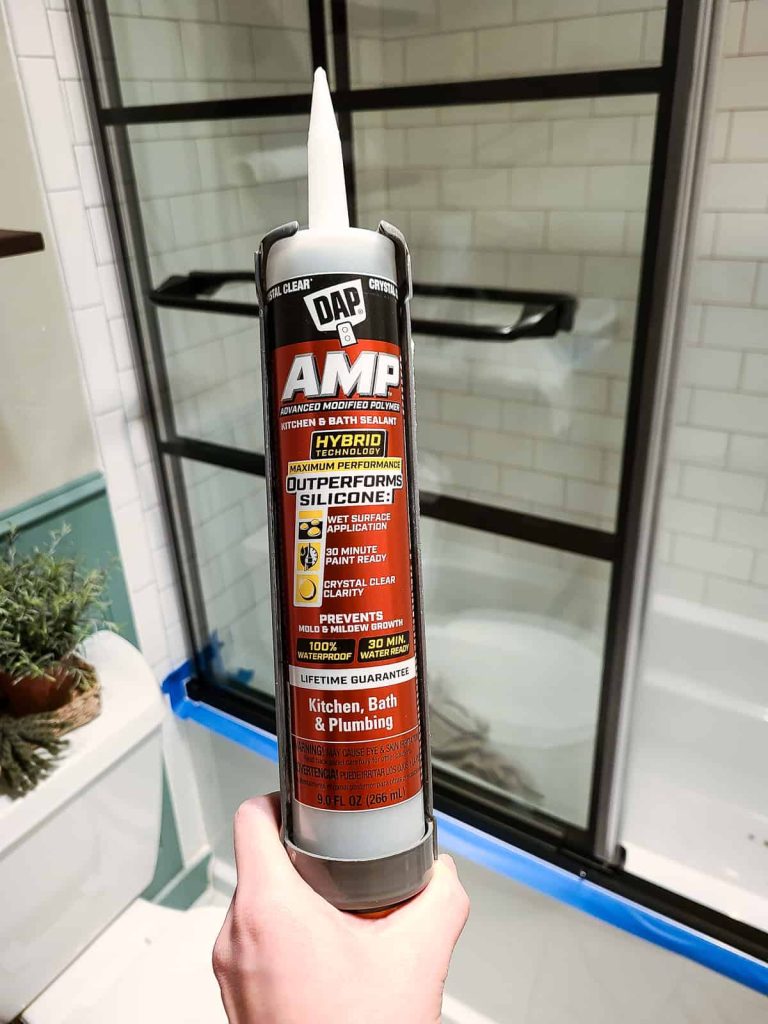 It has a fast 30-minute paint and water-ready time and is specifically formulated to prevent mold and mildew growth for a lifetime guarantee. It's a great option for use in the shower, but could also be used for sealing sinks, faucets, vanities, plumbing, countertops, backsplashes, molding, interior trim, pipes, vents, and ducts!
Because it is polymer sealant, it is important that you don't touch it with bare skin so you can wear nitrile or neoprene gloves.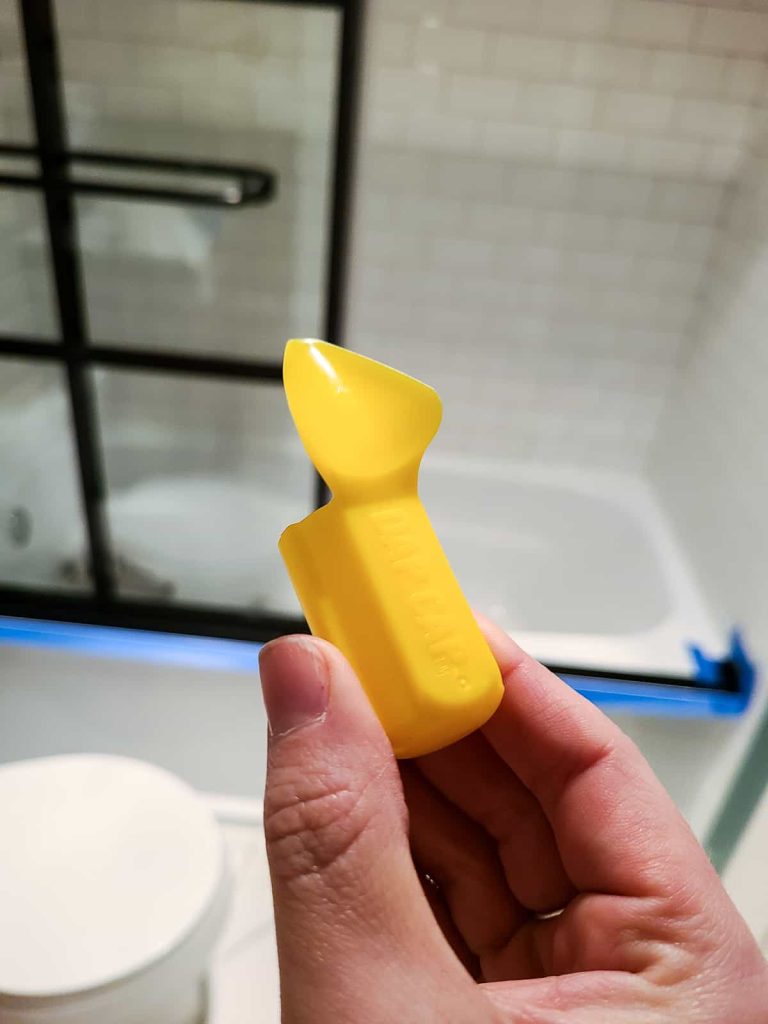 You can also tool it (aka smooth it) with the DAP CAP, which will help you smooth the caulk line without touching it. That's what we did.
When you're done smoothing it, you can use the cap on the top of the sealant to keep it from drying out until you need to use it again.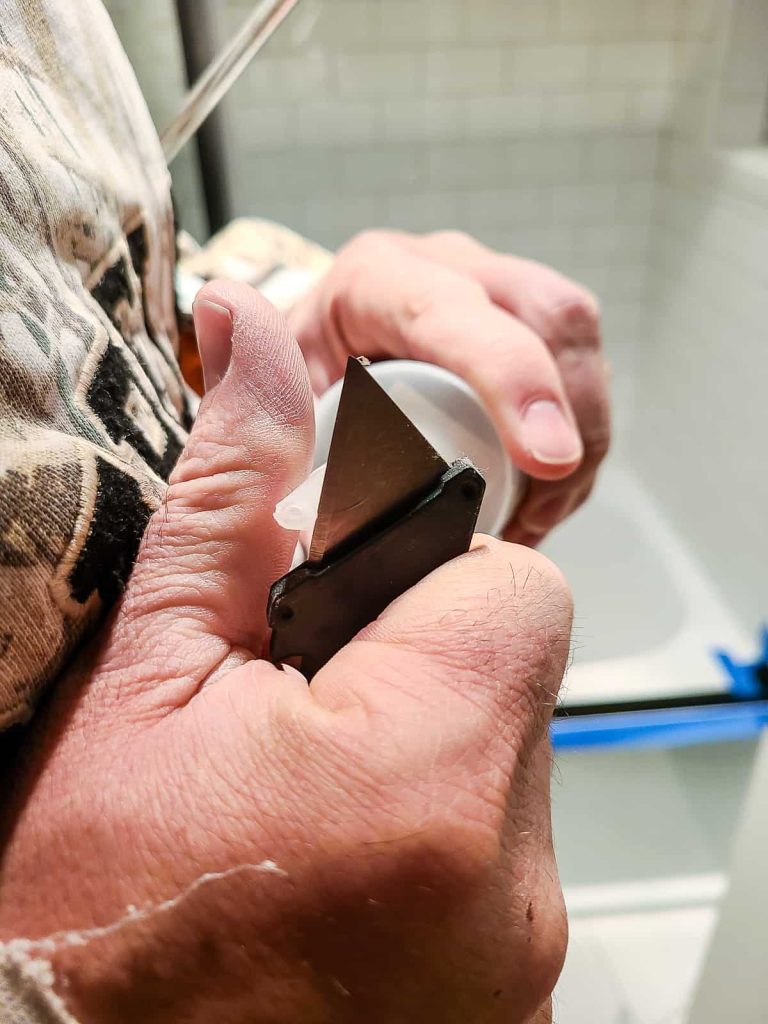 Shower Door Sealant Application
Cut the nozzle at a 45° angle to desired bead size with a utility knife.
Puncture the inner foil seal and load the cartridge into a caulk gun.
Fill the gaps around the shower door rails with sealant. Using steady pressure, apply a consistent 3/16″ bead size for optimal joint protection.
Tool or smooth the bead of sealant with a finishing tool before the sealant skins over.
Allow the sealant to cure for at least 30 minutes before exposing it to water or paint. The sealant surface may still be tacky. Sealant reaches full cure in 24 hours.
Clean up excess uncured sealant from the surface and tools with mineral spirits. Scrape or cut away excess cured sealant. Do not use mineral spirits or any other solvent to clean your hands or skin. Wash hands or skin with soap and water.
If needed, it is paintable in 30 minutes. Use only high-quality acrylic latex coatings.
Reseal sealant container for storage and reuse with the DAP CAP.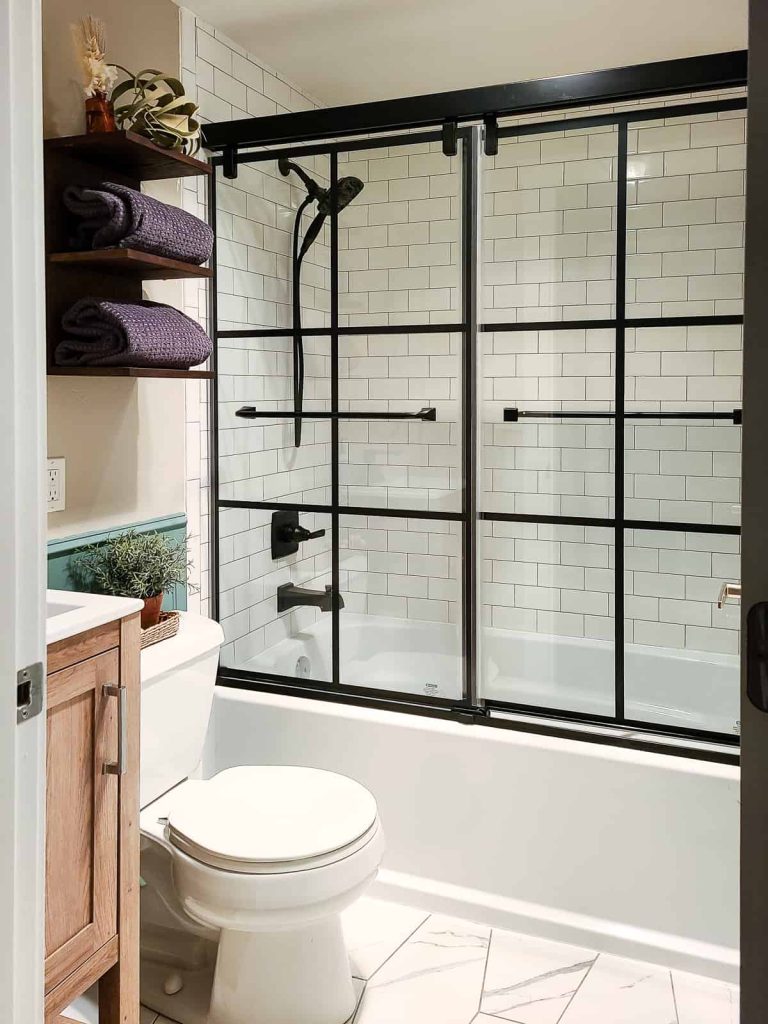 Shower Door FAQs
Can I install a shower door myself?
Yes, installing a shower door is a project that you can do yourself. Shower doors come with very detailed installation instructions that you can simply follow. With the right tools, adequate time, and possibly an extra hand with a helper, you can install a shower door yourself.
What is the difference between framed, semi-framed, and frameless shower doors?
According to Delta, all of their shower doors feature 1/4″ or 3/8″ frameless tempered glass panels.
Frameless doors are easier to clean than framed doors and provide an aesthetically pleasing look that enhances any bathroom by creating a more spacious feel.
Framed doors offered by most manufacturers have an aluminum frame around each glass panel.
Semi-frameless doors have aluminum top and bottom tracks and thicker metal side pieces paired with frameless glass giving it a blended look that's open and spacious but trimmed and finished.
What is the easiest type of shower door to install?
A framed shower door is the easiest type to install because all you need to do is hang the frame and secure it to the shower walls.
What's the best way to clean a glass shower door?
For regular cleaning of your shower door, you can use warm soapy water and rinse off with water. It is recommended to squeegee the glass door on a regular basis after the shower is used. This will help keep the glass looking its best!
Never use an abrasive sponge on a glass shower door! They will scratch the surface.
If you're renovating your bathroom, you may want to think about adding or replacing the shower door. By following along closely with your manufacturer's instructions and some of the tips and tricks we shared in this guide, you can totally install a shower door yourself.
DAP's AMP sealant is a great choice if you need to seal anything in a kitchen or bathroom, like a shower door, bathtub, or new kitchen sink.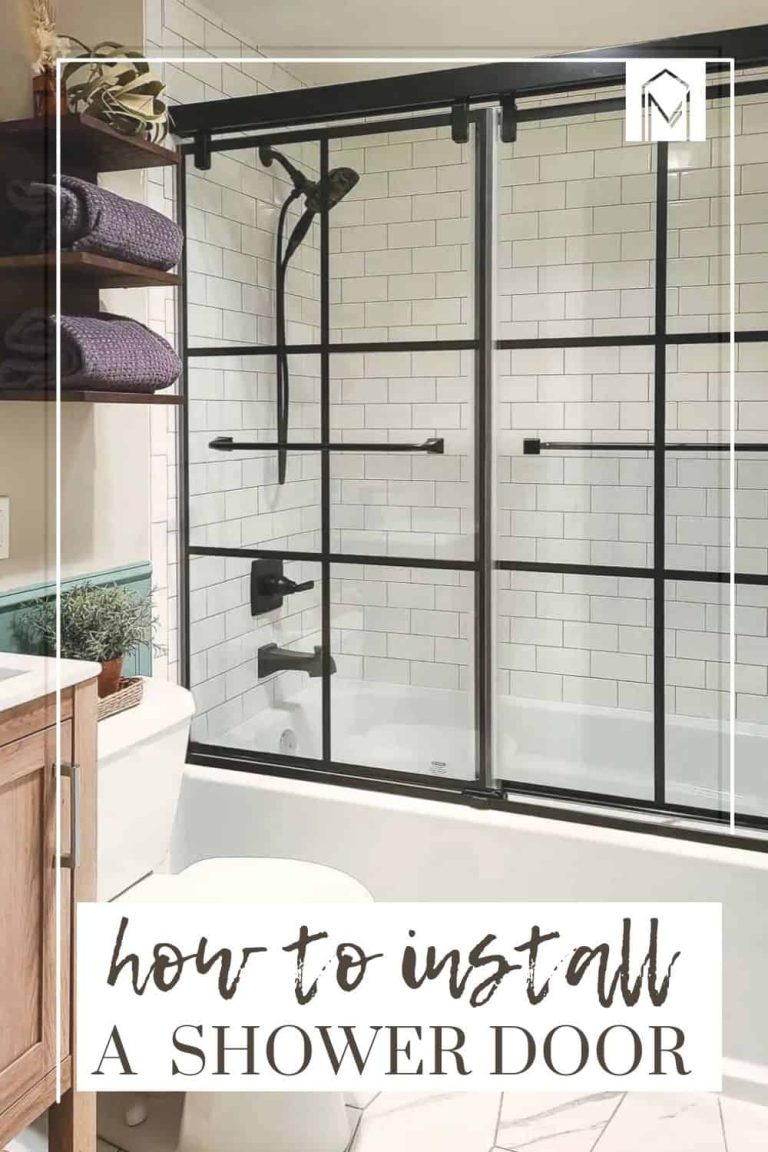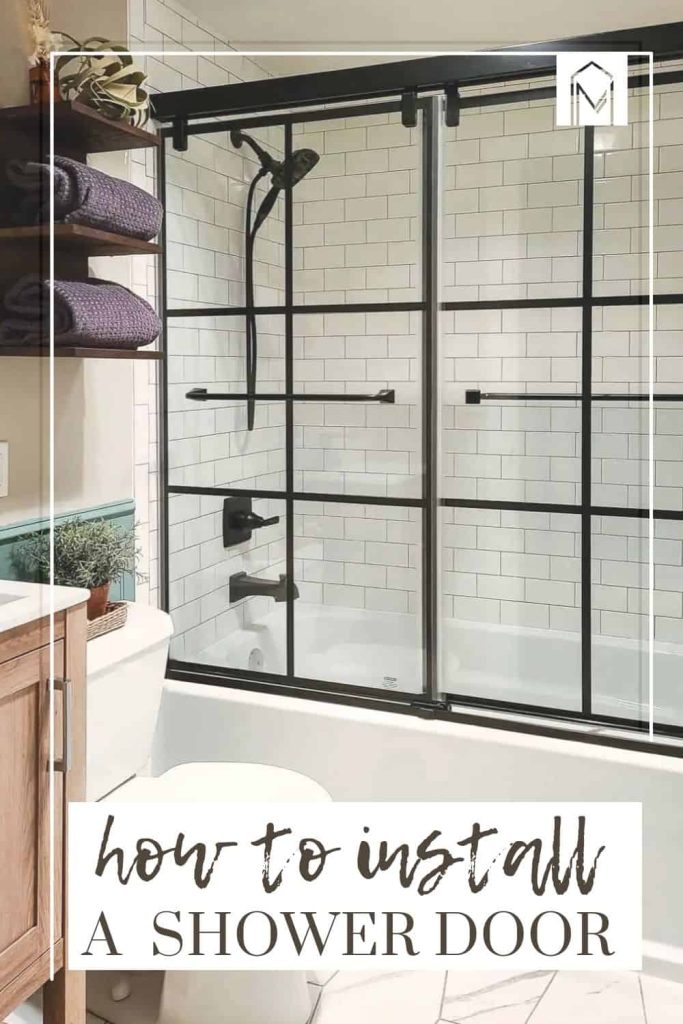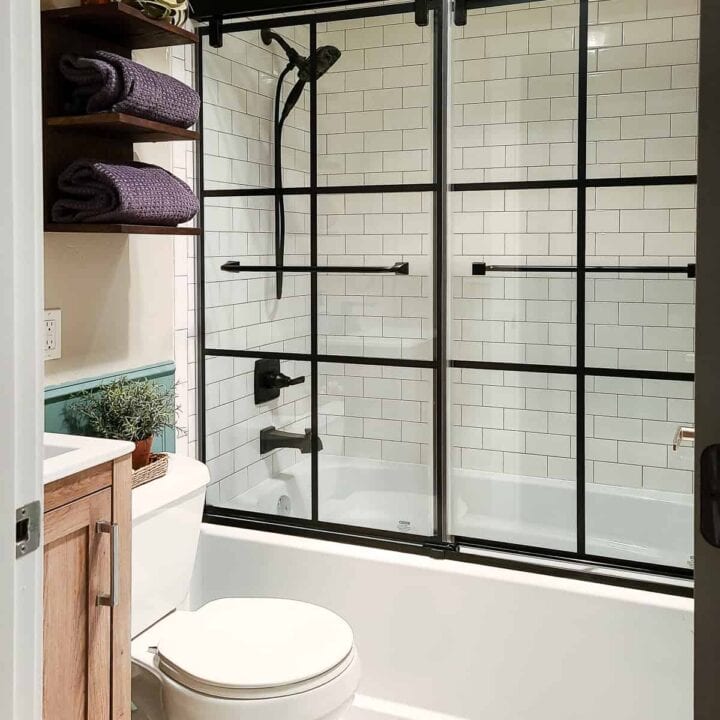 How To Install A Shower Door
Active Time:
4 hours
30 minutes
Are you going to be installing a new shower door during your bathroom renovation? Check out this guide for how to install a shower door!
Tools
Drill
Drill Bits: 5/16", 1/8", 1/4"
Tile (Diamond) Drill Bit: 5/16"
Masking Tape
Phillips Head Screwdriver
3" Deep Miter Box
Hack Saw with 32 TPI (teeth per inch) blade
Metal File
Gloves
Tin Snips
Measuring Tape
Caulking Gun
3' level or longer
Instructions
Grab the instructions for the door you want to buy
Check the manufacturer's instructions to ensure your space works with their door
Buy the door if there are no deal breakers
Follow the manufacturer's instructions for your shower door
Use DAP AMP to seal the shower door