Are the caulk lines on your bathtub cracked, peeling or discolored? It may be time for you to recaulk! Learn all of the in's and out's of this simple DIY in this tutorial for how to recaulk a bathtub.
Thank you to DAP for sponsoring this post! All opinions are entirely my own. This post also contains affiliate links, but nothing that I wouldn't recommend wholeheartedly. Read my full disclosure here.
With homeownership comes the ability to renovate, paint walls however you want, and add special touches that make your house feel like home (like a cute little reading nook in your living room).
But with homeownership also comes a lot of extra responsibilities…and most of them aren't that fun.
Ya know, things like adding a garbage disposal to your kitchen sink…or restoring your wood deck….maybe even refinishing hardwood floors.
One of those not-so-fun homeowner-type things is making sure your bathroom areas are sealed and not getting damaged by water – which leads to mold and mildew…and then it REALLY turns into a not-so-fun thing.
A few months ago, when we were sharing all about our bathroom renovation, I talked a lot about waterproofing your shower when we shared shower tile installation tips and tricks. That post is filled with so many great tips, but most of them only apply if you are doing shower tile from scratch.
If you are dealing with an old house or maybe fixing someone else's mistakes (like we were….more on that later), there comes a time when you may need to recaulk your bathtub.
Recaulk a bathtub – FAQs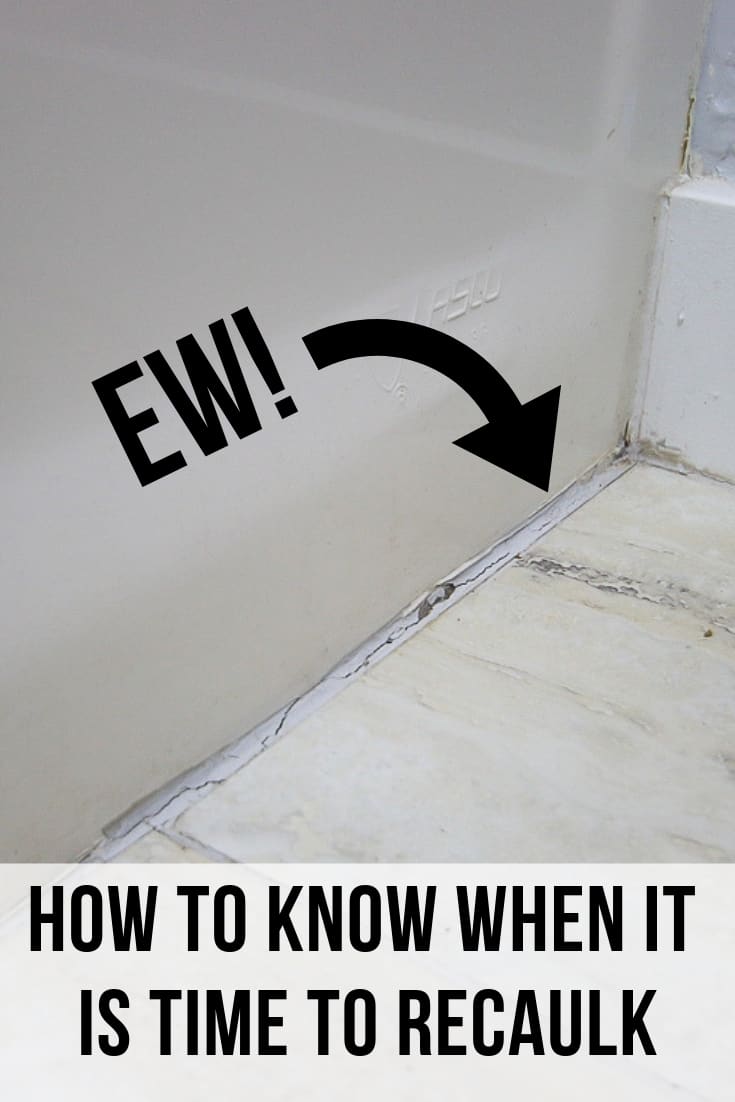 How do you know if your bathtub needs to be recaulked?
Good question! You definitely need to recaulk your bathtub or shower if the caulk lines are:
discolored
cracking
peeling
have gaps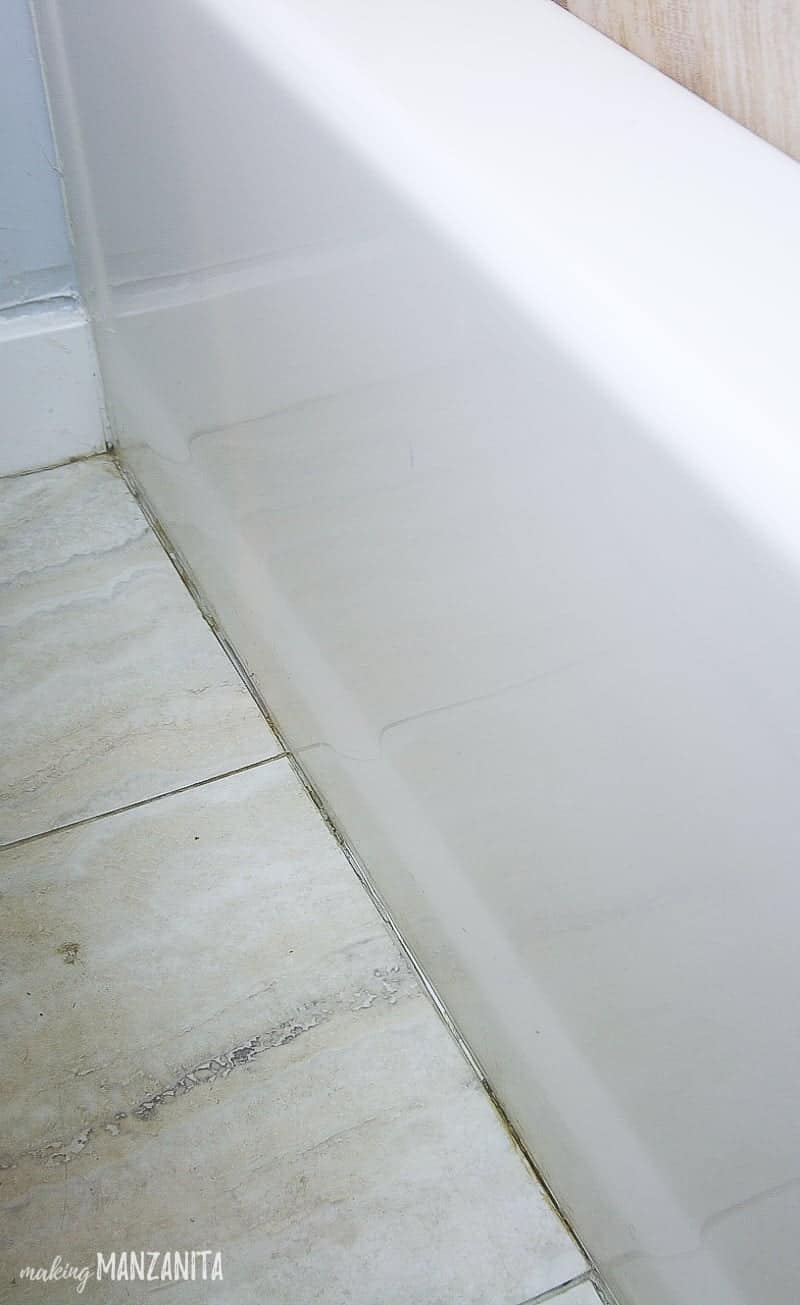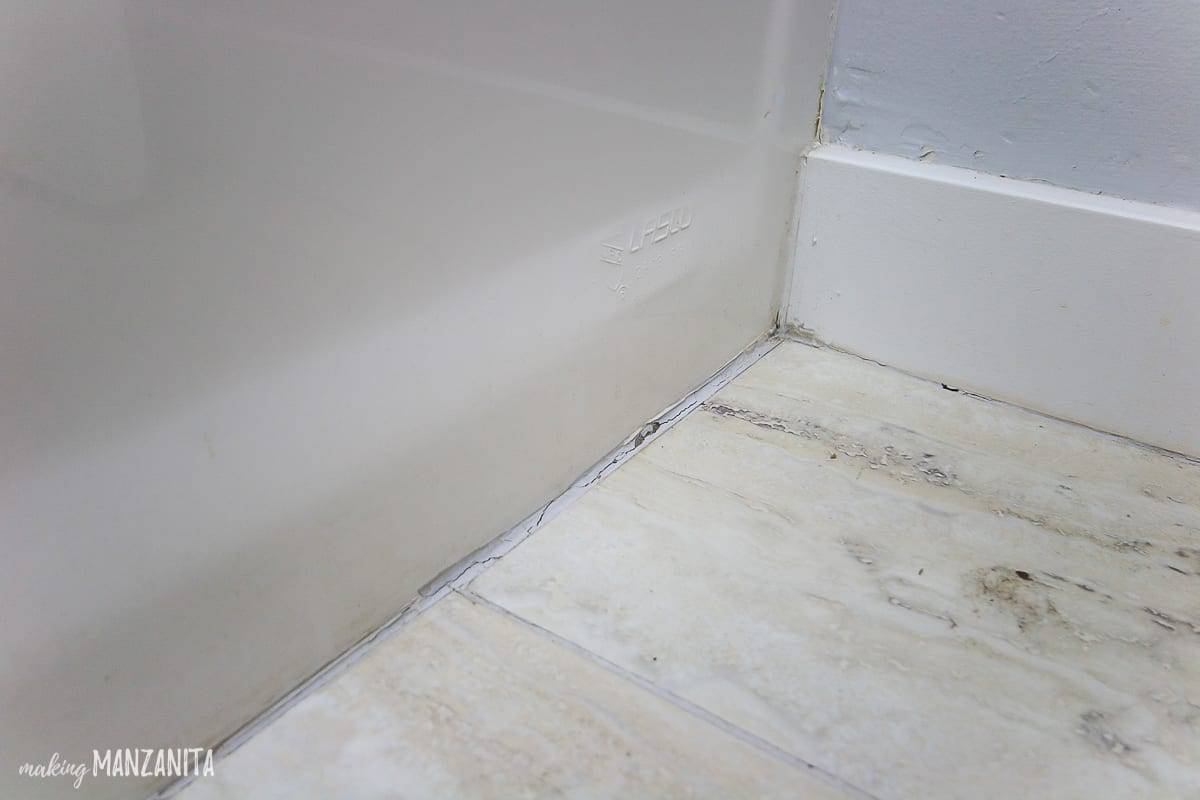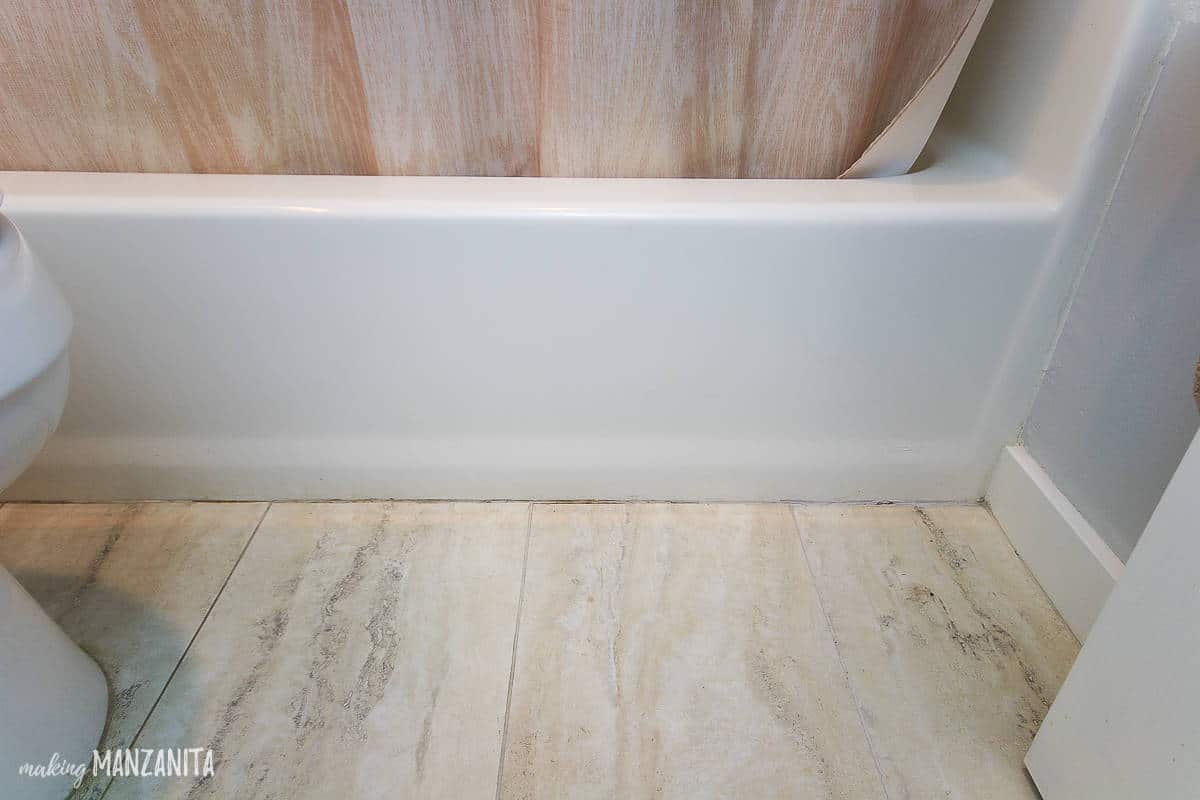 When we started working on this recaulk project, we figured out that the line where our bathtub meets the floor was grouted and NOT caulked, which is a big mistake. You may be wondering…
Why should you caulk the line where your bathtub meets the flooring, rather than grout it?
First of all, this is an area of the bathroom that may get regularly exposed to water splashes from a messy toddler in the bathtub or even someone taking a shower without the shower curtain blocking the water splashes.
If water sits on grout, the grout will soak in the water over time (even if you seal it).
When you use the tub, it will expand and contract due to the heat. Grout is brittle and will crack in these instances and not flexible like caulk.
How to recaulk a bathtub – step-by-step tutorial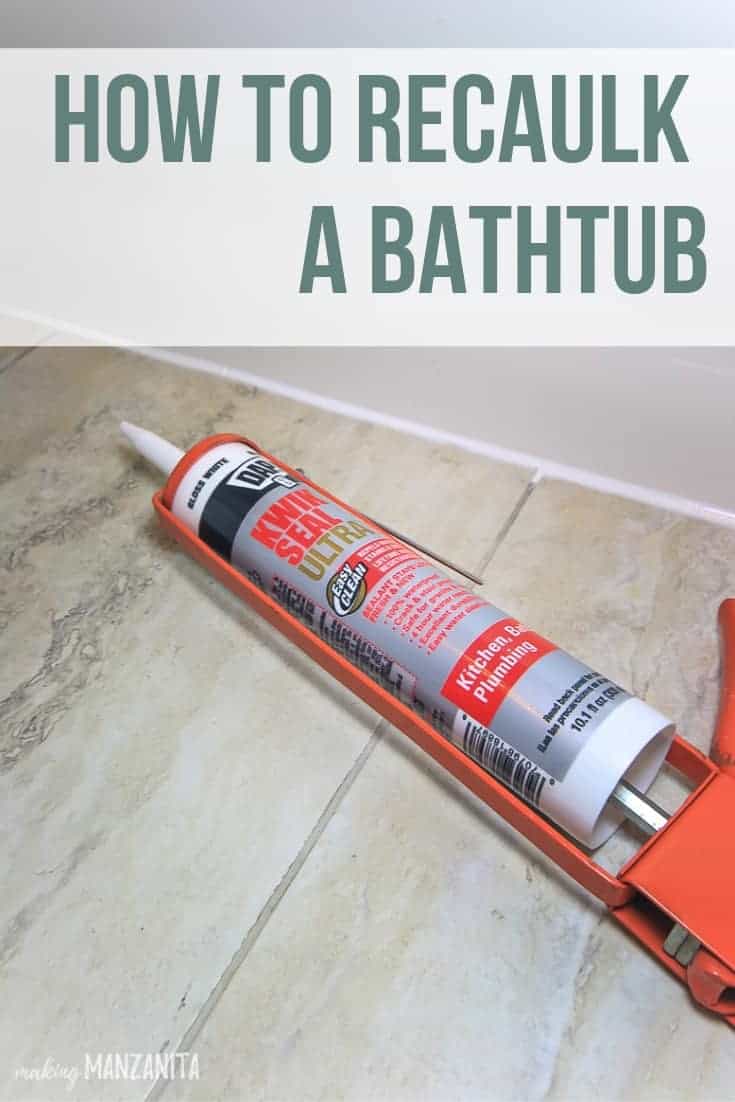 Supplies needed to recaulk bathtub:
Rubbing Alcohol
Cleaning Rag
Painter's Tape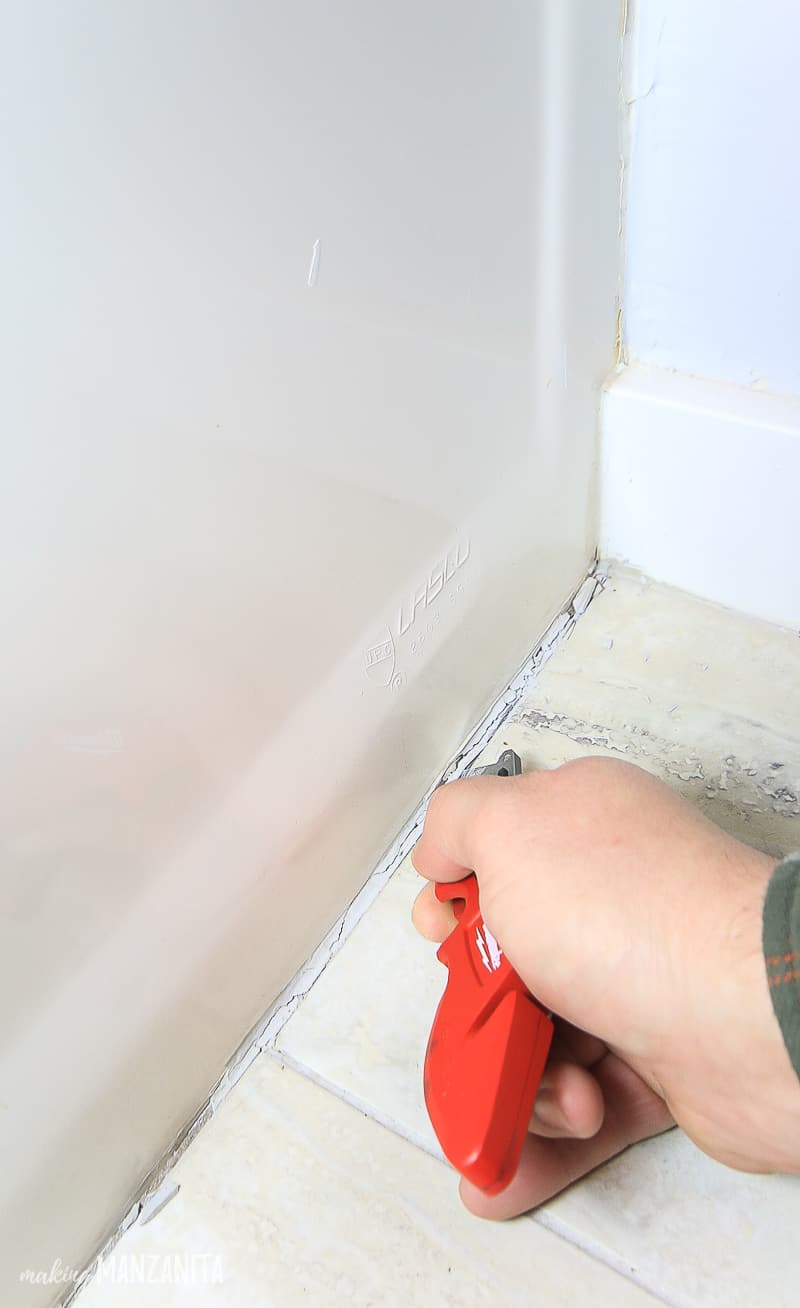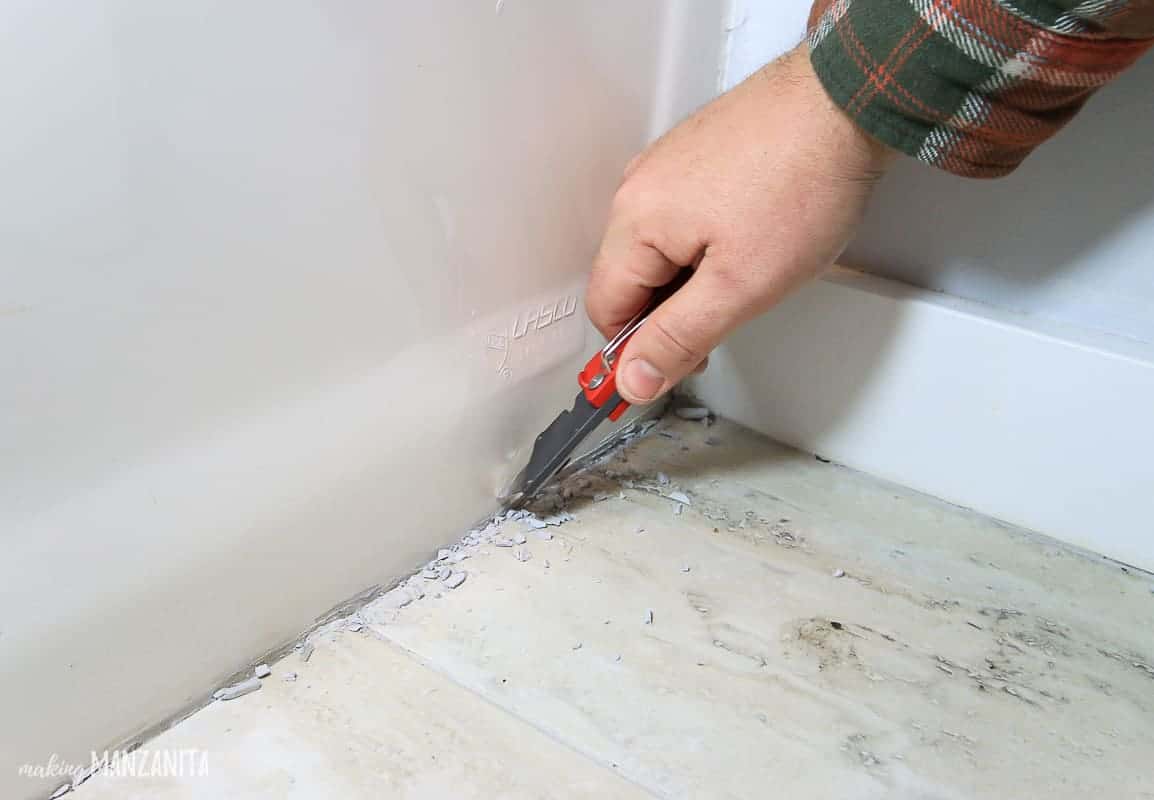 Step 1. Start by removing old caulking or grout.
Start by using your utility knife to remove any old caulking/grout that may be present between the bathtub and flooring.
We, unfortunately, had grout here – not caulk. See above to find out why you should always caulk the line where the bathtub meets flooring instead of grouting.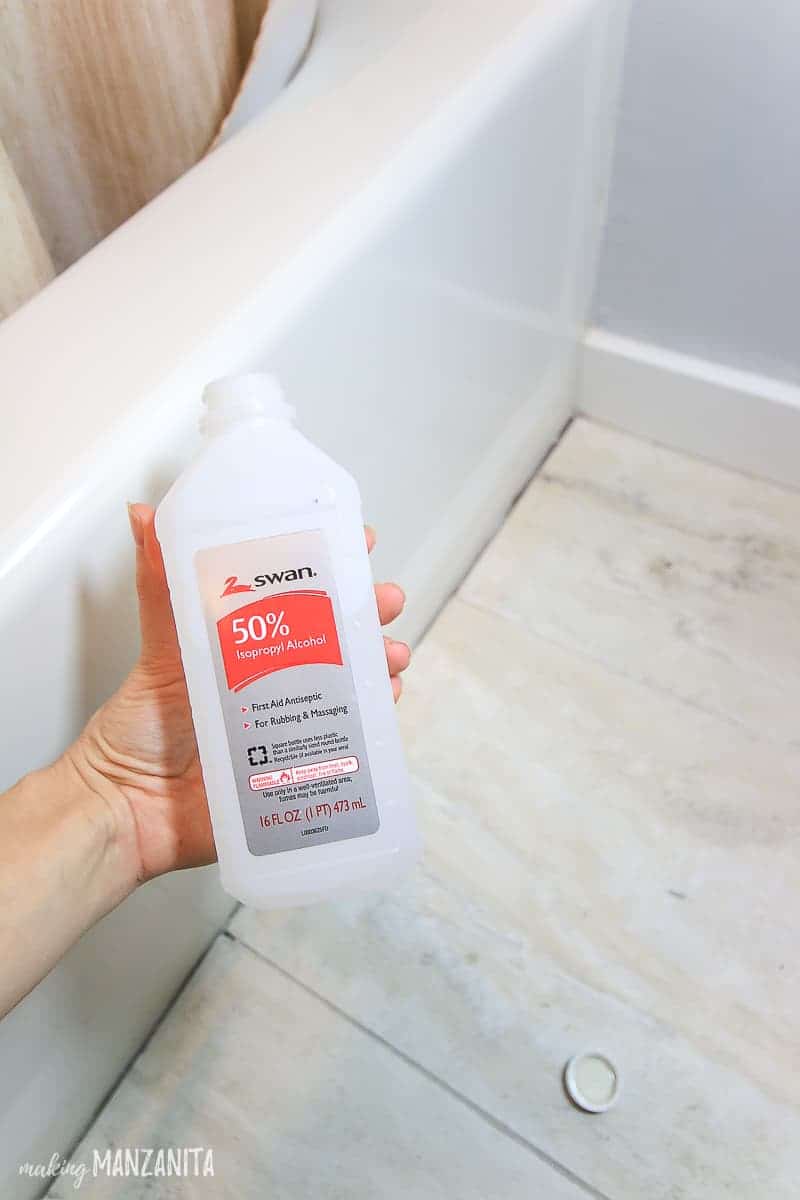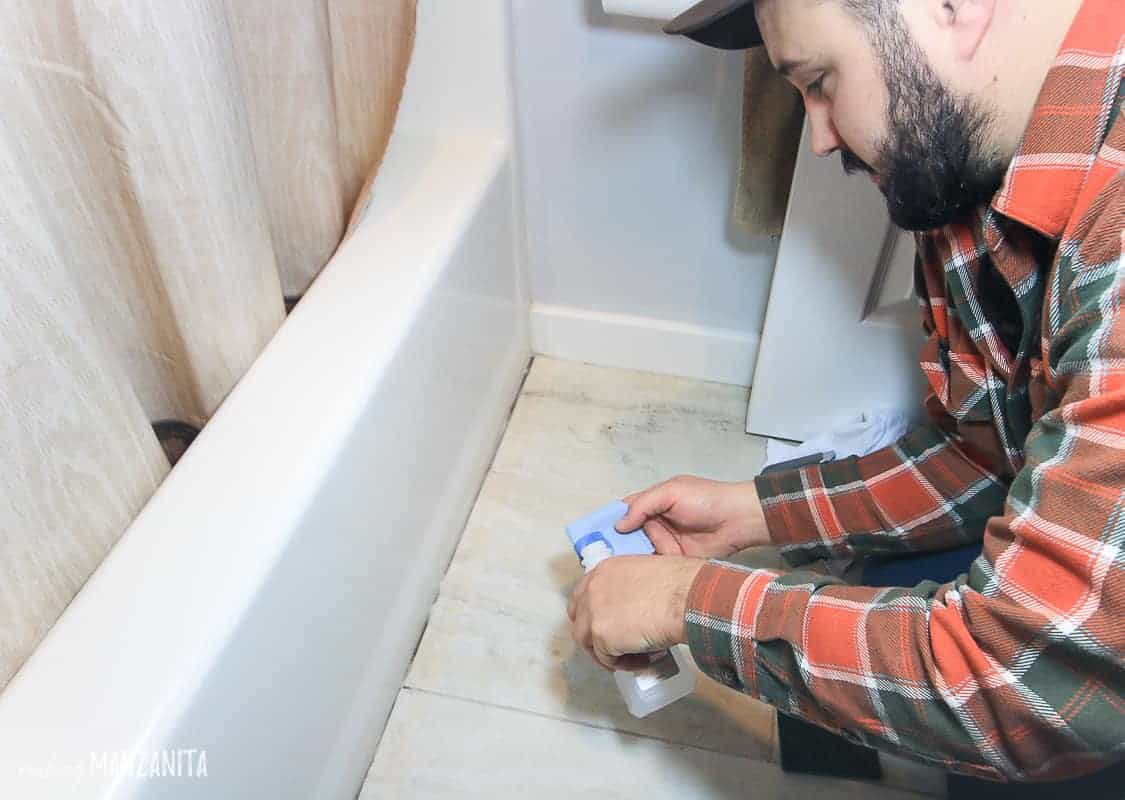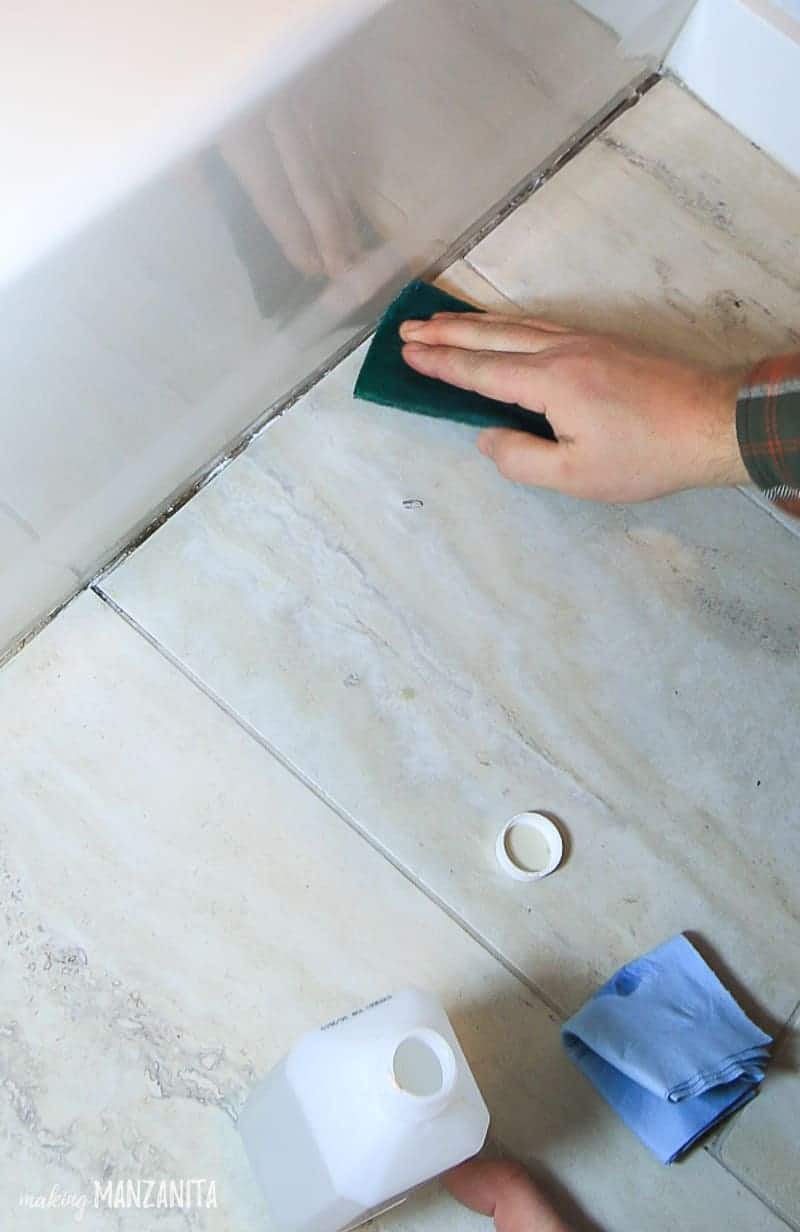 Step 2. Clean the area that needs recaulking.
After the old caulking is removed, you'll want to thoroughly clean the area with rubbing alcohol and a scouring pad. The scour pad helps get rid of any stubborn caulking and other residues that might not have come off during the scraping. Rubbing alcohol also leaves an extremely clean surface as it evaporates.
Step 3. Wait until the rubbing alcohol dries.
Wait until everything is perfectly dry. This may not seem like a step, but it is really important that everything needs to thoroughly dry, or else the caulking won't seal and grab the surfaces properly. This is crucial and part of the prep work to ensure a good seal or water will get under the floors, leading to rot.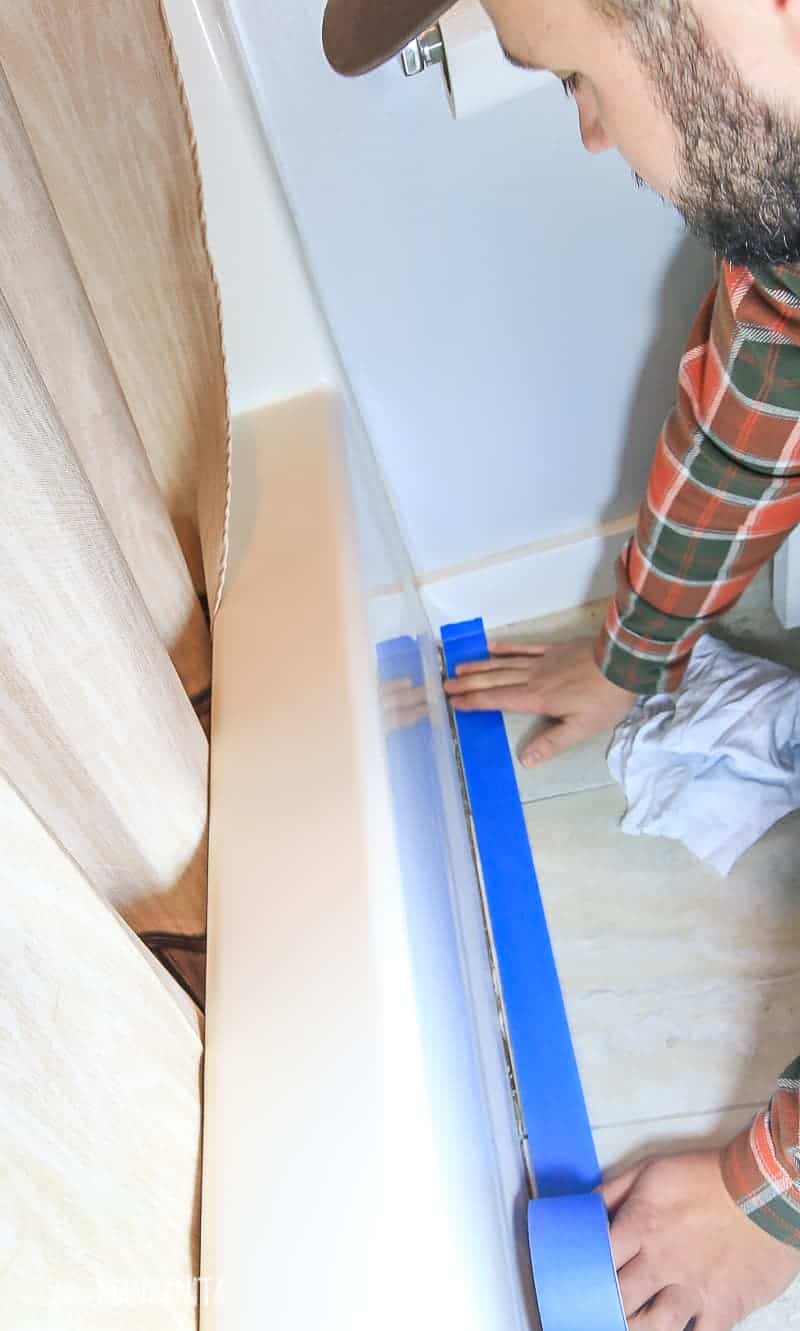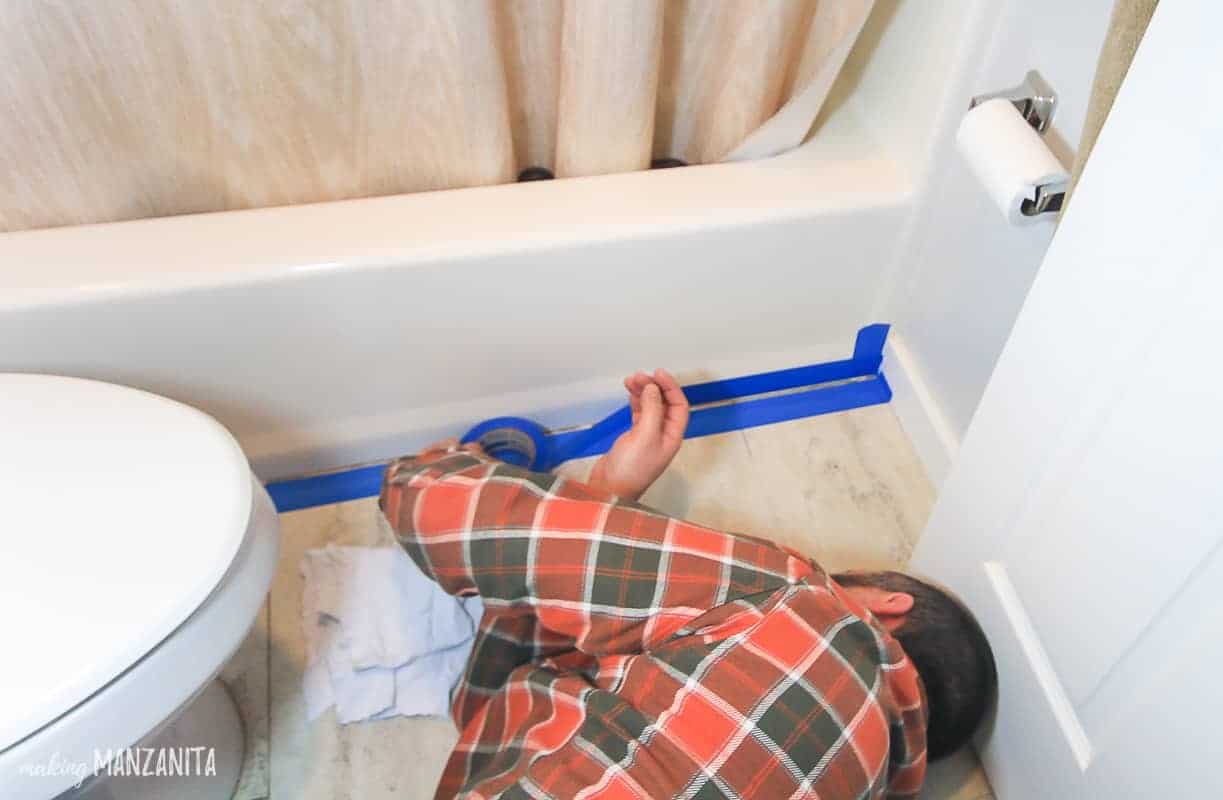 Step 4. Tape off new caulk line.
Once everything is perfectly dry and clean, you can get out the painter's tape and put down a straight line along the edge of your flooring. Try to leave a sliver of your flooring…we're talking about a really small, visible sliver of following when you lay out this line.
Then run a line of painter's tape along with your tub with the tape. There really isn't any reason to go high off the ground – just try to be a little bit higher than your flooring.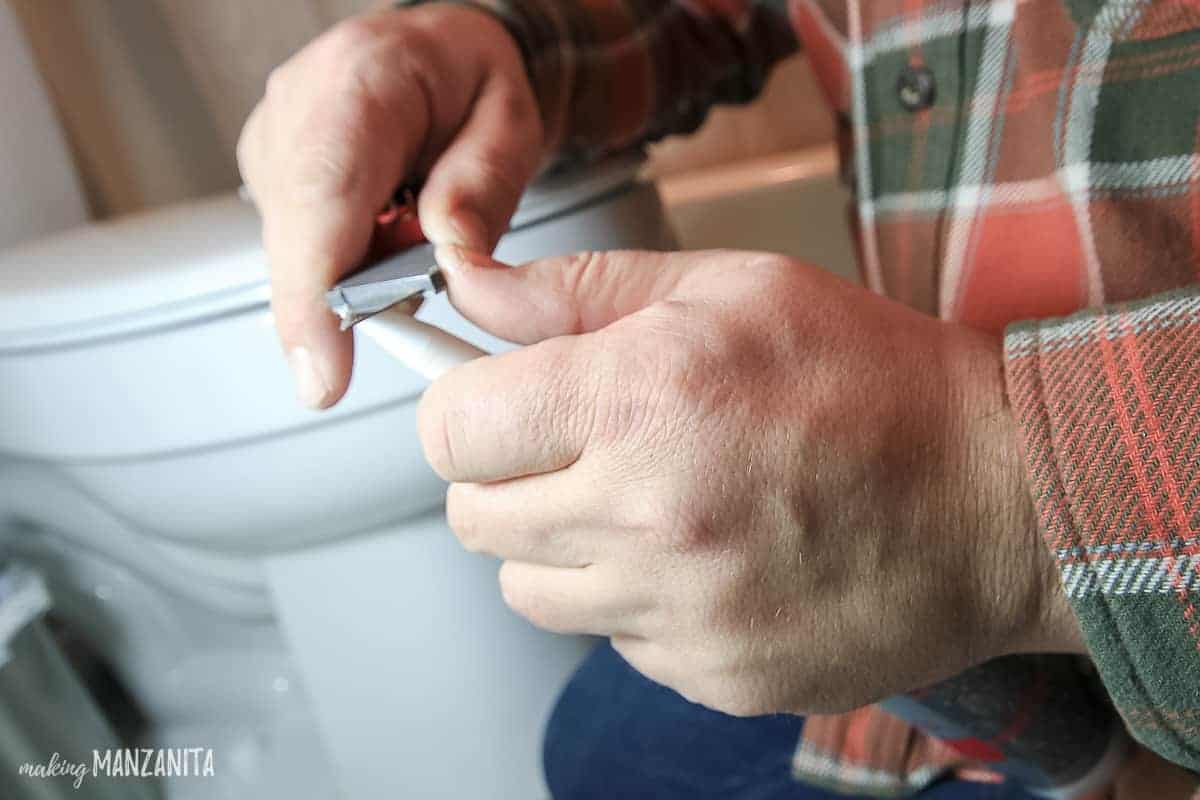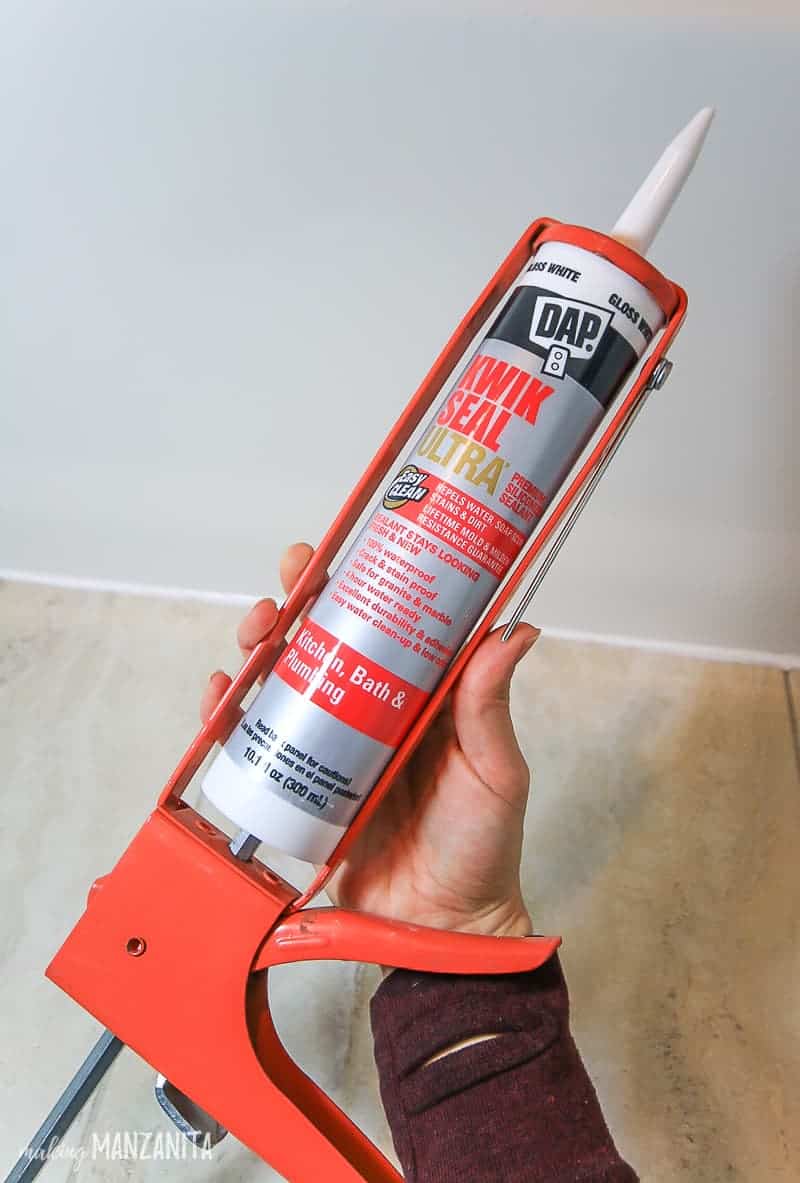 Step 5. Open the caulk and load the caulk gun.
Open your tube of caulking at a 45-degree angle with the utility knife. Try to keep the opening as small as you can. By leaving the opening small you can reuse the tube later and you ensure that you don't squeeze too much caulking out at once.
Next, you can put the tube of caulk into your caulk gun. Start by swinging out the little stick on your caulk gun and sticking it in the top of the tube. This pierces the seal (if any) to get the caulk flowing. Then simply place the caulk tube into the gun and you're ready to go. If you gently pull on the trigger, the caulk should start coming out.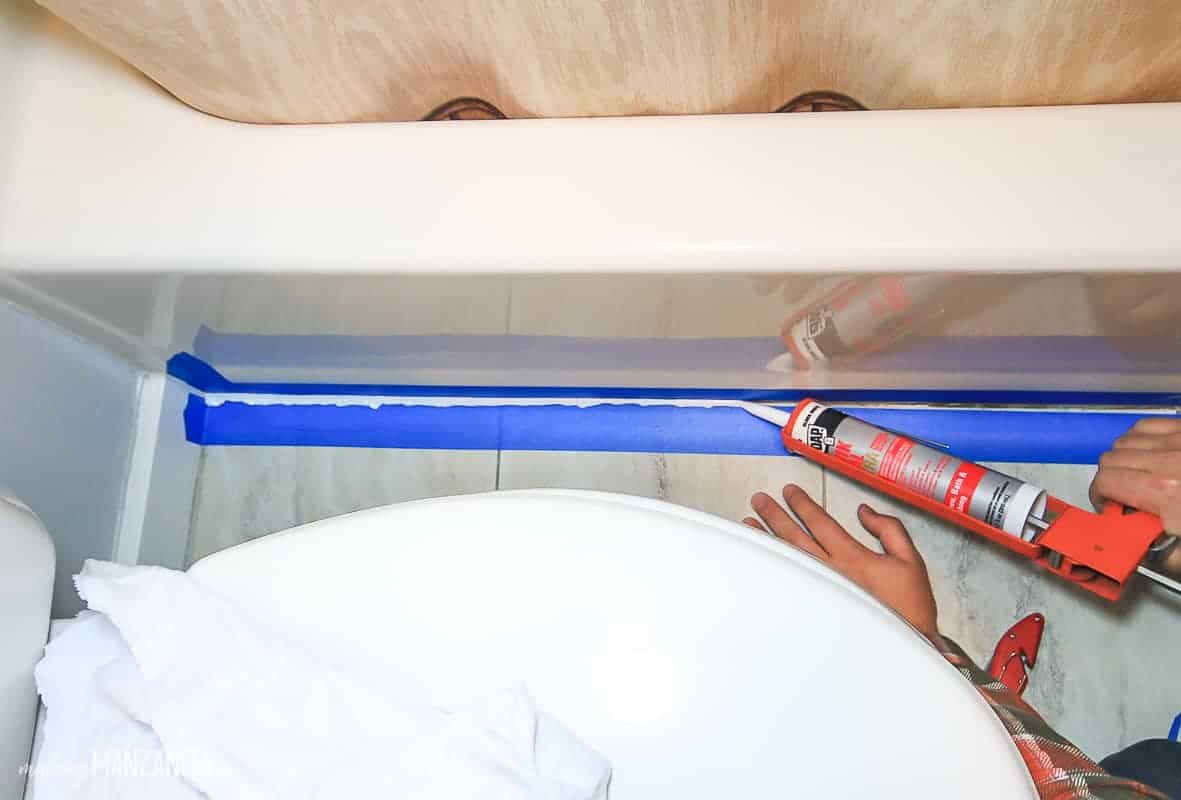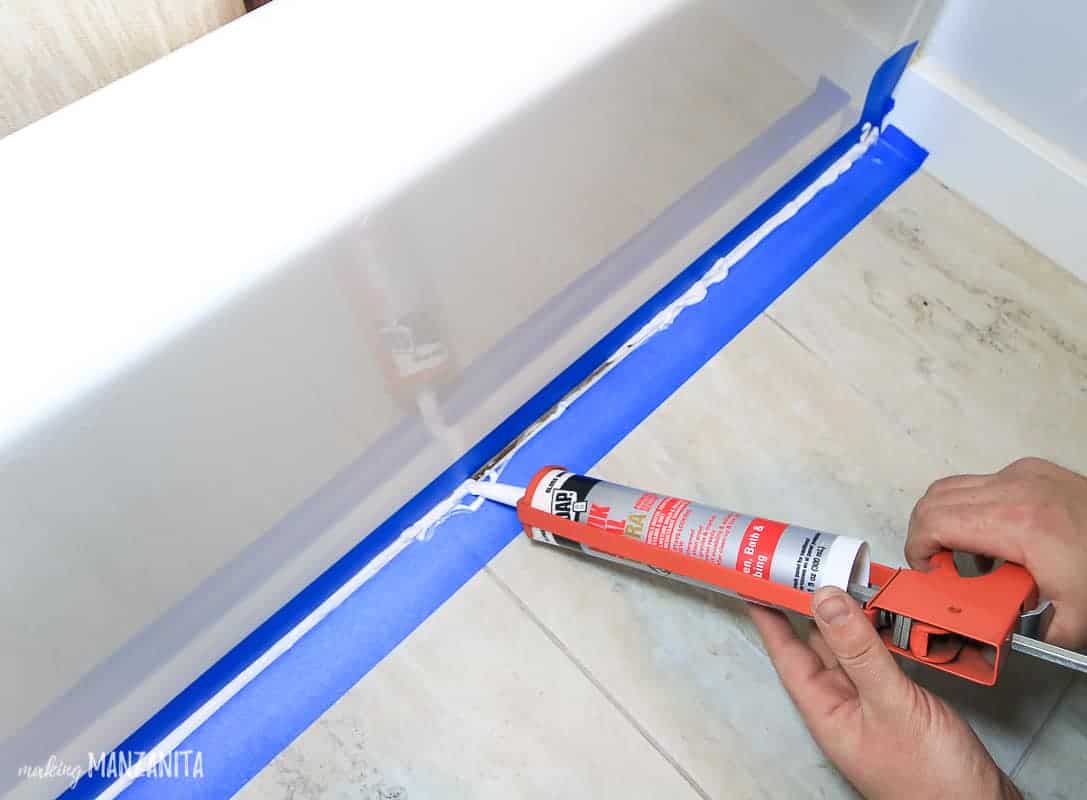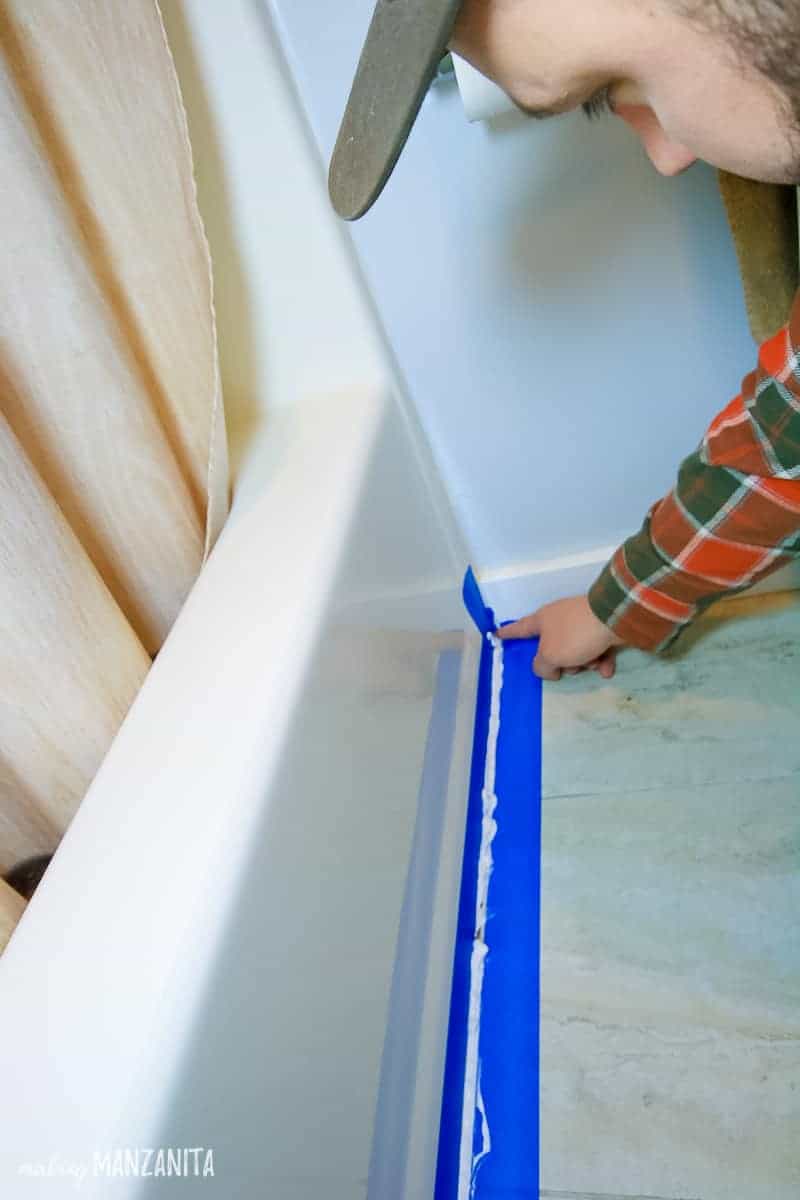 Step 6. Apply caulk.
Holding the caulking gun at a 45-degree angle, run an even bead along the gap in between the tape. Immediately run your finger to push in the caulking so that it fills the gap completely and grabs both the tub and flooring. If it is at all sticky, you can try wetting your finger slightly.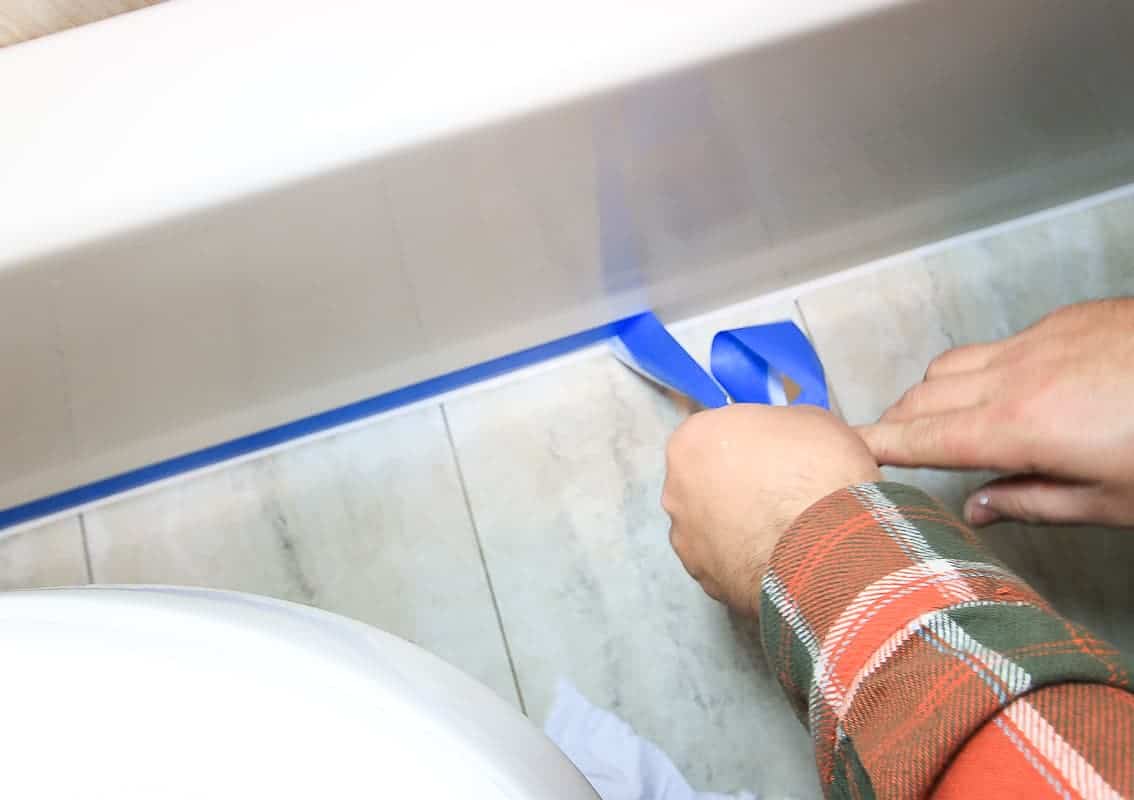 Step 7. Remove painter's tape.
Remove the blue tape. You'll want to do this fairly quickly. The longer you wait, the more likely the caulk will bond with the tape.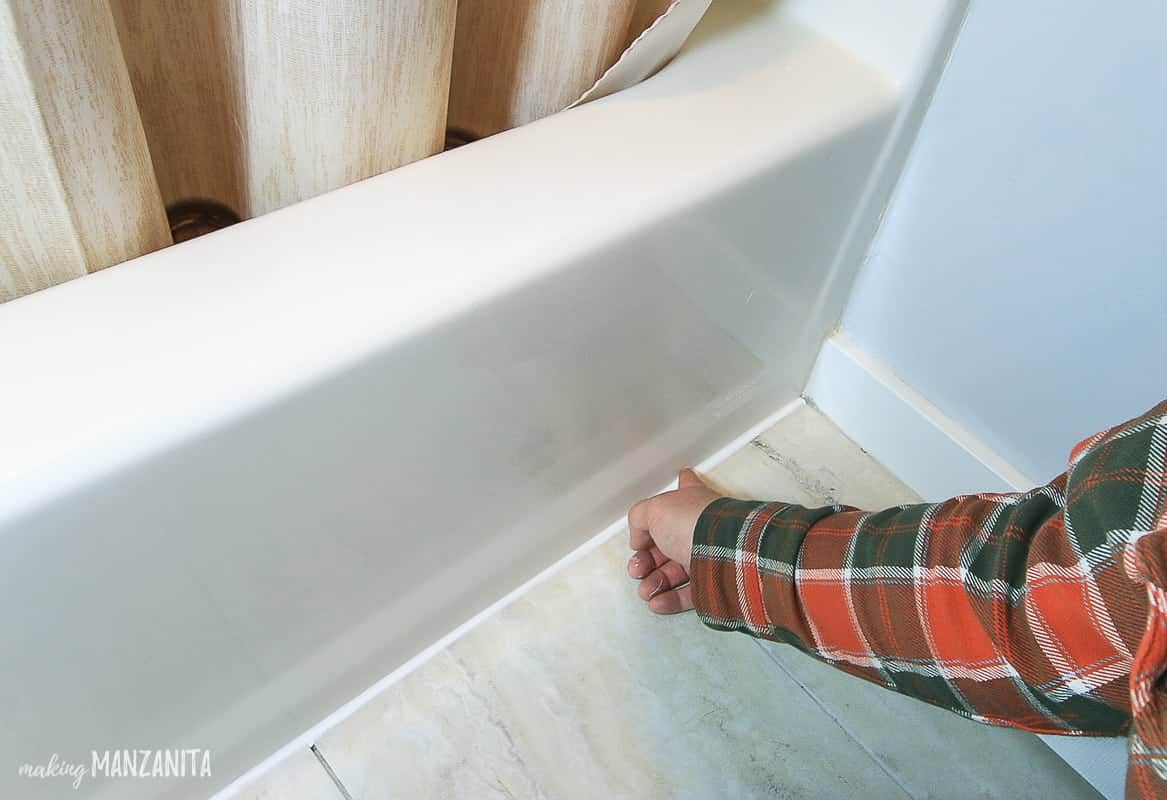 Step 8. Smooth caulk again.
Right after you remove the tape, quickly run your finger along the caulk bead again to push down and seal any caulking that may have lifted when you removed the tape.
Step 9. Clean up.
Clean up any caulking that may have spread and all your tools and equipment and let your caulking dry.
If you are going to be using the caulk tube again soon, you can put some painter's tape around the top, so it doesn't dry out.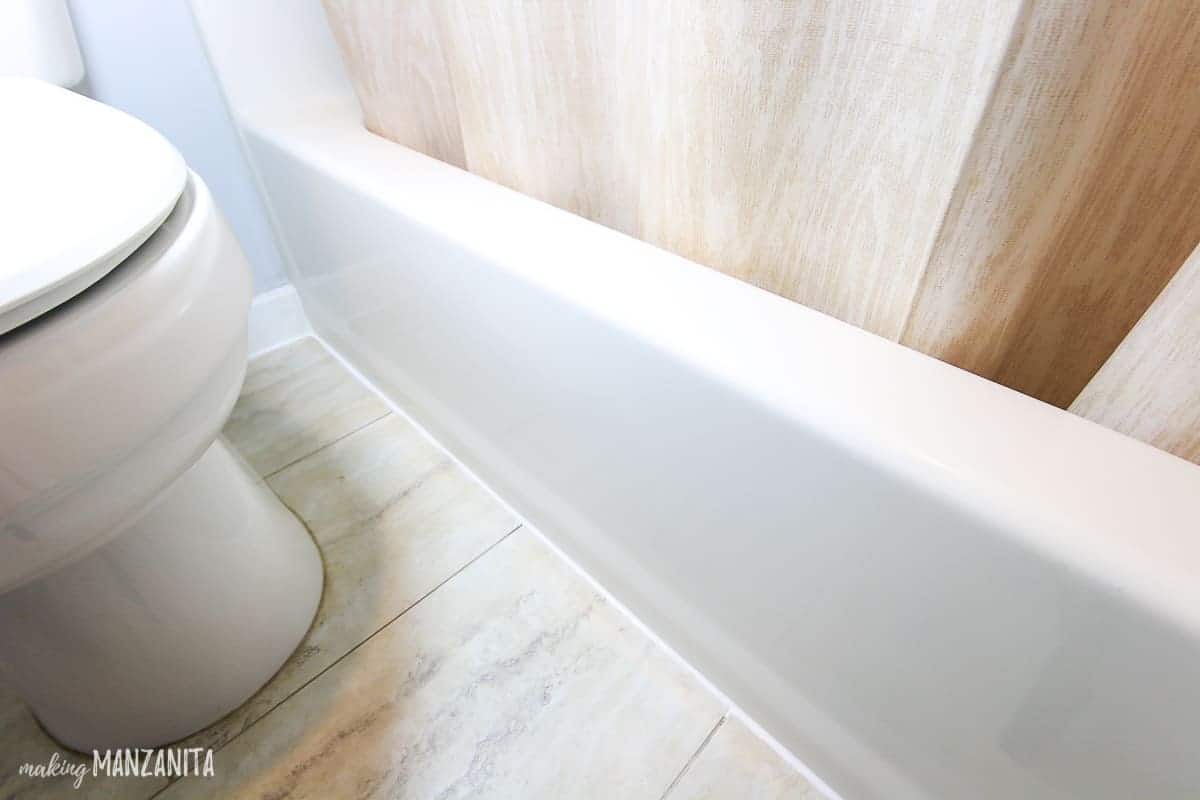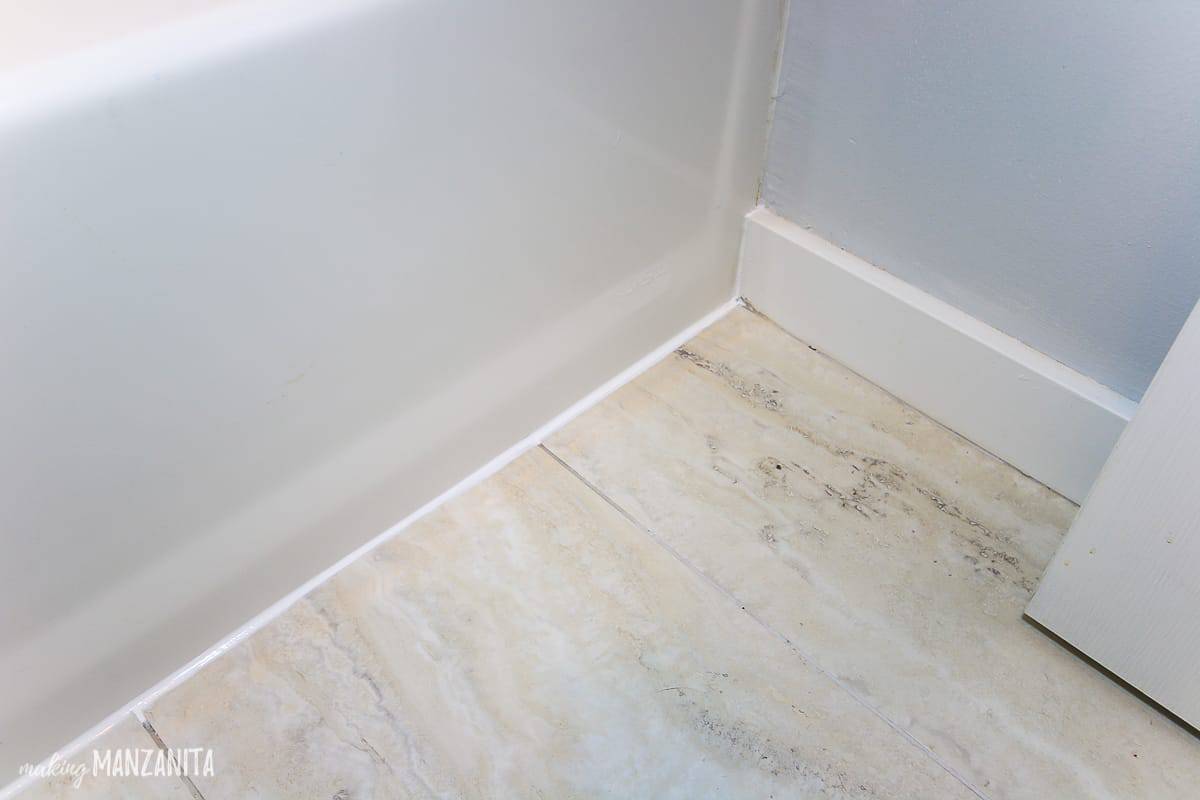 You are done!!!! Be sure to allow the caulking to dry according to the specifications are on the tube. DAP's Kwik Seal Ultra recommends that you wait at least 4 hours before it is exposed to water. If you don't wait 4 hours then water may wash out the caulking and you'll have to start the project over. So be sure to plan around this before you begin the project.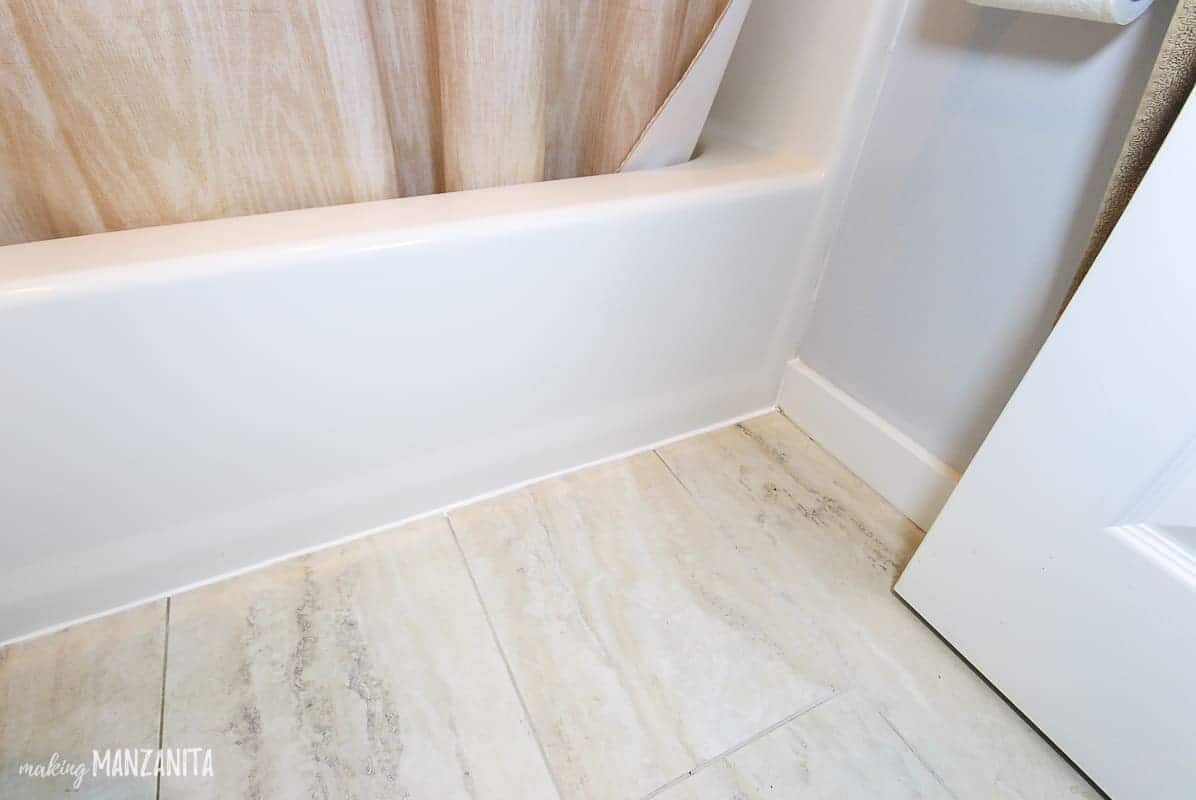 Even if you don't have much DIY experience, learning how to recaulk a bathtub is pretty simple. Even with drying time this project should take you less than 1 hour and shouldn't cost you more than $10. After you're done, you'll be left with a waterproof bathtub and fresh-looking caulk lines.
Ready to see those before and afters??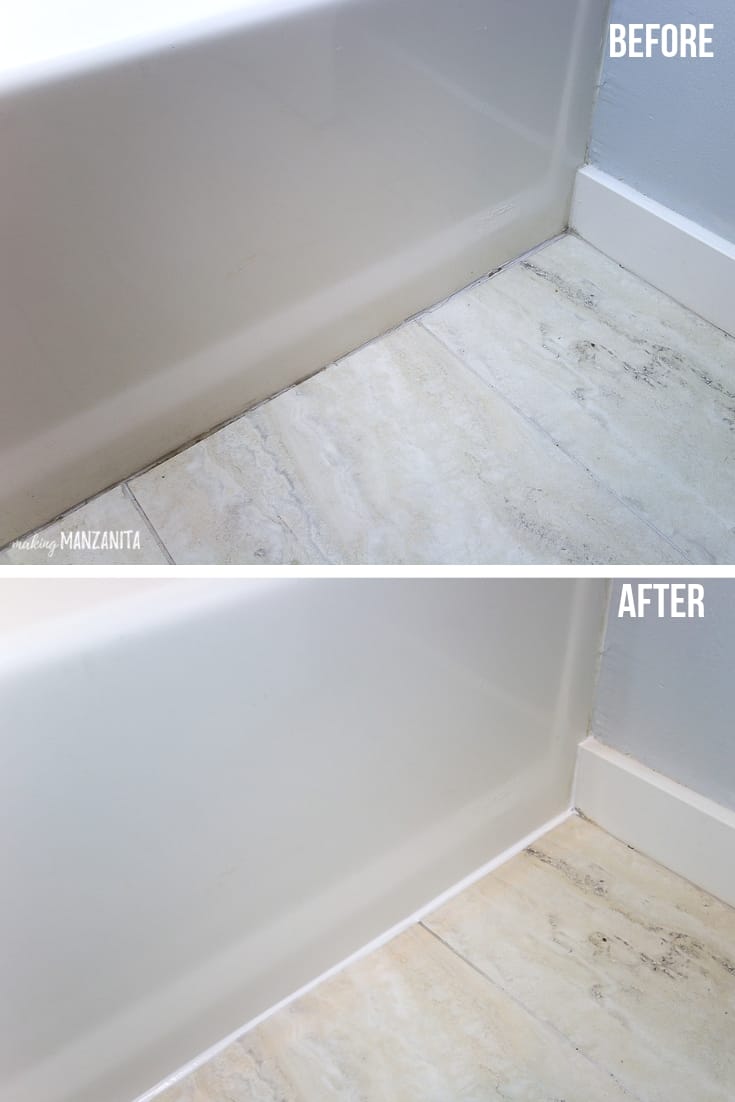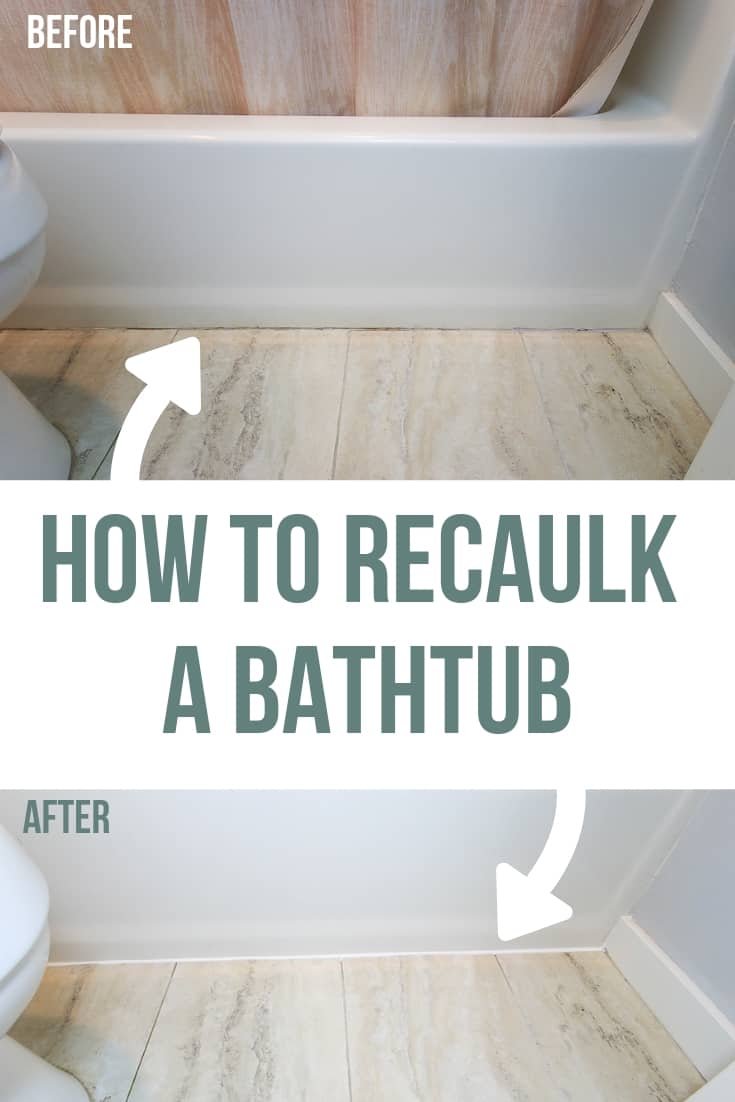 Do you need to recaulk your bathtub too??
Let me know how it goes in the comments below!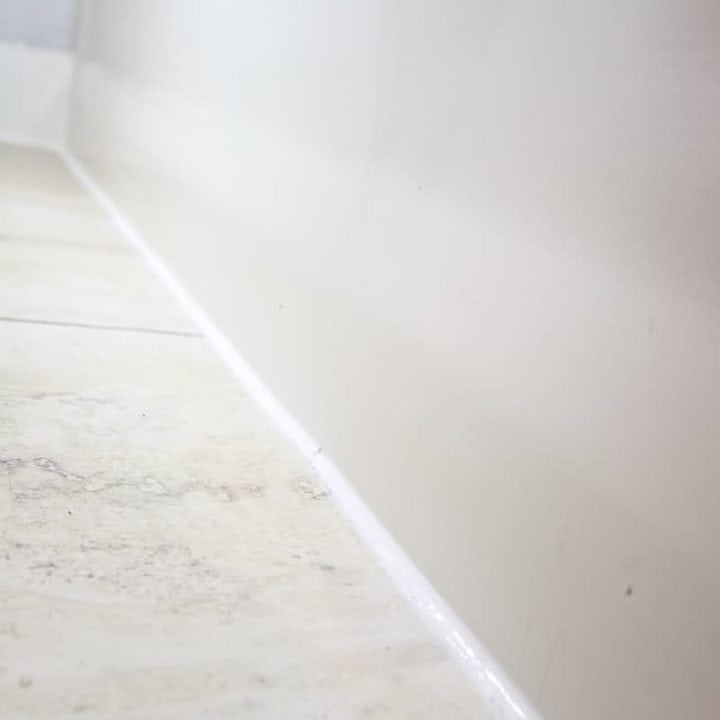 How To Recaulk A Bathtub
Are the caulk lines on your bathtub cracked, peeling or discolored? It may be time for you to recaulk! Learn all of the in's and out's of this simple DIY in this tutorial for how to recaulk a bathtub.
Tools
Cleaning Rag
Painter's Tape
Instructions
Remove old caulking or grout.
Clean area with rubbing alcohol and scour pad. Wait until it dries.
Tape off line.
Open caulk with utility knife at 45 degree angle and load caulk gun.
Apply even bead of caulk along the gap in between the tape. Run your finger to push caulking in.
Remove painter's tape.
Smooth caulk again.
Clean up.