We are renovating our guest bathroom! Check out the before pictures and see our bathroom mood board and sources in this article.
Today we're introducing our next renovation project – our guest bathroom. You'll see the before pictures, see our bathroom mood board and we'll provide links to the sources found in the design plan. We'll also be sharing a full project list so you can get an idea of what is to come!
Table of Contents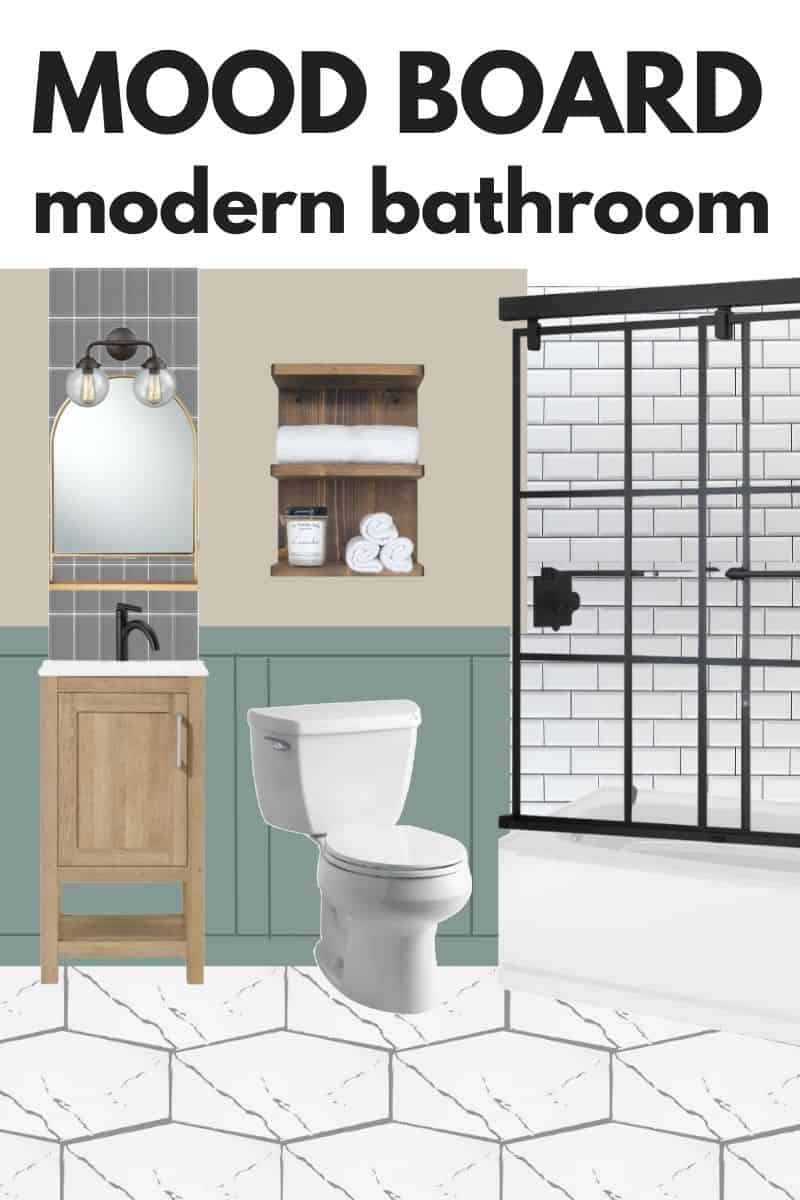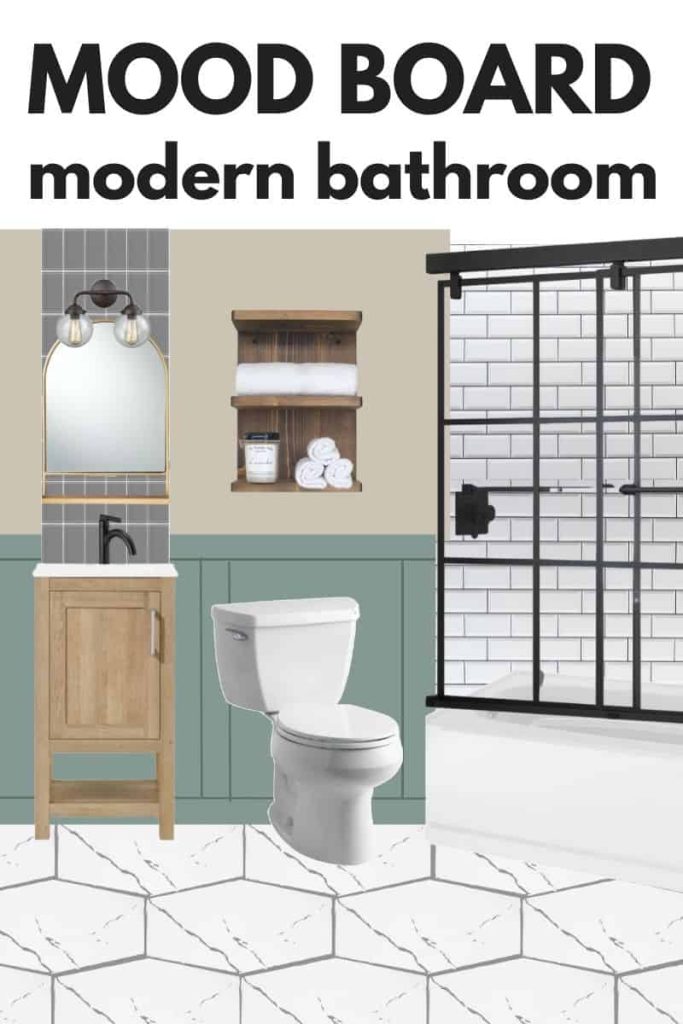 This bathroom mood board article contains affiliate links, but nothing that I wouldn't recommend wholeheartedly. Read my full disclosure here.
Before Pictures
If you remember back a couple of years ago we tackled a fairly simple makeover in our guest bathroom. We only spent $250, but we made a huge difference in the space.
With a little paint, shiplap and fresh decor we transformed the bathroom and gave it some of that boho style that I love.
Just take a look at this impressive before and after! It was SO much better.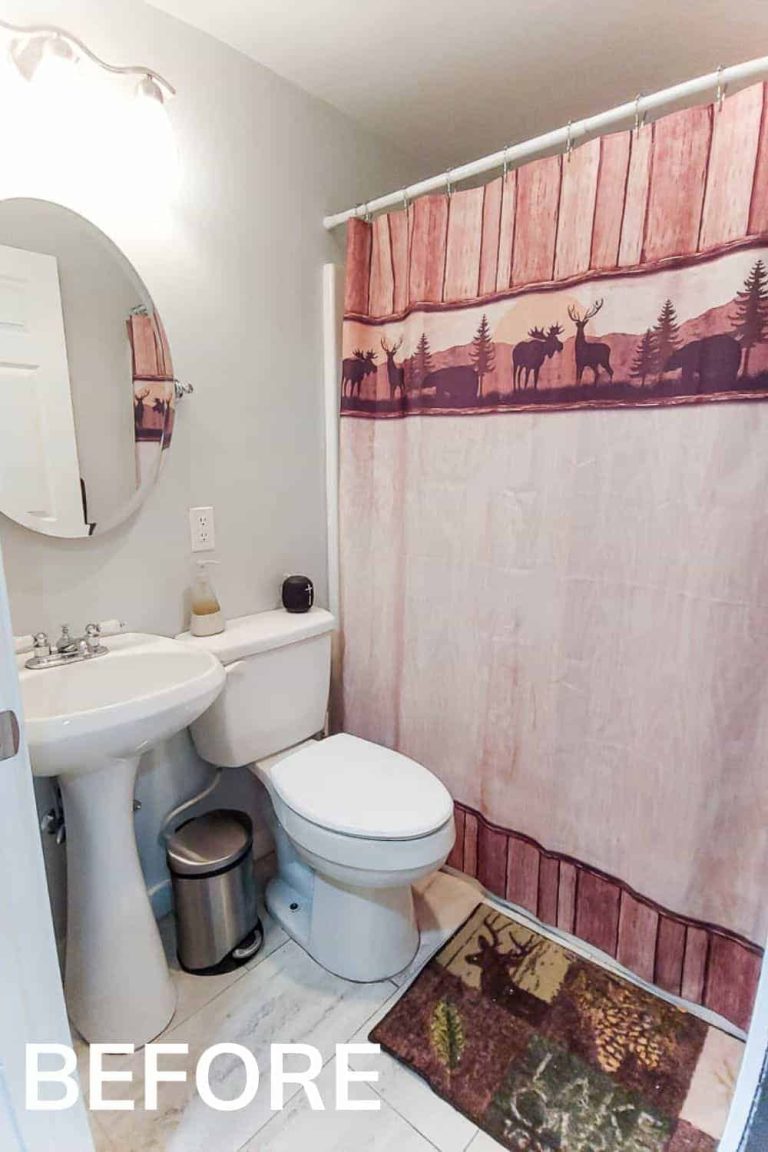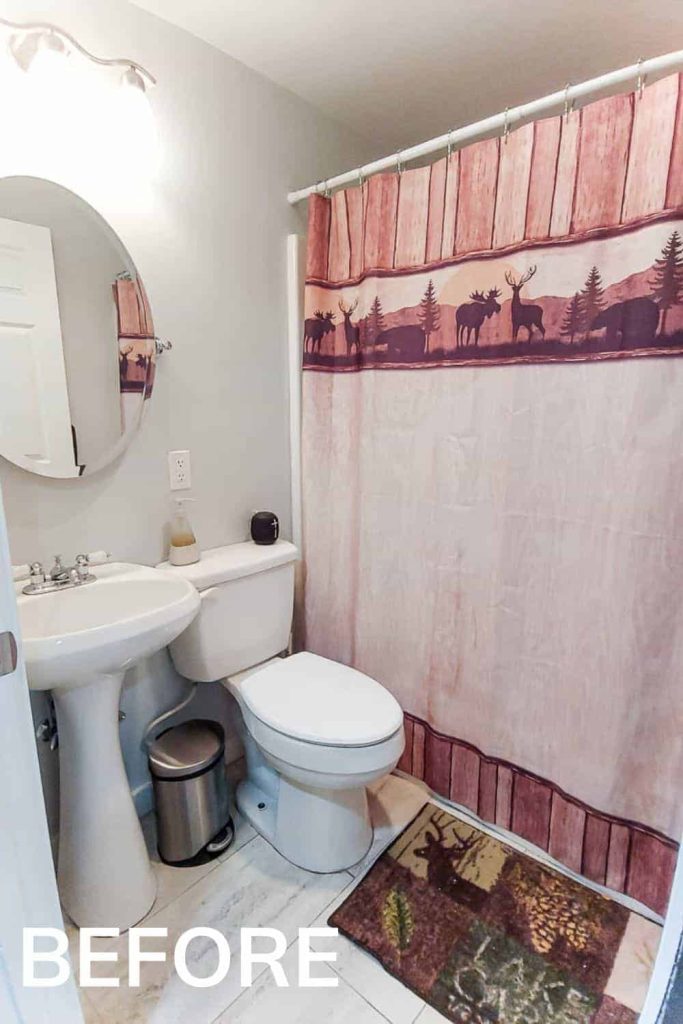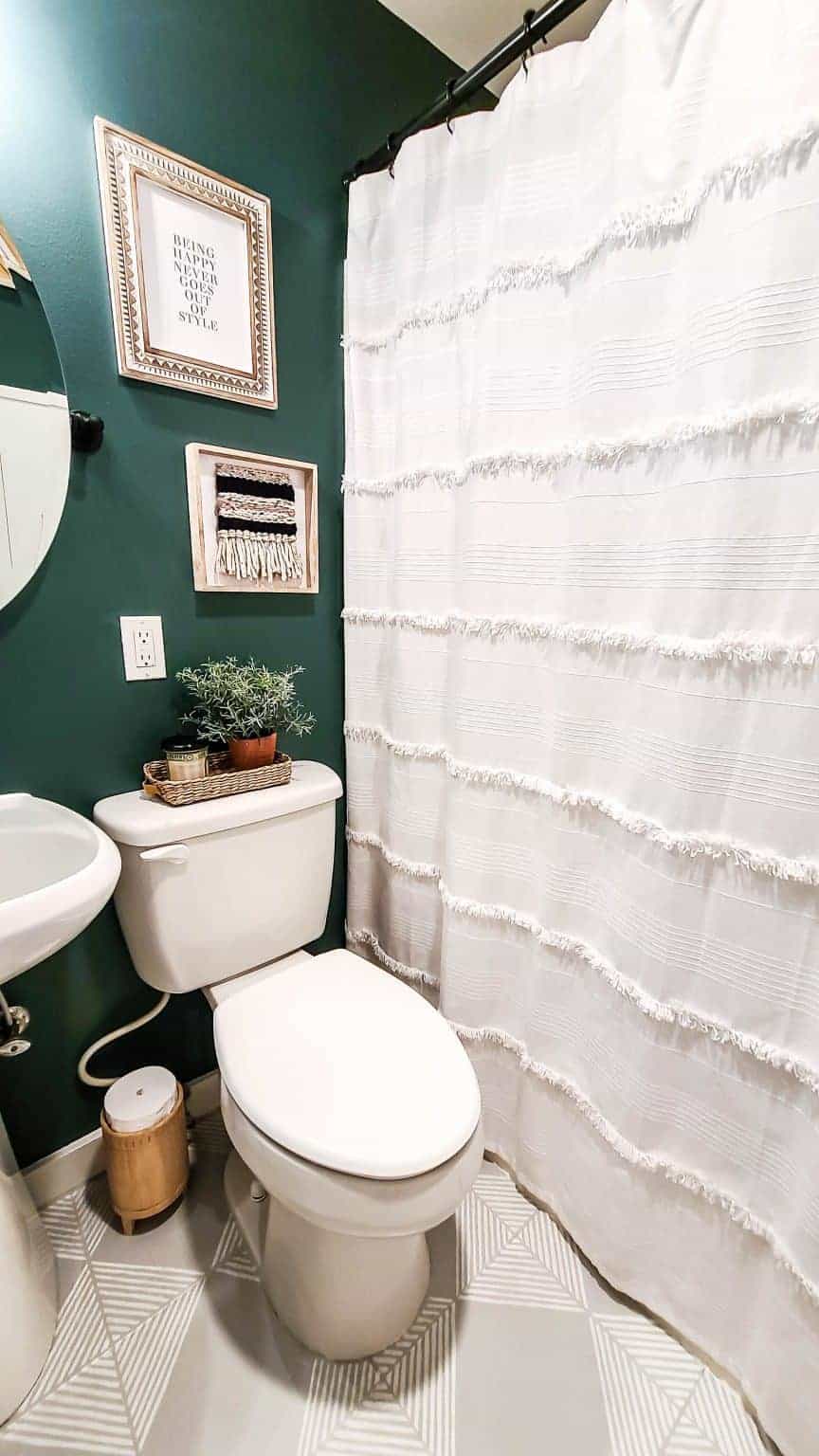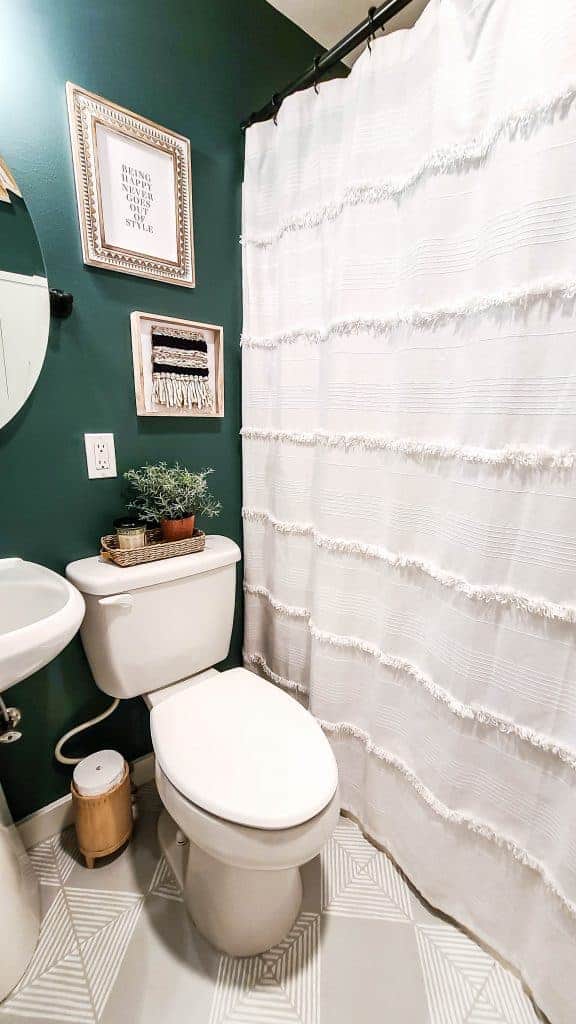 But all along this was a "Phase 1" makeover in our minds. We wanted to spend a little bit of money to make the space look a lot better while we waited until we had the time, energy and money to focus on it for a full renovation.
We knew that the bathroom really needed to be fully renovated for several reasons.
The bathtub was old and discolored. The pedestal provided no storage and was cracked. The drywall texture was not great.
At some point (before we moved in) there had been a leak from the bathtub or toilet and subflooring hadn't properly been fixed.
The painted tile floor worked well for a couple years, but it really wasn't a perfect long term solution.
Our Next Project: Guest Bathroom Renovation
So now's the time to focus on this space! We're done with most of the other rooms in our home (for now).
Meanwhile we've been patiently waiting for the real estate market to calm down a bit so we can purchase another home and move forward with converting this house to an AirBNB.
Bathroom Mood Board
As we get going on this fun and exciting bathroom renovation, I wanted to take the time to share some of the behind the scenes with you so you can see some of the thought and design choices that are going into the bathroom.
Here's the mood board and design plan that we've come up with.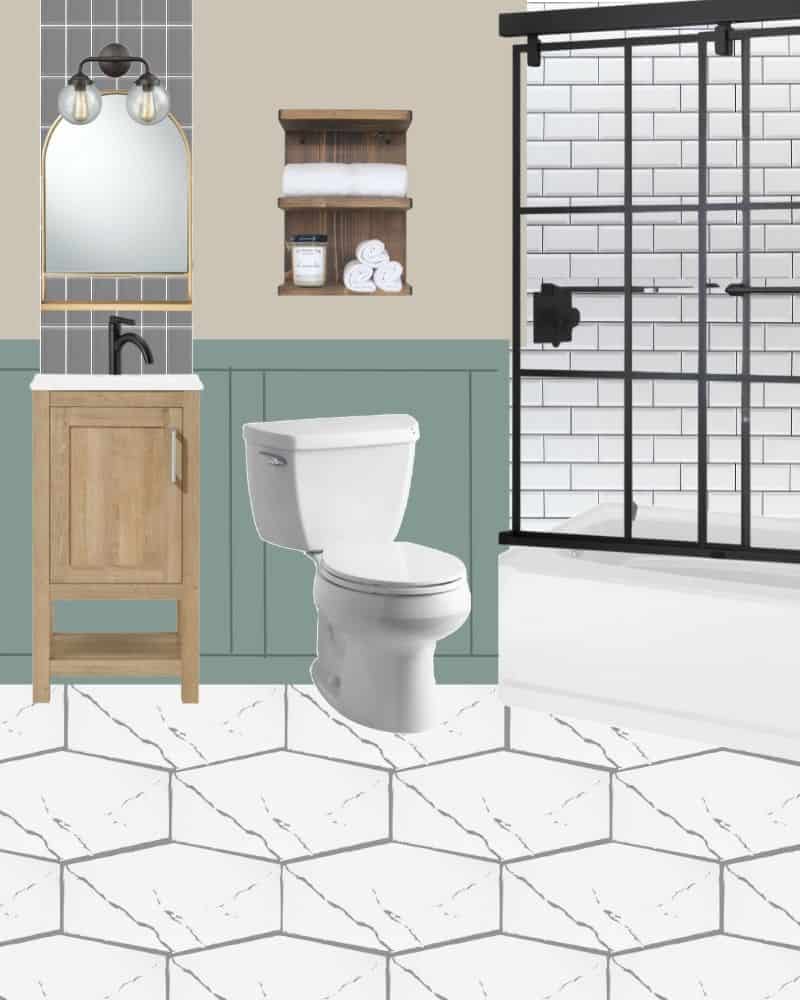 Pretty gorgeous, right? I can't wait to see it come together in real life!
I started dreaming up this bathroom renovation this winter and start playing around with different design ideas while cozied up on the couch when it was cold and snowy outside – that's the perfect time for renovation dreams, right?
We've made a few adjustments to the plans as we got closer to being able to start the renovation as we nailed down the color schemes and supplies due to availability.
Here's the bathroom mood board sources that we'll be using in the renovation. No promises that a couple of these here and there won't change because this is real life renovating over here and sometimes that means you've gotta pivot.
Bathroom Mood Board: Sources
Want to Make Your Own Home Renovation Mood Board?
A mood board is a visual guide for your room makeover. It is sort of like a one-stop shop for all of the decor, furniture, and colors you're bringing into the room.
A mood board is an easy-to-follow design plan so you can see how everything in the room fits together in one place to make sure everything looks cohesive before you make big purchases.
You don't need to hire an interior designer to make your own mood board! In this article, I teach my entire easy process for creating an interior mood board for free using Pinterest and Canva!
Bathroom Renovation: Project List
We have a lot of fun projects planned for this space, here's a quick summary of what's on our to-do list.
Bathroom demo

Remove shower/bathtub
Remove toilet
Remove baseboards & trim
Remove pedestal sink
Remove vertical shiplap

Install new bathtub
Install new durock in shower (to prep for tile)
Install new durock on floor (to prep for tile floors)
Hang new drywall
Grout tile in shower and floor
Reinstall baseboards & trim
Install wainscoting panels
Prime bathroom walls and wainscoting panels
Paint wainscoting with this fun color
Paint walls with this color
Install new vanity
Install new toilet
Hang mirror
Install tub spout and shower head
Install shower door
Build towel shelf of some sort
Decorate
And that's it folks! My goodness, when I type out that bathroom renovation list I realize that we've got a lot on our plates, don't we?
Hope you enjoyed this bathroom mood board and hearing a bit more about our design and renovation plans for the space. Can't wait to take you a long on another fun DIY journey!
Do you have any questions about the bathroom mood board or renovation?
Let us know in the comments below!