Do you need to buy caulking and apply it in your home, but you're totally confused? In this article, we're going back to the basics and sharing everything you need to know about caulking and giving you all of our favorite caulking tips & tricks. Be sure check out the video at the end too to learn how to load your caulk gun & apply caulking!
Thank you to DAP Products for sponsoring this caulking tips guide! All opinions are entirely my own. This post also contains affiliate links, but nothing that I wouldn't recommend wholeheartedly. Read my full disclosure here.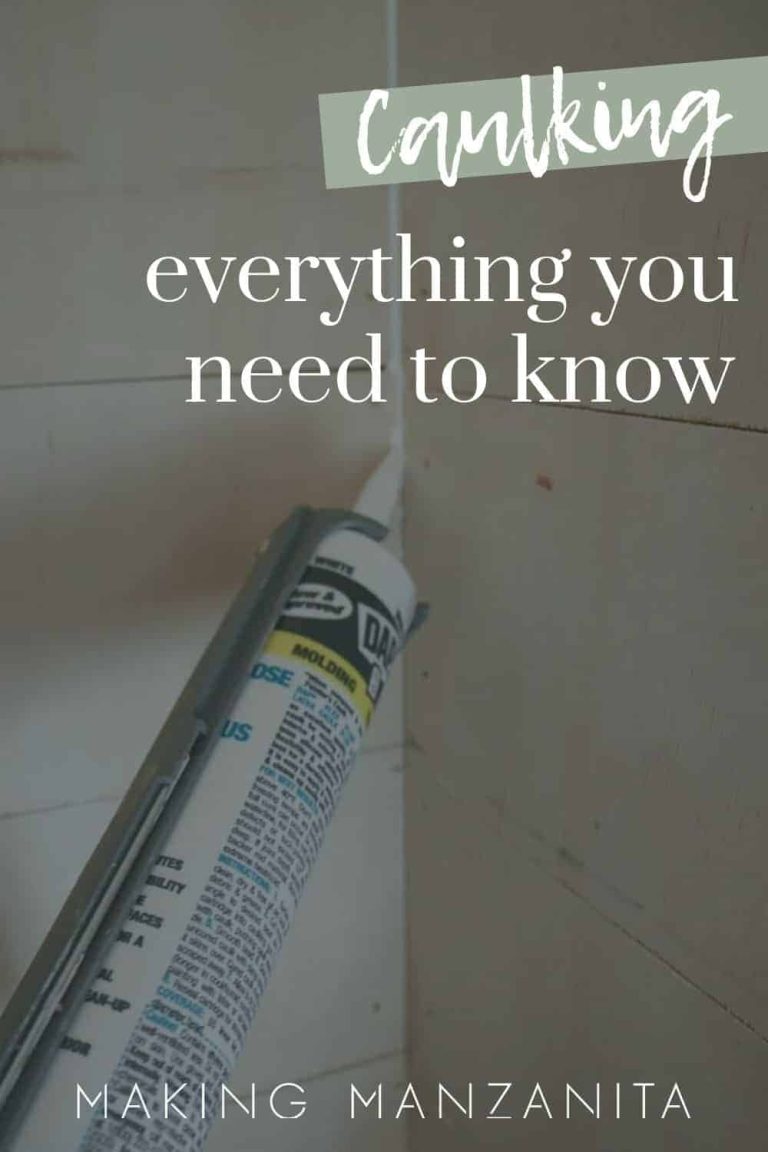 If you're someone who DIYs and loves renovating your home (or even JUST if you're a homeowner), chances are that you've had a run in or two (or ten) with caulking. There are SO many reasons why you need to caulk different areas in your home and, honestly, it can all be a little overwhelming.
Well, you're in luck today because we're bringing it back to the basics with a super informative and detailed guide filled with our favorite caulking tips and tips, FAQs, tutorials…you name it. It's basically everything you need to know about caulking all in one spot for you!
I said we were going to start with the basics with this caulking tips & tricks article…so let's get real basic!
What is caulking?
Caulk or caulking is a material used fill gaps in the seams between two materials or to seal joints. It is sold in a tube which is loaded into a caulking gun, which is used to push out the caulking into the seam. It is also sold in a squeeze tube.
Caulk is used both to make seams, joints and corners sealed off from water, bugs, air and/or water.
Caulk is usually made of either latex or silicone (or a combination of the two).
There are tons of different types of caulk for all sorts of renovation and construction uses, so it's very important that you're choosing the right caulk for the job.
Popular Caulk Types
Because there are SO many kinds of caulking, it can definitely get overwhelming so one of the objectives of today's article is to teach you about the different types of popular caulking.
According to our friends at DAP (as shown in their YouTube video below), if you're confused on what type of caulking you need, start by asking yourself:
What is your project?
Will you be applying inside or outside?
Do you need to paint the seal?
Exterior Caulk
Looking for the best exterior caulk to use on windows, doors, siding or trim? Exterior caulking is super important to seal your home's heat and cooling and protect for water damage!
Be sure that you're buying a sealant is made to exteriors, first of all! Flexibility is the most important thing when working with exterior caulk because with the temperature changes, you need the caulk to flex to avoid cracking and shrinking.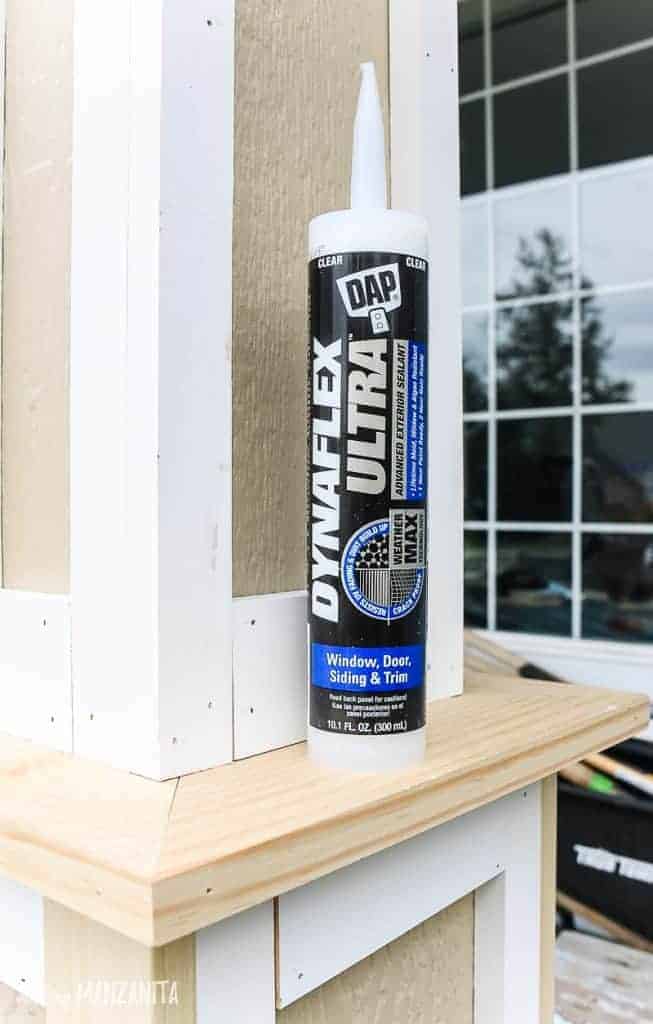 Our favorite exterior caulk is DAP's Dynaflex Ultra advanced exterior sealant. It's a durable, 100% waterproof seal that stands up to the exterior elements.
Pro caulking tip: If it's cold outside, be sure to keep the sealant indoors before using it. It needs to be at least 40 degrees to work properly.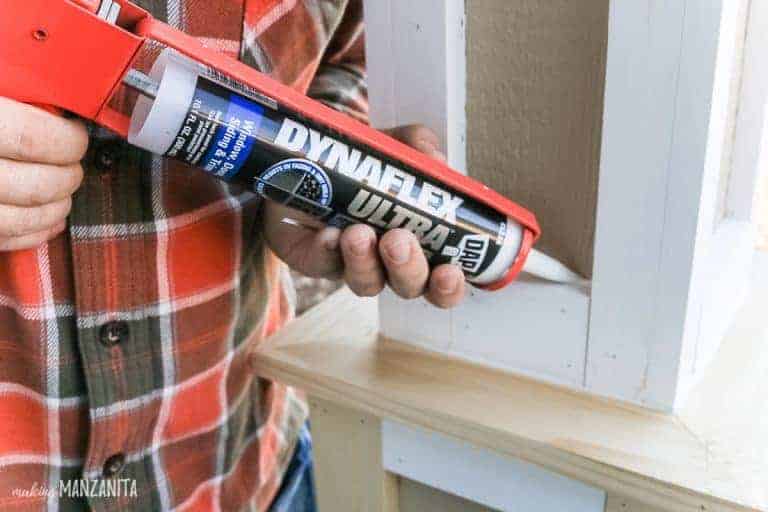 You can see this caulk in action when we did this porch post makeover project. The caulk was applied to all the joints and corners on these posts to waterproof everything and 2 years later, the project is looking great still!
We also used it on this outdoor chalkboard we made for our kids last summer.
Interior Caulk
When you're caulking indoors, it will be likely be for 1 of 2 things…dry spaces like trim and baseboards or wet spaces like kitchens and baths. Each space requires a different type of caulking.
Interior Caulk for Baseboards, Doors and Trim
Adding caulk around trim and baseboards gives you a nice, finished professional look and should be applied before painting.
Just like on the exterior, choosing a flexible caulk is important here too because wood products – like baseboards and doors – expand and contract with temperature changes.
The other important thing is that the caulk is paintable because you're likely going to be painting trim and baseboards on your interior.
We've got two favorite interior caulks and we use both very regularly!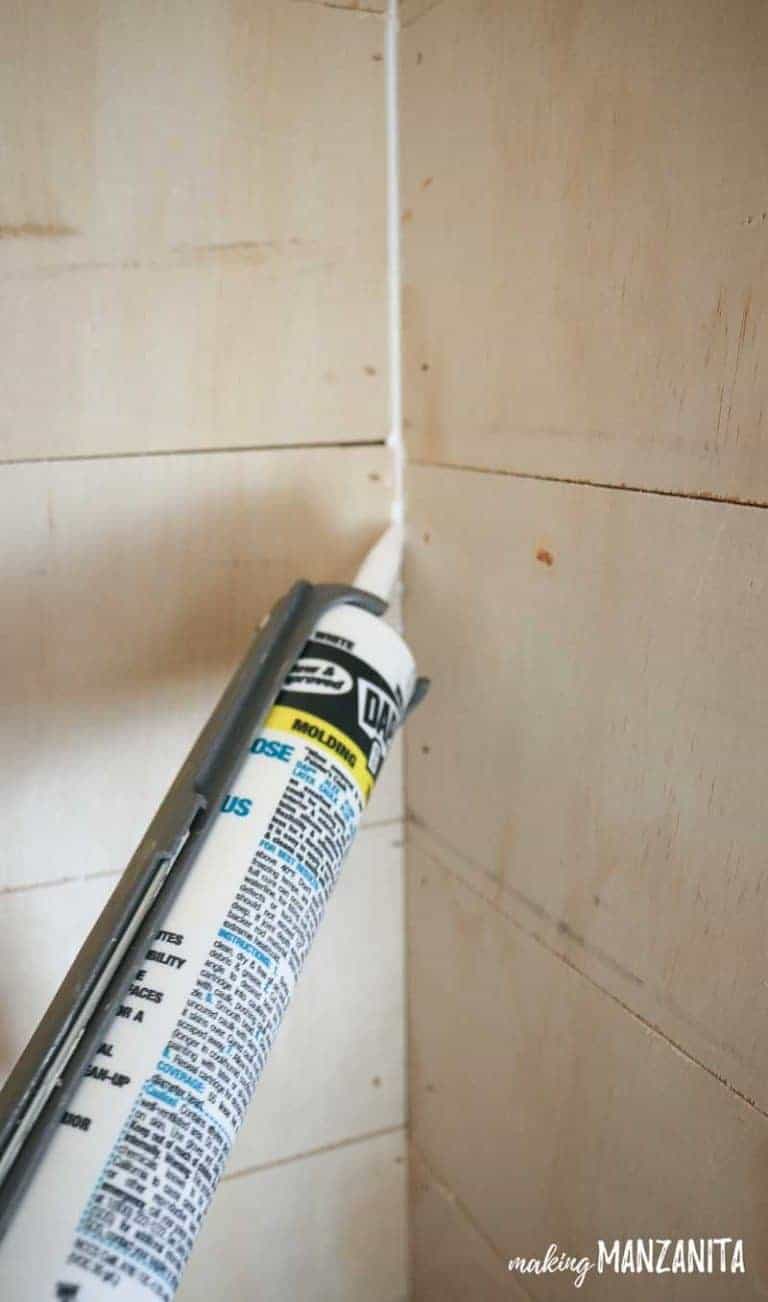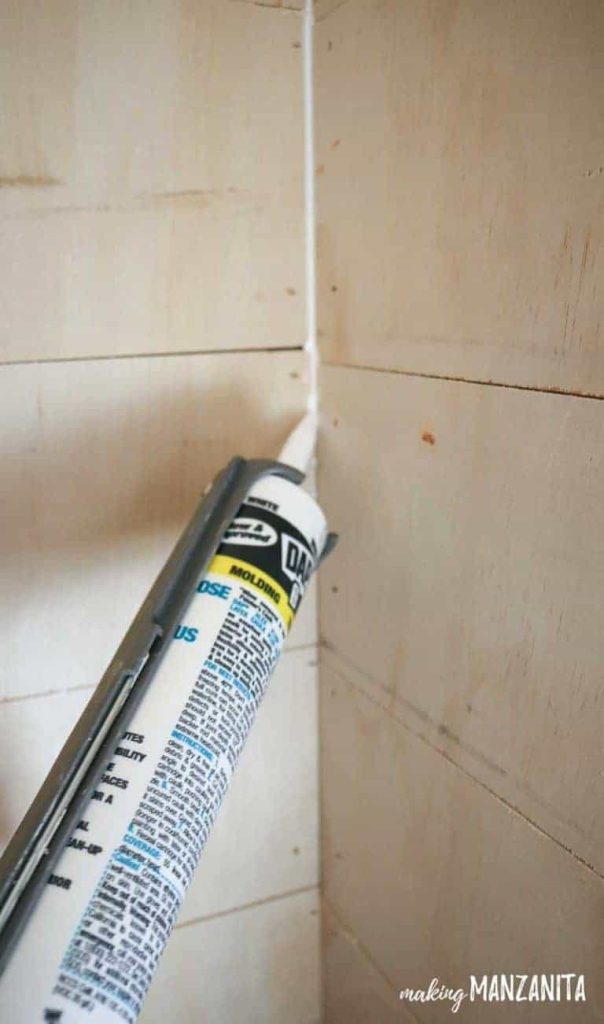 DAP Alex Plus Caulk
One of our favorite interior caulks is DAP Alex Plus. And we're not the only ones who love it – it is actually America's #1 selling latex caulk. It's easy to apply and is ready to paint in just 30 minutes!
You can see Alex Plus caulking in action on these popular DIY projects we've done: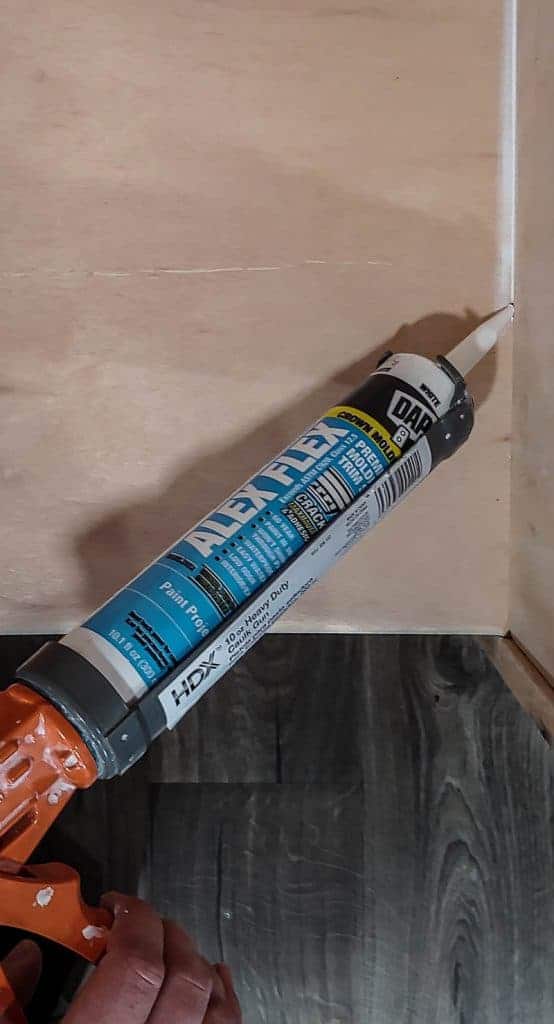 DAP Alex Flex Caulk
Alex Flex is very similar to Alex Plus, but a little higher quality. It is made specifically for molding and trim. These areas are usually more prone to caulk cracking because the different materials expand and contract at different rates and Alex Flex prevents that.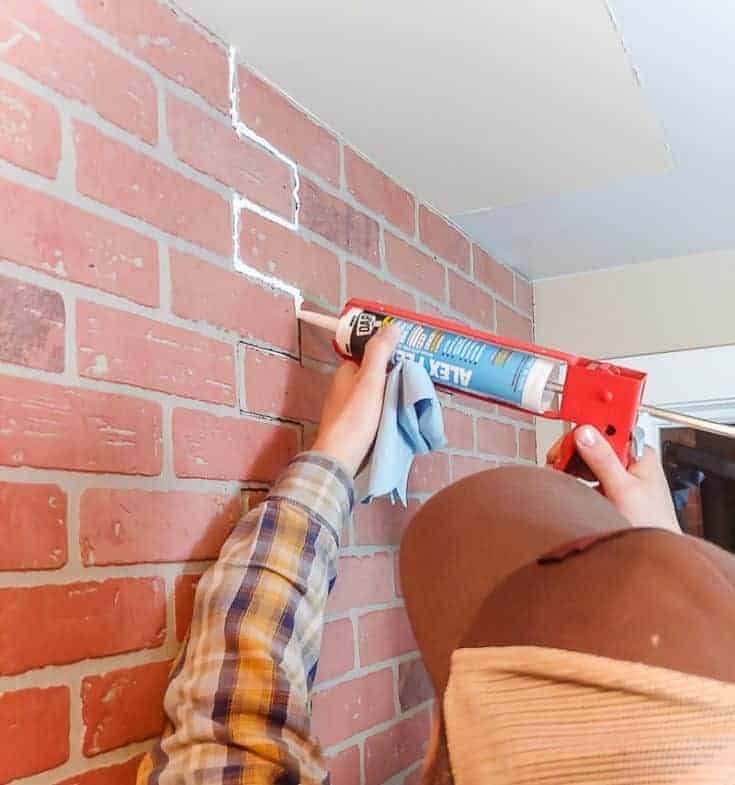 You can see Alex Flex caulk in in action on these recent renovation projects:
What's the difference between DAP Alex Plus and Alex Flex caulking?
Alex Plus is an all purpose caulk to use indoors on a variety of projects and usually at a slightly lower price point then Alex Flex, but not by much.
Alex Flex is higher quality and made specifically for molding and trim.
Invariably the question that follows when comparing Alex Plus to Alex Flex is when/why would I ever select Alex Plus over Alex Flex (given that it is the better performer)?

Clear and Colors are available in Alex Plus (not Alex Flex, which only comes in white).
Interior Caulk for Kitchens & Bath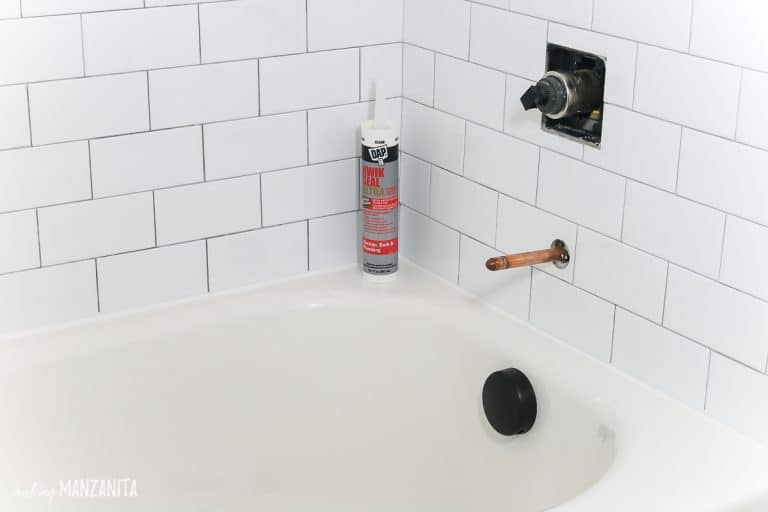 When in comes to caulking interior spaces that may get wet or exposed to moisture, the most obvious thing you need to watch out for is buying something that is specifically made for kitchens and baths! It needs to be 100% waterproof and be mold and mildew resistant.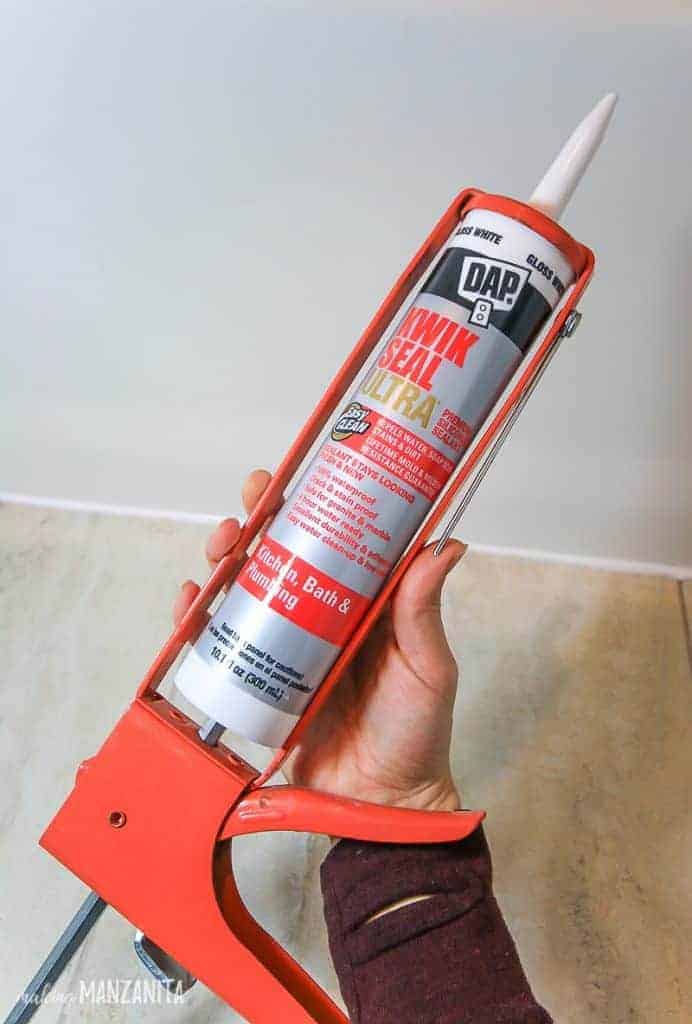 For us, it's all about DAP Kwik Seal Ultra. We love that it cures quickly (it's water ready in just 4 hours) and is easy to tool (which is a fancy word for smoothing the caulking).
It comes in a few options of different colors (white, clear or biscuit), but we usually use either white or clear.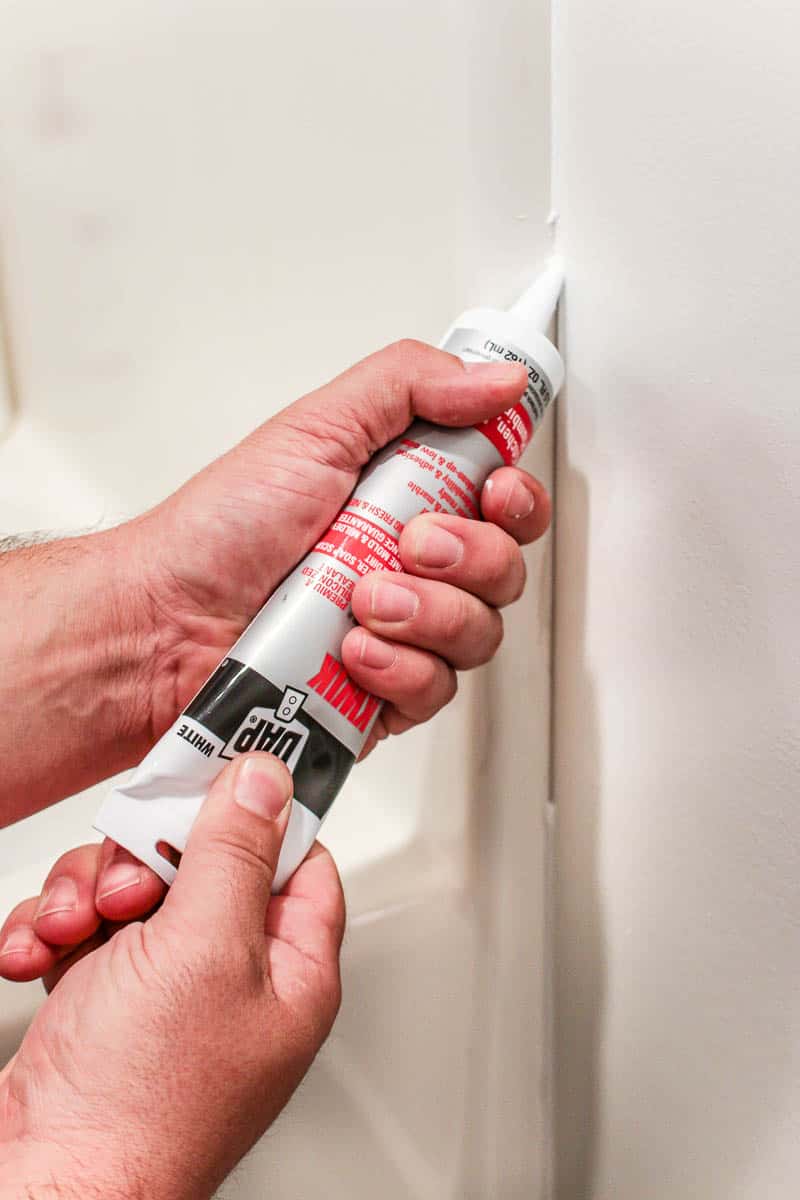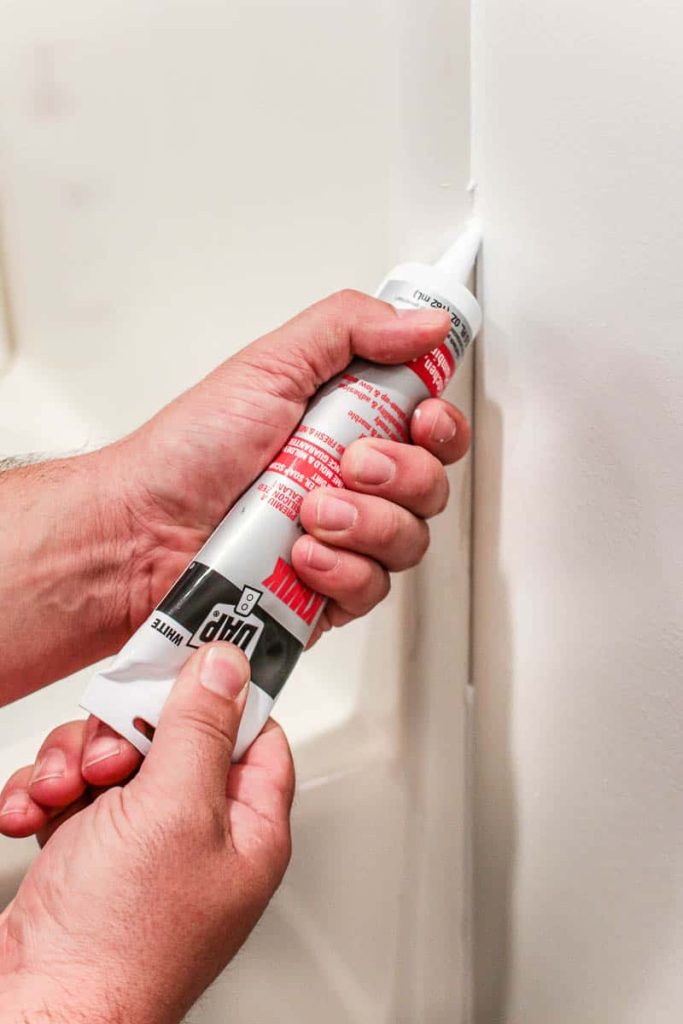 One important thing to remember about using Kwik Seal Ultra (and probably all kitchen and bath caulks for that matter) is that they are NOT paintable. This is due to the silicone that is added to the caulking.
So if they are being applied on an edge that is going to be painted, paint the wall first, then apply the caulk.
You can see Kwik Seal Ultra in action on these projects of ours: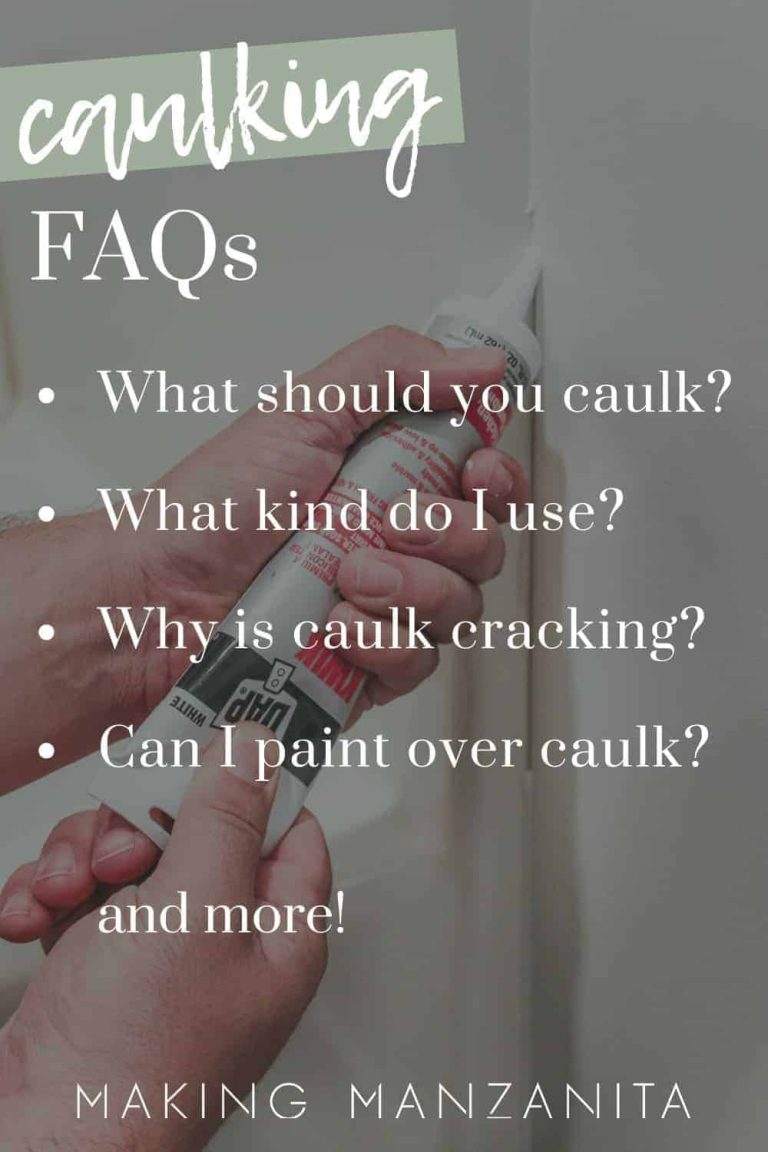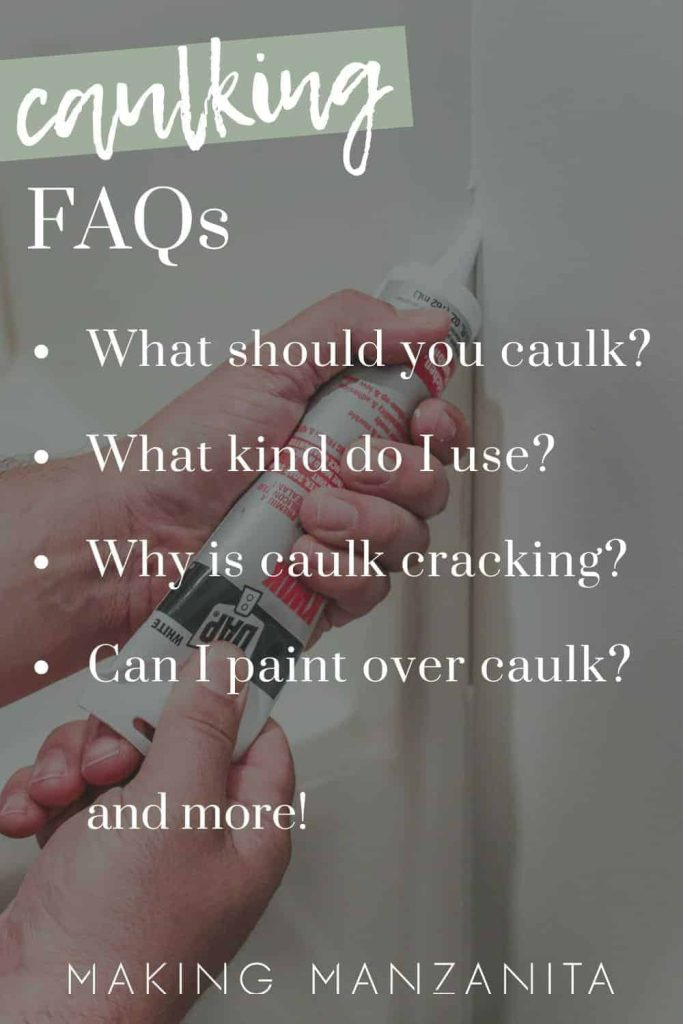 Caulking Tips: Caulk Frequently Asked Questions
What should you caulk?
You should caulk any and all corners and joints in your home, especially where two different materials meet. That means around trim, baseboards, doors and windows as well as in all corners and joints in your shower and bathtub areas, around sinks, at the bottom of backsplashes and on the edge of countertops.

Basically any time you need fill a gap or crack for a finished look or to waterproof, use caulk!
Can you caulk over caulk?
For best results, you should always remove old caulking before adding new caulk.

If absolutely necessary, you could techinically apply a bead of caulk over old caulking as long as it was wider….but again, we wouldn't recommend this method.

Check out the step by step tutorial below for how to remove old caulking.
Why does my caulk keep cracking?
Most likely, it's because you either didn't use the right kind of caulk for the job or you didn't use something with high enough quality. Refer to the caulk types guide above to make sure you're buying the right caulk for the job.

Another reason caulk may crack is if the bead of caulk is put on too thin. If that's the case, remove and recaulk with a thicker bead next time.
Can I paint over caulk?
If it's paintable caulk, like Alex Flex and Alex Plus, yes! You should be able to paint over that in roughly 30 minutes after applying.

But like I mentioned earlier, kitchen and bath caulks that contain silicone, like Kwik Seal Ultra, cannot be painted.

When in doubt, read your tube of caulking to find out.
How do you caulk wide gaps?
If you have a gap that's wider than 1/4″, you'll want to add a backer rod like this or you can also stuff in some paper towels or toilet paper to fill the gap before caulking.
How often should caulking be replaced?
It depends on a lot of different factors. If you notice that the caulk is discolored, cracking, peeling or has gaps – you definitely to replace it.

Otherwise, caulk should be inspected every 5 years or so to see if it needs to be replaced. If so, follow the steps below on how to remove old caulking.

If you're using a high quality caulk, like we reference in this post, it should last longer.

Also, keep an eye on your energy bills and if you notice they are higher than normal – check for damaged caulk (both interiors and exteriors) that may be letting in or out drafts.

At the end of the day, recaulking is something that should only cost you $10 or so and less than an hour so if you're in doubt – best to just recaulk it.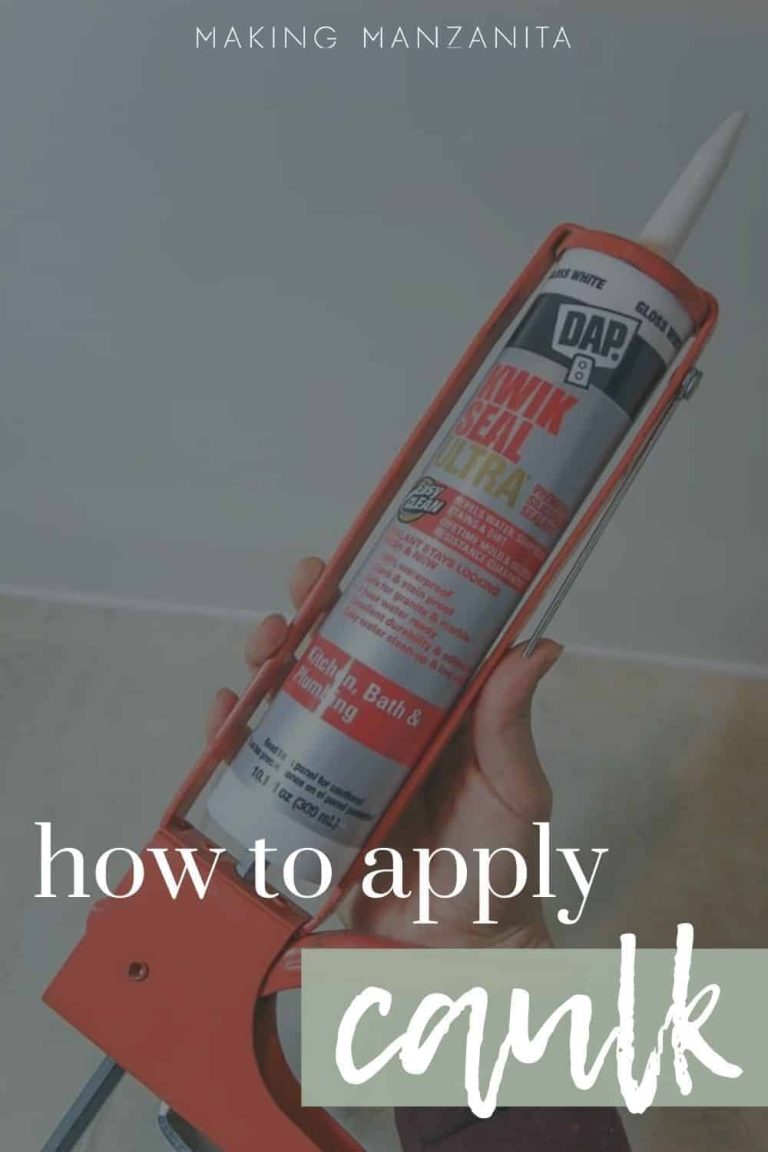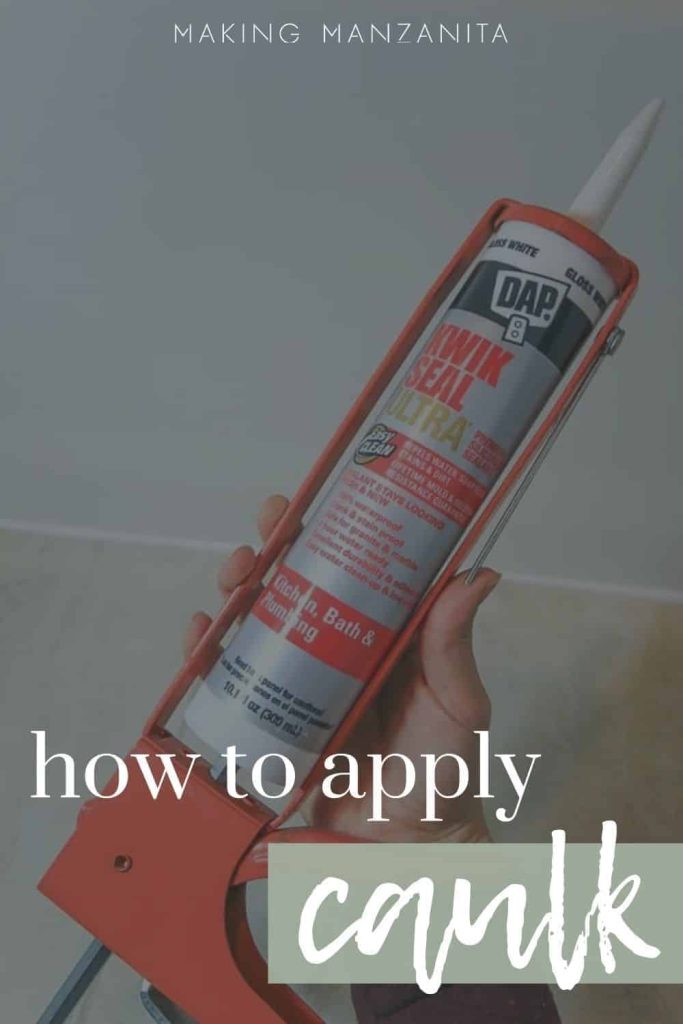 How To Caulk – Video Tutorial
Sometimes it's just easier to see something, like how to caulk, in a video format. So we created a quick video that walks you through the more caulking tips & the entire process of how to caulk, include how to use a caulk gun and how to apply caulk.
If you love DIY videos, be sure to subscribe to our YouTube channel here.
The processes are also detailed below with some bullet points if you'd rather read.
How To Use Caulk Gun – Step by Step Tutorial
One of the most intimidating parts about caulking, I think, is figuring out how to use a caulk gun. Here's a quick summary!
Insert caulk tube into gun canister.
Cut the tip of the caulking tube at 45 degree angle with utility knife or razor blade. Try to get the cut at the very tip of the tube – the further down you make the cut, the more caulk will come out. Most caulking guns also have a tube cutter on the side – just look for a little hole on the side. Put the tip of the tube in the hole, then you just squeeze the trigger to cut. However, we usually prefer to use a utility knife because it's generally a cleaner cut and we have more control – but it's totally just personal preference.
Some tubes of caulk have an inner seal that also needs to be punctured before starting. There's a little stick that's on the side of the caulking gun that you can use for this. Once you cut the tip, just slide that little stick into the caulk tube to break the seal.
Use trigger on caulking gun to push the caulk out.
If you need to stop the caulking from being pushed out of the tube, pull back on the ratchet on the back of the gun to relieve the pressure. You could also just use your spare hand and place your finger firmly over the hole at the end of the tube (as shown in the video tutorial).
How To Apply Caulk – Step by Step Tutorial
Once you've got the caulk gun loaded and you've got an idea of how to use the caulk gun – you can start caulking! Here's our favorite caulk tips to share!
Hold the caulk gun at a 45 degree angle with the angled tip pointed towards the line that you'll be caulking.
Pull the lever slowly and move along the line to add the bead of caulk. Try to move with an even and steady pressure on the lever and consistent pace along the line.

Caulk skipping? Too fast.
Caulk bubbling into gaps? Too slow.

If you have a gap larger than 3/8″, you want to be sure to fill it before caulking. You can simply shove some toilet paper or paper towels in the gap to fill or use a backer rod like this.
Keep your finger wet with either a wet rag or small bowl of water. This will help prevent the caulk from sticking to your finger when you smooth it. With a silicone based caulk, you may have more troubles with stickiness. Try adding a drop or two of dish soap to the bowl of water in this case.
They make a lot of different caulking smoothing tools out there and some people swear by them, but we prefer the control and smoothness that we have by using the finger instead.
If you want to be sure you have nice, clean lines around the caulk you can add painter's tape on both sides of caulk. Remove the painter's tape as soon as you're done.
How To Remove Old Caulking – Step by Step Tutorial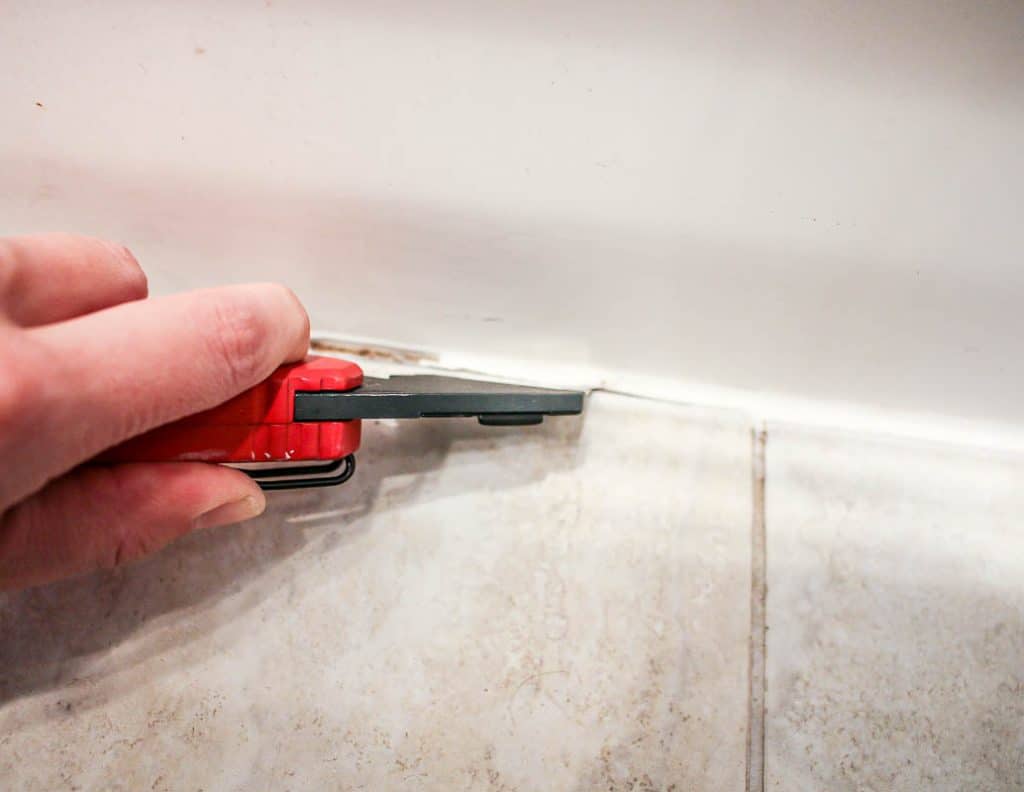 Caulk should never be applied over old caulking – ESPECIALLY if it damaged, discolored or cracked! Here's how you can remove old caulking:
To remove old caulk, use a sharp utility knife to score the edges of the caulk in between the surface and the caulk line on both sides.
Then with needle nose pliers, pick out the caulk.
Continue until all old caulk has been removed. It can be tedious, but it's worth it.
After caulking is removed, you'll want to thoroughly clean the area with rubbing alcohol and a scour pad. The scour pad helps get rid of any stubborn caulking and other residues that might not have come off during the scraping. Rubbing alcohol also leaves an extremely clean surface as it evaporates.
Wait for rubbing alcohol to dry thoroughly before adding new caulk.
We hope you enjoyed this super detailed guide full of our favorite caulking tips & tricks! We hope you feel more empowered to go down to the home improvement store and head over to the caulking aisle and be confident that you're choosing the right caulking for the job!
Once you bring that caulking home, you can follow our simple steps in the tutorials above for how to load and use the caulking gun and how to apply caulking (even if it's your first time!) Did you enjoy learning all of these caulking tips?
Do you have any other questions about these caulking tips?
Let us know in the comments below!