Want more of the neutral boho look for your holiday decor this year? Make these easy matte DIY textured ornaments using cheap Dollar Tree ornaments, Rub-n-Buff, acrylic paint, and baking soda! These Christmas ornaments will look so good on your Christmas tree!
This holiday season I decided to add a Christmas tree to my bedroom and I've been having so much fun making all the ornaments for it. I'm going totally neutral and boho with the tree design, so these DIY matte textured ornaments are perfect.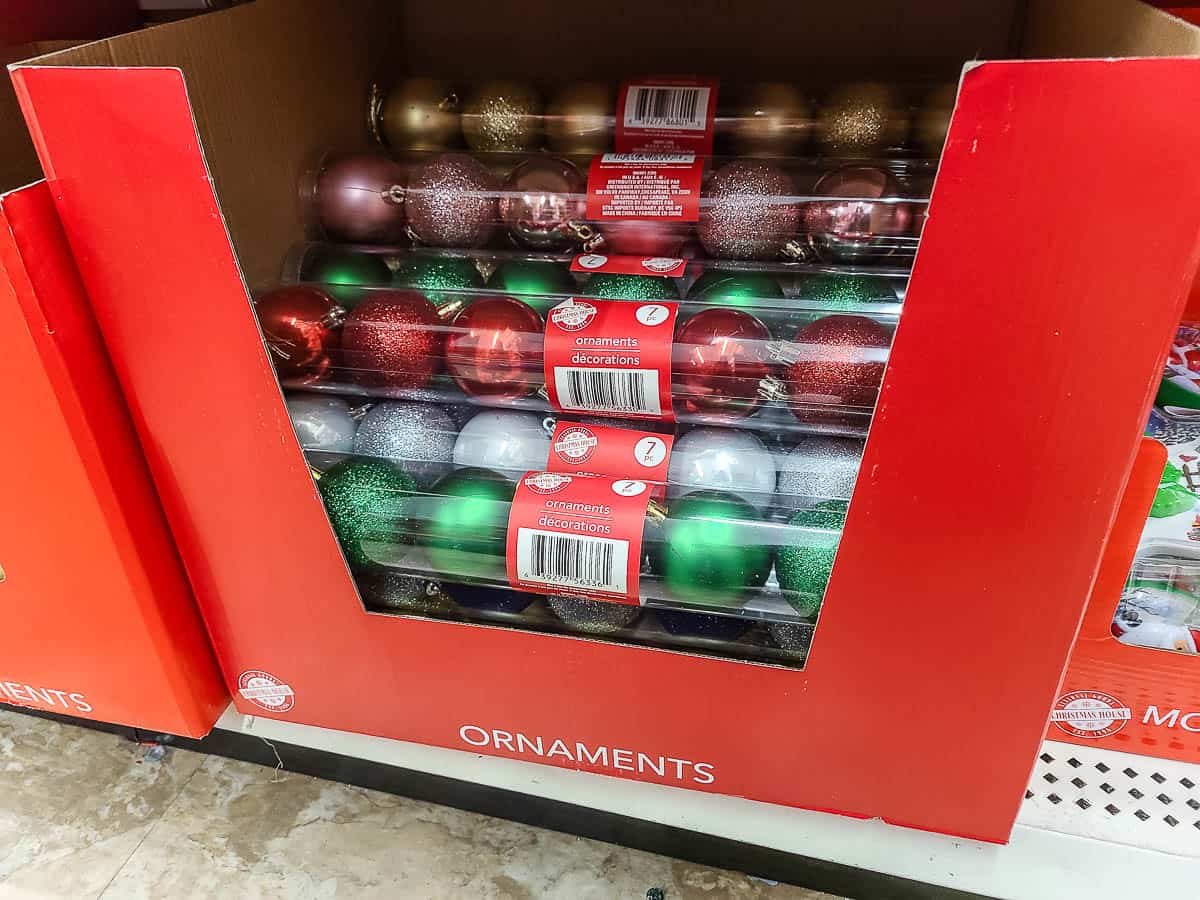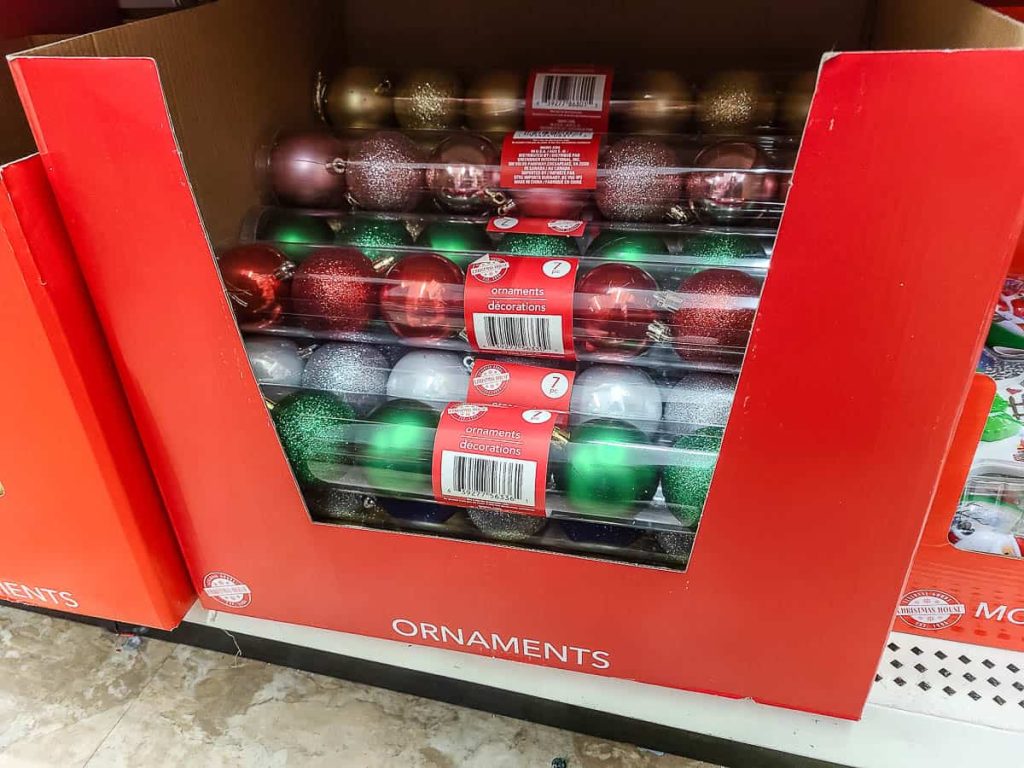 I used ornaments from the Dollar Tree because they are so dang cheap, but you can really use any type of ornament. If you have old ornaments that need a quick facelift, this is for you! Make it your own by choosing beautiful color palettes that match your holiday decor.
I first tried this viral baking soda and paint method on a vase from the thrift store and I was shocked how just how easy it was to get the paint to have texture using just items that we all have in our kitchens at home! I was so excited to give this baking soda and paint hack to take simple Dollar Tree ornaments to the next level!
If you want even more distinctive textures on your ornaments, you can go with joint compound as another option. I've also done the joint compound and paint method on a vase (along with dirt to make it look old). Since it works great on a vase, I'm sure it would also work well on Christmas tree ornaments.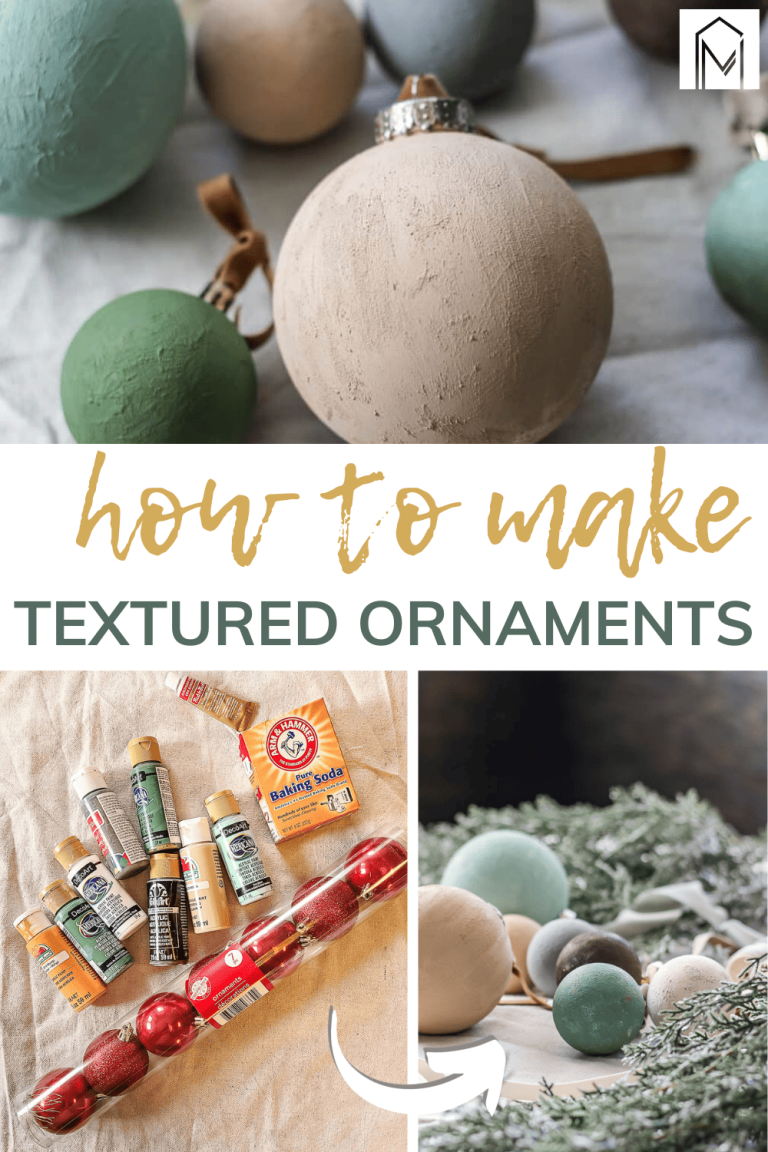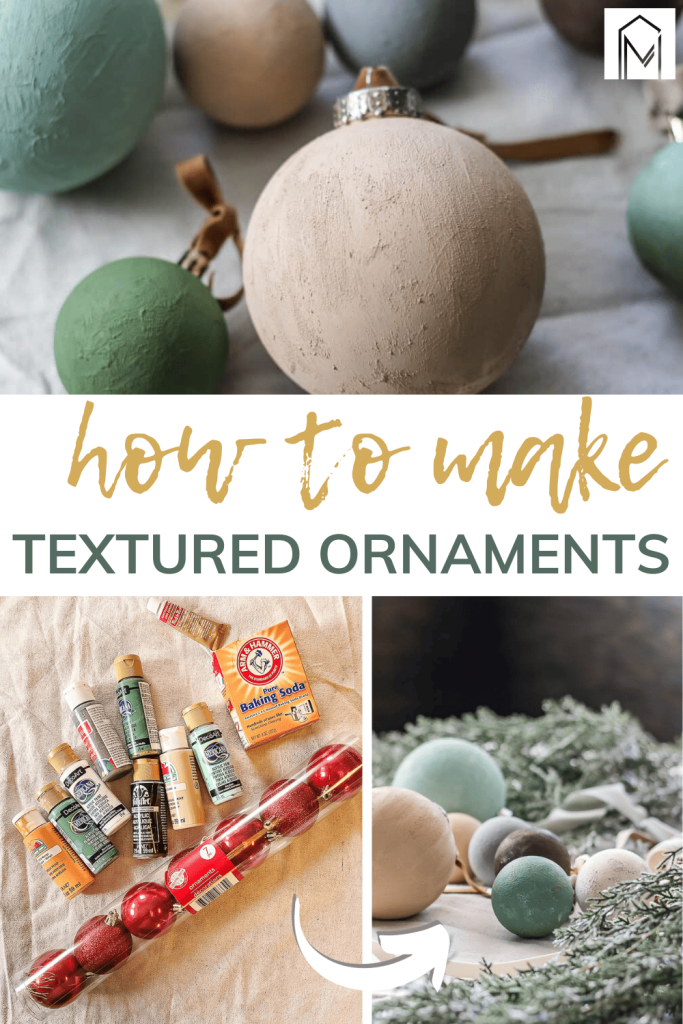 This DIY textured ornaments tutorial contains affiliate links, but nothing that I wouldn't wholeheartedly recommend anyway! Read my full disclosure here.
How To Make DIY Textured Ornaments: Video Tutorial
If you love DIY videos, be sure to subscribe to our YouTube channel!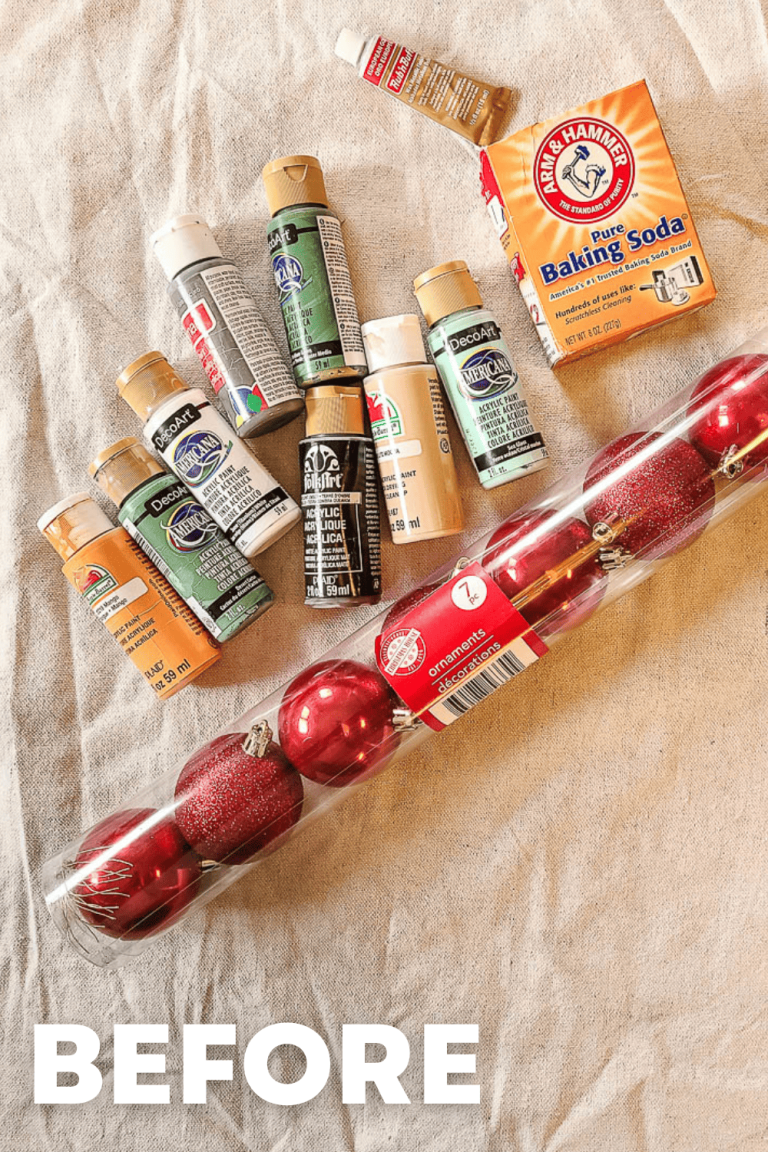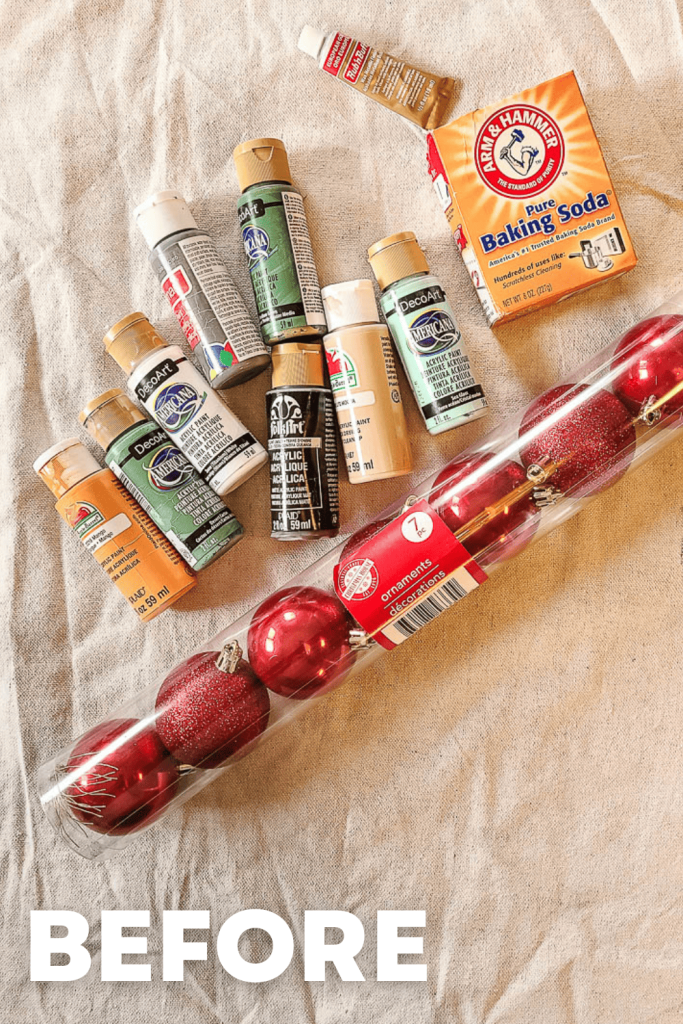 Supplies for textured ornaments:
Paintbrush
Several different colors of acrylic paint (see below in Step 1 for the exact colors I used)
Scissors
Metal (or bamboo) skewers and cups to help with drying
Step 1. Paint base colors on ornaments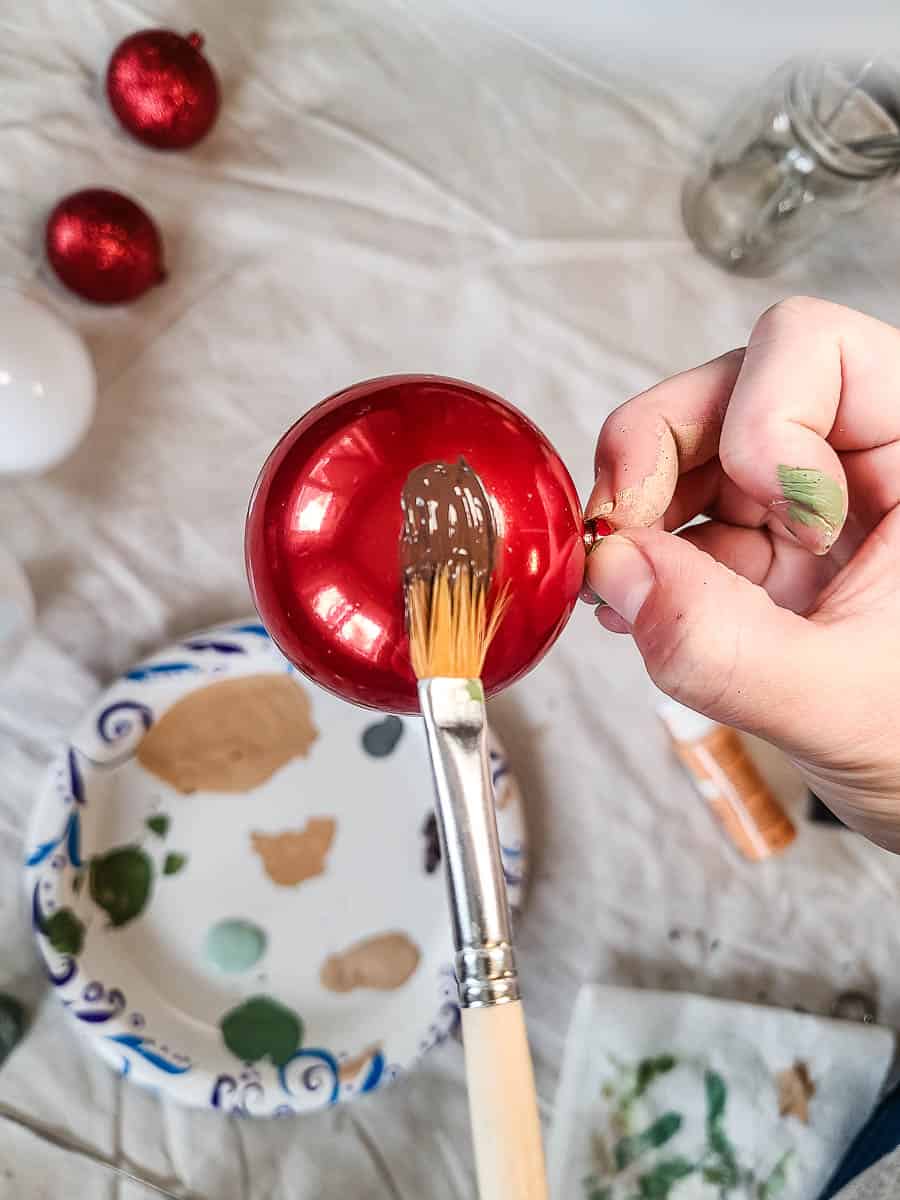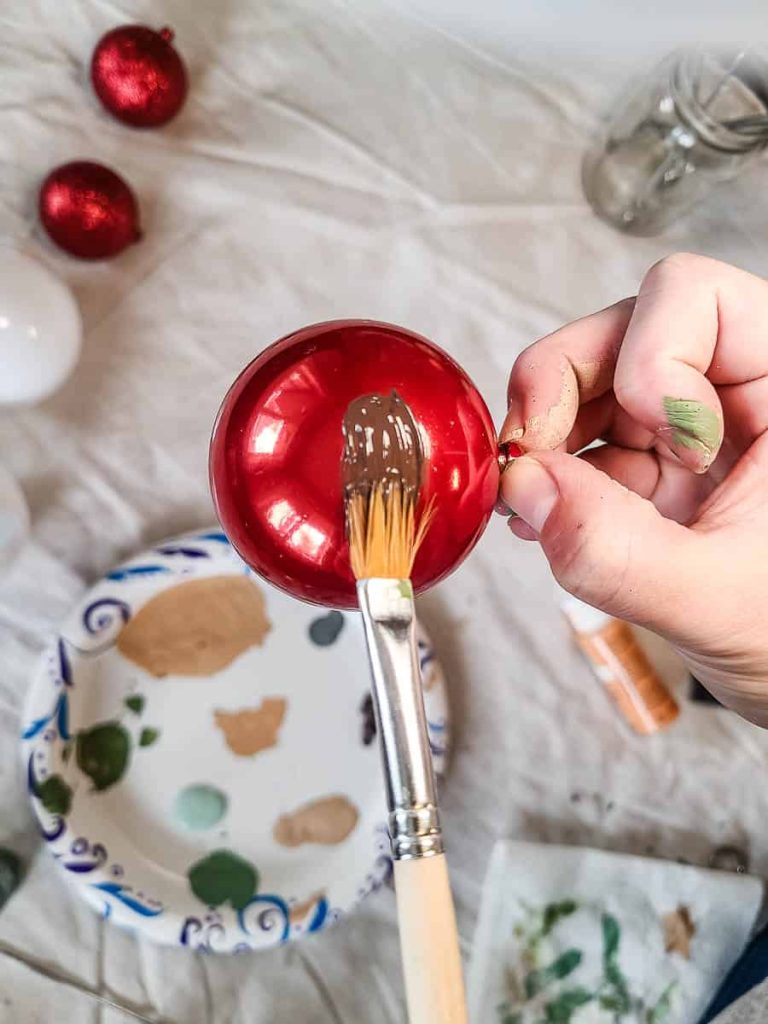 Remove caps from the ornaments and set aside.
Paint one base layer of acrylic paint on each ornament with a paintbrush. Don't worry if you can still see the underneath original color after the first coat of paint. We'll cover that up as we go with additional layers.
Let the first coat of paint dry thoroughly. I waited about an hour.
To dry, put them upside down in cups in skewers or straws.
What colors did I use on our textured ornaments?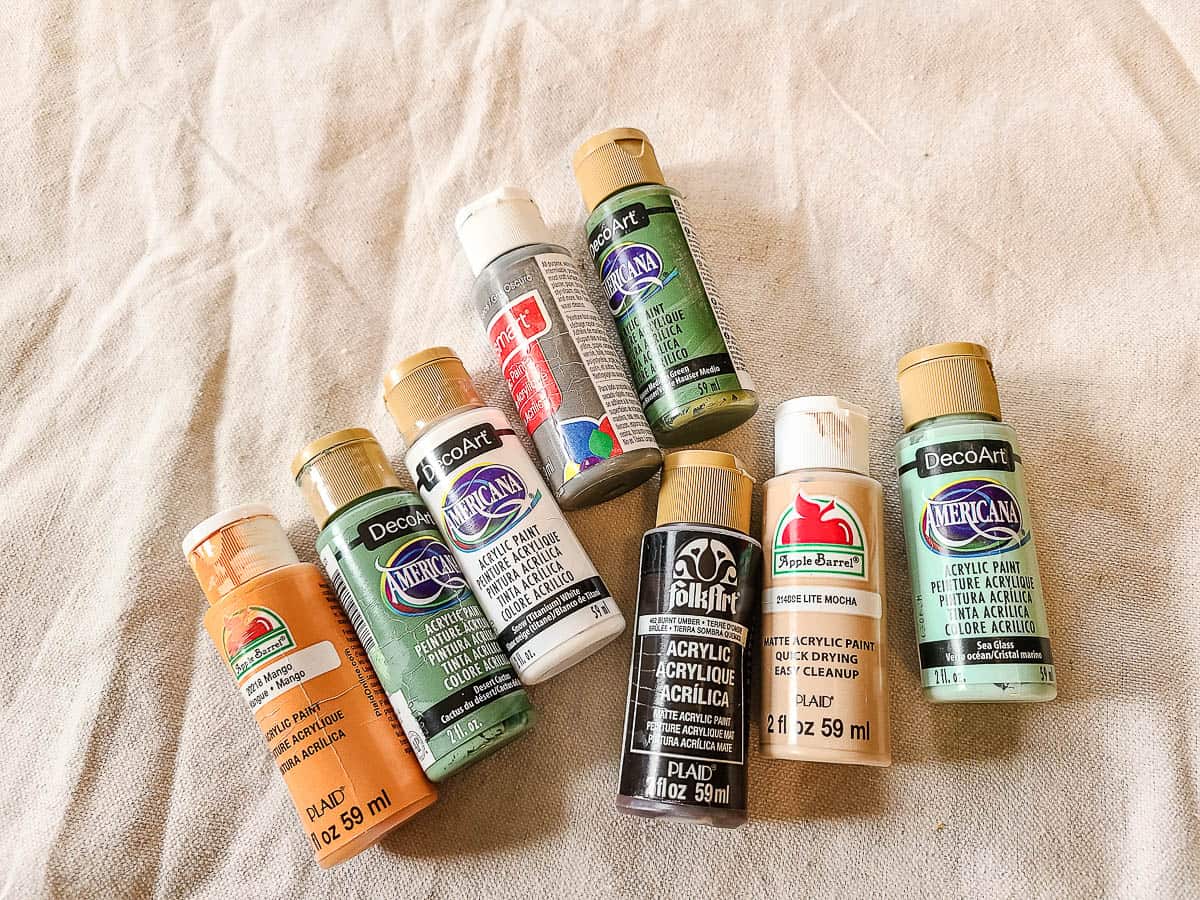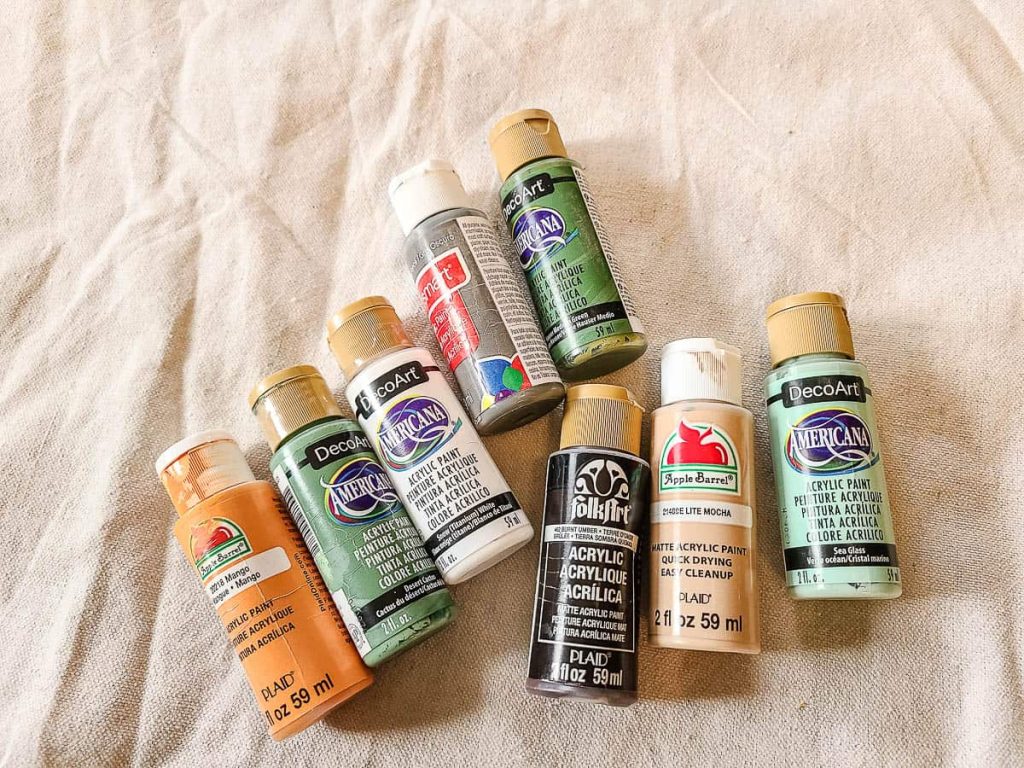 I totally just used the acrylic paint that I had on hand in my craft supplies, but if you want these exact colors, here they are:
Step 2. Add Rub-n-Buff to caps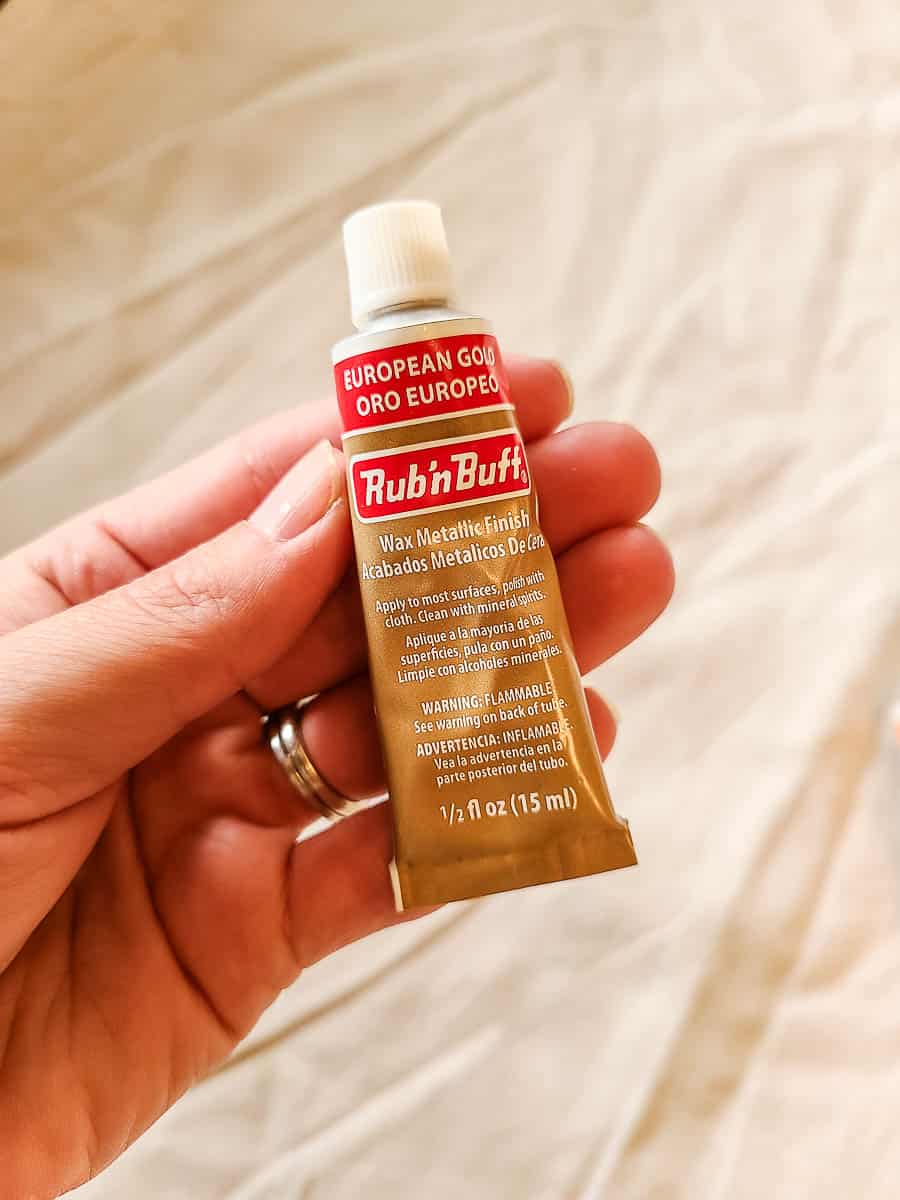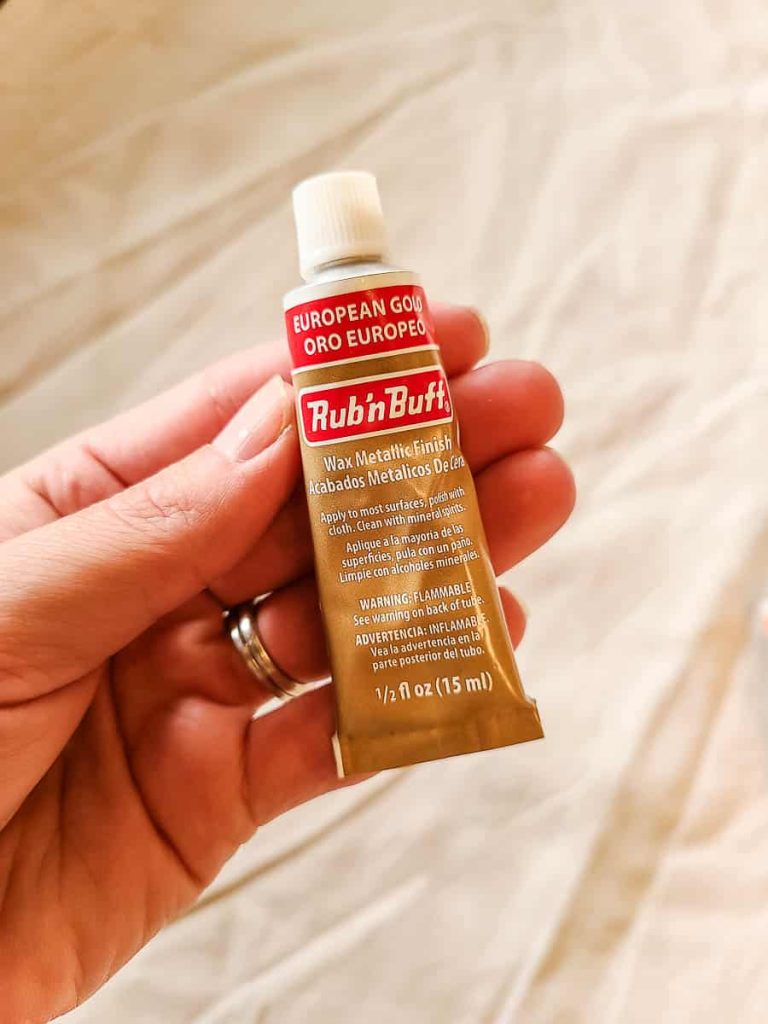 While the paint is drying, add a bit of Rub-n-Buff to the ornament caps. This gives them a nice antiqued look, rather than the shiny new look that they come with.
But if you want to keep it simple, you could totally just leave them the way they are.
You could also use a bit of metallic paint (or even dark spray paint) on these if you prefer.
I found that it is easiest to just apply the Rub-n-Buff with your finger. Wipe off excess with a cloth or paper towel if needed. A little goes a long way with the Rub-n-Buff, so don't use too much!
Step 3. Mix baking soda in the paint
Mix in a little baking soda with the acrylic paint and stir with your paintbrush on a paper plate.
I usually add about a 1:1 ratio of paint to baking soda, but feel free to play around with different ratios. The more baking soda you add, the thicker the texture will be on the ornament design.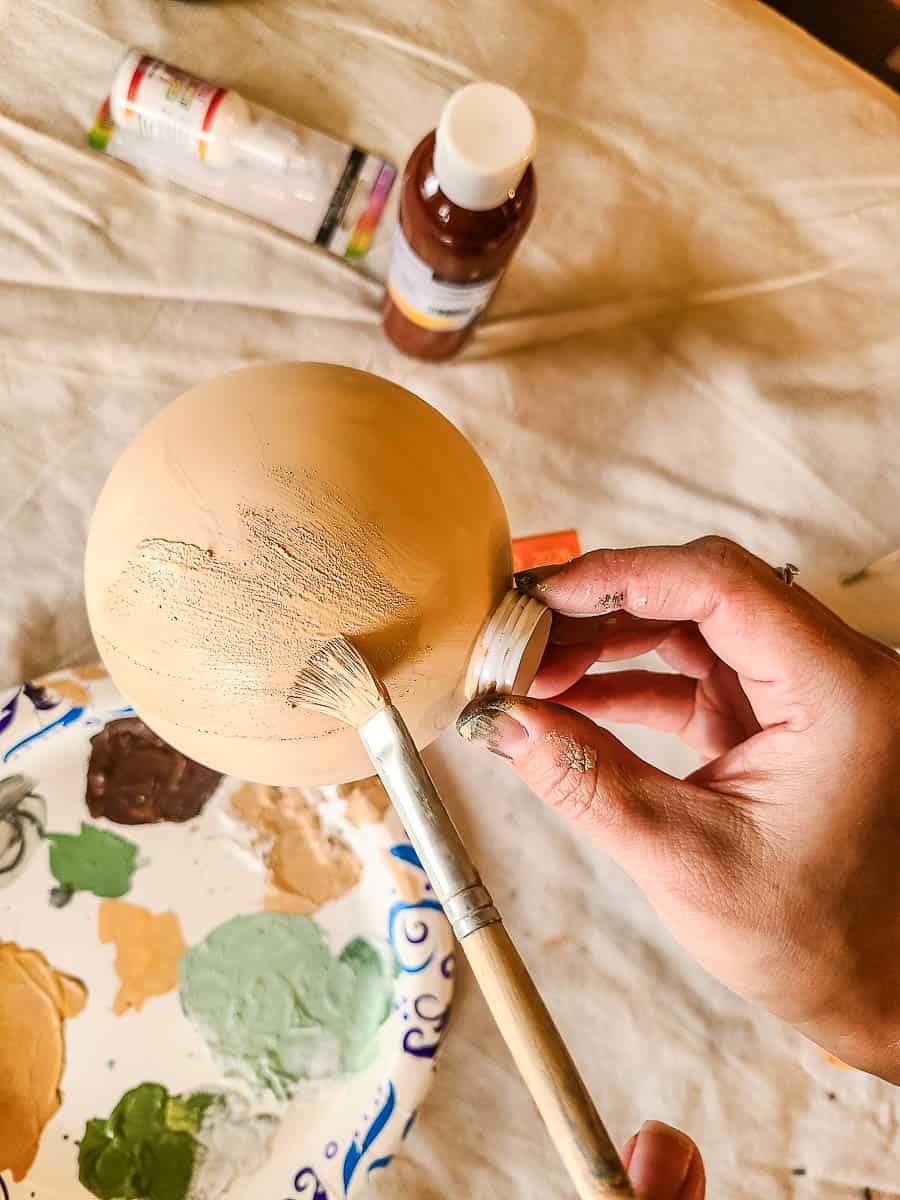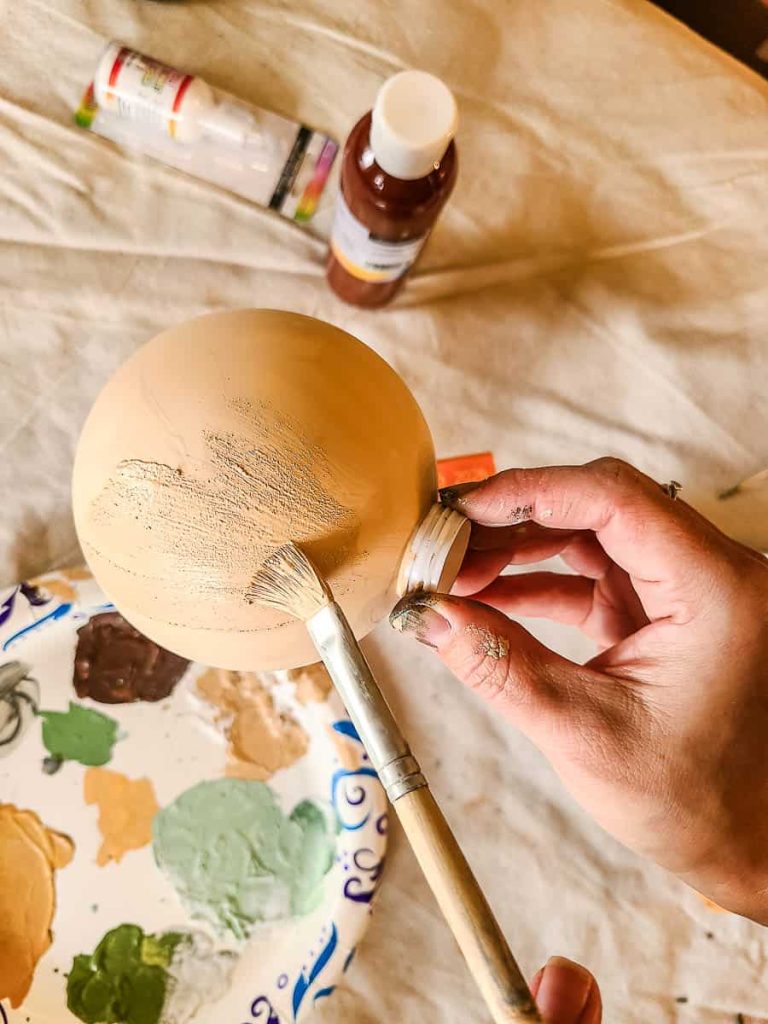 Once mixed, brush the baking soda and paint mixture onto the ornaments over the base layer of paint.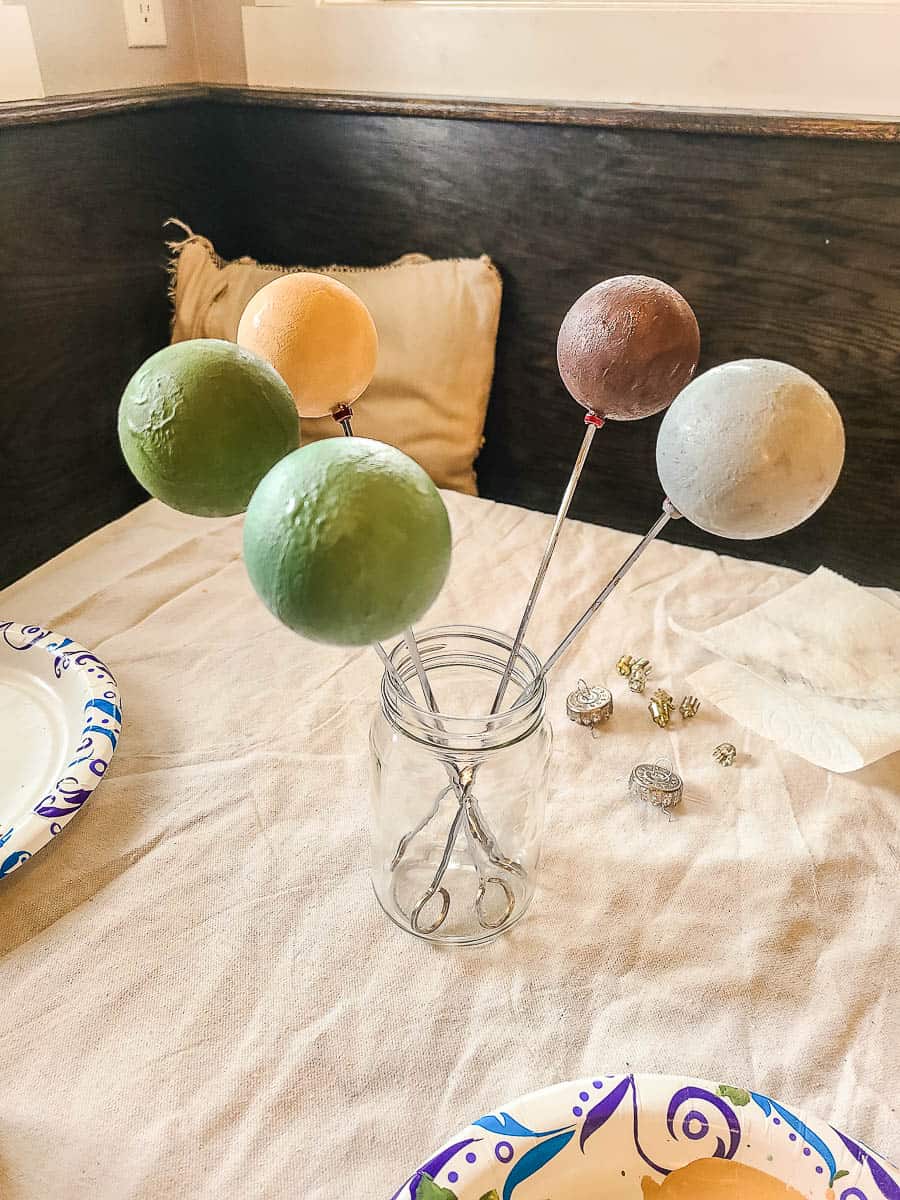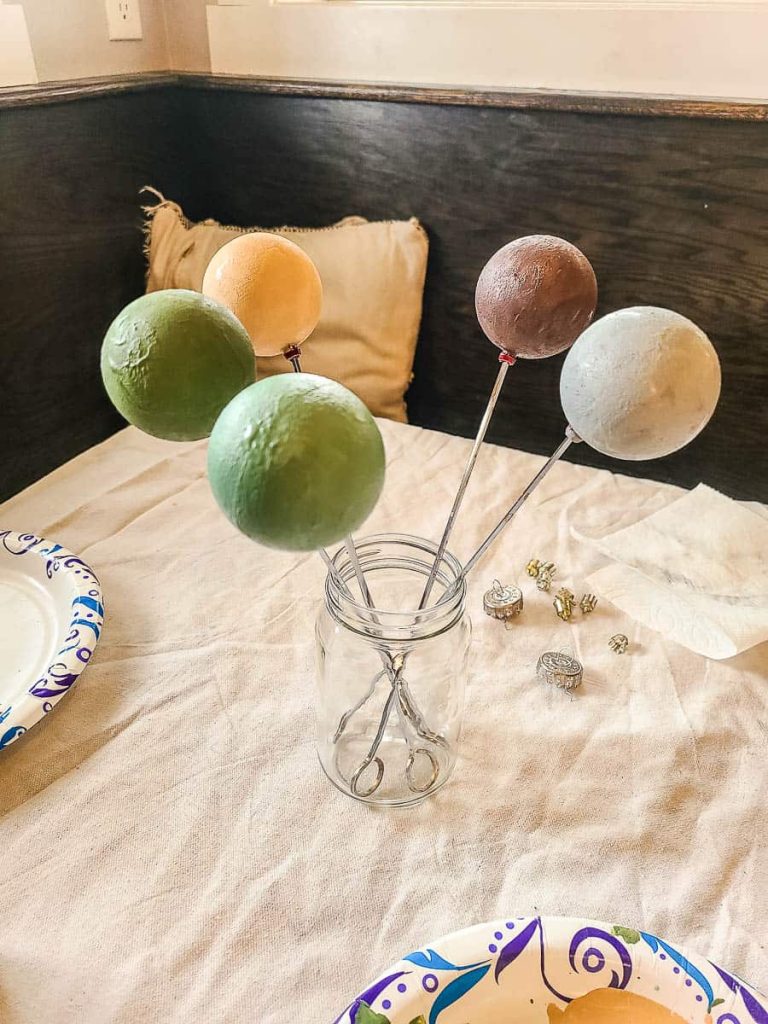 You can pop them right back on the end of the skewer to dry when done.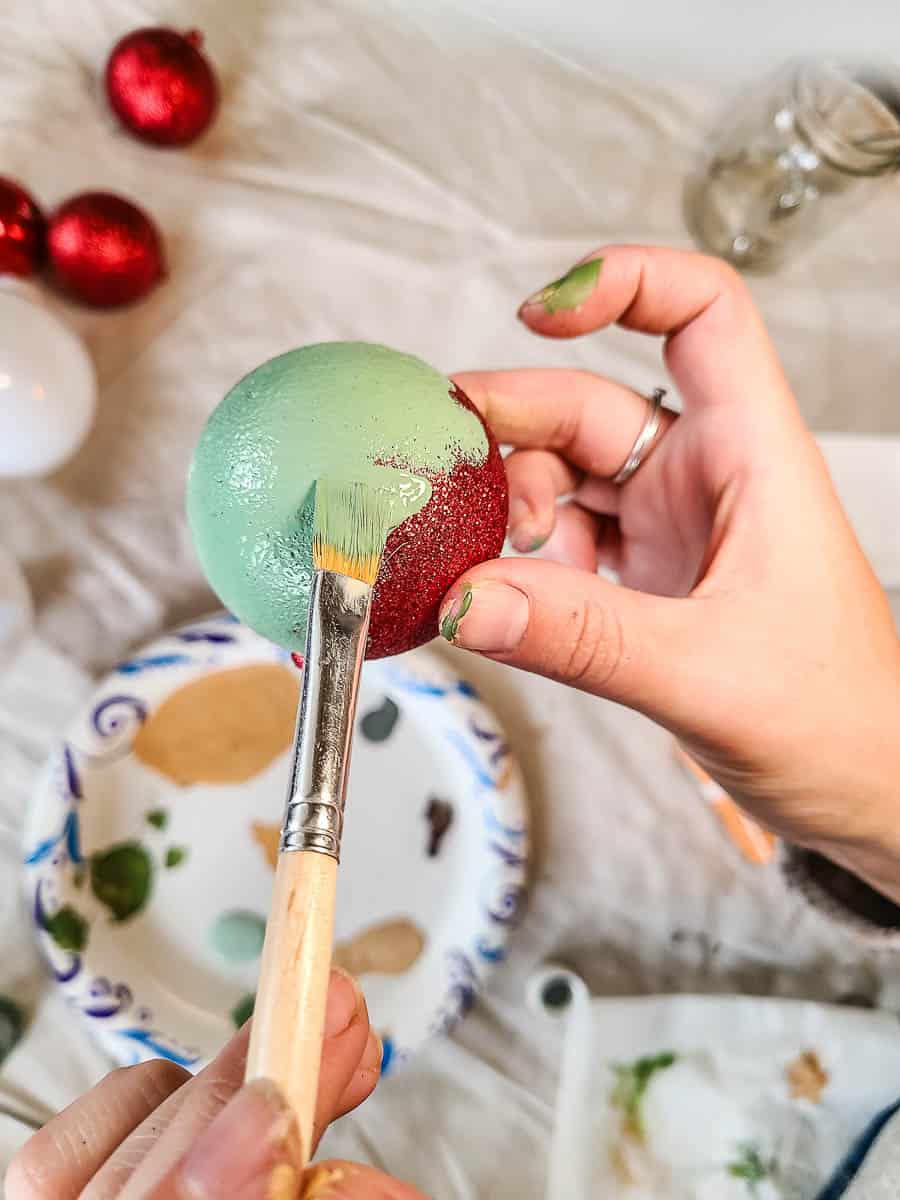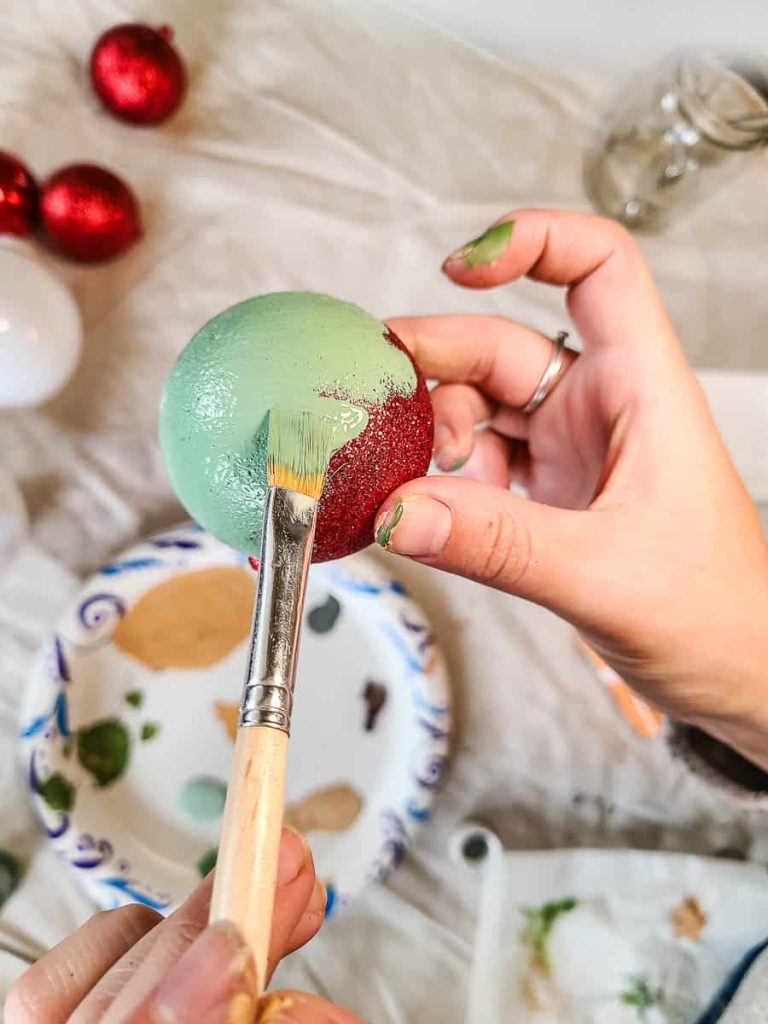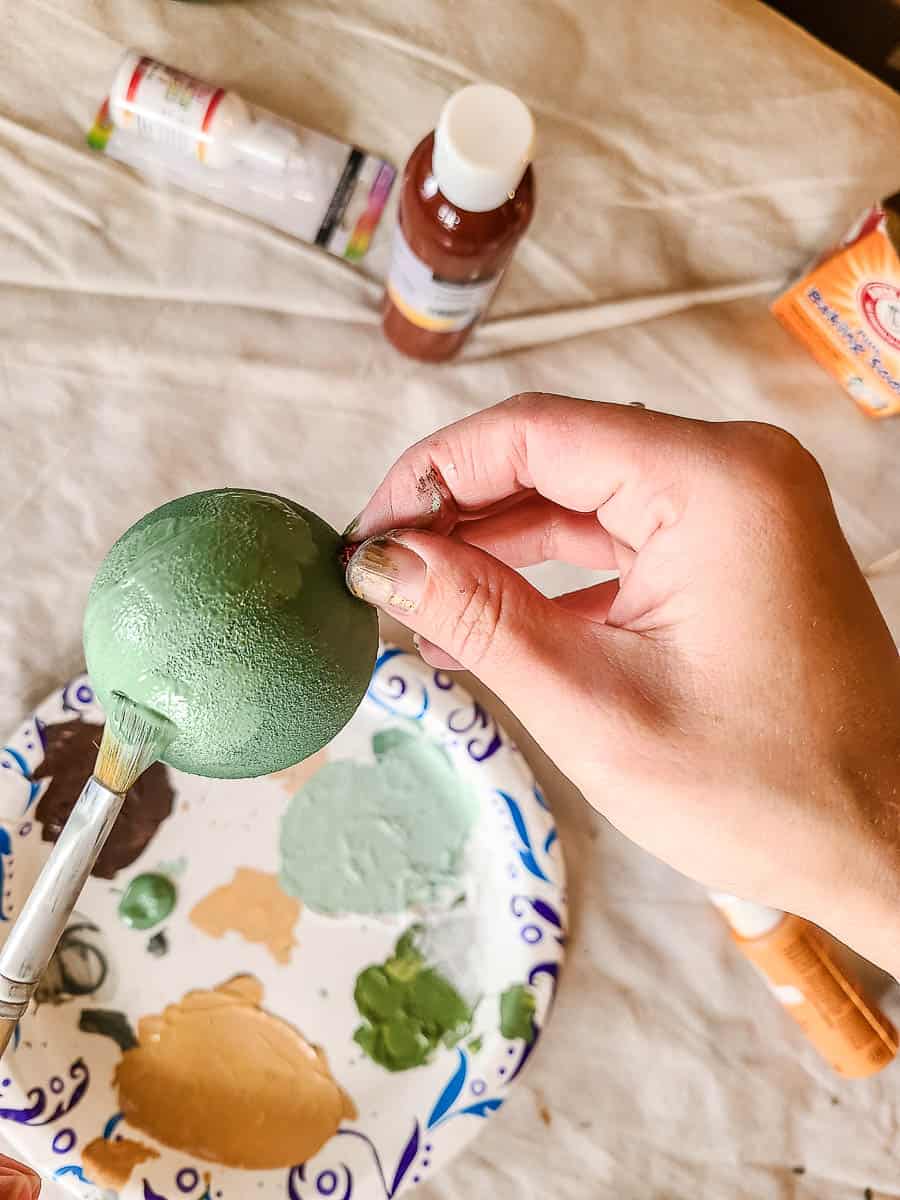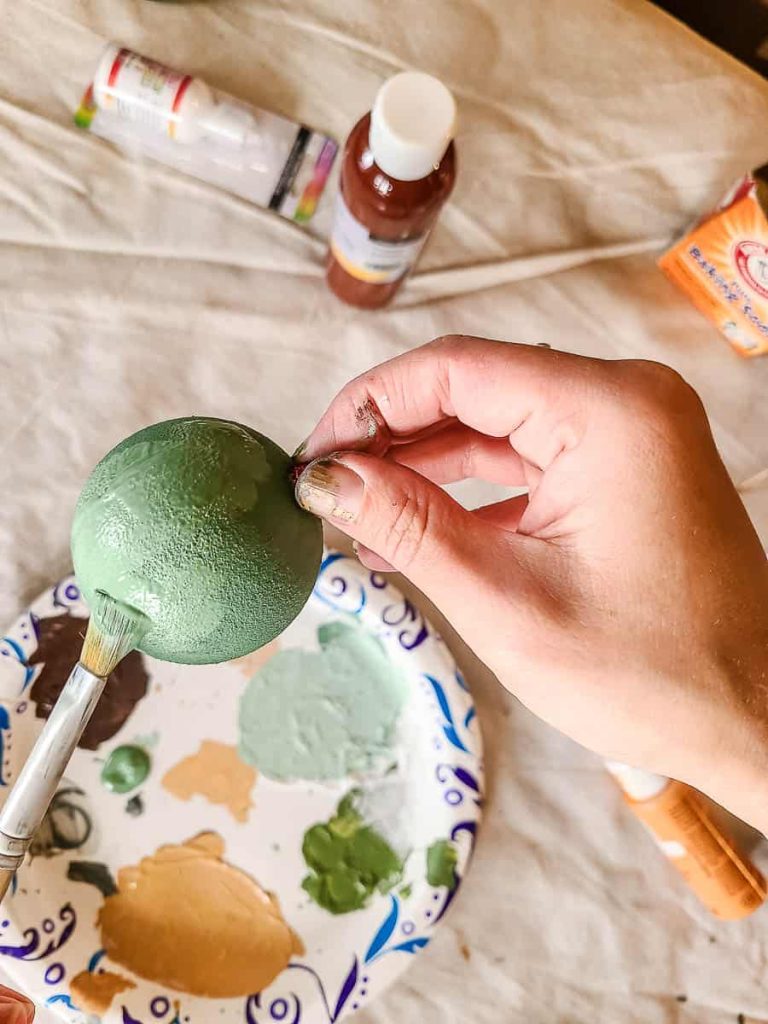 Are you using glitter ornaments?
One very cool thing that I discovered about using glitter ornaments is that you only need to use paint (no baking soda needed!). I found that the texture from the glitter was enough to add a similar texture that the baking soda added to the other ones.
So if I were to make these textured ornaments again, I would probably just buy glitter ornaments to save a step! You could just 2 coats of regular paint on the glitter ornaments.
Step 4. Add additional layers of paint, baking soda, or Rub-n-buff (optional)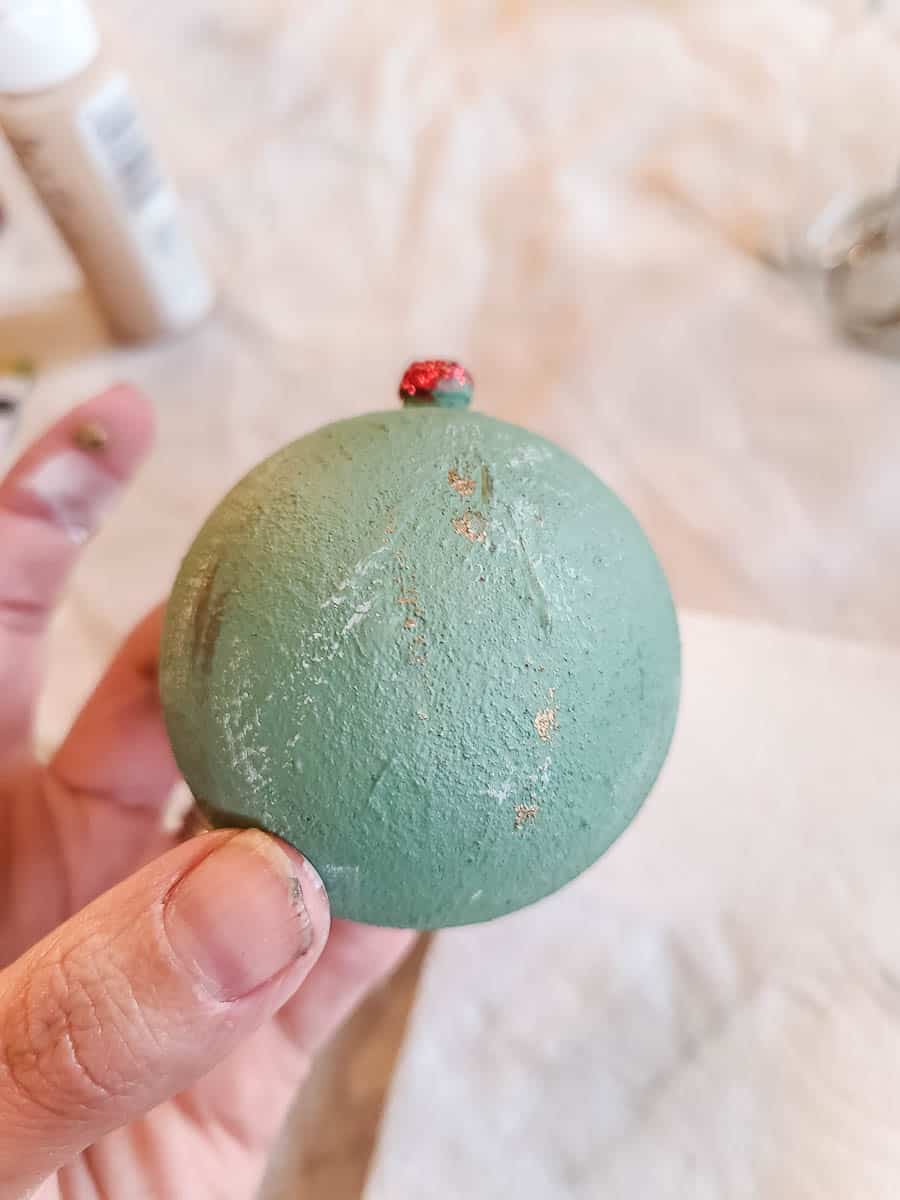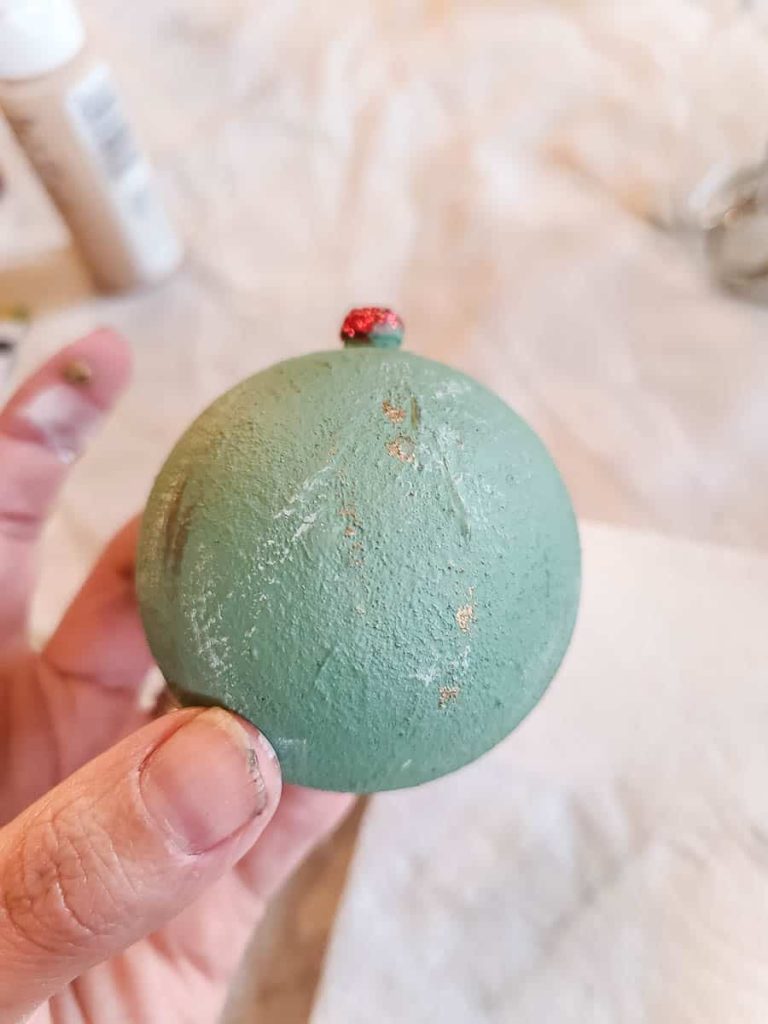 Once dry, take a look at your ornaments and see if you are happy with the results or if you want to add anything else. If you love them the way they are, feel free to skip this step.
You can add additional layers of paint (in other shades or the same), more baking soda (just rub it on dry and wipe off gently to give it a whiter look), or little dabs of Rub-n-Buff.
Any (or all) of these methods will make the ornaments look more textured and rustic.
You'll also want to cover up any remaining original color (red, in our case) before adding back on the caps because you can see a little bit of the top through the gaps on the ornament tops once you put them on.
You can either cover this with more paint and let it dry or Rub-N-Buff. I added a bit of Rub-N-Buff to the tops where I was holding them.
Step 5. Tie ribbon to caps
Once everything is dry, add the caps back onto the top of the ornaments.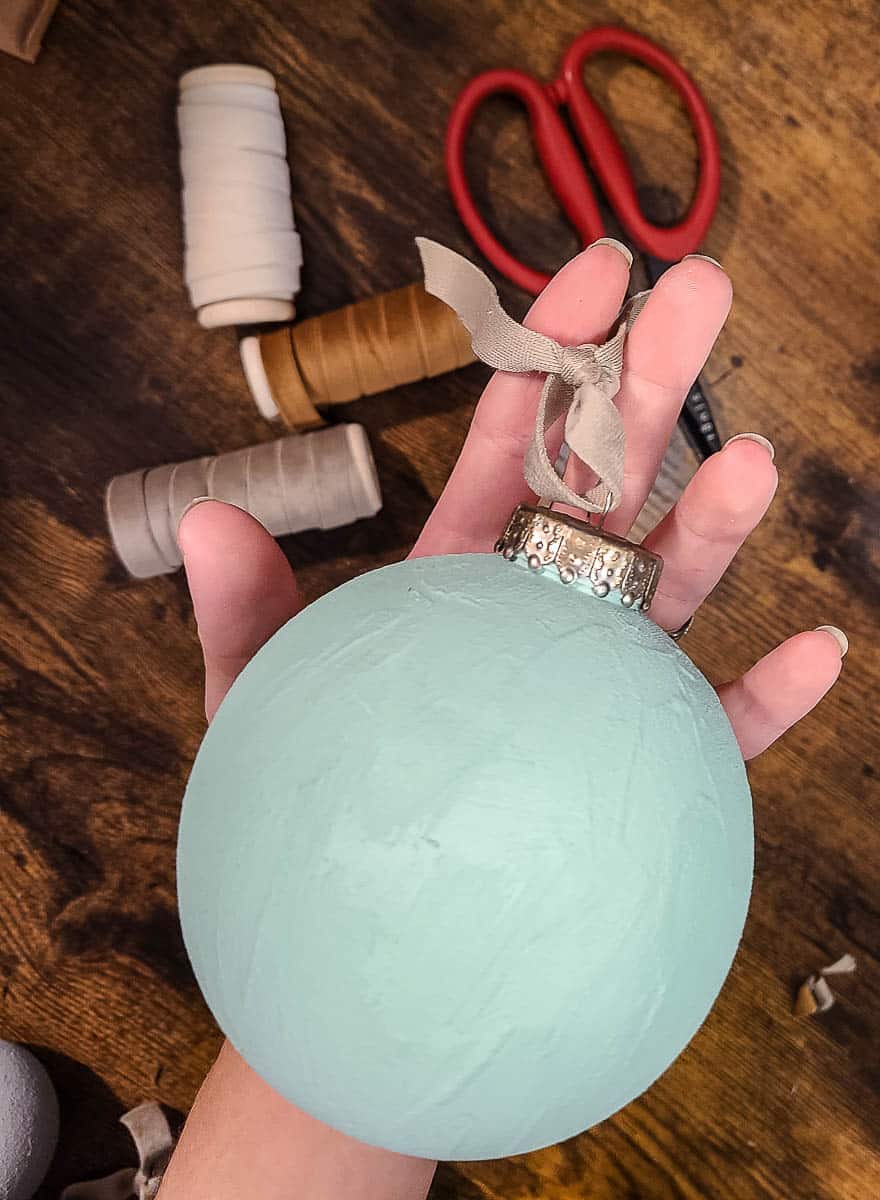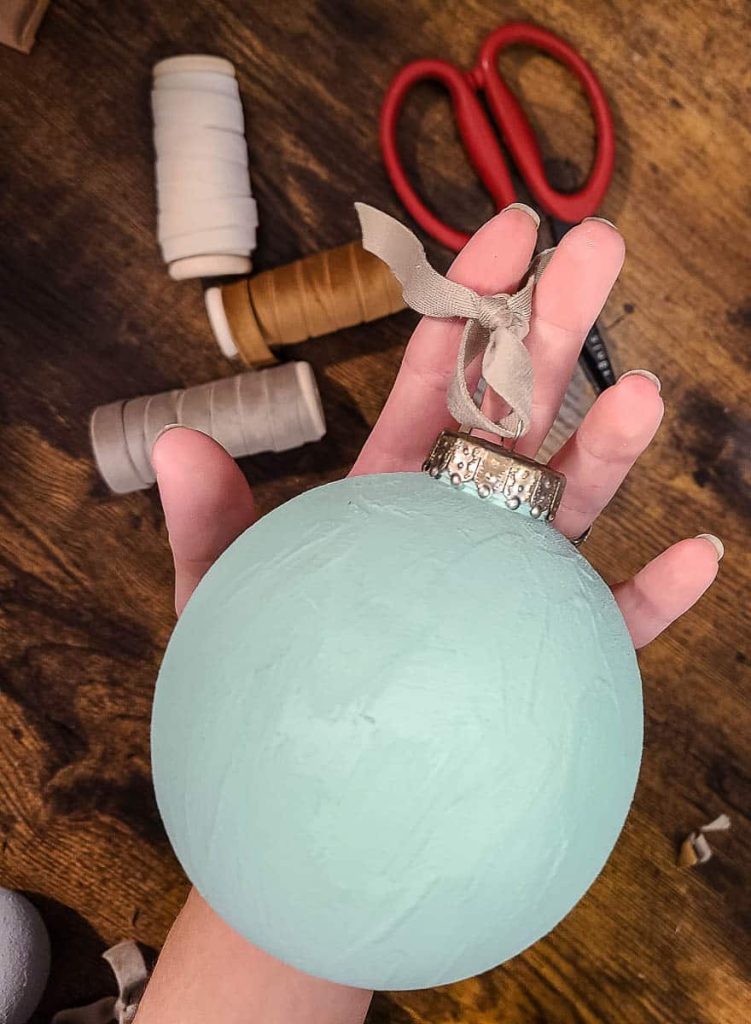 Cut into pieces about 6-8 inches in length and tie onto the top of each textured ornament.
I absolutely love the neutral velvet ribbon that I got. It comes in three different shades and they are all great.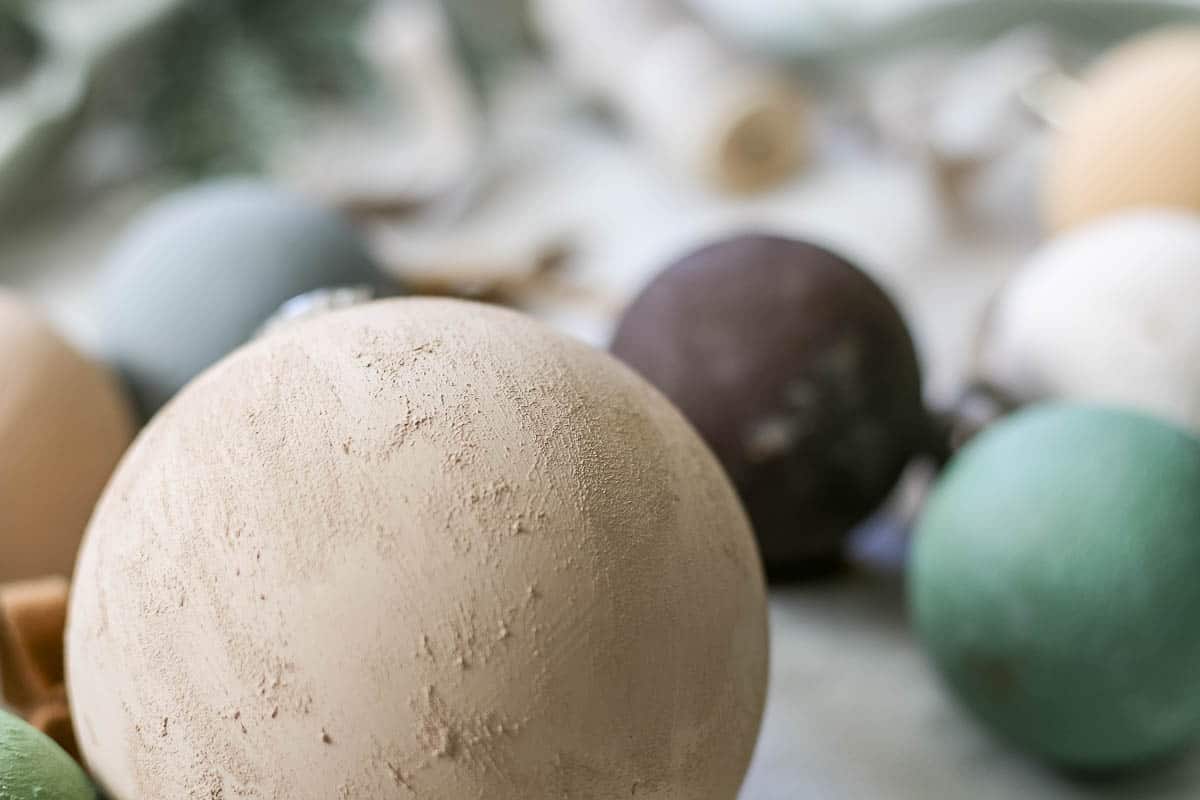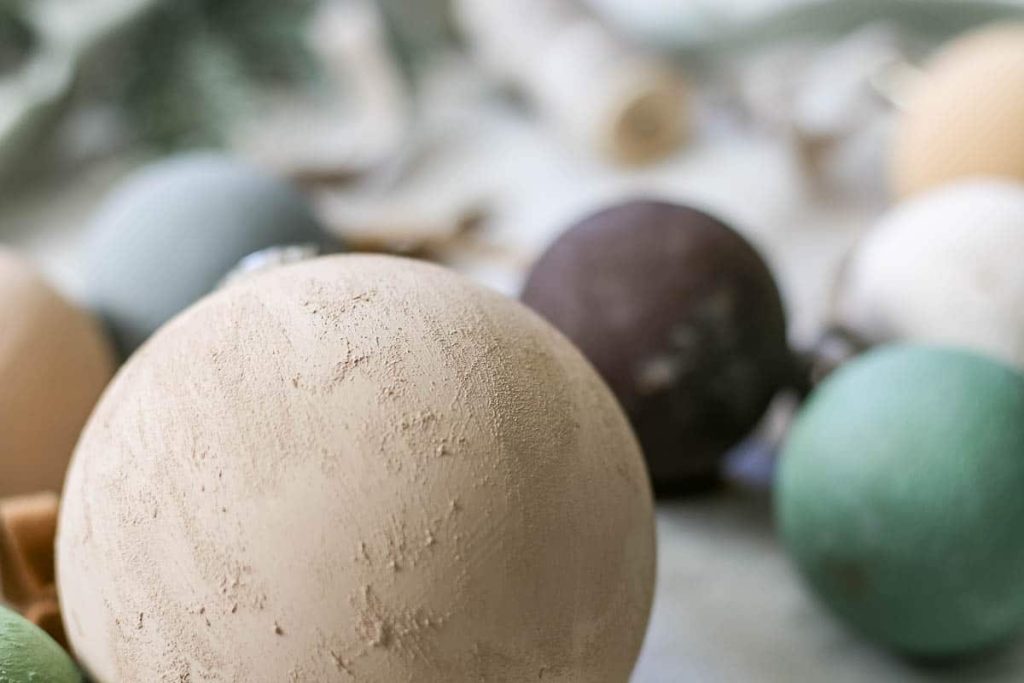 Won't the ornaments look amazing on our bedroom Christmas tree?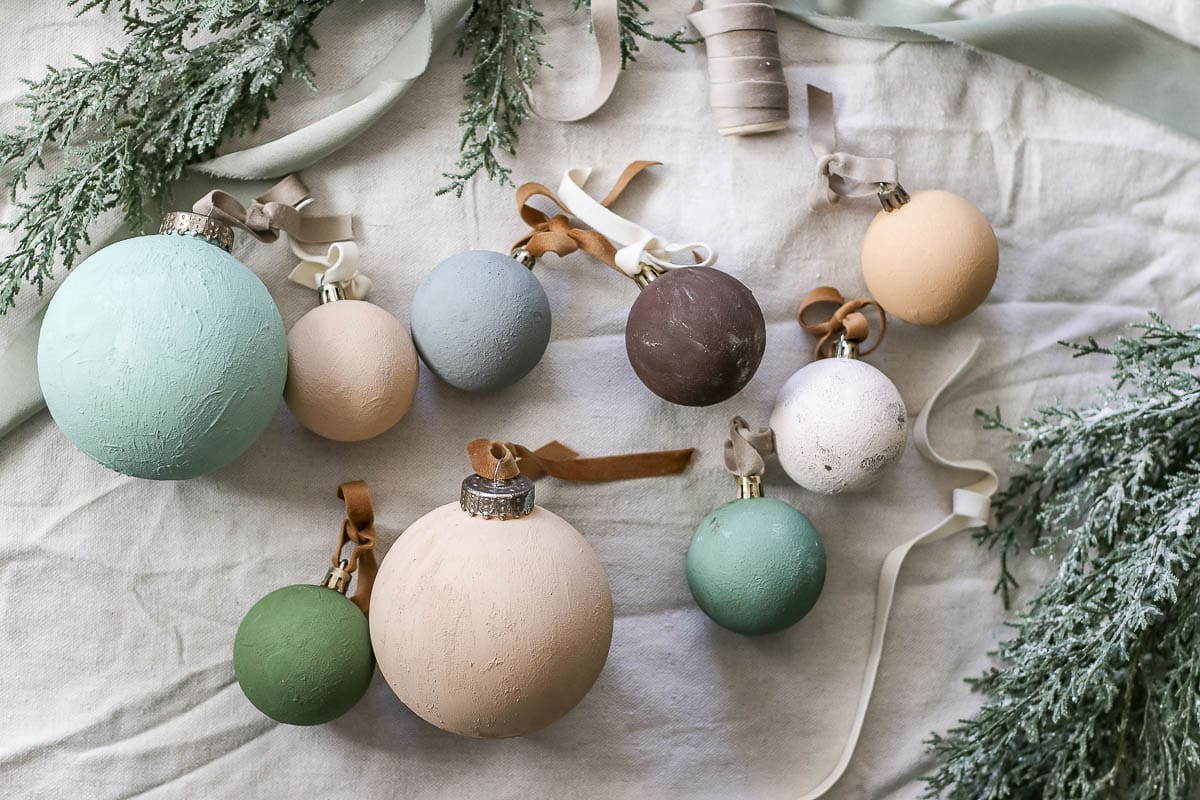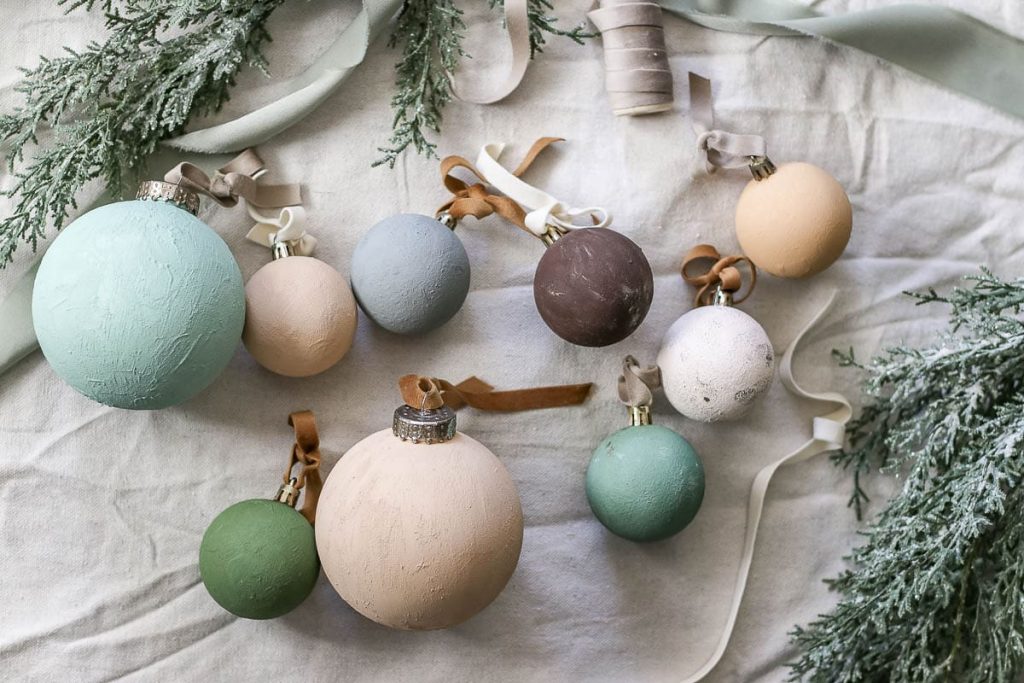 These matte textured ornaments look like could be for sale at high-dollar stores like Crate and Barrel, Studio McGee, Pottery Barn, or Restoration Hardware.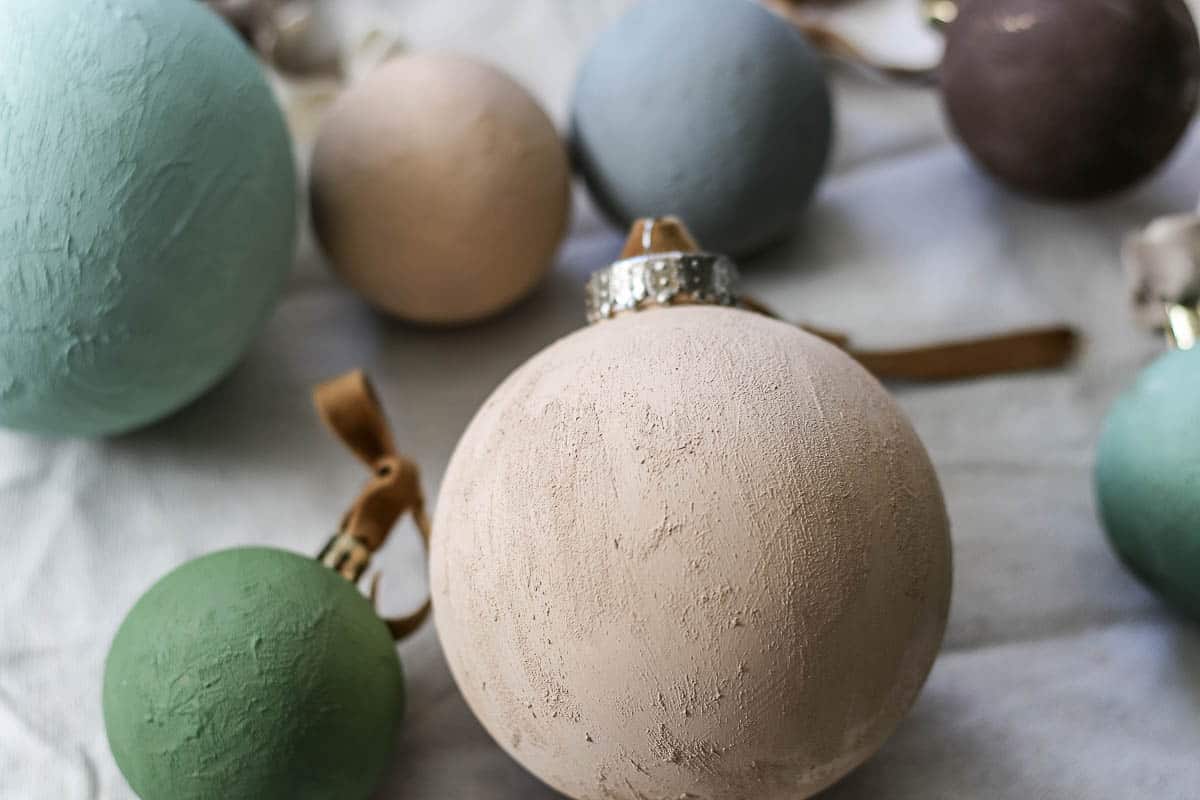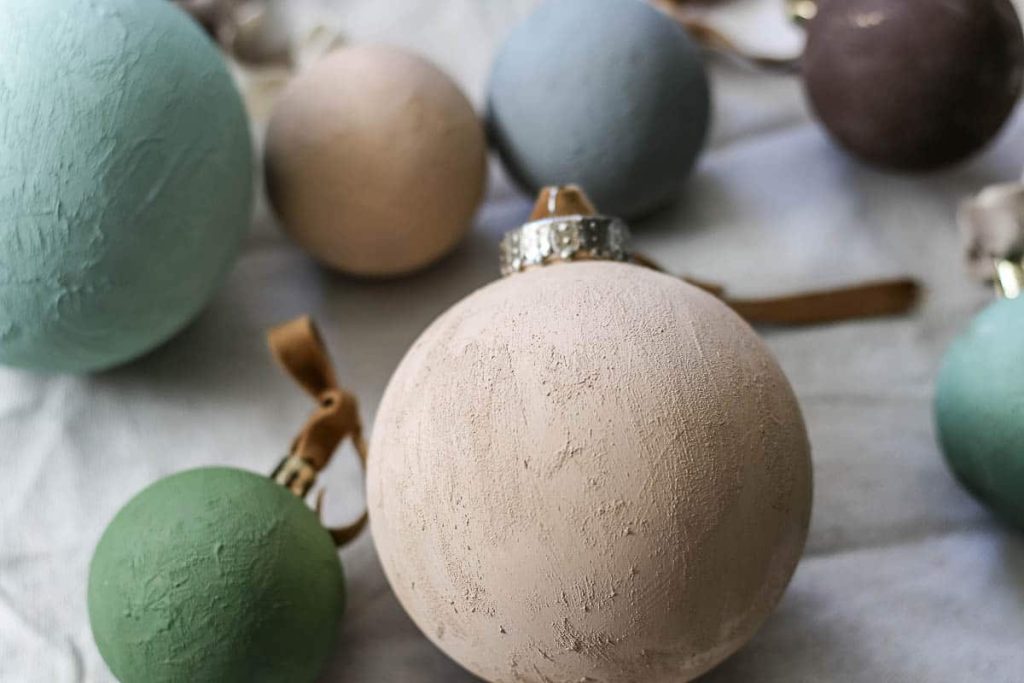 But truthfully, they were made on a total budget with Dollar Store Christmas ornaments!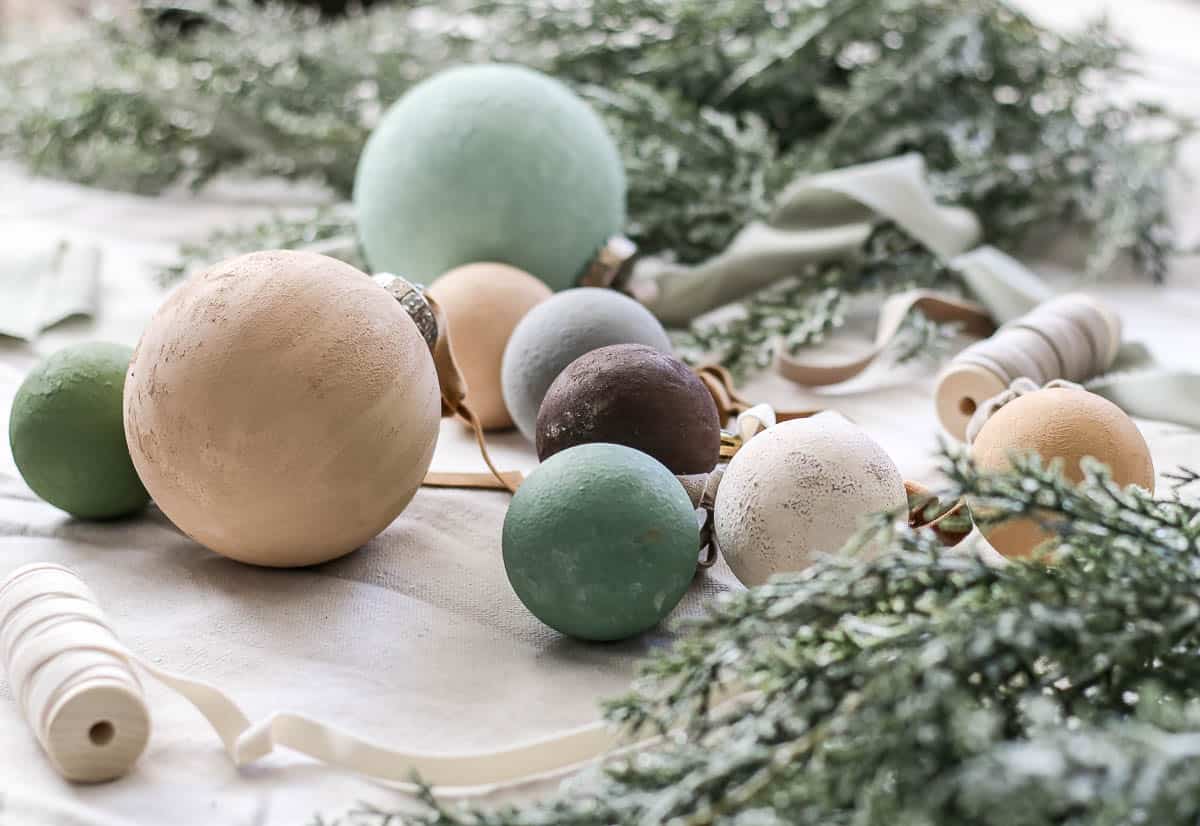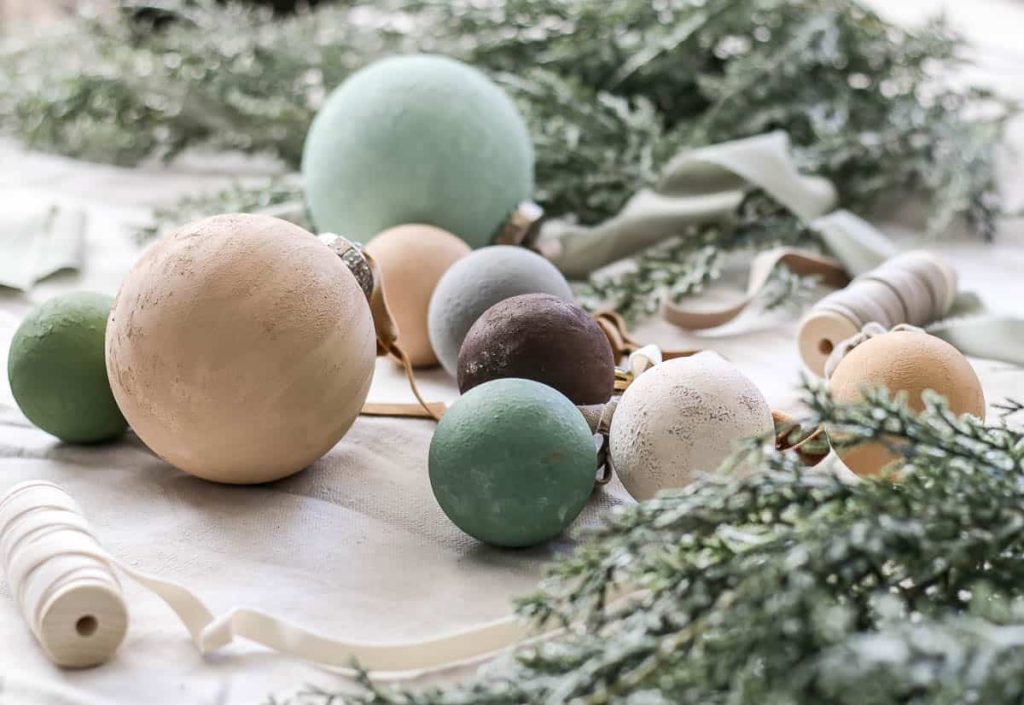 It is so easy to customize these and make them to fit with your Christmas style or color palette. These look amazing next to my leather ornaments, natural Christmas ornaments, mercury glass ornaments, and wood bead ornaments!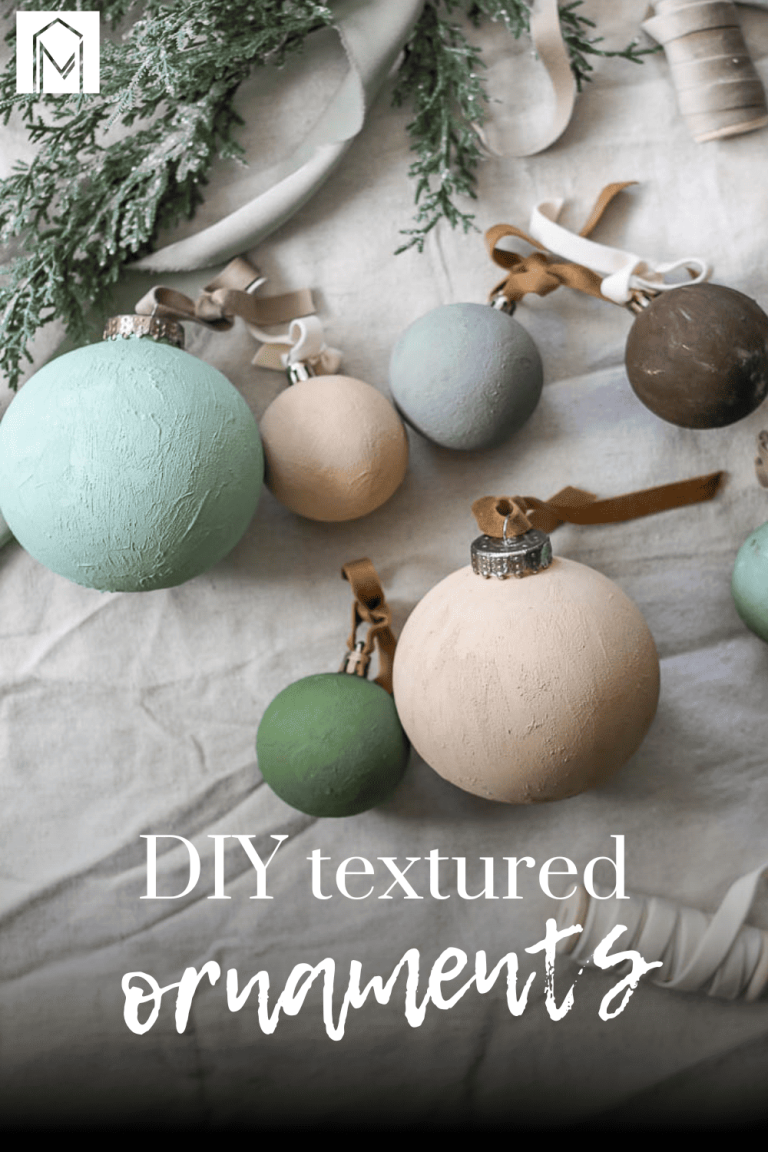 ​Merry Christmas!!