Do you love that boho style and looking for ways to incorporate it into your Christmas decor? You're going to love this step-by-step tutorial for a dreamcatcher ornament that would look so cute on a boho Christmas tree!
I was so excited when I signed up for the Ornament Exchange this year. It's such a fun concept! You get paired with another blogger and you get to create an ornament for her and she makes one for you.
I was thrilled when I heard that I was paired with Kim from Made in a Day. I've always admired her projects and loved her boho style.
When I'm perusing around on Pinterest, I always find myself pinning her crafts so I'm definitely drawn to her great ideas.
When I saw the picture of her gorgeous boho Christmas tree last year – I instantly knew what kind of ornament to make her compliment her other boho ornaments – a dreamcatcher ornament!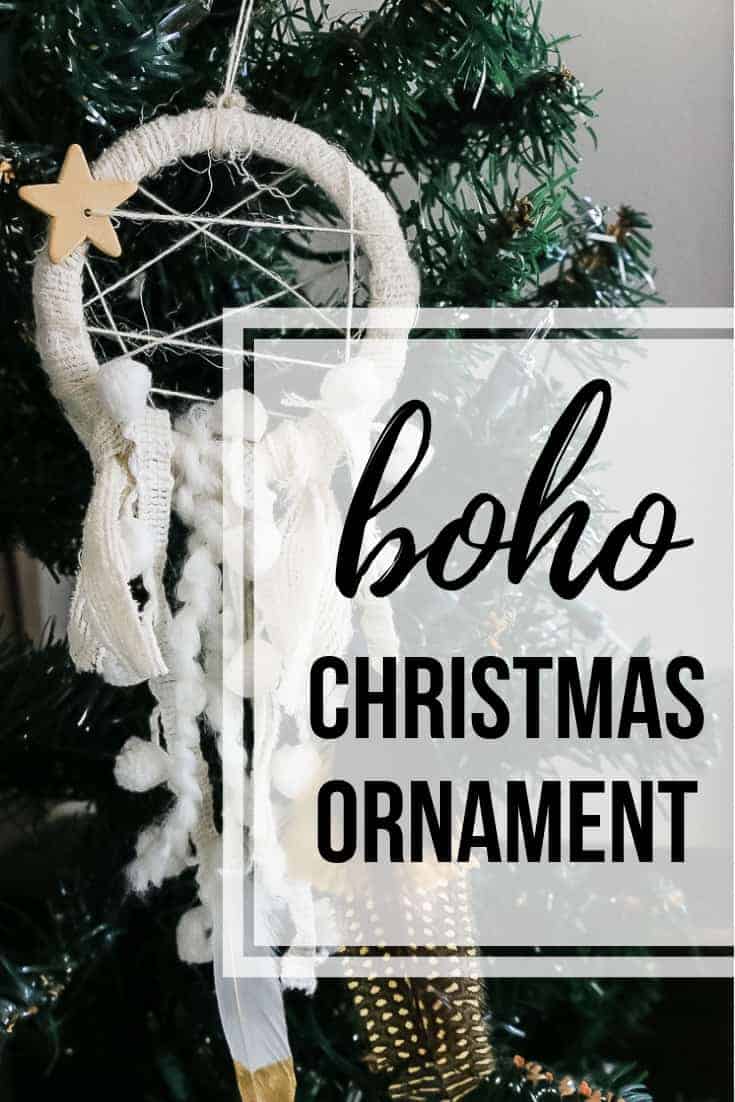 Because I've made mini fabric wreath ornaments with mason jar lids, I knew they would be the perfect size for a little dreamcatcher ornament. I was also remembering this cute boho winter wreath I made last year when I was a guest over at Designer Trapped in a Lawyer's Body.
If that winter wreath and my little fabric wreath ornament had a baby – it would be this dreamcatcher ornament! Haha!
This DIY dreamcatcher ornament tutorial contains affiliate links, but nothing that I wouldn't wholeheartedly recommend anyway! Read my full disclosure here.
Supplies for dreamcatcher ornament:
White, cream-colored fabric ( I used a soft muslin)
Various yarn, ribbon
Twine
Star wood button – here's something similar
Feather with nylon loop
Boho Christmas Ornaments: How to Make a Dreamcatcher Ornament

Step 1. Wrap mason jar ring.
Wrap mason jar lid ring with ripped strips of light fabric.
You can use a little bit of Rapid Fuse glue to get it started and end it.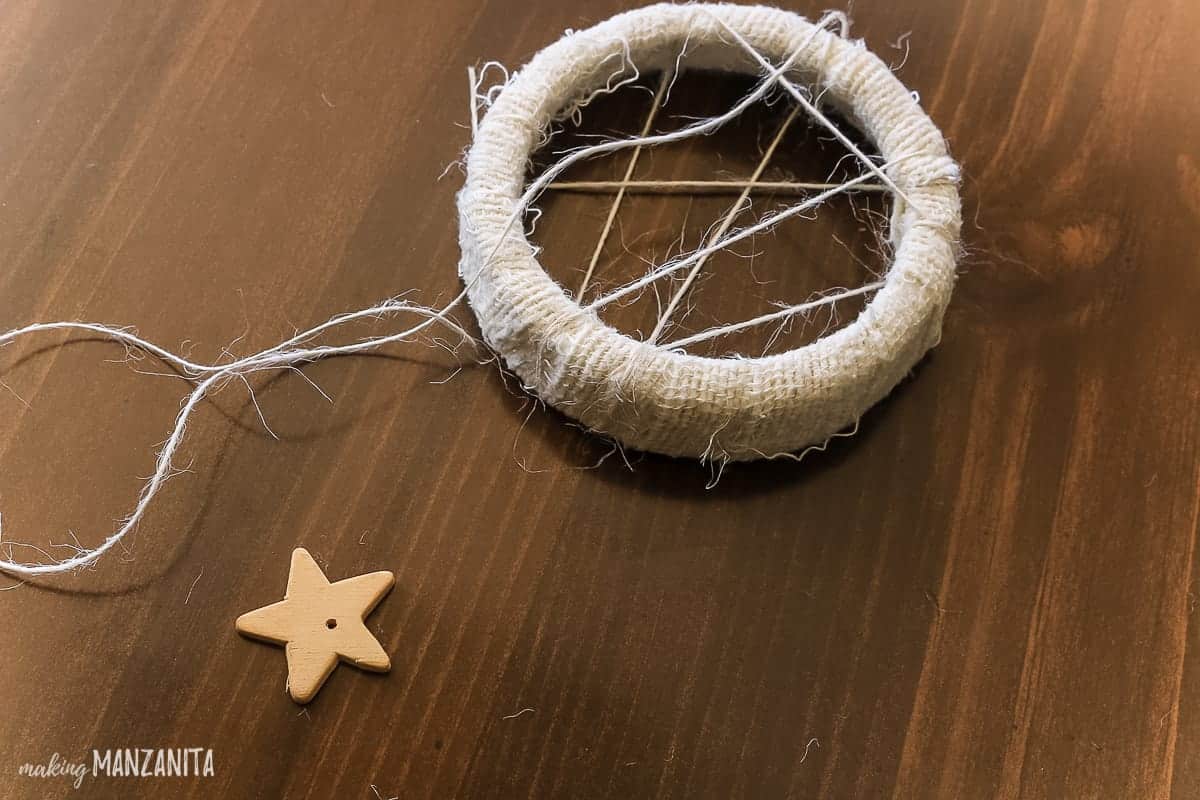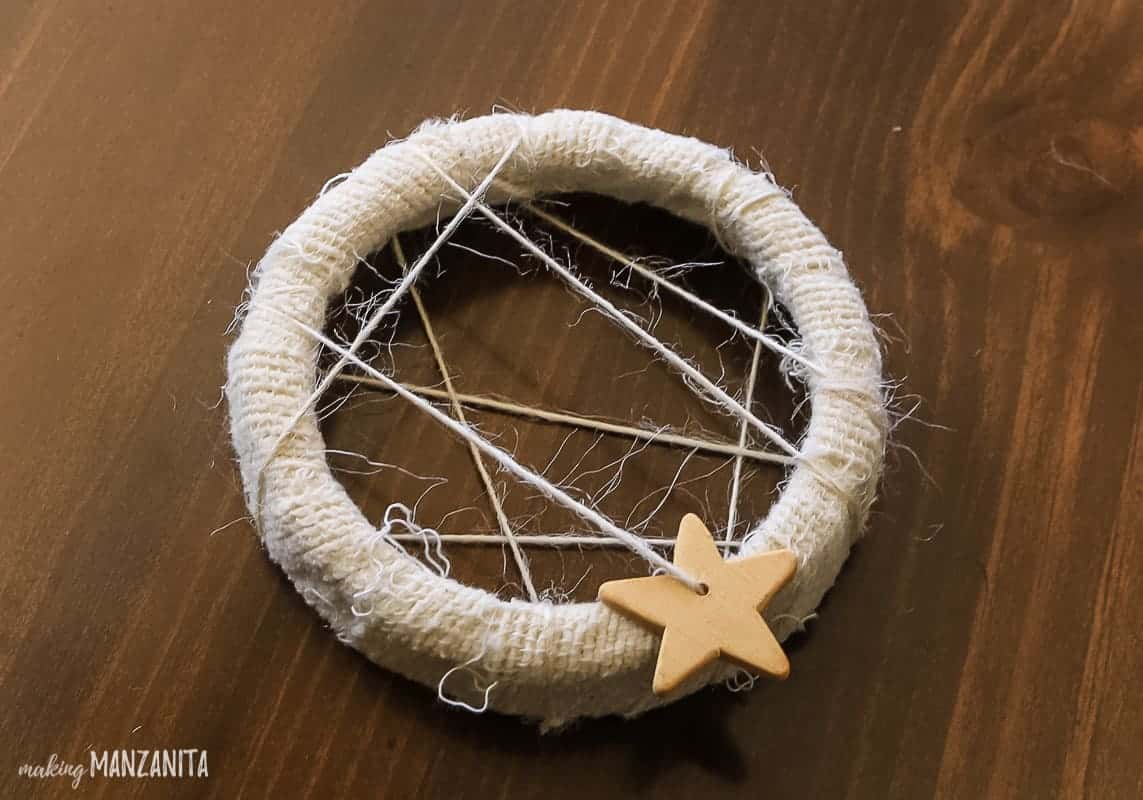 Step 2. Add twine.
String twine around the center of the mason jar ring in a random pattern. Add a cute wood button in the corner if you want, as I did with the little star. You can secure the button in place with a little bit of glue.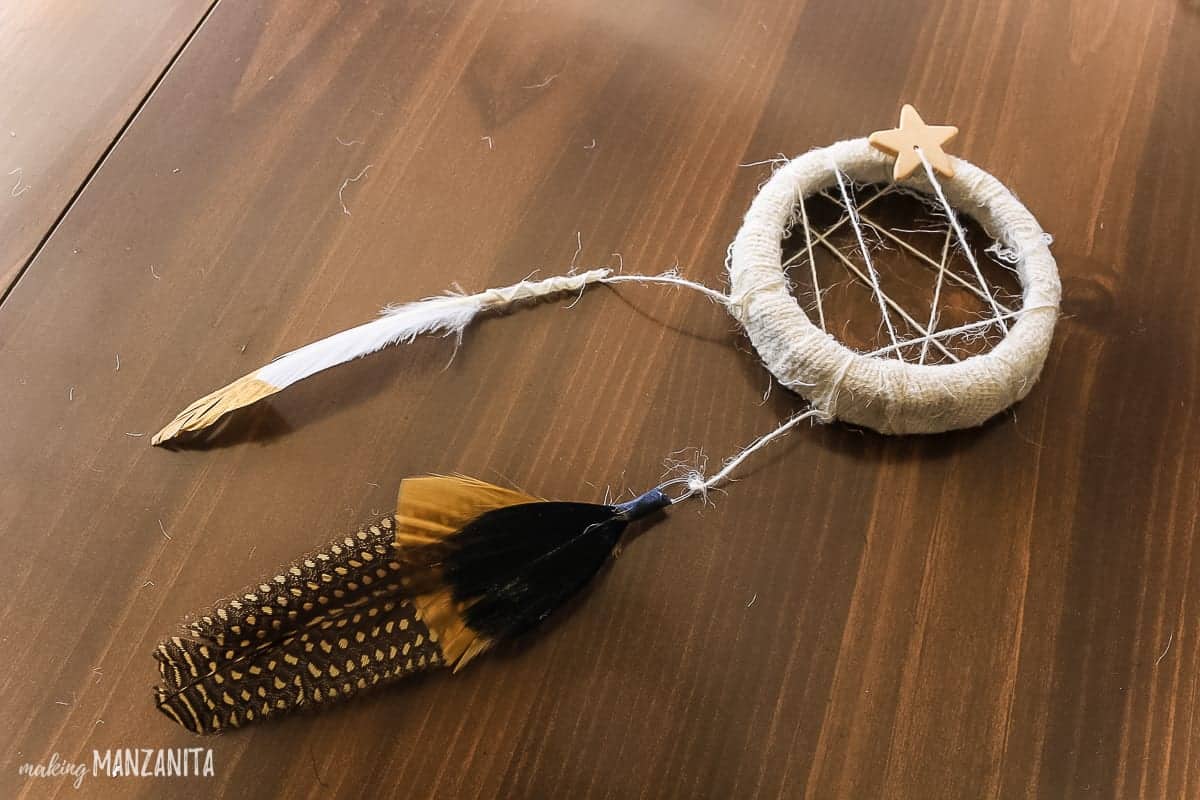 Step 3. Add feathers to bottom.
I had some feathers left over from this DIY arrow project that I had made for my son's rustic woodland nursery.
I had plain white feathers on hand, but I just used a little gold craft paint that I had to make it look like it was gold dipped. You can also grab some white feathers that already have the gold tip here.
Some of the feathers I had in my craft supplies already had a little nylon loop on them, which made it really easy to add to the bottom of the dreamcatcher ornament.
For the feather that didn't have the loop, I just brushed on some glue to the base of the feather and then wrapped the twine around it and hold it while the glue set. The Rapid Fuse glue is super strong so it holds it well after about 30 seconds.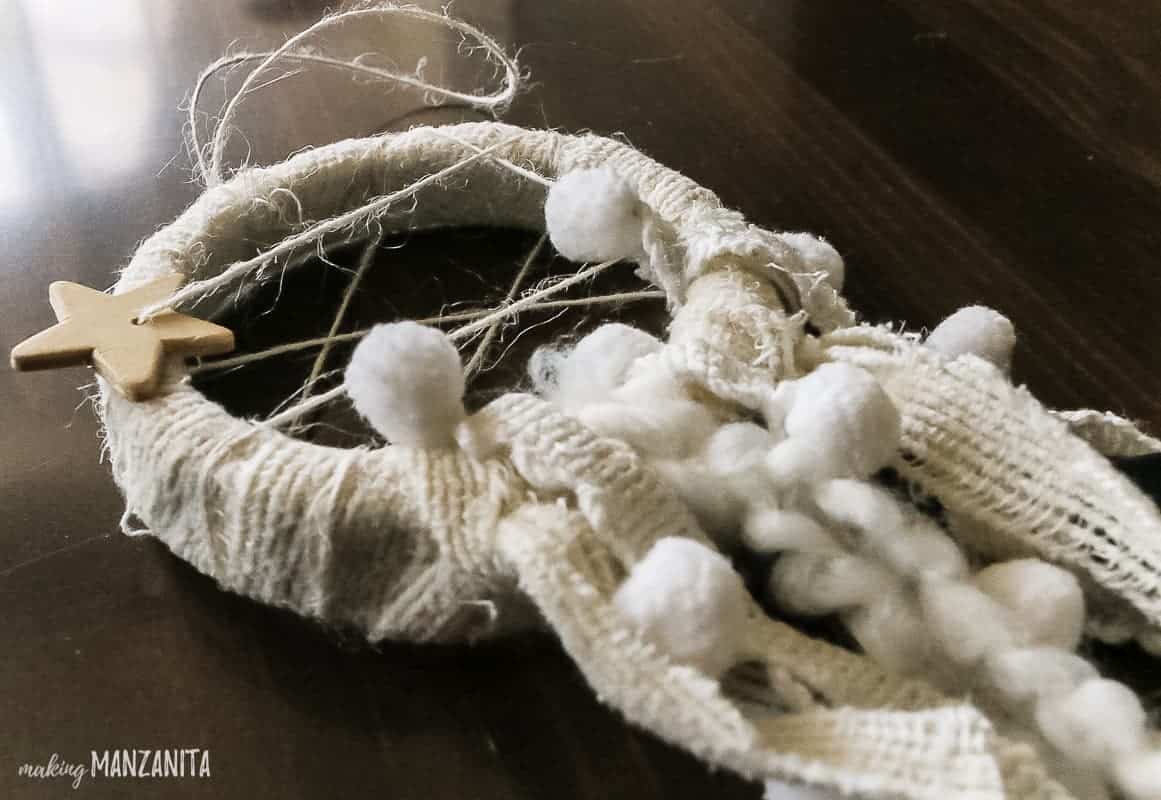 Step 4. Add additional ribbon or yarn to the base of the dreamcatcher ornament.
The thing that really makes this cute little Christmas ornament look like a dream catcher is the base, which really comes together when you add in the ribbon or yarn. I love the way the pom-pom trim adds some extra texture.
I also added some strips of the same ripped fabric that I wrapped on the mason jar ring.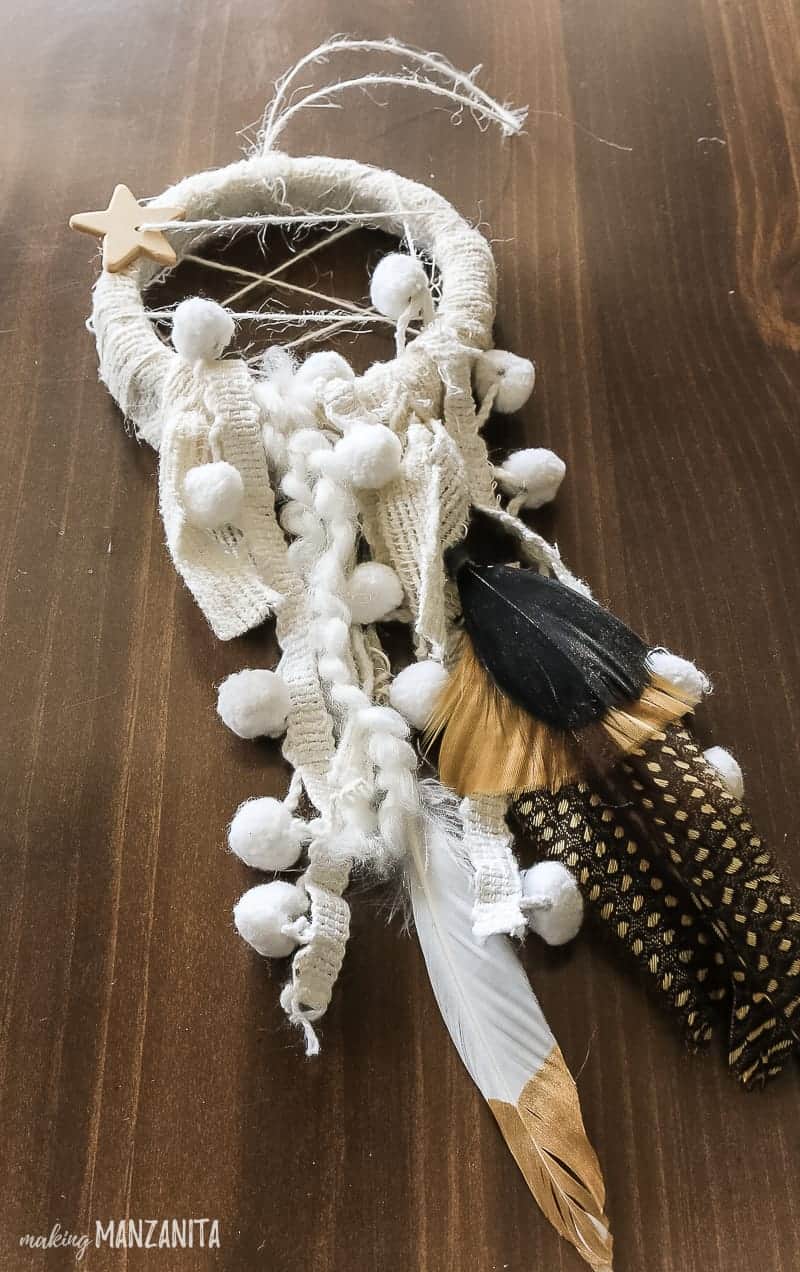 Step 5. Add a hanger.
Lastly, I added a loop of twine to the top of the dreamcatcher ornament for a hanger.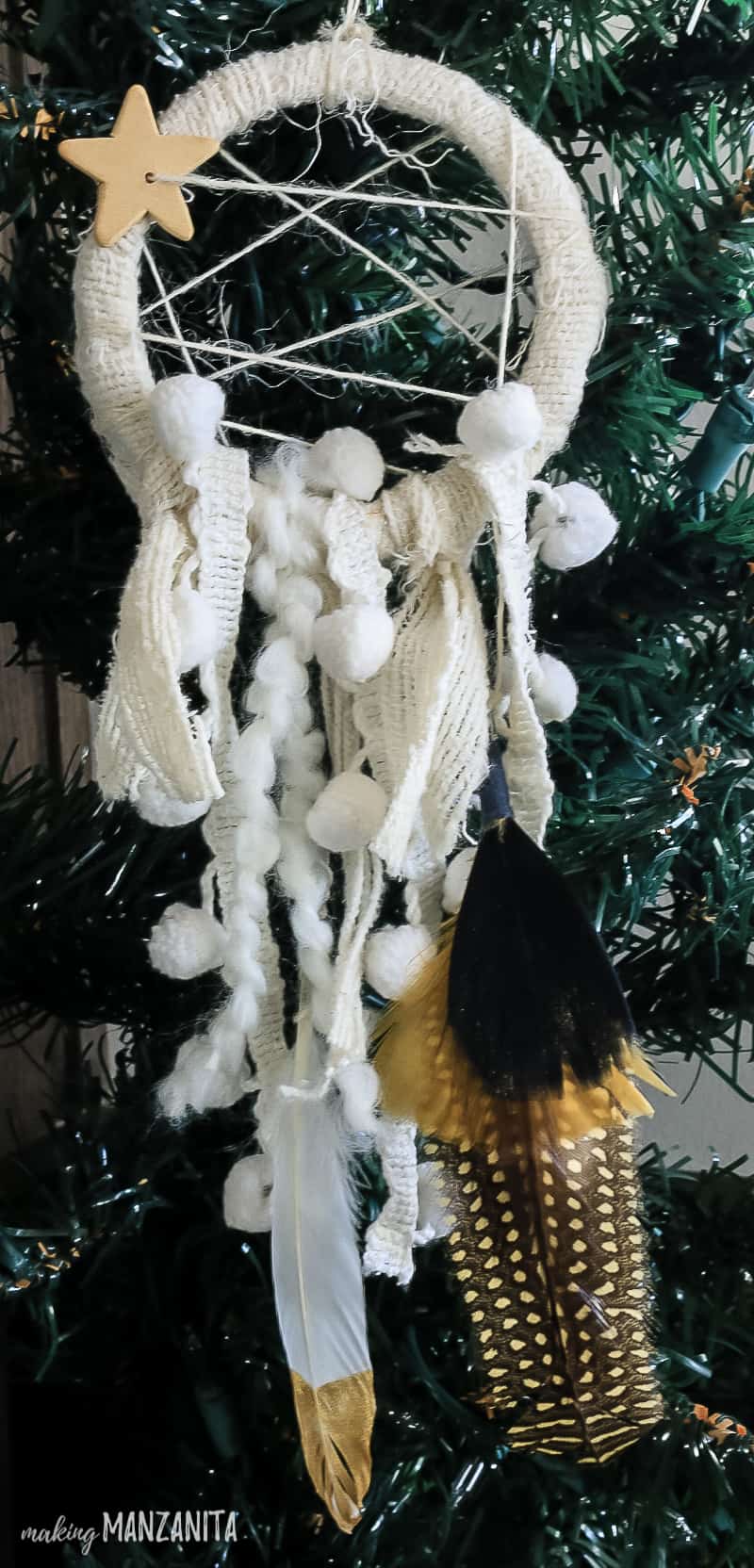 I love the neutral colors this cute boho-style Christmas ornament has. The feathers really give it that boho feel, right?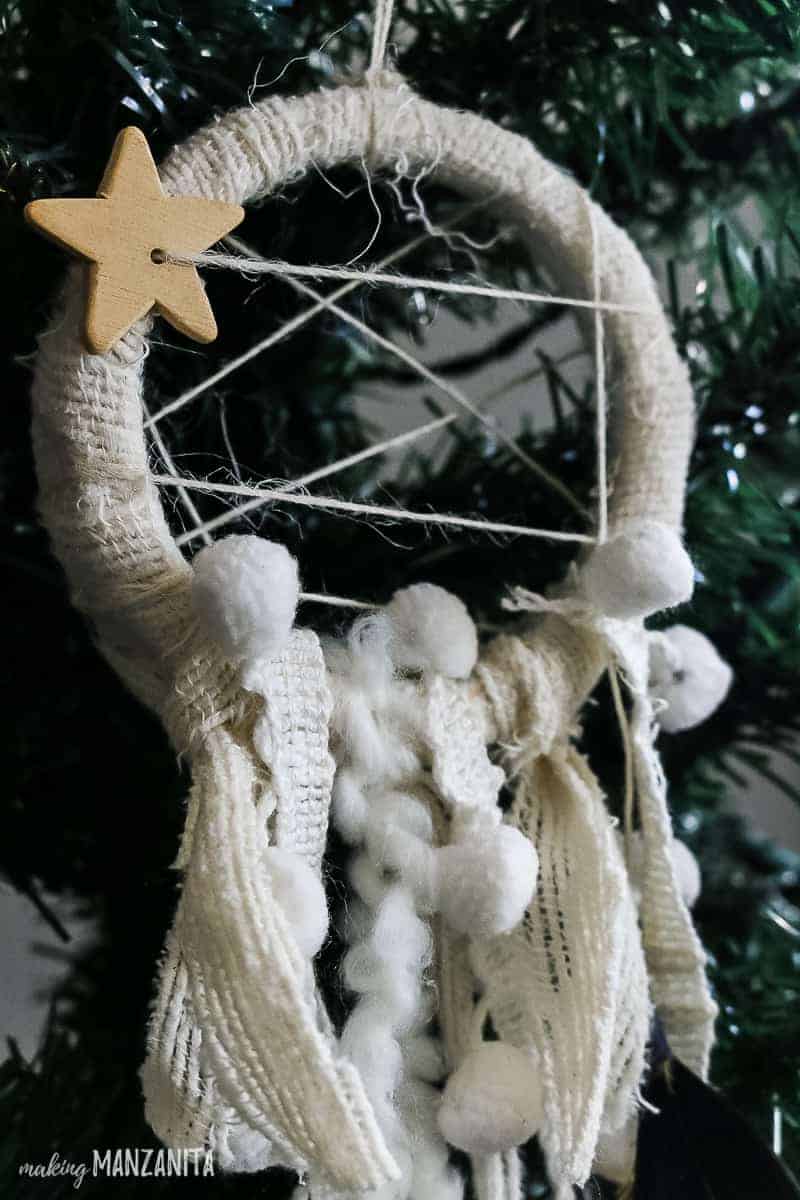 I think this cute little thing is going to look adorable on Kim's boho Christmas tree, don't you think?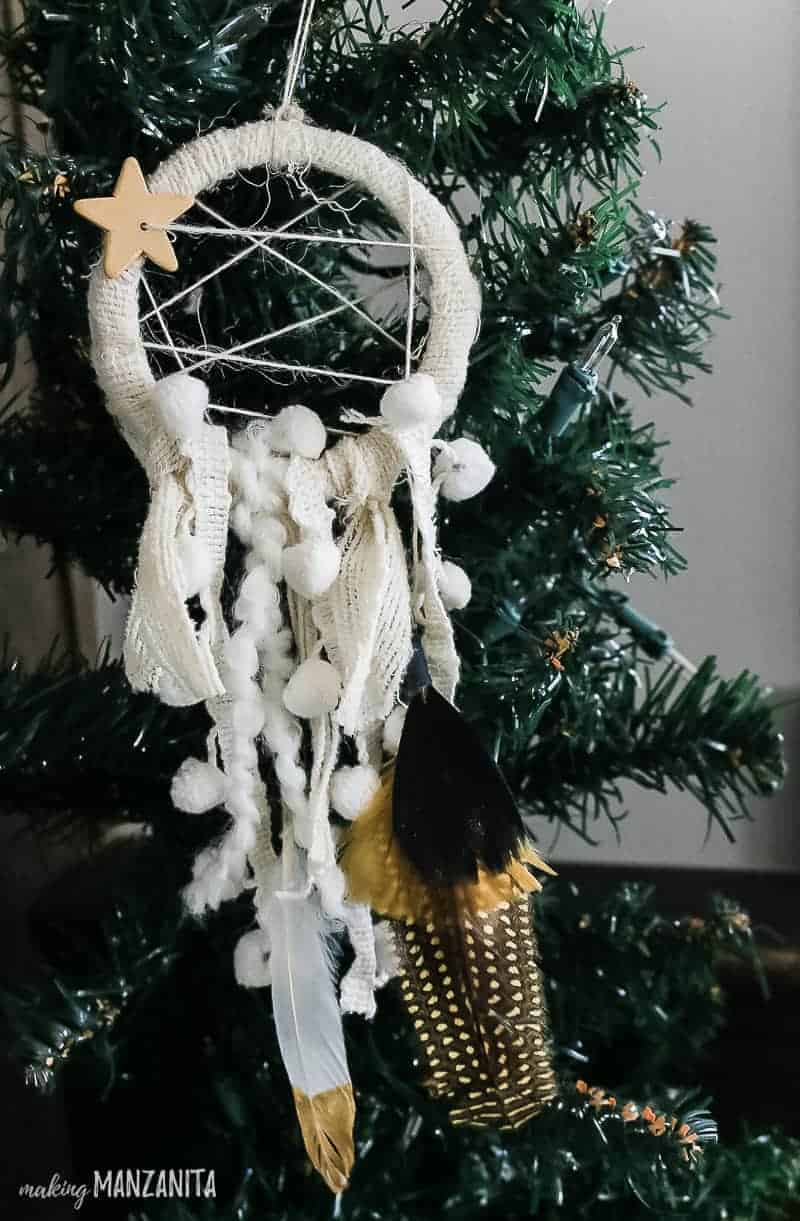 Making this dreamcatcher ornament was so easy!! I raided my craft supplies and came up with everything I needed to make this. If you're a crafter, I bet you have most of these supplies on hand too.
You can really customize it and make this dreamcatcher ornament look like whatever you want to match your style. Feathers or no feathers, neutrals or colorful, you name it!
How is your Christmas tree going to be decorated this year??
Let me know in the comments below!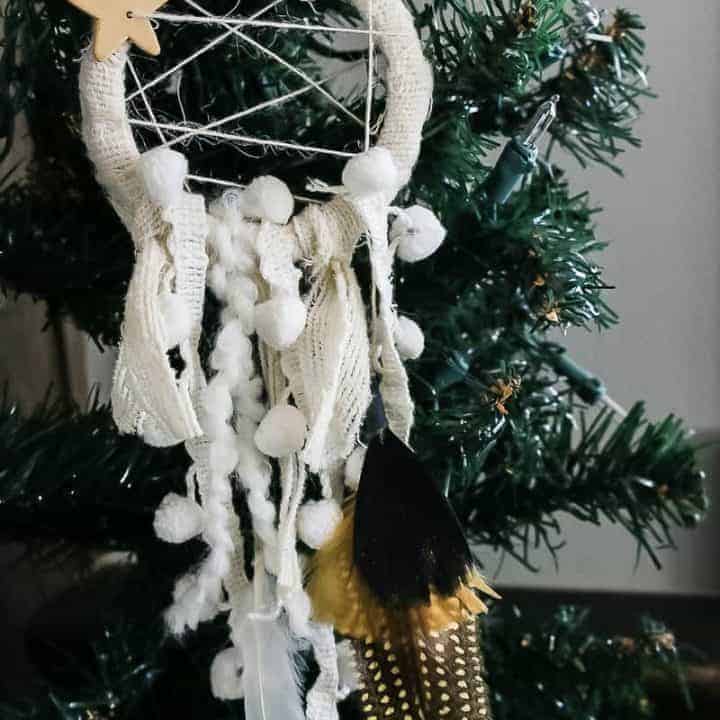 How To Make A Dreamcatcher Ornament
Here's how to add a little bob style to your Christmas tree! Learn how to make this adorable dreamcatcher ornament with just a few supplies.
Materials
White, cream colored fabric
Various yarn and ribbon 
Twine
Feather with nylon loop
Instructions
Wrap mason jar ring with fabric.
Add twine around center of ring in a random pattern.
Add feathers to bottom.
Add additional ribbon or yarn to the base of the dreamcatcher ornament.
Add a hanger.