If you're looking for awesome Christmas gift ideas for the ladies on your holiday shopping list, you're in luck. Today I'm sharing 12 gifts for her under $25.
This post contains affiliate links, but nothing that I wouldn't wholeheartedly recommend anyway! Read my full disclosure here.
I love creating gift guides, I really do. But there's just something about creating a gift guide for her! It's even more fun for me because it feels a bit like I'm just putting MY Christmas wish list together. Buying gifts for ladies is always easier for me than the men (check out this gift guide for men if you're struggling with them!) These 12 gifts for her under $25 are bound to make any lady on your shopping list happy. There's really something for everyone!
Are you ready to see these 12 gifts for her under $25?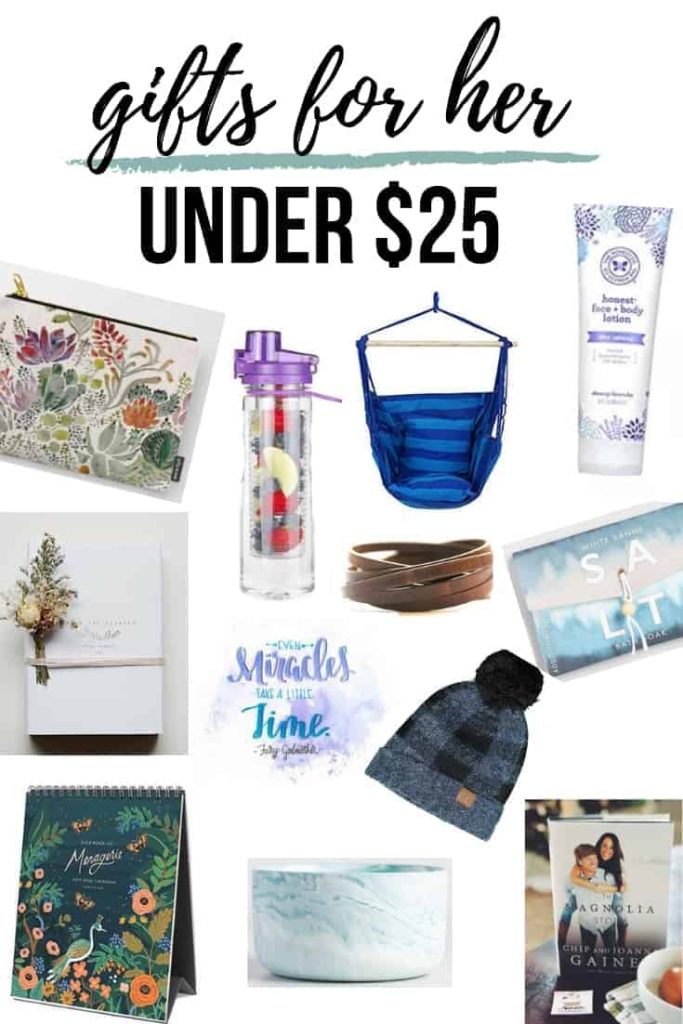 I'm always struggling to drink all my water in the day, but I hear these infusion water bottles make it easier to drink up because you can simply create flavored water by adding in fruits in the inner compartment. Now, doesn't some strawberry kiwi water sound pretty good right now?
This bath salt is pretty amazing…trust me. I have it. Every girl I know loves a good soak in the tub so there's no reason they don't deserve this heavenly salt!
Everyone needs a new calendar for the new year, right? This little desk calendar is oh so cute! The design is beautiful, which is on par for Rifle Paper Co.
Buffalo plaid is all the rage again this holiday season and I, for one, love it. This fuzzy beanie is perfect for the trendy girl on your list that lives in a cool climate.
What kind of lady wouldn't want to sit around in this comfy hammock chair all afternoon and read a book?
Isn't this little pouch just the cutest?! You could use this for a number of different things, so it's a very versatile gift for her. This one comes in three sizes and TONS of different designs to choose fro
This soap set makes a lovely gift for the girl in your life that seems like she has everything, we've all got a few of those on our lists, right? These handmade soaps are sure to make sure day.
This beautiful leather wrap bracelet reminds me of something you would find on Joanna Gaines' wrist. I love the rustic gold clasp too!….I certainly wouldn't mind if this found it's way under my Christmas tree this year.
I'm kind of obsessed with this lotion. It's super relaxing and perfect for right before bedtime.
Can't go wrong with a candle! I love this pretty green marbled one!
This book is such a good read! Chip and Joanna have become inspirations to people everywhere and I loved reading how it all began and getting a little glimpse into their simple lives.
One of my oldest and dearest friends opened an Etsy store last year and is making this B-E-A-UTIFUL watercolor hand lettered prints. I had her make something for our master bathroom and I just love it! She's got tons of different Disney quotes, Friend quotes and she can really make anything you want! Go show her some love at her Etsy Store, Handmade Marissa Ronae.
Well that gift guide for her really helped me put together my own wishlist, haha…I'll take one of everything please. 🙂 If you're struggling with what to buy for your mom, sister, aunt or grandma, I'm sure that there's something the list of gifts for her that she'd love.
What one of these 10 gifts for her under $25 would you want to see under your tree?
Let me know in the comments below!!