Shabby chic style is expressed as antique white furniture and mixes in pastels, feminine floral designs & lace. Check out these shabby chic gifts for Christmas ideas for those in your life that love the shabby chic look!
The shabby chic trend has been around for a while. The shabby chic style usually encompasses worn and antique furniture, chippy paint, and eclectic items and mixes in pastel colors, feminine-type floral designs, and lace.
In my family, however, shabby chic is not just a style, it's a verb ("let's shabby chic this coffee table!!").
Related – Want more gift ideas? Check out all of our gift ideas here!
The best Saturdays are spent at flea markets and yard sales looking for shabby chic finds. My mama even has a whole shabby chic room in her house.
There's definitely more than one person on my holiday shopping list that loves the shabby chic look, so I rounded up all my favorites to share with you today.
This shabby chic gifts round-up contains affiliate links, but nothing that I wouldn't wholeheartedly recommend anyway! Read my full disclosure here.
What is shabby chic style?
Before we jump into the gift ideas, let's start with the basics! What even is "Shabby Chic"?
Originally famous for its rustic, relaxed spirit, today's approach to the Shabby Chic (pronounced "shee-k") decor style has a more modern vision.
It is predominantly a vintage-loving style having antiques with a modern contemporary touch with laid-back vibes.
It has evolved this way by the tradition of older generations passing down their possessions to the next generation, and the latter putting their unique touch on them.
KEY ELEMENTS:
Wooden/neutral furniture with colorful accessories (cushion, rug, cover).
White painted and distressed or weathered antique furniture is quintessential Shabby Chic.
Neutral wall colors like pale green, blue, or white for an uncluttered vibe.
Use of natural fabrics like wool, cotton, and linen.
A soft pastel color palette, with an emphasis on light pink and muted teal green, is common.
Worn and lived-in look.
Rose print patterns, vintage decor, decorative bird cages, quilts, and chandeliers are all popular.
Let me know what your favorite of these shabby chic gifts is in the comments!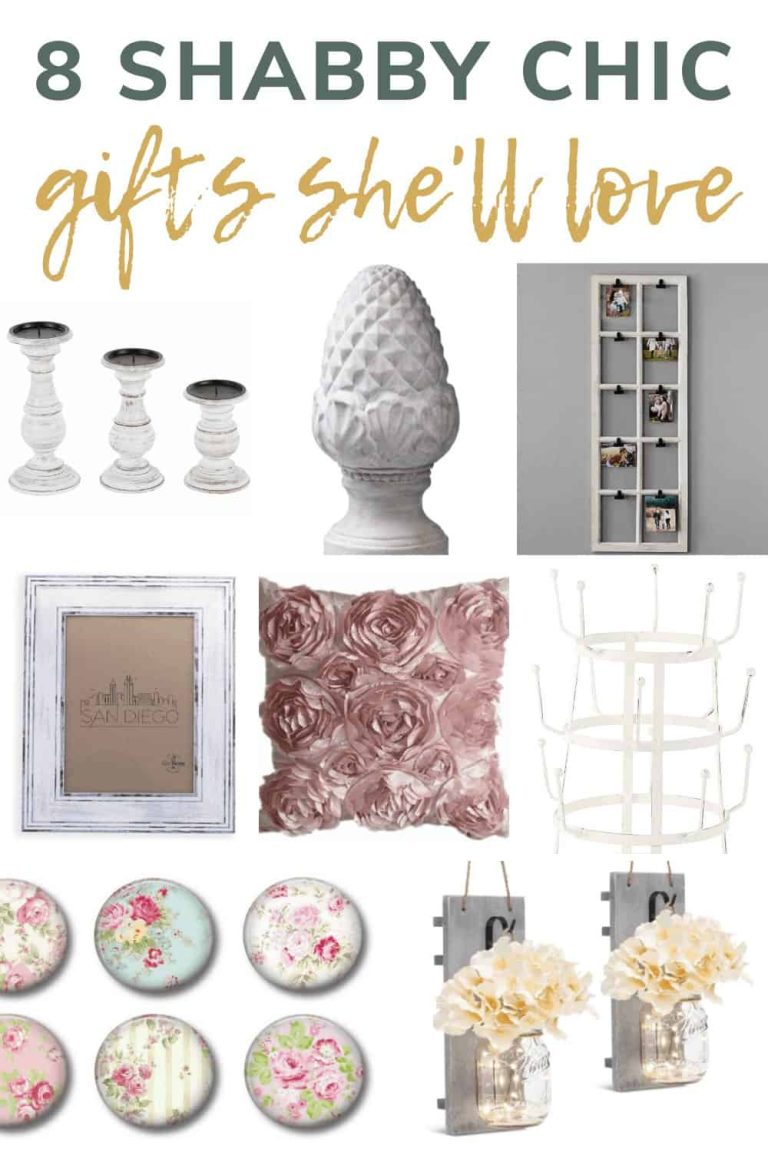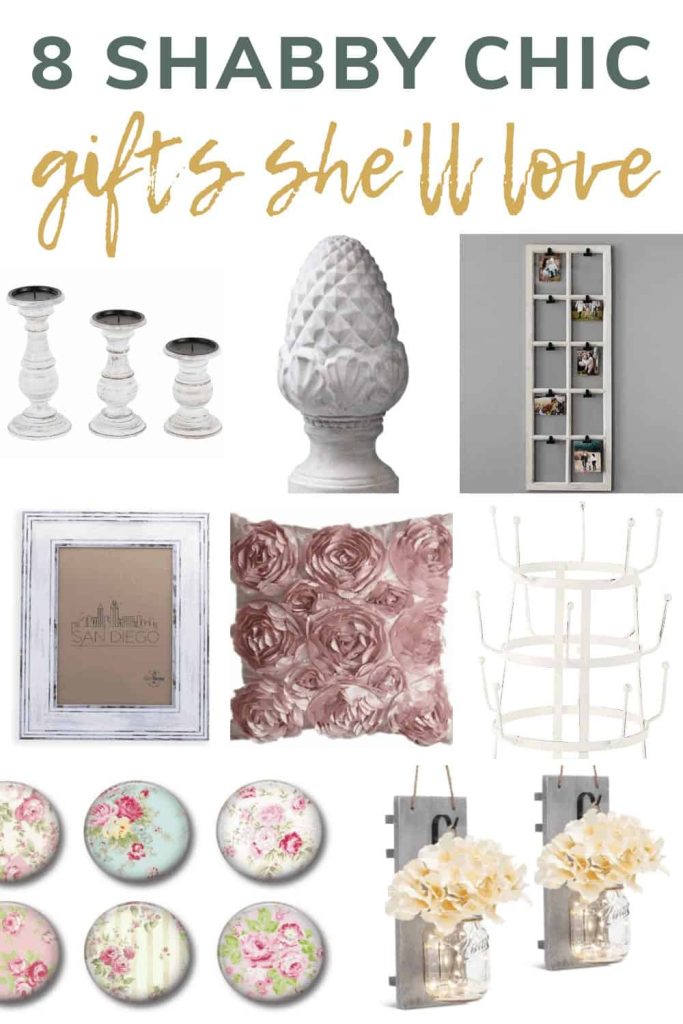 Are you ready to pick your favorite of these shabby chic gifts?
Shabby Chic Gift Ideas
Looking for the perfect shabby chic style gift? Here's a collection of shabby chic decor and gift items that any woman in your life will love.
Photo Credit: Wayfair
I am totally in love with these wooden candle holders. Pair these with a fun holiday candle, like this one, and BOOM! Perfect shabby chic gift idea!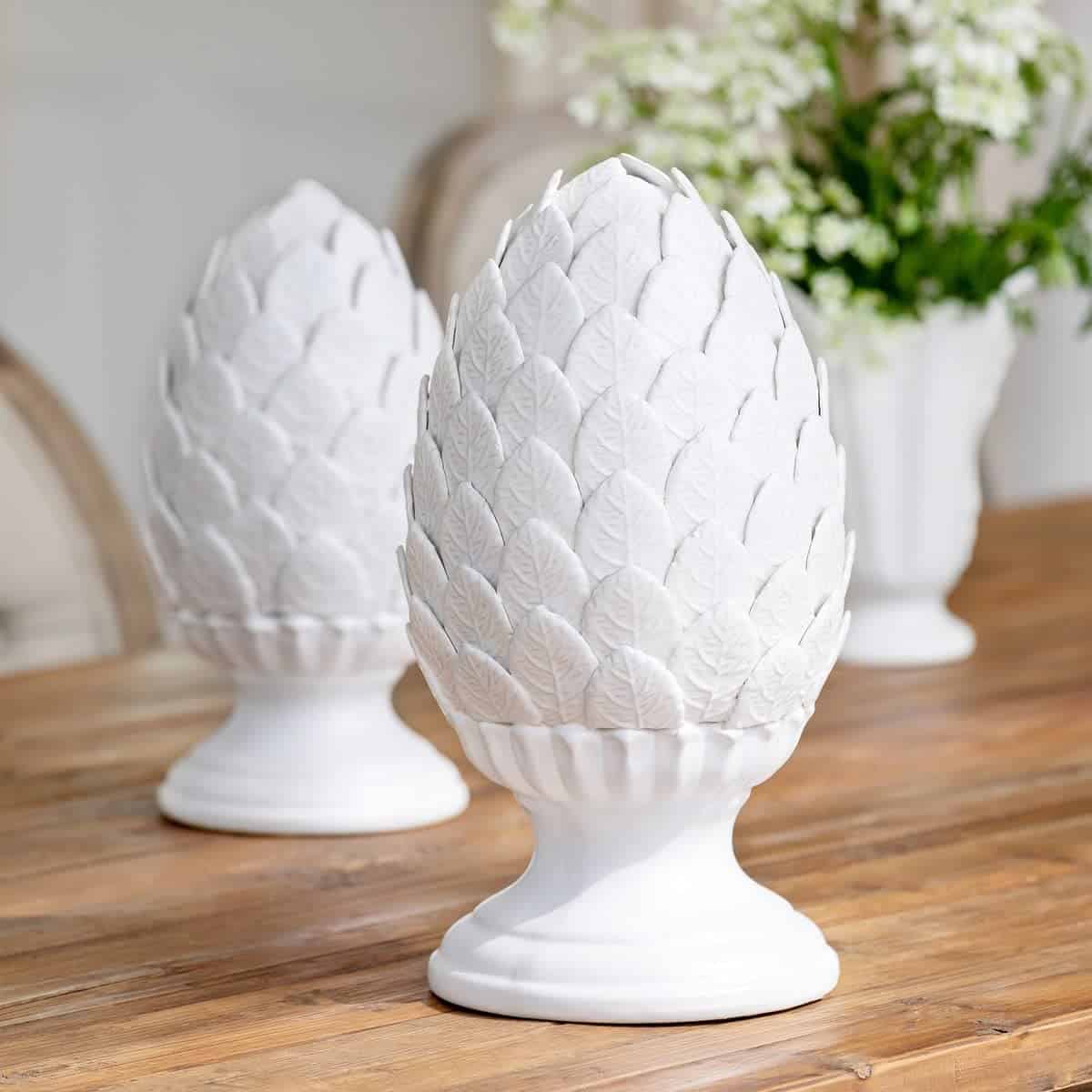 Photo Credit: Amazon
This artichoke finial (aka decoration) is bound to be a show stopper. I can totally picture this on some fun shelves in a dining room or next to a fireplace. It would definitely bring a shabby chic vibe to any room.
Photo Credit: Kirklands
Vintage windows are a slight obsession of mine, so I was instantly drawn to this wooden window pane frame. 
With plenty of slots for pictures, this would be a great gift for the bragging Grandma that loves shabby chic decor, right?
Photo Credit: Amazon
Pictures are usually my go-to Christmas present. For the last several years, we've had some event that was professionally photographed (engagement, wedding, newborn pictures, etc).
They make great gifts for a family to print and put in a fun frame. This white frame is the perfect shabby chic gift.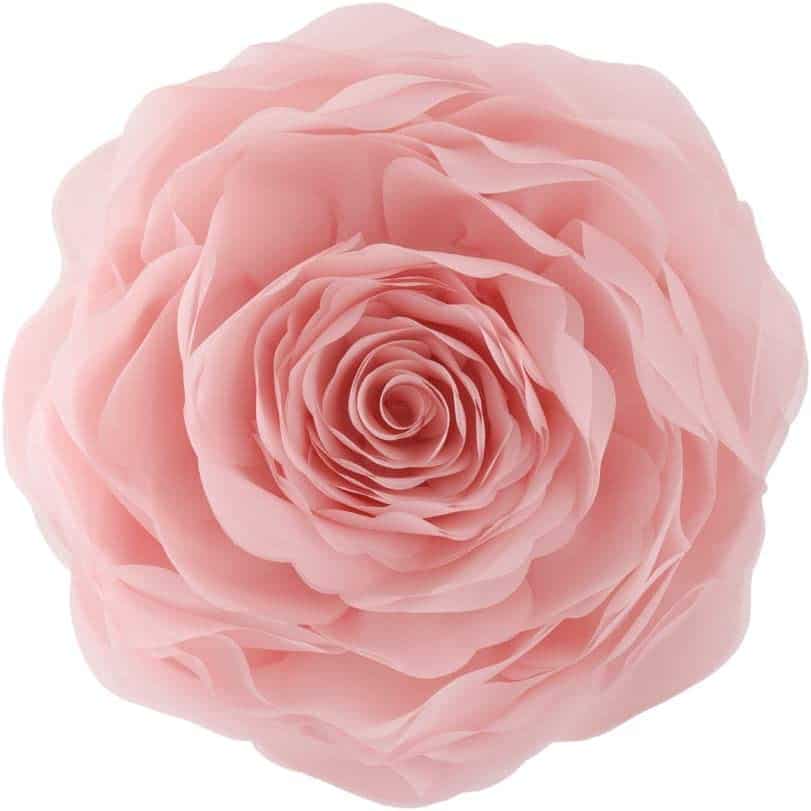 Photo Credit: Amazon
Nothing says shabby chic more than lovely pastel rose petals. I love this pillow cover. It is super reasonably priced.
Photo Credit: Amazon
These shabby chic magnets would make great stocking stuffer. The patterns fit right in with the shabby chic style.
Photo Credit: Amazon
Speaking of lots of mugs, this glass drying rack would be perfect to display a bunch of cute mugs or vintage teacups in a shabby chic kitchen. This could also be used in a craft room for ribbon and washi tape storage... ahhh the possibilities are endless.
Photo Credit: Amazon
These rustic mason jar sconces are just TOO cute! They are the perfect touch to add a little bit of shabby chic style to a room. The scones come ready with fairy lights that have a 6 hour timer.
Related – more gift guides for the women in your life!
If you weren't a shabby chic lover before reading this post, are you now? Did you pick a favorite shabby chic gift?
Which of these shabby chic gifts was your favorite?
Let us know in the comments below.