These popsicle stick snowflakes are perfect winter crafts for kids (and adults!) that you can display in your home. They add a ton of dramatic winter spirit to decorate a big open wall or as winter window decorations.
I've been having a blast showing some fun winter crafts, like these Farmhouse Cotton Stems and Sweater Wrapped Vases. Our house is beginning to look a lot like… WINTER 🙂 ! All of the Christmas decor has been organized, packed up and put up in the attic for now. In attempt to make the house not feel too bare after Christmas is over, I wanted to make some special winter DIYs. Since we have about 3 feet of snow outside currently, we decided to bring some of the snow inside with these popsicle stick snowflakes for the walls. Now after I showed these to my husband when I was finished, he admitted to me that he was a little nervous when I told him I was going to make some snowflakes out of popsicle sticks. He said that in his head he was thinking to himself…"oh no, she's doing a kid's craft". But after the popsicle stick snowflakes were all done and hung up on the walls, he confessed that they turned out a lot better than he imaged and he liked them! 🙂
UPDATE: Here's the video in case you missed it!! If you love videos, check out my video page to watch more.
This post contains affiliate links, but nothing that I wouldn't wholeheartedly recommend anyway! Read my full disclosure here.
Supplies for the popsicle stick snowflakes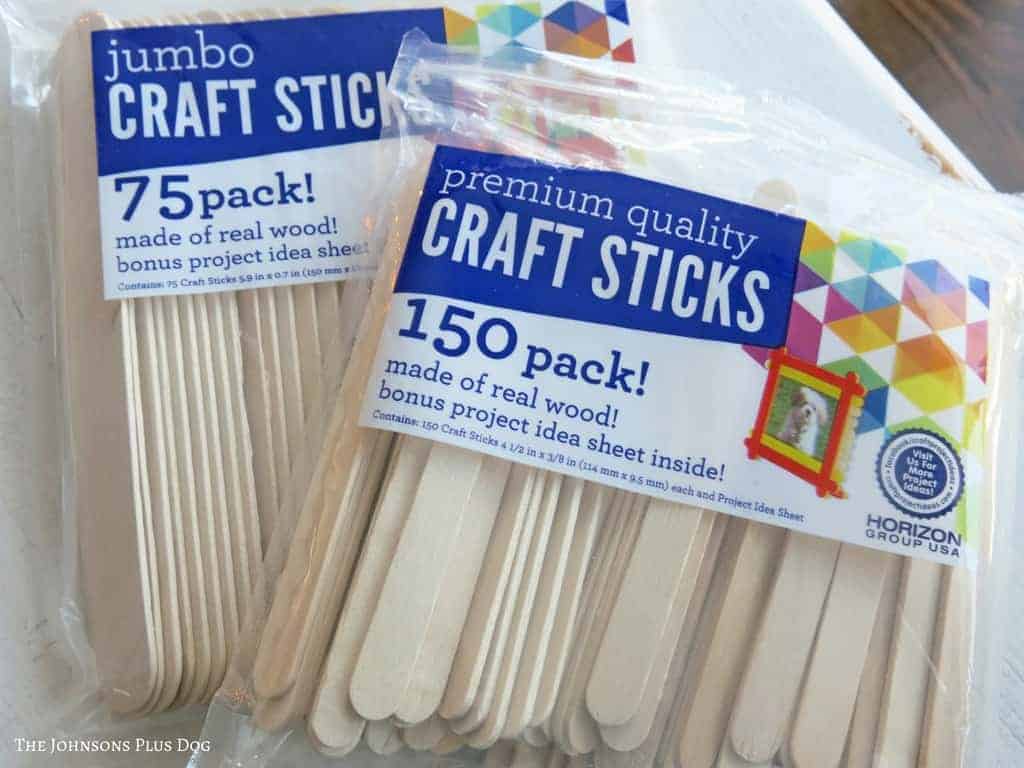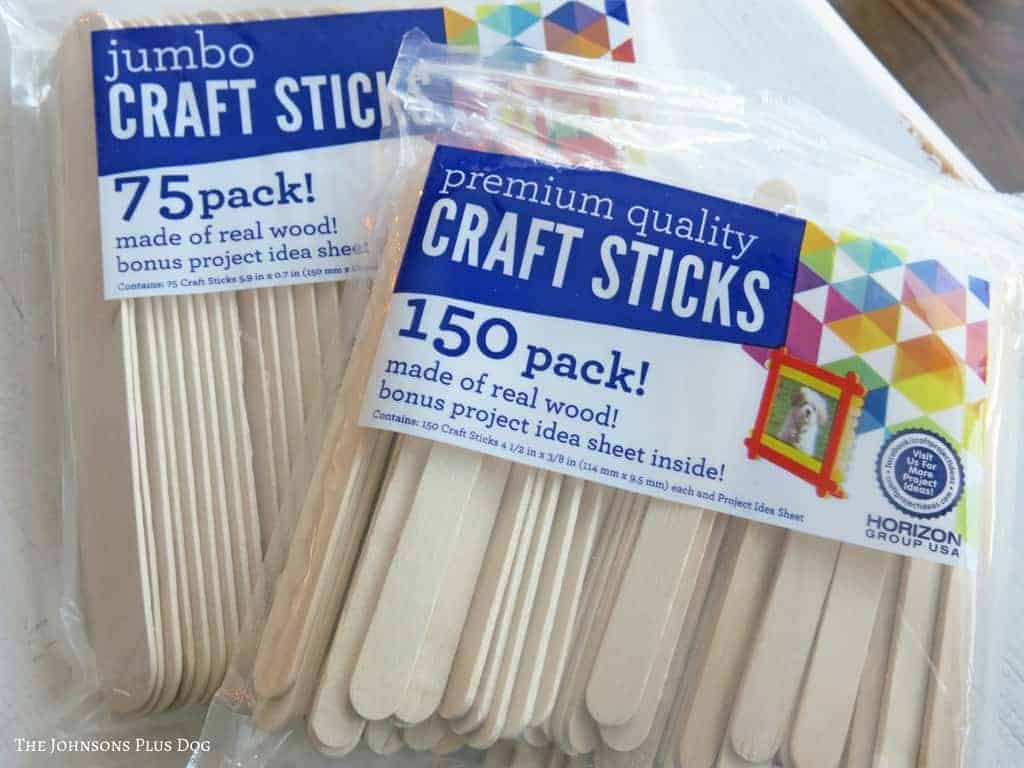 You're going to want to start with a bunch of wooden craft sticks. I used both the jumbo size and the regular. The jumbo size ones were used for the center structure of the snowflake. My wonderful in-laws were in town after Christmas when I was working on these and my mother-in-law jumped in and helped out. After we finished making them, she ended up finding some mini size wooden craft sticks too that are awesome for the smaller more intricate details of the snowflakes.
I started by painting all of the wooden sticks white.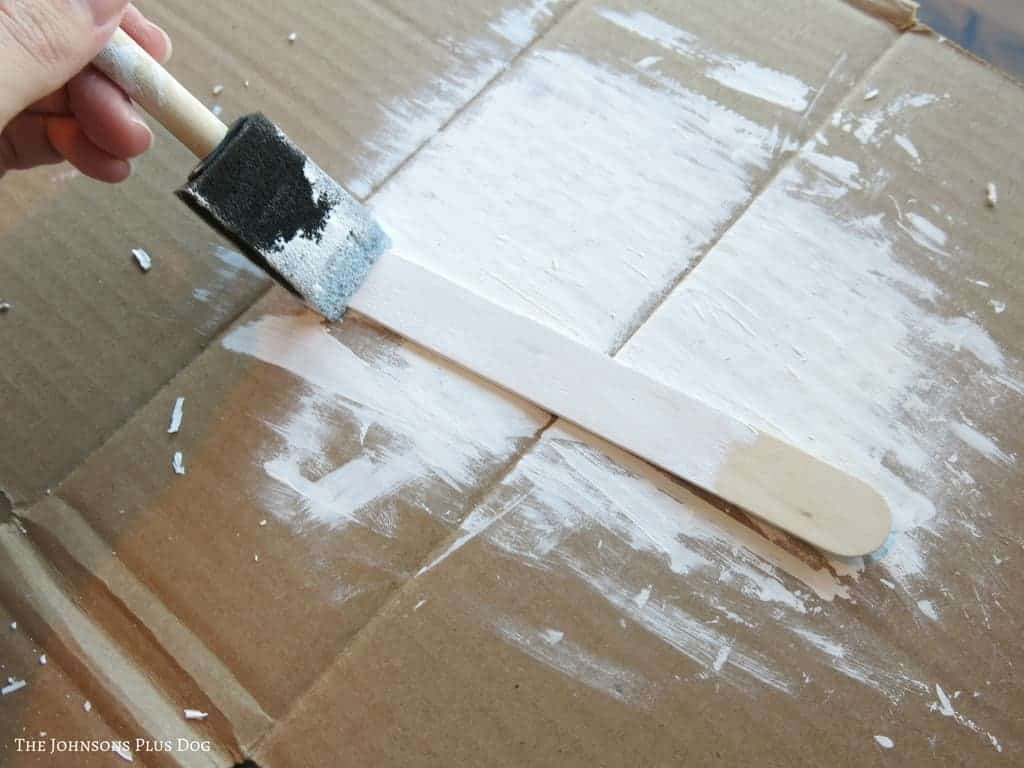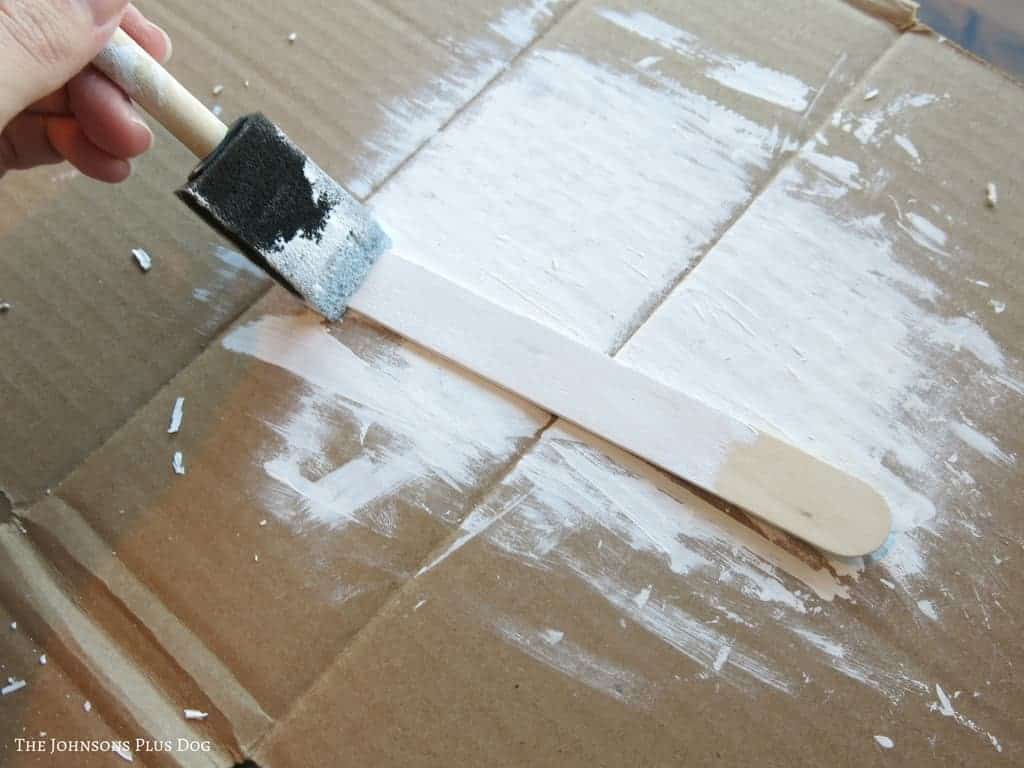 Alternatively, you could paint them after you put the snowflake together… you could even spray paint them afterward instead too.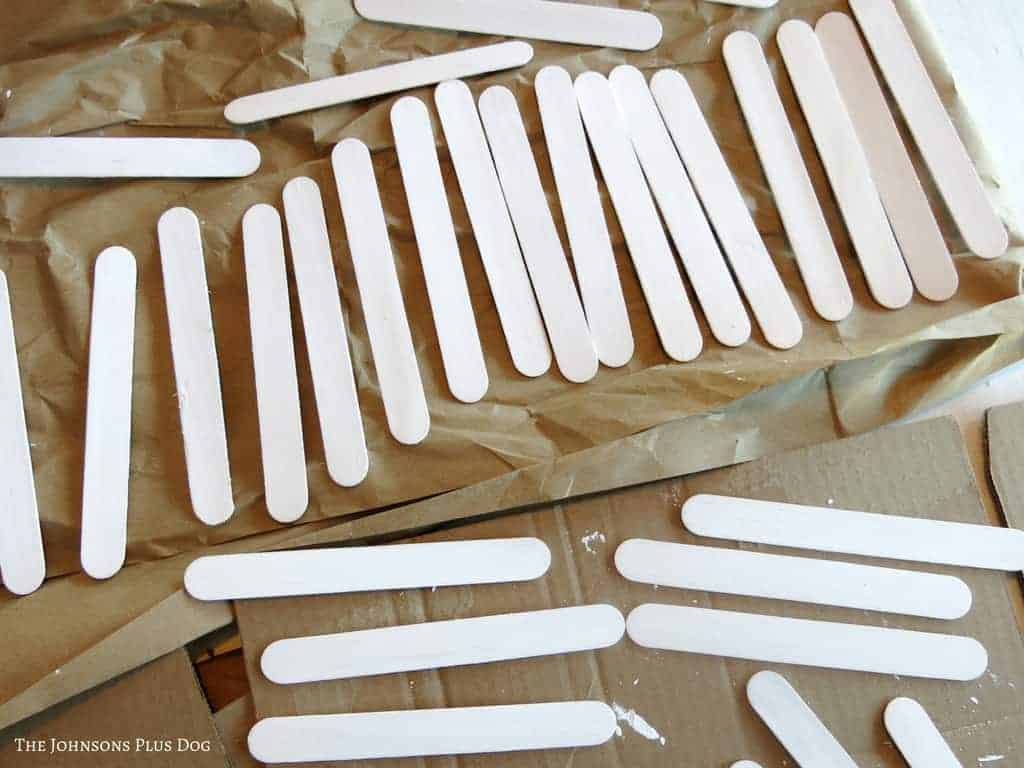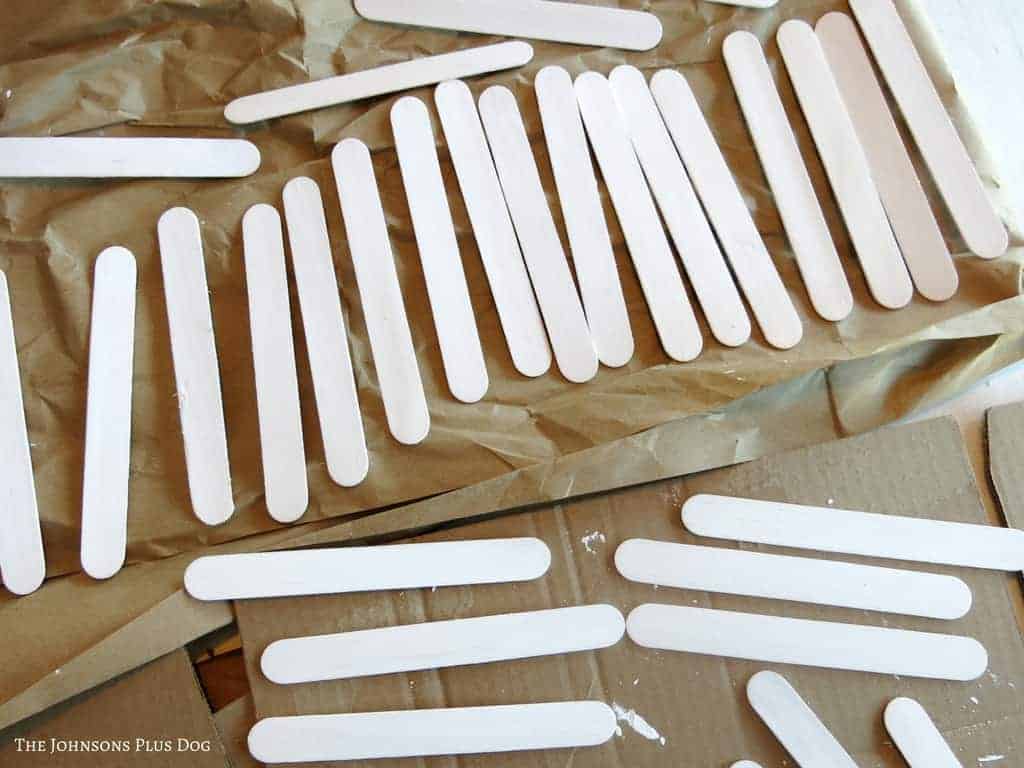 Next you'll put the main structure of the snowflake together with the jumbo wooden sticks. You'll overlap the popsicle sticks slightly.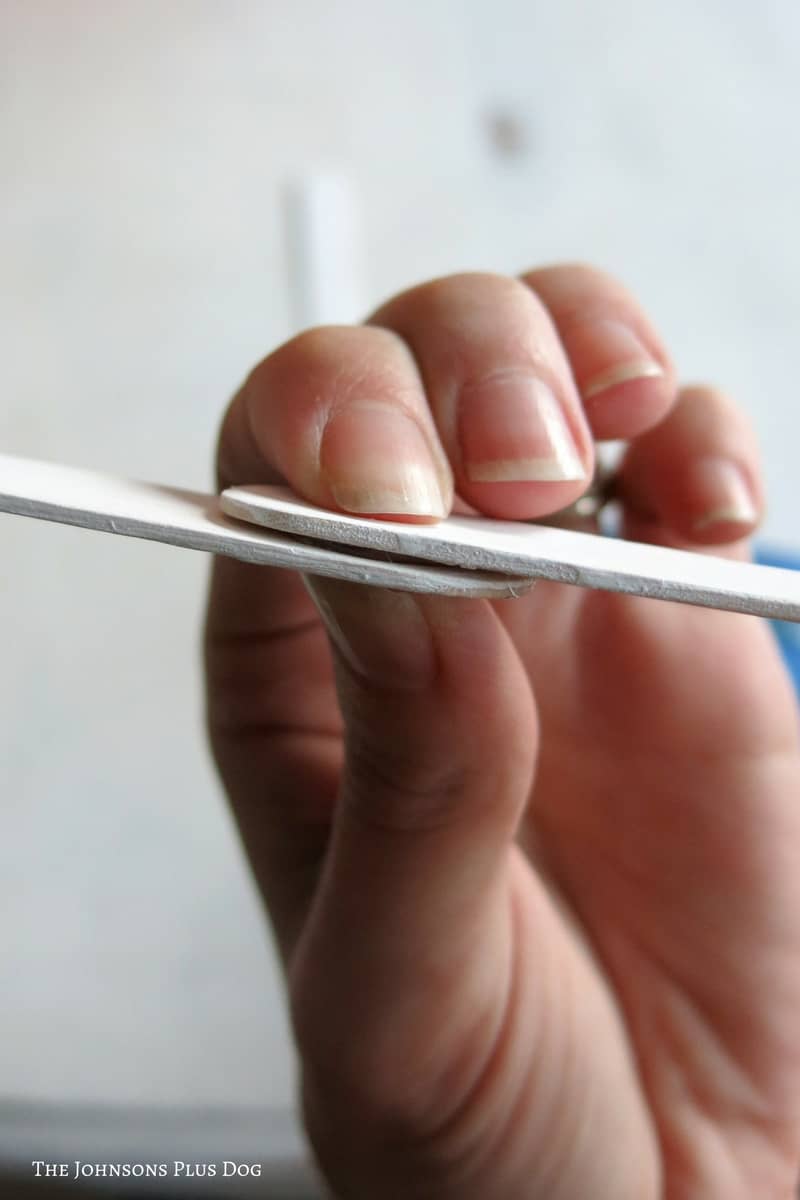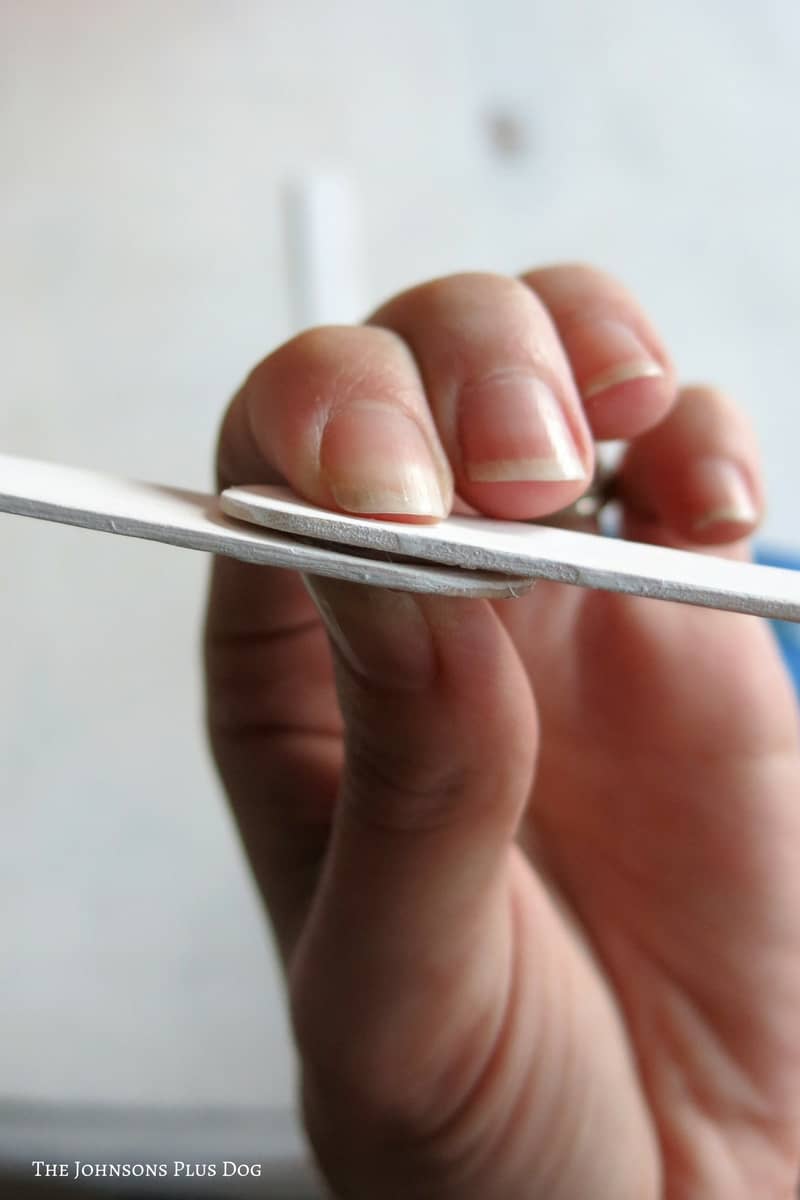 We found it pretty difficult to line up the snowflakes with 6 points (3 main sticks crossing each other). It's was much easier to make the snowflakes with the 8 points (4 main sticks in the middle). It was a lot easier to make those geometrically accurate, so I'd recommend starting with those.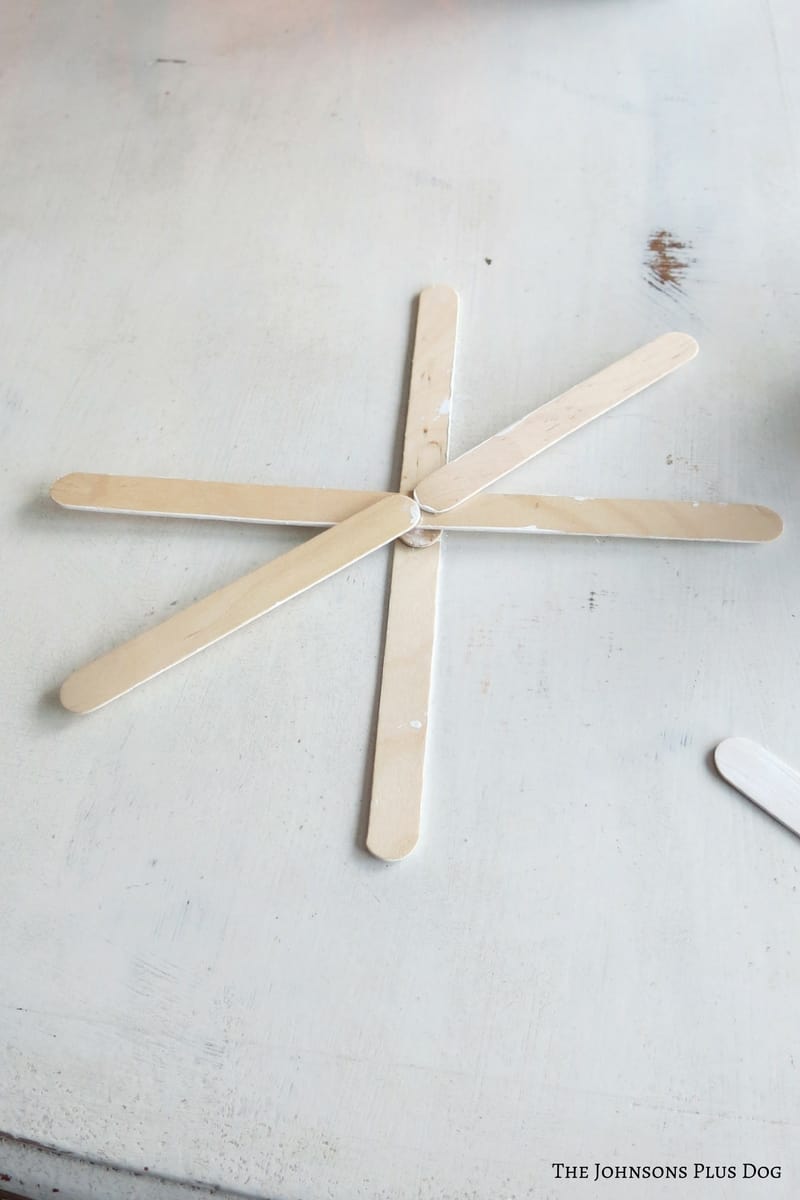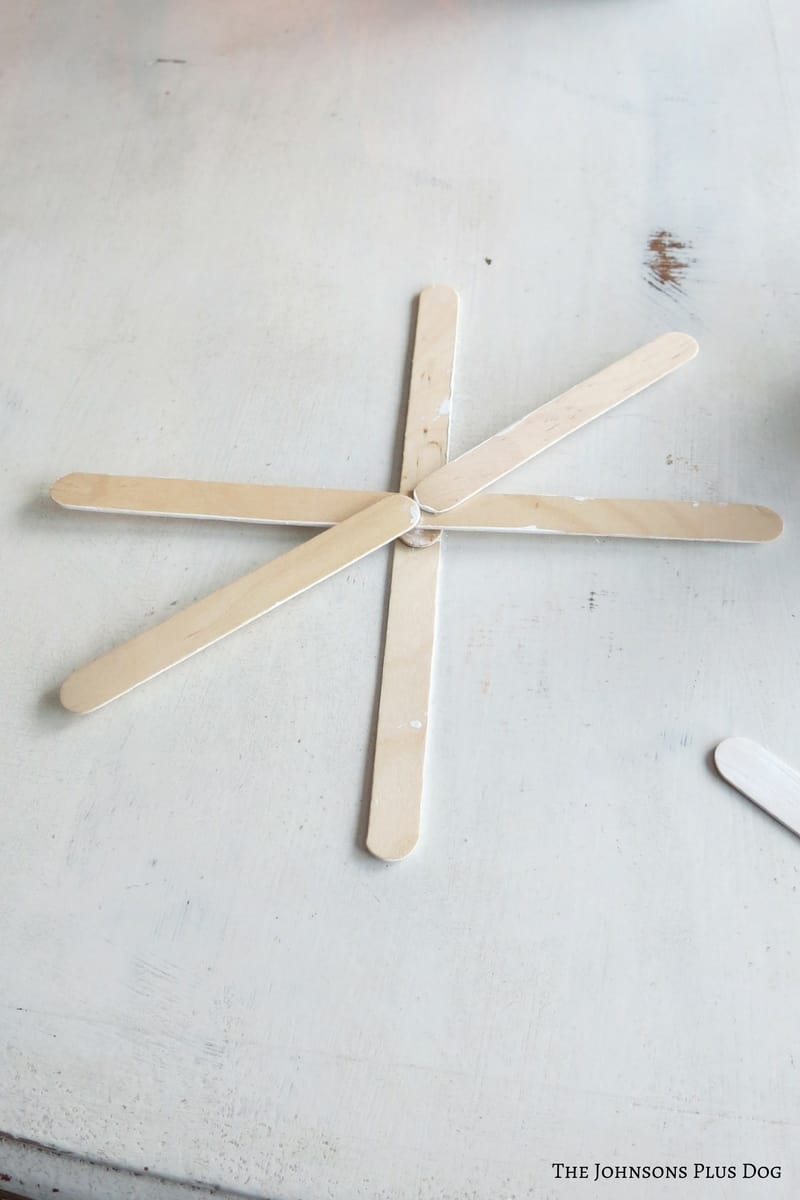 Once you get the main structure of the snowflake built, it works best to layout the rest of the detail so you have a plan in place.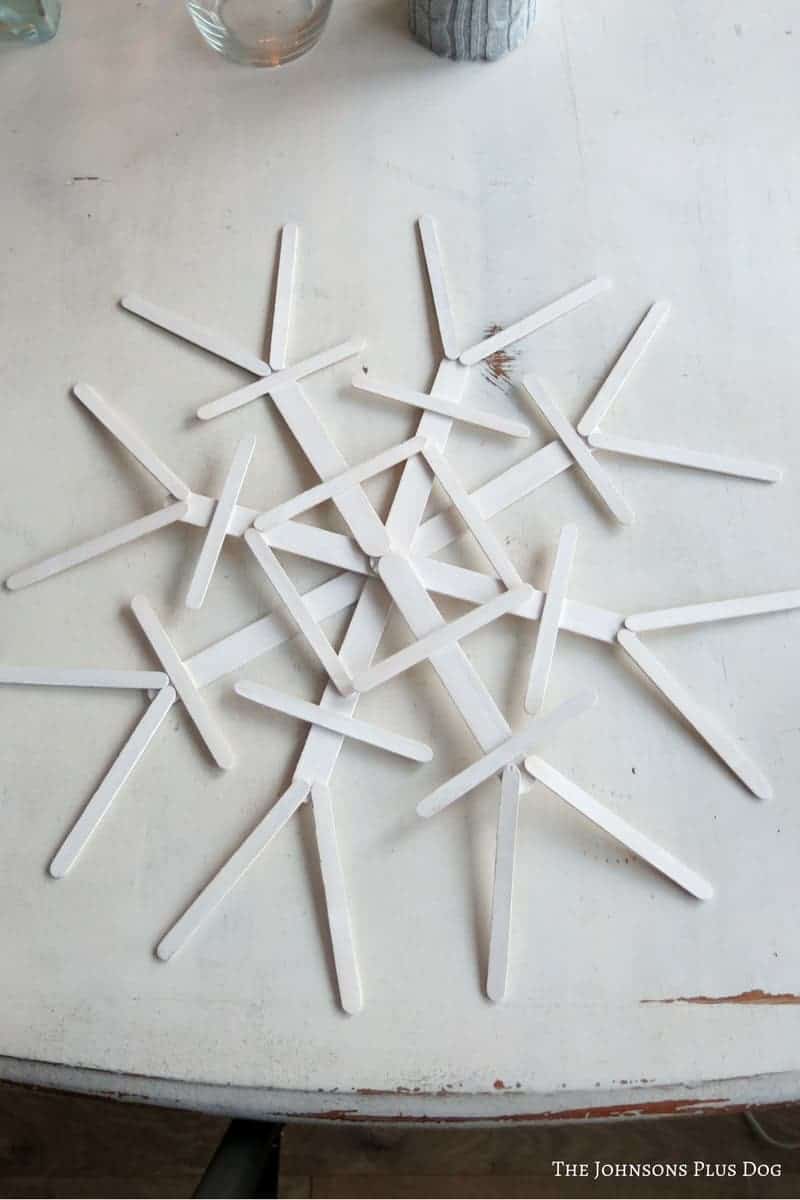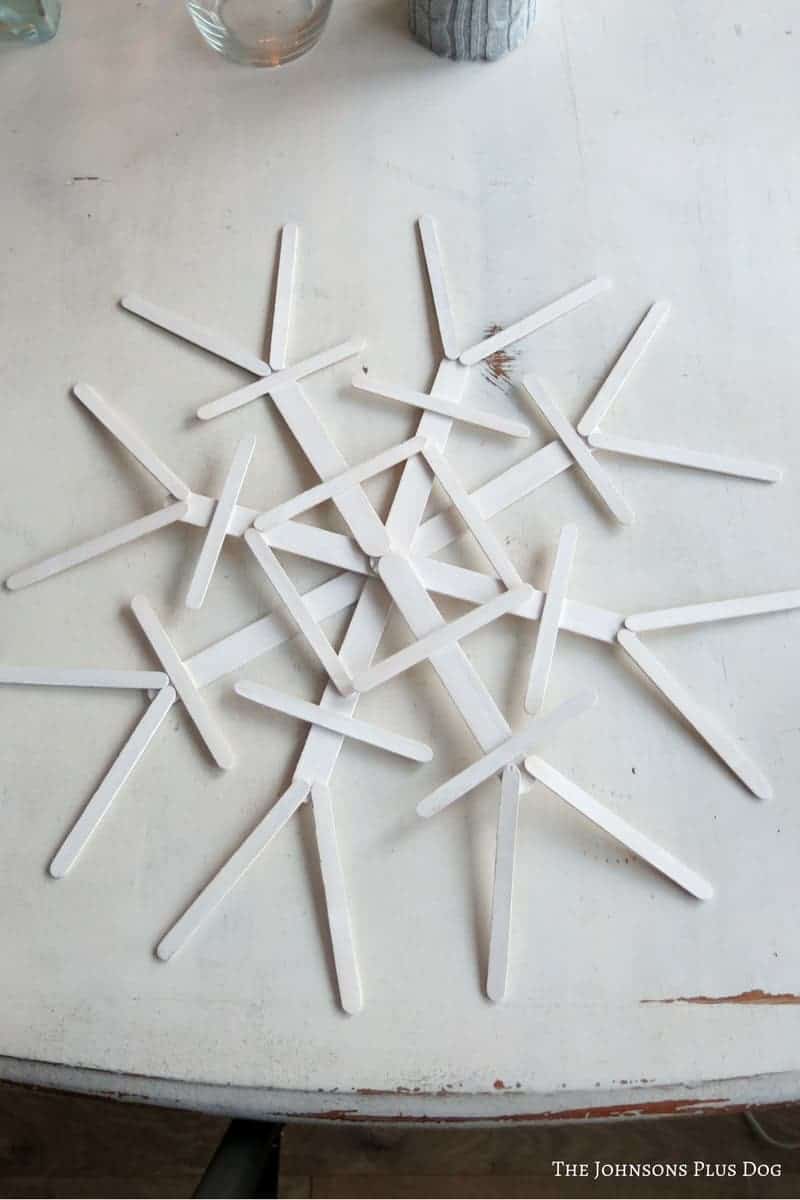 After you lay it out, you just glue the detail sticks on with the hot glue.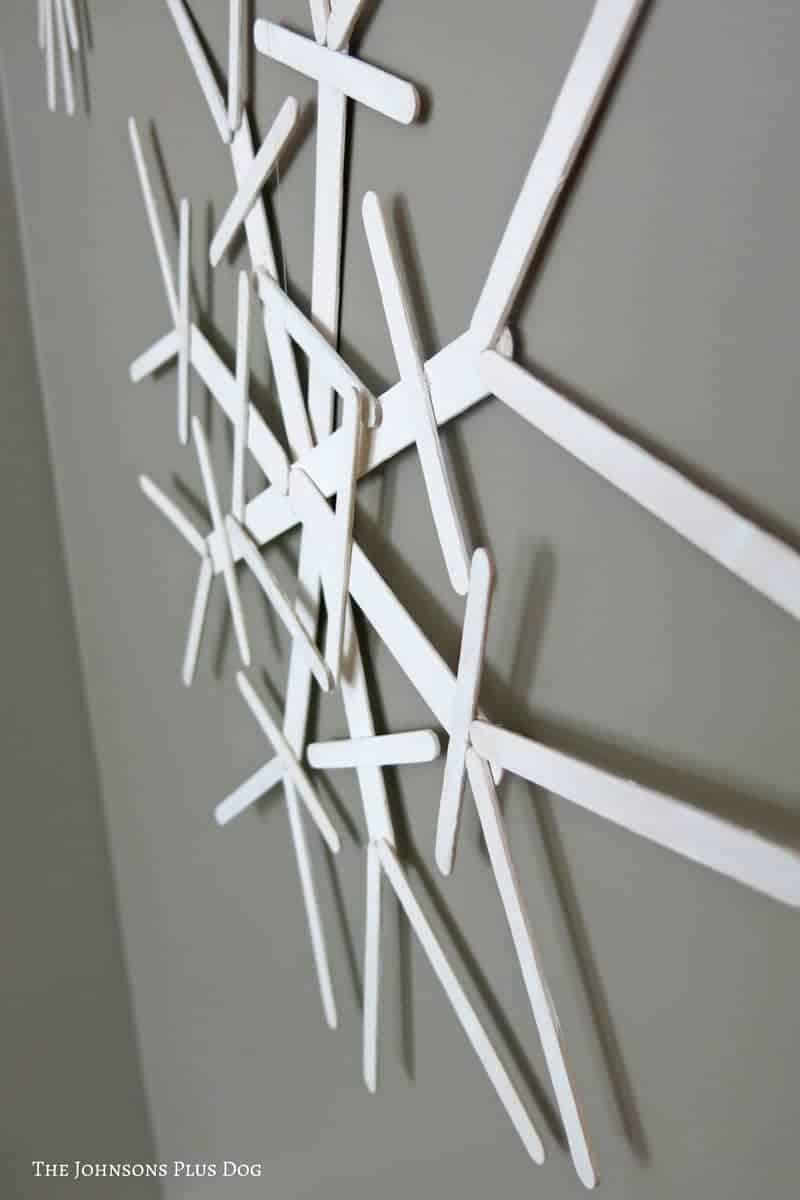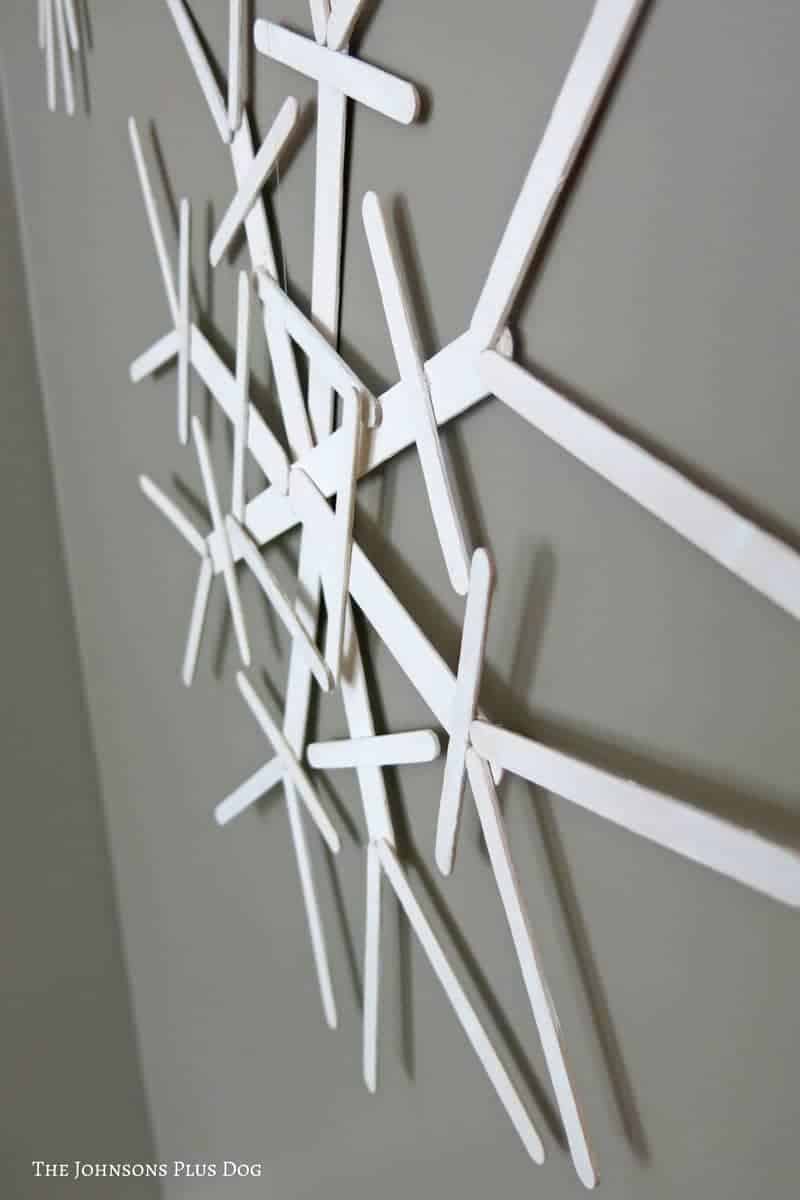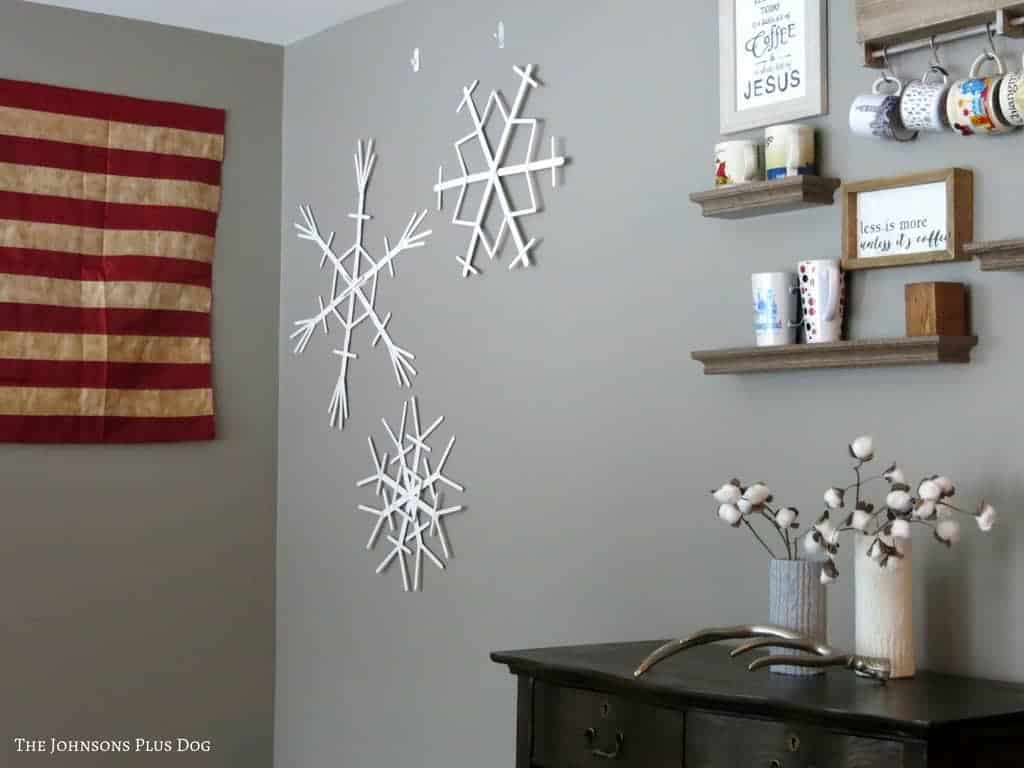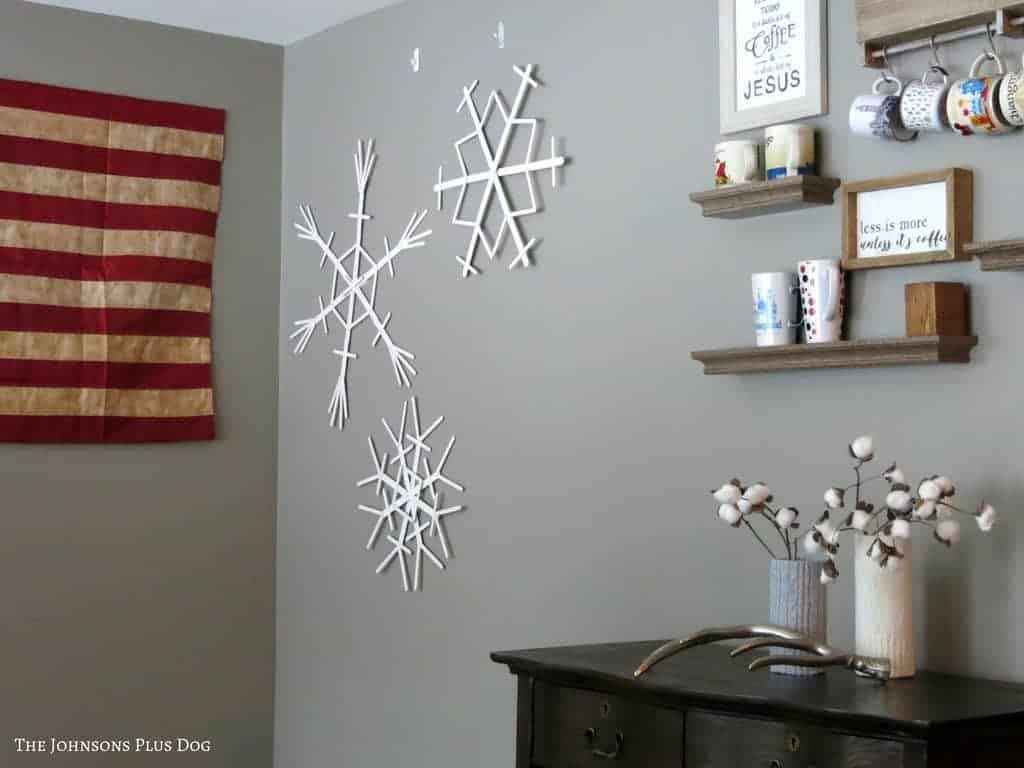 To attach the snowflakes to the wall, I both attached a command velcro strip on the back of one. The other ones were hung with a command hood and then I attached the snowflakes with fishing line.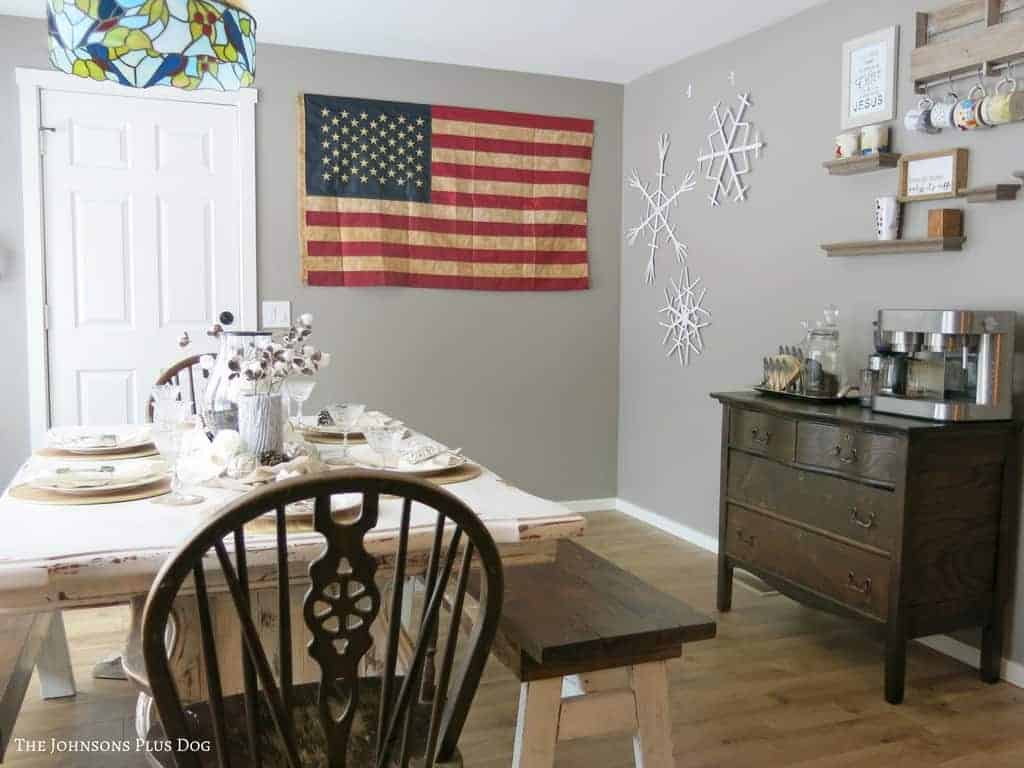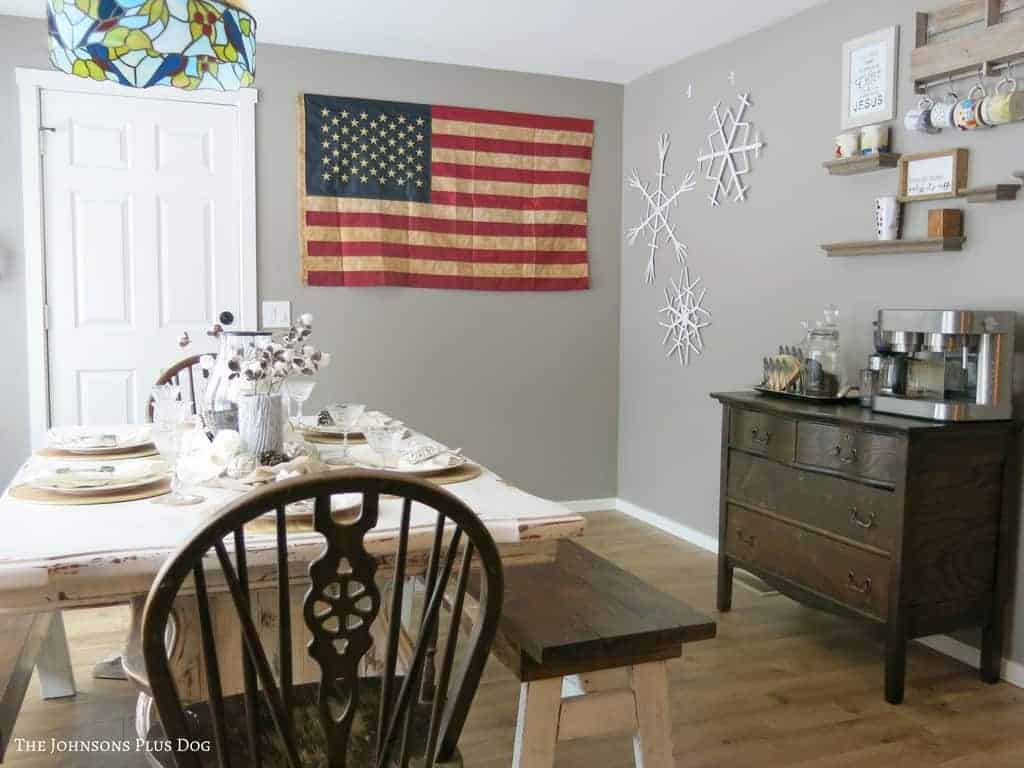 I love the fun and festive touch they add to our dining room… also there's a sneak peek at our farmhouse winter tablescape that I'll be sharing with you on Thursday on Hometalk's Facebook page. Can't wait 🙂