This tutorial couldn't be any easier. Check the step by step tutorial for how to make this moss banner for a rustic woodland baby shower.
I'm so excited to share this fun DIY moss banner for rustic woodland baby shower with you today. This was something I made for my sister's woodland baby shower a few weeks ago. I've been showing you all the fun DIY's for this shower including the baby shower name tag and the chalkboard clock we used as a guest book. I can't wait to show you how everything at the shower turned out – stay tuned, the big reveal is coming soon! UPDATE: Check out how the rustic woodland baby shower turned out. 
This post contains affiliate links, but nothing that I wouldn't wholeheartedly recommend anyway! Read my full disclosure here.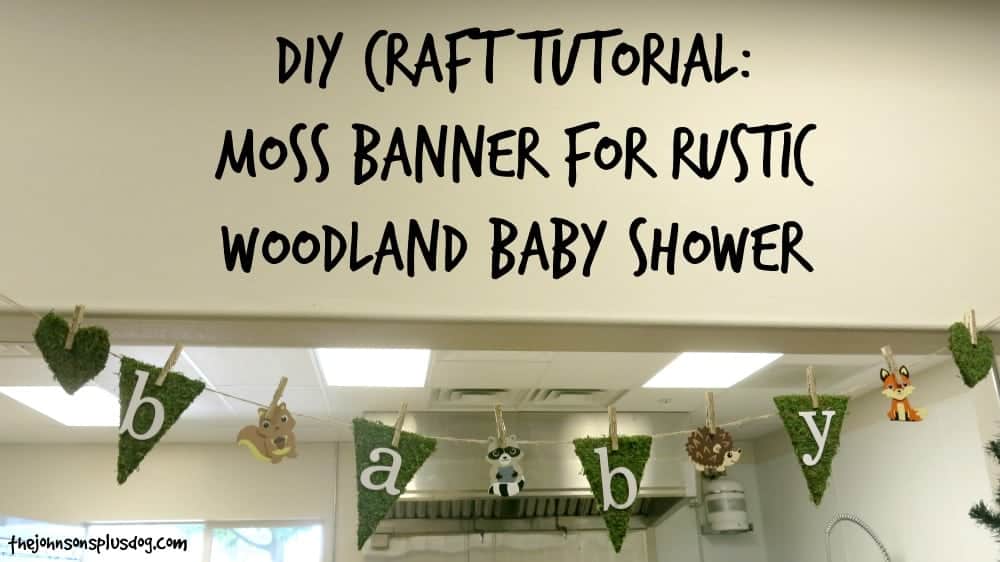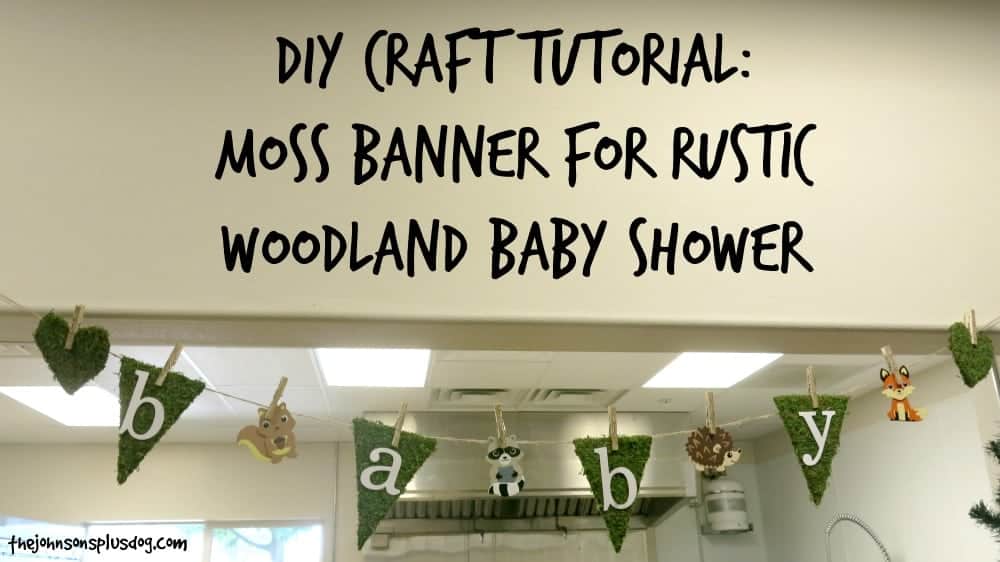 Supplies for Moss Banner for Rustic Woodland Baby Shower
Recycled cardboard for pendants
3-in-1 glue (once you start using this glue,  you won't ever turn back)
Jute, twine or string
Clothespins
Wood animal cutouts (optional – I found mine at JoAnn's in one of the dollar bins!)
White paper for letters
Paper cutter, die cut machine or purchase pre-cut letters
Scissors
Before we get started, just a quick warning, this moss can get really messy and you'll probably find your hands like this. I'd recommend putting something down to work on so your clean up is easier!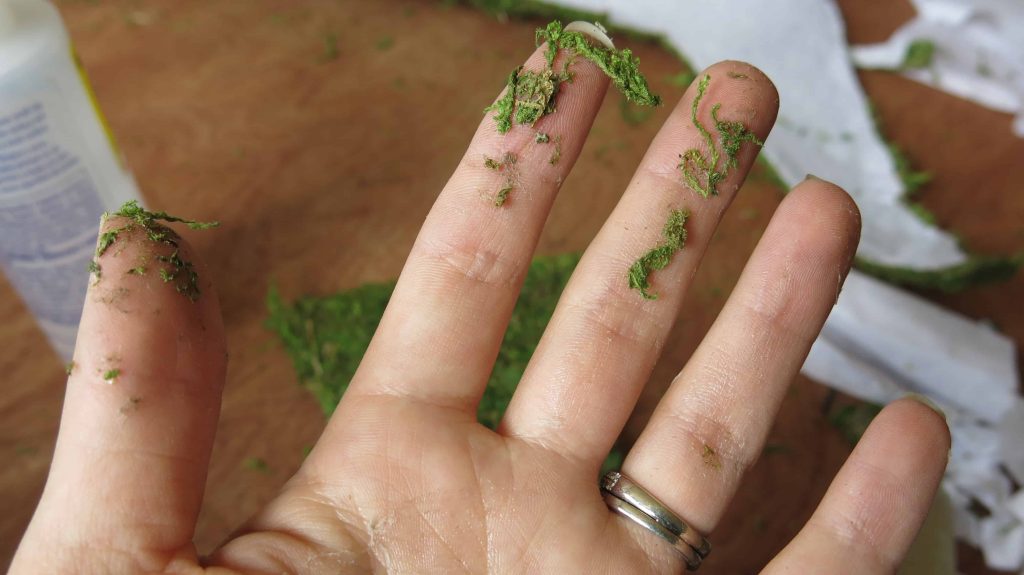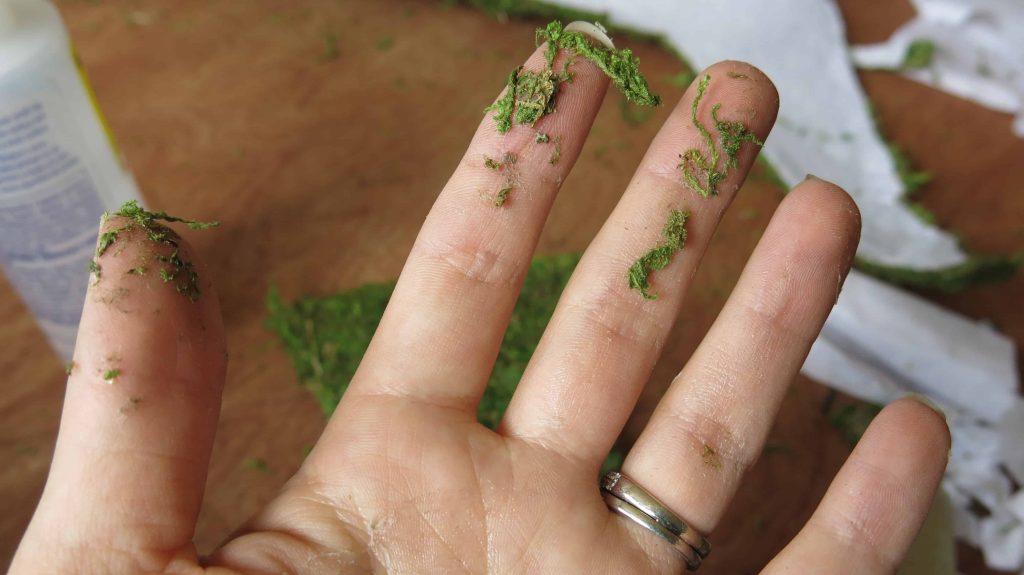 Step 1. Cut out cardboard pendants
I used old recycled cardboard for the pendants. It's free!
Start by cutting the cardboard pendants about 6 inches wide at the top and about 8 inches tall. I used a straight edge to trace the pendants. To get them nice and square, just make sure you're creating the point in the exact middle of the top line and just connect the dots!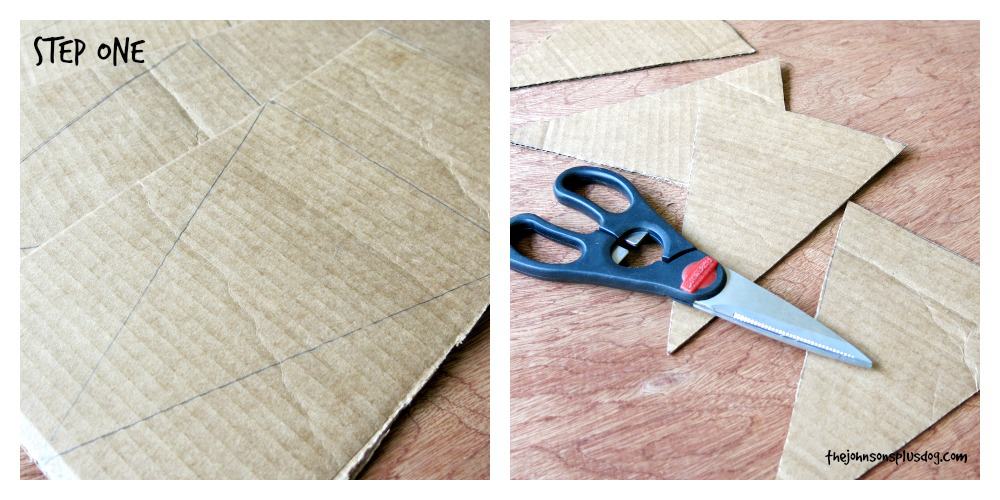 Step 2. Cover with moss
Cut out the moss so you have a 1/2 inch to 1 inch border to wrap around the back. Peel off paper backing from moss. Add lots of glue to your cardboard and press down on the back of the moss. I held it there for about 20 seconds before moving on. Next, add glue to the border and a thin line on the edge of the cardboard. Then fold the moss over the back edge and hold in place until the glue adheres (20-30 seconds). I did each edge separately. Trim off any excess moss on the corners. Repeat process for all of your pendants.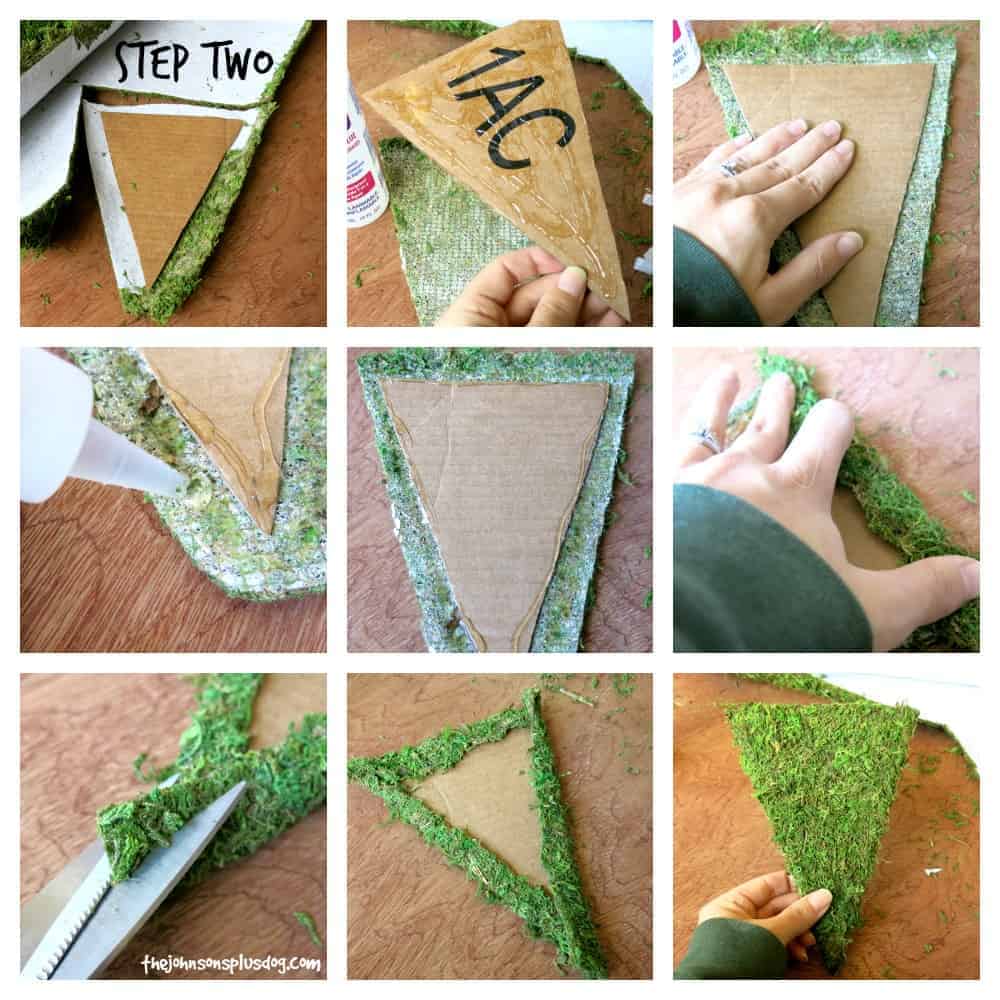 Step 3. Cut your letters out and attach with glue
I don't have a picture of this because my wonderful mother cut these letters out for me and brought them to the shower for me. I have NO idea where my paper cutter is in my garage… oh the joys of renovating and moving!
Step 4. Assemble your moss banner for rustic woodland baby shower
We did all of the assembly on site because it was easier to transport all in separate pieces. Figure out how long it needs to be for the area you are hanging it and spread out the pendants and animals (optional) accordingly. We just used to some twine and clothespins to attach. I covered those clothespins with fun wood looking washi tape I found at Hobby Lobby. I added some moss covered hearts at the end. I made them using the same process as the pendants.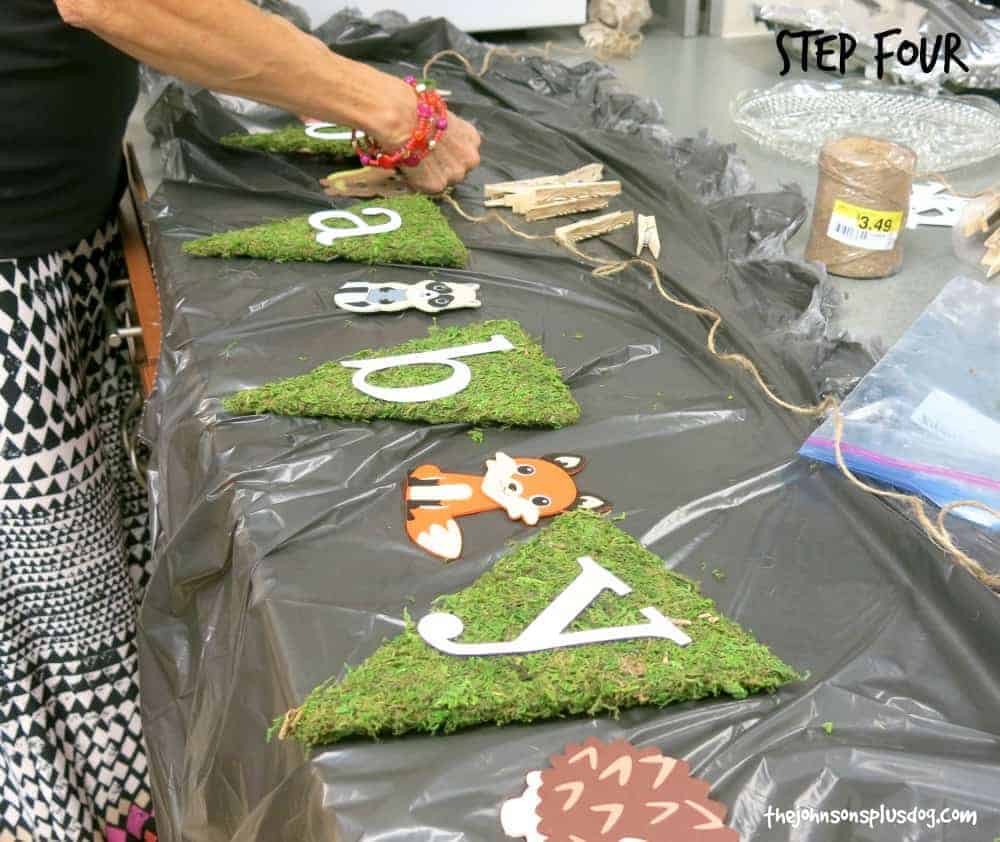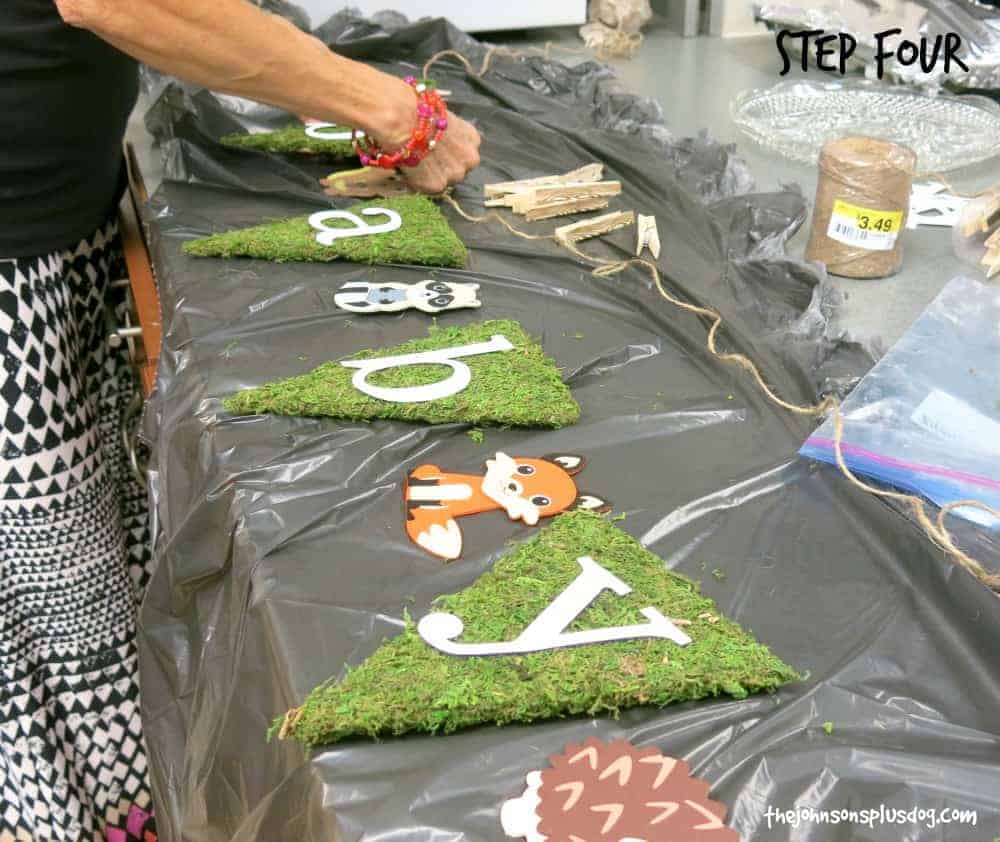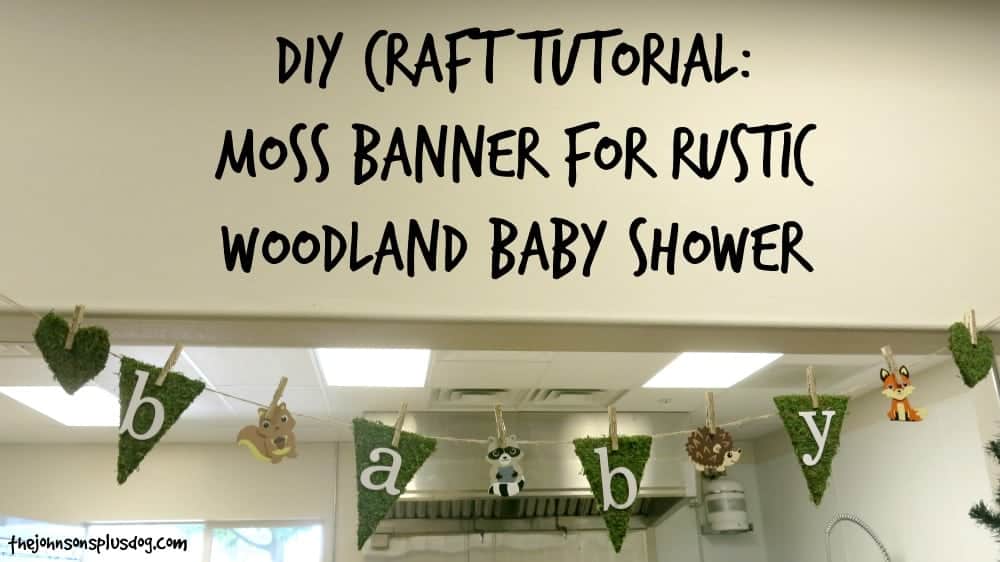 Did this moss banner turn out so cute? It was so easy to make and really added a lot to our decorations at the rustic woodland baby shower. If you're looking for a fun banner for your next rustic themed party, consider adding moss for an extra bit of woodland charm.