Every diaper baby shower needs a diaper cake! If you're wondering how to make a diaper cake, this baby diaper cake tutorial is for you. You'll be shocked how easy it is to make your own.
If you love videos, be sure to subscribe to my YouTube channel!
A while ago I shared all about the Donuts & Diapers Baby Sprinkle I threw for my sister. It was so much fun and the decor turned out so cute!! Since it was a diaper baby shower, we definitely needed a diaper cake.
I was shocked how easy to was to DIY a baby diaper cake. I had seen them before at baby showers and my sister had even made me one for my shower a couple years ago. It came together so quickly!
Related – Other Baby Shower Ideas and Inspiration:
This post contains affiliate links, but nothing that I wouldn't wholeheartedly recommend anyway! Read my full disclosure here.
Supplies for baby diaper cake:

Step 1. Roll diapers.
Roll up each diaper from the top to the bottom and secure with a rubber band. The bag of rubber bands I got had three different sizes (color coded based on size). The blue ones were the smallest rubber bands, so I used those for the individual rolled diapers.
This is really the most time consuming part of making the baby diaper cake, but I'd recommend turning on some good TV and grabbing the diapers and rubber bands. It didn't end up taking as much time as I thought it would though.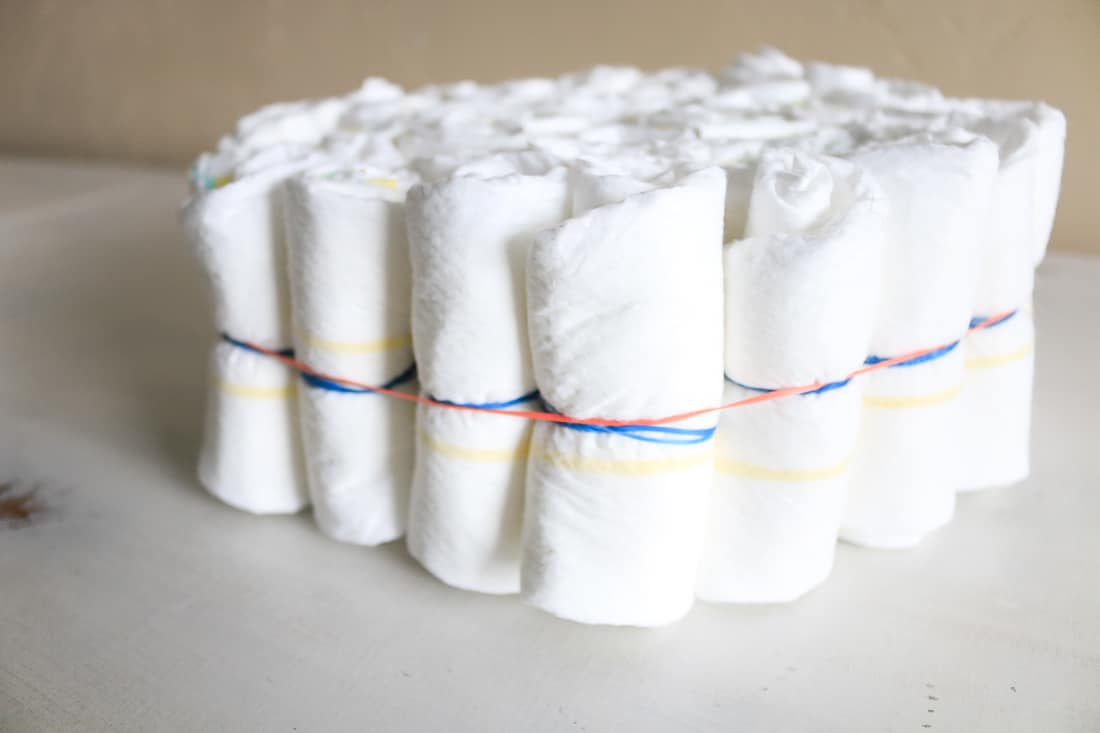 Step 2. Make bottom tier of diapers.
Now the baby diaper cake making begins! Start combining the diaper together in a large round tier (just like a cake!). For the bottom tier, I first made the middle section of the circle by putting together groups of three diapers rubber banded and then started making a large circle by pushing them all together.
I put one of the largest rubber bands around the grouping and continued just adding in individual rolled up diapers until it was a good size. I used approximately 48 diapers on the bottom tier.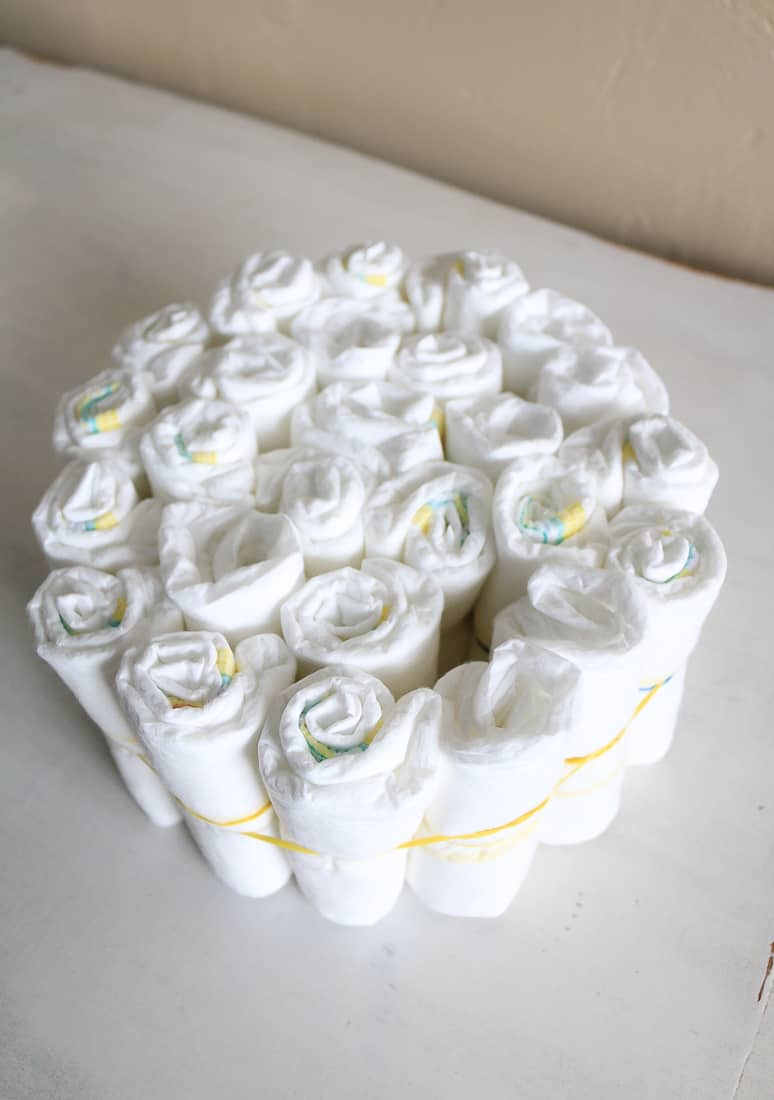 Step 3. Make middle tier of baby diaper cake.
The middle tier came together much in the same way as the bottom tier, but combining the rolled up diapers in a round shape and putting a large rubber band around them to hold in place. There are approximately 26 diapers in the middle tier.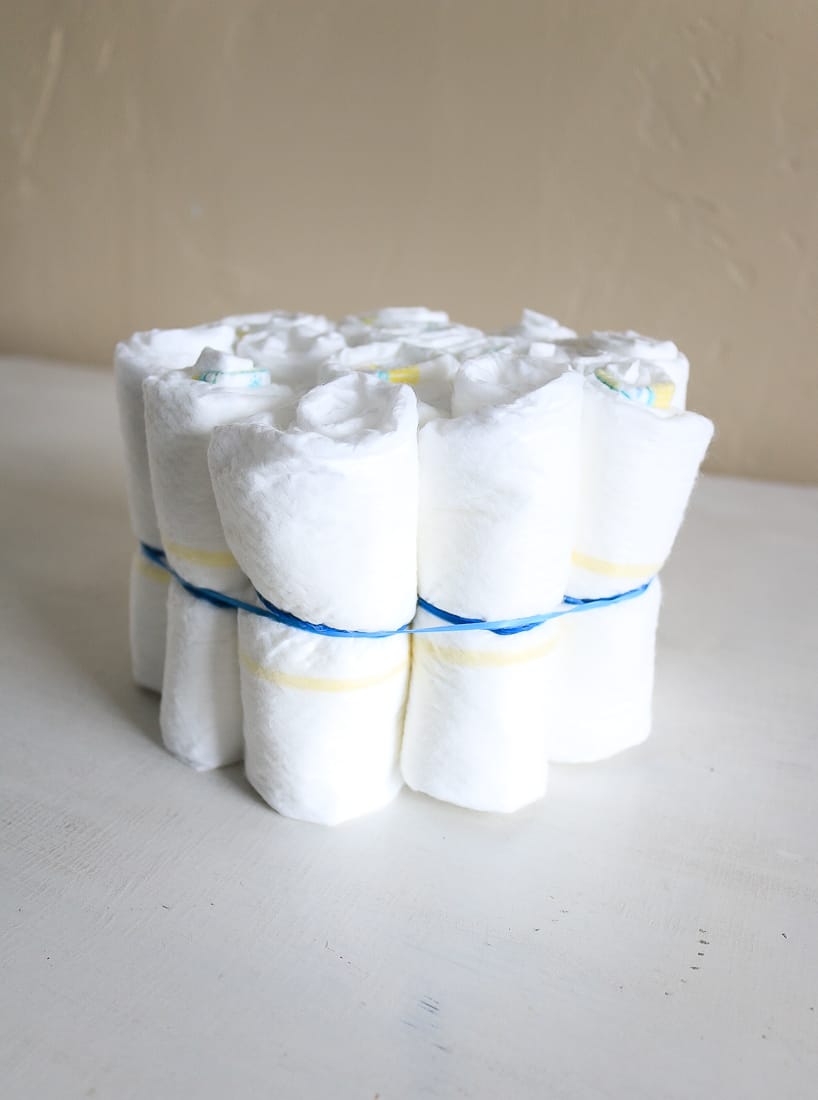 Step 4. Make top tier of the diaper cake.
You should have the general gist by now. Put the rolled up diapers in the round shape and rubber band together. There's about 13 diapers on the top tier.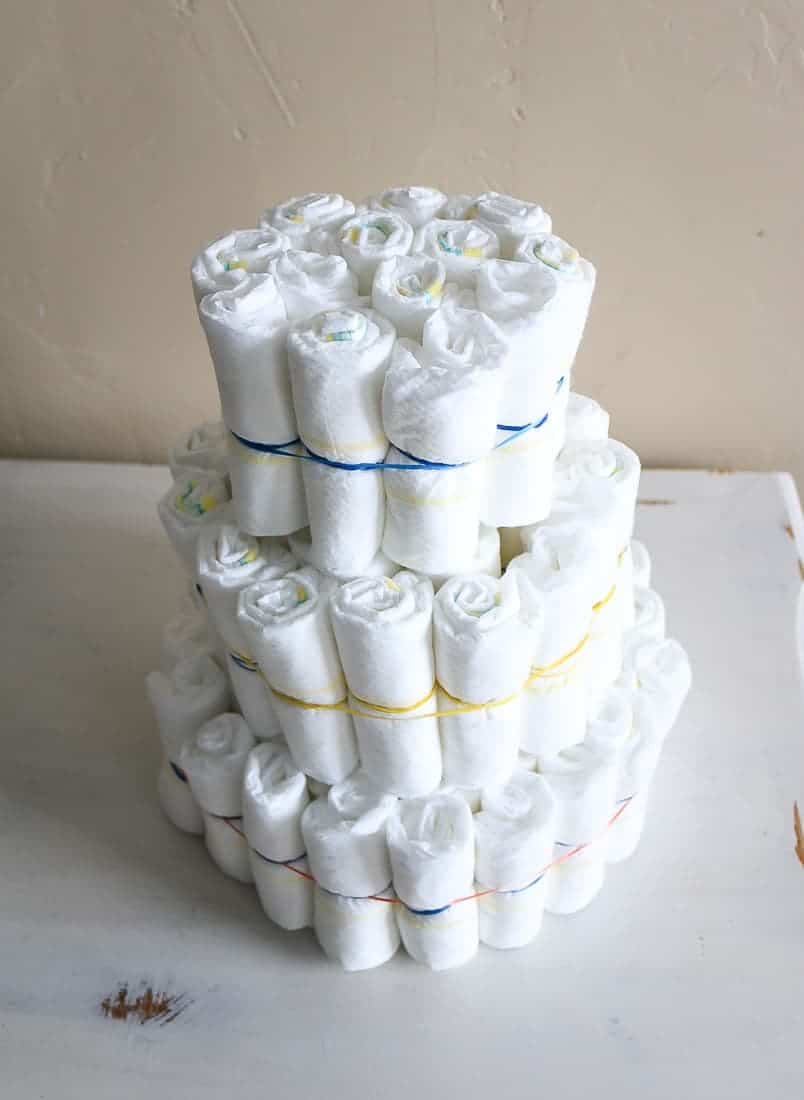 Step 5. Stack three tiers of diaper.
All I did to build the diaper cake up was simply stack the three tiers on top of each other. There wasn't any other support needed.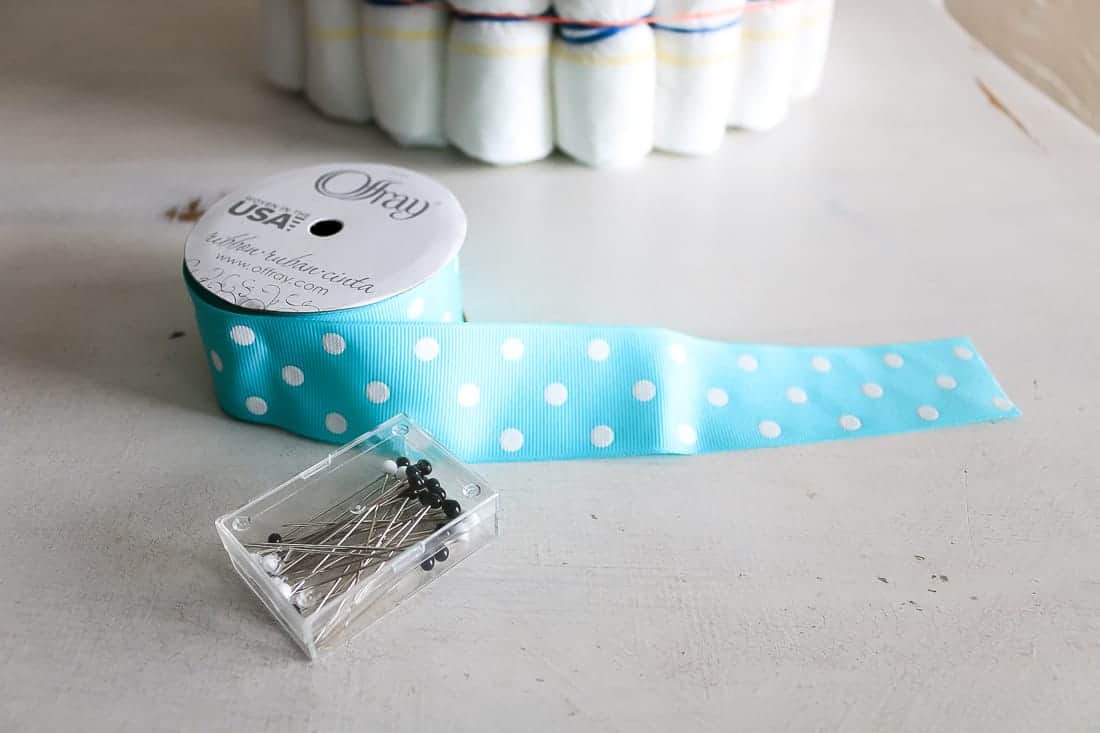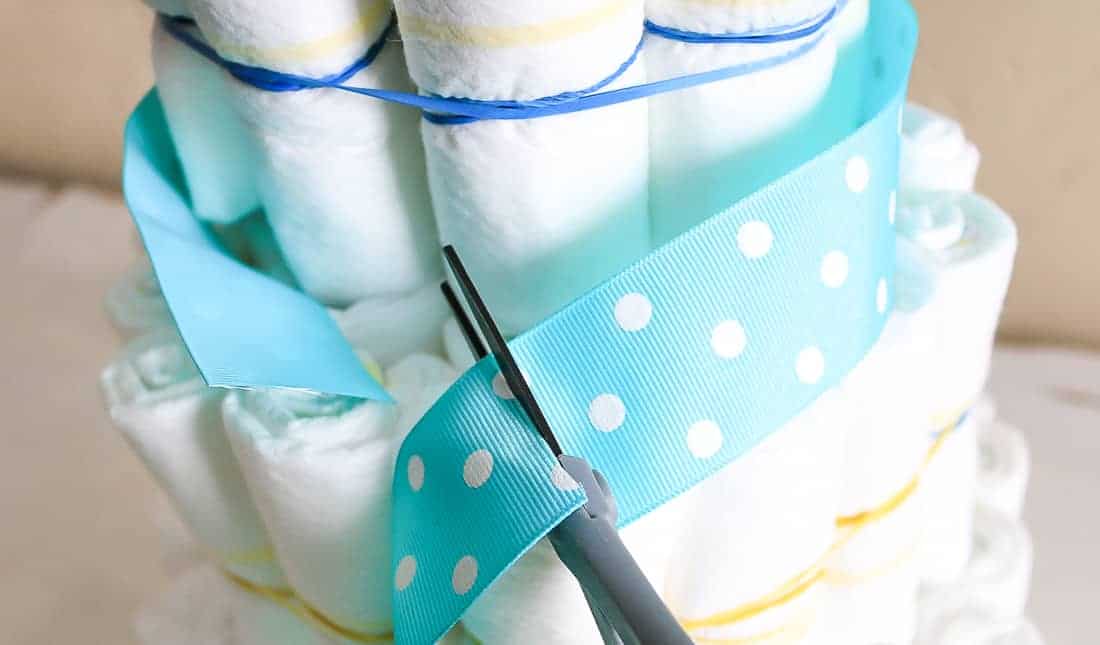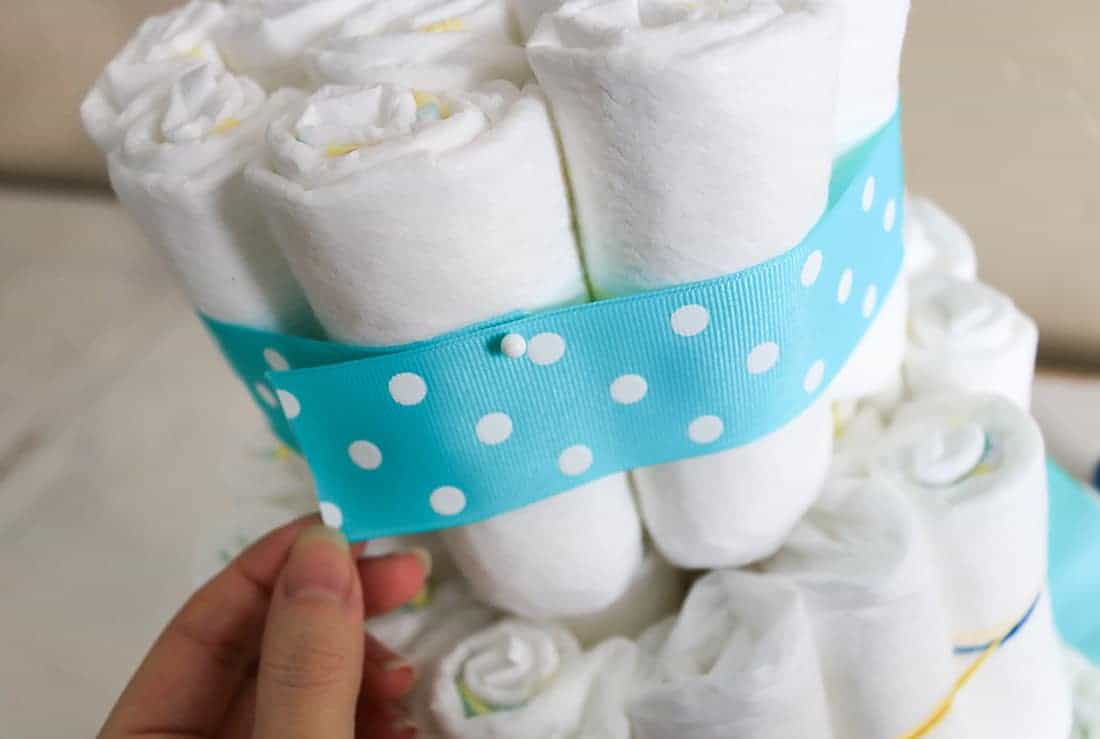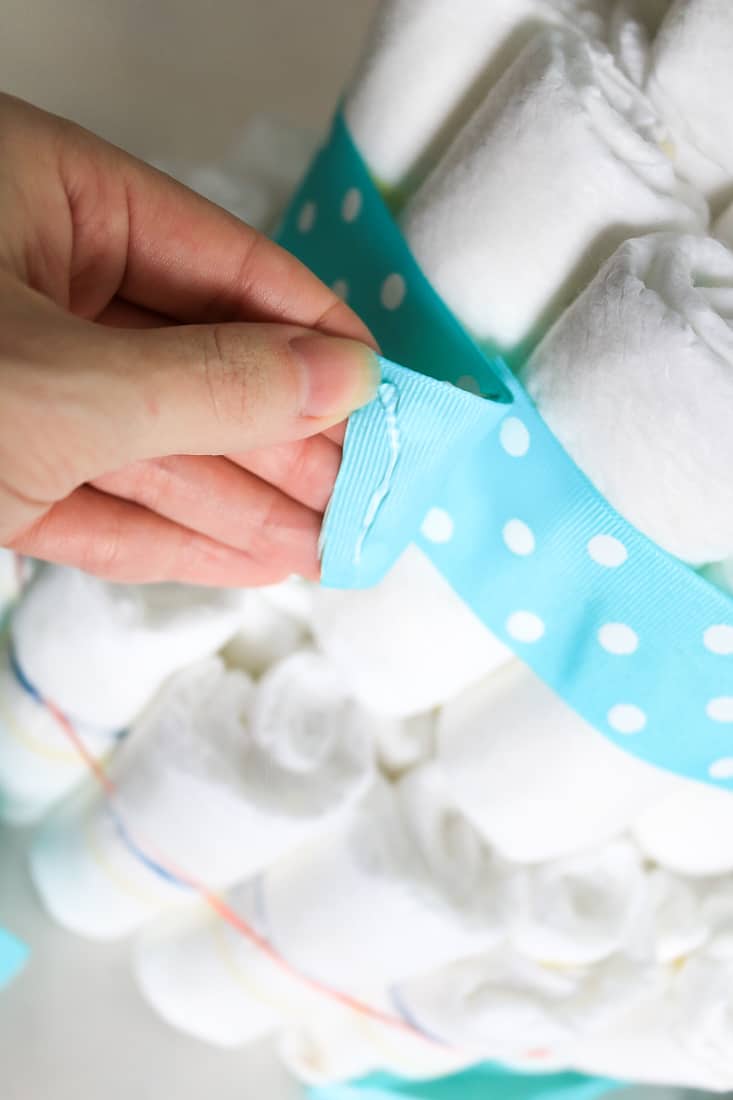 Step 6. Cover rubber bands.
To cover up the rubber bands on the tiers, wrap a piece of ribbon around the rubber bands and attach with straight pins. Repeat on all three tiers.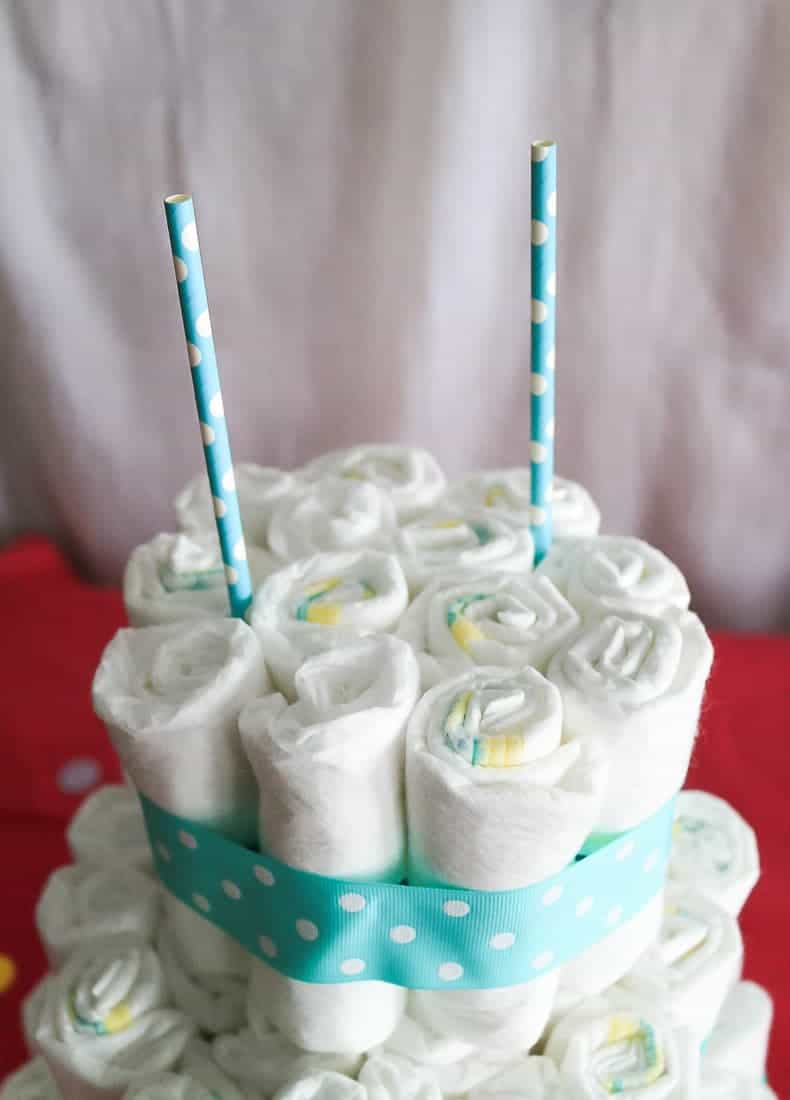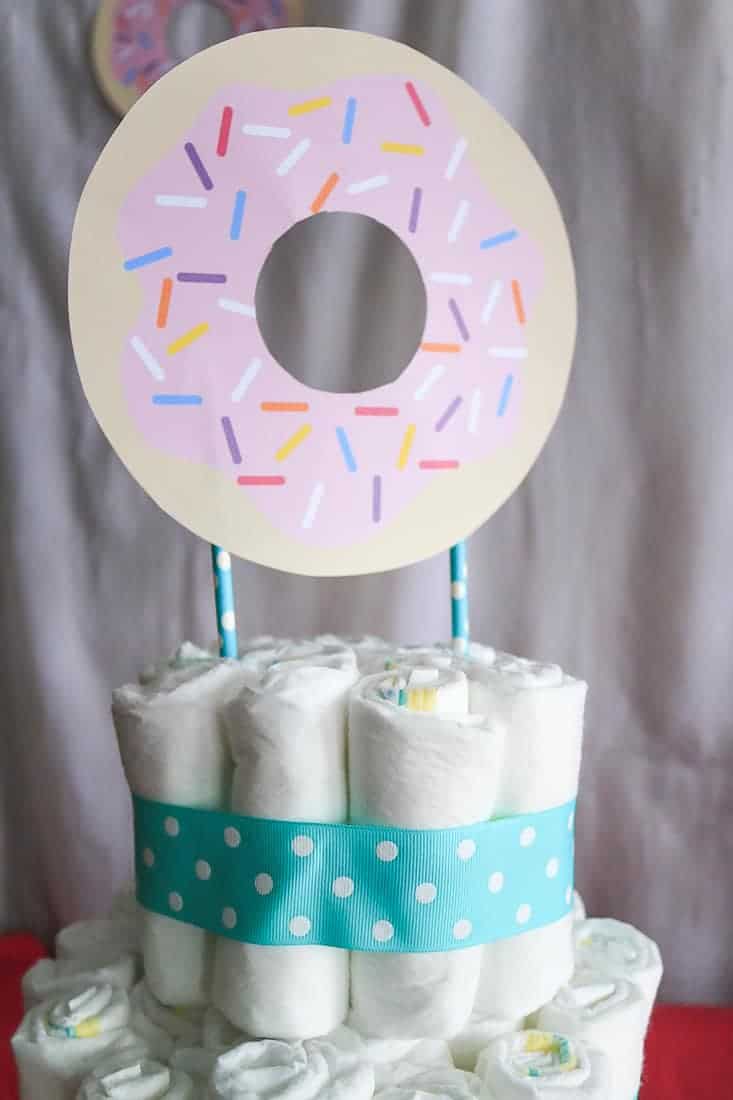 Step 7. Make topper for baby diaper cake.
This is the fun part! You can design a topper for your cake to fit with whatever theme you're doing for your diaper baby shower. You can print out a design and then just tape it to some decorative straws. The straws just slide in the top tier of the diaper cake.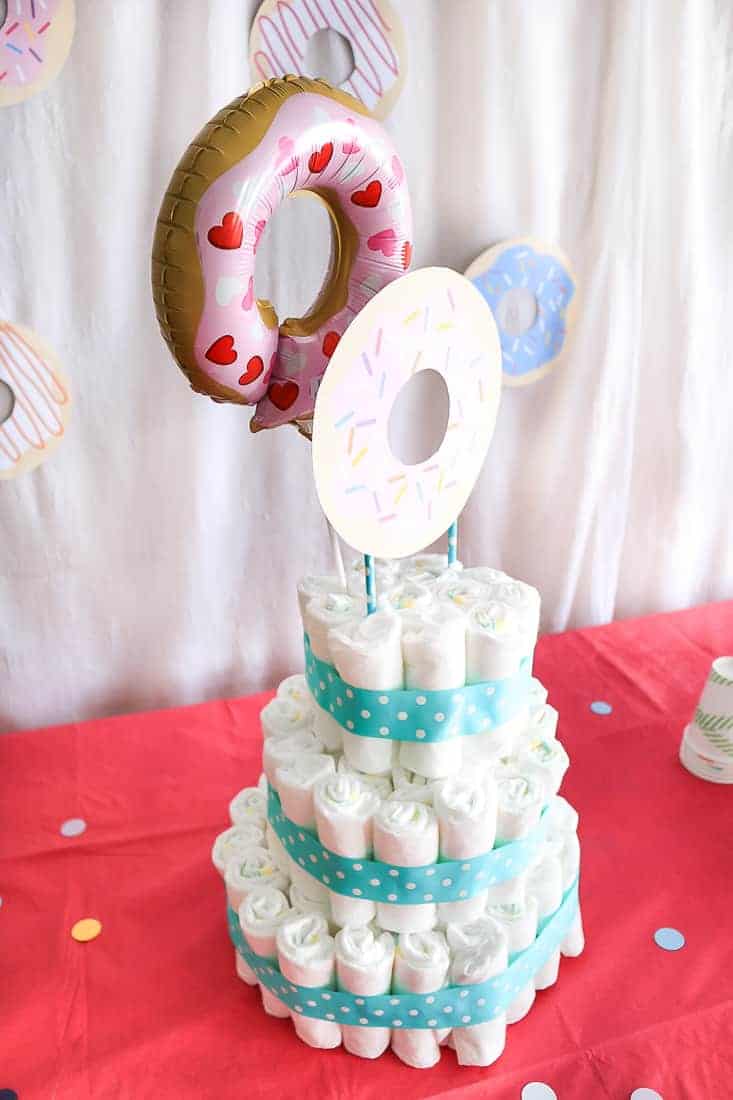 I, of course, was doing a Donuts & Diapers Baby Sprinkle Shower….hence the donut topper. If you're looking for something similar, have no fear. I'm giving away those donuts as a free printable. Just hop on over to this post to download them.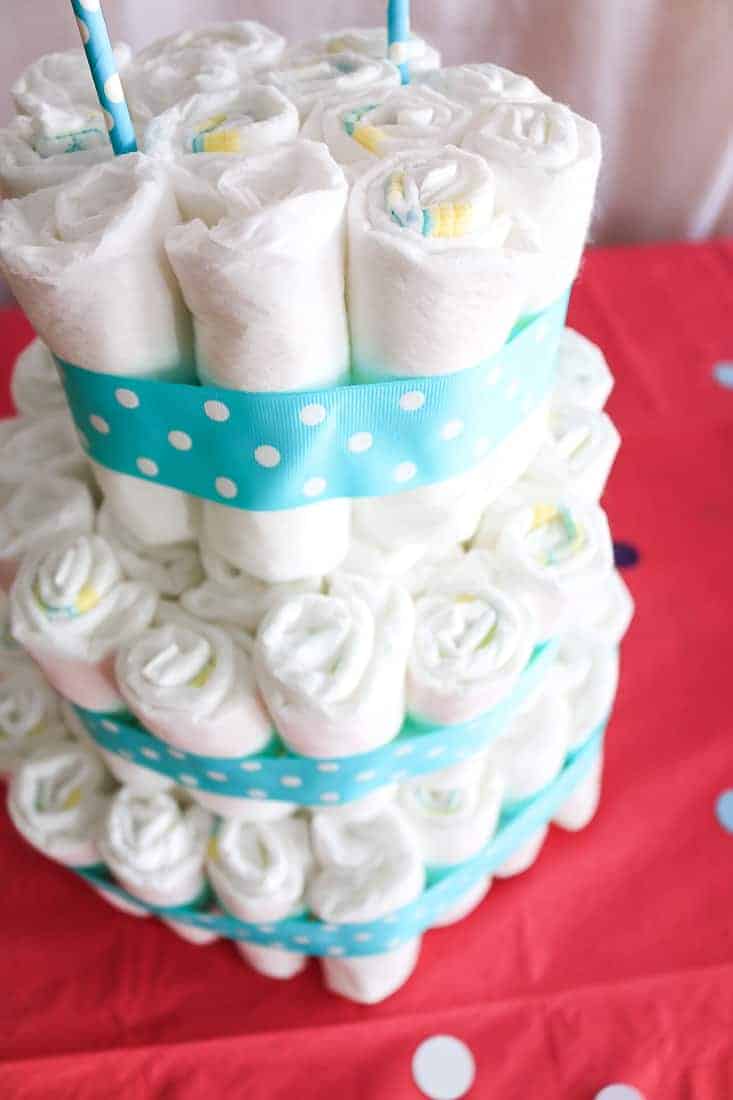 See! I told you guys it was super simple to create a diaper cake! You can easily make your own diaper cake for the next baby shower you host or attend.
The mama-to-be will be thrilled to receive such a cute and PRACTICAL gift because sooner, rather than later, she'll be flying through the diapers! Just follow the simple steps in the this tutorial and create a fun topper to decorate the cake!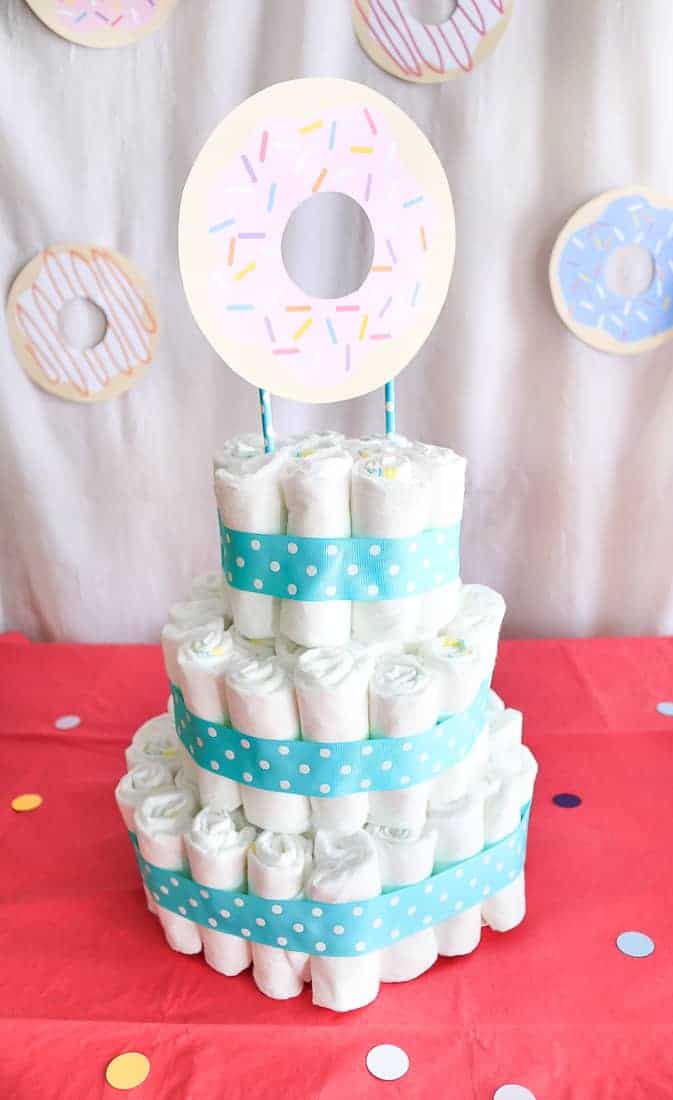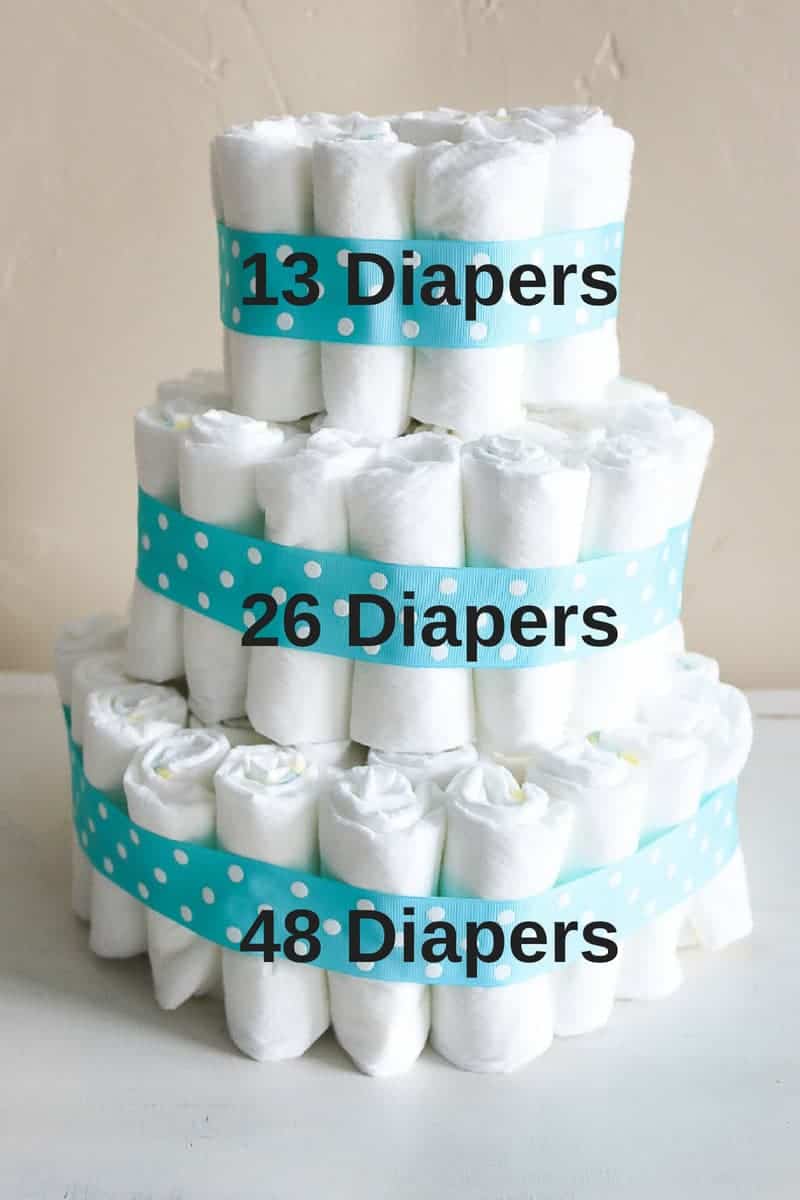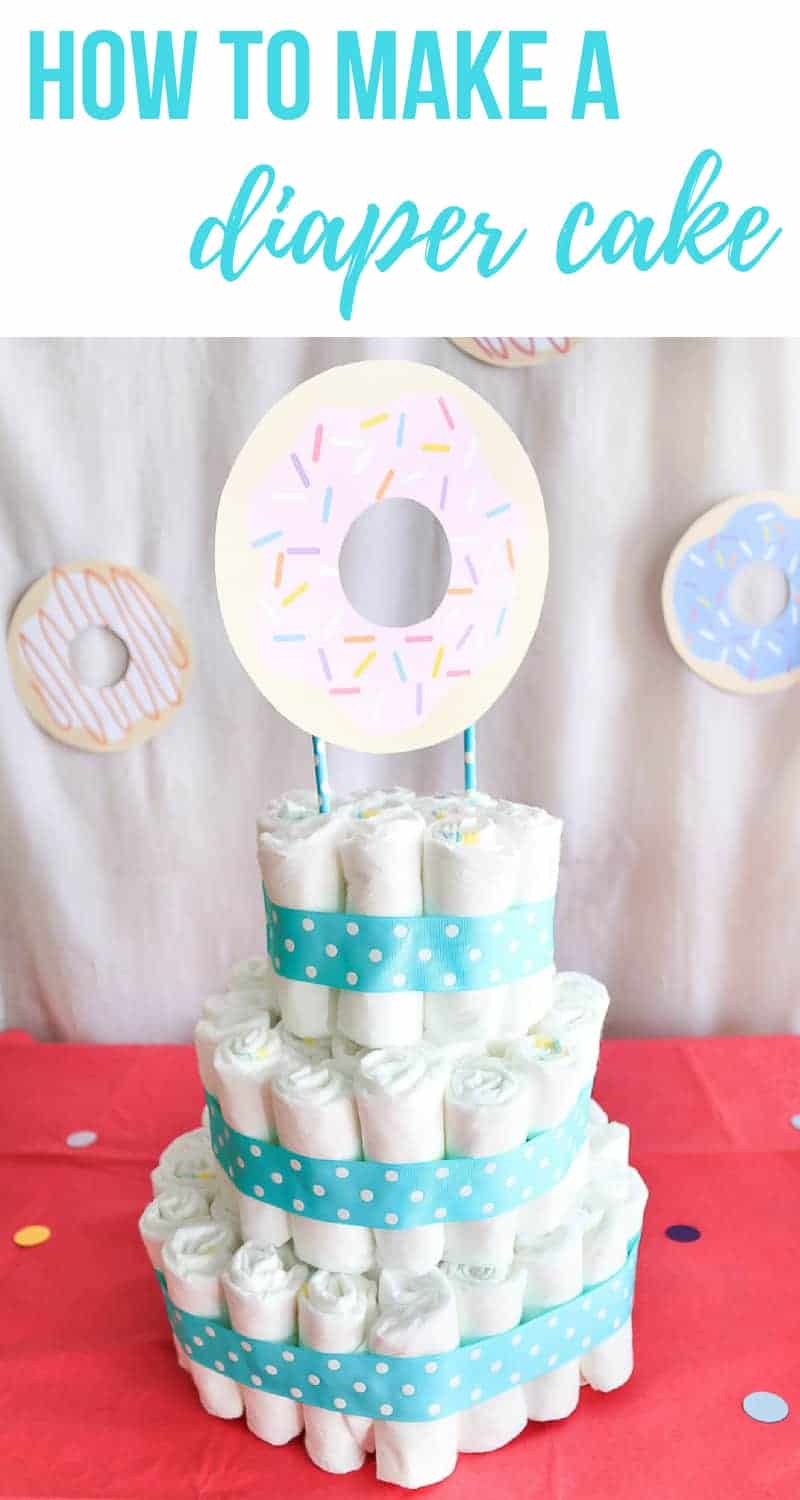 What kind of topper would you put on your diaper cake??
Let me know in the comments below!!