Looking for a creative way to wrap a baby shower gift?? This DIY lullaby baby shower gift wrap couldn't be easier. I'm also sharing a whole list of creative baby shower gift wrapping ideas!
When I was planning my sister's rustic woodland baby shower, I knew I wanted to wrap my present in a way that matched the baby shower theme. I was also looking for something creative and easy since I was wrapping everything up at the last minute when I was packing things up to take to the shower.
Kraft paper (also known as butcher paper) is, of course, a favorite of mine. I love wrapping my Christmas presents in it and then getting creative with different bows and lettering on the packages.
It is so versatile that you pretty much always need some around. I even created a kraft paper roll holder for our home office that we can use as a big to-do list and also grab kraft paper when we need to wrap a present.
I love how my lullaby baby shower gift wrap turned out! It's so simple and can be varied with different quotes or songs for more than just baby shower gifts.
Related – Other Baby Shower Ideas and Inspiration:
This post contains affiliate links, but nothing that I wouldn't wholeheartedly recommend anyway! Read my full disclosure here.
DIY Lullaby Baby Shower Gift Wrapping Idea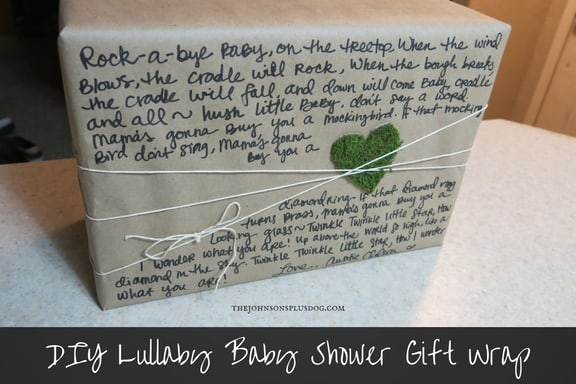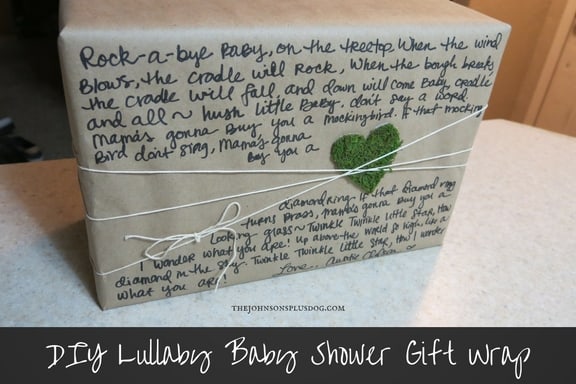 Baby Shower Gift Wrapping Supplies: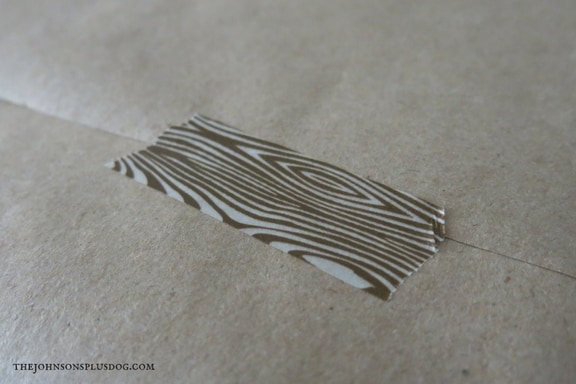 Step 1. Wrap baby shower gift.
Ok, let's wrap stuff! First, you will wrap the present in your kraft wrapping paper and use decorative washi tape to secure it.
The actual present you're wrapping will need to be in a box for this idea, so if you're giving small gifts like baby socks, a baby blanket, baby clothes, or a diaper bag – throw it all in a box first.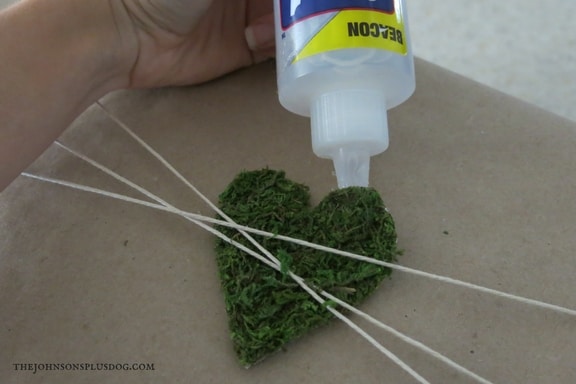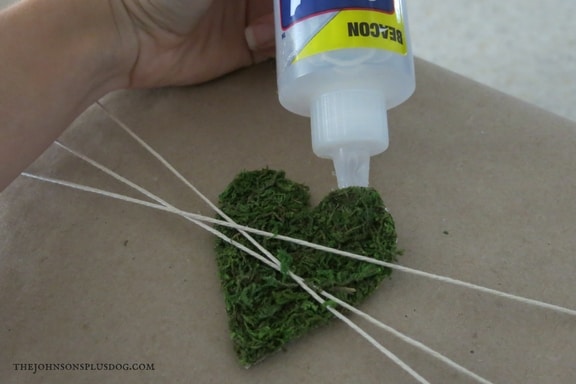 Step 2. Add twine.
Next, wrap the twine around the package multiple times and vary the string at random angles. Finish by tying a bow with the two ends on the front of the package.
Cut a small heart out of sheet moss and glue it to the wrapping paper under the twine.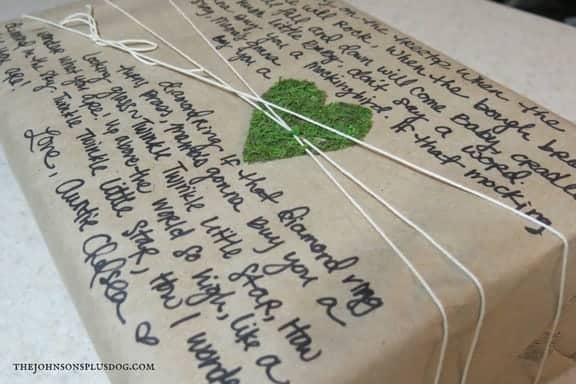 Step 3. Write baby lullabies with Sharpie.
Lastly, finish by writing sweet baby lullabies on the front of the baby shower gift in a black Sharpie pen. You can also customize this cute gift with the baby's name and sign it right there on the package so you don't need to include a card.
I wrote out "Rock-a-bye-baby", "Hush Little Baby" and "Twinkle, Twinkle Little Star".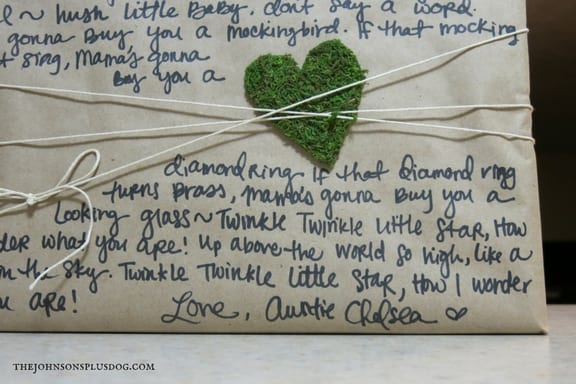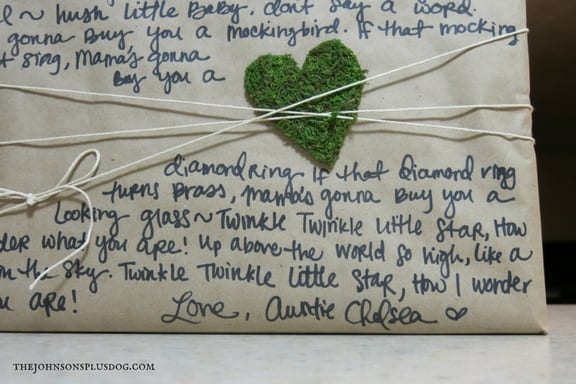 I just love how the baby shower gift wrap turned out and it seriously took me maybe 10 minutes to throw together. You can definitely use this idea for the next baby shower you attend!
The best part? It was FREE! I had all the supplies already on hand. Also, I didn't have to buy or make a card, so I signed the outside of the package.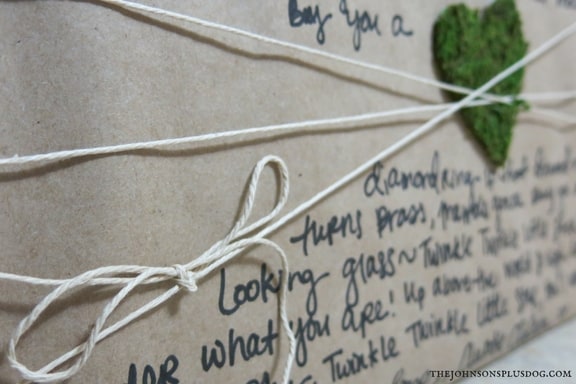 Do you have any other creative gift wrap ideas? Let's see them!
Other Creative Baby Shower Gift Wrapping Ideas
Looking for more creative ways to wrap gifts for new parents? I rounded up several other baby shower gift wrap ideas below! 
Create a diaper cake as a gift wrap alternative. Arrange diapers in tiers, and secure them with ribbons or baby-themed decorations. Learn how to make a diaper cake here!
Personalize the gift wrap with the baby's name or initials using stickers, stencils, or hand-drawn designs.
Attach small baby accessories like pacifiers, teething toys, or mini socks to the gift wrap as decorative accents. Just them on to the front of the gift.
Buy a toy dump truck and put everything in the truck! Such a sweet idea for baby boys!
I love these 5 creative baby shower gift wrapping ideas – I think the little mini sheep design made with tiny pom-poms is my favorite!
Get this bouquet made entirely out of baby clothes and other essentials! 
Opt for eco-friendly gift wrap options, such as recycled paper or fabric wraps
Hang mini socks and onesies with clothespins to string and then wrap them around the package
Download these woodland paper cutouts and gift tags to decorate your gift
Use kraft paper with natural jute ribbon, pampas grass, and a black sign that says "You are loved little one"
Simple, but cute! Tie a pacifier to the ribbon of your gift.
How cute are these woodland animal paper designs that also incorporate brown paper?!
Tying helium-filled balloons to the gift to make it look like a hot air balloon!
Make (or purchase) a baby mini closet with a wood crate with a place to hang baby clothes up. Fill the create with essentials like books, a cuddly toy, diapers, and books. How cute is this?! 
Grab these boxes that look just like baby blocks. Simply pop your gifts inside and stack them up. This is one of the most adorable ideas!
Use baby-related items as unconventional holders for your gifts and stick with a theme. For example, use a baby bathtub with a baby towel, shampoo, and other bath-related gifts inside.
Choosing the perfect gift for a baby shower is just the beginning! By putting some thought and creativity into the gift wrapping, you can make the gift more exciting and memorable for both the parents-to-be and guests. There are so many ways to make the gift wrap unique to stand out. And don't forget to include a heartfelt note to convey your warm wishes to the growing family!
Which is your favorite?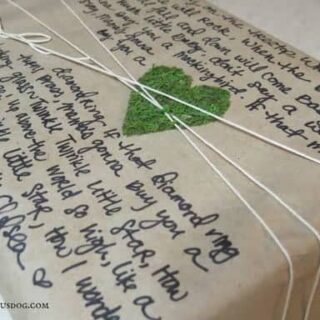 How To Make a DIY Lullaby Baby Shower Gift Wrap
Looking for a creative way to wrap a baby shower gift?? This DIY lullaby baby shower gift wrap couldn't be easier.
Instructions
Wrap gift.
Add twine.
Write baby lullabies with Sharpie.