If you're looking for forest themed baby shower inspiration, you've gotta check this out! This shower incorporates the cute theme through the fun woodland baby shower decorations and even a woodland baby shower food menu!
Babies, weddings, birthdays…any excuse for some party planning and themed decorations… I'm ALL about it! What is better is this party is going to have woodland-themed baby shower food and decorations!
So when someone like my sister has a baby, it's time to pull out the big guns and get super creative with rustic baby shower invitations, baby shower decorations, and food.
This forest-themed baby shower was no exception! Hope you get inspired by these woodland baby shower decorations and our creative food menu ideas!
I know, I know I've been teasing you for weeks now… showing you all the fun DIY projects I made for my sister's rustic woodland baby shower theme…
like this Mama Bear Baby Shower Name Tag I adorned her with on the big day:
Baby Shower Name Tag tutorial here!
Or what about this fun moss banner I made to hang above the food?
Related – Other Baby Shower Ideas and Inspiration:
Planning the Forest Themed Baby Shower
I planned this fun forest-themed baby shower with a couple of other amazing girls and there were rounds and rounds of emails exchanging great ideas.
We even had a secret group board on Pinterest to save all of our inspiration. This was such a great planning tool for us! The board is not a secret anymore – click here to follow the rustic woodland baby shower Pinterest board!
Our initial goal was to plan a cute gender-neutral baby shower for the new baby boy or baby girl. When we heard that Mama was decorating the nursery with a fun forest theme, I mean.. come on, the choice was obvious. 
Woodland Baby Shower Decorations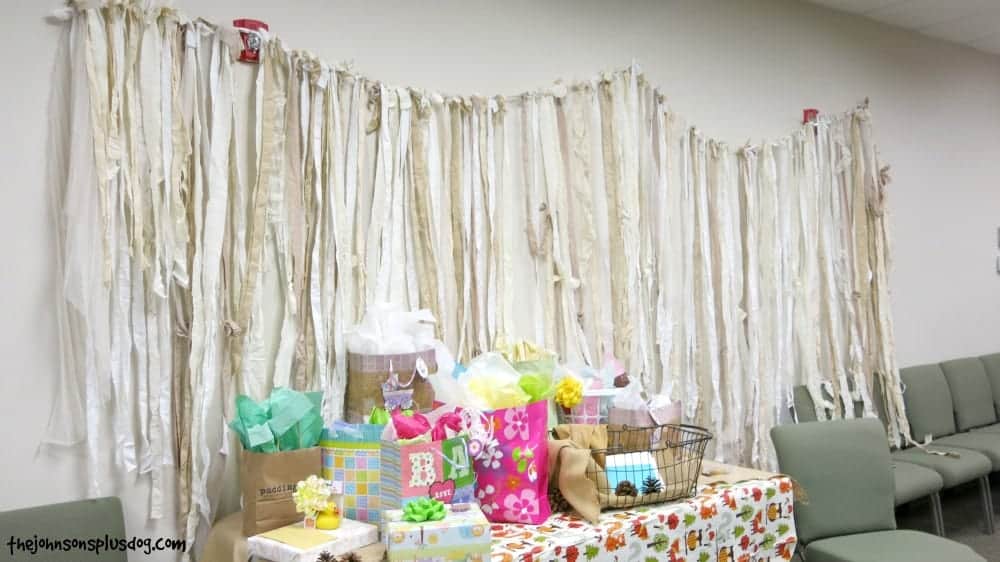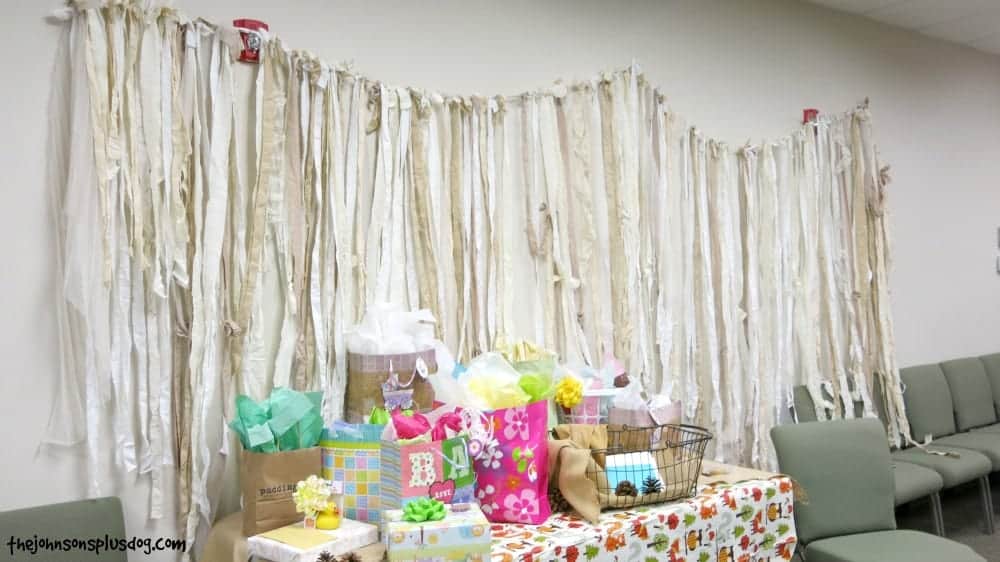 Once we started looking, man was there tons of woodland baby shower decoration ideas out there! We hung this gorgeous ripped fabric and lace banner up on the wall behind the gift table (this was actually also used at my wedding ceremony as decor!)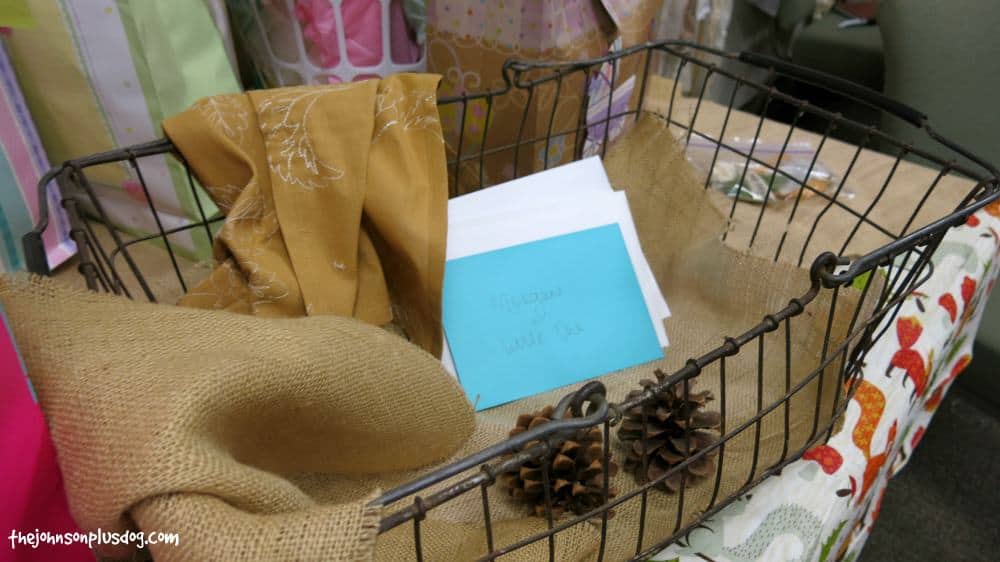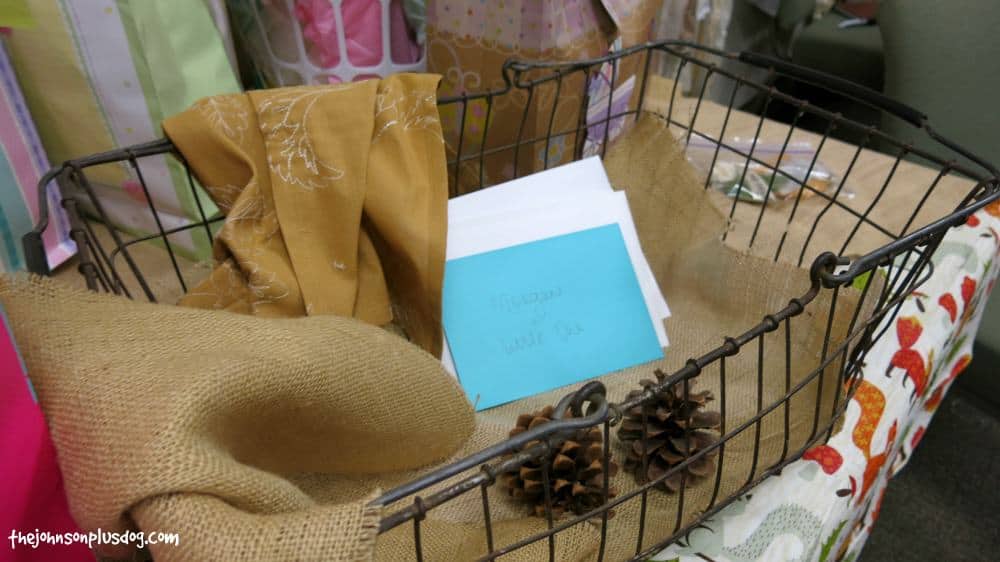 We purchased several yards of burlap from the fabric store to use as table decorations, underneath the food, and throughout the shower as cheap decor.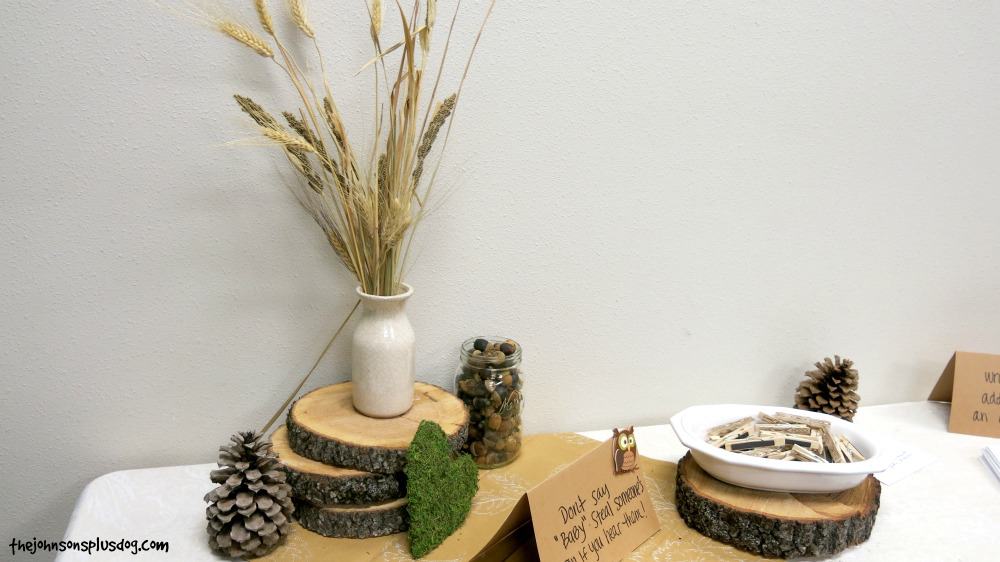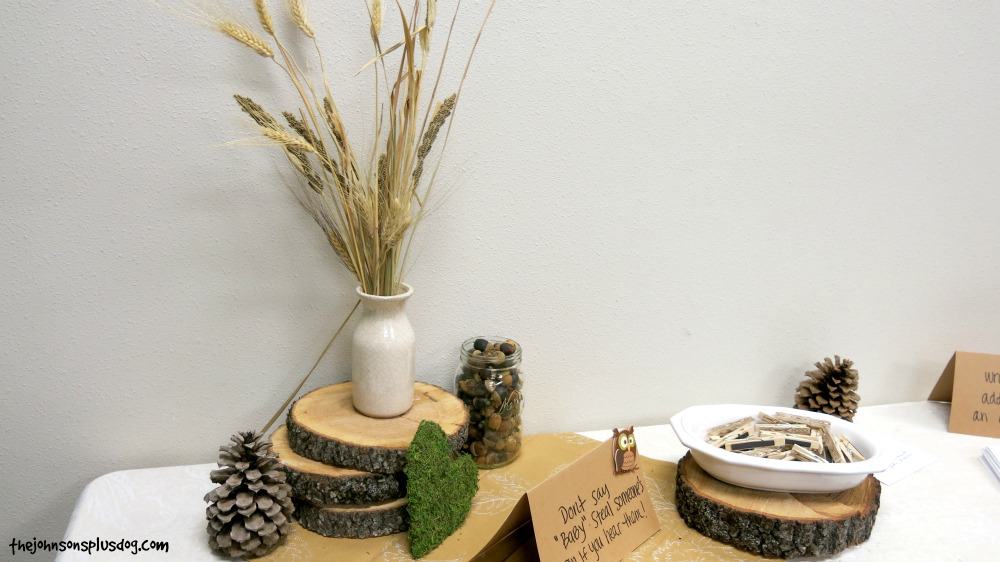 For the woodland theme baby shower decorations on tables, we used stacked-up wood rounds, large pine cones, vases with dried wheat, mason jars full of acorns, and neutral table clothes.
We played the classic "don't say baby" game. What would an event like this be without baby shower games? A fun little twist for the game was the clothespins, which I spiced up with wood grain washi tape (found at Hobby Lobby) and put magnet strips on the back. The pins doubled as favors as everyone got to take home a magnet clip or two!
I made a cute sign out of a piece of thick brown paper to keep it more of a rustic decor look. A custom sign is the perfect choice for a woodland-themed party.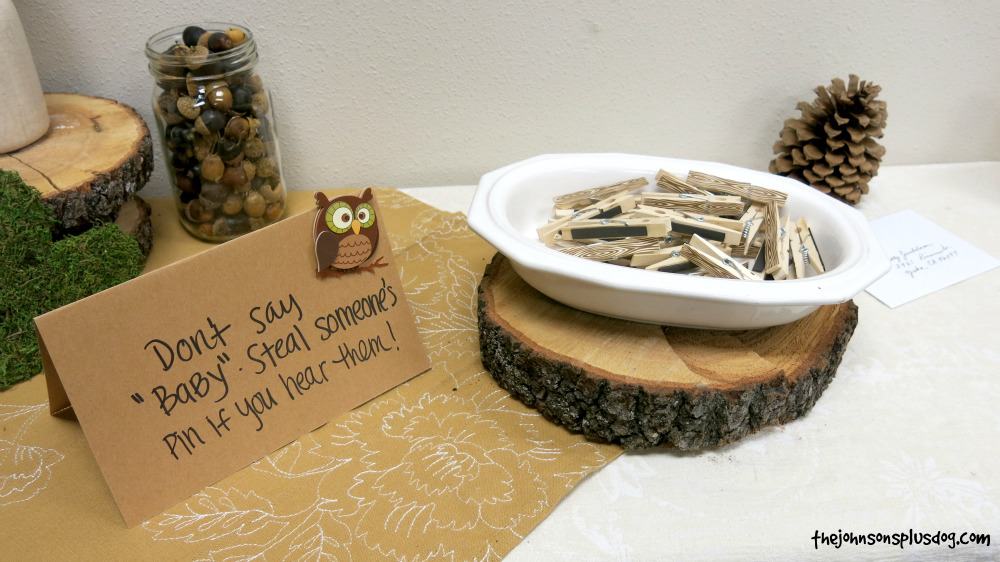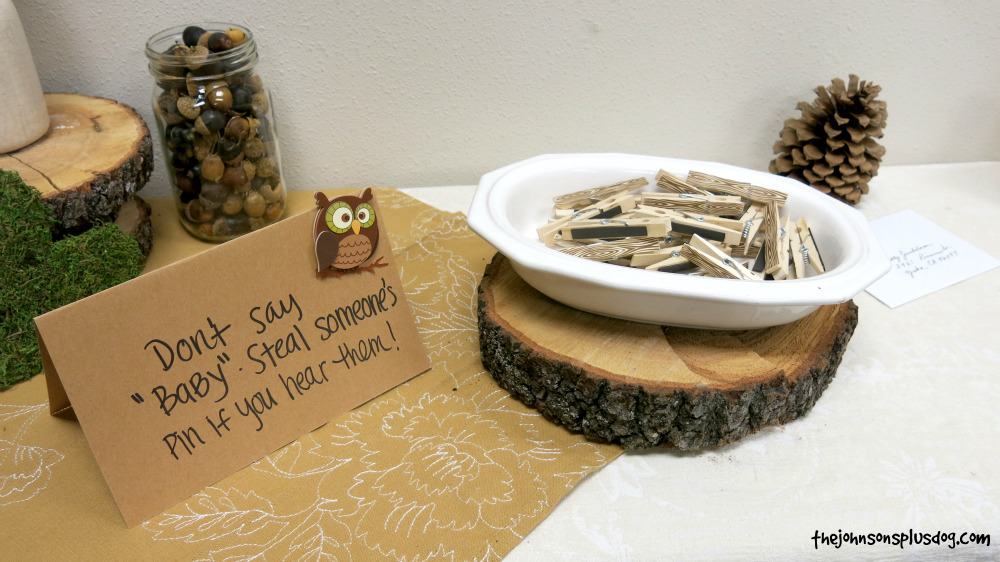 Woodland Baby Shower Food Ideas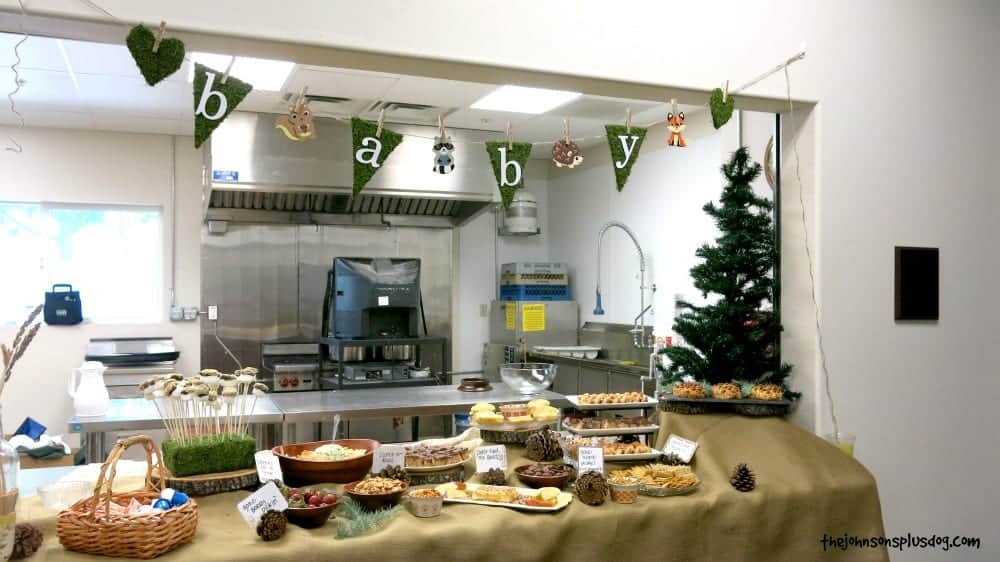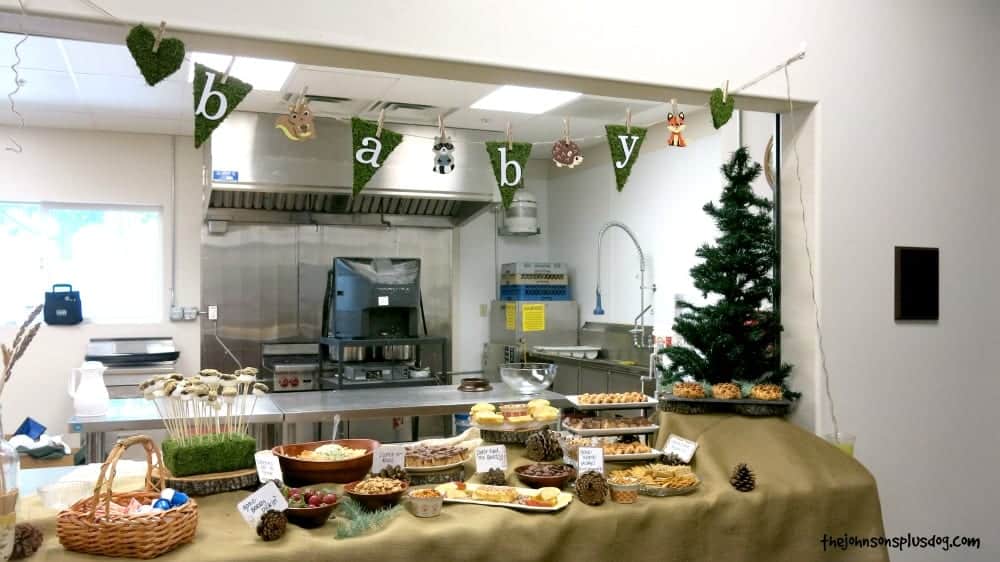 I think my favorite part of the shower was the woodland baby shower food menu, which we totally planned around the forest theme! We really took the shower theme to a whole new level with cute food items and played on the fun wording of the food items with labels and names.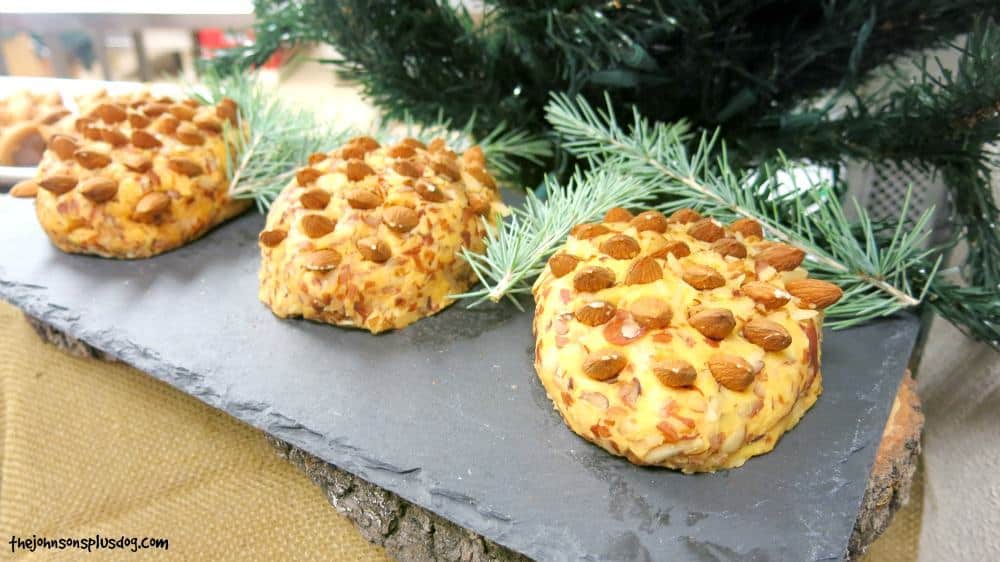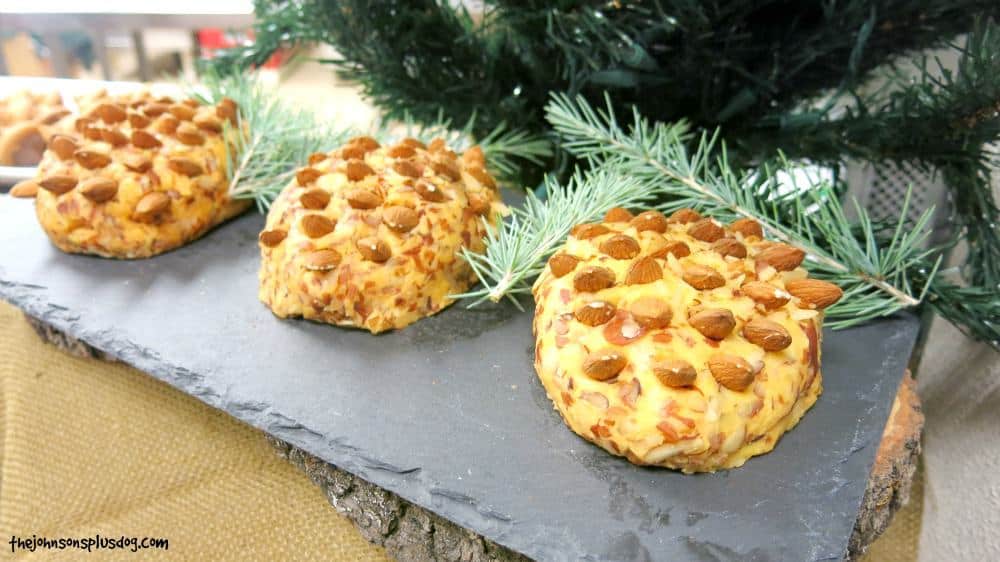 Pinecone Cheese Balls – made with a cream cheese ball recipe and arranged in oval shapes and topped with almonds to look like pinecones.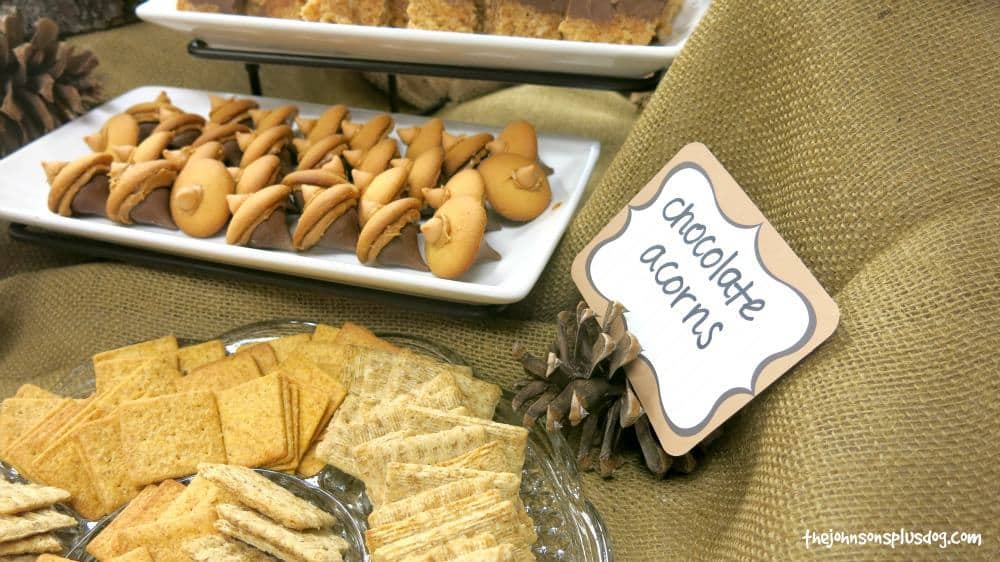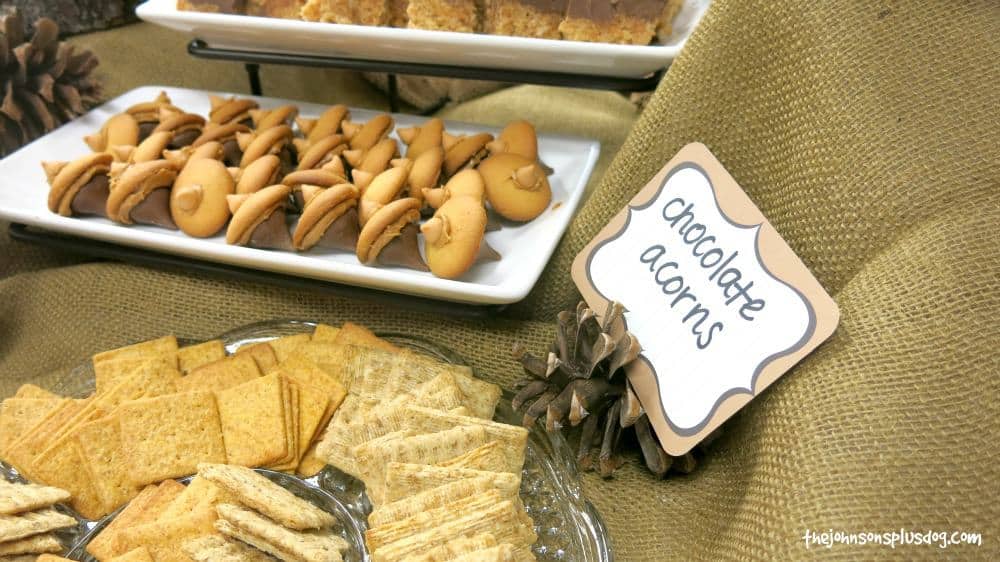 Chocolate Acorns – made with a Hershey's kiss, a layer of peanut butter, a Nilla wafer, and a butterscotch chip on the top to look like the stem of the acorns.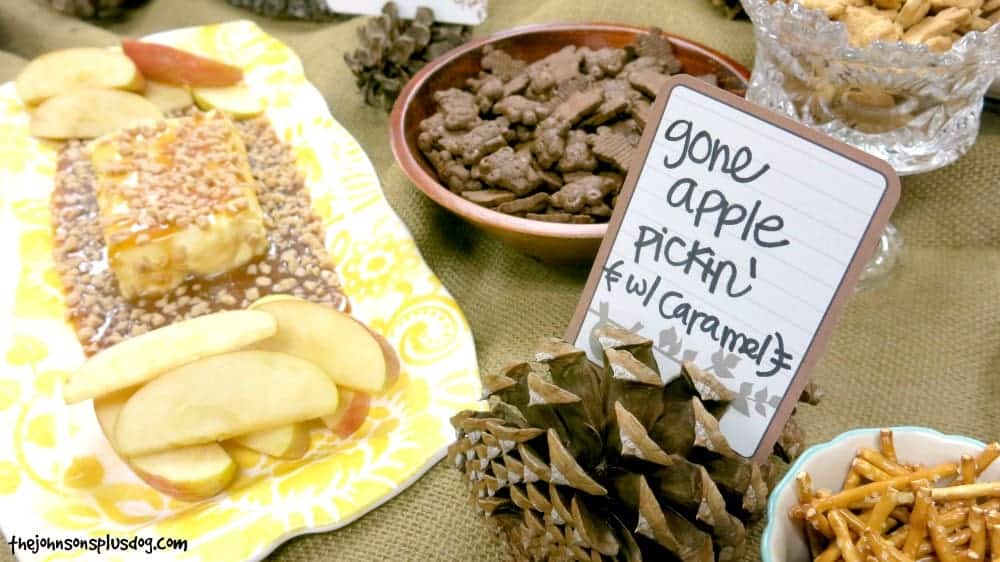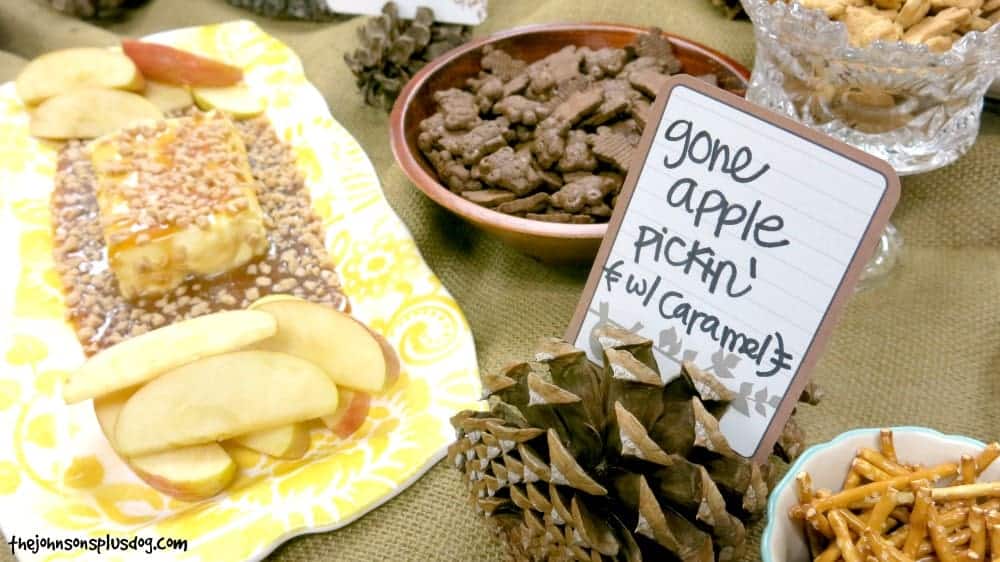 Gone Apple Pickin' – made with sliced apples, a block of cream cheese drizzled with caramel sauced, and crushed peanuts.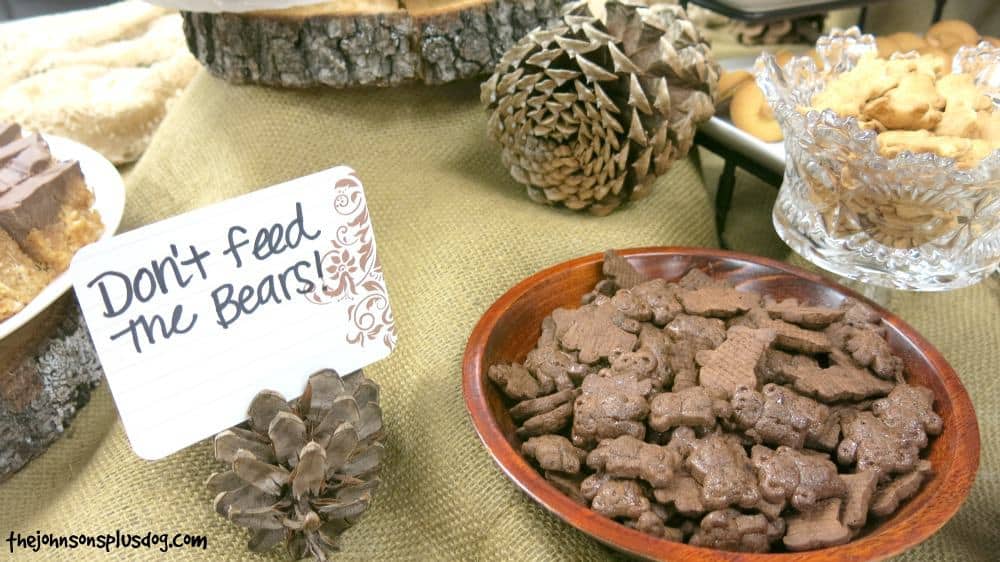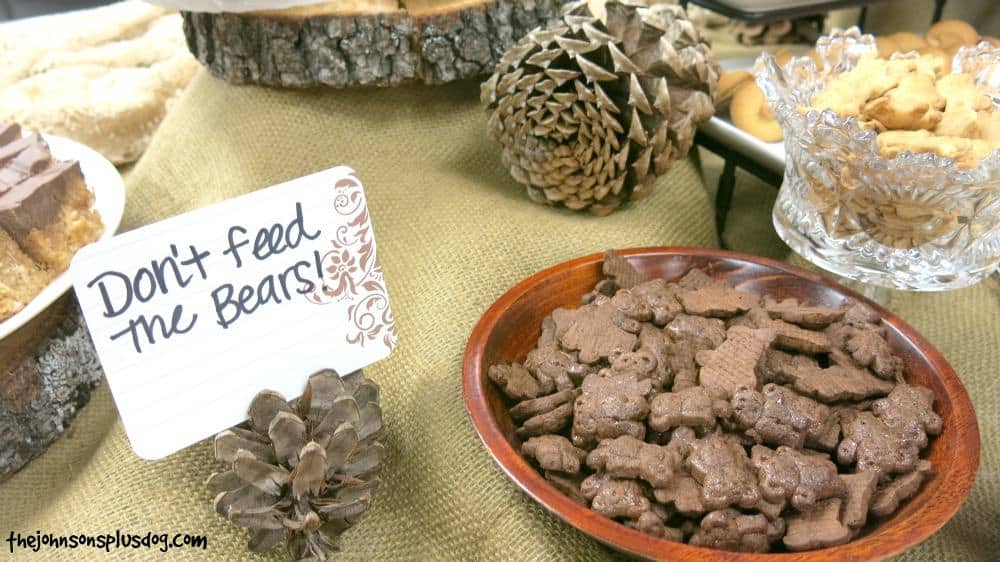 Don't Feed The Bears – with bowls full of Teddy Grahams because you need some cute woodland animals for woodland-themed baby showers!


S'mores on a Stick – made with large marshmallows, dipped in chocolate and rolled in graham cracker crumbs, and then added to a skewer stick.
For the holder on the s'mores on a stick, we covered a styrofoam floral block with a moss sheet and then stuck the sticks in! They are sure to be a crowd favorite.
I used a similar concept to create this DIY donut stand for a donut themed baby shower.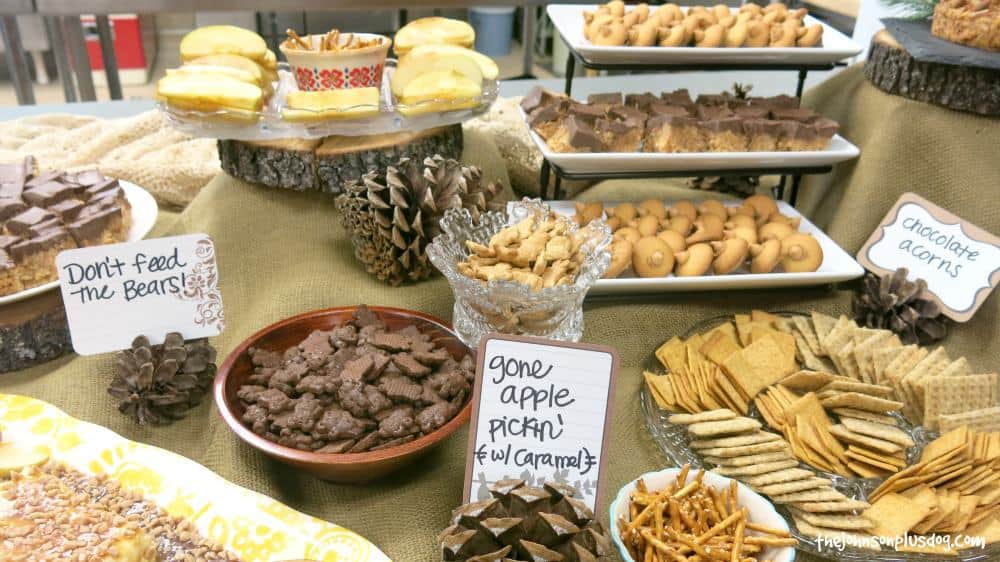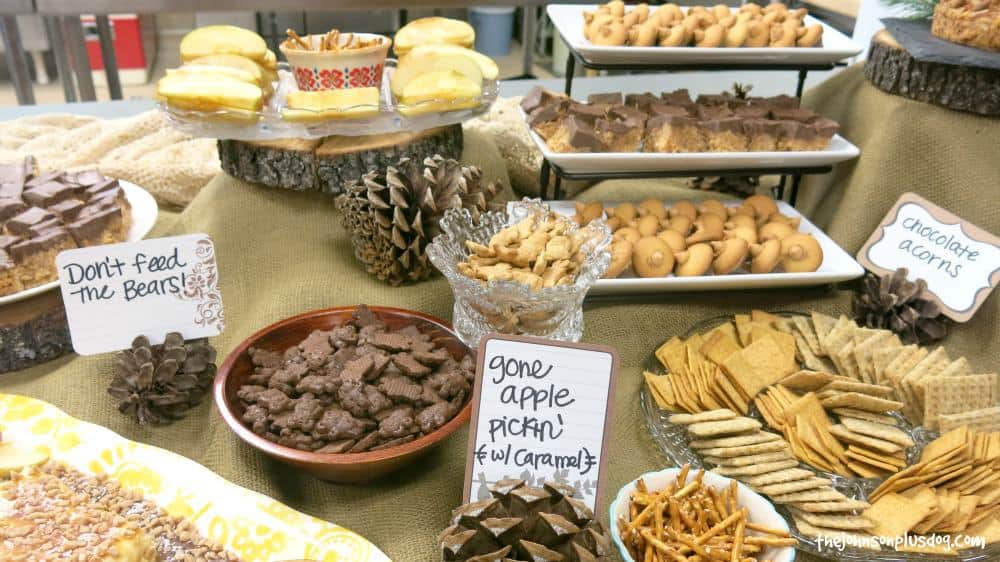 To hold the labels for the woodland baby shower food, we simply popped them into pinecones laid on their side. Genius, right? There's no better way to hold labels than this!
Oh my goodness, I'm getting hungry looking at all the yummy treats on this food table. Those s'mores on a stick were sooooo good!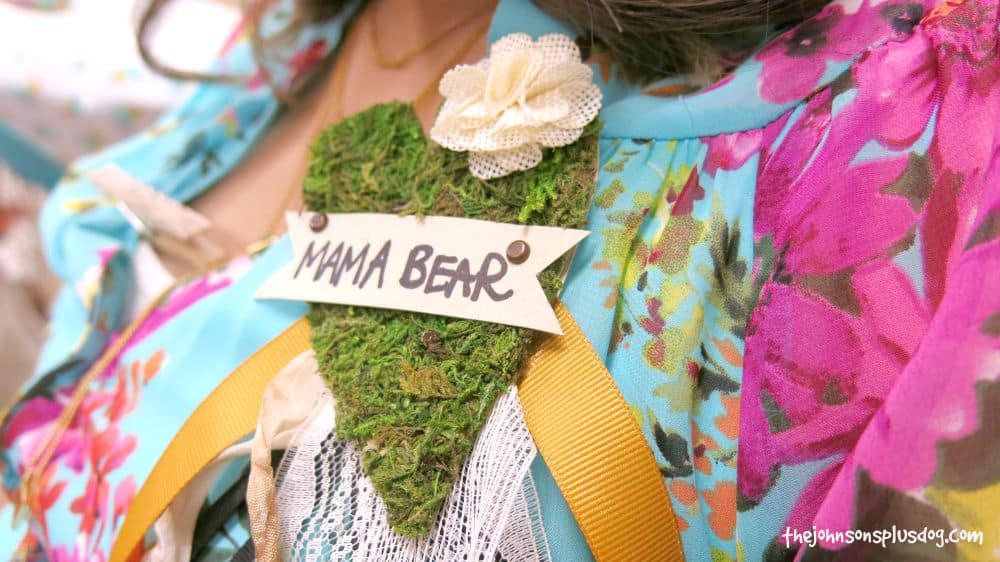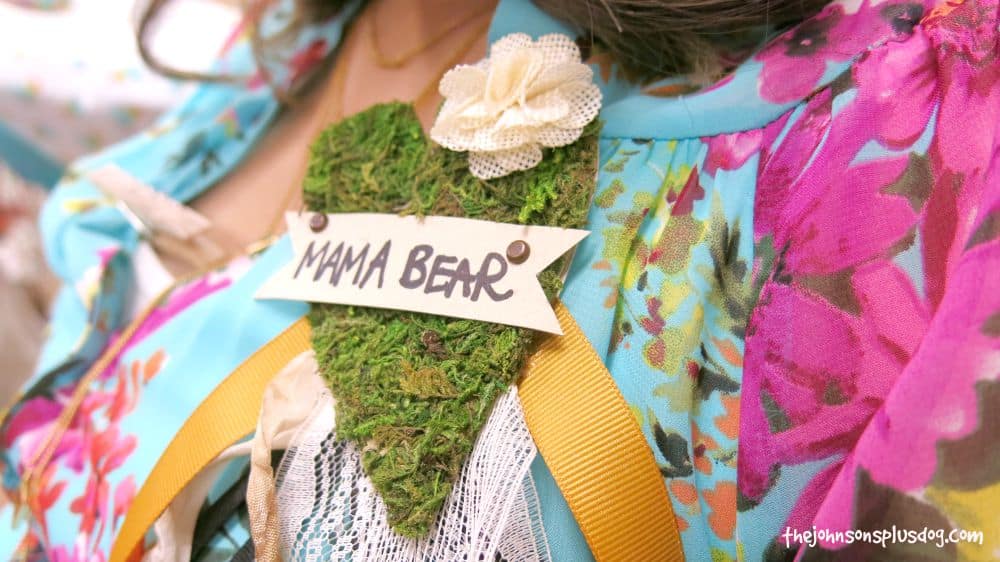 It was so much fun to shower my wonderful sister for the day. I hope she felt just how much love we all have for her (and that little baby already!). We are so excited to support her as she and her hubby embark on the journey of parenthood!
We had a great time together catching up with old friends and making new friends! I think we need to invent some more reasons to have showers for each other because they are just so much fun – any ideas?!
If you're looking for more inspiration for planning a forest themed shower, you've gotta see this woodland baby shower my friend Amanda recently hosted! It's adorable.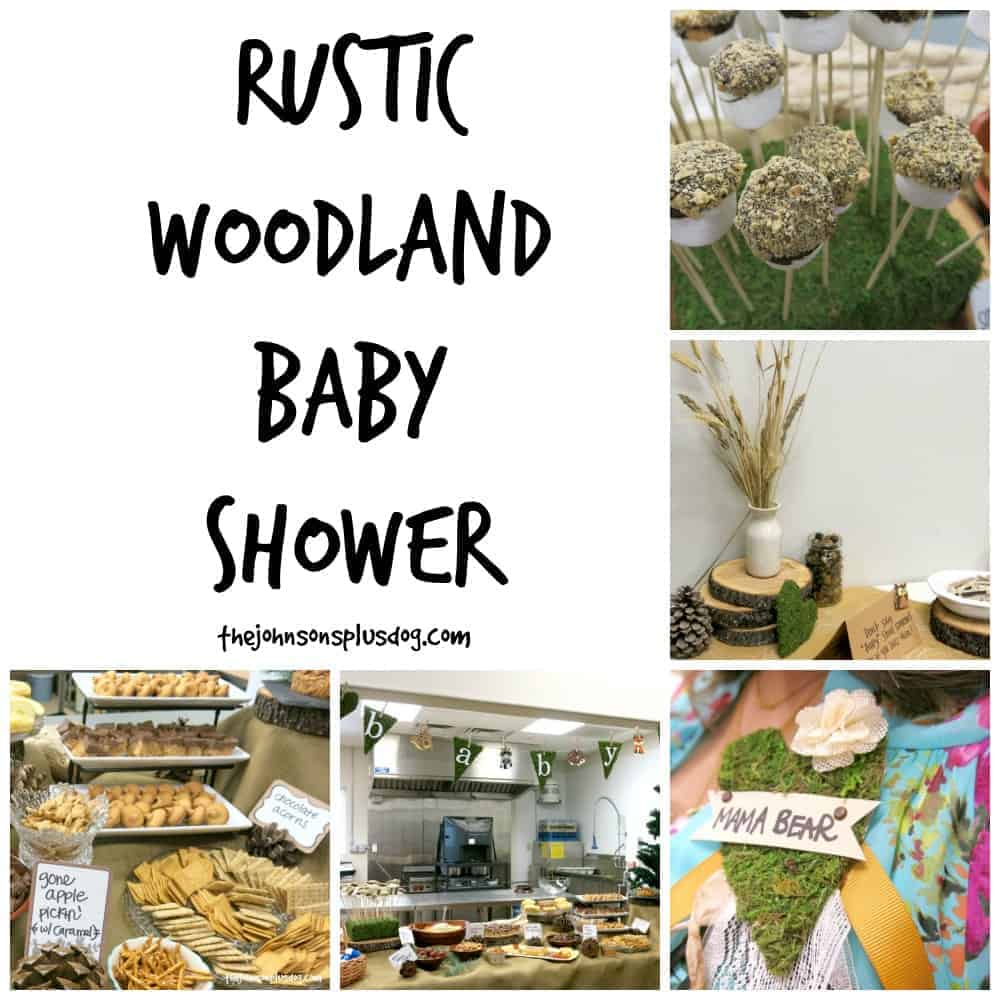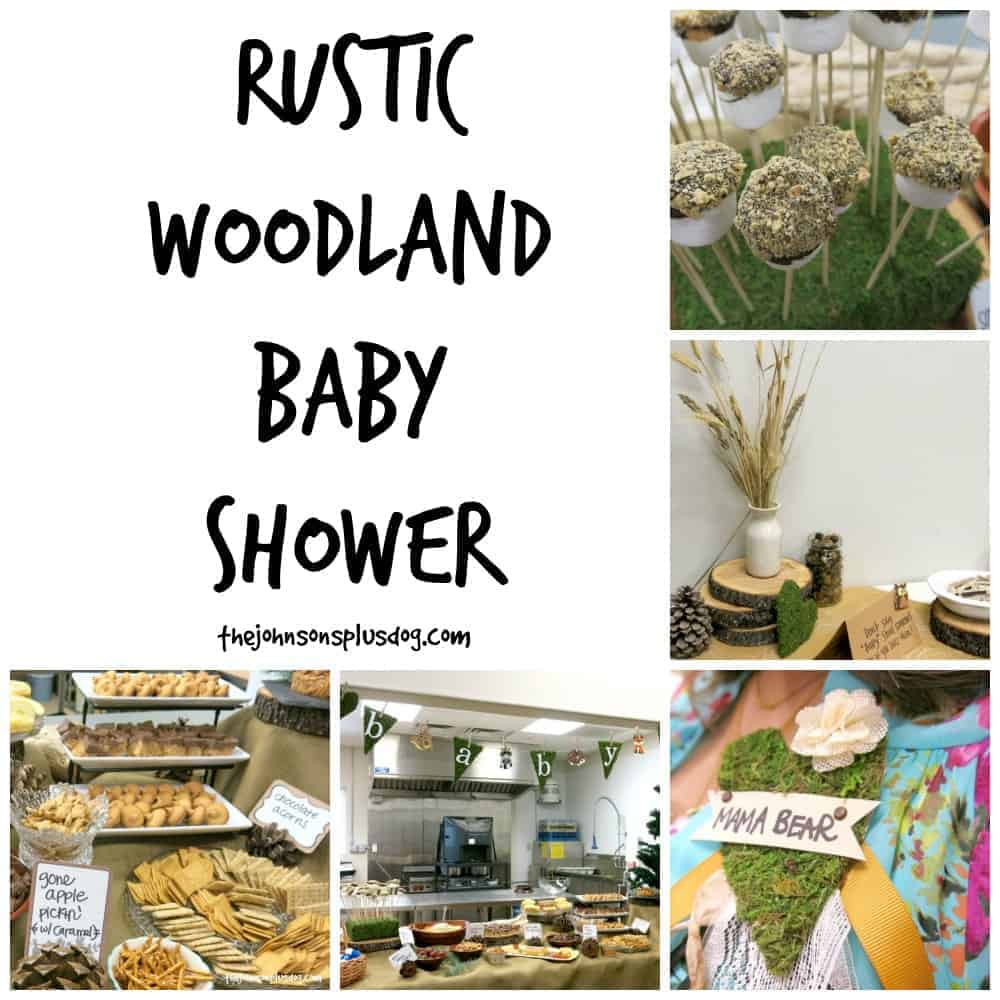 Want even more woodland themed baby shower ideas?
Woodland theme baby shower invites
Don't forget about choosing a theme-appropriate baby shower invitation for your forest-themed shower. For our shower, we decided to make our own invitations because I'm a graphic designer (by day). If you don't have the time or energy to DIY, there are tons of awesome rustic baby shower invitations out there to choose from. I rounded up my favorite rustic baby shower invites that fit right into the woodland theme!!
Other baby shower food ideas with a woodland theme
If you host the baby shower in the afternoon or mid-morning, you don't need to serve a full meal, which can be a budget saver. This is what we did. We put out plenty of options for snacks and had coffee and tea available.
Appetizers and finger-food snacks
Outside of what I showed above for food ideas for appetizers and snacks, here are some other ideas:
Mini quiches
Mini vegetable frittatas with zucchini, carrots, and bell peppers
Hedgehog-shaped cheese and crackers
Forest fruit skewers (strawberries, grapes, and blueberries)
Edible mushroom caps stuffed with cream cheese or spinach dip
Veggie sticks with hummus served in mini flower pots
Squirrel-shaped cheese and crackers
Trail mix with dried fruits, nuts, and chocolate chips
Owl-shaped cucumber sandwiches
Miniature fruit tarts with berries and cream
Cheese and fruit kabobs with grapes, cheese cubes, and melon balls
Veggie and cheese-filled puff pastry pinwheels
Assorted nuts in decorative bowls (walnuts, almonds, cashews)
Pigs in a blanket
Side Dishes
Baby spinach and strawberry salad with a honey balsamic dressing
Forest mushroom risotto
Roasted root vegetables (carrots, parsnips, and turnips) with a herb-infused olive oil
Wild greens salad with foraged herbs, berries, and edible flowers
Savory herb-stuffed baked acorn squash
Forest-inspired stuffed bell peppers with quinoa, mushrooms, and spinach
Maple-glazed roasted carrots and parsnips with thyme
Wild rice and cranberry-stuffed mini pumpkins
Baked brie with a cranberry and walnut crust
Spinach and artichoke dip served in a bread bowl shaped like a tree stump
Balsamic roasted Brussel sprouts with bacon and pecans
Grilled eggplant and zucchini rolls with herbed goat cheese
Stuffed sweet peppers with a wild rice and mushroom filling
Roasted beet and goat cheese crostini with a drizzle of honey
Grilled polenta cakes with roasted wild mushrooms
Wild mushroom and thyme tartlets
Herb-infused goat cheese and roasted garlic stuffed cherry tomatoes
Grilled vegetable skewers with a forest-inspired marinade (rosemary, garlic, and balsamic vinegar)
Pumpkin and sage stuffed shells with a creamy sauce
Wild rice salad with cranberries, pecans, and a citrus dressing
Forest-inspired fruit salad with a mix of melon balls, berries, and mint leaves
Main Courses
Sandwiches with woodland-themed cookie cutters (e.g., deer, owl, tree)
Miniature forest-themed pizzas with toppings like mushrooms and olives
Grilled portobello mushroom burgers with brie cheese and caramelized onions
Baked herb-crusted chicken thighs with roasted vegetables
Slow-cooked pulled pork sliders with a tangy barbecue sauce
Wild game meatballs (venison, boar, or rabbit) in a rich tomato sauce
Baked trout with lemon and dill, served with wild rice pilaf
Desserts
Animal-shaped cookies (e.g., deer, fox, rabbit) decorated with icing
Rice crispy treats shaped like woodland animals
Miniature cupcakes with forest-themed toppers (e.g., pinecones, leaves)
Forest-themed cupcakes with edible sugar decorations like leaves, mushrooms, or woodland animals.
Tree stump cake with a chocolate bark texture and edible sugar mushrooms
Woodland animal-shaped sugar cookies decorated with icing
S'mores dip with mini marshmallows, chocolate chips, and graham crackers for dipping
Forest berry parfaits with layers of fresh berries, whipped cream, and crumbled cookies
Acorn-shaped cake pops coated in chocolate and decorated with edible sprinkles or nuts
Forest fruit tart with a buttery crust and a medley of berries and sliced fruits
Chocolate-covered strawberries decorated as ladybugs or mushrooms
Mini apple pies with a lattice crust, resembling tiny tree pies
Miniature chocolate forest cakes with ganache frosting and edible flower decorations
Birch tree-inspired sugar cookies with white icing and chocolate bark patterns
Forest berry cobbler with a crumbly topping and a mix of seasonal berries
Nutella-filled crescent rolls shaped like logs, topped with powdered sugar.
Pinecone-shaped chocolate truffles dusted with cocoa powder or edible gold dust
Miniature pumpkin pies with whipped cream and cinnamon sprinkles
Woodland-themed cake pops with various designs like owls, foxes, or trees
Mushroom-shaped meringue cookies with a soft and airy texture
Caramel apple nachos with sliced apples, caramel sauce, and assorted toppings
Wildberry sorbet served in hollowed-out fruit shells for a whimsical presentation
S'more-themed Puppy Chow
Drinks
Here are some drink ideas with a woodland or forest theme for a baby shower:
Forest Punch: A mix of cranberry juice, pineapple juice, and sparkling water, garnished with fresh berries and mint leaves.
Woodland Spritzer: A light and bubbly drink made with sparkling water, lime juice, and a splash of elderflower syrup, served over ice with a garnish of cucumber slices.
Berry Infused Water: Prepare a large pitcher of water infused with a medley of berries like strawberries, raspberries, and blueberries, along with a few sprigs of fresh mint.
Apple Cider Sangria: A fall-inspired sangria made with apple cider, white wine, sliced apples, and cinnamon sticks, chilled and served over ice.
Forest Fizz Mocktail: Combine equal parts of cranberry juice, ginger ale, and club soda, and add a splash of lime juice. Serve with a garnish of fresh cranberries and a sprig of rosemary.
Herbal Iced Tea: Brew a pot of herbal tea using flavors like chamomile, mint, or hibiscus, let it cool, and serve over ice with a squeeze of lemon or lime.
Maple Pecan Latte: Prepare a batch of hot coffee or espresso, mix in warm milk, maple syrup, and a sprinkle of crushed pecans. Serve with a dusting of cinnamon on top.
Forest Berry Smoothies: Blend together a mix of fresh or frozen berries (such as strawberries, raspberries, and blackberries) with yogurt, a splash of orange juice, and a drizzle of honey.
Rosemary Lemonade: Make a classic lemonade and infuse it with fresh rosemary sprigs for a herbal twist. Serve over ice and garnish with lemon slices.
Hot Chocolate with Forest Flavors: Prepare a rich hot chocolate and add a touch of hazelnut or almond extract for a nutty forest taste. Top with whipped cream and sprinkle with cocoa powder.
Sparkling Cran-Apple Spritzer: Mix together equal parts cranberry juice and apple juice, add sparkling water or ginger ale, and garnish with apple slices and cranberries.
Mossy Mint Mocktail: Muddle fresh mint leaves with lime juice and simple syrup, then top with club soda and serve over crushed ice.
Forest Fruit Smoothie: Blend together a mix of forest fruits like blackberries, blueberries, and pomegranate seeds with yogurt or coconut milk for a creamy and refreshing beverage.
Pineapple Coconut Mocktail: Combine pineapple juice, coconut milk, and a splash of lime juice, then serve over ice with a pineapple wedge for garnish.
These drink ideas will add a nice touch to your woodland themed baby shower and keep your guests hydrated and satisfied. Remember to offer non-alcoholic options for expecting mothers and those who prefer alcohol-free beverages.
More woodland themed baby shower decor ideas
There are so many different ways to decorate for a rustic woodland baby shower. A lot of the decorations listed below are straight from nature, so a nature-themed baby shower can be very affordable! You can simply go outside. and collect what you need!
Create a rustic woodland backdrop using brown burlap or a faux wood grain fabric. Rip it up into strands for a rustic look, as we did!
Hang strings of fairy lights or twinkle lights to mimic the ambiance of a starry forest.
Use greenery, such as ferns, moss, or ivy, to decorate tables, chairs, and other surfaces.
Incorporate tree branches as centerpieces or table runners, adorned with flowers, leaves, or hanging tea lights.
Set up a charming woodland-themed photo booth area with props like animal masks, felt tree stumps, and forest-inspired signs.
Scatter pinecones, acorns, and colorful autumn leaves as table decorations or accents throughout.
Hang paper lanterns in earthy tones or woodland animal shapes from the ceiling.
Display stuffed woodland animals like owls, foxes, and deer as cute tabletop decorations. Give them to Mama after the shower as a gift for her future little one!
Use wooden crates, tree stumps, or vintage suitcases as display platforms for food and desserts at your woodland themed baby shower.
Create a "Welcome to the Forest" sign using wooden boards or a chalkboard.
Incorporate tree slice coasters or placemats for a natural and rustic table setting.
Decorate with floral arrangements featuring wildflowers, ferns, and herbs like lavender or rosemary.
Hang banners or garlands made of colorful felt leaves or woodland animal cutouts.
Create table name cards using wooden slices with handwritten names or woodland-themed place card holders.
Use a mix of earthy and muted tones such as browns, greens, and deep oranges to create a cozy woodland color palette.
Set up a nature-inspired sensory station with pinecones, tree bark, and smooth stones for guests to explore and touch.
Display framed prints or paintings of woodland scenes or animals on the walls.
Hang a clothesline with woodland-themed onesies or baby clothes as part of the decor.
Use rustic wooden signs with hand-painted messages like "Welcome Little Explorer" or "Adventure Awaits."
Favors and prizes for your woodland themed baby shower
Mini potted plants or succulents that guests can take home and nurture.
Personalized seed packets with wildflower or herb seeds for guests to plant in their gardens.
Forest-scented candles or tealights in decorative holders.
Woodland-themed bookmarks featuring images of animals, trees, or leaves.
Miniature jars filled with honey, maple syrup, or jam, decorated with a woodland-inspired label or ribbon.
Customized wooden keychains engraved with forest-themed designs or the baby's name.
Natural bath products like handmade soaps or bath salts infused with botanical scents.
Miniature bottles of flavored olive oil or infused vinegar with a rustic label.
Forest-themed cookie or cake pops individually wrapped with a thank-you tag.
DIY hot cocoa kits with layered ingredients in a mason jar, accompanied by a cute woodland-themed mug.
Personalized packets of hot chocolate mix with mini marshmallows, adorned with a woodland-themed label or ribbon.
Miniature jars filled with trail mix or roasted nuts, decorated with a forest-inspired label or twine.
Customized coasters made from slices of wood with the baby's name or a woodland design.
Small bags of artisanal tea blend with flavors like chamomile, mint, or berry, packaged in a muslin bag with a tag.
Forest animal-shaped cookie cutters with a recipe card for sugar cookies or gingerbread.
Miniature bottles of maple syrup or flavored syrup with a decorative tag.
Handmade woodland-inspired magnets featuring animals, trees, or leaves.
Small jars of homemade granola or trail mix, tied with a ribbon and a personalized tag.
Games to play or activities to do at your woodland themed baby shower
Terrarium Station: Set up a small DIY terrarium station where guests can create their own miniature forest in glass containers with moss, small plants, and decorative figurines.
Guess the Baby Animal: Create a list of baby animal names and have guests match them to their adult counterparts. Provide a list for guests to write their answers, and reveal the correct answers at the end.
Woodland Trivia: Prepare a set of trivia questions related to woodland animals, nature facts, or famous forest-themed movies. At the woodland themed baby shower, divide guests into teams and see who knows the most about the forest.
Diaper Raffle: Encourage guests to bring a pack of diapers and enter a raffle for a prize. This activity helps the parents-to-be stock up on diapers while adding an element of excitement.
Decorate Onesies: Provide plain white onesies, fabric markers, and stencils featuring woodland animals or nature-themed designs. Guests can get creative and decorate onesies for the baby.
Baby Shower Bingo: Create bingo cards with typical baby shower gifts or items related to a woodland theme. As gifts are opened, guests mark off the corresponding squares, and the first one to get a line yells "Bingo!"
Guess the Baby Food: Remove the labels from different jars of baby food and assign each jar a number. Guests taste the food and try to guess the flavor. The person with the most correct answers wins a prize.
Advice for the Parents: Set up a station where guests can write down their parenting advice or well wishes for the parents-to-be. These notes can be collected and compiled into a scrapbook or keepsake for the family.
Wishes for Baby: Provide small cards or notepaper for guests to write down their wishes or messages for the baby. These can be collected and given to the parents as a sentimental keepsake.
Baby Name Game: Print out a list of animal names and the matching baby animal names scrambled up. Then challenge guests to recall the baby's names. We played this game at our shower and it was so fun!
Create a Memory Tree: Set up a tree branch or large canvas where guests can attach handwritten notes or tags with their favorite childhood memories, parenting tips, or words of encouragement.
Woodland Photo Booth: Set up a photo booth area with props like animal masks, faux tree stumps, and woodland-themed signs. Provide a Polaroid camera or a designated photographer to capture fun moments.
DIY Nature Crafts: Prepare a craft station where guests can create nature-themed crafts like leaf rubbings, pinecone ornaments, or woodland creature puppets using craft supplies and materials.
Baby Animal Match-Up: Prepare a collection of pictures or cards featuring baby animals and their mothers. Guests have to match the baby animal to its correct mother within a given time frame.
Nursery Rhyme Challenge: Test guests' knowledge of woodland-themed nursery rhymes by providing a line from a rhyme, and they have to complete it or name the nursery rhyme it belongs to.
As you can see, there are an endless amount of creative ideas to incorporate into your woodland themed baby shower. Are you going to use some of these ideas?