Polyurethane and polycrylic are two of the most common clear sealers for woodworking and painting projects. These two products are similar in name, but the differences in use and application can confuse many beginners. In this guide, we will walk you through the difference between polyurethane vs polycrylic, when and how to use each, and more information to consider before finishing your project.
It's hard to beat the beautiful finish of natural wood, but leaving your wood project unsealed, in the elements, can contribute to its demise long before necessary.
To prevent undue damage and keep your painted or wooden project looking brand new, you should complete it with a protective topcoat, like polyurethane or polycrylic.
Many DIY'ers might make the trip to the home improvement store and notice cans of polyurethane and polycrylic sitting side by side in the sealant aisle.
If you find yourself in this boat, you'll probably wonder: what's the difference between polycrylic and polyurethane anyway?
It can be pretty confusing – almost as confusing as buying lumber at the home improvement store. So, how do you know which sealer is best for your project?
Before you snatch the can off the shelf, it's important to understand how using polyurethane vs polycrylic can affect the lifespan and appearance of your project.
Below you will find plenty of information to help you make an informed decision of polyurethane vs polycrylic without slowing down your project.
This polyurethane vs polycrylic overview contains affiliate links, but nothing that I wouldn't wholeheartedly recommend anyway! Read my full disclosure here.
Polyurethane vs Polycrylic: Video
If you love DIY videos, be sure to subscribe to our YouTube channel!
Overview: About Polyurethane and Polycrylic
One of the most common misconceptions about woodworking is the finish. Many believe that if the wood has been previously painted or stained or if they are leaving the project indoors instead of outdoors, they can skip the sealing.
The problem with leaving painted or stained wood unsealed is that it still is unprotected from natural elements and general use. Remember that wood is a porous material, so it sucks in moisture and dirty marks if left unsealed.
If your project is left unsealed you might find that the paint or stain bubbles up, becomes brittle and cracks or sheds, or the wood begins to rot due to exposure.
That's where the importance of the right sealer comes in! Polyurethane and polycrylic come in a few different options and each of them have their own unique jobs:
Oil-based polyurethane: Very durable, an excellent choice for wooden floors, indoor and outdoor furniture, and other wooden structures that get a lot of traffic. High tolerance to moisture and high heat. Yellows on the surface, so not ideal for light-painted furniture.
Water-based polyurethane: Quick-dry option, not as resistant to high heat or water. This option contains less odorous volatile organic compounds (VOCs) so it's not as hard on your lungs or nose. as oil-based polyurethane. Yellows slightly on the surface, so not ideal for light-painted furniture.
Polycrylic: Environmentally friendly, best for interior surfaces like cabinets, furniture, and trim. Provides ultra clear finish with no yellowing, so great for light-painted projects.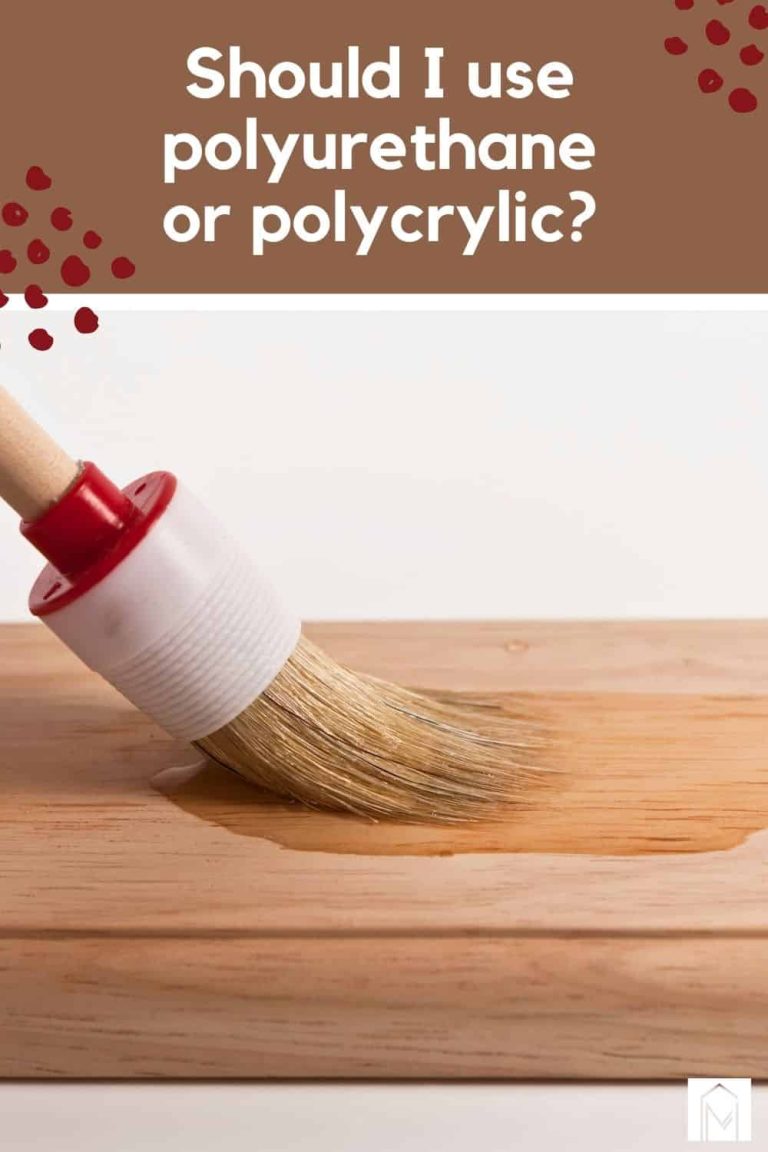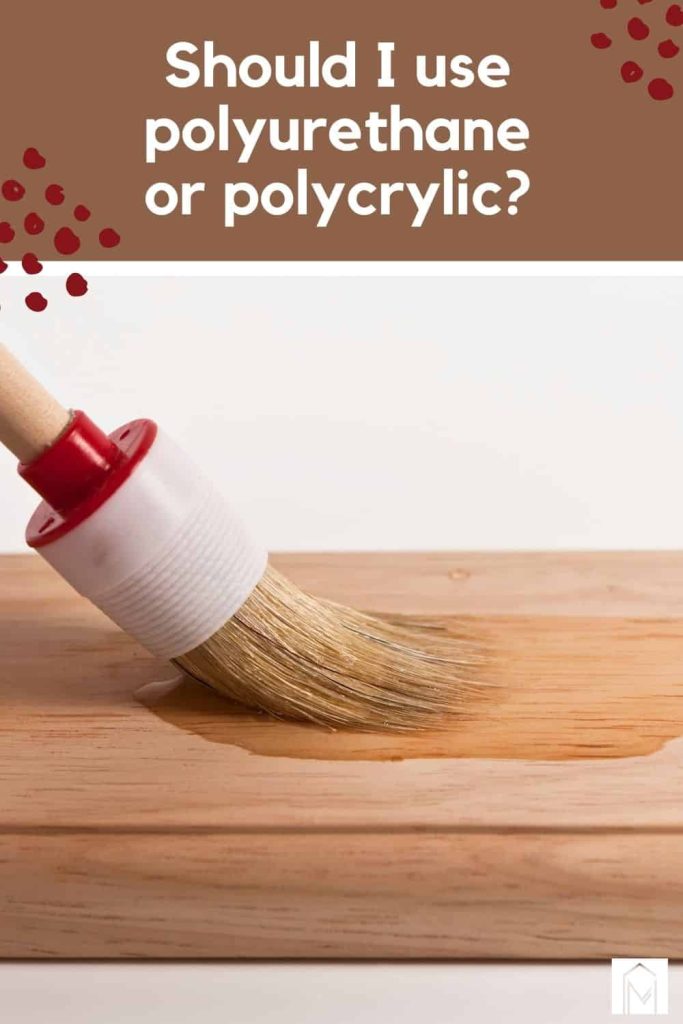 Differences between Polyurethane and Polycrylic
Polyurethane comes in two common options: oil-based and water-based. The main difference between the polyurethanes is obviously what they are made of and the tint, but we will get to that below.
Since polycrylic is a more "delicate" option, polyurethane is the safest best when you need a sealer to handle heavy-duty jobs, such as heavy foot traffic or vigorous, daily use.
Durability
Oil-based polyurethane
Oil-based poly is certainly the most superior option and makes an excellent choice for hardwood floor refinishing, table tops, sink cabinets, indoor and outdoor furniture, and other wooden structures that get a lot of traffic.
Because it is oil-based, this option is much more tolerant of moisture. This option can also tolerate high heat, like sunshine or hot objects.
Water-based polyurethane
Water-based polyurethane dries much faster than oil-based poly, but it's also not as resistant to high heat or water. It is great for items that aren't going to get a lot of wear and tear or be exposed to extreme temperature and water – like DIY frames, picture ledge shelves, or a DIY bench.
This option contains less odorous volatile organic compounds (VOCs) so it's not as hard on your lungs or nose.
Because it's fast-drying, you can apply more coats in less time than with the oil-based option.
Polycrylic
Polycrylic is a water-based product that is far less noxious to the nose and lungs than polyurethane. It also is less tolerant of high heat than oil-based polyurethane.
Because it's water-based, it dries very quickly but requires longer curing times before use. If you are working with polycrylic, be sure to give it plenty of time to dry and cure before using it. The slightest ding or nick could dent the clear coat.
Polycrylic is not meant to be as durable as its counterparts and is best for interior applications such as cabinets, painted furniture, and trim. Avoid using polycrylic on floors or any surface that are subject to lots of wear and tear.
It looks great on this gorgeous modern barn door, don't you think?
Appearance of polyurethane vs polycrylic
The main difference between oil-based polyurethane and water-based polyurethane is the tint or color that is left behind; however, polyurethanes and polycrylics are available in satin, gloss, and high-gloss sheens. Therefore, you can go as shiny as you like to emphasize the wood's character and your expert craftsmanship.
Oil-based polyurethane
Oil-based poly leaves behind a yellowish tint which can develop into a slightly amber-colored tone as the project ages, so steer clear of applying this over light painted finishes. For this option, stick to a type of wood that's dark or warm enough to hide the yellow cast.
Water-based polyurethane
Water-based polyurethane dries clear, so it's safe to use over light woods like maple without worrying about yellowing. However, in some cases, this option can become cloudy if applied over darker finishes.
Polycrylic
Polycrylic leaves behind no trace at all! It dries completely clear and won't change the appearance of light woods like maple, birch, or anything painted white or a light color (like this chalk painted desk).
This option is not recommended to use over dark-colored paints or a mahogany stain as the appearance can become opaque or milky.
Applying Polyurethane vs Polycrylic
Something to be noted before the application process: It's more difficult to apply polycrylic than polyurethane in general.
Regardless of the product, you have the option to spray, brush, wipe or roll the product on.
What tools to use when applying clear sealant
If you are using a brush, be sure to use a brush made for oil-based materials when working with oil-based polyurethane, which usually has natural fiber bristles. These brushes are generally more expensive, but their performance is better and they are very durable.
When applying water-based products, like Polycryclic or water-based Polyurethane, it is recommended to use brushes with synthetic fibers, like nylon and/or polyester, because those types of bristles won't absorb water.
Foam brushes also work when you're in a pinch because they are so cheap, but you'll probably find that the finish isn't as smooth and they will usually bend and break quickly.
We've also wrapped a paint rag around the outside of a foam brush and clipped it into place to provide extra durability to the foam brush, which is a great option if you don't want to buy a new brush to apply poly products.
If you are going to roll the clear sealant on, it is best to use a dense foam roller, like this.
Other tips for applying poly products
Keep in mind that polycrylic's consistency is much runnier than polyurethane; however, it's hard to get an even finish over a large surface area because it dries so quickly.
Polycrylic is a thinner material than Polyurethane so it will require more coats for the same coverage.
Also, polycrylic is far less toxic and flammable than polyurethane. Because of this, polyurethane requires careful storage to prevent a fire.
As we mentioned above, polyurethane can irritate lungs and noses easily, so protective equipment is necessary while applying. This means a good respirator mask, like this.
On the other hand, polycrylic does not have a strong odor and is much less toxic so respiratory protection isn't necessary, but you should work with a well-ventilated area or outdoors.
Clean Up Process
Oil-based polyurethane clean up
Like polyurethane or wood stain, any oil-based product needs to be cleaned up using lacquer thinner, paint thinner, or mineral spirits.
Be sure to wear gloves, eye protection, and a mask when you clean with paint thinner or mineral spirits because the fumes are not good to inhale or touch your skin. It is also best to only use these products outdoors where it is well ventilated.
Anytime you are using oil-based products, like oil-based paint, polyurethane, or wood stain, it is very important to properly dispose of your rags afterward. Don't just ball them up and throw them in the trash because they may spontaneously combust! Yikes!
It is recommended to soak the rags in water immediately after use or put them in an airtight metal container with a lid. After they have soaked, you can then allow them to dry thoroughly spread out flat on the ground or on a metal rack. Two full days should be enough, but it may take longer to dry fully. Once they are completely dry (and hardened stiff), they are safe to dispose of in the trash.
Water-based poly clean up
Water-based poly can be cleaned up from brushes and tools using simple dish soap and warm water. It is best to clean all materials immediately after using them before the poly has a chance to start drying.
Polycrylic clean up
Much like water-based polyurethane, Polycrylic can be cleaned from brushes and materials using warm soapy water. If it has already started drying, you can use some denatured alcohol first.
Types of Polycrylic & Polyurethane
There are so many different types and brands of poly. I've outlined the offerings of two of our favorite brands – Minwax and Varathane below.
Other types of clear finishes: alternatives to poly
Not sure that either polyurethane sealant or polycrylic is quite right for your project? No worries, because there are so many different types of clear finishes out there! Here's a quick summary of alternatives to polyurethane:
Linseed Oil – non-toxic product and a great alternative to poly. We used this on this dress up storage rack and it worked great.
Danish Oil – usually a mixture of tung oil and varnish, penetrates the wood unlike Poly, which sits on the surface of the wood.
Teak Oil – great for dense woods, like teak, mahogany and rosewood. Penetrates into the surface and provides good protection for UV rays and moisture. We used teak oil on this kid's picnic table, which is placed outdoors on our paver patio.
Varnish – good for outdoor products
Shellac – a natural product, offers a warm amber color on the finish, not very heat resistant (will leave white rings when exposed to heat)
Lacquer – very glossy finish, usually applied by spraying, may discolor over time, lacquer is also very toxic. But it dries quickly and is easy to apply. We used lacquer on this wood bench, cane headboard and cane nightstand.
Tung Oil – natural and non-toxic
Spar Urethane – oil-based and has more oil concentration than Polyurethane, great durability for projects exposed to light, heat, and sun, and is also very resistant to moisture and water
Spray acrylic sealer – This is a clear, protective spray that does not yellow. I use this all the time on small woodworking projects and signs – like this DIY wood wall art, this DIY bathtub tray, this DIY farmhouse sign, and even when I repurposed chairs into a bench!
Polyurethane vs Polycrylic FAQ
Which is better: polyurethane or polycrylic?
Polyurethane is better for durability, but polycrylic is better for interior surfaces like cabinets, furniture, and trim. However, for light painted furniture and cabinets, polycyrlic is preferred because it doesn't yellow on the surface.
Is polycrylic the same as polyurethane?
No. Polycrylic is a water-based finish, while polyurethane available in both water-based and oil-based.
What is Polycrylic good for?
Polycrylic is best for interior applications such as cabinets, furniture, and trim and light painted products. It protects the wood pieces and adds a pretty sheen.
Why is my Polycrylic cracking?
This can happen when a hard finish (poly) is applied over a more flexible finish like latex paint. 

We hope you enjoyed this detailed look at the differences between polyurethane and polycrylic. Hopefully, you won't be quite so overwhelmed the next time you go to choose the right clear finish for your project!
What's your next woodworking project?
Let us know in the comments below!