Barn doors are popular, but they aren't realistic if you can't lock them for privacy! Check out these 5 sliding barn door locks as a quick solution.
If you've ever thought about building a barn door or moving into a new home that has a sliding barn door, you may be thinking about how in the world you would ever lock a barn door.
Since there is no traditional door handle with a locking mechanism, you may even think that barn doors aren't realistic because it isn't possible to lock a sliding barn door.
We certainly never would have installed a sliding door on our modern bathroom if it wasn't able to be locked. If you have small kiddos, you know that toddlers have no concept of privacy so locking the bathroom door maybe your own chance for some alone time!
Have no fear! There are several different ways that you can install a barn door lock that works for your specific scenario!
In this article, we'll share 5 unique sliding barn door locks that help you make an informed decision on the best lock for your door!
This sliding barn door locks article contains affiliate links, but nothing that I wouldn't recommend wholeheartedly. Read my full disclosure here.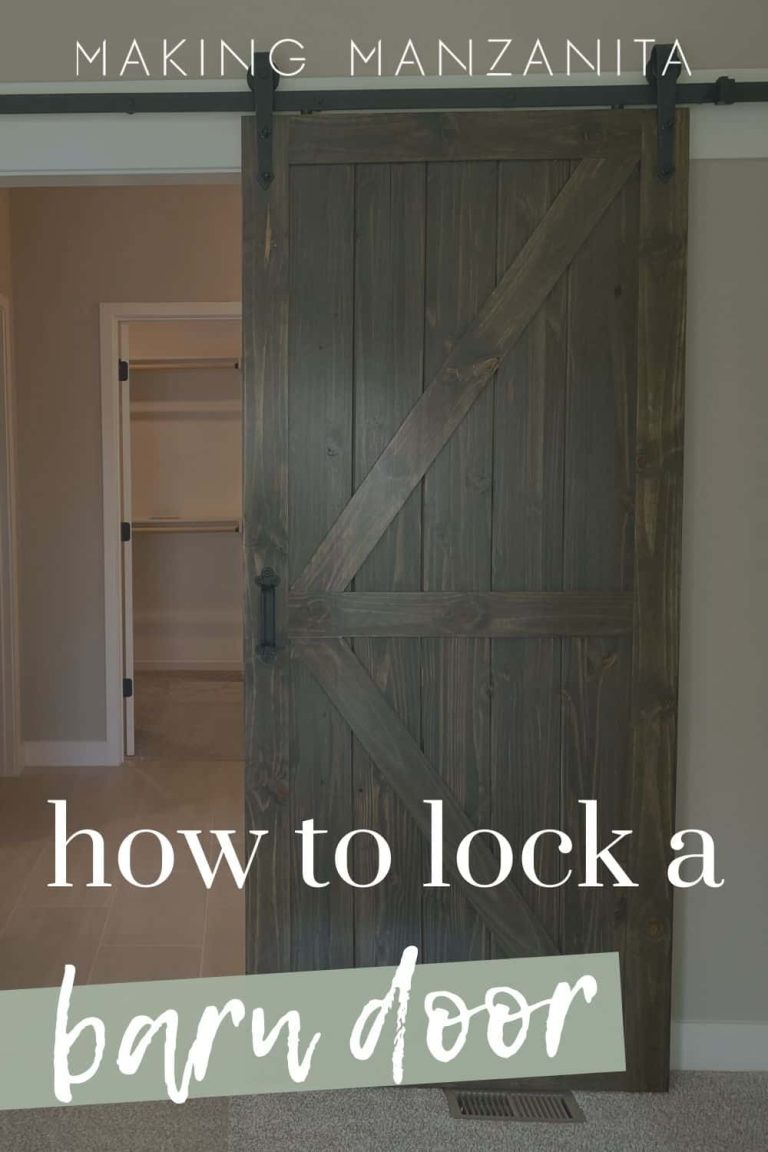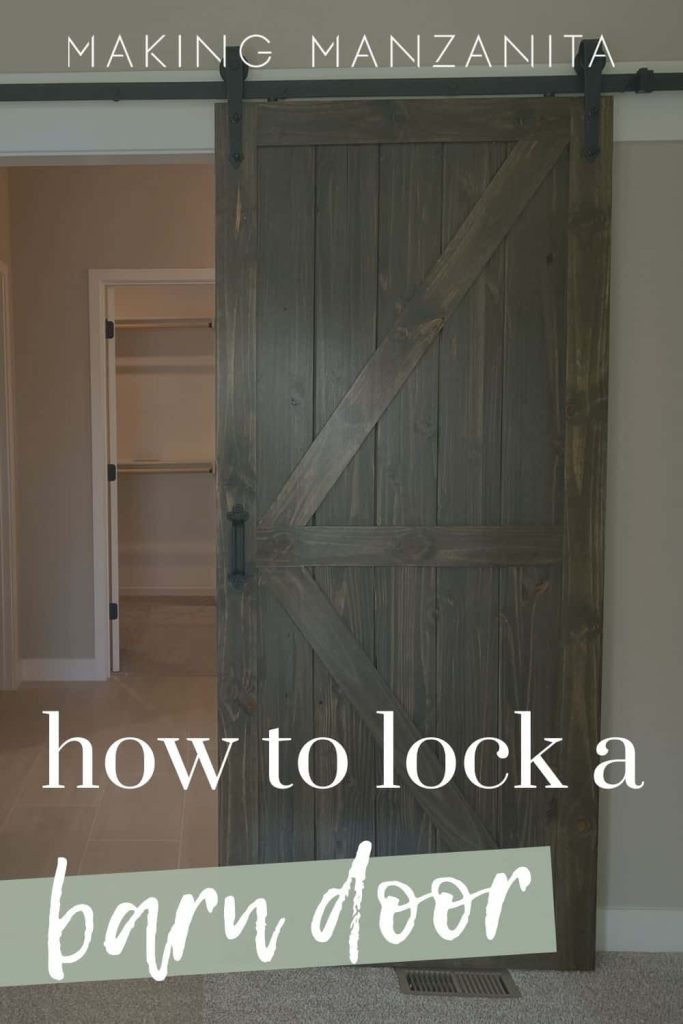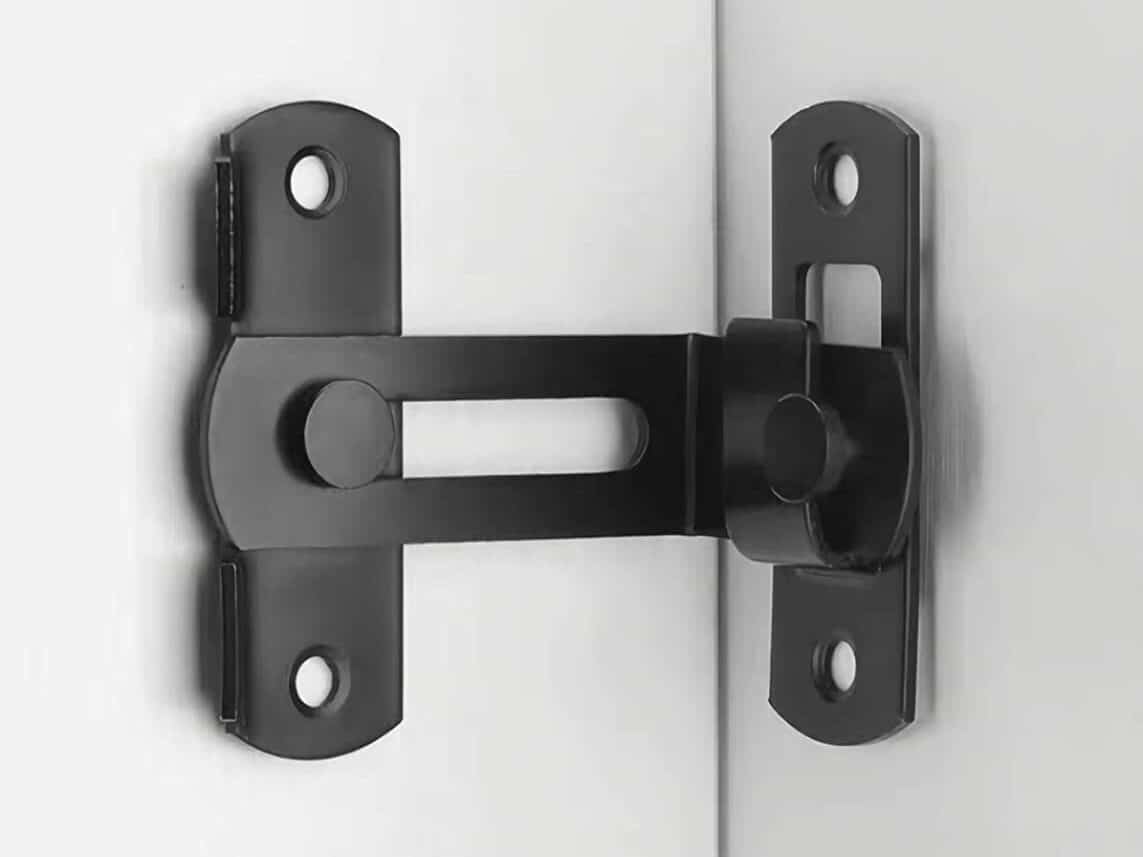 Photo Credit: Amazon
This barn door lock attaches to the inside of the barn door jamb at a 90-degree angle with a latch that slides into the part attached to the door jamb.
This is an inexpensive option to lock your sliding barn door with a simple look. The lock is not able to be unlocked from the outside, if needed.
Photo Credit: Amazon
This is the barn door latch lock that we have in our bathroom and it works great. It attaches to the inside of the door jamb. The sliding wedge-shaped latch attaches to the door jamb, not the barn door.
This barn door lock is easy to install and inexpensive to purchase, which makes it a great solution.
Depending on the size of the gap between your barn door and the wall (due to your baseboards and your barn door track), you may be able to stick your hand into the edge of the barn door to unlock it from the outside if needed.
My 5 year old figured it out eventually, but it's not that big of a deal for us. It is nice to know that there is a way to get into the locked door if necessary.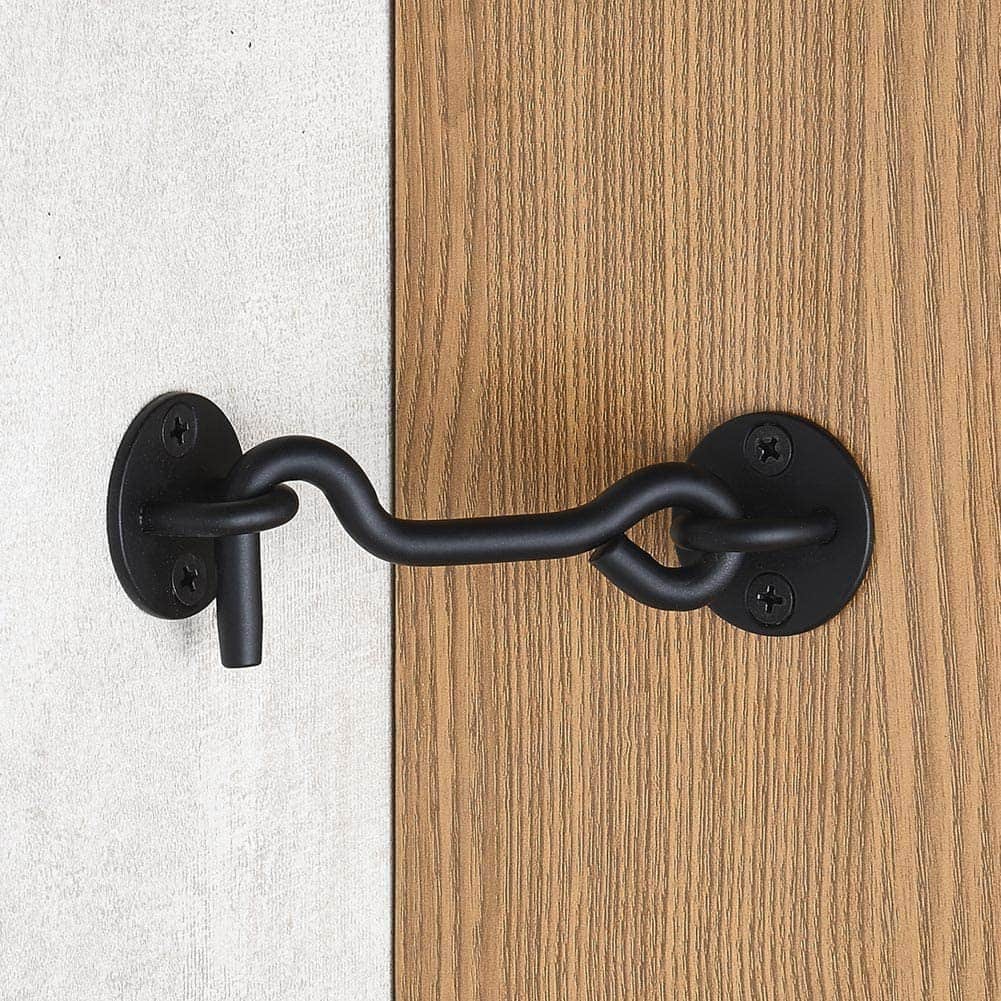 Photo Credit: Amazon
This barn door lock is a super simple solution with a hook and eye design. It could be used to lock two sliding doors together or to lock 1 sliding door to the wall.
You could also use it on a regular swinging door, installed up high where the kids can't unlock it. This could come in handy if you needed to keep small children out of a room, like a pantry if they won't stop getting snacks!
This option is the cheapest of the solutions in this article and seems like it would be very easy to install. It's also great that it has thousands of 5-star reviews - always a good sign!
Photo Credit: Home Depot
This barn door lock solution is more expensive than the other options, but it offers a streamlined solution with a hidden deadbolt and the ability to be unlocked with a hidden release button from the outside.
On this lock, the deadbolt strike plate is installed inside the door jamb, so it is hidden.
It does, however, look a little more complicated to install than the other locks.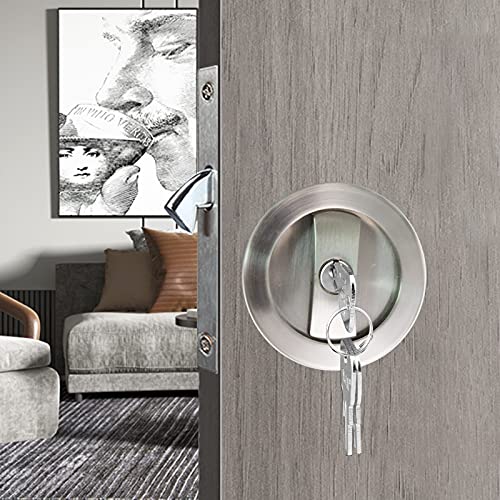 Photo Credit: Amazon
If you need more privacy and the ability to lock your barn door or pocket door with a key, this option may be your best bet. The installation on this one looks to be more complicated than the other solutions, but it has the ability to lock with a key, which is unique.
The actual lock is installed inside of the barn door and the strike plate is installed on the inside of the door jamb. You will need to create a hole for both the lock in the barn door and the strike plate.
It can be bolted from the inside and unlocked from the outside with a key.
There you have it – 5 different sliding barn door locks! One of these is bound to work for your specific sliding door to keep the door locked when you need it.
What else will you need for your barn door?
Barn door
If you're not building your DIY barn door, you'll obviously need to buy one of those! I love this one with the white V-shaped design.
You may even be able to find a barn door kit that comes with the hardware and handle – like this.
Barn door hardware
Remember that you'll also need to think about sliding barn door hardware since there is no traditional hinge for these types of doors. We used this barn door hardware and it worked great for our barn door in our master bedroom.
Handle for barn door
Lastly, you'll need a handle for your barn door. We used this sleek modern handle and it actually came with the door latch locking mechanism! Win-win!
Which of these sliding barn door locks is your favorite?
Let us know in the comments below!