Want to learn how to build a DIY bench? This post has a video tutorial and free wood bench plans for you to download so you can make your own small entryway bench.
Thank you to DAP for sponsoring this DIY bench! All opinions are entirely my own. This post also contains affiliate links, but nothing that I wouldn't recommend wholeheartedly. Read my full disclosure here.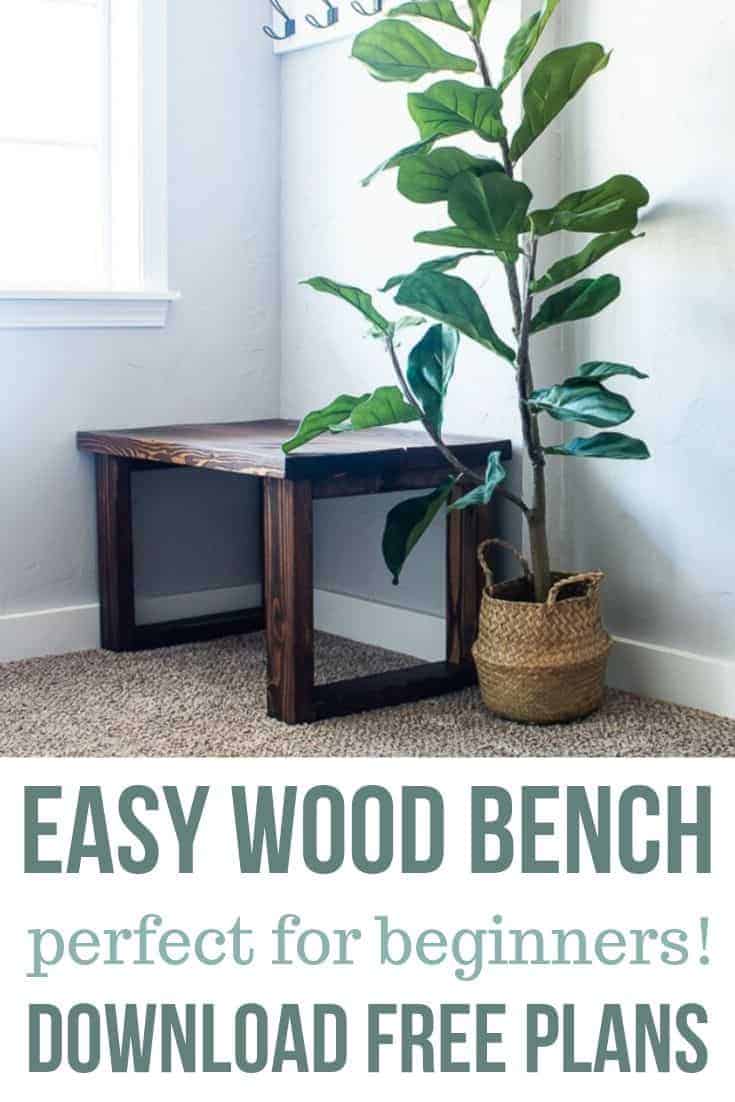 Our small entryway makeover is coming along! This is my 3rd weekly update and we're showing you how to build this small entryway bench (with a video tutorial and FREE wood bench plans!)
If you want to catch up on our small entryway makeover, here you go:
Week 1 – 21 Small Entry Way Ideas
Week 2 – DIY Key Holder With Modern Farmhouse Style
Week 3 – Easy DIY Bench For Small Entryway – you are here!
Week 4 – Small Entryway Reveal!
This small DIY bench is not only super cute, but functional too! It's the perfect place to sit to take on and off your shoes in the entryway.
Before we get started on the supplies and showing you how to build this DIY bench, let me just say that this thing is SO SO so easy to make. I tend to rely quite a bit on my handy husband, Logan, for a lot of projects….but this one I was able to tackle almost 100% by myself!
That means that if you're a beginner when it comes to woodworking, this is a great project for you to try!
The joinery is simple. The plans are free. The wood is pretty cheap. This one is for you, newbies.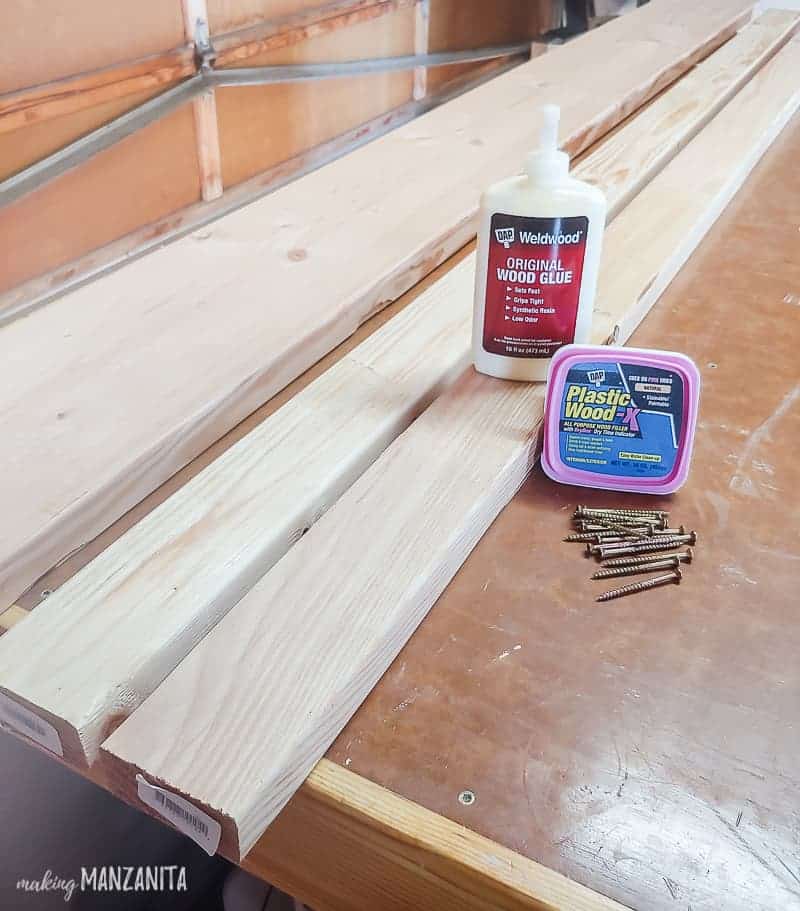 Supplies for DIY bench:
2×4's – I needed two
10 inch oak
2.5 inch construction screws
Staining rags
Sandpaper (80 & 150 grit)
Tools for DIY bench:
Drill
Clamps
Putty knife
Tape measure
Watch how to make this small entryway bench!
If you love DIY videos, be sure to subscribe to our YouTube channel!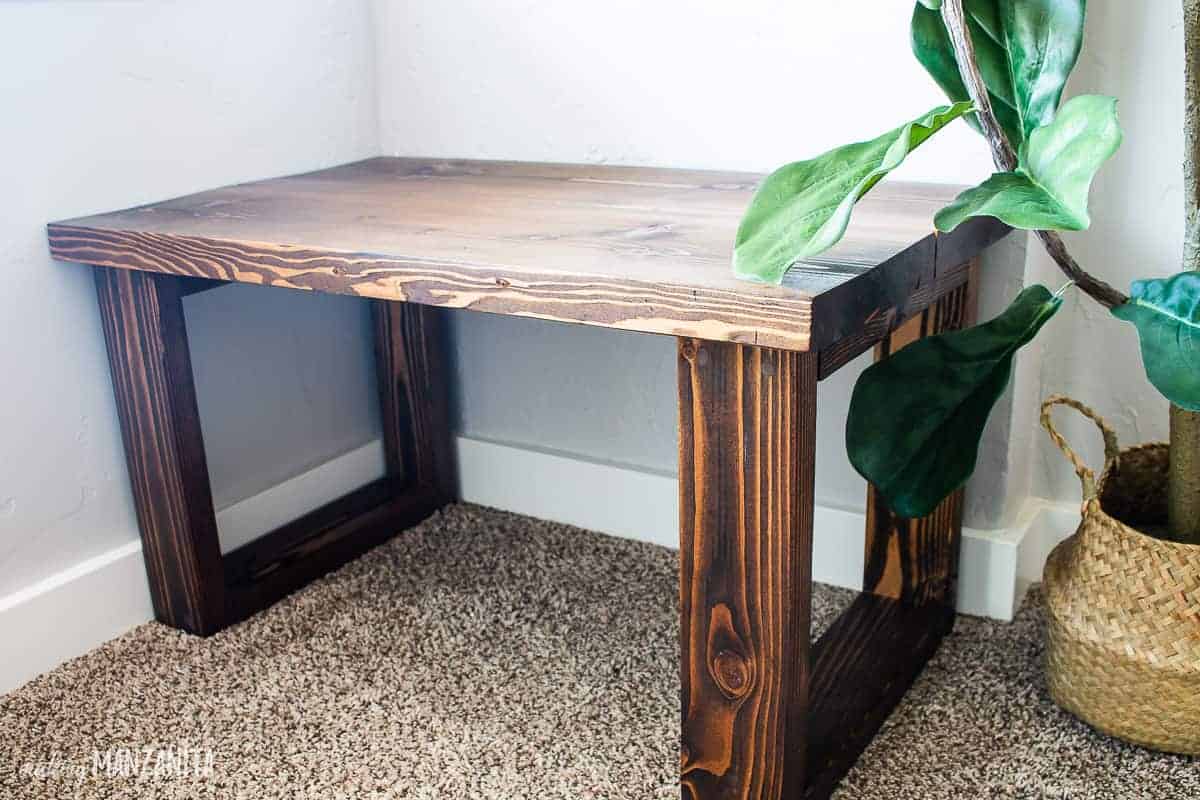 Isn't it perfect? It is like it was made for that spot or something! 😉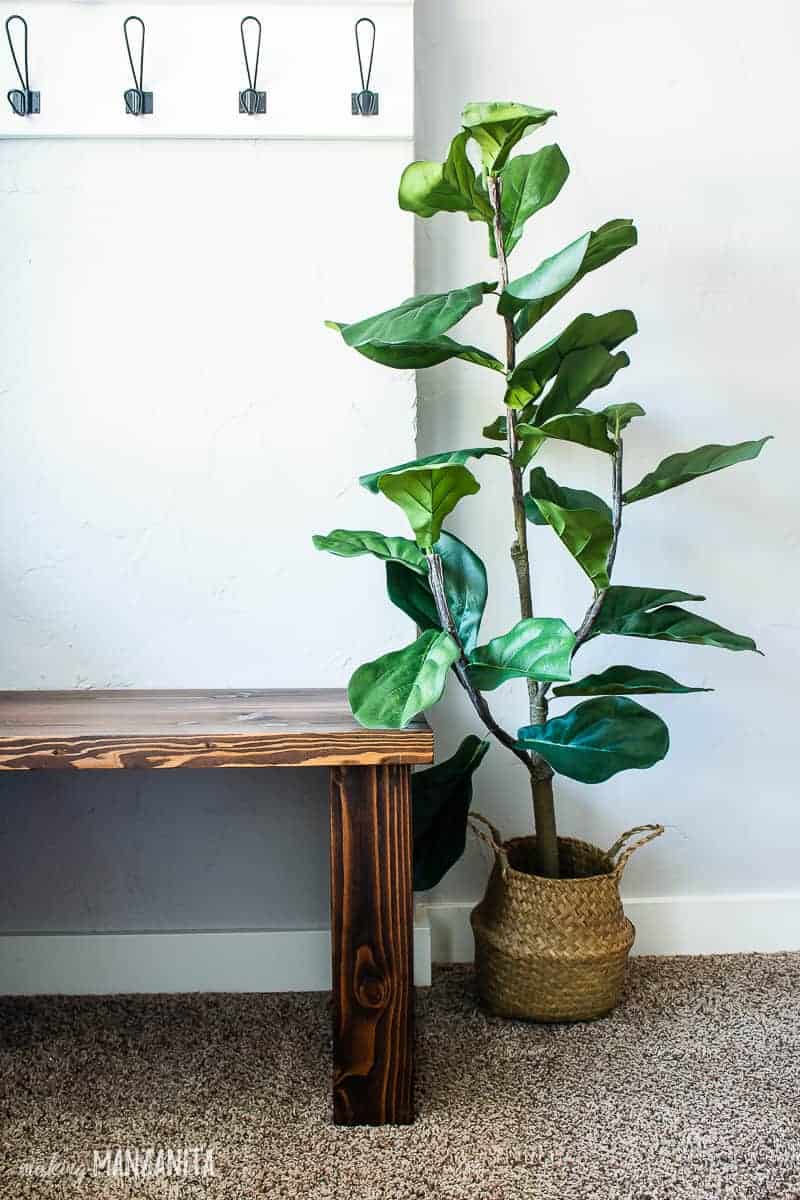 It was built to fit perfectly in this little corner and built to fit over our a box which will slide underneath to hold our shoes.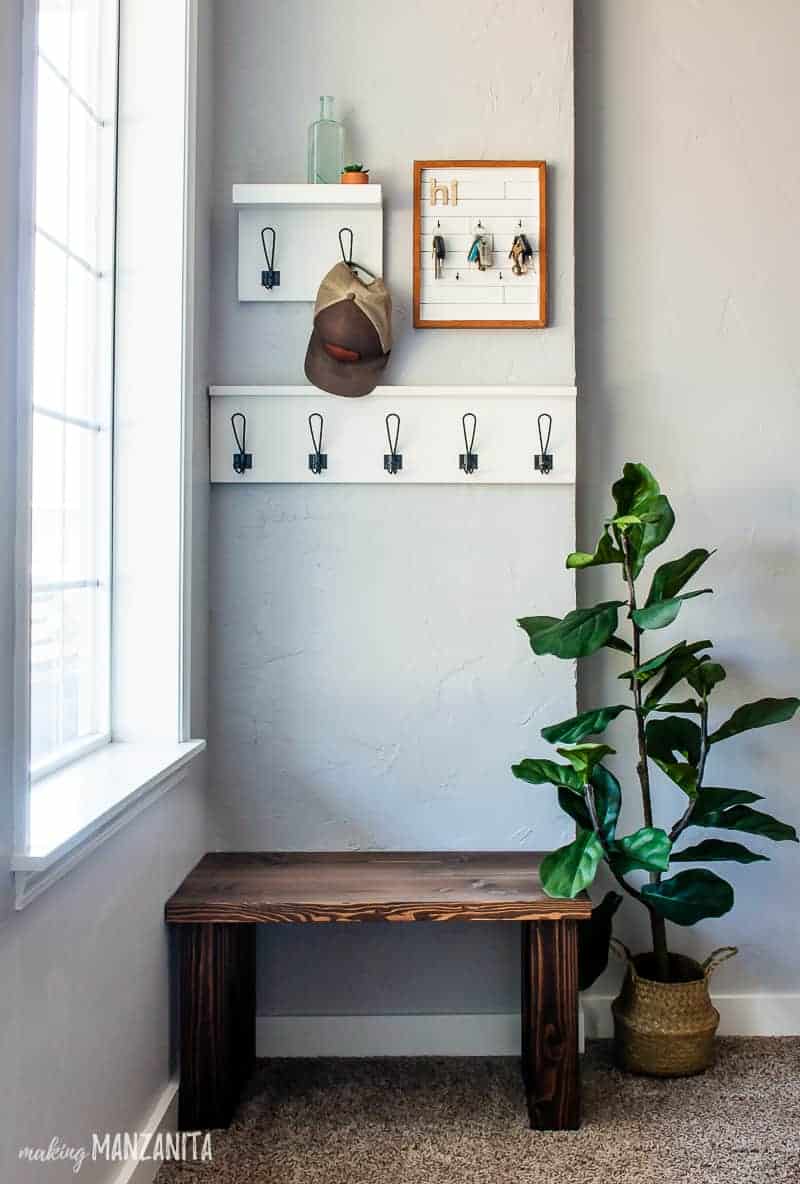 I already have the box (it's this one from Hobby Lobby), but I'm going to be giving it a fun makeover before the big entryway reveal. So be sure to check back next week to see how that box turns out.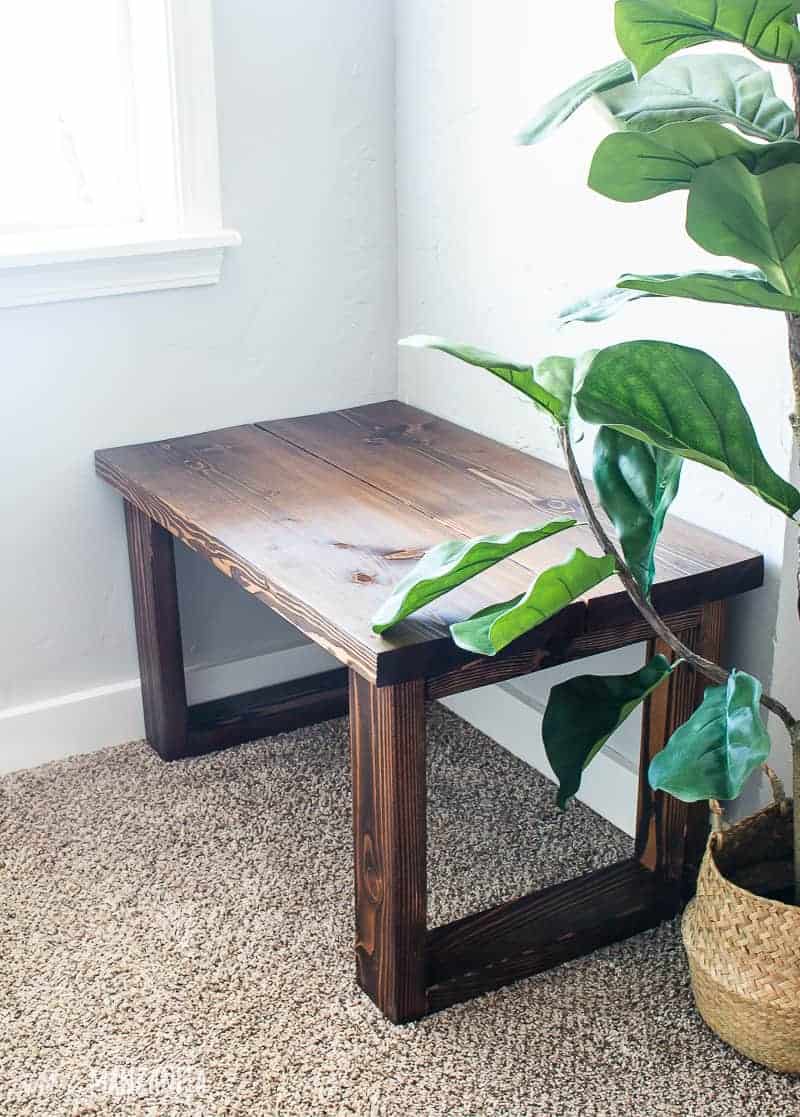 I was unsure about what color to stain it. I'm so glad that I went with a darker stain. It provides a nice contrast to the lighter color on the coat racks and key holder.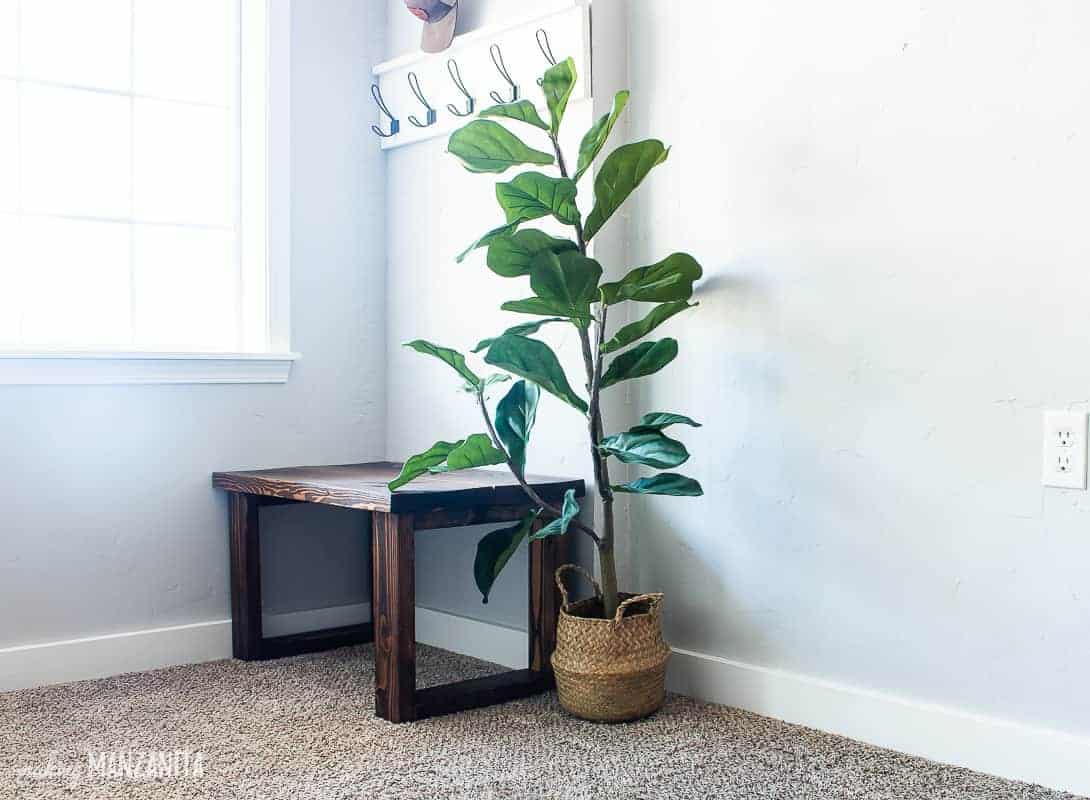 Download the free wood bench plans!
If you're going to be making this small entryway bench too (and you totally should because 1. it is cute and 2. it looked pretty easy, right?) – you're definitely going to want to download the plans. They will walk you through exactly what you need to do to make this bench come to life.
All you have to do is sign up below to get the plans sent directly to you.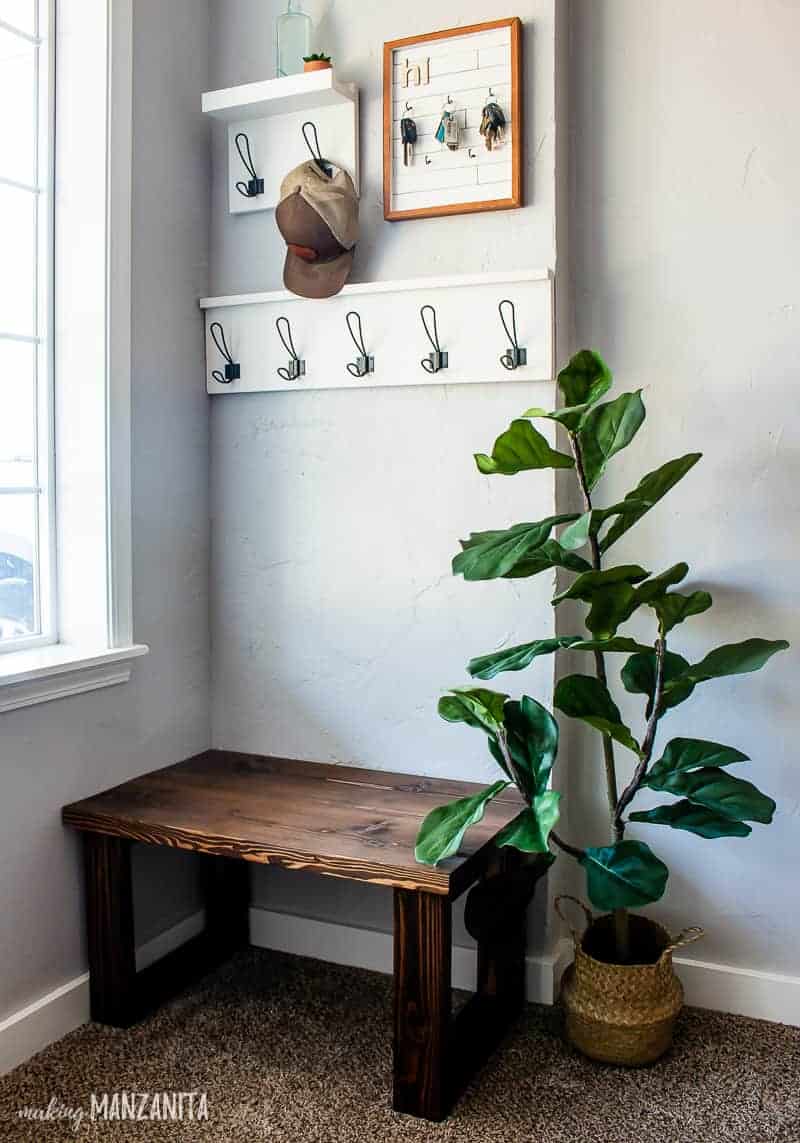 I can't wait to see how you guys use these wood bench plans to create one for your house. Be sure to send me pics or tag me on social media @MakingManzanita.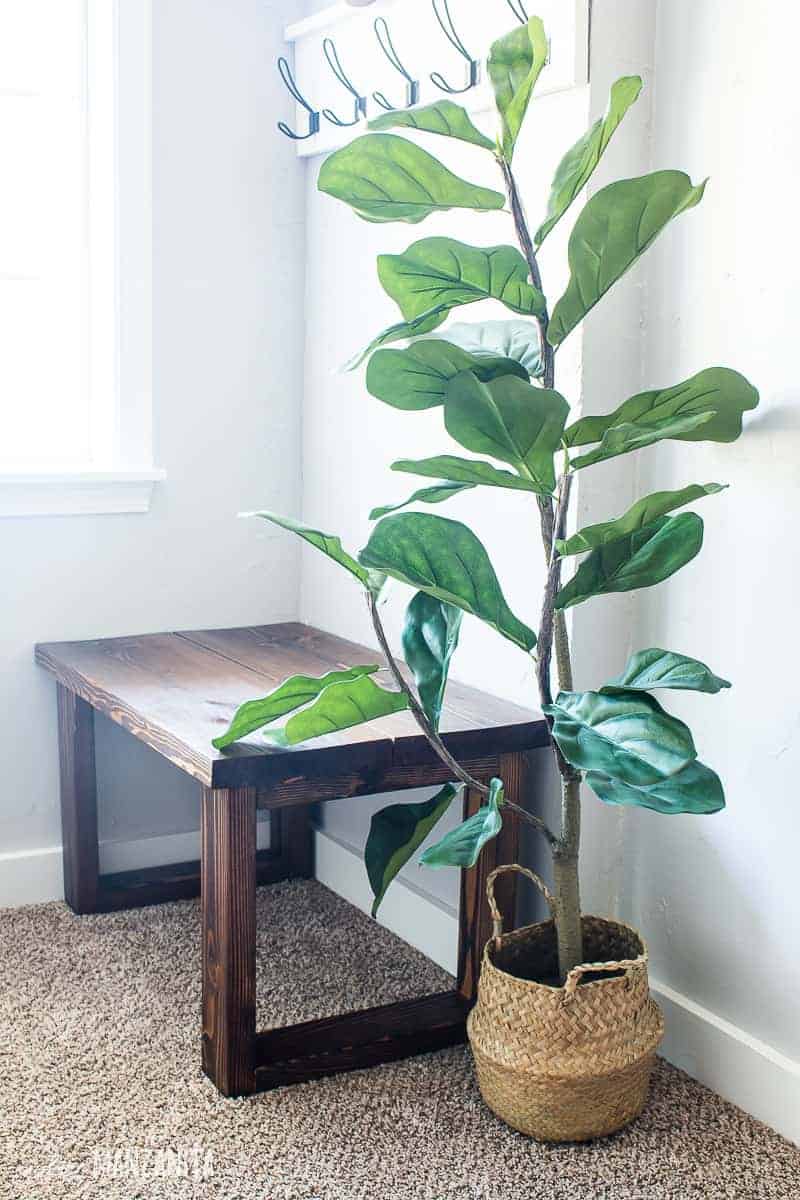 What have you been DIYing lately?
Let us know in the comments below!