If you are a beginner ready to dive into woodworking but aren't sure where to begin, this woodworking tools list will help you knock out your first project. Wondering which tools you should invest in first when getting started, these woodworking tools for beginners are our favorites.
We get a lot of questions about how we manage to do it all…the renovations that is! It's quite simple, really. We've learned a lot of lessons along our DIY journey. The one that sticks out the most is which tools are worth the splurge, the save, and which ones are actually necessary.
Woodworking is more than a DIY project, it's truly an art. With each project, you are creating a piece of work that can be cherished for years to come!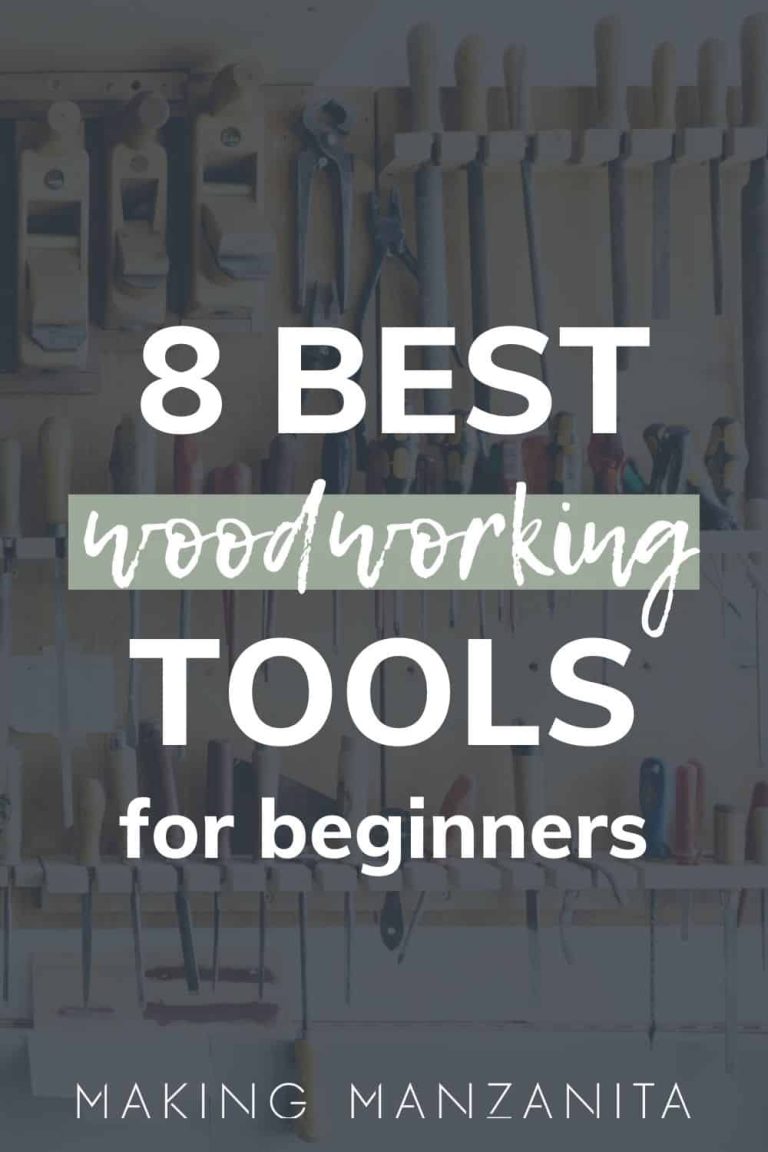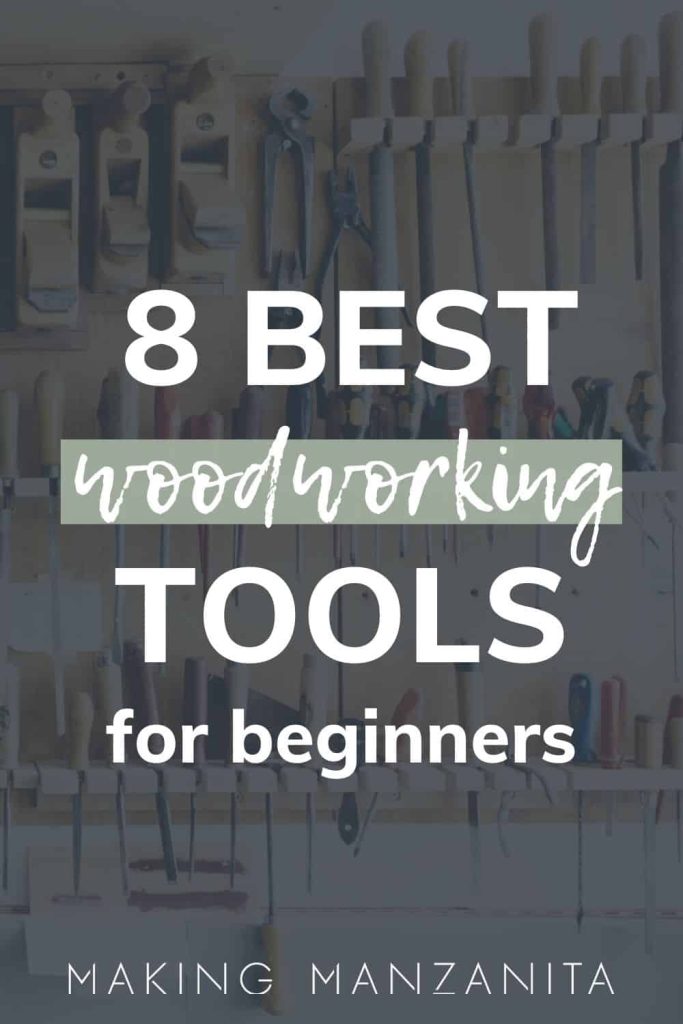 A little sage advice: If you are new to woodworking, start small with a simple wood project that has free plans included. We have a ton of ideas for easy woodworking projects you can tackle in a weekend!
Rather than tackling a larger project, like a whole wall of built in cabinets, starting small will help you become familiar with your tools, materials, and prevent waste. You will probably make some mistakes, but the perseverance will pay off!
Heading to The Home Depot with an idea in your head and a shopping list in your hand can quickly become overwhelming and confusing. With so many tools on the market, it's best to stick to the essentials as you begin your woodworking endeavors.
This woodworking tools for beginners list contains affiliate links, but nothing that I wouldn't wholeheartedly recommend anyway! Read my full disclosure here.
8 Essential Woodworking Tools for Beginners
8 Woodworking Tools for Beginners
A miter saw is our number one recommendation for someone looking to start woodworking. A miter saw allows you to cut at a variety of angles and easily cut wood boards to length.
You might use this tool for cutting faux shiplap down to size, crown moulding, picture frames, door frames, etc. This tool is easy to use and very versatile. 
We recommend purchasing a brad nailer and a finish nailer for your woodworking projects.
A brad nailer is your basic nail gun that uses smaller gauge nails.
A finish nailer is a slightly bigger gauge nail, which meals the nails and holes they leave are bigger. Of course, that also means they have a stronger hold that a brad nailer can't achieve. 
Further reading - For the full explanation of the similarities and differences between the brad and finish nailer, check out this post here.
Chances are, if you are already doing home improvement projects or renovations, you have a drill and drill bits. If that's not the case, we highly recommend this cordless option as a drill and driver combo. Drill bits will need to be purchased separately.
You will use an orbital sander to smooth and prepare your woodworking surface for painting or staining. They do produce a lot of dust so be sure you get one with a port that hooks into a ShopVac to keep things cleaner.
If you're a beginner woodworker, an orbital sander will really make life easier if you are planning to paint or stain one of your projects.
A circular saw is designed for cutting wood for various projects. It's a great tool because you can use it to cut plywood without a table saw. You can read more about that in our vertical shiplap post.
If you are building a project to be assembled with screws, like a bench or chair, a Kreg Jig K5 Master System is the way to go when creating pocket holes. 
Pocket holes are the angled "holes" that allow for placing screws and assembling furniture. You can read more about how to use a pocket hole jig here.
Air compressors are versatile and affordable tools that will save you a lot of space in a storage shed! Pneumatic tools require the use of an air compressor to work, such as sprayers for painting and staining, nail guns, etc.
This tool will be like gold during woodworking and renovation projects! A Shop Vac is a vacuum that can handle wet and dry clean ups, and pick up debris you wouldn't want your home vacuum to touch. 
The model we've linked also has a leaf blower attachment, which can also be used to quickly blow off any sawdust or debris from your working surface.
There are so many things we wish we would have known when we started as beginning woodworkers, especially knowing which tools are essential.
We hope our round up of our favorite woodworking tools for beginners helps takes some of the guesswork out of the equation for you.
With the our woodworking tools list above, you will be completing your first project in no time!
Do you have a favorite woodworking tools?
Let us know in the comments below!