As warmer weather approaches, it's time to prepare your yard for spring. A good spring clean up for your yard and landscaping lays the groundwork for a beautiful yard you can enjoy during the warmer months.
Spring is the perfect time for a fresh start and a great opportunity to get your lawn and garden in order, but the preparation and actual work can be a daunting task.
That's why we've put together this checklist of basic tasks to make your spring cleaning in your yard as easy as possible! Read on to learn how to make the most of your spring yard cleaning and get your lawn ready for the new season.
If you've followed our fall clean-up checklist for your yard, preparing your lawn and garden for spring shouldn't be as daunting. Once you get in the habit of maintaining, it makes it easier every time you tackle a yard cleanup.
Landscaping can take many forms, from something as simple as a mowed lawn to more elaborate designs incorporating trees, shrubs, and ornamental plants. Caring for your yard and garden adds curb appeal and a welcoming space for all who visit your home.
Our biggest piece of advice is to start with the basics, like keeping your yard clean and free of debris, along with staying on top of weeding and caring for the lawn and garden beds, especially if you're operating within a tighter budget.
Simply staying on top of your regular yard work is a good place to start. After you have a healthy lawn, you can expand your spring duties to incorporate a garden, flowerbeds, shrubs, trees, and other aesthetic items.
When should you do your Spring yard clean up?
Wondering what the best time of year is to clean up your yard?
Here's what we do… We like to dedicate a whole day in early Spring once the weather is warm and sunny to spend outside as a cleanup day for the family. This is where we tackle most of the things on our list of items.
If spending a whole day dedicated to your yard clean-up isn't possible, spread it out and do a clean-up week, spending 30 minutes every day taking care of things.
Depending on the size of your yard, you may need more or less time! Spend some time taking stock of your yard to see, realistically, how much time it will take.
Whenever you tackle these spring yard tasks, you definitely want to take care of them before Spring is in full swing to make the most of your warm weather.
Getting your backyard cleaned up will make you want to spend more time outdoors, so we recommend doing this as soon as the weather improves where you live.
Essential Yard Tasks for Spring Clean-Up
1. Clear Away Yard Debris
When it comes to essential tasks for spring cleaning your lawn and garden, the first step is to rake away debris, unwanted items, and dead leaves from the previous autumn and winter season. Prune dead wood and overgrown branches, as well as any weeds to create a clean canvas for new growth and planting space.
If you have plans to add flower beds and new plants, you'll want to put a lot of your focus into those areas. Be sure to clear away any beds from thatched grass, dead foliage, grass clippings that have blown into beds, small limbs, and any other unwanted growth in those areas to give you a good starting point.
2. Turn On Sprinkler Systems
It is important to check all irrigation systems and repair any broken or aging hoses or sprinklers ahead of the warm weather.
Before winter arrived, you should have completed a sprinkler blowout, which protects your irrigation system and pipes from bursting. As the warmer months approach, you will be utilizing your sprinkler system to keep everything watered and healthy.
You can turn your sprinklers back on after the winter once the temperatures are consistently above freezing (even in the middle of the night). For us, that is usually in April or May.
Turning your sprinklers back on after Winter is simple. Here's how you do it:
Slowly turn the water valve back on at the Sprinkler control box.
Run each zone separately and independently, and check each for signs of low pressure, line breaks, or broken sprinkler heads. Make sure each sprinkler head is rotating correctly and fix it if needed.
Set up an automatic watering schedule at the controller.
Spring is an excellent time to do a few test runs of your sprinkler to avoid any issues.
3. Make a Plan
Once you have removed the old, it's time to start assessing what new plants or features you'd like to add to your yard. Whether that be new flower beds or trees – this is a great opportunity to refresh your outdoor space!
Start with envisioning the goal – what do you want your yard to look like? Think of a few focal points or areas you want to emphasize and how they should be decorated. This could be vertical garden planters for herbs, refreshing a back deck, or timing new grass seed planting.
Pre-planning your garden layout and planting locations can save you time and energy later on in the season. Don't forget to keep a budget in mind as landscaping gets expensive!
To make sure it comes together seamlessly, think about how the elements will work together. Are there any unique textures or colors that can tie everything together? Don't forget to consider any hardscaping such as pathways or stepping stones, patios, and creative borders around the flower beds to add visual interest to your exterior space.
4. Planting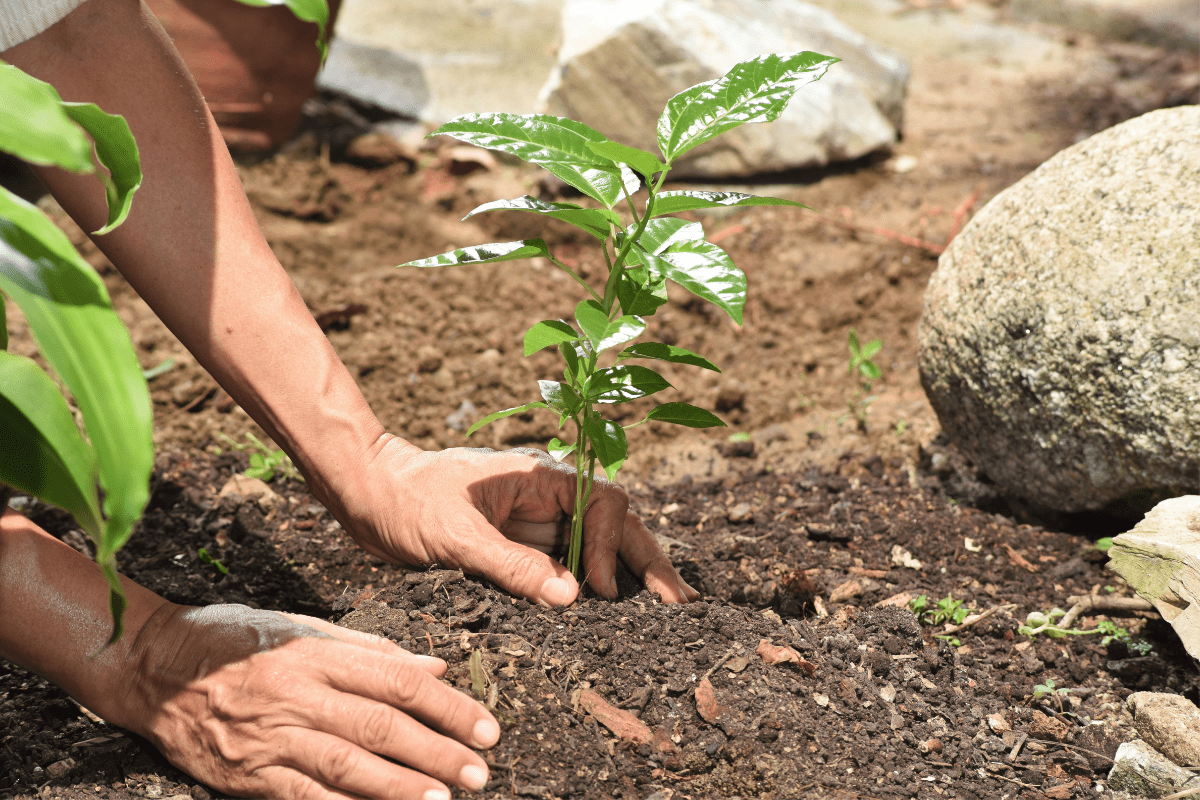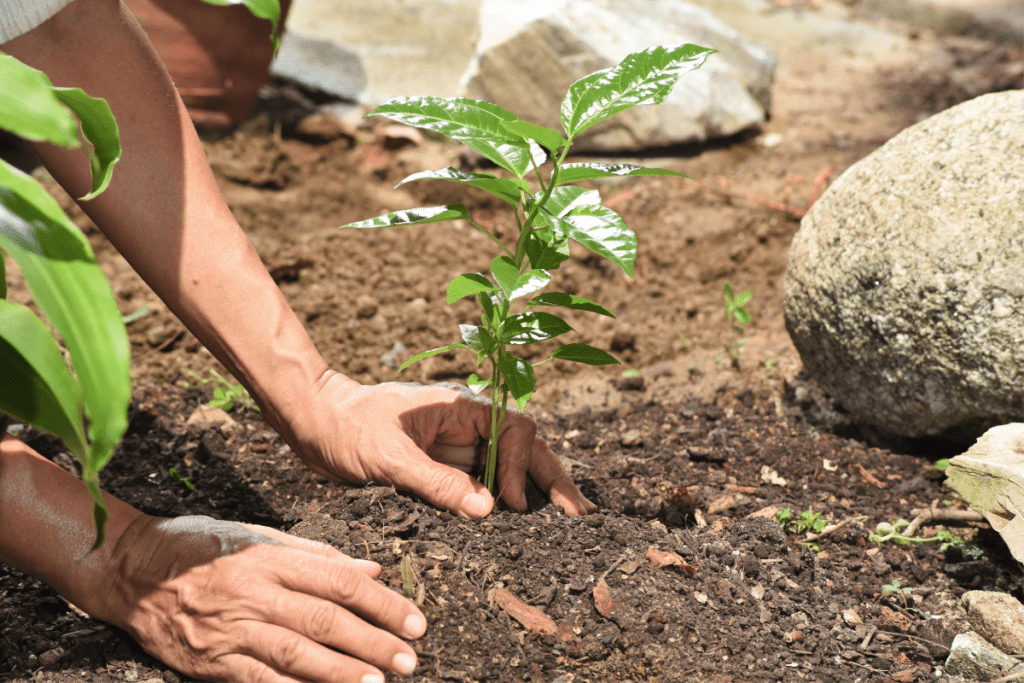 Once you've made a plan for your Spring planting, it's time to make it happen. Whether you are planting seeds, bulbs, or already started plants from the home improvement store, getting the plants into the ground is an essential part of your Spring yard clean-up session!
Here's a quick summary of how to plant a plant:
Use a small shovel to make a hole that is deep enough for the top of the root ball to be approximately 1 inch below the surface.
Gently massage the bottom of the root ball to make encourage the roots to grow outward once planted.
Place the plant into the hole.
Backfill your hole with soil. Use a mixture of new soil and old soil. As you add the dirt back in, gently press down to make sure there aren't any big pockets of air in the hole.
Continue filling until the soil is level with the surrounding dirt.
Water immediately.
Here's a quick summary of how to plant a bulb:
Check the instructions to see how deep the hold should be for your bulb, each one is a bit different.
The depth of the hole is measured by the space between the line of the soil and the top of the bulb.
Use a small shovel to make a hole that is the correct depth for your spring bulb.
Set the bulb into the hold. Be sure it is pointed the right way (sprout/roots should be pointed down).
Backfill your hole with soil. Use a mixture of new soil and old soil. As you add the dirt back in, gently press down to make sure there aren't any big pockets of air in the hole.
Continue filling until the soil is level with the surrounding dirt.
Water immediately.
5. Replenish Mulch
After pruning and planting, add a layer of fresh mulch to existing hedges, flower beds, and trees. You typically can just add the new mulch directly over top of the old mulch. The best time to add mulch is late Spring after the soil temperatures have risen.
There are so many benefits of using mulch in your hard, like preventing weed growth, enriching the soil, and adding curb appeal to your home.
Additionally, choosing the right colored mulch for your flower beds and borders will add more color and life to your lawn.
There are a lot of different types of mulch, check out this guide to learn more about 11 popular different types of mulch to choose the one that works best for you and your yard!
6. Fertilize Your Lawn and Garden
Spring is a great time to use a good fertilizer to give your lawn and garden a healthy boost of nutrients for the new growing season.
The type of fertilizer you use for your lawn and garden depends on where you live, what type of grass (and garden) you're growing, and any pain points or problems that might be present (ie: moss, bugs, weeds, etc).
Other things to consider for your Spring yard clean up
When you are making a plan for your lawn and garden, don't forget about your budget. Much like other home improvement projects, landscaping is expensive! And it never fails that you find something that needs to be replaced, which takes priority over the more "fun" projects.
Additionally, a lower maintenance yard might be better for someone who isn't a natural green thumb. Evergreens, like hedges and trees, stay green year-round and require very little maintenance and upkeep. In fact, they pretty much take care of themselves. While this may be a bigger hit to the wallet at once, it really pays off for the curb appeal that hangs around all year.
Getting ready for spring cleaning in the yard and garden doesn't have to be complicated. You can start by focusing on a few easy landscaping tasks that will help you get your lawn and garden feeling refreshed and renewed.
Landscaping not only provides a great aesthetic for your property but can also provide an opportunity for outdoor leisure and entertainment. With springtime coming, now is the perfect time to take on that outdoor project and create the landscape of your dreams!