Looking for ways to spruce up your backyard deck area, but don't want to spend a lot of money? Check out these genius backyard deck ideas on a budget!
There is a myriad of backyard patio ideas for upgrading and decorating an outdoor space, most of them requiring a lot of cash.
However, for those people who have more time and vision than money, there are some decorating creative ideas for an outdoor area on a tight budget that can transform wooden decks into an inviting space ideal for relaxing and entertaining on summer nights.
A great way to do this is to dedicate a couple of weekends to some sweat equity projects, and you can have a small backyard deck that reflects your personal style.
You'll love these backyard deck ideas on a budget! Keep reading to get inspired on how to update your space, even if you don't have a lot of cash to spare.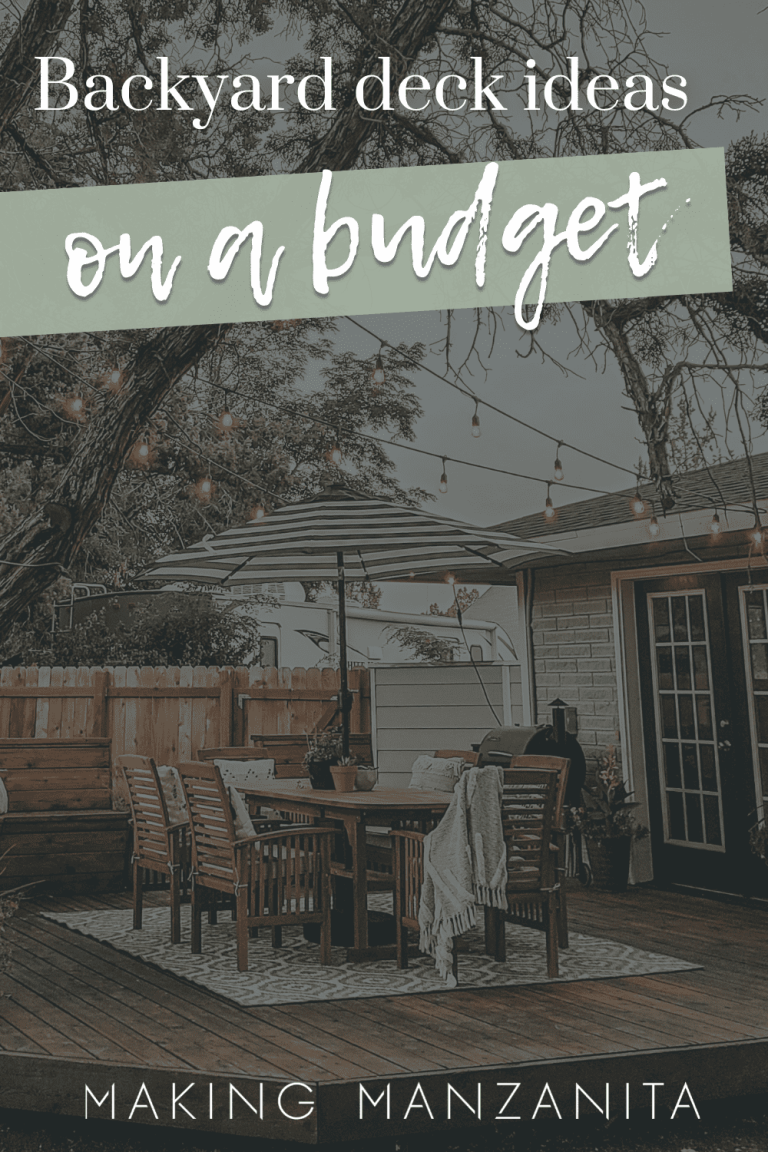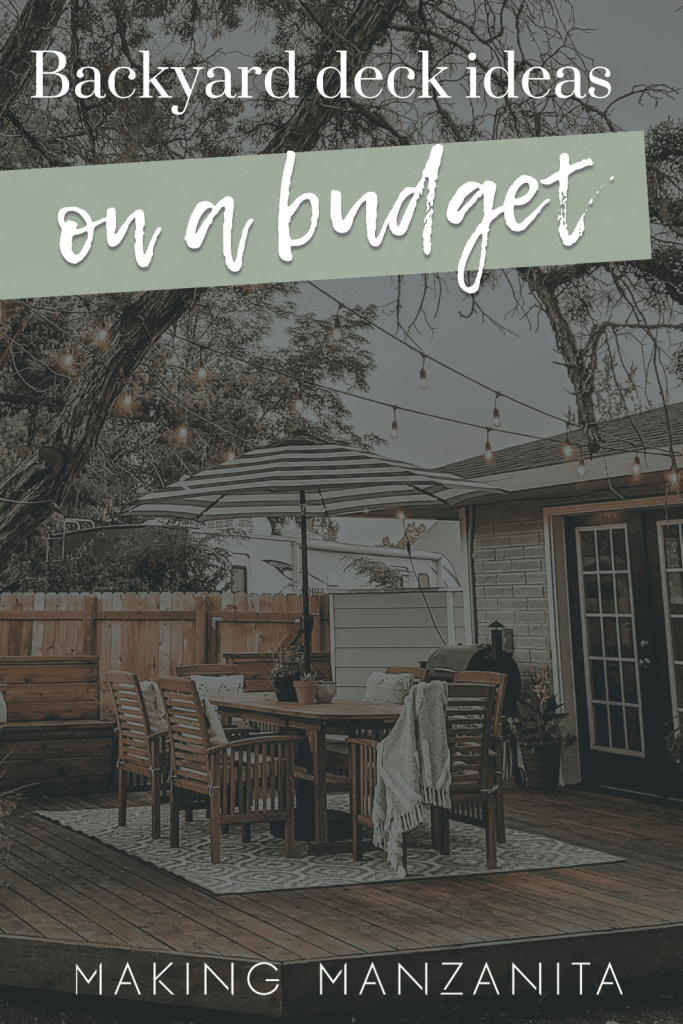 This backyard deck ideas on a budget article contains affiliate links, but nothing that I wouldn't recommend wholeheartedly. Read my full disclosure here.
Cheap Backyard Deck Ideas
Regular decks transform a backyard into a usable area for entertaining, cooking, or just lounging around. If your deck is getting a little tired looking, spruce it up without spending a small fortune.
Types of deck decorations
Simply adding a few deck decorations or furniture is the easiest way to update your deck on a budget.
There are several types of deck decorations to choose from. There are architectural elements, such as trellises, gates, pillars, fencing, and roofing (which are a little more expensive). There are functional decorative elements, such as furniture and lighting that are also a great addition to your lounge area.
Outdoor artwork and accessories don't cost too much money and are the easiest choices for decorating a deck.
Deck seating
Your cheap deck decor should begin prioritizing seating. After all, it does no good to invest your entire budget in cool Tiki torches if you still have nowhere to sit. If you're looking for backyard deck ideas on a budget you should plan for cheap seating and shade possibilities before worrying about the overall design scheme.
Various sizes of beach chairs are an affordable choice, but you may have some luck finding old outdoor patio furniture at thrift stores or Facebook Marketplace.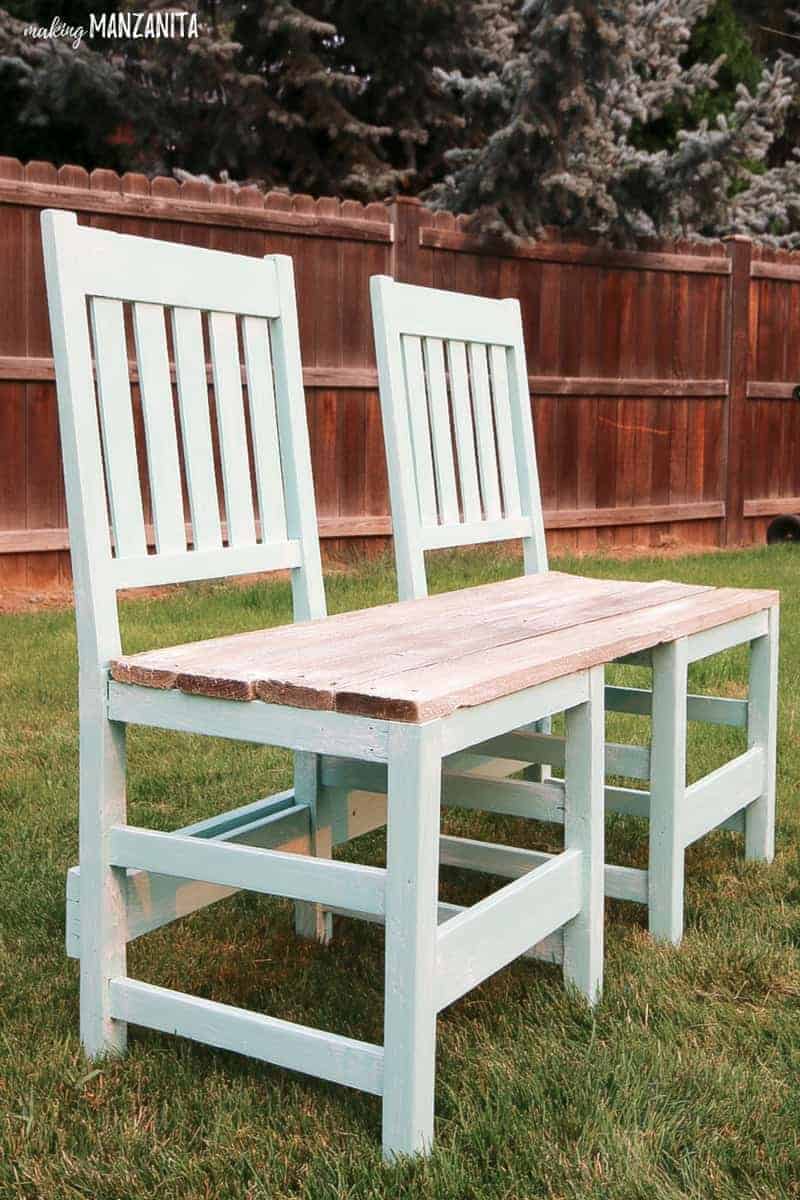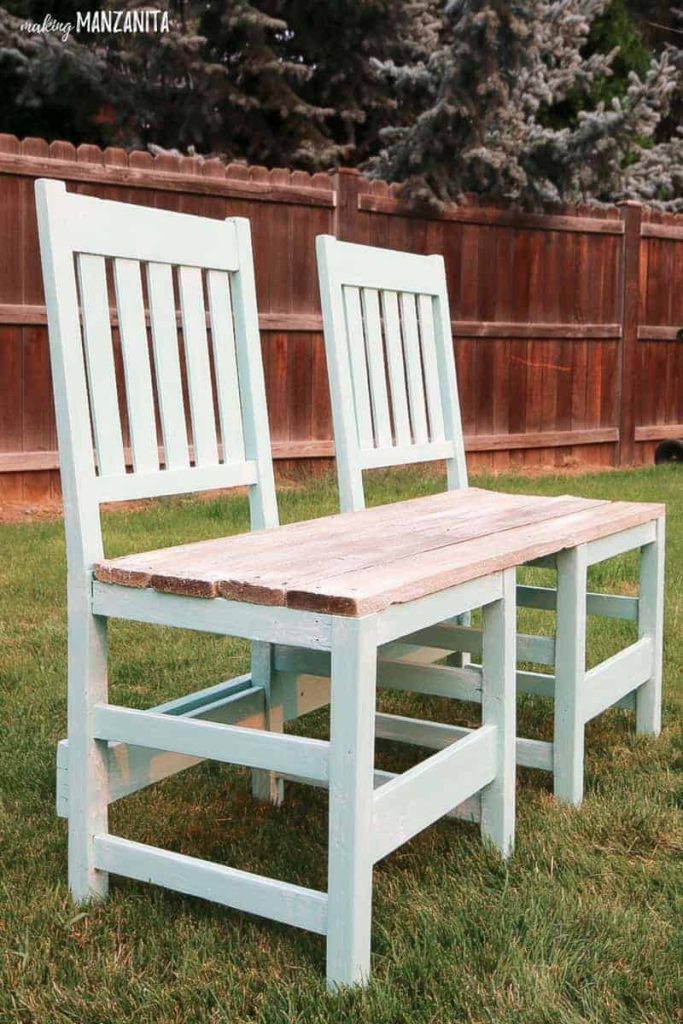 You can even transform two wooden chairs into an outdoor bench by removing the top and adding pallet wood, as we did. This is one of my favorite backyard deck ideas on a budget.
When looking for used outdoor furniture to use, give it a little shake at the top to check if it is solid and doesn't rock when moved. As long as the chair frames are solid, most outdoor furniture can be stripped, sanded, repaired, and repainted with enamel paint.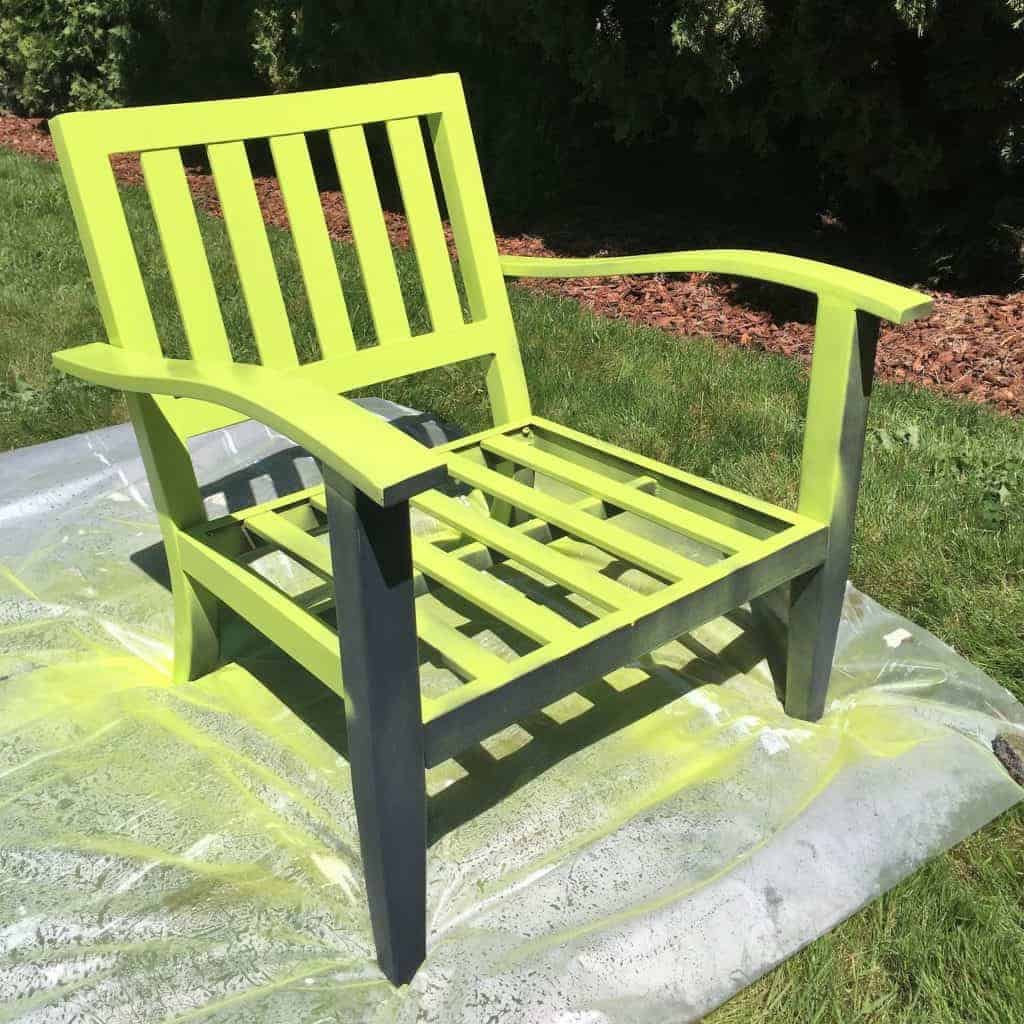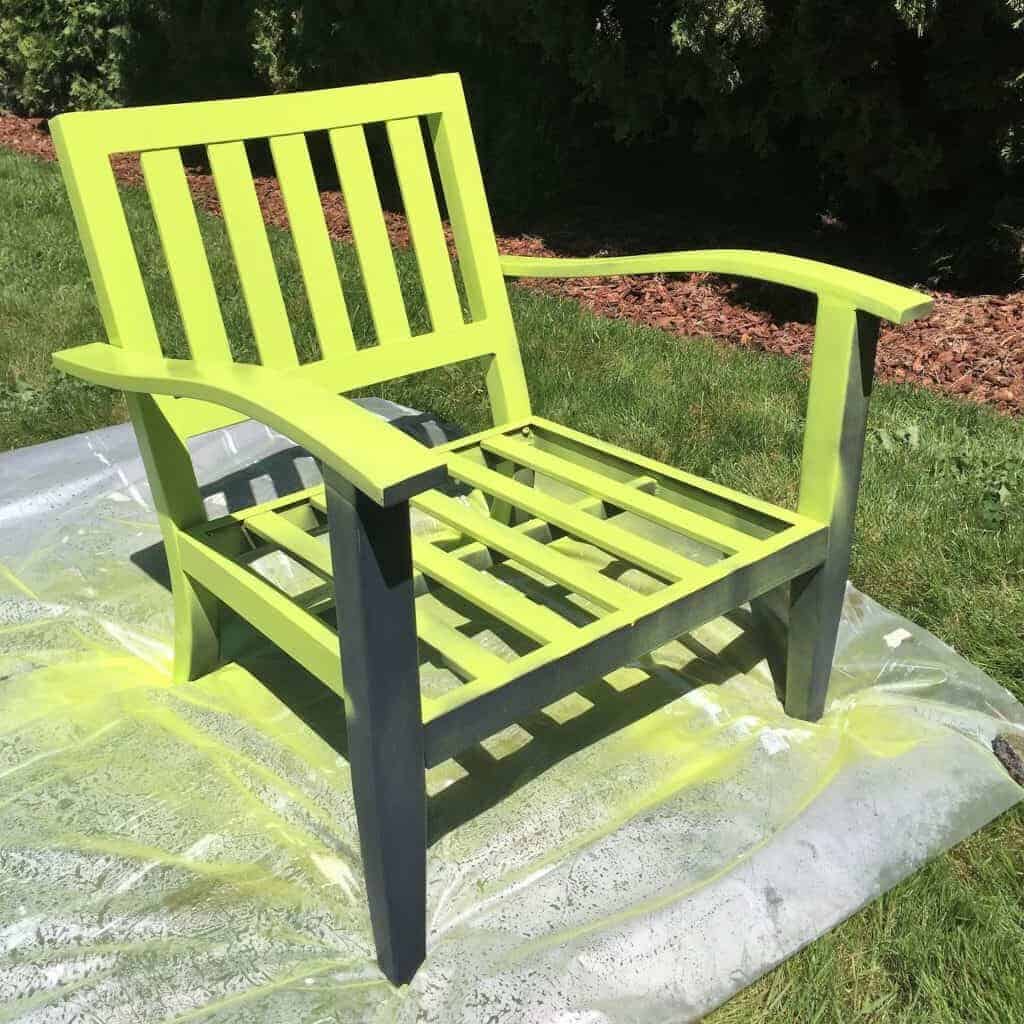 You can even refresh metal patio furniture with spray paint, as Joyful Derivatives did here. Check out this great guide on refreshing metal outdoor furniture!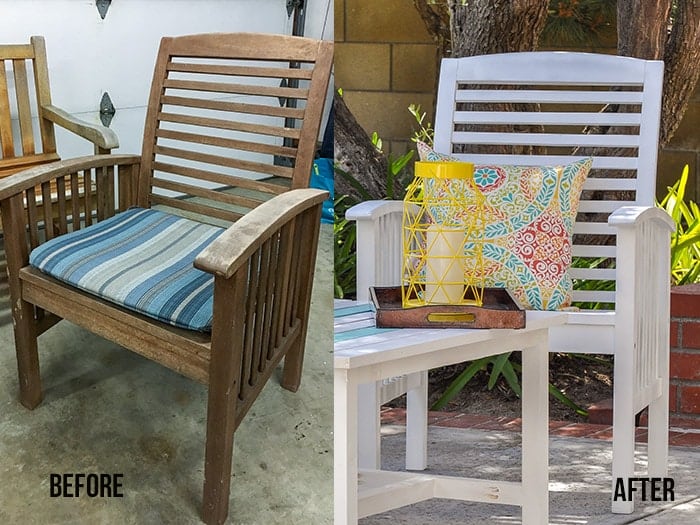 Painting outdoor wooden furniture requires a few more steps. Anika walks you through the entire process of painting outdoor wood furniture here.
You can also go for the shabby chic look by using mismatched pieces donated by friends and family or scavenged from yard sales. Just give everything a fresh coat of antique white paint and add some cushions and throw pillows.
A warning when working with vintage wood furniture
Some vintage items may contain lead paint or surfaces where paint is chipping, which is dangerous if swallowed. You can easily test the paint for lead paint using these kits.
Carefully strip, repaint and seal any pieces that will be around babies and young children. Check pieces for splintering wood or loose hardware that can make furniture hazardous.
Cheap outdoor decorations from upcycled items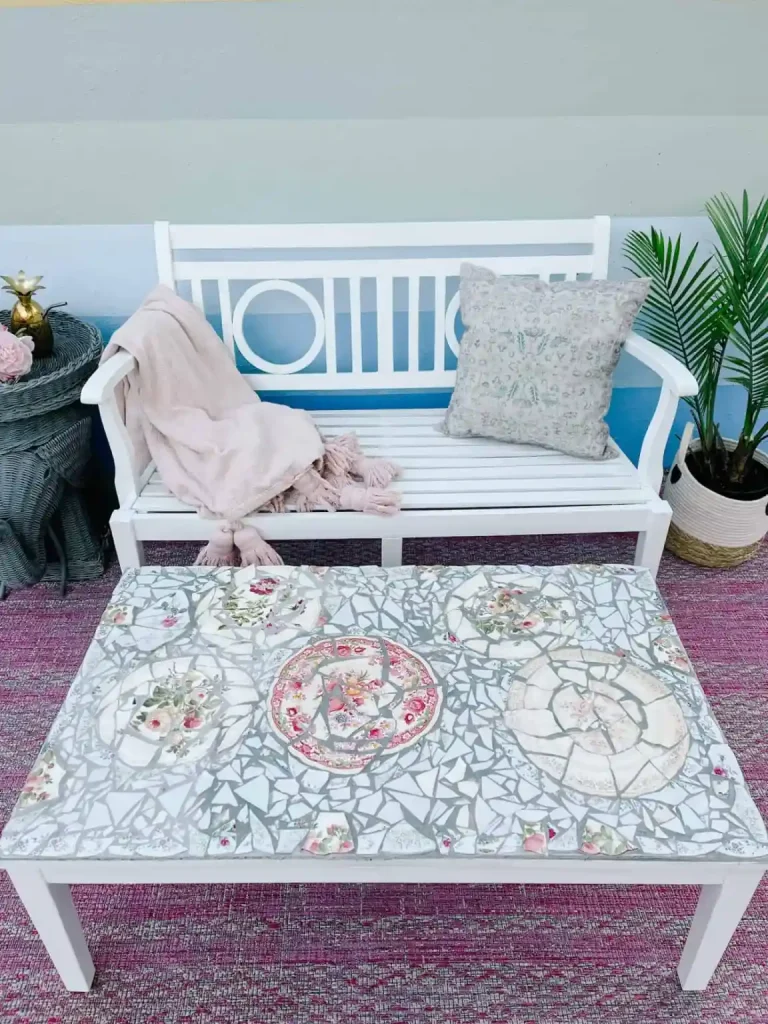 Cheap deck decor often features recycled, repurposed pieces. For example, broken kitchen plates and cups can be used to decorate planters or as the base for a mosaic tabletop project, like this one from At Home with Ashley.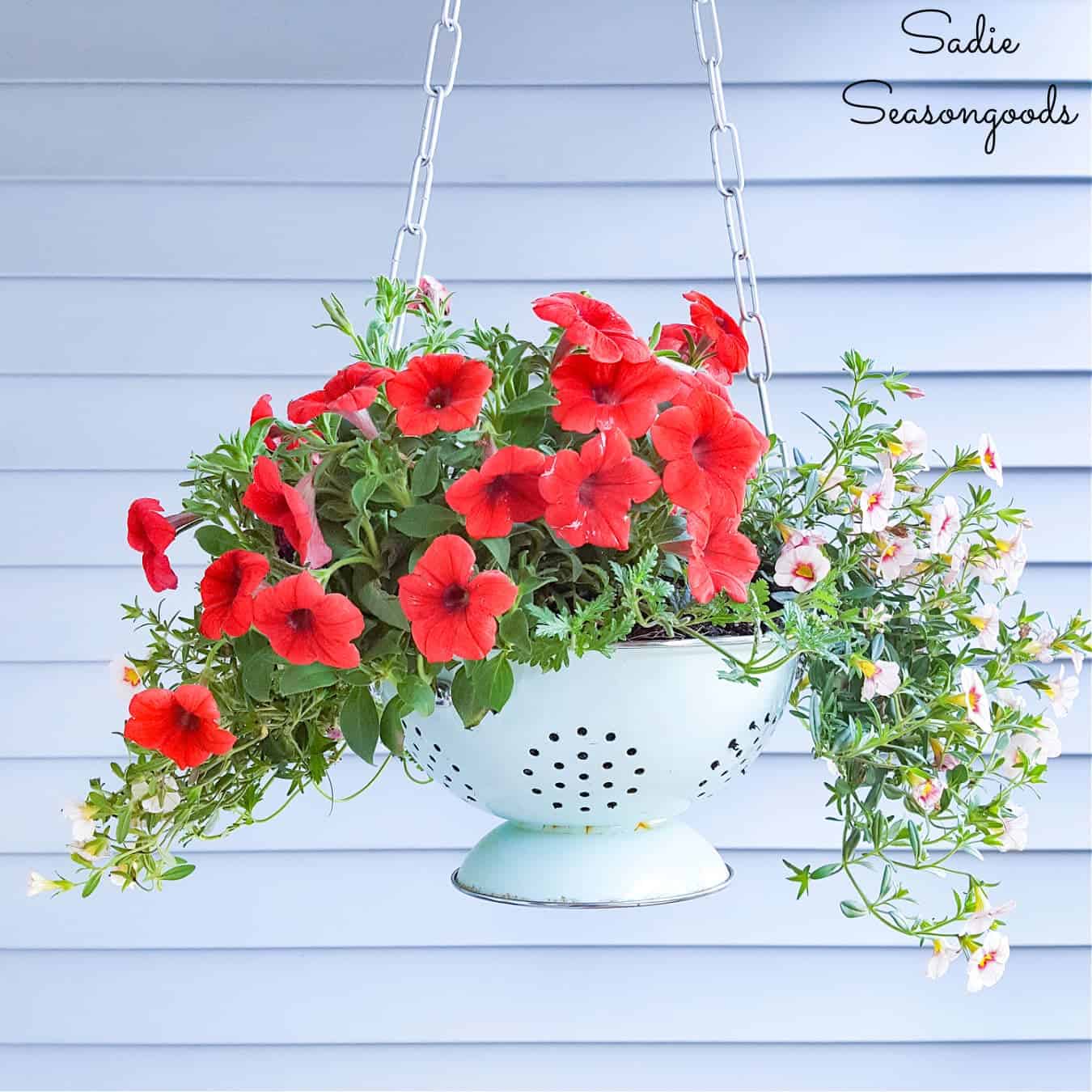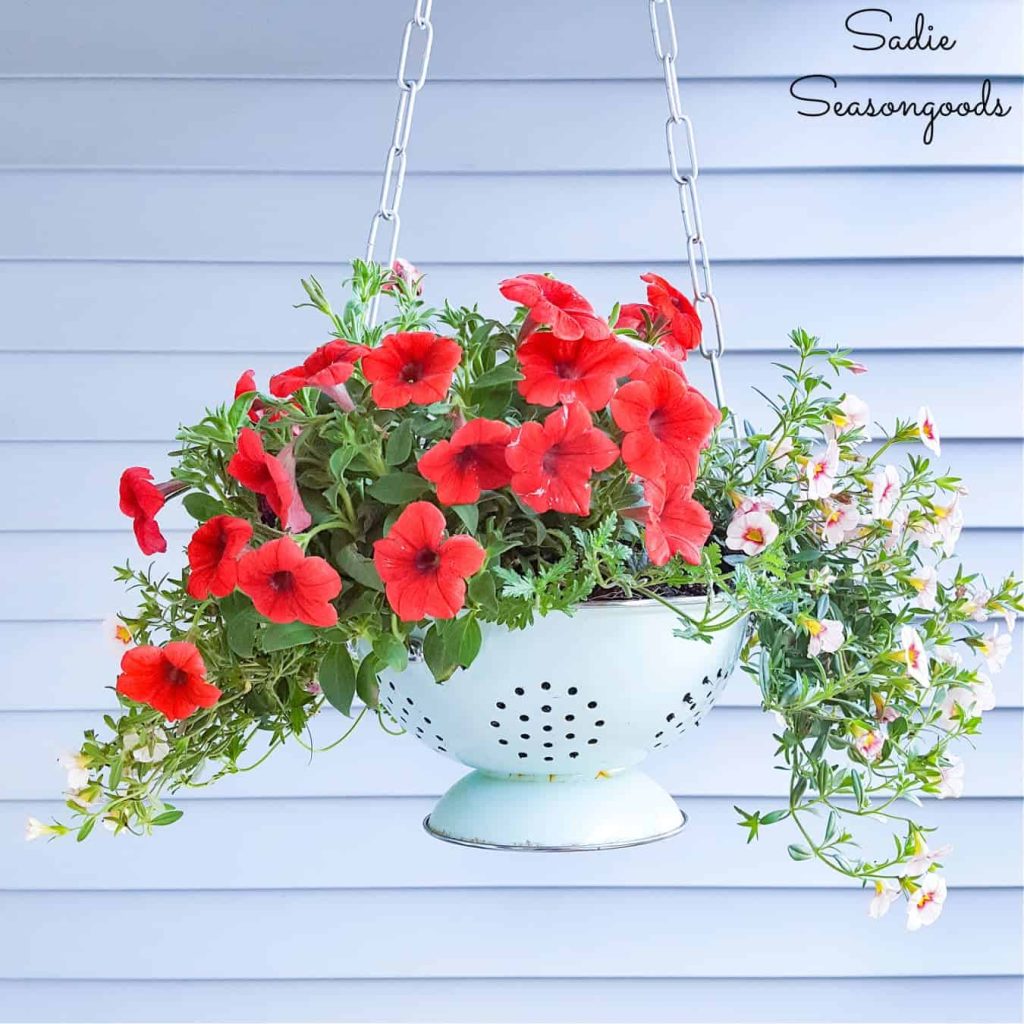 An antique metal stroller, old sink, or colander (like this one from Sadie Seasongoods) can be transformed into a small garden planter for outdoor use.
Paint the deck
A fresh coat of paint, like KILZ porch and patio paint, will brighten up the deck and make it feel new and refreshed.
Keep in mind that dark deck paint colors will absorb heat during the summer while lighter colors will reflect heat, keeping the deck cooler.
Stain the deck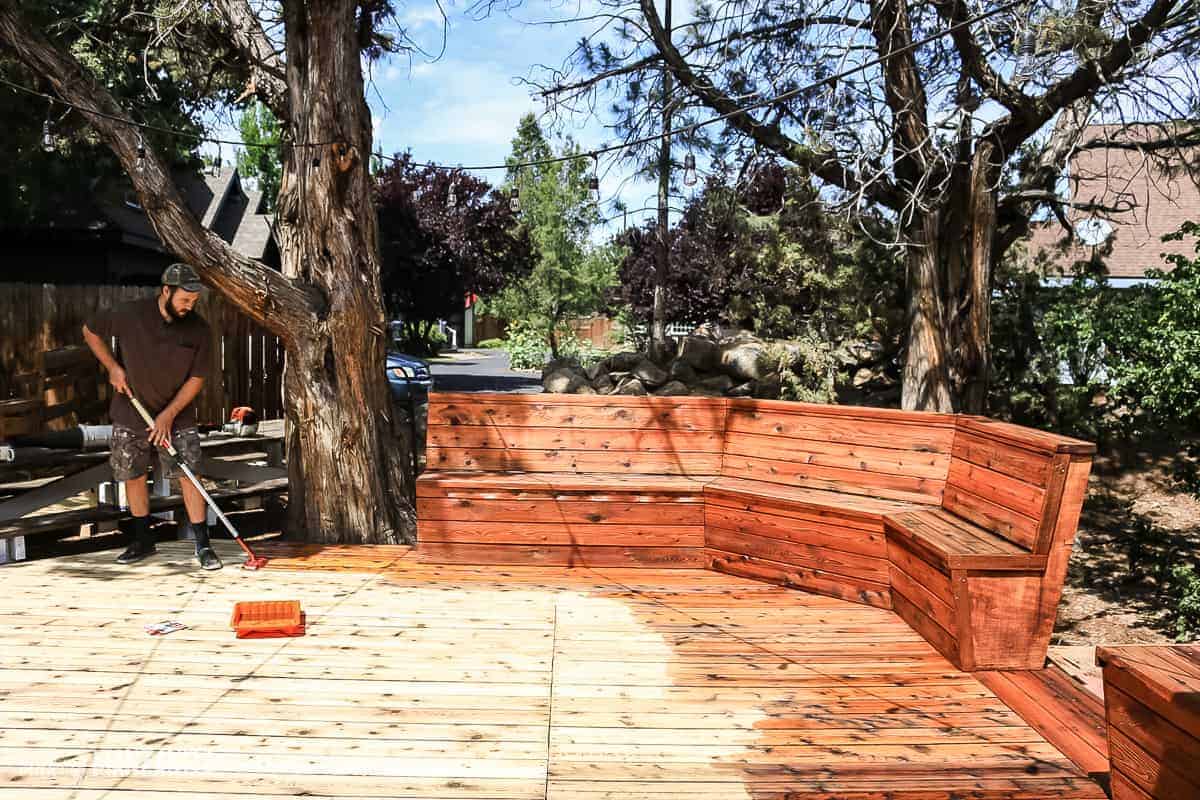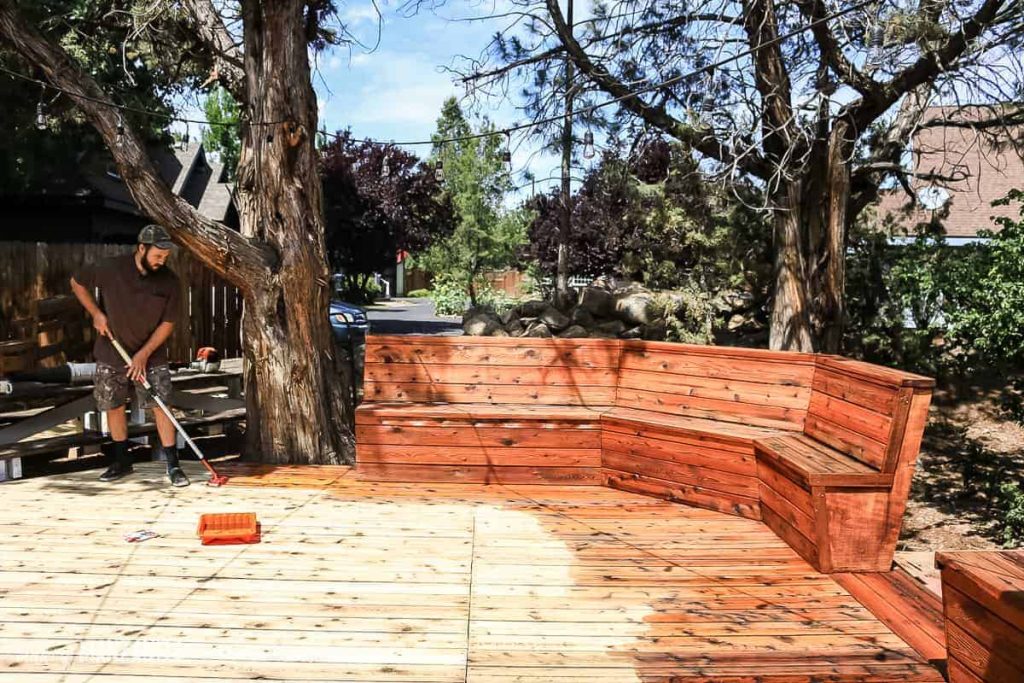 A new coat of stain or oil might be just the ticket to a newer-looking deck. In most cases, the deck will have to be power washed to get rid of dirt, dust, and grime. Learn how to restore a deck that has been neglected here.
Transparent stains don't add color or cover up the grain. Semi-transparent stains add a touch of color in wood tones. You still see the wood and the grain.
Alternatively, you could also go with a deck oil. Learn the difference between deck oil and stain here. There are two different ways to apply decking oil, so you can choose what works best for you and your deck.
Paint the railing
Depending on the building code of an area, decks above a certain height must have a railing.
After several years, paint tends to peel from deck railings, whether they are wrought iron railings or wood railings. Wood railings generally darken with age.
If you have the budget, you may want to consider replacing the railings with something like vinyl or aluminum for a low-maintenance option.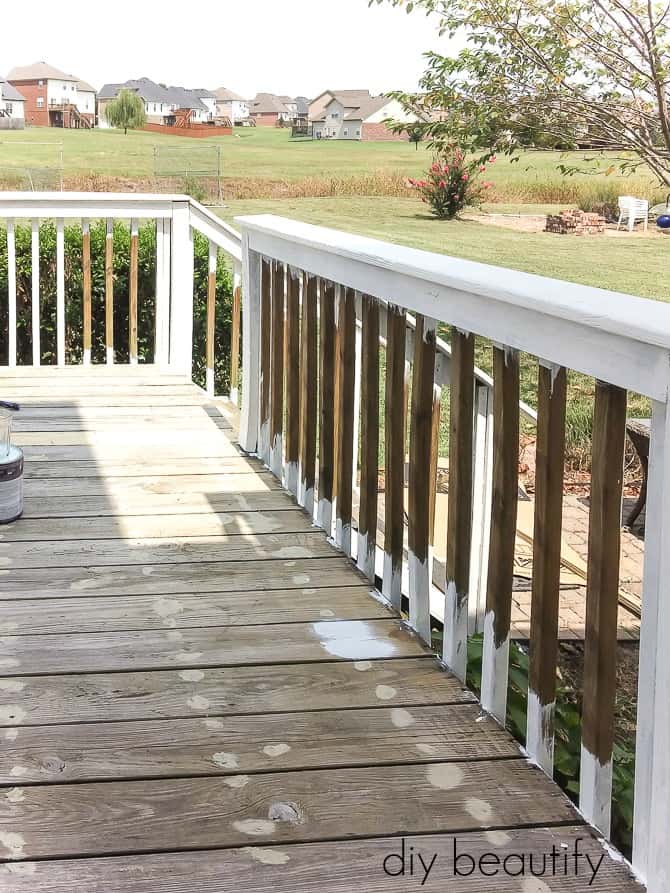 However, painting the deck railing gives the deck a bright look without spending a lot of money. Learn how to update your deck with paint in this guide from DIY Beautify.
Sand any rust or splinters from the railing before painting. Paint the railings the same color as they were, a different color to contrast with the deck itself, or paint each post or rod of the railing a different series of colors.
Adding an outdoor rug is an inexpensive idea
Add a rug to give your deck a decorative touch at your feet. For a free solution, bring a worn interior rug outside and create a defined space under your outdoor dining area or in a conversational seating area.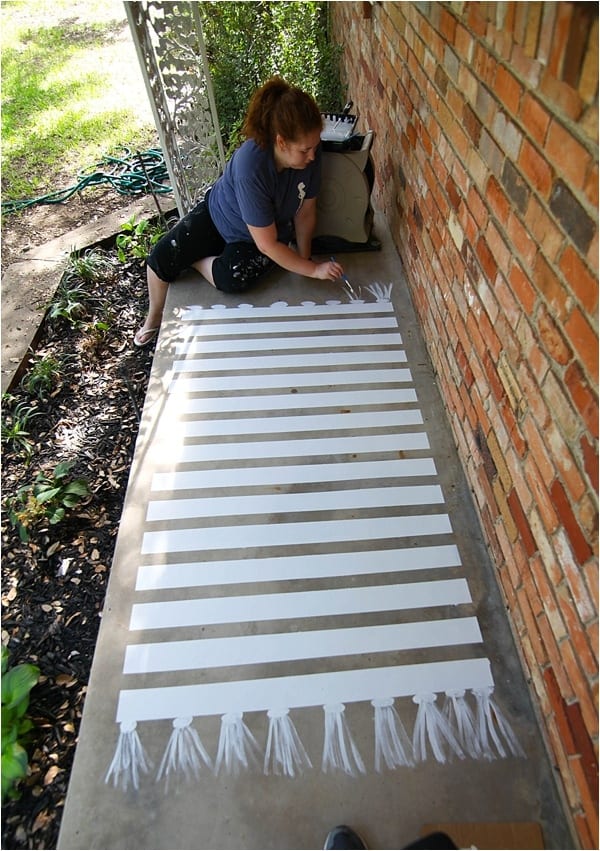 Another way to accomplish this effect for little money is to paint the rug directly on the decking or concrete, like Run to Radiance did here.
You may want to first prime the area marked off for your rug painting. Use outdoor acrylic paint to help your artwork last longer. Add painted-on tassels for a whimsical effect.
Don't forget about lighting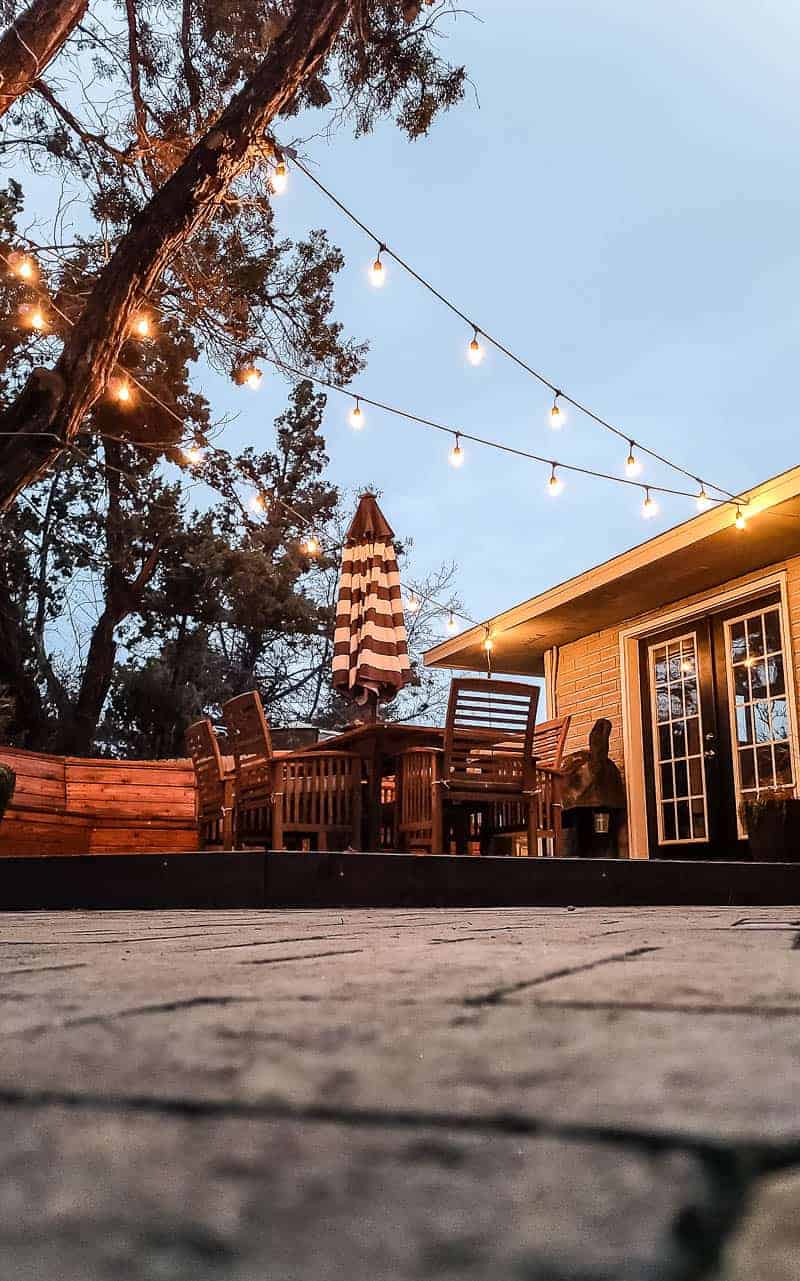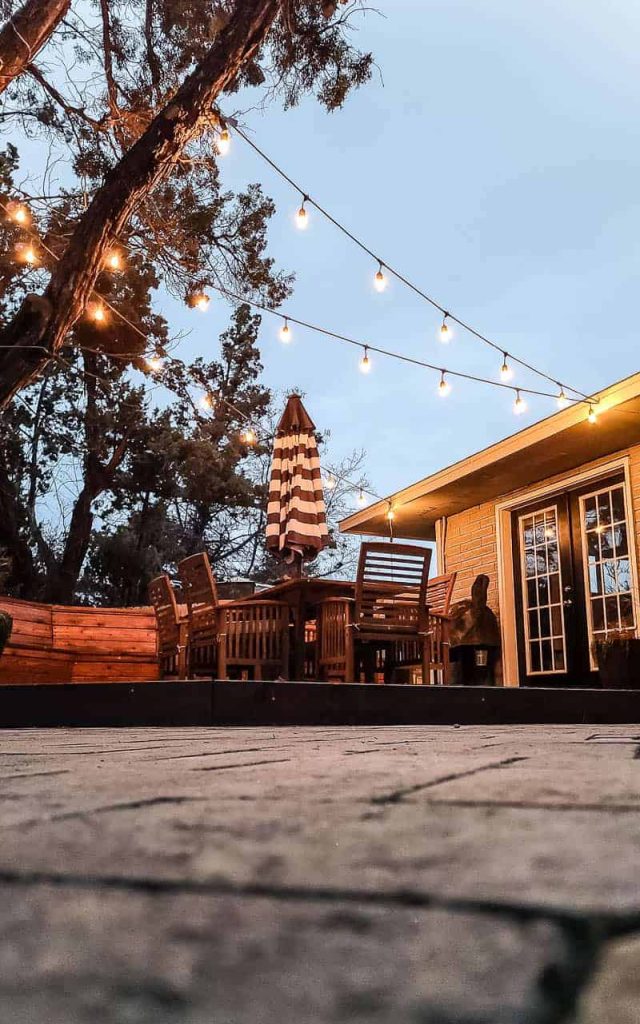 I think the best thing you can do to make a world of difference to your backyard deck on a budget is to add lights! That is why I added string lights as one of the 4 essentials for a cozy patio space. Adding light to your patio will invite you to spend time outside after dark.
Add inexpensive string lights to your patio umbrella, the deck rail, and/or balustrades or to surrounding tree trunks or bushes.
You can also hang candles on shepherd hooks around the perimeter of your grass or surrounding your deck.
Check out garage sales for old chandeliers and mirrors to add a vintage touch to your deck.
Tiki torches affixed to your deck rail with lag bolts or c-clamps not only add light to your deck but also keep away insects.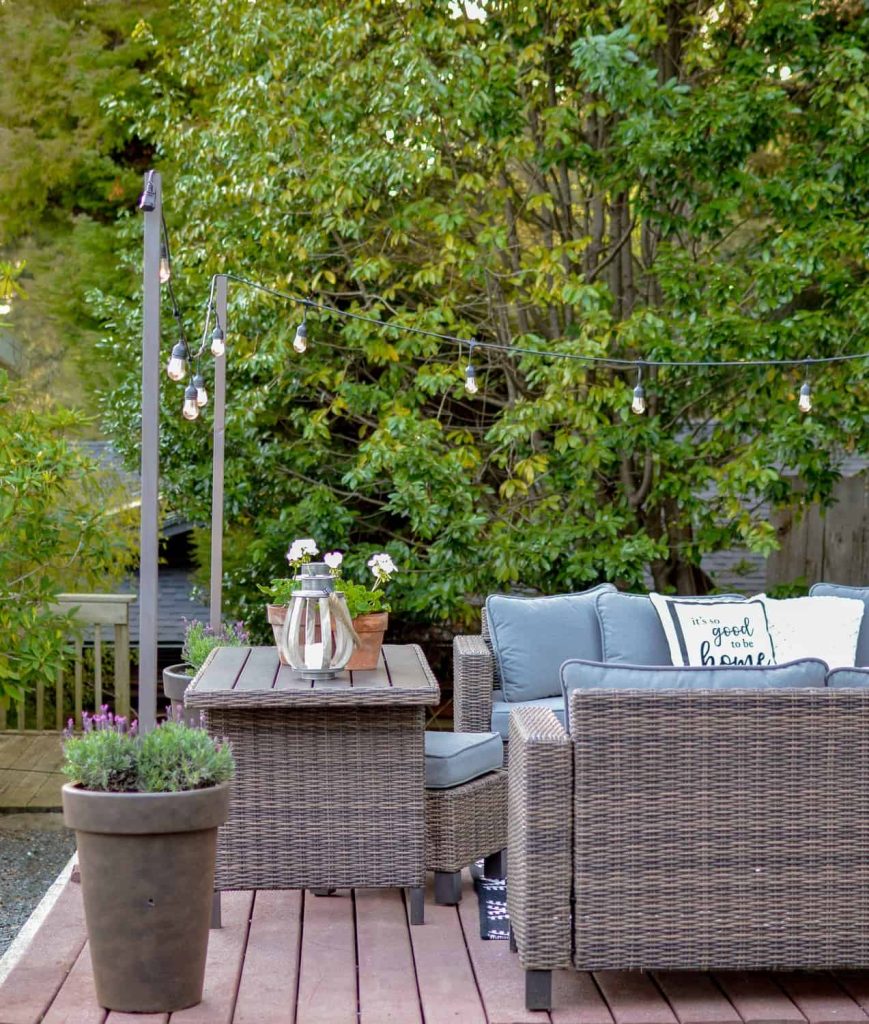 I love this idea from Fox Hollow Cottage of adding string lights on poles with these DIY planter pots!
Bring nature to your deck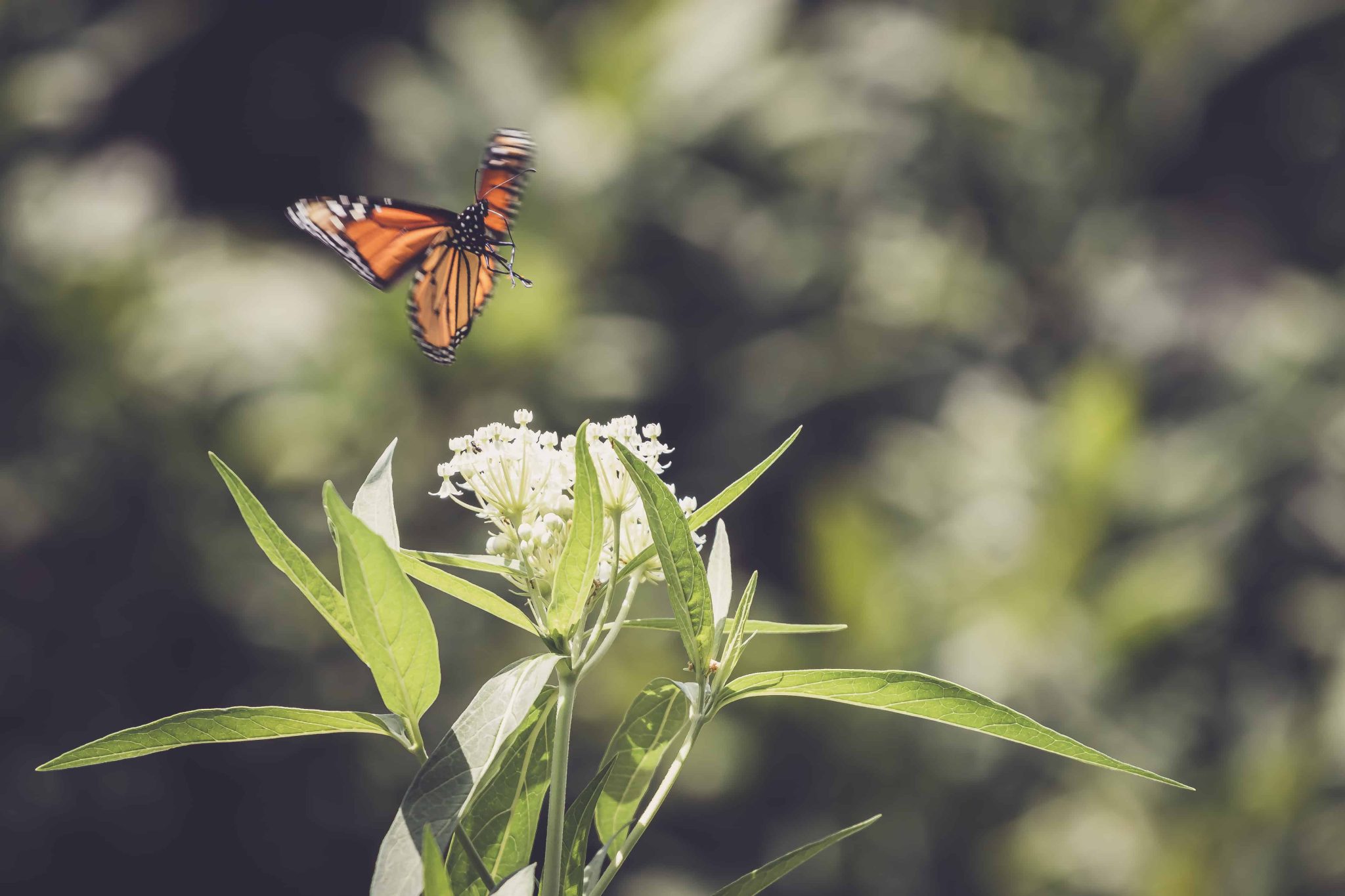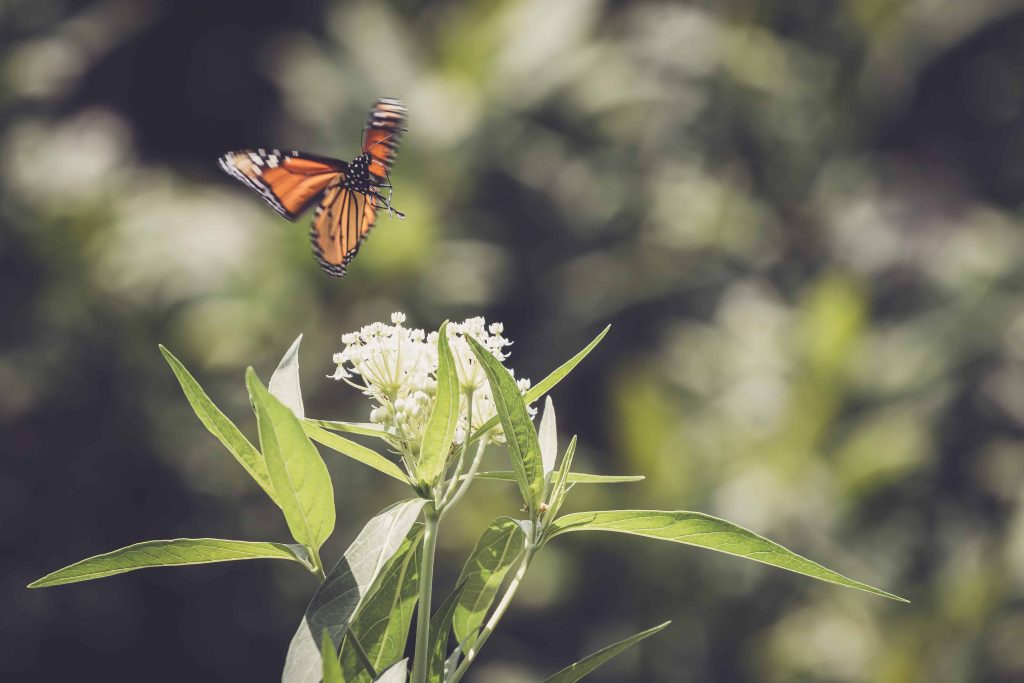 Bring nature closer by using butterfly-friendly flowers for your patio planters. Choose mealy cup sage, zinnias, nicotiana, grape hyacinth, aster, tickseed, and garden phlox for their nectar.
Attract caterpillars with plantings of milkweed and parsley.
Attract hummingbirds by hanging a nectar feeder, hummingbird nesters, like this, or installing a leaf mister system in your vertical garden for under $40. Attach the mister to a garden stake or a bush for a gentle rain shower that will bring hummingbirds nearby. The leaf mister creates also cools things down and beautiful rainbows when the sun hits it at an optimal angle.
Add container planters around your deck
Fresh flowers and greenery give the traditional decks a new atmosphere. Cluster containers together to make a statement rather than spreading them around the deck in ones and twos.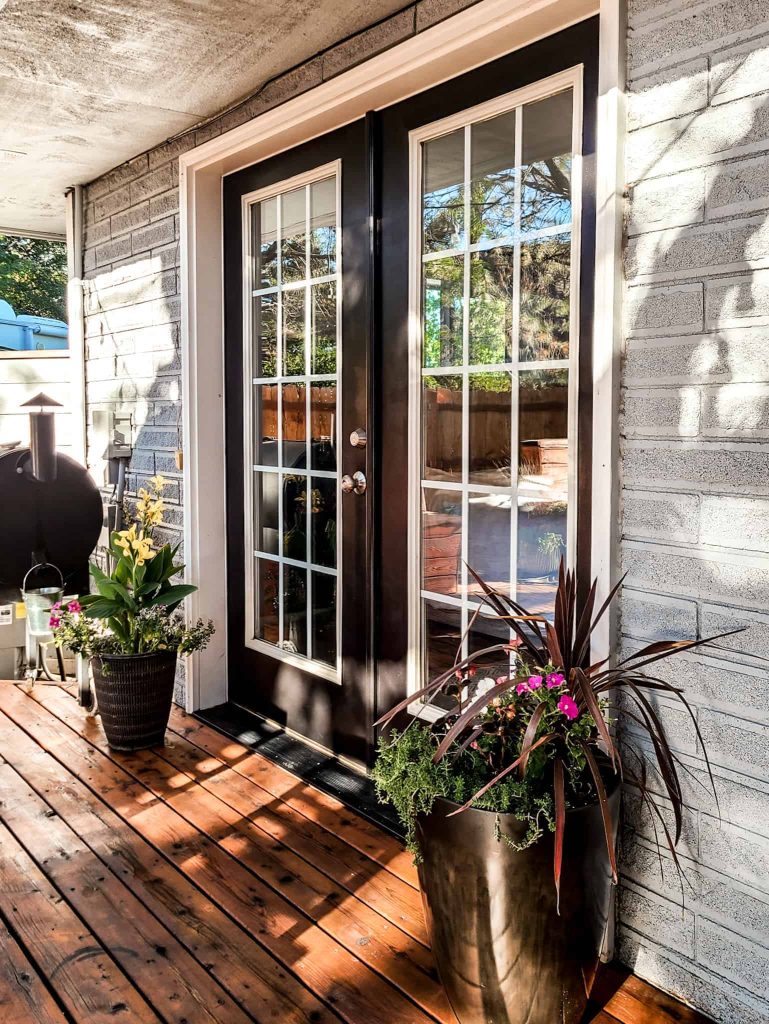 Use pot feet, like this, to get the pots off the decking so the water won't pool under the pots and damage the wood.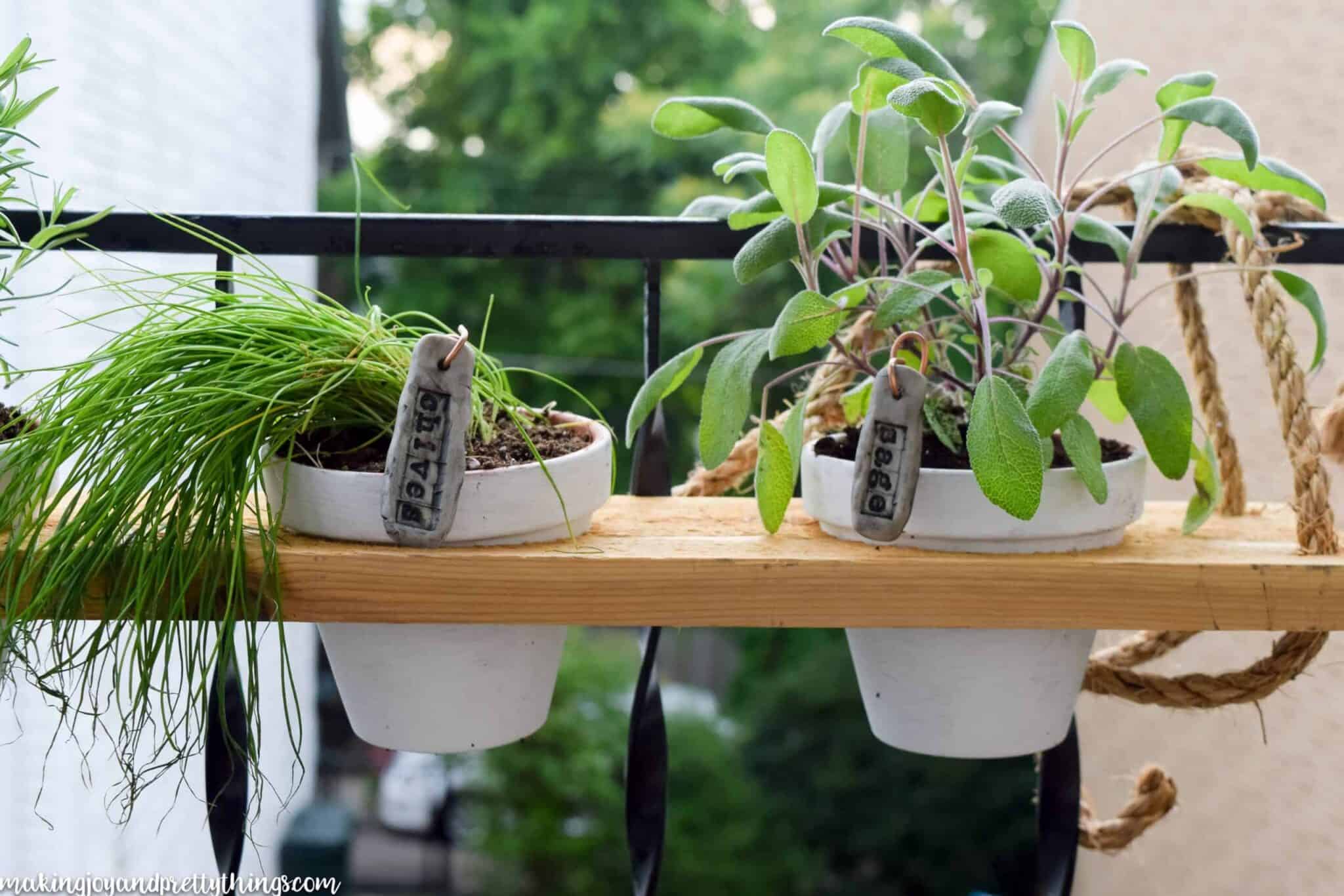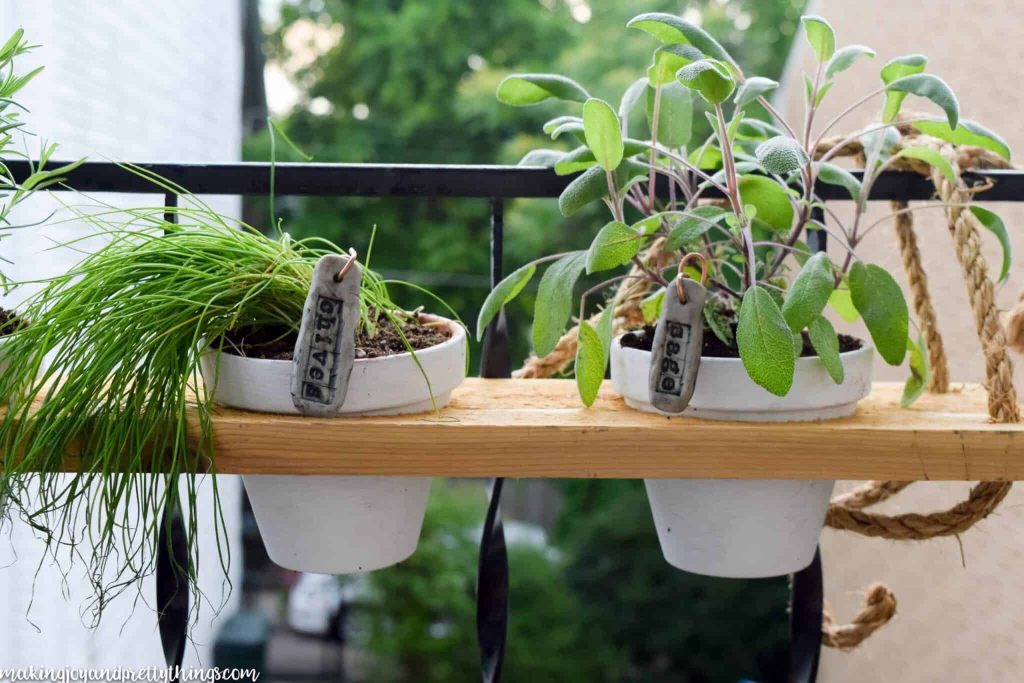 Attach pots to the deck railing so plants trail over the edges, like this little hanging herb garden.
Use larger pots with shrubs to provide privacy. But be sure to check the weight restrictions on the decking to make sure the extra weight of the pots won't be a problem.
Coordinate the plantings on the backyard deck with the other flowers in the backyard.
Umbrellas for shade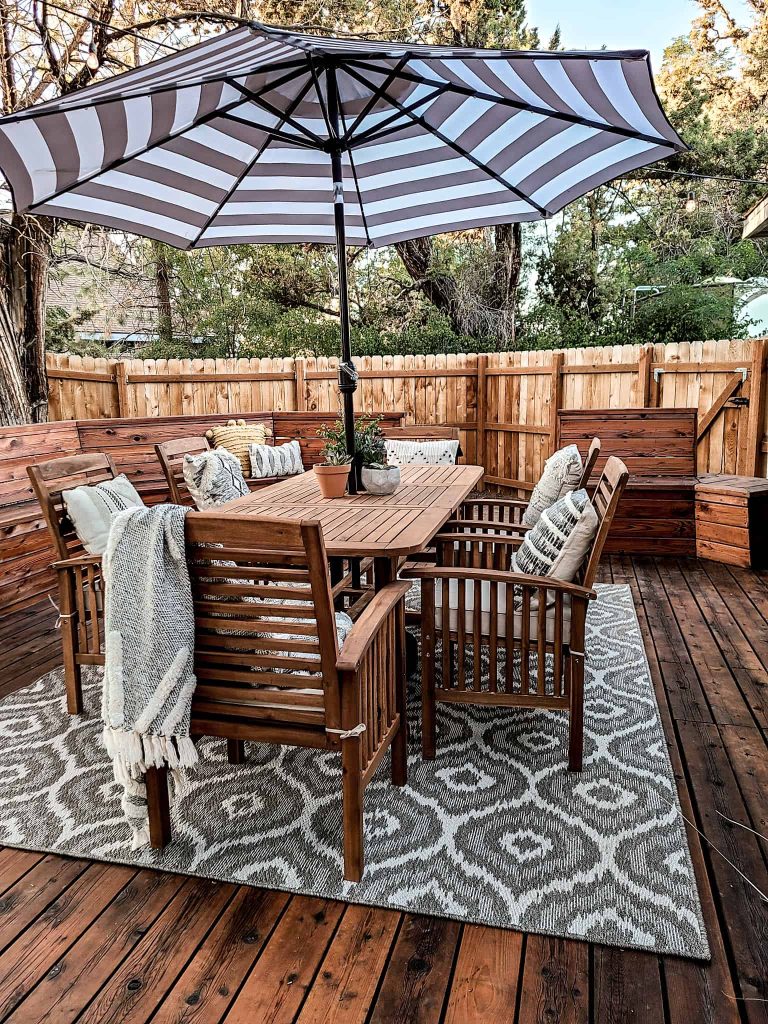 Adding a roof for the deck increases how much it will be used on bright hot sunny summer days. The problem is that a roof is expensive; even shade sails or awnings can be a bit much for someone on a budget.
Umbrellas are a solution that will make a big difference, and while not cheap, won't cost a lot. A high-quality umbrella and metal stand cost about $75.
A good idea is to buy three or four, and you've got a shade for a crowd and large family get-togethers. The umbrellas can be moved to accommodate different activities as well.
Softening touches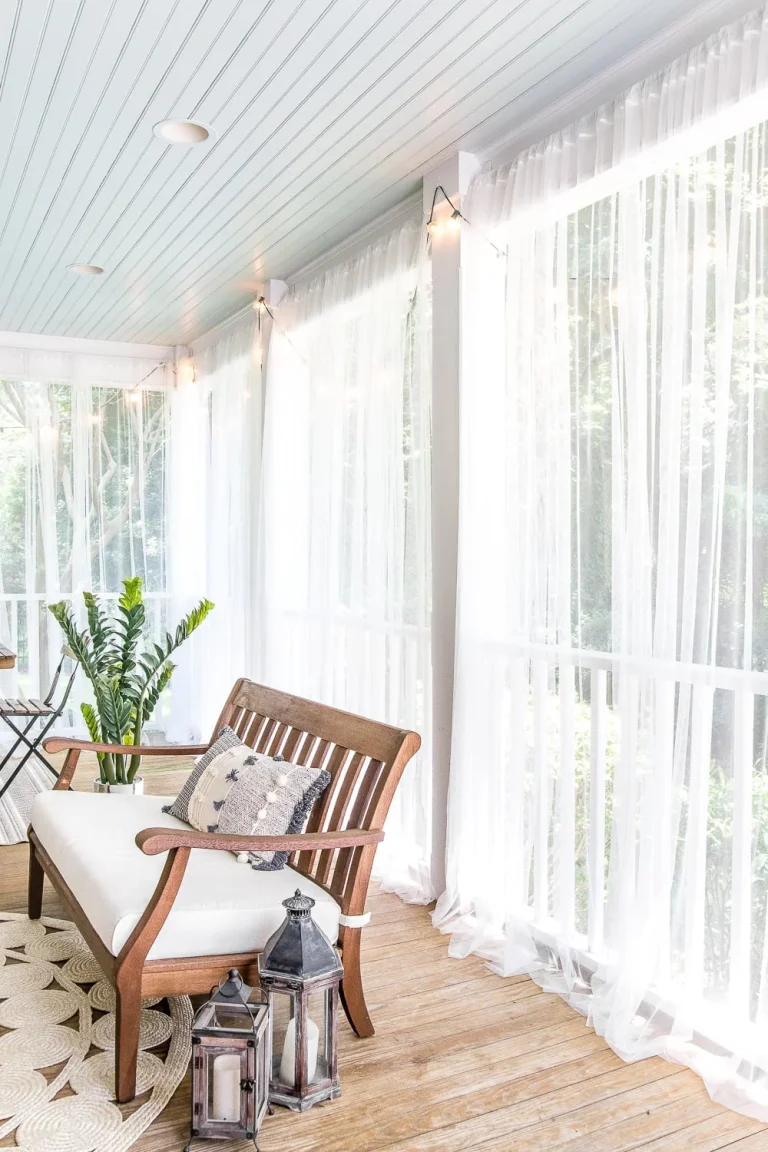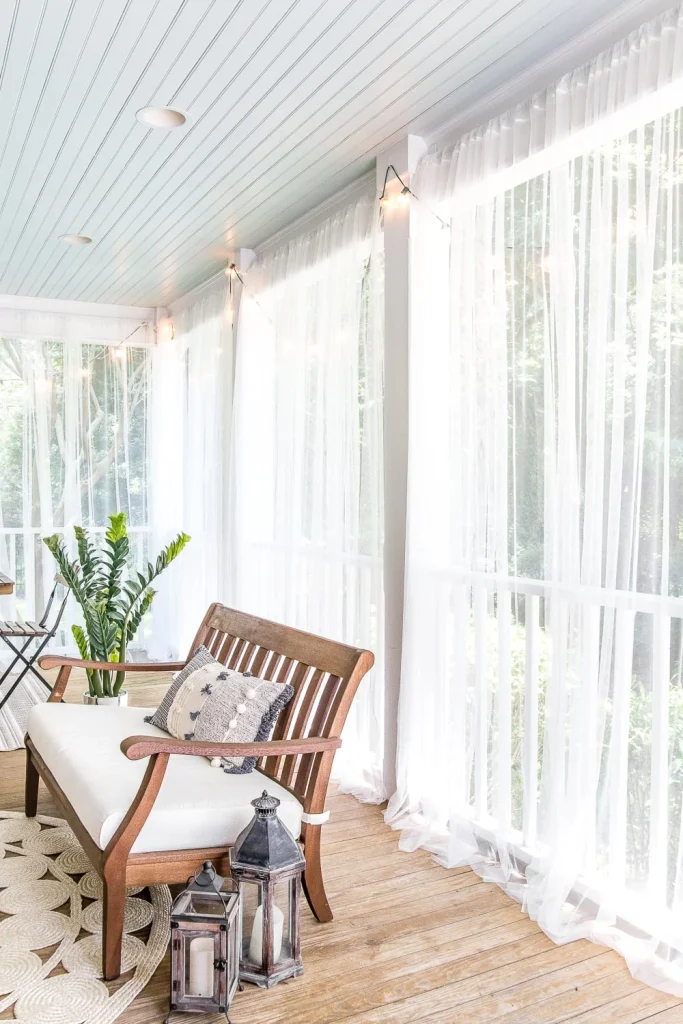 Hang sheers on a rod attached to your house, as Blesser House did here. You could also use a rope strung on one side of your deck to add privacy and a decorative element that enhances the play of sunlight in your outdoor space.
Dangle crystals threaded on wires from the edge of your patio umbrella to reflect sun and candlelight for a more natural look.
Add outdoor pillows to your chairs, settees, and porch swings in bright, weather-resistant fabrics. Throw a coordinating throw blanket over the arm or back of a piece of deck furniture.
A comfortable and inviting deck adds to the livable square footage of your home.
Whether you use your deck for dining al fresco, entertaining friends, or enjoying nature, there are cost-effective ways to add flair to your outdoor space.
When designing your backyard deck, use some of the same elements you use to decorate the interior of your home, thinking through deck seating and furniture, shade, and lighting.
Adding cheap upcycled items and attracting nature will make your well-designed backyard deck more inviting so you'll want to spend more quality time outside.
Which of these backyard deck ideas on a budget is your favorite?
Let us know in the comments below.