Black kitchen islands in white kitchens create a focal point that may seem like a bold design choice to most people. These amazing black kitchen islands will have you wanting one of your own!
The kitchen is the heart of the home and having a kitchen island does more than just add extra storage or countertop space.
A kitchen island becomes a gathering place for family and friends and is usually your primary working area in the kitchen, so why shouldn't it be the focal point of the room?
One quick and easy way to make the kitchen island the focal point of the kitchen is to paint a dark and bold color that stands out instantly, like black.
If you're on the fence about painting an island black, take a look at these 15 amazing black kitchen islands and be prepared to change your mind. After seeing these black kitchen ideas, you'll be convinced that a contrasting kitchen island is a great way to add character to your kitchen.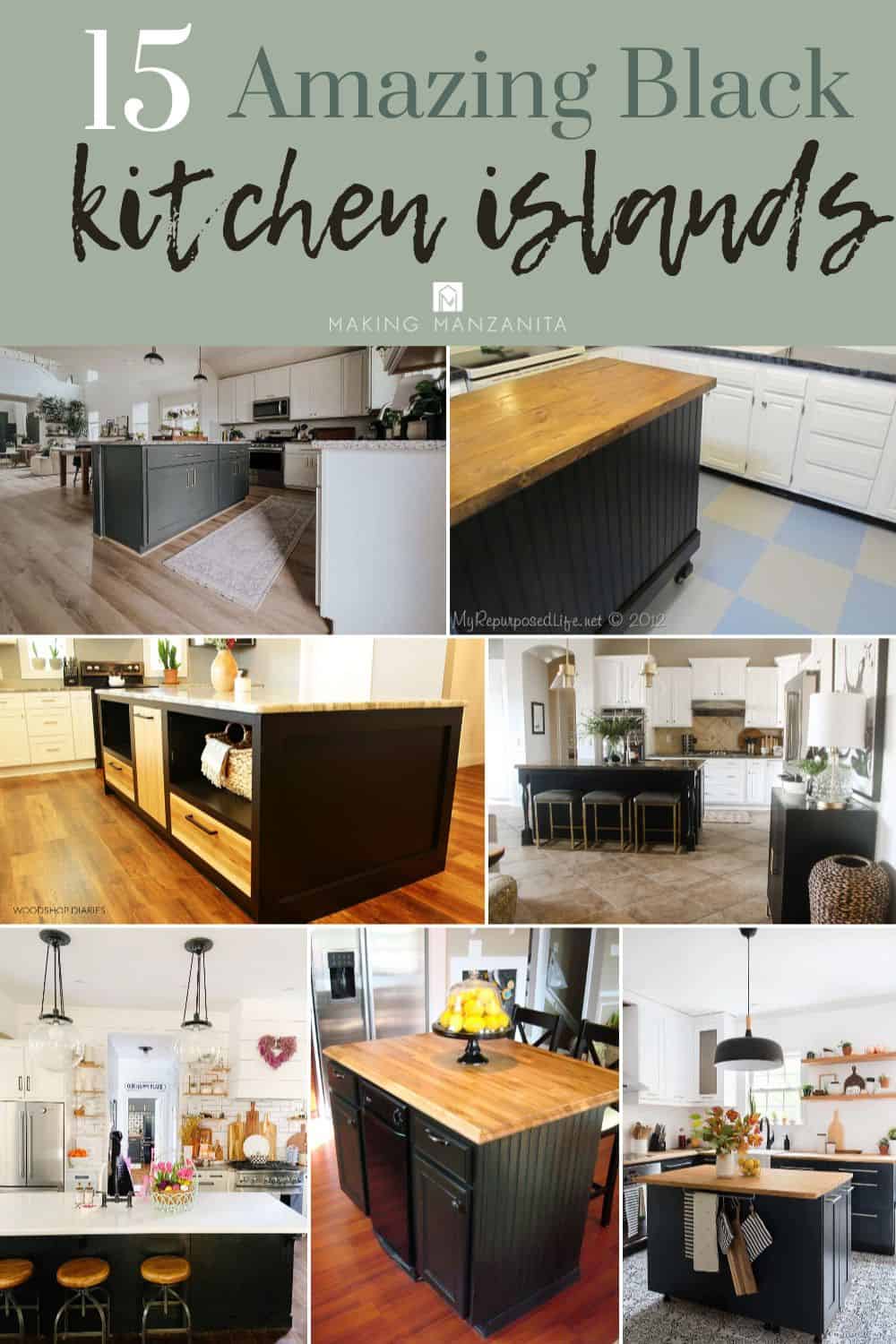 This black kitchen islands article contains affiliate links, but nothing that I wouldn't recommend wholeheartedly. Read my full disclosure here.
15 Black Kitchen Islands to Inspire You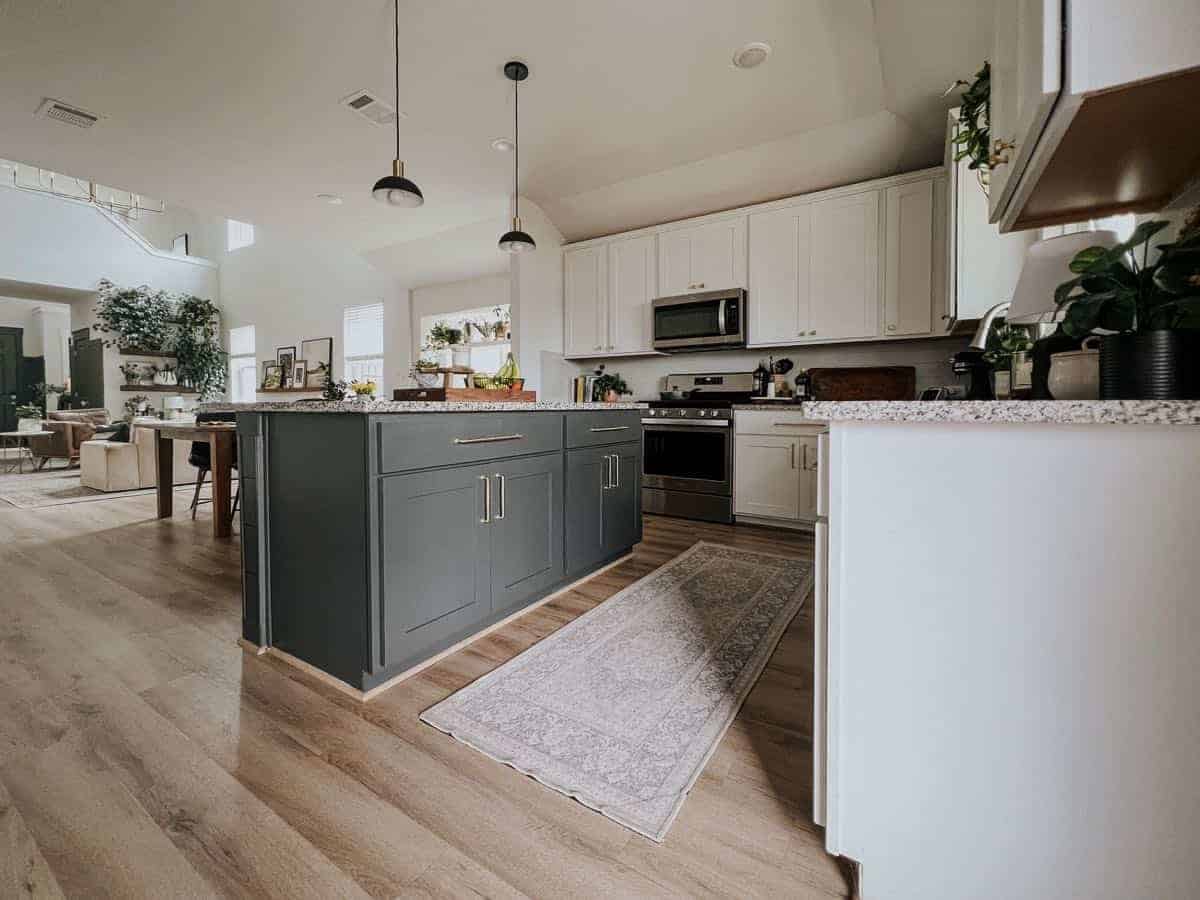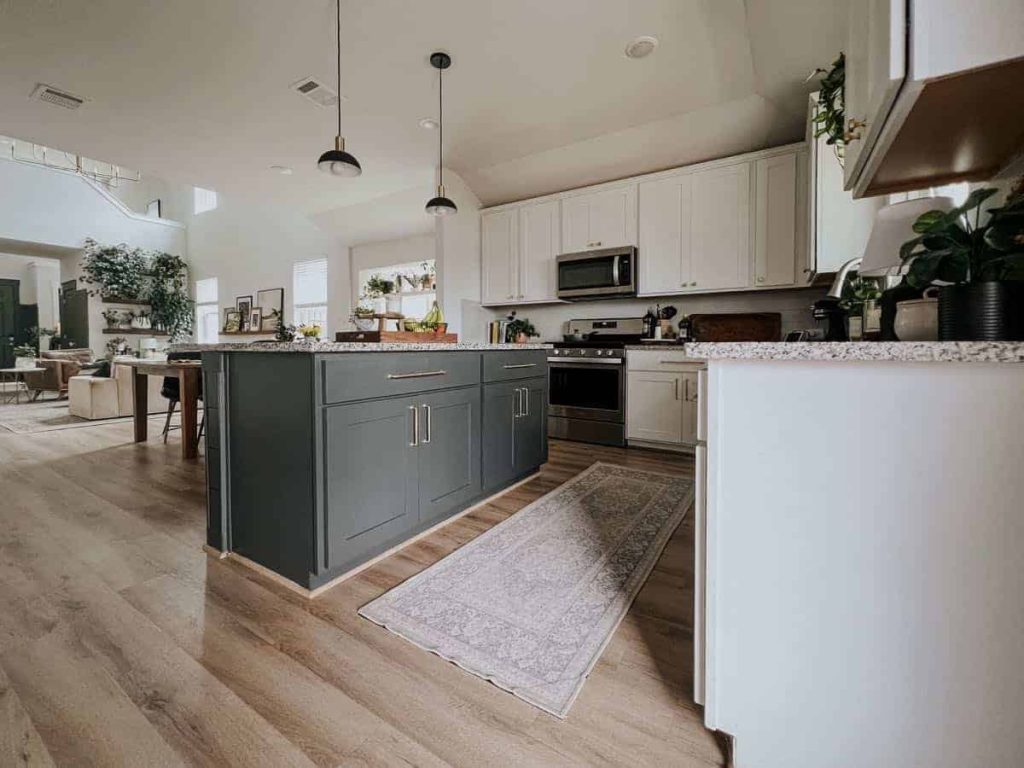 This black kitchen island contrasts with the white kitchen cabinets in this kitchen design to create make it the focal point of the space.
I love how this kitchen is in an open space, which makes it feel larger than it really is as it overlooks the dining area and living room. Proof that a black kitchen island is a good idea, even if you have an open concept floor plan.
The cabinet hardware on the island is the same as the cabinets tying the design together. This large island allows for plenty of prep space and extra storage.
I also love the two gorgeous pendant lights above the island. Save these for later if you're on the hunt for kitchen island lighting ideas!
Paint Color: Carbon Copy by Behr Paint
---
I love the design of this island with seating that makes a great breakfast bar. Open shelving on the end provides extra storage for cookbooks and frequently used kitchen items.
This farmhouse-style black kitchen island Is the perfect contrasting island for the light gray kitchen cabinets and natural wood beams on the ceiling. Your entire family can gather around this large island.
---
The sleek, modern design of this kitchen island has a gorgeous white marble countertop that's in stark contrast to the black marble countertops of the perimeter cabinets.
Large black industrial-style pendant lights are positioned above the black island creating the perfect space for extra food preparation while the sink makes clean-up easy in this large kitchen design.
---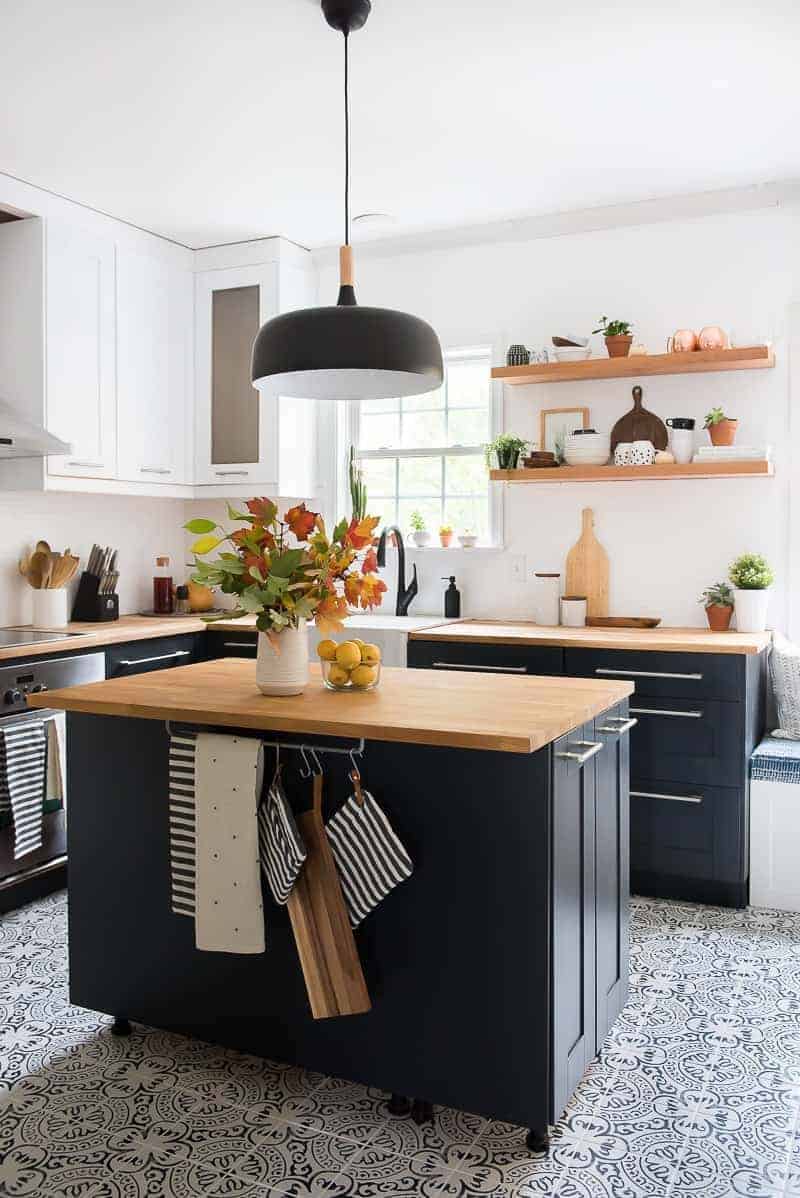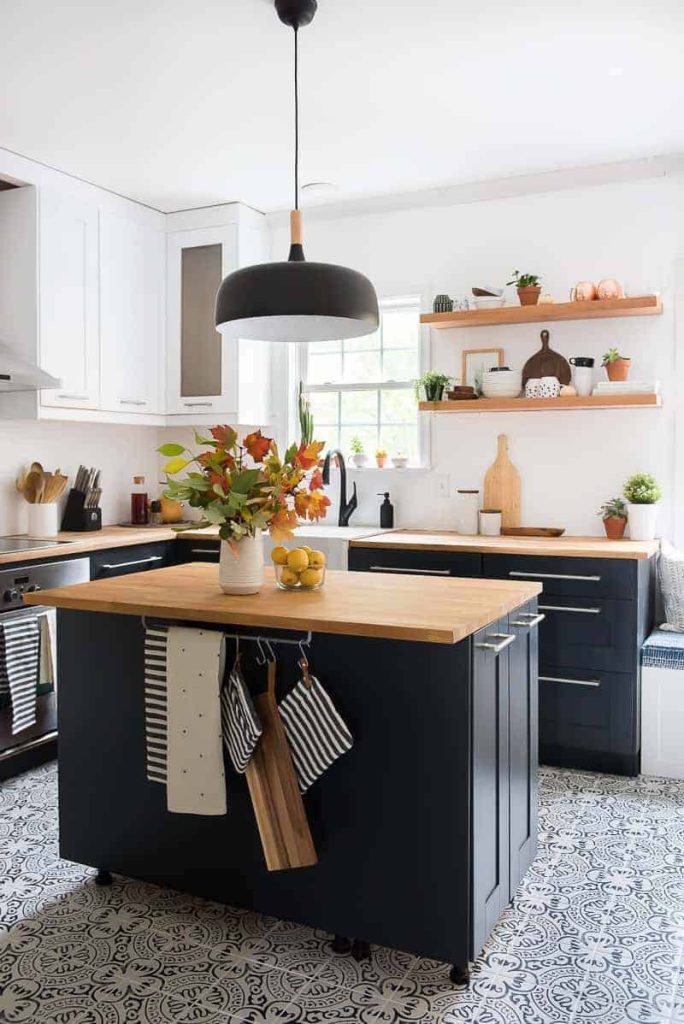 The black island in this kitchen coordinates with the lower perimeter cabinets for a cohesive design in this two-toned kitchen.
Butcher block countertops warm up the entire space and are matched by the open shelving. This island, although not on wheels, can be moved easily where ever you need it.
This gorgeous space with black cabinetry on the lowers just may be my favorite of these black kitchen designs.
Paint Color: Night Club by Behr Paint
---
Shiplap with an X design accent makes this kitchen island the focal point of this farmhouse kitchen design.
The same white marble countertops are used on it and the white cabinets on the perimeter for a fresh and modern accent in this beautiful kitchen.
---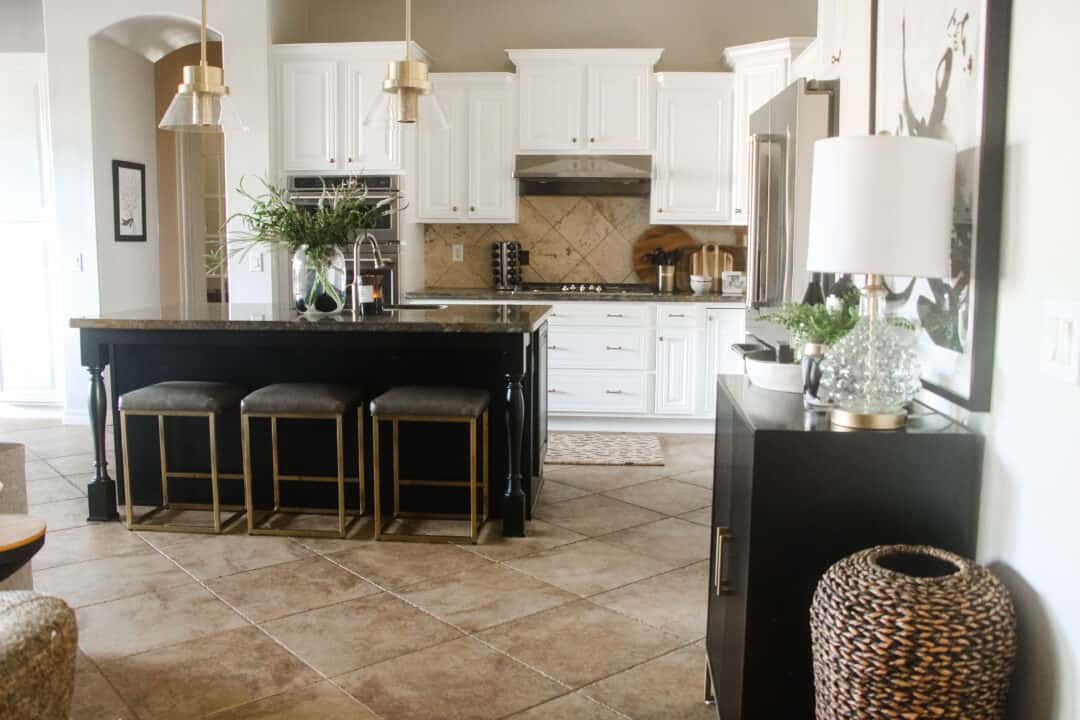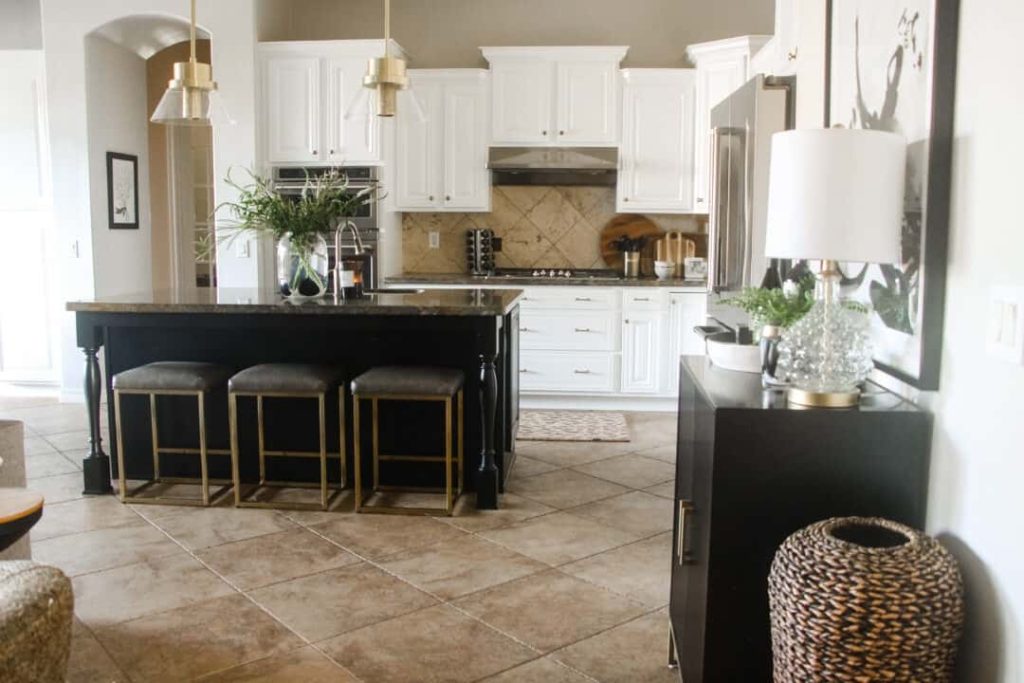 This kitchen started out with dark wood cabinets that made it feel small and dated. Now that it's updated, it's light and airy and has a fresh traditional style.
The island was painted black to contrast with the white perimeter cabinets, while all of the stone was kept the same. Seating at the island makes this kitchen area a great entertaining space.
Paint Color: Tricorn Black by Sherwin Williams
---
I love this cheery farmhouse kitchen! From the green kitchen cabinets and open shelving to the black island with brass hardware and apron front sink, it's a dream kitchen anyone would love.
The island, painted black, features tons of storage, and plenty of cooking space, and the white countertop coordinates with the rest of the countertops. It's the perfect size for this larger space adding extra prep space and a place for family and friends to gather.
---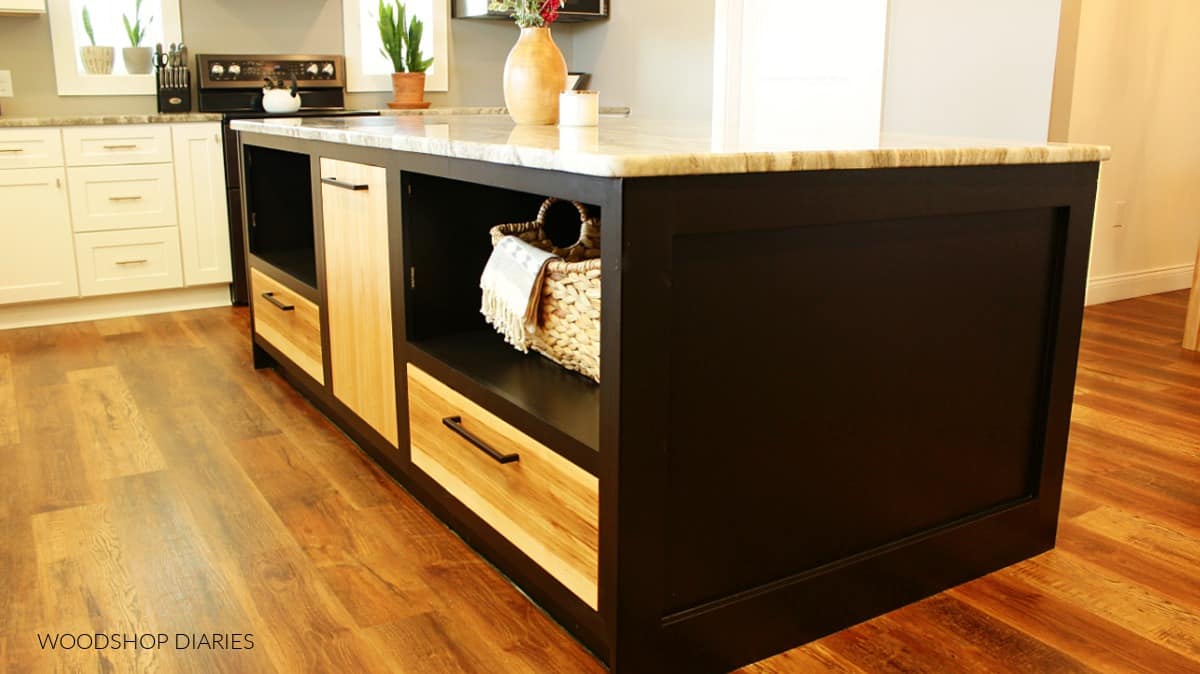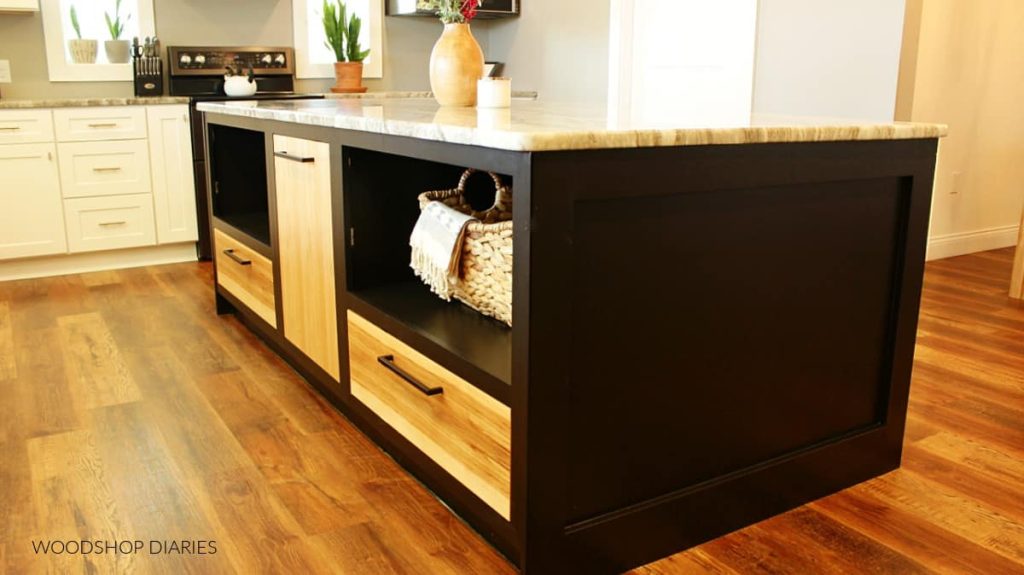 Who says you can't build the island of your dreams? This DIY island is extra large with plenty of storage and even a pull-out trash can.
The natural wood finish of the drawers contrasts with the black finish for a fresh modern look in this two-toned kitchen design.
Paint Color: Tricorn Black by Sherwin Williams
---
Storage, a large food preparation surface, and a prep sink are just a few of the benefits of having this large kitchen island.
The traditional style of the cabinets and ornamental legs contrast with the minimal design of the white cabinets around the perimeter. Great for family gatherings, this kitchen island is the focal point of this kitchen design.
---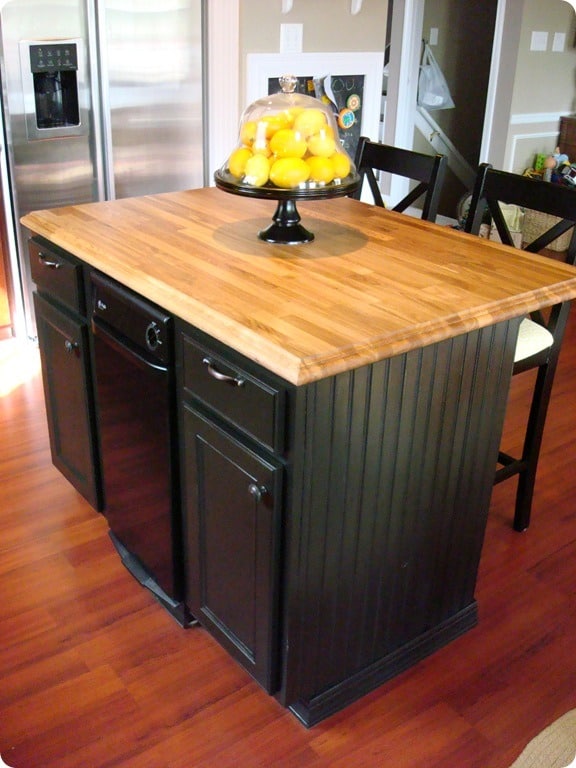 You don't have to spend a fortune to have a kitchen island that you love. Painting an existing island black and adding a new butcher block countertop will give your kitchen a whole new look.
This island is on the smaller side, but still houses the dishwasher in this kitchen and makes a great breakfast bar with seating for two. This is a great option if you have a small space to work with.
---
Wood slat accents are very trendy right now, in fact, we added a wood slat wall in our living room makeover. It looks fresh and modern and adds an accent detail to an otherwise builder-grade space.
A white countertop sits on top of this kitchen island and the wood slat accent, made from MDF wood, is painted black for a high-end look.
---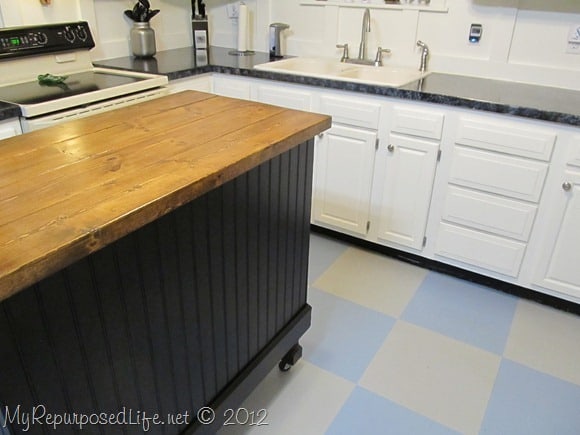 Yes, this used to be a desk! Talk about repurposing, I'm amazed at this transformation. The power of a little DIY and paint can do amazing things.
Beadboard was added to the back, a wood top creates the perfect work surface, and the wheels make it a mobile island that you can move anywhere.
---
This is the ultimate black kitchen island. Silver hardware, a prep sink, and a built-in stove make this an entertainer's dream island.
The entire length of this large island is lighted from above with modern pendant lights and natural light from the french doors abounds in this space.
---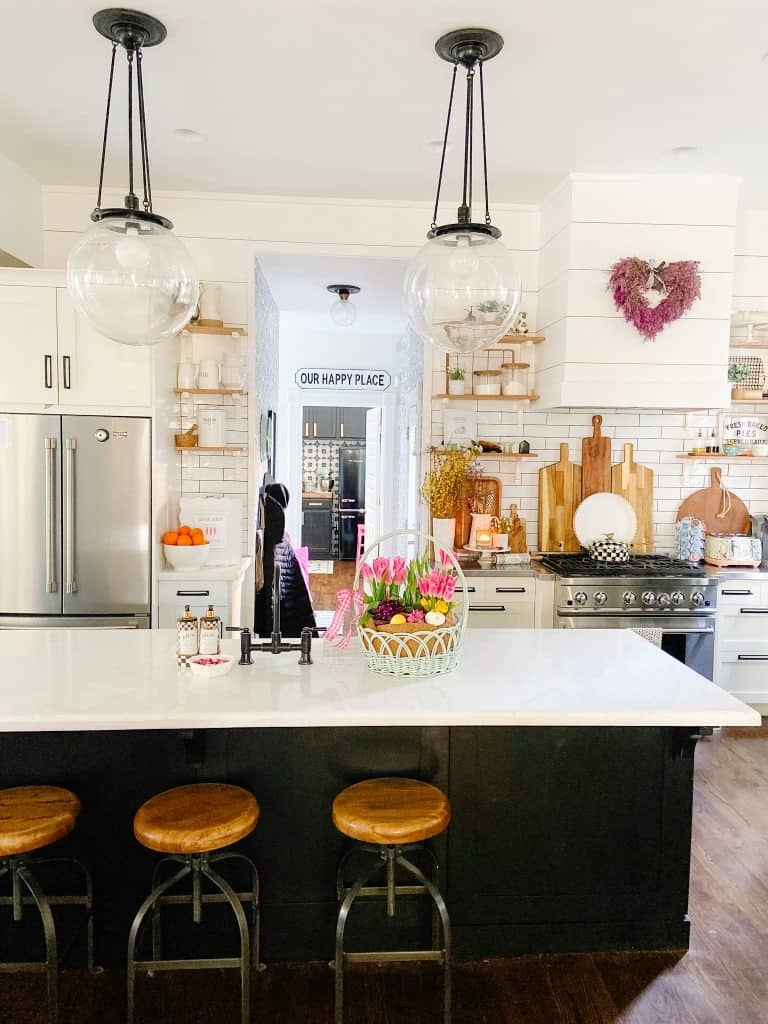 You'll be ready to entertain all of your family and friends with a large kitchen island like this in your kitchen.
The white countertop contrasts with the black painted base cabinets of this island for a pop of color in this all white kitchen.
I love the way the black hardware on the white kitchen cabinets ties everything together!
Paint Color: Black Magic by Glidden
---
This kitchen gets a ton of natural light keeping the black cabinets and island from making it look too dark.
Even though the kitchen contains all black kitchen cabinets, the white color on the walls, the wood floors, and the butcher block countertop of the island add warmth to the sleek modern design and keep it from feeling cold and sterile.
This black kitchen island is positioned in the center and the space underneath adds to the open feeling of this modern kitchen design.
Paint Color: Black Wenge (Ravine) by Polytec
---
Choosing to mix a black kitchen island in with white cabinets or even another color of kitchen cabinets is the perfect way to mix up your color scheme! It may feel like a bold statement (and it is), but it is one that definitely pays off. I love the stark contrast!
Before you paint your kitchen island a dark color, like black, make sure you have plenty of natural light, adequate lighting fixtures (like pendant lights over the island combined with recessed lighting), and a contrasting color so it doesn't feel too dark in your kitchen.
If you talk to interior designers about black kitchen islands, they will likely suggest mixing in white walls, stainless steel appliances, white countertops, or even gold faucets are easy ways to lighten up the space.