Are you struggling to love the house you have? Even if you're working on renovating, it's important to enjoy the process and you can do that by learning to love your home. This guide will teach you some ways to make your house a home. Even more than that…a home you LOVE. (Hint hint: making a home is more than just decorating!)
I've been just where you are. Struggling to love the house you have.
In tears of desperation…so completely overwhelmed by decorating my house… discouraged…stuck in the unproductive wheel of comparison…
I've listened to that little voice in my head that's telling me your home is not Pinterest worthy…I've thought that maybe I should just give up and not worry about decorating my house…maybe I should just make it functional and that's it.
Why does decorating my house matter anyway?
I was in this exact place shortly after we moved to to another town into a much bigger house than I was used to and it was empty.
There was nothing on the walls.
Months after we moved in, boxes were still unpacked.
And then, my hubby looks at me one night while we're watching TV and says "when are you going to decorate? It doesn't feel like home here yet" and that is when it hit me.
Decorating your home is so much more than buying pretty things and putting them on display.
That's when I learned that decorating your house is one of the ways to make your house a home! But…it's so much more than that! Today I am unpacking what makes a "home" and showing you some creatives ways to make your house a home so you can love the house you have.
This how to love the house you have guide contains affiliate links, but nothing that I wouldn't wholeheartedly recommend anyway! Read my full disclosure here.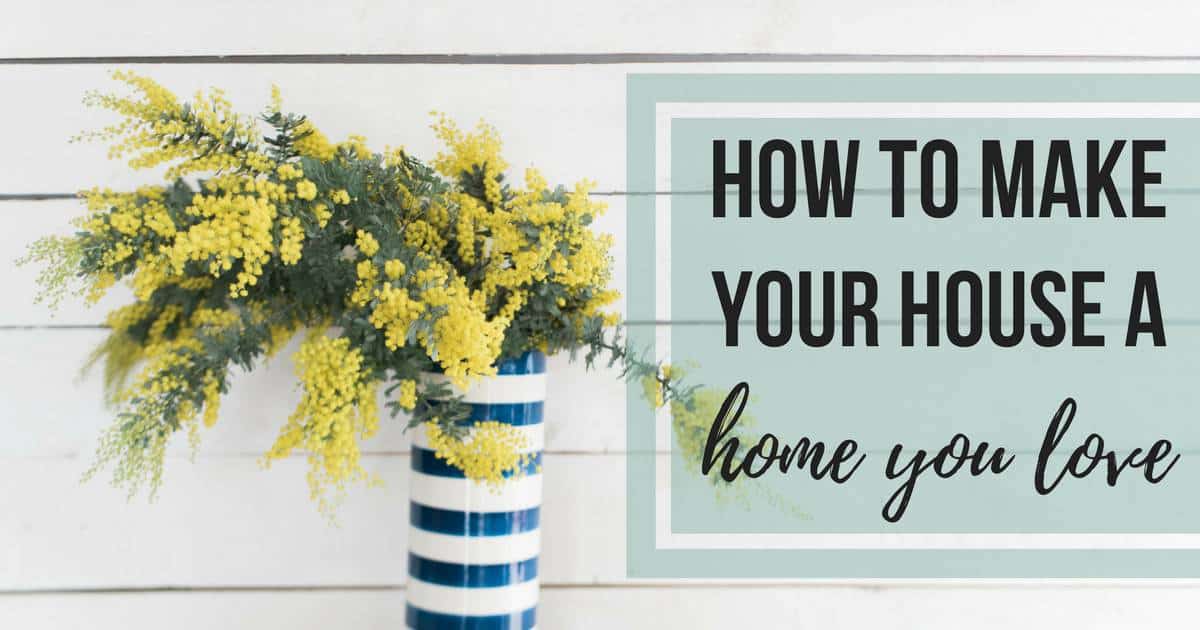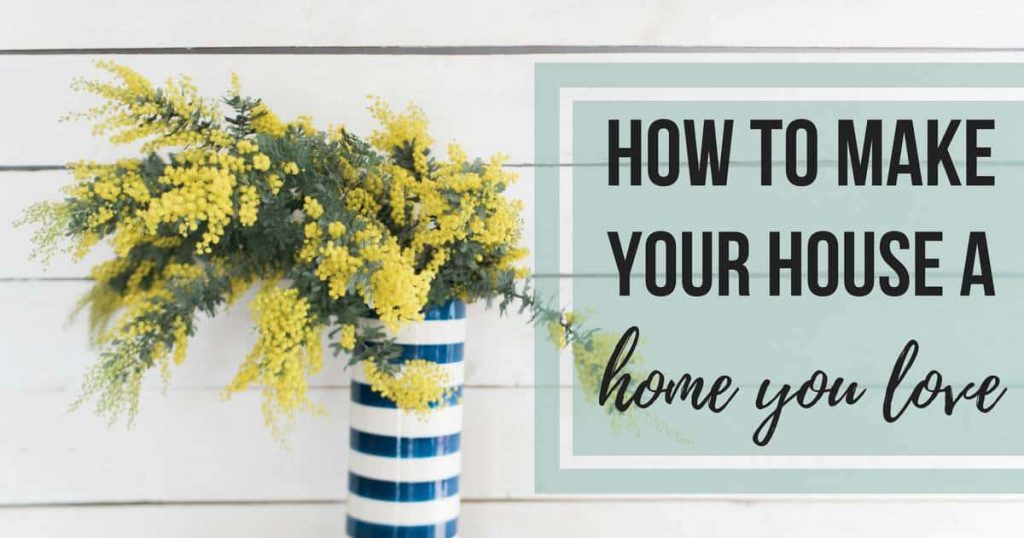 Truth be told, we're all WAY too hard on ourselves when it comes to our home. There can be guilt and shame associated with a home that doesn't look the way you want it too. This can lead to not wanting to invite others over or generally not being happy when you're at home (which is ALOT, so important that we figure out how to change this and love the house you have)!
Whether your home is a rental, a new purchase or an old house…big or small…a major fixer upper with big plans or completely finished and freshly renovated – there's room for everyone to love the house they have. That home is YOURS – yes, even if it's a rental. And that home is a blessing.
What makes a house a home?
When you think of making a house feel like home, you are probably envision what it will look like. How the furniture will be arranged. What colors you will use. What you can buy for the walls.
But what if I was to tell you that making your house a home is less about what it looks like and more about how it feels?
To demonstrate this, I like to think of how home relates to all of our senses.
Home is the ultimate place of comfort.
Home is decorated with items that you love.
Home is filled with elements that express your personality.
Home has items handmade with love.
Home shows snippets of memories through the family heirlooms, special finds from vacations and flea market finds.
Home smells like bacon in the morning and cinnamon at night.
Home is the perfect temperature to cuddle up with the soft blanket on the couch.
Home sounds like laughter and conversation.
A few months ago I asked this question what makes a house a home on my Instagram. I love some of the answers that you guys shared! This is one of my favorite responses from @bazaar_vintageandantique"
"It's the memories in each piece that we've collected over the years; the pitcher we found in that flea market, the chair we bought from the tall guy, the crochet blanket I made when I found out I was going to be a grandma. Every piece has a story and a memory attached to it. It's like being wrapped comfortably in your own personal history."
Isn't that the perfect description of home?
What are some ways to make a house a home?
Now that you've got an understanding of what makes a house a home, you're probably asking yourself "How can I make my house a home?". I think this the ultimate question for homemakers. And friends, there's no simple formula. There's no magic piece of furniture you can buy to make your house feel like home.
To make your house a home requires a shift in mindset (more you, less them).
Before you can start even thinking about decorating your house to make it more like home, there's a big shift in mindset that needs to take place.
You've to got to give up that Pinterest perfection and ugly wheel of comparison and learn to love the house you have!
Making your house a home is about making it YOUR home.
Not the next blogger with the latest trend in her kitchen. Not what you see Joanna do on Fixer Upper. Not what you see on the cover of Better Homes and Gardens.
All of those things are great for giving you inspiration and ideas, but they aren't you!
To make your house YOUR home, you need to find what you love day in and day out (not just the latest trends). You need to determine how you want your home to feel. And you need to stop trying to make it perfect and instead, make it you.
Once you figure out how to stop the wheel of comparison, you can instead look at Pinterest, Instagram and magazines for inspiration!
To make your house a home is a gradual process.
Rome wasn't built in a day and your house won't become a home you love in a matter of hours.
Even if you were to have one of those TV shows come and crash your room in a couple of days, all you would have is a lovely decorated room with all the bells and whistles.
But remember, making your house a home is more than decor, or bells, or whistles. It's about how it makes you feel.
Infusing your personality in the decor to make your house a home will take time.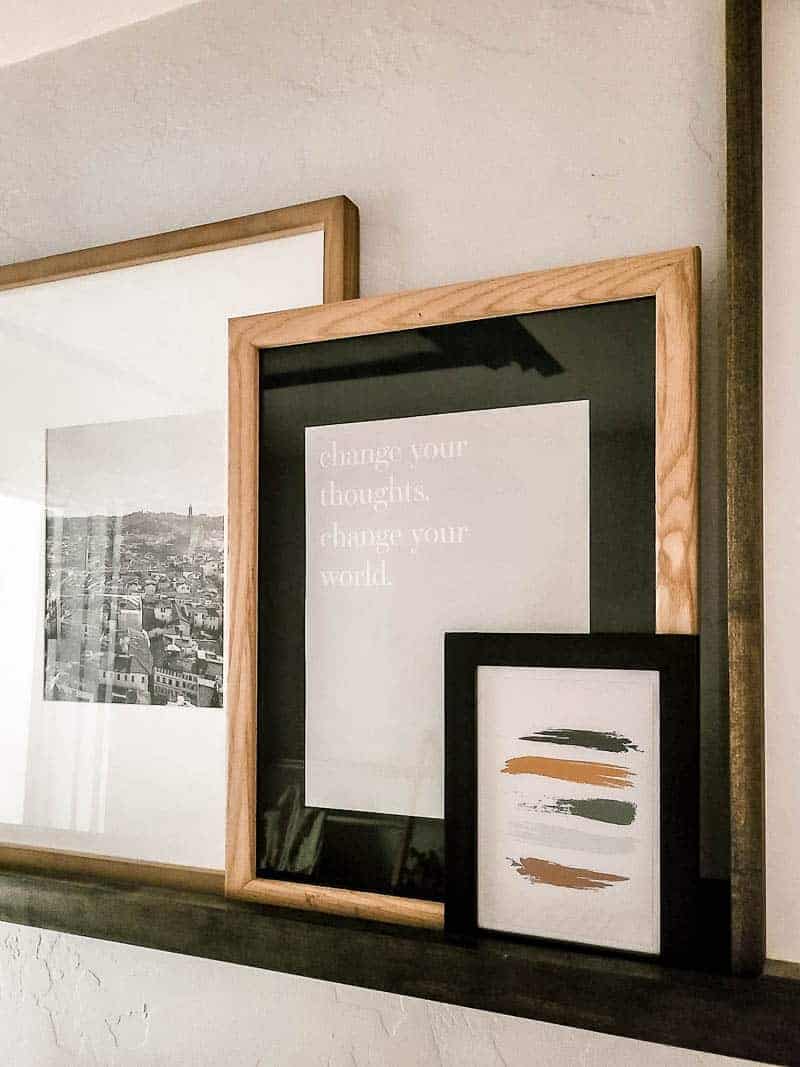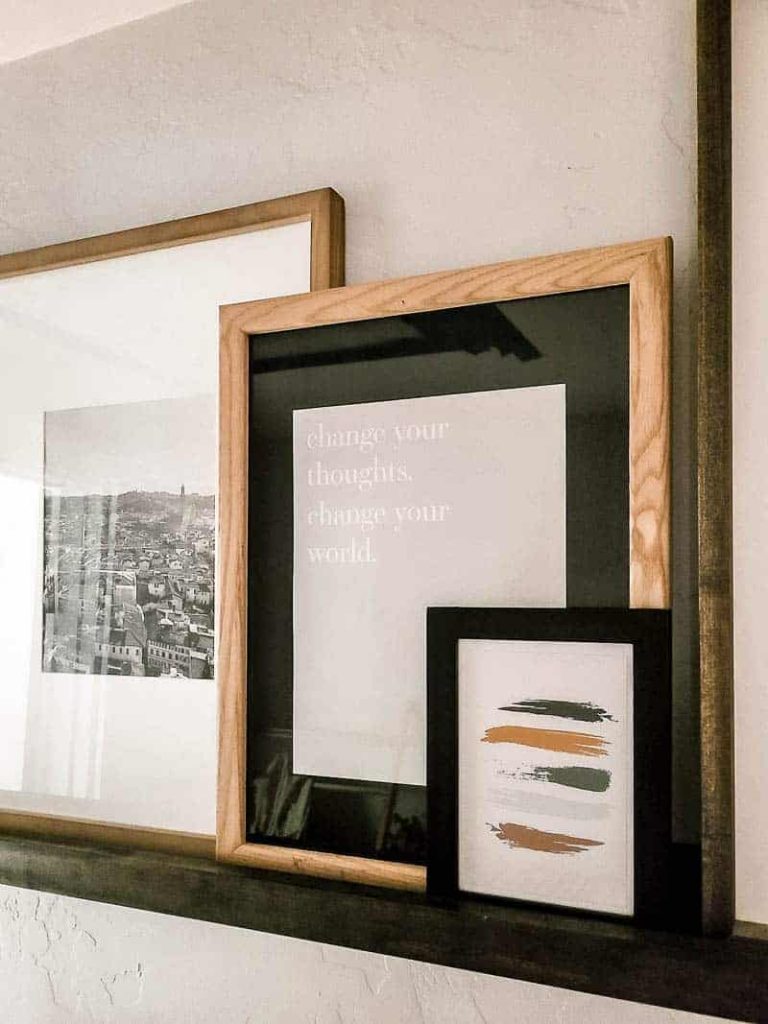 To love the house you have – focus on the good.
Sometimes it is as simple as a change of your thoughts. I have this printable framed in our hallway along with our picture ledge shelf decor and it's such a good reminder.
What we think is often what our world looks like. Instead of looking around your home and not feeling like it is finished or, worse feeling shame about the way it looks…try picking out some positive things to focus on.
Maybe it's a room you recently finished painting and you're proud that you did it yourself.
Or a new farmhouse throw pillow that you just got and you love it.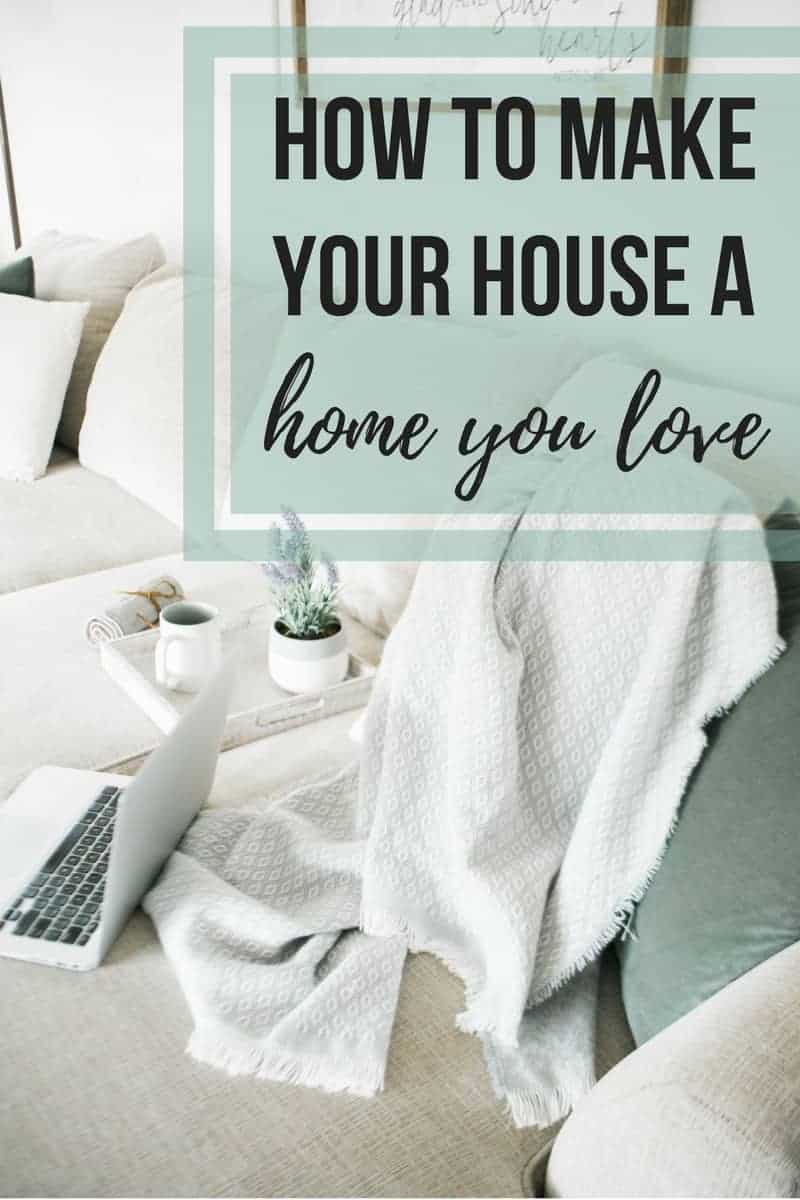 If you're stuck and completely overwhelmed by decorating your home and stuck in the ugly wheel of comparison, it's time to take a step back and remember what makes a house a home. It takes so much more than decor to make a home.
Before you move on to decorating to make your house a home, you definitely need to have a change in mind set (get rid of that Pinterest perfection, girl!) and remember that making your house a home is a gradual process.
How are you going to love the house you have more today?
Let me know in the comments below!!