This cozy farmhouse winter tablescape is perfect for transitioning your home decor from Christmas to winter, complete with cotton stems, mercury glass and vintage glassware.
I'm so excited about today because we're rounding up all of the fun winter crafts that I've been sharing with you over the past couple of weeks and showing you how everything can come together for a beautiful farmhouse winter tablescape.
Since the Christmas decor came and went, we have truly been making our little fixer-upper cozy the coziest place in the world… which has been needed! With 4 feet of snow outside right now, we're barely leaving these days!
A full source list is provided at the bottom of the post for your convenience.
This post contains affiliate links, but nothing that I wouldn't wholeheartedly recommend anyway! Read my full disclosure here.
Ok, are you ready to see this farmhouse winter tablescape?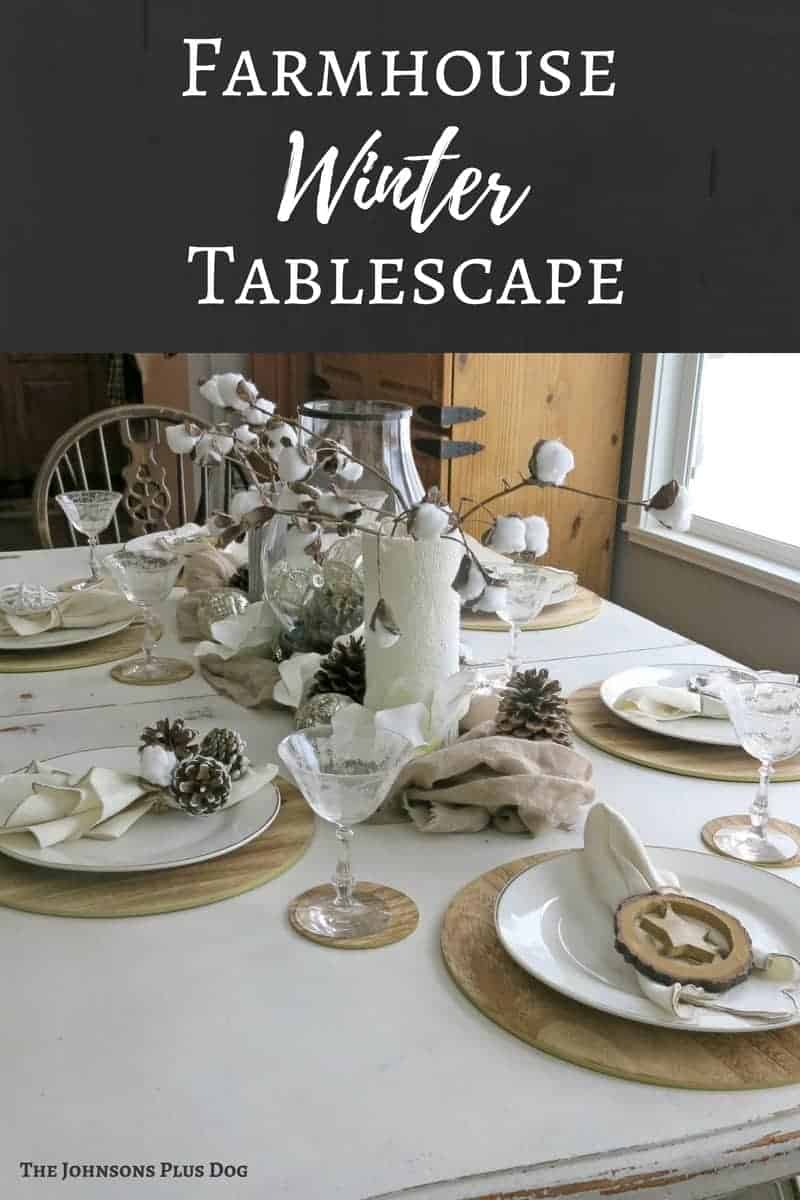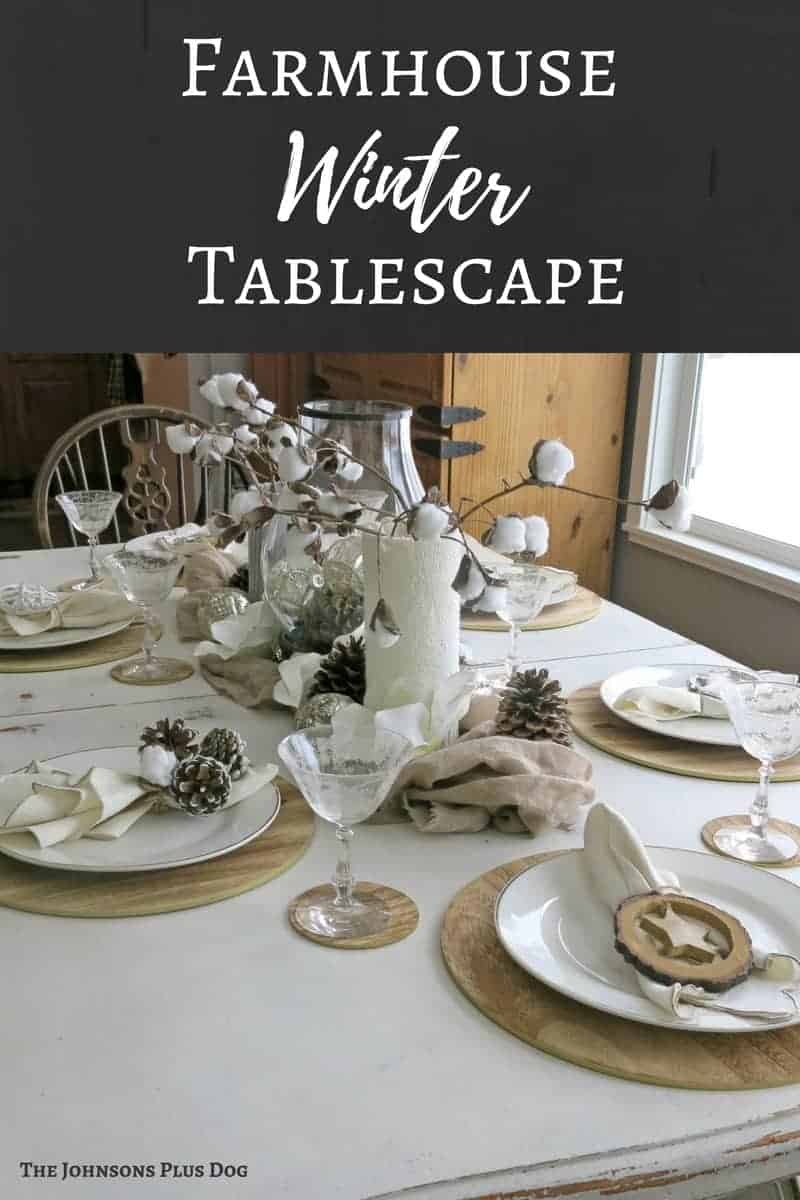 I just love how the farmhouse winter tablescape turned out as I incorporated our simple DIYs like the cotton stems and sweater-wrapped vases.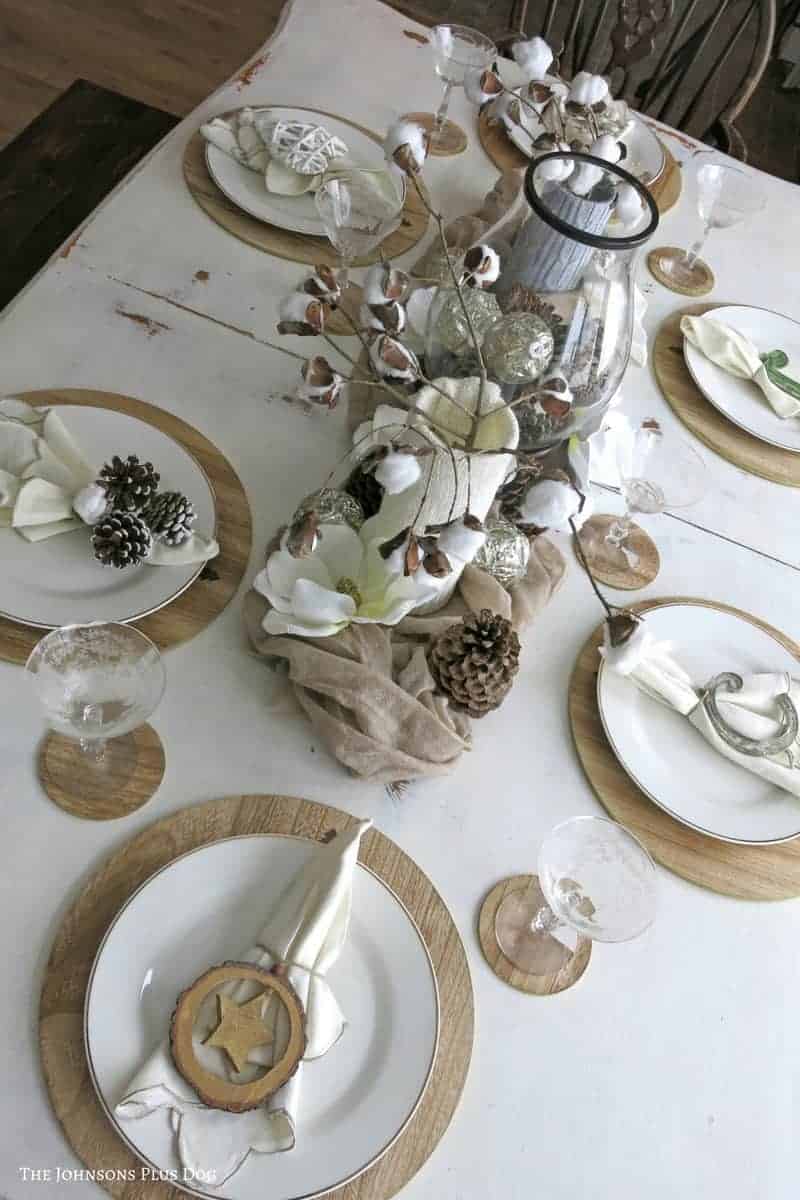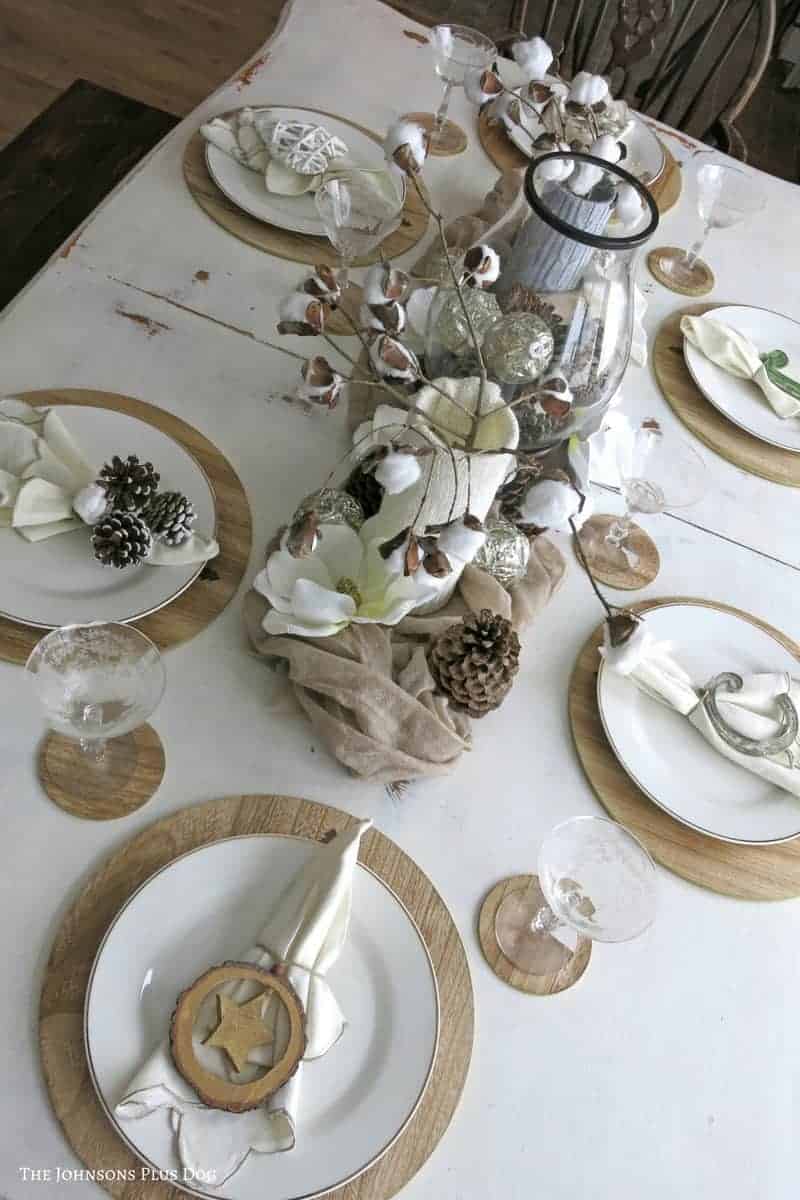 I love to keep things very neutral when I decorate for winter. After all the "Christmas clutter", it can be nice to have a simple palette of winter whites.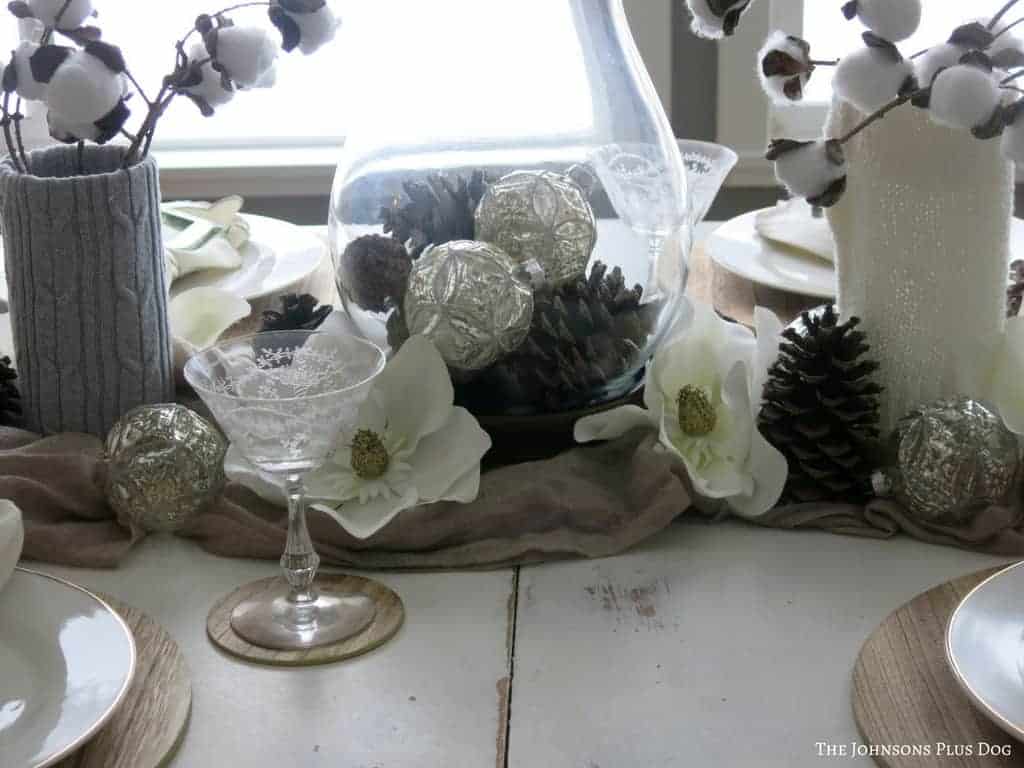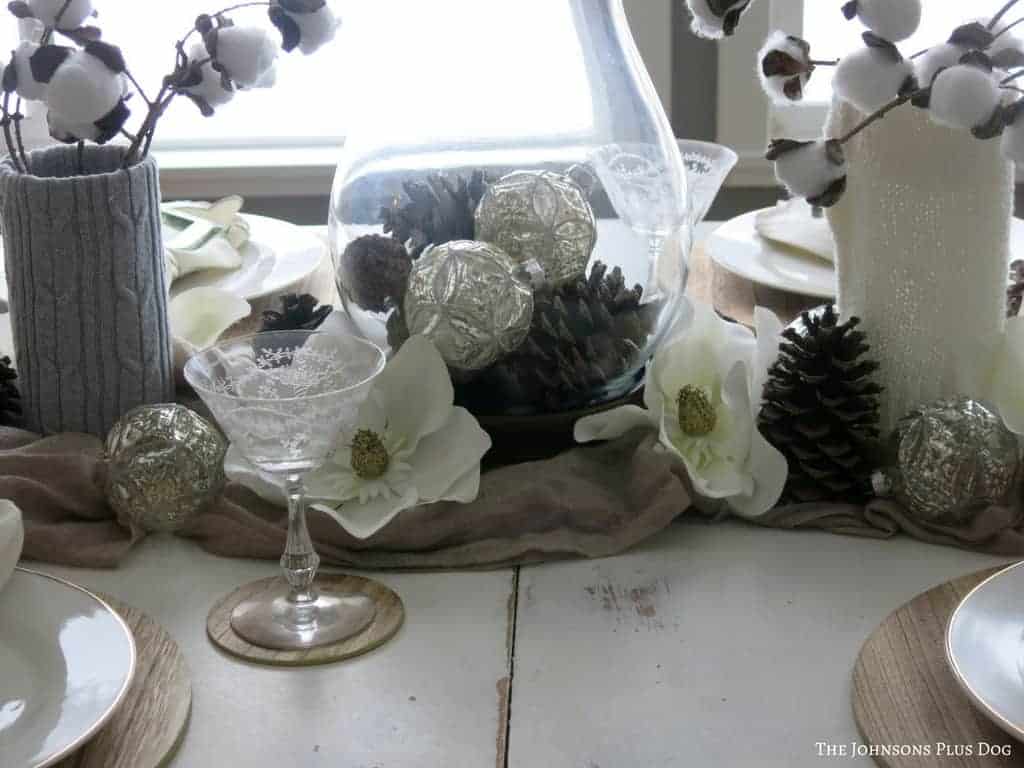 As I'm packing up my Christmas decorations each year, I try to pull out the ones that can be incorporated into my winter decor. I always get rid of all red decor (that screams Christmas to me).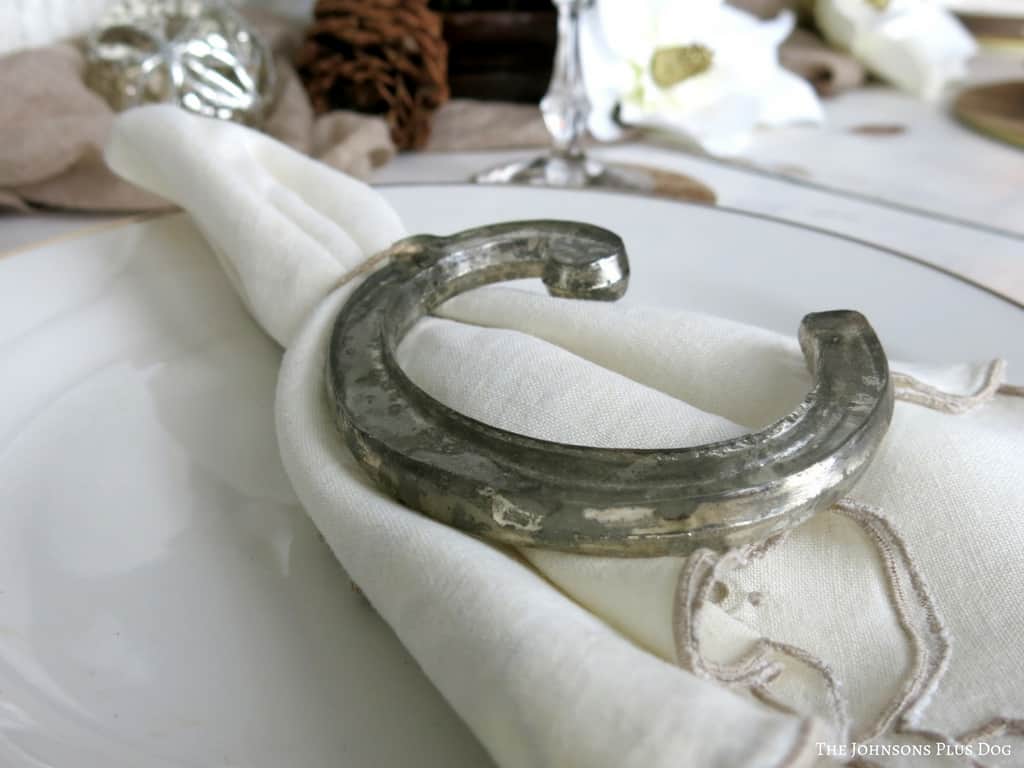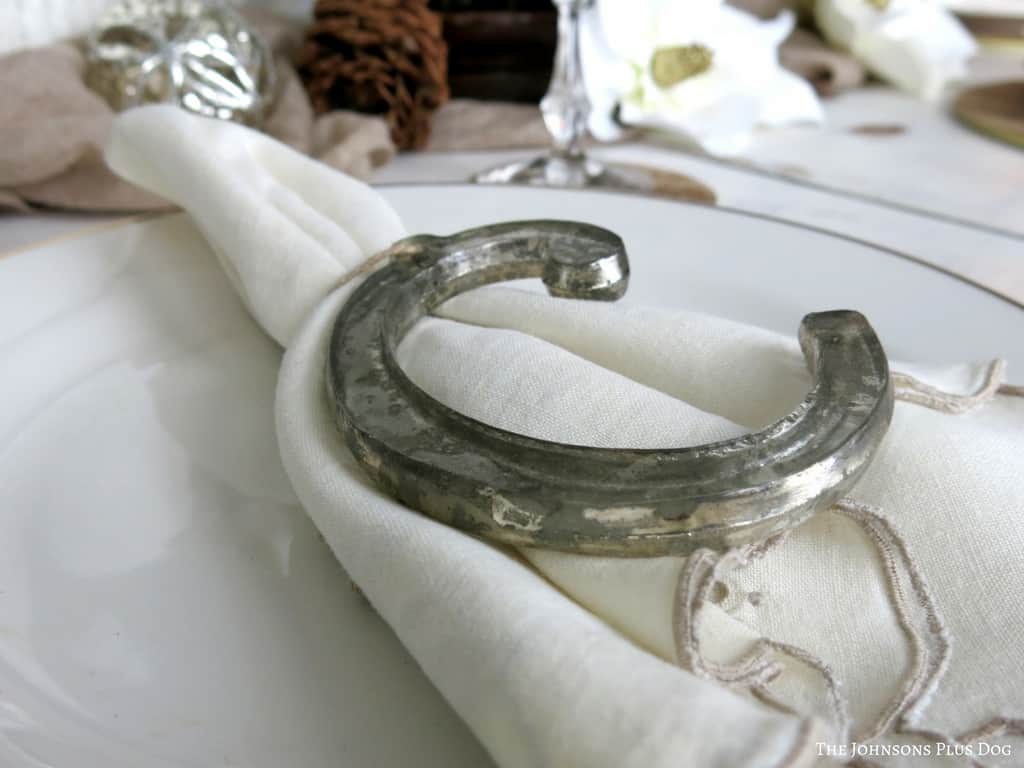 This year I had a handful of ornaments that were great winter colors. I worked these in my farmhouse winter tablescape by tying them onto my napkins and serving as napkin rings. It was such a simple way to jazz up this tablescape.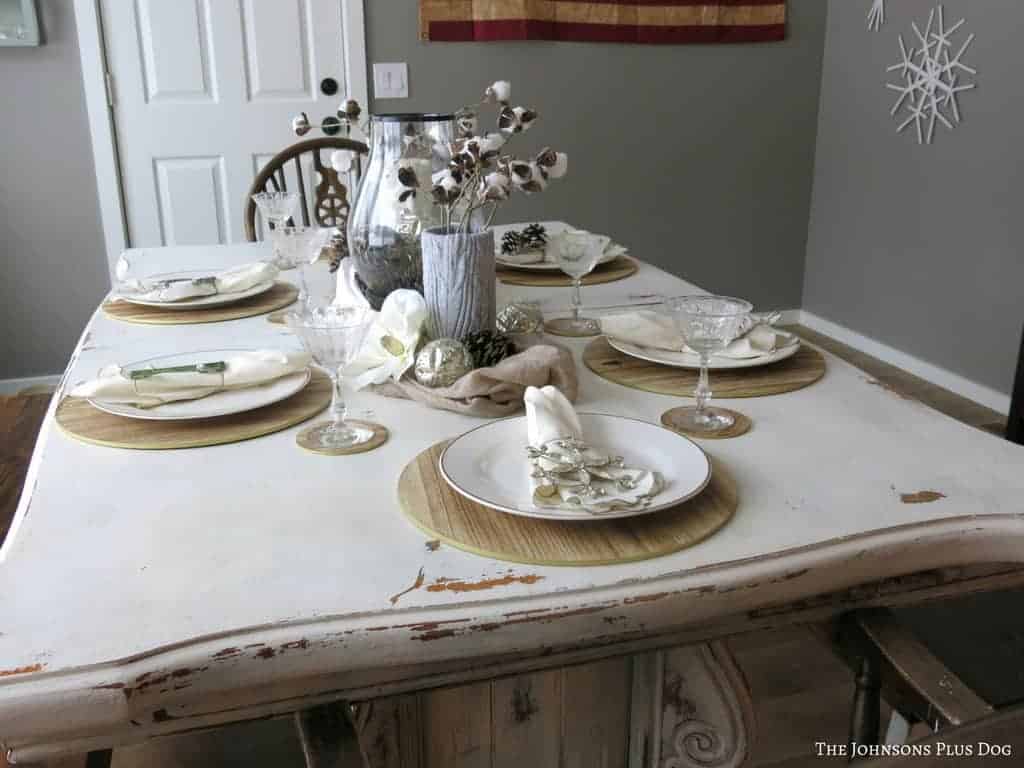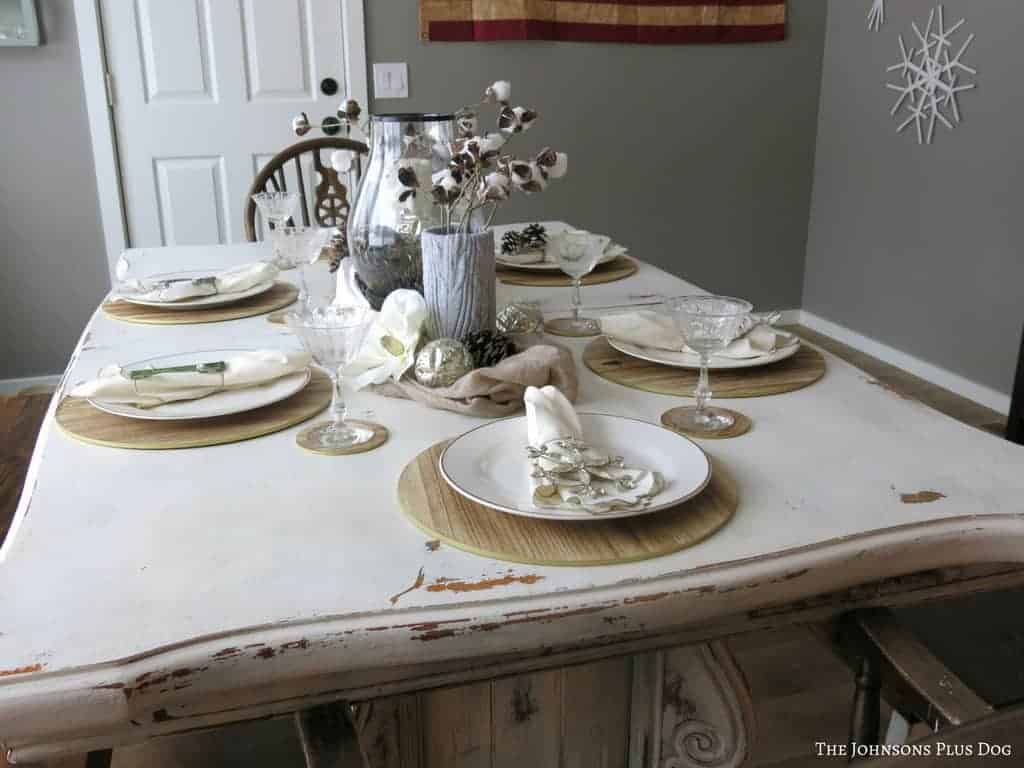 I reused the wood chargers and coasters that I got this year at Target … high five for that Dollar Spot find! You may remember these from my mint & gold modern Christmas tablescape.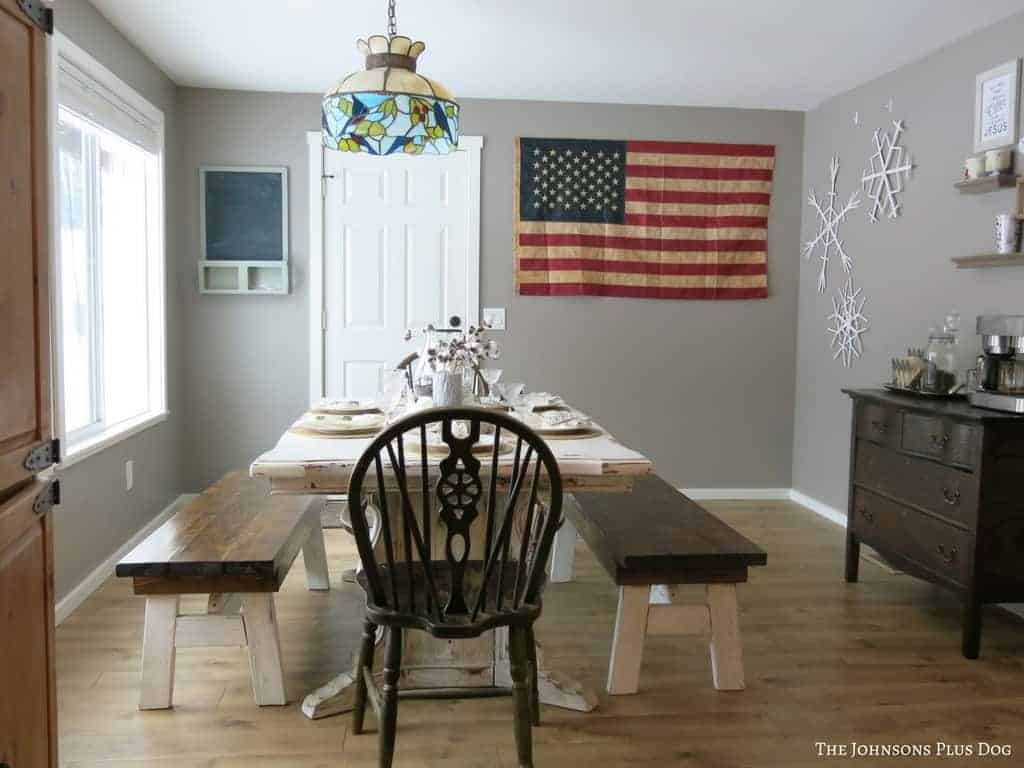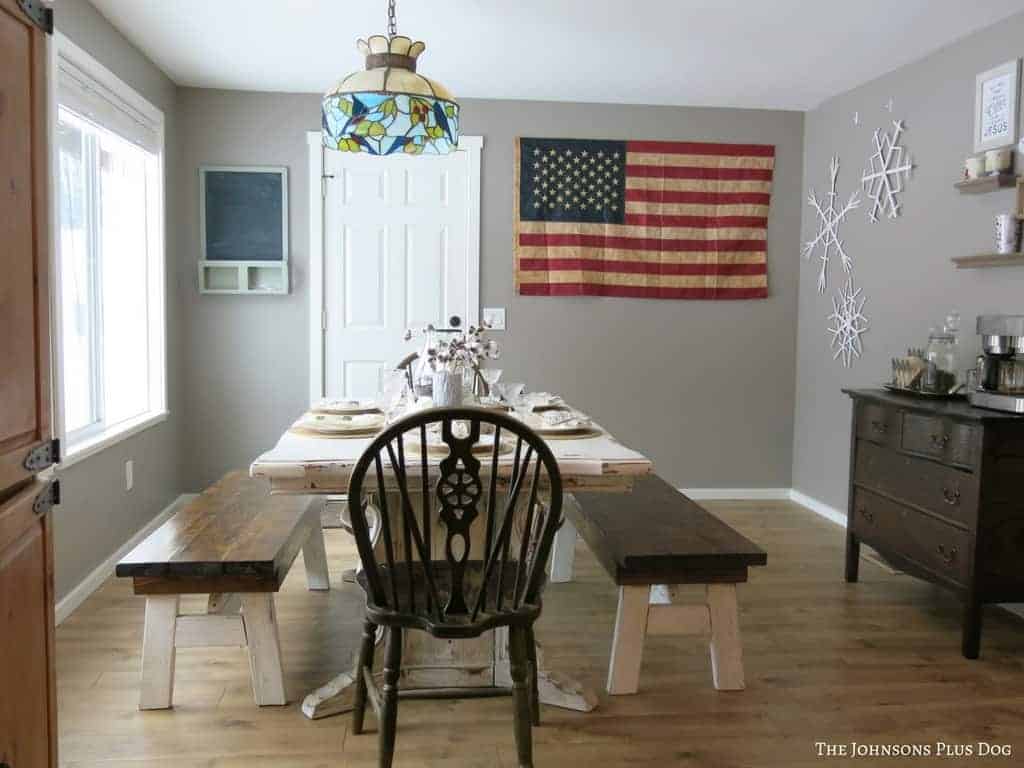 I chose to hang those fun popsicle stick snowflakes in the corner of the room where I had some open wall space. They really make this space feel like winter.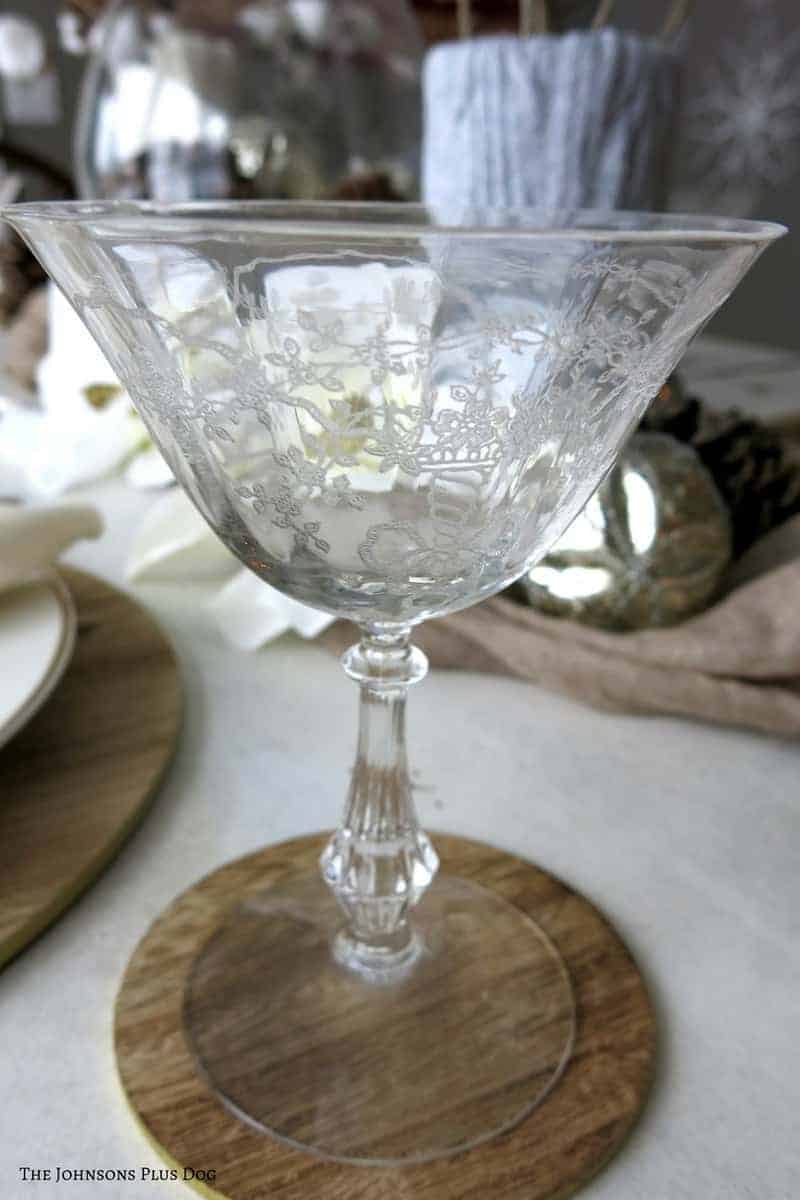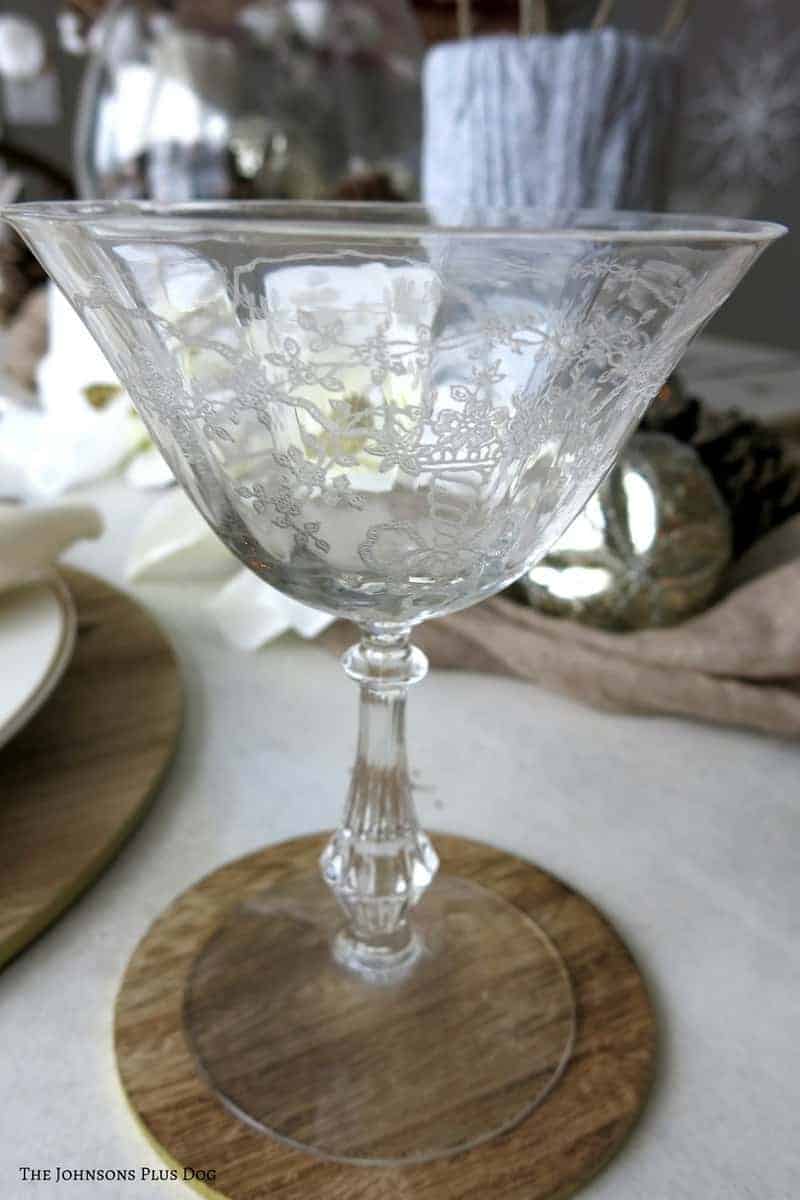 For a perfect touch of farmhouse style, I incorporated my vintage glassware. I always never see these amazing glasses that were passed down to me from my great-grandma. Most of the time these glasses are packed up and stored.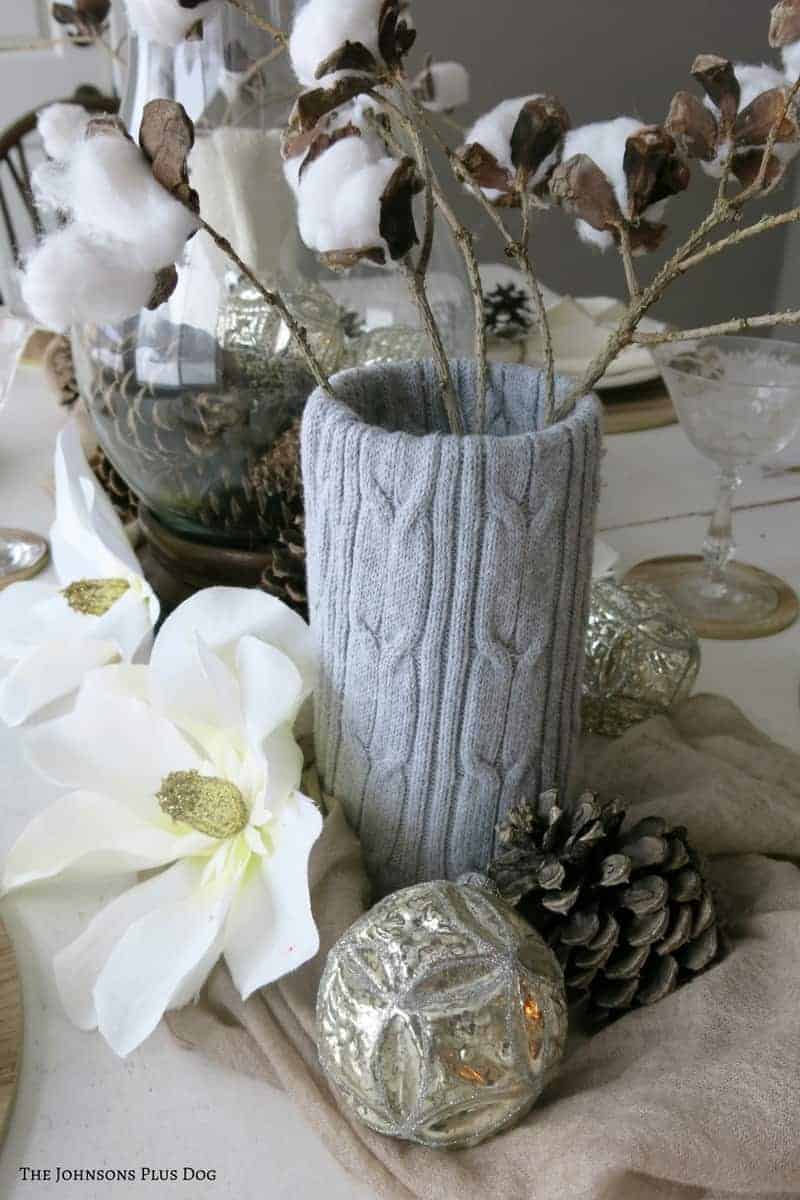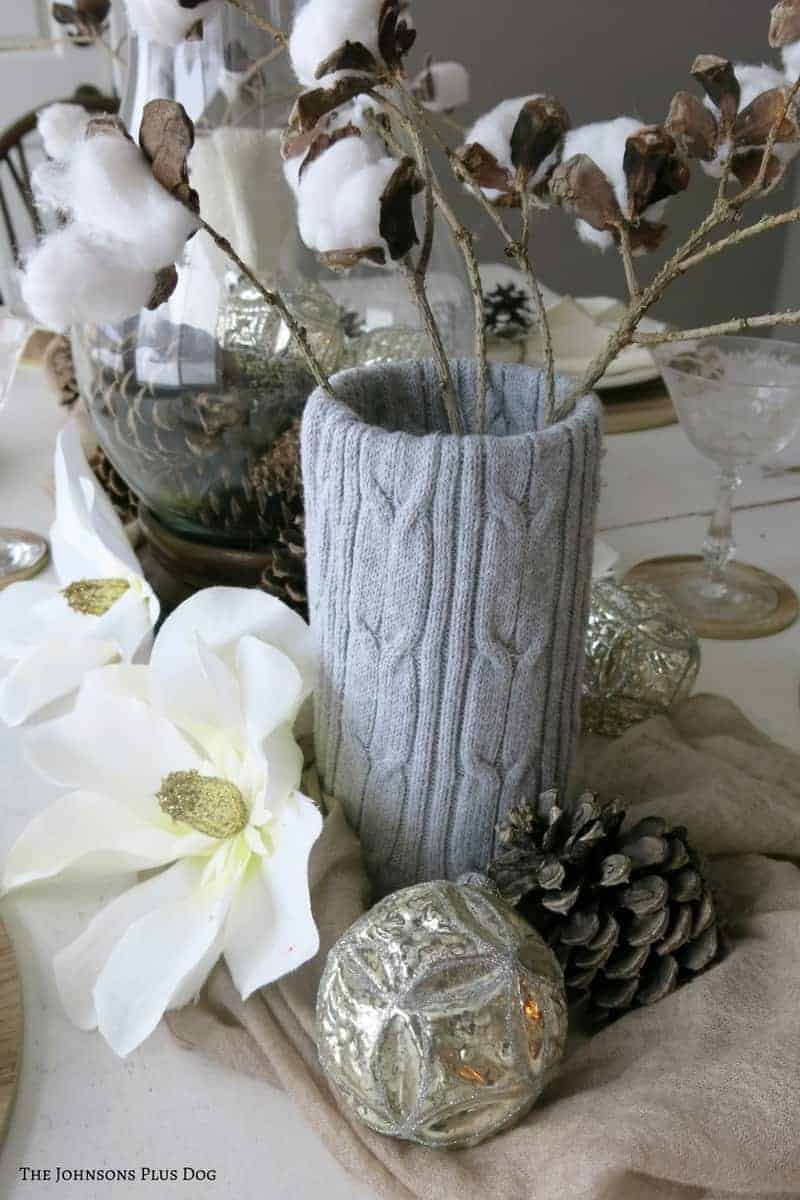 My cozy sweater wrapped vases fit right in on this farmhouse winter tablescape, don't you think?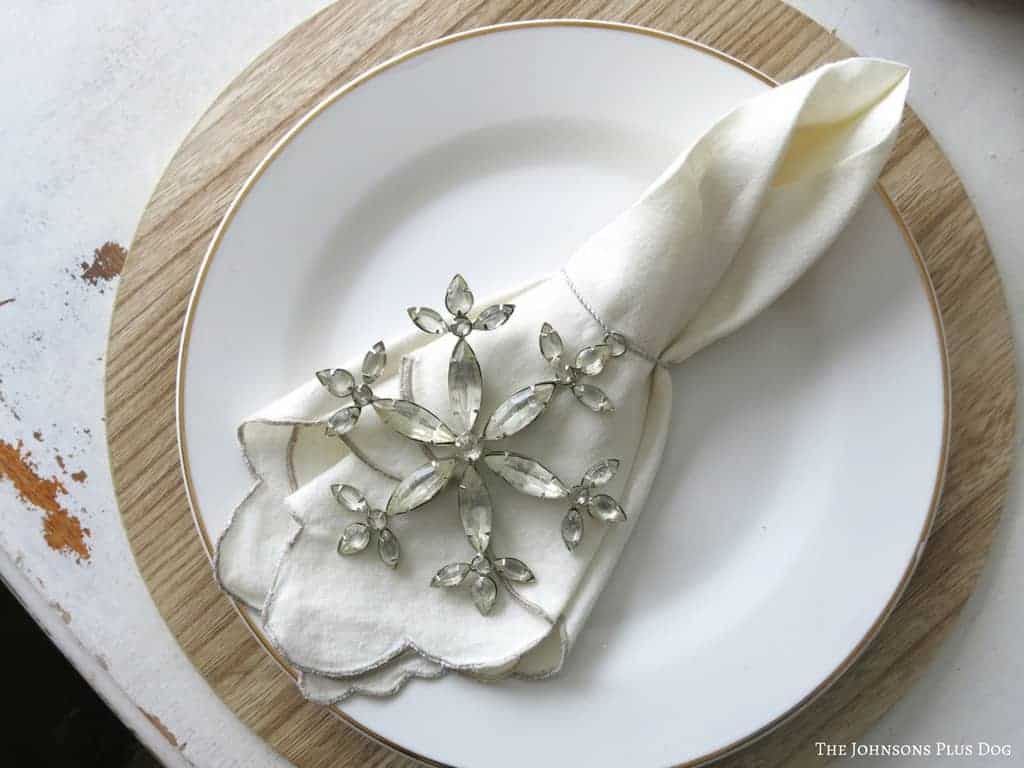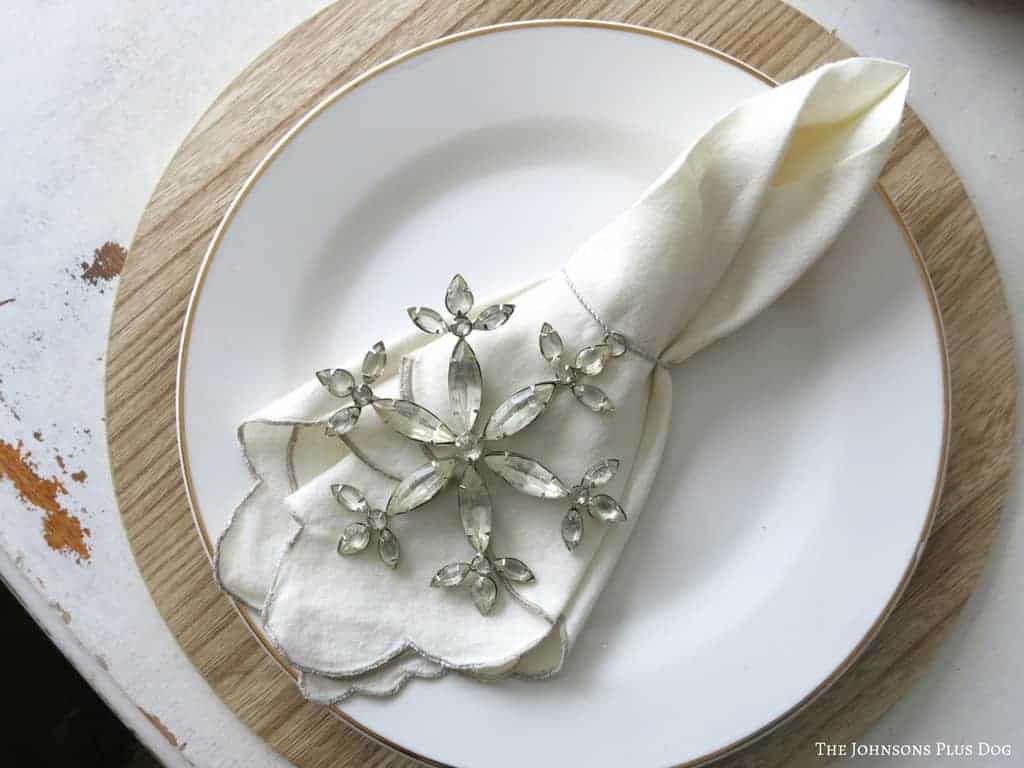 This beautiful snowflake ornament is a favorite of mine every year! I love using it throughout Christmas and into winter as decor.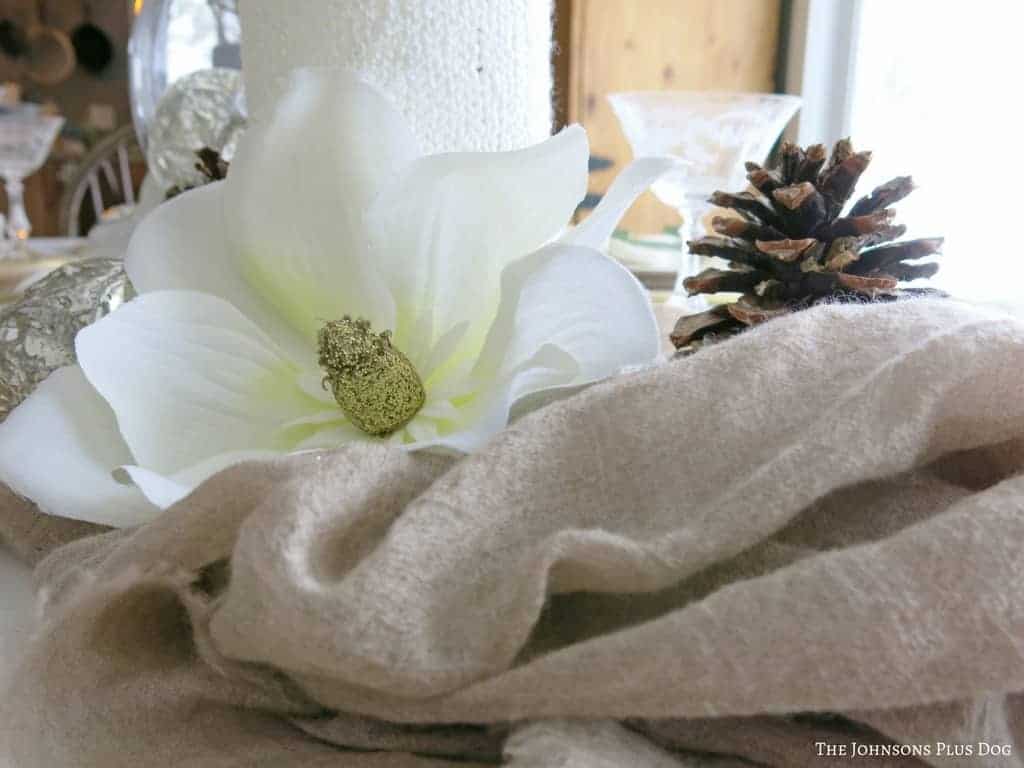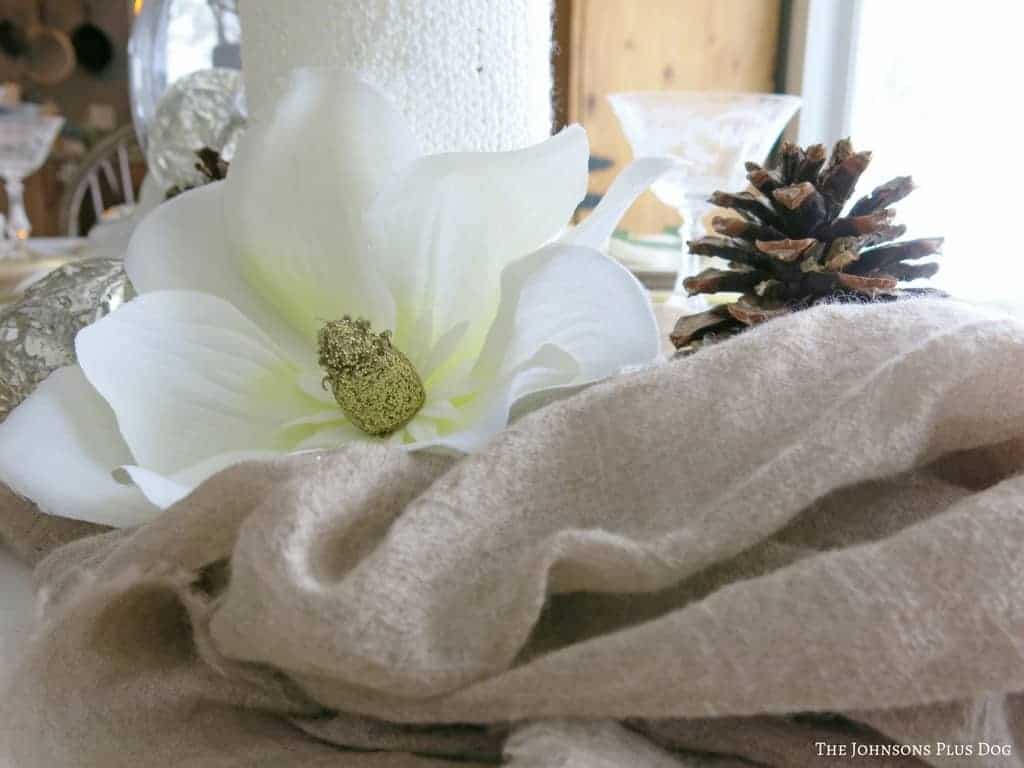 I scored those awesome big magnolia blooms this year at the Dollar Tree, can you believe it? I grabbed a boatload of them and put them all over my tree mixed in with red poinsettias!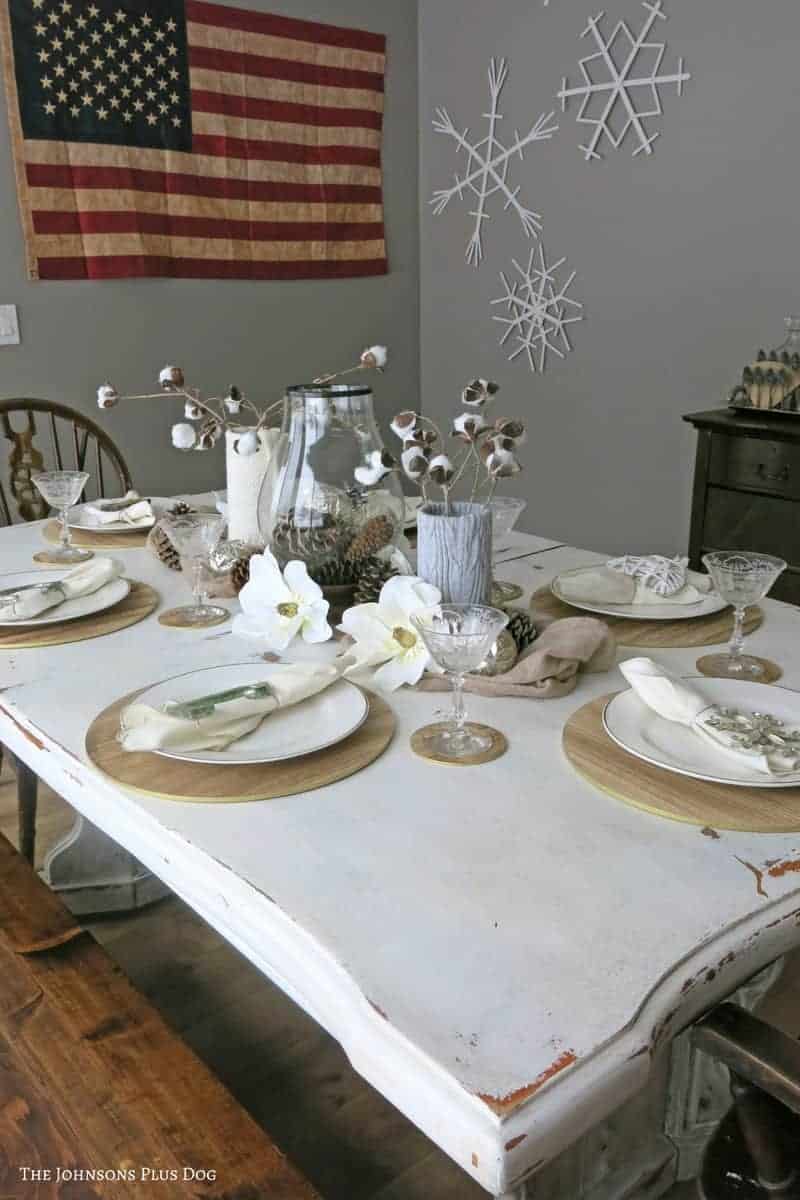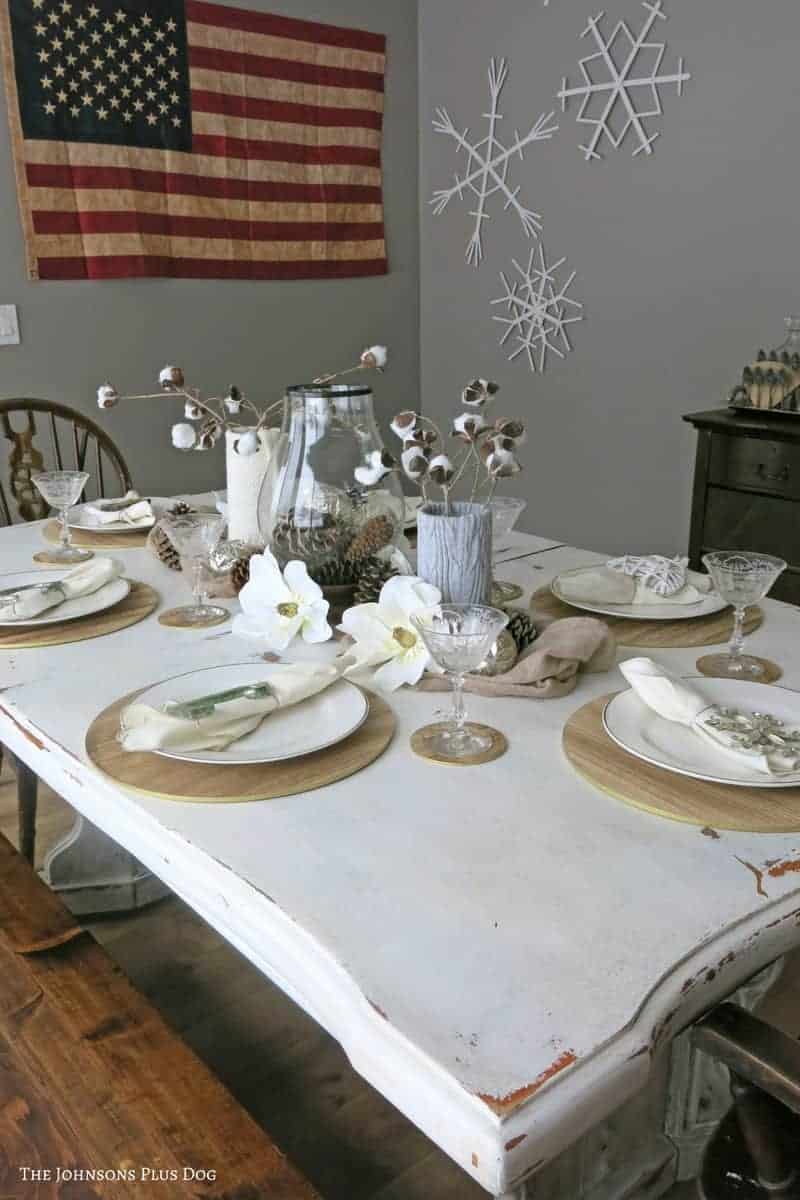 The snowflakes I made with wooden craft sticks make a perfect backdrop for this winter table. I think I may go crazy with these next year and make enough to cover a whole wall!! They are so cute.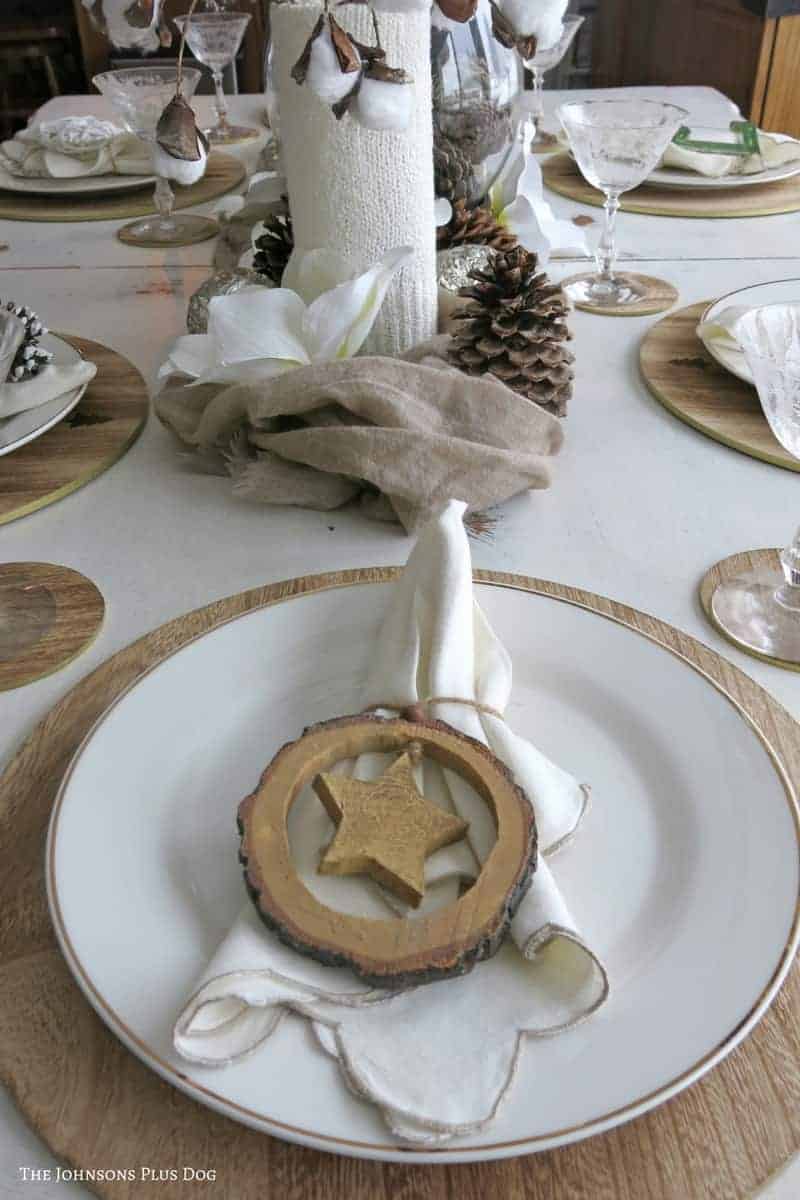 Instead of using a typical table runner, I used a scarf to provide some added texture.
Don't forget to always take a walk around your house to see what items you can pull into your tables. You'd be surprised how many things can be re-purposed so you don't have to go out and buy more decor to make a beautiful farmhouse winter tablescape.
What is your favorite part about this farmhouse winter tablescape? What are you doing around your house to transition from Christmas to winter?
Source List for Farmhouse Winter Tablescape:
Farmhouse Cotton Stems – DIY – Full tutorial here
Large Glass Hurricane Vase – I got this a few years ago as a gift. It was from Pottery Barn Outlet. It's no longer sold, here's some similar ones they have in stock now – Recycled Glass Vases
Wood Chargers – Target (Dollar Spot – Holiday 2016)
Wood Coaster – Target (Dollar Spot – Holiday 2016)
Vintage Linen Napkins – Thrift Store
Vintage Glassware – Family Heirloom (but you can score some fun vintage glassware finds here)
"Napkin Rings" – they're actually ornaments from various stores
Magnolia Flowers – Dollar Tree (These were in their Holiday 2016 line, no longer sold)
White Plates with Gold Rim – Dollar Tree
"Table Runner" – it's actually a scarf – Restoration Hardware
Mercury Glass Ornaments – I got these a few years ago during Christmas at Michael's, here's something similar on Amazon
Farmhouse Table – Thrift Store…jealous?
Farmhouse Benches – DIY
Paint Color – Behr Fashion Gray – learn more about Fashion Gray paint color here