Looking for modern boho runner rugs? You're going to love this article full of inspiration. I've rounded up my favorite modern boho rug designs and I'm also answering the FAQ – do I need a rug pad?
Thank you to Mohawk Home for sponsoring this post with modern boho runner rug inspiration! I received Mohawk flooring and accessories free of charge to facilitate my review. All opinions are entirely my own. This post also contains affiliate links, but nothing that I wouldn't recommend wholeheartedly. Read my full disclosure here.
If you've been following along, you know that we've been working on building built-in mudroom lockers in our laundry room for months.
It was a huge DIY project and I'm happy to say we're finallllllly done! Check out the reveal & the full step by step tutorial of the DIY mudroom lockers here!
The finishing touch to the lockers (and usually the finishing touch in every room in my opinion) was adding a rug. Specifically for this space, it called for a runner rug, which is a long narrow shaped rug. And I knew I wanted something in the modern boho style.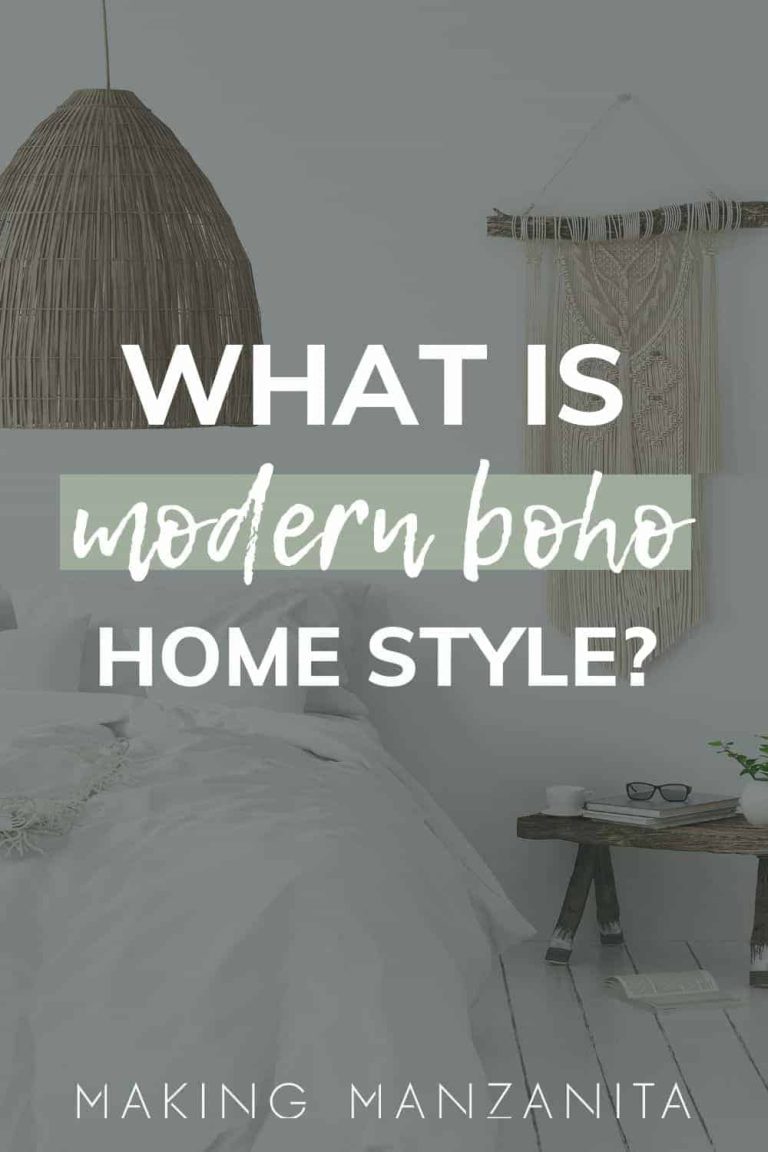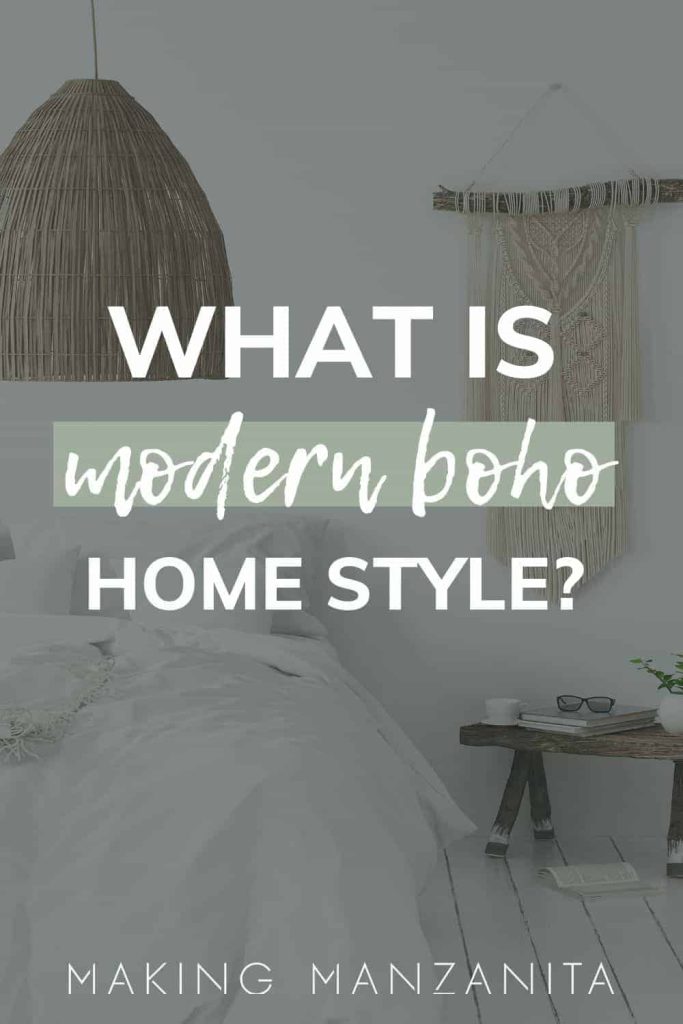 What is the modern boho home style?
You may be wondering "well, what in the heck is modern boho?" The modern boho style is also referred to as urban boho or boho chic.
First of all, here's some background. "Boho" is short of bohemian, which refers to the "free spirit" generation of gypsies and hippy culture of the 50's-70's. Traditionally, the boho home decor style featured macrame, rattan, brightly colored textiles and was very eclectic.
There's a been a big resurgence of the boho style and it's taken a modern twist. We are now seeing elements of the boho home decor style stick around with the vintage looking prints and patterns, global accents and casual, laid-back style. The modern twist on the "modern boho" style is pair it with sleek lines, modern furniture, a more muted color palette, and even geometric patterns.
Why I love the modern boho style for our home
In our home, I've been finding myself drawn to the modern boho style more and more…which I think is reflected in our master bedroom reveal especially.
I love mixing the modern and boho styles because it gives me freedom to bring in more modern elements without making my home feel too contemporary.
So when it came time to choose the rug to pair with our DIY mudroom lockers, it only made sense to bring in a modern boho runner rug! I found SO many great options when I went looking – here are some of my favorites!
Ready to see my favorite modern boho runner rugs?
1. Prismatic Henrietta Gray Runner
2. Gracewood Hollow Faded Classic Border Green/Brown Runner Rug
3. Home SoHo Woodbridge Skylee (comes in a 2 piece set)
4. Pantaleone Indigo Runner Area Rug
5. Steeplegate Multi Indoor Vintage Runner
6. Prismatic Emiko Gray Traditional Ornamental Heriz Runner
7. Augusta Spokane Abyss Blue Woven Runner
8. Nomad Vado Cream Transitional Geometric Bohemian Woven Runner
9. Augusta Fresno Shag Rug Black
10. Charcoal Prale Area Rug Runner
12. Memphis Shag Rug Black/White
13. Light Blue Kimora Area Rug Runner
Shop the boho runner rugs:

Gosh, they are all so amazing right!? I mean, I seriously would have been happy with any one of these modern boho runner rugs in front of our mudroom lockers. But there was one style and color scheme that really stuck out to me.
Ready to see which modern boho runner rug we chose?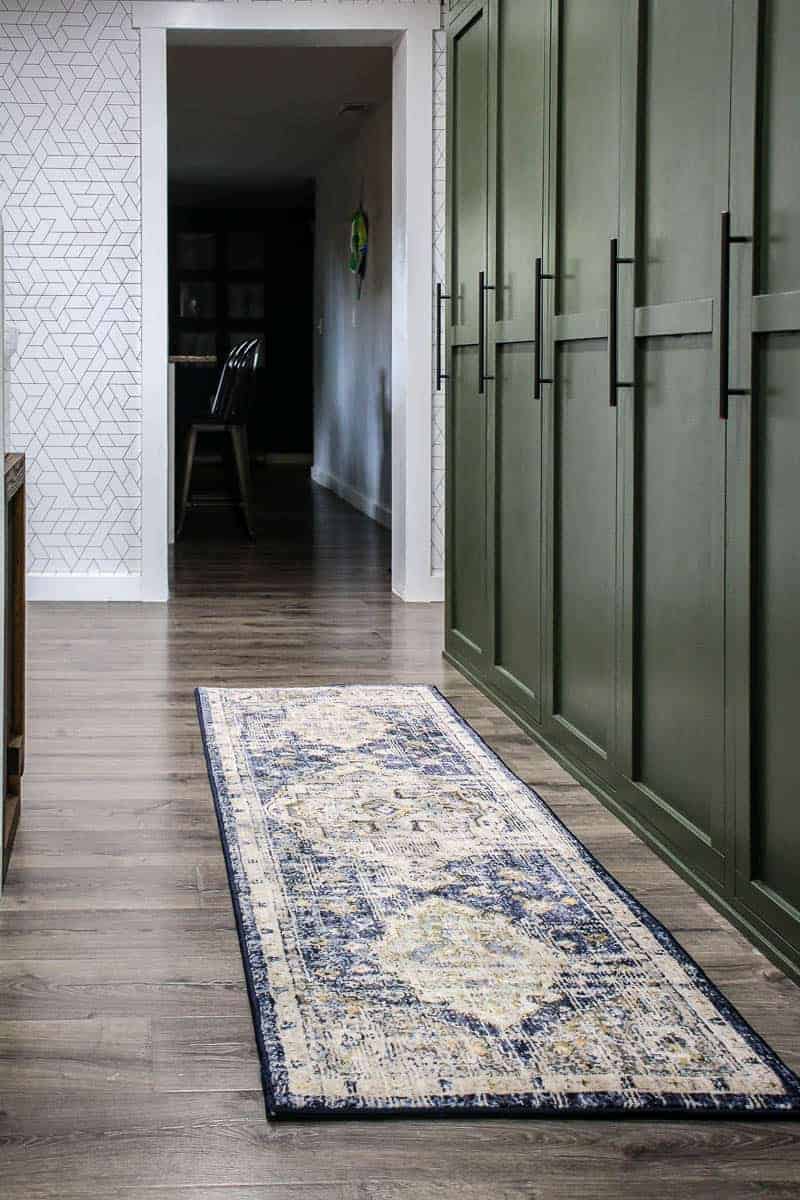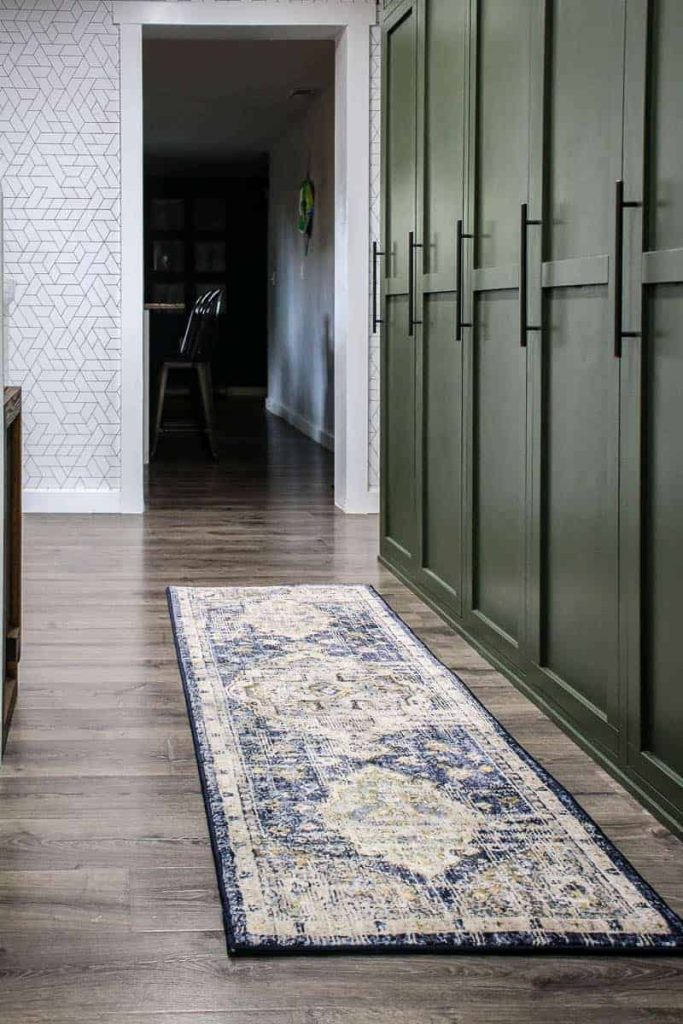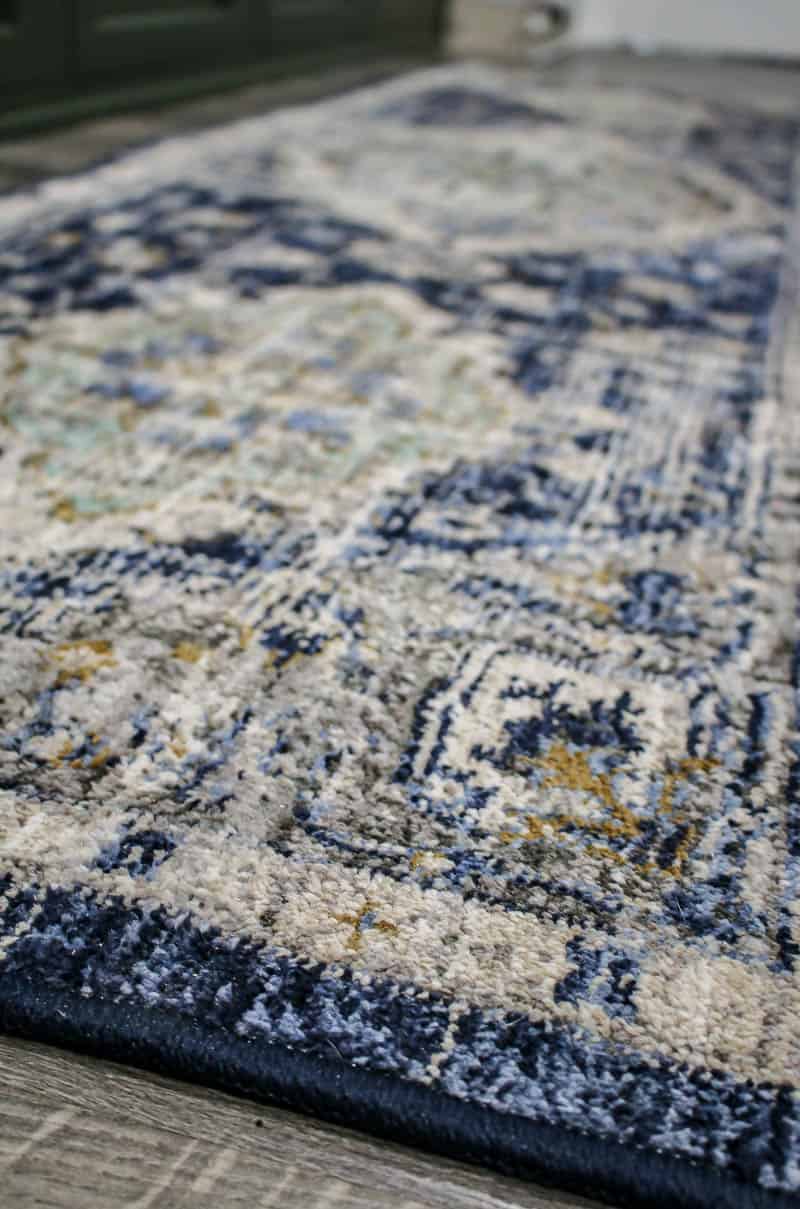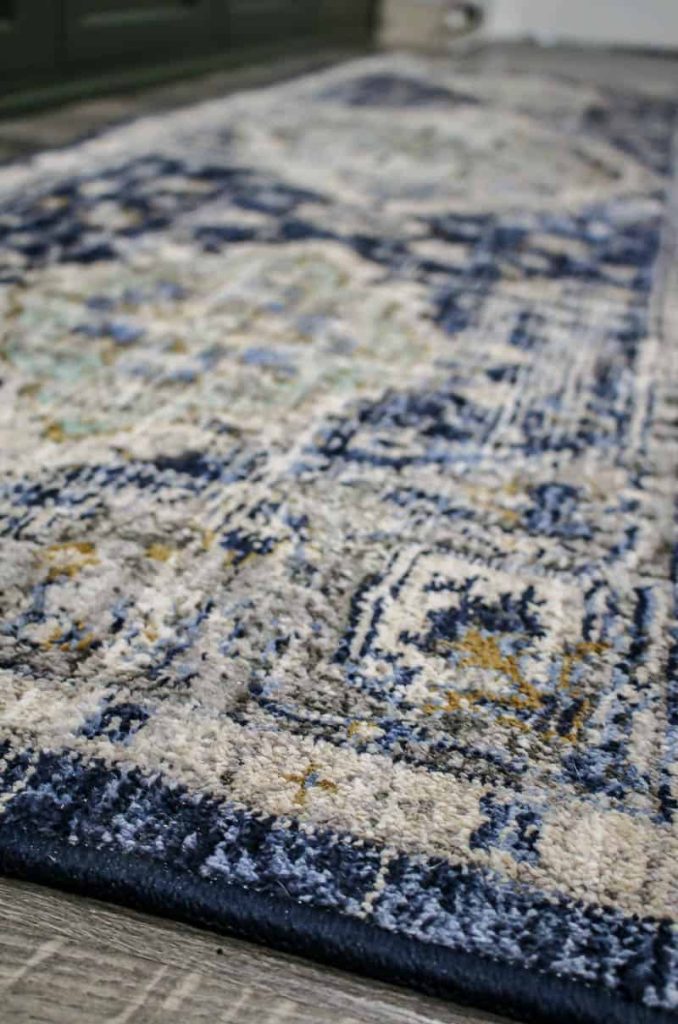 We went with #4, the Pantaleone Indigo Runner Area Rug. As soon as I saw it, I instantly fell in love with the deep navy color mixed with the green and I knew it would be worked well paired with the dark green painted cabinets.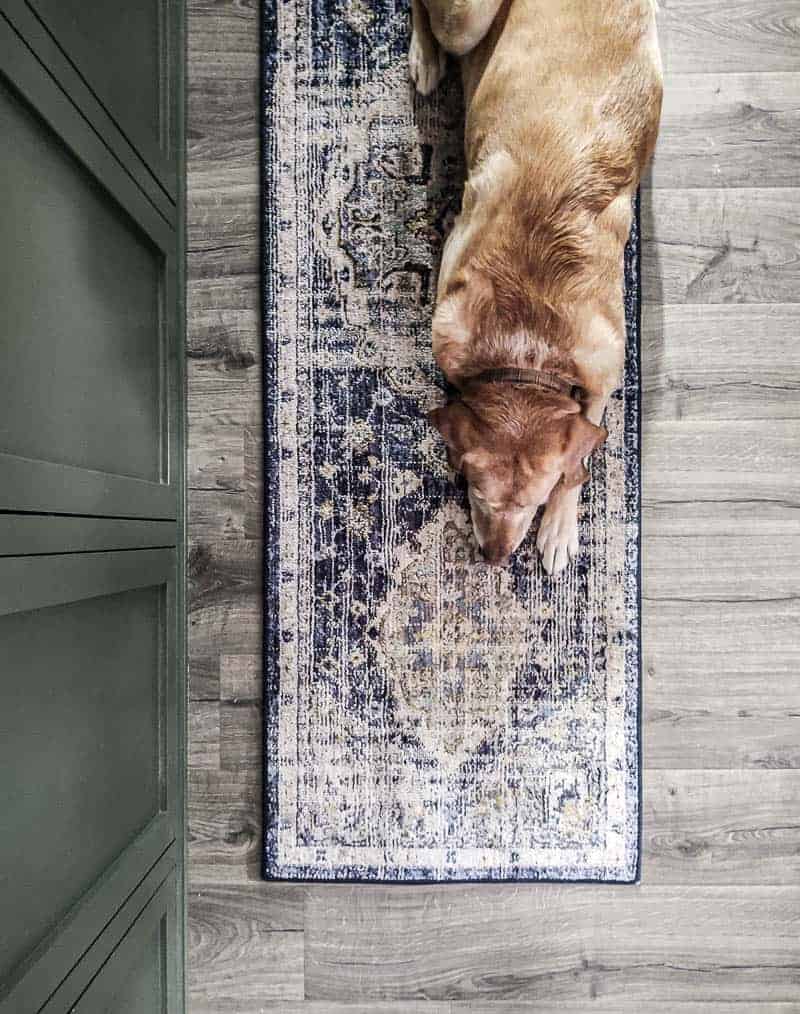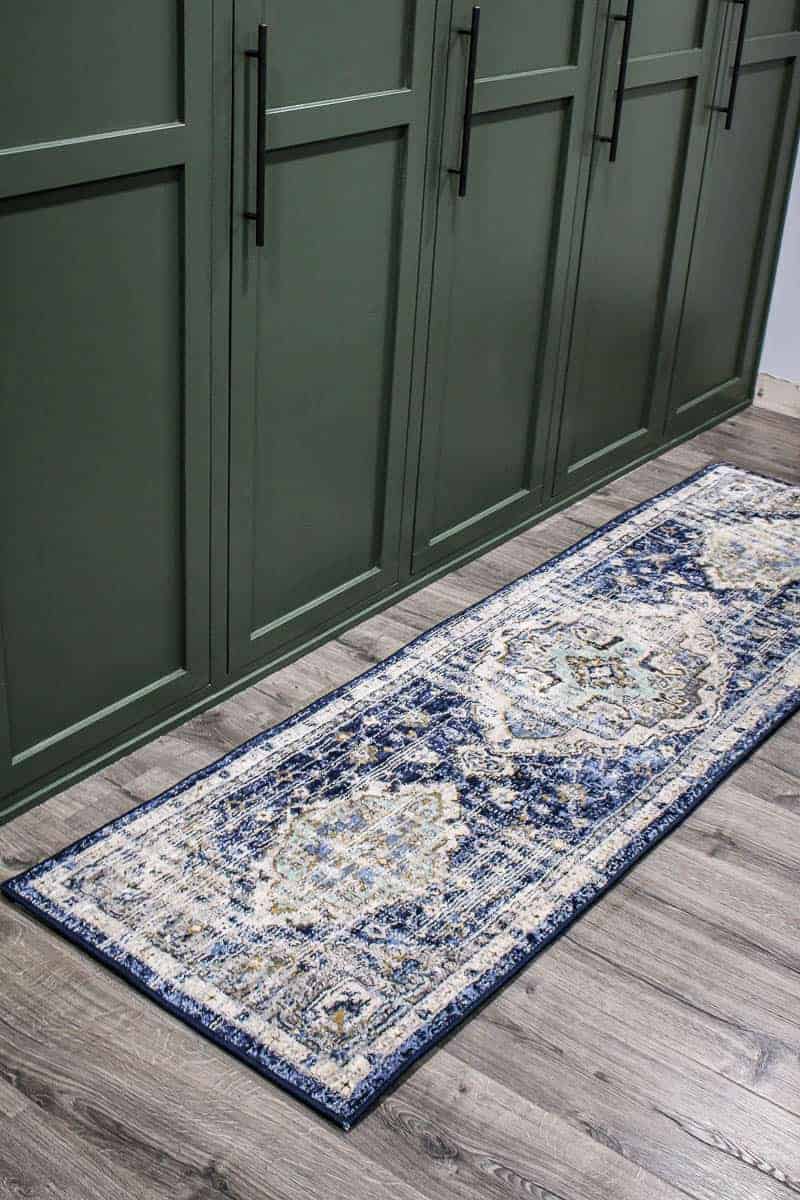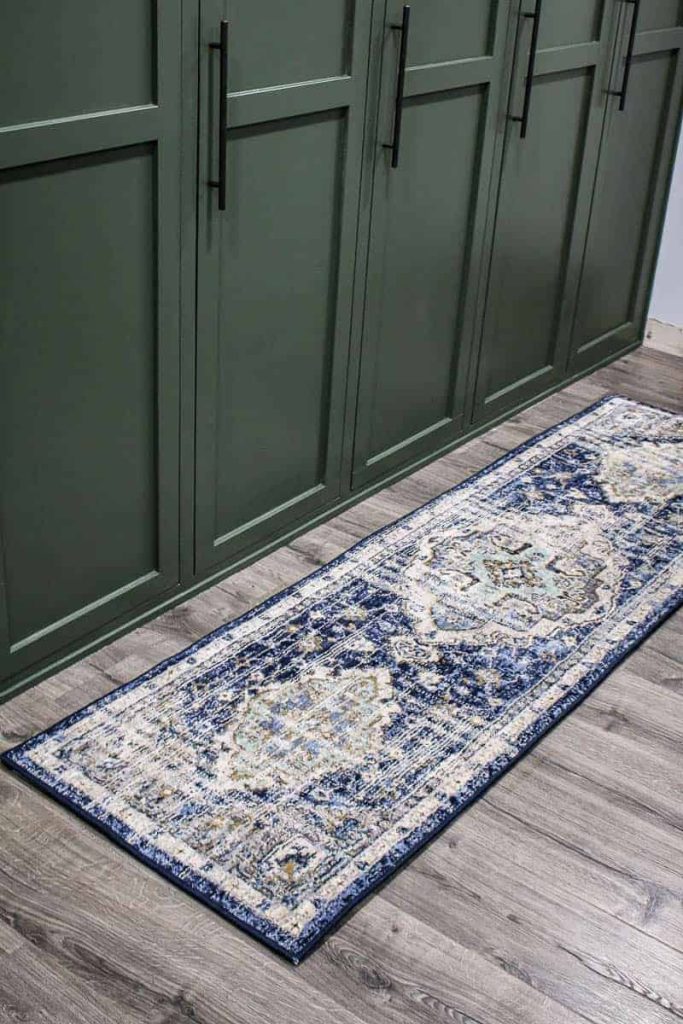 Now, while we're on the topic of rugs, let's chat about a question that I've gotten from readers.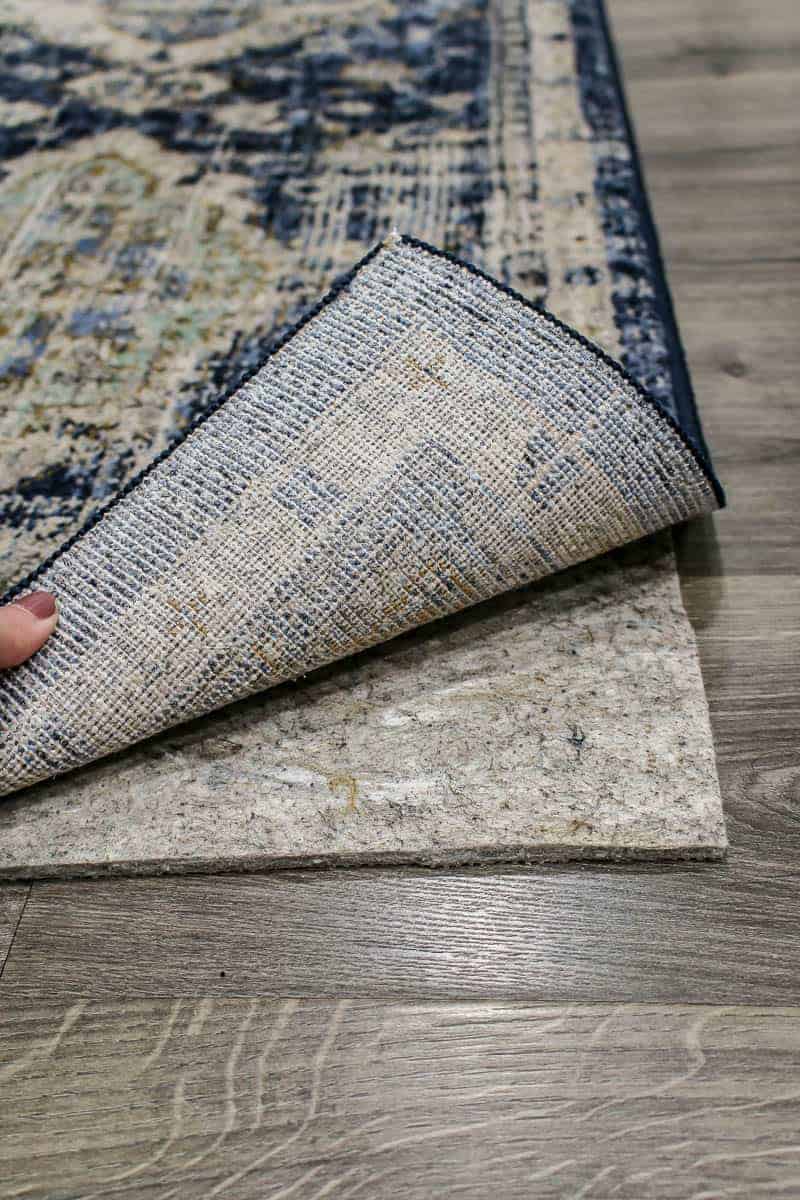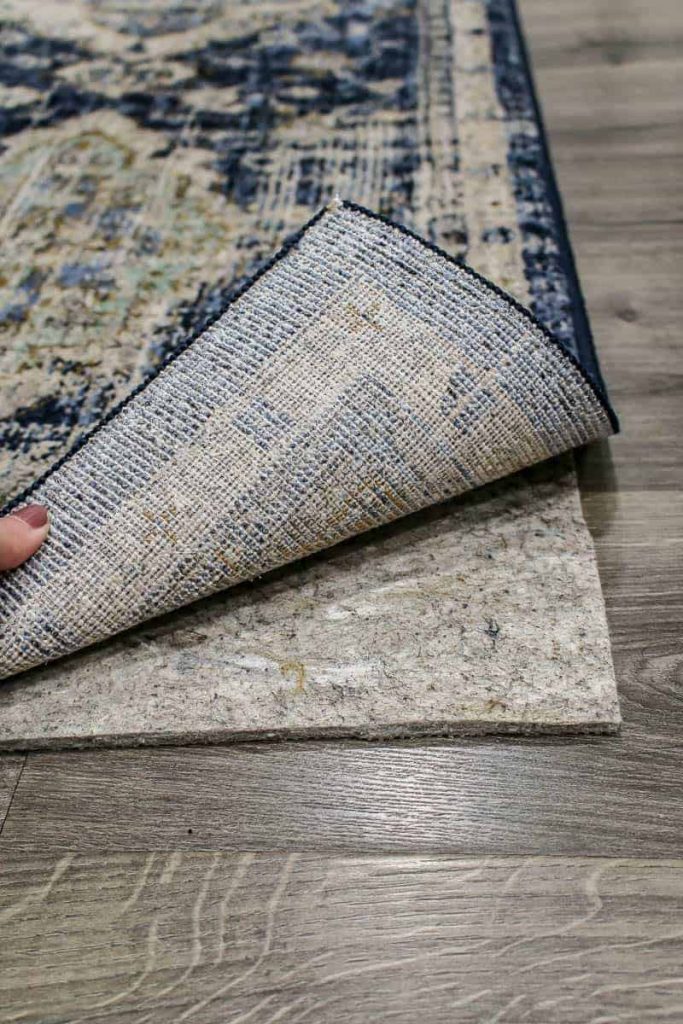 Do I need a rug pad?
If you're shopping for a new rug, one question you may be wondering is "Do I need a rug pad?" or even "Do I need a rug pad on hardwood floors". Maybe you're shopping on a budget and thinking that it's something you can do without.
I always recommend using a rug pad when you have a rug placed on hard flooring.
Benefits of rug pads:
Protect the flooring & the rug from damage like scratches, traffic wear, or color transfer
Prevents dirt from getting stuck under the rug
Keeps the rug flat and in place so it doesn't slip around
Prevents dents in the rug from furniture
Provides more cushion for a softer feel on your feet
Helps absorb more noise
Now when you go to shop for rug pads for hardwood floors, I'd specifically look for one that has felt on one side and rubber on the other.
The rubber side should be touching the hardwood floors so it stays put and doesn't leave any marks
The felt side can be placed down if you're putting the rug/rug mat on carpet
This is the rug pad that I'm using in front of the mudroom lockers (and I have the same exact one under the rug in our master bedroom and in Quinn's nursery) – guess you can say I'm a big fan!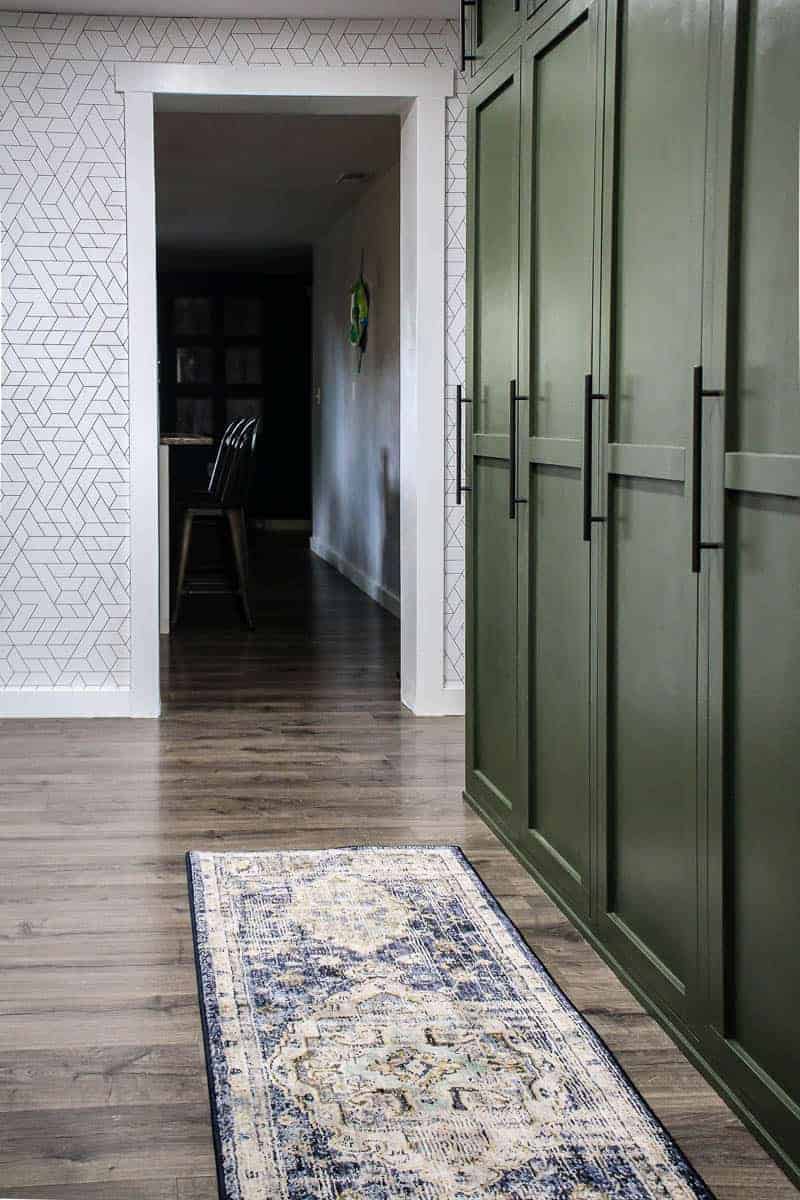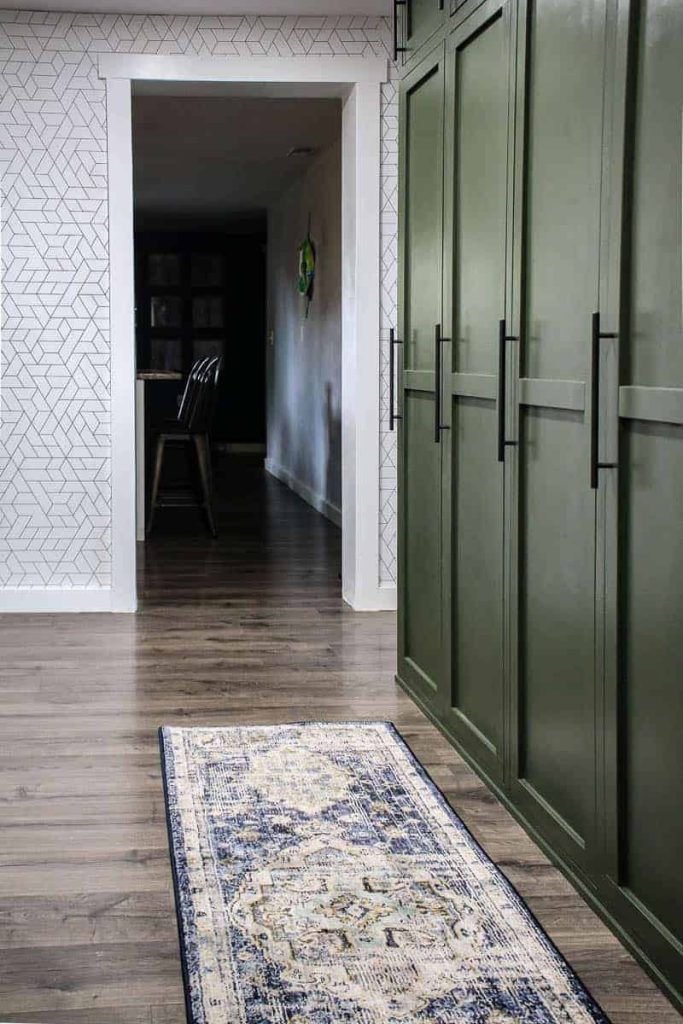 Are you shopping for a modern boho rug for your home? What characteristics are you looking for? Which of these runner rugs was your favorite?