Do you want to stencil words on your wall? Learn how to make wall stencils in this simple step by step tutorial. The wall stencil design in this laundry room turns out SO good!
If you love DIY videos, be sure subscribe to our YouTube channel so you don't miss one!
Ever since I made our initial design plans for our laundry room, I've been daydreaming about this wall stencil design. I envisioned this drop-dead gorgeous farmhouse sink and black faucet with a fun and unique stenciled design on the faux brick wall.
And you know what…. after months of dreaming about it. I finally made it happen and you know what it took me?
About 1-2 hours of time and some simple supplies that I already had on hand…yep that's right, I spent ZERO dollars to make this wall stencil design happen. I think I deserve to give myself a pat on the back, don't ya think?
Creating your own stencils with a cutting machine, like a Silhouette or Cricut, is one of the best ways to add unique and fun decor to your home!
Whether you're making labels for the spice cabinet organization or making your own DIY farmhouse sign, there is SO much you can do with these machines. And making stencils is JUST scratching the surface!
Today I'm going to show you the SUPER simple steps that go into how to make wall stencils, but these instructions could really be used for any type of stencil you wanted to make with the Silhouette Cameo. I use the same process every time…
When I am making wood signs with these stencils, I also incorporate this simple hack for preventing bleeding under the stencil too! It's a total game changer for wood signs.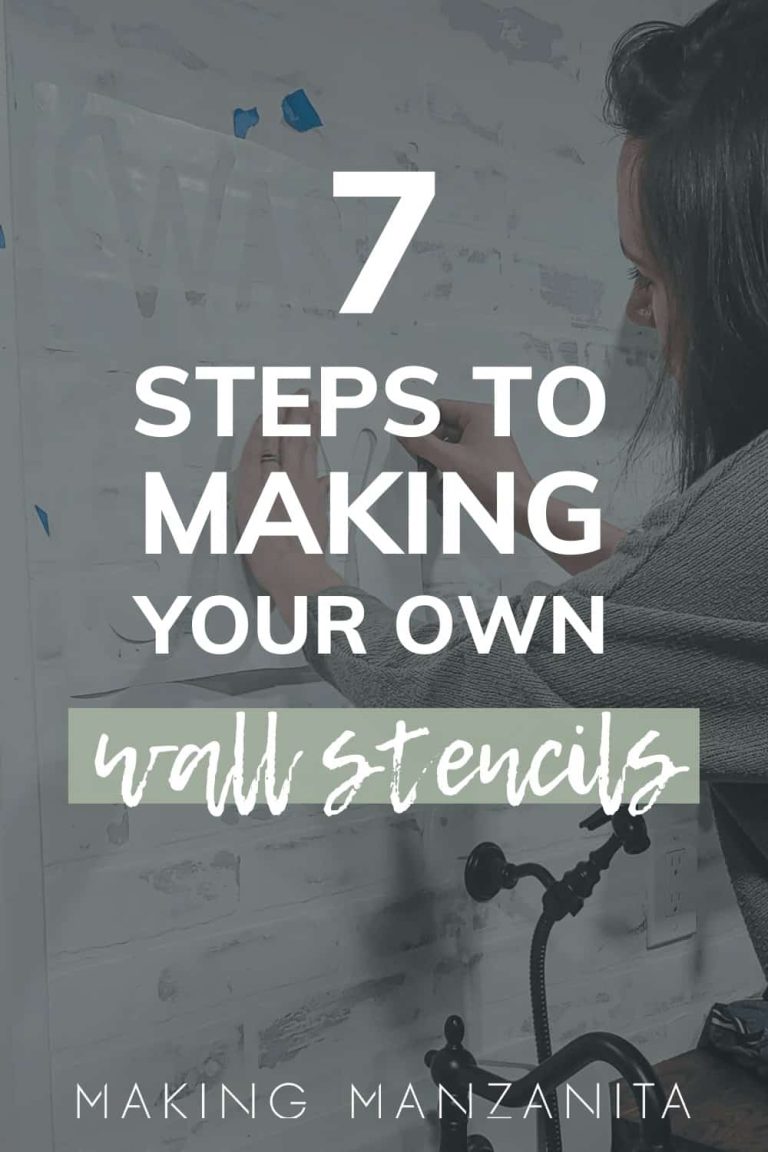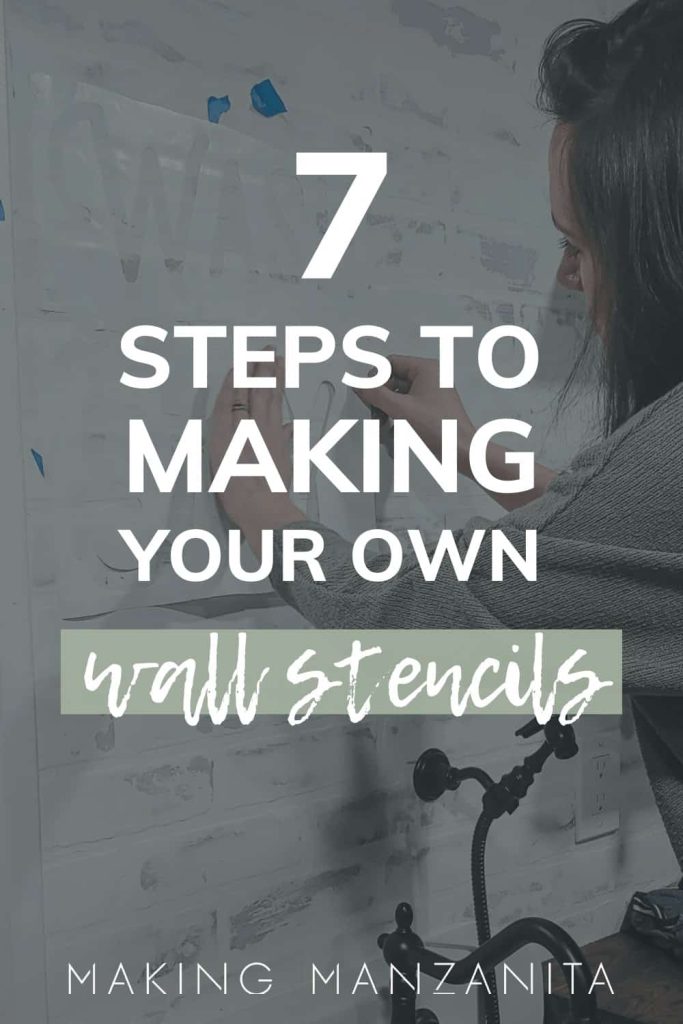 This how to make wall stencils tutorial contains affiliate links, but nothing that I wouldn't wholeheartedly recommend anyway! Read my full disclosure here.
Materials for wall stencil design: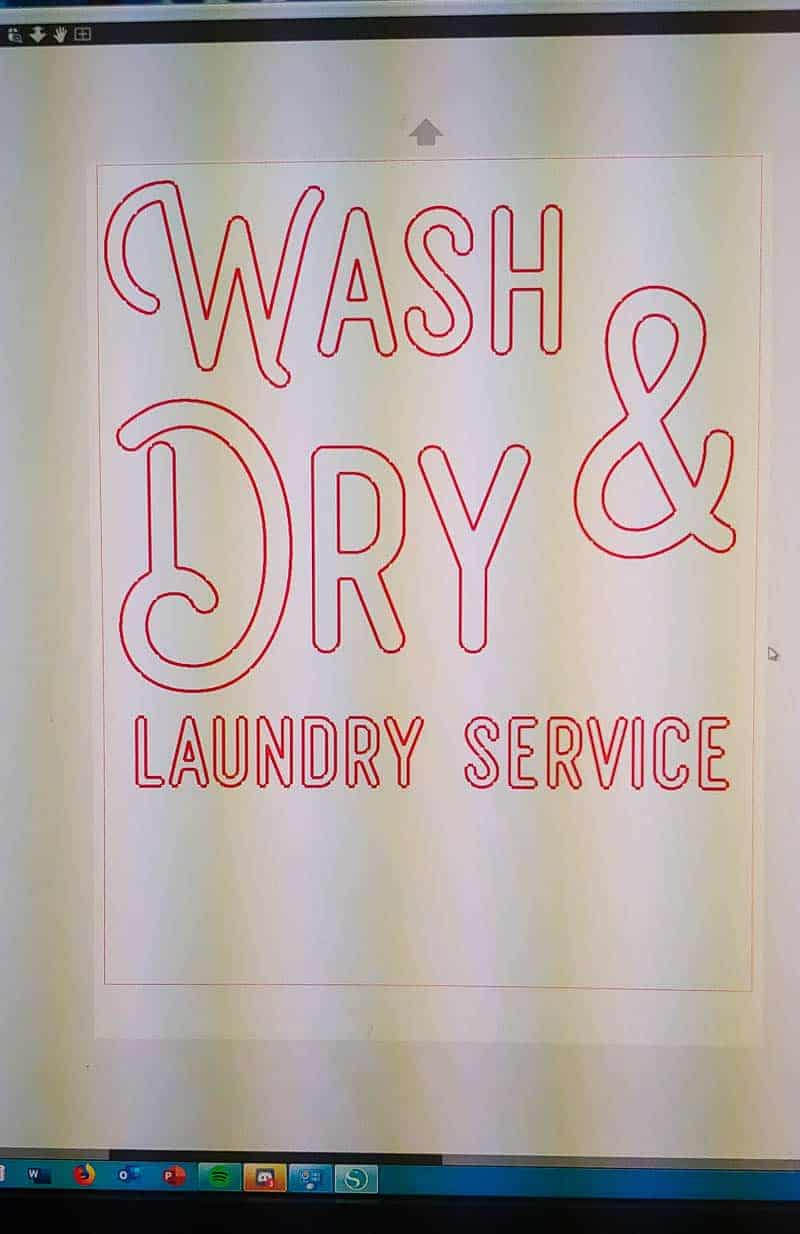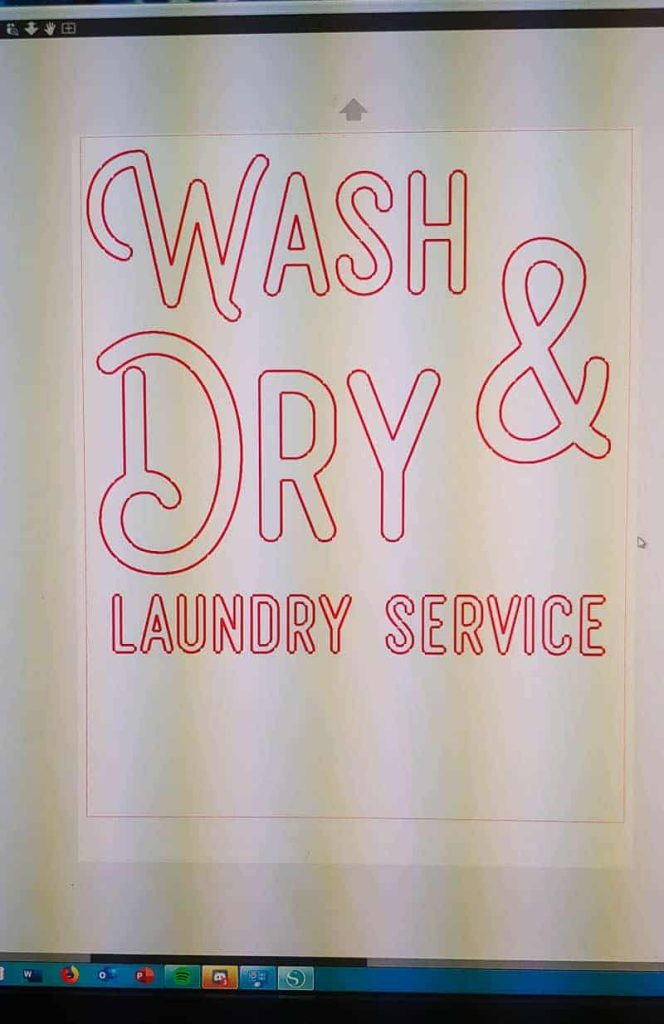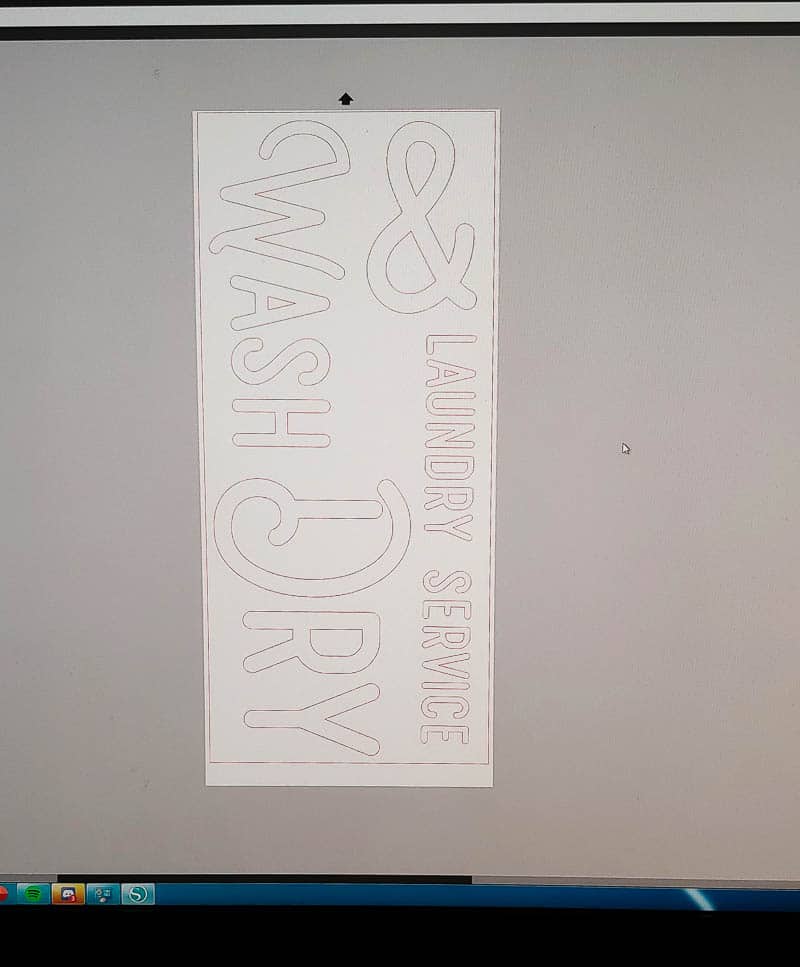 Step 1: Design your custom stencil with Silhouette Studio.
Since I was using my Silhouette Cameo, I created the stencil with Silhouette Studio – which is really pretty easy to use. I couldn't find a free font that I loved, so I purchased this one on Creative Market. It seriously only took me about 3 or 4 minutes to design this custom stencil.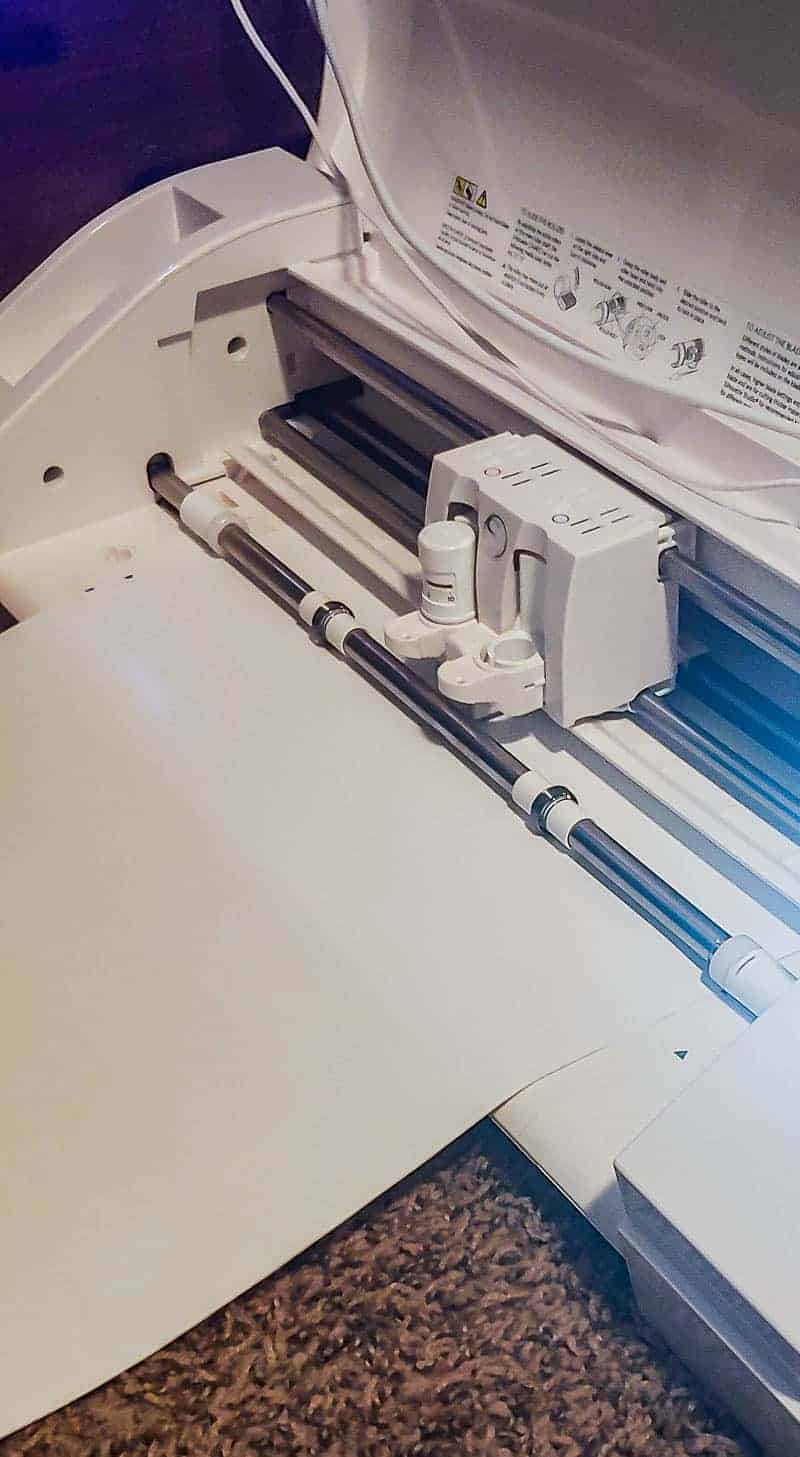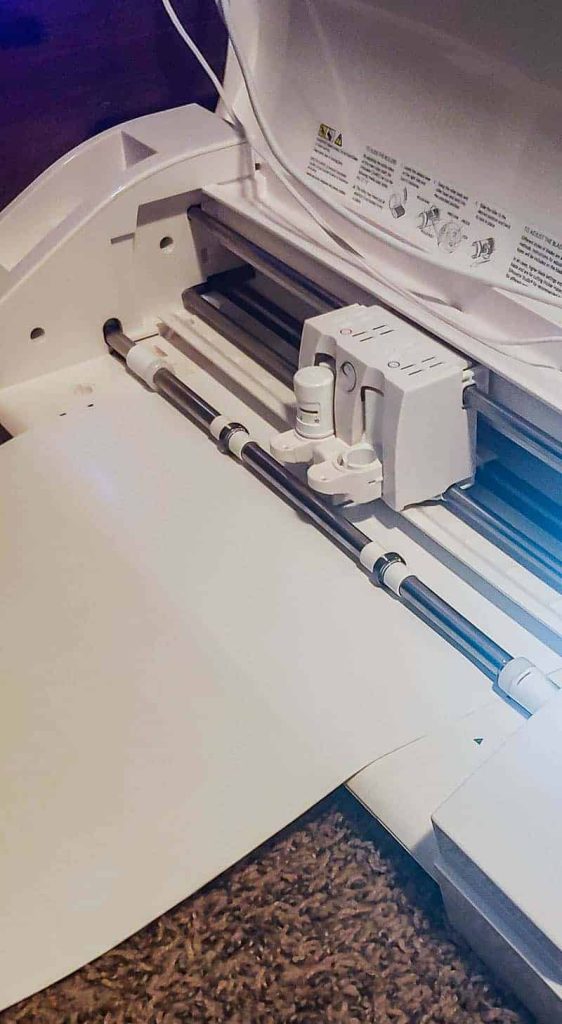 Step 2: Cut the stencil out.
I have ALWAYS used contact paper to make my stencils, which is a great budget-friendly alternative to vinyl.
Cut settings for kiss cut on Cameo with contact paper:
Material: New Material
Action: Cut
Tool: AutoBlade
Cut Edge
Blade Height (dial): 1
Force: 8
Passes: 1
Speed: 8
These settings are for not using a cutting mat
Note: always do a test first when trying new settings or materials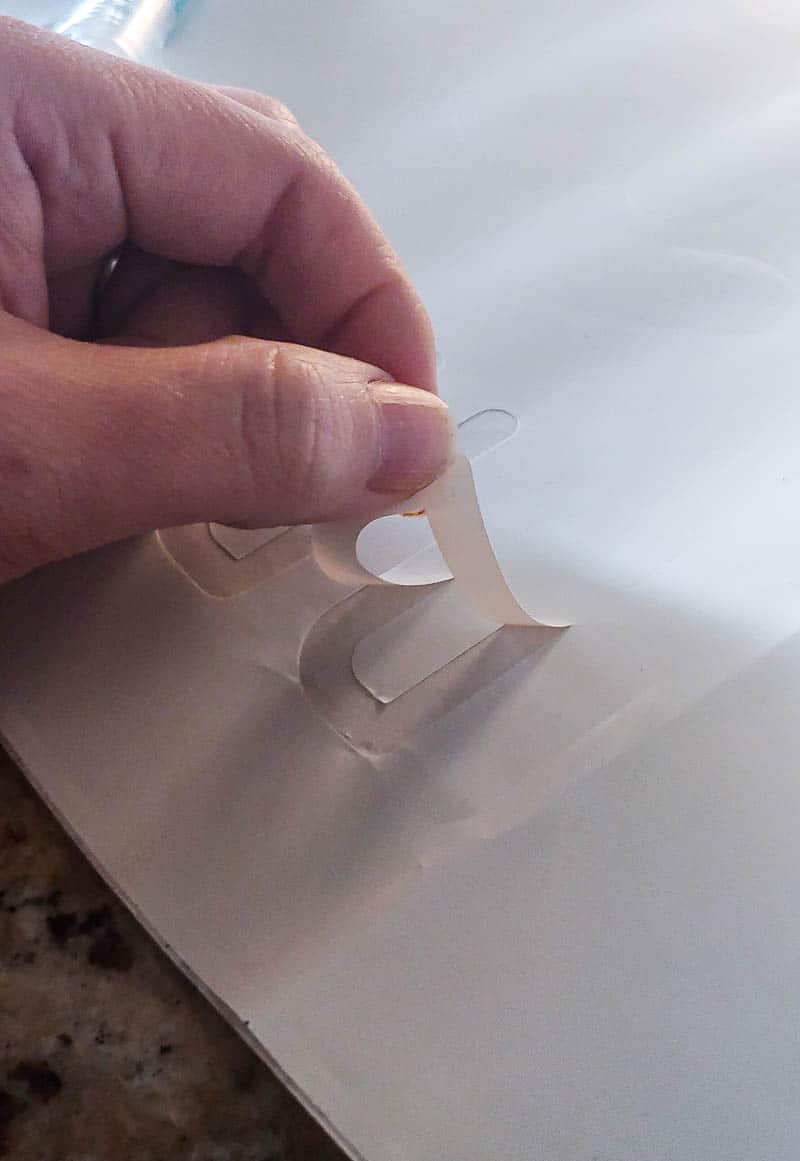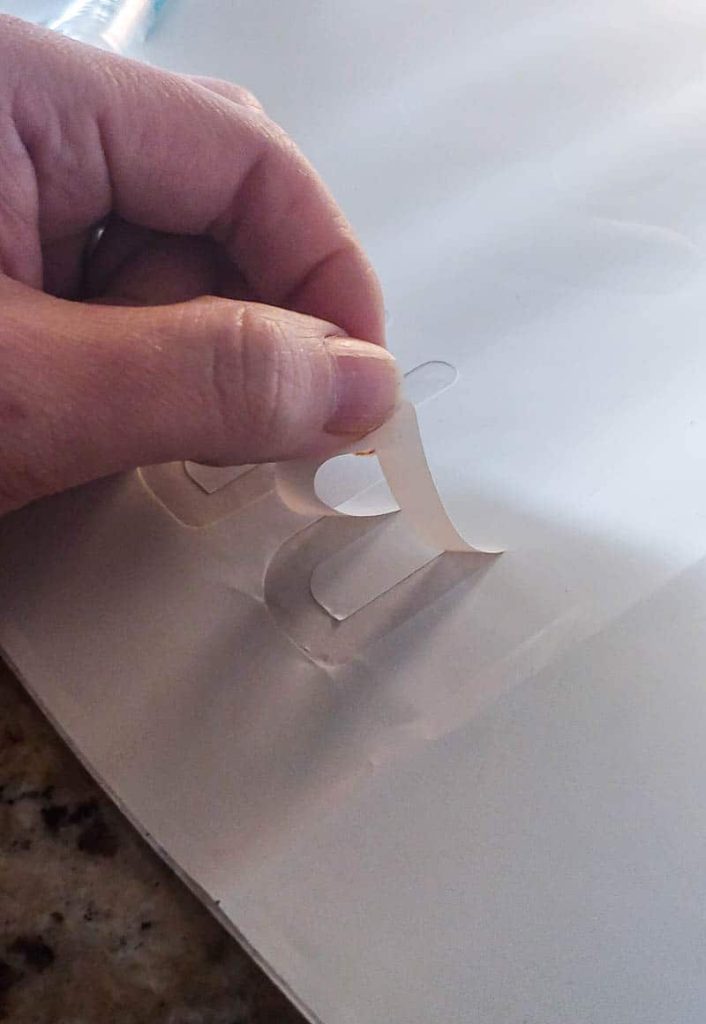 Step 3: Weed stencil (remove letters).
Next, you want to "weed" the stencil, which sounds kind of silly. But it's just removing the letters on the stencil, so you're just left with the negative space.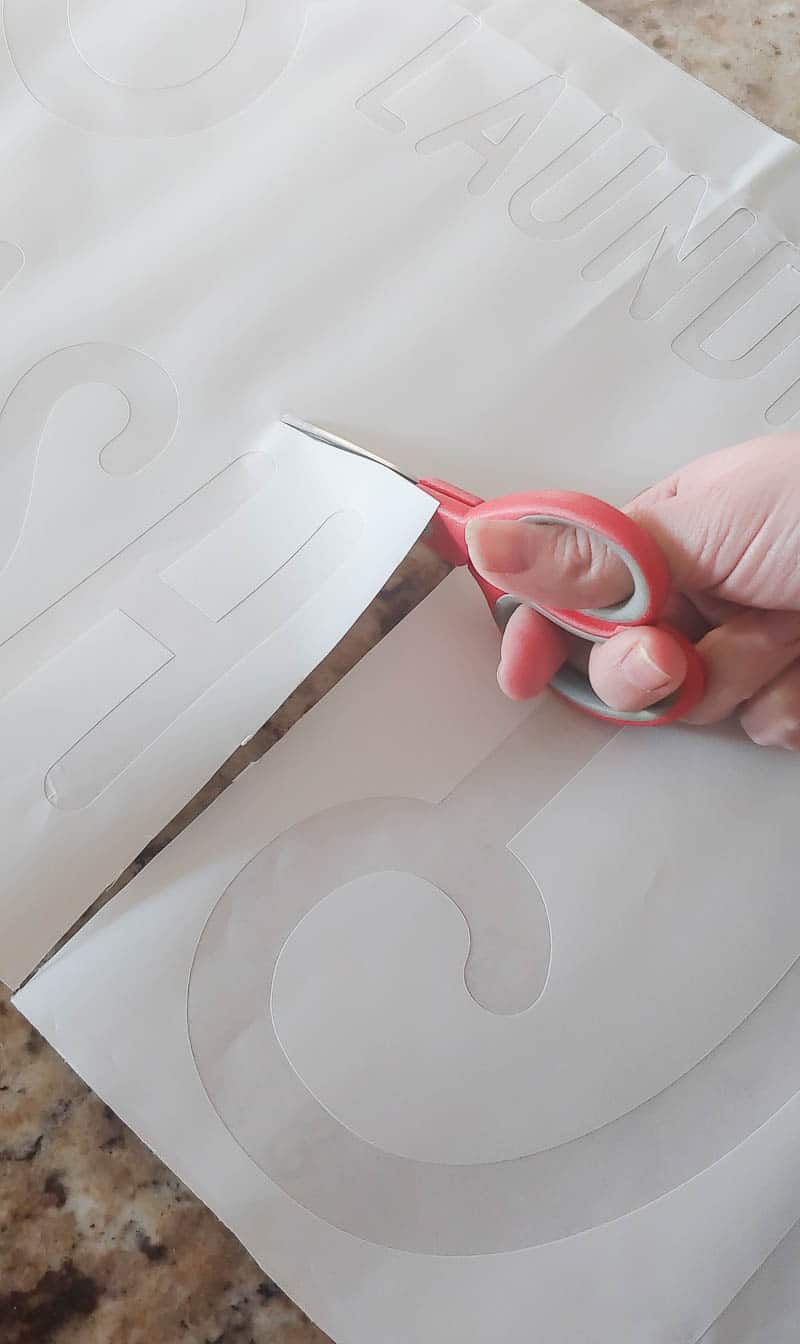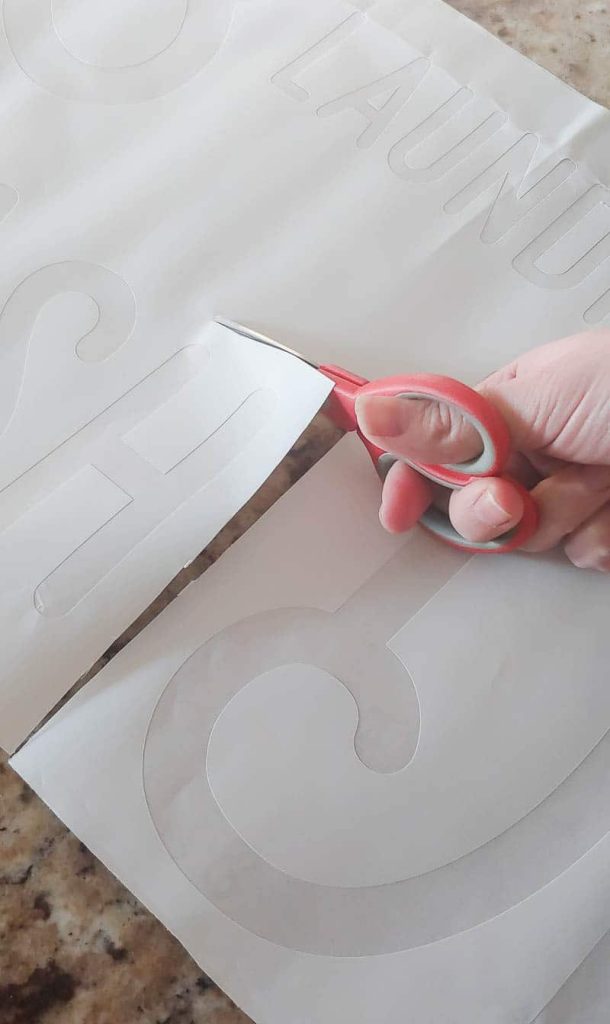 Step 4: Cut each word individually.
Since my stencil design didn't fit on the 12-inch wide (which is the max width on the Cameo), so I maneuvered each word around within the cutting area. Once it's all cut out, I just cut each word up individually and rearrange them on the wall.
If your stencil design was smaller and you could fit it 12 inches wide, this step wouldn't be necessary.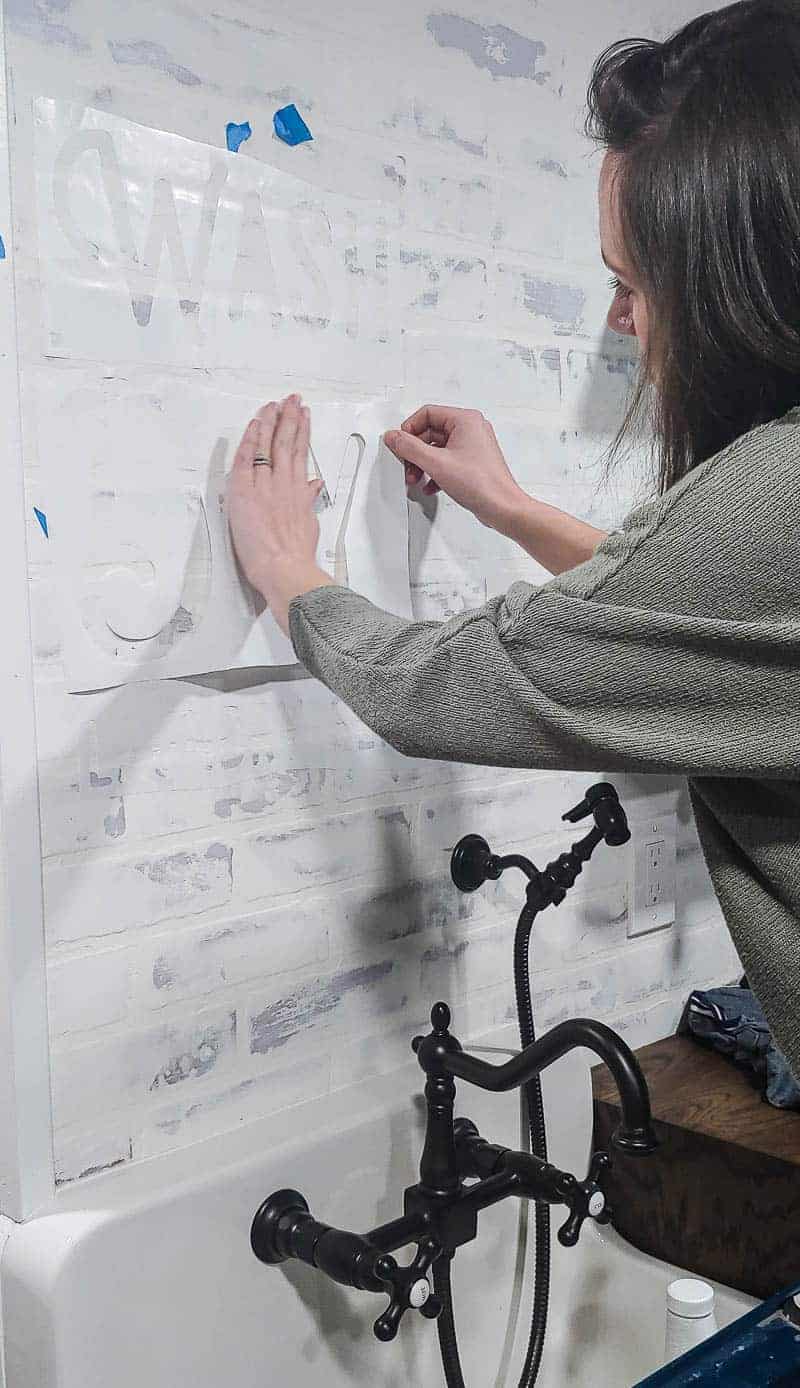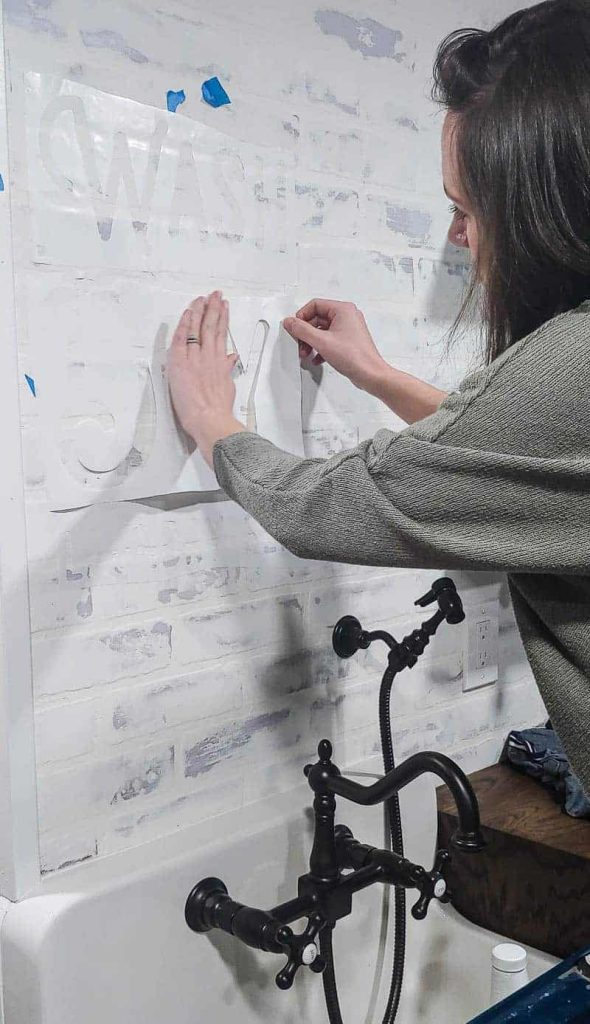 Step 5: Put the stencil on the wall.
Peel off the back of the contact paper and press it onto the wall. Be sure that it is level as you apply. Use your palm to press hard, especially on the edges of the stencil to prevent bleeding.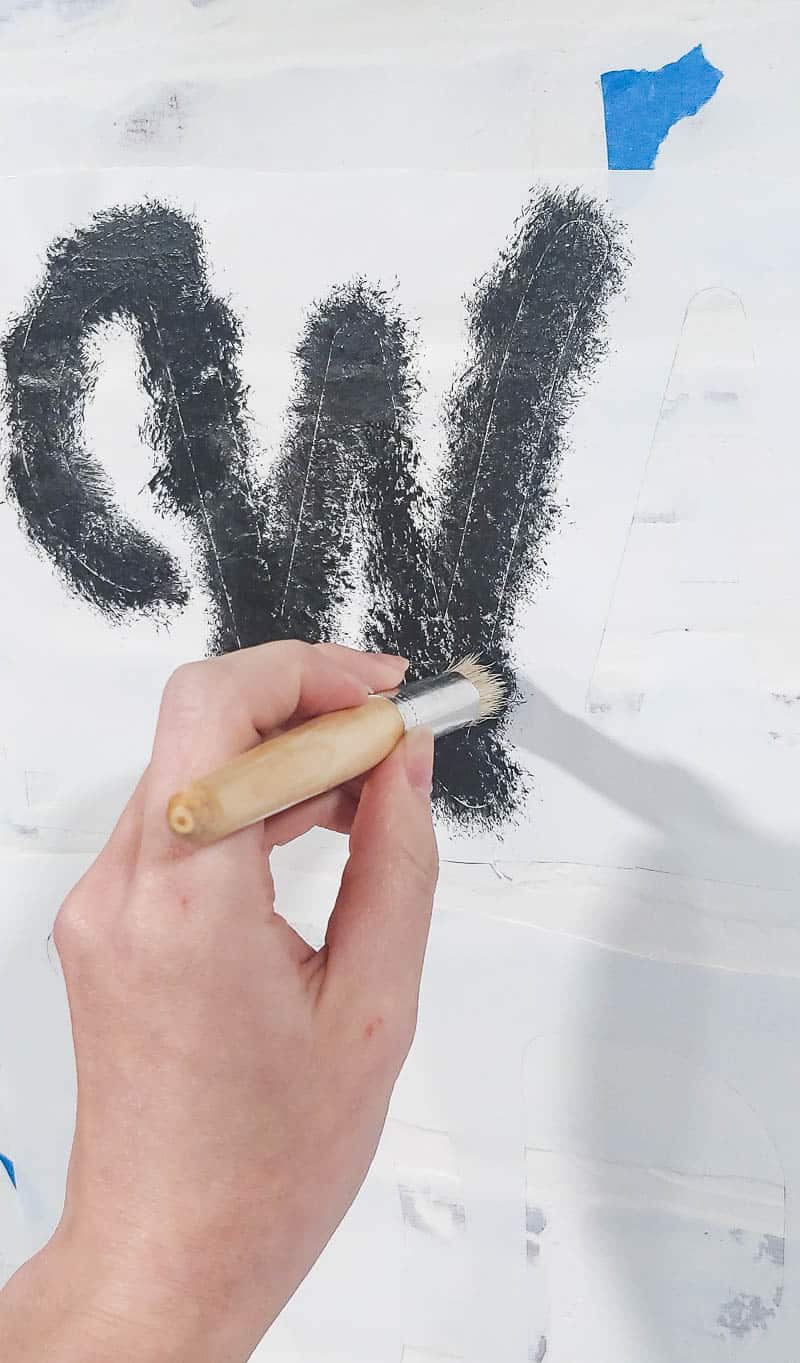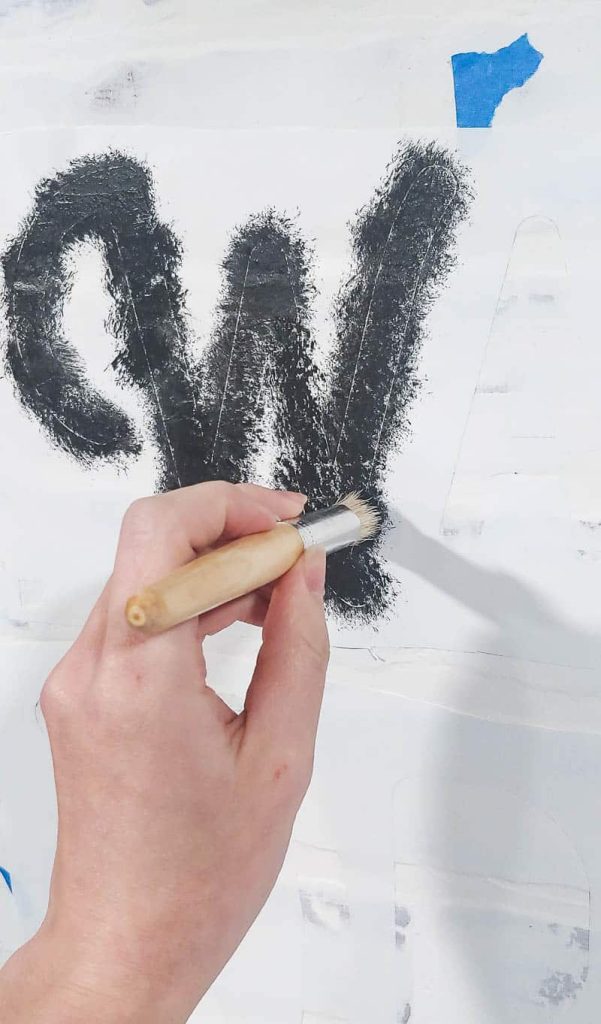 Step 6: Paint over the stencil.
Using a stencil brush and just simple craft paint, dap the paint over the stencil without brushing. This helps prevent bleeding under the stencil. Also, be sure you don't have very much paint on your brush at all. You want to do very light coats!
I only did one coat and intentionally left it kind of splotchy so it would look old like it was fading off.
Step 7: Remove stencil.
As soon as you are done painting, remove the stencils carefully. You don't want to wait until it is dry. You will need to wait for it to be dry to the touch to remove the middles of the letters – like the middle of the A, D, &, etc.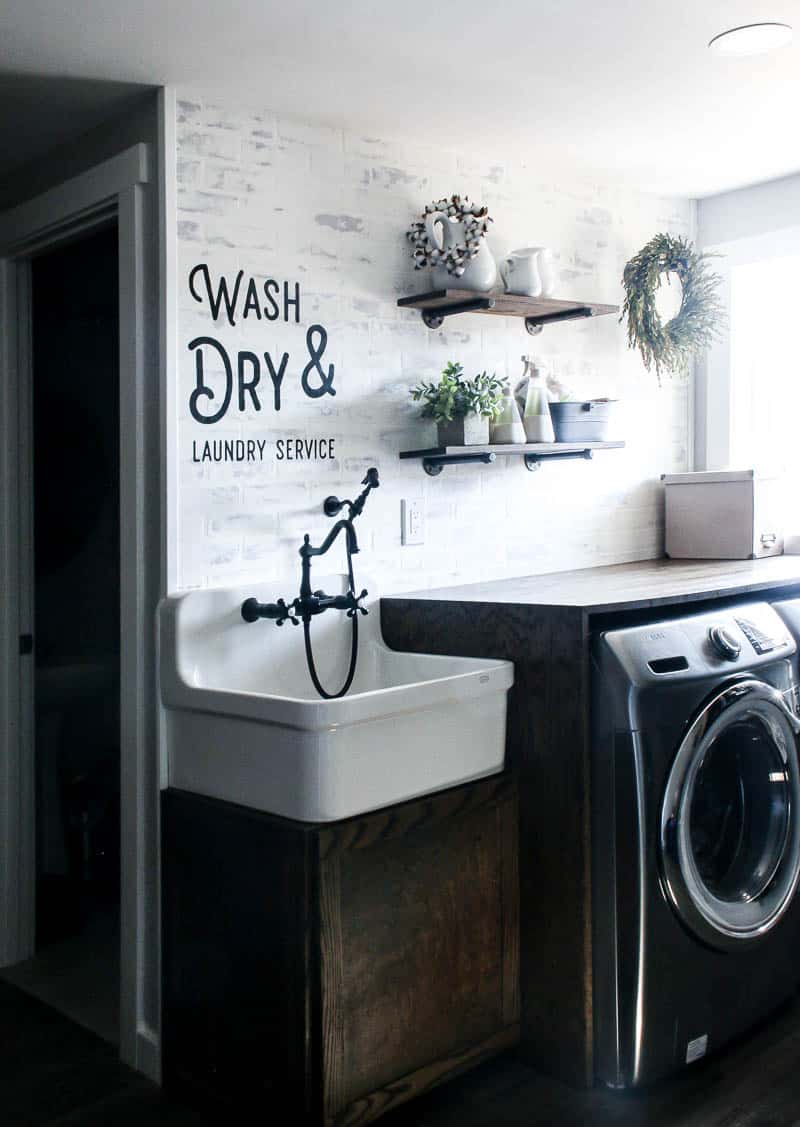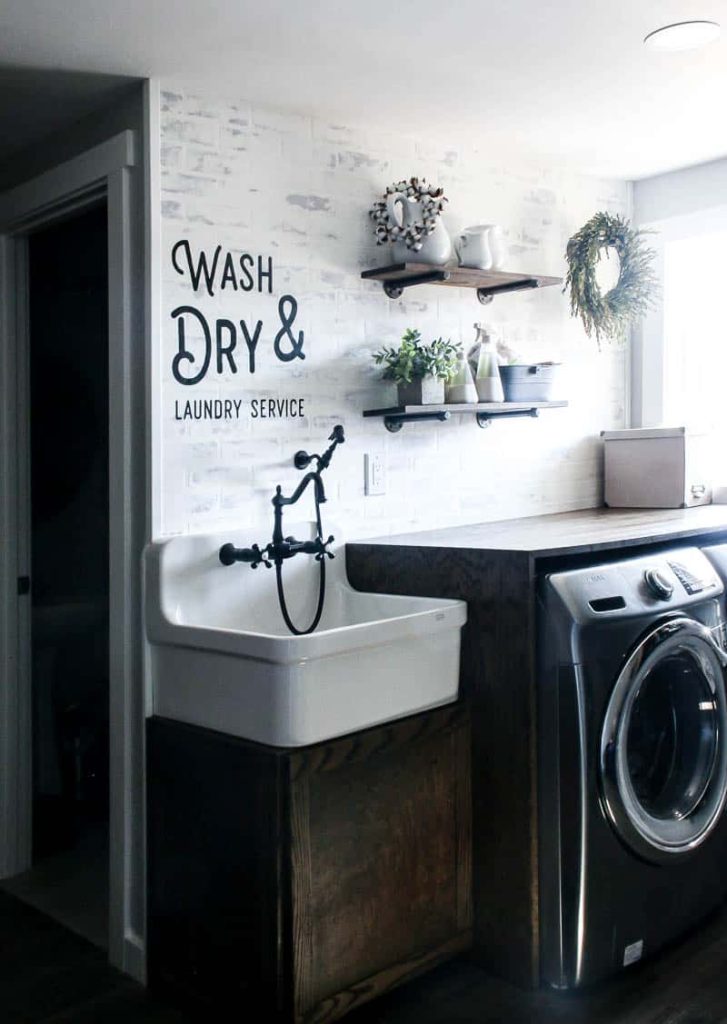 Ta DA! It was seriously SOOOO easy to make these wall stencils – it probably took me an hour or two tops.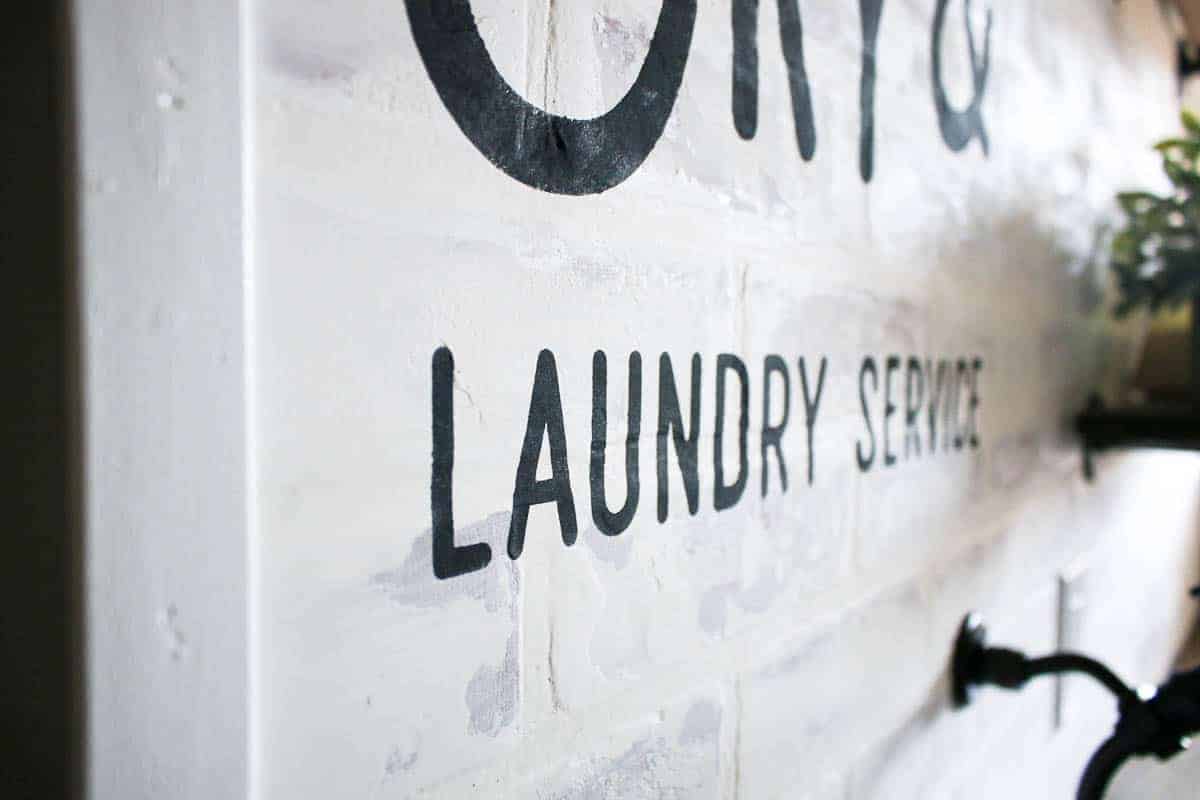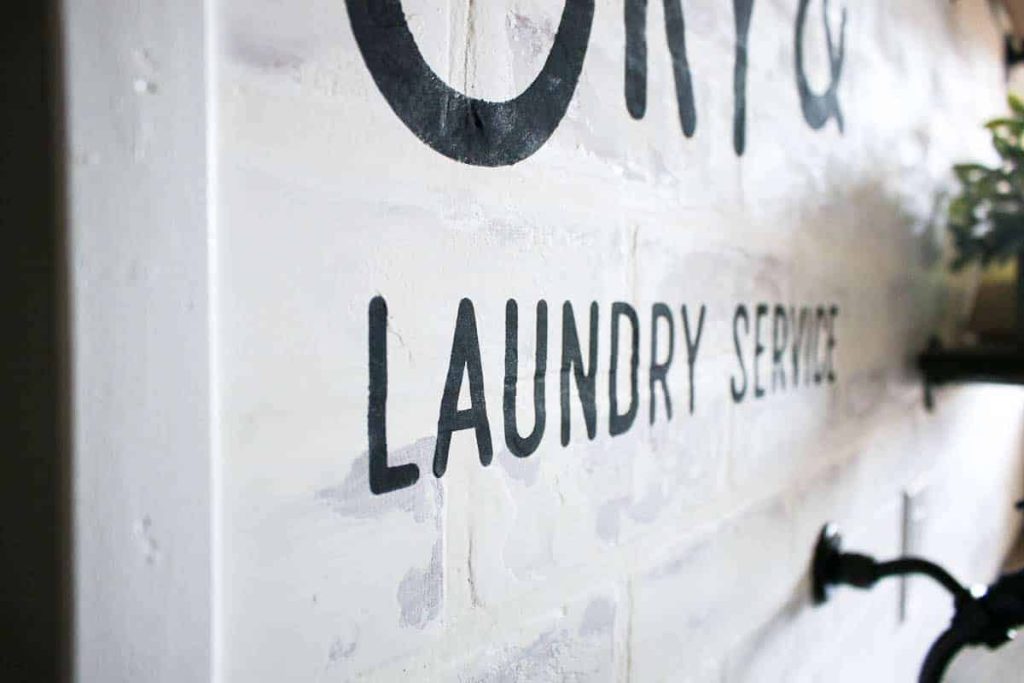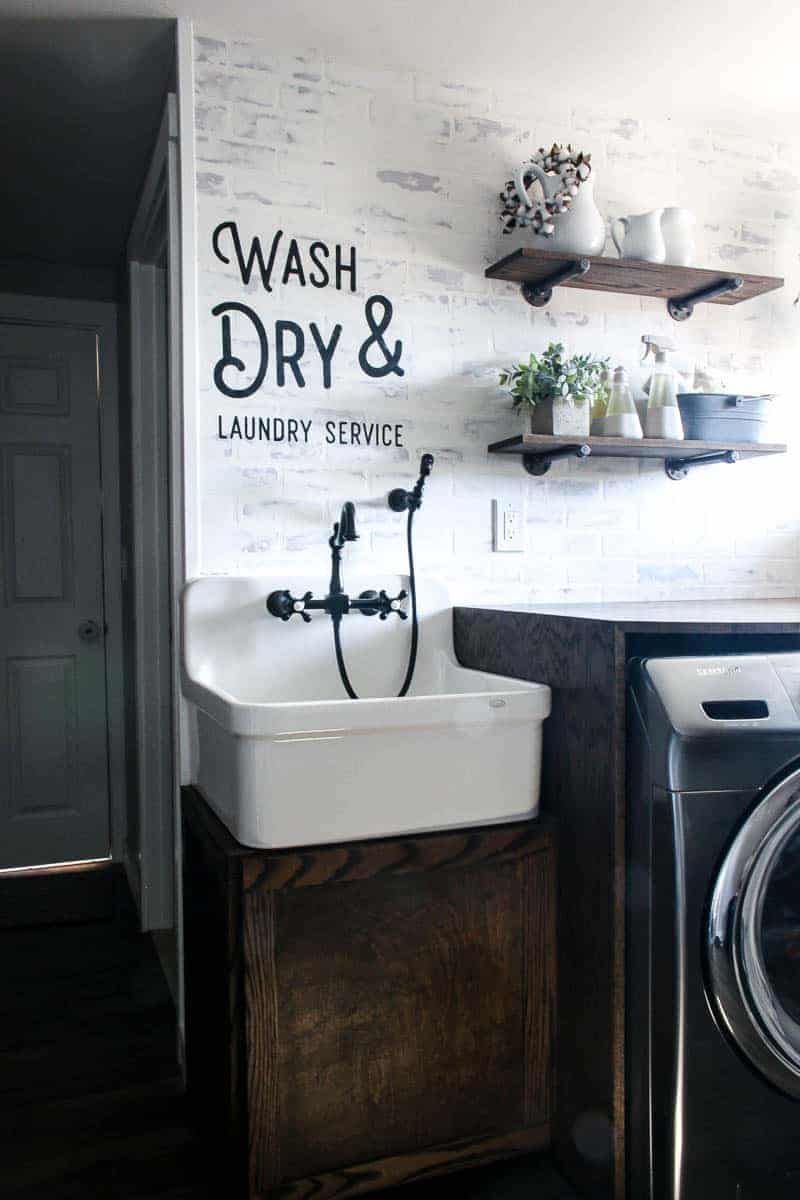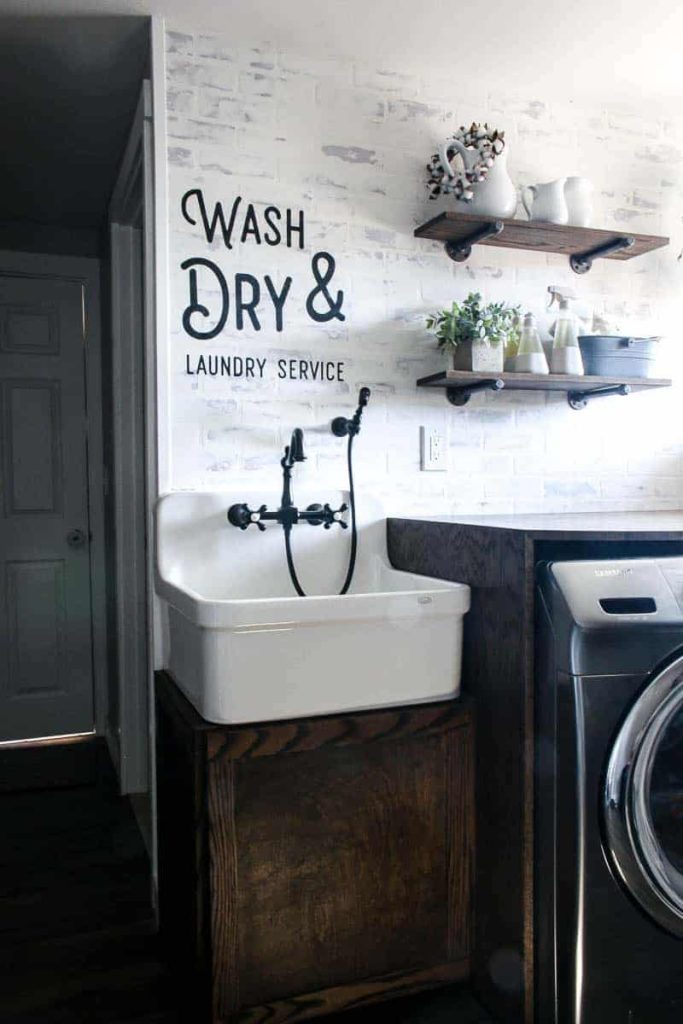 It makes SUCH a big difference in the room, doesn't it?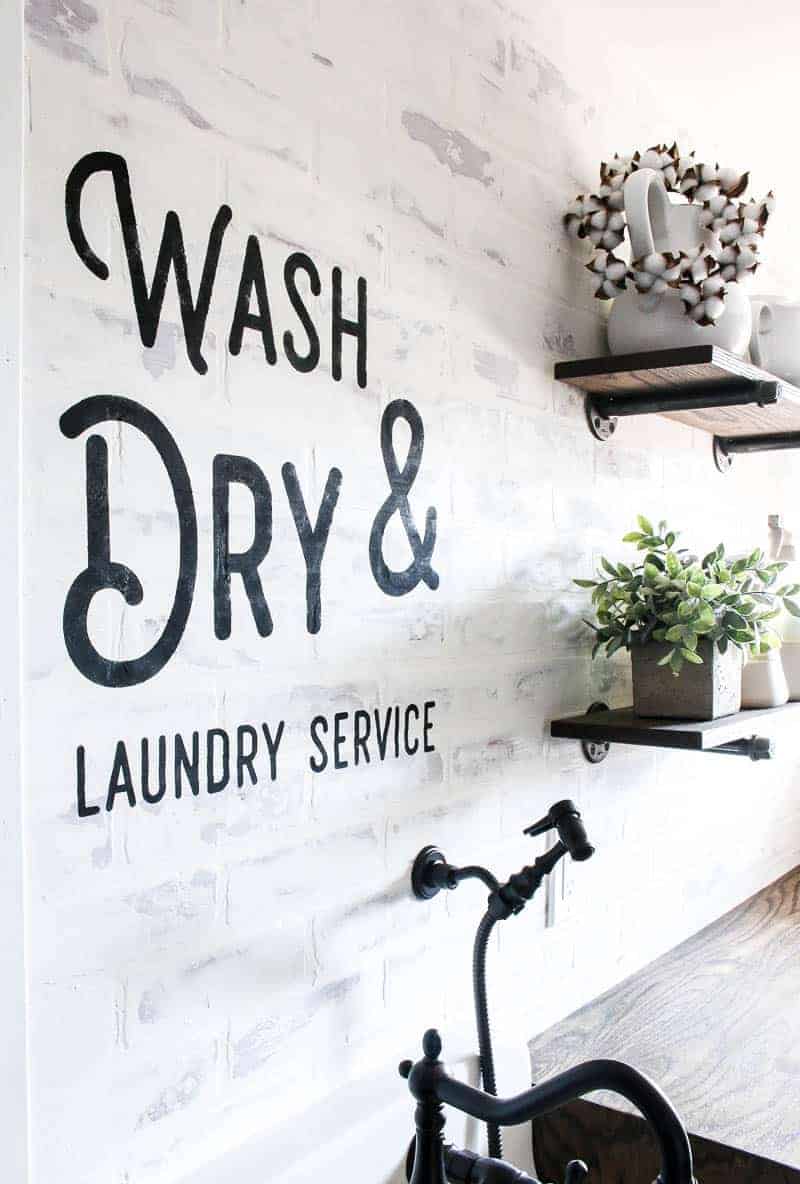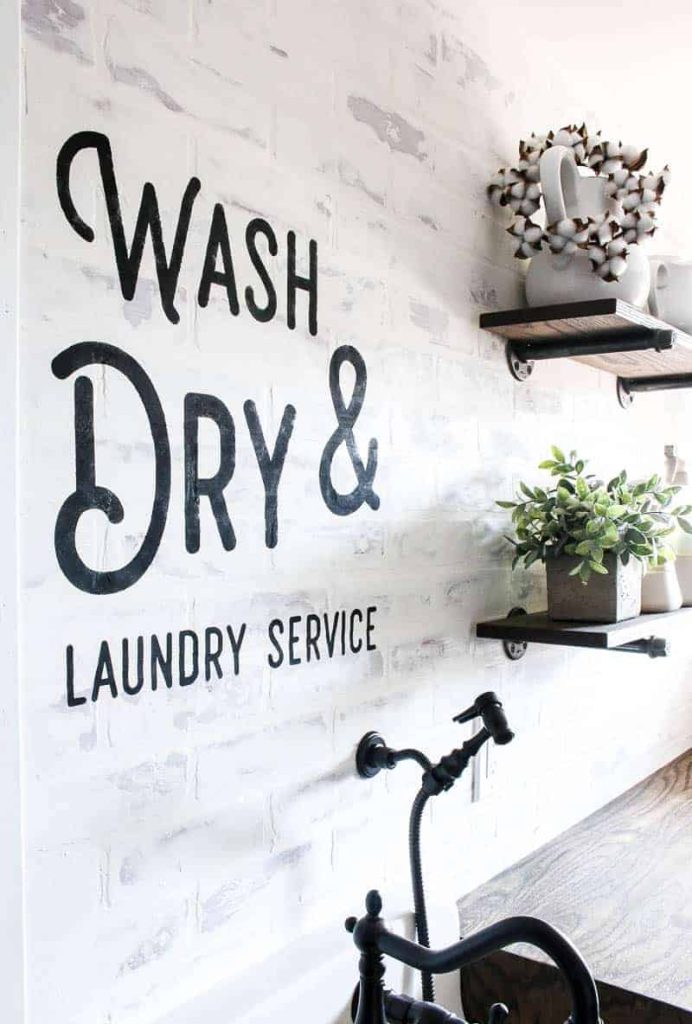 I just LOVE how it turned out…seems like the perfect finishing touch for this little area in our laundry room!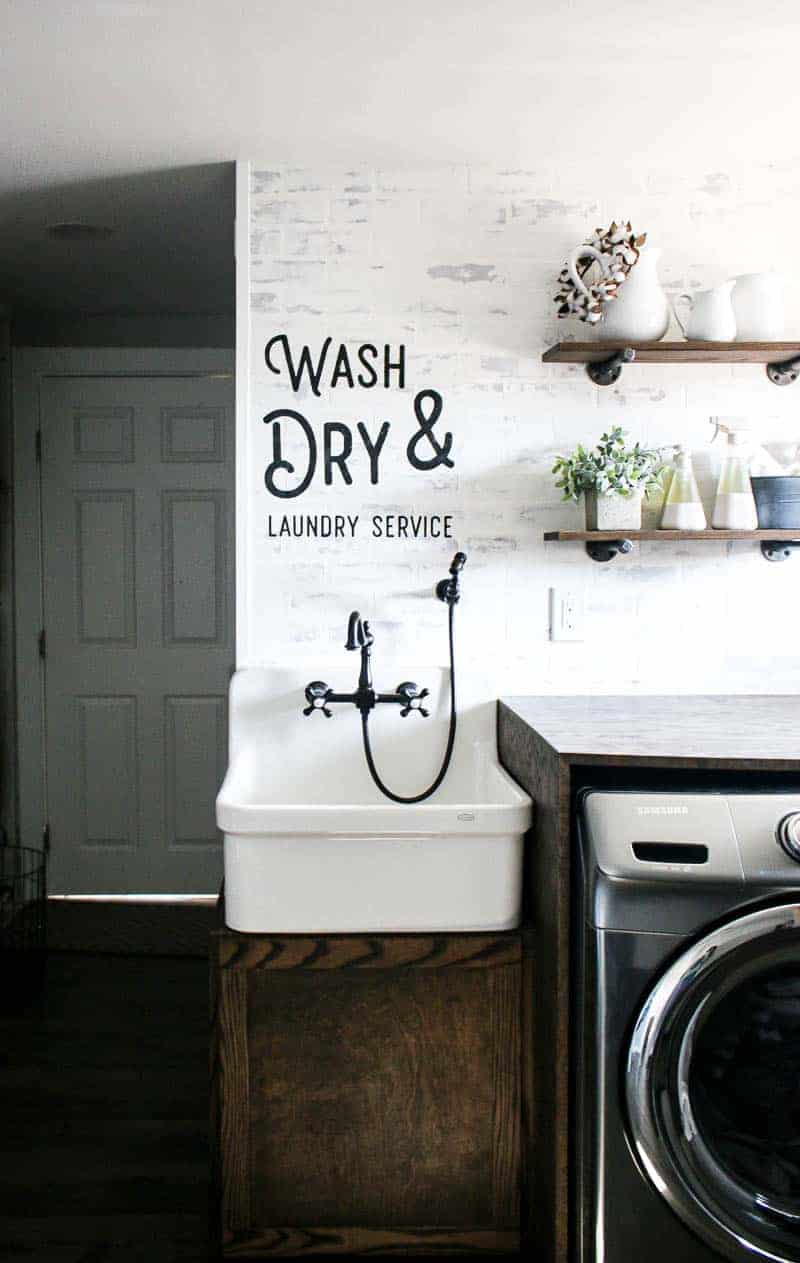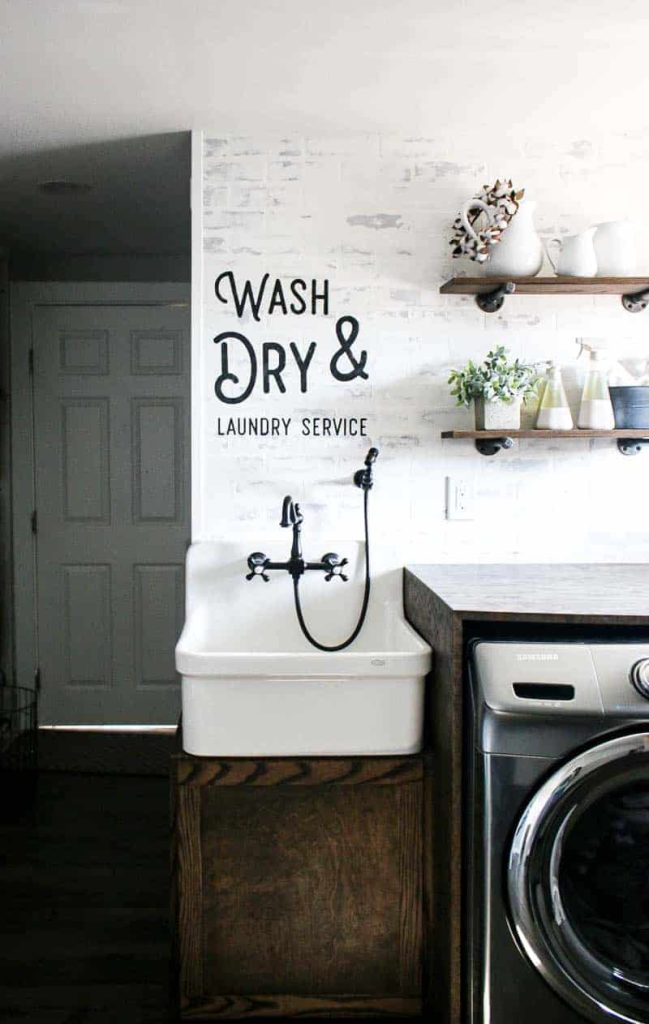 Was this how to make wall stencils tutorial helpful for you?
Let us know in the comments below!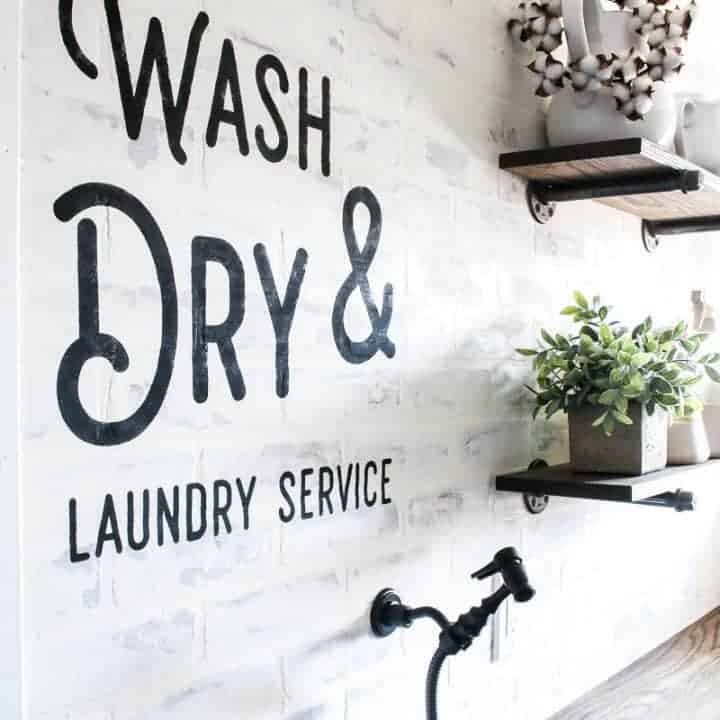 How To Make Wall Stencils
Active Time:
1 hour
30 minutes
Total Time:
1 hour
30 minutes
Want to make your very own DIY wall stencils! Learn how to create a stencil saying whatever your heart desires, and how to apply it easily in just a few steps! We created a laundry room wall stencil. Here's how we did it.
Materials
Black acrylic craft paint
Tools
Instructions
Design your custom stencil with Silhouette Studio.
Cut stencil out.
Weed stencil (remove letters).
Cut each word individually.
Put stencil on wall.
Paint over stencil.
Remove stencil.
Notes
CUT SETTINGS FOR KISS CUT ON CAMEO WITH CONTACT PAPER:
Material: New Material
Action: Cut
Tool: AutoBlade
Cut Edge
Blade Height (dial): 1
Force: 8
Passes: 1
Speed: 8
These settings are for not using a cutting mat
Note: always do a test first when trying new settings or materials