Organizing your cleaning supplies doesn't have to be complicated. Get inspired and motivated with these 15+ clever ideas on how to organize cleaning supplies.
If you're constantly looking for that bottle of cleaning solution or searching from room to room for your broom while cleaning, it is time to get your cleaning supplies organized in one spot!
We built our mudroom lockers with doors a couple of years ago and when we were designating uses for each and every cabinet, I called dibs on one of them to use as a cleaning supply cabinet.
Now that I've used it for a while, I thought I would summarize what is working well so you can take what I've learned and organize your cleaning supplies.
This how to organize cleaning supplies article contains affiliate links, but nothing that I wouldn't recommend wholeheartedly. Read my full disclosure here.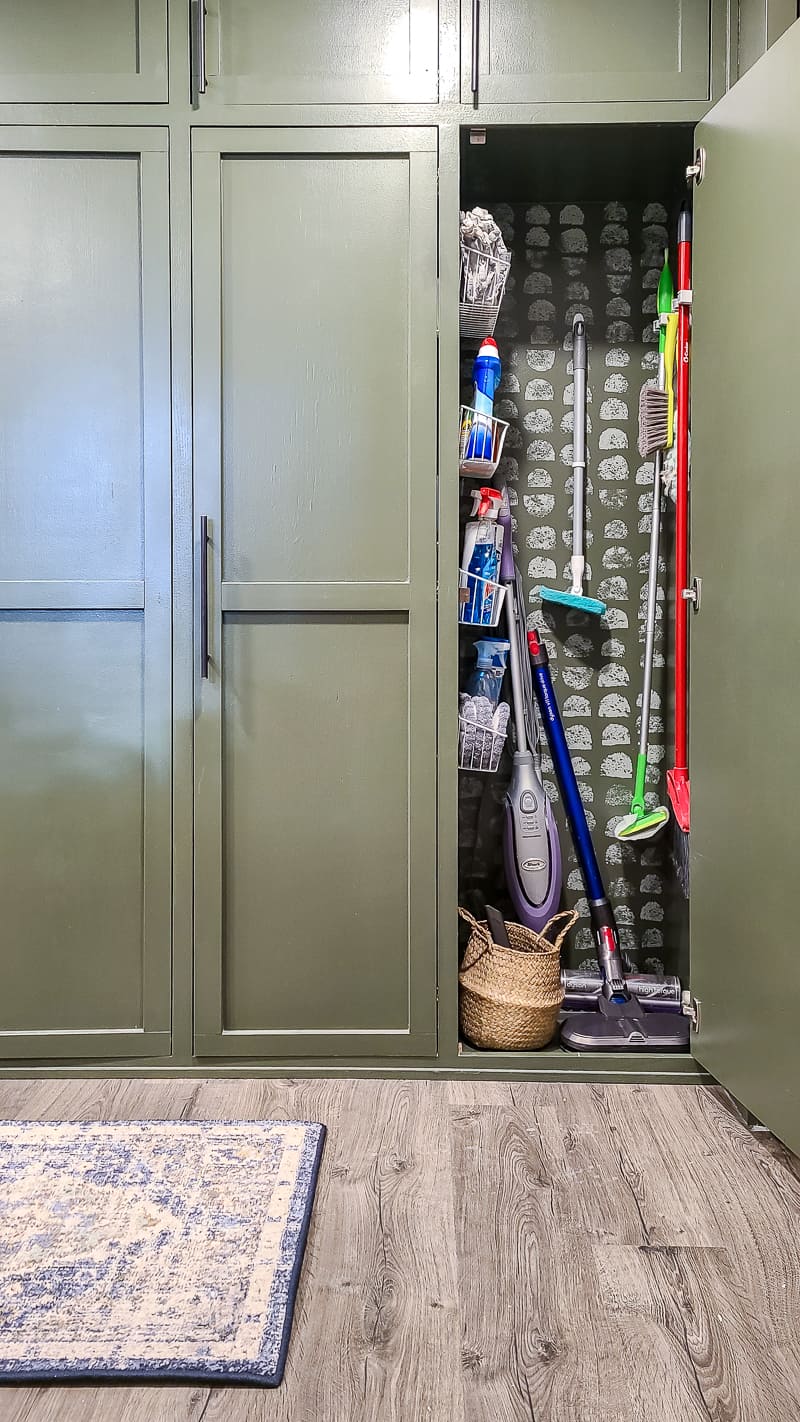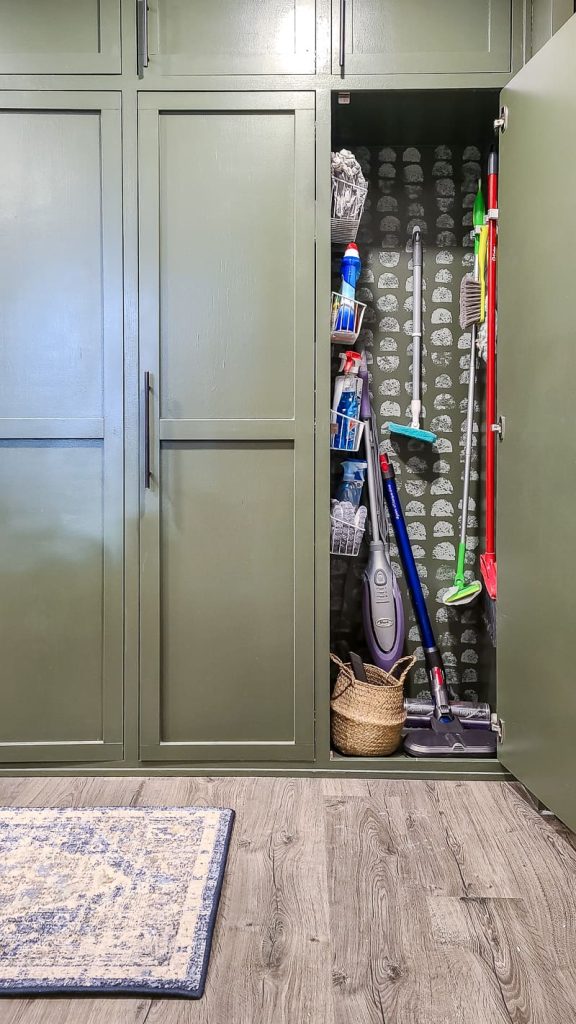 #1: Choose a good location for cleaning supplies
The best place to store and organize your cleaning supplies is somewhere central – usually, it is the laundry room, hallway, bathroom, or even the kitchen.
Take advantage of unused areas of your home (if there are any) and add a storage spot to keep the cleaning supplies.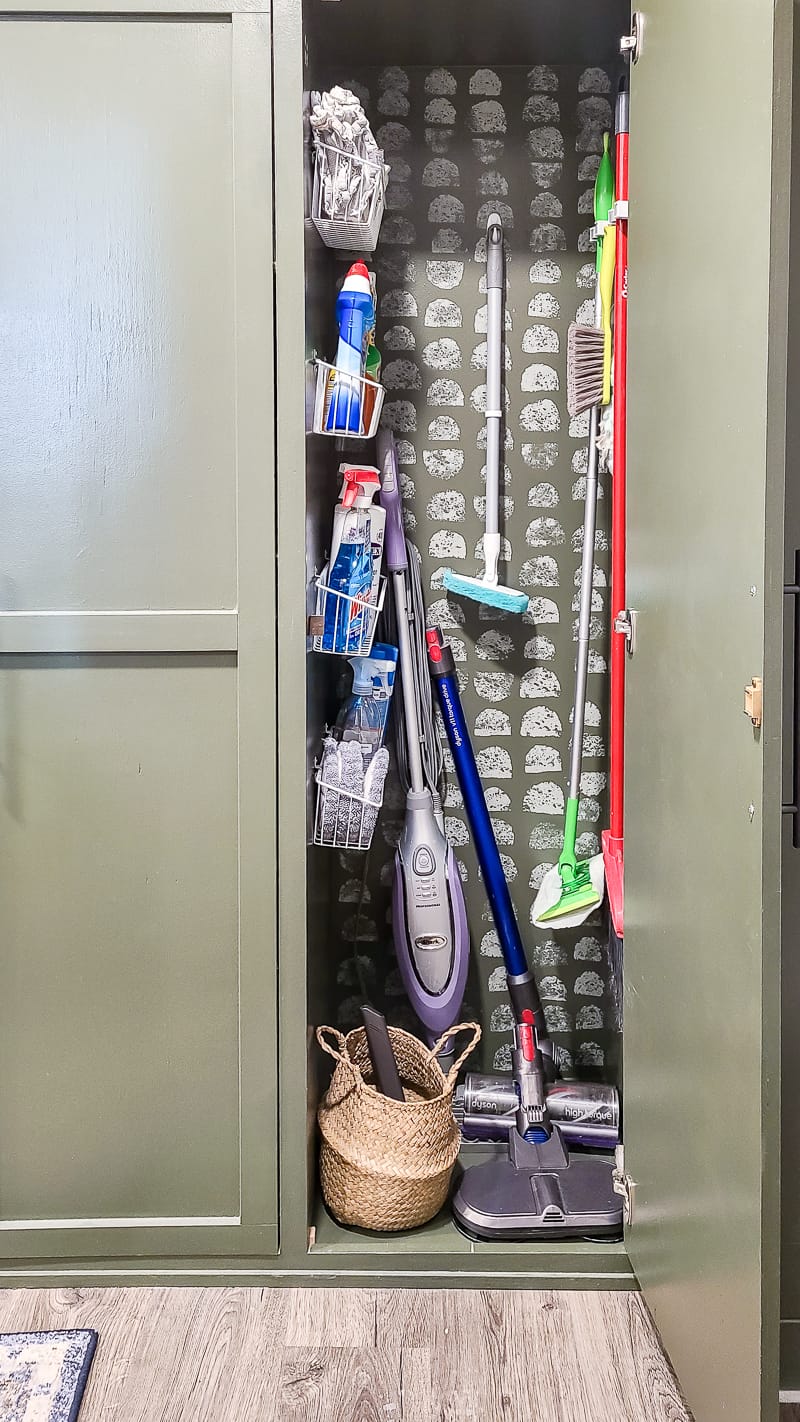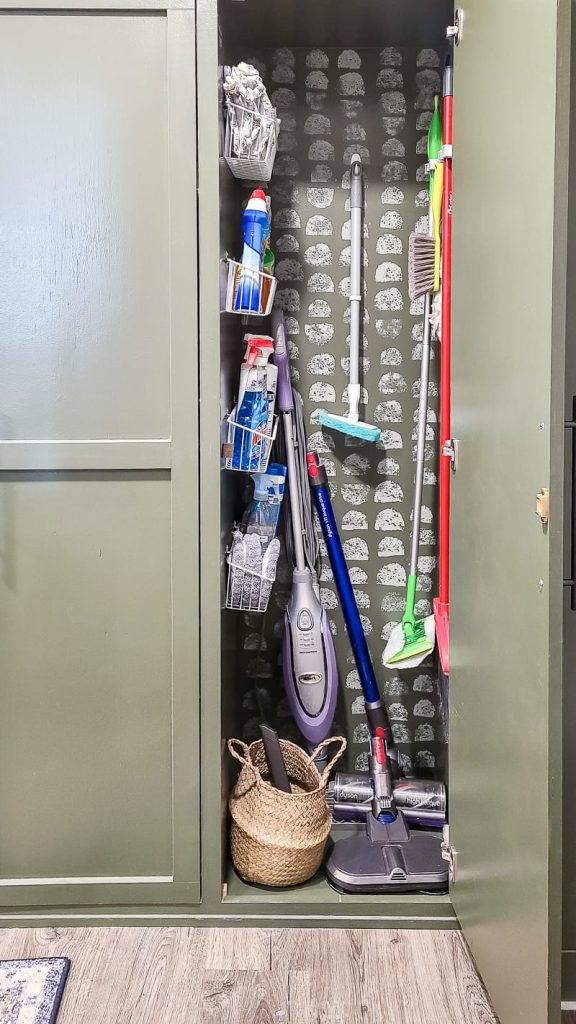 For example, is your hallway wider than necessary? Add a built-in hallway cabinet like this!
A very common location for cleaning supplies, which you'll see below, is under your kitchen sink. If you think about how often you are in your kitchen, it makes sense. It truly is the heart of your home – right?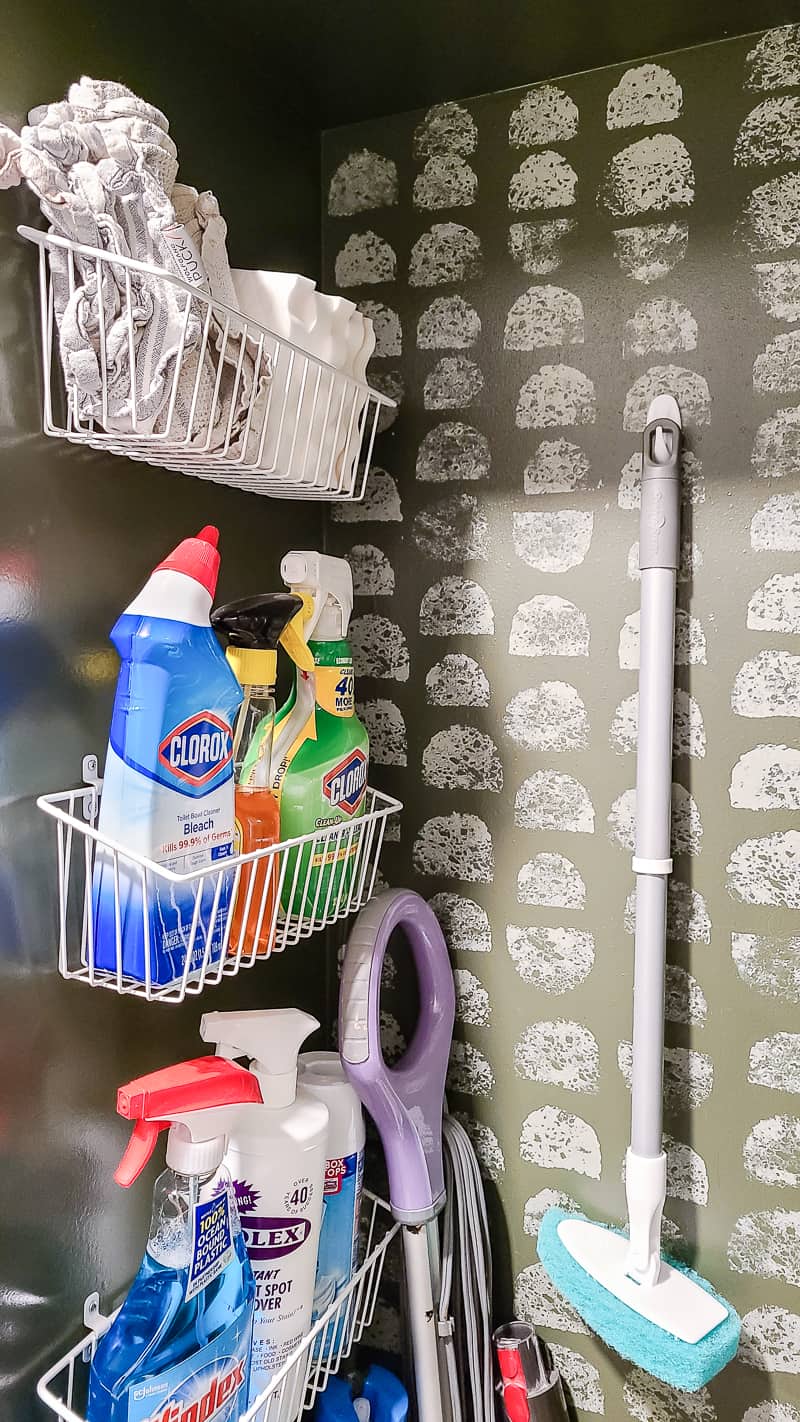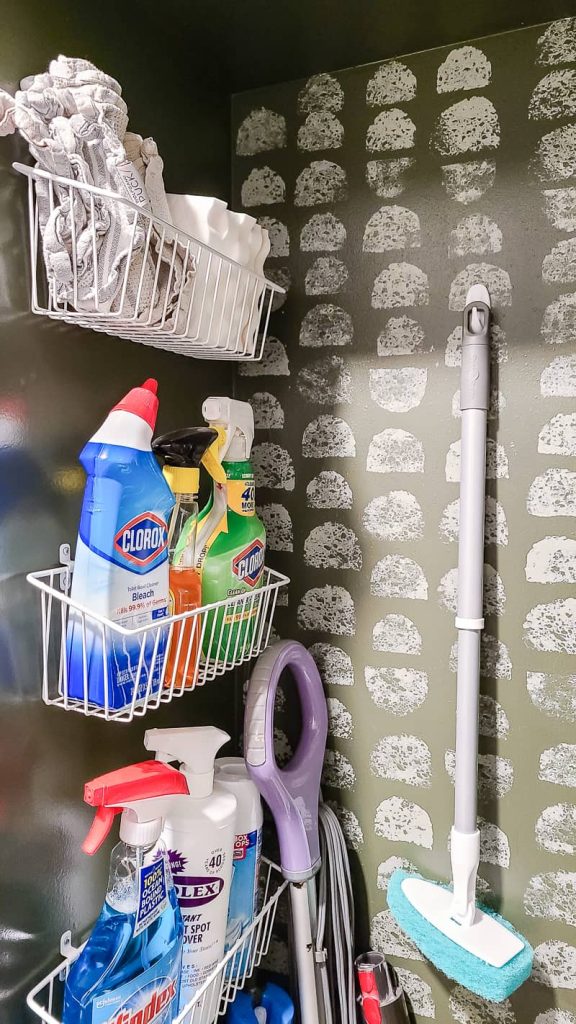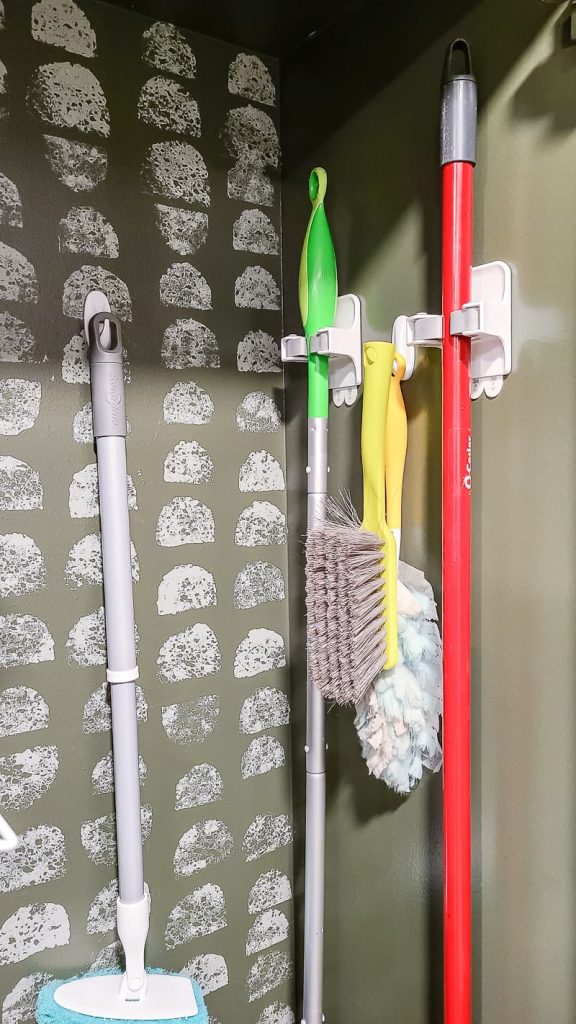 #2: Go vertical
Don't forget to take full advantage of your vertical spaces when organizing cleaning supplies.
In our cleaning closet, we utilized wall-mounted metal spice racks to hold bottles of cleaning solutions on the left side of the cabinet.
Shop wall mounted baskets
On the right side, we added Command mop & broom grippers to the wall to round up the broom, Swiffer, and Swiffer duster. They also work great for mops, small scrubbers, dustpans, and handheld brooms.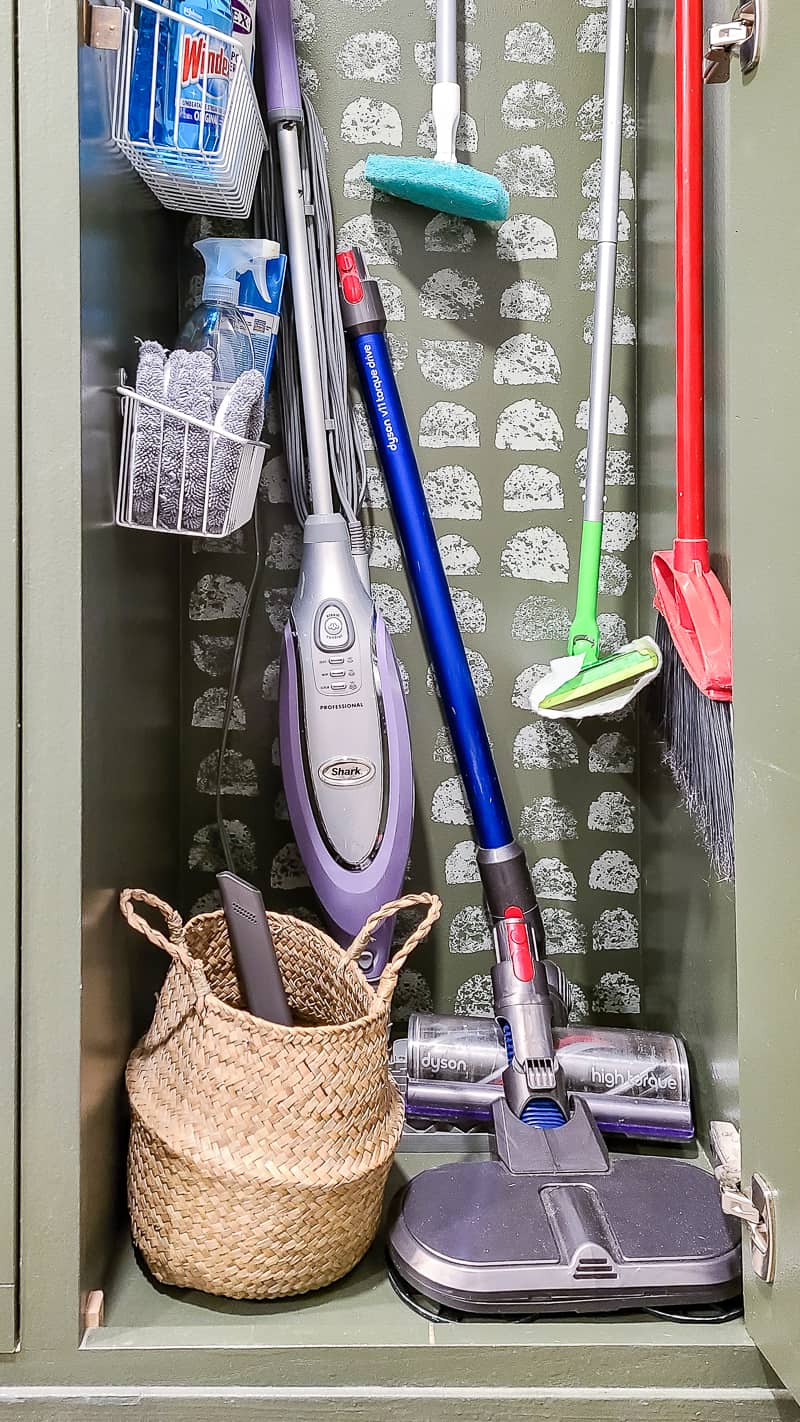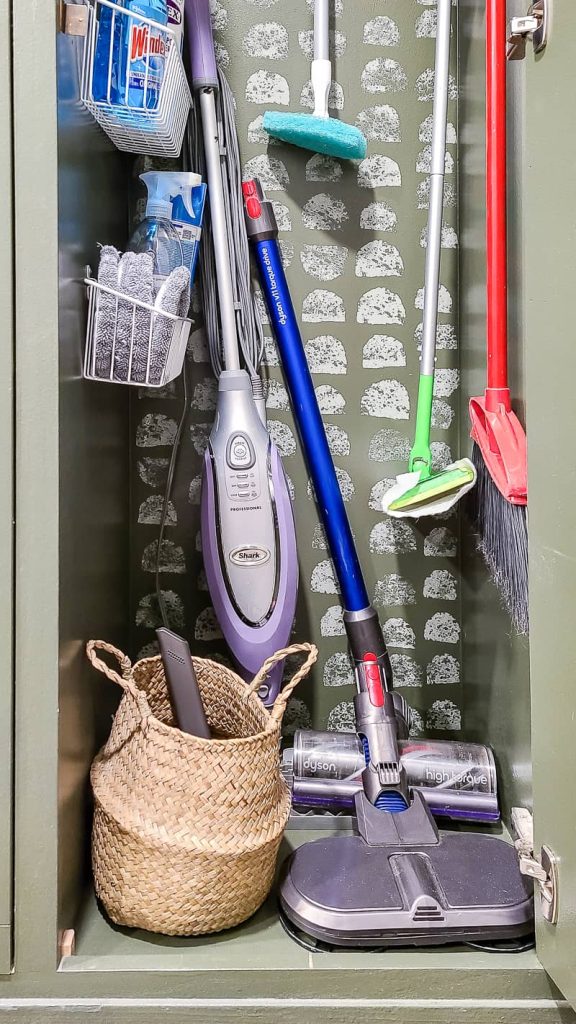 #3: Use baskets to round up small items
Our Dyson vacuum comes with a bunch of handy attachments. Instead of having them just float around and, inevitably, get lost, we put them in this small wicker basket on the floor of the cleaning closet.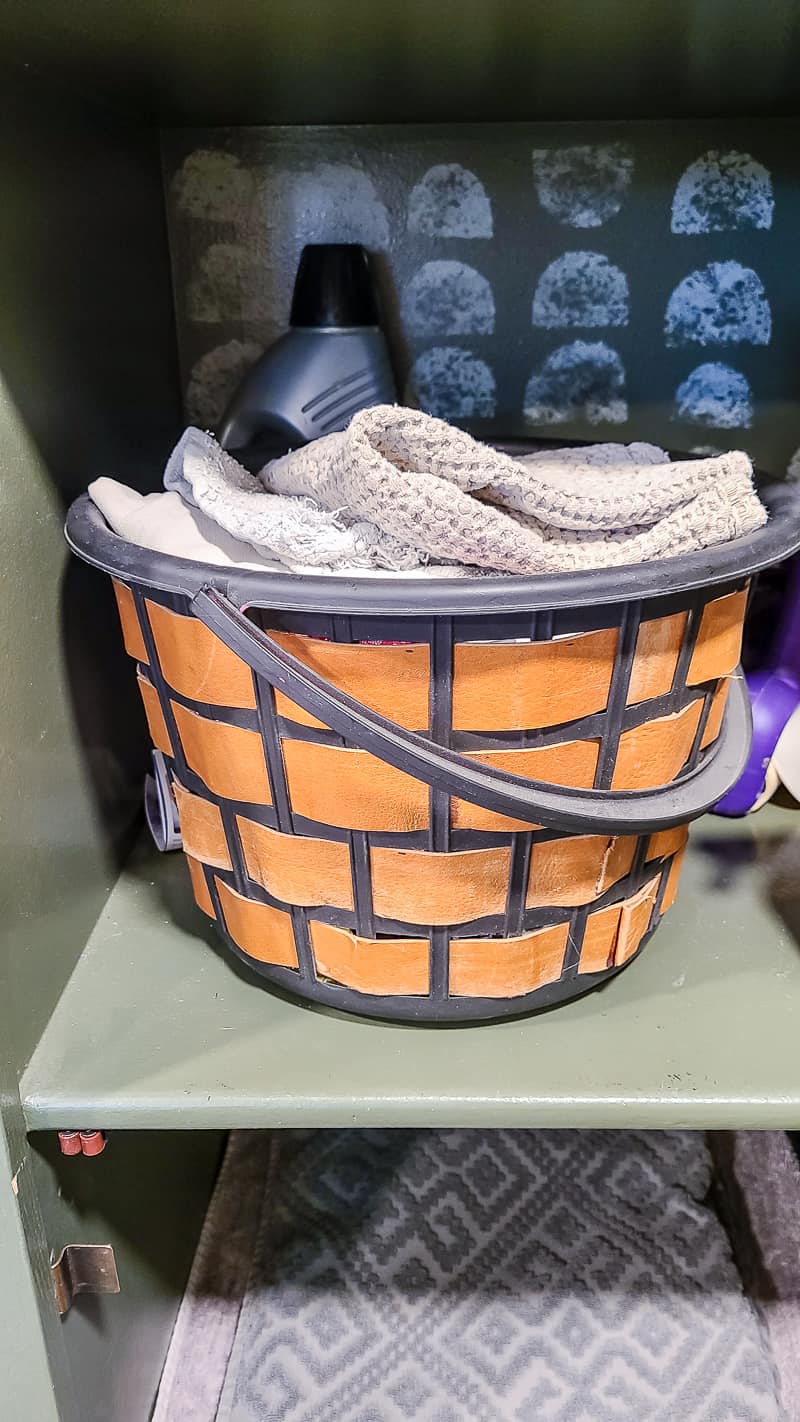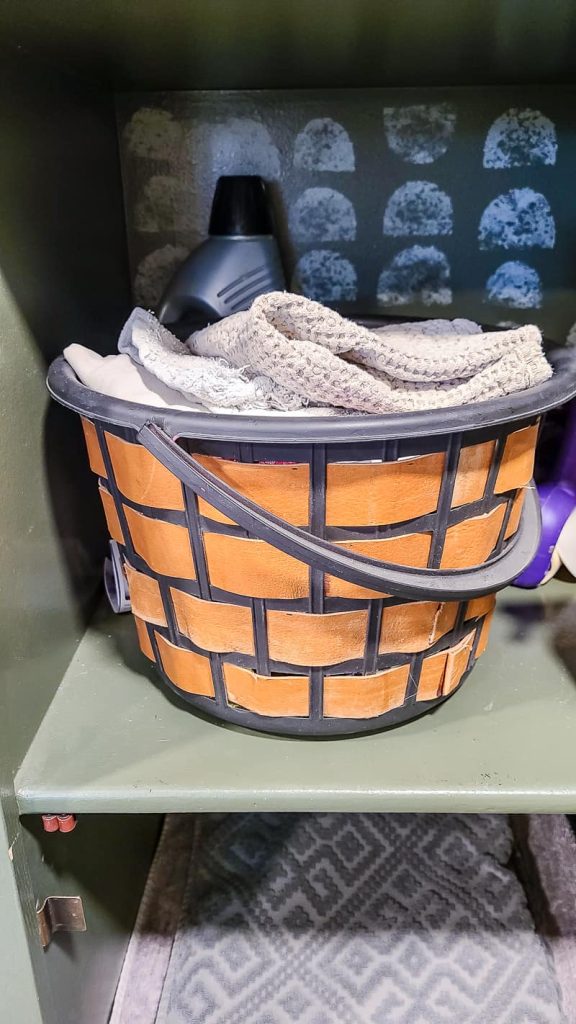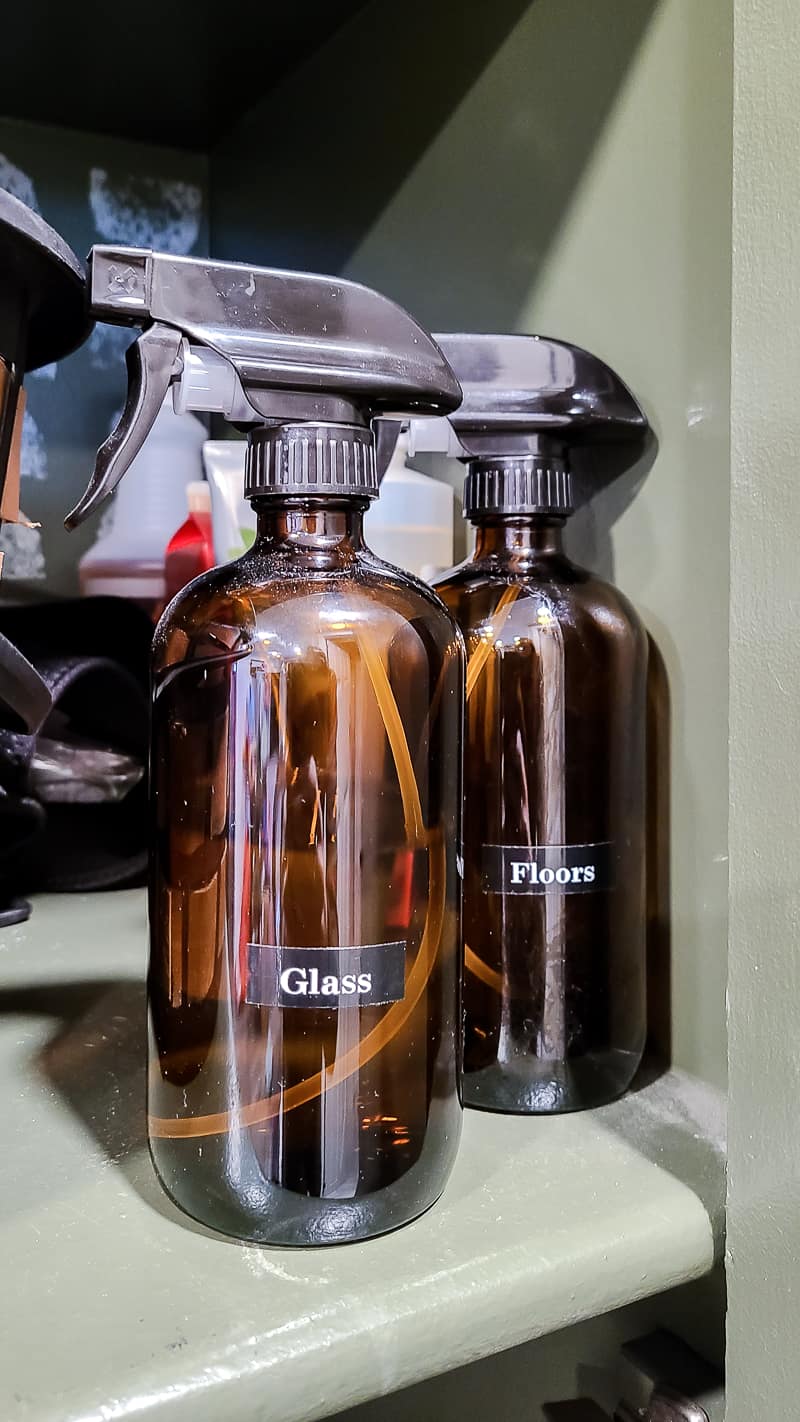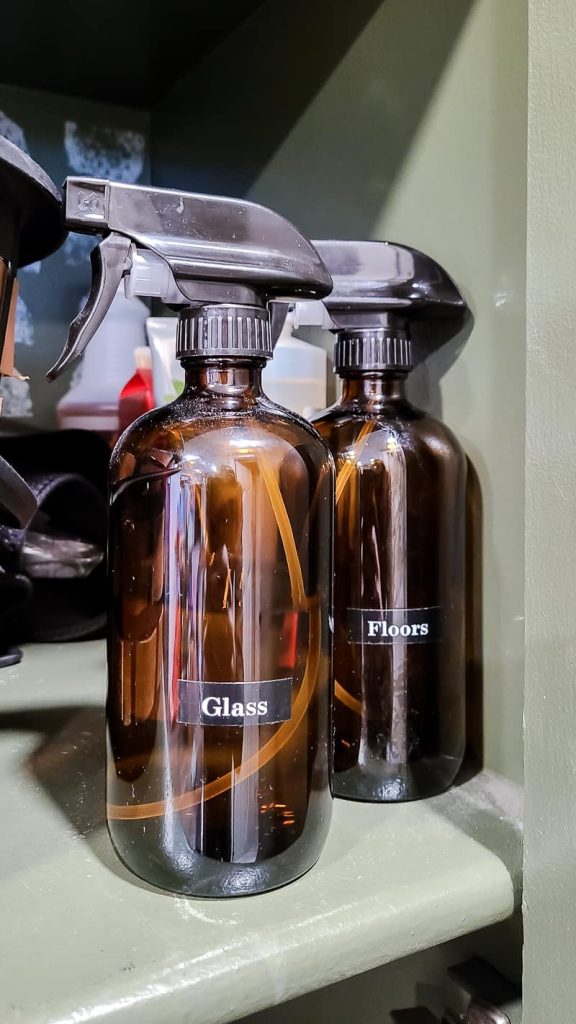 #4: Make it pretty
You may think it is overkill or excessive or even bougie, but I'm convinced that if you make things you don't really like prettier, you'll be more convinced to do them.
So I got some pretty amber glass spray bottles and created labels using this label maker for our glass cleaner, floor cleaner, and all-purpose cleaner.
Using the amber glass bottles also allows me to buy concentrated cleaners and use less plastic, which is good for the environment. It's a win-win all around.
On the left photo above, you'll see that I even created a fun leather woven basket for my cleaning rags. This was so easy. I snagged a cheap plastic bin from Dollar Tree, spray painted it black, and then added strips of recycled leather through the basket.
We also decided to add a fun modern sponge-painted feature to the back of the locker cabinets because why not? It's the small things that bring you joy that really adds to that feeling of love for your home.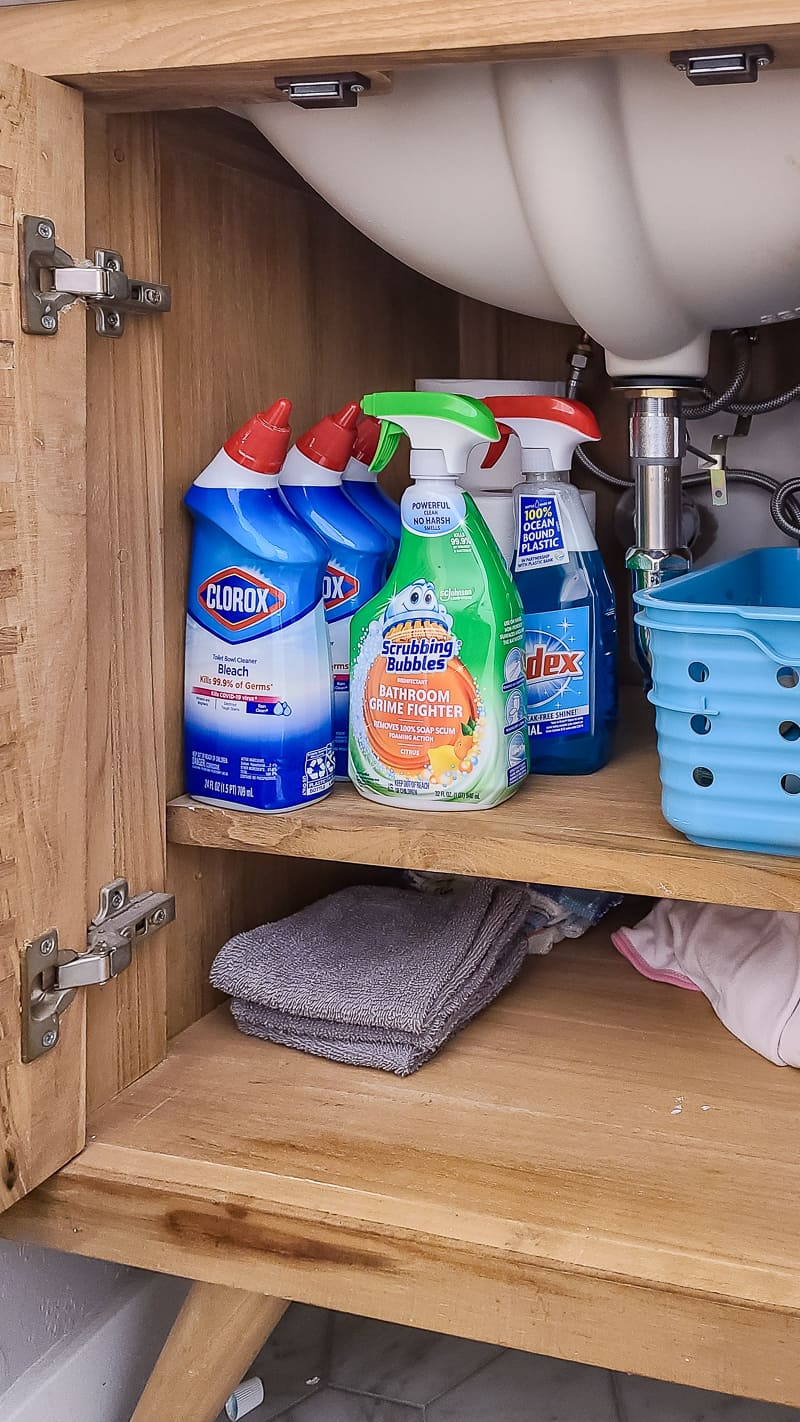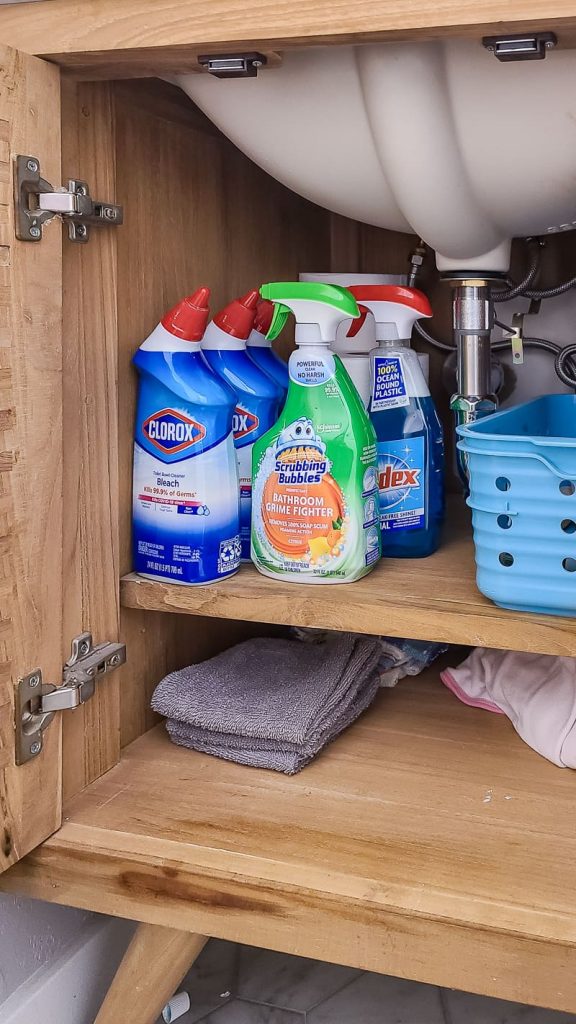 #5: Buy in bulk to keep cleaning supplies in handy locations
Let's be honest, you are a lot more likely to clean the bathroom "real quick" if you have everything you need right then and there. No more walks back and forth to the cleaning supply closet.
That's why I like to buy most of my cleaning supplies in bulk so I have the luxury of keeping them in handy locations – like under the sink in every bathroom.
In our bathroom and our kids' bathroom under the sink, we have toilet bowl cleaner, glass cleaner for the mirrors, and bathroom cleaner for other hard surfaces.
When it comes to cleaning, let's vow to keep things as easy as possible, friends.
My favorite supplies
Here are some of my favorite supplies mentioned above that help us organize our cleaning closet better.
---
Want to see more ideas for how to organize cleaning supplies?
There are so many different ways you can get cleaning supplies organized in your home. Each and every space is so unique! That's why I decided to get some help from my friends to bring you alternative ideas that may work better in your home.
Below you'll see 10 more unique and clever ideas for how to organize cleaning supplies!
10 More Ideas For Organizing Cleaning Supplies
So many fun ideas right? Which is your favorite?
Let us know in the comments below!