Keeping your house clean as a busy working mom is TOUGH! And there are a lot of things in our house that go undone. Here's an honest and realistic cleaning schedule for working moms (and something that you can actually keep up with). I'm also giving away a free printable house cleaning checklist to keep you organized.
This is a sponsored post written by me on behalf of cleancult®. All opinions are 100% mine.
Here is the truth. A clean house is not a huge priority to me right now. In this season of life, there's just no time for it all.
I'm a busy busy busy mom that works (a lot). We have two kids under 4, we're growing businesses along with other jobs and obligations, and still (trying) to prioritize family time, rest, and self-care.
And if you're anything like me, there's something inside of you that wants to have a clean house….but you feel like it's just a bit impossible.
What to do when a clean house feels impossible
Well, here's the tough love. Maybe…right now….in this crazy season of your life, you just need to lower your expectations a little bit.
Your house may not be spotless all the time and that's ok.
Your laundry may be piled up all week waiting to be put away and that's ok.
You may have dishes in your sink when you go to bed at night and that's ok.
There is NOTHING about those things that means you're failing. (I have to repeat this to myself all the time, so I'll repeat it again for you).
There is nothing about a messy house that means you're failing.
So, you're maybe wondering why I'm writing a post about my cleaning schedule if it's not a huge priority for me right now. Well, I think there's something missing from the information about cleaning on the internet….. honesty. What we need is a realistic HONEST look at what a cleaning schedule for working moms looks like.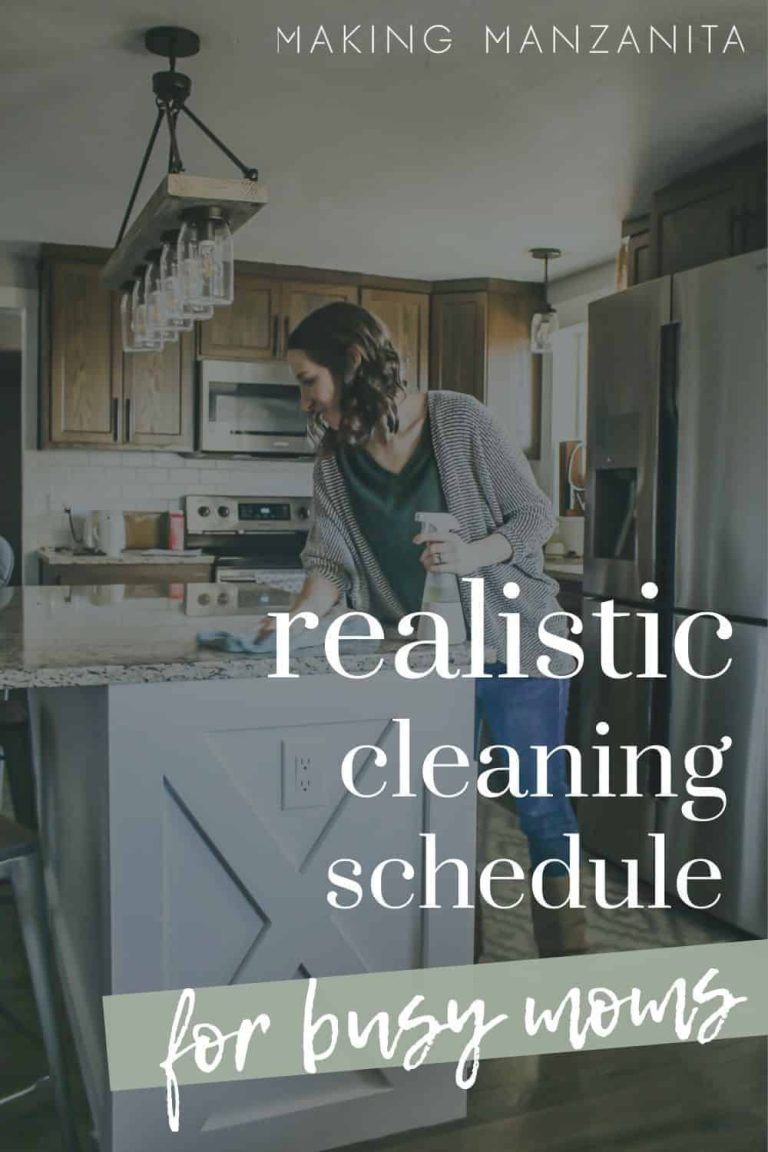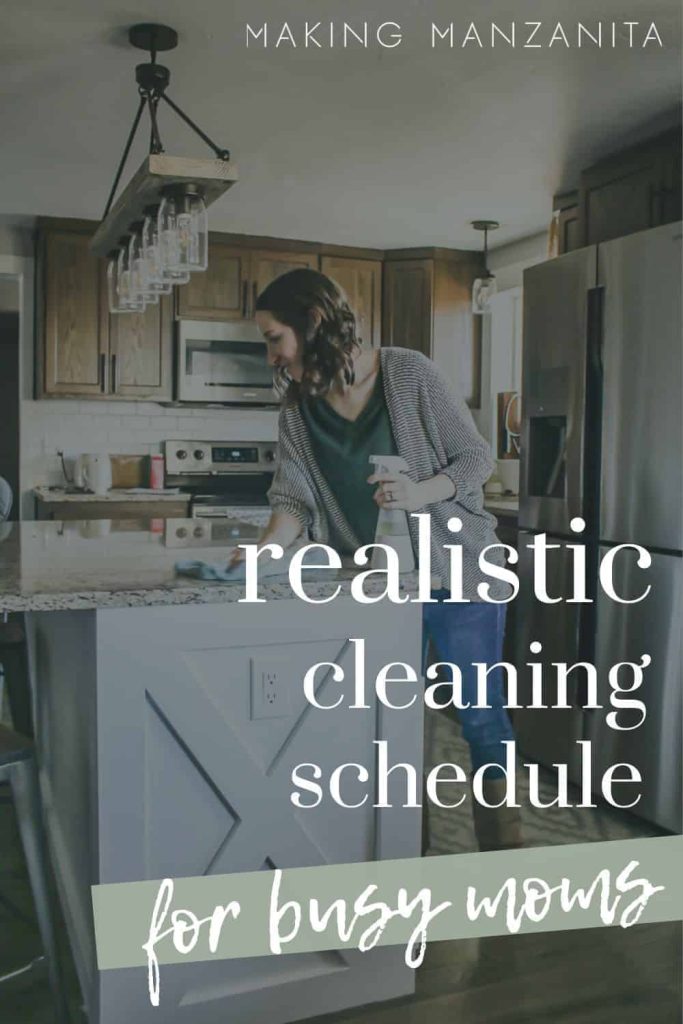 What does a cleaning schedule for working moms look like….(realistically)?
I don't know about you, there's a pretty big difference between the typical cleaning schedule out there and what actually happens around here.
For instance, "make beds" is on 99.95% of the daily cleaning checklists out there. And that's just not something I do. And that's ok.
But, as I said, there is something inside of me that wants to have a clean house. So here is what I'm doing, I'm figuring out what parts of the home are important for me to keep clean(ish) on a daily basis. I have to pick and choose because the whole house is just not going to get cleaned every day. I'm paying close attention to how I feel and what makes me feel good.
Here's what I've figured out about finding a realistic cleaning schedule for our home:
Having the kitchen clean at the end of day makes me feel good. Simple as that.
There's a short window of time after dinner and before the kids' bedtime that is my "golden" time and usually the only time of the day that I can focus on cleaning.
If Logan's had the kids all day, it can be a nice "break" for him to clean the kitchen while I watch the kids (and visa versa for the days that I have the kiddos).
Incorporating my oldest kid into my nightly cleaning routine gives me one-on-one time with him (rather than feeling like I'm missing out on family time while I clean).
Working in one deep cleaning task a week (like doing a fridge clean out or deep cleaning your washing machine)
Feeling good about cleaning supplies
Another thing that has been making me feel good when it comes to cleaning lately is using non-toxic cleaning supplies that are made with down-to-earth ingredients, like this starter pack I got from cleancult. I've been trying out their multi-purpose cleaner, hand soap, and dish soap. Click here to try it yourself.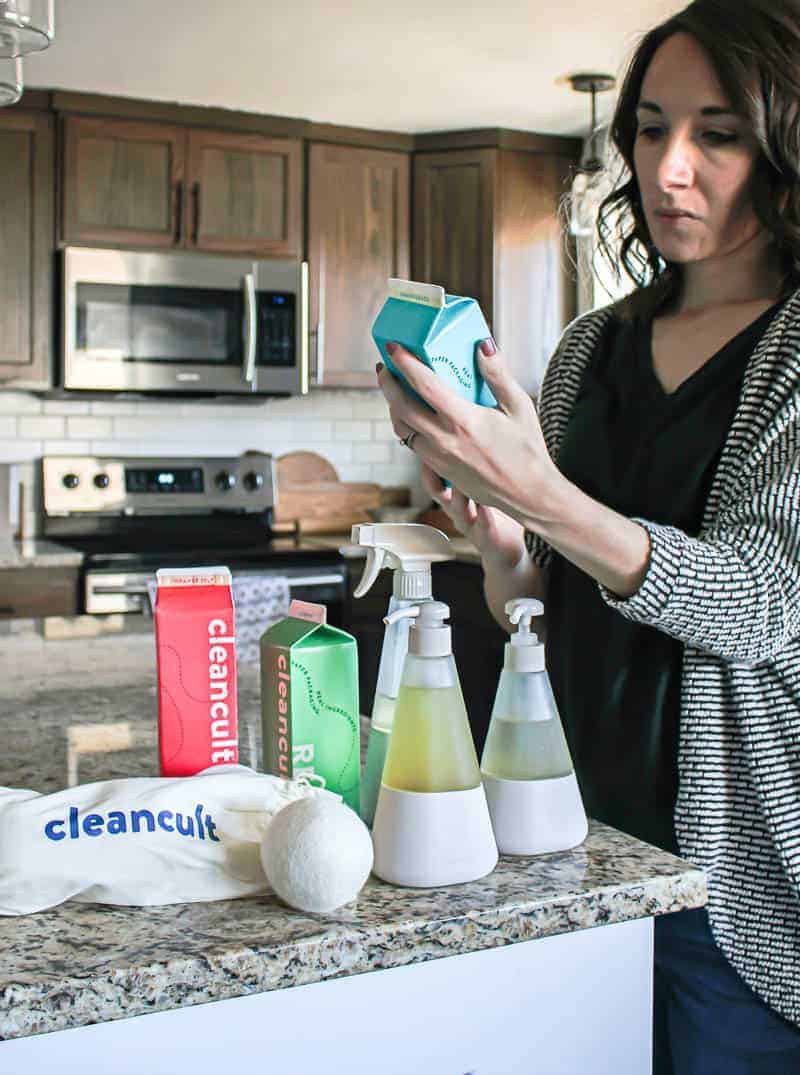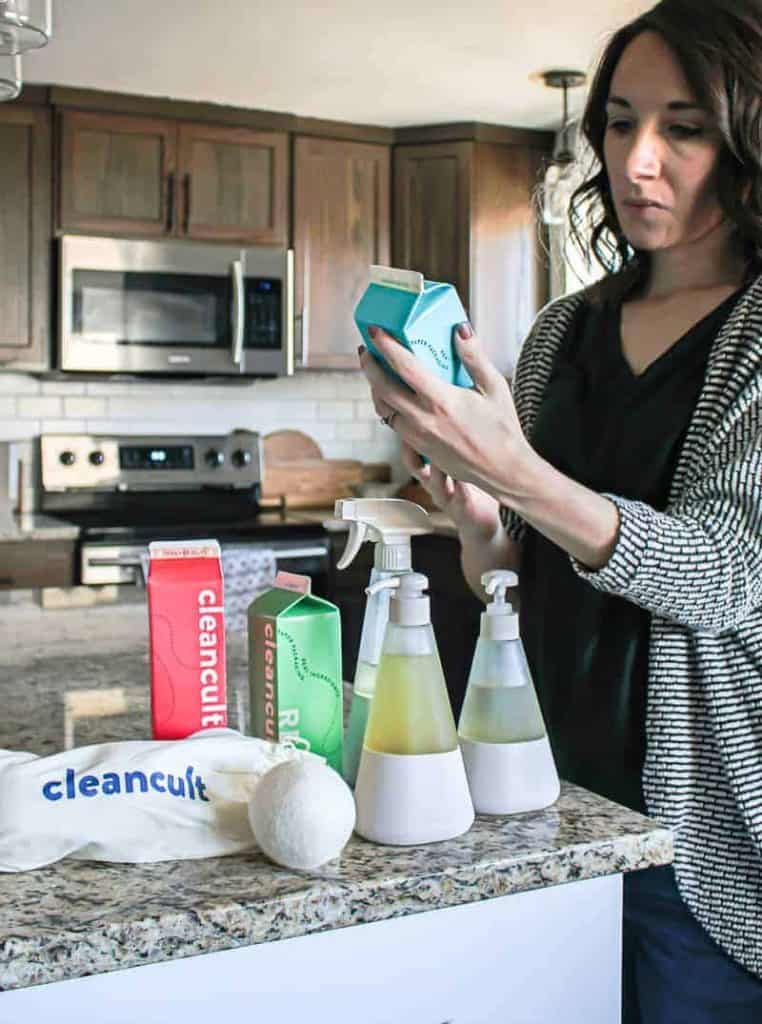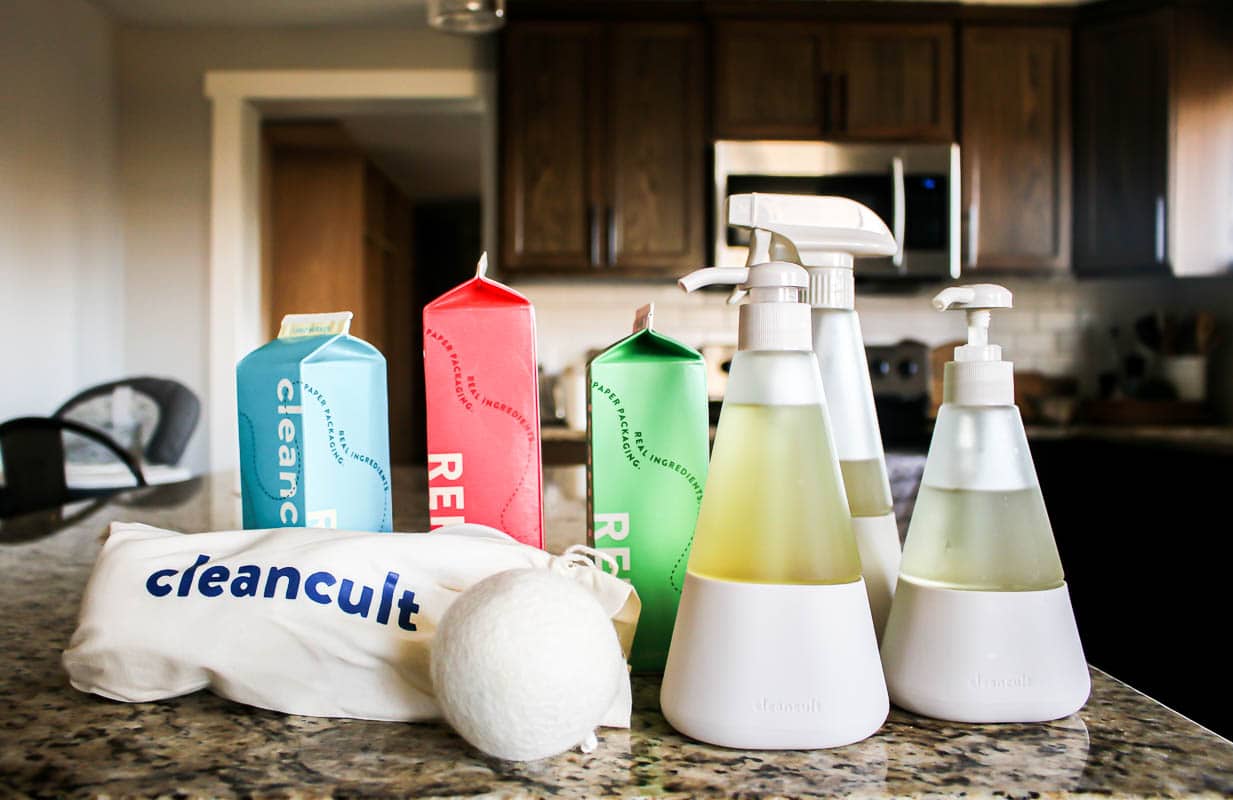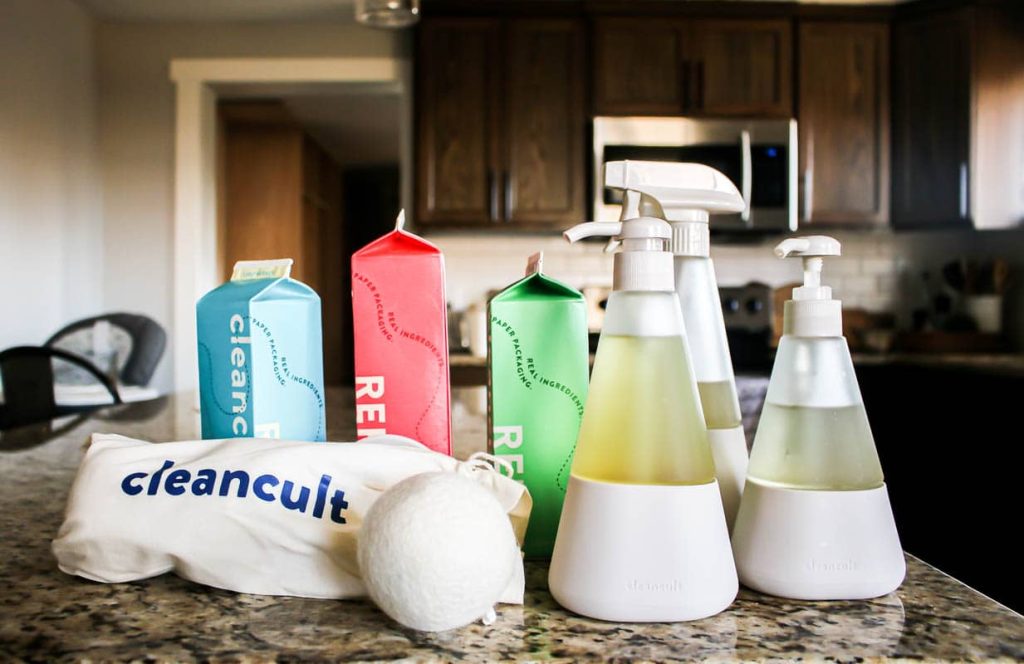 One thing that I love about each thing I've tried is that they are made with a base of coconuts, which actually have antiviral, antifungal, and antibacterial properties naturally. Also, their package is cute and 100% reusable or recyclable.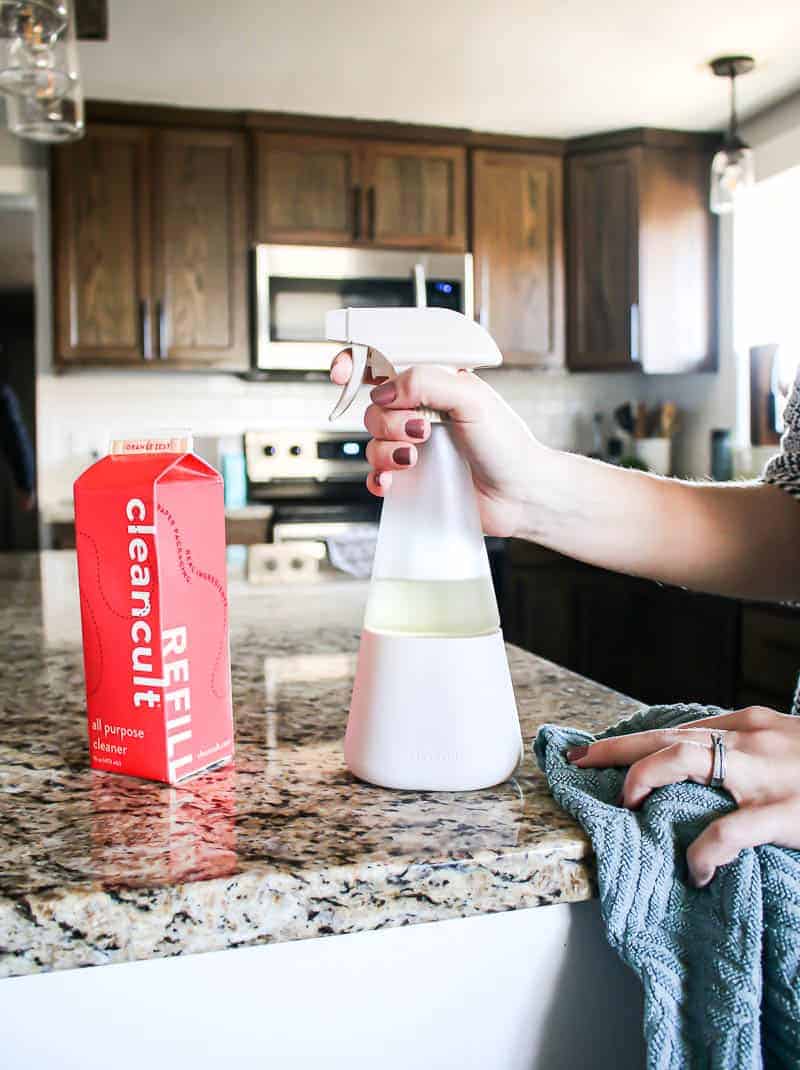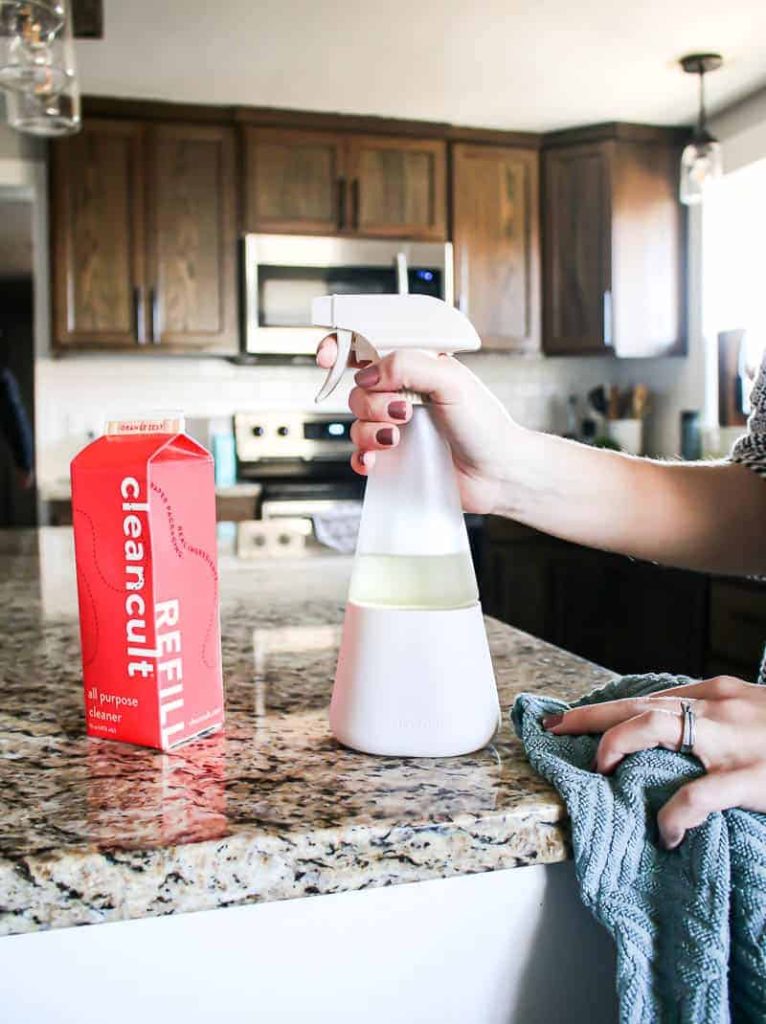 Learn more about cleancult products here. Use the discount code makingmanzanita to get 20% off!
Truth time: here's what I am NOT doing in our house as a busy working mom
So before I jump into sharing my daily cleaning routine with you, let me share with you a few things that I'm NOT doing in this season of being a busy, working mom. After all, this is an honest and realistic look at a busy mom's cleaning routine, right?
I don't make our beds every day. Really, this only happens if I'm taking pictures or guests are coming over.
I don't incorporate the daily cleaning routine if we go out to dinner that night….it just waits til the next day.
We don't clean the living room up every night. If I feel like it, I'll pick up their toys and put them away at the end of the day, but this definitely doesn't happen every day.
I don't vacuum the whole house until the dust bunnies appear.
In general, I just don't clean things until they need them.
So instead of feeling the pressure to do it all, figure out what in your home to prioritize when it comes to your cleaning schedule.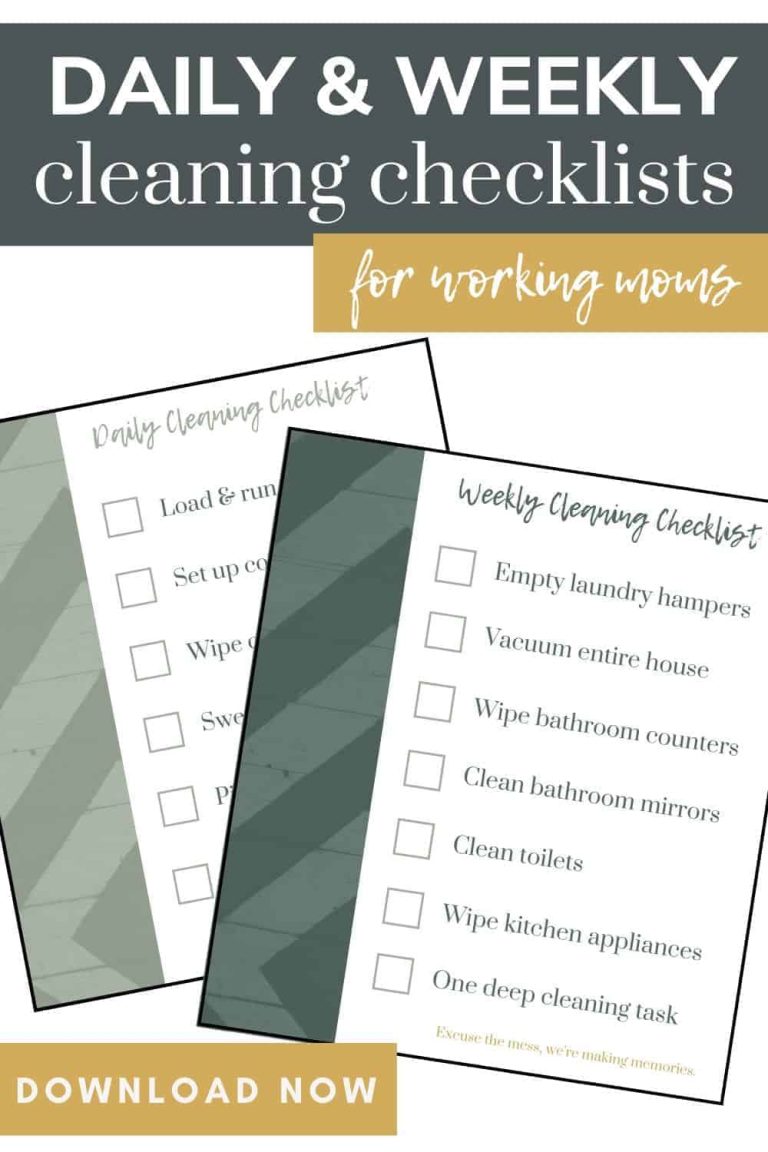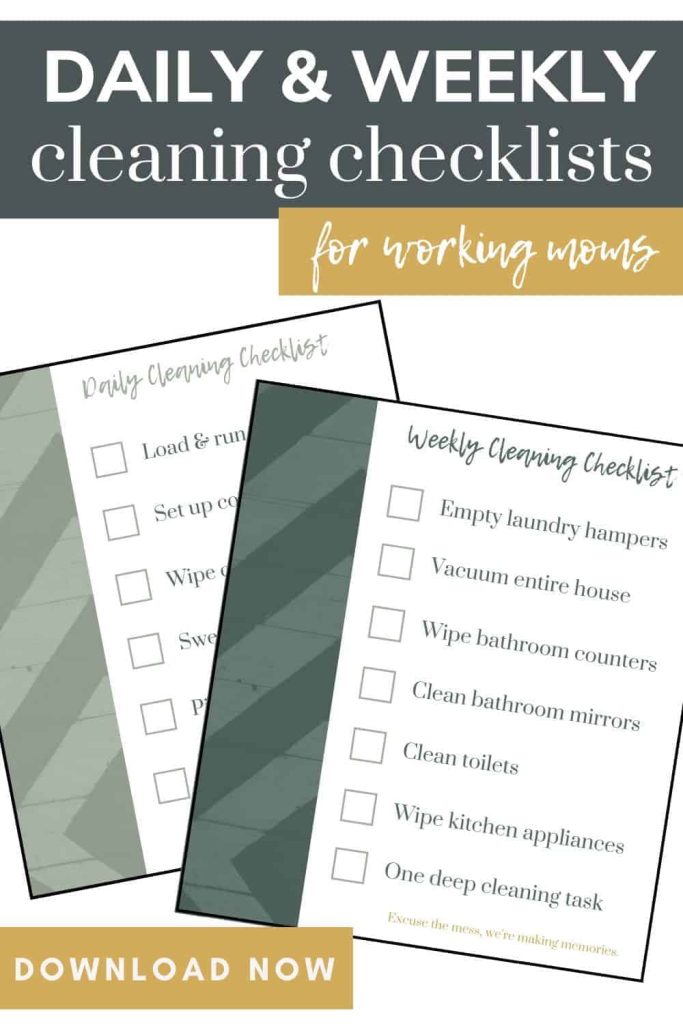 So, what does our cleaning schedule look like?
Here's what my cleaning schedule looks like right now.
Daily Cleaning Schedule
Wash dishes, load & run dishwasher (The cleancult dish tablets have amazing reviews! Third party researchers show that they actually clean better than leading green cleaning products. Also Parents Magazine added cleancult's liquid dish soap to their 2020 green picks)
Set up coffee maker & schedule for morning
Wipe kitchen counters & cooktop with a light spray of cleancult's all-purpose cleaner and a slightly damp rag
Sweep kitchen floor
Pick up toys (sometimes)
Fold & put away laundry (sometimes)
Weekly Cleaning Schedule (in the spirit of honesty, sometimes this is bi-weekly)
Empty all laundry hampers (The cleancult wool dryer balls help reduce static, wrinkles and drying time…also they make cute laundry room decor 😉 )
Vacuum entire house
Wipe down bathroom counters
Clean bathroom mirrors
Clean toilets
Wipe down kitchen appliances
Now to keep you (and me) organized when it comes to cleaning the house, I've created a free printable house cleaning checklist.
Here's what you get with the free house cleaning printables:
My Cleaning Schedule – blank days of the week to fill in with a cleaning schedule that works for you!
My Cleaning Schedule (filled in) – I've added one sheet with the cleaning schedule filled in with my weekly cleaning routine as an example of what is working for me in this season!
Daily Cleaning Checklist – A simple checklist with the 6 things I try to do daily to clean our house up
Weekly Cleaning Checklist – A simple checklist 7 tasks that I try to get to on a weekly (or sometimes bi-weekly) basis
Every printable has some encouraging quotes on the bottom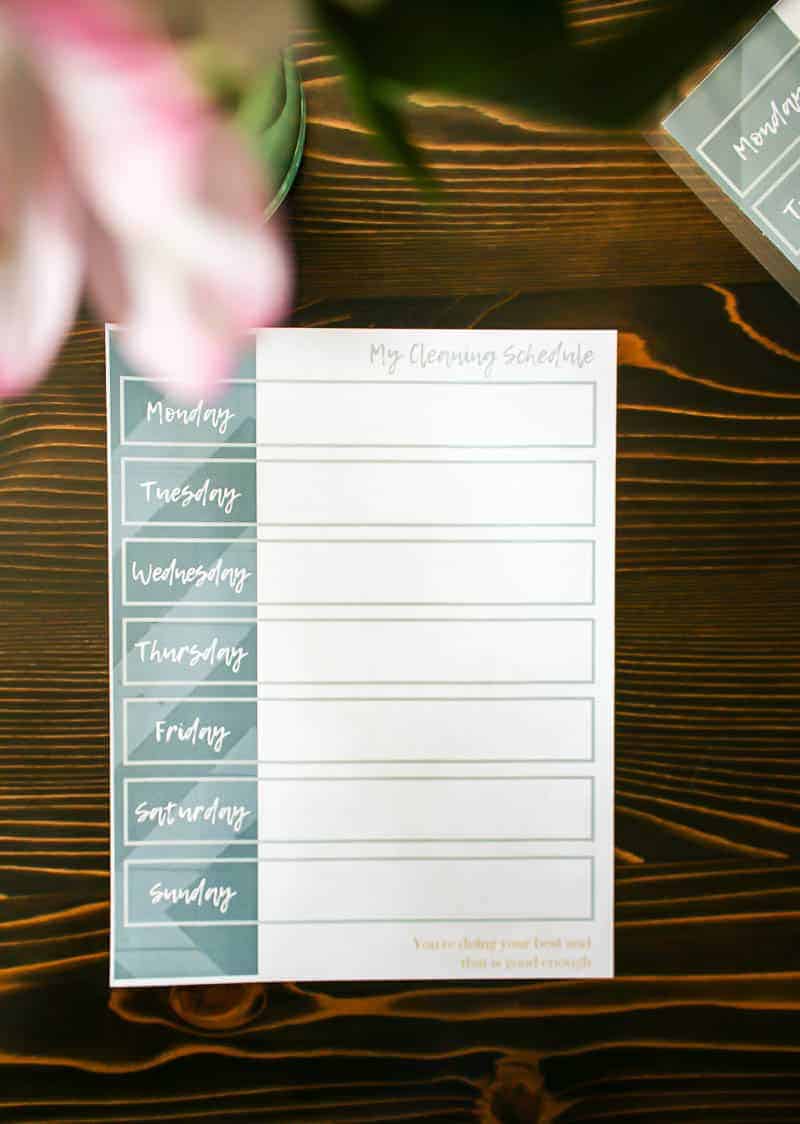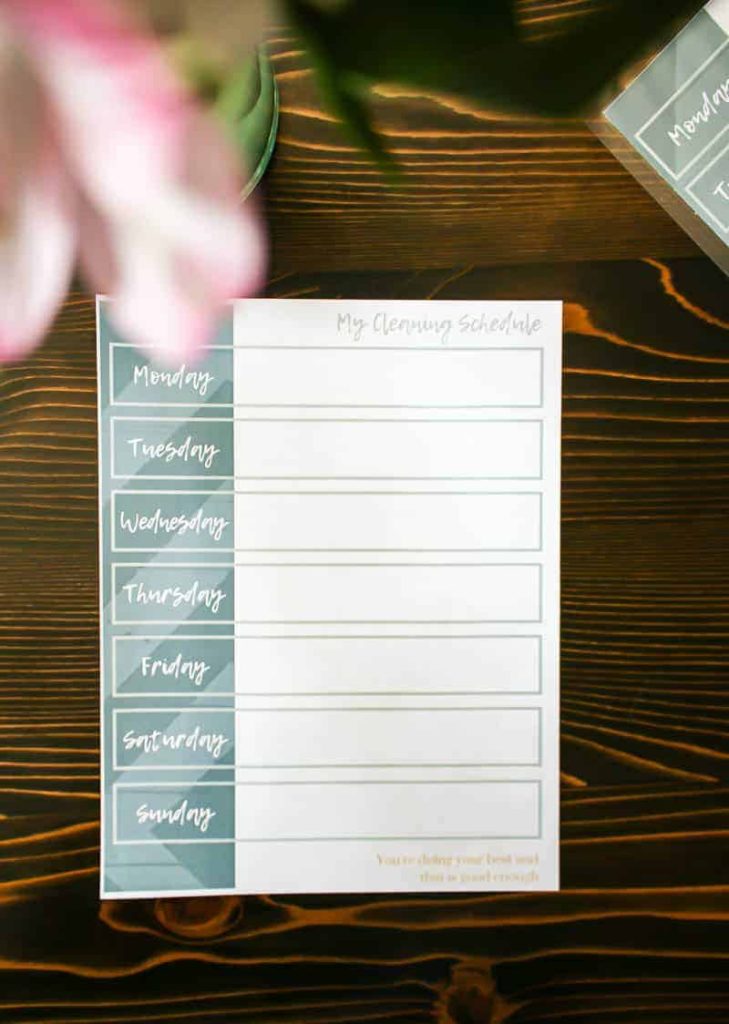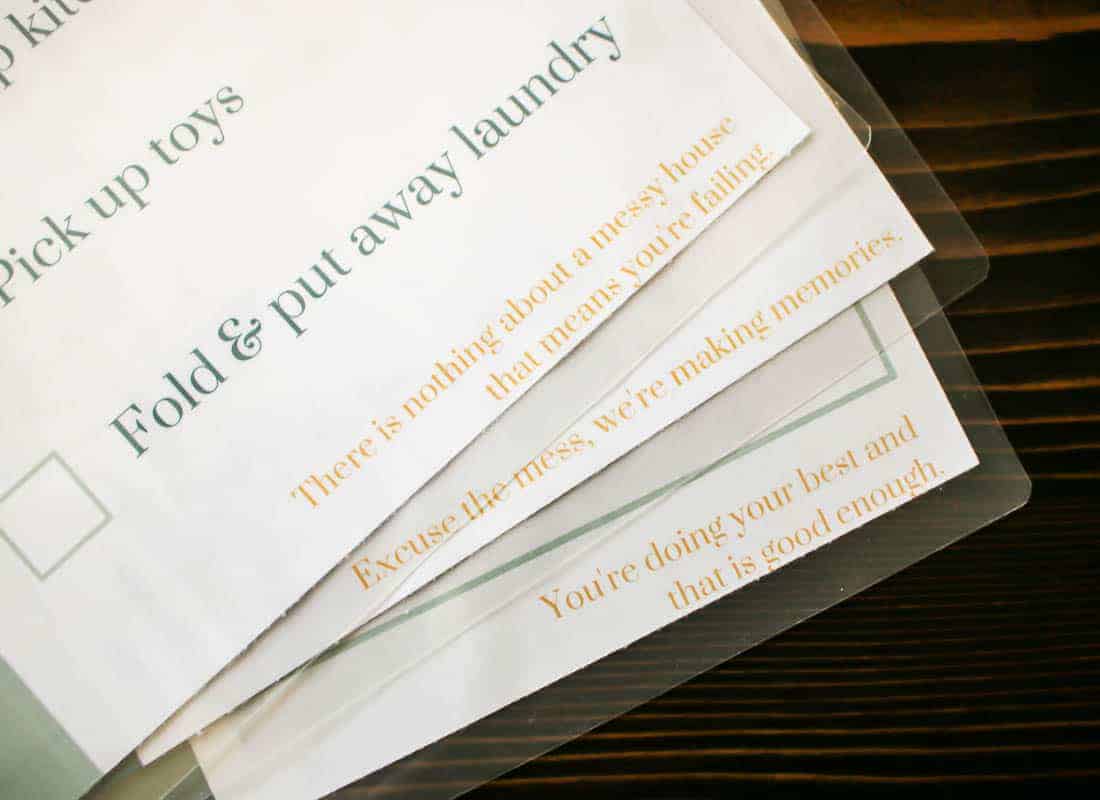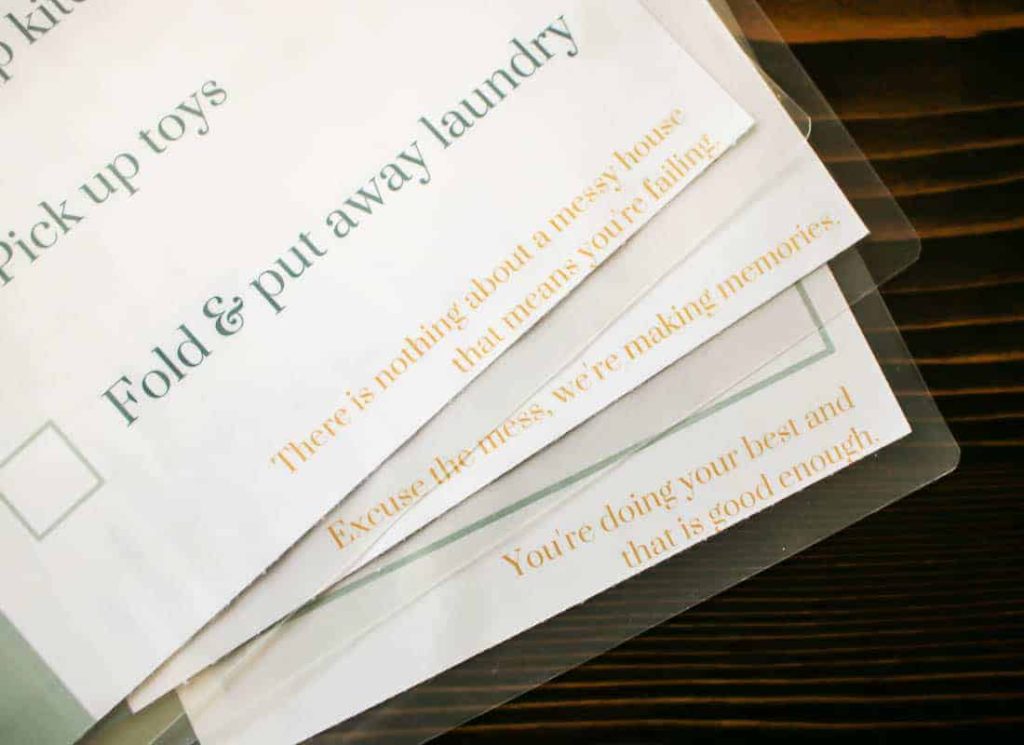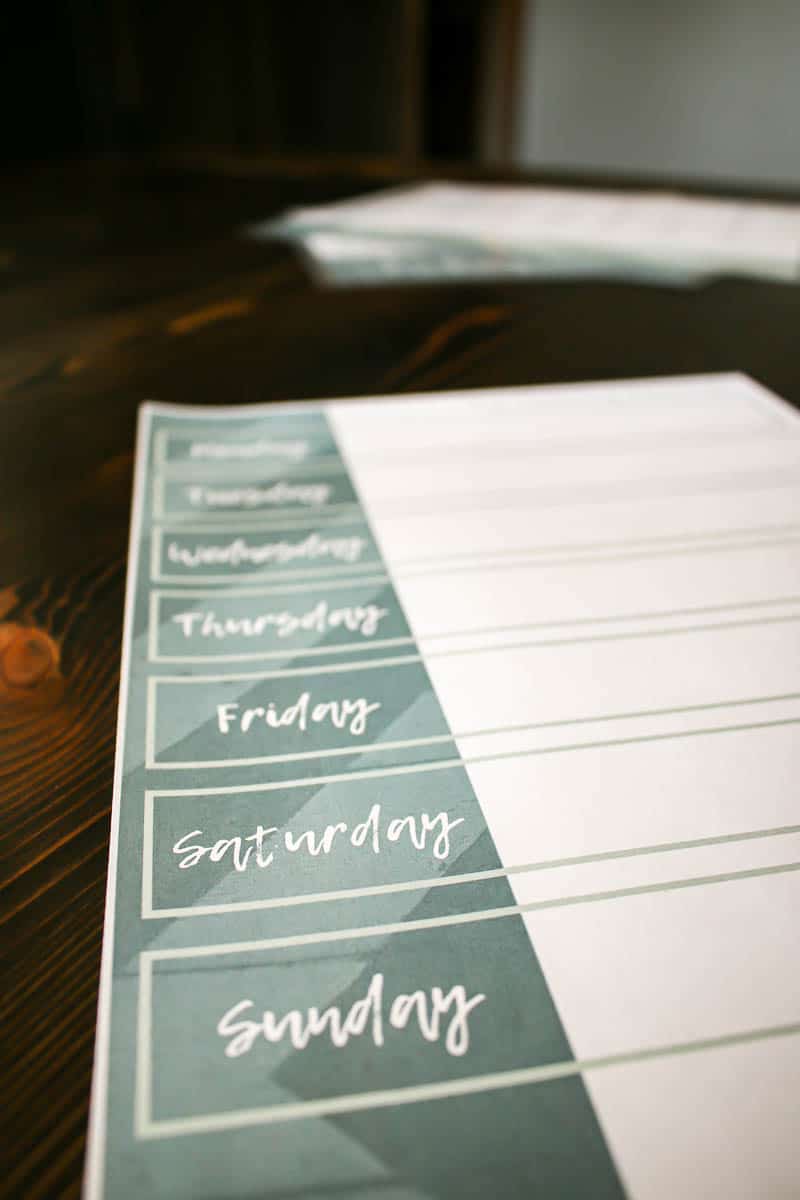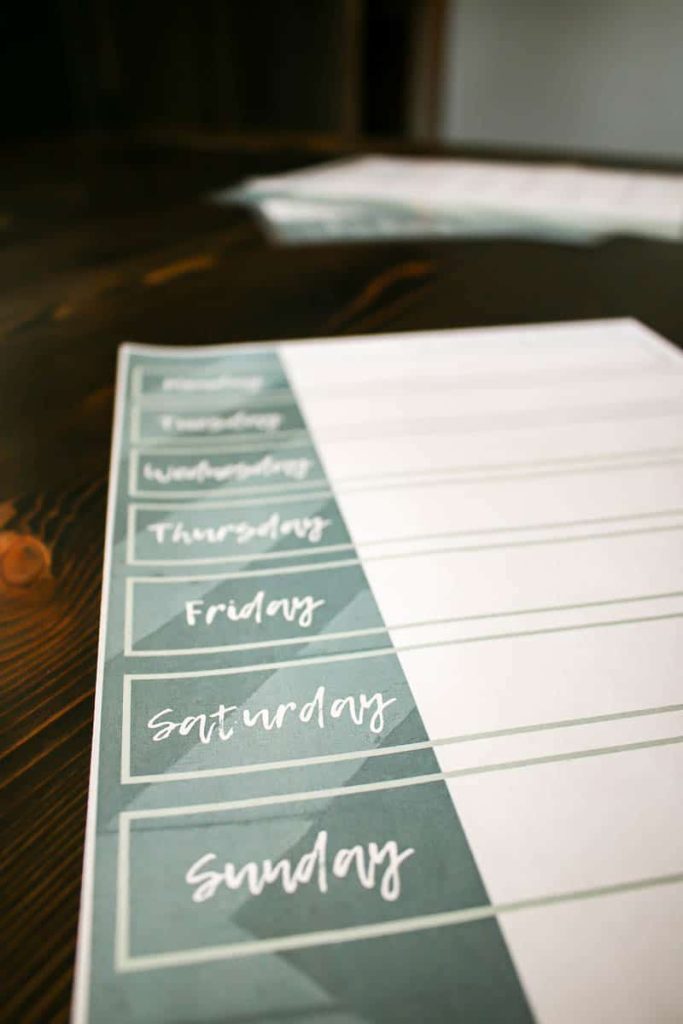 To get the free house cleaning checklist & schedules sent directly to your inbox, just sign up below!
So to the moms with messy houses and busy schedules, here's to you.
To the moms that are doing their best, here's to you.
To the dads who are doing their share, here's to you.
To the parents looking for cleaning supplies with down-to-earth ingredients, here's to you.
To the kids that are learning how to do their parts, here's to you.
And to all of us…let's remember, most of us have messy houses. And most of all – there's nothing about a messy house that means you're failing.
Now I'd love to know, what you are NOT doing around your house in this busy season of your life?
Let us know in the comments below.