Are you shopping for a new kitchen sink? If so, you definitely need to read this guide for quartz sinks with everything you need to know! We compare the different sink materials, discuss quartz sink color options and teach you how to clean and maintain your quartz sink.
Thank you to Elkay for sponsoring this quartz sink guide! All opinions are entirely my own. This post also contains affiliate links, but nothing that I wouldn't recommend wholeheartedly. Read my full disclosure here.
Are you in the market for a new kitchen sink? Maybe you're just starting to plan a kitchen renovation (or a new build) or you're just looking to get rid of an older style sink.
When it comes to buying a kitchen sink – the options are pretty endless. You're probably looking for the best kitchen sink material that looks great in your space and at a decent price, right? Chances are that you're thinking that a quartz sink is a good option – and it is!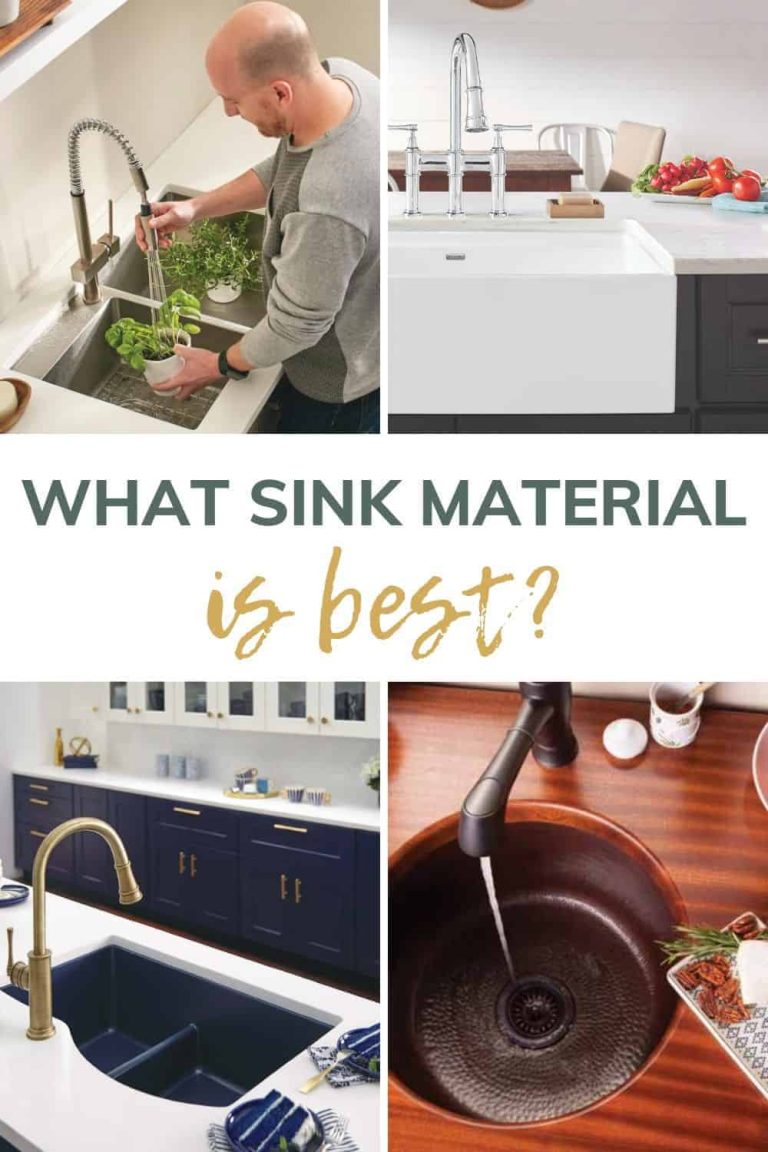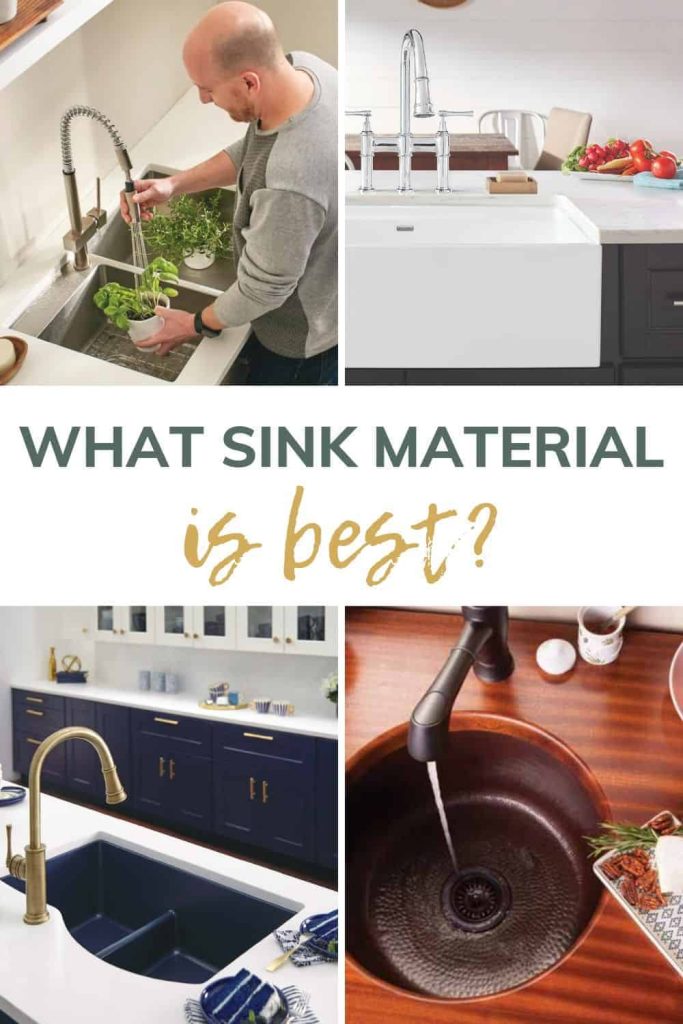 What is the best kitchen sink material?
When it comes to the best sink materials, the answer is going to depend a lot on YOU! So there is no one answer for the best kitchen sink material. There are a lot of different options for sink materials, but how you use your kitchen sink and your personal preference definitely comes into play when you're shopping for a new sink.
Pros and cons of different kitchen sink materials
As mentioned in our undermount sink installation guide, there are several pros and cons of each kitchen sink material. Here is a quick summary for you if you're trying to decide between a quartz sink or another material.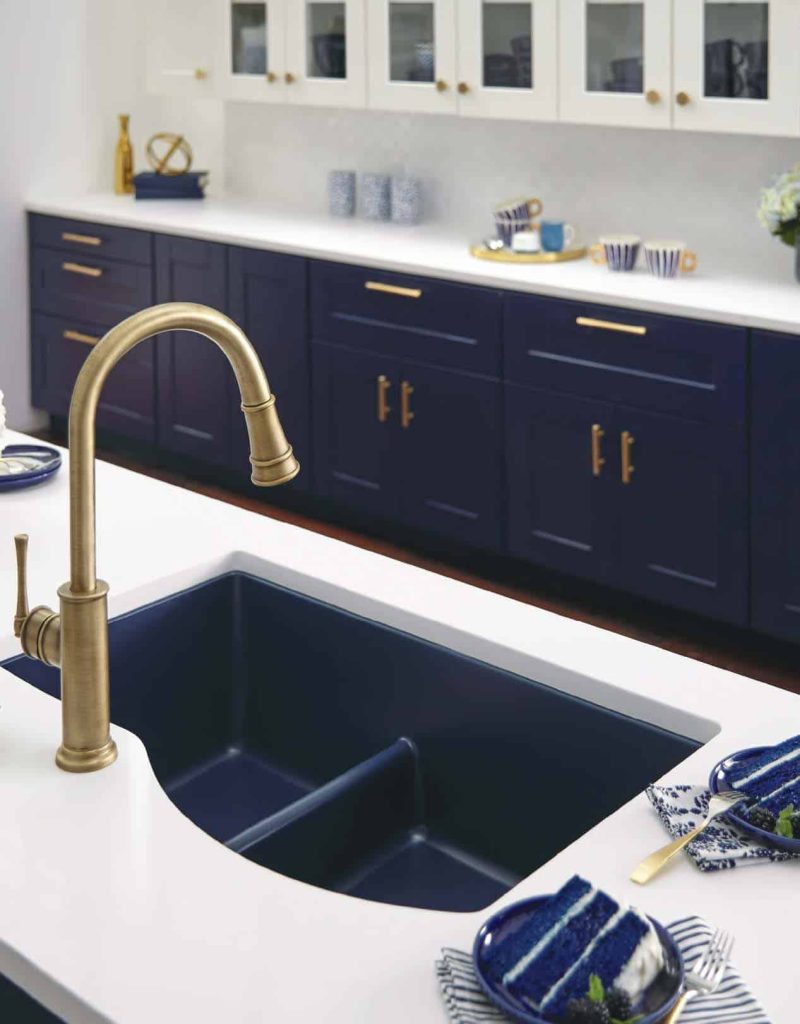 Composite sinks (granite composite or quartz sink)
Made from manmade material, mixture of natural stone and resin
Very durable
Easy to clean, but still should avoid very abrasive cleaners that may dull the finish
Bacteria and odor-resistant
Since they are so dense, be careful to not drop your dishes on the sink because they may chip or break
Quiet to use
Stain, heat, chip resistant
Come in a variety of colors
Heavy
What's the difference between granite and quartz sinks?
Granite and quartz are both what are called "composite sinks". When it comes to composite sinks, it's a little…well… confusing! Composite sinks are essentially just a combination of different materials – usually dense stone (usually makes up about 70-80%) and an acrylic bonding agent or resin (about 20-30% of sink materials).
The primary difference between granite sinks and quartz sinks is the type of stone – in this case, granite stone is used for granite sinks and quartz stone is used for quartz composite sinks. Seems pretty simple, right?
When you're shopping for an Elkay sink, it's even easier because they only offer quartz sinks – not granite.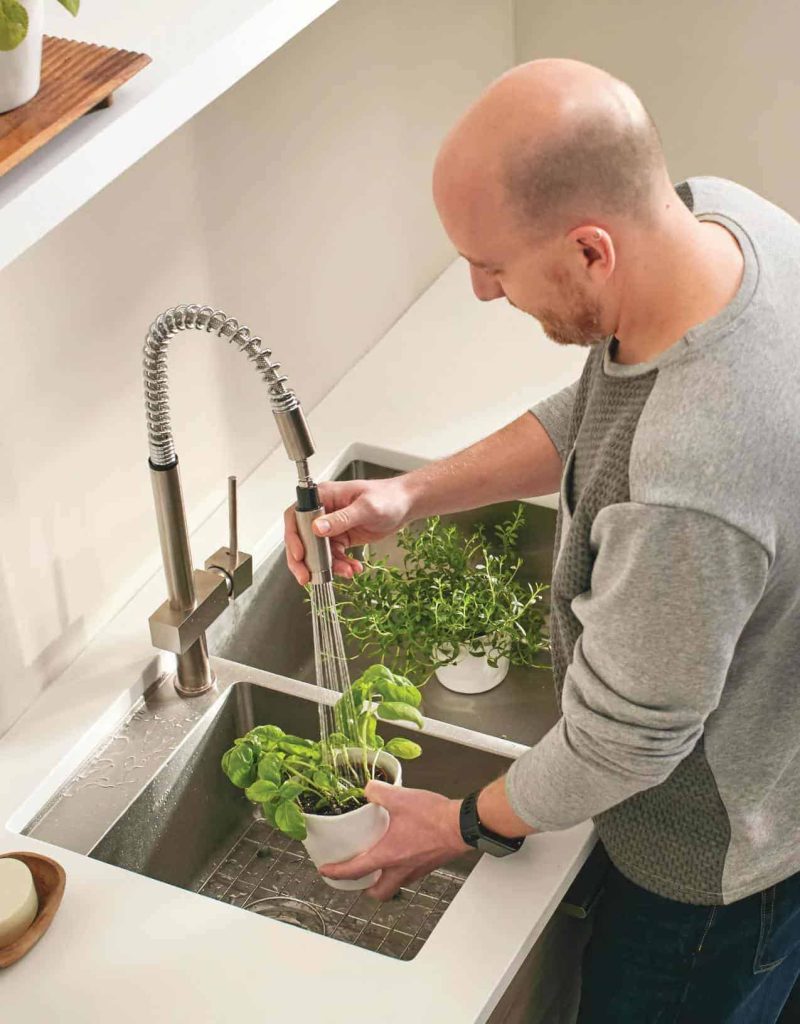 Stainless steel sinks
Very light
Easy to install
Easy to clean
Heat and stain resistant
Most common sink (70% of all sinks: source)
Noisier than other sinks, but you can add sound-absorbing pads to the bottom exterior of the sink to help with this!
Can be scratched and dented
Come in various gauges/thickness, ranging from 15 to 24 gauge…although gauge doesn't seem to matter that much according to Consumer Reports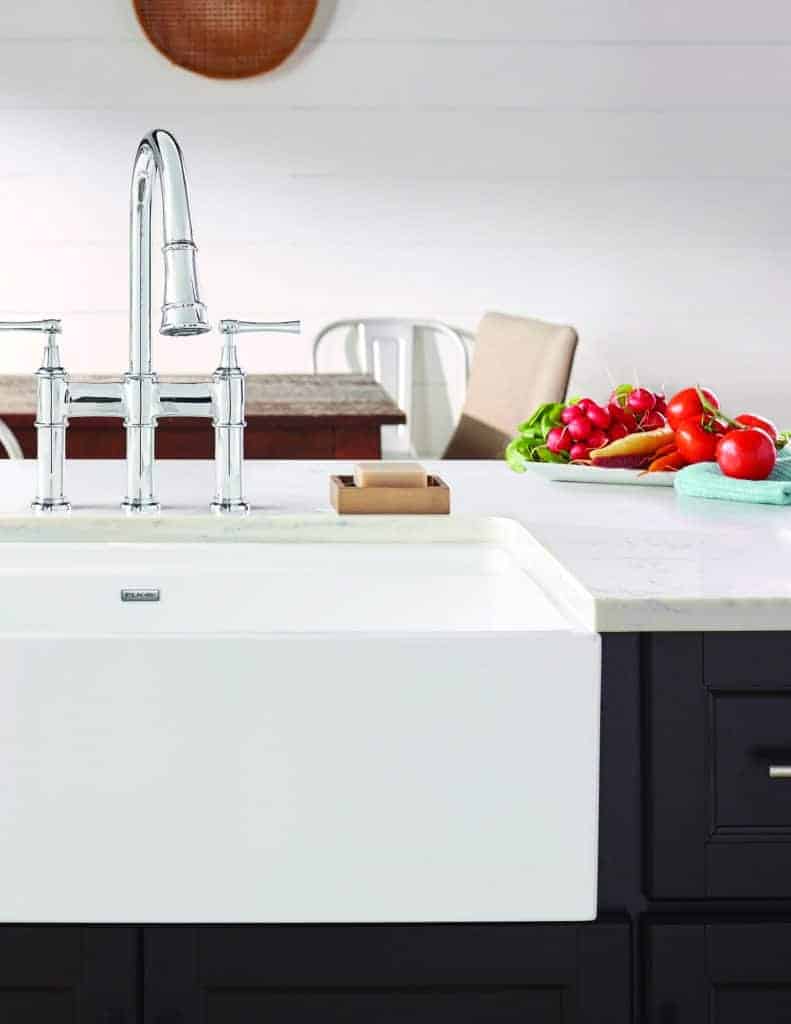 Fireclay sinks
Glossy enamel finish
Long lasting
Stain resistant
Easy to clean (can use abrasive cleaners when needed)
Heavy
More expensive than other sink materials
Often seen in a farmhouse style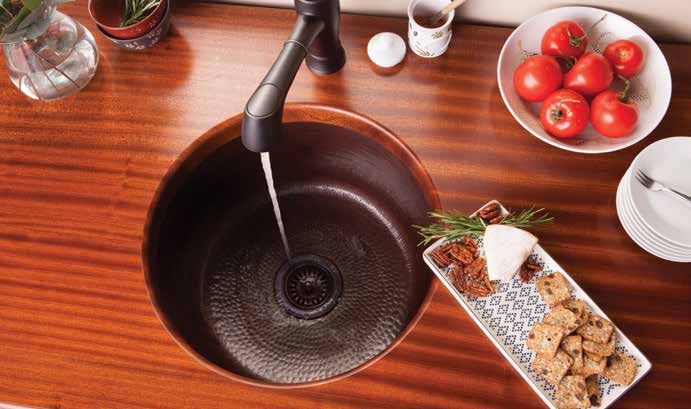 Copper sinks
Unique
Durable
More expensive than other sink materials
Sensitive to acid, heat, and harsh cleaners
Overtime will develop a natural patina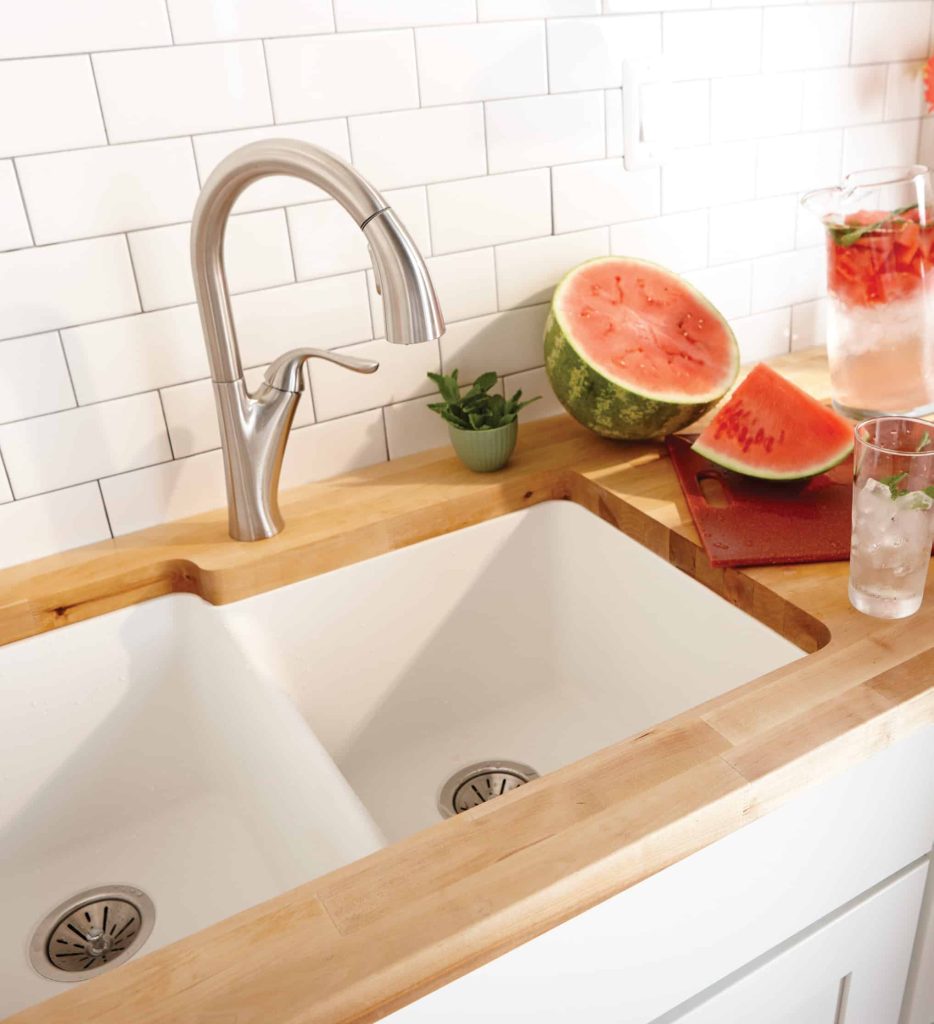 Elkay's Quartz Sink Options
As the #1 sink selling company in America, Elkay knows a thing or two about kitchen sinks. In fact, they have the largest offering of quartz sinks. There are 18 colors, 47 models, and 4 different installation types. But all those options can also make things a little overwhelming, so let me break it down for you.
There are basically two types of Elkay Quartz – Quartz Classic and Quartz Luxe.
Elkay Quartz Luxe®
The Quartz Luxe line is a little "fancier" than the Quartz Classic with a smoother touch, bolder colors, and they are mixed with a UV-stable acrylic resin (so the colors won't fade) and organic fibers for some added impact resistance. There is also a fiberglass webbing molded into the bottom of the sink to reinforce the work area.
Elkay Quartz Classic®
The Quartz Classic sinks offer the benefits of a quartz sink, like being scratch and stain resistant, but at a slightly more economical price.
What's the biggest difference between the Quartz Luxe and Quartz Classic?
Besides the Quartz Luxe being at a slightly higher price point and having more bells and whistles, I'd say the biggest difference between the different kinds of quartz is the color options.
Quartz Luxe offers rich, bold colors, like blue and red, (in addition to black and white), whereas the Quartz Classic is offered in natural hues like white, cream, and black.
The other big difference between two the Quartz options is the finish, which I didn't realize until I had the samples in hand and could put them right up next to each other (as seen in the photo above).
The Quartz luxe has more a "silky" smooth finish with a little more shine to it, when compared to the Quartz Classic.
That being said, I have the Quartz Classic sink in my kitchen and have never once wished that the finish was smoother…It isn't really until you hold them right next to each other and bounce the light.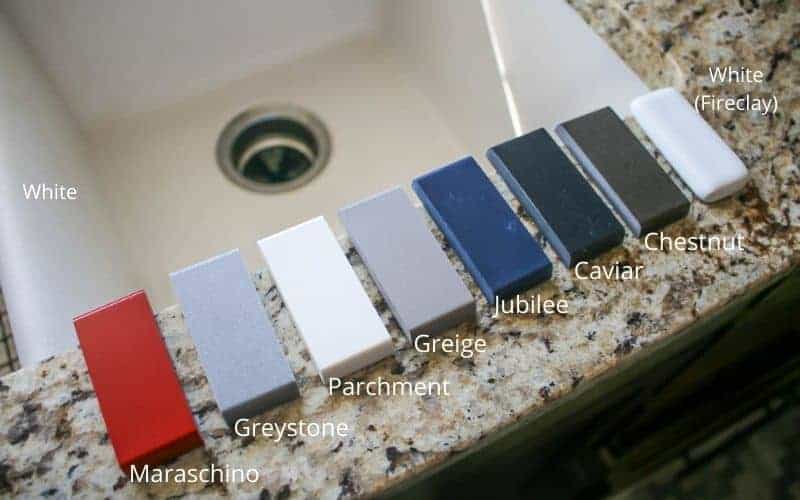 What are the color options for quartz sinks?
When it comes to color options, this is really where you can have some fun if you want.
Elkay was kind enough to send me a bunch of their quartz sink samples (and one fireclay to compare!) to take a look at and share with you. Just LOOK at all of them (and this isn't even all of them!)
If you're looking for a more neutral, a white quartz sink is a CLASSIC option in my opinion. In fact, it's what we have in our kitchen and I love it. Here's the sink we have!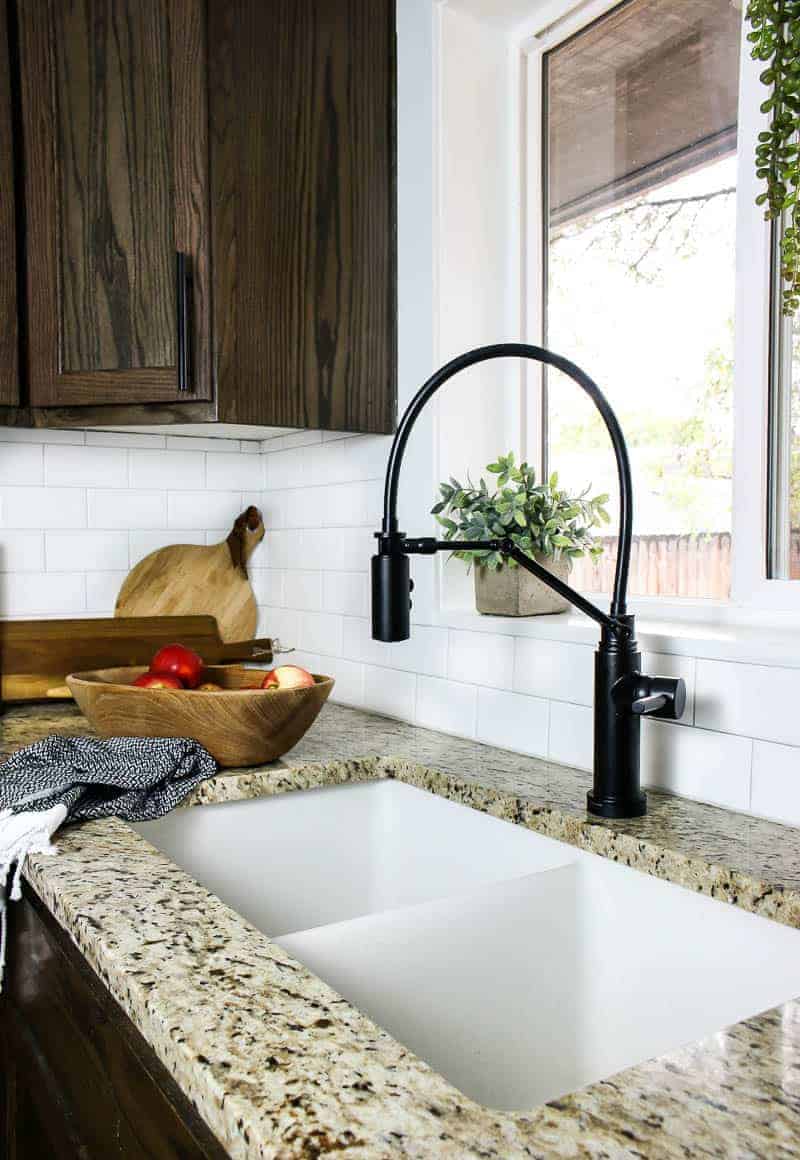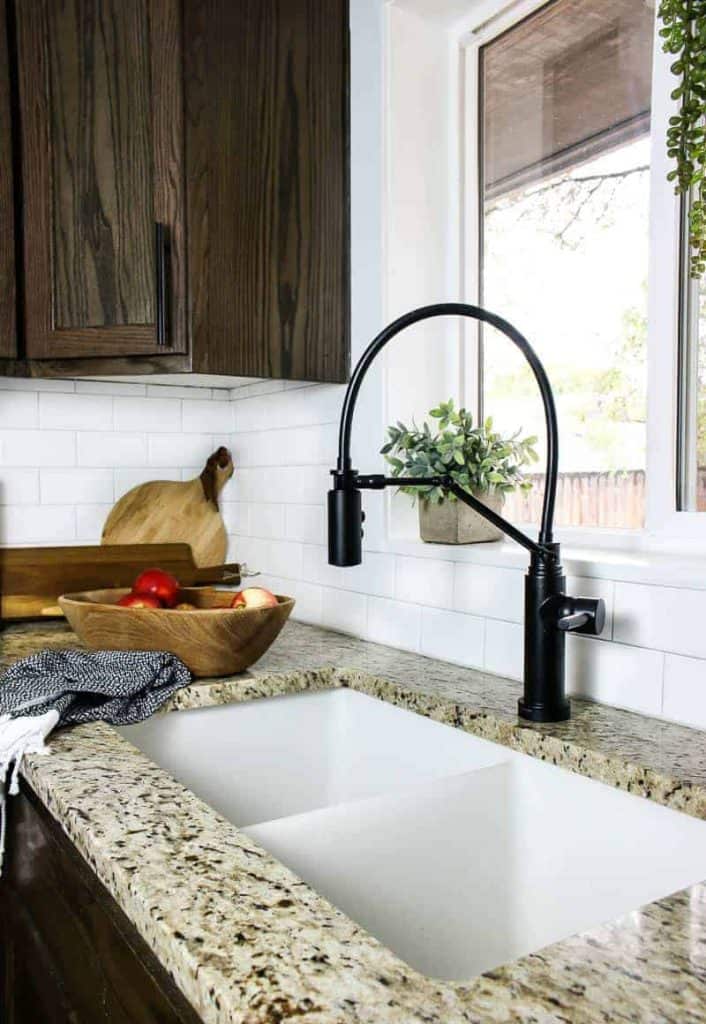 One reason that I chose to go with a lighter color on my quartz sink was the fact that my kitchen always feels dark.
Our kitchen doesn't get great natural light and the dark cabinets don't really help. Installing a white quartz sink made a huge difference in really brightening up the whole kitchen.
One downside (that I was fully prepared for) is that white sinks do show more so I end up cleaning it more often – but that just means it is a cleaner sink, so that's not a bad thing.
(P.S. there's a lot more about cleaning your quartz sink below with a VIDEO so, keep reading!)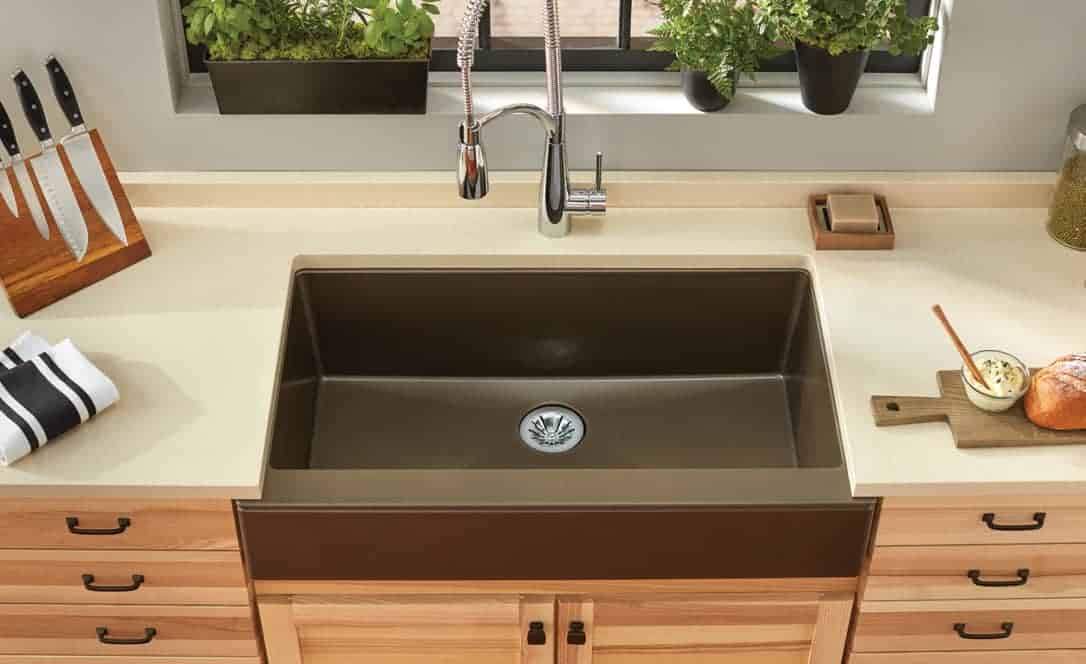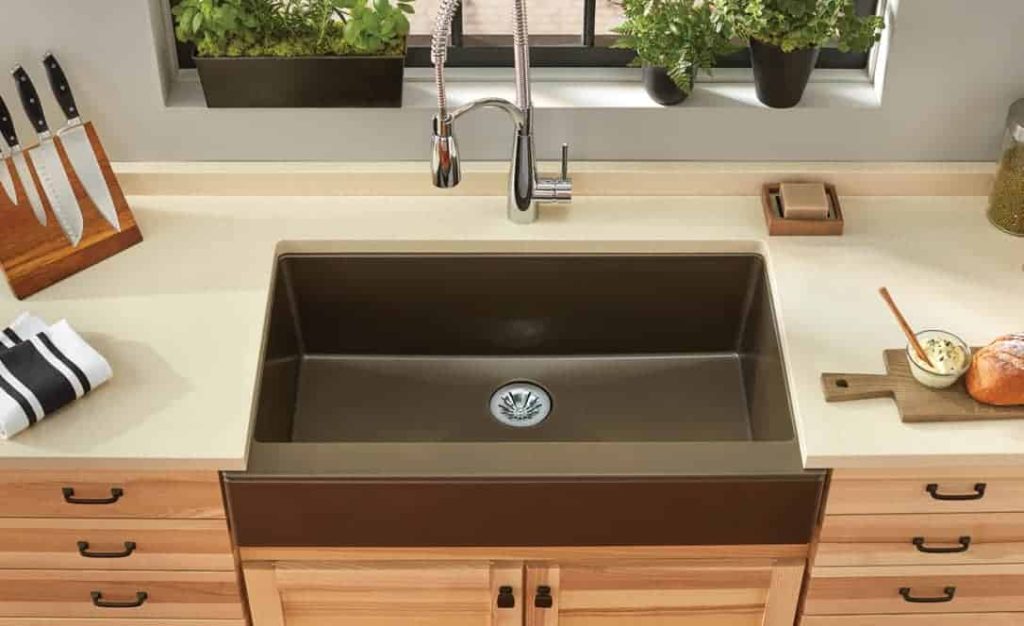 Do they make Quartz apron sinks?
If you're not familiar with the term "apron sink", maybe you've heard of "farmhouse sink". They are the same thing and I'm a big fan!
An apron sink is unique because the front of the sink extends behind the front of the cabinet and is exposed. Apron sinks are usually wider and deeper than normal kitchen sinks.
Elkay definitely makes several options for a Quartz apron sink and they are gorgeous. Available in the Quartz Luxe line and in many different colors, you can get all of the great benefits of quartz sinks but in a fresh style!
One thing that I really love about the Quartz Luxe Farmhouse sink from Elkay is that there's no need for custom cabinetry, which is pretty rare when it comes to farmhouse sinks!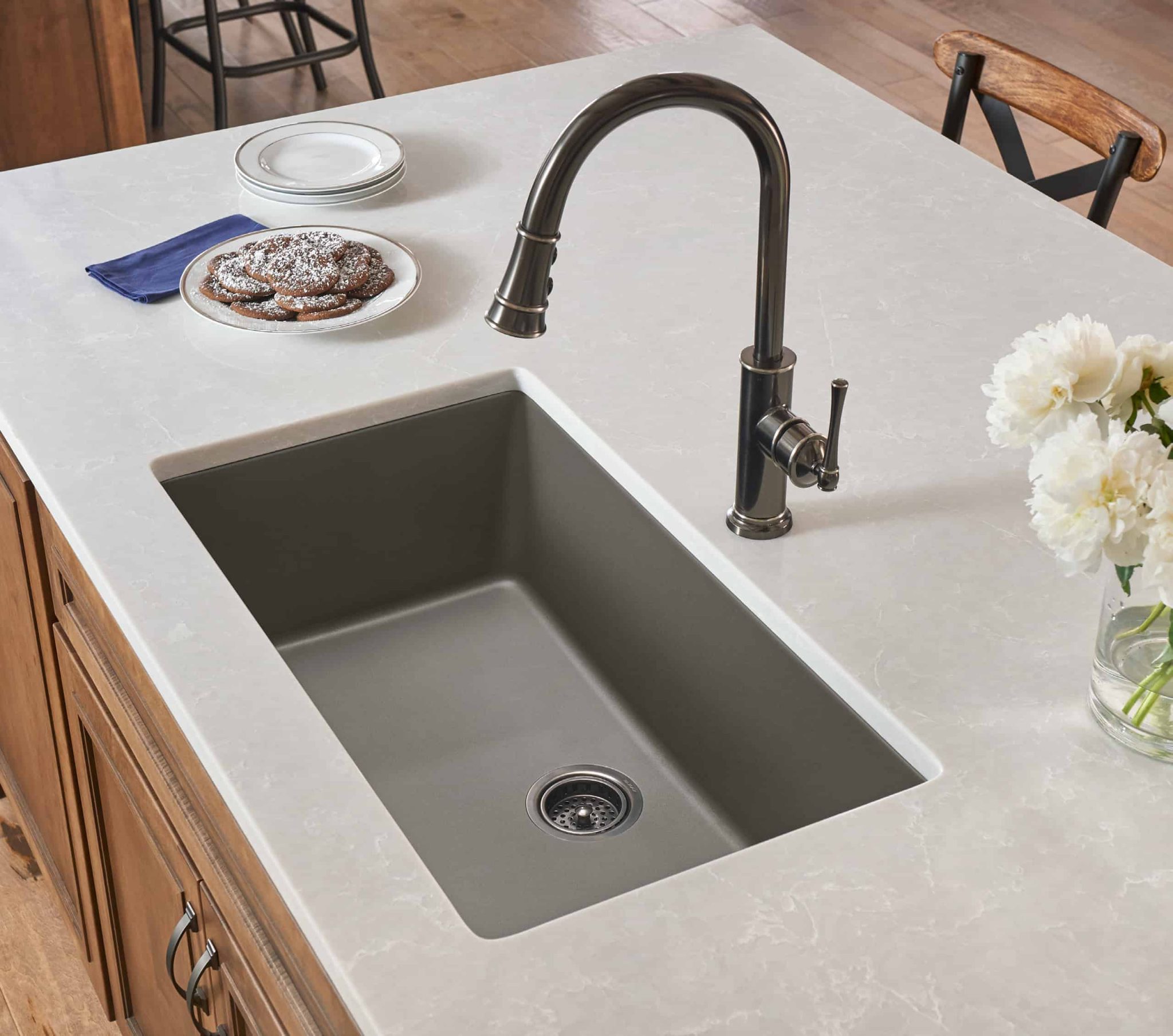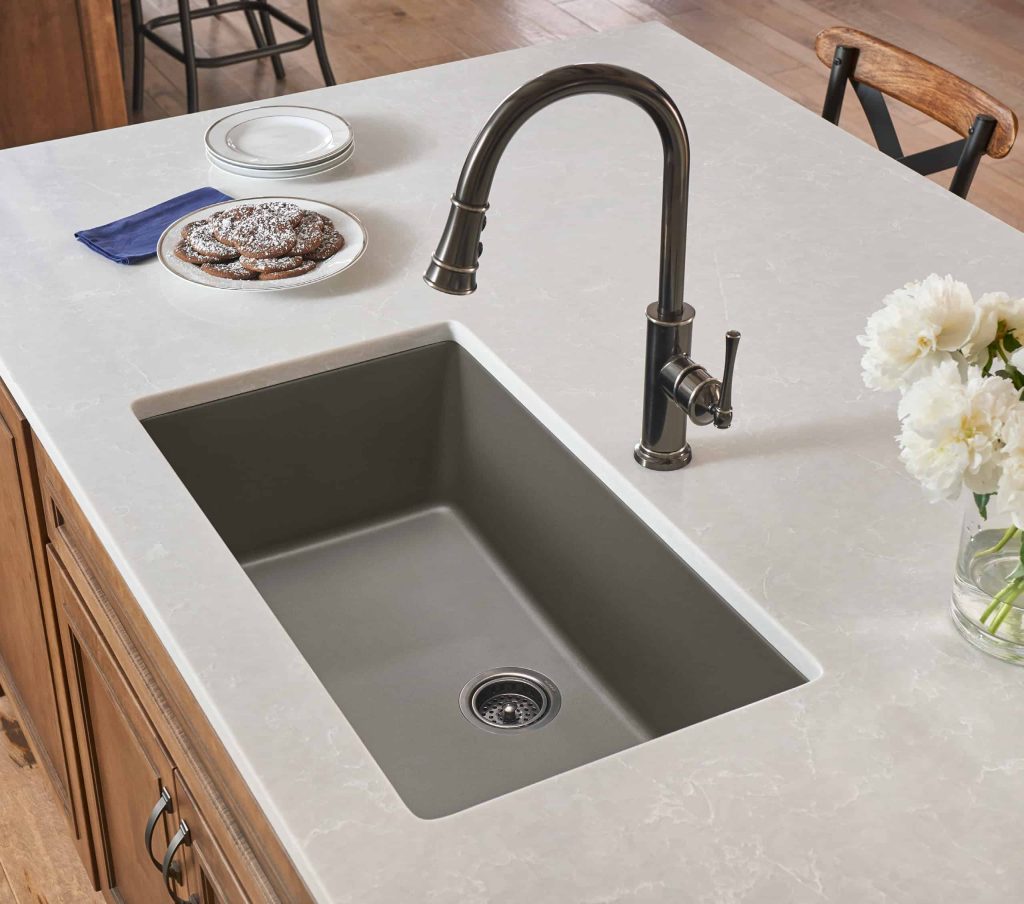 How do you clean and maintain a quartz sink?
One benefit to choosing a quartz sink is that it is very easy to maintain, mostly because it is a nonporous material. Because of this, most dirt and stains will wipe away pretty easily with your sponge and dish soap. After I'm doing dishes, I always do a quick pass around the sink with the sponge and rinse well to keep it looking clean.
But there's definitely a need to do some deep cleaning on your quartz sink when you have any build-up (usually from not rinsing well), water deposits (which will depend on your water quality), and any scratches or scuffs.
For everyday spots or stains, you can quickly use a Magic Eraser and a little bit of water as soon as you see them. You should be able to just rub the Magic Eraser over the spot to remove it pretty easily.
For a deeper clean, Elkay recommends Bar Keeper's Friend Soft Cleanser and a heavy-duty (but, not abrasive) scour pad and finish with Elkay's Quartz Rejuvenator as a polish.
Check out the video below to see a step-by-step tutorial on how to deep clean your sink and learn some other helpful tips about cleaning and maintaining your quartz sinks.
If you love DIY videos, be sure to subscribe to our YouTube channel so you don't miss one!
Not only are quartz sinks easy to clean and maintain, but they're also extremely durable and soundproof. There are so many reasons why a quartz sink is a great option for your next kitchen renovation or remodel!
Do you have a quartz sink??
Let us know in the comments below!