There are many types of drills, it can be confusing. Here's a complete beginner's guide to Power Drill vs Impact Wrench vs Impact Driver vs Hammer Drill, what's the difference and when should you use each type of drill.
There are so many types of drills, it can get very confusing! If you are looking to expand your tool chest in your workshop for either woodworking or home renovating, you're in the right place.
We'll walk you through 4 common types of drills: power drill, impact wrench, impact driver, and hammer drill. We will teach you the difference between the different drills and when to use each.
This impact wrench vs impact driver overview contains affiliate links, but nothing that I wouldn't recommend wholeheartedly. Read my full disclosure here.
What Is a Power Drill?
A power drill is a small tool that uses torque, which is the twisting force, to make pilot holes or drive fasteners into materials. Most of the time, these tools are lightweight and cordless, meaning they are powered by rechargeable batteries.
However, many brands also make corded drills that plug into an outlet, and they will have more power, which makes them good for larger jobs.
Think of a cordless power drill as a screwdriver with a motor. There is no other force pushing forward other than the force that the operator is using to manually push the drill towards the material.
Power drills are great all-purpose tools that are very versatile and easy to use, which makes them not only one of the must-have tools for renovations – but I'd argue that every homeowner needs a power drill on hand – even if you're not renovating.
Most power drills come with adjustable speed settings allowing you to operate the drill at different speeds. Some power drills also come with a hammer drill feature built-in (more on what a hammer drill is later).
What kind of projects do you use a power drill for?
Power drills are perfect for general homeowner tasks and small DIY projects around the house, like hanging a heavy picture on the wall.
What size power drill do I need?
The size of the power drill is measured in volts of power, ranging from 4-, 8- or 10-volts for lightweight cordless drills to 18-volt drills. Typically as your voltage of power gets higher, the power, speed, price, and weight of the drill will increase.
Something like 4- or 8-volts is just a glorified screwdriver, but something like 18-volts should meet most homeowners' needs for a power drill.
Keep in mind that most tool brands' cordless tool batteries are interchangeable based on what size you go with. For example, we have M18 Milwaukee Tools (M18 means 18-volt). We can change out the battery on all of our M18 tools and have one battery charger for everything, which is handy.
I'm glad we chose to go with a higher voltage line because it provides us more flexibility to use the tools for heavier-duty jobs when they are needed.
---
What Is an Impact Driver?
An impact driver is a small compact tool that is used to drive screws into the material. Usually smaller and more lightweight than a power drill, an impact driver packs more punch with more torque than a power drill (again, torque is the twisting force).
The biggest difference between an impact driver and a normal drill is that impact drivers combine torque (twisting force) with rotary impacts (forward motion).
You'll notice an impact driver is very loud when compared to a cordless power drill. That is because impact drivers use rotary impacts to drive screws when more pressure is applied. When using this tool, you can feel the mini rotary 'hammer' inside helping you with the forward motion. This force helps drive screws in more easily.
What do you use an impact driver for?
The most common use for an impact driver is to drive screws into the material. You can do things in a pinch, like drilling pilot holes, but this isn't recommended.
The impact from the rotary hammer inside the driver was made to specifically drive screws in easier. When more force is needed, the tool automatically kicks in this impact mechanism and helps with you the forward motion required to drive the screw into the material.
Can you use an impact driver as a drill?
You shouldn't, but yes, in a pinch, you can put in some drill bits and it will drill a hole. Keep in mind that using an impact driver as a drill may cause your drill bit to break because of the extra force that comes with the impact driver.
When not to use an impact driver
An impact driver should not really be used to drill holes with a drill bit.
Another major factor of when not to use an impact driver is in situations where noise would be an issue as the impact driver is extremely loud. It is louder because the rotary 'hammer' inside the drill produces a lot of noise when engaged.
For us, this usually has meant napping babies or late-night DIY projects where we don't want to be a nuisance to neighbors.
How to Use An Impact Driver
Put the desired hexagonal bit into the front of the impact driver.
Insert a fully charged battery.
Set impact driver settings to manufacturer recommendations.
Start slowly to set the screw into the material.
After the screw is set in the wood, start depressing the trigger to increase the speed.
At the same time, gently push the impact driver toward the material to push the screw in.
Release when the screw head starts spinning more slowly.
Don't press anymore once the screw is in, or you could risk stripping out the screw.
Do I need an impact driver?
An impact driver is a specialty tool made just for driving screws. If you are regularly DIYing projects like woodworking projects with pocket hole joinery, building a fence, or building a wood deck, absolutely get one.
For the occasional project here and there, and you wouldn't necessarily call yourself a DIYer, it's not necessary as a simple power drill can cover that.
---
What Is an Impact Wrench?
An impact wrench is a lot like the impact driver with a few differences. An impact wrench is primarily used to fasten nuts/bolts.
Impact wrenches are also normally hooked up to an air compressor (instead of using electric or battery power). However, they do make cordless battery-powered impact wrenches now.
When looking specifically at an impact wrench vs impact driver, Impact wrenches are also much larger than impact drivers, which makes them heavier to hold and require more space to store.
You'll still get that same 'hammer' feeling when operating it, and in most cases, like removing lug nuts on car wheels, you need the extra power.
The impact wrench is also very easy to use as the tool does most of the work while the operator simply holds the gun on the nut/bolt. This is because the impact wrench usually has much more torque than an impact driver – which is the twisting force.
What is an impact gun?
You may be confused if you hear the term impact gun, but no worries. Impact gun is just another term for impact wrench.
What is an impact wrench used for?
An impact wrench is used for nuts and bolts. A common use for this tool is on car wheels and mechanics use them a lot, but you can use them for all sizes of nuts and bolts by replacing the socket.
Although you typically see impact wrenches used for automobile settings, they can be handy when you are renovating. If you come across a rusted bolt that needs to be removed, the impact wrench will make light work of this.
---
What Is a Hammer Drill?
A hammer drill is a lot like the impact wrench and impact driver, except there is a chuck on the front allowing you to put all sorts of bits/attachments on.
The drill spins at a rapid speed, and inside is a mechanism to 'hammer' to help penetrate materials like masonry. These are also extremely loud and come in a wide variety of sizes.
One defining factor with the hammer drill is the handle that you typically see attached near the front of the drill. The handle provides more leverage when drilling, and it helps keep it steady.
What is a hammer drill used for?
Hammer drills are primarily for dealing with masonry and other brittle/hard surfaces. The rotary hammering helps break apart material so you can penetrate better
Why would you want a hammer drill if you already have a drill/driver?
Depending on the size of the job, you can get away with having a drill driver with a hammer drill option included. But anything large will burn out the tiny motor, and if you are breaking apart concrete, you'll definitely want a large rotary hammer drill to avoid this.
---
Types of Drills Comparison Chart: Power Drill vs Impact Driver vs Impact Wrench vs Hammer Drill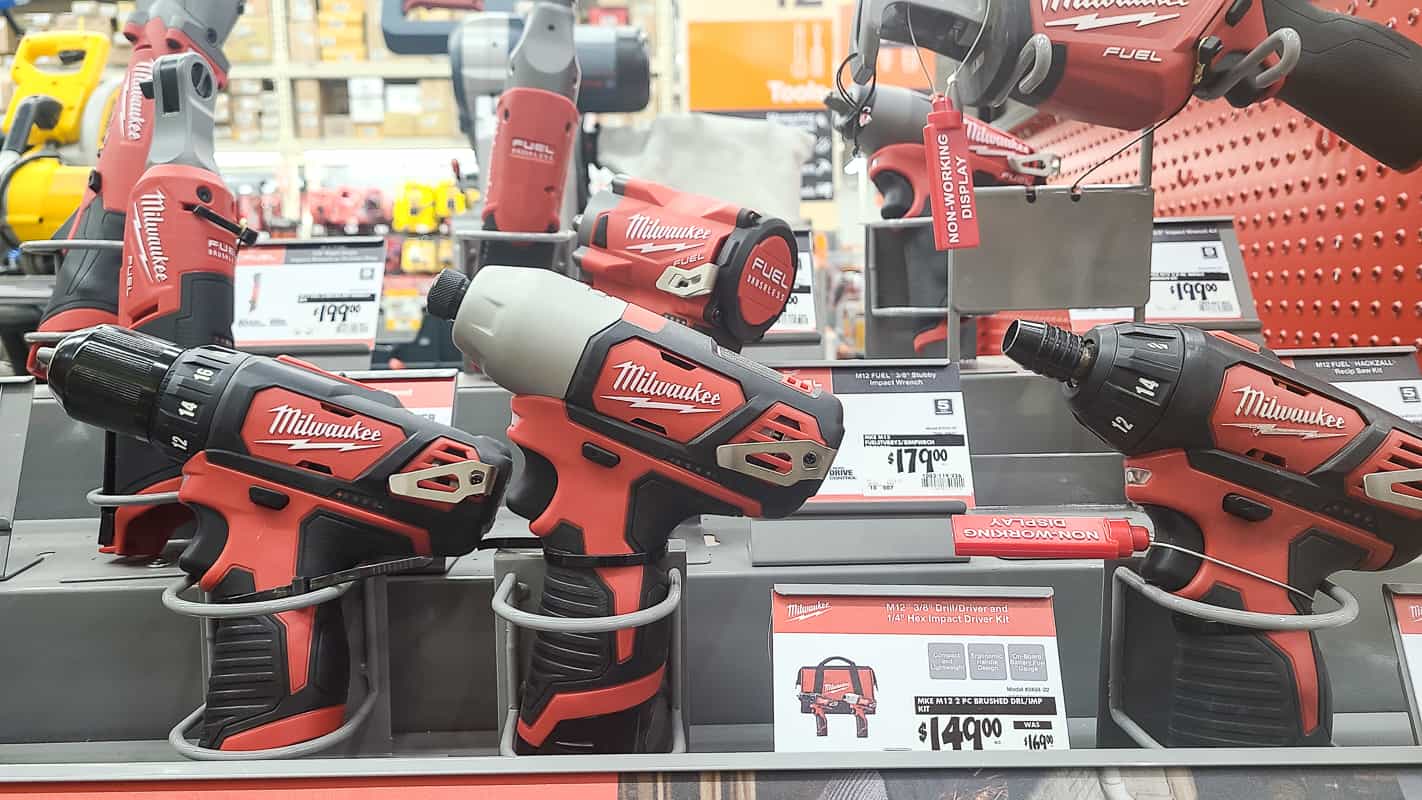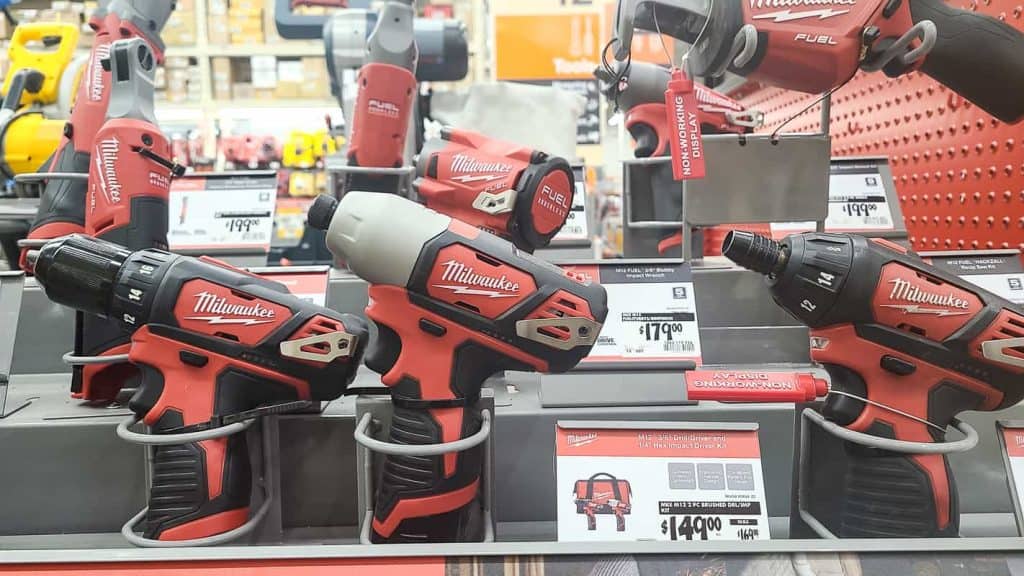 There are several differences difference between a power drill, impact driver, impact wrench, and hammer drill. The table below is a great overview of the 4 types of drills and their differences. We've also included links to the products that we have for each type of drill for a recommendation.
Even though there are several types of drills, it doesn't need to be confusing. By learning the difference between common drills like the power drill, impact driver, impact wrench, and hammer drill you'll be more confident when you go to the home improvement store to buy your next tool!