So, you just purchased a fixer upper and you are ready to go to work on renovations…but you don't know what tools you are going to need most? Check out these must have tools for renovations for the most versatile list of tools for every type of renovating.
Renovating a fixer upper is not only a lot of hard work, but it requires access to various tools. My husband has taken advantage of our renovation as an "excuse" to buy a whole grip of tools. There are so much different types of tools that are helpful during renovations, but today I'm sharing must have tools for renovations. These are the tools that are most versatile for every type of renovating. So, whether you are knocking down a wall or adding shiplap and building floating bathroom shelves, these must have tools for renovations will be your life saver.
This post contains affiliate links, but nothing that I wouldn't wholeheartedly recommend anyway! Read my full disclosure here.

Must Have Tools for Renovations
Hammer – I mean, duh…right? Every homeowner should own a hammer, not just the DIYers. How else are you going to hang a picture? (Here's my favorite picture hanging hack.) For real though, you will use a hammer for just about every renovation project you tackle.
Screw Driver – Just like a hammer, every homeowner needs a screw driver. Screw drivers will come in handy for renovating projects too, like removing an outlet from the wall to paint.
Wonder Bar – Having a good wonder bar (aka pry bar) is important for tons of different renovation projects. Replacing flooring? You'll need a wonder bar to pry up that old flooring. Knocking down a wall? Yep, wonder bar will come in handy.
Circular saw – There are so many different types of saws. It can almost be overwhelming. But, if you were to choose one saw to buy for renovating, a high quality circular saw should be it! Sure, jig saws are fun for cutting shapes. And of course, table saws are handy and very versatile. Even the amazing miter saw has its place. But the circular saw is lightweight and with a steady hand can tackle most renovating projects and become the only saw that's absolutely necessary if you're in a pinch. We've even used our circular saw as a way to rip wood without needing a table saw when we made these floating shelves.
Sawzall (Reciprocating Saw) -The sawzall is most probably "intense" tool on this guide of must have tools for renovations. If you've ever used a sawzall, you know what I'm talkin' about! This tool will most come in handy when you're doing something like taking down a wall. We've even used our sawzall for tree trimming outside.
Air Compressor – One of the most important must-have tools for renovation is an air compressor. They are so versatile and will come in handing for nearly every type of renovation project. I'd recommend getting a combo kit that has a few different tools included, like this one that comes with a finish nail gun and brad nail gun. You can get your most bang for your buck this way.
Nail Gun – Like I mention above, I'd recommend buying a combo kit with your air compressor that has a few tools included, like a nail gun. We use our brad nail gun most frequently – but a finish nailer also comes in handy! (Learn the difference between a brad nailer vs a finish nailer here!)
A Good Paint Brush – If you're renovating, you will most definitely be painting at one point or another. Having a high quality paint brush is a complete game changer. The best paint brushes out there are both Purdy and Wooster. We've used them both and I think they are both great. The most important thing here is to make sure you are using a high quality paint brush. (Learn all of our best interior painting tips here!)
Wet Dry Vacuum – It wasn't until I lived through a renovation for a year that I realized how absolutely necessary shop vacs are. They should definitely be at the top of the list for must have tools for renovations. We literally lived with a thin coat of saw dust over almost everything for months and months. Didn't matter how much I dusted or tried to clean up. Dust is an inevitable part of renovating, but having a great shop vac helps! Yea, I have an awesome Dyson vacuum cleaner, but couldn't really use it for the mess of the renovation. That's where this Ridgid Wet Dry Vacuum comes in handy. I am able to quickly wheel it around and pick up all the horrible mess from renovating.
Utility Knife – Whether you are cutting carpet as your rip it out to put in hardwood floors or slicing drywall off a wall you are tearing down (two things that we've actually used this utility knife for during our renovation so far), you definitely need a good utility knife in your pocket at all times! This one flips open and works great.
Tape Measure – If you are planning on doing ANY type of renovating, you definitely need a few tape measures. We always seem to be misplacing these, so it's nice to have a handful laying around. We love this one. It's large (35′) and very durable!
Square – Keeping things square is super important for your renovating and DIY projects. The best way to ensure you're keeping everything square is by using a square like this.
Retractable Pencil Holder and Pencils – This little hidden gem is a major life saver for renovations. This pencil attaches to your shirt and it's always there when you need it. How many times have you been right in the middle of holding that tape measure in place with one hand and looking around the room frantically looking for something, anything, to write with? For us, it was happening way too much. Even if Logan remembered to put a pencil resting up in his ear, we'd set it down somewhere and it wouldn't be there when we needed it. When you're using the retractable pencil, it just goes right back up hanging off your shirt when you're done, ready for next time.
Drill – Last, but not least, is perhaps the most important of these must have tools for renovations – the cordless drill. We've probably used this every single day during our renovation for one thing or another. It's very compact and light weight, which I love. But it also powerful and gets the job done! Don't forget to grab a drill bit set too!
It's apart of the Milwaukee M18 family. Before you start buy any power tools for renovating, you need to decided on a brand and line of cordless power tools to invest in. To get the most of out of your power tools, they need to all be in the same "tool family". That way you can quickly share battery packs with all the power tools you own, which is so convenient. For us, it's the M18 line from Milwaukee. (18 stands for 18 volt). Are there any other M18ers out there!?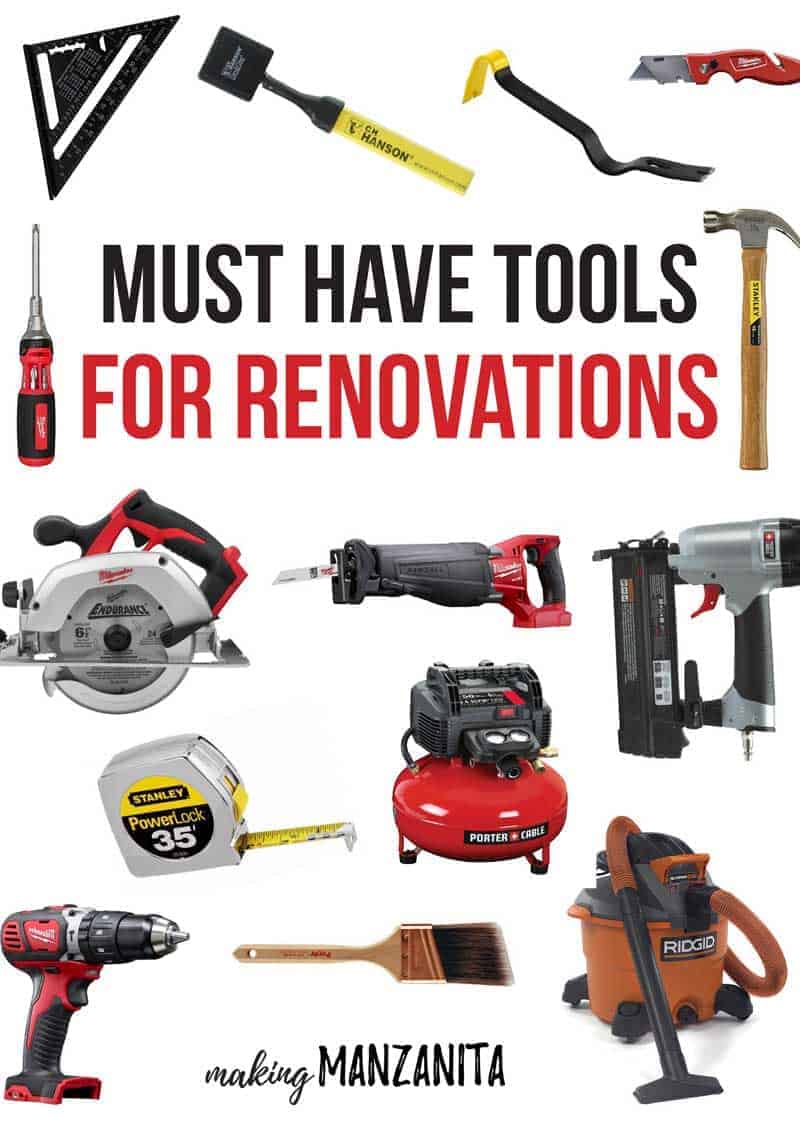 Are you missing any of these must have tools for renovations? Buying tools can be kind of a headache if you just purchased a home…you're probably pinching pennies, right? But these tools will not only be a necessity for you during the renovations, but they are an investment. Think of all of the amazing transformations you will be able to make to your home with these must have tools for renovations.
Hopefully I'm catching you at the beginning of your renovating journey and you're ready to go shopping for all of the must have tools that you'll need for your renovations! If so, welcome to the wildest ride of your life. Renovating a home is a complete roller coaster, but you will never know a more satisfying experience than being able to look around at your progress and say "I DIYed that"…Or maybe you're not even there yet…maybe you're still shopping (or even dreaming) about your fixer upper. You definitely need to check out this post where I chat about reasons why you should (and shouldn't) buy a fixer upper.
Which of these must have tools for renovations is your fave and why??
Let me know in the comments below!!