If you're confused when you go to pick up your nailer and don't know if you should use a brad nailer or finish nailer, this article is for you. Learn the difference between brad nailer vs finish nailer and when to use each nail gun in your DIY projects.
If you are like me, you are already overwhelmed with the number of options we have in life for every little thing.
Sometimes I wonder if all the different options really make a difference. Hopefully, in this article, we can help with one of those options today that has probably come up for you in your DIY projects – brad nailer vs finish nailer.
This post also contains affiliate links, but nothing that I wouldn't recommend wholeheartedly. Read my full disclosure here.
What is a brad nailer?
A brad nailer, for simplicity's sake, is just a nailer that uses smaller gauge nails.
"Gauge" just refers to thickness/diameter of the nail & also a representation of how strong the nail is.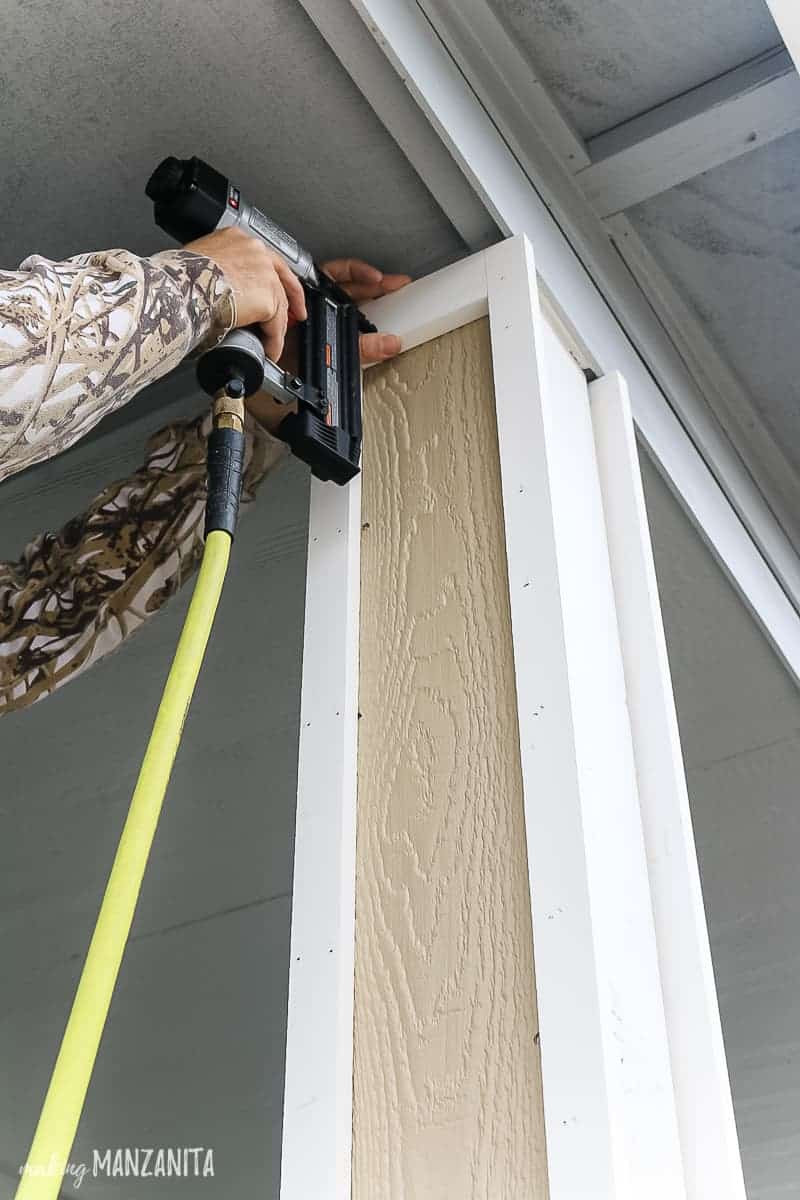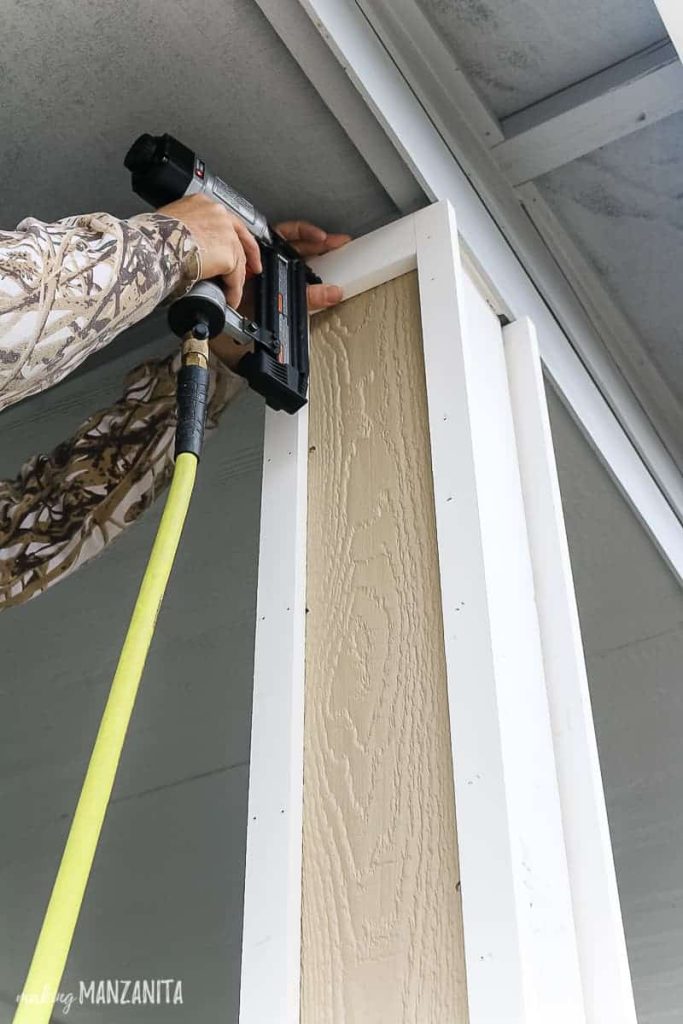 People refer to the smaller nails as "brad nails" and that's where the name for the brad nailer comes from.
Brad nailers are most commonly made to use 18 gauge nails. The number represents the size as shown in a fraction (18 gauge is 1/18 of an inch wide or thick). Therefore, the smaller the number – the thicker the nail.
There are some less commonly used brad nailers that use 21-gauge nails (even smaller).
You would most likely use a brad nailer to attach small trim pieces while preventing large holes to fill.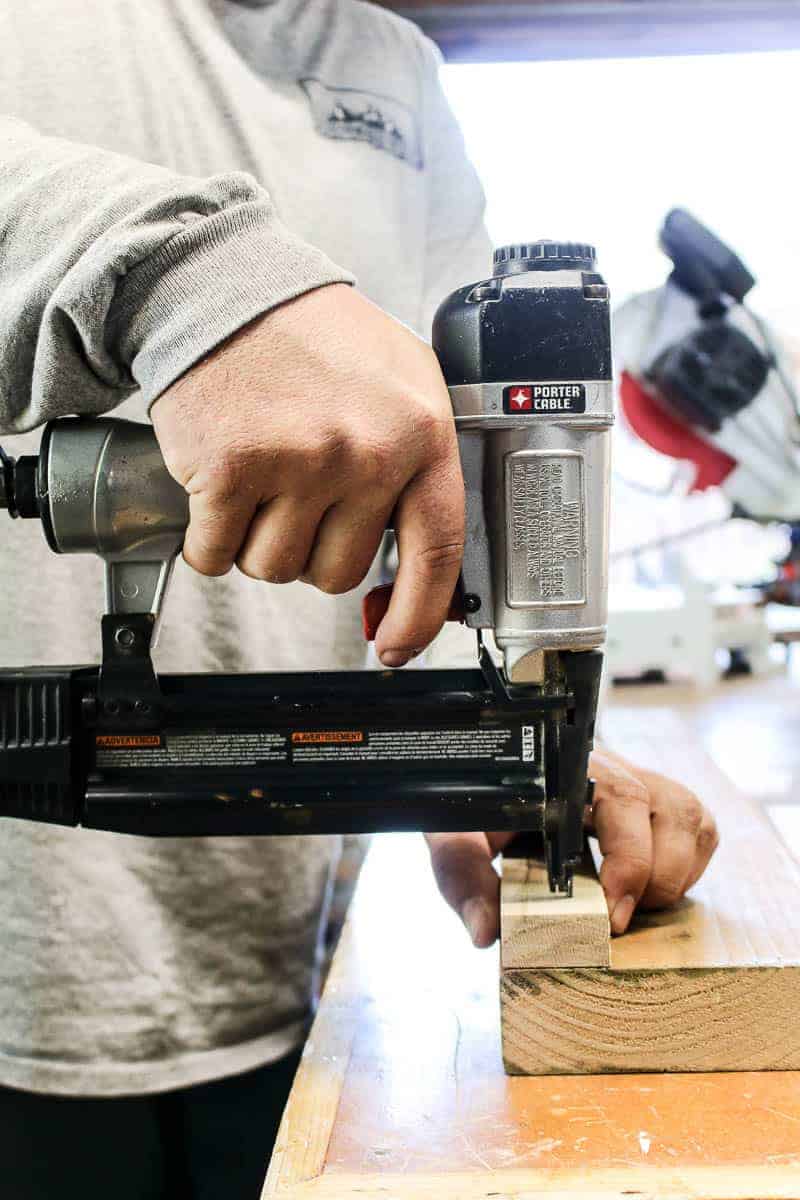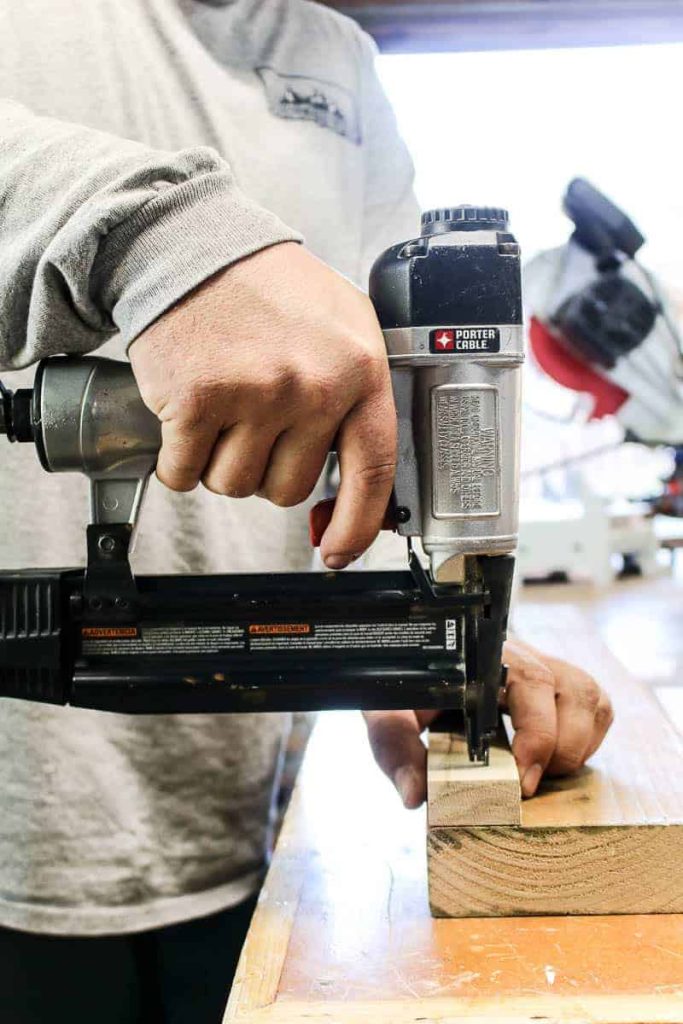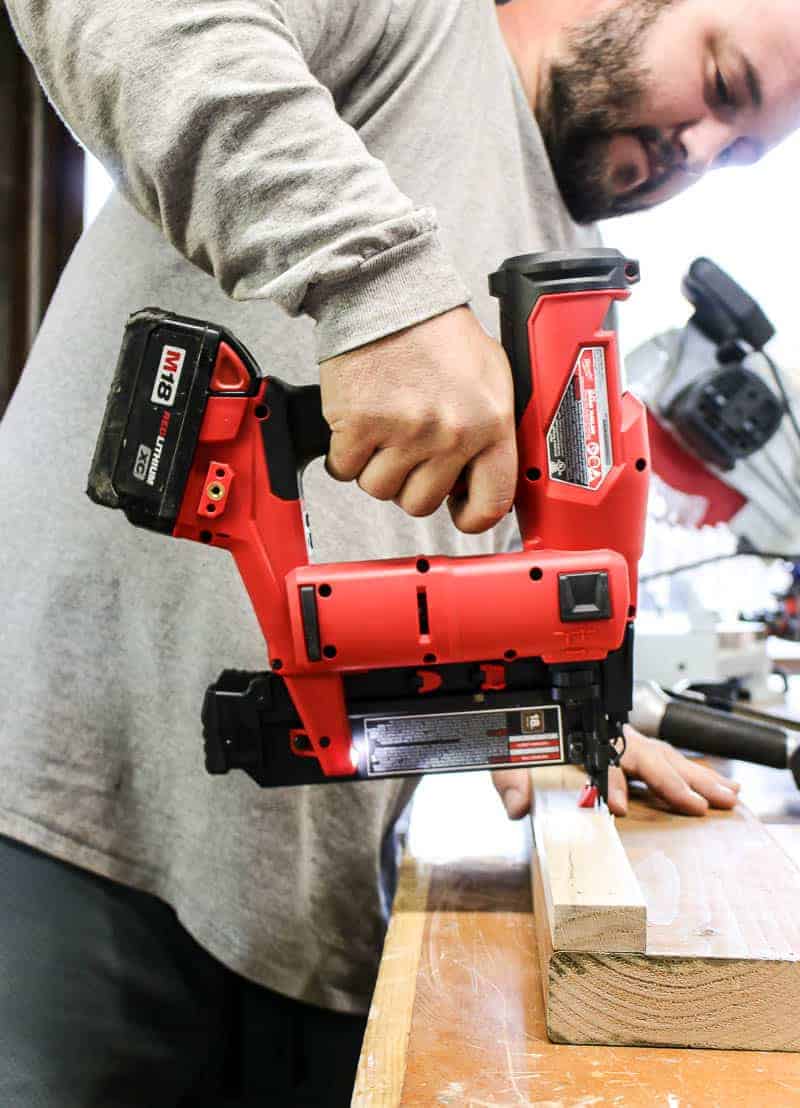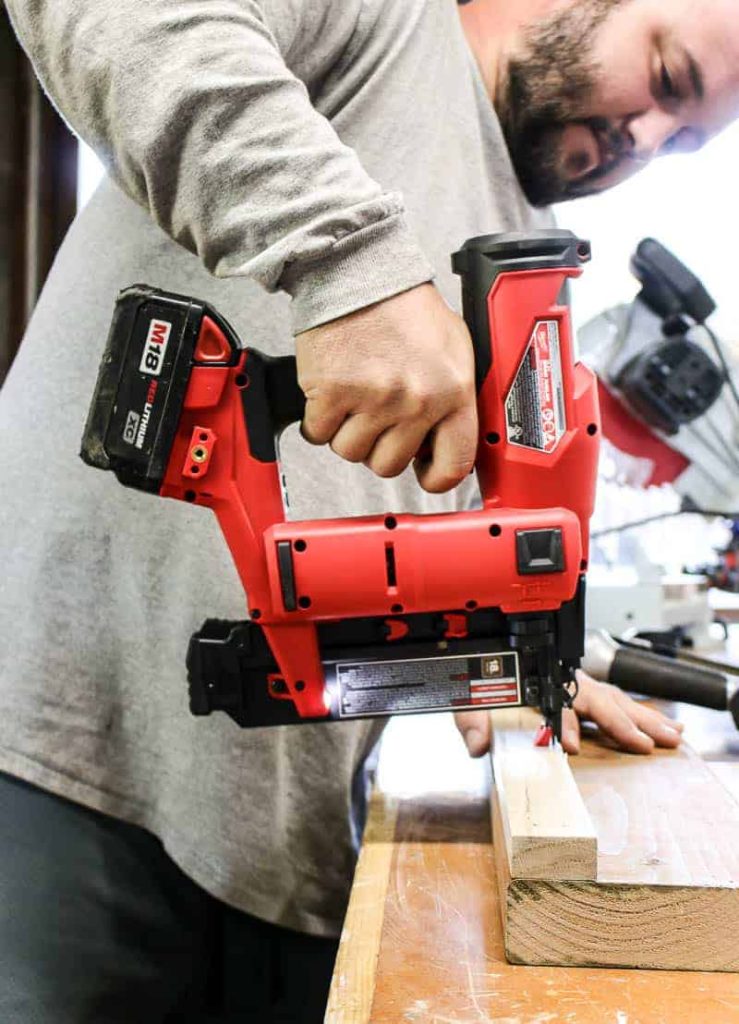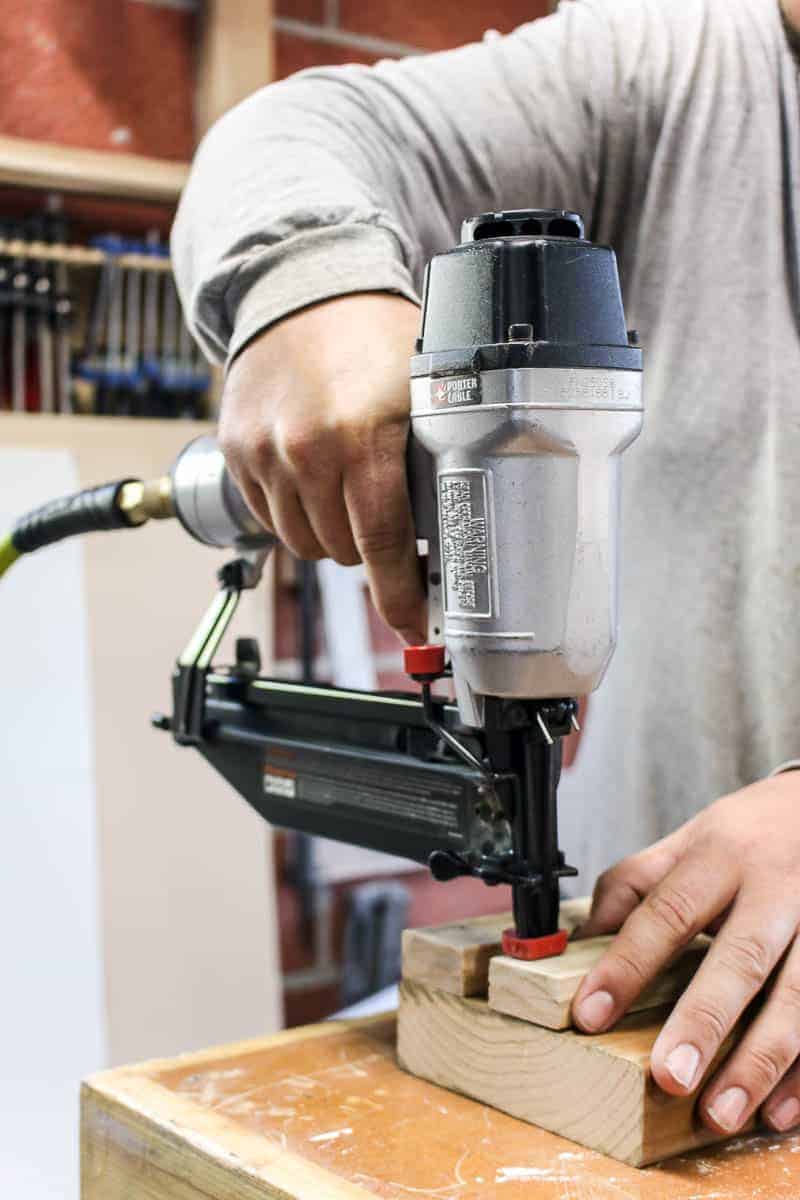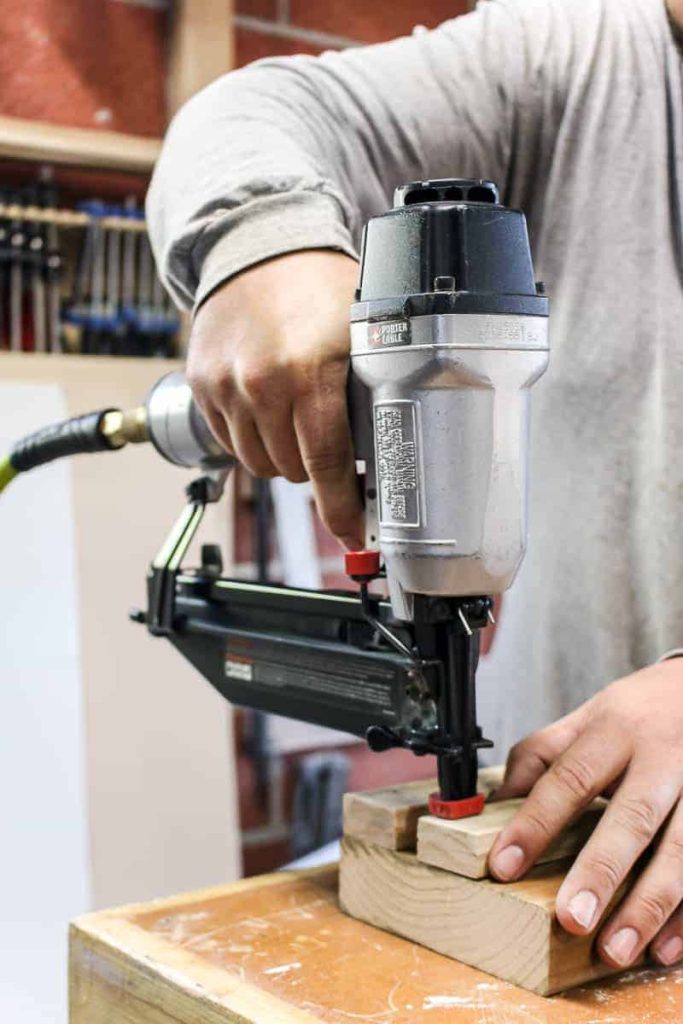 What is a finish nailer?
A finish nailer is a slightly bigger gauge nail than the brad nailer at either 15 or 16 gauge, which means the nails used and the hole they leave is bigger.
The bigger gauge also results in a stronger hold that the brad nailer can't achieve. The reason you would use this nailer is to have a stronger holding power if necessary.
The finish nailer is considered more of a "workhorse" that can be used for a variety (and size) of applications and provide the hold your woodworking projects that require more strength will need to last.
What's the difference between 16 gauge (finish nail gun) and 18 gauge (brad nail gun) holes?
Now I've been talking a lot about the differences between the nail guns, but let's take a real look at the actual size of the holes and see how they compare.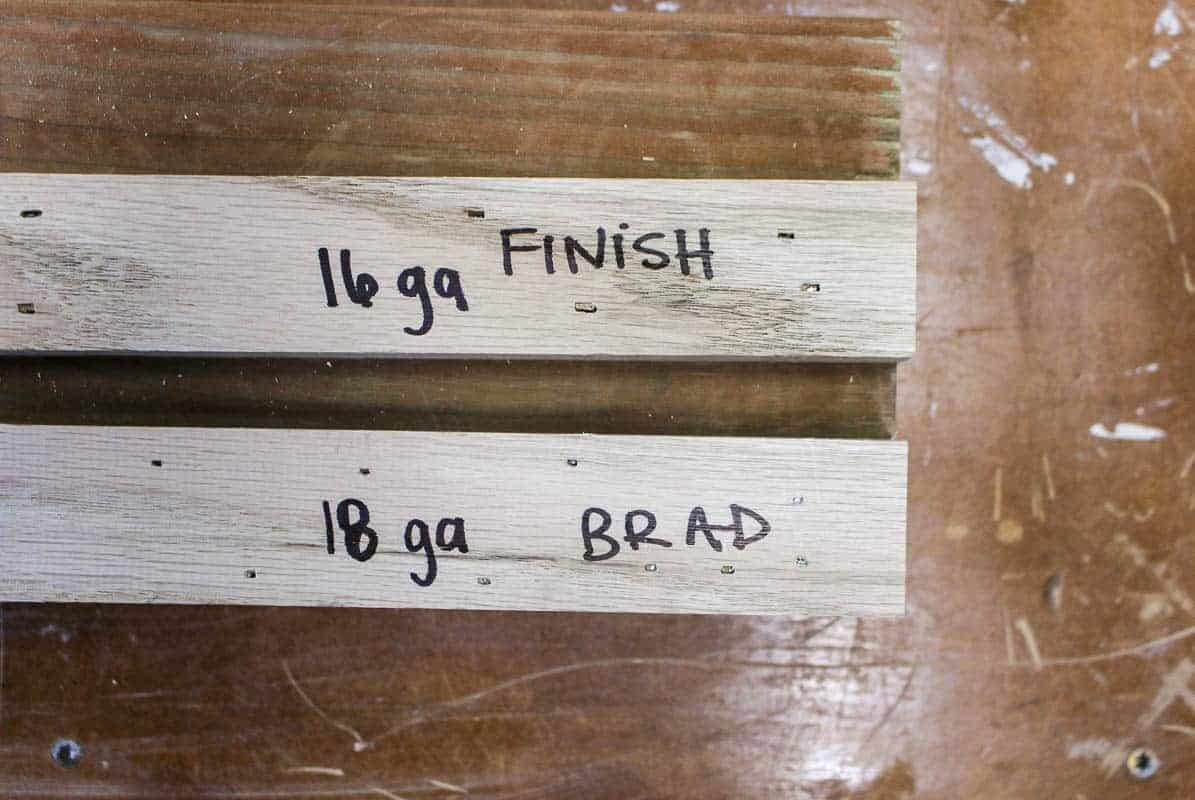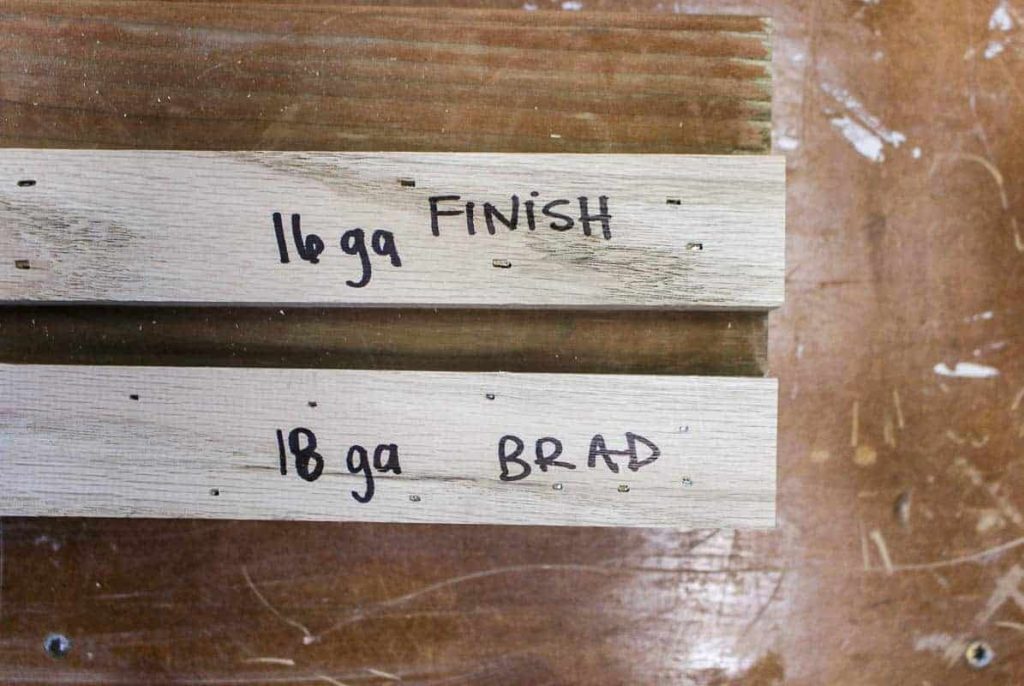 The holes are pretty similar, but you can definitely tell that the finish nail holes are a little bigger, right?
Brad Nail Gun vs. Finish Nail Gun: When to Use Each Nail Gun for DIY Projects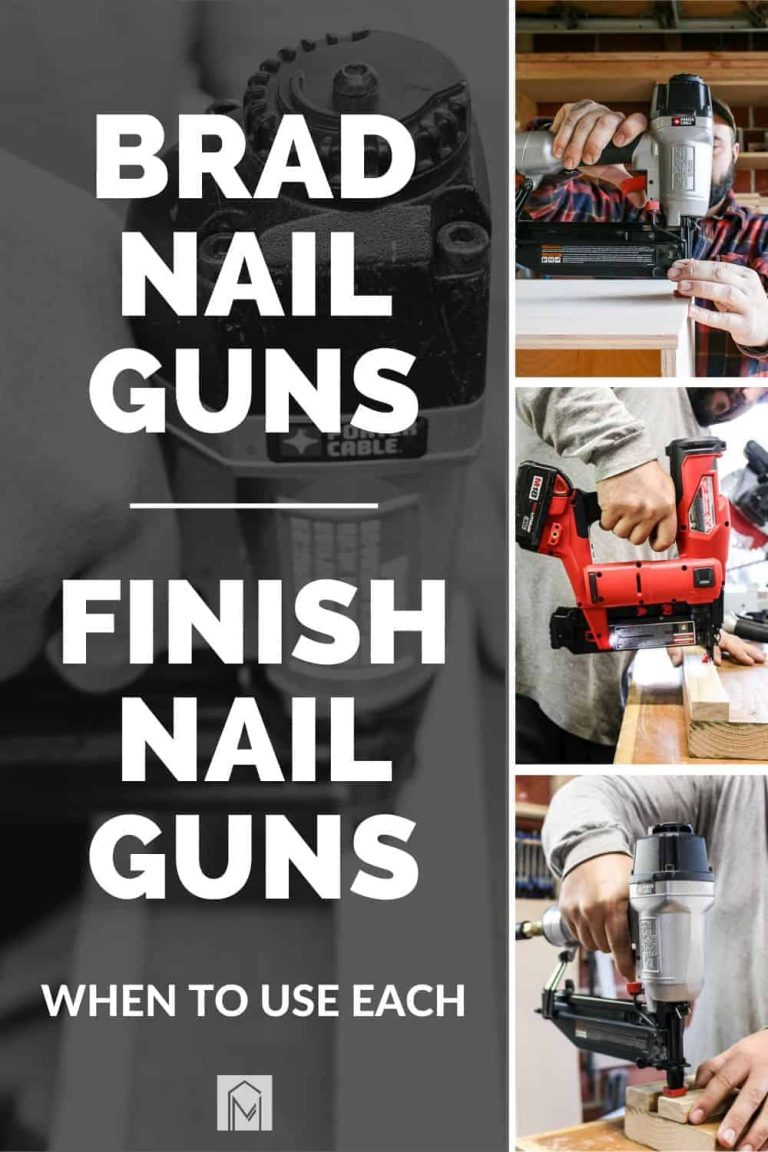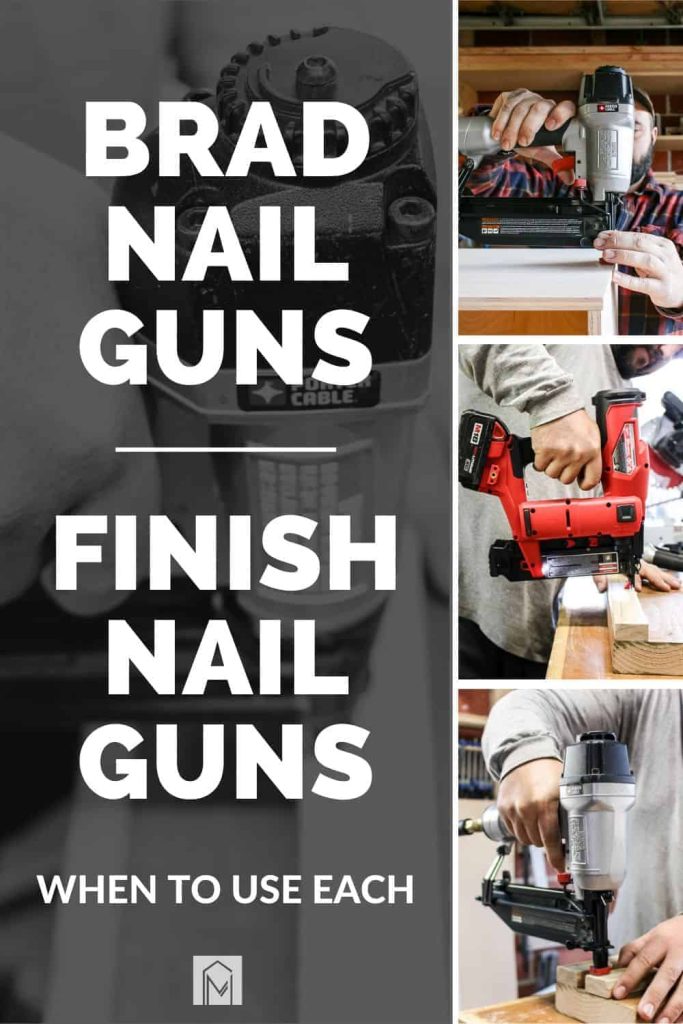 Now that you understand the difference between brad nailers vs finish nailers, let's talk about when to use each tool.
When to use a brad nailer
Brad nailers should be used on your DIY woodworking projects when the surface or finish is important and you don't want to have an obvious hole to fill or when the piece of trim is very small is at risk of splitting with a larger nail.
You don't want to use a brad nailer on anything that might be heavy or have a lot of weight pressing down on it. The smaller gauge brad nails are not able to hold as well as finish nails.
For example, we used the brad nailer when attaching the wood pieces to the wall for this faux shiplap wall. It's a decorative type of wood that doesn't necessarily hold any weight. As a result, the holes were very small and easily patched before we painted the wall white.
When to use a finish nailer
The finish nailer should be used when your project requires a better, stronger hold.
It's a trade-off because although the hold of the finish nailer is stronger, the holes will be slightly larger, so be sure you're ok with slightly visible patched holes on the surface.
For example, we incorporated the use of the finish nailer when we were building this DIY tray with leftover cement tile. For starters, the cement tile was pretty heavy by itself. Also, the tray needed to be strong for carrying drinks or whatever you'd like to use it for. Although the patched holes are slightly visible, the tray is nice and strong so it's worth it!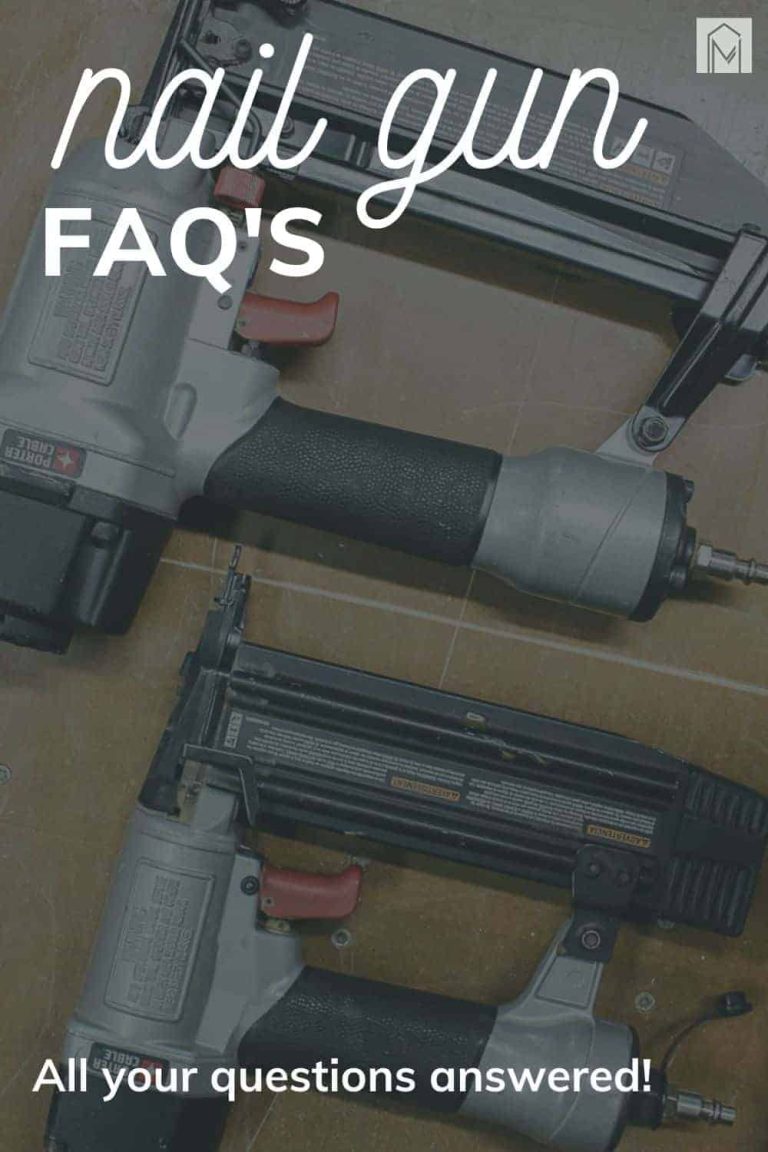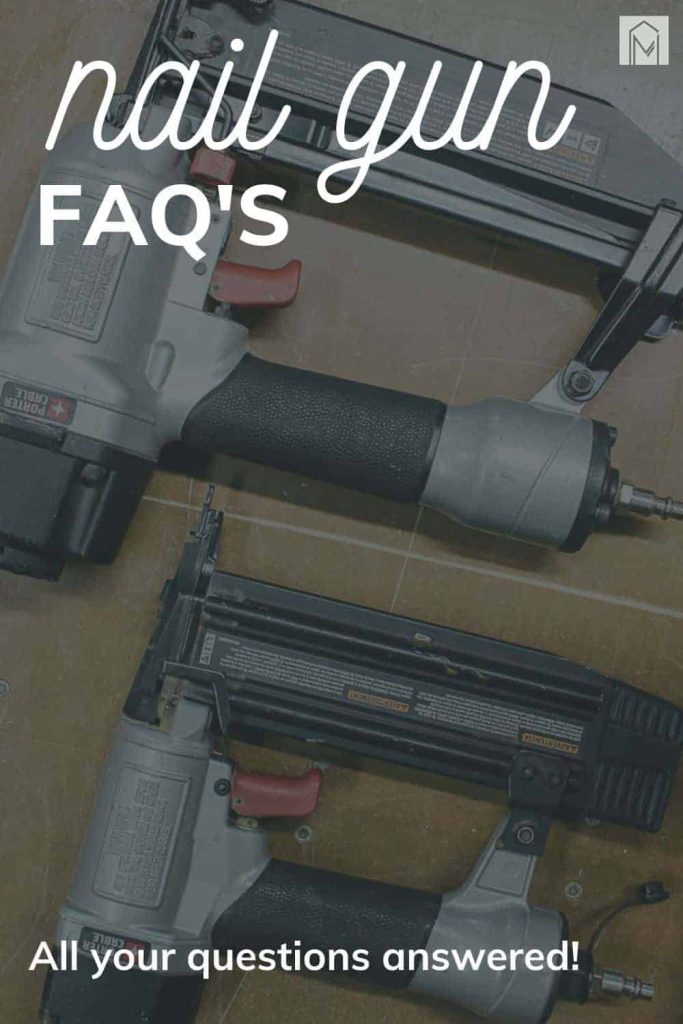 Brad nailer vs finish nailer FAQs
Let's address some questions you still may have about brad nailer vs finish nailer.
Can I use finish nails in a brad nailer?
The quick answer is no. You must use the correct type of nails for your nail gun. Brad nails are a little different than finish nails because they are a smaller gauge (less thick) and they don't have a large head on the end of the nail.
Can I use a brad nailer for baseboards? / What kind of nail gun do you use for baseboards?
Yes, you can use a brad nailer for baseboards. Boards rarely need to be attached to bear any significant weight. We use this Porter-Cable brad nail gun for baseboards in both of our renovations and it works great. The brad nailer leaves very small holes in the baseboards that are completely hidden when patched and painted. It's also a bonus that removing baseboards is a little easier when it is needed for things like installing laminate flooring.
How long of brad nails should I use? / How long should finish nails be?
Brad nailers (and finish nailers too) usually hold a range of different nails lengths. If you're trying to figure out the correct length of nails to use for your project, a good "rule of thumb" is something that is three times the length of the material it is going through.
What if I need something bigger and stronger than a finish nailer?
Good question! The next "step up" from a finish nailer would be a framing nailer. Unless you're doing something specific like installing hardwood floors (in which case you'd want to use a flooring nailer) or doing roofing (again…you'd want to use roofing nailer) – a framing nailer has a lot of power for bigger jobs.

For example, we used a framing nailer when building an interior wall.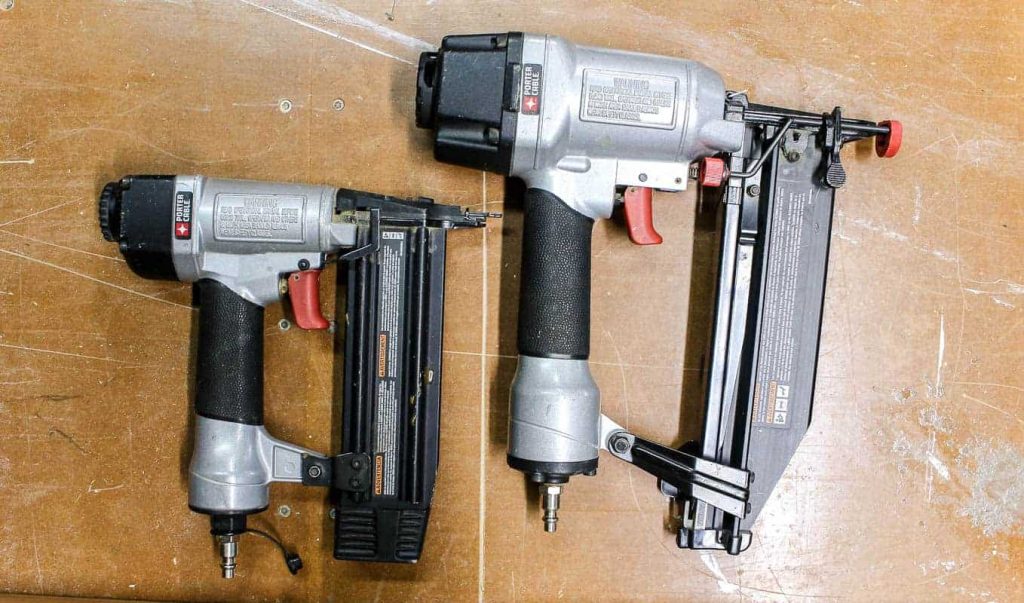 In conclusion, it usually comes down to personal preference
Unless the finish nailer absolutely necessary, 9 times of 10, we choose the brad nailer because the finished look and smaller holes are important to us, which is totally personal preference.
Once filled, sanded, and patched you can barely see the nail holes of the brad nailer – which we love.
The brad nailer uses a smaller nail, which provides a smaller nail hole to fill, but also is less strong. The finish nailer uses a larger nail with a head, which provides a larger nail hole to patch, but is a stronger connection.
Do you have any others questions about brad nailers and finish nailers?
Let us know in the comments below!