Did you discover concrete subfloors under your flooring? In this step-by-step tutorial, we'll teach you how to install laminate flooring on concrete.
One of the things we wanted to do during our big living room makeover was to replace the flooring. We had old carpet in here that was put in before we moved in.
We've been slowly making our way through the house and removing the carpet every chance we get – including refinishing these original hardwood floors and installing new hardwood floors in our bedroom to match the originals.
The living room, however, connects with the kitchen and laundry room. Both of those rooms have laminate flooring.
When we removed the laminate in baby girl's nursery and discovered the original hardwoods – we were very careful when removing them. We knew that, someday, we'd like to add the laminate flooring to our living room and get rid of the carpet.
Well, that "someday" has finally come!
In this tutorial, we're going to show you how to install laminate flooring and, more specifically, how to install laminate flooring on concrete. Our living room is an old converted garage (at least that is what we think) so the subfloors are concrete in here – unlike the rest of our home, which has wood subfloors.
This how to install laminate flooring on concrete tutorial contains affiliate links, but nothing that I wouldn't recommend wholeheartedly. Read my full disclosure here.
FAQs about laminate flooring installation
Before jump into the step by step tutorial, let's go over some basic frequently asked questions that you may be wondering if you are planning on installing laminate floors in your home.
Can laminate flooring be installed over concrete?
Yes, laminate flooring can absolutely be installed over concrete and that is the method that we're showing you in our tutorial. Laminate flooring can be installed over basically any flat and level surface, including wood subfloors, hardwoods, tile, concrete and more. It is not recommended to install laminate flooring over a soft surface, like carpet, because it doesn't provide enough support for the flooring.
Are laminate floors easy to install?
Laminate flooring installation is fairly easy to do yourself and a great project for an everyday homeowner. There are very few tools required. However, it is a little hard on your body with all of the up and down motion and kneeling on your knees.
How much would it cost to hire someone to install laminate flooring?
If you're trying to figure out whether or not you should tackle the laminate flooring installation yourself or hire it out, you're probably wondering how much it would cost to hire someone. Although this definitely varies, the national average is $3-$8 per square foot (which includes both labor and materials).

So, for example, our living room measures roughly 400 square feet. At a cost of $7/sf (high end of average since we're installing a fairly "nice" brand and type of laminate), it would have cost us an estimated $2,800 to hire someone to install laminate flooring in our living room. On the flip side, we only would have needed to spend roughly $1,500 in supplies if we were buying all of the flooring for our room and DIYing it – so that's a savings of over $1,000 ( #worthit ).

In fact, we spent even than that because we were able to REUSE old laminate flooring that we had removed from another part of our house when we discovered original floors and decided to refinish the hardwood flooring in our baby girl nursery and hallway. We very carefully removed the laminate floors and stored them safely in a closet until we were ready to install them in the living room.
Do you need underlay for laminate flooring on concrete?
Yes, you definitely need underlayment when installing laminate flooring on concrete (or any other surface, for that matter). Laminate is a "floating floor" which means that it is not nailed or glued to the surface. Underlayment provides the necessary stability and support for the floor to float and helps with noise reduction and cushioning. The underlayment that we used also provides moisture protection (which is important on a concrete subfloor) and offers constant air movement to help inhibit mold and bacteria growth.
Does it matter which way you lay laminate flooring?
This is personal preference, but we believe the laminate flooring should be installed so that it runs parallel to the longest wall in the room. However, if you have wood or laminate flooring installed elsewhere in your house that the room will connect to, it is best to match the direction of that so it doesn't change. All rooms in your home should have flooring going in the same direction.
Do you have to cut the tongue of the first row of laminate?
To install the first row of laminate flooring in your room, you'll need to cut the tongue off of the side that will go towards the wall. The tongue should come off with a simple utility knife. You'll then want to add spacers in between the first row of laminate and the wall. This helps provide the necessary expansion gap around the perimeter of the room.
How do I cut laminate flooring?
To cut the laminate floor lengthwise we used a miter saw. We used a jigsaw to cut the laminate flooring width-wise (for the last row in the room). Alternatively, you can get a laminate floor cutter like this to slice the laminate quickly and easily without having to go back and forth to your saw.
Do you glue or nail laminate flooring down?
Although I have seen some resources online saying that you should glue laminate flooring down, this is not recommended. Laminate floor should be installed "floating" with an expansion gap around the room, allowing the laminate to expand and contract over time with temperature changes.
How do I figure out how much laminate flooring I will need?
Measure the room's length and width and multiply the numbers together to determine your room's square footage. Measure any areas that the flooring will go around (like a fireplace, tile entryway, etc) and remove those areas from your square footage. Lastly, add 10% extra to your final square footage to allow for waste and cuts.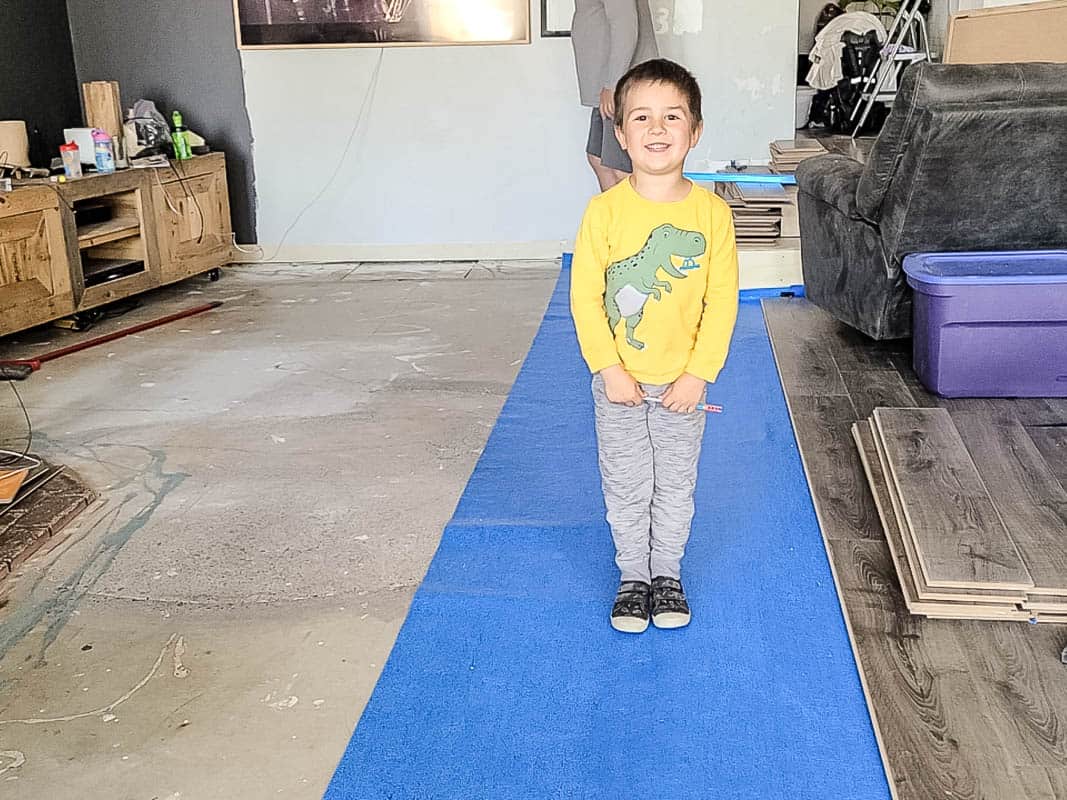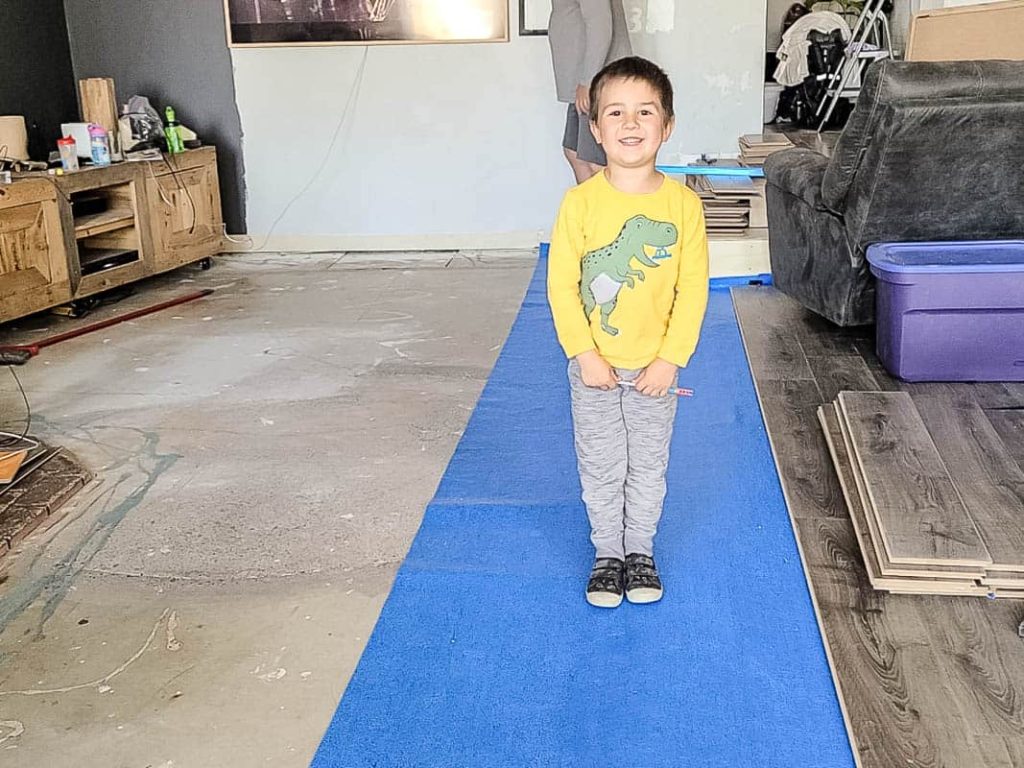 Why laminate flooring installation is a great family project (even with small kids)
You may notice in our video that there are some small kiddos around and they even help with installing the laminate flooring on concrete! We chose to work on this home renovation project on a weekend when the kids are both home because it's a great family project!
Our kids have grown up watching us renovate over the years so they are used to the constant projects. Anytime we can involve them in the process, we jump at the chance (and they LOVE to help)!
Laminate flooring installation is a great family project because there are almost no power tools or dangerous chemicals, which makes it safe for the kids to be around and it's not that noisy either.
Ways kids can help with laminate flooring installation:
Clean up dust and debris with ShopVac (this is our 5 yr old's favorite job)
Tape the seams of the underlayment
Put spacers in around the edge of the room for the expansion gap
Hand Mom and Dad supplies
Unpack the laminate from the boxes
How To Install Laminate Flooring On Concrete – Video Tutorial
If you love DIY videos, be sure to subscribe to our YouTube channel!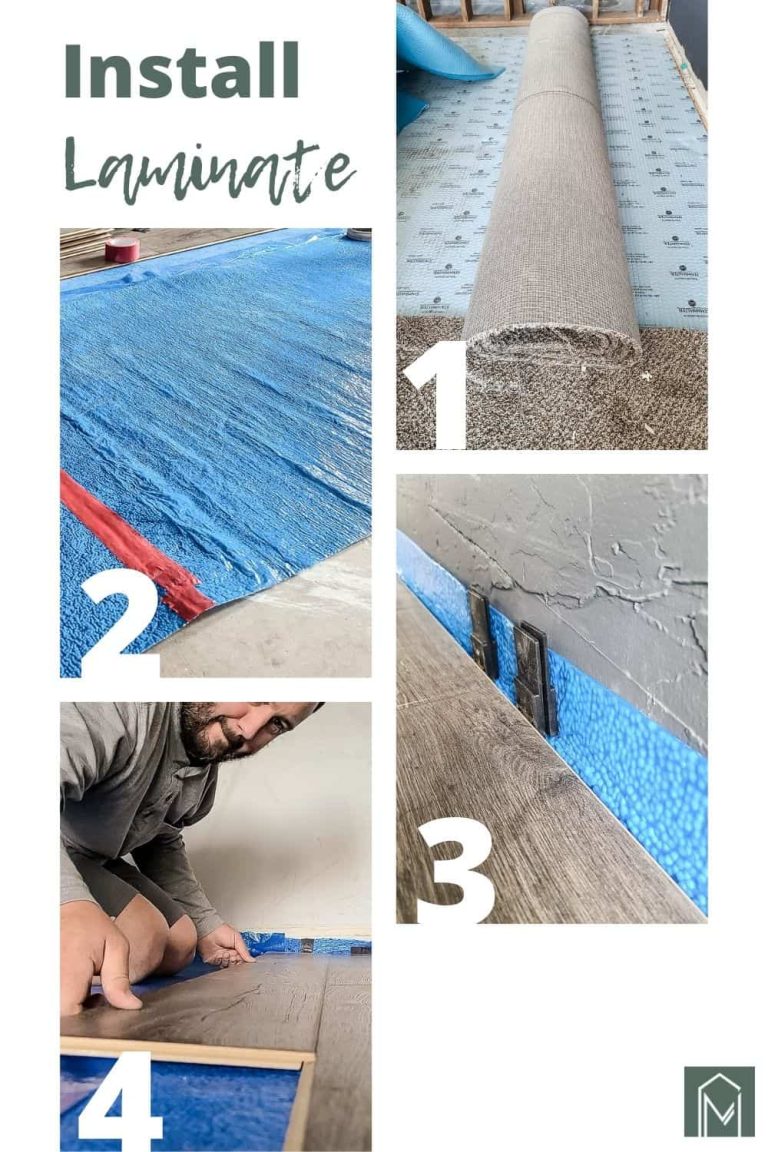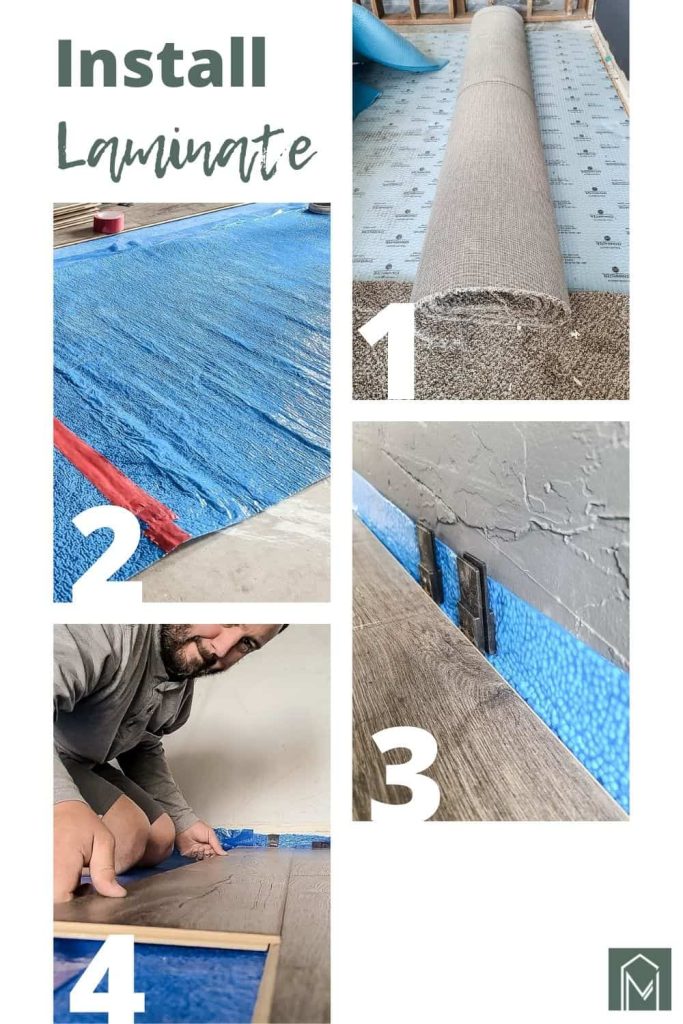 How To Lay Laminate Flooring On Concrete – Step by Step Guide
Supplies for installing laminate flooring:
Step 1. Acclimate laminate flooring in room
Any time you install flooring, you definitely need to acclimate the unopened product in the room before installing for at least 48 hours. This is super important if your flooring was shipped to you (because it would have been in uncontrolled temperatures during transport) or it has been sitting in your garage waiting to be installed (again, uncontrolled temperature).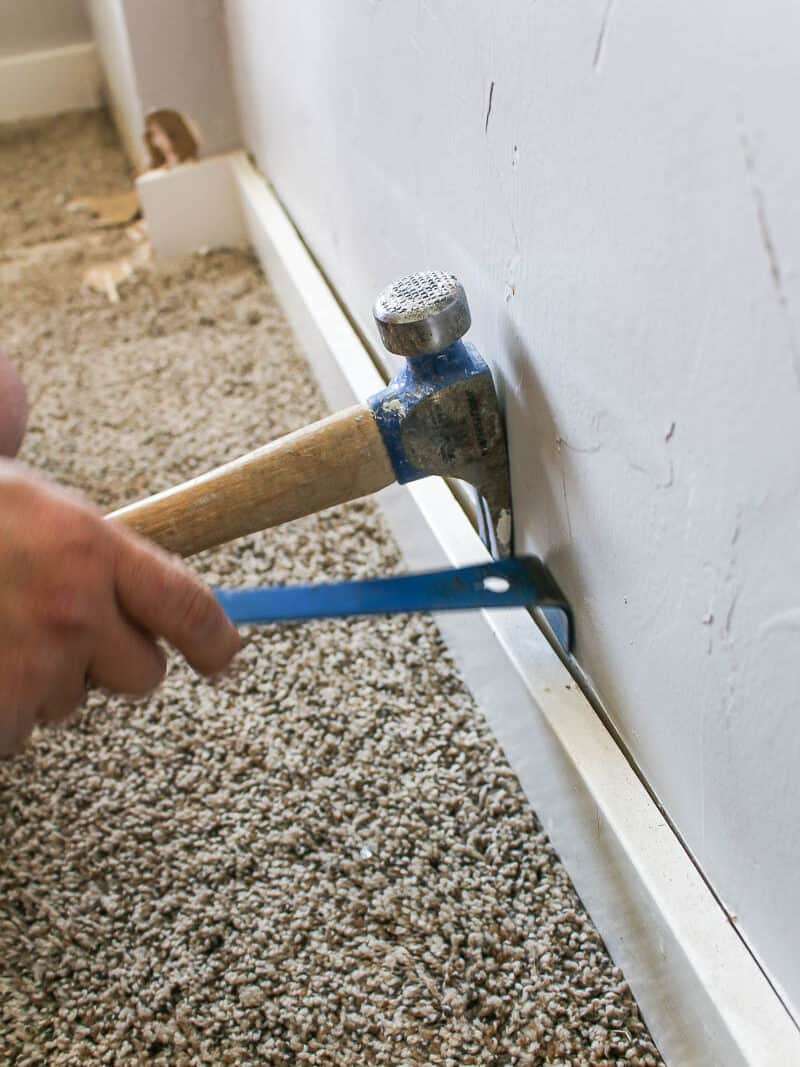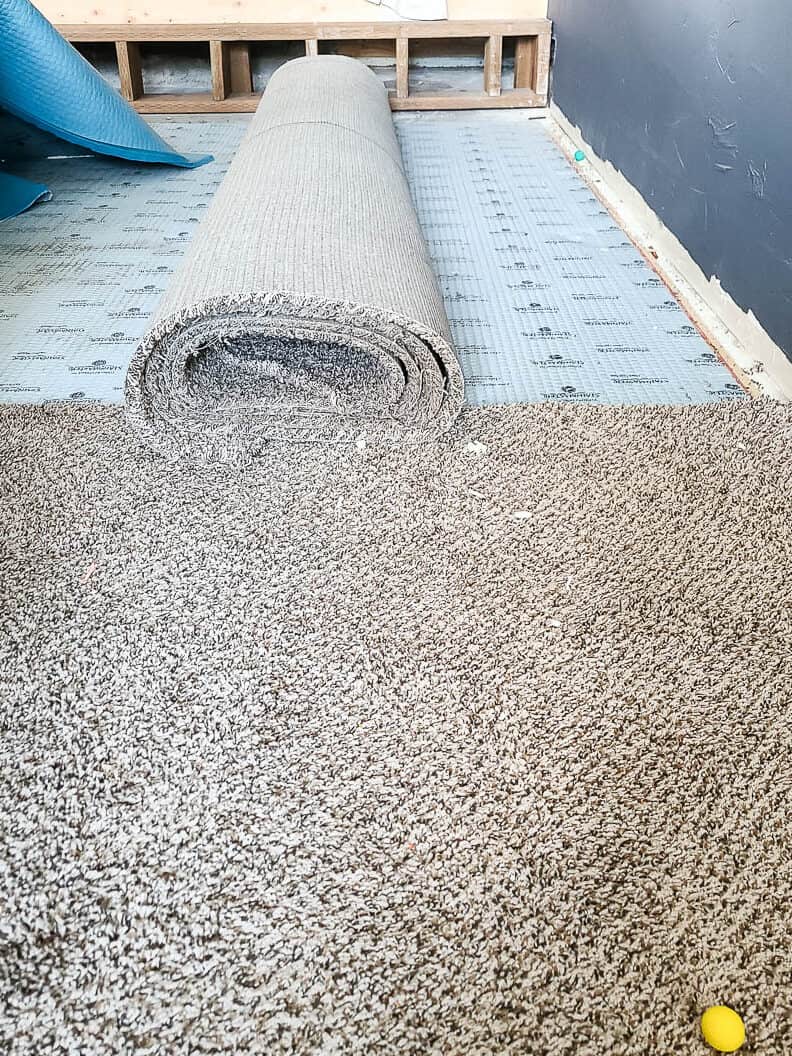 Step 2. Remove old flooring & baseboards
We opted to remove our baseboards since we were taking out the carpet and painting the room anyway. The chances are unlikely that the flooring + underlayment would be the exact same height as the old carpet, so it's better to just remove and start fresh!
To remove baseboards, simply cut the caulk line at the top with a utility knife and then use a crowbar to pry off the baseboard. Label them on the back if you plan to reuse them as you take them off.
If you didn't want to remove your baseboards, you can simply add the spacers along the edge of the baseboards for the expansion gap. Once the flooring is done, you can remove those spacers, fill the gap with foam backer, cover with 100% silicone sealing and then add a piece of quarter round trim over the gap.
To remove your carpet, cut it down with a utility knife and roll it up to remove it. Remove the carpet padding underneath as well, which may be glued down and require you to scrape a bit. Lastly, pry up the carpet tack strip around the room.
If your laminate flooring is going to go under door frames, you may need to cut those down slightly so that the flooring easily slides under the door frame and casing. You can undercut the door frame using a ____.
Step 3. Ensure floor is level, clean, and no repairs are needed
If your subflooring has bumps or dips you'll want to get rid of those before installing your laminate flooring. It's important that the surface is nice and flat for the laminate to be installed.
You can use a floor leveling compound to any dips and let it dry thoroughly before moving on.
Check the concrete floor for any cracks and if needed, fill those with ______.
Keep a ShopVac handy during installation and clean all dust and debris from the concrete immediately before putting the underlayment down.
Step 4. Install first row of underlayment directly on top of concrete
Trim off the overlap on the first row of underlayment and roll it out in the same direction that you'll be installing the laminate flooring. Be sure that the underlayment runs up the wall around 2 inches (you'll trim the excess off later).
We installed the underlayment just one row at a time and added a new row when needed. Use the overlap with the peel and stick edge when adding a new row of underlay. Seam tape isn't needed between the rows where the peel and stick overlap is, but you do need to add seam tape between the joints of a new roll of underlayment.
Tape any seams of underlayment with seam tape. No, you can't use regular tape for this! Be sure you're buying seam tape because it is formulated to act as a moisture barrier. Also, cover any rips on the underlayment with the seam tape that happen during installation.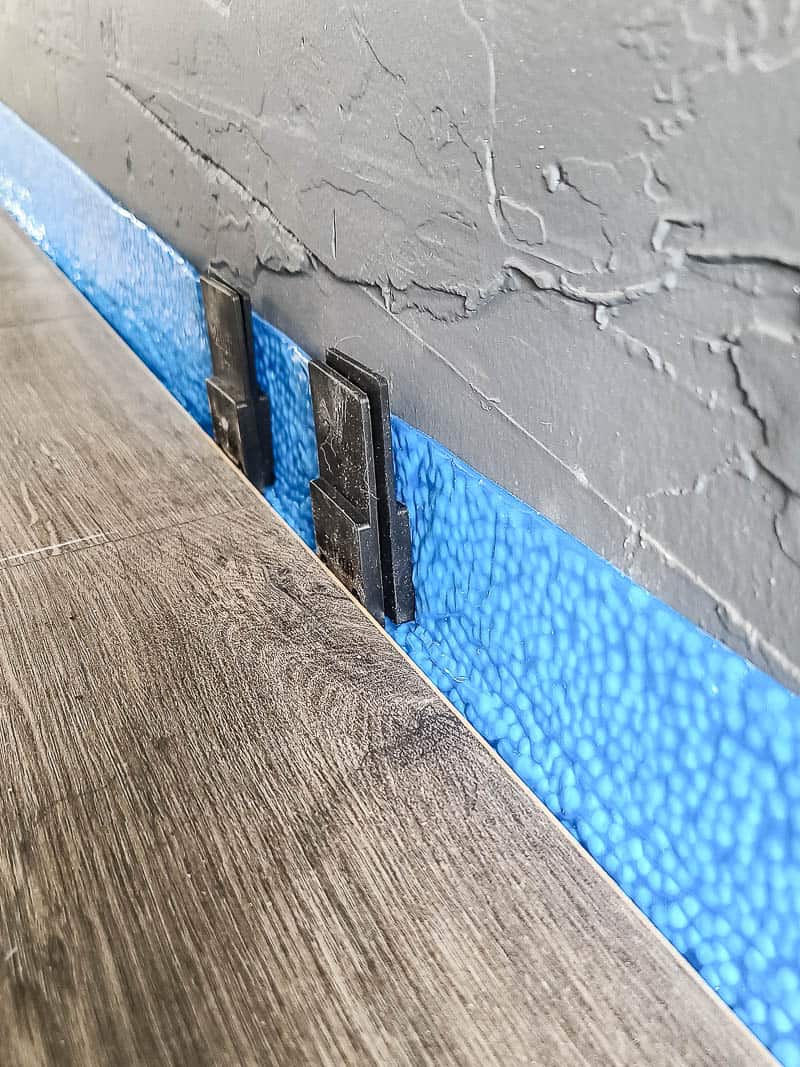 Step 5. Install first row of laminate flooring over concrete
After your first row of underlayment is down, you can start installing the laminate flooring over concrete.
Add spacers between the wall and the first row of the laminate so the gap equals roughly 3/8″. Depending on your spacers, you may need to double them up as we did. Be sure to check your floor manufacturer's instructions here as different floors need different spacing.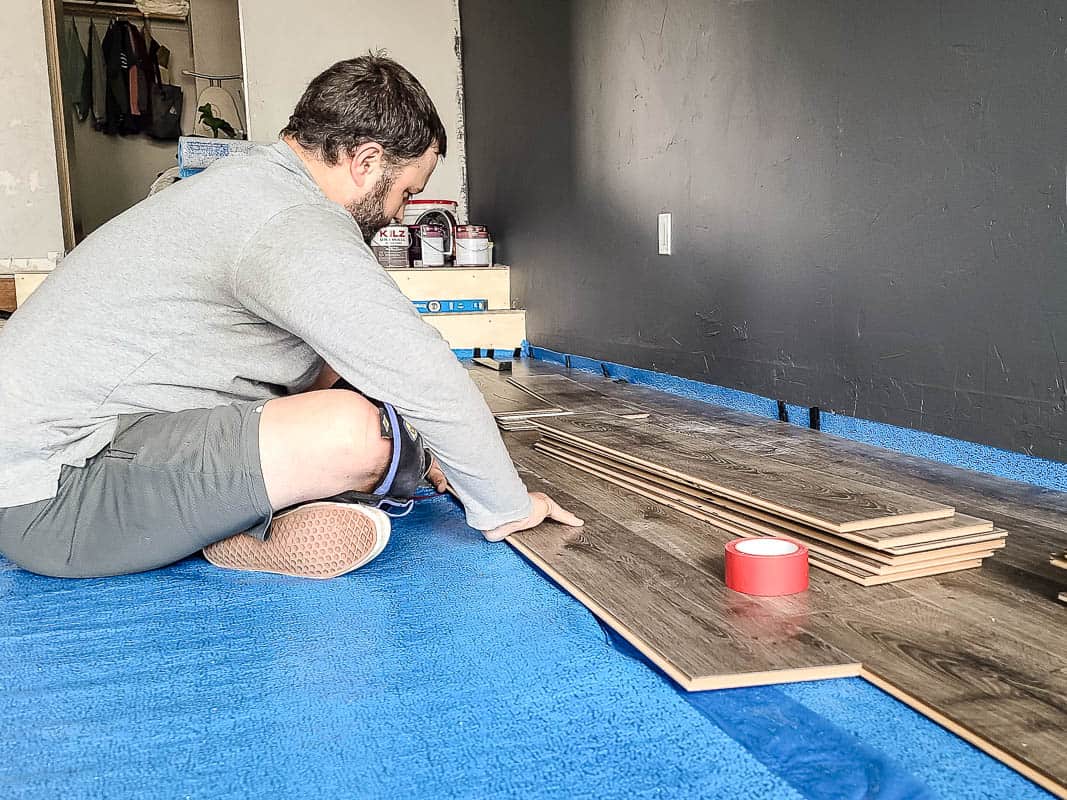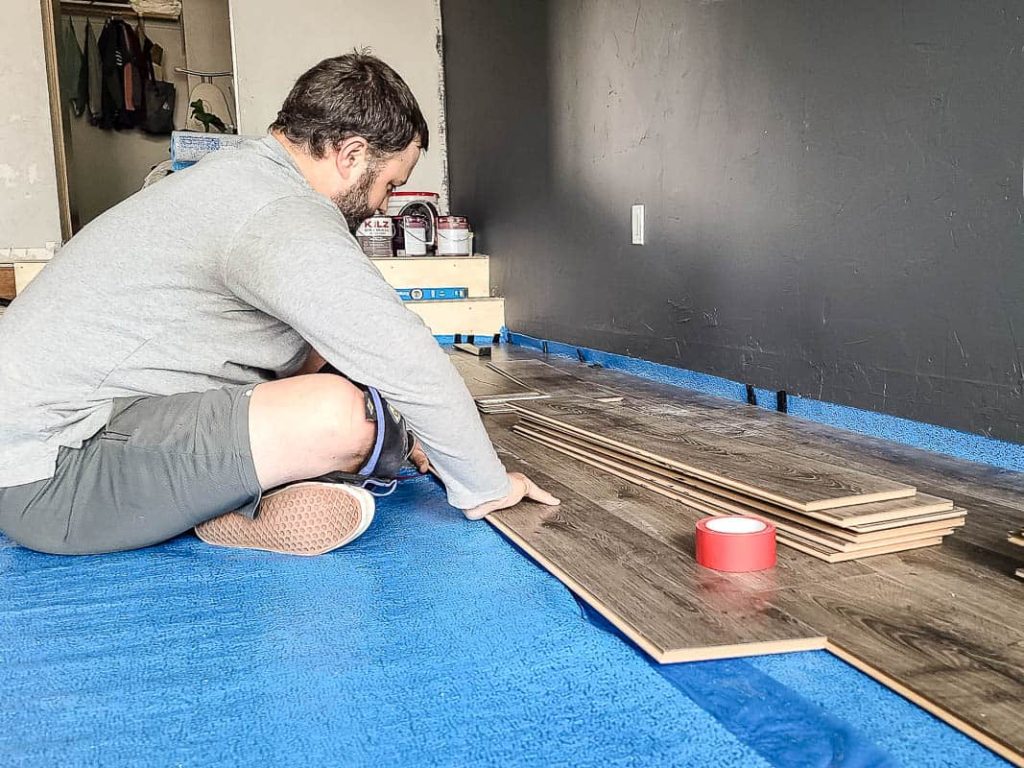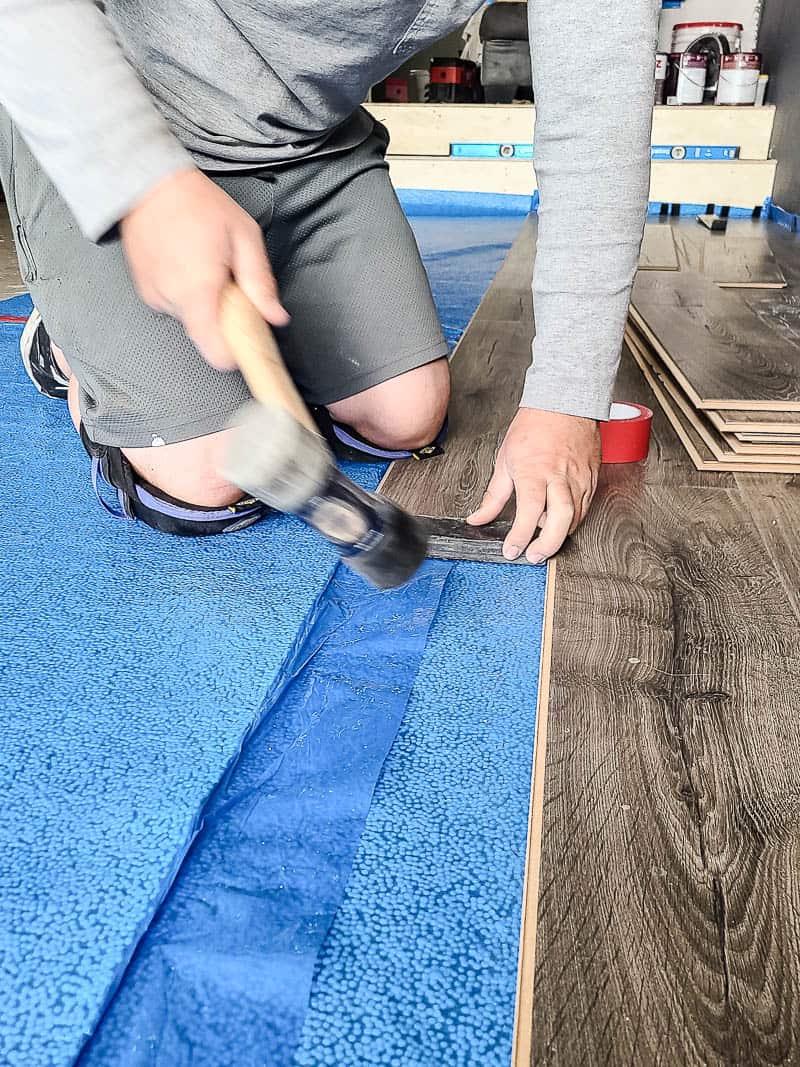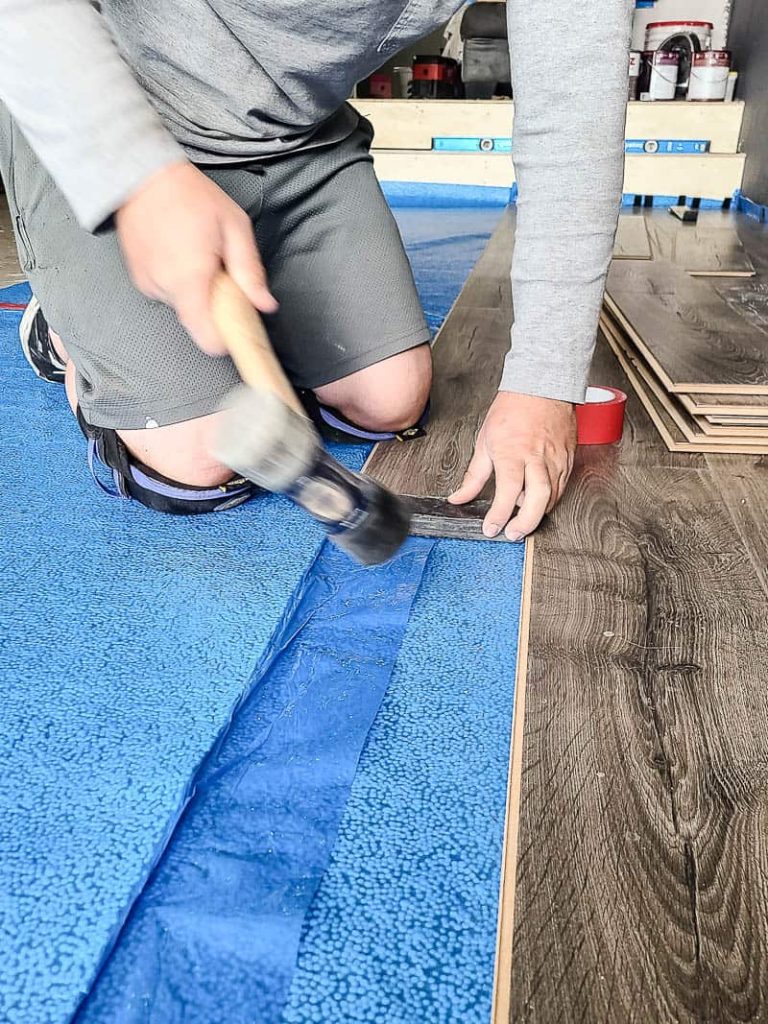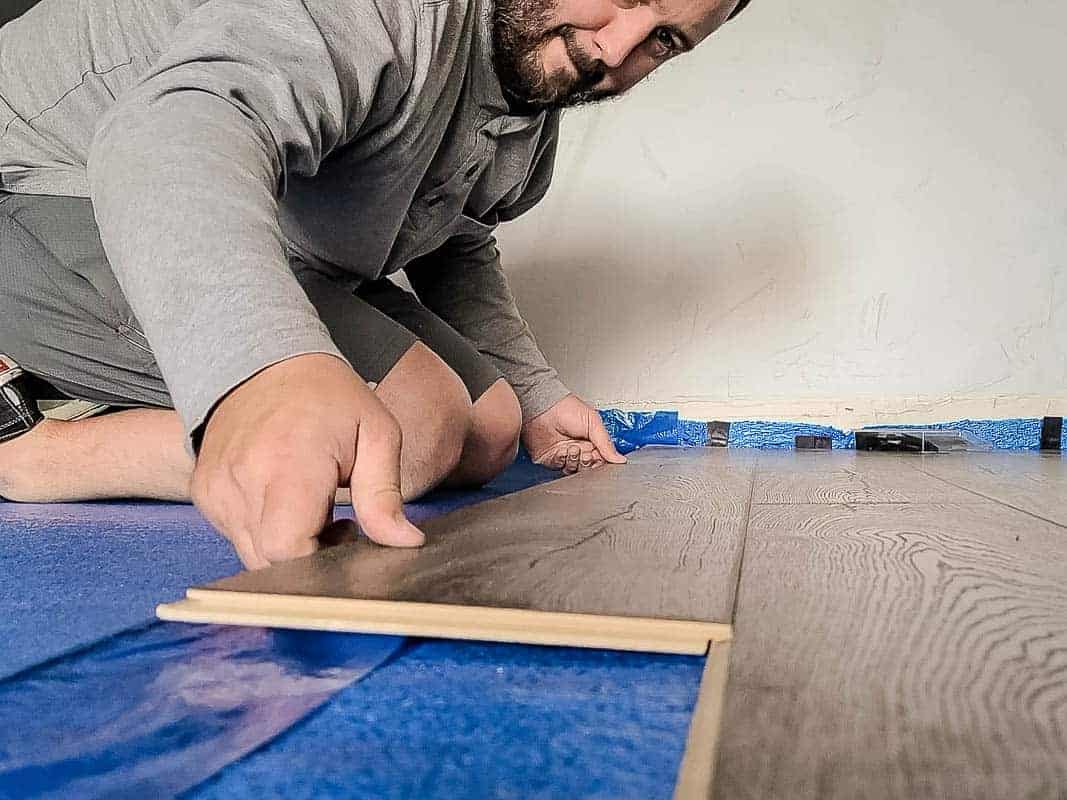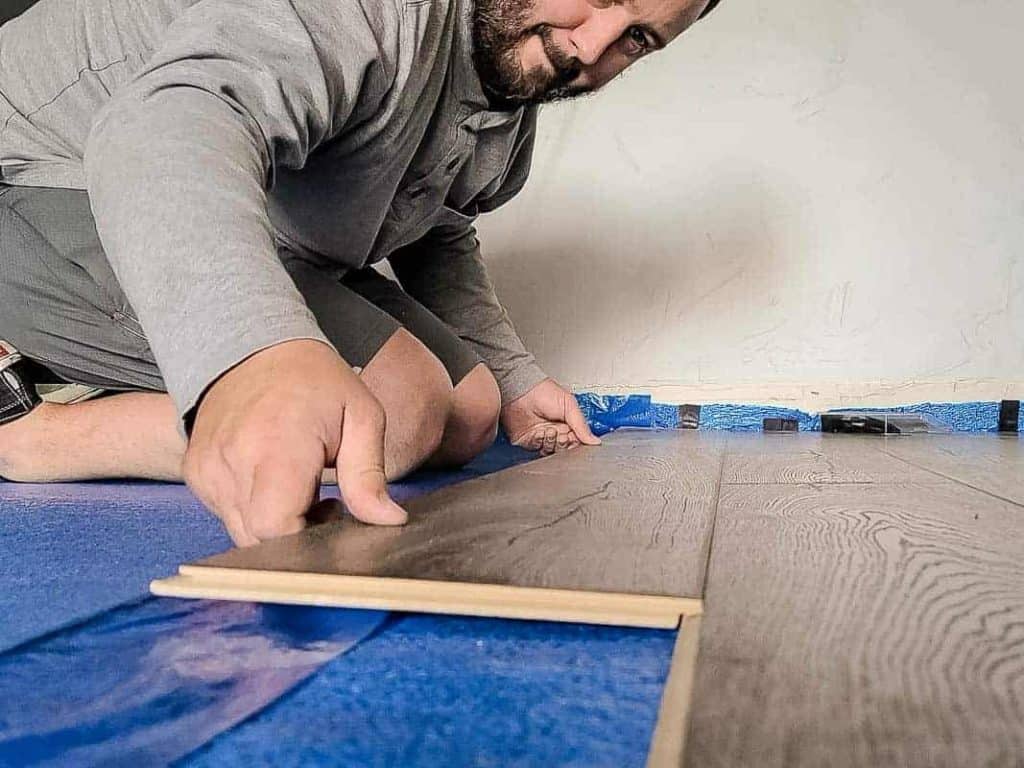 Step 6. Continue working row by row installing laminate over underlayment
The biggest thing to do here is to grab flooring from different boxes as you go for the best visual effect.
To work efficiently, stack the laminate up along the rows and put one piece in each stack so the stacks are taken from different boxes. This also handy because the laminate flooring is easy to grab from where you are rather than having to walk back and forth to your boxes while installing.
This makes it varied and helps keep a good pace when you lay out the floor in the direction you are working.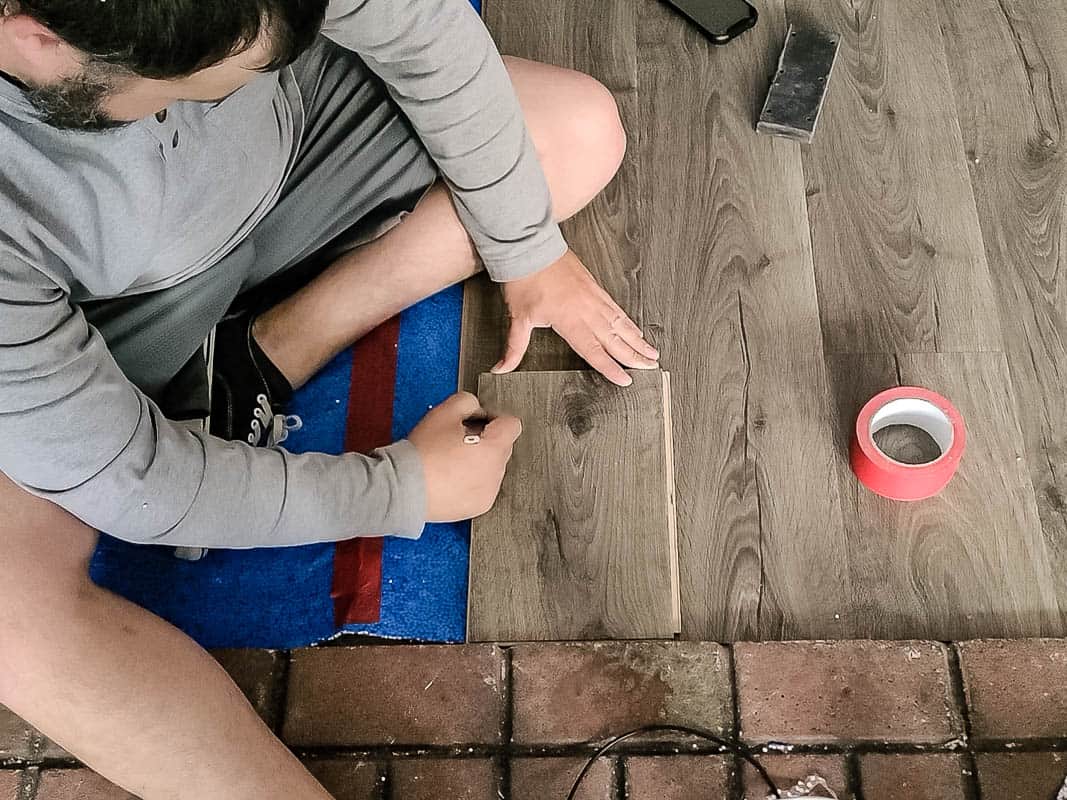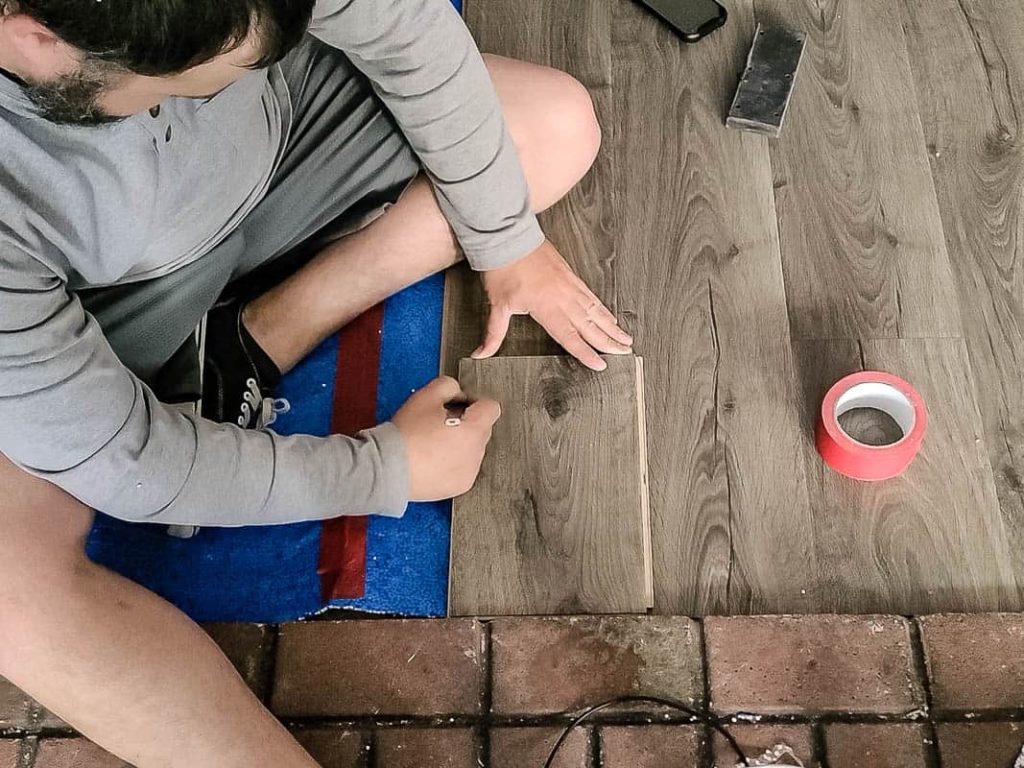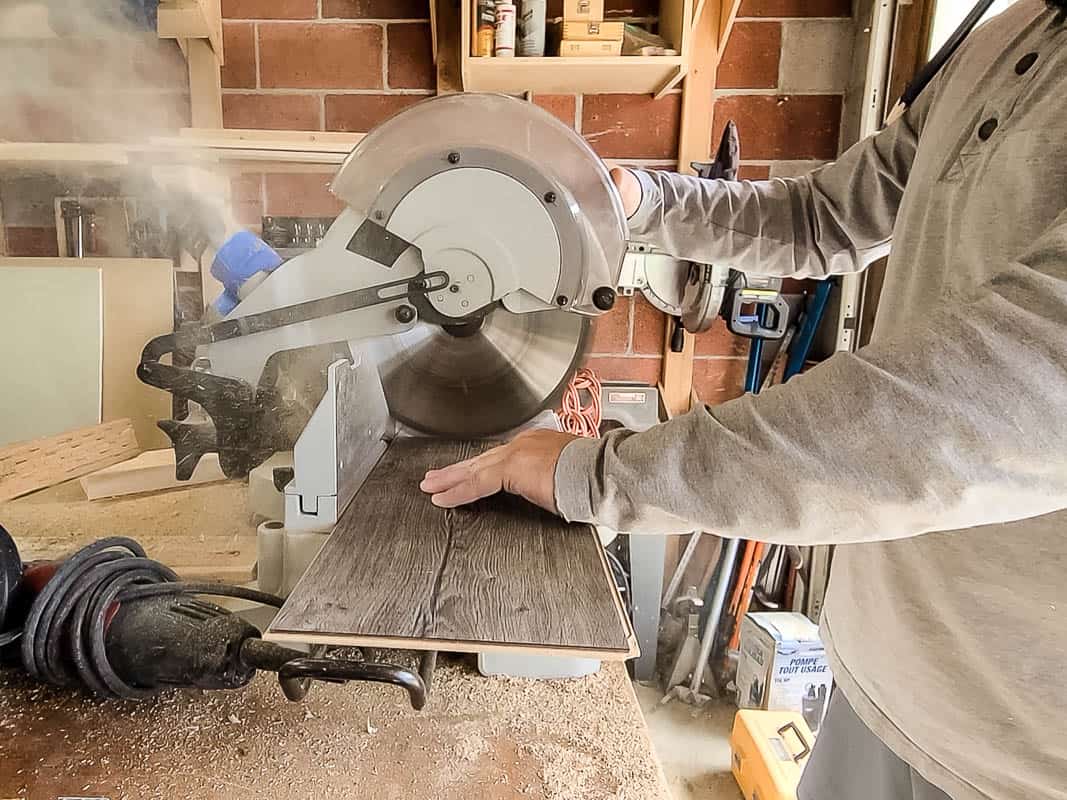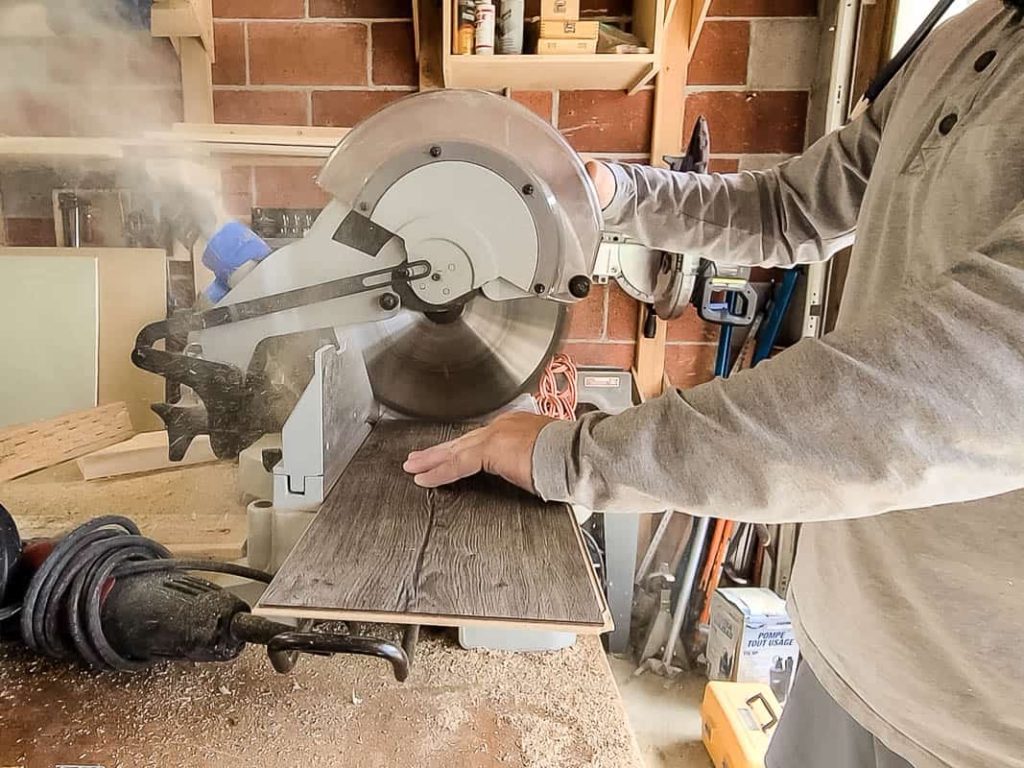 How to measure and cut laminate edge pieces along wall
The easiest way to measure the laminate edge pieces is to turn the piece around and mark the opposite side. This is so that the tongue and groove will still work.
Be sure your piece is against the wall and then mark the spot where laminate flooring overlaps with the already installed piece.
When you go to cut this piece just make sure you cut on the line and the piece will fit along the edge.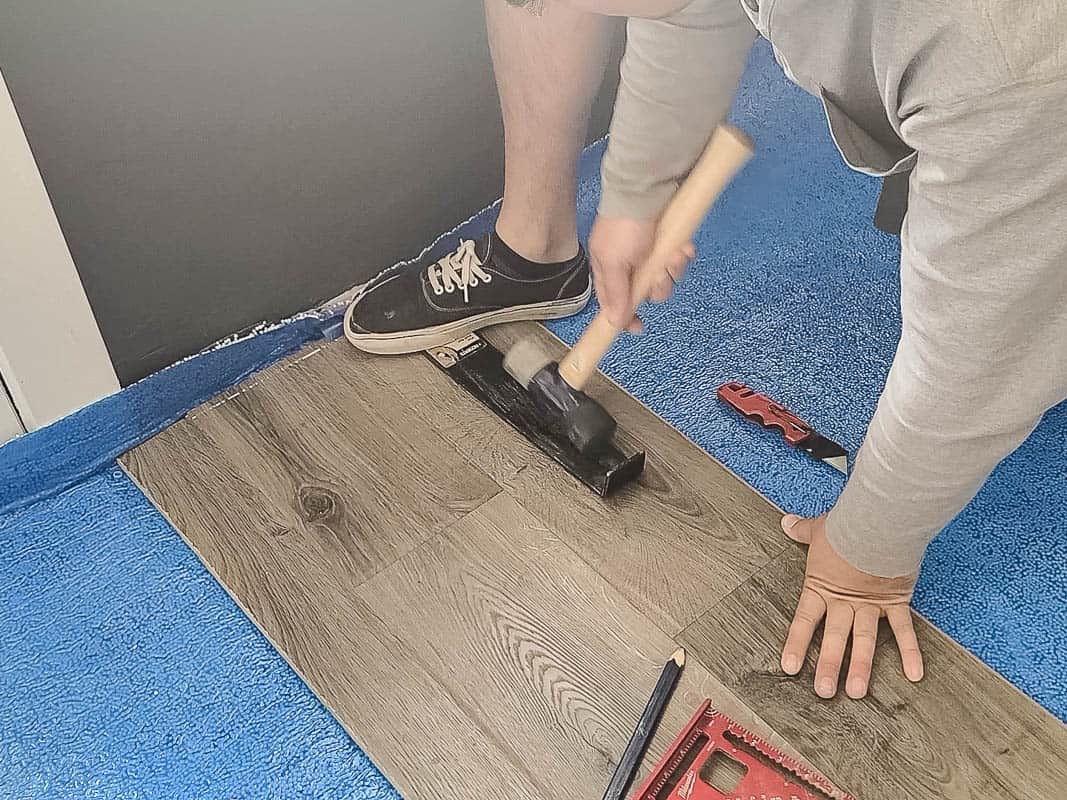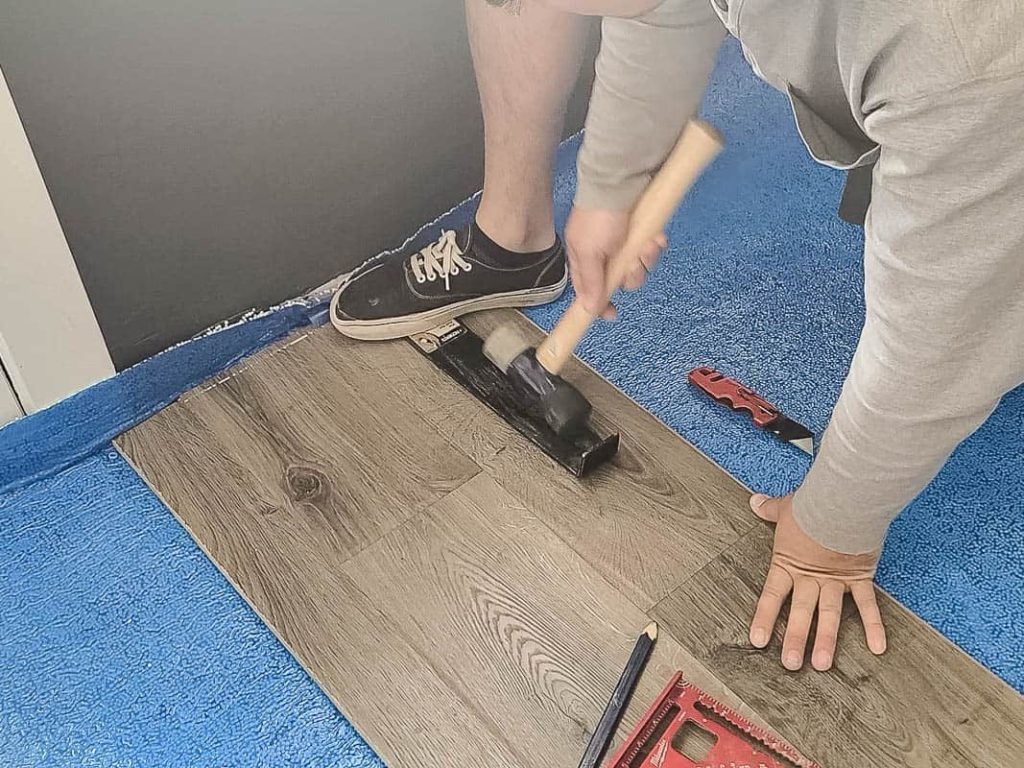 How to install laminate edge pieces along wall
When you go to install laminate edge pieces along the wall, you'll notice there isn't room to hammer them into place. You'll have to get a pull bar and flooring hammer to pull these pieces into the other laminate pieces.
Put the pull bar on the edge of the laminate piece in between the wall and flooring. Hold the pull bar down with one foot and tap your flooring hammer on the other side of the pull bar to push the laminate pieces together.
Be sure to close all gaps and the pieces engage the tongue and groove.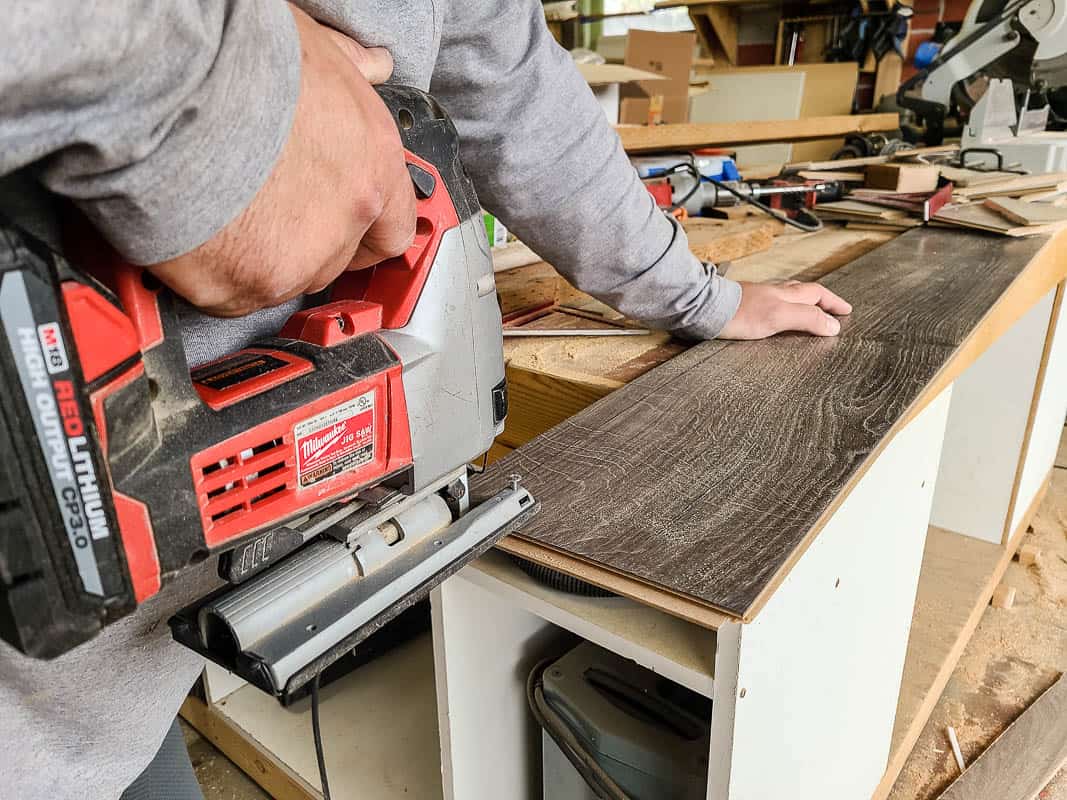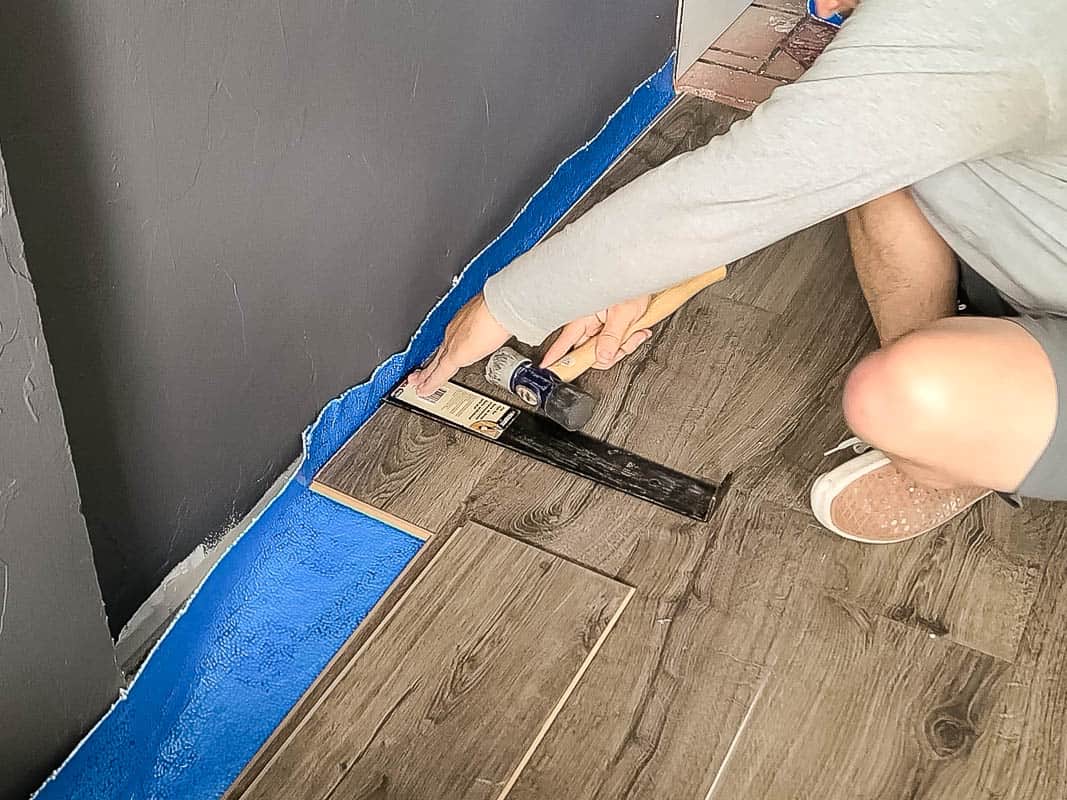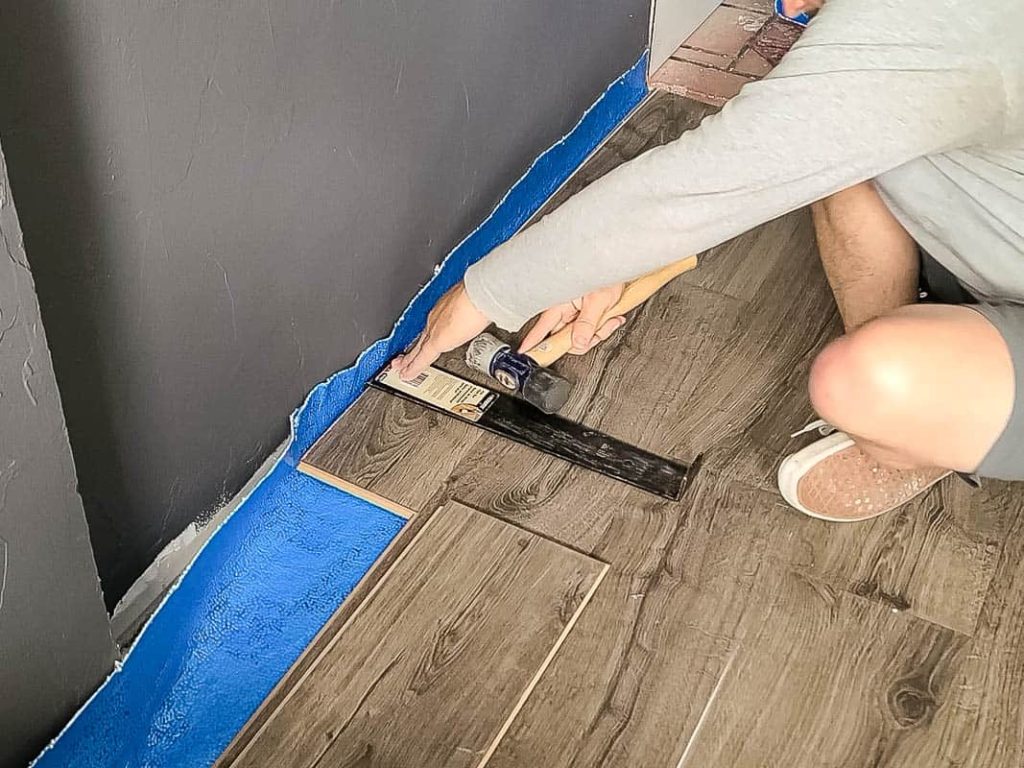 Step 7. Install last row of laminate flooring
The last row of your laminate floor will always take the longest. However, it's just a combination of the steps above. If your last row needs to be cut, just turn it around and make marks, and account for the tongue and groove section in your spacing.
If you have any odd cuts to make just make marks and use a jigsaw to fit your piece.
To push the laminate floor piece in on the last row, you'll use the pull bar and flooring hammer again (just like you did with the edge pieces as described in Step 6).
Step 8. Remove spacers & add baseboards
Once your entire floor is in, you'll want to remove the spacers. This can be quite difficult if the spacers are jammed in from all the hammering. Be careful not to chip your new floor edges when taking these out.
Once you have all the spacers out, go ahead and attach all your baseboards with a nail gun. Try to keep it level, but primarily you want to press these down a bit on the floor to keep the spacing consistent.
There ya have it – how to install laminate flooring on concrete – even if you're total beginner! We hope you enjoyed this guide that walk you through the whole process.
Do you have more questions about installing laminate that we didn't cover? Just comment below and let us know!