Interior painting something that anyone can do – regardless of skill level or experience. Learn how to paint a room for beginners in our detailed A to Z guide.
Even if you're not full-on renovating like we are, there's definitely time when a room is calling for paint. I definitely believe that paint is single-handedly the best and easiest way to update a room.
Although it may be a little overwhelming, painting is something that any homeowner can do – regardless of your experience level! All it takes is a small investment of resources and time, along with patience (and maybe a little trial and error too) to figure how to paint a room for beginners.
Further Reading – Are you thinking about painting your exterior? You've gotta read these exterior painting tips.
In this article we're going to cover the entire detailed process of how to paint a room for beginners. At the end we're also answering some interior painting frequently asked questions and spilling some of our favorite painting tips to get a professional finish!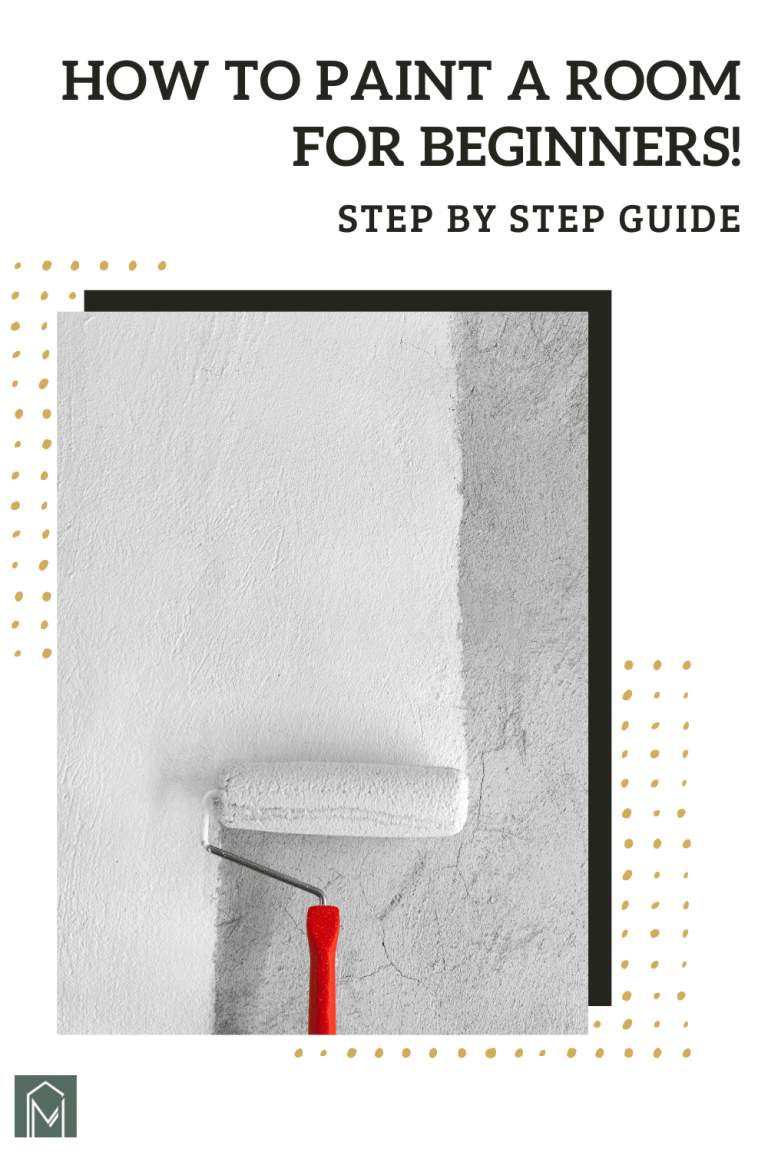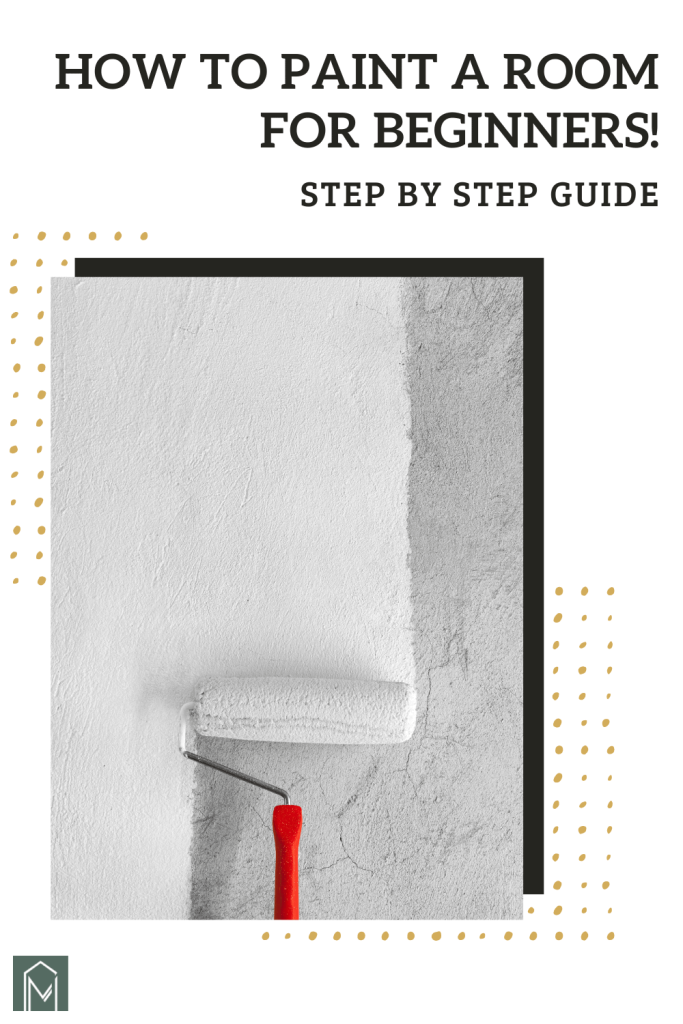 How To Paint A Room For Beginners | Step by Step Guide
This how to paint a room for beginners tutorial contains affiliate links, but nothing that I wouldn't recommend wholeheartedly. Read my full disclosure here.
Supplies for painting a room:
Screw driver
Trim paint
Wall paint
Paint can opener or screw driver
Angeled paint brush (for cutting in, if needed on ceiling)
Ladder or step stool
Safety glasses
Step 1. Prep room for paint
Getting a room prepped before painting is an important step that you shouldn't skip! Even though you may be wanting to try to paint faster, it's well worth it to slow down and get the prep right. Here's how to prep a room for painting.
Prepping for paint (at a glance):
Remove/cover furniture
Remove light switches and outlet covers
Remove everything from walls
Patch nail holes and imperfections
Clean with TSP
Caulk baseboards (if needed)
Cover flooring
How to prep a room for painting (more details for beginners):
Remove furniture from room or, at least, push it to the center of the room and drape it with either drop cloths, old bed sheets or plastic drop cloth to protect it.
Take off light switch plates and outlet covers with a screw driver and put them in a Ziploc bag. When you're painting a room, it may also be a great time to change an outlet or light switch to modernize it.
Painting the doors too? Remove the handle and put in a Ziploc bag with all of the screws and parts.
Remove everything from the walls (including curtain rods) and patch all nail holes for wall decor that isn't going in the same spot. To patch nail holes, fill the hole with spackle using a putty knife and let it dry. When dry, sand smooth and cover with primer. Add primer to the patched nail hole before painting will help prevent "flashing", which is when the paint sheen is a little different where the patched nail hole is. This extra step is well worth it if you want your paint finish to be consistent and look professional!
When you're patching the nail holes, take a slow walk around the room to check for other imperfections. Fill any dents, scratches, bumps or holes on the walls with spackle (these areas also need to be sanded smooth and then primed too). Sand any peeling paint on walls with a sanding block.

Don't forget to inspect baseboards and trim too. Patch any nail holes or imperfections on trim or baseboards in the same way with spackle.

Once all patching, sanding and priming is done, clean everything really well. We recommend using TSP mixed in a bowl of hot water and applied with a rag or sponge. We broke down the whole process for how to clean walls before painting.
If you installed new baseboards or removed your baseboards and reinstalled, you'll need to caulk the corner where the top of the baseboard meets the wall. We have a whole article with tons of caulking tips that walks you through the process (including how to remove old caulking, load the caulking gun and how to apply the caulk).
Lastly, cover your edge of your flooring with painter's tape tucked slightly under the bottom of the baseboards. Cover anything else you don't wanted painted with painter's tape, except we recommend that you "cut in" around trim, baseboards and at the ceiling without using painter's tape (and we explain the whole process of how to cut in paint without tape in this detailed tutorial). Cover the rest of the flooring with drop cloths that you will move around the room with you as you paint.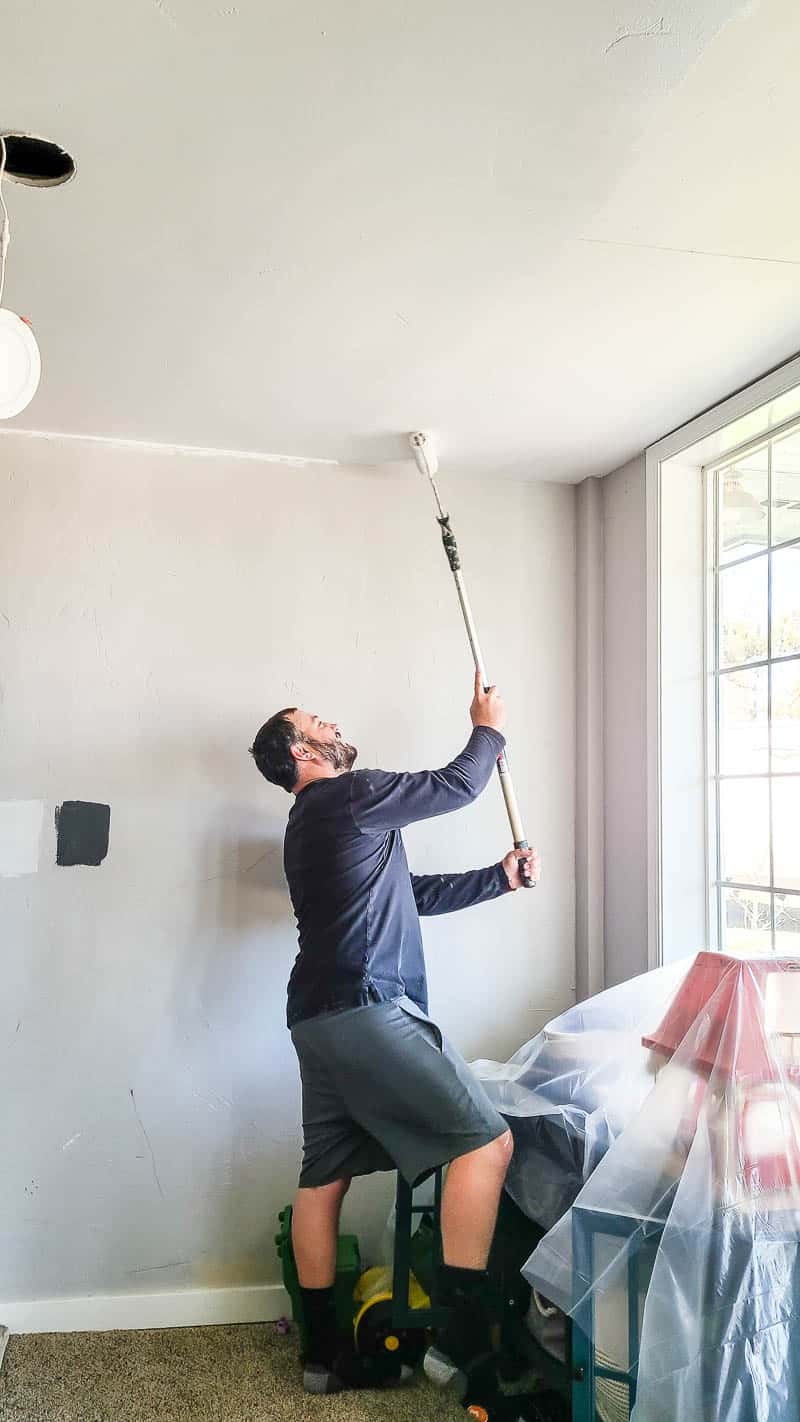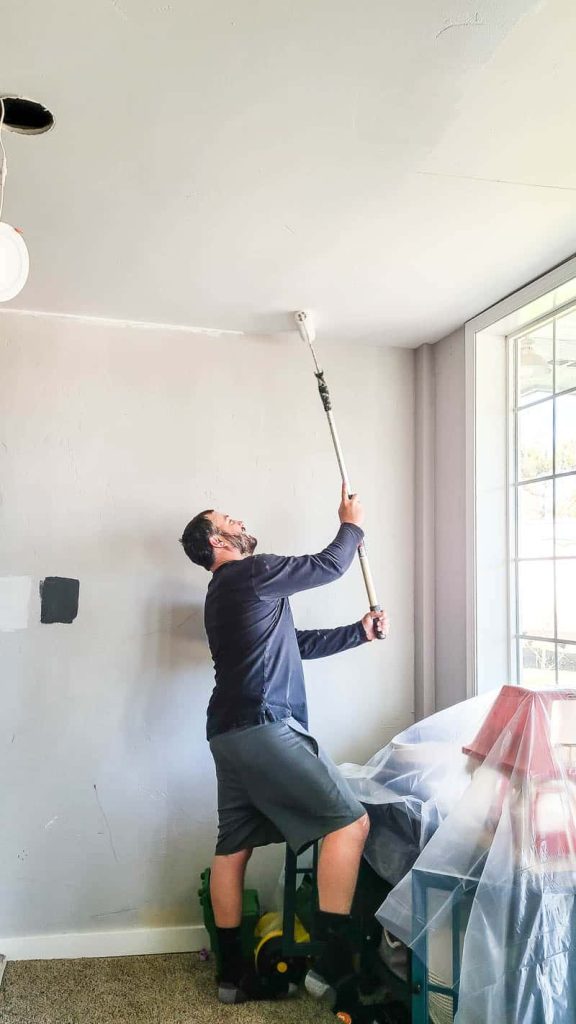 Step 2. Paint ceiling
When painting a room, you always want to start with the ceiling and work your way down to the trim & baseboards and then move on to the walls last. We explained more about why this is the best order of a painting a room in this article if you're interested.
Here's the process of painting the ceiling:
Stir ceiling paint and pour into paint tray
Roll paint onto ceiling in small sections
Repeat with 2nd coat if necessary
We have super detailed guide all how to paint a ceiling with a roller if you're wanting more helpful tips and tricks.
Step 3. Paint trim and baseboards (and doors)
After you're done painting the ceiling, it's time to move onto the trim, baseboards and doors.
If your doors don't need a fresh coat of paint, feel free to skip them. If you do need to tackle doors, check out our step by step tutorial for how to paint a door.
Here's the general process of painting trim and base:
Use a 4-inch paint roller cover with 3/8″ nap on the edge and front of trim.
We recommend a semi-gloss paint sheen on trim and baseboards – learn why in our paint sheen guide.
Keep your paint roller filled up and apply the paint fairly heavily so you don't have to apply multiple coats.
Be sure to make sure the paint isn't too heavy and dripping.
If multiple coats are needed, wait for each to dry completely before moving on.
If you've never painted trim or baseboards before, it's worth your time to read our tips for painting baseboards and trim.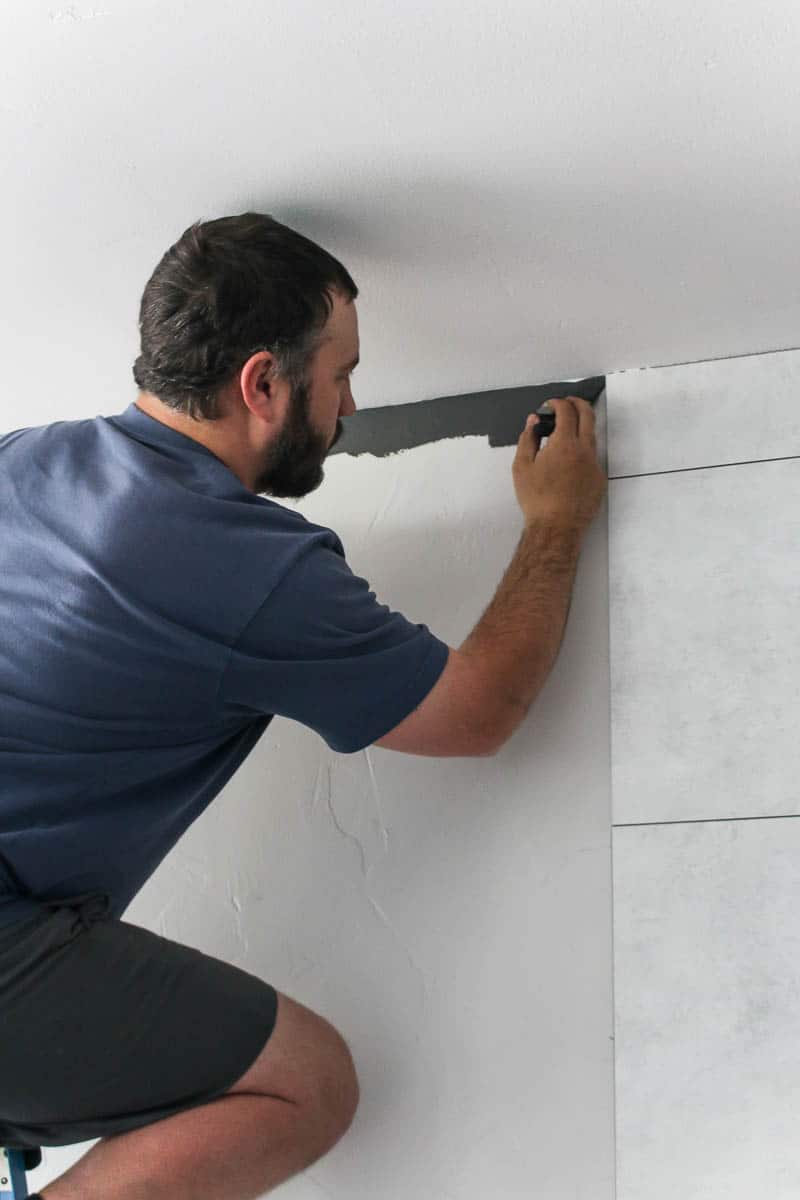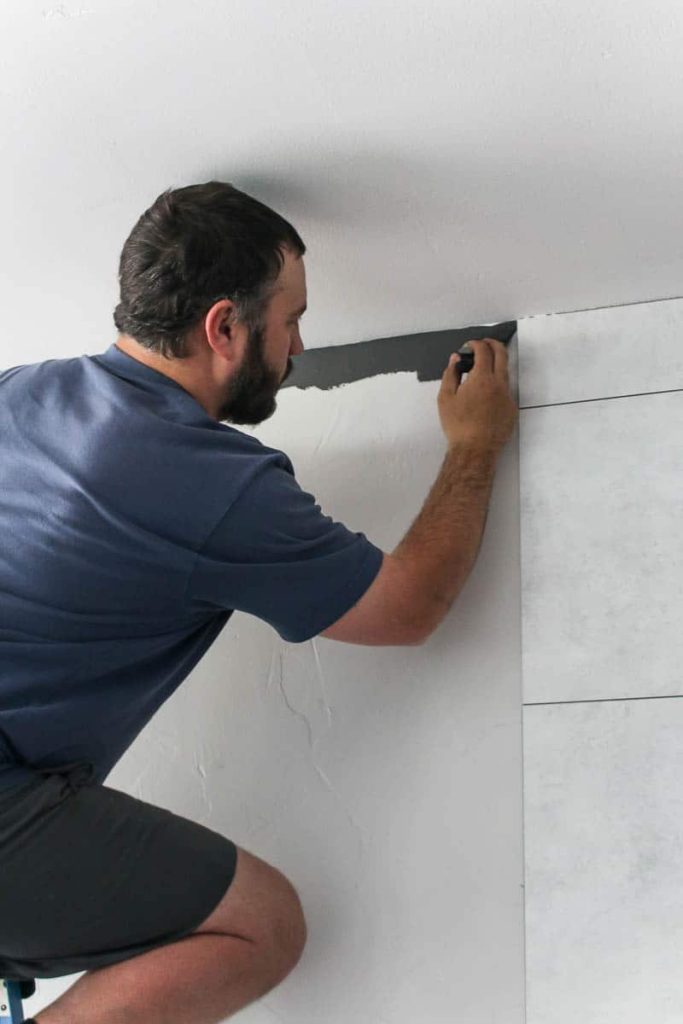 Step 4. Cut in along ceiling and around trim & baseboards
Next you can move onto cutting in the wall color paint at the edge along the ceiling and around the trim and baseboards.
If your trim paint is still wet, start with cutting in along the ceiling and definitely wait until the trim paint is dry before cutting in next to the baseboards and trim.
What if I was to tell you that you don't need painter's tape to cut in EVEN if you're a beginner?! We have a whole guide all about how to cut in paint without tape so you can learn the whole process. It's worth it to learn how to do all of your cutting in with an angeled brush so you don't have to futz with so much painter's tape.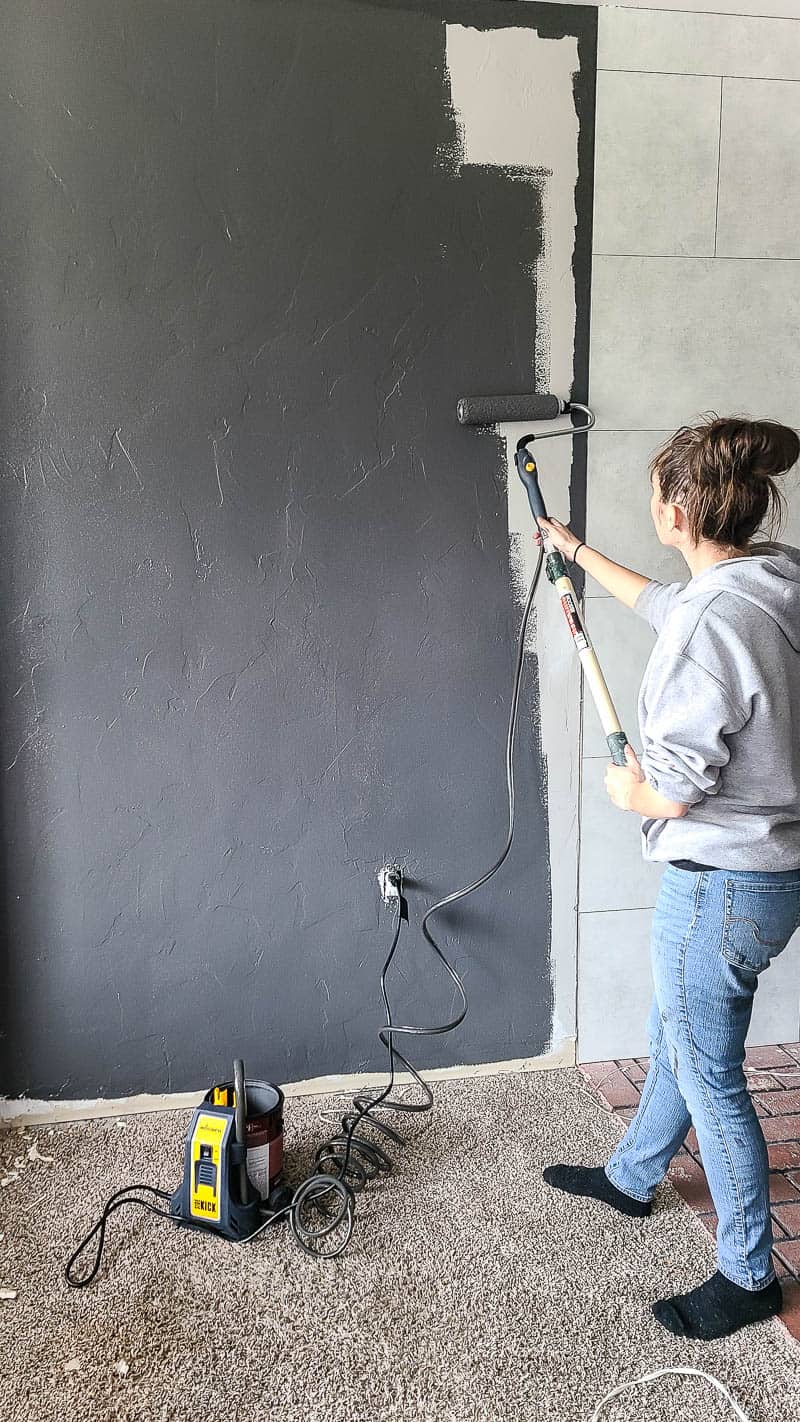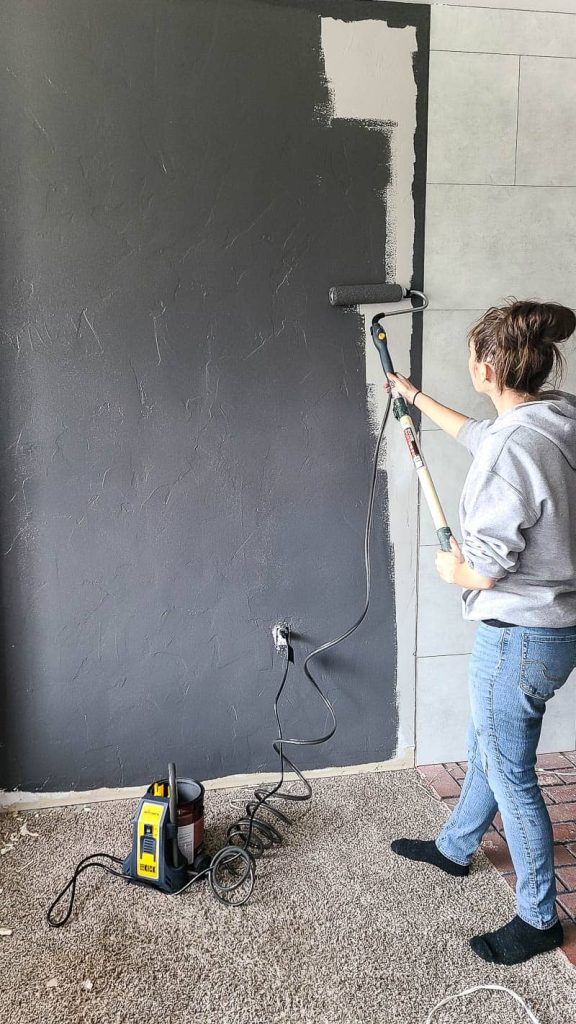 Step 5. Roll paint on walls
If you're reading this guide for how to paint a room for beginners, you're probably wanting some tips for how to paint a room with a roller. The alternative method of painting walls is with a paint sprayer, but I would not recommend this for a beginner because there's a steep learning curve and it's VERY messy.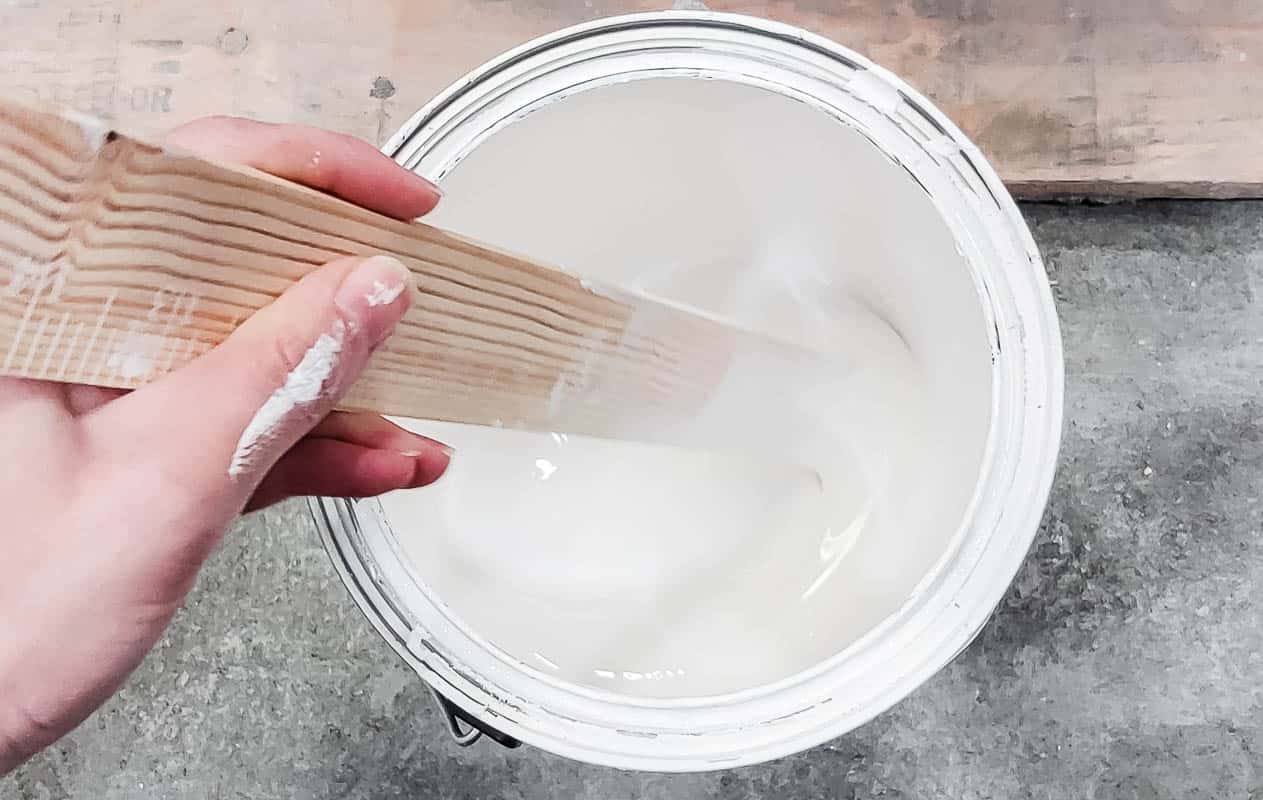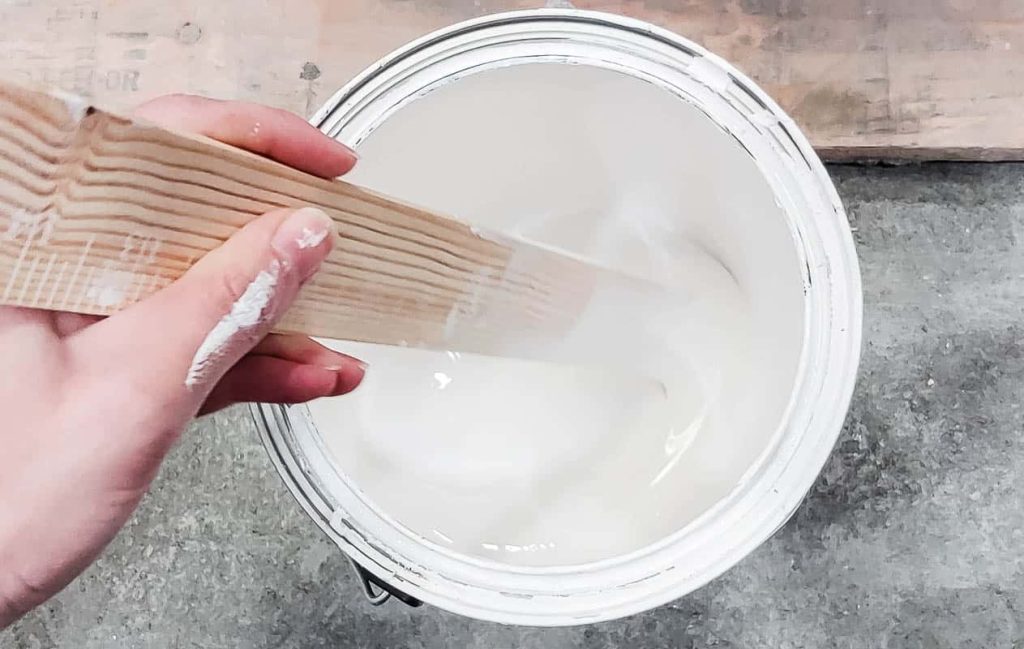 Shake the can of wall paint and open with a paint can opener (or a screwdriver). Next, take a stir stick and stir the paint well. This step is important because the colors and additives in the paint tend to separate and settle when it's been sitting.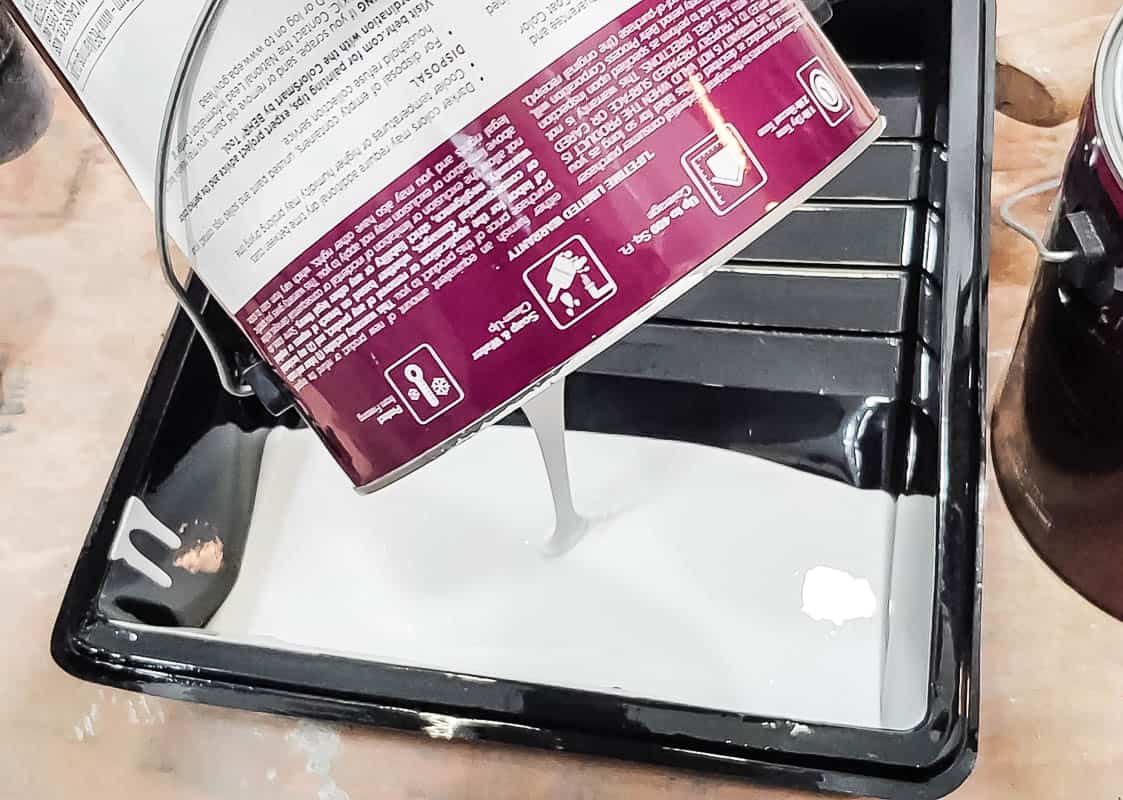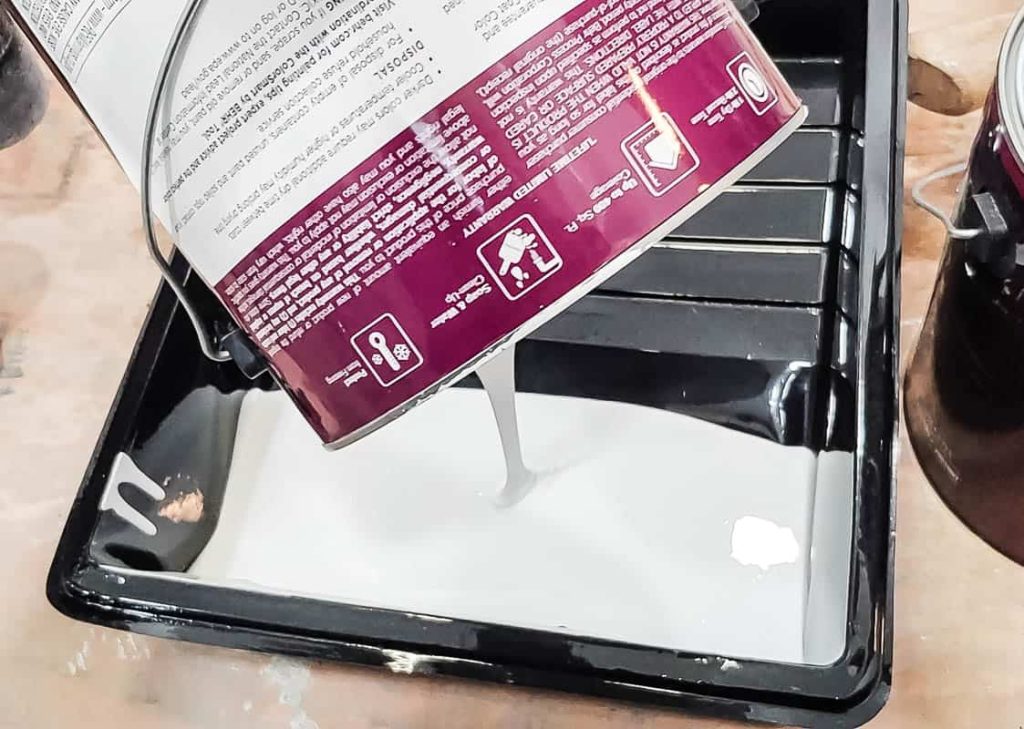 Carefully pour the wall paint color into a paint tray. Grab your paint roller, 3/8″ nap paint roller cover and extension rod. Roll the paint roller into the paint tray and spin until paint is covering the entire roller cover.
Get excess paint off of the roller by rolling it back and forth on the ramp of the paint tray.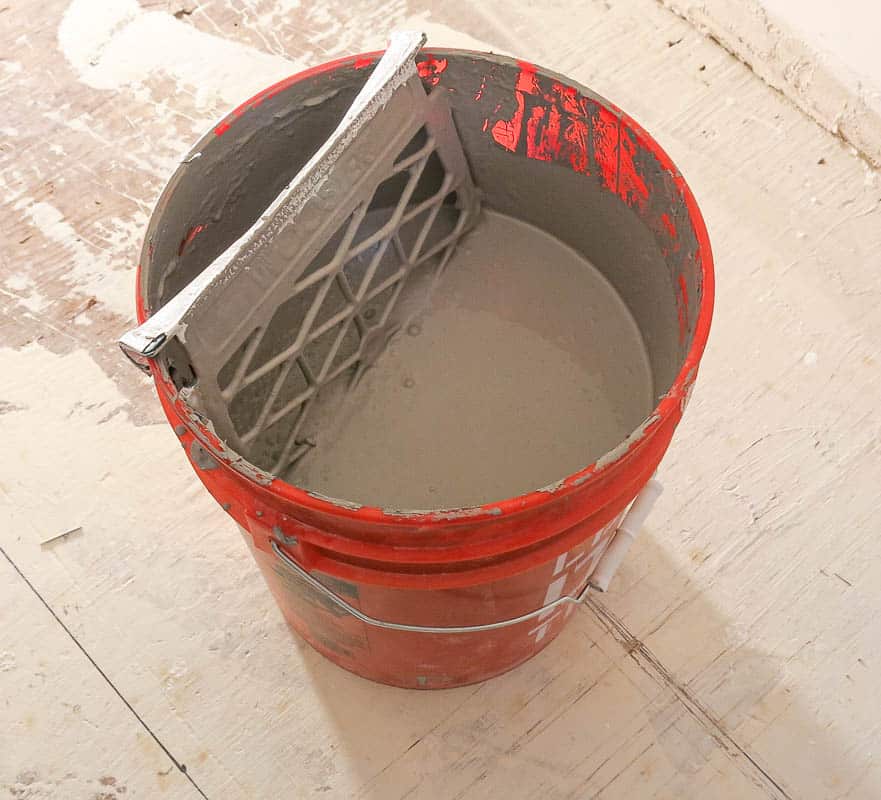 If you're doing a lot of painting, it may make sense for you to purchase your paint in 5 gallon buckets instead. If you do that you can hang a grate in the bucket to roll off excess paint like this.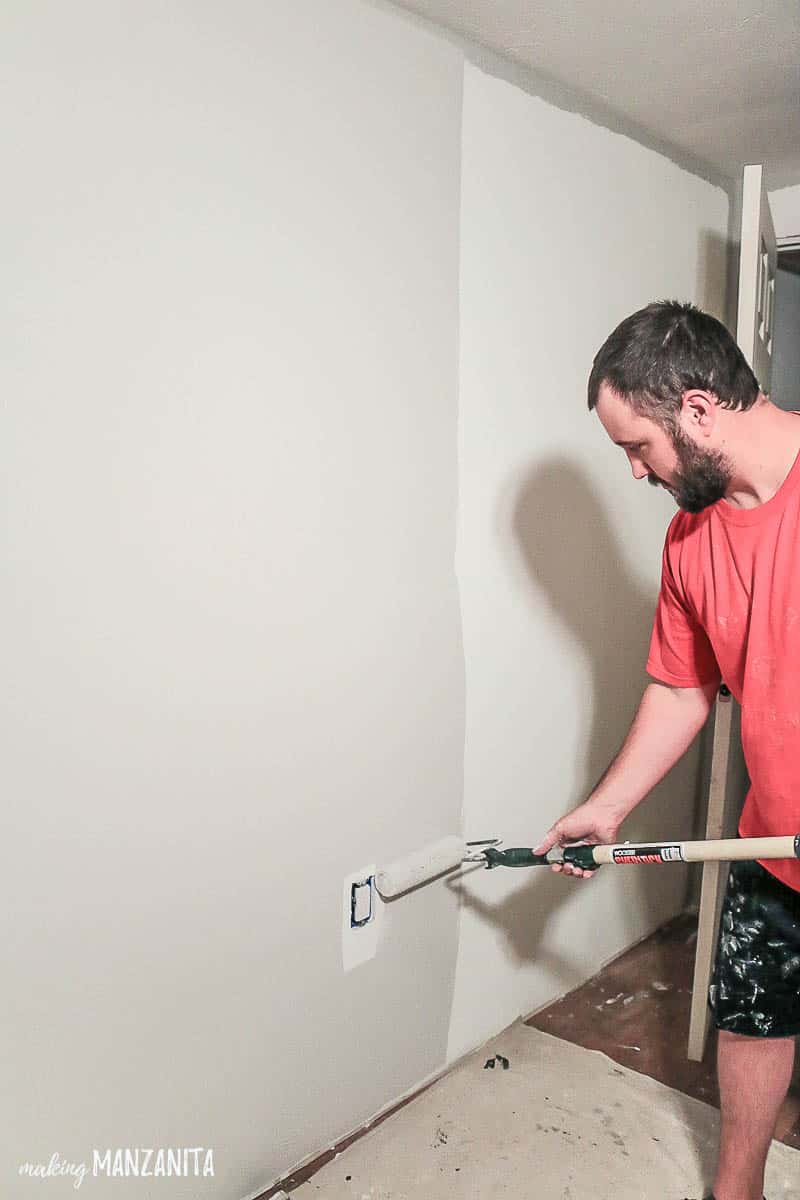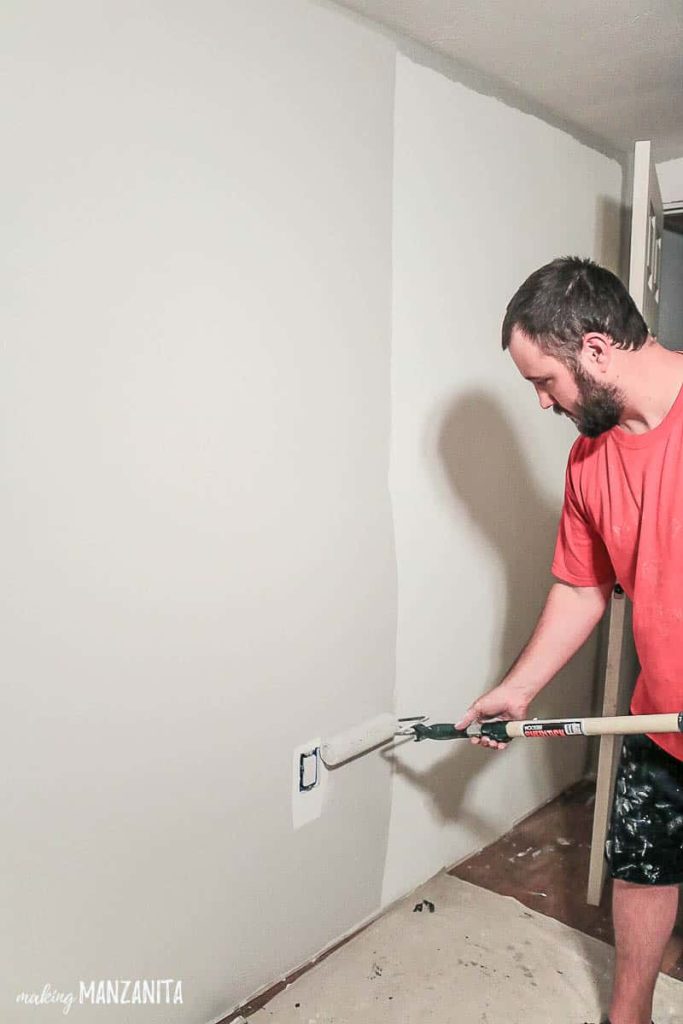 Tips for Painting Walls for Beginners
Bring your paint roller up to the wall and make a large W on the wall for the initial pass. Continue to roller the paint roller over the wall working in small 4′ sections overlapping the passes.
Use the extension pole on your paint roller to make it easier to reach up to the ceiling without getting on a ladder, which is no fun.
Once you're done painting a section of the wall from top to bottom, do one long pass of the roller from the ceiling to the floor to get rid of any roller marks. Continue with the long passes slightly overlapping each.
Once you've done the floor to ceiling pass, don't roll over that section again if you can help it.
Want to learn how to paint faster? Try using a power roller like I show here!
If the paint isn't showing full coverage after the first coat, that's ok. You'll almost always need to 2 or more coats of paints, so that's something you should be prepared for if you're gathering tips for painting walls for beginners.
Try to avoid bumping the ceiling or baseboards when rolling the paint on the walls, but don't beat yourself up if you do. It happens. You'll worry about it later when it's time to touch up.
Once you're done with the first coat of paint on the walls, wrap a shopping bag around the entire paint tray and roller and put it in the fridge. This keeps the paint fresh so you don't have to worry about cleaning everything in between coats.
Wait the recommended time for recoats as indicated on your paint can and follow up with a 2nd coat.
Wait for the 2nd coat to dry thoroughly before determining if you'll need a 3rd coat of paint.
Step 6. Touch up and clean up
Once you're all done painting the ceiling, trim, baseboards, doors and walls – it's time to touch up! If you're a beginner painter, chances are there was a few place here and there where you bumped a paint color in a place where it shouldn't have it. No worries, it happens to the best of us!
Touching is up is pretty easy. Use either a very small craft brush for small areas or a regular paint brush for touching up larger marks. Once you the paint over the touched up area, fan it out a bit to blend it in. This helps not make the touched up area so noticeable.
Last but not least you want to clean everything up. Rinse your paint brushes out right away with warm soapy water and clean any roller covers that you want to keep. We find that rinsing our roller covers and paint trays are more pain that it is worth so we usually just trash them when we are done painting a room.
Remove any painter's tape and fold up your drop clothes. Move your furniture back into place and…ta DA! You're done painting your room.
Interior Painting FAQs
Painting a room is totally a doable DIY, even for a beginner! But if you've never painted before, you probably have some questions and hesitations, right? So we are answering some interior painting frequently asked questions here!
What is the best room paint to use?
Ten different people will give you ten different answers on what is the best interior house paint to use, which means this is totally a matter of opinion. Let's face it, you may already have a "best" interior house paint that you already love and would never switch from. For instance, we always use Behr paint from Home Depot for painting interiors. We just won't entertain anything else.

The simple answer is the best room paint to use is always the highest quality paint you can buy. With Behr's Marquee line (which is their highest quality) we never have a problem putting the paint on and it is almost always one coat coverage. This saves a lot of time not having to double or triple coat, especially if its a big paint job.
What should you use for interior trim paint?
Again, we recommend the highest quality of interior trim paint you can afford. By using a high quality paint with great coverage, it can really be a life saver if the paint you are using is a light color going over something dark. If you want your interior trim paint to be white but you have to go over something like a dark brown, a high quality paint can save you from having to apply multiple coats.
How do you determine what sheen of paint to use?
The basic rule of thumb for paint sheen is eggshell for walls, semi gloss for trim, and flat/matte for ceilings. However, sheen really depends on your own particular style and how shiny and durable you want your paint to be. We have a whole paint sheen guide if you'd like to learn more!
How do you determine interior paint cost?
One of the best ways to determine interior paint costs is to use Behr's Paint and Stain Calculator. You can enter the size of your room, number of doors and windows and it will give you a good estimate to how many gallons of each paint that you need to buy. Then you can quick do the math of the paint costs. Don't forget to factor in the supplies you may need to buy to paint a room (like paint rollers, brushes, painter's tape and drop cloths).

It's also important to adjust the amount of interior paint needed based on what paint color you are covering. If you are going over dark colors with lighter then you may want buy an extra can based on the size of the project.

Lastly, if you know that we going to need 4 gallons we always spend a little more money for the 5 gallon bucket, which is just a little more. By the time you buy 4 gallons, you are only a few bucks short of a 5 gallon bucket. You don't want to run through 4 gallons and need a 5th because then you will have to spent more money than you had to. Let's face it, there will be touch ups to do and extra paint is handy for that.
How do you DIY high quality painting that looks professional?
There are two simple rules if you're looking make your DIY painting look professional:
(1) Don't be in a hurry.
(2) Spend the extra money on the right tools.
How do you handle cutting in paint?
Cutting in paint takes patience and practice. Logan's pretty good; however, he has painted 100's of homes, walls, etc in his past jobs. With the right tools and a steady hand, you can totally cut in paint without using painter's tape. We have a whole guide on how to cut in paint, so be sure to check that out if you want to learn!
How do you paint a room yourself that looks professional?
There are three simple rules if you're wanting to learn how to paint a room professionally (even if you're a total beginner):
Don't be in a hurry.
Spend the extra money on the right tools.
Don't be in a hurry.
When you are learning how to paint a room as a beginner, you may think "I'll just slap a coat of paint on…how hard can it be?" But slapping is the LAST thing you should be doing. Remember rule number one is don't be in a hurry!
If you're using painter's tape – make sure to clean first. Painter's tape really gets a bad rep because people don't prep correctly. If you just take 10 minutes and clean the areas where your tape will be applied, the paint will do its job better. Remember that the trim in your house takes a beating and despite how clean we try to be there is a layer of dust and grime on there. Painter's tape doesn't like attaching to dust and grime, which is why tape bleeds (learn the best ways to use it in this article with my favorite painter's tape tips and tricks)
Clean with TSP first – If you don't have TSP, get some. TSP will get your surfaces very clean, which is important for the life of your interior paint job. The cleaner the surfaces are, the longer your paint will last and the cleaner your paint lines will be.
Take your time – It is especially important for beginners to slow down and take your time when painting a room. It's not a race, slow it down and do it right rather than cut corners. However, one way that you can make the painting process go faster is to use a power roller like this!
Spend the extra money on the right tools.
It is definitely worth it to buy the high quality brushes and rollers. If you want your DIY wall painting to look professional, buy the professional tools – not the cheap crap. The last thing you want while painting is for the rollers to shed and the bristles to fall off the brush into your paint job.
If you're trying to learn how to paint a room for beginners, chances are that you're thinking about painting your own interiors, I'm here to tell you – you can do it!! You'll be shocked with the immediate gratification that you get from changing a paint color in a room!
Do you have any other questions about how to paint a room for beginners?
Let us know in the comments below.