Getting ready to tile for the first time and wondering how to mix thinset mortar for tile? This step by step tutorial will walk you through the whole process and give you helpful tips for beginners.
Before you begin your tile project, the first crucial step is mixing your thinset up to the right consistency. The process of how to mix thinset mortar for tile can feel overwhelming to a beginner. So today we're breaking it all down!
In this article we'll cover frequently asked questions about mixing thinset, show you the whole process of how to mix thinset in video and picture format and lastly share 6 helpful tips for beginners.
If you've never mixed thinset mortar before, you're in the right place! Have no fear. Let's dive in.
This how to mix thinset mortar for tile tutorial contains affiliate links, but nothing that I wouldn't recommend wholeheartedly. Read my full disclosure here.
FAQs about mixing thinset
What is thinset?
Thinset, sometimes called "mortar" or "thinset mortar", is a setting material to attach tile or stone to a surface. This adhesive material is made from Portland cement and fine sand. Some types of thinset also have polymers or other ingredients added to help make the thinset more workable and stronger.
Is there a difference between mortar and thinset?
Great question! It can be pretty confusing because many people use the term thinset and mortar interchangeably. Mortar is a bonding materials to attach tile, stone, bricks and more to another surface. There are several types of mortar used for different applications and thinset is just one type of mortar. So although mortar and thinset are used interchangeably, thinset is really a type of mortar.
Should I use thinset or tile adhesive?
When you are tiling, you can choose either thinset or tile adhesive (also called mastic) for your glue. There are several things to consider when making the decision between thinset or mastic.

Mastic (also called tile adhesive)
Premixed, so you don't have to worry about getting the right consistency
Easy to use, which makes it great for beginners
Sticky & grabs tile fast, which works great for vertical installations
Use in fairly dry area (like backsplash) that doesn't not get submerged in water 
Not recommended for large format tile (over 15 inches on any side)

Thinset Mortar
Stronger than mastic (all flooring should use mortar) 
Can be used in high moisture areas (showers, bathtub, bathroom flooring) 
Must be mixed and needs to be the right consistency to work correctly (consistency is like creamy peanut butter) 
Must use all mixed mortar immediately
Takes longer to dry than mastic, so easier to adjust crooked tiles, but risk of tile sagging when installed vertically 
There are several different types of thinset mortar, which depend on your tile size and tile materials so be sure to read up and choose the right one for your job.
What's the ratio of water to thinset?
The large format tile thinset that we were using required 6 quarts of water for a 50 lb bag of thinset. This may differ based on the type of thinset that you're using, so it is very important that you check the instructions on your bag.
How long will thinset last after mixing?
Thinset will start to set up fairly quickly after mixing, so you should only mix up what you can use within 20 minutes or so. The exact length of how long thinset will last after mixing varies based on your conditions, but typical no longer than 1 hour.
Can you add water to thinset when it starts drying out?
When the thinset starts to harden in the bucket after mixing and you haven't had a chance to use it all, you may be tempted to simply add water to the thinset. But do NOT add water to the thinset after it has been mixed because it won't be as strong.
Can I mix thinset by hand?
You could probably mix a very small amount thinset by hand, but it will take a long time and not be very fun! It's much easier to mix thinset with a power drill and mixing attachment.
What is the proper consistency for thinset?
When thinset is mixed properly it should be the consistency of creamy peanut butter.
What happens if you put too much water in thinset?
If thinset has too much water in the mixture, it will be too thin and squish up in between the tiles when they are laid into place. It will also not hold the notched ridges when applied with the trowel. Thinset that has too much water will be runny and droop off of the wall and cause the tiles to sag instead of hold in place.
What happens if you don't put enough water in thinset?
If thinset doesn't have enough water it won't stick to the surface or smooth out to an even layer. Thinset with not enough water will be harden quickly, be clumpy and won't hold the tiles into place.
Do you use hot or cold water to mix thinset?
You should always use cool water to mix thinset. Warm water will speed up the chemical reaction of the thinset faster than it needs to be.
What do I do with extra unused mortar?
Unused mortar should be scraped into a spare bucket and allowed to harden. The bucket can be thrown in the trash (or taken directly to the dump). If you want to try to reuse the bucket, you could use a hammer and chisel to break the mortar up and remove from bucket. However, we find this is usually more trouble than it is worth and the buckets are fairly cheap.
Can I mix thinset with a cordless drill?
A cordless drill is not powerful enough mix thinset. You'll likely burn out the motor on a cordless drill if you use it to mix thinset.
What's the best drill for mixing mortar?
The best type of drill for mixing thinset is a power drill that plugs in with a variable speed setting. You want to be able to turn the speed down so the drill mixes the mortar slowly.
How To Mix Thinset Mortar for Tile – Video Tutorial
If you love DIY videos, be sure to subscribe to our YouTube channel!
Supplies for mixing thinset
5 gallon bucket
Power drill (plug in, not battery powered)
Thinset mortar (be sure to get the right kind for your tile & application)
Water source (outside hose works great)
Step 1. Measure out water and put in bucket.
Because thinset hardens quickly you never want mix up more than you can use within 20-30 minutes, so never mix up a whole bag of thinset at one time.
The ratio of water to thinset on the back of your bag will likely be for the whole bag of thinset, so you'll need to do some quick math to figure out how much water to use to make a smaller batch.
For example, our instructions said to use 5-6 quarts of water for the entire 50 lb bag. We decided to mix up roughly half of the bag of thinset so we started with 3 quarts of water in the bucket (6 divided by 2 equals 3). To mix up 1/4 of the bag, we'd use 1.5 quarts (6 divided by 4 is 1.5).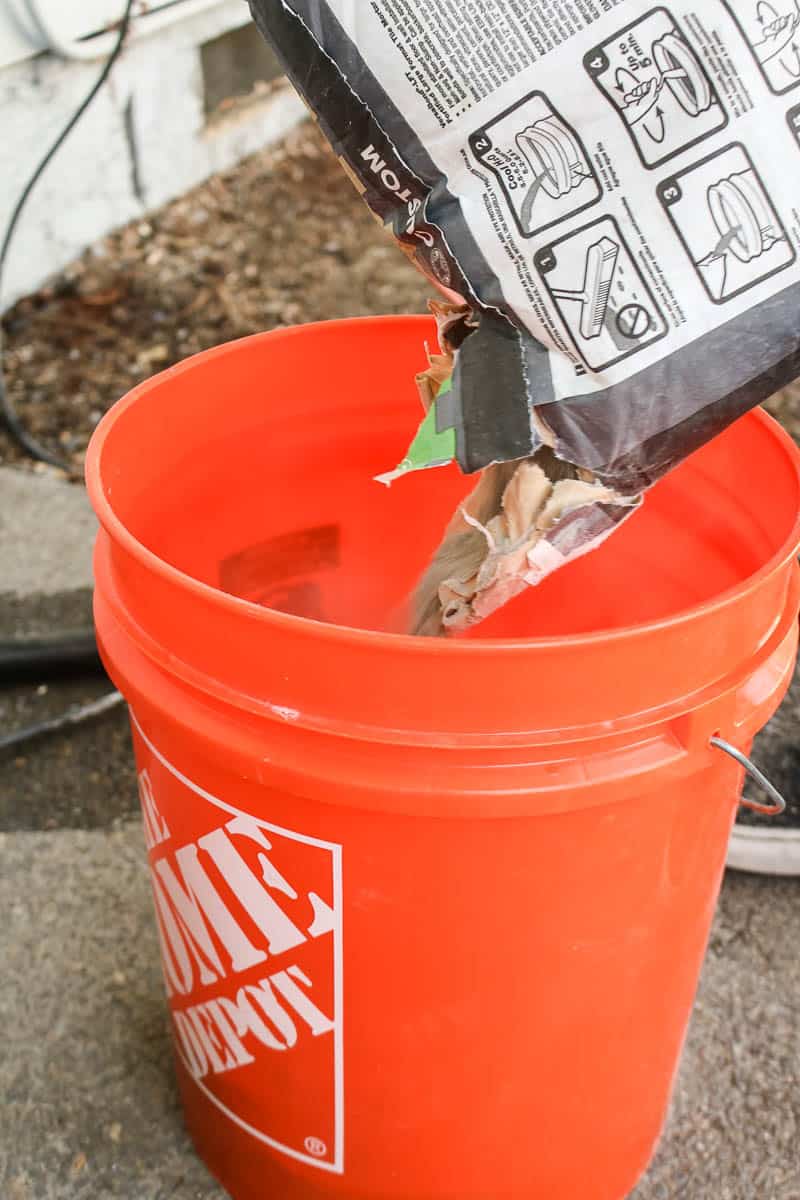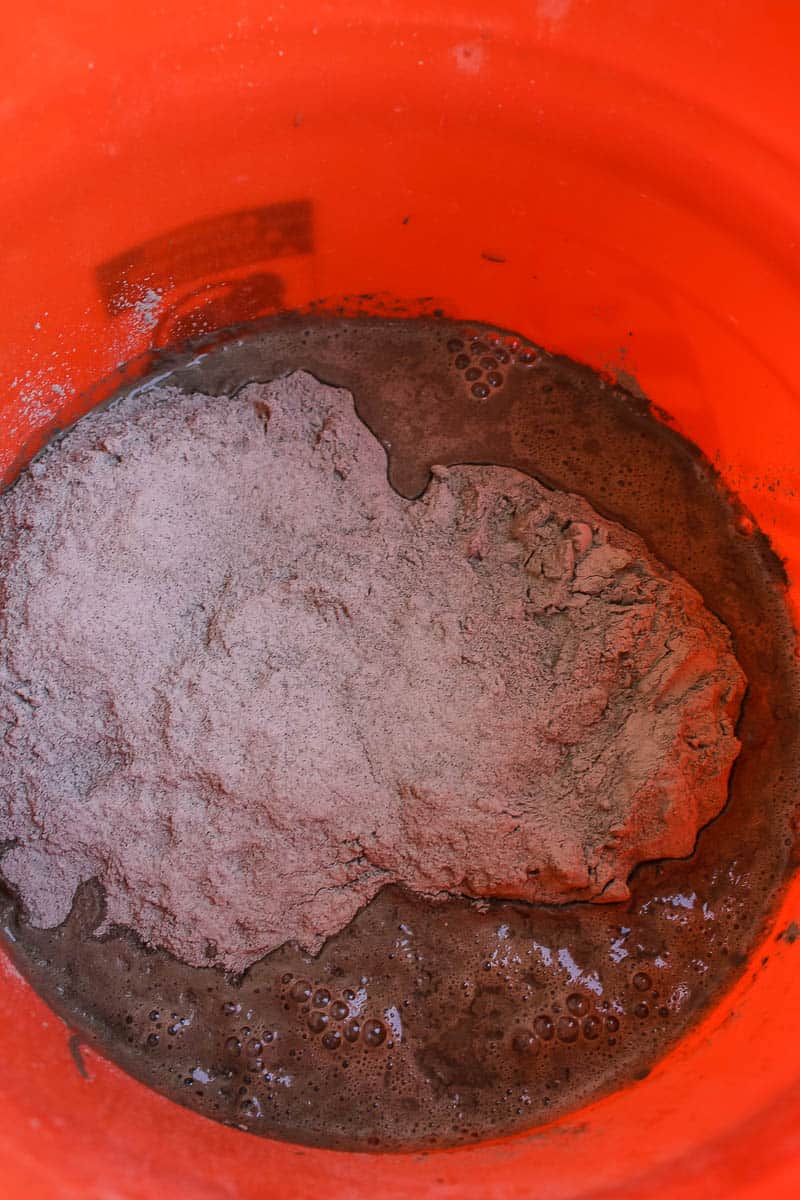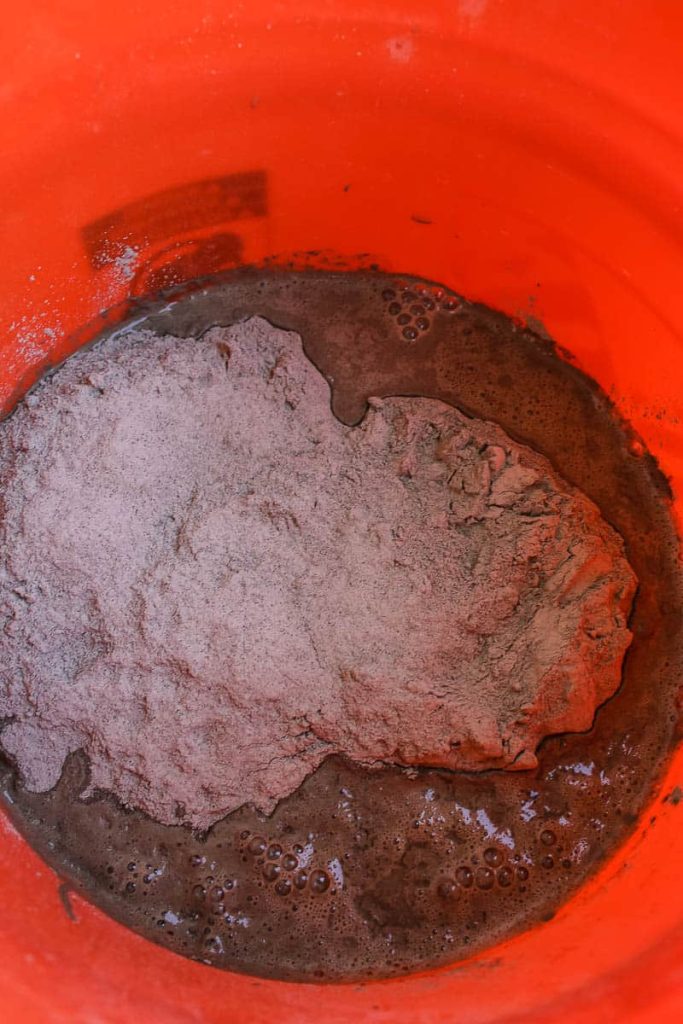 Step 2. Add thinset mortar powder from bag.
Depending on how much thinset you're planning to mix up at once, pour that amount from the bag into the bucket with the water. It doesn't have to be exact here, it's ok to estimate.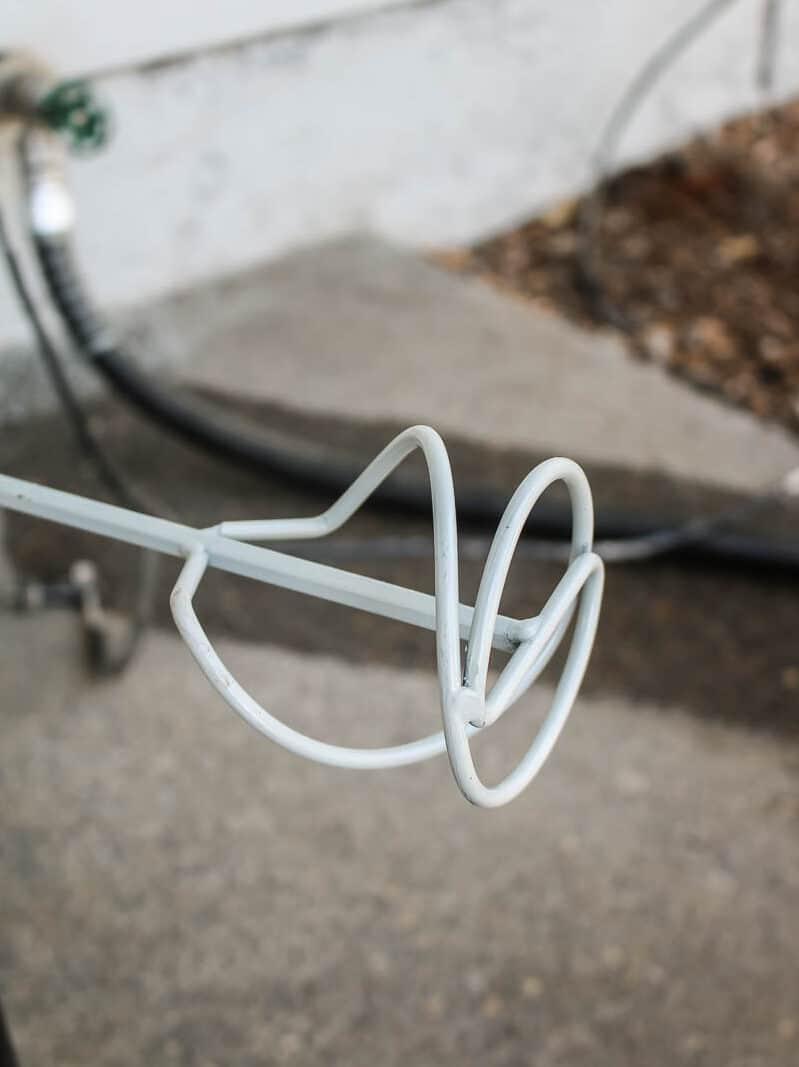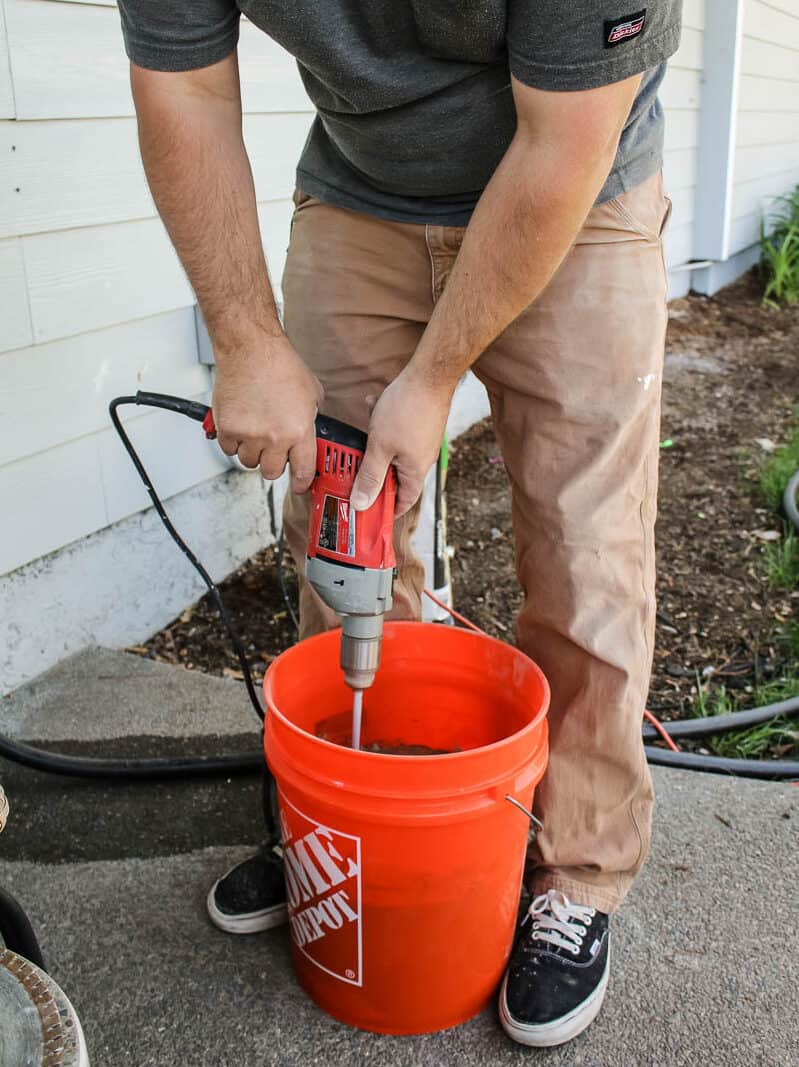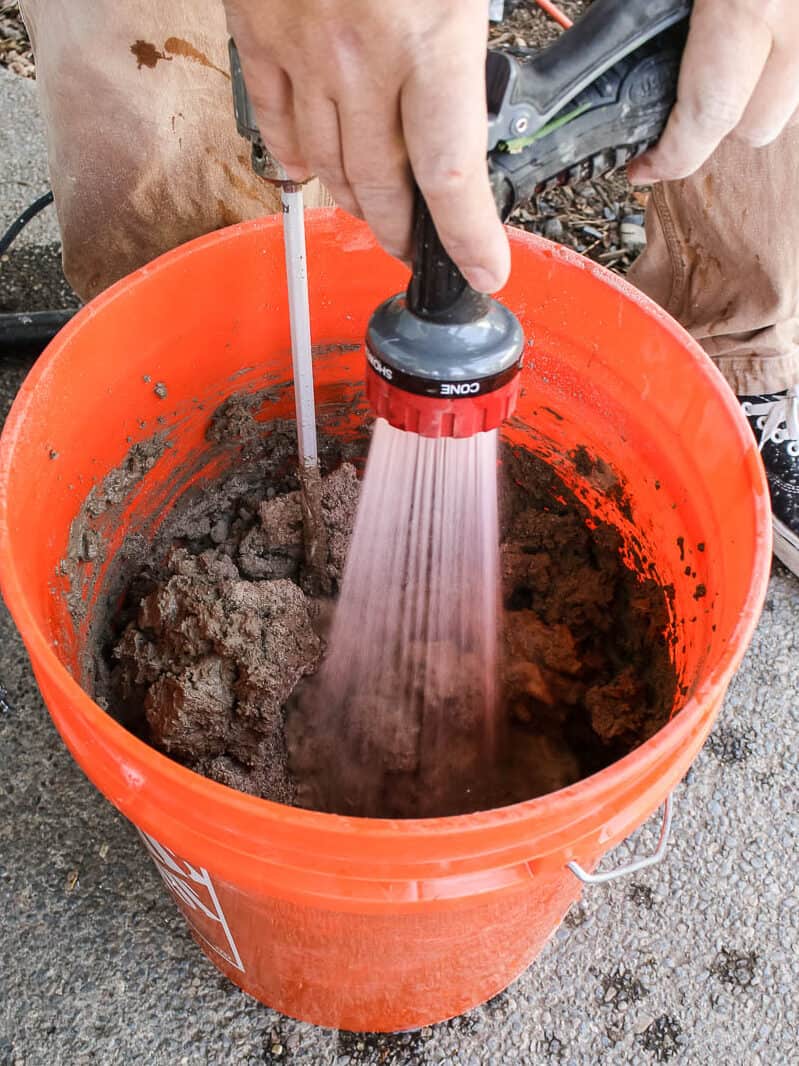 Step 3. Mix water and thinset together.
Using a corded 1/2″ drill with a mixing attachment, mix the water and thinset powder together at a low speed setting. Continue mixing and moving the drill up and down throughout the bucket to get all of the pockets of thinset.
If needed, add more water to get the thinset mixture to a consistency similar to that of creamy peanut butter.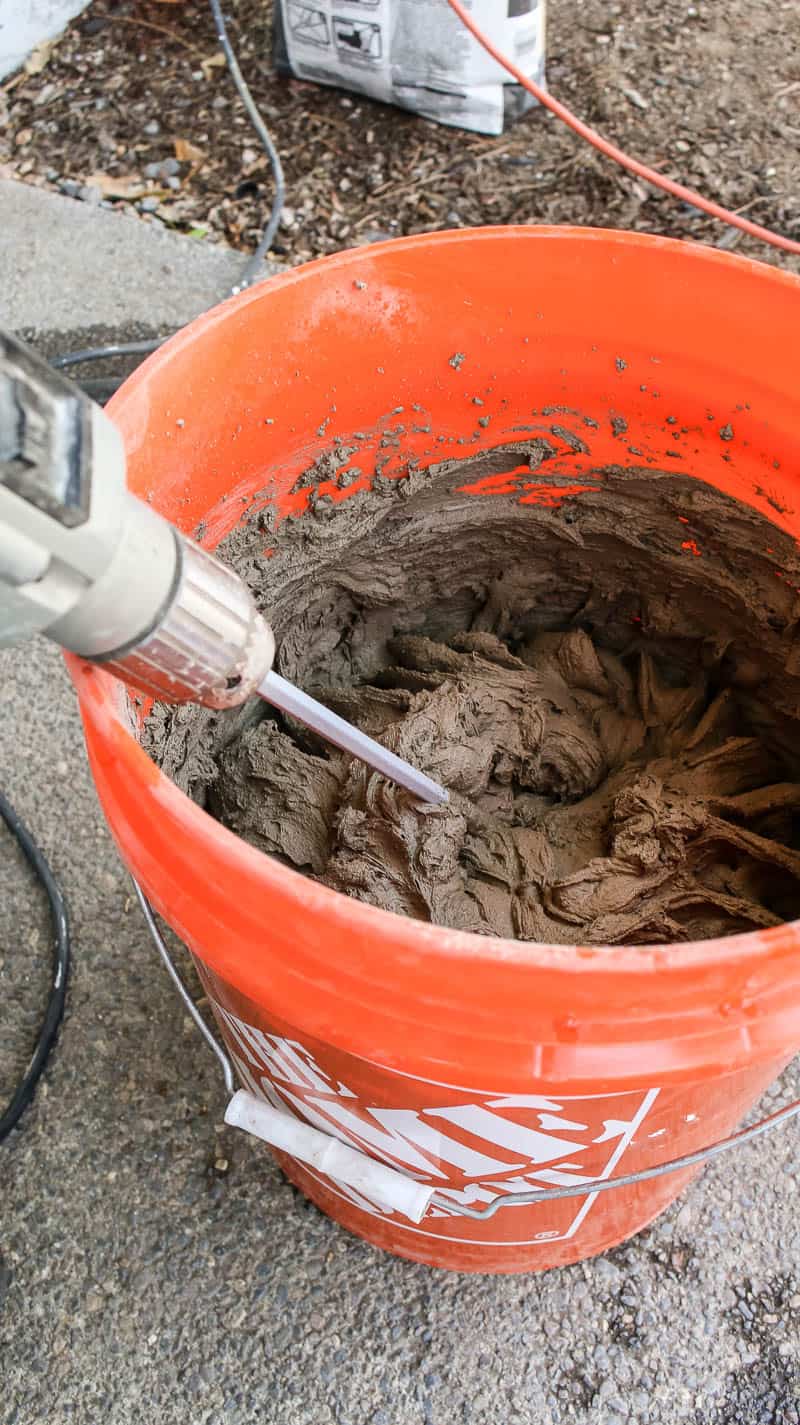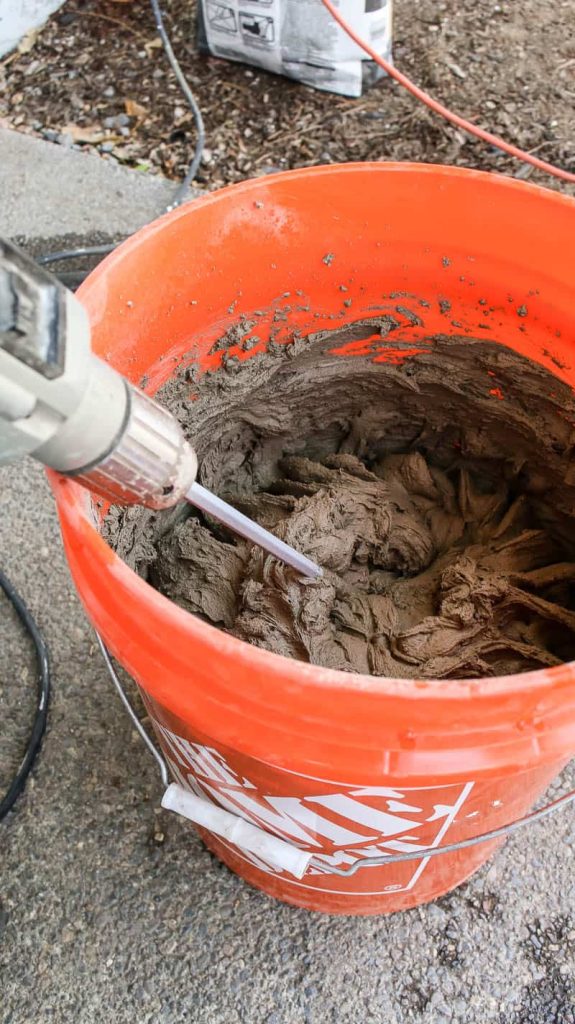 Step 4. Let thinset set (or slake).
Once mixed, let the thinset slake (which is a fancy word for don't touch it) for 5-10 minutes.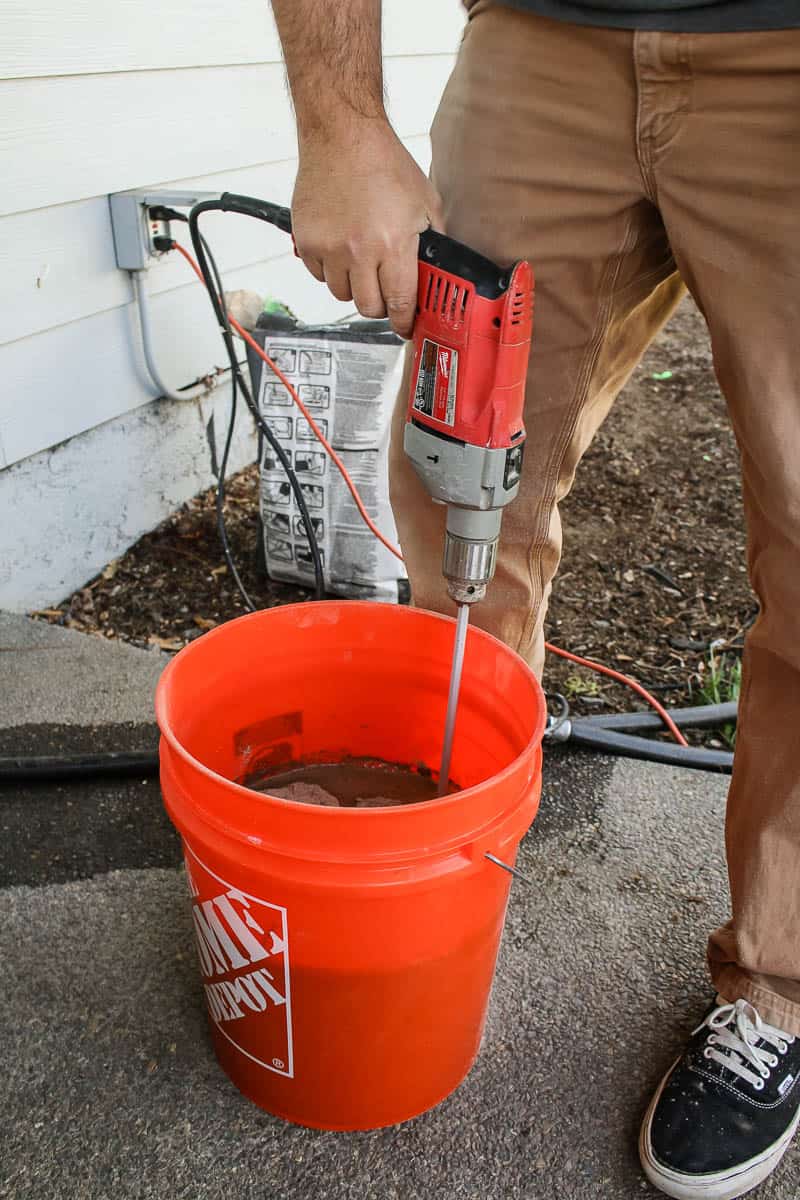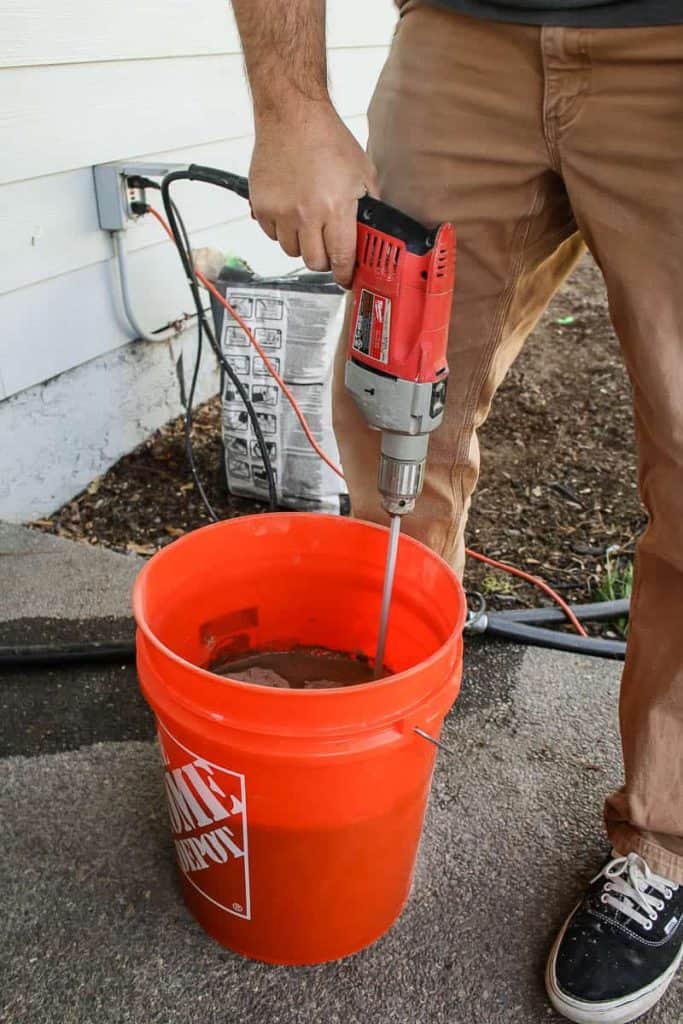 Step 5. Mix one more time after thinset has rested.
Once your timer goes off, the rest is over and it's time to get to work! Stir it up one more time and it's ready to use.
Feel free to mix again if needed while you're tiling, but don't add more water.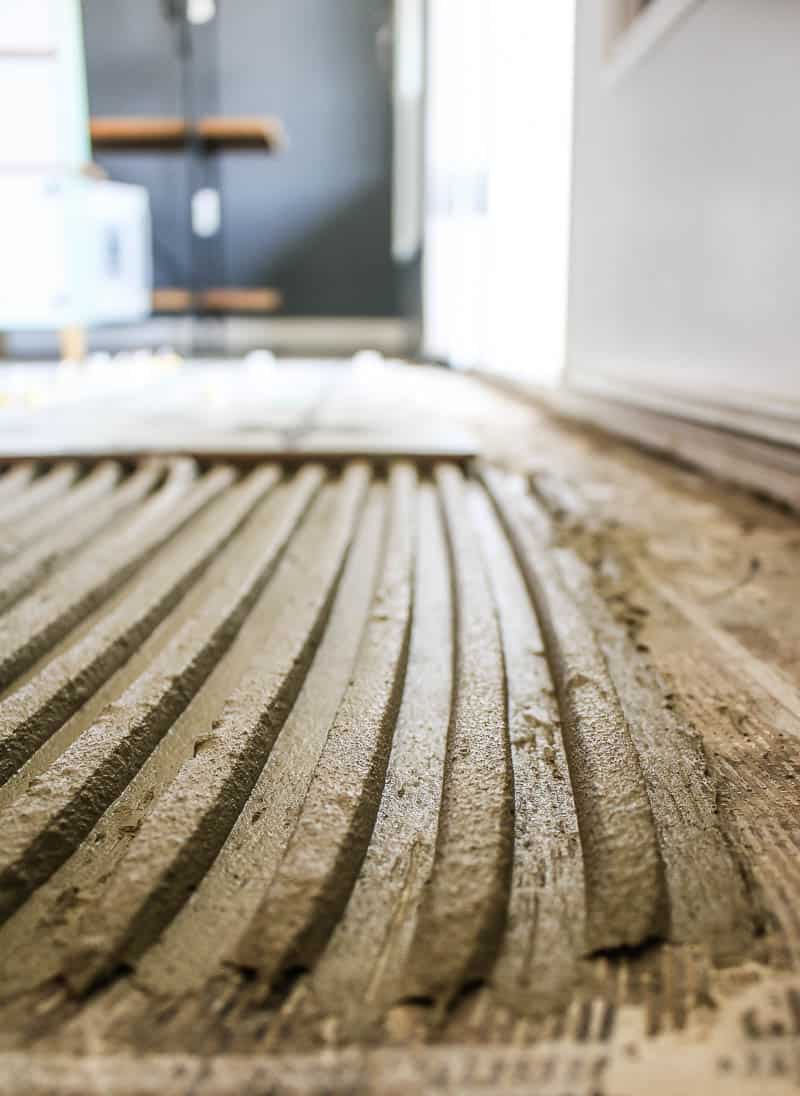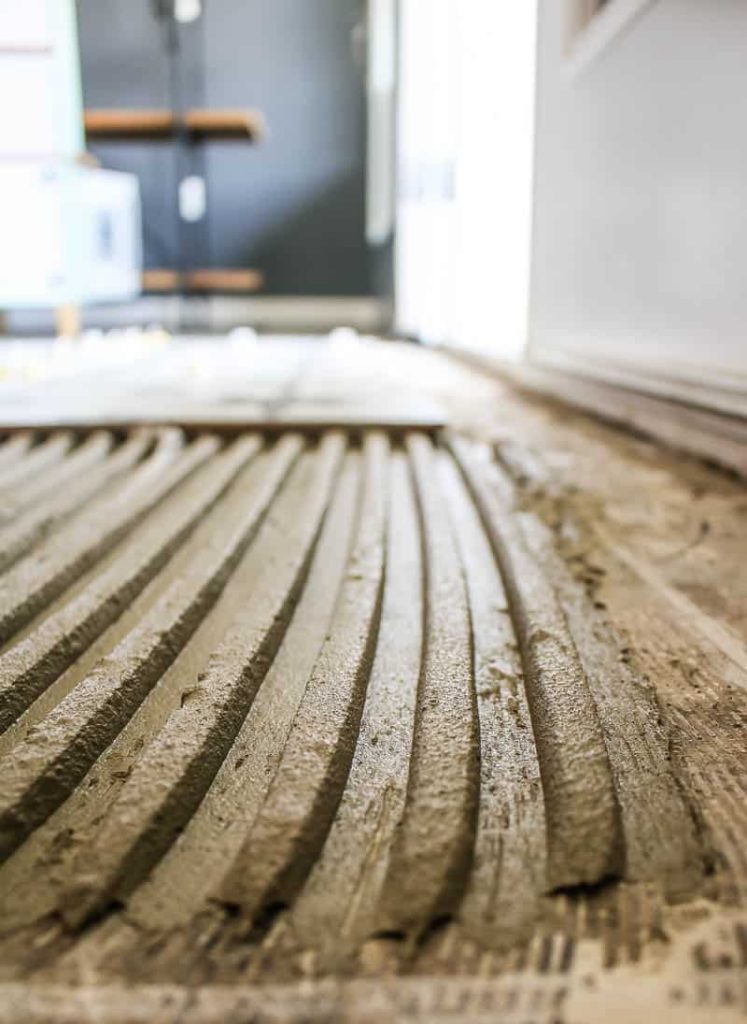 6 Beginner Tips Before You Start Mixing Thinset for Tile
Tip 1. Make sure you're using the right thinset mortar for your tile
There are so many different kinds of thinset depending on your type of tile, method of application, size of tile and more. Read up before you buy to make sure you are using the right thinset for your job.
For our tile entryway, we were using a large format tile (which is anything where one side is more than 15″) so we used a tile made specifically for large format tile.
Tip 2. Water first, thinset 2nd
Always put the water in the bucket first and then add the thinset powder before mixing. If you add the thinset to the bucket first, you may have trouble with clumps of powder getting stuck in the corners of the bucket.
Tip 3. Never add more water after you've let mortar set
Mortar hardening up in the bucket before you're done using it? Don't even think about adding more water the thinset! The thinset won't be as strong if you add water after it has been mixed.
Tip 4. Pay close attention to your thinset mortar's instructions on bag
Every manufacturer and type of thinset will have slightly different instructions, so may close attention to the instructions on your bag – specifically the water/thinset ratio and mixing and rest times.
Tip 5. Never mix a whole bag of thinset at once
Don't make the rookie mistake of mixing up the whole 50 pound bag of thinset and then only being able to use half of it before it starts harden up! Only mix up the amount that you can use in 20 minutes or so.
If you're a beginner, you'll likely be working a little slower as you get the hang of things. So stay on the conservative side and mix up less than you think you'll need.
Tip 6. Don't use a battery operated drill to mix up mortar
If all you have is a battery operated drill, don't try to use it to mix up mortar. It will likely very quickly burn out the motor because cordless drills simply aren't powerful enough to stir thinset.
You'll need something a drill with corded power and it is preferred if it has variable speed setting so you can mix the thinset at a slower speed. We use this drill to mix mortar and it works great.
There you have it! Everything you need to know about mixing up your first batch of thinset for tile! This first important step of tiling doesn't have to be overwhelming as a beginner.
Armed with the knowledge you learned in this article and first and foremost always reading and following manufacturer's instructions, you'll be on your way to mixing mortar like a pro!
Do you have any other questions about thinset or tiling?
Let us know in the comments below!