Are you doing research for an upcoming DIY tile project and wondering if a tile leveling system is worth it? We put QEP's LASH tile leveling clips and wedges to the test with a large format tiling project. Here's what we thought…
No matter where you are laying tiles, tiling jobs are entirely too much work to leave it up to chance. After eyeballing several projects and working with tile types of all shapes and sizes, we realized that the only way to ensure a perfectly even tiled surface is to use a tile leveling system.
Getting the tiles perfectly even and making minor adjustments is much harder when laying large format tiles due to their size. That's why these clip & wedge spacers are SO worth it.
Table of Contents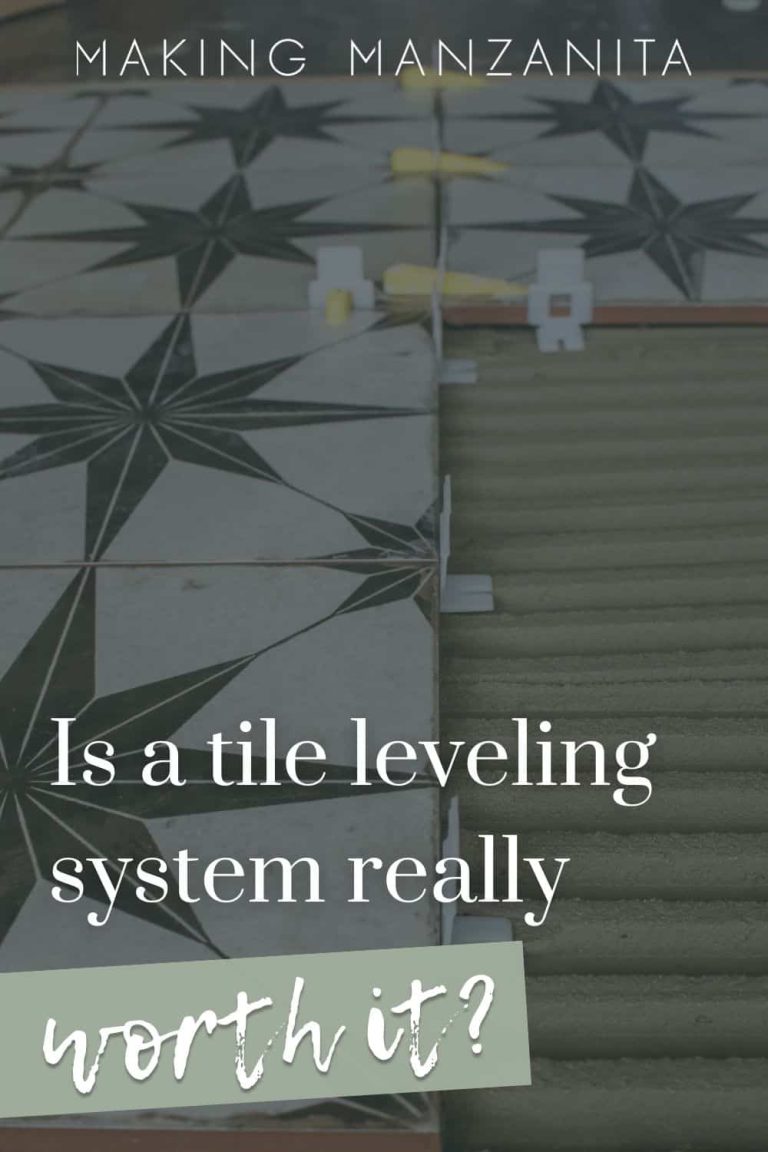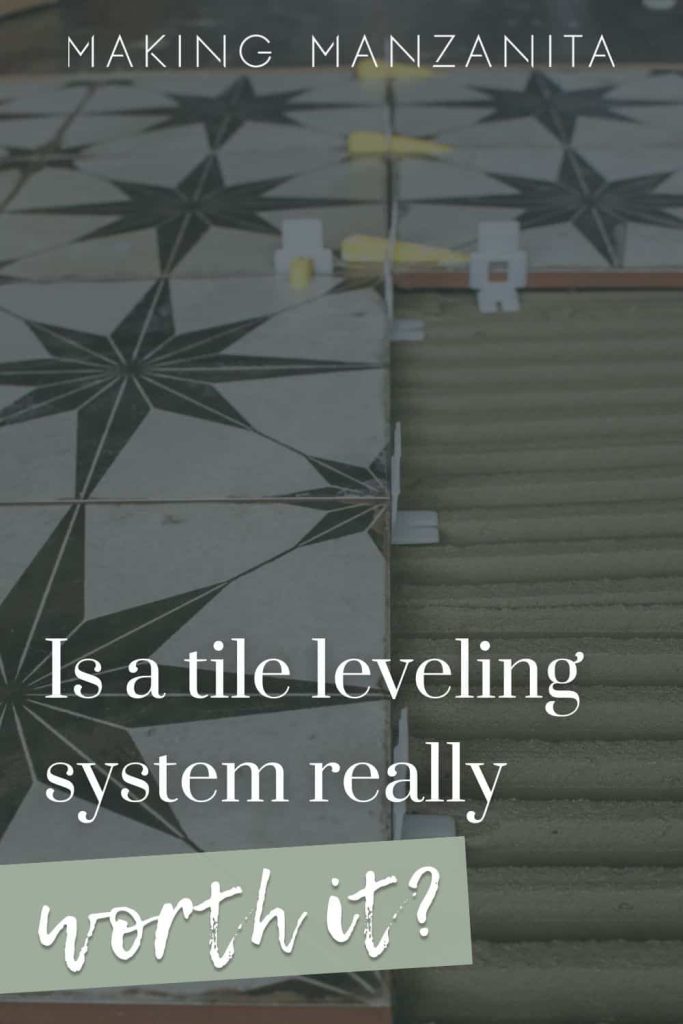 This QEP tile leveling system review contains affiliate links, but nothing that I wouldn't recommend wholeheartedly. Read my full disclosure here.
But they aren't JUST for large tiles. The lash clips can be equally helpful for tiling with smaller tiles too.
The QEP lash system is perfect for beginners! It makes it easy to get a perfectly smooth surface and beautiful grout lines.
Related reading – If you are new to tiling or large format tile, here's everything you need to know about large format tile!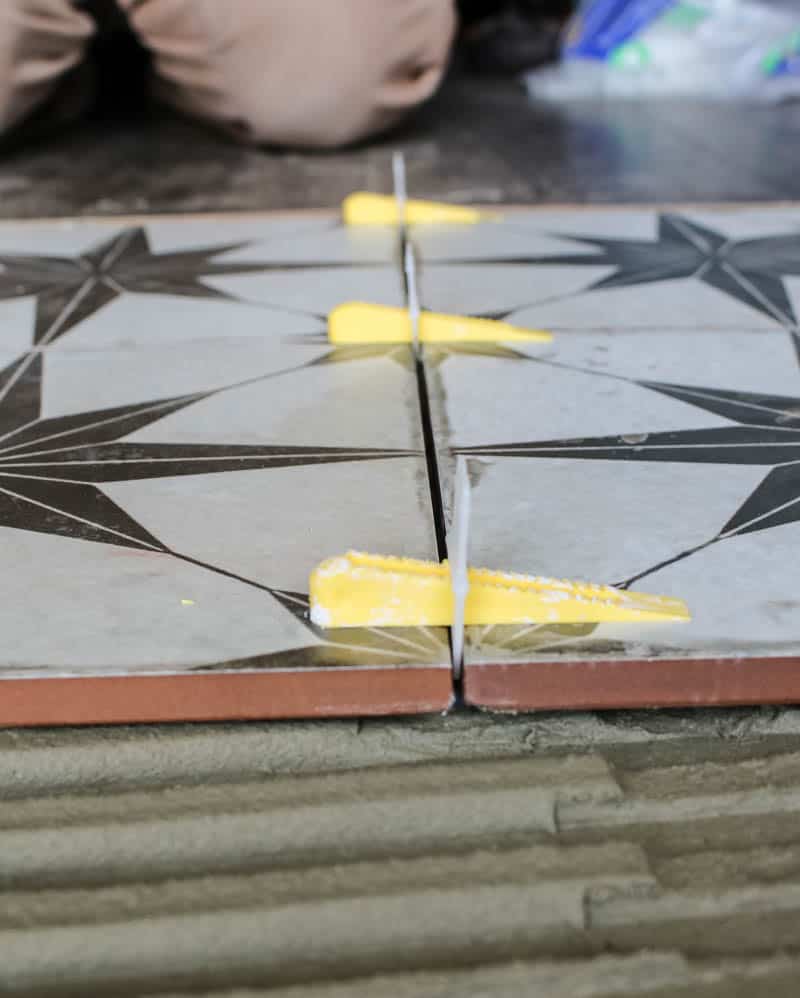 What is a lash tile leveling system?
A tile leveling system helps you space your tile out properly and ensure everything is level and flush. The wedges and clips interlock the tiles, so as the thinset dries, the surface remains smooth and flat.
Unless you are using lugged tile (which means they are designed to be used without spacers), as we did for our subway tile backsplash, you will need a solid tile leveling system to prevent tile lippage.
Lippage is a fancy word for when the tiles aren't level with each other. Lippage not only looks bad, but it can be a tripping hazard on tile floors.
QEP Tile Leveling System Review
Our preferred tile leveling system is QEP's lash system. We've done our fair share of tiling projects around our home.
After we tried out the QEP tile spacers and clips on our master bathroom renovation, we were sold!
Watch the video below for the full review of the QEP system!
If you love DIY videos, be sure to subscribe to our YouTube channel, so you don't miss the next one! We share weekly renovating and DIY tutorials.
QEP's clip and wedge spacers not only give you the right spacing between your tiles but also help keep the tiles level with each other. Most notably, they prevent lippage, which is a major tiling headache!
Lippage isn't easy to fix either. It can cause a tripping hazard on floors and requires removing the tiles and redoing the work to fix the issue. Take our word for it, and invest in a tile leveling system instead.
How to Use Lash Clips
QEP's lash system is slightly more expensive than other spacers but well worth it and easy to use.
There are two parts of the QEP lash system: the wedge and the spacers.
The spacer is placed like an upside-down "T" at the edge of each tile, with the bottom sliding underneath the tile.
After the adjacent tile is laid down, the wedge (yellow part) slides into the spacer and clicks into place while pushing the tiles down to ensure they are level with each other.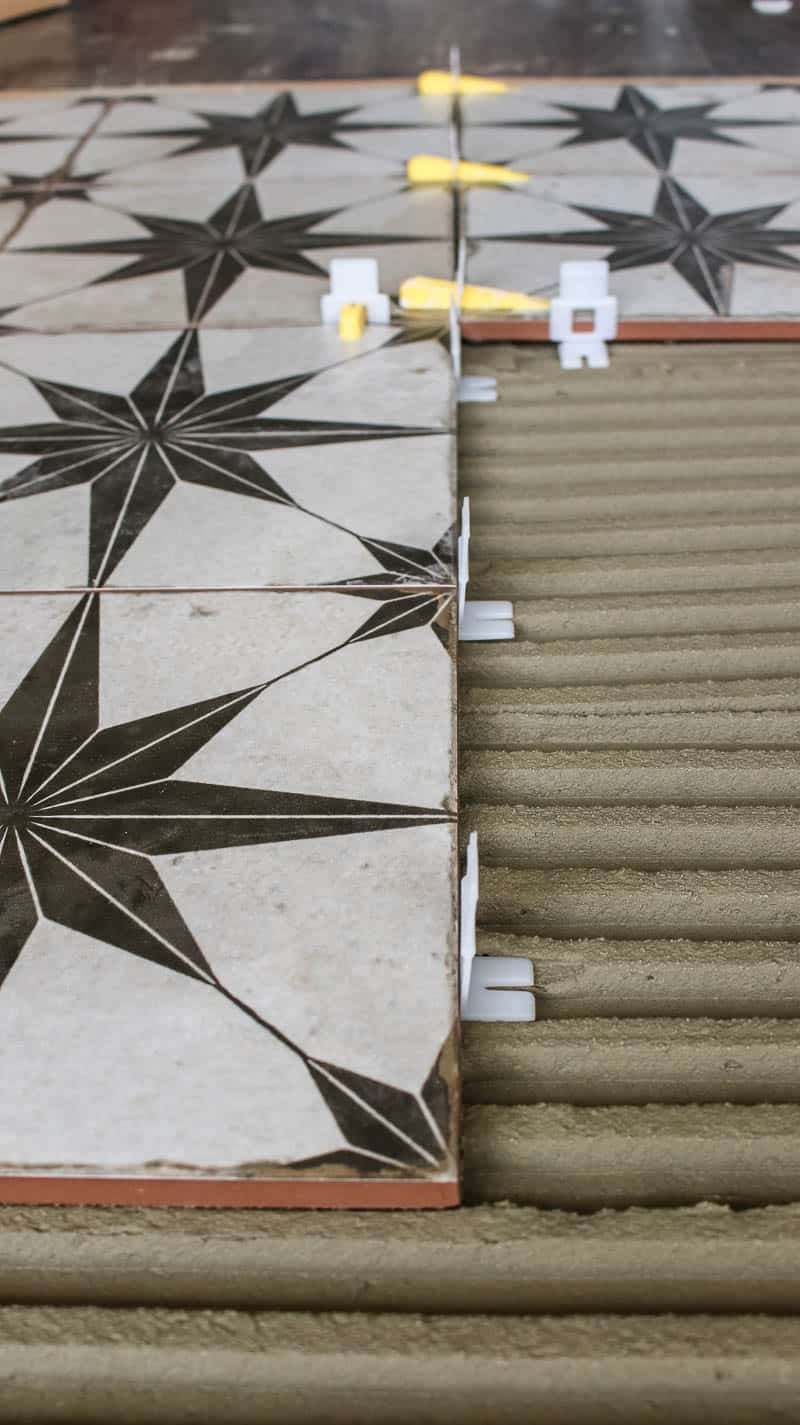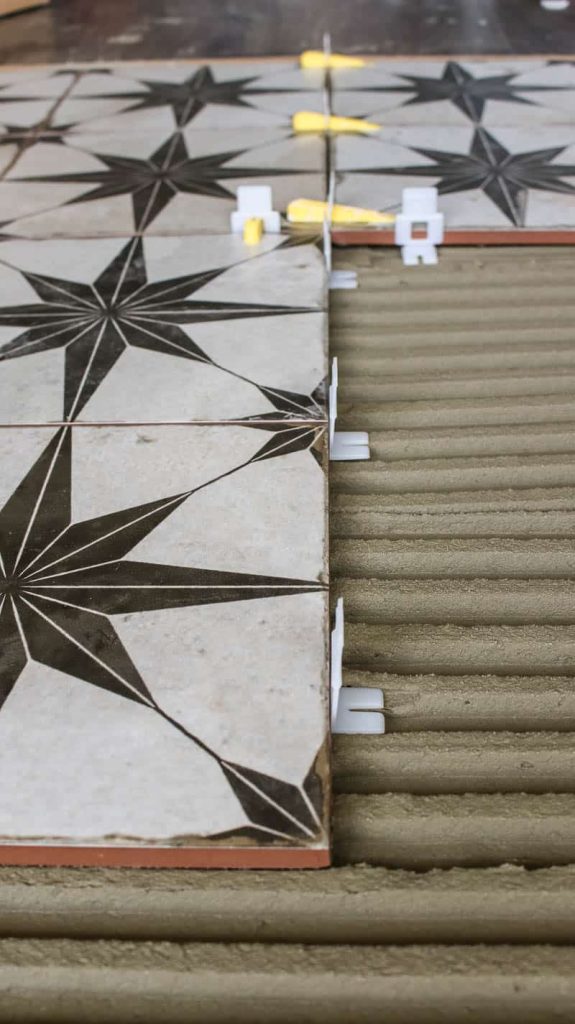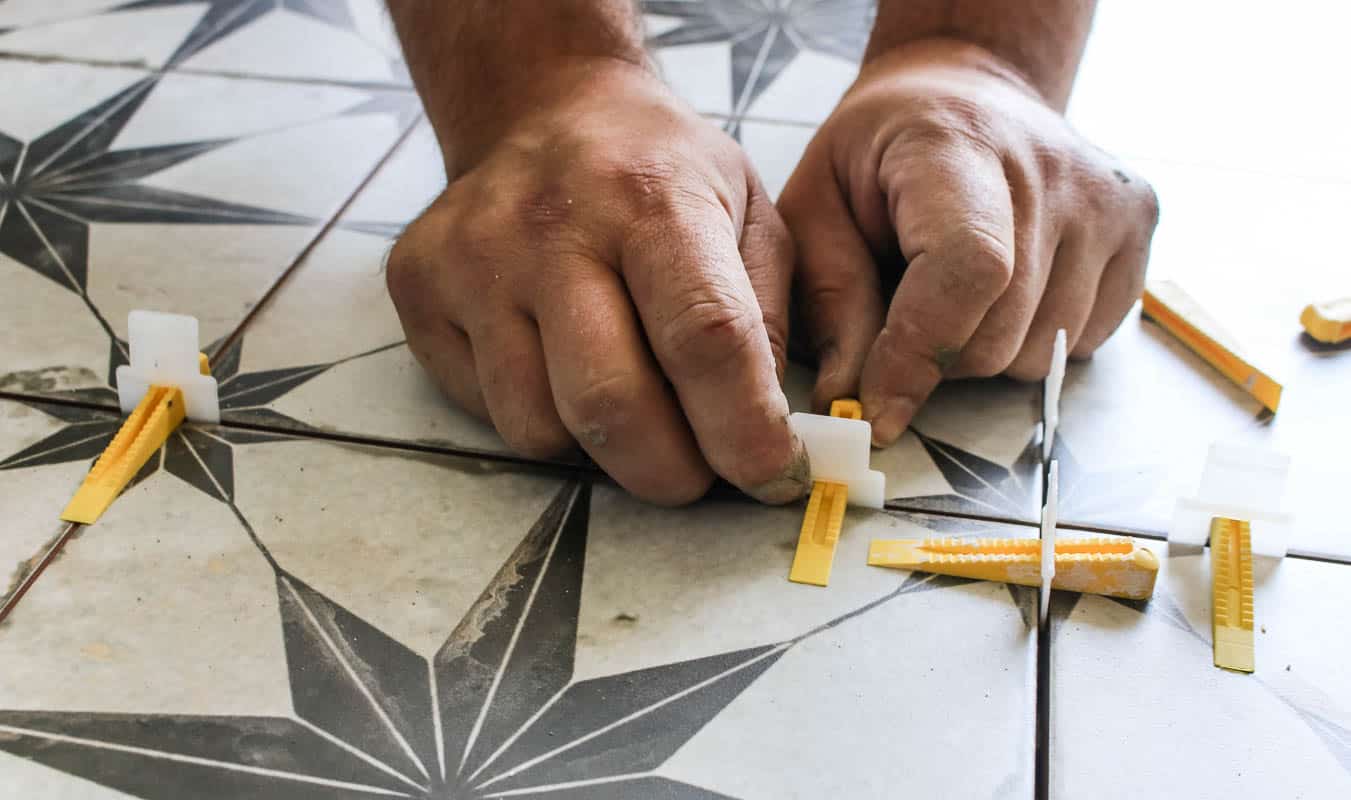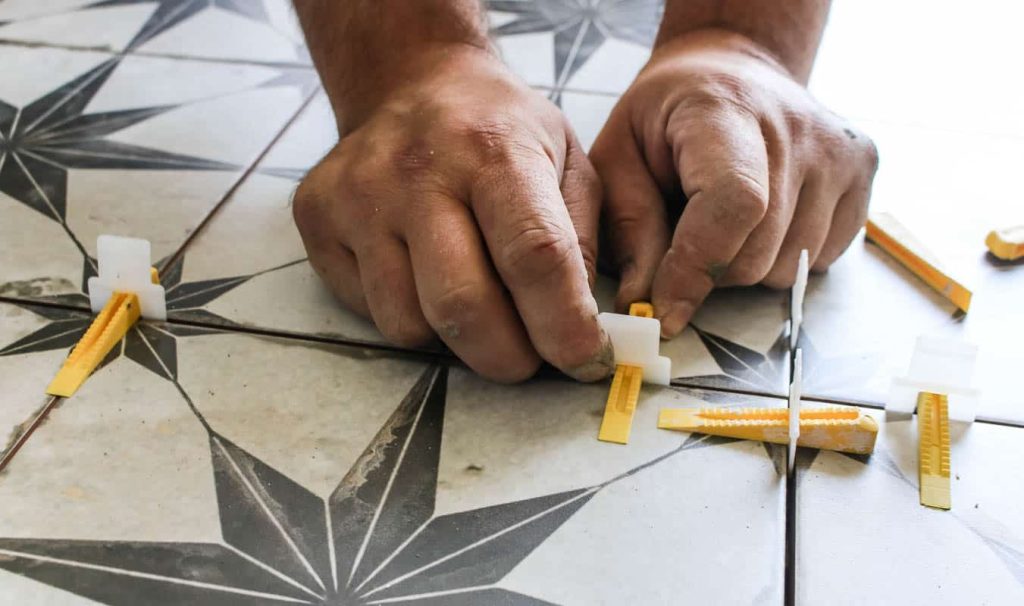 Add the spacers after applying the mortar to the back of the tile (ie: back buttering) and placing the tile on the surface. After the mortar has been set, the wedges can be removed and the top half of the tile spacers is broken off (see more about removing it below).
Depending on your space, you may be want to also take the time to "dry fit" your tile first. This is just the process of laying out all of the tiles and spacers (without mortar) to make sure there are no super tiny cuts needed at one edge.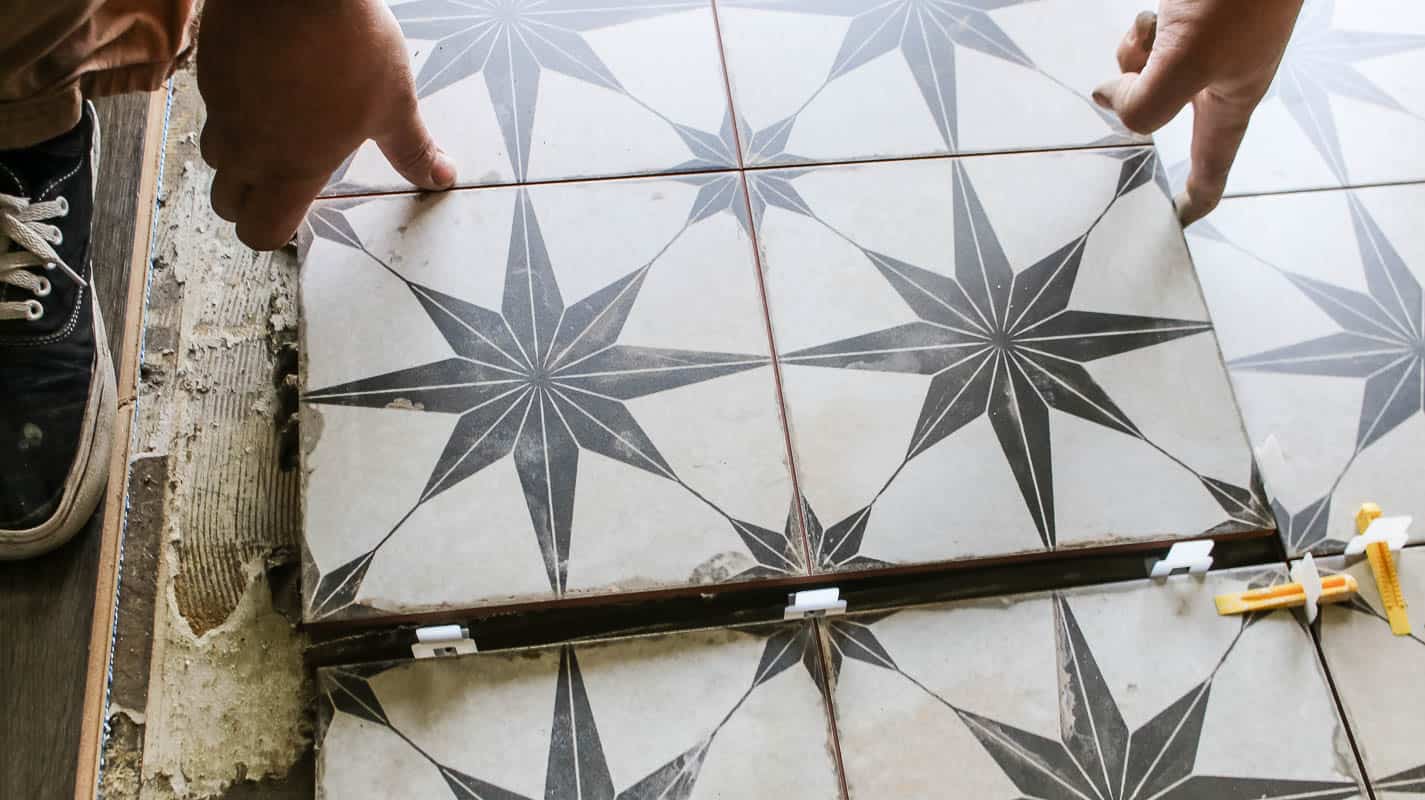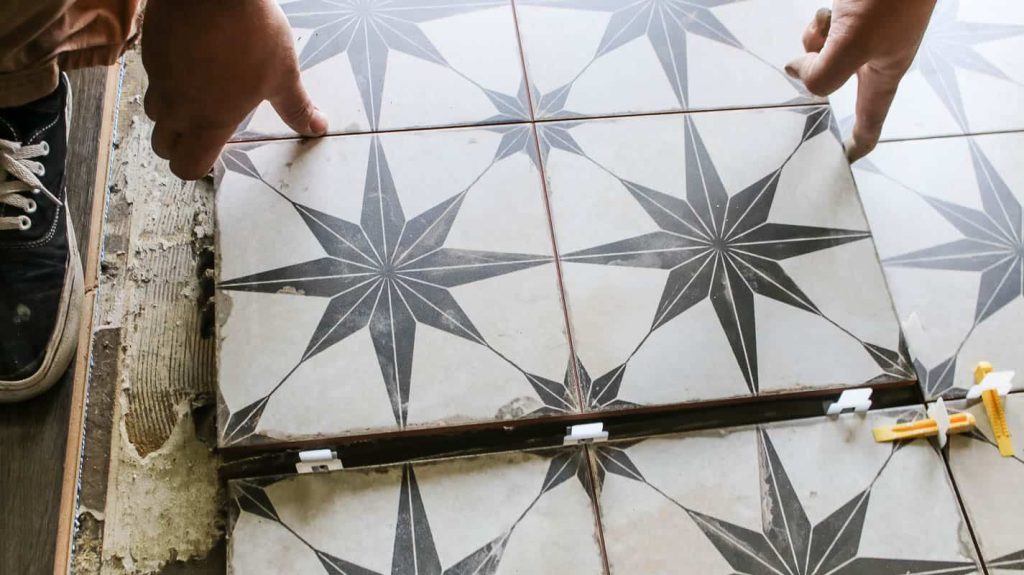 Dry fitting also allows you to cut all on your tiles beforehand, which can make it easier when you're installing tiles by yourself. Remember that thinset mortar starts to harden pretty quickly after mixing so it is super helpful to have everything precut!
Do I need the Lash installation pliers?
While shopping for the tile spacers, you may have come across the QEP Pro Installation Pliers and be wondering if you need to purchase them.
The Installation Pliers are for pushing the ledge into the clip. QEP claims that they are designed to comfortably apply just the right amount of pressure to the wedge to get it into the clip without overtighting. The pliers will also help prevent accidentally moving the tile around with your hands as you push the wedge into place.
We've never tried the pliers and found that the wedges aren't very hard to push into place manually, but if you had a big tile project – it may be worth the investment to get the installation pliers to make the installation more comfortable on your hands.
How to Remove Lash Clips
To remove the lash clips on the floor, simply kick the spacers away from the tile (like in the video) or remove them with pliers. The bottom part of the spacer will remain in place underneath the tile to keep everything level.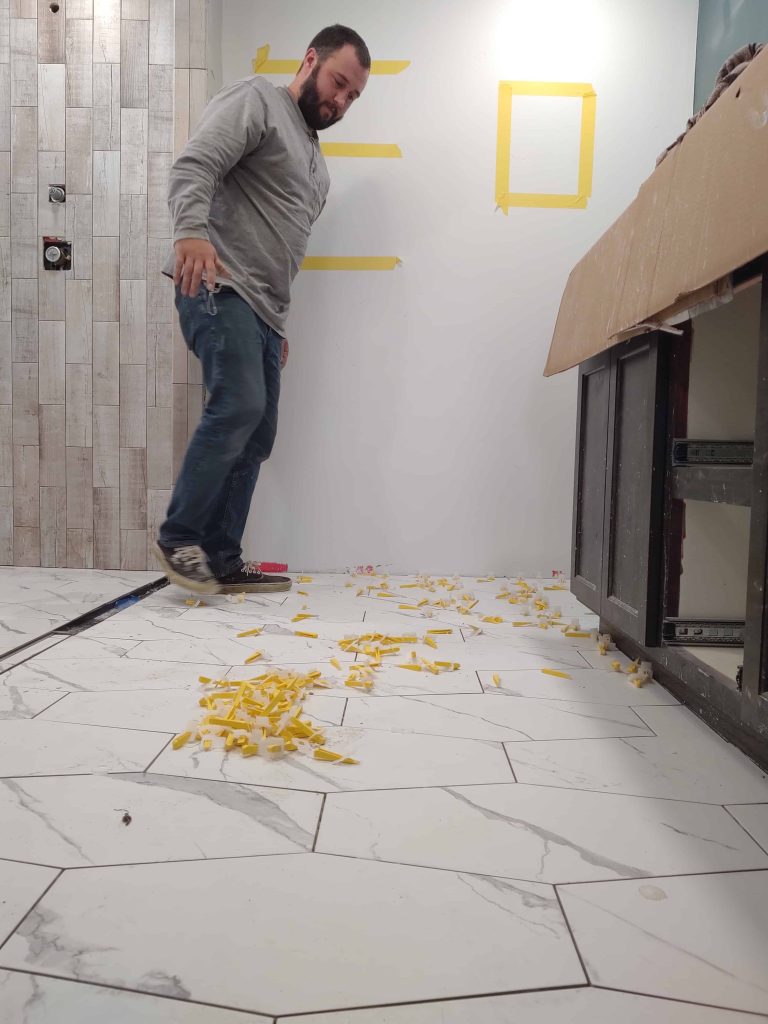 The clear T-shaped spacers aren't reusable, but save the yellow wedges to reuse for another tiling project.
If you're removing lash clips from tiles installed vertically on walls, we've found that simple needle nose pliers work great for grabbing the top half of the tile spacer and breaking off.
While most mortar is set within a few hours, keep in mind that some adhesives may take longer to cure. We recommend waiting at least 24 hours before removing the lash clips.
Flat vs. Curved Tile Leveling Clips
The shape of leveling clips depends on the type of tile you are using.
Flat tile leveling clips are used for tiles that are 1/4″ to 7/16″ thick and don't have major surface level problems. We did not have any surface leveling issues, so we stuck with flat leveling clips.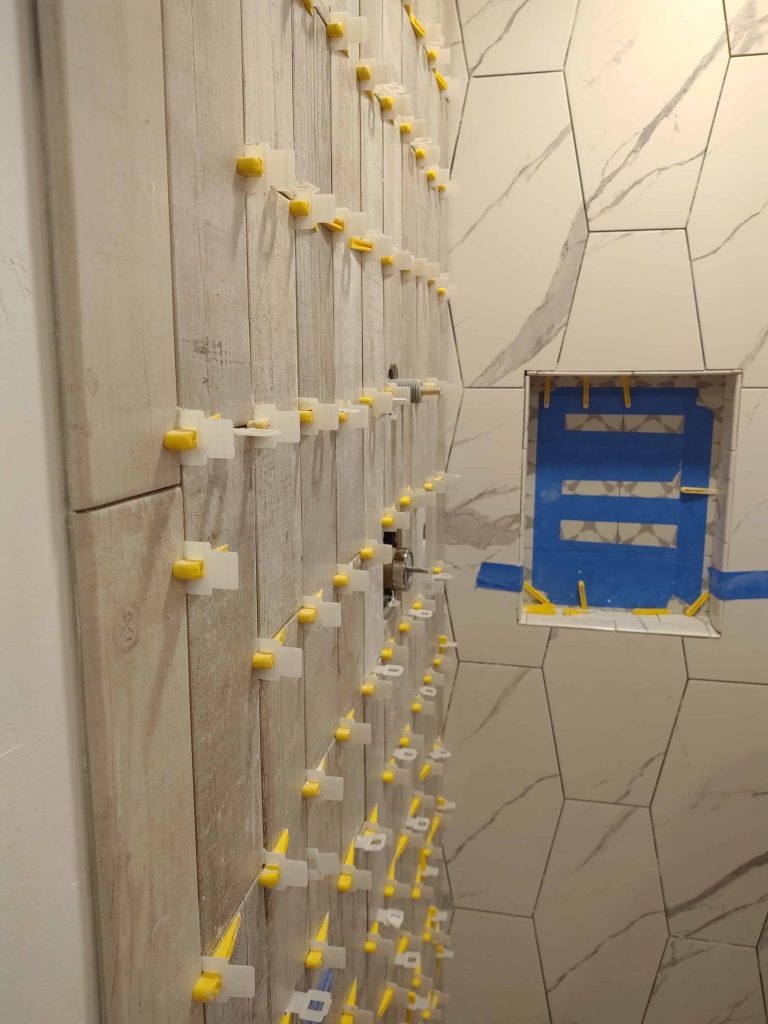 Curved clips are used for tiles 3/16″ to 7/16″ thick and require a 1/2″ x 1/2″ x 1/2″ square notched trowel for installation.
Curved clips are also great for leveling an adjacent tile of the same or different thickness and help with even grout lines if the substrate is uneven.
How many tile spacers do I need to buy?
For smaller tiles, you could get away with one spacer on each side. For larger format tiles, I recommend doubling up and using two spacers per side.
Where to buy?
You can buy the QEP lash tile leveling system at most big box retailers – like The Home Depot.
Lowe's carries a different brand of tile leveling spacer and wedges called Project Source. We've never tried the Project Source system, but it looks to work very similarly to the QEP brand.
If you know that you have a tile project coming up, you can also order the QEP spacers online on Amazon.
Conclusion: are lash tile leveling systems worth it?
It's no secret that QEP Lash Clips have saved us so much time and money. When used correctly, lash clips help get that perfectly even tiling surface for a beautiful end result!
Although the QEP lash tile spacers are more expensive than other cheap tile spacers, they can make a huge difference in getting your tiles spaced evenly and leveled correctly – especially if you're a beginner.
If you're an expert tiler or you are tiling with a small tile on a very flat surface, the QEP lash tile system may not be worth the extra expense. But in every other instance, I think they are worth it!