Do you love the look of large format tile? In this post, you're getting an update on our progress as of Week 3 on the master bathroom renovation, 9 ideas for large bathroom tiles and a guide of everything you need to know about large format tile!
If you're hopping over here from the Jeffrey Court website (or if you're new here) – welcome! Making Manzanita is all about making your house a home you love. My hubby and I (with our two small kiddos in tow) are renovating our 2nd fixer upper. We love teaching our readers everything we learn along the way. Our style is modern farmhouse with some major boho vibes, which you'll see reflected in this bathroom renovation. Enjoy!
This post and the Renovation Challenge is sponsored by Jeffrey Court. All opinions are entirely my own and do not reflect that of Jeffrey Court. This post also contains affiliate links, but nothing that I wouldn't recommend wholeheartedly. Read my full disclosure here.
Welcome to Week 3 of the Jeffrey Court Renovation Challenge! Things are moving right along over here with our master bathroom renovation and we're making good progress!
Want to catch up and see more about our master bathroom renovation?
Each week we've been sharing a super fun behind the scenes video…in week 1's video you see a trip to Urgent Care from a demo gone wrong and in week 2 you see things really start taking shape. Here is this week's video….
Now in today's post we're going to be talking about tile…specifically large format tile.
Before we dive in here, I want to remind you that we've got a WHOLE post about laying large format tile, how to tile a bathroom floor with a step-by-step tutorial and ANOTHER whole post full with shower tile installation tips and tricks. If you are reading this post about large bathroom tiles, you're probably interested in doing some bathroom tiling, so those are two must read articles. Check out all of our tiling articles here.
Large format tiles are all the rage. What used to only be used in commercial projects, they have become increasingly popular for residential designs as well. After we did a TON of tiling in our last bathroom renovation, Logan said "if we ever do tile again – it better be large format".
The truth is that you can save SO much time by using large format tile, especially if you are installing the tile pieces one by one (rather than a mosaic). The more surface you can cover by installing one piece of tile, the better.
So when we started planning this master bathroom renovation that we were going to try to tackle in 6 weeks for the Jeffrey Court Renovation Challenge, I knew time was of the essence. I narrowed my search to only look at large bathroom tiles and there were tons of great options. I've rounded up some of my favorites below.
UPDATE: We're all done with the bathroom now, check out how it turned out here!
Ready to see these 9 Large Bathroom Tiles ?
9.75 x 21.625 Winter Peak | 9.5 x 19.25 Castle Rock Gray (discontinued) | 12 x 24 Sienna Grey (discontinued) | 10 x 20 Poppy Blue (discontinued)
9.5 x 19.25 Statuary Path (discontinued) | 18 x 18 Organza Loom
10 x 20 Morning Tide Gray | 18 x 18 Eyelet Dream | 10 x 20 Wintermint
Jeffrey Court has SO many great options of large bathroom tiles, right? It was pretty hard to choose, but we finally landed on the Statuary Path tile for the floor and back wall of the shower, which is just freaking gorgeous, right. To see more about our bathroom design (including renderings!), check out last week's post.
Are you ready to learn everything you need to know about large format tile??
Now, large format tile is great because you can install it faster….but there are A LOT of other things to consider if you are going to be installing a large format tile. While we were researching everything we'd need to do, we learned a lot and so we thought we would make a little guide for you with everything you need to know about large format tile.
Before we get ahead of ourselves here, we should probably answer a question that you may be wondering…so just to clarify…
What is large format tile?
Large format tile is more than 15″ on at least one side.
Pros of large format tile
Installation is WAY faster
Large format tile makes the room appear larger
Fewer grout lines means it easier to clean and maintain
Smooth and seamless look
Cons of large format tile
Flat and level surface is even more important when installing large format tile to prevent cracks or lippage (which is when the adjacent tiles aren't even)

Side note: if you do have floor or wall that isn't flat, mortar should never be used to flatten it! That's just not what it is for. You'd want to use self leveling patches or you may even need to sand or grind down high spots. This can add a lot of time to your project, so be sure to check all of your surfaces before you get going.

Large format tile can be more expensive than traditional tile
It is harder to create slopes for drainage in a shower because you can only angle the tile one way. If you need to a create a circular drainage slope, you will likely have to cut the tiles to get the right angles.

This is why we decided to use linear drains installed on one side of the shower. This way, we can create our shower pan angled towards one direction…rather than angling everything towards the center with a traditional drain.

Large format tiles are more likely to crack in the long run
Large format tiles are more likely to be warped or have doming (which is where the middle of the tile is higher than the sides) during production
4 tips for working with large format tile
1. Flat and level surface is key!
I know I already said this, but it's worth saying it again because it is probably the most important part of working with large format tile.
ANSI and Tile Council of North America say no more than 1/8″ variance for 10′ spans.
2. You must use a medium bed mortar base that is made for large format tile
The mortars that are made for large format tile are formulated with more coarse materials, which help prevent slumping (aka large and heavier tiles sinking into the mortar) or sagging.
But a bit of a warning, they can sometimes be harder to trowel than traditional mortars. The large format tile mortar that we used has both non-sag and non-slip characteristics.
3. Get a large notched trowel
Using a larger trowel when installing large format tile is going to save you a ton of time. When you're trying to renovate an entire bathroom in less than 6 weeks, you'll do anything to save some time!
It is recommended to use a 1/2″ square notched trowel to get the proper setting for large format tile.
4. Back butter your tiles
Getting good coverage on large tile is important, they require 90%+ mortar coverage. This means that if you were to pull up one tile while you're installing it, the back of the tile should be at least 90% covered in mortar. And yes, you should totally be pulling up tiles as you go to be checking your coverage.
Back buttering is a method of applying mortar to the back of the tile using the flat side of the trowel before laying it down on the bed of mortar (which should be combed with a notched trowel).
See told ya there was a lot to learn about installing large bathroom tiles! They can be great for getting a job done fast, but there's a lot to learn and consider when you are installing them…like making sure you are using the right materials and supplies and ensuring everything is flat and level.
For more tips on laying large format tiles, check out our step-by-step tutorial here.
UPDATE: We're all done with the bathroom now, check out how it turned out here!
---
Are you ready to see our Week 3 progress??
Well if you watched our behind-the-scenes video above, you know that we had another week of ambitious goals. Logan was headed out of town at the end of the week, so we wanted to be sure that all of the drywall got attached and textured so that I can start painting next week.
You can check out how the other designers in the Jeffrey Court Renovation Challenge are doing here – don't forget to vote for us while you're there! You can vote once per week.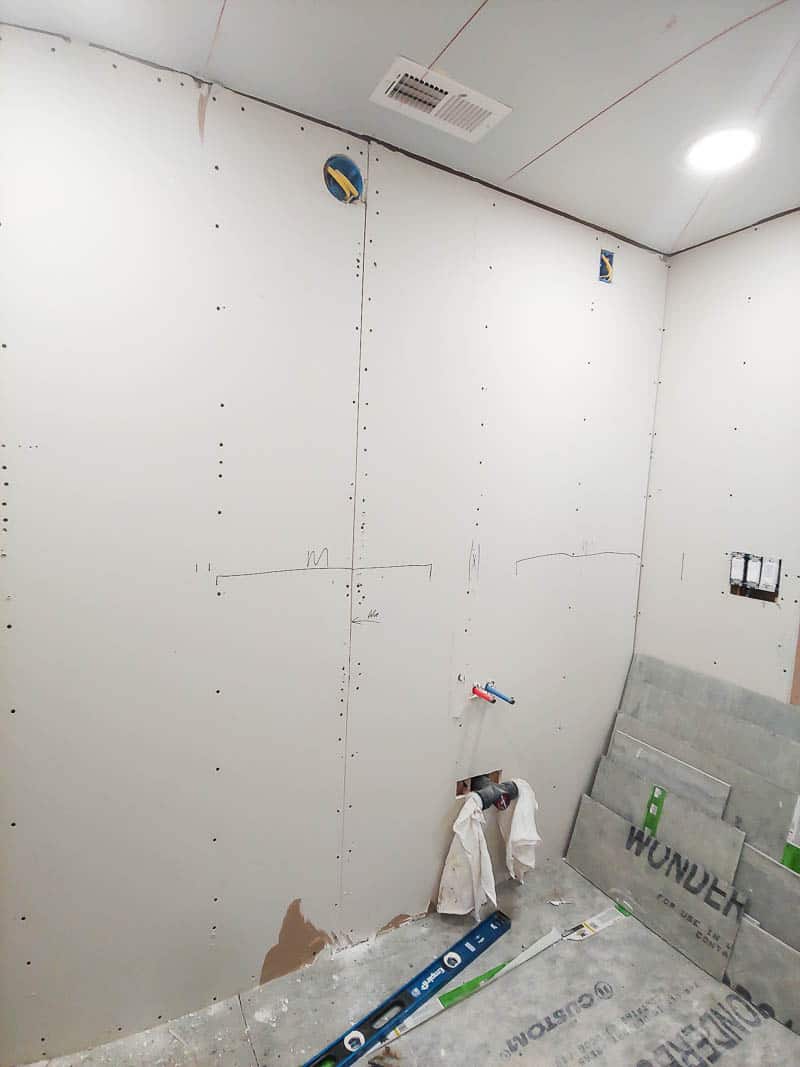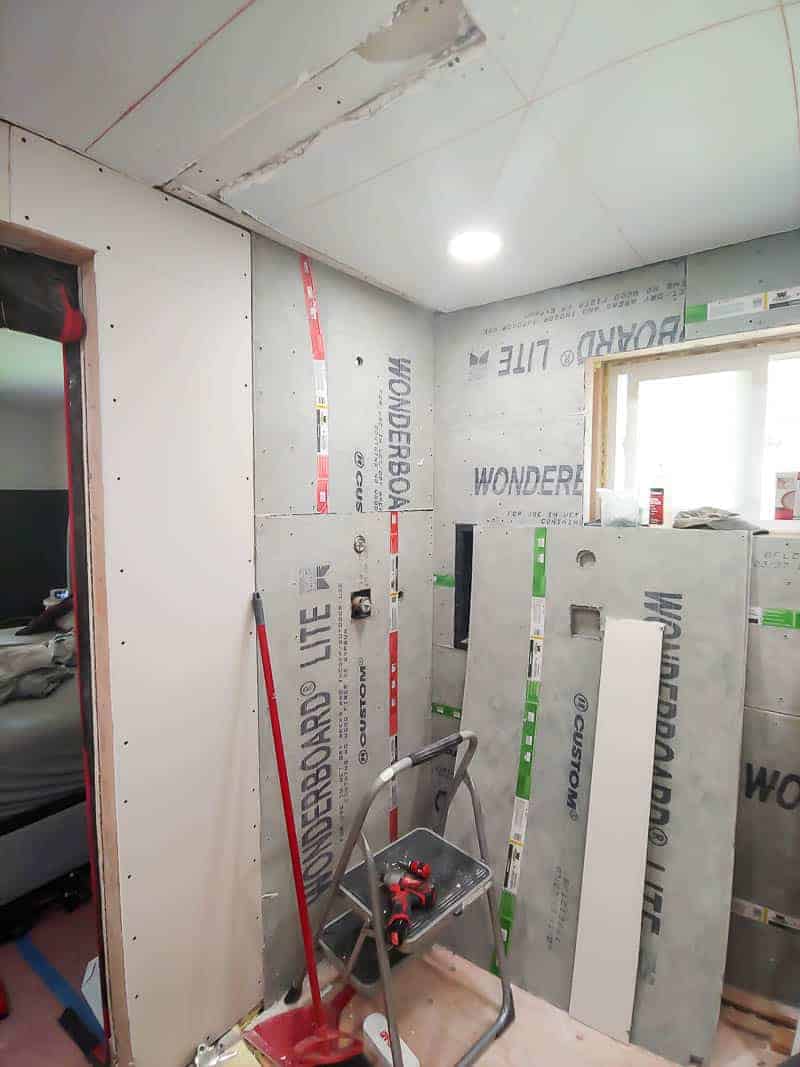 Once we got the drywall and texture crossed off our to-do list, we moved onto the shower pan.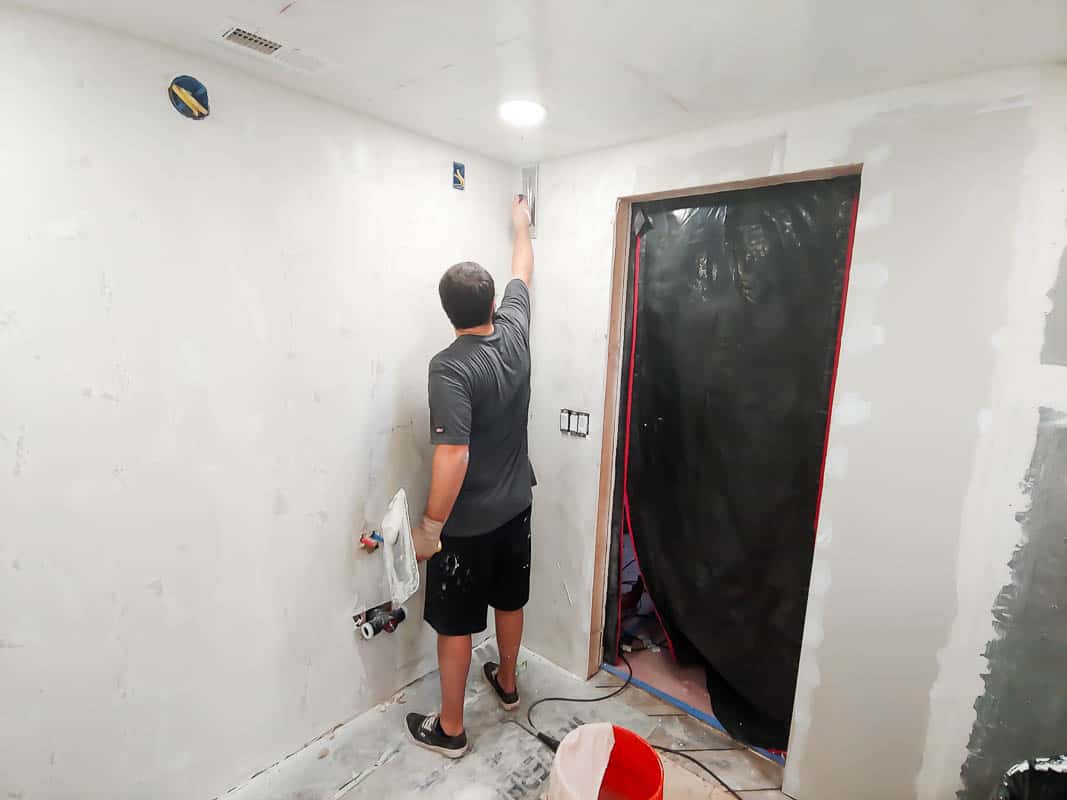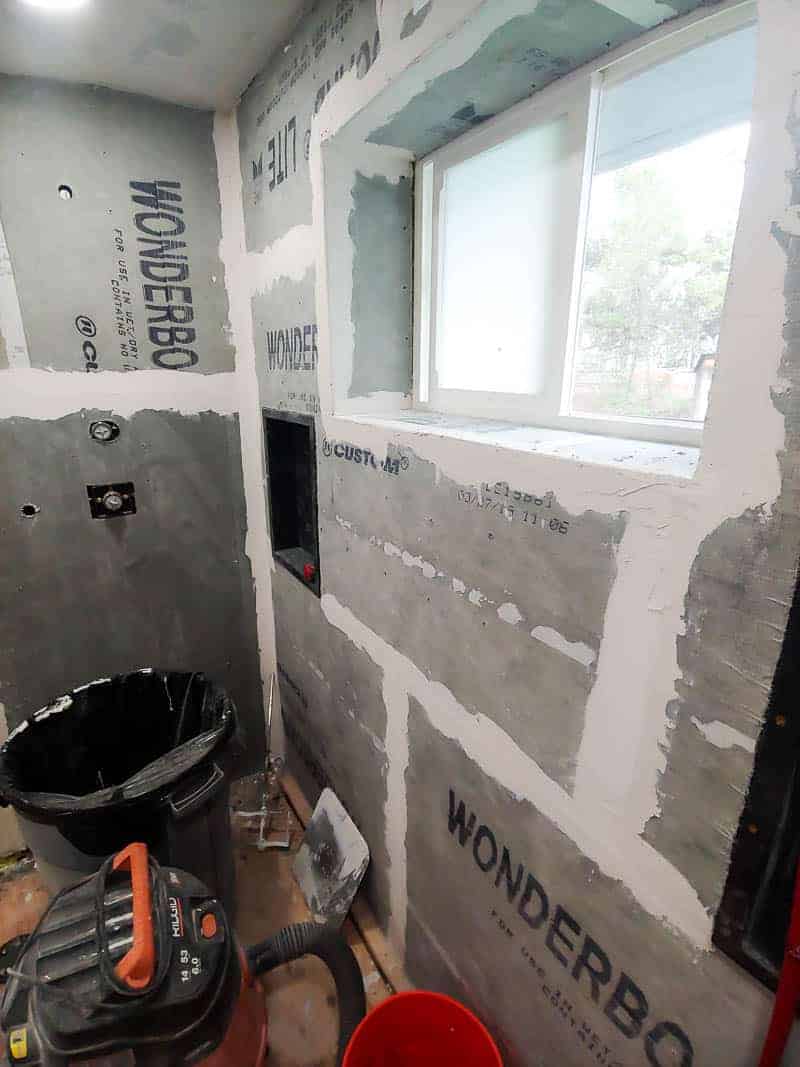 Now, this is one of those complicated projects that we've never tried before. So when we learning something new, we reach out to some friends and family and try to find someone that has attempted it before. We didn't really know anyone that has ever attempted the type of shower pan we needed to create.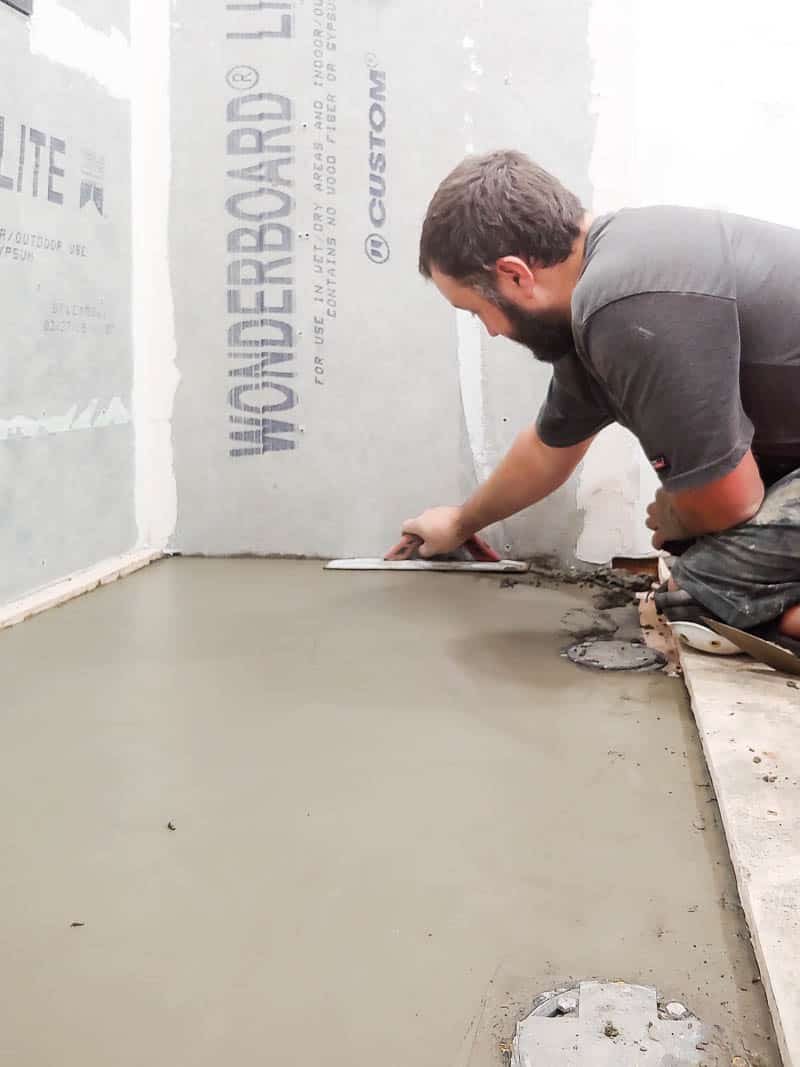 So we resorted to YouTube, of course. We watched a bunch of tutorials and did research…..but we were having ALL sorts of problems. You'll see in the video that we actually had to redo it 4 (yes, FOUR) times.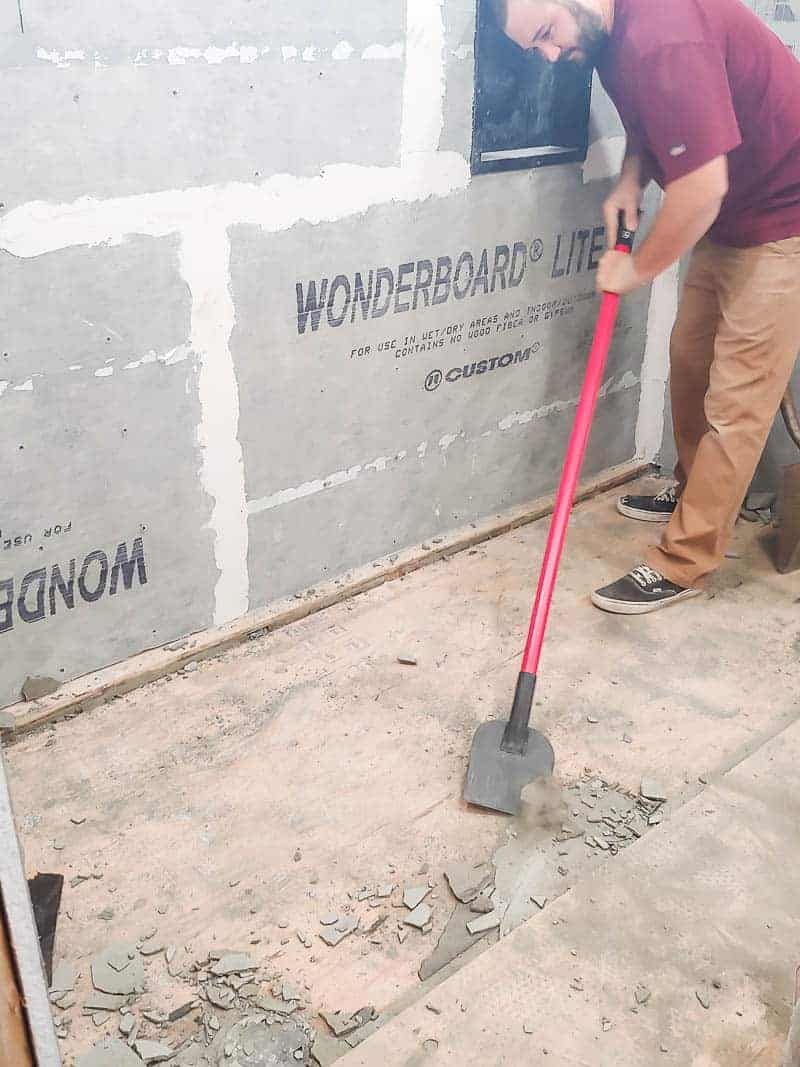 Since the shower pan is literally the foundation for the shower tile, we wanted to get it right. So we kept starting over and trying different methods until finally, it worked!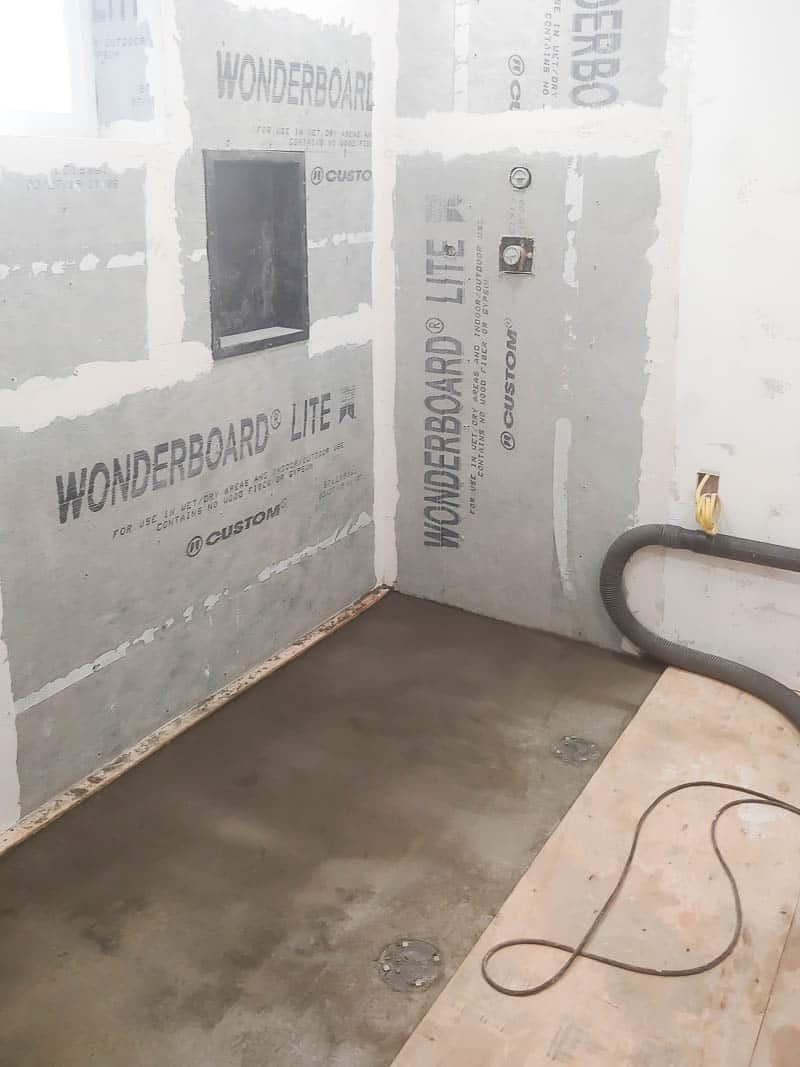 The video above shows you what kind of problems we were having and what we ended up doing to create the shower pan.
After working on it for about 2 days this week, it's safe to say that the shower pan debacle slowed us way down. We were hoping to start the tiling before Logan left down, but we didn't quite get there.
So, that's where we are at. A little stressed. A little overwhelmed. A little wondering how-the-heck-are-we-going-to-pull-this-off-in-time.
You can check in on how all of the other participants are doing here!
UPDATE: We're all done with the bathroom now, check out how it turned out here!
Project list for our bathroom renovation:
Demo entire bathroom
Cover up doorway to hallway
Open new doorway to master bedroom
Rough in new plumbing (toilet, showers, sinks)
Add new subflooring
Create shower pan – in process
Add recessed lighting
Add new vanity light electrical
Add bathroom exhaust fan
Install shower niche liners
Install insulation
Add sheetrock
Tape and texture drywall
Paint walls
Tile shower walls

Install shower niches with accent tiles
Tile around window and in windowsill

Tile floor
Install new toilet
Relocate vanity
Install new countertop
Tile backsplash on vanity
Install fixed shower door panels
Install shower heads
Build DIY laundry hamper
Install floating shelves
Build DIY barn door
Install vanity lights
Install trim and baseboards
Install bathroom accessories
Hang shelf for mirrors
Hang mirrors
Decorate!