Looking to add curb appeal to your house? Give your skinny porch posts a makeover! This tutorial will show you how to beef up your boring porch posts and add column covers for some major curb appeal!
Thank you to DAP for sponsoring this DIY porch columns tutorial! All opinions are entirely my own. This post also contains affiliate links, but nothing that I wouldn't recommend wholeheartedly. Read my full disclosure here.
When we moved into our fixer upper last year, I knew the front porch needed some love. We've been mostly focused on interior project so far (like building out our daughter's nursery & adding this modern farmhouse bathroom), but the time has come!
Last year we did have a little bit of time in the fall before the weather got too bad for a super quick project out here and we added some gable decorations for a little added curb appeal, but it still has a long ways to go.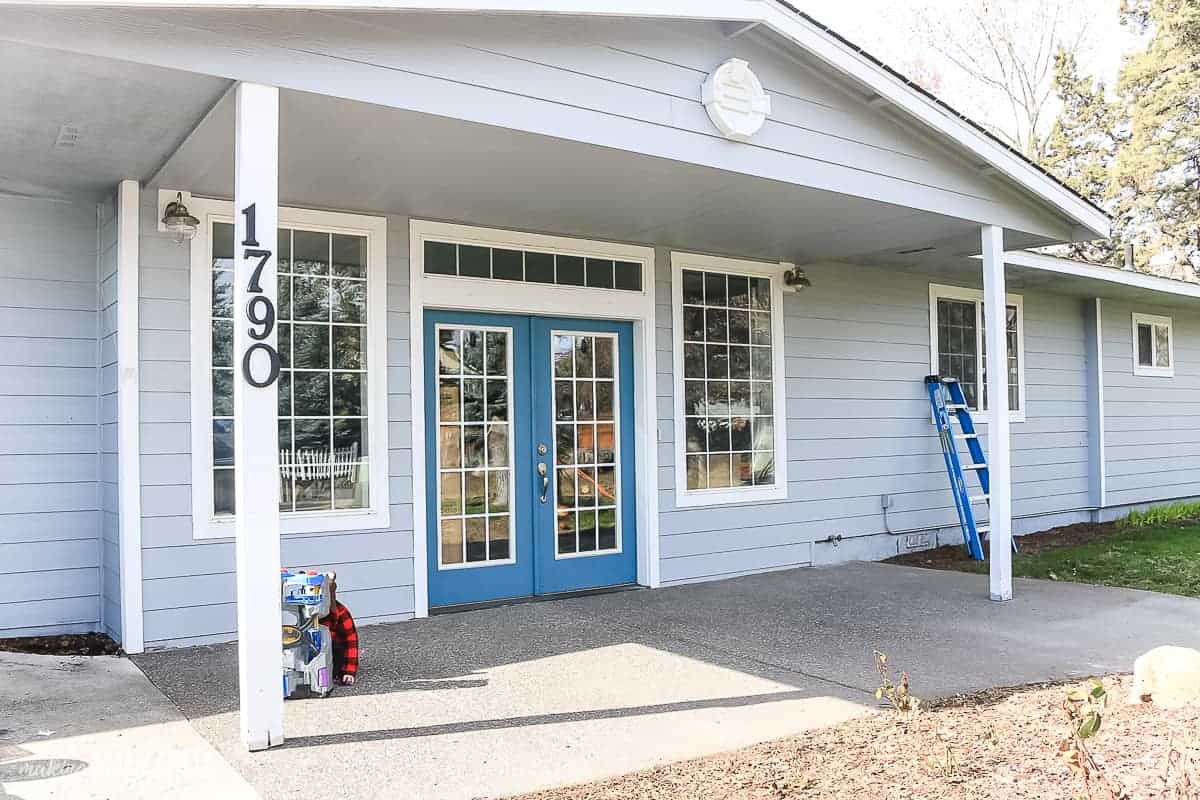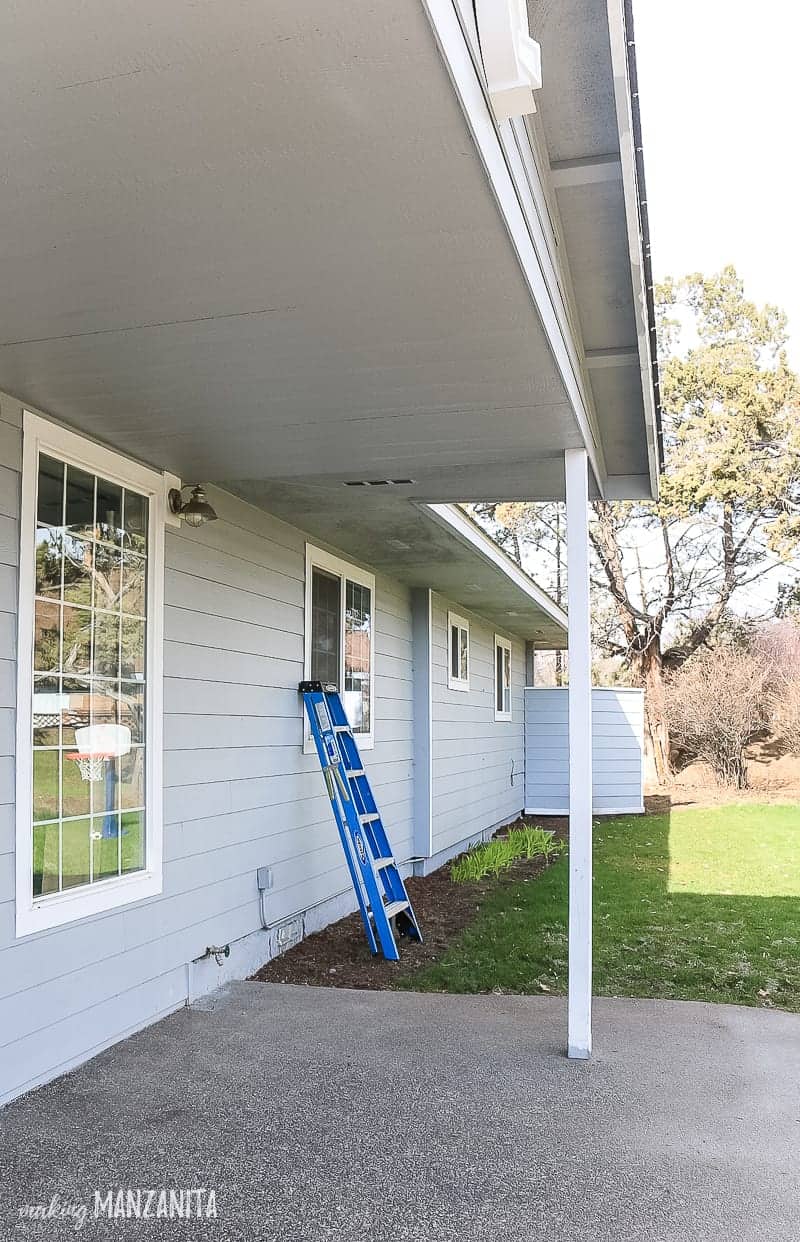 One thing that really stuck out to me on our front porch area was how boring and skinny the porch posts were. They also weren't square, which was always a little pet peeve of mine. In one weekend, we gave them a big makeover and things are looking MUCH better out here!
Related – Other Outdoor Projects You've Gotta Check Out:
This DIY project was pretty quick and easy. Granted, we did have to run to the store a few times mid-project for various reasons (changing our mind about the size of the trim, messing up a couple of angles on the cuts, ya know)… But, what kind of weekend DIY project doesn't have you running back and forth to Home Depot, am I right or am I right?
Before we jump right into the porch posts tutorial, I want to answer a couple of questions upfront…these were my first questions when Logan and I started talking about giving our front porch posts a makeover, so I am thinking that you just may be thinking the same thing as me!
What kind of wood should you use for exterior projects?
For any exterior DIY project using wood that comes in contact with the ground, you need to use pressure treated lumber.
For other exterior DIY projects, be sure that the wood is not sitting on the ground and that everything has been sealed properly on all sides. For painted projects, this means primer and exterior paint. For stained wood projects, this is stain and heavy duty sealer that is make for exteriors.

How do you protect wood porch posts from weather?
We did several things during this makeover to project these DIY wood porch posts from weather:
Keep all added wood off of the concrete porch ground at least 1/4″.
Spray on wood preservative to the bottom of the 2×3's, which serve as the interior framing to the post (or you could use pressure-treated wood).
Use pre-primed wood as much as possible. For any end cuts, add primer as well before installing.
Seal all joints, seams and nail holes with DAP's Dynaflex Ultra. It is a durable, 100% waterproof seal that stands up to the elements.
Use a high-quality exterior paint applied to every visible surface of the porch posts.
Supplies for porch posts column covers:
2×3's
Drill
Galvanized wood screws
Sheet siding
Galvanized nails
Primed trim
Caulk gun
Table saw
Framing nailer
Exterior paint
4 inch paint roller
Paint brush
Tape measure

Cut 2×3's.
We precut all the 2×3 pieces before we got started, which made things go pretty quickly.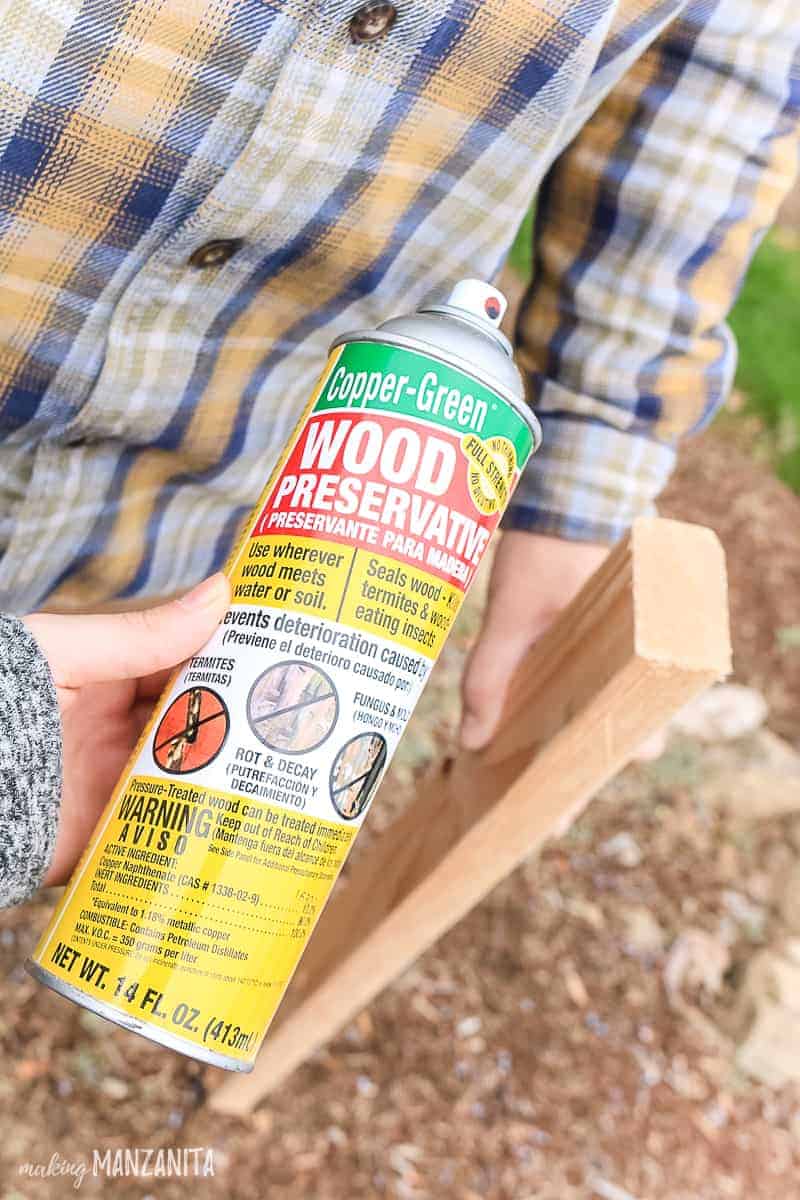 Apply wood preservative to the bottom of 2×3's.
If you are using pressure treated 2x3s for the interior framing of the porch posts, you don't need to do this. But we weren't so we applied some spray wood preservative to the bottom of the wood that MAY come in contact with moisture. Warning, this stuff is pretty strong smelling so wear and mask and be prepared to let it sit for a bit before working with it. It is great though because it essentially pressure treats the portion of the wood that you spray it on. We definitely keep this stuff locked away in our locking storage cabinets in the garage to protect the kiddos.
As I explained in the video & above, all of the wood we added to the porch posts is lifted at least 1/4″ off of the ground, so it does not come in contact with the ground. If these porch posts were going to be making contact with ground, the wood would definitely need to be pressure treated.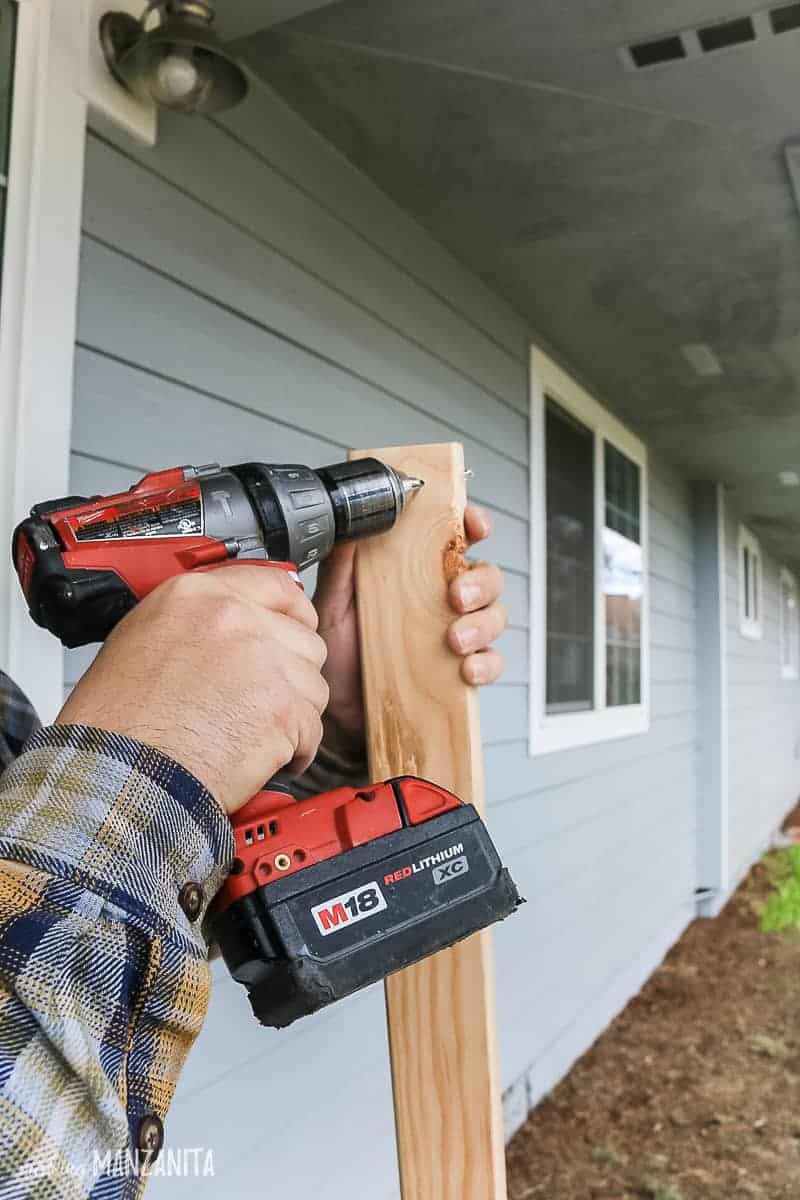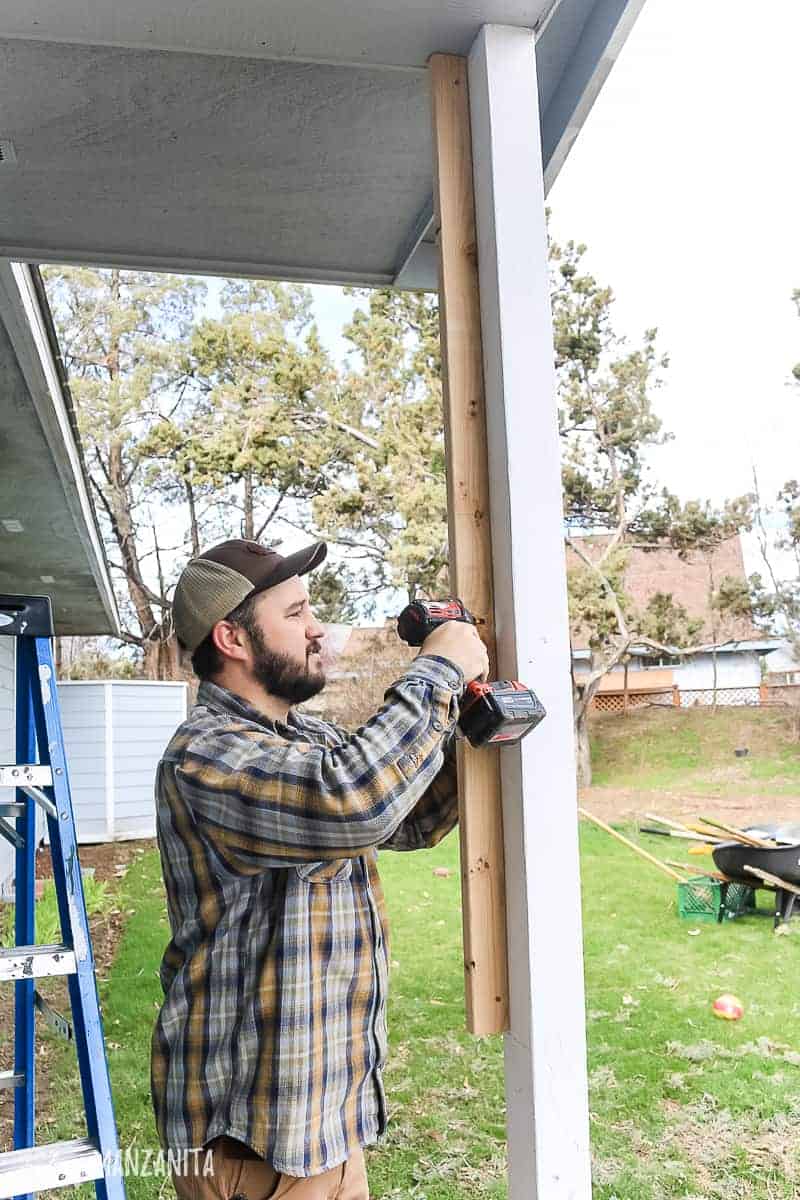 Square up porch posts.
If your porch posts are already square, you can complete skip this step. Our porch columns were more of a rectangle shape, so we added some 2×3's running along both corners of the back of the porch post to square everything up. Once the porch posts were squared up, they measured approximately 6×6 inches.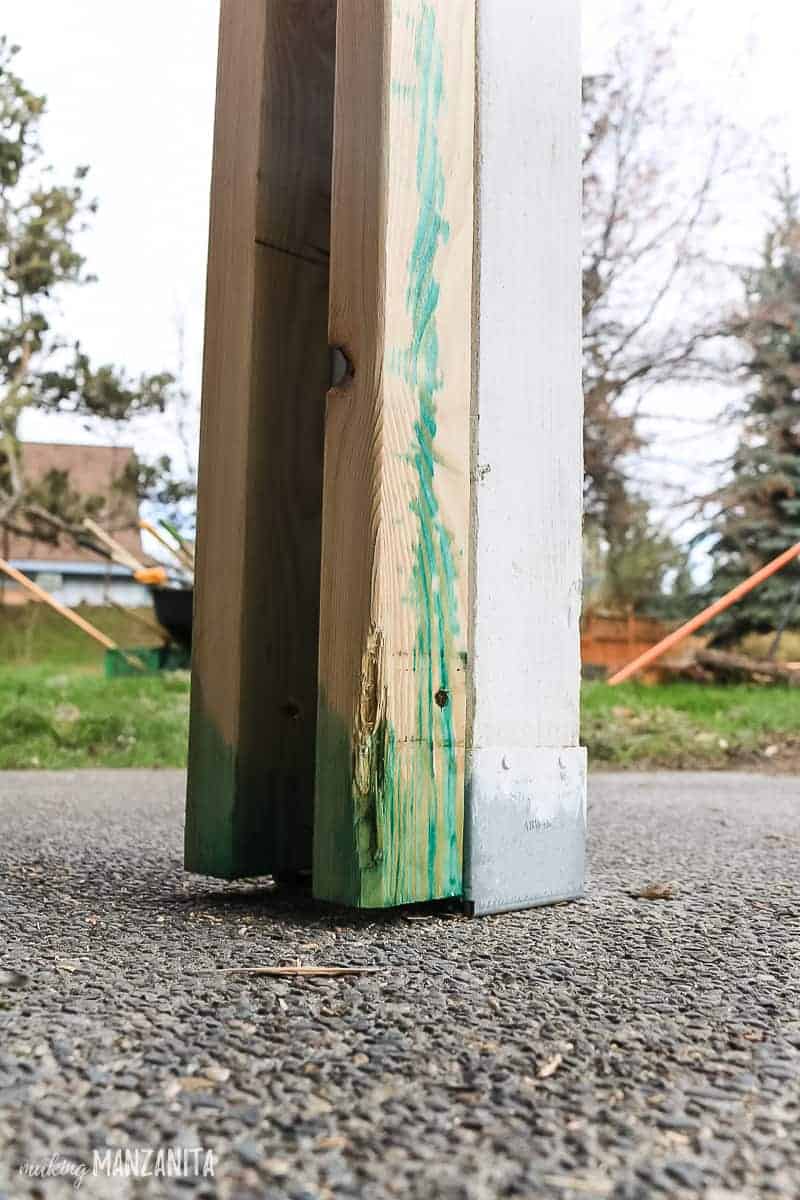 Remember….be sure the wood is pulled up at least 1/4″ from the ground before attaching.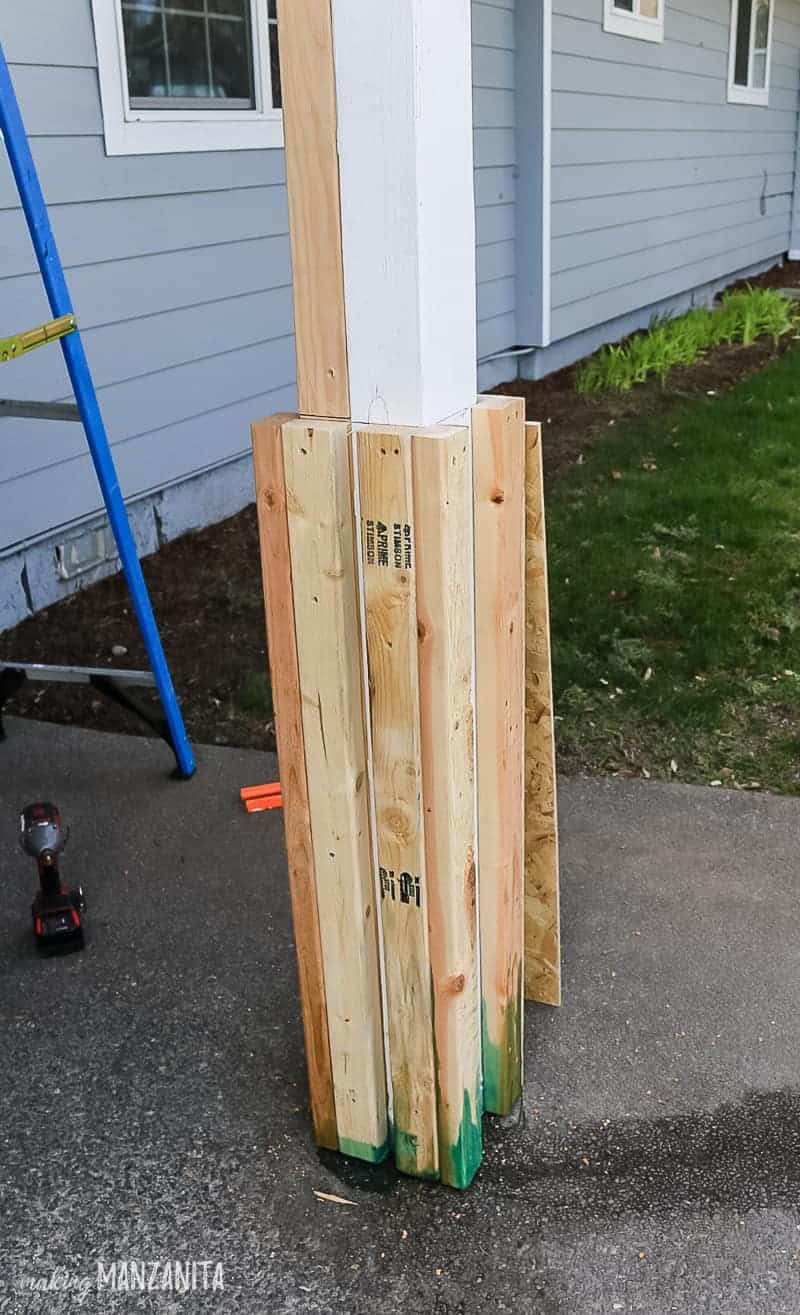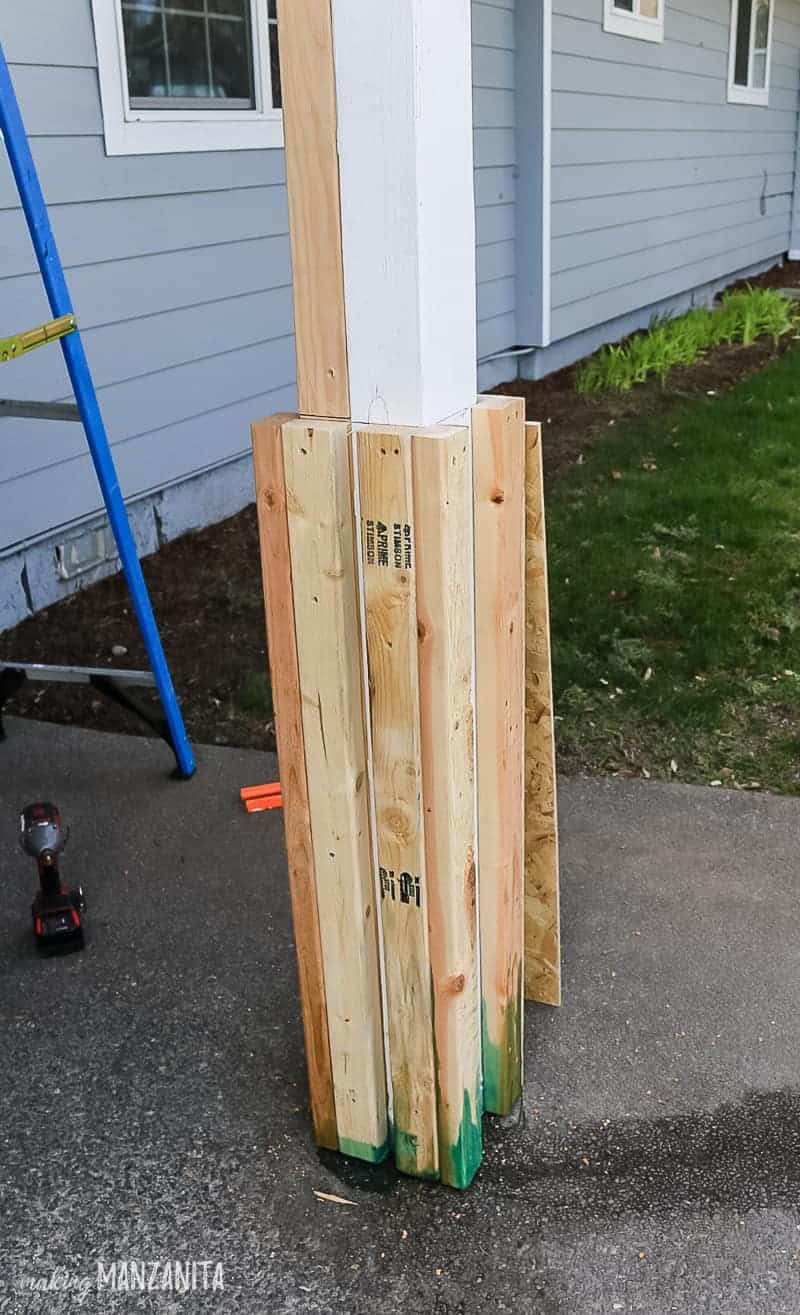 Beef up the bottom portion of your front porch columns.
For the design of our porch posts, we wanted the bottom part to be larger than the top. This is purely stylistic and, in my opinion, looks better because it adds a bit of visual interest. That's the whole point of this porch post makeover, right?
We decided to beef up the bottom portion of the posts. Add 2x3s to each order of the bottom portion of your front porch columns by predrilling some pilot holes and then screwing them into the original post using wood screws. We added 2 pieces to each corner to beef out the bottom. Once those pieces are added to the bottom of the porch pillars measure 9×9 inches.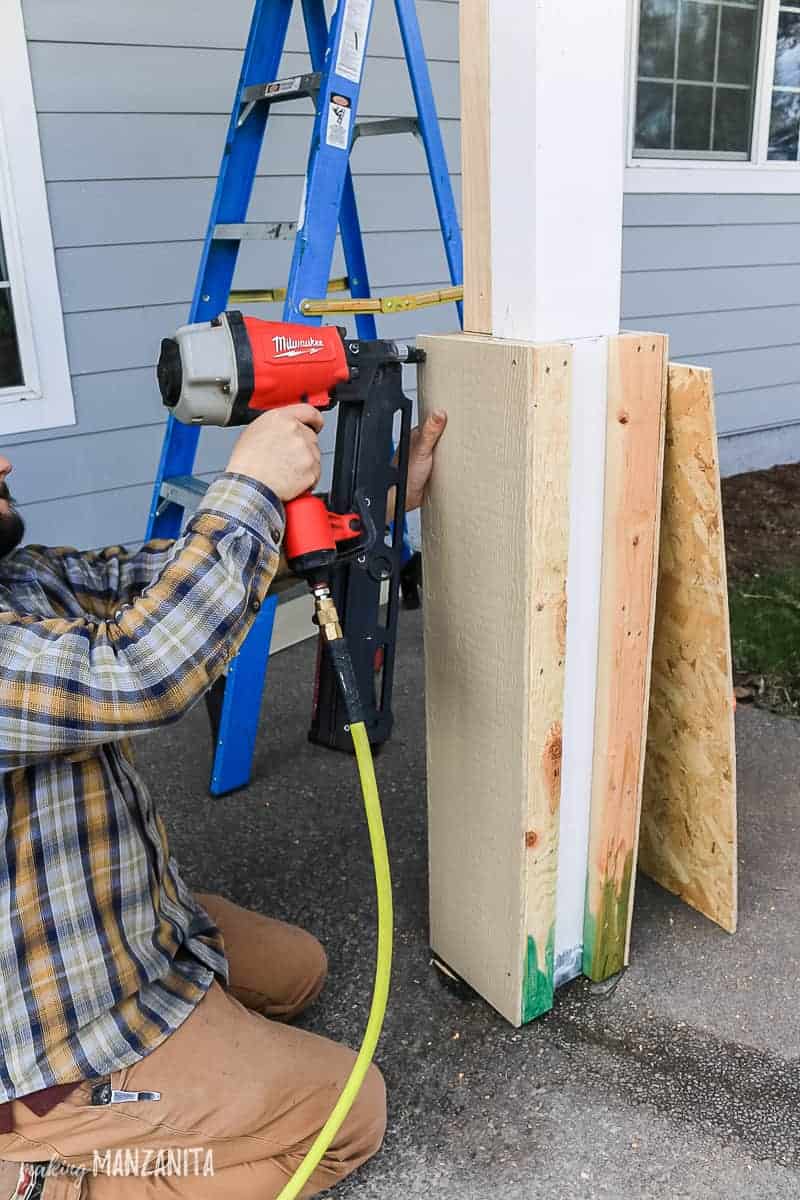 Add siding to each side of porch posts on the bottom portion.
Using a framing nailer and galvanized nails, add siding by nailing it directly into the porch posts. Be sure that there as at least 1/4″ gap at the bottom to avoid ground contact.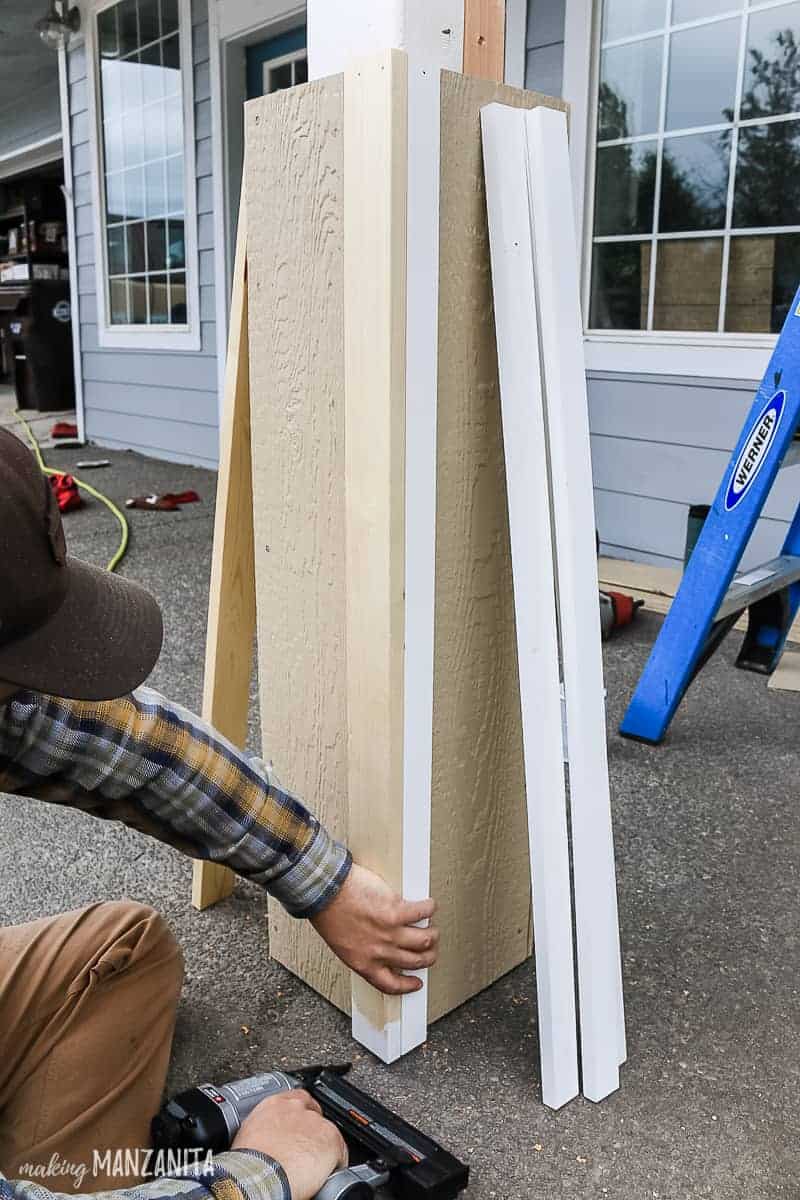 Add trim to all corners, top and bottom of the porch pillars.
Again using your handy brad nailer, add all trim to the corners of the porch columns being sure to hold them together flush at the corners and up off of the ground at least 1/4″. I found it easiest to add one nail in the trim board so it is steady and then make small adjustments to make sure they are flush in the corner as you make your way down the board.
For any exposed end cuts that don't have primer on them, be sure to add some primer to the bottom before you attach. It would hard to get the paint brush under there without getting paint/primer all over the ground if you waited.  If you are using pre-primed boards, be sure to use the end that has primer toward the ground – not a fresh end cut.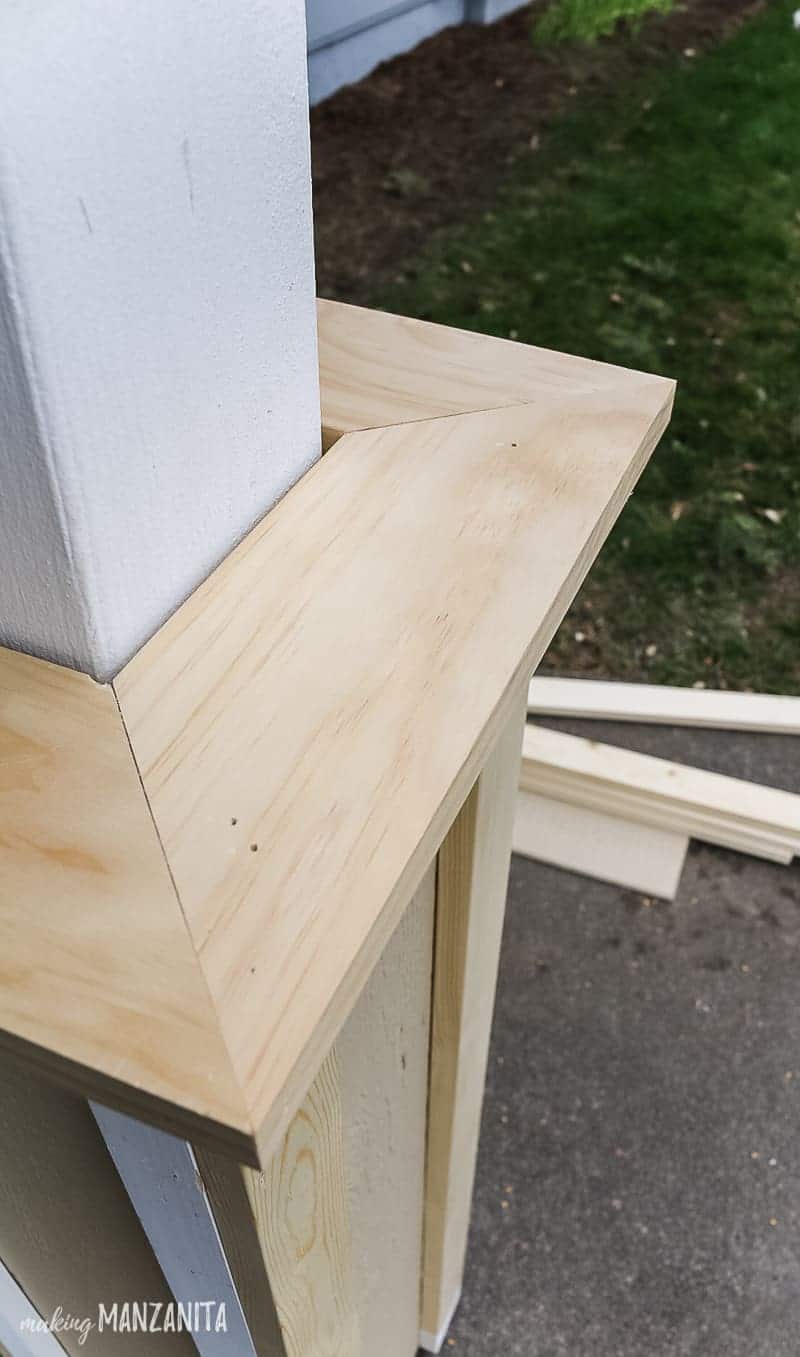 Add top platform.
Using 45-degree angles in the corners, cut & add the top platform to the bottom portion. We used nails angled in on the inside edge of the wood pieces into the porch posts. Then we also nailed them together at the corners where the 45-degree angles met.
Angles can be tricky, so be sure to measure a couple times before you cut. We had to run to the store to get more when we messed up the first cut…oops. It happens.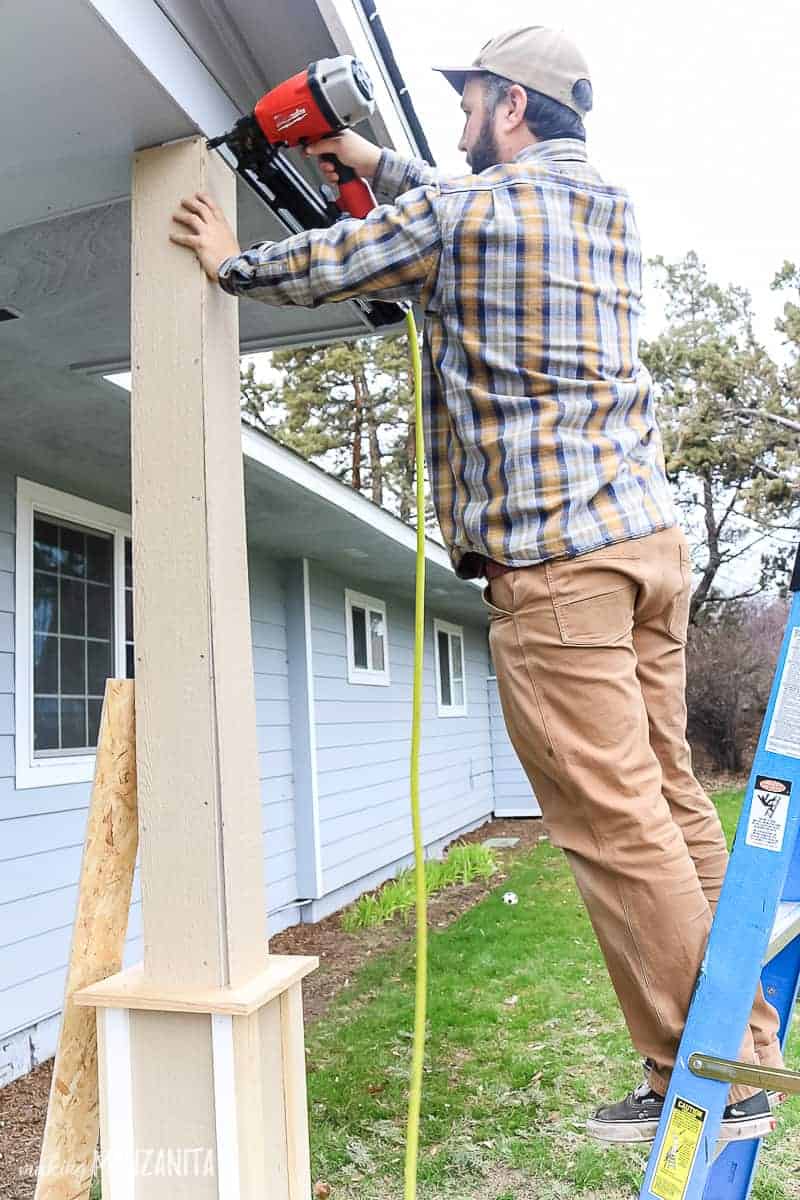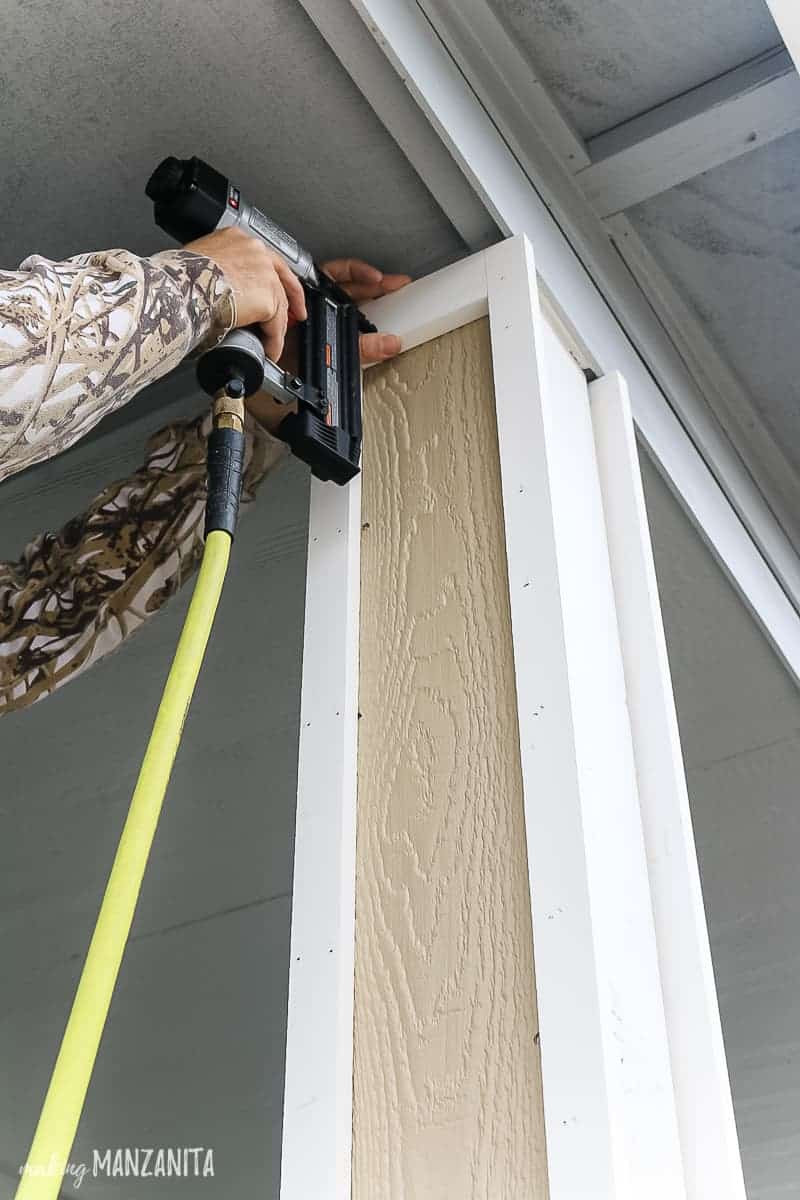 Repeat column wrap steps on the top portion of the porch posts.
After the bottom portion is done, you can move up to the top. Repeat the same steps of adding the siding to all sides of the porch posts & trimming it out on the corners and top/bottom.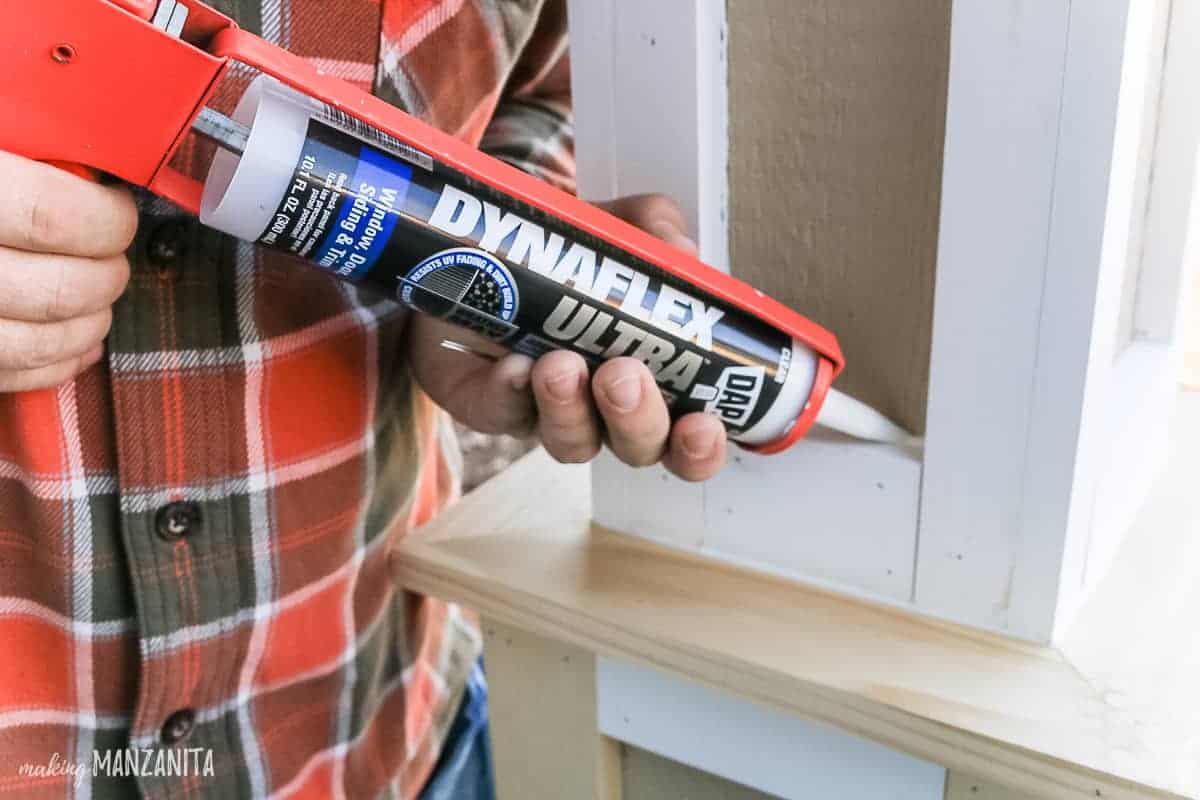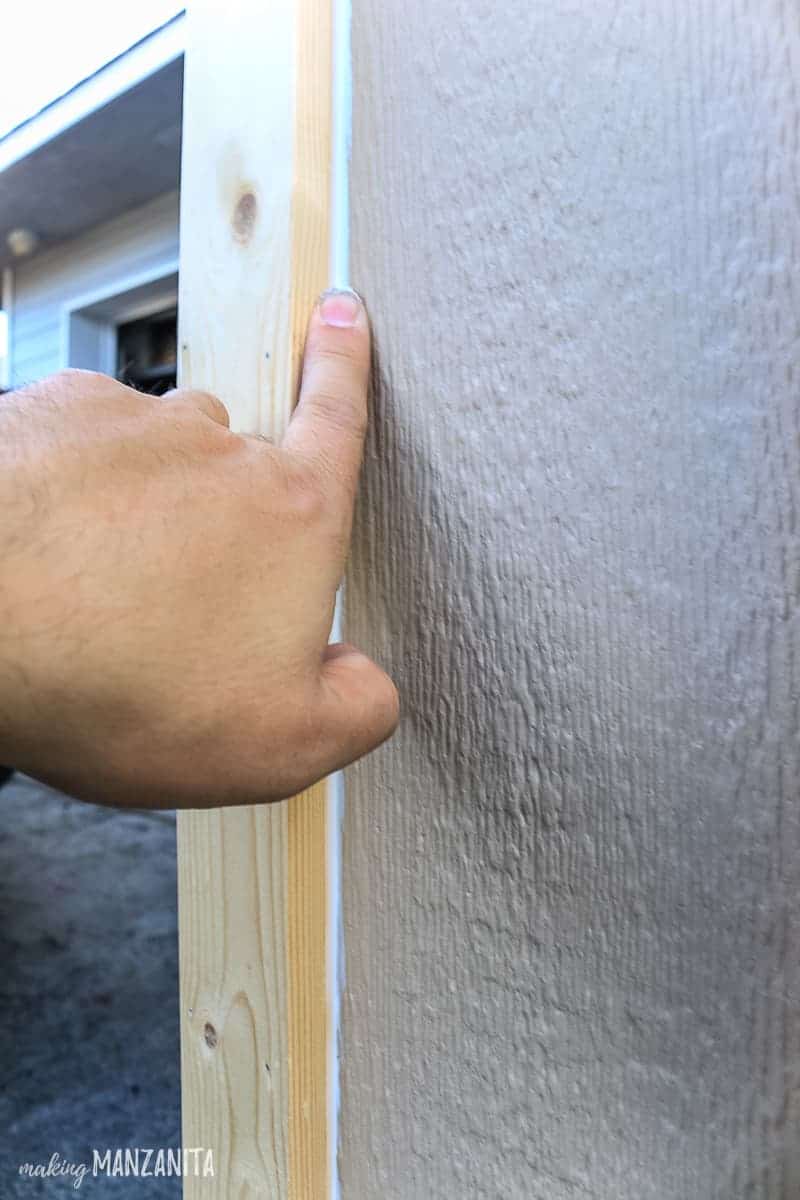 Seal all joints and nail holes with Dynaflex Ultra.
Since this is an outdoor project, you definitely want to make sure you're working with a great sealant. We used DAP's Dynaflex Ultra, which is an advanced exterior sealant.
Cut the tip of the sealant at a 45-degree angle and pop it into a caulking gun. Then run a thin bead of caulk over every joint and seam and add a little bit into every nail hole. This will ensure that the porch pillars are ready for any harsh weather that may come your way!
Quick tip: if it is cold outside (HELLO Spring in Oregon), be sure to keep the sealant indoors before using it. It needs to be at least 40-degrees to work properly. 

Prime any surfaces that aren't already primed.
Most of the trim we used was pre-primed, but not everything. Our Home Depot didn't have the correct size of pre-primed trim in stock, so that's why you see a mix! No problem though. Just hit everything that is not already primed with a coat of primer first.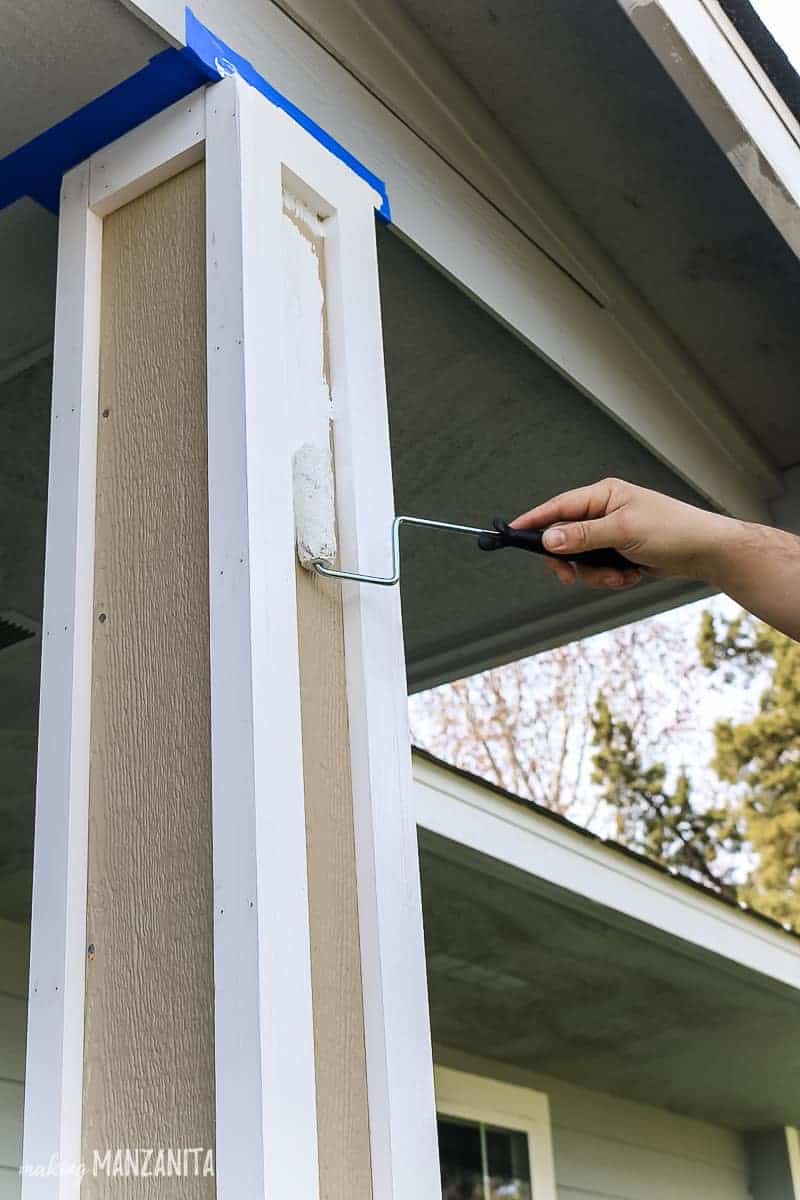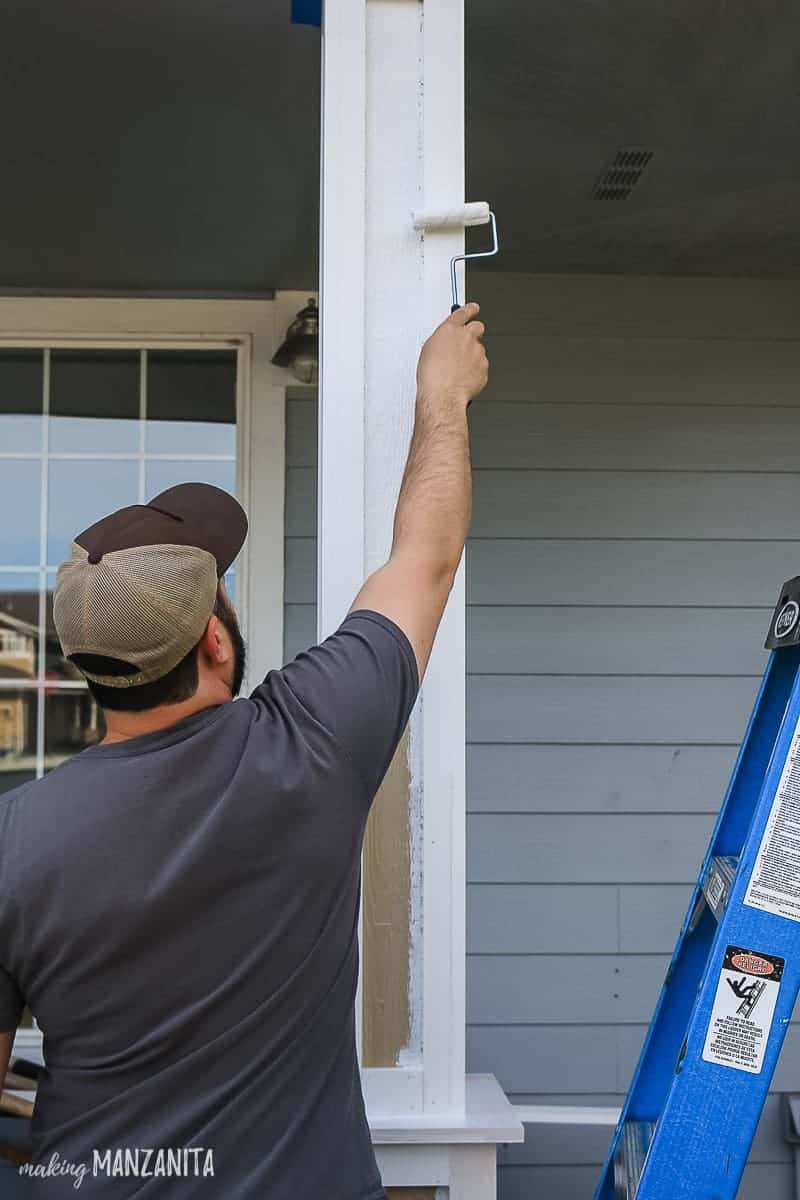 Paint porch posts with exterior paint.
Last step is to paint the porch posts with exterior paint. This will not only add color, but again seals everything. We used white exterior paint that matches our house trim. We did two coats.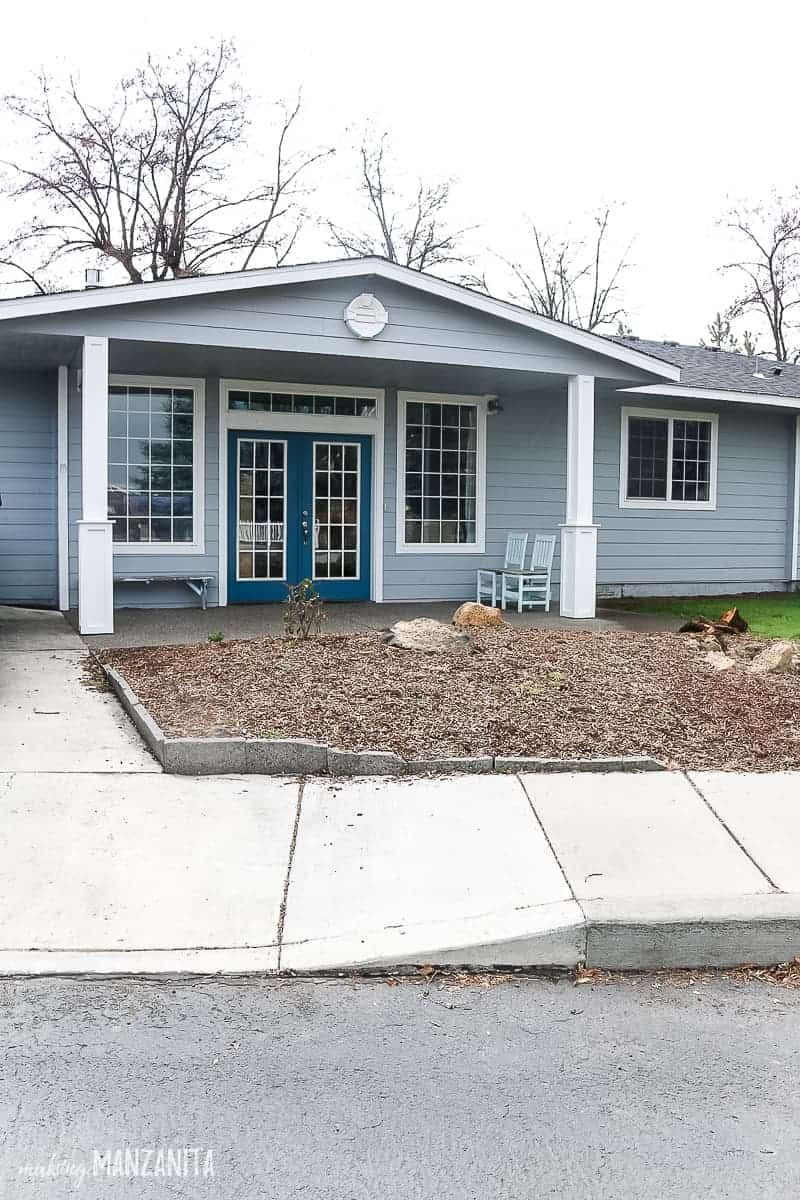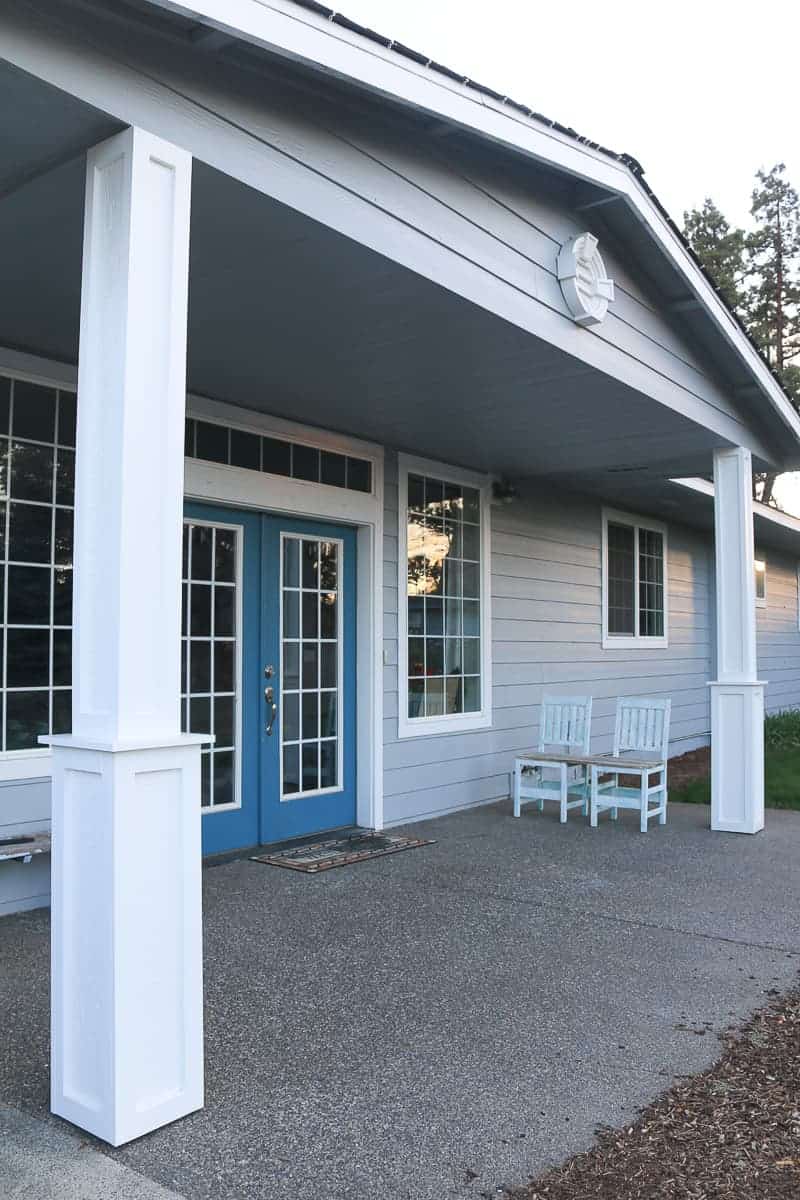 I'm shocked with how much character the porch posts added to our curb appeal after we gave them this little makeover! My first thought is, man…why didn't we do this sooner?!  Haha!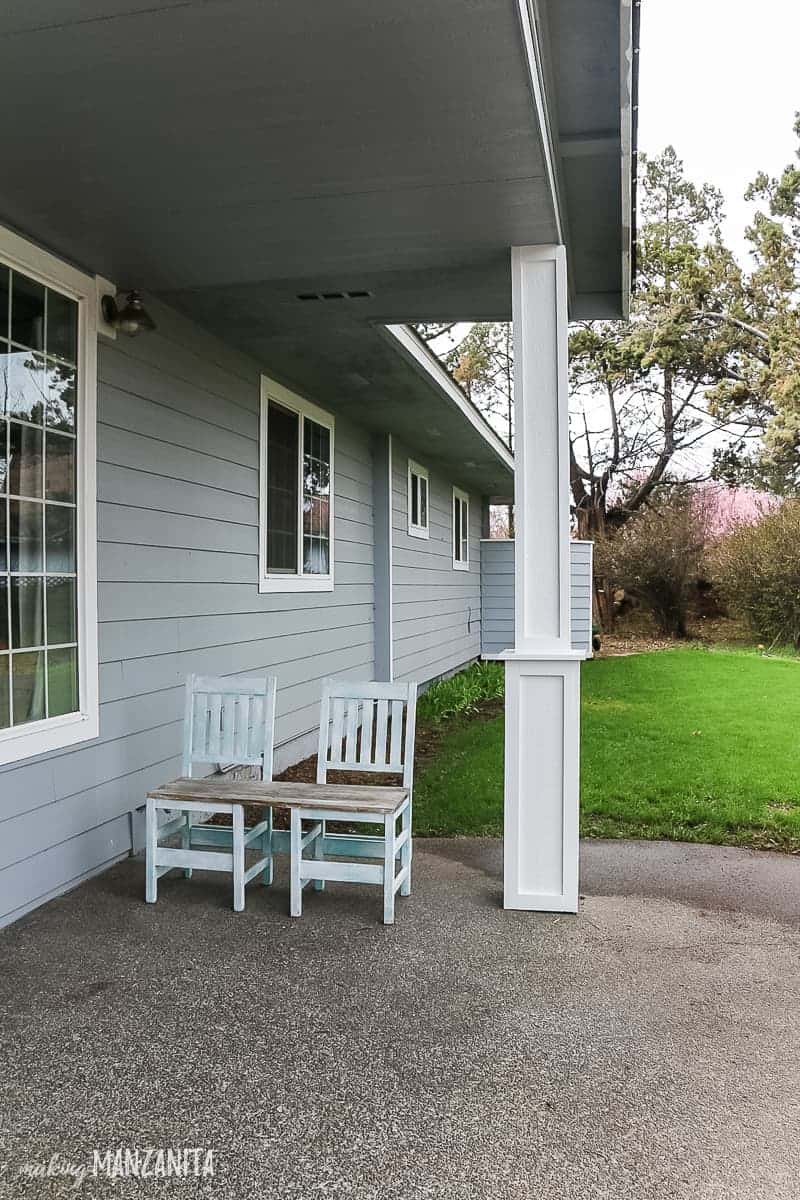 These column covers were so easy to DIY and they were pretty budget friendly too. They cost us about $300 for supplies.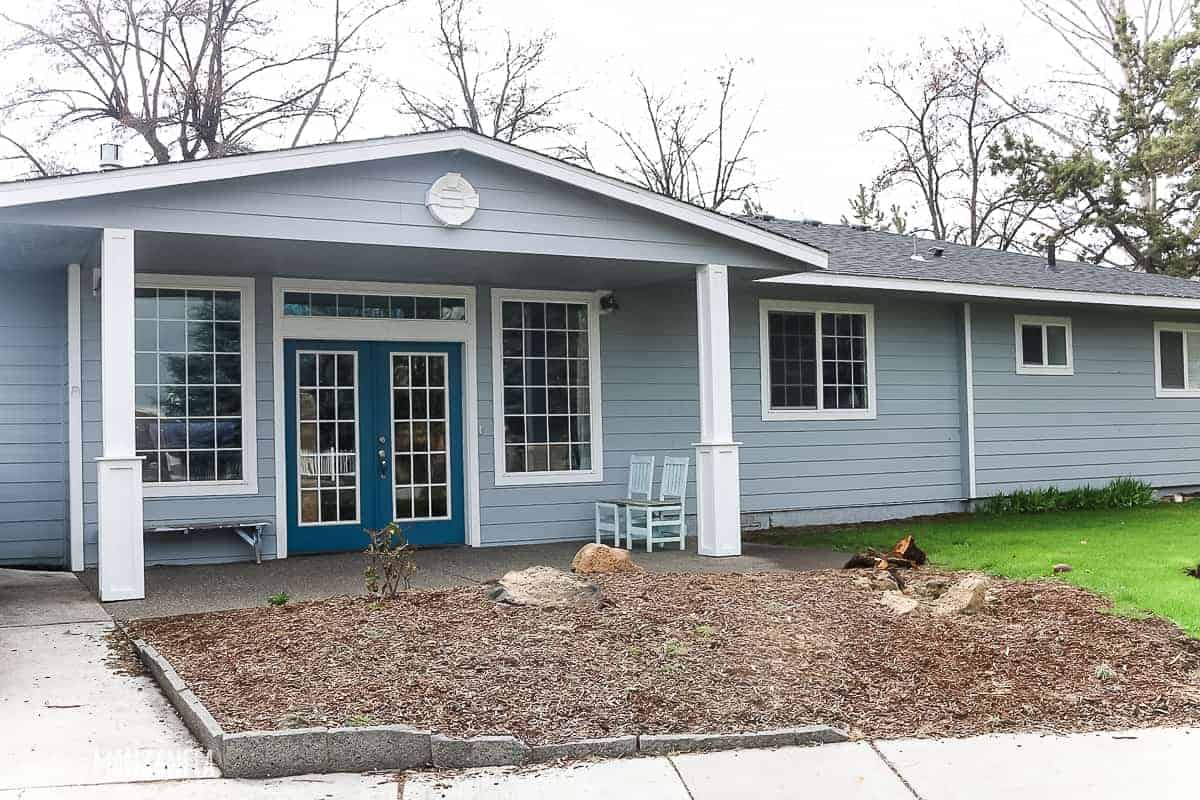 I can't wait to finish some other outdoor projects this spring & summer. We're planning on adding some DIY planters next to the porch posts, building a fence to enclose our backyard and making an outdoor chalkboard for our kiddos.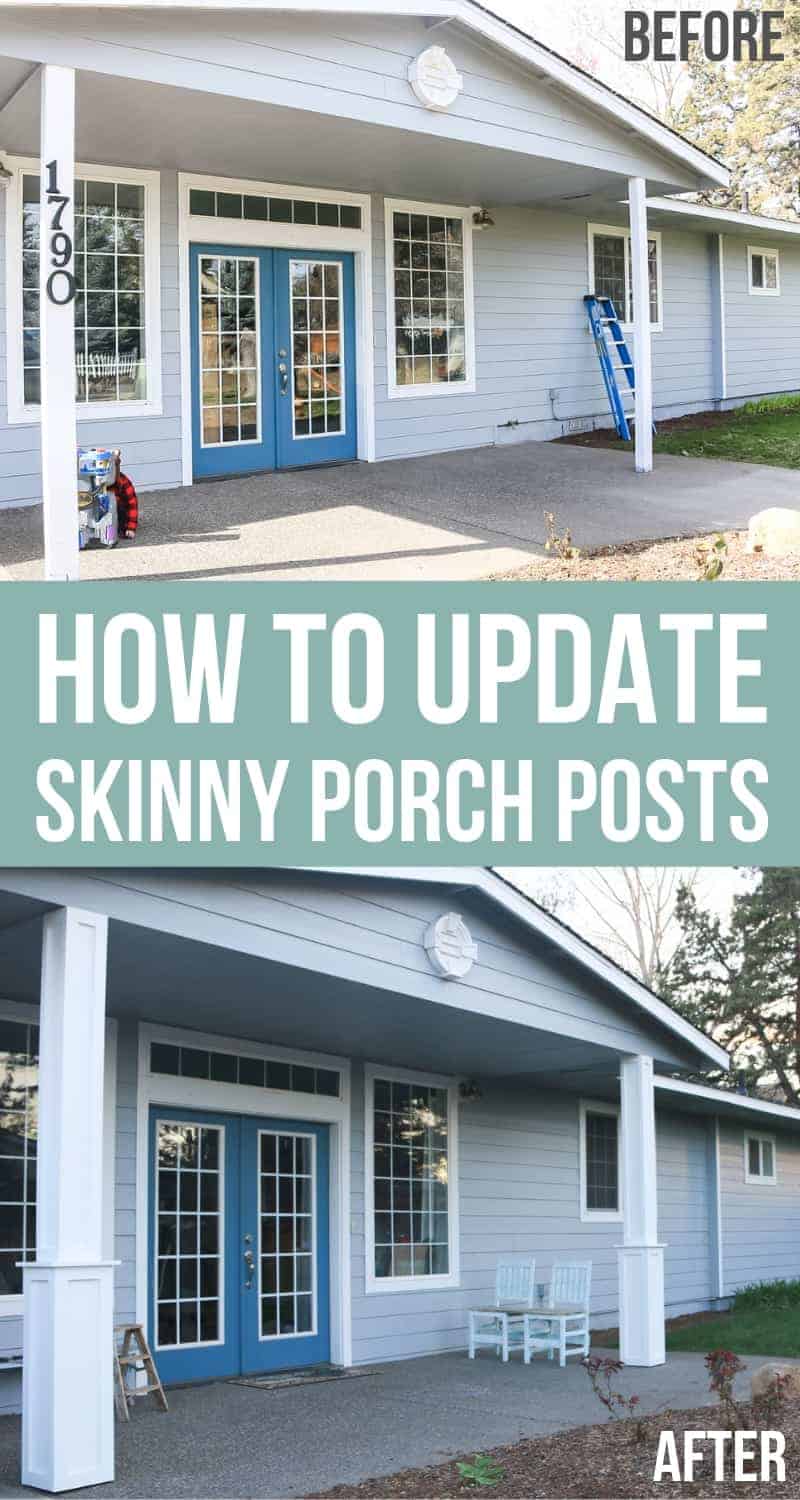 What are you going to do to add curb appeal to your house this spring & summer?
Let us know in the comments below!
---
We did a live video while we were installing these porch posts over on our Facebook page, so here's the replay if you'd like to watch!